BOYCOTT CANADA'S PULP AND PAPER INDUSTRY !!!
Nova Scotia has one of the highest Cancer rates per capita in Canada, why would we allow Northern Pulp and others to spray glyphosate? VisionMax Spay has also other ingredients even more dangerous than glyphosate. The World Health Organization's cancer agency released a report in March 2015 that declared glyphosate a 'probable human carcinogen'.
Update: Victims in the USA sueing MONSANTO [now BAYER] have been awarded multimillion dollar compensations.
Glyphosate spraying resumes in Nova Scotia forests
By RobertDevet
KJIPUKTUK (Halifax) – The Department of Environment has issued six new approvals for glyphosate spraying covering about 1,351 hectares.
In forest management glyphosate kills the hardwood, that pulp-producing forestry companies do not want.
Last summer similar glyphosate applications were controversial, with many residents of rural Nova Scotia worried about unwanted effects on their own health and the forests' ecosystem.
These concerns were shrugged off by the department, and the forestry companies who stand to benefit from the spraying programs. Scientists are divided on whether the herbicide is safe and many of its long term effects on woodlands, soils and animals remain unknown.
The approvals are all for forestry. Three are for aerial and three are for ground spraying, a news release issued on Friday states.
Three previously issued multi-year approvals also allow spraying this year.
Detailed approvals posted on the department's website identify lands in Antigonish, Guysborough, Colchester, Cumberland and Pictou Counties.
Two more applications are pending, according to Friday's news release.
UPDATE:
Glyphosate spraying on Nova Scotia forests continues
By RobertDevet
KJIPUKTUK (Halifax) – The practice of applying glyphosate, a chemical herbicide used to eliminate hardwood from forests, is alive and well in Nova Scotia.
In 2010 the Department of Natural Resources (DNR) decided to stop spraying the herbicide on Crown Lands, and to also halt subsidies to private companies in support of their own herbicide programs.
However, substantial spraying programs on privately-held woodlands continue. And DNR does not rule out resuming the subsidies program sometime in the future.
Many Nova Scotians are concerned about glyphosate. The World Health Organization has classified the chemical as a probable human carcinogen. Critics also argue that spraying Nova Scotia's forests with glyphosate negatively affects its ecological diversity and resilience.
Data published on the National Forestry Database website show that comparatively little spraying occurred on Crown Lands prior to the 2010 ban. Between 2001 and 2010 the herbicide was applied to 3,315 acres of Crown Lands.
During the same time 85,070 acres of privately held lands were treated with glyphosate. That's the size of Point Pleasant Park 450 times over.
After 2010, when subsidies ended, things slowed down a bit. But not all that much. Between 2011 and 2014, the last year for which data is available, forestry companies treated 17,946 acres of private woodlands. Recently Northern Pulp submitted an application to spray woodland in Colchester and HRM
When asked point blank, DNR's commitment to no longer subsidize companies in support of their spraying efforts seems to waver.
"The department is developing tools that help ensure that all forestry practices are science-based and aligned with an ecosystem-based management approach," writes DNR spokesperson Brian Taylor.
"We will continue to assess the appropriateness of various forestry treatments, including herbicide, as we move toward landscape scale planning."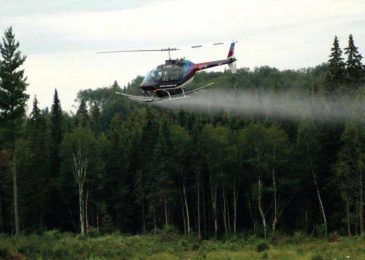 GLYPHOSATE SPRAYING FROM HELICOPTER - Glyphosate is a colourless, odourless, crystalline solid, also known as gliphosate, glyphosate hydrochloride, or N-(phosphonomethyl)glycine. Glyphosate formulations are typically prepared with the isopropylamine salt of glyphosate, a surfactant (to help it penetrate plants), and other chemicals.
Holly Falkenham - 14 September 2016
This video was taken in marinette, just outside of sheet harbour. They are spraying glyphosate over our woodlands, and this is only one spot in Nova Scotia of many. I apologize for my language.
Use of Herbicides in Nova Scotia's Forestry Industry: Ecology Action Centre Position Statement
By EAC - December 2016
Herbicides are used in Nova Scotia's forests to encourage softwood trees to grow in clearcuts by killing or retarding the growth of hardwood trees and shrubs, some softwood tree species and other plants. On average in recent years, nearly 4,500 hectares per year of Nova Scotia's clearcut forest have been aerially sprayed with the herbicide VisionMax, the active ingredient of which is glyphosate.
Herbicides are often used to help create intensively-managed softwood-dominated plantations and forests following clearcutting. Clearcutting and intensive management for a few selected species convert Nova Scotia's natural mixed-species Acadian forest into a simplified agriculture-type ecosystem with little biodiversity value. As such, the use of herbicides is a symptom of regressive forestry practices – the clearcut, plant, spray, repeat model. Spraying Nova Scotia's forests with herbicides has no place in science-based forest management.
The Nova Scotia Department of Natural Resources (NSDNR) contends that herbicides are necessary to ensure successful regeneration of trees in clearcuts. However, research conducted by the Ecology Action Centre using data from NSDNR demonstrates that if all commercial tree species (rather than the few softwood species included by NSDNR) are counted towards successful regeneration, then herbicides have little positive effect on regeneration.
Therefore, given that
(a) herbicides tend to reduce the biodiversity value of our forests,
(b) glyphosate is classified as a probable carcinogen by the World Health Organization,
(c) herbicides are closely tied with clearcutting and often plantations, and as such are a symptom of poor forestry practices,
(d) VisionMax (the herbicide most commonly used on Nova Scotia's forests) harms biodiversity, including amphibians,
(d) herbicides are not required to ensure adequate growth of tree species following clearcutting, and
(e) Nova Scotians have expressed clearly through the Natural Resources Strategy process that they want to see clearcutting reduced,
the Ecology Action Centre asserts that herbicides have no place as a forestry or cosmetic landscaping tool in Nova Scotia. The Ecology Action Centre strongly recommends that
(1) the Province should not fund herbicide applications on any forestland (private or public),
(2) the Province should ban the use of herbicides on Crown land, and
(3) the Province should provide landowners and forestry companies with state-of-the-art guidance and expertise on science-based harvesting and silviculture methods that eliminate the use of herbicides.
Background:
Although long-term trends in forest herbicide use in Nova Scotia have not been released publicly, we know that in recent years nearly 4,500 hectares of Nova Scotia's clear-cut forest have been aerially sprayed with herbicide each year on average. VisionMax is the brand-name herbicide of choice in Nova Scotia and is produced by the Monsanto Corporation. According to its label, it is effective at controlling (killing or supressing) a range of plants, including alders, birches, cedar, cherries, hemlock, maples, pines, poplars, rhododendron, meadowsweet, heath species, sweet fern, raspberry, withrod and willows. Conifer species (pine, hemlock and cedar) can be killed or supressed if sprayed when they are actively growing. Planted species are generally put through a special dormancy-inducing treatment prior to being planted and sprayed.
The active ingredient of VisionMax is glyphosate, making up approximately 40% of VisionMax. The rest of VisionMax is water and a cocktail of numerous chemical ingredients (known as adjuvants) that are NOT listed on the label. Adjuvants include compounds known as surfactants, chemicals that help glyphosate enter a plant's vascular system in order to kill it. Some surfactants have been shown to be more toxic than glyphosate itself.

Monsanto, the manufacturer, is permitted to keep the list of adjuvants off of the label because they're considered to be "confidential business information". So no one really knows all the chemicals that are in VisionMax or what their effects on people and wildlife may be.
Glyphosate-based herbicides are classified as moderately to highly toxic to one of our forest's 'keystone' groups of organisms: amphibians. The expected environmental concentration of herbicides following forestry applications is at or above the toxicity level for some amphibians. Researchers have noted that the toxicity of herbicides such as VisionMax to amphibians may be due to the chemical polyethoxylated tallow amine (POEA), one of the surfactants used in Monsanto's herbicides. As well, the toxicity of glyphosate is increased in waters that are acidic, such as many watercourse systems in Nova Scotia.
Glyphosate also kills vegetation that creates the shade and moisture that many forest amphibians need to survive. While there are narrow (20-metre) buffers between clearcuts and larger watercourses, there are no restrictions on clearcutting and applying herbicide to vernal pools, which are critical habitats for Nova Scotia's forest amphibians. The label for VisionMax warns that people must not enter a sprayed area for 12 hours after spraying. This is little help for the frogs, salamanders and other wildlife who live in sprayed areas. And of course, the dozens and dozens of "weeds" killed by VisionMax are really plants that produce food for wildlife and play their own role in our forest's complex ecosystems. Finally, glyphosate is an antibiotic, and known to influence the microbial flora in animals, thereby impacting immune systems in animals.
The World Health Organization recently labeled glyphosate as "probably carcinogenic to humans." In reaching this decision, the WHO noted some evidence of a "positive association between glyphosate exposure and risk of non-Hodgkin lymphoma…." With respect to diet, the WHO concluded that glyphosate is unlikely to pose a carcinogenic risk to humans from exposure through diet alone.
In 2010, Nova Scotia's Framework for Forestry stated that "public funds will not be directed to herbicide spraying for forestry." In 2011, the Natural Resources Strategy similarly stated that "… public support will no longer be extended to the use of herbicides." This means that taxpayer dollars would no longer be used to subsidize forestry herbicide spraying.
But now is the Nova Scotia government having a change of heart? The Department's recent 2016 "Progress Report" announced that, along with killing the commitment to reduce clearcutting to no more than 50% of all forest harvesting, "as we move forward … we will continue to assess the effectiveness of various forestry practices, including herbicide use." Not only that, but in March 2016, the government also dropped Forest Stewardship Council (FSC) forest certification for Crown lands in western Nova Scotia only a year after committing publicly to expanding the FSC program to all Crown Lands. FSC certification is considered the "gold standard" for environmentally and socially responsible forestry management and requires that, among other things, forest managers reduce their reliance on herbicides and pesticides. Now that the government has abandoned its commitments to reduce clearcutting and other harmful practices it appears they may be preparing to once again make taxpayers pay for a herbicide spraying program that the public does not support.
---
1 Charbonneau, D and J Simpson. 2010. Forest Herbicides as a Vegetation Management Tool: Perspectives on the future of forest management in Nova Scotia. Ecology Action Centre: Halifax.
2 Govindarajulu, P. P. 2008. Literature review of impacts of glyphosate herbicide on amphibians: What risks can the silvicultural use of this herbicide pose for amphibians in BC? Wildlife Report No R-28: BC Ministry of Environment.
3 Schrodl, W. et al. 2014. Possible effects of glyphosate on Mucorales abundance in the rumen of dairy cows in Germany. Current Microbiology: 69(6): 817-23.
4 International Agency for Research on Cancer, World Health Organization, Monograph Vol 112 (Glyphosate).
5 Joint FAO/WHO Meeting on Pesticide Residues: Summary Report, May 16, 2016.
DOWNLOAD PDF:
Exclusive: Map shows glyphosate applications in New Brunswick 2005 - 2014
Some areas of province awash in probable human carcinogen
by Miles Howe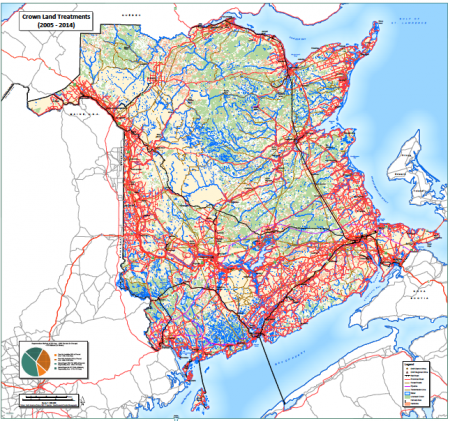 Through an Access to Information request, the Halifax Media Co-op has obtained a map of all glyphosate applications on Crown Land in the province of New Brunswick, between 2005 and 2014.
While our initial request from New Brunswick's Department of Natural Resources (DNR) was for a map of all Crown Lands that had received a glyphosate application since the inception of the herbicide application program in the 1980s, we have been informed that "a map containing all data since the inception of the program does not exist."
Whether New Brunswick DNR does not have this information on-hand at all, or whether they have simply not tabulated the information into a map format is not clear. In any case, approximately 20 years of information related to glyphosate applications on Crown Lands in New Brunswick is missing from the attached map.
Glyphosate applications on Crown Lands in New Brunswick – estimated by the province to be in the range of 12,000 to 14,000 litres annually - are largely undertaken in order to kill off plant species that might potentially compete with softwood trees, which themselves are used as fodder for the province's highly-subsidized pulp and paper industry.
Glyphosate applications, on forests and more often upon genetically-engineered food crops, have come under heavy criticism for their suggested links to human health impacts. In communications with provincial governmental representatives, throughout 2014 and 2015, whistle blower New Brunswick deer biologist Rod Cumberland noted that research into glyphosates differs greatly between European and North American studies.
In Europe, claimed Cumberland, studies into glyphosate applications are often far more 'long term' in scope, and study the effects of glyphosate applications under 'real time' scenarios. In North America, where the reach and financial heft of glyphosate's main producer, Monsanto, is more strongly felt amongst the scientific community, Cumberland asserted that glyphosate-related studies are narrowly focused and limited in scope.
Cumberland's claims were bolstered earlier in 2015 by the World Health Organization, which classified glyphosate as a 'probable' human carcinogen. As a result, numerous private vendors across Europe reacted by removing glyphosate products from their store shelves. Monsanto reacted as expected, disagreeing with the 'probable carcinogenic' link, citing scientific and regulatory precedence that found glyphosate to be safe.
While Cumberland and others continue to seek a ban on glyphosate applications in New Brunswick, the provincial government does not appear to have any plans to curtail its subsidization of glyphosate spraying on Crown Lands.
Documents that we earlier obtained show, likely only to a very small degree, the influence that industrial forestry players in New Brunswick have on setting the province's tree cutting agenda. Glyphosate applications are, from a 'bottom line' perspective, good for the pulp and paper industry; chemical applications are a cheap alternative to obtaining uniform softwood stands when compared to employing dozens of individuals in more labour-intensive 'tree spacing' methods.
The attached DNR map is of interest – and perhaps troubling - for a variety of reasons. Firstly, the lack of information related to pre-2005 applications on Crown Lands is noticeable.
The only information related to pre-2005 chemical applications available appears to be that 40% of the pre-2005 natural regeneration, clear cut, area (shown as green and unshaded in the legend) received a "PCT" or Previous Chemical Treatment. The green areas of the map are not divided into shaded and unshaded areas, so basically this might be anywhere on the map coloured green.
As for the 'planted' orange areas on the map, 79% of these areas (shaded) received a herbicide treatment. Again, the orange areas of the map are not divided into shaded and unshaded areas, so these areas might be anywhere coloured orange.
The concentration of orange zones, that is to say replanted areas that would likely be softwood tree farms that have received glyphosate applications in the last decade, are also concentrated more highly in particular areas of the province. For example, the map shows a high degree of concentration of orange coloration northwest of Mount Carleton Provincial Park, between St Quentin and Kedgwick, as well as just north of Havelock, in the southeast of the province. These concentrations of glyphosate applications do some discredit to the provincial DNR mantra that 'under 1% of Crown Land is sprayed with glyphosate per year'.
While geographically this may be the case, some regions of the province have literally been covered in glyphosate applications over the last decade.
DOWNLOAD PDF:
Fighting Forest Spraying in Nova Scotia
David Orton - Earth First! - Yule 1993
In Nova Scotia the struggle against the use of pesticides (biocides) on forests has been going on since the early 1970s. Every year, from Yarmouth to Cape Breton, depending on the declared "threat" to the forests, there are demonstrations, meetings and protests against spraying programs.
Past activities by anti-spray activists have included pulling up softwood plantation seedlings, blockades, the exposure of fraudulent scientific claims, appeals to local politicians, court cases, token environmental representation on pesticide user committees, etc.The latest development in the story is the introduction of biological controls –nematodes, bacteria, fungi, viruses, and genetically engineered organisms.
We are informed by Forestry Canada, the federal forestry agency, that "environmentally acceptable pest control systems based primarily on biological systems will allow for the removal of classical pesticides from forestry practice." Nematodes have recently been released on plantation sites to "control" the seedling debarking weevil, and they are being used against the spruce bud moth in white spruce plantations in New Brunswick.
The use of biological controls is no advance in environmental consciousness, but a continued attempt to control nature for anthropocentric industrial interests, with ecological costs yet to be calculated.It is fairly routine for some 80% of the people in a rural community to sign petitions asking that a particular spraying program be stopped. Forest spraying is being imposed without popular consent.
Political or social pressure in communities has sometimes stopped particular spraying programs or brought about the "concession" of an aerial spray operation turned into ground spraying. The more natural forests are "intensive managed" for the pulp and paper industry, the more "controls" are needed to protect softwood trees growing in even-aged tree plantations. This situation invites a discussion about the fundamental nature of capitalist industrial society, and the need for alternatives for ecological and social survival.
Many rural people see their health and water supplies directly threatened, as woodlots adjacent to their homes are sprayed and the spray drifts onto their land. Others, while agreeing with human-centered concerns, also oppose spraying on biocentric grounds –that all plant and animal life in the forest has a right to a non-poisoned existence. The issues are much larger than whether a particular chemical is "safe" or not.
Undermining and exposing the false claims of pesticide propaganda are crucial for gaining public support.Agriculture Canada, the federal government agency which licenses pesticides and promotes their use in farming, has a toll-free number (800-267-6315), well publicized by the forest sprayers and their allies. The public is invited to call for reassurance on any pesticides used in Canada.
The usual line is "the pesticide is registered by the federal government and if used according to label Instructions, it is safe."The Nova Scotia forestry-spraying program today is mainly a herbicide program. There are currently five chemical herbicides approved for use in forestry. The forestry herbicide of choice in Nova Scotia and across Canada is Vision, or glyphosate, made by Monsanto.Any pesticide information made available to the public is promotional, company-generated, and normally only concerns the active ingredient.
Other information is considered confidential. For example, while the herbicide Vision has the active ingredient glyphosate, it makes up only 41% of the formula. To understand the toxicity of Vision or any other pesticide, one must consider the full formulation, including the inert ingredients. Inerts can be harmless fillers, but are often poisonous in their own right or enhance the toxicity of the active ingredient.
There can also be contaminants from the production of a pesticide, plus break-down products and unknown added ingredients (for example defoamers in Vision).
In Pictou County in the summer of 1993, the one-sidedness of pesticide information and the opposition to clearcutting were successfully brought out. A demonstration was held against forest spraying and the forest management group, Pictou Forest Owners.
A fiery and successful public meeting was organized in August in the farming and forestry community of Scotsburn, protesting pesticide use and forestry practices in local woodlands. More than 100 people attended, including a contingent from the forest industry. The local newspaper, the New Glasgow Evening News, usually a mouthpiece of the forest industry, even wrote an editorial after this meeting, under the headline, "Spraying concerns are legitimate"!
David Orton is a prolific green writer working hard and late in the far reaches of Nova Scotia. For more information, or to get involved, write to him at Green Web, R.R. #3, Saltsprings, Pictou County, Nova Scotia BOK 1PO Canada; phone/fax (902) 925-2514.