UPDATE 04. June 2020: UK Scandal - BASF has received £1 billion in support funding and BAYER £600 million
BAYER On The Edge as Jury Awards $265 M to U.S. Peach Farmer over Illegal Dicamba Drift
By Sustainable Pulse - 16. February 2020
A jury on Saturday awarded US$ 250 million in punitive damages to a southeastern Missouri peach farmer who argued that weedkiller dicamba that had drifted onto his orchards from other farms had severely damaged his trees — an award that could bode well for over 140 other farmers suing the chemical's makers – BAYER (Monsanto) and BASF.
The punitive damages awarded to farmer Bill Bader, of Campbell, came a day after the jury awarded him $15 million in actual damages, agreeing with his argument that dicamba had drifted over from other farms and severely damaged Bader Farms, which is one of the largest peach farms in Missouri. Bader's attorneys argued that his trees likely wouldn't survive the dicamba exposure, The St. Louis Post-Dispatch reported.
The jury verdict is the latest litigation nightmare for BAYER, which is also seeking to settle tens of thousands of lawsuits claiming exposure to its Roundup weedkiller causes cancer.
This latest court decision was also issued amidst reports of an ongoing dicamba drift crisis — reported cases of dicamba drift are up in Indiana, Arkansas, Iowa, and Illinois.
Linda Wells, Pesticide Action Network Organizing Director, issued the following statement: "This verdict is just the tip of the iceberg — there is a long queue of farmers who have been impacted by dicamba drift and deserve their day in court. The internal Monsanto (now Bayer) documents uncovered in this case show that the company released a highly destructive and intentionally untested product onto the market, and used its influence to cheat the regulatory system.
While farmers who don't use the Xtend system are hit with crop damage and yield loss from dicamba drift, BAYER and BASF are reaping the financial gains of an increase in acreage planted to dicamba resistant soybeans, and an increase in use of dicamba formulations. Bader Farms' victory in this case signals a turning tide, and opens opportunities for farmers to hold BAYER and BASF legally accountable for the dicamba drift crisis more broadly."
Glyphosate Box

Glyphosate Residue Free Certification for Food Brands – Click Here

Test Your Food and Water at Home for Glyphosate – Click Here

Test Your Hair for Glyphosate and other Pesticides – Click Here to Find Out Your Long-Term Exposure
BACKGROUND (Source: USRTK):
Dozens of farmers around the United States are suing the former Monsanto Co., purchased in 2018 by BAYER AG, and conglomerate BASF in an effort to hold the companies accountable for millions of acres of crop damage the farmers claim is due to widespread illegal use of the weed killing chemical dicamba, use promoted by the companies.
Dicamba has been used by farmers since the 1960s but with limits that took into account the chemical's propensity to drift far from where it was sprayed. When Monsanto's popular glyphosate weed killing products, such as Roundup, started losing effectiveness due to widespread weed resistance, Monsanto decided to launch a dicamba cropping system similar to its popular Roundup Ready system, which paired glyphosate-tolerant seeds with glyphosate herbicides. Farmers buying the new genetically engineered dicamba-tolerant seeds could more easily treat stubborn weeds by spraying entire fields with dicamba, even during warm growing months, without harming their crops. Monsanto announced a collaboration with BASF in 2011. The companies said their new dicamba herbicides would be less volatile and less prone to drift than old formulations of dicamba.
The Environmental Protection Agency approved the use of Monsanto's dicamba herbicide "XtendiMax" in 2016. BASF developed its own dicamba herbicide that it calls Engenia. Both XtendiMax and Engenia were first sold in the United States in 2017.
Monsanto started selling its dicamba-tolerant seeds in 2016, and a key claim by the plaintiffs is that selling the seeds before regulatory approval of the new dicamba herbicides encouraged farmers to spray fields with old, highly volatile dicamba formulations. The Bader lawsuit claims: "The cause of such destruction to Plaintiff Bader Farms' crops is Defendant Monsanto's willful and negligent release of a defective crop system – namely its genetically modified Roundup Ready 2 Xtend soybeans and Bollgard II Xtend cotton seeds ("Xtend crops") – without an accompanying, EPA-approved dicamba herbicide."
Farmers claim that the companies knew and expected that the new seeds would spur such widespread use of dicamba that drift would damage the fields of farmers who did not buy the genetically engineered dicamba-tolerant seeds. The farmers allege this was part of a scheme to expand sales of the genetically engineered dicamba-tolerant seeds. Many allege the new dicamba formulations sold by the companies also drift and cause crop damage just as the old versions have done.
'Victory for Farmers' as Jury Awards Grower $265 Million in Damages From Drift of Monsanto's Dicamba
"This verdict is just the tip of the iceberg."
By Andrea Germanos - 17. February 2020
Brad Rose looks at rows of soybean plants that show signs of having been affected by Dicamba use on Aug 9, 2017. He doesn't use it on his crops and he's assured by neighbors within a mile and a half that they haven't used it either. According to him, that means that the chemical had to travel about two miles to reach his crops. Dicamba, a weed killer that has been used for over 50 years, is now having a devastating impact in Arkansas and neighboring states because because the Monsanto is now selling new soybean and cotton varieties that have been genetically altered to tolerate dicamba. (Photo: The Washington Post)
German chemicals giant BAYER announced Monday its intention to "swiftly appeal" a U.S. jury's decision to award a Missouri peach farmer over $265 million in compensation for years of crop losses as a result of drifting dicamba weedkiller.
The legal challenge was the first dicamba suit to go to trial and was brought forth by Bill and Denise Bader, owners of Bader farms. Dicamba is produced by Monsanto, which Bayer acquired in 2018.
Mr. Bader's suit challenged (pdf) Monsanto's "willful and negligent release of a defective crop system—namely its genetically modified Roundup Ready 2 Xtend soybeans and Bollgard II Xtend cotton seeds ("Xtend crops")—without an accompanying, EPA-approved dicamba herbicide."
"Monsanto sold the seeds before the Environmental Protection Agency (EPA) approved the herbicides for market," said the complaint.
The Baders, who did not use dicamba, said they lost over 30,000 trees due to Monsanto's actions, as journlist Carey Gillam wrote earlier this month:
Bader claims Monsanto sold GMO dicamba-tolerant soybean and cotton seeds despite knowing the actions would trigger chemical damage to farm fields that were not planted with the new seeds. The intent, the Bader Farms' lawsuit alleges, was to induce farmers to buy the specialty seeds as a means to prevent crop damage from herbicide drift coming from neighboring farmers who were planting the GMO crops and spraying them with dicamba.

Testing showed that leaves of his dying peach trees carried traces of dicamba. The 5,000-acre family farm, which produced 5 million to 6 million pounds of peaches annually along with corn, soybeans, various berries, apples, and tomatoes, is now struggling to survive, according to Bader.
The jury sided with Bader Farms on Friday and awarded them $15 million in damages, as St. Louis Public Radio reported:
Monsanto and BASF were found liable for negligent design of the products and negligent failure to warn regarding the products. The jury also found that the two companies created a joint venture to manufacture and sell dicamba-resistant seed and low-volatility herbicides, and that they conspired to create an "ecological disaster" to increase profits.
The jury followed up Saturday with a determination that Monsanto and BASF pay $250 million in punitive damages.
The National Family Farm Coalition wondered if the verdict represented the "start of dicamba demise."
In a Saturday tweet, the group called the decision a "victory for farmers which courts will hopefully uphold. Bayer bought #Monsanto with knowledge of these issues and should pay for #dicamba damage."
Pesticide Action Network welcomed the development as well.
"This verdict is just the tip of the iceberg — there is a long queue of farmers who have been impacted by dicamba drift and deserve their day in court," said Linda Wells, Pesticide Action Network organizing director. "The internal Monsanto (now BAYER) documents uncovered in this case show that the company released a highly destructive and intentionally untested product onto the market, and used its influence to cheat the regulatory system."
"While farmers who don't use the Xtend system are hit with crop damage and yield loss from dicamba drift, Bayer and BASF are reaping the financial gains of an increase in acreage planted to dicamba resistant soybeans, and an increase in use of dicamba formulations," Wells continued. "Bader Farms' victory in this case signals a turning tide, and opens opportunities for farmers to hold Bayer and BASF legally accountable for the dicamba drift crisis more broadly."
As Bloomberg noted Monday, BAYER's legal woes continue "in the face of a hurricane of lawsuits claiming that best-selling weed killer Roundup causes cancer," over 140 cases related to dicamba, upcoming suits related to safety risks of its Essure birth control device, and challenges over PCB-contaminated waterways.
===
Widely Used Weed Killer – Roundup – Contaminates Ecosystems, Harms Biodiversity
By McGill University March 4, 2020
Study examines the resilience of freshwater ecosystems contaminated by Roundup herbicide.
One of the world's most widely used glyphosate-based herbicides, Roundup, can trigger loss of biodiversity, making ecosystems more vulnerable to pollution and climate change, say researchers from McGill University.
The widespread use of Roundup on farms has sparked concerns over potential health and environmental effects globally. Since the 1990s use of the herbicide boomed, as the farming industry adopted "Roundup Ready" genetically modified crop seeds that are resistant to the herbicide. "Farmers spray their corn and soy fields to eliminate weeds and boost production, but this has led to glyphosate leaching into the surrounding environment. In Quebec, for example, traces of glyphosate have been found in Montérégie rivers," says Andrew Gonzalez, a McGill biology professor and Liber Ero Chair in Conservation Biology.
To test how freshwater ecosystems respond to environmental contamination by glyphosate, researchers used experimental ponds to expose phytoplankton communities (algae) to the herbicide. "These tiny species at the bottom of the food chain play an important role in the balance of a lake's ecosystem and are a key source of food for microscopic animals. Our experiments allow us to observe, in real time, how algae can acquire resistance to glyphosate in freshwater ecosystems," says post-doctoral researcher Vincent Fugère.
Ecosystems adapt but at the cost of biodiversity
The researchers found that freshwater ecosystems that experience moderate contamination from the herbicide became more resistant when later exposed to a very high level of it — working as a form of "evolutionary vaccination." According to the researchers, the results are consistent with what scientists call "evolutionary rescue," which until recently had only been tested in the laboratory. Previous experiments by the Gonzalez group had shown that evolutionary rescue can prevent the extinction of an entire population when exposed to severe environmental contamination by a pesticide thanks to the rapid evolution.
However, the researchers note that the resistance to the herbicide came at a cost of plankton diversity. "We observed significant loss of biodiversity in communities contaminated with glyphosate. This could have a profound impact on the proper functioning of ecosystems and lower the chance that they can adapt to new pollutants or stressors. This is particularly concerning as many ecosystems are grappling with the increasing threat of pollution and climate change," says Gonzalez.
The researchers point out that it is still unclear how rapid evolution contributes to herbicide resistance in these aquatic ecosystems. Scientist already know that some plants have acquired genetic resistance to glyphosate in crop fields that are sprayed heavily with the herbicide. Finding out more will require genetic analyses that are currently under way by the team.
Reference: "Community rescue in experimental phytoplankton communities facing severe herbicide pollution" by Vincent Fugère, Marie-Pier Hébert, Naíla Barbosa da Costa, Charles C. Y. Xu, Rowan D. H. Barrett, Beatrix E. Beisner, Graham Bell, Gregor F. Fussmann, B. Jesse Shapiro, Viviane Yargeau and Andrew Gonzalez, 2 March 2020, Nature Ecology & Evolution.
DOI: 10.1038/s41559-020-1134-5
===
The Adverse Effects of Genetically Modified Maize. Call for Retraction of EU-funded G-TwYST Study
Study claiming no adverse effects from a GM maize is unreliable, writes Prof Gilles-Eric Séralini in a new peer-reviewed analysis
By Claire Robinson - 7. March 2020
Prof Gilles-Eric Séralini of the University of Caen has published a peer-reviewed paper criticising the EU-funded 2-year feeding study on GM maize that claimed to show no adverse effects from the GM diet.
The EU-funded study was published in 2019 by Pablo Steinberg and colleagues and reported the results of the 2-year rat feeding study, called G-TwYST, on a GM Roundup-tolerant maize, NK603. The published paper claimed that there were "no adverse effects" related to the feeding of the GM maize cultivated with or without Roundup spraying and that no further long-term studies with GMOs were justified.
This was in spite of the fact that the male rats in this study that were fed NK603 maize sprayed with Roundup had a significantly increased mortality rate compared with controls. The main cause of death was pituitary tumours, followed by kidney disease.
The Steinberg study was carried out to follow up the study led by Prof Séralini, which was initially published in 2012. The Séralini study had found serious adverse effects in rats fed NK603 maize and very low doses of Roundup fed both separately and together with the maize. Effects in most treatment groups strongly paralleled the findings of Steinberg's team, including severe kidney disease and increased mortality. The pituitary gland was the second most tumour-affected organ in females after the mammary gland.
Now Prof Séralini has responded to the Steinberg study in a new peer-reviewed publication. Séralini draws attention to the differences between his own team's and Steinberg and colleagues' study, as follows.
Steinberg and colleagues used a rat strain that was not sensitive to tumour-causing substances
Steinberg and colleagues used a rat strain, the Wistar, that was less sensitive to substances causing tumours than the Sprague-Dawley rat used by Séralini (and Monsanto in its shorter study). In GMWatch's view this is only understandable on the basis that they were actively trying not to find tumorigenic and carcinogenic effects from the GM maize tested. The Sprague-Dawley rat is one of the most commonly used models for human breast cancer risk. In other words, the Sprague-Dawley rat is about as sensitive to substances causing mammary tumours as humans and thus a suitable model for a study intended to look at carcinogenic effects.
Steinberg and colleagues didn't study Roundup or glyphosate alone
Long-term effects of Roundup alone at environmentally relevant levels (0.1 ppb) on a diet without pesticides were not tested by Steinberg and colleagues, unlike Séralini's team. Séralini's team found severe health effects from this low dose of Roundup, including non-alcoholic fatty liver disease, which was confirmed by separate research carried out by a different group of researchers at a later date.
Heavy contamination of diets in Steinberg and colleagues' study meant effects of the GMO could be masked
Glyphosate-based residues were present at high levels in the diets in Steinberg and colleagues' study, including the control diets, even though the aim was to study a glyphosate-tolerant GMO. The levels of glyphosate found corresponded to 300–1400 times more glyphosate than was present in the dose of Roundup found to be toxic in the Séralini study.
The Toxic Impacts of GMO Maize: Scientific Journal Bows to Monsanto, Retracts anti-Monsanto Study
Steinberg and colleagues also found many other contaminants in the analysis of their feeds. The authors considered a priori that all the feed contaminations would have no effect. But Séralini comments, "This is only their subjective opinion, and many indications that we have cited can prove the contrary." The bottom line is that the effects of such mixtures have not been properly tested for, so it is not valid to claim that they have no effect.
This heavy contamination of the feeds, Séralini suggests in the new paper, increased the background level of serious diseases in the controls, preventing many observable effects of the GMO treatment on animals. He writes that such contamination would have prompted him to abandon the experiment before it began: "Given such neglect of the contamination issue, we would have stopped there instead of drawing scientifically inadequate conclusions."
The probable reason for the differences in contamination levels was that in the Séralini study, the crops were grown specially using organic methods. Thus pesticide residues were so low as to be undetectable – at least, by the detection methods available at the time, which were less sensitive than those available now. Therefore the researchers were able to highlight any effects from the GMO and/or the Roundup.
Given the low-to-non-existent pesticide and GMO contamination of the base and control diets in the Séralini team's experiment, it is perhaps not surprising that they found 5–8 times fewer tumours and diseases in their control rats than did Steinberg and colleagues. Separate research led by Séralini showed that laboratory rat feeds are routinely contaminated by many pollutants, including GMOs, heavy metals, dioxins, and pesticides.
High mortality rates in males fed GM NK603 corn dismissed by Steinberg and colleagues
Séralini writes, "In spite of the many weaknesses of the study design, Steinberg et al. still found significant differences, most notably in male mortality, which was higher in the animals fed the GM corn sprayed with Roundup for 2 years. In addition, increased incidence of pituitary neoplasia, and disorders of the sex hormones estradiol and thyroid in females were also noticed."
GMWatch has also drawn attention to these dramatic findings. But bafflingly, not a single mainstream media outlet has reported on them, even though they will be clearly evident to anyone who reads the full paper rather than just the abstract and the press statements put out by the G-TwYST researchers.
As Séralini points out in the new paper, these findings in Steinberg and colleagues' experiment were the same as those observed in the earlier Séralini study. But Steinberg and colleagues dismissed these effects as "not… adverse", due to the lack of histopathological alterations in the estrogen-sensitive tissues and organs. However, Séralini counters, "Lesions can be missed in the histopathological sectioning, and/or some functional alterations that have biological effects on the organism may not result in histopathological changes. It is not the place of Steinberg et al. to dismiss such changes based on assumptions, like EFSA or industry conclude, particularly in a research study conducted with the aim of revealing any health risk to humans."
Steinberg and colleagues haven't published their histopathology slides
This brings us to an important omission in Steinberg and colleagues' paper. As Séralini writes, the histopathological sections are not shown even in supplementary data, and thus cannot be analysed by others to confirm or refute the interpretation of Steinberg and colleagues that there were no adverse effects from the GM maize.
Moreover, on closer examination of the Steinberg and colleagues' publication, GMWatch has noticed that they did not conduct their histology (microscopic analysis of tissues) and histopathology (microscopic analysis of tissues with the aim of studying development of disease) blinded. They justify this highly unusual move on the grounds of saving time and money. However, the issue with this is that absence of blinding allows bias to creep in. They also state that they didn't look at tissues from all the animals – but only the control and high dose group animals. The problem with that is that they could easily have missed important effects in the lower dose groups.
Steinberg and colleagues dismiss differences in GM-fed animals for invalid reasons
Steinberg and colleagues dismissed some statistically significant differences in treatment groups as not biologically relevant since they are "small" or "not dose-related", the latter meaning there should be an effect proportional to the dose of the GMO. But as Séralini writes, "Such assertions are not scientifically justifiable. A dose-related observation begins with three doses and not two according to OECD [Organisation for Economic Cooperation and Development, which sets protocols for industry experiments conducted for regulatory purposes]. Moreover, an effect that is statistically significant should not be dismissed as 'small' and the effects of hormone disruptors are often not proportional to the dose."
Steinberg and colleagues misuse historical control data to dismiss differences
In order to dismiss the differences in GM-fed animals, Steinberg and colleagues compare the effects observed in this experiment with the "historical control data" obtained from previous feeding trials. Séralini points out that this use of unrelated historical control data violates the Test Guidelines of the Organisation for Economic Cooperation and Development (OECD) on the conduct and design of chronic toxicity and carcinogenicity studies [30] — guidelines that Steinberg and colleagues cite in their paper. The OECD states, "the concurrent control group is always the most important consideration" when considering the effects of the test substance.
Séralini writes that he finds it surprising that the authors conclude from their findings that "we should no longer bother to conduct long-term studies on agricultural GMOs in general". This, he states, "is contrary to the spirit of scientific inquiry and (more importantly) is not supported by the concerning results that were found in spite of the methodological weakness of the study".
Séralini continues by pointing out the many conflicts of interest of Pablo Steinberg, which were not declared in the G-TwYST study publication. For example, elsewhere Steinberg noted that he was an expert for the International Life Science Institute (ILSI), an industry lobby group funded by the likes of Monsanto and Syngenta, which has worked to weaken regulation and testing, including of GMOs and pesticides, and supports their use.
Séralini concludes that the results of Steinberg and colleagues' paper are "unreliable" and that the paper "should be retracted, and the results deleted from regulatory appraisals and risk assessments".
* Note to readers: Forward this article to your email lists. Crosspost on your blog site, internet fora etc.
The original source of this article is GMWatch - Copyright © Claire Robinson, GMWatch, 2020
===
UPDATE:
Pesticide giant gets £1billion bailout despite mammoth dividend plan
German firms BASF and BAYER are the largest recipients of UK coronavirus support funds, new data reveals
By Zach Boren - 04. June 2020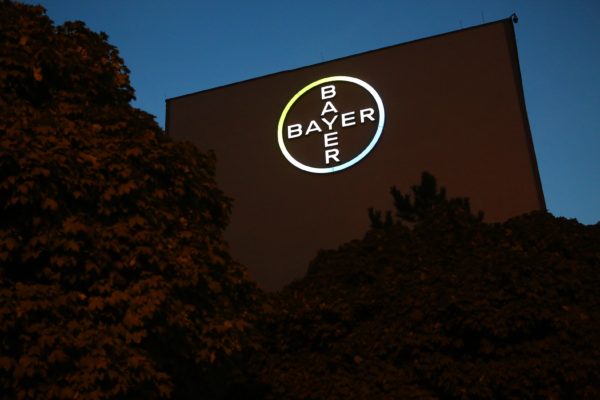 The world's largest chemicals company BASF, which makes agricultural, industrial and automotive products at its eight UK plants, has received £1 billion in support funding — by far the biggest payout so far agreed under the UK scheme.
The news comes just weeks before BASF shareholders will vote on a proposal for the company distribute to more than three times that amount to them in dividends, the chemicals giant confirmed to Unearthed.
Meanwhile Bayer, which acquired Monsanto in 2018 and is one of the industry's biggest players in its own right, was handed £600 million – the same amount given to troubled airlines Ryanair and easyJet to much fanfare.
The Bayer bailout, disclosed by Bank of England this afternoon in its latest update on its COVID corporate financing facility, happened just weeks after shareholders approved a plan to distribute dividends worth £2.75 billion.
When contacted by Unearthed to see whether the dividends had already been paid out, Bayer failed to respond.
The Bank's Covid-19 funds come without conditions, but Unearthed understands it expects firms to exercise 'restraint' with dividends payments and executive compensation.
Both BASF and Bayer are headquartered in Germany and listed on the Frankfurt stock exchange.
Simon Rawson, director of corporate engagement at ShareAction, said: "Companies need to recognise the interests of all of their stakeholders, not just shareholders. This includes their responsibilities to their workforce, their communities and the environment.
"Where they are in receipt of taxpayer bailouts, society's expectations are rightly even higher. It is hard to comprehend how companies can justify paying huge dividends in the current situation.
"Economic stimulus packages need to support a green recovery, with strict environmental conditions for these chemical and pesticide companies, to ensure our planet is not overheated, polluted, and devoid of biodiversity."
Polluters
So far 53 companies have received a total of £16.25 billion in government relief, as per Bank of England's latest update.
Polluting industries such as airlines, car companies and oil and gas services are among the largest receivers of the government loans.
Ryanair and easyJet have received £600m each as part of the scheme whilst WizzAir and British Airways were both given £300m, taking the sector's total emergency funding to £1.8 billion.
Five carmakers were also on BofE's emergency loan list, with Nissan receiving £600m, Toyota and Rolls Royce £300m and Honda £75m. In total the motor industry is receiving just in excess of £1.6 billion.
Even oil and gas services firms like Baker Hughes (£600m) and Schlumberger (£150m) are receiving vast amounts in emergency loans.
Related