UPDATE 06. March 2020: Shareholder Files Suit Against Bayer AG Over 'Disastrous' Monsanto Acquisition - Ultimately responsible is Bayer AG CEO Werner Baumann - see underneath.
Monsanto pays out $10mn as it admits spraying BANNED toxic pesticide on Hawaii crops
By RT - 22. November 2019
Embattled biotech company Monsanto will pay a hefty fine for stockpiling over 72kg of highly dangerous pesticide and spraying it on "research crops," even after it was banned by the US government.
Monsanto acknowledged that it used methyl parathion, the active ingredient in Penncap-M, on corn seed and other crops on the Hawaii island of Maui back in 2014, knowing that it was prohibited by the Environmental Protection Agency (EPA) the previous year.
The US Justice Department, which investigated the case, said that over 72kg (160lbs) of the chemical – fatal if inhaled and hazardous if swallowed – was illegally stored at a company facility, endangering "the environment, surrounding communities and Monsanto workers."
The controversial company told their employees to go back into the sprayed fields seven days after the toxic Pennicap-M was used, whereas the area should have been closed off for 31 days.
Now, the biotech giant has agreed to pay $10 million, which includes a $6 million criminal fine and $4 million in community service payments. The payoff is part of a deal by which federal prosecutors will dismiss felony charges against Monsanto in two years if it abides by the law.
The news comes as Monsanto faces a flurry of lawsuits over the potential hazards of its products. Just yesterday, Canadian lawyers launched a $500 million lawsuit against Monsanto and its owner, Bayer of Germany. It says Canadian plaintiffs affected by weed killer Roundup have been diagnosed with different forms of cancer, including brain and lung cancer.
Last month, a suit pitched up by Maui residents blamed birth defects on chemicals from Monsanto corn fields. The plaintiffs believe that multiple toxins were heavily sprayed to test the seeds on Monsanto fields near their homes, local media reported.
===
Ultimatly responsible is the CEO of German chemicals giant BAYER AG, Werner Baumann
Canada launches major class-action lawsuit against Monsanto's Roundup & owner BAYER
By RT - 21 Nov, 2019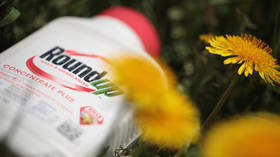 A Canadian law firm has filed a $500 million class-action lawsuit against Monsanto and its owner Bayer. It says they've been acting with reckless disregard for the safety of Canadians by selling weed killer Roundup.
According to the firm Diamond & Diamond, there are currently more than 60 individuals named as plaintiffs, but it says that thousands may have been affected.
The plaintiffs involved in this class-action lawsuit are looking not only for financial compensation, but also for "behavior modification" so that the same thing doesn't happen again in the future with other products in Canada.
"If there's not these lawsuits that force companies like Monsanto to write these big cheques, they have no incentive to change the way they do business," Darryl Singer, the head of commercial and civil litigation at Diamond & Diamond, told CBC News.
He explained the plaintiffs have been diagnosed with different forms of cancer, including brain and lung cancer. Some of the clients are acting on behalf of an estate.
"These are not minor injuries," Singer said, adding that some of the plaintiffs "are not likely to see the end of this lawsuit because they will pass away before that."
Bayer Canada said it will "vigorously defend" its products. "While we have great sympathy for the plaintiffs, glyphosate-based herbicides are not the cause of their illnesses," the company said in a statement.
"Glyphosate has been extensively studied globally by scientists and regulators, and results from this research confirm it is not carcinogenic. We firmly stand behind the safety of glyphosate-based products and as a company devoted to life sciences, assure Canadians that their health and the environment are our top priority."
The lawsuit is the first class action in Canada and follows class-action lawsuits filed against Bayer and Monsanto in the United States. Lawsuits against Roundup manufacturers have been also filed this year in British Columbia, Quebec, Saskatchewan and Manitoba.
Monsanto pleads guilty to illegal pesticide use in Hawaii
By Audrey McAvoy - AP - 21.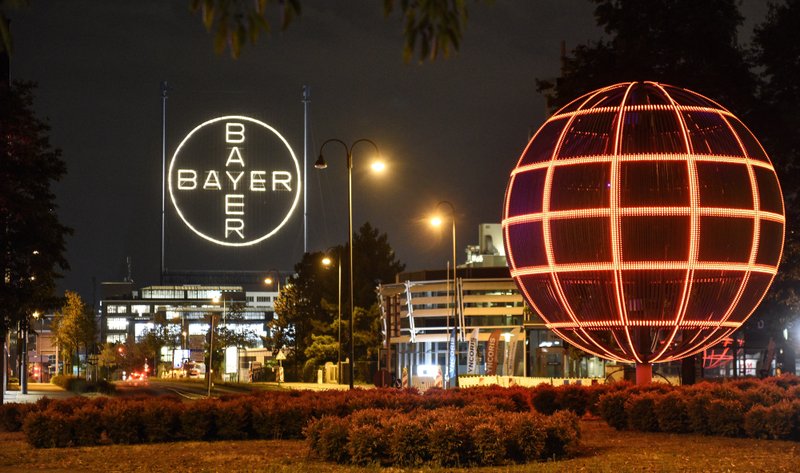 This Aug. 9, 2019 file photo shows the Bayer logo at the main chemical plant of German BAYER AG in Leverkusen, Germany. BAYER subsidiary Monsanto has pleaded guilty to spraying a banned pesticide on research crops on the Hawaii island of Maui in 2014, prosecutors said. Photo: Martin Meissner, AP
HONOLULU (AP) — Agrochemicals company Monsanto on Thursday pleaded guilty to spraying a banned pesticide on research crops on the Hawaii island of Maui in 2014, prosecutors said.
Monsanto, now owned by the pharmaceutical company Bayer of Germany, has also agreed to pay $10 million for charges it unlawfully stored the pesticide, which was classified an acute hazardous waste. The money includes a $6 million criminal fine and $4 million in community service payments.
Prosecutors have agreed not to prosecute Monsanto if it abides by the agreement, which requires the company comply with U.S. environmental laws.
U.S. attorneys in Los Angeles handled the case after their counterparts in Honolulu were recused.
Bayer said in a statement that it didn't live up to its own standards or applicable laws.
"As stewards of the land, it is our responsibility to use agriculture products safely and to manage our waste correctly. We take this very seriously and accept full responsibility for our actions," said Darren Wallis, Bayer's vice president of communications in North America.
The banned pesticide was methyl parathion, the active ingredient in Penncap-M, which the company used on corn seed and research crops in Kihei.
Monsanto admitted it sprayed Penncap-M even though the company knew the U.S. Environmental Protection Agency prohibited its use after 2013.
The company also admitted it told employees to re-enter the fields seven days after the spraying, even though Monsanto knew that workers should have been prohibited from entering the area for 31 days.
UPDATE:
Shareholder Files Suit Against Bayer Over 'Disastrous' Monsanto Acquisition
The CEO of German chemicals giant Bayer, Werner Baumann, speaks during the company's annual news conference in Leverkusen, western Germany, on Feb. 27. INA FASSBENDER / AFP / Getty Images
By Carey Gillam - 06. March 2020
A California shareholder of Bayer AG on Friday filed a lawsuit against the companies' top executives claiming they breached their duty of "prudence" and "loyalty" to the company and investors by buying Monsanto Co. in 2018, an acquisition the suit claims has "inflicted billions of dollars of damages" on the company.
Plaintiff Rebecca R. Haussmann, trustee of the Konstantin S. Haussmann Trust, is the sole named plaintiff in the suit, which was filed in New York County Supreme Court. The named defendants include Bayer CEO Werner Baumann, who orchestrated the $63 billion Monsanto purchase, and Bayer Chairman Werner Wenning, who announced last month he was stepping down from the company earlier than planned. The suit claims that Wenning's decision came after Bayer improperly obtained a copy of the then-draft shareholder lawsuit "through corporate espionage."
The lawsuit also claims that Bayer's recent announcement of an audit of its acquisition actions is "bogus" and "part of the ongoing cover-up and intended to create a legal barrier to this case to protect Defendants from their accountability…"
The action is a shareholder derivative complaint, meaning it is brought on behalf of the company against company insiders. It seeks compensatory damages for shareholders and disgorgement of "all compensation paid to the Bayer Managers and Supervisors who participated in bringing about this Acquisition…" The suit also seeks return of funds paid to banks and law firms involved in the acquisition.
The defendants include not only Baumann and Wenning, but also some present and former Bayer directors and top managers, as well as BOFA Securities, Inc., Bank of America, Credit Suisse Group AG and the law firms of Sullivan & Cromwell LLP and Linklaters LLP.
A Bayer spokesman did not respond to a request for comment.
The lawsuit comes a little more than a month before Bayer's April 28 annual shareholders' meeting in Bonn, Germany. At last year's annual meeting, 55 percent of shareholders registered their unhappiness with Baumann and other managers over the Monsanto deal and the subsequent loss of roughly $40 billion in market value.
Bayer's purchase of Monsanto has been clouded by tens of thousands of lawsuits alleging Monsanto's glyphosate-based herbicides cause non-Hodgkin lymphoma and that the company deceived customers about the risks. Bayer proceeded with the acquisition even after the International Agency for Research on Cancer in 2015 classified glyphosate as a probable human carcinogen with a positive association to non-Hodgkin lymphoma, and despite knowledge of the spreading legal claims.
Bayer then completed the Monsanto purchase just two months before the first Roundup cancer trial ended with a $289 million verdict against the company. Since that time two more trials have ended in similar findings against the company with verdicts totaling more than $2 billion, though the trial judges in each case have lowered the verdicts. All are now on appeal.
Bayer has said there are more than 45,000 plaintiffs currently making similar claims. The company has been working to settle the lawsuits for a figure widely reported to be around $10 billion but has thus far not been successful in putting an end to the litigation.
The lawsuit claims that during 2017 and 2018, as the filing of new Roundup cancer lawsuits was escalating, the ability of Bayer management to conduct due diligence into Monsanto and the litigation risks was "severely restricted." As a result, "Bayer could not conduct the kind of intrusive and thorough due diligence into Monsanto's business and legal affairs called for under the circumstances."
The suit claims that Monsanto did not disclose a material risk from Roundup and failed to quantify any potential financial impact. Monsanto's executives "had every incentive to minimize the Roundup risk in order to get Bayer to close the deal," the lawsuit states.
The shareholder lawsuit claims that "these types of mass-tort cases… can destroy a company."
The lawsuit points to the fact that Monsanto's glyphosate herbicides are now being restricted and/or banned in many parts of the world, including in Germany.
"The Monsanto Acquisition is a disaster. Roundup is doomed as a commercial product," the lawsuit states.
Reposted with permission from U.S. Right to Know.
READ MORE:
Bayer faces huge upsurge in cancer-linked lawsuits, as number of claims double over Monsanto's weed killer Roundup
Brazilian farmers lose battle to Monsanto but pledge to fight its 'abusive' royalty system