Newly published aerial surveys—out just weeks after the country lifted its hunting ban—indicate that poaching is on the rise in Botswana.
By Dina Fine Maron (*) - NatGeo - 13. June 2019
Botswana—widely considered a safe haven for elephants in Africa—appears to be suffering from its own surge in poaching, according to aerial survey work published today in the journal Current Biology."We have a significant poaching problem—let's deal with it," says Mike Chase, who, as the director of the Botswana-based nonprofit Elephants Without Borders, led the latest aerial survey study as well as earlier elephant counts, including the 18-country Great Elephant Census."We were warned by conservationists in other countries that the poachers would eventually come down to Botswana, and now they're here," he says.Botswana is estimated to be home to more than 130,000 savanna elephants—about a third of Africa's remaining population. Until recently, the southern African country had largely escaped the scourge of elephant killings for ivory, still in high demand in China and elsewhere. (Read about how elephants fleeing poaching hotspots went to Botswana.
In Chase's 2014 survey work, his team saw no incidents of suspected elephant poaching in Botswana. But in 2018, across five areas, they counted 156 fresh or recent carcasses whose skulls had been cut open and the tusks removed. Many of the carcasses were hidden under bushes, suggesting, Chase says, that those animals were victims of the illegal ivory trade.
In Chase's 2014 survey work, his team saw no incidents of suspected elephant poaching in Botswana. But in 2018, across five areas, they counted 156 fresh or recent carcasses whose skulls had been cut open and the tusks removed. Many of the carcasses were hidden under bushes, suggesting, Chase says, that those animals were victims of the illegal ivory trade.
Elephants Without Borders estimates that country-wide at least 385 elephants were poached from 2017 through early October 2018—a spike that may portend future population declines. This, Chase says, should be seen as a call to action.
The African Wildlife Foundation, an international conservation nonprofit, estimates that as many as 35,000 elephants are killed each year in Africa. Zambia's Sioma Ngwezi National Park, for example, had about 900 elephants in 2004 but only an estimated 48 just over a decade later—losses likely driven by ivory poaching. And in the Ruaha-Rungwa region of south-central Tanzania, the elephant population is estimated to have fallen from more than 34,000 in 2009 to 8,000 by 2014.
The Botswana count in Current Biology appears on the heels of last month's announcement by the government that it will lift its five-year-old hunting ban on all species—a controversial move that will allow renewed trophy hunts of elephants and other animals. Such hunts, the government said, are needed because dangerous encounters between people and elephants have been increasing and may threaten livelihoods, among other reasons.
"Our main conclusion remains the same [as last year's report], but we decided the best thing to do was take all of our results, make sure we had done everything correctly, and put it together in a paper that went through the journal's formal peer-review process—which is about as good as you can get in the scientific world," says Scott Schlossberg, an Elephants Without Borders ecologist who led the analysis. The hope, he says, is that people will now be convinced about the scale of this problem.
Botswana's Ministry of Environment, Natural Resources Conservation and Tourism did not respond to requests for comment about elephant poaching in the country.
Counting carcasses
To conduct the counts, Chase flew in a small, single-engine plane, sitting alongside the pilot and recording carcass sightings. Two observers sat in the back doing their own counts—one of whom was almost always a Botswana government employee, according to Elephants Without Borders. They followed up with helicopter and photo inspections of some carcasses.
Whether or not Botswana's hunting ban helped deter poachers or, as some assert, led to unchecked elephant numbers—perhaps making villagers feel justified in killing elephants that damaged their crops and then taking their tusks—remains unclear, says crime and security expert Vanda Felbab-Brown of the Brookings Institution, a think tank in Washington, D.C. Felbab-Brown considers the findings in Current Biology "credible" and "strengthened" from a year ago. "This work looks solid," she says.
Gaseitsiwe Masunga, an ecologist at the University of Botswana's Okavango Research Institute and a former chief wildlife officer for Botswana's Department of Wildlife and National Parks, also accepts the findings. "I think the extrapolations here are reasonable," he says, adding, "I think it is accurate and correct that the number of poaching incidents is increasing." Moreover, Masunga says, earlier ground-based surveys indicated that poaching numbers were on the rise, and aerial work allows for even greater perspective.
But Goemeone Mogomotsi, a senior research fellow at the Okavango Research Institute, wrote in an email that he's skeptical about the Elephants Without Borders methodology and numbers. Many of the de-tusked elephant carcasses, he says, may have been animals that died from natural causes and then were de-tusked by government employees—a relatively common practice. "That is done on a regular basis when elephants die, and their carcasses are identified by anti-poaching units," he says. "To take out those tusks, a similar process of hacking the skulls is likely carried out."Both Chase and Masunga, however, say that anti-poaching units don't conceal carcasses and typically indicate their removal of tusks by marking the carcasses with spray paint. It would also be unusual—too demanding logistically—for anti-poaching units to de-tusk elephants in the remote areas where these elephants were found, Chase says. He adds that it isn't typical for anti-poaching units to de-tusk new carcasses; instead, they take tusks from old, decomposed carcasses.
Vindication
Publishing the new findings in a peer-reviewed journal is also about vindication, Chase says. "To have your scientific reputation called into question is soul-destroying. I'm hoping this paper will in some way restore my reputation as a well-known elephant conservationist and, more importantly, help with the plight of elephants in our country and restore our legacy of being a safe haven for the world's largest elephant population."
In addition to exhaustively cross-checking their earlier work, Schlossberg, Chase, and co-author Robert Sutcliffe added one new element. To test for other possible causes of elephant deaths, they studied the regions immediately surrounding the five poaching hot spots to ascertain whether they differed from the hot spots in terms of available food for elephants, drought conditions, elephant densities, and numbers of people.
What they found was that the non-poached areas generally had poorer food supplies and less water. Elephant densities were roughly comparable, and there were more people in the areas outside the poaching hot spots. They concluded that these factors don't explain the deaths of the elephants and that poaching is the more likely cause.
Overall, the team estimated that between 2014 and 2018 the number of elephant carcasses in Botswana increased by 593 percent. Some of the increase may have been from natural causes, including a country-wide drought a few years ago, Schlossberg says. Elephant numbers stayed roughly stable from 2014 to 2018. But that in itself is problematic, he explains, because elephant populations are expected to increase a few percentage points every year, unless something keeps those numbers in check, such as drought or disease—or poaching.
"We don't want to say poaching has caused the population to stop growing—we don't have enough evidence to claim that—but it is worrisome when an elephant population is not growing," he says.
The carcass evidence suggests that poachers in Botswana have concentrated on tuskers, the older bulls most likely to have the largest tusks. Once those elephants are gone, poachers turn to the matriarchs. At that point, Schlossberg says, elephant populations are especially vulnerable because the older females are the repositories of the herd's collective wisdom. The matriarchs are the ones who know where to find water and food. (Learn more about ivory poaching trends: Under poaching pressure, elephants are evolving to lose their tusks.)
"It has become easy to believe that Botswana was always going to be safe for elephants, even if it was going really badly for elephants in other countries around Botswana," Schlossberg says. "But now we know that it is not."
Chase says that to protect Botswana's elephants, "we cannot expect government to deal with these complex challenges on their own." Some poaching hot spots are in concessions leased to large international tourism or safari companies, and they should ramp up their own anti-poaching efforts. Chase points to two concessions in the Okavango Delta that have anti-poaching patrols—in those highly monitored areas, Elephants Without Borders found no elephants that had been killed for their ivory.
===
Wildlife Watch is an investigative reporting project between National Geographic Society and National Geographic Partners focusing on wildlife crime and exploitation. Read more Wildlife Watch stories here, and learn more about National Geographic Society's nonprofit mission at nationalgeographic.org. Send tips, feedback, and story ideas to

.
(*) Author: Dina Fine Maron is senior National Geographic Society wildlife trade investigative reporter, covering wildlife crime and exploitation for Wildlife Watch.
====
OTHER VOICES:
Elephant Poaching In Botswana Is Nearly 600% More Than In 2014
By Michael Chase and Scott Schlossberg, Elephants Without Borders
A response to: Kathleen Alexander – Virginia Tech University, John (Tico) McNutt – Botswana Predator Conservation Trust, and Mark Vandewalle – CARACAL.
Clearing up misconceptions about Botswana elephant poaching
In a September 2018 article in Africa Geographic, three scientists—Kathleen Alexander, J.W. McNutt, and Mark Vandewalle—questioned Elephants Without Borders' account of large numbers of poached carcasses in northern Botswana. Dr Alexander also criticized Elephants Without Borders (EWB) in an article in the New York Times and Safarious.
Alexander did not see any of our original data, nor did they request it from us. Disagreements in the scientific community can be a good thing but passing judgment on others' research without seeing their data is malpractice.
These claims made by Alexander need to be answered in the interest of elephant conservation. Here, using our peer reviewed report, we set the record straight on elephant poaching in Botswana.
Claim 1: EWB exaggerated the scale of poaching.
"But it's clear that the allegations of scale are imagined." (New York Times)
"There is no scientific basis for the dramatic assertions of elephant poaching in Botswana made in recent media reports" says Kathleen Alexander. (Safarious)
Alexander and her co-authors got the numbers all wrong when trying to dismantle our claims about poaching.
They also appeared to not understand the difference between 'observed' and 'estimated' numbers of elephant carcasses. On our 2014 survey we only saw 18 fresh elephant carcasses and estimated a total of 130 fresh carcasses for all of northern Botswana.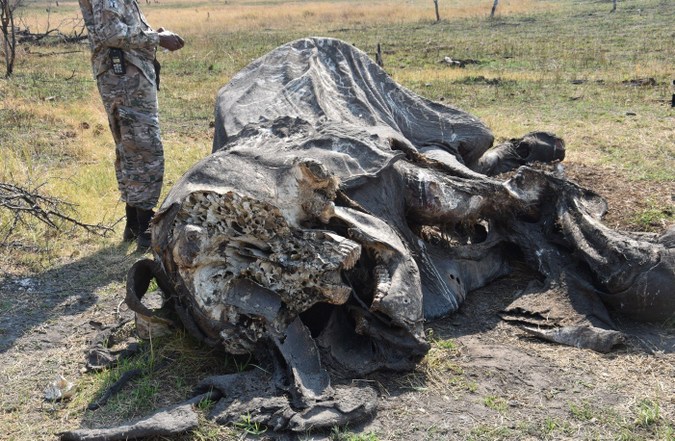 None of those carcasses were suspected poached. By early September 2018, we had reported 87 poached carcasses to the Government of Botswana. By the end of the survey we had seen even more.
Alexander and her co-authors were wrong in comparing the 87 carcasses observed in a relatively small area in 2018 to the estimate of 130 for the whole country in 2014.
Elephant poaching in Botswana is nearly 600% more than in 2014
When the 2018 survey was complete, we estimated a total of 837 fresh carcasses for northern Botswana. This is nearly 600% more than in 2014!3
We continued to verify a limited sample set of carcasses in an area observed as a "hotspot" to assess cause of death. Of the 79 carcasses examined on the ground, 63 were confirmed as poached. Thus, we confirmed 157 carcasses as poached.
In September 2018, we said to the BBC, "we are recording double the number of fresh poached elephants than anywhere else in Africa." This statement is true.
The estimate of 837 fresh carcasses is roughly double the number of fresh carcasses estimated in any other country on the 2014-2015 Great Elephant Census.
Our estimate was greater than the estimates for all of Tanzania (428), Angola (394), or Mozambique (297), countries with major poaching problems. So, the number of fresh carcasses we saw in Botswana poaching hotspots is consistent with a serious poaching problem.
Our report was peer-reviewed by nine scientists who agreed with our conclusions that a worrisome increase in poaching is occurring. There is no exaggeration of the problem.
Claim 2: Observers cannot determine if a carcass was poached by viewing it from an airplane
"simply not possible to attribute cause of death from fixed‑wing aircraft." (New York Times)
During our 2018 aerial survey, when an observer saw a potentially poached carcass (missing tusks or covered with cut branches), we circled the carcass with the plane and took photographs.
To be absolutely certain that these elephants were poached, we used helicopters to visit 72 fresh carcasses seen on the survey that we suspected were poached.
When we got close-up looks, either on the ground or from low elevation in the helicopter, all 72 of those carcasses were clearly poached. Their skulls had been hacked apart by poachers to remove the tusks. Most were covered with branches to hide them.
Another 22 carcasses photographed during the aerial survey, showed clear evidence that they were also poached. So, 100% of the suspected poached carcasses that we have checked are confirmed as poached. We are confident in the ability of our highly experienced observers to recognize a poached carcass from the air.
Claim 3: The Government of Botswana chops tusks from dead elephants
"The Botswana military…removes tusks from all elephant carcasses. The process to remove the ivory is the same as that used by poachers." (Africa Geographic)
From 20 years of field observations in northern Botswana, I can state that elephant tusks are normally only pulled out from the skull of an old decomposed carcass, not a fresh one.
Tusks are not chopped from the skull unless the elephant was killed close to human settlements. Most elephants killed near settlements, are either butchered for meat or burned.
Nearly all the poached elephants we observed were far from towns or villages. We also know that the authorities do not cover carcasses with bushes. The authorities typically mark carcasses they have visited with spray paint, which was not seen on the poached carcasses we visited.
During the survey, we saw hundreds of carcasses of various age classes that still had their tusks intact. Not "all" are collected.
All the poached elephants that we examined on the ground were bulls, mostly aged 35-55, which means that they would have had relatively large tusks. We know that poachers elsewhere in Africa specifically target bulls, especially when they move into a new area.
Claim 4: Botswana has a healthy, growing elephant population
"Botswana has a growing, healthy elephant population" (New York Times)
Our estimate of 126,000 elephants in 2018 is practically identical to the numbers we reported in 2014. So, the elephant population in Botswana is currently stable, not growing.
A healthy elephant population should be growing at 3-5% or more per year. "Evidence" for a growing elephant population in Botswana relies on the results of a 2012 survey by Botswana's Department of Wildlife and National Parks (DWNP).
They claimed a national population of over 200,000 elephants in 2012. DWNP uses low-intensity surveys where they sample just a small portion of the elephant population (around 4%) and extrapolate from there.
Low-intensity surveys can produce imprecise results. EWB surveys cover three times as much ground as the government's and should produce better population estimates as a result.
Botswana's elephant population is not healthy
Regardless of whether or not the overall population is growing, Botswana's elephant population is not healthy everywhere. The large numbers of poached carcasses that we documented indicate a growing problem.
In Chobe National Park, elephant populations have decreased by 42% since 2010. In the poaching hotspots we identified, elephant populations are down 16% since 2014. These numbers do not indicate healthy populations.
Source: Safarious & Elephants Without Borders
Photo: Elephants Without Borders
====
Botswana's Plan To Cull Elephants And Sell Them As PET FOOD Wins Ministerial Approval
Botswana is moving towards culling elephants by lifting its wildlife hunting ban after a group of the country's ministers endorsed the idea, but the proposal has drawn heavy criticism. Botswana' is planning to cull elephants and sell them as pet food wins ministerial approval.
The southern African country's President Mokgweetsi Masisi had previously tasked a government subcommittee with reviewing the hunting ban – which had been put in place by his predecessor Ian Khama in 2014.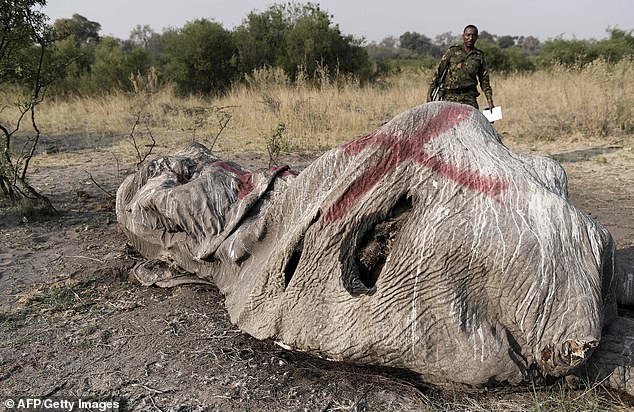 The committee decided to recommend lifting the ban last Thursday, and the country's minister of local government and rural development Frans Solomon van der Westhuizen advocated 'regular but limited elephant culling', NPR reports.
Elephant meat canning – including for pet food production purposes – was also recommended by some.
Konstantinos Markus, a Member of Parliament who spearheaded efforts to eliminate the ban, argued that the 'expansion of the elephant population in Botswana has impoverished communities.'
According to reports Markus said rural citizens of Botswana have grown hostile toward elephants, especially in the north where he said the animals have cut maize yields by nearly three-quarters.
Botswana is reportedly home to 130,000 elephants, according to the Great Elephant Census, but concern has been rising regarding the 'growing conflict between humans and wildlife'.
The country's Government has also said pinpoiting the precise elephant population is difficult partly because herds can roam across borders into other countries.
Botswana's consideration of lifting the ban has drawn heavy criticism.
The Telegraph reported that an elephant conservationist who works with the country's government called the proposed cull 'short sighted'.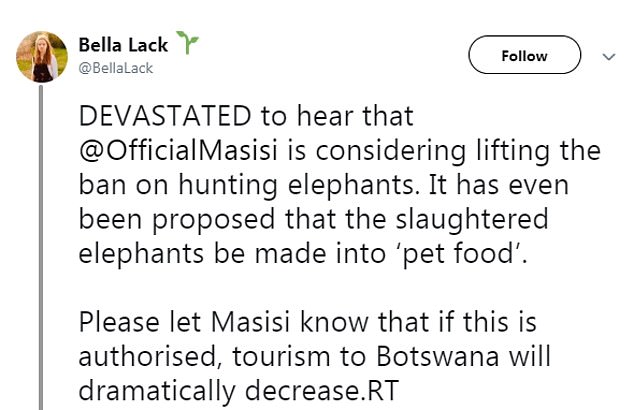 The conservationist, who spoke on condition of anonymity, told the paper: 'Botswana does have too many elephants, and there is huge elephant human conflict.
'But this is not economically viable and it doesn't take into account the reputational damage to the country. Better exploitation of sustainable tourism is a far better model.'
Online campaign group Elephants DC, which advances anti-poaching and anti-smuggling policies and has 35,000 Facebook folloewers, said: Botswana in the news for all the wrong reasons.
America should help NOW defend future impending poaching slaughters of the elephants. This nation is largest last haven of African elephants, many now whom are refugees after fleeing conflict elsewhere, in the world.'
One Twitter user said: 'DEVASTATED to hear that @OfficialMasisi is considering lifting the ban on hunting elephants. It has even been proposed that the slaughtered elephants be made into 'pet food'.
'Please let Masisi know that if this is authorised, tourism to Botswana will dramatically decrease.'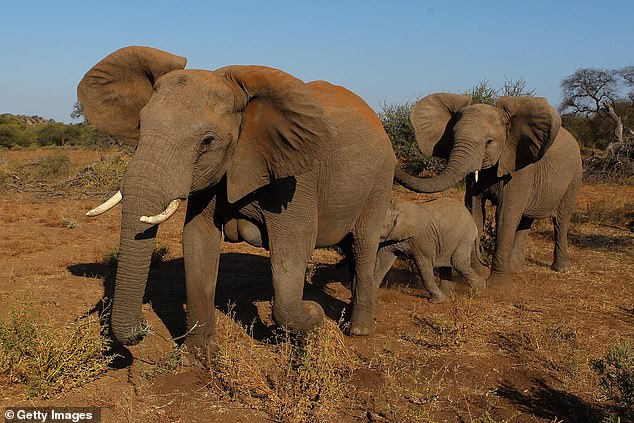 Regarding the idea that the African democracy could be set to cull the animals, one Twitter user said: 'Conservationists around the world must join forces to ensure that this ludicrous idea never happens.
Elephants are the most majestic of creatures. Thousands have been slaughtered for their ivory, now this shocking development. Elephants will become extinct.'
Another said: 'Guys gonna pls stop the savagery against the elephants… everybody likes elephants – they connect us into the history of life itself. The Queen and Prince Philip like to feed them bananas too. Cheers.'
But one social media user took a different approach, saying: 'Do you know the struggle of someone in Shakawe who's has to face this animals every other day? Have you ever had you crops completely erased by elephants. What really is your mandate?'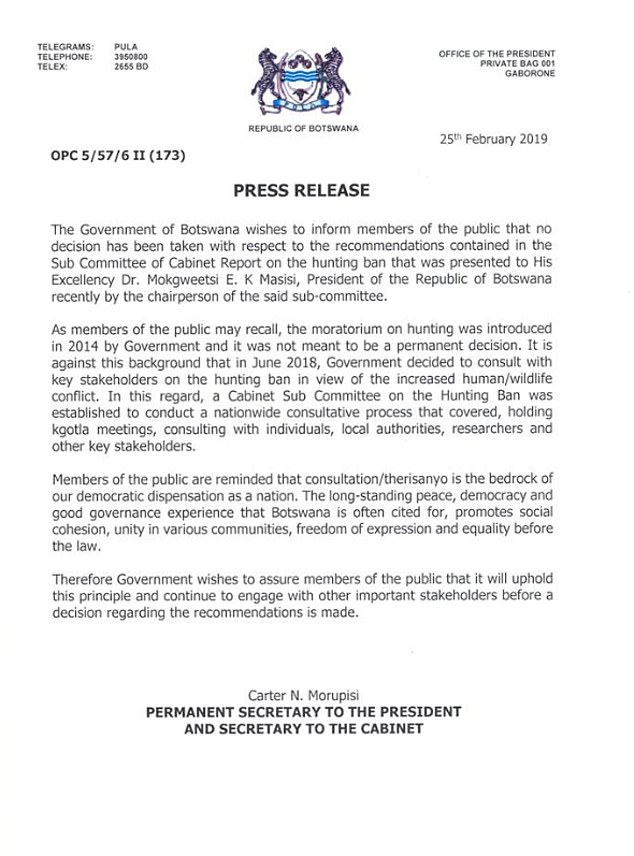 Last year, Sir Ranulph Fiennes, Bill Oddie, Peter Egan, and a cross-party group of MPs rallied against proposals to lift the ban, claiming that allowing hunting could force the species to the point of extinction.
When the 2014 ban was imposed, the government had said it was moved to act after indications of 'several species in the country' showing declines.
The ban permitted hunting in registered and private game ranches. Some have argued that the rules may have been a detriment to the animals and people alike.
NPR reports that a spokesperson for conservationist non-profit organisation Elephants Without Borders said: 'Some people are worried that elephants have recovered in greater numbers than the environment can sustain, and there is significant concern over increasing human-elephant conflict.
'During the past 20 years the elephant range in Botswana has expanded by 53%, causing increasing concern about the impact of elephants on biodiversity, the viability of other species and the livelihoods and safety of people living within the elephant range.'
Botswana's Government published a statement on Twitter outlining how it had not taken a decision regarding the committee's recommendations.
It read: 'The Government of Botswana wishes to inform members of the public that no decision has been taken with respect to the recommendations contained in the Sub Committee of Cabinet Report on the hunting ban that was presented to His Excellency Dr. Mokgweetsi E. K Masisi, President of the Republic of Botswana recently by the chairperson of the said sub-committee.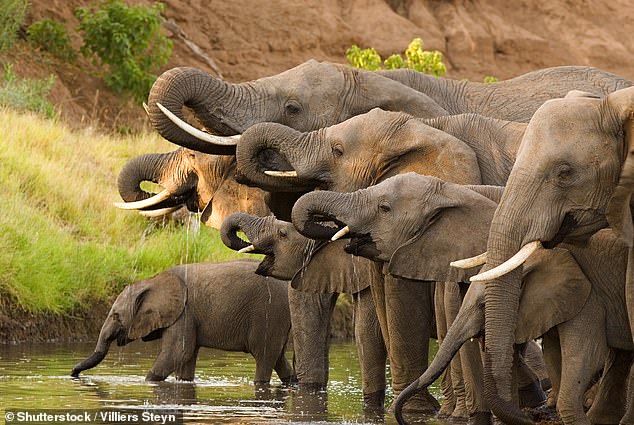 'As members of the public may recall, the moratorium on hunting was introduced in 2014 by Government and it was not meant to be a permanent decision. It is against this background that in June 2018, Government decided to consult with key stakeholders on the hunting ban in view of the increased human/wildlife conflict.
'In this regard, a Cabinet Sub Committee on the Hunting Ban was established to conduct a nationwide consultative process that covered, holding kgotla meetings, consulting with individuals, local authorities, researchers and other key stakeholders.
'Members of the public are reminded that consultation/therisanyo is the bedrock of out democratic dispensation as a nation. The long-standing peace, democracy and good governance experience that Botswana is often cited for, promotes social cohesion, unity in various communities, freedom of expression and equality before the law.
'Therefore Government wishes to assure members of the public that it will uphold this principle and continue to engage with other important stakeholders before a decision regarding the recommendations is made.'
The statement was attributed to Carter N. Morupisi, Permanent Secretary to the President and Secretary to the Cabinet.
Botswana, which is roughly the size of France, has a population of around 2.3 million people and contains vast tracts of remote wilderness that make it a magnet for foreign tourists who want to view wildlife.
International tourism could generate £160m for Botswana this year, rising to £280m by 2021 – more than trophy hunters spend across the whole of southern Africa.
Source: Dailymail
========
Good News! Elephant Poaching is Down As Ivory Demand Declines
Research conducted into elephant poaching rates has provided a glimmer of hope for the iconic and vulnerable African elephant, as data provided by park rangers across protected areas of Africa indicates a decline in deaths by poaching.
In 2011, poaching reached an all-time high on the continent, with a mortality rate of more than ten percent. By 2017, this had dropped to less than four percent. This reduction in poachers murdering elephants may be due to a fall in the price of ivory.
While a six percent reduction in deaths sounds promising, translated into real terms, the number of animals being killed is still staggering. Approximately 350,000 elephants remain in Africa, which means that poachers continue to slaughter 10,000 to 15,000 of the majestic creatures every year.
"We are seeing a downturn in poaching, which is obviously positive news, but it is still above what we think is sustainable, so the elephant populations are declining," said Dr. Colin Beale, one of the authors of the study. "The poaching rates seem to respond primarily to ivory prices in Southeast Asia, and we can't hope to succeed without tackling demand in that region."
The news comes only weeks after Botswana announced a lift on its ban on hunting and killing elephants. The country contains almost half of Africa's elephant population, and researchers have noticed a rise in poaching in Botswana in contrast to the decline in the continent as a whole.
Allowing trophy hunters to start slaughtering elephants in the previously safe haven of Botswana could undo any positive gains which have come from the downturn in poaching.
Elephant populations are still far from stable, and a lot more work is needed to ensure these incredible animals are safe.
"Only about six percent of the current funding going towards tackling illegal trade in wildlife is directed to communication," said Lisa Rolls Hagelberg, head of wildlife communication and ambassador relations for UN Environment. "For long-term success, governments need to prioritize comprehensive social and behavioral change interventions to both prevent and reduce demand. We have the know-how, now we need to invest to truly influence environmental consciousness."
====
'I hate elephants': How Botswana's giants became the center of a political clash
Max Bearak on the political background of the lifting of Botswana's elephant hunting ban. Peter Jamison on a public housing complex at the heart of a D.C. housing debate. Plus, Luisa Beck on the Bauhaus movement 100 years later.
About Post Reports
Post Reports is the daily podcast from The Washington Post. Unparalleled reporting. Expert insight. Clear analysis. Everything you've come to expect from the newsroom of The Post -- for your ears.
In this episode
Botswana's elephants
Botswana is lifting its ban on elephant hunting.
Africa bureau chief
Max Bearak
tells host Martine Powers that growing resentment toward elephants among farmers in the country is upending the country's politics.
The furor over the lifting of the ban has spilled into a larger debate over race and class in a country where white foreigners and the descendants of colonialists control much of the conservation and tourism sectors.
More on this topic:
======
CHOBE ENCLAVE, Botswana — For as long as they can remember, farmers in Botswana lived mostly at peace with elephants, whose knowing eyes and playful kids made them seem almost like friendly human neighbors.
This southern African country of savannas and swamps is home to roughly one-third of Africa's elephants, thanks in part to strict anti-poaching enforcement and a trophy hunting ban that have made it a darling of conservationists and a mecca for high-priced tourism. But the population spike has not been easy for the people who live alongside them, and a backlash has erupted.
"I hate elephants," said Lumba Nderiki, a farmer well into her 80s, as she strolled through her modest and barren field in the Chobe enclave, a strip of mostly farmland between the river and national park of the same name. "Two simple reasons: They have widowed me, and they have left me without a harvest."
Nderiki and her husband had been married 65 years before he was killed by an elephant in 2014. Like nearly everyone else in this cluster of villages, it has been years since her fields weren't trampled and eaten up by what she calls "the giants." She used to grow more than 100 bags of sorghum in a season. Last harvest, she salvaged three.
Growing resentment toward the animals among farmers here and around Botswana is upending the country's politics and prompting the reversal of policies that turned tourism into Botswana's second-biggest earner after diamonds. The furor has also spilled into a larger debate over race in a country where white foreigners and the descendants of colonialists control much of the conservation and tourism sectors while many who live outside the national parks eke out a living on government subsidies.
If there were anywhere elephants could become a populist issue, it is Botswana, which has a human population of just over 2 million and an elephant population of about 130,000. The country's president, Mokgweetsi Masisi, was appointed last year and is up for his first election this October.
He has forcefully taken the farmers' side, turning elephants into a major campaign issue. On May 23, he lifted a ban on trophy hunting of elephants put in place by his predecessor. He has given stools made of elephant feet to visiting heads of state. And his government floated the possibility of culling and processing elephant meat as pet food.
The president clarified in a recent Facebook post that there would be no culling and no pet food factories. But he said that in his view, the numbers of elephants are now "far more than Botswana's fragile environment, already stressed by drought and other effects of climate change, can safely accommodate," leading to a "sharp increase" in conflict between humans and elephants. He believes a limited, permit-based return to hunting can solve the crisis.
Some conservationists argue that Masisi's assertions aren't true, and that even if they were, allowing hunting for sport isn't an effective population-control method. Mike Chase, who runs Elephants Without Borders, a research charity that conducts the only elephant census in Botswana, says the elephant population has been stable for at least a decade and that the government's own data shows instances of human-elephant conflict have been relatively constant, too.
The growth in Botswana's elephant population from approximately 80,000 in 1996 to 130,000 in 2014 has been attributed to strictly upheld anti-poaching policies, which remain largely in place under the current president. Across Africa, however, poaching has contributed to steep declines in elephant populations over the past decade.
Trophy hunting of elephants is legal in many African countries, including in every country Botswana borders: South Africa, Namibia, Zimbabwe and Zambia. Governments set permit quotas that are reevaluated annually and can range from a few dozen to hundreds. Botswana's government has said it plans to issue no more than 400 permits once legal hunting comes into effect. A permit can cost tens of thousands of dollars, though critics argue that little of that money filters down to local communities.
Data on elephant populations and human-elephant conflict are inexact. The census relies on aerial surveys, and instances of conflict rely on people to report them.
What's palpable is how people on both sides feel about elephants, and emotions run high.
Some tourists are reacting to the reintroduction of hunting — which still doesn't have a start date — by canceling trips. "Just got another typical mail today. Guest says after a dozen visits she will not come back to Botswana," said Dereck Joubert, a conservationist, filmmaker and lodge owner.
The country's former president, Ian Khama, defected to the opposition last week, in part out of disdain for his successor's rollback of the hunting ban. Khama is close with Chase, whose family has lived in Botswana for five generations, and both conservation and tourism flourished during Khama's decade as president.
"There's a sense among people across Botswana that Khama was a protector of the whites, the owners of many of our big farms and lodges, at the people's expense," said Anthony Morima, a writer and political analyst. "Masisi casts himself as a nationalist taking back control, which goes along with an increasing feeling here that we don't want white people or foreigners to tell us how to live."
Chase lamented how the conversation had turned to race and said his citizenship was often questioned.
"This new government has changed everything for us," Chase said.
People in Chobe enclave are impressed by the current president and largely express scorn for his predecessor's pro-elephant legacy. Despite being surrounded by parks and lodges, less than a quarter of people in the enclave are employed through tourism or conservation, and the benefits of elephants are less immediate than the destruction they wreak.
"Khama was worried that the white tourists had to go too far into the bush to see elephants, so he allowed them to multiply until they became more than us," said Zoom Shanzinza, 62, while stepping out of church near his farm on a recent day shortly after the hunting ban was lifted. "We are waiting for Masisi to allow us to take these matters into our own hands. Until then, we are being expected to suffer."
The amount of money tourists bring through the region is also well known. Tourism is a multibillion-dollar industry in Botswana and by government estimates makes up about 12 percent of the country's income. People like Chimney Mululwani, 45, have worked in lodges, and, in rare cases like Mululwani's, become managers. They bring back stories of bottles of wine and excursions that cost more money than most in Chobe enclave have ever seen.
"I have seen the figures — I know how many millions are coming into some of these places. Whereas if you show someone here a couple hundred dollars, it will seem to them as if they are seeing all the money in the world," he said. "How could there not be resentment?"
While not everyone believed hunting would directly benefit them, either, many hoped Masisi's moves indicated he had farmers' interests, not conservationists', at heart. The government, conservationists and Chobe enclave residents all agree on one thing: Big tour operators need to direct more of their earnings toward local communities, or else backlash will only grow.
Maggie Zambo, 42, laughed off the prospect of hunters improving her life. "Will they come from America in time to shoot an elephant in my field?" she asked, while surveying a fence around her field damaged by an elephant.
Her relative, Matthews Zambo, is running for local office on a platform that proposes less complicated solutions to this crisis than rebuilding a hunting-permit based economy. He proposes fixing boreholes that provide water in the park, so elephants don't need to cross villages to get water from the river. And instead of free seeds, the government should be providing electric fencing for farms, he says.
Without quick fixes, locals are trying whatever they can. Ephraim Simasiku, 71, spent a whole month stringing metal cans along a wire to create a fence around his farm that, with its glint and clang, might scare off elephants. He spends entire nights patrolling his field, full of the juicy watermelons that elephants love, with a flashlight and drum. Elephants ate 400 out of the 1,000 he planted this season.
"During the night, elephants. During the day, elephants," he said. "A farmer like me can get no sleep."
On the night of May 14, when all his other methods failed, Simasiku reached for his last resort: a .375 rifle. The next day, people came to his field from all over the enclave to take home a piece of the meat.
Photography and videography by Carolyn Van Houten. Photo editing by Olivier Laurent. Video editing by Joyce Lee. Designed by J.C. Reed.