UPDATE 25. February 2020: 20,000 wildlife farms raising wildlife species including peacocks, civet cats, porcupines, ostriches, wild geese and boar have been shut down across China in the wake of the coronavirus. The move exposed the hitherto unknown size of the industry. - see article underneath.
UPDATE 21. February 2020 - 08h01 UTC: The international outbreak of the novel coronavirus-outbreak from China is still not contained. Fortunately countries with earlier cases like the Philippines, India, Russia, Spain, Belgium, Cambodia, Egypt, Finland, Nepal and Sri Lanka are now reportedly clean. COVID-19 until now allegedly claimed
2,247
deaths
- except 10
still all deaths occurred in China - with
76,742
clinically diagnosed (but not necessarily confirmed by lab-tests) total infection cases since 31.12.2019, of which
most
(
75,467
) occurred in China and less than 1,
0
7
5
cases (634 from the cruiseship Diamond Princess) in 28 other countries (18 countries presently with active cases). By now
20,836
cases are closed (
18,589
recovered) and
55,906
cases are active. COVID-19 seems to infect and affect almost solely Far-Eastern genotypes and kill mostly the elderly over 60 with other ailments. Despite the intransparent number-games and still increasing case numbers, the epidemic as such appears to decline in China with the number of active cases now going down. But who can say for sure that the provided figures are the correct ones?
In any case, the trend that more and more countries have infected cases is worrisome and Orwellian Games have been stepped up everywhere (the new tool is 'Medical Martial Law'), while already
around 150 Million Chinese are still under lock-down restrictions. For the 'Communist' [in reality one-party-capitalist] governance of China these around 10% of the total population is the ideal size for their Big Brother exercise, though workers are now forced on gun-point to return to the factories to stop the economic downfall.
China to implement PERMANENT ban on wildlife trade in the wake of coronavirus outbreak
By Arsenio Toledo - 20. February 2020
On the 30th of January, China imposed a temporary ban on the wildlife trade in response to the growing threat posed by the coronavirus, which at the time had already killed several hundred people, according to official estimates, and was caused by an unsanitary food market in Wuhan, which sold different species of animals, including bats, wolves, squirrels and salamanders.
Now, nearly three weeks and over a thousand more officially reported deaths later, this temporary ban is being extended permanently and indefinitely..
This decision comes after international pressure to hold China accountable for the spread of the deadly disease.
Along with this measure, Chinese authorities are planning to escalate supervision on the country's many "wet markets," or markets that sell fresh meat, produce and other perishable foods. These wet markets are places where diseases such as the coronavirus can spread easily because of the haphazard implementation of sanitary standards. Current research on the coronavirus believes that the deadly virus may have originated in a wet market in Wuhan. These markets are known to sell both dead and living animals, and sanitary conditions are poorly enforced. (Related: CORONAVIRUS: Top CDC official warns "we are likely to see community spread in the U.S." as agency prepares to implement "change in our response strategy.")
China attempting to combat the spread of coronavirus
The Politburo Standing Committee, the most powerful body of the Chinese Communist Party, formally recognized its "shortcomings" in response to the coronavirus outbreak in a statement made in early February. The committee has also announced that it plans to severely clamp down on the illegal wildlife trade to make sure the virus, and future diseases like it, doesn't spread.
"It is necessary to strengthen market supervision, resolutely ban and severely crack down on illegal wildlife markets and trade and control major public health risks from the source," said the committee in a statement.
This ban is just one of several policies and initiatives that the ruling Chinese Communist Party are implementing to prevent the coronavirus from spreading any further. Some of these include the total quarantine of the whole province of Hubei and its nearly 60 million inhabitants, and the building of two new hospitals, the Huoshenshan and Leishenshan hospitals, which were built in 10 days and 15 days respectively. Official reports state that these hospitals will be able to accommodate over 2,600 patients once they're both fully operational.
It remains to be seen if this new ban on the wildlife trade will be effective, especially given that the practice is already mostly illegal. Previous measures have already been enacted on the illegal wildlife trade, but the black market for exotic animals continues to thrive due to problems with enforcement, as well as inadequate prosecution measures. Up to 70 percent of zoonotic diseases come from wildlife, such as the monkeys that caused the 2013-2016 Ebola virus epidemic, and the still-unknown animal that caused the 2002-2004 SARS outbreak.
This means that it is absolutely necessary for China to effectively crack down on the trade to prevent future outbreaks. In addition, these comprehensive measures must be strictly enforced. If not, then it's likely that the illegal trade will continue, even in a diminished form, and diseases like the coronavirus will continue to spread.
Sources include:
===
UPDATE:
Coronavirus closures reveal vast scale of China's secretive wildlife farm industry
Peacocks, porcupines and pangolins among species bred on 20,000 farms closed in wake of virus
By Michael Standaert - 25. February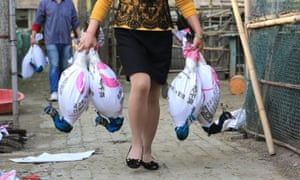 Freshly-slaughtered meat from wildlife and farm animals is preferred over meat that has been slaughtered before being shipped. Photograph: Visual China Group/Getty
Nearly 20,000 wildlife farms raising species including peacocks, civet cats, porcupines, ostriches, wild geese and boar have been shut down across China in the wake of the coronavirus, in a move that has exposed the hitherto unknown size of the industry.
Until a few weeks ago wildlife farming was still being promoted by government agencies as an easy way for rural Chinese people to get rich.
But the Covid-19 outbreak, which has now led to 2,666 deaths and over 77,700 known infections, is thought to have originated in wildlife sold at a market in Wuhan in early December, prompting a massive rethink by authorities on how to manage the trade.
China issued a temporary ban on wildlife trade to curb the spread of the virus at the end of January and began a widespread crackdown on breeding facilities in early February.
The country's top legislative officials are now rushing to amend the country's wildlife protection law and possibly restructure regulations on the use of wildlife for food and traditional Chinese medicine.
The current version of the law is seen as problematic by wildlife conservation groups because it focuses on utilisation of wildlife rather than its protection.
"The coronavirus epidemic is swiftly pushing China to reevaluate its relationship with wildlife," Steve Blake, chief representative of WildAid in Beijing, told the Guardian. "There is a high level of risk from this scale of breeding operations both to human health and to the impacts on populations of these animals in the wild."
The National People's Congress released new measures on Monday restricting wildlife trade, banning consumption of bushmeat and sales of wildlife for meat consumption at wet markets between now and the time the Wildlife Protection Law can be amended and adopted. Untouched however, are breeding operations for traditional Chinese medicine, fur and leather, lucrative markets known to drive illegal poaching of animals including tigers and pangolins.
For the past few years China's leadership has pushed the idea that "wildlife domestication" should be a key part of rural development, eco-tourism and poverty alleviation. A 2017 report by the Chinese Academy of Engineering on the development of the wildlife farming industry valued the wildlife-farming industry those operations at 520bn yuan, or £57bn.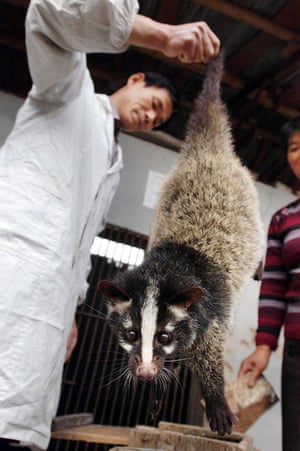 Civet cats – thought to be potential carriers of Sars – are among the animals farmed for meat in China. Photograph: China Photos/Getty
Just weeks before the outbreak, China's State Forestry and Grassland Administration (SFGA) was still actively encouraging citizens to get into farming wildlife such as civet cats – a species pinpointed as a carrier of Sars, a disease similar to Covid-19. The SFGA regulates both farming and trade in terrestrial wildlife, and quotas of wildlife products – such as pangolin scales – allowed to be used by the Chinese medicine industry.
"Why are civet cats still encouraged to [be eaten] after the Sars outbreak in 2003? It's because the hunters, operators, practitioners need that. How can they achieve that? They urged the government to support them under the pretext of economic development," Jinfeng Zhou, secretary-general of the China Biodiversity Conservation and Green Development Foundation (CBCGDF), told the Guardian.
On state TV the popular series Secrets of Getting Rich, which has aired since 2001, often touts these kinds of breeding operations – bamboo rats, snakes, toads, porcupines and squirrels have all had starring roles.
But little was known about the scale of the wildlife farm industry before the coronavirus outbreak, with licensing mainly regulated by provincial and local-level forestry bureaus that do not divulge full information about the breeding operations under their watch. A report from state-run Xinhua news agency on 17 February revealed that from 2005–2013 the forestry administration only issued 3,725 breeding and operation licenses at the national level.
But since the outbreak at least 19,000 farms have been shut down around the country, including about 4,600 in Jilin province, a major centre for traditional Chinese medicine. About 3,900 wildlife-farming operations were shuttered in Hunan province, 2,900 in Sichuan, 2,300 in Yunnan, 2,000 in Liaoning, and 1,000 in Shaanxi.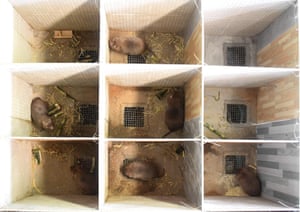 Breeding of animals such as rats has been seen as central to alleviating poverty in rural areas. Photograph: Zhang Ailin/Alamy
There is little detail available about the animals farmed across China, but local press reports mention civet cats, bamboo rats, ostriches, wild boar, sika deer, foxes, ostriches, blue peacocks, turkeys, quails, guinea fowl, wild geese, mallard ducks, red-billed geese, pigeons, and ring-necked pheasants.
Neither do reports offer much detail about the shutdowns and what is happening to the animals, although Blake said he does not think animals are being culled, due to issues over compensation.
Chen Hong, a peacock farmer in Liuyang, Hunan, said she is concerned about her losses and whether she will get compensation after her operations were suspended on 24 January.
"We now aren't allowed to sell the animals, transport them, or let anyone near them, and we have to sanitise the facility once every day," Chen said. "Usually this time of year would see our farm bustling with clients and visitors. We haven't received notice on what to do yet, and the peacocks are still here, and we probably won't know what to do with [them] until after the outbreak is contained.
"We're very worried about the farm's future," she added. "The shutdown has resulted in a loss of 400,000–500,000 yuan (£44,000–55,000) in sales, and if they decide to put an outright ban on raising peacocks, we'll lose even more, at least a million yuan(£110,000)."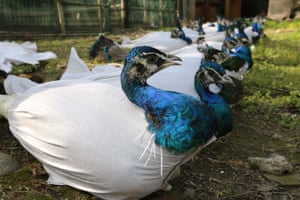 Peacock breeders use plastic bags to wrap up the birds in transit to stop their feathers falling off. Photograph: Visual China Group/Getty
On a visit to Shaoguan, Guangdong province, last year, the Guardian and staff from CBCGDF saw a caged facility previously used for attempted breeding of the notoriously hard-to-breed pangolin.
While there were no longer pangolin at the site, several locals near the facility confirmed the species had been raised there, along with monkeys and other wildlife.
Besides being used for Chinese medicine, much of the meat from the wildlife trade is sold through online platforms or to "wet markets" like the one where the Covid-19 outbreak is thought to have started in Wuhan.
"All animals or their body parts for human consumption are supposed to go through food and health checks, but I don't think the sellers ever bothered," said Deborah Cao, a professor at Griffith University in Australia and an expert on animal protection in China. "Most of them [have been] sold without such health checks."
There have been calls for a deep regulatory overhaul to remove the conflicting duties of the forestry administration, and for a shift in government mindset away from promoting the utilisation of wildlife and towards its protection.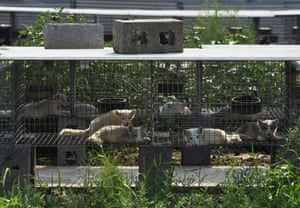 Zhangjiakou city has more than 1,500 firms processing furs from animals including foxes and racoons. Photograph: Greg Baker/Getty
"The 'referee-player' combination needs to be addressed and is the toughest [challenge]," Li Shuo, a senior campaigner at Greenpeace East Asia told the Guardian. "This goes back to the institutional identity [of the SFGA] which was established to oversee timber production. Protection was an afterthought."
Proposals include fully banning trade in wildlife that is protected or endangered within and outside of China, plus bans on raising and selling meat from known carriers of diseases that can impact humans such as civets, bats and rodents.
There are concerns that in trying to prevent outbreaks authorities may go too far in the culling of wild animals that can carry disease.
"Some law professors have suggested 'ecological killing' of disease-transmitting wild animals, such as pangolins, hedgehogs, bats, snakes, and some insects," Zhou said. "We believe lawmakers need to learn [more about] biodiversity before advising on the revisions to the law, or they'll bring disaster."
Additional research and reporting assistance provided by Jonathan Zhong.
===
Meanwhile many village and cities in China are using drones equipped with speakers to patrol during the #coronavirus outbreak. MUST WATCH
===
Bill Gates, who allegedly holds stakes in the patented Coronavirus, said in April 2015: The next outbreak? We're not ready!
The Coronavirus patent is owned by the Pirbright Institute, which received funding from the Bill and Melina Gates Foundation for the research that did lead to the patent for a coronavirus that can infect birds and other animals, but not humans, and could be used to develop a vaccine.
===
A preprint provides ammunition to theories about SARS-CoV-2 origin
By R. Prasad - CHENNAI - 20. February 2020
This undated electron microscope image made available by the U.S. National Institutes of Health in February 2020 shows the Novel Coronavirus SARS-CoV-2, orange, emerging from the surface of cells, green, cultured in the lab. | Photo Credit: AP
In a preprint that was posted on Research Gate (but now available only in the Wayback Machine), two researchers — Botao Xiao and Lei Xiao —from Chinese institutions have claimed without attributing scientific evidence, that the "killer coronavirus probably originated from a laboratory in Wuhan". The claim has provided much ammunition to the conspiracy theory that is already circulating on the Internet. [N.B.: In case the paper also gets wiped from the wayback-archive you can request for a copy of the pdf-file from us.]
The authors are from South China University of Technology in Guangzhou and Wuhan University of Science and Technology in Wuhan.
The preprint entitled "The possible origins of 2019-nCoV coronavirus" has come to be criticised as a textbook case of "evidence" collected or presented to support confirmation bias of the researchers.
By definition, a preprint is one that is yet to be published in a scientific journal post peer-reviewing. Hence, any claims made in preprints should be considered with caution. But that has not stopped several newspapers from reporting the news four-five days ago based on claims made in the preprint.
Circumstantial evidence
While the two authors do not provide any evidence that the novel coronavirus (SARS-CoV-2) was created in the lab, they build their case based on assumptions. They begin by saying that bats carrying the novel coronavirus are originally found in Yunnan or Zhejiang province, which is more than 900 km from the seafood market at the centre of the investigation on the source. Hence, the chances of bats "flying to the market" are slim.
The bats were never sold in the market either, based on several testimonials, they say. The authors then talk of an intermediate host but quickly add that "little proof has been reported" on this.
Therefore, the only possible pathway for the virus is, according to them, the Wuhan Center for Disease Control & Prevention. This Center which is only about 280 metres from the market and is also adjacent to the Union Hospital - where the doctors who were first infected during the epidemic were working - is advanced as a possible source of the virus.
While they issue a fleeting caution that "solid proofs are needed in future study", they quickly move on to question if the Wuhan Institute of Virology, which is located about 12 km from the wet market, was the source of the virus. The only reason they doubt this Institute, is the fact that the principal investigator had "participated in a project which generated a chimeric virus using the SARS-CoV reverse genetics system, and reported the potential for human emergence".
An appeal by 27 scientists
Meanwhile, on February 19, a group of 27 public health scientists from eight countries have signed an open letter in The Lancet to "support scientists, public health and medical professionals of China combating COVID-19" and to condemn conspiracy theories surrounding the origin of the virus.
A petition has also been started on Change.org two days ago and over 2,100 have signed it already.
"We sign this statement in solidarity with all scientists and health professionals in China who continue to save lives and protect global health during the challenge of the COVID-19 outbreak. We are all in this together, with our Chinese counterparts in the forefront, against this new viral threat," they write in the open letter.
"We stand together to strongly condemn conspiracy theories suggesting that COVID-19 does not have a natural origin. Scientists from multiple countries have published and analysed genomes of the causative agent, severe acute respiratory syndrome coronavirus 2 (SARS-CoV-2), and they overwhelmingly conclude that this coronavirus originated in wildlife," they add.
They conclude by inviting others too to join them in supporting the scientists and professionals in China and sign the letter.
China slams media reports
On February 20, China's Foreign Ministry spokesperson Geng Shuang slammed a media report that the novel coronavirus was created in the lab. Such unfounded claims at a time when China is pulling out all the stops to combat the virus are "either full of ignorance or bear hostile intentions" he said.
"What we need is science, rationality [and] cooperation to defeat ignorance with science and shatter rumours with truth, and to counter prejudice with cooperation," he noted.
WHO's stand on virus origin
On February 19, at a press briefing, Richard Brennan, regional emergency director for WHO's Regional Office for the Eastern Mediterranean said that there is little evidence that the novel coronavirus which causes COVID-19 disease was produced in a laboratory or as a biological weapon.
"COVID-19 is what's called a coronavirus, it's a class of viruses that are primarily what we call zoonotic, that they come from the animal kingdom," he explained.
===
China's Government Is Like Something out of 1984
By Victor Davis Hanson - 20.
The Chinese technological revolution is overseen by an Orwellian dictatorship.
The Chinese Communist government increasingly poses an existential threat not just to its own 1.4 billion citizens but to the world at large.
China is currently in a dangerously chaotic state. And why not, when a premodern authoritarian society leaps wildly into the brave new world of high-tech science in a single generation?
The Chinese technological revolution is overseen by an Orwellian dictatorship. Predictably, the Chinese Communist Party has not developed the social, political, or cultural infrastructure to ensure that its sophisticated industrial and biological research does not go rogue and become destructive to itself and to the billions of people who are on the importing end of Chinese products and protocols.
Central Party officials run the government, military, media, and universities collectively in a manner reminiscent of the science-fiction Borg organism of Star Trek, which was a horde of robot-like entities all under the control of a central mind.
Thirty years ago, American pundits began gushing over China's sudden leap from horse-drawn power to solar, wind, and nuclear energy. The Chinese Communist government wowed Westerners. It created from nothing high-speed rail, solar farms, shiny new airports, and gleaming new high-density apartment buildings.
Western-trained Chinese scientists soon were conducting sophisticated medical and scientific research. And they often did so rapidly, without the prying regulators, nosy elected officials, and bothersome citizen lawsuits that often burden American and European scientists.
To make China instantly rich and modern, the Communist hierarchy — the same government that once caused the deaths of some 60 million innocents under Mao Zedong — ignored property rights. It crushed individual freedom. It embraced secrecy and bulldozed over any who stood in its way.
In much the same manner that silly American pundits once praised Benito Mussolini's fascist efforts to modernize Depression-era Italy, many naifs in the West praised China only because they wished that their own countries could recalibrate so quickly and efficiently — especially in service to green agendas.
But the world is learning that China does not just move mountains for new dams or bulldoze ancient neighborhoods that stand in the path of high-speed rail. It also hid the outbreak and the mysterious origins of the deadly coronavirus from its own people and the rest of the planet as well — a more dangerous replay of its earlier effort to mask the spread of the SARS virus. The result was that thousands of unknowing carriers spread the viral plague while the government covered up its epidemic proportions.
China, of course, does not wish to have either its products or citizens quarantined from other countries. But the Chinese government will not allow foreign scientists to enter its country to collaborate on containing the coronavirus and developing a vaccine.
No wonder Internet conspiracies speculate that the virus was either a rogue product of the Chinese military's bioengineering weapons lab or originated from bats, snakes, or pangolins and the open-air markets where they are sold as food.
It is hard to believe that in 2020, the world's largest and second-wealthiest county, which boasts of high-tech consumer products and gleaming cities, has imprisoned in "re-education camps" more than 1 million Uighur Muslims in the manner that Hitler, Stalin, and Mao once relocated "undesirable" populations.
China seems confident that it will soon rule the world, given its huge population, massive trade surpluses, vast cash reserves, and industries that produce so many of the world's electronic devices, pharmaceuticals, and consumer goods.
For a year, the Chinese government has battled massive street demonstrations for democracy in Hong Kong. Beijing cynically assumes that Western nations don't care. They are expected to drop their characteristic human-rights advocacy because of how profitable their investments inside China have proven.
Beijing was right. Few Western companies complain that Chinese society is surveilled, regulated, and controlled in a nightmarish fashion that George Orwell once predicted in his dystopian novel, 1984.
All of these recent scandals should remind the world that China got rich by warping trade and stealing technology in much the same way that it deals with epidemics and dissidents. That is, by simply ignoring legitimate criticism and crushing anyone in its way.
If the Chinese Communist Borg is willing to put millions of its own citizens at risk of infection and death, why would it care about foreigners' complaints that China is getting rich and powerful by breaking international trade rules?
The truth about President Trump's decision to call China to account over its systematic abuse of international trade norms is not that Trump's policy is reckless or ill-considered. It's that at this late date, the reckoning might prove too little, too late.
===
Eating Animals Will Be the Death of Us
It is time to finally make the connection between animal agriculture and environmental destruction, antibiotic resistance and disease outbreak.
By Juliet Gellatley - 04. February 2020
'The Wuhan animal markets presented the perfect storm for disease outbreak.' (Photo: Feature China/Barcroft Media/Getty Images)
Wuhan in China is the sprawling capital city of the Hubei province, and an epicentre of culture, education, manufacturing and transportation links.
Now, Wuhan has a new reputation. It is the city that gave birth to the Wuhan novel coronavirus (WN-CoV), the viral disease outbreak that has captured headlines, shut down cities and continues to spread while the rest of the world looks on with horrified abandon.
Coronaviruses are a common type of virus that cause mild illnesses, such as the common cold, but can cause more serious respiratory problems. Just a quick search will bring up all you need to know about this coronavirus. Where did it come from? How is the virus transmitted and what are the symptoms? Will face masks really keep you safe?
'Wet markets'
There are many discussions taking place about how we can prevent and stop the spread of disease, followed by calls from experts for better hygiene, tighter controls at airports, banning the unregulated movement of wild animals and limiting human-animal contact.
But the obvious solution, the simplest, most cost-effective solution which no-one has yet to admit, is to stop eating animals.
This coronavirus originated from one of Wuhan's many live-animal markets. Over 100 different animals are sold here, including wolf pups, civet cats, poultry and snakes.
These animals are kept in cramped, dirty conditions, with direct contact with humans. These markets are referred to as 'wet markets' – so called because animals are often slaughtered directly in front of customers.
Aside from the obvious issues with having a high population density made up of humans and animals – a hotbed for disease outbreak – these markets are repulsive places. They are filled with caged, frightened animals, many of which have been captured illegally in the wild.
Perfect storm
The animals are skinned and slaughtered, sending a cocktail of microorganisms into the air. The dreadful, cramped conditions and mix of wild and domestic creatures, alongside the throngs of people choosing their victims, is a pandemic in the making.
It was an inevitable consequence of poor hygiene, cross-contamination, and low animal welfare. The saddest part of this story is that scientists saw this coming. Researchers have been stressing the link between human and wildlife health for decades and, in particular, the potential threat of coronaviruses was first identified following the 2003 SARS outbreak (also caused by a virus jumping from animals to humans).
Scientists studying bats in the Yunnan Caves realised that the coronavirus was making the jump from bats to humans. It is now thought that the virus spread from bats to snakes, which are then captured and taken to live animals markets and eaten as a local delicacy.
Scientists saw this coming; the Wuhan animal markets merely presented the perfect storm for disease outbreak.
As much as we can improve hygiene and as much as we can control the movement of animals, all it takes is another perfect storm to spark the next pandemic.
Health crisis
You need only to look at the havoc we have wreaked throughout human history and our damaging relationship with our precious ecosystems to realise that we need systematic change.
The issue here isn't just about how we slaughter animals, it comes down to the fact that we slaughter and eat animals at all.
Here in the UK – and across the world – we are facing a continuing health crisis: antibiotic resistance. The alarming rise in antibiotic resistant bugs is partly a direct consequence of the inappropriate use of antibiotics in livestock farming.
Due to the cramped, dirty conditions that factory farmed animals live in, many farmers routinely use antibiotics to try to prevent the incredible range of diseases the animals suffer.
We must have a societal shift in the way we view animals, the environment and our diets. We must stop eating animals. It is time to finally make the connection between animal agriculture and environmental destruction, antibiotic resistance and disease outbreak.
No cruelty
We must stop tearing down forests to make way for animal farming or to grow animal feed.
We must protect ecosystems and prioritise the safety and freedom of wild animals, leaving them to live their lives away from human contact. If we don't take urgent and far-reaching action now, eating animals will be the death of us.
The world must wake up and shun all animal products and instead choose vegan. No cruelty, no cages, no blood and no zoonoses. It's a no brainer.
Author:
Juliet Gellatley is a zoologist and the founder and director of vegan charity Viva!
===
Could the Coronavirus make China Stronger than Ever?
10 Trends that Indicate it Will
By Fionn Wright - 仁飞扬 -
The virus is hitting China's economy hard, but this is likely only temporary. China's immune system is fighting back -- building hospitals in record time, completely locking down a city and most importantly the entire nation uniting as one voice of support and solidarity.
Mario Cavolo called out the global response to the Coronavirus in his post "Something's not right here folks" which originally went viral on LinkedIn and then subsequently all over Chinese social media. He compares the media response to Coronavirus with the H1N1 outbreak in the US, saying, "it's not a conspiracy, it's just a tragedy," and "this vicious, political, xenophobic racist attacks and smearing of all things China needs to stop."
What doesn't break you only makes you stronger, and the Chinese people are resilient and will find ways to rise out of this crisis, likely coming back even stronger than before. How long that will take no-one yet knows, but the Chinese spirit is not even close to being broken, and we've seen how Chinese ingenuity in a time of crisis has led to entirely new operating models.
During the SARS outbreak in 2003, because everyone was afraid to go out, Liu Qiangdong, founder of JD (Jing Dong, one of China's largest online retailers), moved the physical stores in Zhongguancun to an online store. Ma Yun saw the demand for e-commerce and set up Taobao (Alibaba's B2C commence platform).
To make a comparison with SARS, China's GDP was 12 trillion yuan in 2003, but 17 years later China's GDP has reached 100 trillion yuan, so China's overall anti-risk capability has increased nearly 10x since then.
Some industries are already feeling the pain of the outbreak, from F&B and hospitality to airlines to pretty much everything offline. It's also seriously affecting global tourism considering the Chinese tourist market is not only the largest in the world, but also bigger spenders than numbers 2 & 3 combined (Americans & Germans).
Interestingly, a few industries are actually booming, from medical to online education to food delivery. The altered ecosystem during the crisis is forcing people to find new ways of accessing what they need.
Despite the short term effects on many industries across China, it is unlikely to have a long-term destabilizing impact on China's economy, which is already in the midst of a major adjustment, and this event will in many ways accelerate the pace of adjustment towards adaptability and resilience.
Many of the concepts below are inspired by the famous Chinese blogger Shuimuran (水木然) and much of the data and research I have found through Dr. Shirley Yu, Political Economist from Harvard and the London School of Economics.
1 - Offline Shopping is Over
Although people in China have already formed the habit of online shopping in the last few years, there are still a few types of products that people still prefer to buy offline. These last few remaining products are likely to virtually disappear in the coming months after this outbreak. For example, before the outbreak people used to go to the market for fresh groceries, but now buying groceries online has also become the norm.
Since shopping is done online, the physical store of the future is no longer centered on "selling products", but with a shift through New Retail to "providing experiences". If the physical store is still designed as a place to sell, then it will lose relevance. No matter what kind of enterprise, it must have an ability to capture customers online, the traditional way of getting customers, such as cold calls or traditional advertising, have less and less power, and will cost more and more.
The essence of getting customers online is to capture their attention with content, providing real value before they buy anything. Companies will have to create valuable content in a variety of forms to attract customers from text, short video, audio and other forms such as games. As New Generation China Expert Michael Norris has been predicting for years, more and more things will start to be free, and more and more things will start to be infinitely closer to zero direct profit, so businesses have to find alternate ways of generating income streams. Advertising can be charged more, or partnerships can be created to package and bundle products and services, driving people towards what they are most interested in even if its not your product, but making money by doing so. Human attention is now the most valuable resource on earth.
2 - Online education will start to replace offline education
For the first time ever, Chinese kids have been homeschooled for the past week. Suddenly a whole new possibility has opened up. While before online education was used to supplement offline education, we will begin to see online education starting to replace parts of offline education. New models of doing this more effectively are being realized at this very moment, and people are beginning to realize that the time it takes to commute is actually valuable time that could be used to learn.
Just as the internet has changed the circulation path of products, it has also changed the path of knowledge transmission. Online education democratizes superior educational resources, and this is exactly the core problem of solving Chinese education. Previously, each teacher could only teach in front of dozens or at most hundreds of people, but now a single teacher can reach tens or even hundreds of thousands of people online, and these students come from all over the country, including undeveloped areas that have internet access. Now that the structure of a classroom is not a barrier, we will see an increase of super-huge classes of thousands taught by the very best teacher in each subject area, as well as more one-on-one individualized and one to few (like one-to-six) education.
3 - Working From Home Becomes Common
The longer the epidemic continues, the more people become accustomed to working from home. We will see a continuing trend towards developing careers independently from mainstream jobs, commonly known as "slash career" such as freelancers and KOLs, and they will not need traditional offices. The office leasing market in 2020 will likely drop, with the potential exception of coworking spaces despite the WeWork fiasco. Online office software will accelerate in popularity, especially the office software that can realize collaborative work. What follows is the online office model. An online China is coming, and China will become the global benchmark for a new kind of office.
Entirely new collaborative tools and features will be released and updated at lighting speed. Areas of the developed world, such as in Africa, will leapfrog the developed world in adopting these as they have done with digital currencies, and thus in some areas become more competitive. The top 5 fastest growing cities of software developers are all in Africa, and these tech hubs will adopt more and more Chinese ways of operating with Chinese applications on Chinese devices.
4 - A More Health Conscious Society Based on Biotech
Chinese people will begin to move their focus away from making money, sacrificing their health for money, seeing the limitations of the 996 work schedule. Physical and mental health will be the key indicator of a person's value in the future, and Chinese people will make more conscious decisions about their lifestyles. The identification, judgment and response of the virus will promote the breakthrough of the whole medicine and medical technology, especially to enhance the awareness and attention of the whole nation on the power of biotech. This outbreak has shown us the importance of a scientific medical system. At least initially, the news from Wuhan was all about the shortage of medical resources. The core of medical problems lie in the effective allocation of medical resources, the scheduling ability of medical resources at critical moments, and the coordination and sharing of medical resources.
The social credit network tied to surveillance for safety and security will expand to include health of individuals. The government will know who is sick when, and sometimes before the individual may even be aware of it themselves. This could come directly in the form of infrared cameras to capture people within a crowd with a fever, or indirectly in the form of the types of products that people buy, predicting health indicators based on big data of others who regularly consume those products. While actions like buying diapers can already give social credit, this may expand to buying healthy products vs. junk food, similar to how in the developed world there are higher taxes on sugar, cigarettes or alcohol. The healthier one is, through healthy eating, buying health related products and perhaps even exercise equipment or classes, the more likely one is to perform well and be less of a burden on society. This is tricky to measure but as more data rolls in and is analyzed, conclusions can be tested, measured and implemented in rapid iterations.
5 - Accelerated Integration of Smart Cities
Wuhan is a city with a population of over 11 million, has nine provinces and was locked down during the Spring Festival travel rush, the largest yearly migration of people on planet earth. If the situation of every citizen in Wuhan is known, every person can be accurately tracked and every outflow can be located, then we will deal with it in a more orderly way.
China's futuristic smart cities include: traffic management, logistics supply chain, emergency preparedness, and information traceability, which will be fully data-based, and even equipped with artificial intelligence disaster preparedness prediction. This reflects the management level of the whole society. With smart cities, China will have more data-backed scientific means of governance. Modern governance is more and more based on data, with the health and security of the people as the first consideration. After this outbreak, the country will learn from experience and lessons learned, analyze what worked well and develop new systems to build the learnings into the fabric of society.
6 - Next-level China Speed
When we talk about China's speed, we think about infrastructure speed, high-speed rail speed and 5G speed. After this outbreak, we will have the speed of strategic coordination, the speed of wartime research and development, and the speed of public security response. In this outbreak, supplies from all over the world are being delivered to Wuhan, with support from tech giants like JD. The advantages of China's logistics have been fully demonstrated, and supplies in Wuhan have been quickly replenished. Even scarce medical resources have been deployed efficiently across the country, which is truly a miracle of modern logistics.
On November 1, China has formally launched commercial 5G networks across major cities. Huawei started research and development in 6G technologies a long time ago. In 2019, China announced the P2P sector, its once vibrant alternative financing medium, would be completely gone within two years. What's fast emerging is China's neobanking sector, internet banks without any physical retail location. The central government will encourage China's major tech companies with large amounts of consumer data to enter and compete in the neobanking arena. Currently the list may include China's tech unicorns Bytedance (parent company of Douyin, China's Tiktok with over 400 million daily active users), Meituan Dianping (food and service delivery platform growing faster than everyone expected), and Xiaomi (one of the fastest growing producers in the world).
China's neobanks are leading the world in fintech innovations, offering microloans in 3 minutes, under the 3-1-0 business model: 3 minutes to apply and reach a loan decision, 1 second to release the loan and 0 human intervention. China's expected launch of its digital currency in 2020, the Digital Yuan and based on a blockchain essentially making it a cryptocurreny, without the common features of crypto like decentralization. Crypto law was formally implemented in China as of January 1, 2020. The digital currency, using blockchain features of traceability and authentication, will enable the Chinese Central Bank to effectively monitor and control capital flow. This allows China to further internationalize the RMB as a trade, investment and reserve currency across the Belt and Road regions.
Alibaba has set up a special fund of 1 billion yuan for medical supplies, which is used to purchase medical supplies at home and abroad. In addition to the company's global resource search, Chinese people around the world also launched a global procurement, a batch of supplies from different countries from different flights to China. The seemingly "frozen" China is actually engaged in epic strategic material allocation. After this outbreak, we will see China's strategic material coordination capacity not just in crisis but throughout the entire business world.
7 - China has Contingency Plans for its Contingency Plan
In the annual Central Economic Work Conference report formulating economic priorities for 2020, China has emphasized the necessity to be ready for a "contingency plan" for 2020. This contingency plan would in no way be framed on the basis of a liberal market model, in the event that the "China Model" failed to deliver on what was intended. In China's current economic thinking under Xi Jinping, China has become more deeply rooted in unique blend of economic principles with socialist characteristics.
In 2019, strategic relationships were developed between Alibaba, Tencent, and the largest state infrastructure and telecom organizations, to help the state upgrade its technological competitiveness as it develops the Belt and Road Initiative. The "contingency plan" proactively drives China's economic independence from the US. This contingency plan is not about market liberalism, but rather increasing state control.
China has moved to remove all foreign computers and operating systems from all state sectors by 2022 for the purpose of economic and national security. While China can create almost all technical components, they still have not caught up when it comes to computer chips. China is funneling $29B with a state-backed semiconductor fund to develop the chip industry, and while Western commentators are skeptical China will be able to catch up, it's really just a matter of when, not if.
8 - China's will Focus on Internal Stability
Stability in employment is the main priority. The trade war directly impacts China's labor market, as manufactures move out of China. China is recalibrating its global supply chain routes, primarily focusing on its Belt and Road Initiative as well as the EU, to compensate for the loss of trade-related jobs.
The guiding principle from President Xi for China's booming real estate sector, that properties are for living in not investment, will continue in 2020. There are currently 400 million middle income class in China, and by 2035 is expected to double to 800 million. In order to drive sustainable consumption in China, structural reforms will need to happen in its healthcare, social welfare and pension systems so the middle class can afford to save less and spend more.
Despite what Western media might like you to think, the feeling on the ground is that China has never been so united. The government has invested in supporting the whole country through this crisis. Medical workers and soldiers from all over the country went to Wuhan, building two hospitals in 10 days with 5G enabled robots to support inside the hospital. The participation of individuals, enterprises, public welfare organizations and Chinese at home and abroad has formed a systematic collaboration on a scale the human species has never seen before.
Chinese people who are abroad are increasingly connected back home through WeChat and other social media platforms like Douyin. This creates a global ecosystem of Chinese that can support one another in times of crisis and cooperate when things settle down. There is also an increasing realization that China is speeding ahead of the rest of the world, and it's verified by Chinese who live or regularly travel abroad, constantly sharing memes of how backwards and slow the developed world actually is in many ways. This strengthens national pride and solidarity within China, even though they see the benefits of being abroad like healthy air, safe food and uncrowded scenic nature sites.
9 - Chinese Companies will Push to Expand Abroad
Chinese companies will start looking more actively to do business abroad to diversify their markets the same way a wise investor diversifies his portfolio to dampen the effect of a crisis. The anti-China sentiment in developed countries makes it hard for openly Chinese companies to do well (with a few exceptions like DJI, the drone company). Huawei is leading the pack here swimming upstream against a lot of pressure, and doing remarkably well despite the international controversy. But Huawei is just the first of many Chinese companies that will expand beyond its borders in the next decade.
Not all companies have the resilience or reach of Huawei and will direct their attention more towards developing economies who are more open to Chinese products. Disposable income in these countries is growing, and with 85% of the world population living in the developing world (20% inside China), representing 99% of global growth, China is placing its bets for the coming decades. Companies like Transsion, which has effectively captured over 50% of the African smartphone market (Samsung was No. 2 at a distant 10%) focuses all of its efforts in Africa, not selling in China at all. They have managed to do this by designing niche products just for that market, like a smartphone that takes good pictures of people with darker skin.
We'll see more examples of Chinese companies like this that leverage the advantages of the Chinese tech infrastructure and applying them to meet the unmet needs of markets outside China, particularly developing economies. We'll see many of these companies building on the logistical infrastructure being built by through the Belt and Road Initiative or the digital infrastructure built by companies like Huawei and Transsion. The familiarity and integration with these forms of infrastructure will give them an advantage that will make it difficult for Western competitors to compete with in similar ways that it has been difficult over the last decade for Chinese companies to compete with the likes of Google, Facebook or Apple due to market penetration and foundational platforms that gave them the edge.
Of the 195 sovereign nations recognized by the UN, Huawei currently has contractual relationships with 172 countries, engulfing the developing world. The top strategic priority for Huawei will be to capture the developed world in 2020. The difficulty for Huawei's access of the EU 5G infrastructure is regulations, as opposed to an outright ban in the US (and only 3 other countries - Australia, New Zealand and Japan). Whether Huawei's push through Europe can succeed will be a fundamental test of China's technological power as well as a test of the increasingly fragile relationships of the West. The UK, against the will of the US, has now partially let Huawei in to develop their 5G infrastructure, but is doing their best to keep them out of areas that may compromise national security.
10 - The China Dream is Just Getting Started
China has accomplished its 70 year mission of becoming a moderately prosperous nation by 2020. One challenging event at the beginning of 2020, while it has slowed China down, is not going to stop China from reaching its goal of being a fully developed country by 2050. Seen on the scale of decades, or the Chinese long-term view of centuries, the coronavirus crisis will be but a blip on the radar. Since ancient times, the Chinese nation has encountered a host of disasters, and yet remains an indomitable nation, rising from abject poverty in the last few decades, returning to reclaim its place as one of the most powerful countries on earth.
This outbreak is an opportunity for China to evolve. It will be a test of China's economic and social relations, its people and government relations, and China's relations with the world. China has already impressed the world with its ability to rapidly mobilize at scale to build the hospitals in Wuhan, and these moves are but a small taste of what is to come. Let's support the Chinese people in this time of crisis. The #ChinaDream starts in China, but will end up supporting the dreams of those all over the world.
With love and gratitude,
#Fionn
===
Another view from two years ago:
===
===
And Trump 'Loves' China
READ ALSO: