Elizabeth II and Justin Trudeau set to Commit War Crimes
RCMP Raid Expected Tomorrow (Wednesday)
Statement from the Unist'ot'en Camp - 04. January 2020:

"BREAKING - We expect RCMP to begin enforcing the injunction on unceded Wetsu'wet'en territory tomorrow."
A statement from the Wet'suwet'en Hereditary Chiefs says "Coastal Gaslink declined to see this discussion resulting in progress. Therefore, the enforcement of the injunction zone is imminent."
We are peaceful people and we have every right to protect the land that defines and sustains us. We continue to honour our ancient laws, shaped over millennia to ensure a sustainable relationship with the land; while BC and Canada fail to honour their recent commitments to reconciliation and to implement the United Nations Declaration on the Rights of Indigenous People.
The world is watching RCMP and CGL's militarized invasion of our territories. Massih (thank you) to all our allies who continue to use your voices and actions to stand with us. We are protecting our right to exist as Indigenous people, while protecting the land and water for everyone's future generations.
VIDEO UPDATE FROM FREDA HUSON

EYES ON THE FRONTLINE, FEET IN THE STREET!

The courage of the folks on the front line is powerful and beautiful. We cannot let them stand alone. The time for solidarity is now!

As you prepare to take action please take a moment to read these powerful words from the Gidemt'en Checkpoint:

"Day 32 of #landback and the final day of the "pause" on the enforcement. We are seeing the increase of RCMP and the matching actions in solidarity and we know we are winning! They will never kill our spirits and that scares them. All they know is fear, but we know love. The love for our yintah and the love of our ancestors keeps us strong. Their fear is weak. Show them how strong we are united!
To the streets!
-Unist'ot'en Solidarity Brigade
We're not leaving!
As Canada prepares to violently invade our lands, we have no fear. We are peacefully living on our lands and upholding our laws, as we always have.

31 days after Coastal Gaslink was evicted from Wet'suwet'en territory, RCMP helicopters circle the Unist'ot'en healing center several times a day.

Busloads of police have taken over local community halls, airport hangers have become RCMP training grounds, while armored pickup trucks and police dogs have been spotted in the area. Canada is preparing to use militarized force to steal our lands and destroy them, with the world as witness.

Our ancestors are with us. We will win.

These lands will always be Unist'ot'en.
It is clear that the RCMP are mobilizing towards another invasion of Wet'suwet'en territories. Your persistent organizing is keeping the brave folks on the front line safe. Please continue to keep up the pressure in this critical moment!


ACTIONS CONTINUE TO GO OFF

Indigenous youth are currently locked down occupying in the minister of Northern Affairs office in Winnepeg

On Saturday folks held a round dance in a mall in Halifax and shut down an Royal Bank of Canada Branch

On Saturday a group in Hamilton use mass numbers to blockade rail line without arrests

On Thursday folks shut down a freeway in Montreal

And people continue to anonymously disrupt rail lines across turtle Island

he occupation of Dan Vandal's Office is happening right now! There is a rally to support them in Winnepeg happening now!
FURTHER VIDEO UPDATES

RCMP Arrest Gidemt'en Elder for attempting to deliver food beyond police checkpoint

Video of RCMP mobilization of forces in Houston

Take 15 min to watch this excellent backgrounder on Wet'suwet'en rights and title and the situation on the ground

RECENT ARTICLES

Fencing Installed around RCMP detachment at Houston Community Hall

Gidemt'en Clan Condemns RCMP action after Elder Arrested at Checkpoint

Canada's Battle Against First Nations Shows Slide Towards Authoritarianism

Eyes to the Frontlines! Feet in the Streets!
-Unist'ot'en Solidarity Brigade

#UNISTOTEN #WetsuwetenStrong

Supporter toolkit: https://unistoten.camp/supportertoolkit2020/

Legal fund: https://actionnetwork.org/fundraising/unistoten2020legalfund
#WetsuwetenStrong #RCMPstandDown #NoTrespass #WedzinKwa
#DefendTheYintah #RCMPareMercineries #WouldYouShootMeToo
#LandDefenders #WaterProtectors #RiseUp #LightYourSacredFires
#AllEyesOnWetsuweten
UPDATE:
Gitdimten Access Point Before The Raid
Voices from the Gitdimten Access Point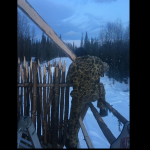 This is a podcast special featuring the voices of three warriors who were on the barricade on the road to Unist'ot'en Camp at the Gitdimten Access Point. Eve Saint (Wet'suwet'en land defender), Anne Spice (Tlinket land defender) & Shilo Hill (from Onandaga nation, Haudenosaunee, Six Nations) were there to defend unceded Wet'suwet'en land from the Canadian state's violent imposition of the Coastal Gas Link pipeline. They talk about what brought them to the Gitdumden Access near so-called Houston, BC, the buildup to the impending raid by RCMP troops, indigenous sovereignty, land and water defense, the long road to decolonization and the importance of outside support and solidarity from indigenous and First Nations peoples and their allies and accomplices.
This morning (Feb 6, 2020) at about 5am Pacific, the RCMP began their raids and arrests in an attempt to impose the injunction and clear the land and water defenders from the Wet'suwet'en lands. Media have been detained and released and at the time of this publication, 6 land defenders have been arrested and refuse to sign and conditions imposed by the Canadian state and so are still in state detention.
Members of the Wet'suwet'en First Nation are asking for people to take solidarity action in support of their autonomy. Solidarity actions have looked a lot of different ways in the last few months across Turtle Island, so-called USA & Canada. Take a moment and listen to your heart, find your friends and do what you think needs to be done to get the ball rolling.
The court decision on Trans Mountain is a bitter pill to swallow, but friends, this fight is not over.

As Reuben George of the Tsleil-Waututh Nation said while responding to today's decision: "We're here together to show that this is not a done deal. This government is incapable of making sound decisions for our future — so we will."

Together with their neighbours the Squamish, seven Sto:lo communities in the Fraser Valley and the Coldwater band near Merritt, the Tsleil-Waututh went to the Federal Court of Appeal to challenge the Trudeau government's approval of the Trans Mountain oil tanker expansion. All Canadians can thank them for working to save us from this disastrous boondoggle.

Despite ample evidence that federal officials made the decision long before consulting with Indigenous communities, today the judges sided with Ottawa. But the fight for truth, justice, rights and respect doesn't stop here. Each nation now has the option of appealing to the Supreme Court of Canada.

It took 13 years for the Gitxsan and Wet'suwet'en to win the Delgamuukw case proving Aboriginal title was never extinguished in B.C. It took 24 years for the Xeni Gwet'in to prove ownership of their territory in the famous Tsilhqot'in case. But we can't sit back and leave it to Indigenous communities to fight Trans Mountain on their own. The climate emergency demands us all to take action to stop fossil fuel expansion now, this year.

Which strategy to stop Trans Mountain gets your blood pumping? Let us know so we can set priorities for the coming year. I can think of at least five ways Trans Mountain can be stopped:

1. Legal challenges. It's not only Indigenous nations bringing lawsuits against the project. Environmental groups and even a group of teenagers are also challenging the approval. Only one of these cases needs to win.

2. Direct action. Construction has barely begun, but already we've seen frontline Indigenous and non-Indigenous land defenders vow to stop Trans Mountain. If they manage to block even one metre of pipe, it can't pump oil.

3. Cut off funding. Not a single private investor was willing to pay for this project. That's why the feds bought it in 2018. If public opinion continues to sour on Trans Mountain as construction costs keep rising, it could become too much of a political risk to build with public money.

4. Political organizing. If grassroots climate voters get serious about taking over local riding associations, we could nominate outsider candidates who won't break promises. We could also apply intense pressure within the parties to cooperate for the climate.

5. Energy transition. At the root of this conflict is the fact that people are trapped in an economy that runs on oil. But that's changing. If we organize to free our communities from fossil fuels, we can cut demand and accelerate the transition to clean local power.

Some people will say we need all of the above. Some may prefer to focus on one or two. Please take 10 seconds to let us know which strategies you believe in. It will help us set priorities for 2020 — and if Dogwood is not working on your preferred strategy, I can point you to allies who are.

Whether you've been in this battle for 10 minutes, 10 years or longer, thank you for continuing the fight for Indigenous rights, the B.C. coast and a safe climate future.

Onward,
Alexandra, for Dogwood
JUST ONE MONTH AGO
All Coastal Gas Link (CGL) workers have now been peacefully evicted from Unist'ot'en and Gidimt'en territories.
Under the authority of Anuk nu'at'en (Wet'suwet'en law), and with support of the Wet'suwet'en hereditary chiefs of all five clans, the Wet'suwet'en are standing up for the last of our lands and we need you to stand with us.
We will honour the instructions of our ancestors, and continue to protect our lands from trespassers.
Wet'suwet'en Hereditary Chiefs Evict Coastal GasLink from Territory
Smithers, BC
Wet'suwet'en Hereditary Chiefs representing all five clans of the Wet'suwet'en Nation have issued an eviction notice to the Coastal GasLink (CGL) pipeline company. The eviction of CGL is effective immediately, and applies to "Camp 9A" on Dark House territory, as well as the neighbouring Gidimt'en, Tsayu, and Laksamshu clan territories. Hereditary chiefs have gathered on Gidimt'en and Gilseyhu territories to monitor the eviction.
Coastal Gaslink has violated the Wet'suwet'en law of trespass, and has bulldozed through our territories, destroyed our archaeological sites, and occupied our land with industrial man-camps. Private security firms and RCMP have continually interfered with the constitutionally protected rights of Wet'suwet'en people to access our lands for hunting, trapping, and ceremony.
Canada's courts have acknowledged in Delgamuukw-Gisdaywa v. The Queen that the Wet'suwet'en people, represented by our hereditary chiefs, have never ceded nor surrendered title to the 22,000km2 of Wet'suwet'en territory. The granting of the interlocutory injunction by BC's Supreme Court has proven to us that Canadian courts will ignore their own rulings and deny our jurisdiction when convenient, and will not protect our territories or our rights as Indigenous peoples.
Anuc 'nu'at'en (Wet'suwet'en law) is not a "belief" or a "point of view". It is a way of sustainably managing our territories and relations with one another and the world around us, and it has worked for millennia to keep our territories intact. Our law is central to our identity. The ongoing criminalization of our laws by Canada's courts and industrial police is an attempt at genocide, an attempt to extinguish Wet'suwet'en identity itself.
We reaffirm that Anuc 'nu'at'en remains the highest law on Wet'suwet'en land and must be respected. We have always held the responsibility and authority to protect our unceded territories. Protection of our yintah (traditional territories) is at the heart of Anuc 'nu'at'en, and we will practice our laws for the future generations.
The Wet'suwet'en have always controlled access to our territories. At Unist'ot'en Village, a Free, Prior, and Informed Consent (FPIC) protocol has been practiced over the past ten years whenever access to the territory is requested by someone outside of Dark House membership. Dark House has not been able to implement this protocol since the enforcement of the interim injunction in January 2019. This protocol aligns Wet'suwet'en law with the UN Declaration on the Rights of Indigenous Peoples, which guarantees Indigenous peoples the right to obtain free, prior, and informed consent for development on our territories.
We expect Coastal GasLink to peacefully comply with our eviction notice, and ask that British Columbia uphold its commitment to implement UNDRIP and instruct RCMP to respect our rights and refrain from interference in Wet'suwet'en law.
MUST READ:
What is the colonial history of this region?
Who occupied these lands before the establishment of the current borders & national government?
What does anti-colonial struggle look like in this area?
Are there any active anti-colonial struggles going on?
What projects are people in this room currently engaged with that could benefit from applying more of an anti-colonial lens?
What would this actually look like in practice… aside from just token acknowledgement?
What are some of the practical things that non-Indigenous activists should know about when working with Indigenous groups, or in Indigenous-led campaigns?
What financial institutions, politicians, or corporations based in your community are supporting the destruction of Wet'suwet'en lands?
What are some ways of demonstrating material support for the Unis'tot'en and Wet'suwet'en? How can you support Wet'suwet'en sovereignty from your stand?
INVASION

[English]

In this era of "reconciliation", Indigenous land is still being taken at gunpoint. INVASION is a new film about the Unist'ot'en Camp, Gidimt'en checkpoint and the larger Wet'suwet'en Nation standing up to the Canadian government and corporations who continue colonial violence against Indigenous people.

**Full Length Film coming in 2020**

The Unist'ot'en Camp has been a beacon of resistance for nearly 10 years. It is a healing space for Indigenous people and settlers alike, and an active example of decolonization. The violence, environmental destruction, and disregard for human rights following TC Energy (formerly TransCanada) / Coastal GasLink's interim injunction has been devastating to bear, but this fight is far from over.

• ───────────────── •

[Español]

En esta era de reconciliación, la tierra Indígena todavía se toma a punta de pistola.

INVASIÓN es nuevo cortometraje sobre el Campamento Unist'ot'en, la bloqueada Gidimt'en y la Nación Wet'suwet'en, luchando en contra del gobierno Canadiense y la corporaciones que continúan la violencia colonial en contra de los pueblos Indígenas.

**Largometraje viene en el 2020**

El campamento Unist'ot'en ha sido un lucero de resistencia en los últimos 10 años. Es un espacio de curación para Indígenas y no-indígenas, y un ejemplo de decolonization. La violencia, destrucción del medio ambiente y el atropello de derechos humanos que han pasado despues de que TC Energy y Coastal Gaslink entraron a su territorio ha sido difícil de soportar !Pero esta lucha continua!

Organice una proyección de esta película.

Para más información: https://unistoten.camp/invasion

Para hacer un donativo: https://unistoten.camp/support-us/donate/

• ───────────────── •

[Français]

En cette époque de « réconciliation », les territoires autochtones ne cessent d'être saisis de force. Le nouveau film INVASION porte sur la résistance du campement Unist'ot'en, du point d'accès Gidimt'en et de l'ensemble de la nation Wet'suwet'en contre la violence coloniale du gouvernement canadien et des grandes entreprises.

La version complète du film sera accessible en 2020.

Le campement Unist'ot'en joue une rôle phare dans la résistance depuis près de dix ans. Il représente un espace de guérison pour les personnes autochtones comme pour les colonisatrice-teur-s, ainsi qu'un exemple concret de décolonisation. L'injonction temporaire de TC Energy (anciennement TransCanada)/Coastal GasLink a été dévastatrice. Face à la violence, aux dommages environnementaux et au mépris des droits humains qui en ont découlé, la lutte est loin d'être terminée.

Voir INVASION:

https://youtube.com/UnistotenCamp

• ───────────────── •

Organize a community screening of this film!

Simply download the film here (1.3GB), make an event using this graphic, and download and print the poster designed by Gord Hill and plaster around your town.

English Subtitles | Spanish Subtitles | French Subtitles | Portugese Subtitles

You can pass the hat for donations to send to the camp and hold a discussion about how people can help further Indigenous movements for self-determination. If you plan to fundraise at your screening please use the fundraising guide and let us know about your event so we can help promote it!

Unist'ot'en continues to need funds to reoccupy their lands and fight in the colonial courts.

To Donate: https://unistoten.camp/support-us/donate/

We encourage discussion after the film to encourage ongoing organizing efforts to support the Wet'suwet'en. Below are some sample questions you can use to get a discussion going:

#unistoten / #wetsuwetenstrong / #wedzinkwa / #nopipelines / #invasion / #thetimeisnow / #waterislife
Since 2009, the Unist'ot'en clan and its supporters have occupied a camp that is blocking proposed oil and gas pipelines in northern British Columbia, Canada.
In the summer of 2015, oil company workers regularly attempted to enter the indigenous group's territory, and a growing police presence raised tensions about the possibility of a raid on the camp.
The Responsibility to Protect (R2P) Principle
The Responsibility to Protect (R2P) is a historic and global commitment, made at the UN World Summit in 2005, to protect populations from genocide, war crimes, ethnic cleansing and crimes against humanity.
R2P stipulates that:
1. The State carries the primary responsibility for the protection of populations from genocide, war crimes, crimes against humanity and ethnic cleansing.
* Canada still continues a policy against Indigenous communities - especially those living on unceded lands - that amounts to war crimes, crimes against humanity and ethnic cleansing, which is why Indigenous uprisings are necessary and justified. In addition First Nations have the duty to stand up and resist against ecocide.

2. The international community has a responsibility to assist States in fulfilling this responsibility.
* The international ommunity as UN-recognized and accredited states has failed miserably to protect First Nations and Indigenous communities. It is therefore mandatory for the international community of civil society to step in and to fulfil his duty in solidarity.

3. The international community should use appropriate diplomatic, humanitarian and other peaceful means to protect populations from these crimes. If a State fails to protect its populations or is in fact the perpetrator of crimes, the international community must be prepared to take stronger measures,including the collective use of force through the UN Security Council.
* First Nations and Indigenous communities in Canada therefore call on those states of the international community at the UN that made the R2P commitment as well as on the international community of civil society to come to the rescue of First Nations and Indigenous communities in distress.
We urge the Canadian Centre for the Responsibility to Protect as well as intenational observers to document the atrocities committed by the Crown, by the Canadian Government as well as by Canadian corporations against First Nations and Indignous communites in Canada as well as worldwide.
Exclusive: Canada police prepared to shoot Indigenous activists, documents show
Notes from strategy session for raid on Wet'suwet'en nation's ancestral lands show commanders argued for 'lethal overwatch'
By Jaskiran Dhillon in Wet'suwet'en territory and Will Parrish -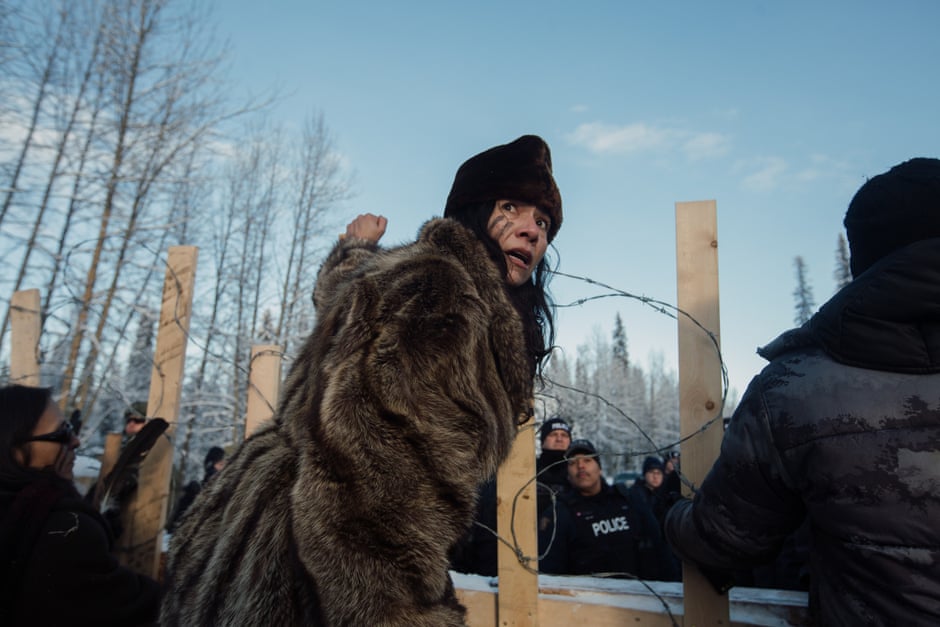 Sabina Dennis stands her ground as police dismantle the barricade to enforce the injunction filed by Coastal Gaslink pipeline at the Gidimt'en checkpoint near Houston, British Columbia, on 7 January. Photograph: Amber Bracken
Canadian police were prepared to shoot Indigenous land defenders blockading construction of a natural gas pipeline in northern British Columbia, according to documents seen by the Guardian.
Notes from a strategy session for a militarized raid on ancestral lands of the Wet'suwet'en nation show that commanders of Canada's national police force, the Royal Canadian Mounted Police (RCMP), argued that "lethal overwatch is req'd" – a term for deploying an officer who is prepared to use lethal force.
The RCMP commanders also instructed officers to "use as much violence toward the gate as you want" ahead of the operation to remove a roadblock which had been erected by Wet'suwet'en people to control access to their territories and stop construction of the proposed 670km (416-mile) Coastal GasLink pipeline (CGL).
In a separate document, an RCMP officer states that arrests would be necessary for "sterilizing [the] site".
Wet'suwet'en people and their supporters set up the Gidimt'en checkpoint in December 2018 to block construction of the pipeline through this region of mountains and pine forests 750 miles north of Vancouver.
On 7 January, RCMP officers – dressed in military-green fatigues and armed with assault rifles – descended on the checkpoint, dismantling the gate and arresting 14 people.
The checkpoint lies 22km east of a camp operated by a house group of the Wet'suwet'en called the Unist'ot'en, which has been at the center of the struggle against the pipeline.
The camp is one of several instances where Indigenous people in British Columbia have reinhabited ancestral territory that falls outside of demarcated reservations, in what they refer to as "reoccupation".
Unist'ot'en spokesperson Freda Huson (Howilhkat) said that the RCMP's militarized posture during the raid was consistent with a long history of colonial violence.
"In our experience, since first contact, RCMP have been created by the federal government to dispossess Indigenous peoples of their lands," Huson said. "They have proven [that] through their harassment of my people to support Coastal GasLink in invading our territories."
Police records seen by the Guardian include transcripts from police strategy sessions, reports filed after the raid and audio and video files.
One document noted that the Wet'suwet'en possessed "firearms for hunting/sustenance" but police intelligence indicated that there was "no single threat indicating that [land defenders] will use firearms".
An RCMP spokesperson declined to comment on the specific content of the documents, saying they were merely carrying out a December 2018 injunction against people who interfere with the CGL pipeline.
"During the planning for the enforcement of the court-ordered injunction, the RCMP took the remote location of the Morice River Bridge into account and ensured that enough police officers were present in the area to keep the peace," the spokesperson said. "We also took into consideration the unpredictable nature of what we could face in the remote area, and so we moved additional police resources including members of the tactical and emergency response teams to provide support."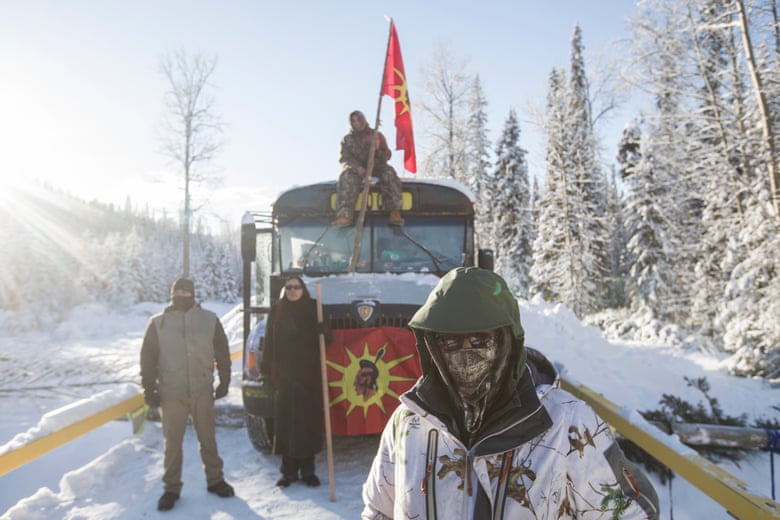 Camp supporters wait for police at the Gidimt'en blockade near Houston, British Columbia. Photograph: Amber Bracken
The revelations come as the Wet'suwet'en camps brace for a provincial supreme court ruling on an injunction applied for by the pipeline builder TC Energy (formerly TransCanada), which seeks to permanently restrict the Wet'suwet'en from blocking access to pipeline work sites.
The pipeline would run from the Dawson Creek area of northern British Columbia to a facility near Kitimat on the Pacific coast. CGL has begun road-building and clear-cutting on the right-of-way, and the company intends to start construction in early-2020.
Founded in 2009, Unist'ot'en camp was the first among a constellation of Indigenous-led uprisings against fossil fuel pipelines in North America – including Keystone XL, Trans Mountain, Enbridge Line 3, Dakota Access and Bayou Bridge.
Like most Indigenous people in British Columbia, the Wet'suwet'en have never relinquished their land to the Canadian government by treaty, land sale or surrender.
In a 1997 ruling, the supreme court of Canada determined that aboriginal land ownership had never been given up across the Wet'suwet'en's 22,000 km sq of territory.
Wet'suwet'en leaders say they are defending their right to protect themselves and future generations from irreparable harm. The pipeline would run directly beneath the Morice River, a river system several municipalities rely on.
The documents show that ahead of the raid, the RCMP deployed an array of surveillance, including heavily armed police patrols, a jet boat, helicopter, drone technology, heat-sensing cameras and close monitoring of key land defenders' movements and social media postings.
Police established a "media exclusion zone", blocking reporters from accessing the area. They took care to hide their carbine rifles on the approach to the roadblock because the "optics" of the weapons were "not good", according to one of the documents.
The documents also show close collaboration between the RCMP and TC Energy: police officers attended company planning sessions and daily "tailgate" meetings, and were privy to CGL's legal strategy.
The RCMP were prepared to arrest children and grandparents: "No exception, everyone will be arrested in the injunction area," a document reads. Another makes reference to possible child apprehension by social services – a troubling disclosure given the violent history of residential schooling in Canada and the disproportionate number of Indigenous children currently in the child welfare system.
"The police are here to support the invasion of Indigenous territories," said Tlingit land defender Anne Spice. "It is what they've always done. Now, they watch us when we travel to pick berries. They 'patrol' the roads where we hunt. They harass us and profile us under the guise of 'public safety'."
Since the January raid, an RCMP detachment known as the Community Industry Safety Office has maintained a large presence in an effort to forestall any resistance to pipeline construction.
Armed RCMP officers can be seen patrolling the area, and three police trailers are tucked away in the woods alongside the access road. Drones and helicopters often circle overhead. CGL has also retained two private security firms that track Indigenous people's movements.
According to the RCMP spokesperson, the police detachment will remain in place in Wet'suwet'en lands "as long as deemed necessary".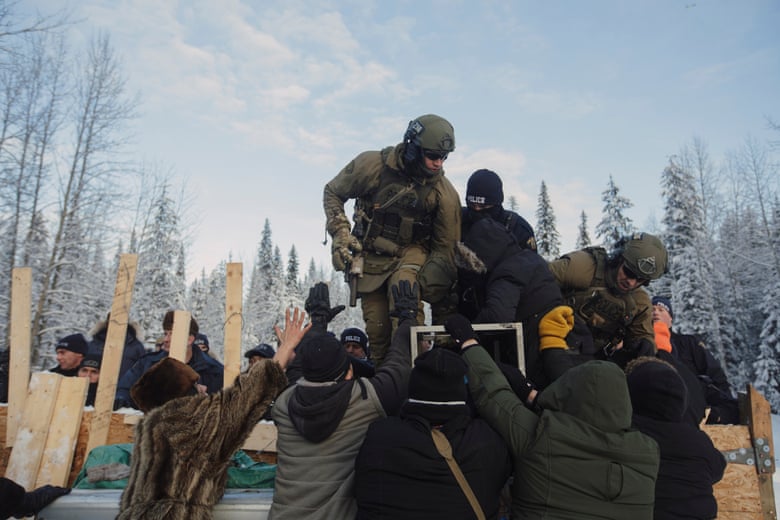 Police climb over a barricade to enforce the injunction filed by Coastal Gaslink pipeline at the Gidimt'en checkpoint near Houston, British Columbia, on 7 January. Photograph: Amber Bracken
The RCMP Community Industry Response Group (CIRG) has also recently been deployed to monitor and suppress Indigenous people fighting the proposed Trans Mountain tar sands pipeline, which would pass through a separate area of British Columbia and which officially began construction last month.
One of the Gidimt'en land protectors, Molly Wickham (Sleydo'), from the clan's Grizzly House, described the CIRG detachment in her people's territory as a violation of "free, prior and informed consent" between a settler state and Indigenous people -- a principle enshrined in the United Nations Declaration on the Rights of Indigenous People.
"What I've witnessed over the last year is not only violent oppression by RCMP and the state on 7 January, but the continuing occupation of our territories and surveillance of our people and camp by CIRG," she said.
The RCMP's suppression of Indigenous dissent against resource extraction is rooted in its founding as a paramilitary entity 150 years ago.
In the late 1800s, the RCMP (formerly the Northwest Mounted Police) carried out surveillance, violent displacement and relocation of Indigenous peoples onto reserves, and the forcible removal of Indigenous children from their families in order to place them in residential schools. Advocates say it was the police force which enabled the Canadian government to seize Indigenous homelands and undermine Native sovereignty.
More recently, the Canadian state has thrown its national security apparatus behind oil and gas development – often directly at Indigenous people's expense.
The 2015 Anti-Terrorism Act, Bill C-51, sanctions the criminalization of Indigenous environmentalists by enhancing surveillance and legal powers against any potential interference with Canada's "critical infrastructure" or "territorial integrity". Land defenders such as Freda Huson have been identified in RCMP intelligence reports as "aboriginal extremists".
Despite the onset of winter, Wet'suwet'en land defenders remain at the camps to protect their lands and waters. As construction crews dynamite the land in preparation for laying pipe, and RCMP and private security forces patrol the territory, they trap for food and build new cabins.
"We will continue to resist, to insist on respect for our way of life," said Spice.
• This article was amended on 30 December 2019. An earlier version described "lethal overwatch" as "a term for deploying snipers". To clarify, it describes the deployment of an officer who is prepared to use lethal force, who may or may not be positioned as a sniper. An earlier version also included the quote "sterilizing the site" from an RCMP record. The word "the" does not actually appear in the record.