Australia Is Committing Climate Suicide
As record fires rage, the country's leaders seem intent on sending it to its doom.
By Richard Flanagam - 03.
​​​​​BRUNY ISLAND, Australia — Australia today is ground zero for the climate catastrophe. Its glorious Great Barrier Reef is dying, its world-heritage rain forests are burning, its giant kelp forests have largely vanished, numerous towns have run out of water or are about to, and now the vast continent is burning on a scale never before seen.
The images of the fires are a cross between "Mad Max" and "On the Beach": thousands driven onto beaches in a dull orange haze, crowded tableaux of people and animals almost medieval in their strange muteness — half-Bruegel, half-Bosch, ringed by fire, survivors' faces hidden behind masks and swimming goggles.
Day turns to night as smoke extinguishes all light in the horrifying minutes before the red glow announces the imminence of the inferno. Flames leaping 200 feet into the air. Fire tornadoes. Terrified children at the helm of dinghies, piloting away from the flames, refugees in their own country.
The fires have already burned about 14.5 million acres — an area almost as large as West Virginia, more than triple the area destroyed by the 2018 fires in California and six times the size of the 2019 fires in Amazonia. Canberra's air on New Year's Day was the most polluted in the world partly because of a plume of fire smoke as wide as Europe.
Scientists estimate that close to half a billion native animals have been killed and fear that some species of animals and plants may have been wiped out completely. Surviving animals are abandoning their young in what is described as mass "starvation events." At least 18 people are dead and grave fears are held about many more.
All this, and peak fire season is only just beginning.
As I write, a state of emergency has been declared in New South Wales and a state of disaster in Victoria, mass evacuations are taking place, a humanitarian catastrophe is feared, and towns up and down the east coast are surrounded by fires, all transport and most communication links cut, their fate unknown.
An email that the retired engineer Ian Mitchell sent to friends on New Year's Day from the small northern Victoria community of Gipsy Point speaks for countless Australians at this moment of catastrophe:
"All
we and most of Gipsy Point houses still here as of now. We have 16 people in Gipsy pt.
No power, no phone no chance of anyone arriving for 4 days as all roads blocked. Only satellite email is working We have 2 bigger boats and might be able to get supplies 'esp fuel at Coota.
We need more able people to defend the town as we are in for bad heat from Friday again. Tucks area will be a problem from today, but trees down on all tracks, and no one to fight it.
We are tired, but ok.
But we are here in 2020!
Love
Us"
The bookstore in the fire-ravaged village of Cobargo, New South Wales, has a new sign outside: "Post-Apocalyptic Fiction has been moved to Current Affairs."
And yet, incredibly, the response of Australia's leaders to this unprecedented national crisis has been not to defend their country but to defend the coal industry, a big donor to both major parties — as if they were willing the country to its doom. While the fires were exploding in mid-December, the leader of the opposition Labor Party went on a tour of coal mining communities expressing his unequivocal support for coal exports. The prime minister, the conservative Scott Morrison, went on vacation to Hawaii.
Since 1996 successive conservative Australian governments have successfully fought to subvert international agreements on climate change in defense of the country's fossil fuel industries. Today, Australia is the world's largest exporter of both coal and gas. It recently was ranked 57th out of 57 countries on climate-change action.
In no small part Mr. Morrison owes his narrow election victory last year to the coal-mining oligarch Clive Palmer, who formed a puppet party to keep the Labor Party — which had been committed to limited but real climate-change action — out of government. Mr. Palmer's advertising budget for the campaign was more than double that of the two major parties combined. Mr. Palmer subsequently announced plans to build the biggest coal mine in Australia.
Since Mr. Morrison, an ex-marketing man, was forced to return from his vacation and publicly apologize, he has chosen to spend his time creating feel-good images of himself, posing with cricketers or his family. He is seen far less often at the fires' front lines, visiting ravaged communities or with survivors. Mr. Morrison has tried to present the fires as catastrophe-as-usual, nothing out of the ordinary.
This posture seems to be a chilling political calculation: With no effective opposition from a Labor Party reeling from its election loss and with media dominated by Rupert Murdoch — 58 percent of daily newspaper circulation — firmly behind his climate denialism, Mr. Morrison appears to hope that he will prevail as long as he doesn't acknowledge the magnitude of the disaster engulfing Australia.
Mr. Morrison made his name as immigration minister, perfecting the cruelty of a policy that interns refugees in hellish Pacific-island camps, and seems indifferent to human suffering. Now his government has taken a disturbing authoritarian turn, cracking down on unions, civic organizations and journalists. Under legislation pending in Tasmania, and expected to be copied across Australia, environmental protesters now face up to 21 years in jail for demonstrating.
"Australia is a burning nation led by cowards," wrote the leading broadcaster Hugh Riminton, speaking for many. To which he might have added "idiots," after Deputy Prime Minister Michael McCormack blamed the fires on exploding horse manure.
Such are those who would open the gates of hell and lead a nation to commit climate suicide.
More than one-third of Australians are estimated to be affected by the fires. By a significant and increasing majority, Australians want action on climate change, and they are now asking questions about the growing gap between the Morrison government's ideological fantasies and the reality of a dried-out, rapidly heating, burning Australia.
The situation is eerily reminiscent of the Soviet Union in the 1980s, when the ruling apparatchiks were all-powerful but losing the fundamental, moral legitimacy to govern. In Australia today, a political establishment, grown sclerotic and demented on its own fantasies, is facing a monstrous reality which it has neither the ability nor the will to confront.
Mr. Morrison may have a massive propaganda machine in the Murdoch press and no opposition, but his moral authority is bleeding away by the hour. On Thursday, after walking away from a pregnant woman asking for help, he was forced to flee the angry, heckling residents of a burned-out town. A local conservative politician described his own leader's humiliation as "the welcome he probably deserved."
As Mikhail Gorbachev, the last Soviet leader, once observed, the collapse of the Soviet Union began with the nuclear disaster at Chernobyl in 1986. In the wake of that catastrophe, "the system as we knew it became untenable," he wrote in 2006. Could it be that the immense, still-unfolding tragedy of the Australian fires may yet prove to be the Chernobyl of climate crisis?
UPDATES:
Australian Megafire Engulfs Nearly 1.5 Million Acres
By Stephanie Pappas - 10. January 2019
Two wildfires in New South Wales and Victoria have merged, forming a fire covering 2,300 square miles (6,300 square kilometers).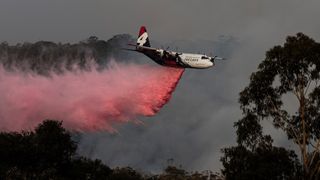 A large air tanker (LAT) drops retardant near a property on January 10, 2020 in Penrose, Australia. The country is facing a megafire in the state of New South Wales that spans 2,300 square miles (6,000 square kilometers). (Image: © Brook Mitchell/Getty)
Two wildfires in southeastern Australia have merged, creating one megafire that spans 2,300 square miles (6,000 square kilometers).
The merged fire is only one of at least 155 burning in New South Wales, according to The Sydney Morning Herald, and parts of the blaze extend into the neighboring state of Victoria. Strong winds are forecast for Saturday morning in the area, and those gusts could complicate firefighting efforts, the Herald reported.
The megafire formed from the merger of the East Ournie Creek fire and the Dunns Road fire, which came together at the Clarkes Hill Nature Reserve on the border of New South Wales and Victoria.
Related: In Photos: Devastating Look at Raging Wildfires in Australia
"What we're really seeing with a number of these fires merging is a number of small fires started by lightning strikes across the landscape. And as they grow, we see fires merging," New South Wales Rural Fire Service spokesperson Anthony Clark told the Herald.
The fire service issued an emergency alert for the megafire on Friday night (Jan. 10) local time, meaning that the fire was an immediate threat to life and property. In the early morning hours on Saturday, the alert was downgraded to "watch and act," indicating a still-high threat level.
This is not the first megafire that Australia has faced this fire season. In October, a lightning strike sparked the Gospers Mountain megafire in Wollemi National Park north of Sydney. The fire is under control, but it is still burning and has destroyed 1,977 square miles (5,120 square km).
Twenty-five people have died in this season's wildfires in Australia, according to NPR. An ecologist at the University of Sydney estimated that in New South Wales alone, at least half a billion wild animals have died in the fires since September.
The country's fire season usually peaks in January, according to Science News, but blazes started burning intensely and early in 2019. That intensity is driven by record high temperatures, long-term drought, and low moisture levels in the soil and air, climate scientists told Science News. This pattern is partly driven by variations in El Niño oscillations. These variations are likely to become more common as the climate warms, climate scientists reported in the journal Nature in 2014.
Leonardo DiCaprio's Earth Alliance launches a $3million Australia Wildfire Fund to assist firefighters, help local communities and save wildlife
Earth Alliance, a new organisation co-chaired by actor Leonardo DiCaprio, has announced the launch of a $3million bushfire fund.
On Friday, the organisation committed to launch the Australia Wildfire Fund, an international response to the national bushfire crisis.
All funds will go towards assisting firefighters and long-term recovery efforts.
Saving the planet: Earth Alliance, a new organisation co-chaired by actor Leonardo DiCaprio, has announced the launch of a $3million bushfire fund. Pictured at a climate change panel in Washington, D.C. on October 3, 2016
Working alongside Aussie Ark, Bush Heritage and WIRES Wildlife Rescue, the Australia Wildfire Fund aims to help communities most affected by the bushfires, enable wildlife recovery and support the restoration of the country's ecosystems.
Earth Alliance, founded in 2019, is co-chaired by DiCaprio, philanthropist Laurene Powell Jobs (the widow of Apple co-founder Steve Jobs) and investor Brian Sheth.
DiCaprio is a longtime environmental sustainability advocate, having also founded his namesake charity, The Leonardo DiCaprio Foundation, in 1998 to protect the 'wellbeing of all Earth's inhabitants'.
In November, DiCaprio weighed in on Australia's bushfire crisis when he re-posted a statement by Aussie Ark on Instagram.
'Australian conservation efforts need a radical overhaul,' the organisation stated.
'Mitigating the intensity of these fires, mostly set by humans and their activities, can be achieved by restoring our native ecosystem engineers, such as bandicoots, bettongs and potoroos.
'These species help to maintain healthy forests by continually turning over and breaking down forest leaf litter, thereby drastically reducing fuel load. In their absence, fires are more intense, often reaching the treetops, which can affect populations of species already on the brink, like the koala.'
The Australia Wildlife Fund website states that one of its objectives includes 'overpopulating unique ecosystems', which they claim will increase 'climate resilience' and reduce the threat of future fires.
The bushfires across Australia have so far claimed 26 lives, killed an estimated billion animals, and destroyed thousands of homes.
Devastation: The bushfires across Australia have so far claimed 26 lives, killed an estimated billion animals, and destroyed thousands of homes
While Leonardo di Caprio's efforts also work in and tackle prevention issues, most celbes only appear on the scence when it is much too late, and only the rescue services with their "donors" are celebated:
Australian politics heats up over bushfires
Australian bushfires point to an ominous pattern
Australian PM heckled by angry residents about bushfires
By Paul Hockenos - 04. January 2020
Australian PM heckled by angry residents about bushfires
Paul Hockenos is the author of "Berlin Calling: A Story of Anarchy, Music, the Wall and the Birth of the New Berlin." The opinions in this article are those of the author. View more opinion on CNN.
(CNN)Apocalyptic scenes are playing out across Australia as bushfires have burned millions of acres and ravaged more than 1,000 homes in New South Wales alone.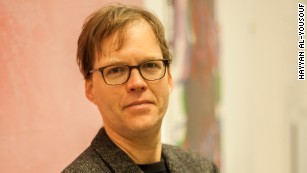 Paul Hockenos
The bright orange haze may look like something out of a dystopic science fiction film -- or even Dante's Inferno -- but this is Australia's current reality. A total of 20 people have died, and the photographs of human suffering are foreboding: native Australians have poured out of smoke-shrouded towns as the flames creep nearer, while people along the coast have taken refuge on beaches.
These are scenes from an Earth that is becoming uninhabitable amid raging wildfires, severe hurricanes and floods, record droughts and rising sea levels that have already submerged islands. The climate crisis is claiming human lives, and the body count will grow.
The worldwide community of climate scientists says that ever larger swathes of our world could burn if the climate crisis continues to trigger extreme weather events like record-breaking temperatures and extended dry spells.
They have been ringing the alarms bells for years now. In late 2018, the International Panel on Climate Change (IPCC) issued a damning report stating that because we have prevaricated for so long -- climate change has been well documented since the late 1980s -- greenhouse gas emissions could cause global warming to reach the crucial threshold of 1.5 degrees Celsius above pre-industrial levels by as early as 2030. This would lead to greater sea level rise, extreme weather and food shortages for hundreds of millions of people.
The recent fires that have ravaged North America's west coast, Europe, the Amazon and the Arctic Circle should have been enough, together with all of the other mounting evidence, to bring politicians to their senses and convince even hardcore climate skeptics that global warming is already impacting our world with even more dire consequences to come if we do not reverse course.
In fact, the only point where the scientists have erred is in their predictions about how fast temperatures will climb, and how resounding the shorter-term consequences would be.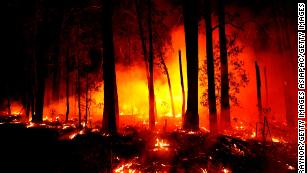 Flames are chewing up my country
The global wildfires are one case in point. The ever hotter, drier weather, exacerbated by forest mismanagement in some cases, is causing higher-intensity, faster-moving fires that can turn into erratic firestorms, argues Marc Castellnou, president of the Spanish independent wildfire prevention group Pau Costa Foundation.
Castellnou said that many experts initially though that the ferocious blazes in Europe, California and Australia in 2009 and 2012 were perhaps freak phenomena. But then fierce wildfires in Chile and Portugal in 2017, followed by fires in Greece and California the year after, confirmed an ominous pattern.
"That was the new normal arriving. 2018 has confirmed that," he told Horizon: The EU Research & Innovation Magazine. This kind of lethal wildfire is of an entirely different quality: "It eats everything," Castellnou says. Firefighters are nearly helpless against blazes of this intensity, he says.
The current fires in Australia are already the most destructive ever in terms of reach. Records for the region's hottest days -- up to 120 degrees Fahrenheit -- have been shattered one after another, and meteorologists say more blistering weather is on its way. Low humidity and stiff winds have only complicated firefighting and rescue efforts, which now include 10,000 emergency personnel and the Australian Defense Force. The smoke is so intense that giant ash clouds have even wafted to New Zealand nearly 1,300 miles away.
The new normal is not only more lethal, it's also harder to predict.
"All of a sudden it's getting a lot harder to protect against what's coming," writes journalist David Wallace-Wells in his book "The Uninhabitable Earth." There's still more to come: "much more fire, much more often, burning much more land," he writes. Wallace-Wells notes that globally, the length of wildfire seasons have grown by nearly 20% since 1979. In the US, wildfires burn twice as much land now as they did in 1970, and by 2050, the devastation caused by fires is expected to double again. And "for every additional degree of global warming, it could quadruple," he argues.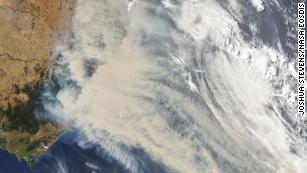 Satellite images show just how bad the Australian wildfires are
Of course, there are still hard-headed doubters, including President Donald Trump and Australian Prime Minister Scott Morrison. (While Morrison acknowledged that climate change is one of many factors behind the bushfires, he also said calls to reduce carbon emissions are "reckless" and claimed Australia doesn't need to do more to combat the climate crisis). It was Australia, along with the US, Brazil, and Saudi Arabia, that blocked meaningful new climate protection reforms at the recent UN climate conference in Madrid. Morrison made it clear that his imperative was to get the Australian economy performing at full tilt.
Indeed, due to its heavy burning of coal and use of liquified natural gas, Australia has one of the highest per capita greenhouse gas emissions rates in the world. Last summer, Morrison's administration gave the green light to a new coal mine in Queensland; others are in the pipeline.
The UN's warning that Australia is not on track to meet its modest obligations pledged at the Paris climate summit in 2015 does not appear to faze Morrison. But Australia isn't alone -- the US and China are also failing to reach their emissions targets.
Leaders like Trump and Morrison must be voted out of office. There are political parties and candidates who grasp the existential nature of the crisis at hand, and reputable institutes have designed detailed policies and plans that can ameliorate the worst of it. One of the best examples of clear, prescient thinking can be seen in New Zealand's Prime Minister Jacinda Ardern, who has successfully pushed landmark climate legislation that commits the country to slash carbon emissions to zero by 2050.
Indeed, the situation is grim: worldwide, we have to cut CO2 emissions by 50% by 2030. But fatalist pessimism is as dangerous as lying about the crisis at hand.
The clean tech necessary to offset rising temperatures and seas has long been around: renewable energy, electric cars and buses, zero-carbon housing and hydrogen-fueled airplanes and ships. It is only a matter of political will that we deploy this technology en masse and put a swift end to the reliance on fossil fuels and unsustainable consumption.
And if the will is not there, then it is up to those of us who live in democracies responsible for the biggest carbon footprints to replace the intransigent politicos with ones who will act. This next decade will be decisive in battling the climate crisis. Despite what the skeptics and fatalists might think, there is something every one of us can do.
WIPED OUT
Australia fires – Heartbreaking footage shows koala and kangaroo carcasses as a BILLION animals feared dead
By James Oxenham - 05, January 2020
HEARTBREAKING footage shows the charred remains of dead koalas and kangaroos - as experts fear the devastating Australian wildfires have killed a BILLION animals.
A horrific video shows the chilling scenes of burnt animal corpses lining the road of Batlow in New South Wales - one of the areas worst hit by the infernos over the weekend.
It comes as 24 people were killed and 200,000 homes were destroyed in the horrifying bushfires.
Sydney was declared the hottest place on earth yesterday with temperatures rocketing to nearly 50C as fires continued to rip through the area.
Thousands fled for their lives through the chocking smoke after huge areas between Bateman's Bridge and the border with Victoria state were ruled "unsafe".
Posting footage of the remains in Batlow ABCcameramatt said: "Absolutely gut wrenching drive into Batlow this morning. Never seen anything like it.
"It's completely heartbreaking. Worst thing I've seen. Story must be told."
Experts fear a billion animals including mammals, birds, reptiles, frogs and insects have perished in the bushfires, according to Sky News.
Speaking to the broadcaster Stuart Blanch of WWF Australia said many animals were well-adapted to cope with bushfires but the current blazes were "too big and too hot" to escape.
He said: "Animals that make it through the fires will continue to die in the next weeks and months because of dehydration, starvation, disease and being easier prey for feral cats and foxes.
Thousands of firefighters are still battling more than 140 infernos Credit: Getty Images - Getty
"Even animals that are not being burnt to death are cooked because of extreme temperatures, or they get very confused and lost because of the smoke haze so our animals don't stand a chance from these mass mega-fires that burn flames up to 200ft high."
Experts warn some animals could be on the brink of extinction.
The destructive wildfires are thought to have killed off a third of Australia's Koala population whose numbers are already dangerously low.
Around 8,000 of the furry creatures are believed to have perished whilst there are also huge fears over the western ground parrot, the eastern bristlebird and the Kangaroo Island dunnart.
The blazes are creating their own storms because of the heat they are generating - with fire tornadoes causing some of the biggest fires to merge.
The premier of New South Wales declared a state of emergency after the devastation of more than 200 fires this week.
Experts fear a billion animals have died in the wildfires Credit: AP:Associated Press
The premier of New South Wales declared a state of emergency after more than 200 fires this week. Credit: New York Times
Experts predict a billion animals have been killed in the infernos Credit: Reuters
Animals are being 'cooked to death' as the blazes are 'too big and too hot' Credit: Reuters
Aerial pictures show the large scale fires as they wreak havoc across Australia Credit: AFP or licensors
Residents look on as flames burn through bush Credit: Getty Images - Getty
'Dangerous, misinformation': News Corp employee's fire coverage email
A News Corp employee has accused the organisation of a "misinformation campaign" filled with "irresponsible" and "dangerous" coverage of the national bushfire crisis, urging executive chairman Michael Miller to think about the "big picture".
In an email distributed to News Corp Australia staff and addressed to Mr Miller, commercial finance manager Emily Townsend said she had been filled with anxiety and disappointment over the coverage, which had impacted her ability to work.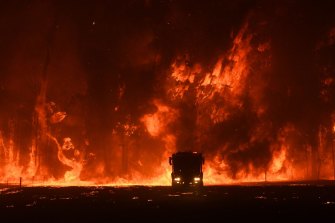 Ms Townsend, who has worked for News Corp Australia for five years, thanked Mr Miller for the email about fundraising initiatives in relation to the fires, but said the efforts did not offset the company's coverage of the bushfires.
"I have been severely impacted by the coverage of News Corp publications in relation to the fires, in particular the misinformation campaign that has tried to divert attention away from the real issue which is climate change to rather focus on arson (including misrepresenting facts)," she said.
"I find it unconscionable to continue working for this company, knowing I am contributing to the spread of climate change denial and lies. The reporting I have witnessed in The Australian, The Daily Telegraph and Herald Sun is not only irresponsible, but dangerous and damaging to our communities and beautiful planet that needs us more than ever to acknowledge the destruction we have caused and start doing something about it."
After the email leaked, Ms Townsend said she felt compelled to send it to Mr Miller's email group because of the "sickening" coverage the media organisation had given to the bushfires.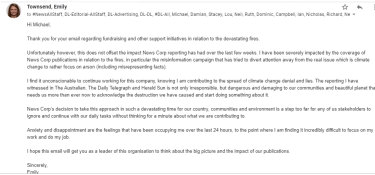 "Everything I said in the email I stand by. I feel sick, not because the email has been circulated but because I have been contributing to this deception by continuing to work for this organisation. I haven't been able to sleep, this has really preoccupied my thinking; it is unconscionable what this company has been doing when it comes to climate change," she said.
Mr Miller stood by News Corp's coverage of the bushfires and said that, while he respected Ms Townsend's views, he did not agree with them.
"Ms Townsend resigned in December and was due to leave News Corp shortly," Mr Miller said.
"News Corp stands by its coverage of the bushfires. The dedication and professionalism of our journalists and photographers have kept the community - particularly those Australians affected directly - informed and supported. We respect Ms Townsend's right to hold her views but we do not agree with them."
Mr Miller said the company would continue to provide information to affected communities and "strongly support" them as they begin to rebuild and recover from the damage.
"Contrary to what some critics have argued, News Corp does not deny climate change or the gravity of its threat. However, we - as is the traditional role of a publisher - do report a variety of views and opinions on this issue and many others that are important in the public discourse on the fires," Mr Miller said.
Ms Townsend's comments follow an influx of false and misleading posts spread on social media websites this week about the cause of the bushfires, which have raised concerns among politicians and academics.
The company's approach to covering the bushfires and climate change has attracted international attention in recent days.
This week, The New York Times wrote an article about the coverage of the crisis by News Corp, referring to exaggerated claims about the role of arson in fires.
However News Corp Australia said the coverage recognised Australia was having a conversation about climate change, adding the role of arsonists were legitimate stories to report.
Loading
News Corp columnists including Maurice Newman and Andrew Bolt have previously expressed scepticism over climate change.
However, at the company's annual general meeting last year, founder and chairman of News Corp, Rupert Murdoch, rejected claims his company promoted an agenda of climate-change denial.
"We were the first North American media company to commit to science-based targets to limit climate change," Mr Murdoch said. "There are no climate change deniers around, I can assure you."
This week Australian federal Communications Minister Paul Fletcher urged the public to maintain a "healthy scepticism" about bushfire-related information posted online.
The email was removed from News Corp employee inboxes within an hour of it being sent.
Zoe Samios is a media and telecommunications reporter at The Sydney Morning Herald and The Age.
Andrew Hornery is a senior journalist and Private Sydney columnist for The Sydney Morning Herald.