UPDATE 09. December 2019: A Spokesman for CCCP China proclaimed today that all Uighurs had been released from the concentrationcamp-like detention centres, which China claims to be educational centres, the BBC monitoring service reported. If the Chinese statement is the full truth could not independently be confirmed.
Anger in China as US House passes Uighur crackdown bill
Beijing 'resolutely opposes' resolution, which among others seeks to sanction Communist Party leader in Xinjiang.
China reacted angrily after the US House of Representatives passed a bill requiring the Trump administration to toughen its response to Xinjiang, where the more than one million Muslims, mostly ethnic Uighurs, are being held in "re-education" camps.
In a statement released shortly after the Uighur Act of 2019 was passed, China's foreign ministry on Wednesday condemned the move saying the bill "wantonly smears China's efforts to eliminate and combat extremism".
The United States's lower house voted to back the bill 407 to one in a vote on Tuesday.
It has still to be approved by the Senate before it can be sent to President Donald Trump. The White House has yet to say whether Trump would sign or veto it.
"We urge the US to immediately correct its mistake, to stop the above bill on Xinjiang from becoming law, to stop using Xinjiang as a way to interfere in China's domestic affairs," said the statement, attributed to the ministry's spokeswoman, Hua Chunying.
China has consistently denied any mistreatment of Uighurs and says the centres it operates in Xinjiang provide vocational training [File: Yasin Akgul/AFP]
The Uighur Act of 2019 is a stronger version of a bill that angered Beijing when it passed the Senate in September and calls on Trump to impose sanctions for the first time on a member of China's powerful politburo, even as he attempts to reach a deal with Beijing to end a damaging trade war.
The bill requires the US president to condemn abuses against Muslims and call for the closure of the camps in the country's far western region.
"This is seen as a continuing series of attacks really aimed not so much at freeing anybody or at human rights but at putting pressure on China on these trade negotiations going forward," Beijing-based political analyst and government adviser Einar Tangen told Al Jazeera.
"If you look beneath that, at the Democrat view and the fact that this was bi-partisan, it seems the only thing the people in politics in Washington can agree on is that China is, somehow, an evil empire."
Sanctions threat
The bill also calls for sanctions against the senior Chinese officials it says are responsible and specifically names Xinjiang Communist Party Secretary Chen Quanguo.
As a politburo member, Chen is in the upper echelons of China's leadership.
Communist Party Secretary of Xinjiang Chen Quanguo, centre, is named in the Uighur Act of 2019 and could be at risk of sanctions from the US [File: Jason Lee/Reuters]
China has consistently denied any mistreatment of Uighurs and says the camps are providing vocational training. It has warned of retaliation "in proportion" if Chen is targeted.
Max Oidtmann, a China analyst at Georgetown University in Doha, said the US law will only reinforce Chinese public opinion that foreign powers are meddling in the country's internal affairs.
"Chinese officials are very infuriated by this policy. It's deeply embarrassing," Oidtmann told Al Jazeera.
The intensifying criticism of China's policies in Xinjiang follows news reports on leaked government documents detailing how the detention camps operate and other measures taken against perceived critics.
"I think one of the more remarkable things about the recent revelations is that China's leadership said they were going to pursue these policies without regard for global public opinion. And I think they really underestimated the strength of global opinion and the ability of people around the world to scrutinize this," said Oidtmann.
Tit-for-tat
On Tuesday, the editor-in-chief of China's Global Times newspaper, Hu Xijin, said China might ban all US diplomatic passport holders from entering Xinjiang, and that Beijing was also considering visa restrictions on US officials and legislators with "odious performance" on the Xinjiang issue.
The bill on Xinjiang follows similar legislation related to Hong Kong, which Trump signed into law last week in the face of vocal opposition from China.
In response, China on Monday banned US military ships and aircraft from visiting Hong Kong and announced as yet unspecified sanctions against several US non-government organisations.
#China could take stronger countermeasures after #US Congress passed the #Uyghur act targeting #Xinjiang and it can be even stronger than what China had taken after the US passed the so-called Hong Kong Human Rights and Democracy Act: expert https://www.globaltimes.cn/content/1172187.shtml …
Analysts say China's reaction to any Uighur bill could be stronger, although some doubted it would go so far as imposing visa bans on the likes of Secretary of State Mike Pompeo, a strong critic of China's Xinjiang policies who has been repeatedly denounced by Beijing.
'Modern-day concentration camps'
"America is watching," she said. Democratic House Leader Nancy Pelosi called China's treatment of the Uighurs "an outrage to the collective conscience of the world."
Republican Congressman Chris Smith called China's actions in "modern-day concentration camps" in Xinjiang "audaciously repressive", involving "mass internment of millions on a scale not seen since the Holocaust."
"We cannot be silent. We must demand an end to these barbaric practices," Smith said, adding that "Chinese officials must be held accountable for crimes against humanity."
"We must say 'never again' to the cultural genocide and the atrocities suffered by Uighurs and others in China."
Chris Johnson, a China expert at Washington's Center for Strategic and International Studies, said passage of the bill could lead to a further blurring of lines between the trade issue and the broader deteriorating China-US relationship, which China in the past has tended to keep separate.
"I'm not sure it's the Xinjiang issue being more sensitive than Hong Kong, I think there's a sort of piling on factor here that the Chinese are concerned about," Johnson said.
WATCH: THE LISTENING POST
Xinjiang leaks: Reporting on China's detention camps
SOURCE: NEWS AGENCIES
Will US proposed law change anything for the Uighurs?
China condemns US for bill demanding closure of 're-education' camps.
US politicians are sending one of their strongest ever warnings to China over the crackdown on Uighur people.
More than a million of the Muslim ethnic minority have been imprisoned in what China describes as "vocational training" camps.
The government says inmates are there voluntarily to renounce so-called "extremist" thoughts.
However, rights groups label the "re-education" camps in Xinjiang Province as prisons, saying they are part of a systematic campaign to strip the Muslims of their identity and culture.
China is condemning a US bill demanding the closure of the camps, and sanctions against Communist party leaders.
Will this measure change anything for the Uighurs?
Presenter: Hashem Ahelbarra
Guests:
Max OIdtmann - Professor of modern Chinese history at Georgetown University in Qatar
Olsi Jazexhi - Lecturer at the University of Durres in Albania who has visited Uighur camps in Xinjiang
Andy Mok - Senior research fellow at the Center for China and Globalization
Source: Al Jazeera
Beijing's Xinjiang narrative
Unprecedented leak of Chinese documents reveals the extent of camps in Xinjiang. Plus, the spyware hacking journalists.
The China Cables and the disruption of Beijing's Xinjiang narrative
It is one of the biggest human rights stories on the planet: China - specifically the province of Xinjiang - and the estimated one million Uighurs and other Muslim ethnic minorities currently held in massive internment camps there.
Previously, most of what the world knew about Xinjiang came through satellite imagery, carefully controlled official tours of the camps plus the accounts of some of those imprisoned there.
Now, the International Consortium of Investigative Journalists and the New York Times say they have troves of classified documents to work with - reportedly leaked from within China's Communist Party.
Contributors:
Bethany Allen-Ebrahimian - International Consortium of Investigative Journalists
Adrian Zenz - Senior Fellow, Victims of Communism Memorial Foundation
Nury Turkel - Chairman & Founder, Uyghur Human Rights Project
Sophie Richardson - China Director, Human Rights Watch
Data leak reveals how China 'brainwashes' Uighurs in prison camps
BBC - 24 November 2019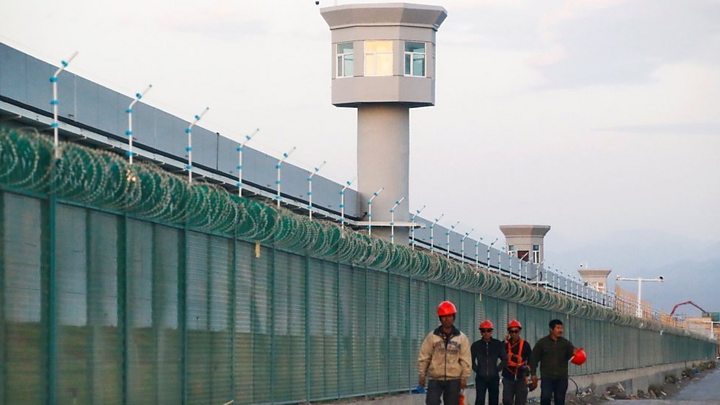 Leaked documents detail for the first time China's systematic brainwashing of hundreds of thousands of Muslims in a network of high-security prison camps.
The Chinese government has consistently claimed the camps in the far western Xinjiang region offer voluntary education and training.
But official documents, seen by BBC Panorama, show how inmates are locked up, indoctrinated and punished.
China's UK ambassador dismissed the documents as fake news.
The leak was made to the International Consortium of Investigative Journalists (ICIJ), which has worked with 17 media partners, including BBC Panorama and The Guardian newspaper in the UK.
The investigation has found new evidence which undermines Beijing's claim that the detention camps, which have been built across Xinjiang in the past three years, are for voluntary re-education purposes to counter extremism.
About a million people - mostly from the Muslim Uighur community - are thought to have been detained without trial.
The leaked Chinese government documents, which the ICIJ have labelled "The China Cables", include a nine-page memo sent out in 2017 by Zhu Hailun, then deputy-secretary of Xinjiang's Communist Party and the region's top security official, to those who run the camps.
The instructions make it clear that the camps should be run as high security prisons, with strict discipline, punishments and no escapes.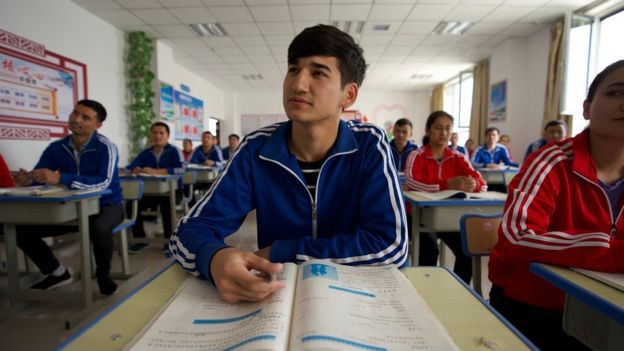 The memo includes orders to:
"Never allow escapes"
"Increase discipline and punishment of behavioural violations"
"Promote repentance and confession"
"Make remedial Mandarin studies the top priority"
"Encourage students to truly transform"
"[Ensure] full video surveillance coverage of dormitories and classrooms free of blind spots"
The documents reveal how every aspect of a detainee's life is monitored and controlled: "The students should have a fixed bed position, fixed queue position, fixed classroom seat, and fixed station during skills work, and it is strictly forbidden for this to be changed.
"Implement behavioural norms and discipline requirements for getting up, roll call, washing, going to the toilet, organising and housekeeping, eating, studying, sleeping, closing the door and so forth."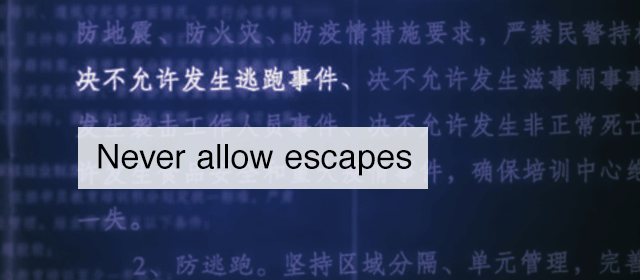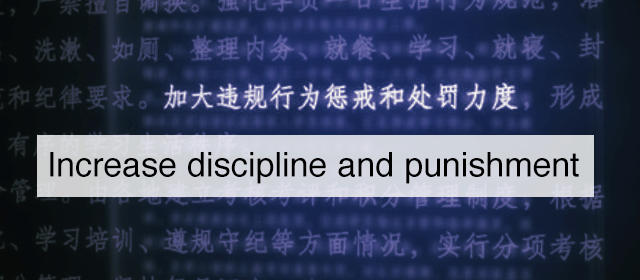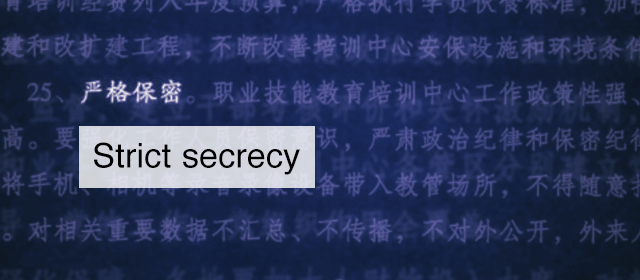 Other documents confirm the extraordinary scale of the detentions. One reveals that 15,000 people from southern Xinjiang were sent to the camps over the course of just one week in 2017.
Sophie Richardson, the China director at Human Rights Watch, said the leaked memo should be used by prosecutors.
"This is an actionable piece of evidence, documenting a gross human rights violation," she said. "I think it's fair to describe everyone being detained as being subject at least to psychological torture, because they literally don't know how long they're going to be there.
The memo details how detainees will only be released when they can demonstrate they have transformed their behaviour, beliefs and language.
"Promote the repentance and confession of the students for them to understand deeply the illegal, criminal and dangerous nature of their past activity," it says.
"For those who harbour vague understandings, negative attitudes or even feelings of resistance… carry out education transformation to ensure that results are achieved."
Ben Emmerson QC, a leading human rights lawyer and an adviser to the World Uighur Congress, said the camps were trying to change people's identity.
"It is very difficult to view that as anything other than a mass brainwashing scheme designed and directed at an entire ethnic community.
"It's a total transformation that is designed specifically to wipe the Muslim Uighurs of Xinjiang as a separate cultural group off the face of the Earth."

China's hidden camps


Detainees are awarded points for their "ideological transformation, study and training, and compliance with discipline", the memo says.
The punishment-and-reward system helps determine whether inmates are allowed contact with family and when they are released. They are only considered for release once four Communist Party committees have seen evidence they have been transformed.
The leaked documents also reveal how the Chinese government uses mass surveillance and a predictive-policing programme that analyses personal data.
One document shows how the system flagged 1.8m people simply because they had a data sharing app called Zapya on their phone.
The authorities then ordered the investigation of 40,557 of them "one by one". The document says "if it is not possible to eliminate suspicion" they should be sent for "concentrated training".
The documents include explicit directives to arrest Uighurs with foreign citizenship and to track Uighurs living abroad. They suggest that China's embassies and consulates are involved in the global dragnet.
Chinese ambassador to the UK Liu Xiaoming said the measures had safeguarded local people and there had not been a single terrorist attack in Xinjiang in the past three years.
"The region now enjoys social stability and unity among ethnic groups. People there are living a happy life with a much stronger sense of fulfilment and security.
"In total disregard of the facts, some people in the West have been fiercely slandering and smearing China over Xinjiang in an attempt to create an excuse to interfere in China's internal affairs, disrupt China's counter-terrorism efforts in Xinjiang and thwart China's steady development."
No, the UN did not report China has 'massive internment camps' for Uighur Muslims
Media outlets falsely claimed the UN reported China is holding a million Uighurs in camps. The claim is based on unsourced allegations by an American commission member, US-funded outfits, and a shadowy government-funded opposition group.
Numerous major media outlets, from Reuters to The Intercept, have claimed that the United Nations has reports that the Chinese government is holding as many as 1 million Uighur Muslims in "internment camps." But a close examination of these news stories, and of the evidence behind them — or the lack thereof — demonstrates that the extraordinary claim is simply not true.
A spokesperson from the UN Office of the High Commissioner for Human Rights (OHCHR) confirmed in a statement to The Grayzone that the allegation of Chinese "camps" was not made by the United Nations, but rather by a member of an independent committee that does not speak for the UN as a whole. That member happened to be the only American on the committee, and one with no background of scholarship or research on China.
Moreover, this accusation is based on the thinly sourced reports of a Chinese opposition group that is funded by the American government's regime-change arm and is closely tied to exiled pro-US activists. There have been numerous reports of discrimination against Uighur Muslims in China. However, information about camps containing 1 million prisoners has originated almost exclusively from media outlets and organizations funded and weaponized by the US government to turn up the heat on Beijing.
A blatant falsehood introduced by Reuters and echoed across mainstream media
On August 10, the UN Committee on the Elimination of Racial Discrimination conducted its regular review of China's compliance with the International Convention on the Elimination of All Forms of Racial Discrimination. The review, which is conducted periodically for all 179 parties to the Convention, has generated a frenzied response by the Western corporate press — one which is uniformly misleading.
On the day of the review, Reuters published a report with an explosive headline: "U.N. says it has credible reports that China holds million Uighurs in secret camps."
The claim was feverishly reproduced by outlets such as The New York Times and The Washington Post to denounce China and call for international action. Even The Intercept's Mehdi Hasan belted out the breathless headline, "One Million Muslim Uighurs Have Been Detained by China, the U.N. Says. Where's the Global Outrage?"
The impression readers were given was that the UN had conducted an investigation and had formally and collectively made such charges against China. In fact, the UN had done no such thing.
The headline of Reuters' report attributed its explosive claim to the UN; yet the body of the article ascribed it simply to the UN Committee on the Elimination of Racial Discrimination. And this committee's official website makes it clear that it is "a body of independent experts," not UN officials.
What's more, a look at the OHCHR's official news release on the committee's presentation of the report showed that the only mention of alleged re-education "camps" in China was made by its sole American member, Gay McDougall. This claim was then echoed by a Mauritanian member, Yemhelhe Mint Mohamed.
During the committee's regular review of China, McDougall commented that she was "deeply concerned" about "credible reports" alleging mass detentions of millions of Uighurs Muslim minorities in "internment camps." The Associated Press reported that McDougall "did not specify a source for that information in her remarks at the hearing." (Note that the headline of the AP news wire is much weaker than that of Reuters: "UN panel concerned at reported Chinese detention of Uighurs.")
Video of the session confirms that McDougall provided no sourcing to back up her remarkable claim.
This is to say, one American member of an independent UN body made a provocative claim that China was interning 1 million Muslims, but failed to provide a single named source. And Reuters and the Western corporate media ran with it anyway, attributing the unsubstantiated allegations of one US individual to the UN as a whole.
In an email to The Grayzone, OHCHR spokesperson Julia Gronnevet confirmed that the CERD was not representative of the UN as a whole. "You are correct that the Committee on the Elimination of Racial Discrimination is an independent body," Gronnevet wrote. "Quoted comments were made during public sessions of the Committee when members were reviewing State parties."
Thus the OHCHR implicitly acknowledged that the comments by McDougall, the lone American member of an independent committee, were not representative of any finding by the UN as a whole. The report by Reuters is simply false.
'Credible reports' from US government-funded opposition group with zero transparency
In addition to this irresponsible misreporting, Reuters and other Western outlets have attempted to fill in the gaps left by McDougall, referring to reports made by so-called "activist group" the Network of Chinese Human Rights Defenders (CHRD).
Conveniently left out of the story is that this organization is headquartered in Washington, DC and funded by the US government's regime-change arm.
CHRD advocates full-time against the Chinese government, and has spent years campaigning on behalf of extreme right-wing opposition figures.
CHRD is not at all transparent about its funding or personnel. Its annual reports contain notes stating, "This report has been produced with the financial support of generous donors." But the donors are never named.
Publicly available 990 IRS filing forms reviewed by The Grayzone show that the organization is substantially funded by government grants. In fact, in 2015 virtually all of the organization's revenue came from government grants.
CHRD's 2015 form 990 discloses that $819,553 of its $820,023 revenue that year (99.94 percent) came from government grants. A measly $395 came from investments, with another $75 from other sources.
According to its 2016 form 990, CHRD received $859,091 in government grants in that year.
The governments that provided these grants have not been disclosed. The Grayzone did not receive a response to several emailed interview requests sent to the Network of Chinese Human Rights Defenders.
However, tax documents uncovered by The Grayzone show that a significant portion of this group's budget comes from the US government's National Endowment for Democracy (NED), a CIA-linked soft-power group that was founded by the Ronald Reagan administration in the 1980s to push regime change against independent governments and support "free markets" around the world.
In 2012, the NED gave the Network of Chinese Human Rights Defenders $490,000. In 2013, it got a $520,000 grant from the NED.
In 2014, the NED gave the group another $514,068.
This massive stream of funding continued: $496,000 from the NED in 2015, and another $412,300 in 2016.
This NED grant in 2015 constitutes more than 60 percent of the $819,553 in government grants CHRD received that year. The governments that provided the additional $323,553 in funding have not been disclosed.
A search of the NED's grants database further confirms that this CIA-linked US government soft-power organization allocated approximately half a million dollars in 2014 and 2015 to "support the work of Chinese human rights defenders."
CHRD has used its generous funding to provide grants to opposition activists inside China, bankrolling dozens upon dozens of projects in the country.
On its tax forms, CHRD lists its address as the Washington, DC office of Human Rights Watch. HRW has long been criticized for its revolving door with the US government and its excessively disproportionate focus on designated enemies of Washington like China, Venezuela, Syria, and Russia.
Human Rights Watch did not respond to an email from The Grayzone inquiring about its relationship with CHRD.
A who's who of right-wing opposition activists
The Network of Chinese Human Rights Defenders' forms 990 also reveal that the board of the organization is a Who's Who of exiled Chinese anti-government activists.
The chair of the group is the US-based activist Su Xiaokang, who proclaimed that the Chinese public supposedly "wants the U.S. to watch over activists, and is disappointed when Washington fails." Fellow US-based dissident Teng Biao is a CHRD director who has sarcastically boasted of how the Chinese communist party dubbed him a "reactionary."
CHRD's secretary is the American academic Perry Link, who has built his public reputation on winding up on the Chinese government's academic "blacklist." Link testified for the US House Committee on Foreign Affairs in 2014, claiming that the Chinese government is threatening academic freedom in the US.
In his congressional testimony, CHRD secretary Link insisted the US government should crack down on the Chinese government's Confucius Institute organization and instead fund its own pro-US Chinese-language programs. Link characterized Chinese-language programs as a potential American weapon against the Chinese communist party, arguing they could "very arguably do more to blunt the CPC's advance than the [B-2 Spirit Bomber] airplane could."
These are some of the pro-US, anti-Chinese government figures who lead the Network of Chinese Human Rights Defenders.
Otherwise, there is very little publicly available information about CHRD. It appears to largely be the brainchild of its international director, Renee Xia, an opposition activist who has publicly called for the US government to impose sanctions on Chinese officials under the Magnitsky Act.
Support for a 'non violence advocate' who loves America's wars
The Network of Chinese Human Rights Defenders' founder, Xia, was a strong supporter of the imprisoned hard-right neoconservative Chinese dissident Liu Xiaobo, and she campaigned years for his release.
An archived version of the group's website shows that as far back as 2010, CHRD was vociferously advocating on behalf of Liu, while likening the Chinese government to Nazi Germany.
While Liu Xiaobo became a cause celebre of the Western liberal intelligensia, he was a staunch supporter of colonialism, a fan of the most blood-soaked US military campaigns, and a hardcore libertarian.
As writers Barry Sautman and Yan Hairong reported in The Guardian in 2010, Liu led numerous US government-funded right-wing organizations that advocated mass privatization and the Westernization of China. He also expressed openly racist views against the Chinese. "To choose Westernisation is to choose to be human," Liu insisted, lamenting that traditional Chinese culture had made its population "wimpy, spineless, and fucked up."
While CHRD described Liu as an "advocate of non-violence," he practically worshiped President George W. Bush and strongly supported the illegal US-led invasion of Iraq, as well as the war in Afghanistan. "Non-violence advocate" Liu was even a fan of America's wars in Korea and Vietnam, which killed millions of civilians.
CHRD's most recent China report — the one cited by Reuters and other outlets to give credence to the allegations of Uyghur re-education camps — further highlights the organization's links to Washington and compromised impartiality.
Most sources on the Uighur 'camps' story are US government-linked
A look at the sourcing of the Network of Chinese Human Rights Defenders' research raises many doubts about its legitimacy. For one, the most-cited source in the CHRD report, accounting for more than one-fifth of the 101 references, is Radio Free Asia, a news agency created by the CIA during the Cold War pump out anti-China propaganda, and still today funded by the US government.
Even The New York Times has referred to Radio Free Asia as a "Worldwide Propaganda Network Built by the CIA." Along with Voice of America, Radio Free Europe / Radio Liberty, Radio y Televisión Martí, and Middle East Broadcasting Networks, Radio Free Asia (RFA) is operated by the Broadcasting Board of Governors (BBG), a federal agency of the US government under the supervision of the State Department. Describing its work as "vital to U.S. national interests," BBG's primary broadcasting standard is to be "consistent with the broad foreign policy objectives of the United States."
The near-total reliance on Washington-linked sources is characteristic of Western reporting on Uighurs Muslims in China, and on the country in general, which regularly features sensational headlines and allegations.
In addition to CHRD and RFA, it is common for news reports to cite the World Uighur Congress, an organization funded by the NED. At a recent NED event, The Grayzone editor Max Blumenthal interviewed World Uighur Congress chairman Omer Kanat, who took credit for furnishing many of the claims of internment camps to Western media.
Another putative human rights organization whose dubious reports are frequently echoed by Radio Free Asia, the International Uyghur Human Rights and Democracy Foundation, is likewise bankrolled by the National Endowment for Democracy.
This group received a staggering $473,608 from the NED in 2009, along with $240,000 in 2010 and another $187,918 grant in 2011, putting it in the top tier of grantees those years.
The US government's regime-change arm similarly finances the Uyghur American Association. This group, another source for Radio Free Asia stories, raked in $280,000 grants from the NED in 2010 and then again in 2011, along with $265,000 in 2009.
Yet another favorite congressional and mainstream media source for information about China is the Jamestown Foundation, a neoconservative think tank founded during the height of the Cold War by Reagan administration personnel with the support of then-CIA Director William J. Casey. Former Jamestown board members include Dick Cheney and Zbigniew Brzezinski.
The latest incident of misreporting by Reuters is part of a trend of increasingly hostile, Cold War-like coverage of China by the Western press — one that coincides with Washington's push for conflict with Beijing.
In a series of policy statements, the Trump administration has repeatedly identified the "threat" posed by "economic and military ascendance" of China, with Defense Secretary James Mattis declaring that "Great Power competition, not terrorism, is now the primary focus of U.S. national security."
Growing anxious about its diminishing global dominance, the United States seeks to forestall the rise of of an alternative node of international power. A longstanding component of US imperialism is the use of ostensibly impartial "civil society groups" and "think tanks" to promote narratives in the media supportive of US foreign policy goals. Often under the guise of "humanitarian concern," such stories aim to stir up public outrage and weaponize it to advance imperial ambitions.
This time-tested program is at the heart of the intensifying campaign against China, and as the latest raft of bogus stories demonstrated, the corporate media is eager to play along
Authors: Ben Norton and Ajit Singh
Ajit Singh is a Canada-based writer and lawyer. He tweets at @ajitxsingh.
Ben Norton is a journalist, writer, and filmmaker. He is the assistant editor of The Grayzone, and the producer of the Moderate Rebels podcast, which he co-hosts with editor Max Blumenthal. His website is BenNorton.com and he tweets at @BenjaminNorton.
China's Vanishing Muslims: Undercover In The Most Dystopian Place In The World
June 29, 2019
VICE News: China's Uighur minority live a dystopian nightmare of constant surveillance and brutal policing.
At least one million of them are believed to be living in what the U.N. described as a "massive internment camp that is shrouded in secrecy," while many Uighur children are taken to state-run orphanages where they're indoctrinated into Chinese customs.
The Uighurs' plight has largely been kept hidden from the world, thanks to China's aggressive attempts to suppress the story at all costs.
VICE News' Isobel Yeung posed as a tourist to gain unprecedented access to China's western Xinjiang region, which has been nearly unreachable by journalists.
She and our crew experienced China's Orwellian surveillance and harassment first-hand during their time in Xinjiang, and captured chilling hidden-camera footage of eight Uighur men detained by police in the middle of the night.
We spoke with members of the Uighur community about their experience in these camps, and about China's attempts to silence their history and lifestyle under the cover of darkness.
More:
On our radar
Richard Gizbert speaks to producer Flo Phillips about the recent raid on one of Egypt's last independent news outlets, Mada Masr, and the conflict of interest at Bloomberg News.
On this episode of The Listening Post: An unprecedented leak of Chinese documents reveals the extent of the camps in Xinjiang. Plus, the spyware that is hacking journalists around the world.
Pegasus: Surveilling journalists from inside their phones
Here is an offer many governments cannot refuse: do you want to hack into the phones of journalists, gather every bit of data and trace every call, message and keystroke?
Those governments are in luck, as there is some malware - malicious software - designed specifically for that purpose.
The product is Pegasus, a programme so sophisticated that it can embed into your mobile phone through just a phone call.
The governments using Pegasus - from Saudi Arabia to Mexico to India - say they are out to stop "security threats", but it is also being used against civil society, including human rights activists.
The Listening Post's Meenakshi Ravi looks at the growing surveillance threat against journalists and the malware of choice for the governments involved.
Contributors:
Ron Deibert - Director, The Citizen Lab
Yahya Assiri - Director, ALQST & Diwan
Shubhranshu Choudhary - Founder, Bultoo Radio
Silkie Carlo - Director, Big Brother Watch
Source: Al Jazeera News
WHY DON'T WE CARE ABOUT CHINA'S UIGHUR MUSLIMS?
By Deconstructed - 29. December 2019
Photo illustration: Soohee Cho/The Intercept, Getty Images, AP
IT'S BEEN DESCRIBED as the worst human rights crisis in the world — the arbitrary detention in sprawling camps of a million or more Uighur Muslims in China's northwestern Xinjiang province. The Chinese government has claimed that the camps are merely vocational training centers, but in November a trove of leaked documents, dubbed the China Cables, confirmed what the world had long suspected: the camps are Communist Party re-education centers in which Uighurs are forced to abandon their traditional religion and language. Nury Turkel is a U.S.-based attorney and Uighur rights advocate and he joins Mehdi Hasan to discuss the situation in Xinjiang — and why so much of the world doesn't seem to care about it.
Mehdi Hasan: Hello, this is Mehdi Hasan and before we get to today's show, I have a small request. The Intercept and Deconstructed rely on readers and listeners like you to support the journalism that we do here every day. Right now you can head to theintercept.com/give and do just that. Membership is not only about money, it's about a proud and public declaration of support for the kind of fierce adversarial journalism we do every day. All donations are welcome. Consider becoming a sustaining member at $5 or $10 a month. It may seem small, but it has a big impact over time. Your donation no matter what the amount does make a difference. This is a community effort. When everyone chips in, it adds up quickly. Deconstructed has big plans for 2020 with your support, election coverage, debate coverage, more live events out on the road, like our recent show in DC with Michael Moore and Ilhan Omar. So, please do consider becoming a member. Head to theintercept.com/give. That's the intercept.com/give. On to the show.
[Music interlude.]
MH: When was the last time you spoke to a family member?
Nury Turkel: Last summer.
MH: Summer 2018?
NT: Yes.
MH: You haven't spoken to a family member in China for nearly 18 months?
NT: I have aging parents. I cannot call them.
MH: I'm Mehdi Hasan. Welcome to a special end-of-the-year episode of Deconstructed, a bonus if you will, in which we'll examine, discuss, cast a light on, what's become perhaps the biggest human rights crisis in the world this year – even though it still, in my view, doesn't get enough attention globally, including here in the West.
NT: As a lawyer, as an advocate, as a Uighur, I believe that my people are going through a modern day cultural genocide.
MH: That's my guest today, Nury Turkel, a prominent Uighur-American lawyer and human rights campaigner. Nury says China is carrying out a "cultural genocide" against his people So, why isn't the world, why aren't we, doing more to stop it?
[Music interlude.]
MH: Who are the Uighurs and why do they matter, why should they matter? Well, they're one of the 56 ethnic groups officially recognized by the Chinese government; a mainly Muslim, Turkic-speaking minority group who comprise less than 1% of the Chinese population – though they live in China's biggest province, Xinjiang. Or East Turkestan as many Uighurs prefer to call it, especially those who support from independence from China.
Now, the Chinese government has been cracking down on the Uighurs for decades, but post 9/11, Beijing took advantage of George Bush's so-called War On Terror to brand all opposition to Chinese rule as evil "Islamic terrorism" of the Al Qaeda variety. In recent years, they've gone much further and now seem to see all Uighurs as potential terrorists, extremists, separatists.
Newscaster: The Chinese government is making no apologies for the way it's running Xinjiang. It has told the UN that there's been a major crackdown there in order to rein in violent Islamic extremism and those who would separate Xinjiang from the rest of China.
MH: Beijing has banned Uighur parents from naming their sons "Muhammad;" blocked their children from entering mosques; forbade Uighur government employees from fasting during Ramadan. Uighur Muslim men are prohibited from growing "abnormally" long beards, while Uighur Muslim women cannot wear the face veil in public.
But you might say: well, that's the kind of garden-variety Islamophobia that we're seeing growing even in some European states. The Chinese, though, have taken it to new and horrifying levels. A panel of UN investigators said last year that up to a million Uighur Muslims may have been detained in what are basically massive concentration camps in Xinjiang. Earlier this year, the State Department said the true number might be closer to 3 million.
To put that in context, the Uighur population of Xinjiang is around 11 million people. So anywhere between 1 in 10 and 1 in 4 of the total Uighur population in that province is being detained against their will. Kept in camps. Imprisoned. That's an astonishing number of people both as an absolute number and as a proportion of their population. And those who have been released, and those who have fled the country, say that in those camps, Uighur Muslims are being not just forcibly brainwashed to love President Xi Jinping and the Chinese Communist Party, and hate Islam, but also starved, sterilized, tortured, raped, and, yes, killed.
And look, it's not just life in the camps that's so brutal and intolerable and like nothing we've seen before in the modern era; it's also life outside of the camps, across Xinjiang, a province which has been turned, in recent years, into a kind of dystopian police state.
Earlier this year, the New York Times reported that the Chinese authorities are using a vast, secret system of advanced facial recognition technology to track and control the Uighurs as they move around, go to work, go to school. The Times called it "the first known example of a government intentionally using artificial intelligence for racial profiling." Racial profiling of an entire people in a province.
And that's outside their homes. Inside of their homes, as Human Rights Watch documented last year, they have had to deal with Communist Party snoopers, from the Han Chinese majority community, who have been sent to stay in Uighur homes and monitor them. Imagine, just imagine men from the government coming to stay in your home, to live in your house, 24/7, to watch you and your family talk, eat, pray. It's almost beyond belief. But it's happening in the world right now, in Xinjiang, China.
Newscaster: Authorities say the camps are for combating violent religious extremism. Now, some Uighur parents speaking in exile have told the BBC that as well as losing adult relatives, their children too have disappeared and they are not being told where they're held.
MH: And though the Chinese deny it, and deny the camps, and deny the repression, a recent and pretty unprecedented leak of government papers from the Communist Party to the New York Times, dubbed the China Cables, confirm both that the president of China himself has called for the showing of "no mercy" against the Uighurs and that one senior Communist Party official in Xinjiang tried to stop some of these repressive measures against the Uighurs and he failed. He himself was imprisoned.
Newscaster: This is a document the world was never supposed to see. Instructions on how to run a detention camp.
Newscaster: Documents show that Chinese government officials designed the camps as brainwashing centers on a massive scale.
Newscaster: China says there's nothing to worry about. The camps are just for training.
MH: Here's the thing to remember, though: The Chinese government isn't just powerful at home, it's powerful abroad. Its economic clout and sheer size means that governments, including Western governments, can't or won't do much to help the Uighurs. I mean, there's the occasional protest or stern letter.
In July, for example, 22 nations including the UK and France and Canada, signed a letter addressed to the UN calling on China to end its massive detention program in Xinjiang. Last month, the United States Congress passed an act restricting the sale of surveillance technology to Beijing and bringing in sanctions against Chinese officials involved in locking up Uighurs. And to be fair, even the usually Islamophobic Trump administration has taken a strong line against the repression of the Uighurs. Here's Secretary of State Mike Pompeo speaking over the summer:
Mike Pompeo: China is home to one of the worst human rights crises of our time. It is truly the stain of the century.
MH: Though, of course, the Trump administration doesn't like China already because of the trade war. And so be under no illusion: the moment Trump signs some sort of trade agreement with China and the trade war with Beijing ends, his administration, I suspect, will stop saying anything, or giving a damn, about the Uighurs.
But look, it's easy to slam Trump or the U.S. or the West for not doing enough here. But as a Muslim, it is deeply depressing to me to see the countries of the Muslim majority world not just silent on this looming genocide against the Uighurs in China, but actually coming out publicly and backing the Chinese government. Yeah, backing it.
Just a few days after those 22 Western nations published their anti-China letter in July, 37 other nations put out a pro-China letter, saying that because of the "grave challenge of terrorism and extremism, China has undertaken a series of counter-terrorism and de-radicalization measures…including setting up vocational education and training centers."
Vocational education and training centers! My God! In fact, Mohammed bin Salman, MBS, the Crown Prince of Saudi Arabia went to Beijing earlier this year and said it was China's "right," its "right," to put Muslims in camps for anti-terror purposes. Thank you, MBS.
Earlier this month I interviewed the Pakistani human rights Shireen Mazari on my Al Jazeera English show UpFront. I asked her, as the human rights minister, whether she would condemn the horrific mistreatment and mass incarceration of her fellow Muslims, the Uighurs, at the hands of the Chinese. Pakistan happens to be a close ally of China, dependent on Chinese investment and money. Here's how that exchange went down:
Shireen Mazari: We talk to the Chinese government. When we get evidence, we take it up but China is an ally and we would not go screaming on the streets about it.
MH: So have you condemned them privately?
SM: I think that our government has been speaking to the Chinese, hearing their point of view, giving our position on this —
MH: What is their point of view when it comes to locking up millions of your fellow Muslims?
SM: That's what you're saying, that they're locking up millions of fellow Muslims.
MH: Are you saying they're not?
SM: I am saying that there may be cases and we have taken it up with the Chinese. That's how we deal with our allies.
MH: So who's going to speak up for the Uighurs? Either in the West or the Muslim-majority world? Are we really going to all just sit back and watch a cultural genocide in which the Chinese government tries to wipe out Uighur culture, faith, history, heritage. Are we going to watch that unfold in front of our eyes? Watch millions of innocent people rounded up and put into camps? Or is there anything that can be done to help what is now one of the world's most repressed minority communities?
[Music interlude.]
MH: My guest today is Nury Turkel, a Uighur-American lawyer and campaigner, and board chair for the Uighur Human Rights Project here in Washington DC.
Nury Turkel, thanks so much for joining me on Deconstructed. There are some horrible, horrific reports coming out of Xinjiang, China. You are a Uighur-American, presumably, you still have family living there. What has happened to them in Xinjiang? What are they going through? Are you able to speak about that without putting them in danger?
NT: Because of this IJOP that has been in the news a lot, Integrated Joint Operations Platform, the Chinese government forced Uighurs to install spying software on their phones that resulted, that forced Uighur families to cut off their foreign-based relatives and family members including myself. So because of that technological way of monitoring Uighurs' daily activities, daily communication, most parents disconnected from their family members. That is causing anxiety, despair, a sense of guilt to the extent. In some instance, Uighurs find out about their their loved ones passing on newspaper articles.
MH: When was the last time you spoke to a family member?
Nury Turkel: Last summer.
MH: Summer 2018?
NT: Yes.
MH: You haven't spoken to a family member in China for nearly 18 months?
NT: I have aging parents. I cannot call them.
MH: Because you worry about putting them in danger?
NT: Yes.
MH: And you're quite high profile, obviously with the Uighur Human Rights Project.
NT: Yes. If you call them, there's no directive, it says you cannot talk to or receive or make phone calls.
MH: The Chinese don't have an official directive?
NT: They don't do that. But because of this intrusive way of monitoring daily regular communications, if the system the algorithm picks up something, then the family members will be in trouble. Because of that we try not to contact them. So it's you know, it's like excruciating experience. We used to have about two years ago — I always say this and when I say this, people may find it incredible. I would love to go back to my semi-normal life two years ago in a heartbeat. At least during that period, I could call regularly, check up with my parents. But now that kind of basic freedom has been taken away from us.
MH: And what kind of stories are you hearing from your fellow Uighurs in the diaspora? What's shocked you even as an activist, campaigner, lawyer following this horrific situation for many years? What's the most shocking thing you've heard?
NT: The absolutely arbitrary nature of China's detention of the Uighurs. Recently leaked documents published by ICIJ has so many disturbing lines, but one of them really caught my attention is that during the period of seven days in 2018, 2017 the IJOP, the operating system, identified 25,000 Uighurs. Of that they were able to locate close to 16,000 and with that kind of basic process of relying on a technology, they shattered close to 16,000 people's lives in less than one week.
MH: So those 16,000 people were detained based on those algorithms and surveillance?
NT: Yes, that's how horrific it is. And then in this same document does not say, if this has been an effective method, they just —
MH: These are official internal Chinese Communist Party documents?
NT: Yeah, it's on the ICIJ website.
MH: And the New York Times also published part of these as the China Cables. Is it fair to say that every Uighur Muslim you know here in the U.S. has stories about disappeared relatives?
NT: It is hard to find anyone who has not been affected. You can easily find someone whose family either disappeared or someone that they know associated with have disappeared. One of the most jarring aspects of this whole crisis is the way that the Chinese government's attacking the Uighur women and children. They're forcing Uighur women to sleep and eat with strangers in their home. It's a taboo in Islam. And what we're talking about is very devout, pious Muslim families and they're making the Uighur kids to spy on their parents if the parents are still living together, you know, asking questions like, do your parents still read the Quran? Do they instruct you to speak Uighur? Do they ask you not to mingle or hang out with Han Chinese people? Things like that.
MH: So it's a full kind of cultural theological assault, it's Uighur language, Uighur culture, Uighur religion, the Islamic religion that's under assault.
NT: When you look at their practices, actually, this has been verified by the leaked documents, the Chinese Communist Party Secretary people call him president but he's not really president. He's the general secretary of the Communist party —
MH: Xi Jinping.
NT: Xi Jinping. Xi Jinping specifically said that, used the word "thought viruses." What does that mean? "Thought viruses" is basically Uighur's Islamic faith. So that "thought viruses" need to be cleared up.
MH: Islam is a virus.
NT: Islam is a virus. And then another term that they use repeatedly is "thought transformation." So, basically they're reprogramming a living, breathing human being.
MH: Which is why they call these camps "re-education camps" or critics call these camps re-education camps. They call it vocational and training centers, ridiculously. What is your understanding of what is going on inside these camps? Aside from the violence, we have reports of torture, horrific reports of fingernails being pulled out and the electric shocks and beatings and sexual assault of women. Aside from that, if I can even say the phrase "aside from that," what actually are the Chinese trying to do in their own warped, the Chinese government, what is it trying to do in its own warped mind inside of these camps with the Uighurs when you talk about reprogramming?
NT: Two words: transformation and force them to become loyal to Communist Party and Xi Jinping. So, basically they're trying to transform the Uighur soul, mind and heart to be loyal to Xi Jinping and to the CCP, Communist Party.
MH: It's not just communism, it's to the dictator, the personality.
NT: Yes, there's an app actually in China available and some of that some people actually forced to install, it's called "Xi Jinping Thought" app. You have to study. These leaked — I keep referring to these leaked document because it's so important in these leaked documents. It says they have a scoring system. One of the criteria for any individuals to have as simple as calling to be able to talk to their family members is based on how well that they studied Xi Jinping Thoughts, how well that they were able to study language, how well that they were able to adopt non-religious ideology. In other words, denouncing their religion that has been part of the Uighur lives as early as 13th century.
MH: And you talk about an app on phones but in these camps, obviously, this is not about downloading an app. This is forcibly done. They're denied food. They're denied meals until they've gone through these weird rituals of singing in praise of the president, praising communism, praising Xi Jinping.
NT: Yeah. And also these apps, American companies actually technology, American Silicon Valley companies are assisting the Chinese government to set up these.
MH: Why does that not surprise me?
NT: Yeah, and one particular app that they initially promoted as Islamic-friendly app, it's called Zapya allowed the Uighurs to install, and this company is technologically supported in Silicon Valley, even though it's — So they compiled 1.5 million Uighurs using that. It's like a file sharing. It's a cloud system. So, the people who download it, verses of the Quran through that app and share it with each other. That resulted the algorithm to pick up these people, even though it was initially promoted as a Muslim-friendly app
MH: And in these camps, there is this as you say, treatment of Islam as a virus. What should we call these camps? Because I was talking to Sarah Leah Whitson the other day, who until very recently, was a very senior official at Human Rights Watch. And she made an interesting point that we call them camps in the news, re-education camps. But actually, these are places of mass forcible detention, so should they just be called prisons?
NT: You can call it prison, but there's a lot of historic parallels to the Nazi concentration camps. When you look at that part of the history, Nazi Germany with the promotion of people like Adolf Eichmann and others promoted extermination of the Jews based on their religion, based on their ethnicity right. The same parallel has been seen in the leaked documents. They use the words like dictatorship, like crushing, rounding up anyone who should be rounded up and also they're specifically targeting Uighurs' ethno-national identity. So I think it is reasonable to call it at least modern day concentration camps.
MH: You've invoked the analogy of Nazi Germany and you mentioned that the ethno-national identity of the Uighurs is been targeted. So, would you describe what the Chinese government is doing right now as a genocide in the making?
NT: It is a — You know, when you look at the legal definition of cultural genocide, to be specific, whatever the Chinese has been doing, the government has been doing fits, meets the legal definition, attacking the Uighur children, attacking the language, attacking religion, forcing Uighur women to marry Han Chinese, birth control. So, all of these hallmarks supports, meets the definition of cultural genocide. I'm very comfortable as a lawyer, as an advocate, as a Uighur, I believe that my people are going through a modern day cultural genocide.
MH: And that cultural genocide, the Chinese government's aim is what? Is it to try and change the demographics in Xinjiang, trying to import Han Chinese non-Muslims to replace the local Turkic speaking Uighur Muslims? Is it about keeping "stability" in a very diverse, ethnically diverse but centralized nation?
NT: What they're trying to do is to stamp out Uighur identity and also make them atheists, believing in communist ideology, simply because the Uighur Islam to the Chinese government or Chinese thought leaders, policymakers is a sign of disloyalty. So as long as the Uighurs maintains their cultural identity, ethnic identity, religious practices, the Chinese government believes that it will potentially become a political threat. It's a preemptive way of you know, it's very strange. We've seen this only in the movies. Even if you look at the people who are locked up, and their policy objectives, their ultimate goals, all based on preemption.
MH: So I've interviewed several defenders of the Chinese government, Chinese defenders of the government. They're very specific about their defense of what's going on in Xinjiang. They say "We're not anti-Islam. We're not anti-Muslim. We're not anti-Uighur. We are anti-extremism, anti-terrorism, anti-separatism." They're obsessed with these three ideas, terrorism, extremism, separatism, and the measures that they're taking in Xinjiang Province, they say, are no different to other countries who have done anti-terror measures and anti-terror laws and states of emergency. What do you say in response to that?
Because there have been Uighur militants who have carried out terror attacks in China and abroad. There were Uighur guys who ended up in Guantanamo Bay, that's undeniable. But what do you say about the wider Chinese defense, the Chinese argument which is well, you know, who are you to criticize us? You know, the West has Guantanamo Bay. France had a state of emergency after their attack. We've seen successfully prevented any terrorist attacks in China by taking measures to stop "Islamic extremism" in Xinjiang. What do you say to them?
NT: The Chinese national security policies is based on a perceived threat, not on an actual threat. They can claim that they're doing this under the guise of, you know, fighting against extremism. But when you look at the period that they often invoke, it's basically 2012 through '15. Post-2015, there is no single violent incident that they can report. And also —
MH: They say that in their favor. They say "See? It's our measures that have prevented a single terrorist attack."
NT: Actually, it's the opposite. When you look at the events, the incidents, the violence that they cite, it's no different than the ones that happen regularly in the other Chinese province and they don't do the same method. But this is all about racism. This is all about racism. This is all about opportunistic approach, hijacking, some of the legitimate concerns expressed by people around the world.
MH: And jumping on the War on Terror bandwagon.
NT: Yes, when you look at the New York Times revelation last month, one of the five key takeaways cited was Xi Jinping's directive to come up with even harder response than the 9/11 response that the United States showed. And he also cited U.S. withdrawal from Afghanistan and other areas as a reason for beefing up. This is all about —
MH: They've certainly gone beyond the response to 9/11. We all got worked up around the world when Guantanamo Bay was opened. Guantanamo Bay's a walk in the park for actual accused terrorists compared to what's happening in Xinjiang where somewhere between a million and three million, the numbers are astonishing.
NT: Pentagon, a senior official in charge of Indo-Pacific region, Randy Schriver, said in late May that he believes, his agency believes up to three million have been —
MH: And that's Uighurs, plus I believe Kazakhs, other minority groups also.
NT: And then, we need to point this out to your listeners, there are four types of camps, maybe Randy was citing one of those camps. The first one is the daily re-education that people go as part of their daily report to work, spend 8-10 hours listening to Chinese propaganda, study Xi Jinping Thoughts, that is actually the most favorite daily re-education. The second type is mass detention, you just disappear. And this is the one that I think that people generally focus because the number three million is based on how was the population of the certain pocket of an area and what is the remaining population? So, Adrian Zenz recently modified his figure. It's also not exactly the same accurate number, but it's close to 2 million now. And then the third is the actual prison. They initially take you in and then charge you from anywhere from 10 to 15 years. In some instances, we've been reading that former well-known scholars imposed death penalties. And then the last one, the last one is the labor camps that they're showing on this state media, showing to the sympathetic government representatives from mostly Muslim countries, and they're coming up and phrasing, including MBS. MBS was very pleased that the way that Xi Jinping is treating the Uighurs. So there are four types of camps. If you add them all together, I'm sure that it's more than 3 million.
MH: Wow. We hear a lot about Chinese communism in the West. But these days, what Beijing seems to be doing to the Uighurs to me, seems driven more by kind of nationalism than communism. The kind of hard right nationalism, ethno-nationalism that we're seeing across the world, from Russia, to India, to Israel, to the United States. Do you put China in that same league?
NT: Yeah, oftentime when you talk about the ongoing crisis and one of the legitimate question is, has been, what is China's response? They are actually on board for the most part with Xi Jinping because of the growing nationalistic approach to domestic and foreign affairs. If you go online, recently, one of the American journalists wrote on the child separation, and her Twitter account was trashed with a lot of nasty messages and nationalistic messages. Like today, if you go to China, you cannot log into Twitter, you cannot log into other social medias, but they dispatch three most influential ambassadors, UK, Canada, and America to launch nationalistic messages around the world. And the Chinese government has been very effective, actually more so than the Western governments to create this anxiety. That anxiety has been translated into public support.
So, you find very little evidence of Chinese intellectuals coming out in defense of the Uighurs or in defense of their own national interest in the long term. You know, they're just being short sighted. They support the Xi Jinping's policy, as if that's the way of being patriotic for the Chinese state. And we have a lot of pro-CCP people in this country. So whenever you said, oh, this is not in the interest of the United States, UK, or Canada, they took you as if that you're anti-China, and then it helps the nationalists in China. So, it is a kind of a chain reaction situation.
MH: And of course, you have this geopolitical rivalry right now between China and the United States over trade, at least. As a result of that, I would argue, partly, I mean, you mentioned how Muslim majority countries have let the Uighurs down, I mentioned that in the introduction to the show. Interestingly, Western countries have taken a slightly stronger or more vocal stance in recent months, even the United States. Do you welcome the recent Uighur act passed by Congress which puts sanctions on some Chinese officials involved in Xinjiang and prevents the sale of surveillance technology to Beijing? Will that make a difference?
NT: I, as someone who's been promoting, working on this bill, and other legislative initiatives, I welcome this move. It is a significant move, and no country ever in Uighur history, modern or ancient history than anything similar to what has happened on the Capitol Hill. The bill in and of itself is very substantive on top of being symbolic. On substance, it mandates the president to apply the global Magnitsky Act. We've been talking about sanctioning Chinese officials in the last year and a half, because of you know, I can say this comfortably, Steve Mnuchin, the treasury secretary who was opposing. The administration could not move forward. So this legislation will mandate that to happen.
Two, the export control. It's very significant. Chinese have turned this prison system, mass incarceration, even violation of their own counterterrorism laws into political economy and potential way of expanding their political influence. So with this export control, we will be able to restrict U.S. tech firms, U.S. businesses, not only unwittingly, but willingly supporting Chinese state security. This is going to be very effective and also something has not been discussed, the Chinese are going crazy, simply because this will create political instability. This will undermine CCP, undermine Chairman Xi Jinping's authority. Here's why: these tech companies are invested by Chinese billionaires, the social elites. So, you don't want to mess up with them.
MH: So, are you hopeful then that the response from China over the medium to long term to this legislation, to the sanctions is that they will loosen up conditions in Xinjiang and start relaxing a little bit in order to kind of get the world off their back? Or will they double down and say "Screw you rest of the world. We're going to respond with harsh measures again. We're going to sanction you guys, and we're going to carry on doing what we're doing with the Uighurs?"
NT: I don't think that they will go harder. It's possible. But they've been cornered. Look at how they've been portrayed or perceived in the international community. They care so much about the image.
MH: They do?
NT: Yeah, they do. I've never seen the level of response from the Chinese government, outside of the country trying to change the narrative, distract from the focus, you know, launching anti-American sentiment all around the world. This shows they realize the pressure that is coming on their way. And then two, they have no choice, Mehdi. What are they going to do? They're losing the international stance. It's even hard to find somebody who can come to the media outlet to debate, to discuss who would take a pro-Chinese government stand these days. You used to have a bunch of people dying to go on the shows, you know, TV —
MH: But they know this is a problem for them.
NT: They can't do it. It's unconscionable —
MH: Until a few years ago, they had a semi-good news story about the Chinese economy about other "freedoms" opening up the economic space. But now, slowly the Uighur issue is becoming a bigger issue. And the Trump administration has also used the Uighur issue to bash China. We know the Trump administration doesn't like China for trade purposes. But Mike Pompeo, Secretary of State said over the summer that the treatment of the Uighurs was "the stain of the century," quite harsh words. Do you worry though, that the minute they sign some trade deal with China, the tariff war ends, they'll just throw your people under the bus, the Trump administration? It's not a genuine concern that they have.
NT: It is a genuine concern because we don't know what president does tomorrow or next hour. It is you know, we have to be mindful, clear-eyed about what the President might be doing or might not be doing.
MH: President Trump?
NT: Yes, I testified in Congress —
MH: I doubt he's even heard of the Uighurs to be honest, I think Mike Pompeo is probably the max.
NT: Probably, but I give a lot of credit to others, Pompeo, Sam Brownback and Mike Pence, and some senators like Rubio. And today, you know, this interesting Washington environment. David Nunes agrees with Adam Schiff on the Uighur issue. The bill received 407 votes in the House.
MH: Interesting.
NT: And it has all the —
MH: So the Uighurs managed to bring Democrats and Republicans together in a way that no other issue.
NT: Exactly, you can look around, you'll be hard pressed to find one issue that can even receive 220 votes, let alone 407 votes.
MH: So, you've got those votes on Capitol Hill, important legislation was passed. It's still a mountain to climb. We don't know how the Chinese are going to respond in the medium to long run. What is your message to people listening at home today, both here in the U.S. and around the world who perhaps had heard the name Uighur but didn't really understand it, who are now hearing you talk about cultural genocide and invoking the specter of Nazi Germany. This is a big deal. What can ordinary people do to help your people in Xinjiang?
NT: Two things: one, this is not about China anymore or Chinese government. This is about who we are as a people, as a civilization. We were told over and over again that no one should be punished based on their religion, ethnicity. That's how we brought up. That's how we get educated. That's what we follow in our daily lives. So, it's time for people to show up in the arena to fight with the Uighurs, organize public events, organize fundraisings to help the Uighurs to build professional team, write to their representatives, particularly in the United States. One specific thing that I can ask through your program is to ask Muslim Americans or the people who support the Uighur cause to get on the phone and ask Mitch McConnell, the majority leader to put S178 that has been recently passed in the House and vote. We're setting a time bomb. The Uighurs are canaries in a coal mine and the American people can show up and at least call Mitch McConnell and Chuck Schumer in the Senate to get this bill done.
MH: And there are reports, one last question I have to ask you, there are reports of Chinese agents coming to the West, coming to the U.S. to surveil, monitor, even target Uighur activists here. We saw what happened with the Saudis and Jamal Khashoggi, do you worry for your own safety, even here in the U.S., your own security?
NT: Of course, I worry, like my fellow Uighur Americans here, around the world because Chinese have been put on defense. They are no different than Saudi Arabia or Russia for that matter, to, you know, get even with their opponents, critics. So, everyone needs to be mindful and also, they have not physically threatened anyone based on the public information available. But we do know it for fact that they had been trying to recruit informants. They tried to pressure Uighur victims not to speak out. We have been told that in some instance, Chinese officials tried to bring the Uighur activists to Middle East, Dubai, to be exact. A Netherland-based newspaper reported that the ex-husband of this Uighur woman, who provided one of the leaked documents, the operating manual, was lured to Dubai and even asked asked to spy on his ex-wife.
MH: Nury Turkel, we'll have to leave it there. Thank you so much for coming on the show. Keep fighting the good fight. You have our solidarity and stay safe.
NT: Thank you so much, Mehdi. I really appreciate it. You've very popular among the Uighurs because you've picked up this fight and telling your audience both at Al Jazeera and here early on when this issue was not even popular. But thank you so much for your persistent efforts to tell the truth to people.
MH: Appreciate it, Nury.
NT: Thank you.
[Music interlude.]
MH: That's our show! Deconstructed is a production of First Look Media and The Intercept. Our producer is Zach Young. Our theme music was composed by Bart Warshaw. Betsy Reed is The Intercept's editor in chief.
And I'm Mehdi Hasan. You can follow me on Twitter @mehdirhasan. If you haven't already, please subscribe to the show so you can hear it every week. Go to theintercept.com/deconstructed to subscribe from your podcast platform of choice, iPhone, Android, whatever. If you're subscribed already, please do leave us a rating or review, a good one – it helps people find the show. And if you want to give us feedback, email us at . Thanks so much. Deconstructed will be back in the new year, in a couple of weeks in fact. So, tune in then.