Unreliable PCR Tests render Quarantines Unlawful
Created

Sunday, 07 March 2021

Last modified

Saturday, 13 March 2021

Favourites

2429

Unreliable PCR Tests render Quarantines Unlawful

/index.php/en/content_page/item/2429-unreliable-pcr-tests-render-quarantines-unlawful
UPDATE 07. March 2021: Vernon Coleman - Shocking News Regarding PCR Test
UPDATE 06. December 2020: Those Portuguese Judges Ruling Against PCR Test Got Official Backlash
UPDATE 27. November 2020: Landmark legal ruling finds that Covid tests are not fit for purpose. So what do the MSM do? They ignore it & Covid PCR test reliability doubtful, rules Lisbon Court of Appeal
Portuguese Court Rules: PCR Tests "Unreliable" & Quarantines "Unlawful"
An appeals court in Portugal has ruled that the PCR process is not a reliable test for Sars-Cov-2, and therefore any enforced quarantine based on those test results is unlawful.
Important legal decision faces total media blackout in Western world
Covid PCR test reliability doubtful – Portugal judges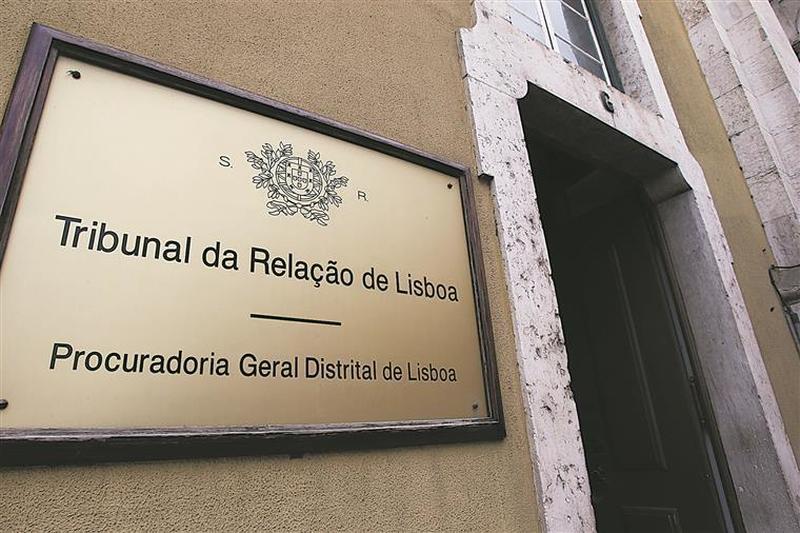 By OG - 20. November 2020
An appeals court in Portugal has ruled that the PCR process is not a reliable test for Sars-Cov-2, and therefore any enforced quarantine based on those test results is unlawful.
Further, the ruling suggested that any forced quarantine applied to healthy people could be a violation of their fundamental right to liberty.
Most importantly, the judges ruled that a single positive PCR test cannot be used as an effective diagnosis of infection.
The specifics of the case concern four tourists entering the country from Germany – all of whom are anonymous in the transcript of the case – who were quarantined by the regional health authority.
Of the four, only one had tested positive for the virus, whilst the other three were deemed simply of "high infection risk" based on proximity to the positive individual. All four had, in the previous 72 hours, tested negative for the virus before departing from Germany.
In their ruling, judges Margarida Ramos de Almeida and Ana Paramés referred to several scientific studies. Most notably this study by Jaafar et al., which found that – when running PCR tests with 35 cycles or more – the accuracy dropped to 3%, meaning up to 97% of positive results could be false positives.
The ruling goes on to conclude that, based on the science they read, any PCR test using over 25 cycles is totally unreliable. Governments and private labs have been very tight-lipped about the exact number of cycles they run when PCR testing, but it is known to sometimes be as high as 45. Even fearmonger-in-chief Anthony Fauci has publicly stated anything over 35 is totally unusable.
You can read the complete ruling in the original Portuguese here, and translated into English here. There's also a good write up on it on Great Game India, plus a Portuguese professor sent a long email about the case to Lockdown Sceptics.
*
The media reaction to this case has been entirely predictable – they have not mentioned it. At all. Anywhere. Ever.
The ruling was published on November 11th, and has been referenced by many alt-news sites since…but the mainstream outlets are maintaining a complete blackout on it.
The reddit Covid19 board actually removed the post, because it was "not a reliable source", despite relying on the official court documents: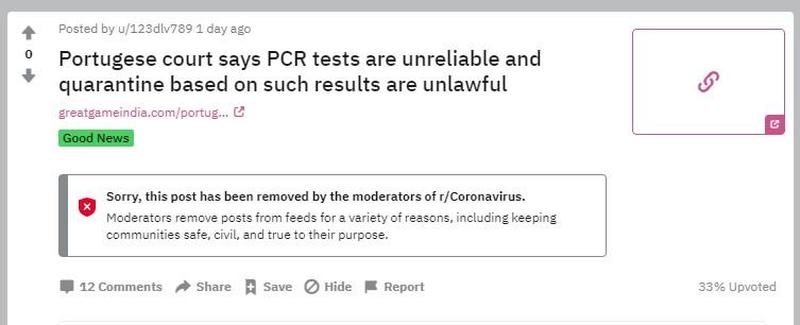 Lookout for a forced and disingenuous "fact-check" on this issue from HealthFeedback or some other "non-partisan" outlet in the near future. But until they find some poor shlub to lend their name to it, the media blackout will continue.
Whatever they say, this is a victory for common sense over authoritarianism and hysteria.
EPILOG: The two Potuguese judges even risked for a certin time even to be 'disciplined' by the state of Portugal, but were quickly exhonorated.The judges, who delivered this ruling in Portugal, reportly received massive death threats - Mafia style. But the International Association of Judges - among them very experienced Anti-Mafia judges - vowed to back their Portuguese colleagues and to beat back.
===
UPDATES:
Vernon Coleman - Shocking News Regarding PCR Test
March 7th, 20211
Vernon Coleman - Shocking News Regarding PCR Test - BNT - 07-03-21.
For more information about other important matters please visit,
===
Those Portuguese Judges Ruling Against PCR Test Got Official Backlash
By TLB - 06. December 2020
Two appeal court judges in Lisbon are at risk of being 'disciplined' for a 34-page ruling in which they justified their reasons for releasing four German tourists from confinement in the Azores (click here).

The Superior Council of Magistrature (SCM) will be 'appreciating' this matter (in other words, deciding whether the two judges should be 'disciplined') on December 2 (Wednesday).

The social media movement Juristas Pela Verdade has organised a protest outside the SCM building in Lisbon from 9am on that day, describing the situation as "an attempt to destroy the rule of law in Portugal".

This may sound like an 'academic issue' but it goes to the very heart of the current crisis: the fact that an official narrative appears to be the only one 'allowed', even for members of the judiciary who have studied scientific opinions in order to rule on appeals.

In this case, the appeal was lodged by ARS dos Açores – the regional health authority which disagreed with a lower court having granted a writ of Habeas corpus lodged by four German tourists held in a hotel because one of them had registered positive following a routine PCR test. None of the tourists showed any symptoms of Covid-19, but were held in isolation in their hotel for more than 10 days.

The judges – Margarida Ramos de Almeida and Ana Paramés – went to great pains to assess whether or not there were indeed legal grounds for the tourists' enforced confinement. They decided there were not.

…

'Specialists' accused the legislators of being wrong, and irresponsible – and now we are at the point where the various specialist opinions are to be weighed by the CSM/SCM against those proffered by two appeal court judges.

Says Juristas pela Verdade in a post outlining Wednesday's protest, the judges' decision "fell like a bomb on the official narrative, on the basis of which thousands of Portuguese have been ordered into house arrest".

And it sees the CSM intervention as "unacceptable interference by an administrative branch in a sovereign body of judicial power, aiming at control of the latter in what can only be characterised as a violent blow to the rule of law".

Says the movement, the message to other courts is loud and clear "consequences may arise if they decide in the opposite direction to the official narrative".

For citizens, "it means they cannot count on the independence of the courts or judges".

In Juristas pela Verdade's opinion the judges' assessment of this situation was not 'wrong' nor 'irresponsible', it was "brilliant and courageous". And for that reason the movement is asking as many people as possible to demonstrate outside the CSM building next Wednesday.
Portuguese judges "won't be disciplined" over controversial ruling highlighting doubts over Covid test reliability
By NATASHA DONN - 03
The two Portuguese judges whose 34-page ruling over a case of illegal confinement of German tourists in the Azores created 'ructions' for authorities' 'official narrative' will not be 'disciplined' by their regulatory body.
This is the news protestors outside the Superior Council of Magistrature (CSM) in Lisbon yesterday were hoping for.
But it didn't come without a chink of peeve.
A statement released by the CSM stressed that the 'majority decision' (in other words, not unanimous) could not help but recognise that the ruling held "some unnecessary excess… susceptible to create controversy in the current context".
It may have been a 'warning shot across the bows' for any other litigators called on to decide 'matters relating to the handling of the pandemic'. Or it may have been a sign that ultimately the separation of powers must indeed transcend any official narrative and leave judges free to come to informed decisions.
However it is taken, it is good news for appeal court litigators Margarida Ramos de Almeida and Ana Paramés, whose ruling has been hailed as 'brilliant and courageous' by all those who took time out of their lives yesterday to demonstrate in Lisbon.
For background links to this story, click here and here.
===
Landmark legal ruling finds that Covid tests are not fit for purpose. So what do the MSM do? They ignore it
By Peter Andrews - 27 November 2020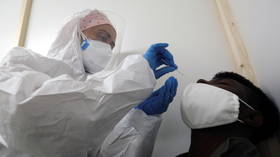 A member of the medical personnel performs a PCR test amid the outbreak of the coronavirus disease (COVID-19), in Charleroi, Belgium, November 5, 2020 © REUTERS / Yves Herman
Four German holidaymakers who were illegally quarantined in Portugal after one was judged to be positive for Covid-19 have won their case, in a verdict that condemns the widely-used PCR test as being up to 97-percent unreliable.
Earlier this month, Portuguese judges upheld a decision from a lower court that found the forced quarantine of four holidaymakers to be unlawful. The case centred on the reliability (or lack thereof) of Covid-19 PCR tests.
The verdict, delivered on November 11, followed an appeal against a writ of habeas corpus filed by four Germans against the Azores Regional Health Authority. This body had been appealing a ruling from a lower court which had found in favour of the tourists, who claimed that they were illegally confined to a hotel without their consent. The tourists were ordered to stay in the hotel over the summer after one of them tested positive for coronavirus in a PCR test - the other three were labelled close contacts and therefore made to quarantine as well.
Unreliable, with a strong chance of false positives
The deliberation of the Lisbon Appeal Court is comprehensive and fascinating. It ruled that the Azores Regional Health Authority had violated both Portuguese and international law by confining the Germans to the hotel. The judges also said that only a doctor can "diagnose" someone with a disease, and were critical of the fact that they were apparently never assessed by one.
They were also scathing about the reliability of the PCR (polymerase chain reaction) test, the most commonly used check for Covid.
The conclusion of their 34-page ruling included the following: "In view of current scientific evidence, this test shows itself to be unable to determine beyond reasonable doubt that such positivity corresponds, in fact, to the infection of a person by the SARS-CoV-2 virus."
In the eyes of this court, then, a positive test does not correspond to a Covid case. The two most important reasons for this, said the judges, are that, "the test's reliability depends on the number of cycles used'' and that "the test's reliability depends on the viral load present.'' In other words, there are simply too many unknowns surrounding PCR testing.
Tested positive? There could be as little as a 3% chance it's correct
This is not the first challenge to the credibility of PCR tests. Many people will be aware that their results have a lot to do with the number of amplifications that are performed, or the 'cycle threshold.' This number in most American and European labs is 35–40 cycles, but experts have claimed that even 35 cycles is far too many, and that a more reasonable protocol would call for 25–30 cycles. (Each cycle exponentially increases the amount of viral DNA in the sample).
Earlier this year, data from three US states – New York, Nevada and Massachusetts – showed that when the amount of the virus found in a person was taken into account, up to 90 percent of people who tested positive could actually have been negative, as they may have been carrying only tiny amounts of the virus.
The Portuguese judges cited a study conducted by "some of the leading European and world specialists," which was published by Oxford Academic at the end of September. It showed that if someone tested positive for Covid at a cycle threshold of 35 or higher, the chances of that person actually being infected is less than three percent, and that "the probability of… receiving a false positive is 97% or higher."
While the judges in this case admitted that the cycle threshold used in Portuguese labs was unknown, they took this as further proof that the detention of the tourists was unlawful. The implication was that the results could not be trusted. Because of this uncertainty, they stated that there was "no way this court would ever be able to determine" whether the tourist who tested positive was indeed a carrier of the virus, or whether the others had been exposed to it.
Sshhh – don't tell anyone
It is a sad indictment of our mainstream media that such a landmark ruling, of such obvious and pressing international importance, has been roundly ignored. If one were making (flimsy) excuses for them, one could say that the case escaped the notice of most science editors because it has been published in Portuguese. But there is a full English translation of the appeal, and alternative media managed to pick it up.
And it isn't as if Portugal is some remote, mysterious nation where news is unreliable or whose judges are suspect – this is a western EU country with a large population and a similar legal system to many other parts of Europe. And it is not the only country whose institutions are clashing with received wisdom on Covid. Finland's national health authority has disputed the WHO's recommendation to test as many people as possible for coronavirus, saying it would be a waste of taxpayer's money, while poorer South East Asian countries are holding off on ordering vaccines, citing an improper use of finite resources.
Testing, especially PCR testing, is the basis for the entire house of cards of Covid restrictions that are wreaking havoc worldwide. From testing comes case numbers. From case numbers come the 'R number,' the rate at which a carrier infects others. From the 'dreaded' R number comes the lockdowns and the restrictions, such as England's new and baffling tiered restrictions that come into force next week.
The daily barrage of statistics is familiar to us all by this point, but as time goes on the evidence that something may be deeply amiss with the whole foundation of our reaction to this pandemic – the testing regime – continues to mount.
Author:
Peter Andrews, Irish science journalist and writer based in London. He has a background in life sciences, and graduated from the University of Glasgow with a degree in genetics.
===
Covid PCR test reliability doubtful – Portugal judges
27-11-2020
The PCR test "is unable to determine, beyond reasonable doubt, that a positive result corresponds, in fact, to the infection of a person by the SARS-CoV-2 virus", said the Lisbon Court of Appeal.
While the court has deemed the test to be unreliable, medical experts have hit back against these claims, stating the judges have acted "irresponsibly" in their ruling.
The initial decision, which was made on 11 November, related to an appeal by the Regional Health Administration of the Azores, following a request for habeas corpus - immediate release - of four German citizens who had been forced by the health authority to comply with isolation for 14 days in the hotel room
According to the process: "There is no evidence that this diagnosis was actually carried out by a professional qualified under the Law and who had acted in accordance with good medical practices". These acts are reserved for the exclusive competence of a doctor.
"The only element that appears in the proven facts is the performance of RT-PCR tests, one of which presented a positive result in relation to one of the applicants", reads the document.
The judges quoted a paper published in The Lancet by Elena Surkova, Vladyslav Nikolayevskyy and Francis Drobniewski, which stated: "Any diagnostic test result should be interpreted in the context of the pretest probability of disease. For COVID 19, the pretest probability assessment includes symptoms, previous medical history of COVID-19 or presence of antibodies, any potential exposure to COVID-19, and likelihood of an alternative diagnosis. When low pretest probability exists, positive results should be interpreted with caution and a second specimen tested for confirmation.
The paper continues: "Prolonged viral RNA shedding, which is known to last for weeks after recovery, can be a potential reason for positive swab tests in those previously exposed to SARS-CoV-2. However, importantly, no data suggests that detection of low levels of viral RNA by RT-PCR equates with infectivity unless infectious virus particles have been confirmed with laboratory culture based methods.
"To summarise, false-positive COVID-19 swab test results might be increasingly likely in the current epidemiological climate in the UK, with substantial consequences at the personal, health system, and societal levels (panel)."
The judges concluded by stating that: "The problem is that this reliability is shown, in terms of scientific evidence (and in this field, the judge will have to rely on the knowledge of experts in the field), as being more than debatable.
"Thus, with so many scientific doubts, expressed by experts in the field, which are the ones that matter here, as to the reliability of such tests, ignoring the parameters of their performance and there being no diagnosis made by a doctor, in the sense of existence of infection and risk, it would never be possible for this court to determine that C ... had the SARS-CoV-2 virus, nor that A., B ... and D ... had high risk exposure," concluded the judgement in relation to the case which has ultimately calls into question the reliability of the tests.
Meanwhile, the decision of the court has been damned by scientists in Portugal. According to a report in Públicio, the judges from the Lisbon Court of Appeal misread two scientific articles and the scientific consensus on PCR testing is "absolute".
"The statement is false", Vasco Barreto, a researcher at the Center for the Study of Chronic Diseases (Cedoc) of the Faculty of Medical Sciences of the Universidade Nova de Lisboa told Público, who added that he believed the judges acted "irresponsibly".
"PCR tests have a specificity and sensitivity greater than 95%. That is, in the overwhelming majority of cases they detect the virus that causes covid-19 ".
This is indicated in a scientific article that is cited in the judgment, but that has been read "completely wrong" by the magistrates, according to Germano de Sousa, former President of the Ordem dos Médicos and owner of a network of laboratories.
The other study cited in the judgement was Correlation Between 3790 Quantitative Polymerase Chain Reaction–Positives Samples and Positive Cell Cultures, Including 1941 Severe Acute Respiratory Syndrome Coronavirus 2 Isolates, whose results were published by Oxford Academic in late September.
PCR tests ("polymerase chain reaction") are the most widely used diagnostic method in most countries to detect the presence of SARS-CoV-2 precisely because they are the most accurate in identifying the virus. This is a technique that amplifies the virus's genetic material in successive cycles - with each cycle the material doubles. In the study cited, the relationship between the ability of the samples collected to infect cells and the number of cycles required to obtain a "positive" result was tested.
"The proportion of samples that were no longer able to infect cells maintained in culture in the laboratory increased with the increase in the number of cycles required to obtain a positive signal. This is because after our body controls the infection there are fragments of the virus's genetic material that persist and decrease over days, when the individual no longer poses a danger to others, "explains Vasco Barreto. Conclusions like these have helped health authorities in different countries to reduce mandatory quarantine periods for those infected and to dispense with a negative test to "discharge" a patient.
Now, from reading the article, the judges conclude that "the probability of a person receiving a false positive is 97% or higher". According to the investigation, this only happens if the cycle threshold is higher than 35 "as it happens in most laboratories in the USA and Europe", reads the judgment. This information is considered to be inaccurate by Vasco Barreto, who states that where he works at Cedoc "42% of the positive tests, only 25 or less cycles were needed and there is scientific evidence of the high capacity of the virus to spread from "positive" cases to less than 25 cycles".
You are here:  

Unreliable PCR Tests render Quarantines Unlawful