China Must Stop Its Wildlife Commerce
Created

Wednesday, 05 February 2020

Last modified

Monday, 10 February 2020

Favourites

1567

China Must Stop Its Wildlife Commerce

/index.php/en/content_page/item/1567-china-must-stop-its-wildlife-commerce
UPDATE 09. February 2020: So far 814 deaths (now higher than the final SARS death-toll of 774 deaths in 2003 and poised to surpass MERS - final toll of 858 deaths in 2012.) - except 2 all in China - are caused by 2019-nCoV, with 37,556 confirmed cases, of which 37,199 are in China and 357 in 28 other countries (first case in Belgium confirmed) - reportedly with further declining daily growth factor of 0.78. By now 2,769 cases have recovered.
UPDATE 07. February 2020: So far 638 deaths - except 2 all in China - are caused by 2019-nCoV, with 31,535 confirmed cases, of which 31,210 are in China and 325 in 27 other countries - reportedly with declining daily growth factor of 0.85. Allegedly East-Asians are more susceptible to this coronavirus than Caucasians or Africans. From the analysis of the death cases it emerges that they are mainly male, accounting for 2/3, while females are accounting for 1/3. Most of these virus-related deaths, more than 80%, are elderly, i.e. over 60 years old, and more than 75% had underlying diseases present such as cardiovascular and cardiovascular diseases, diabetes and, in some cases, tumors. It appears that the outbreak is at the beginning of a phase that is levelling out, while the brutal Orwellian games continue in China and more sophisticated in Western nations. Africa, especially Eastern and Southern Africa had a massive flu wave already in December 2019, but though many elderly died, nobody paid attention.
UPDATE 05. February 2020: While worldwide the Orwellian people-control exercises around the Wuhan-flu reach grotesque levels and first pockets of resistance emerged, on Tuesday alone nearly 4,000 new cases were reportedly confirmed in China, raising the total to 24,580 in the country. 18 Million people are now under communist government lock-down. The death toll stands at 493 in mainland China and the increase of 65 deaths in just one day raises questions. All the new fatalities were in Hubei province, the centre of the outbreak. About 80% of those who died were over the age of 60, and 75% of them had pre-existing health conditions such as cardiovascular diseases and diabetes, according to China's National Health Commission (NHC). The Chinese doctor, Dr. Li, who was the first to report and warn of the virus unfortunately died. The death of Dr Li, the Chinese doctor who warned others to protect themselves, before being summoned and investigated by Chinese authorities for "making false comments" and "spreading rumors" denying the official story that only those who came into contact with infected animals could catch the virus, needs to be fully investigated. Internationally there is a much smaller number of cases reported. Two people have died of the disease outside of mainland China - one in Hong Kong and one in the Philippines. The novel coronavirus 2019-nCoV causes severe acute respiratory infection and the symptoms usually start with a fever, followed by a dry cough. Most people infected are likely to fully recover - just as they would from the other flu outbreaks observed around the globe over the last two months - some of them with much higher fatality rate. Especially in Africa and South-America influenza cases of "the common flu" are mostly not investigated in detail and the fatal cases listed as 'pneumonia'. Only now the head of the World Health Organization (WHO) appealed on Wednesday for $675 million additional funding. The UN agency wants that massive amount of money to "prepare" the developing nations for the coronavirus. Is someone working on 2020-nCoV type 2.0 to infect Africa and South-America?
Coronavirus: China wildlife trade ban 'should be permanent'
By Navin Singh Khadka (edited) - 04. February 2020
Campaigners have urged China to apply a permanent ban on the wildlife trade following the coronavirus outbreak.
Markets selling live animals are considered a potential source of diseases that are new to humans.
There has an investigation in such a market in Wuhan that could have been the starting point for the outbreak.
China put a temporary ban on the trade in wildlife as one measure to control the spread of coronavirus, but conservationists say it's not enough.
They argue that, in addition to protecting human health, a permanent ban would be a vital step in the effort to end the illegal trading of wildlife.
Campaigners say that China's demand for wildlife products, which find uses in traditional medicine, or as exotic foods, is driving a global trade in endangered species.
Major source of infection
More than 70% of emerging infections in humans are estimated to have come from animals, particularly wild animals.
Experts with the World Health Organization (WHO) say there's a high likelihood the new coronavirus came from bats. But it might have made the jump to a currently not yet finally identified animal group like snakes before humans were infected.
The viruses behind Severe Acute Respiratory Syndrome (Sars) and Middle East Respiratory Syndrome (Mers) are also thought to have originated in bats. But they are thought to have circulated in civet cats and camels, respectively, before being transmitted to humans.
"We are coming into contact with species of wildlife and their habitats that we were not with before," Dr Ben Embarek, with the department of nutrition and food safety at the WHO told the BBC.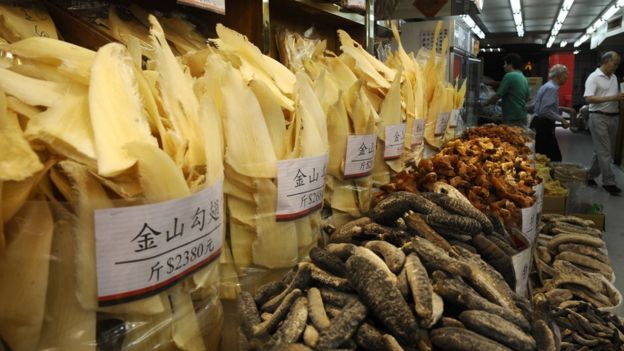 China is the biggest market for both legal and illegal wildlife products - Image copyright AFP
"We are suddenly exposing ourselves to totally new viruses we have never been in contact with in the past.
"Therefore, we have a number of new diseases linked to new contacts between humans and previously unknown viruses, bacteria and parasites."
A recent analysis of the nearly 32,000 known land-based vertebrate species showed that around 20% of them are bought and sold on the global wildlife market - either legally or illegally.
Studies by among others Interpol show the illegal wildlife trade is worth around $20bn per year. It is the fourth biggest illegal trade worldwide, after drugs, people smuggling and counterfeiting.
The wildlife products industry is a major part of the Chinese economy, and has been blamed for driving several species to the brink of extinction.
"This health crisis must serve as a wake-up call for the need to end the unsustainable use of endangered animals and their parts, as exotic pets, for food consumption and for their perceived medicinal value," conservationists say.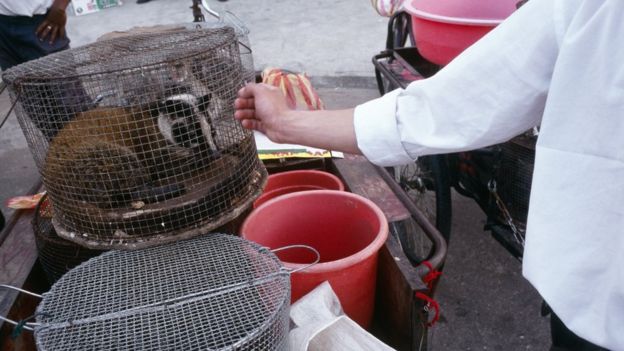 The Sars virus was found to have come from bats and then was transmitted via civet cats sold in Chinese markets - Image copyright Ben Davies
Dr Embarek agreed with this view.
"We want to avoid in the future having similar types of events, with new viruses that will again jump from animals to humans," he explained.
"In that regard, it makes sense over the long-term to regulate the wildlife trade both for conservation and public health reasons, because we know that there is a constant risk of dramatic events happening again."
The Chinese government, however, has made it clear the ban will be temporary.
"Raising, transporting or selling all wild animal species is forbidden from the date of the announcement until the national epidemic situation is over," said a directive issued jointly by three Chinese agencies.
Beijing did announce a similar ban during the outbreak of Sars in 2002.
But conservationists said that, a few months after the announcements, authorities relaxed the reins and the trade bounced back.
Changed scenario?
Circumstances may be about to take a turn.
In September this year, Beijing is hosting a major global meeting on natural and biological resources, known as the Convention on Biological Diversity.
The convention, signed in 1992, has the main goal of protecting global biodiversity.
A report last year by the Intergovernmental Science-Policy Platform on Biodiversity and Ecosystem Services (IPBES) found that one million species are at risk of extinction.
With the planet's sustainability as a major global agenda, China is under scrutiny not only for what it is doing within its territory but also outside.
Its Belt and Road Initiative (BRI) mega-scheme, that aims to build infrastructure across the globe to establish itself as a major global power, has been criticised for using natural resources unsustainably.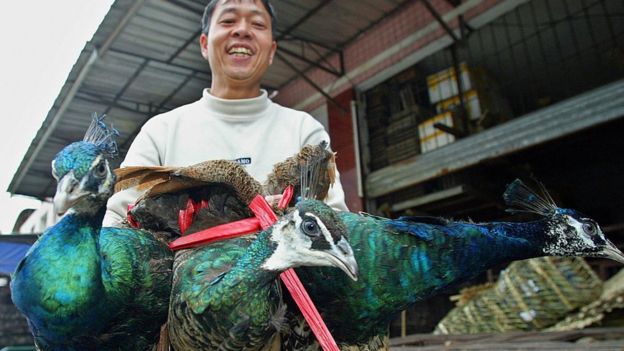 Image copyright LIU JIN
Chinese President Xi Jinping has repeatedly used the word "sustainability" while promoting the BRI in his speeches.
Recent editorials in China's state-controlled media outlets have denounced the uncontrolled wildlife market in the country.
Conservationists say the coronavirus outbreak could provide China with an opportunity to prove that it is serious about protecting biodiversity.
"We see this as an opportunity for a permanent move to end the keeping, breeding, domestication and utilisation of wildlife, not just for the purposes of meat but also for traditional medicine," said Debbie Banks, lead wildlife investigator with the London-based Environmental Investigation Agency (EIA).
Experts point to the success of the ban China has put on the import of ivory - after years of international pressure to save elephants from extinction.
But wildlife experts stress that the ban and regulation on wildlife products will need to be global - and not just in China.
UPDATE:
Scientists question work suggesting pangolin coronavirus link
By Kate Kelland, Tom Daly - 07. February 2020
LONDON/BEIJING (Reuters) - Independent scientists questioned research on Friday that suggested that the outbreak of coronavirus disease spreading from China might have passed from bats to humans through the illegal traffic of pangolins.
A man holds a pangolin at a wild animal rescue center in Cuc Phuong, outside Hanoi, Vietnam September 12, 2016. FILE PHOTO - REUTERS/Kham
South China Agricultural University, which said it had led the research, said on its website that the "discovery will be of great significance for the prevention and control of the origin (of the new virus)".
China's official Xinhua news agency reported that the genome sequence of the novel coronavirus strain separated from pangolins in the study was 99% identical to that from infected people. It said the research had found pangolins - the world's only scaly mammals - to be "the most likely intermediate host."
But James Wood, head of the veterinary medicine department at Britain's University of Cambridge, said the research was far from robust.
"The evidence for the potential involvement of pangolins in the outbreak has not been published, other than by a university press release. This is not scientific evidence," he said.
"Simply reporting detection of viral RNA with sequence similarity of more than 99% is not sufficient. Could these results have been caused by contamination from a highly infected environment?"
Pangolins are one of Asia's most trafficked mammals, despite laws banning the trade, because their meat is considered a delicacy in countries such as China and their scales are used in traditional medicine.
The outbreak of disease caused by the new coronavirus, which has killed 636 people in mainland China, is believed to have started in a market in the city of Wuhan that also sold live wild animals.
Virus experts think it may have originated in bats and then passed to humans, possibly via another species.
Jonathan Ball, a professor of molecular virology at Britain's University of Nottingham, said that while the South China Agricultural University research was an interesting development, it was still unclear "whether or not the endangered pangolin really is the reservoir".
"We would need to see all of the genetic data to get a feel for how related the human and pangolin viruses are, and also gain an understanding of how prevalent this virus is in pangolins and whether or not these were being sold in the Wuhan wet markets," he said.
Dirk Pfeiffer, a professor of veterinary medicine at Hong Kong's City University, also said the research was a long way from establishing a link between pangolins and the new coronavirus outbreak in humans.
"You can only draw more definitive conclusions if you compare prevalence (of the coronavirus) between different species based on representative samples, which these almost certainly are not," he said.
Additional reporting by Dominique Patton in Beijing. Editing by John Stonestreet, Peter Graff and Giles Elgood
Our Standards:The Thomson Reuters Trust Principles.
READ ALSO:
Time to End Illegal Wildlife Markets That Led to Deadly Outbreak of the Coronavirus
It's a scary time for global health as the outbreak of the deadly coronavirus - originating in Wuhan, China - spreads quickly. Over 200 people have died, and over 10,000 cases have been diagnosed in China alone. Even worse, there is currently no cure. The number of infected is growing every day and has already expanded to over 24 countries, but the outbreak itself could have been prevented from the outset!
Sign on now to demand China cracks down on illegal wildlife markets like the one where this outbreak started.
The World Health Organization (WHO) believes the disease was spread by bats, badgers, snakes, or rats. Many of the scariest diseases we face today spread to humans from animals, which is why it's so critical that any animal trade is closely regulated. It's reported that these markets are cramped and unhygienic, not to mention they can trade in endangered animals. Scientists say you couldn't create a better situation for the spread of a virus: tight quarters of too many species, secretions, and urine mixing together. These markets shouldn't exist as they are a petri dish for diseases.
For health and conservation reasons, these markets must be banned altogether.
The coronavirus has gone global now, and most major American airlines have completely stopped flights between the two countries. Massive travel restrictions, quarantines, and supportive treatment have been put into place in China, but the disease is still spreading quickly. This is at least partially because there aren't enough tests, which is why we must also fund the effort to halt this disease right away.
But in order to prevent a similar outbreak in the future, we need to get at the root cause: illegal wildlife markets.
Please sign to demand China shuts them down.
Did Bill Gates & World Economic Forum Predict Coronavirus Outbreak? An Inside Look May Shock You!
By Skouras - 25. January 2020
In this report we take an inside look at Event 201, which took place in NYC on October 18 2019. Event 201 is a high-level pandemic exercise hosted by the Johns Hopkins Center for Health Security in partnership with the World Economic Forum and the Bill and Melinda Gates Foundation.
This is extremely fascinating because this pandemic simulation exercise of coronavirus took place about 6 weeks before the first illness from the coronavirus was actually reported in wuhan China!
That is one hell of a coincidence if you believe in that sort of thing.
Another fascinating connection, is the fact that not only did the Bill and Melinda Gates Foundation participate in and help set up the pandemic simulation of a coronavirus outbreak, but they just so happen to fund the group who owns the patent to the deadly coronavirus and are already working on a vaccine to solve the current crisis.
Again an incredible coincidence…
In this report you will see footage from inside the event as the members of the emergency epidemic board in this simulation, which consists of representatives from major banks, the UN, the Bill and Melinda Gates Foundation, Johnson and Johnson, logistical powerhouses, the media as well as officials from China and America's CDC just to name a few. This simulation also includes news reports that were fabricated just for this exercise, please keep that in mind because they are eerily similar to reports we are currently seeing regarding this real world coronavirus outbreak.
Links:
Event 201 https://www.centerforhealthsecurity.or...
Center for health security (Videos) https://www.youtube.com/user/biosecur...
Leading US health experts predicted coronavirus could kill 65million people in a year - in chilling warning three months BEFORE the outbreak in China https://www.dailymail.co.uk/health/ar...
The Real Umbrella Corp: Wuhan Ultra Biohazard Lab Was Studying "The World's Most Dangerous Pathogens" https://www.zerohedge.com/economics/r...
56 Million Chinese On Lockdown As Virus Spreads To Australia, Malaysia https://www.zerohedge.com/political/5...
China Suddenly Increases Death Toll By Over 60% As Virus Jumps To Europe https://www.zerohedge.com/geopolitica...
With Wuhan virus genetic code in hand, scientists begin work on a vaccine https://www.reuters.com/article/us-ch...
China built a lab to study SARS and Ebola in Wuhan - and US biosafety experts warned in 2017 that a virus could 'escape' the facility that's become key in fighting the outbreak https://www.dailymail.co.uk/health/ar...
BILL AND MELINDA GATES FOUNDATION & OTHERS PREDICTED UP TO 65 MILLION DEATHS VIA CORONAVIRUS – IN SIMULATION RAN 3 MONTHS AGO! https://www.infowars.com/bill-and-mel...
You are here:  

China Must Stop Its Wildlife Commerce