Wildfires Outside Every Major City in Australia
Created

Friday, 20 December 2019

Last modified

Monday, 30 December 2019

Favourites

1393

Wildfires Outside Every Major City in Australia

/index.php/en/content_page/item/1393-wildfires-outside-every-major-city-in-australia
Bushfires Are Raging Outside Every Major City in Australia. They're Only Going to Get Worse
By Amy Gunia - 20. December 2019
Hundreds of bushfires are raging across Australia, with hotspots in every state.
And a fire tracker map maintained by researchers in Western Australia, shows that they are also threatening areas around every major city in the country.
On Friday night, an emergency warning was in place for a fire near Mount Mercer outside Melbourne and authorities warned residents of Cainbable, about 60 miles south of Brisbane, to take precautions against a bushfire burning there.
And it's only going to get worse in the coming days as hot, windy conditions are expected in parts of the country on Saturday, according to the Bureau of Meteorology.
A map from researchers in Western Australia shows hundreds of bushfire hotspots across the nation as of Friday, Dec. 20, 2019. My Fire Watch
"When you have very hot, dry, windy conditions, if all of those things come together, a fire can get quickly out of control," Lesley Hughes, with the environmental group Climate Council of Australia, tells TIME.
"As the climate is warming up, we're getting more and more extreme hot days and currently, of course, Australia is in the grip of probably unprecedented heatwave conditions almost right across the continent."
Despite the bushfire crisis, Australia's Prime Minister Scott Morrison has argued that there is no direct link between Australia's greenhouse gas emissions and the severity of the fires burning across the country. However, he acknowledged that climate change could be impacting bushfires. Australia is one of the highest per capita emitters of carbon dioxide in the world, according to Climate Analytics, an advocacy group that tracks climate data.
The Prime Minister cut short his family holiday on Friday [after a public outcry that he went on holidays during an emergency] and apologized after two firefighters were killed battling bushfires in New South Wales.
Peter Dunn, a former commissioner for the Australian Capital Territory Emergency Services Authority and a member of advocacy group Emergency Leaders for Climate Action tells TIME that people are preparing for the worst.
"Everyone is very nervous about it," he says. Dunn is taking personal precautions to try to ensure the safety of his home, which is on the south coast in New South Wales. "I was just outside moving away some old embers and burnt leaves off the front of our property," he said. "We've got fires on all sides of us."
In New South Wales, where Sydney is located, firefighters are battling more than 100 fires, according to the state's Rural Fire Service. State authorities declared a state of emergency on Thursday.
A Catastrophic Fire Danger alert has been issued for Saturday for many parts of New South Wales in eastern Australia, including the Sydney area. Several other areas are under "extreme" fire danger alerts.
People in Sydney posted photos this week of haze enveloping the city.
Bushfires burned in all directions outside of Sydney, including a fire near the Blue Mountains which has already destroyed an area larger than the state of Rhode Island.
Bushfires burn outside Sydney My Fire Watch
Seven major bushfires were also burning across Southern Australia on Friday, including a massive fire which started in Cudlee Creek, a small town near Adelaide, reports the Adelaide Advertiser.
Bushfires burn outside Adelaide, Australia My Fire Watch
The South Australian Country Fire Services warned those in the area near Cudlee Creek to take shelter.
Several fires burned around Melbourne, Australia's second largest city.
Bushfires burn around Melbourne, Australia - My Fire Map
Hughes tells TIME that the widespread bushfire crisis has made climate change a reality for many Australians.
As Australia Burns, 100s Pitch Tents Outside PM's House Demanding a Response to the Climate Crisis
ASK: No new fossil fuels, 100% renewables, $$ for a just transition
Increased support for firefighters & indigenous land
Use our Bushfire Conversation & Action Guide to talk with friends, family, & colleagues
'As Bad As It Gets': Australian Bushfires Reach 'Catastrophic' Levels
Firefighters have warned the blazes will rage until significant rainfall arrives – which could be months away.
By Sarah Turnnidge - 21. December 2019
Bushfires in Australia have reached "catastrophic" levels, with little hope of respite as the severe heatwave continues.
The disaster has claimed another life in South Australia, as one person was confirmed to have been killed after 13 homes were destroyed by fire around 25 miles from the state capital of Adelaide.
It follows the deaths of two volunteer firefighters who were battling blazes in the country's most populous state of New South Wales (NSW) on Thursday.
Around three million hectares (7.4 million acres) of land has burnt nationwide during a torrid bushfire season, with nine people killed and more than 800 homes destroyed.
Catastrophic fire conditions have been declared in NSW as temperatures were forecast to reach 47C (115F) in western Sydney on Saturday.
NSW Rural Fire Services commissioner Shane Fitzsimmons said: "Catastrophic fire conditions are as bad as it gets.
"Given we have a landscape with so much active fire burning, you have a recipe for very serious concern and a very dangerous day."
With close to 100 fires were burning across NSW, the RFS said some fires were generating their own thunderstorms. Conditions were expected to improve in coming days, before another burst of hot weather in about a week.
"We will not get on top of these fires until we get some decent rain - we have said that for weeks and months," Fitzsimmons said.
No significant rainfall was expected in the next couple of months, the Bureau of Meteorology said.
In South Australia, authorities said 23 firefighters and several police have also suffered, as more than 40,000 hectares (98,842 acres) of land burnt.
Looking towards the giant bushfire on the edge of Sydney, 40km away. For weeks now, tidelines have been marked in char instead of seaweed and bluebottles. The sun is still hiding behind its sepia filter and it's been lightly snowing ash all day.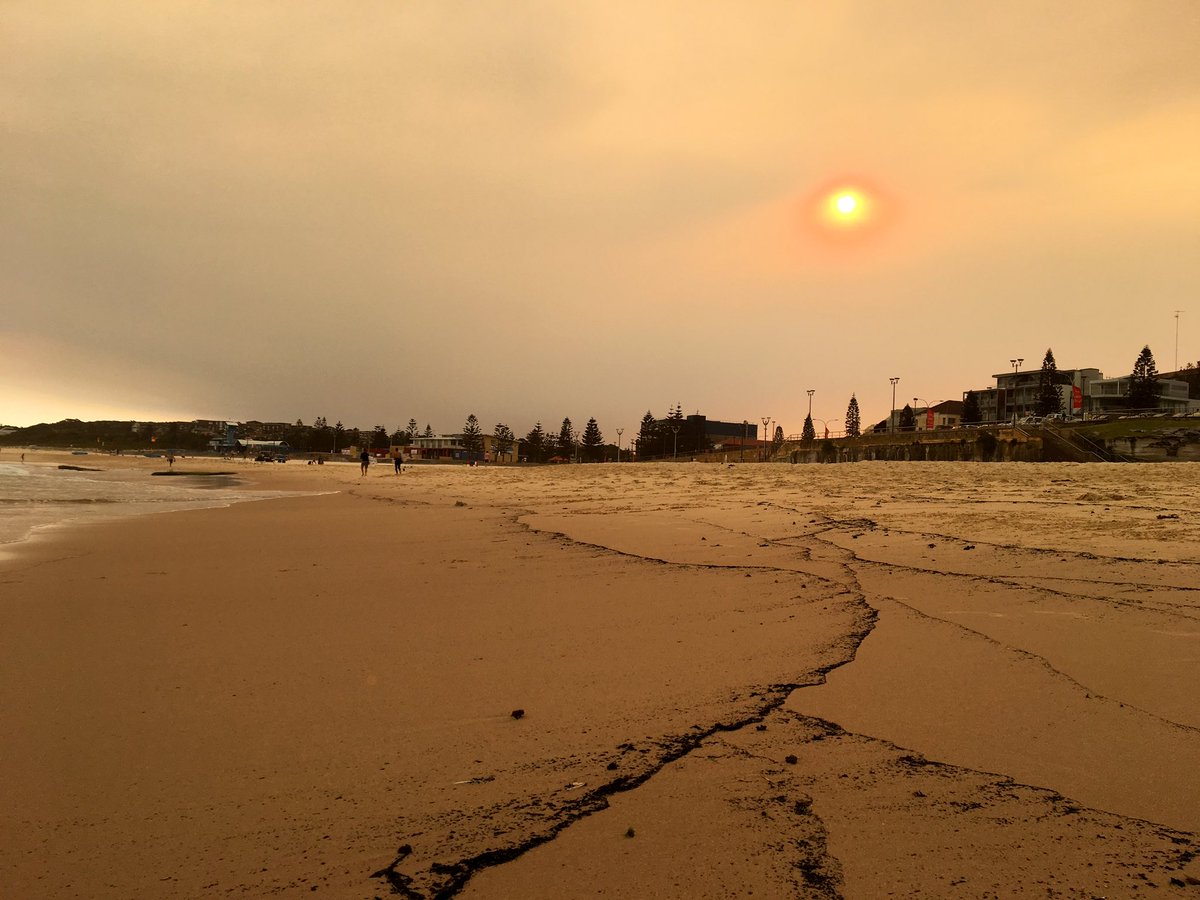 11:42 PM - 18 Dec 2019
"It is going to be a real scene of devastation, especially for those people in the Adelaide Hills who have been most affected," South Australia premier Steven Marshall said.
"We know that in addition to the buildings and vehicles lost there are very significant losses in terms of livestock, animals, crops, vineyards."
The fires are also severely impacting air quality, with thick smoke sprawling far beyond the reach of the flames and reducing visibility in major cities such as Sydney.
The annual Australian fire season, which peaks during the southern hemisphere's summer, started early after an unusually warm and dry winter.
The devastation has put pressure on prime minister Scott Morrison, who has received criticism for going on a family holiday in Hawaii during the wildfires crisis.
He apologised on Friday for "any offence caused to any of the many Australians affected by the terrible bushfires by my taking leave with family at this time".
He cut short his holiday and returned home on Saturday night. He is due to visit the New South Wales Rural Fire Service headquarters on Sunday.
For decades our "leaders" have been in a haze of indecision when it comes to climate change. You can't see Parliament House in Canberra today for all the bushfire haze.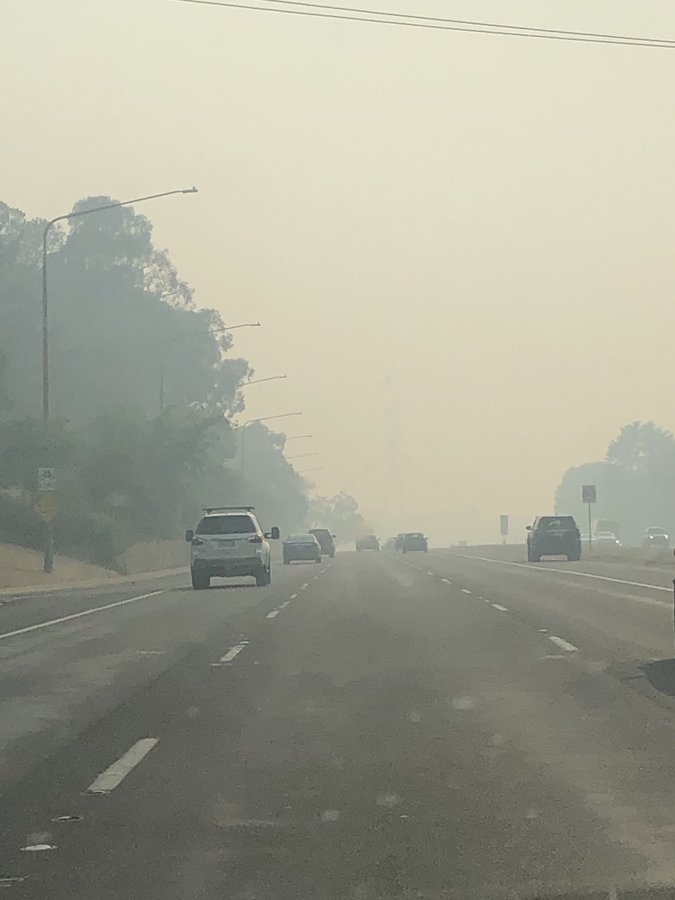 12:39 AM · Dec 20, 2019·
Debate has reignited on whether Morrison's conservative government has taken enough action on climate change. Australia is the world's largest exporter of coal and liquefied natural gas.
Fatih Birol, International Energy Agency executive director, believed Australia had missed opportunities to mitigate the impact of coal.
"I find the Australian energy debate far too emotional, far too nervous and far too hot. It is hotter than the climate change itself," he told The Sydney Morning Herald and The Age.
Morrison, who critics have deemed a climate change sceptic, conceded earlier this month that "climate change along with many other factors" contributed to the wildfires.
Related...
MORE: Australia air pollution South Australia Bushfires in Australia
Firenado Experience from California
Can stupidity get any larger ?
The majority of conditioned Aussis simply do not care.
Sydney Harbour New Year's Eve fireworks display to go ahead despite bushfire risk
By Victoria Pengilley - 30. December 2019
Photo: Fireworks explode over the Sydney Harbour during New Year's Eve celebrations last year. (AAP: Brendan Esposito)
The City of Sydney Council says the harbour's New Year's Eve fireworks will go ahead as planned but the Rural Fire Service (RFS) has refused to rule out cancelling the event at the last minute.
Key points:
Rural Fire Service Commissioner Shane Fitzsimmons refuses to rule out cancelling fireworks display if deemed too risky
City of Sydney Council said harbour fireworks display will go ahead despite thousands signing a petition
NSW Premier Gladys Berejiklian backs the decision but will consult with RFS over safety concerns
Heatwave conditions are expected across large parts of the state next week, with forecasts of more than 40C in Western Sydney and regional NSW.
Total fire bans are enforced across the state on Monday, with a decision still to be made for the remainder of the week.
Many communities postponed their fireworks displays, including Armidale in the state's Northern Tablelands.
But the City of Sydney on Sunday said its famous display would go ahead despite the bushfire crisis that has gripped the state.
"Like everyone, we at the City of Sydney are deeply affected by what we've been seeing over these last months," Tanya Goldberg, Head of Audience for Major Events and Festivals at the City of Sydney said.
"But we are of the firm view that Sydney New Year's Eve should not be cancelled."
The council said lengthy planning had gone into the event.
"Preparations for these celebrations began 15 months ago, which means most of the budget, largely used for crowd safety, has already been spent," Ms Goldberg said.
"Cancelling would have little practical benefit for devastated communities."
Photo: RFS Commissioner Shane Fitzsimmons refused to rule out cancelling the fireworks display. (AAP: Damian Shaw)
NSW Premier Gladys Berejiklian backed the City of Sydney decision to go ahead with the fireworks display.
"Sydney is one of the first cities in the world welcoming in the New Year. If it is safe to do so, we should continue to do it as we have done every other year," Ms Berejiklian said.
But NSW RFS Commissioner Shane Fitzsimmons refused to rule out the possibility of calling off the harbour fireworks at the last minute.
When asked about the cost of cancelling the fireworks at the last minute, Mr Fitzsimmons said: "If I determine it to be too risky, that doesn't concern me.
"The pyrotechnics organisations and local authorities are used to working with us around exemptions in the summer period, whether it is Christmas, New Year or some other event.
"They know the arrangements, the procedures, and we will work through to make sure that risk is appropriately addressed and, where necessary, we won't allow them to go ahead."
Ms Berejiklian said she would consult with the RFS about safety concerns.
"We're elected on behalf of the community to protect our community, to protect our citizens," the Premier said.
"But if there is no safety reason why those fireworks shouldn't continue, we will proceed."
City of Sydney Lord Mayor Clover Moore said if there was a total fire ban on New Year's Eve the council would "do what we need to do".
A petition, started six weeks ago, called for the $5.8 million budget for the fireworks to be redirected to bushfire and drought-relief projects.
The petition states: "$5.8 million was spent in Sydney alone for fireworks last year.
"All states should say NO to FIREWORKS. This may traumatise some people as there is enough smoke in the air."
In response to the backlash, the Council said it would promote the Red Cross Disaster Recovery and Relief Fund during the fireworks broadcast and donate more than $600,000 to support communities and wildlife affected by bushfire and the drought.
Photo: The City of Sydney Council says cancelling the display will ruin the plans of thousands. (Supplied: City of Sydney)
Scrapping the show would ultimately do more harm than good, the Council said.
"Cancelling would seriously hurt Sydney businesses, particularly in the wake of recent reports of a weaker retail season and would also ruin plans for thousands of people who have come from across the country and overseas who have made their plans," Ms Goldberg said.
"The opportunity to come together and celebrate what is good, to express hope, a little happiness and sense of togetherness is arguably even more important than ever."
Related Story: Adelaide Council rejects calls to cancel NYE fireworks
You are here:  

Wildfires Outside Every Major City in Australia