China's Murderous Organ Transplant Trade Continues
Created

Thursday, 12 December 2019

Last modified

Wednesday, 01 January 2020

Favourites

1357

China's Murderous Organ Transplant Trade Continues

/index.php/en/content_page/item/1357-china-s-murderous-organ-transplant-trade-continues
China's murderous organ transplant trade
By Christian Peschken - 12. December 2019
A new report has for the first time named 20 global companies profiting from China's illegal transplant trade, where innocent people are murdered in a state-sponsored campaign of forced organ harvesting.
The report, entitled the "Economics Of Organ Harvesting In China" finds:
20 western companies are "taking part" in China's murderous organ transplant industry including Pfizer (US), OrganOx (UK) and Roche (Switzerland)
Report finds that some western pharmaceutical companies used Chinese prisoners for testing transplant products.
BELOW the link to download the report
THE ECONOMICS OF ORGAN HARVESTING IN CHINATHE PART OF COMPANIES AND DOCTORS IN DEMORATIC COUNTRIES IN THE ILLEGAL ORGAN HARVESTING IN CHINA - pdf
By Pavel Porubiak, Lukas Kudlacek - Institute to Research the Crimes of Communism
The report supports China Tribunal's Final Judgment in June 2019 which exposed China's "wicked" organ harvesting crimes and murder of innocent people as "Crimes Against Humanity"
China's transplant system is "dependent on the import of devices for organ preservation" from the West
Over 1.5 million people detained in Chinese "camps" seen as "ideal source of organs"
Authors call for companies named in report to "answer" to allegations or for state offices to "investigat(e) international criminal activity"
Global pressure is mounting on China to stop the brutal murder of prisoners of conscience in a scandalous industry estimated to illegally earn the People's Republic of China over $1 billion per annum.
Susie Hughes - Executive Director, International Coalition to End Transplant Abuse in China (ETAC) stated: "These companies are in a very powerful position because China's transplant industry would falter without them. It is imperative they withdraw from China immediately to help save innocent people who are being killed for their organs."
Hamid Sabi – Counsel to the China Tribunal, who recently raised the issue of forced organ harvesting in China for the first time at the United Nations commented: "I welcome all new research confirming this horrifying issue. Organ transplantation to save life is a scientific and social triumph. But killing the donor is criminal."
Dr David Matas - International Human Rights Lawyer and Expert Witness who testified at the China Tribunal added: "The report sets out compelling evidence that several multinational companies are complicit in transplant abuse in China where prisoners of conscience are killed for their organs. This complicity violates the Organization for Economic Cooperation and Development Guidelines for Multinational Enterprises. The national contact points responsible for the Guidelines should be engaged in each of the countries where these countries are headquartered to address this complicity."
The Economics Of Organ Harvesting In China report was authored by leading experts, Pavel Porubiak, a senior analyst at IRCC (Institute to Research the Crimes of Communism) and Lukas Kudlacek, who is dedicated to economic and stock market environments, and conducts analyses in the areas of security, geopolitics and the economy.
(c) Harriet Shearer/Gordon Cole-Schmidt / The Communication Group plc
Author:
Christian Peschken - Independent TV & Film Producer, UN Geneva Reports Chief Editor EWTN Deutschland, Journalist
The Report concludes:
CONCLUSION [ IRCC | THE ECONOMICS OF ORGAN HARVESTING IN CHINA]
The evidence about illegal organ harvesting has been surfacing for more than 13 years. From phone recordings with the doctors; witness testimonies; discovering the truth about the abnormal number of transplant centers, with over 700 of them surpassing the official number of 169236; the issue went further when the non-existence of a functional donor system in China became known; the testimonies about the 2-week-long waiting times; Chinese doctors' medical studies using unexplainable sources of organs; and all of that on top of the fact that 300,000 Chinese citizens per year are in need of an organ.
All of this means that China is heavily falsifying its transplant data as if to cover up for something, and that something seems, by all evidence possible, to be a large, black market business built on human rights abuses. The state already engages in large labor camps and the persecution of human rights groups, which can provide a source for any illegal, hidden operations anywhere. The Chinese communist party also has an absolute disrespect toward its citizens through a fake transplant waiting list system – since it obviously gives more preference to rich transplant tourists than its own citizens.
China, by all known information, imprisons more than 1.5 million people, but just the number of Uyghurs in the labor camps is around 1 million. These persecuted groups are thus outside of any analysis of the prison system, and the number of prisoners of conscience in China could easily go up to hundreds of thousands. The Communist Party of China already shuns these people from the society, ruins their lives, and the only value it sees in them is working in the labor camps, or singing the communist songs and being constantly re-educated. In short, it does not see any value in them – making them ideal as a source of organs, since from the perspective of the communist party, it would be using people of no value to preserve valuable people. Even though the information about these groups became known at large in the 20th century, the fact that China uses organs coming from executed prisoners – executed by the communist view on justice - is old news.
At least 28 western companies supply China, in some cases for over 20 years, with the materials, drugs and devices supporting the development of the transplantation business, and must be fully aware of the facts and evidence mentioned above, and also that the crimes of China have been recognized through resolutions by many countries worldwide. Directly, or indirectly, their global business pulls their employees from their branches in Europe, America, or other parts in the world into this awkward situation. It's not like the murderous doctors in China have any other choice than to use the imported western equipment – as China is not self-sufficient at all when it comes to medical devices, and even in 2019 is dependent on the import of devices for organ preservation.
The western companies in the area of medical business therefore support transplantation in a country where patients from at least 20 countries and regions in the world travel for an organ which was supplied to them outside of the waiting list for Chinese citizens, has a dubious source, and somebody might have been killed for it.
The current global policies enable western companies to conduct business in China where their products could very easily be used in crimes against humanity, as in many cases they are, or were at some point in time the only available of their kind. These companies, including their employees globally, are without any institution checking for their vulnerability in cases like this one, or an institution which would investigate the whole situation. It is quite pressing, as the criminals in China have all the motives needed to make these companies as much a part of these crimes as possible. Belief in good will lead us to believe that these companies, even though they have been part of the transplant business in China sometimes for over 20 years, and know all the evidence, must be completely innocent. But their business field in China, and the Chinese regime, is anything but that.
THIS MUST STOP AND END NOW !!!
China tightens up on info after Xinjiang leaks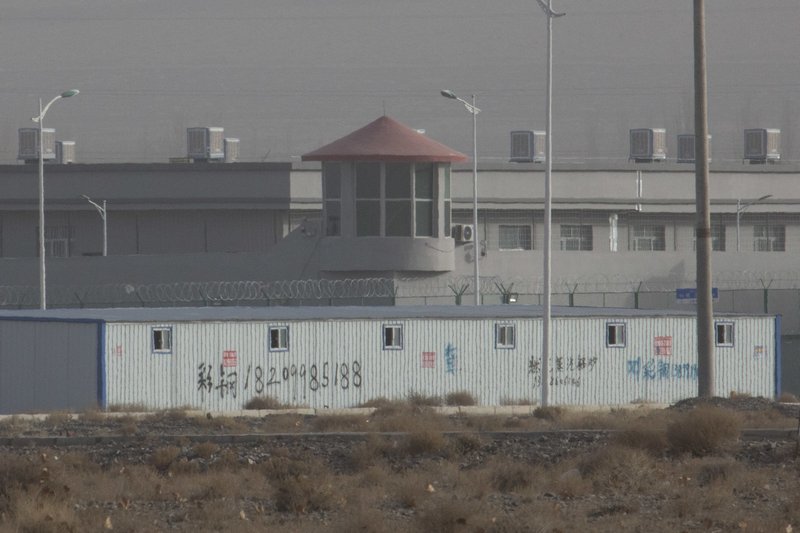 In this Monday, Dec. 3, 2018, photo, a guard tower and barbed wire fences are seen around a facility in the Kunshan Industrial Park in Artux in western China's Xinjiang region. People in touch with state employees in China say the government in the far west region of Xinjiang is destroying documents and taking other steps to tighten control on information. (AP Photo/Ng Han Guan, File)
By AP - 14. December 2019
The Xinjiang regional government in China's far west is deleting data, destroying documents, tightening controls on information and has held high-level meetings in response to leaks of classified papers on its mass detention camps for Uighurs and other predominantly Muslim minorities, according to four people in contact with government employees there.
Top officials deliberated how to respond to the leaks in meetings at the Chinese Communist Party's regional headquarters in Urumqi, Xinjiang's capital, some of the people said. They spoke on condition of anonymity because of fears of retribution against themselves, family members and the government workers.
The meetings began days after The New York Times published last month a cache of internal speeches on Xinjiang by top leaders including Chinese President Xi Jinping. They continued after the International Consortium of Investigative Journalists worked with news organizations around the world including The Associated Press to publish secret guidelines for operating detention centers and instructions on how to use technology to target people.
The Chinese government has long struggled with its 11-million-strong Uighur population, an ethnic Turkic minority native to Xinjiang, and in recent years has detained 1 million or more Uighurs and other minorities in the camps.
Xinjiang officials and the Chinese foreign ministry have not directly denied the authenticity of the documents, though Urumqi Communist Party chief Xu Hairong called reports on the leaks "malicious smears and distortions."
The Xinjiang government did not respond to a fax for comment on the arrests, the tightened restrictions on information and other measures responding to the leaks. The Chinese Foreign Ministry did not have an immediate comment.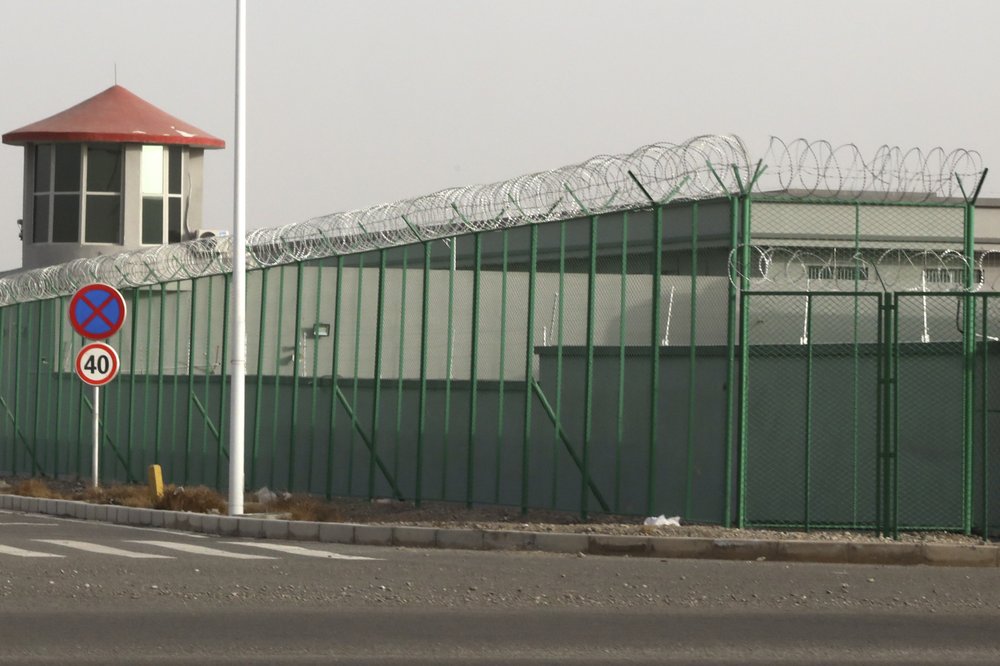 Chinese "Re-education" concentration camp in occupied East Turkmenistan - dubbed Xinjiang by the colonial Chinese. (AP Photo/Ng Han Guan, File)
Xinjiang's government had already mandated stricter controls on information in October, before the news reports, according to three of the people, all Uighurs outside Xinjiang.
They include orders for community-level officials to burn paper forms containing sensitive personal details on residents in their area such as their detention status, and for various state offices to throw away computers, tighten management of classified information, and ensure all information related to the camps is now stored on databases disconnected from the internet in special, restricted-access rooms to bar hackers, the Uighurs said.
"They became much more serious about the transfer of information," one said.
Publication of the classified documents prompted the central government in Beijing to put more pressure on Xinjiang officials, several of the Uighurs said.
Restrictions on information appear to be tightening further. Some university teachers and district-level workers in Urumqi have been ordered to clean out sensitive data on their computers, phones and cloud storage, and to delete work-related social media groups, according to one Uighur with direct knowledge of the situation.
In other cases, the state appears to be confiscating evidence of detentions. Another Uighur who had been detained in Xinjiang years before said his ex-wife called him two weeks ago and begged him to send his release papers to her, saying eight officers had come to her home to search for the papers, then threatened she'd be jailed for life if she couldn't produce the papers.
"It's an old matter, and they've know I've been abroad for a long time," he said. "The fact that they suddenly want this now must mean the pressure on them is very high."
Some government workers have been rounded up as the state investigates the source of the leaks. In one case an entire family in civil service was arrested. Abduweli Ayup, a Uighur linguist in exile, said his wife's relatives in Xinjiang – including her parents, siblings, and in-laws – were detained shortly after the leaks were published, although Ayup said they had no relation to the leaks as far as he was aware. Some people in touch with relatives outside China were also investigated and seized, Ayup said.
It is unknown how many have been detained since the leaks.
Earlier this week, a Uighur woman in the Netherlands told a Dutch daily, de Volkskrant, that she was the source of the documents published by the International Consortium of Investigative Journalists. The woman, Asiye Abdulaheb, said that after she posted one page on social media in June, Chinese state agents sent her death threats and tried to recruit her ex-husband to spy on her.
The leaked documents lay out the Chinese government's deliberate strategy to lock up ethnic minorities even before they commit a crime, and to rewire their thoughts and the language they speak. They reveal that facilities Beijing calls "vocational training schools" are forced ideological and behavioral re-education centers run in secret.
The papers also show how Beijing is pioneering a new form of social control using data and artificial intelligence. Drawing on data collected by mass surveillance technology, computers issued the names of tens of thousands of people for interrogation or detention in just one week.
The leaks come at a delicate time in relations between Washington and Beijing, amid ongoing negotiations to end a trade war and U.S. concerns about the situation in Hong Kong, a semi-autonomous Chinese territory where police have clashed with pro-democracy protesters.
Last week, the U.S. House of Representatives overwhelmingly approved the Uighur Human Rights Policy Act, aimed at pressuring China over the mass detentions in Xinjiang. Beijing swiftly denounced the bill as foreign meddling. State media reported that the Chinese government was considering retaliatory measures including visa bans on U.S. officials.
You are here:  

China's Murderous Organ Transplant Trade Continues