UPDATE 28. April 2021: Hoops - DIE WELT screwed up - leaks that COVID-21 is already in the EU plans
UPDATE 25. April 2021: WATCH: Thousands Upon Thousands Rally Against Lockdown, Vax Passes in London
UPDATE 24. April 2021: COVID-19, Minorities, and Indigenous peoples: The Litmus Test of Equality - Caveat Lector
# Sondersitzung / Special Session
"International Legal Offensive - Part 1"
(Session in English, partly in Español and/or Deutsch)
Corona-Ausschuss hört die Experten: Rechtsanwältin Dr. Renate Holzeisen (Tirol), Rechtsanwalt Francis E. Hoar (United Kingdom), Rechtsanwalt Dominic Desjarlais (Kanada), Rechtsanwältin Ana Garner (USA-New Mexico), Wirtschaftswissenschaftlerin Leslie Manookian (Vorstand Health Freedom Defense Fund - USA), Rechtsanwältin Andrea Steindl (Außerparlamentarischer Untersuchungs-Ausschuss Austria, Rechtsanwälte für Grundrechte - Österreich - Impfgruppe), Rechtsanwalt Gerold Beneder (Außerparlamentarischer Untersuchungs-Ausschuss Austria), Dr. Michael Brunner (Rechtsanwälte für Grundrechte - Österreich), Rechtsanwalt Miguel Luis Marcelo Iannolfi (Jurist und Mediziner - Argentina), Advokat Dr. Gustavo Salle Lorier (Rechts- and Sozialwissenschaftler, Ärzte Für Wahrheit - Uruguay), Rechtsanwältin Natalia Ravanales (Menschenrechts-Anwältin - Chile), Rechtsanwalt Michael Swinwood (Hauptanwalt der Gemeinschaftsklagen in Kanada - Kanada, Peru).
Moderatoren: Rechtsanwalt Dr. Reiner Füllmich (Veraucherschutzanwalt) und Rechtsanwältin Viviane Fischer (Juristin und Volkswirtin) sowie Christina aus Chile als Übersetzerin.
Livestream - 23. April 2021 - 17:00 h MEZ mit Zuschauerbeteiligung ⇊
•StreamedLive - Apr 23, 2021 [to participate in the discussion, please go directly to the LIVE CHAT]
Corona Ausschuss - Ausweichkanal
Since mid-July 2020, the Corona Committee has been conducting live, multi-hour sessions to investigate why federal and state governments imposed unprecedented restrictions as part of the Coronavirus response and what the consequences have been and still are for people.
===
Documents / Comments
This film , " THE GREATER GOOD ," may be the appropriate medium through which physicians can begin to open up the next phase of dialogue about their growing concerns of vaccine safety & efficacy.THE GREATER GOOD documentary provides real insights about the polarizing vaccine debate. The one size fits all, cradle to grave approach regarding vaccines is a short sighted crusade coordinated by the government and pharmaceutical companies. If we have learned anything regarding medical treatments, it's that informed consent be the only mandatory requirement.
First published on BITCHUTE April 13th, 2018 Second BACKUP ON BITCHUTE
The film looks behind the fear, hype and politics that polarize people into emotionally charged pro-vaccine or anti-vaccine camps with no room for middle ground. Verite stories of individuals and their families, whose lives have been forever changed by vaccine choices, interwoven with interviews from leading experts in the field, will re-frame the vaccine debate and offer, for the first time, the opportunity to have a rational, scientific and factual discussion on how to create a more effective vaccine program in America today.
Directors: Kendall Nelson, Chris Pilaro
Writers: Leslie Bradshaw, Jack Youngelson
Purchase the DVD to support the project and share the film:
https://bit.ly/2HA1rRk
Vaxxed: From Cover-Up To Catastrophe [Full Film Here]:
https://www.bitchute.com/video/rjsDG1zQqsZx/
Would you like to learn more about vaccines? Sign-up to watch 'The Truth About Vaccines' here:
https://tinyurl.com/vaxxedttav
Check-out 'Vaccines Revealed' here:
https://at119.isrefer.com/go/eg/Vaxxed
The Vaxxed Movement and vaccine truth community has been facing increasing censorship on the major centralized social media platforms. Decentralization through services like BitChute, Cryptocurrency, and Blockchain technology will help ensure that our content is accessible in spite of the forces that would like to see it removed. Vaxxed World is the decentralized worldwide digital aggregation of the Vaxxed Nation Bus Tour vaccine interview footage and the international open-source continuation of the Vaxxed Movement. We're not going away!
===
Health Freedom Defense Fund (HFDF) seeks to ameliorate health injustice through education and advocacy. We aid families and individuals whose health rights have been infringed and support legal challenges to unjust laws that undermine our health and freedoms .A huge thanks to our generous fiscal sponsor, the Weston A. Price Foundation which teaches the principles of healthy traditional diets as pioneered by Dr. Weston A. Price.
Below you will find resources such as Frequently Asked Questions about mandates for masks, COVID-19 tests, and COVID-19 vaccines as well letters to provide an an employer, school, or other entity regarding federal law. If the document you are looking for is not yet posted below, please check back as we will be posting more asap.
Vaccine FAQ
PDF
Vaccine Employer Notice
PDF
Face Mask FAQ
PDF
Face Mask Employer Notice
PDF
Testing FAQ
PDF
Employer Notice – Tests
PDF
===
Scientific Base For
===
---
===
How Politicians and Celebs get their FAKE Vaxx Jabs
===
§ 5 Abs. 1 COVID-19-Maßnahmengesetz
Das Verlassen des privaten Wohnbereichs nach § 5 Abs 1 COVID-19-Maßnahmengesetz kann nur zu bestimmten Zwecken eingeschränkt werden, sofern es zur Verhinderung der Verbreitung von COVID-19 unerlässlich ist, um einen drohenden Zusammenbruch der medizinischen Versorgung oder ähnlich gelagerter Notsituationen zu verhindern, und Maßnahmen gemäß §§ 3 und 4 (Betretungsverbote von Betriebsstätten, Arbeitsorten, bestimmten Orten und öffentlichen Orten) nicht ausreichen.
Im Fall der Verhängung einer Ausgangsregelung werden die Voraussetzungen, unter denen eine solche begründet ist, verschärft:
Unerlässlichkeit
Drohender Zusammenbruch der medizinischen Versorgung oder ähnlich gelagerter Notsituationen
Nicht ausreichend gelindere Mittel
Die vom Gesetz geforderte Unerlässlichkeit zur Verhinderung eines drohenden Zusammenbruchs der medizinischen Versorgung oder ähnlich gelagerter Notsituationen, wobei mit gelinderen Mitteln nicht das Auslangen gefunden werden kann, kann bei evidenzbasierter Beurteilung der Faktenlage nicht angenommen werden. Es droht weder ein Zusammenbruch des Gesundheitssystems noch liegt ein Notstand als Situation, in der ein Staat in bedrängender Gefahr ist, vor. Als nationaler Notstand wird als Ausnahmezustand ein Zustand bezeichnet, in dem die Existenz des Staates oder die Erfüllung von staatlichen Grundfunktionen von einer maßgeblichen Instanz als akut bedroht erachtet werden kann.
2. Voraussetzung: Zusammenbruch der medizinischen Versorgung
Es besteht in Österreich nachstehende Betten- und Personalsituation ( die Daten sind entnommen und abrufbar unter https://www.kaz.bmg.gv.at/ ):
Stand der veröffentlichten Daten ist Ende 2019. Für (Ende) 2020 wurden bisher – unverständlicherweise – keine Daten veröffentlicht. Es muss daher auf den Stand der Daten Ende 2019 zurückgegriffen werden.
Die nachfolgend verwendete Bezeichnung "sogenannte Corona-Patienten" bedeutet (lediglich) positiv auf SARS-COV-2 getestet, ohne nähere Angaben.
2.1. Stand Normalbetten (63.838 österreichweit):
Stand 18.11.2020: Belegt mit so genannten Corona Patienten: 4.525 Betten, das sind 7,1% der Gesamtbetten
Stand 23.11.2020: Belegt mit so genannten Corona Patienten: 4.458 Betten, das sind 7,0% der Gesamtbetten
Stand 01.01.2021: Belegt mit so genannten Corona Patienten: 2.342 Betten, das sind 3,7% der Gesamtbetten
Stand 22.03.2021: Belegt mit so genannten Corona Patienten: 1.983 Betten, das sind 3,1% der Gesamtbetten.
Stand 03.04.2021: Belegt mit so genannten Corona Patienten: 2.197 Betten, das sind 3,4% der Gesamtbetten.
2.2. Stand 2019 Intensivbetten (gesamt 2567 Betten österreichweit):
Stand 18.11.2020: Belegt mit so genannten Corona Patienten: 658 Betten, das sind 25,6 der gesamt verfügbaren aufgestellten Intensivbetten
Stand 23.11.2020: Belegt mit so genannten Corona Patienten: 683 Betten, das sind 26,6% der gesamt verfügbaren aufgestellten Intensivbetten
Stand: 01.01.2021: Belegt mit so genannten Corona Patienten: 396 Betten, das sind 15,4% der gesamt verfügbaren aufgestellten Intensivbetten
Stand: 22.03.2021: Belegt mit so genannten Corona Patienten: 437 Betten, das sind 17,0% der gesamt verfügbaren aufgestellten Intensivbetten
Stand: 03.04.2021: Belegt mit so genannten Corona Patienten: 531 Betten, das sind 20,7% der gesamt verfügbaren aufgestellten Intensivbetten
Höchststand der belegten "Corona" Intensivbetten: 723 am 29.11.2020
Situation in Wien, Niederösterreich und Burgenland:
In diesen 3 Bundesländern gibt es 1.164 Intensivbetten, derzeit (05.04.2021) sind 380 Betten mit "Corona Patienten" ausgelastet.
2.3. Personalsituation:
Stand Ende 2019: 264 Krankenanstalten österreichweit
Personal: 78.620 Stellen, davon rund 58.000 Stellen im Bereich des gehobenen Dienstes für Gesundheits- und Krankenpflege (nicht inkludiert hierbei ehemalige Pflegehelfer bzw. nunmehr Pflegefachassistenten und Plegeassistenten).
Rund 3.500 diplomierte Gesundheits- und Krankenpflegekräfte sind für die Intensivpflege ausgebildet.
2.4. Resümee
Nach evidenzbasierter Faktenlage sind die vom Gesetz geforderten Voraussetzungen für einen Lockdown oder weitreichende grundrechtseinschränkende Maßnahmen nicht gegeben, so dass derartige Maßnahmen als gesetz- und verfassungswidrig zu beurteilen sind.
3. PCR-Test und Fallgeschehen
3.1. Der PCR-Test weist mit einer gewissen Fehlerquote nur das Vorhandensein eines Gen-(RNA)- Abschnitts nach. Dieser Nachweis lässt keinen Schluss auf einen akuten Virenbefall, eine Infektion oder gar eine Krankheit zu. Damit kann auch keine Ansteckungsgefahr abgeleitet werden.
(Zu Antigentests ist zu bemerken, dass diese bei fehlender Symptomatik hoch fehlerhaft sind usw.)
3.2. Die unreflektierte Verwendung von Begriffen wie Fallzahlen, Neuinfektionen, Testergebnissen, Fallgeschehen, Inzidenzen usw. wird einer wissenschaftlichen Beurteilung der Seuchenlage nicht gerecht. Für die WHO (WHO Information Noticee for IVD Users 2020/05, https://www.who.int/news/item/20-01-2021-who-information-notice-for-ivd-users-2020-05 ) ausschlaggebend ist die Anzahl der Infektionen / Erkrankten, und nicht der positiv Getesteten oder sonstiger "Fallzahlen" (vgl. Urteil des Verwaltungsgerichtes Wien vom 24.03.2021, GZ VGW-103/048/3227/2021-2). "Konkret ist nicht ausgewiesen, welchen CT-Wert ein Testergebnis hatte, ob ein Getesteter ohne Symptome erneut getestet und anschließend klinisch untersucht wurde" (Urteil des Verwaltungsgerichtes Wien vom 24.03.2021, Seite 9).
Das Landesverwaltungsgericht Wien gelangte in dem von ihm zu beurteilenden Fall eines Demoverbotes zu dem Ergebnis, dass "somit keiner der drei vom Gesundheitsminister definierten "bestätigten Fälle" die Begriffe des Begriffs "Kranker / Infizierter der WHO" erfüllt. "Das alleinige Abstellen auf den PCR-Test (…..) wird von der WHO abgelehnt" (Urteil des Landesverwaltungsgerichtes Wien vom 24.03.2021, Seite 10).
3.3. Der vom Gesundheitsminister und den Leitmedien ständig, jedoch irreführend, verwendete Begriff der angeblichen Zahl der "Neuinfektionen" gibt nicht den geringsten Aufschluss darüber, wie viele Personen ohne Krankheitssymptome, mit leichten oder schweren Krankheitssymptomen sowie unter welchen medizinischen / diagnostischen Voraussetzungen oder überhaupt fehlerhaft getestet worden sind. Die Angaben sind daher schlichtweg unbrauchbar.
Auch gibt die Zahl der Hospitalisierungen kein richtiges Bild, weil die konkrete Ursache für die Hospitalisierung unbekannt ist.
Es sind daher in logischer und rechtlicher, evidenzbasierter Konsequenz alle grundrechtseinschränkenden, damit grundrechtsverletzenden Corona-Maßnahmen mit sofortiger Wirkung aufzuheben.
RA Dr. Michael Brunner
05.04.2021
===
Impfungen gegen SARS-CoV-2 – was die Packungsbeilage nicht beinhaltet
Schreiben an die Österreichische Ärztekammer vom 16.04.2021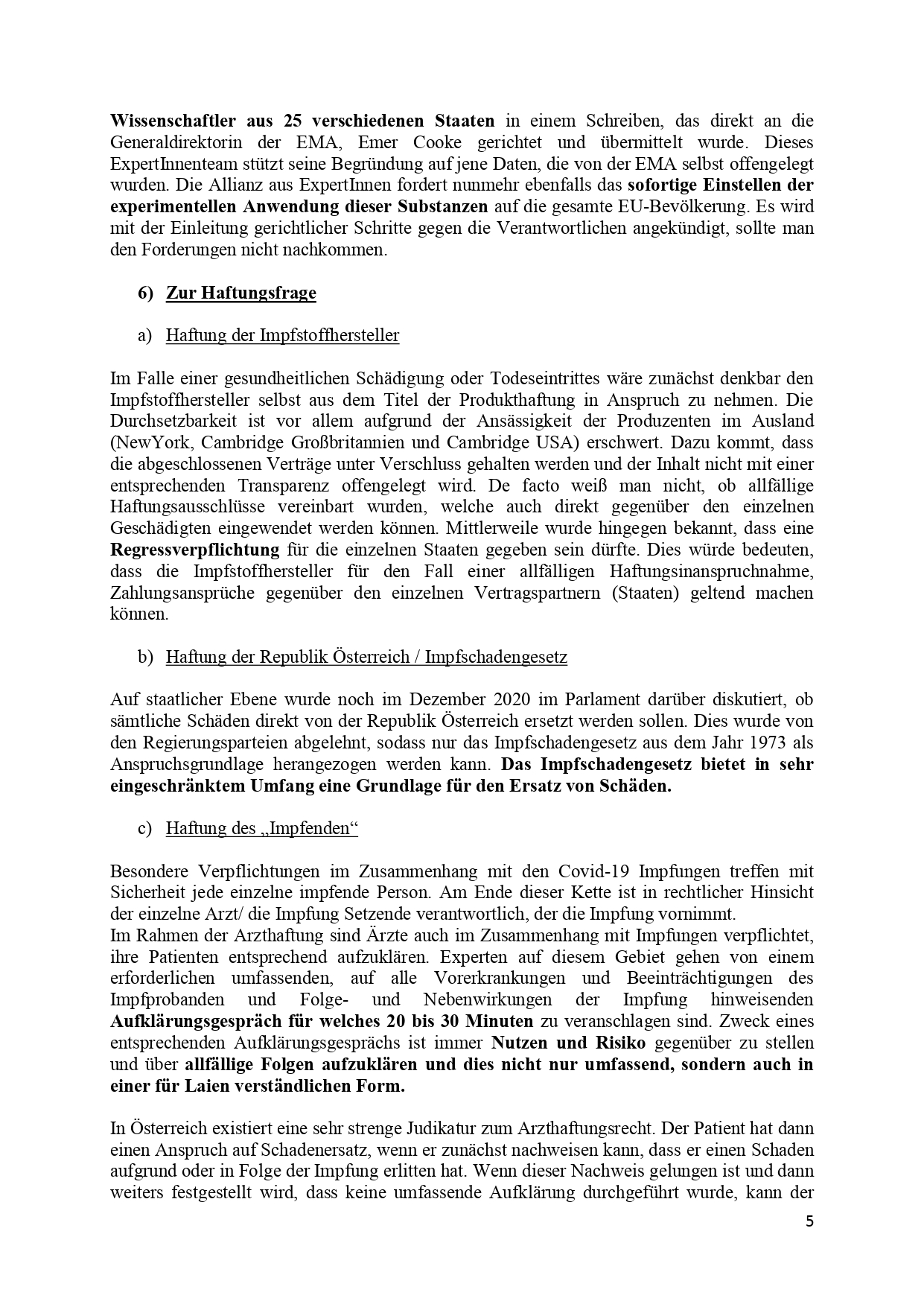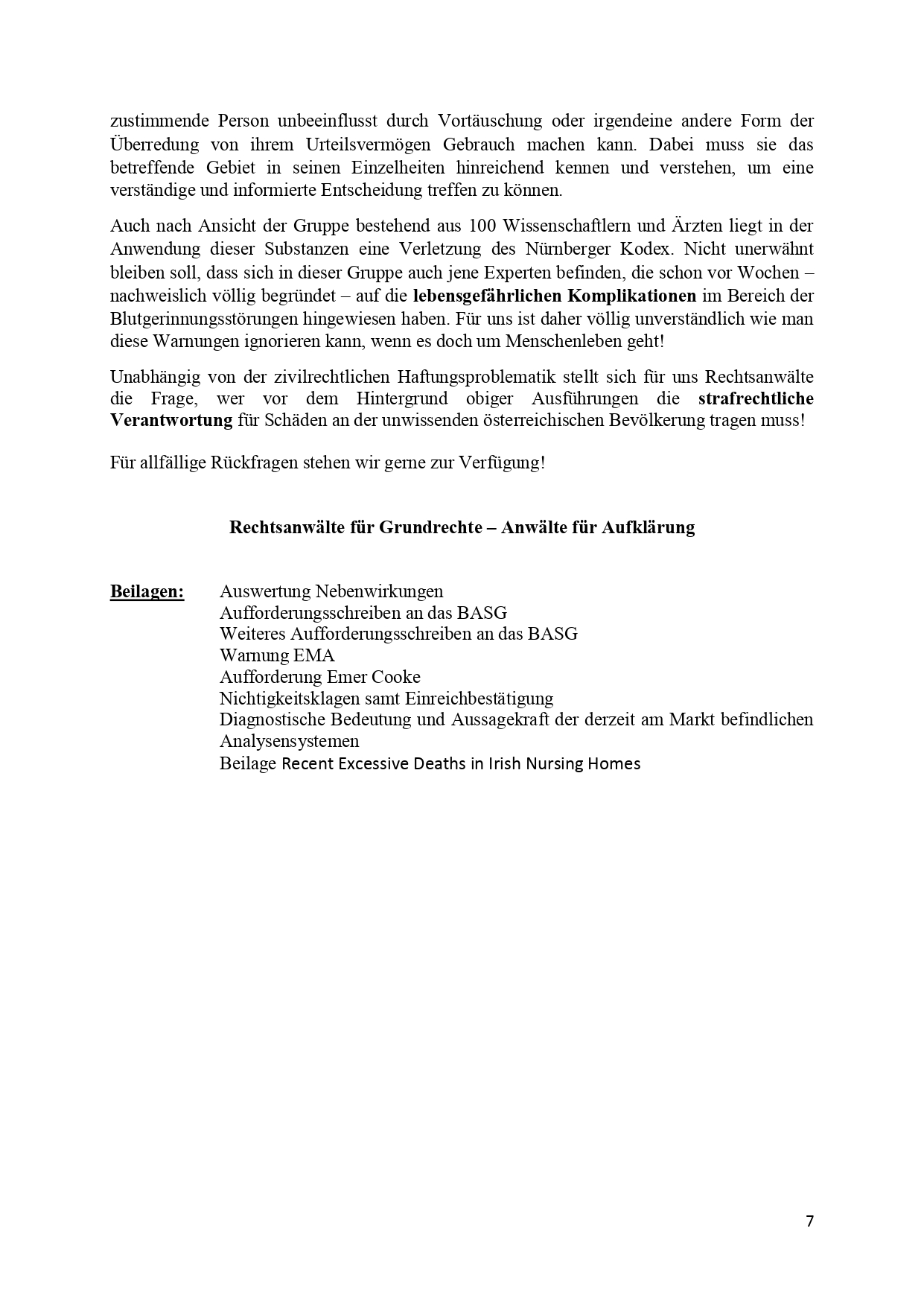 ===
Johann Wolfgang von Goethe:
"Niemand ist hoffnungsloser versklavt, als einer, der fälschlich glaubt, frei zu sein."

"No man is more hopelessly enslaved than the one who falsely believes himself to be free."
===
UPDATES:
Hoops - DIE WELT screwed up - leaks that COVID-21 is already in the EU plans
28. April 2021
COVID-21 ???
Well well, it could not possibly all be more obvious.
We are watching a show and we are on the stage.
Jim Stone
===
CAVEAT LECTOR: Many First Nations and Indigenous groups actually believe that Minority Rights Group International (MRG) is 'controlled opposition' and remotely steered by the British wanna-be-again empire to undermine genuine Indigenous efforts in their struggle for self-determination, independence and prosperity in abundance.
COVID-19, Minorities, and Indigenous peoples:
The Litmus Test of Equality
By Rasha Al Saba and Samrawit Gougsa - 24 April 2021
The disproportionate impact of Covid-19 on minorities and indigenous peoples across the globe has been well documented. Individuals from these communities have been infected at a greater rate, are more likely to die after contracting the disease and now risk being at the back of the queue in national vaccination programmes. Our work has focussed on a number of elements of this phenomenon, including a study of the disproportionate burden of Covid-19 on the most marginalized communities worldwide, and the ways that members from these communities have been pushed into forced labour as a result of the pandemic.
In this blog, we aim to emphasise the underpinning structural discrimination that has hindered minorities and indigenous peoples' access to health-related services. This will be followed by a brief commentary on the availability of protection measures to minorities during the pandemic. We end by urging legal communities and other policy makers towards two concrete steps: first to make access to universal health coverage mandatory for all residents in a given jurisdiction irrespective of their legal or other status, and second to ensure the push towards disaggregated data, the lack of which hampers policy making, obscures entrenched structural discrimination and reinforces inequalities in society.
1. Access to COVID-19 Related Health Services
Direct and indirect discrimination overwhelmingly framed the question of access to health services for minorities and indigenous peoples during the pandemic. Although many countries offered testing for everyone regardless of the provision of documentation or valid visas, some restricted access to medical treatment to those with a regularized status. Roma in Ukraine are a typical example of this: a lack of personal documentation, including birth certificates, prevent Roma from registering with a GP, effectively rendering them invisible to health services. Even where there were no formal legal restrictions in accessing health services, migrants and refugees faced discrimination when attempting to do so. This phenomenon was widespread across the Middle East: in Lebanon, for instance, even where free Covid-19 medical services were made available to all, African and Asian workers were denied access in the absence of documentation – a common issue for migrants who are forced to flee abusive employers.
Access to healthcare is often hampered by structural barriers that are compounded by the lack of availability of infrastructure, proper communication, and clear messaging by authorities. Individual vulnerability to the virus is augmented by broader social and structural determinants of health that result in inequities where vulnerable populations live, work, play, pray and learn, deepening their susceptibility. In such a scenario, the framing of communication messages that directly engaged affected communities yielded some positive outcomes at community level. For instance, in the United States (US) some indigenous communities sought their own mitigating measures drawing on traditional knowledge and language to promote voluntary isolation at the individual level while sealing off their territories at the community level. By contrast, in the United Kingdom (UK), national messaging on the vaccine failed to meaningfully address the mistrust experienced by ethnic minorities regarding their health concerns. This mistrust stems from legacies of structural racism and discrimination that still persist, under-representation of ethnic minorities in healthcare research, and negative experiences of culturally insensitive healthcare systems – all of which are key factors driving Covid-19 vaccine hesitancyamong ethnic minorities in the country.
2. Social Protection Measures
Data available from the US, UK and Canada show that the vulnerable socio-economic status of minorities predating the pandemic left them with little ability to absorb any economic crisis. In these societies and elsewhere (where disaggregated data is not available to the same level), minorities and indigenous peoples make up a large share of the workforce in the informal sector, which became the so-called 'frontline workers' or 'essential workers' during the pandemic. Women have traditionally been disproportionately represented among this category and as a consequence faced increased susceptibility. The fear of losing scarce jobs crucial to subsistence were also a factor that added to the risk of exposure.
The consequence of being engaged in the informal sector put many beyond the reach of financial packages designed to support workers. Even in developing countries such as Bangladesh, Botswana, Cambodia and Thailand that promoted job retention schemes, these only reached some sectors, often excluding others that disproportionately relied on minority or indigenous labour. While informal workers did receive cash payments and other support in a large number of countries, many were single payments – unlike wage subsidies which were paid for several months or longer.
Our research also found that many of the financial packages designed to protect workers were excessively bureaucratic and, as with the healthcare provisions, often tied to the provision of specific documents and requirements. For many minority and indigenous citizens in Thailand, for instance, the holding of an identity card, bank account or residency permits formed a steep barrier preventing access to these measures. Many other states have also required proof of citizenship, permanent residency, official registration or the possession of government issued identity documentation, putting many from minority and indigenous peoples beyond the reach of measures in Australia, Argentina, Belize, Bermuda, Canada, Ecuador, Hong Kong, Japan, Jordan, Nepal, Spain, and Trinidad and Tobago.
Further even where such documentation was held, some of the measures proved indirectly discriminatory due to the lack of effective communication and dissemination, especially in minority and indigenous languages. In Kenya, surveys showed that while 90 per cent of indigenous respondents acknowledged receiving information on Covid-19 preventative measures, a much smaller percentage (69 per cent) had received information regarding economic assistance packages. This trend also held through in India and Nepal where marginalized groups including persons with disabilities, migrant workers, indigenous women and women with severe disabilities were unable to access aid that was ostensibly made available. In both countries there were reports of many who due to the lack of a certificate proving their disability were barred from accessing specifically designed relief programs.
This had a disproportionate impact on ethnic and religious minorities, refugees and internally displaced persons who faced further barriers to documentation. In the Indian state of Manipur, with a majority indigenous population, as many as half of the 50,000 persons with disabilities do not possess disability registration and therefore could not access benefits. Many barriers compound the problem including lack of information and availability of the packages in minority languages, accessible education, proper transportation and a lack of health centres where disability certificates could be issued. The political climate in India also made it harder for persons with disabilities from religious minorities to be able to obtain documentation.
Bureaucratic requirements have even obstructed humanitarian relief, leaving minority and indigenous populations unable to access vital food distribution. Our research documented such instances impacting women, minorities, undocumented workers, refugees and asylum seekers in Kenya and Malaysia.
3. Disaggregation of Data
As ethnic disparities came into the spotlight, many highlighted the need for better data disaggregation to guide targeted and appropriate responses. Though many interconnected and constantly evolving elements need to be taken into account, one thing is certain: unless the current pandemic is viewed through a lens of minority and indigenous rights, any attempt to contain it will run the risk of failure. Developing a clear evidence base on how ethnicity, race and religion, as well as potential language barriers for members of linguistic minorities, shape exposure, vulnerability and mortality are an essential step for any government seeking to protect its population from this or any subsequent virus.
Disaggregated data is critical in surfacing inequalities on the basis of social identities. Early data from the UK was instrumental in highlighting the disproportionate number of deaths and hospital admissions from Covid-19 among minority communities. Even when controlling for variables such as age and geography, the number of deaths per capita is very high across all ethnic minority groups. Now that several vaccines have been produced, they are widely viewed as the world's ticket out of this pandemic – yet at present, the emerging data from countries such as the UK and the US demonstrates that vaccination rates among ethnic and religious minorities are still markedly lower than those among the white majority.
The need to ensure that disaggregated data is collected on the basis of identity must therefore be a crucial lesson learnt for all, since such data is critical in tailoring policy responses. Of course, this push must come with adequate safeguards against its misuse. When collecting disaggregated data, results need to also be contextualised according to social realities and circumstances. Data unaccompanied by adequate analysis of the social factors may misrepresent findings on minorities and indigenous peoples, risking the perpetuation of harmful myths and misunderstandings that undermine the goal of eliminating health inequities. The pandemic has shown that a combination of quantitative and qualitative methods, situating minority and indigenous experiences as subjects and not objects, is needed to fight stigma, racism, and xenophobia.
Conclusion
Our research into the impact of pandemic on minority and indigenous communities leads us to offer five specific conclusions:
It is imperative that all legal systems guarantee access to universal health coverage irrespective of legal status, with an added emphasis on dismantling structural barriers that prevent certain communities from accessing these.
In responding to emergency situations such as those caused by the pandemic, social protection measures must be designed for reach into communities with little means to absorb an economic crisis, who may also be the least visible in policy terms.
The collection, analysis and featuring of disaggregated data with its contextual backgrounds is crucial to tailoring effective measures in the prevention, treatment and vaccination or cure cycles. A failure to synthesize such data leaves health systems unable to identify and respond to the particular risks that minorities and indigenous peoples face.
To truly 'leave no one behind' and prevent every avoidable death, minority and indigenous communities should be considered as priority groups in responses to the Covid-19 pandemic, particularly with regard to vaccine distribution programs.
Finally, the pandemic has highlighted the importance of voice. The experiences of minority and indigenous peoples need to feature strongly in the design and implementation of mitigation measures while avoiding tokenism.
Authors: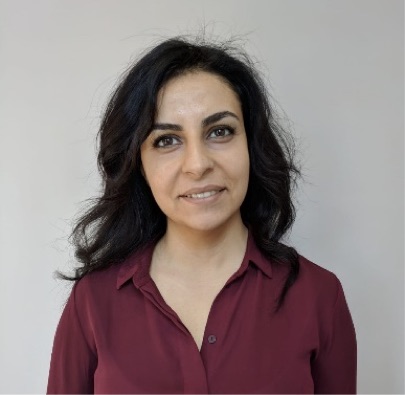 Rasha Al Saba is a Programme Officer at Minority Rights Group International (MRG).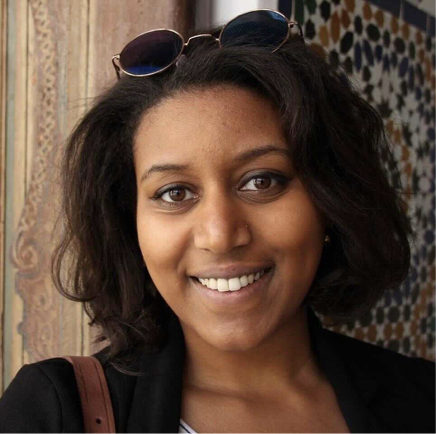 Samrawit Gougsa is a Communications Officer at Minority Rights Group International (MRG).
* The authors collaborated with Keele University on a research project 'Sharing Good Practices in Protection of Workers and Victims of Modern Slavery during the COVID-19 Pandemic'. The final report presenting findings from this research will be available in May 2021.
---
SUGGESTED CITATION Al Saba, Rasha; Gougsa, Samrawit: COVID-19, Minorities, and Indigenous peoples: The Litmus Test of Equality, VerfBlog, 2021/4/24, https://verfassungsblog.de/covid-19-minorities-and-indigenous-peoples-the-litmus-test-of-equality/, DOI: 10.17176/20210424-101344-0.
===
UNITE FOR FREEDOM
Drone footage of the 'Unite for freedom' rally in central London yesterday, tens of thousands of happy people enjoying simple freedoms, MSM looked upon them with utter contempt, they hate that nobody pays attention to their lies and scaremongering
WATCH: Thousands Upon Thousands Rally Against Lockdown, Vax Passes in London
This is the event that the BBC and the rest of the legacy media tried to airbrush out of history: thousands upon thousands of people marching through central London in protest over lockdown and the imminent threat of vaccine passports.
It was by some margin the biggest rally held so far in the UK against the government's draconian Chinese coronavirus restrictions. While the MSM put a low estimate on the numbers — 10,000, according to Reuters — others claim the turnout was considerably higher.
What's certain is that, as with previous anti-lockdown marches, the MSM has done its very best to ignore it. In order for Extinction Rebellion to get mass media coverage, all it has to do is persuade a handful of activists to go with hammers (one ludicrously bearing the message 'Care – act with love') and chisels to smash a few windows at a corporate HQ and the story is everywhere, from the BBC to the Sun.
But when perhaps 50,000 or more anti-vaccine-passport protestors bring central London to a standstill as they march down the length of Oxford Street, the event either goes unreported or is sneerily dismissed as a bunch of weirdo conspiracy theorists flouting the government's supposedly sensible and proportionate mask-and-social-distancing regulations.
Here, for example, is the BBC's 'specialist reporter covering disinformation and social media' pouring scorn on the event:
Anti-lockdown protesters – predominantly organised in Telegram channels promoting conspiracy theories about vaccines and pandemic are marching in Central London.

There are placards claiming covid is a hoax, "the experimental vaccine kills" and the QAnon "Save Our Children". pic.twitter.com/6anw6iRhkx

— Marianna Spring (@mariannaspring) April 24, 2021
In truth, the vast majority of people at the event weren't activists but ordinary folk of all ages, races, and classes who'd had enough after a year of government lockdowns, and who felt especially concerned by proposals to bring in vaccine passports. They considered these to be illiberal, discriminatory — and the precursor to a Chinese-style social credit system.
Among the crowds, I was especially pleased to meet one of Britain's most distinguished movie stars from the '60s — James Fox — who had come along to support his son Laurence, who is running to be Mayor of London on an anti-lockdown freedom ticket:
50,000 + wonderful people on the march today and my 82 year old dad is the most wonderful of them all. ❤️ London. pic.twitter.com/MXX3ShkZXd

— Laurence Fox (@LozzaFox) April 24, 2021
Fox was among many opposed to vaccine passports, which he believes are not only discriminatory but un-Christian:
Suppose a church pastor is having a congregation come to him and somebody at the door says: 'We're only going to allow those people in who've been vaccinated.' Would Jesus do that? No he wouldn't. He accepted everybody.
Say what you want. But these police dudes need a good beating.
===
Stiftung Corona-Ausschuss
Wir untersuchen, warum die Bundes- und Landesregierungen beispiellose Beschränkungen verhängt haben und welche Folgen diese für die Menschen hatten.
Der Corona Ausschuss wurde von vier Juristen ins Leben gerufen. Er führt eine Beweisaufnahme zur Corona-Krise und den Maßnahmen durch. Der Corona Untersuchungsausschuss wird vertreten durch die Rechtsanwältinnen Viviane Fischer, Antonia Fischer sowie die Rechtsanwälte Dr. Reiner Füllmich und Dr. Justus. P. Hoffmann
Erfahren Sie mehr über den Ausschuss: https://corona-ausschuss.de und
Telegram: https://t.me/s/Corona_Ausschuss
Haben Sie Fragen für den Untersuchungsausschuss? Können Sie als Zeugin oder Zeuge zur Aufklärung von Umständen beitragen? Können Sie als Expertin oder Experte Fachwissen beisteuern?
Schreiben Sie uns:
Anonyme Hinweise an den Corona-Ausschuss: https://securewhistleblower.com/ [Anmerkung d.R.: Dieser Dienst, der auf einem Server in der Schweiz gehostet ist, ist nicht wirklich sicher, verschlüsselt lediglich die Übertragung (nur mit SSH), nicht die Mitteilungen oder Anlagen selbst (d.h. Servermanager oder Hacker finden Klartext) und sollte keinesfalls ohne VPN oder TOR angesteuert werden. Dienste, die auf einem Server oder seiner "cloud" basieren, speichern die Meta-Daten des Senders etc. - Read: https://ecoterra.info/index.php/de/about - you can contact us for advise how to transmit very sensitive material.]
Wer Hintergrundinfos / Insiderwissen zum Thema "Corona und die Rolle der Medien" hat bitte per E-Mail an
Sie können unsere Arbeit mit einer Spende unterstützen. Spendenbescheinigungen können wir derzeit leider noch nicht ausstellen.
NEUE BANKVERBINDUNG: Treuhandkonto von Rechtsanwalt Dr. Reiner Füllmich - Verwendungszweck: "Spende Corona-Ausschuss" IBAN: DE06 3701 0050 0989 9305 04 - BIC: PBNKDEFFXXX
===

Die Corona-Krise hat die Menschen auf der ganzen Welt hart getroffen. Ganz besonders den Unternehmen wurden bereits mit den ersten Einschränkungen "das Wasser abgedreht". Gerade für viele Kleinstbetriebe, kleinere und mittlere Unternehmen muss daher rasch eine Lösung her und die heißt Schadenersatz.
Rechtsanwalt
Marcel Templin
Kreuzbergstraße 72, D-10965 Berlin
https://www.corona-schadensersatzklage.de
===
Die Filmemacher von OVALmedia haben diese live-Übertragen ohne Budget umgesetzt. Wir produzieren zudem einen Kinofilm zur Coronakrise.
Ihr könnt uns unterstützen, z.B. über das Crowdfunding, siehe www.corona.film, oder auf dem direkten Weg: Bank transfer: OVALmedia Berlin GmbH Volksbank Lippstadt IBAN: DE82416601240017170703 Paypal: OVALmedia Berlin GmbH https://www.paypal.me/ovalmediaberlin Bitcoin (primary address) bc1q7xfc7ppuw5jwz77sy29txy0efwqnpxw70swgy6 Monero (primary address) 4ATT5z6TgvR6aH9HsPjjLENB6wMaF36aMYwFs2N6sXXWfMZpgz5Vs2GNBrtLAJxVdZEPnvRiF4c56R1k2pfGEvvfFfBztpn
===
Corona Committee of Inquiry Seeks the Truth
By SCA - 01. Juli 2020
We want to investigate why the federal and state governments have imposed unprecedented restrictions and what consequences they had for people. We support scientific studies in this field.
In Germany, coronavirus activity is almost at a standstill. A large number of studies have shown that lethality and mortality are similar to influenza. Throughout the entire coronavirus measures, the German health care system was never overwhelmed.

However, the government's coronavirus interventions, which were imposed in a great panic, have caused massive social, psychological, health, cultural and economic collateral damage.
This is becoming increasingly clear and is in particular due to the lockdown. We are seeing millions of additional unemployed and short-time workers, companies in bankruptcy, excess mortality among the isolated elderly, reduced health care services for the general public due to a large number of postponed operations and a lack of doctors visits due to fear, an increase in suicides, a large elevation of child abuse cases, general traumatisation and "new" anxiety-ridden social behaviour.
Many basic rights have been restricted as a result of hastily enforced legal changes. Due to the new legislation, the federal and state governments are authorized to restrict civil rights beyond the end of this pandemic. Furthermore, democratic processes have been shortened and suspended (e.g. postponed elections). Our liberal democratic structures have been changed. Democracy has thus suffered great damage. Many people feel that the measures taken were degrading and discouraging.

Now that the virus panic has abated, it is time for an objective and unsparing analysis of the overall events, including the state crisis management of the German federal and state governments. Among other things, this will allow us to be better prepared for future pandemics, für the purpose of structured pandemic preparedness. This also includes an (interim) assessment of the damage that has occurred, which must be assigned to the virus or the prescribed measures in each case.
Time is of the essence as there is always a chance that a virus event and/or suboptimal crisis management could potentially lead to avoidable damage and victims.
It is nonviable to wait for the establishment of a parliamentary committee of inquiry, since experience has shown this needs a longer lead time. Therefore, the Foundation is now setting up its own Coronavirus Committee of Inquiry. Over a period of four to six weeks starting shortly, this committee will hear experts and witnesses in weekly meetings on a wide range of issues concerning the virus, the crisis management and the consequences. In particular, the collateral damage of the lockdown, which has not yet been evaluated in detail, will be examined in greater detail.
Our committee of inquiry will commence its work shortly. All meetings will be live-streamed.
The sessions will be streamed live and remain available as recordings. Citizens will be invited to participate in the discussion through contributions in the chat and by e-mail. The commission's findings will be presented to the public.

The Executive Board and the Advisory Board are composed exclusively of persons who are committed to the principles of scientific evidence and who are willing to conduct an objective discussion on the various topics without personal, scientific or economic conflicts of interest. Further experts from science and practice support the search for answers.
Our work
The Corona committe of inquiry was founded by four lawyers. It carries out impartial and independentinvestigations into the corona crisis. The committee isrepresented by the attorneys at law Viviane Fischer, Antonia Fischer, Dr. Reiner Füllmich und Dr. Justus. P. Hoffmann.
Read more about the work at: https://corona-ausschuss.de and
Telegram: https://t.me/s/Corona_Ausschuss
Please follow on the official YouTube Channel
Doyou have questions for the committee of inquiry? Can you serve as witness to shed light concerning the situation and circumstances on the corona cisis? Can you contribute your knowlege as expert in any of the fields concered?
Anonymous information should be sent via: https://securewhistleblower.com/ [N.B.: This service, hostet on a server in Switzerland is not really secure, encrypts only the transmisstion (just using SSH), not the message or attachments (i.e. server-manager or hacker find the clear text) and it should in any case never be accessed without VPN or TOR. Services that arebsed on a server or its cloud also log and store meta-data of the sender etc. - Read: https://ecoterra.info/index.php/de/about - you can contact us for advise concerning very sensitive material that you need to send to the commission of inquiry.]
Anyone with specific knowledge or insider informationon the topic "Corona and the Role of the Media", please write to
Kindly support our work with a donation. At present we can not yet issue tax-eductible receipts. Bank details: Treuhandkonto von Rechtsanwalt Dr. Reiner Füllmich Verwendungszweck: "Spende Corona-Ausschuss" IBAN: DE06 3701 0050 0989 9305 04 - BIC: PBNKDEFFXXX
===
The main language of the site is English - Go to: https://www.translatetheweb.com/ or click for Spanish, German, Dutch, Danish, French translations or e.g. for German to English - Note: Translations may take a moment to load.
===
Mostly in German Language:
SESSIONS & FACTS BY THE CORONA COMMISSION OF INQUIRY OF THE SCA
Sondersitzung / Special Session - International Legal Offensive - Part 2 (English, Deutsch)
CORONA UNTERSUCHUNG TAG 50 - Solidarity!
Sondersitzung / Special Session - International Legal Offensive - Part 1 (English, Español, Deutsch)
CORONA UNTERSUCHUNG TAG 49 - The Oath of Disclosure
CORONA UNTERSUCHUNG TAG 48 - Of Lionesses and Lions
CORONA UNTERSUCHUNG TAG 47 - Expose & Tackle
CORONA UNTERSUCHUNG TAG 46 - Fear Is Curable
CORONA UNTERSUCHUNG TAG 45 - Can Arithmatics be a Sin?
CORONA UNTERSUCHUNG TAG 44 - The Roots of EVIL
CORONA UNTERSUCHUNG TAG 43 - Once Fascism and Back
CORONA UNTERSUCHUNG TAG 42 - The Systemic Crisis
CORONA UNTERSUCHUNG TAG 41 - Troy Is Everywhere (German / English)
CORONA UNTERSUCHUNG TAG 40 - The Great Recall (Part I German | Part II English)
CORONA UNTERSUCHUNG TAG 39 - The global context and the press: Russia, Sweden, Italy, etc.
CORONA UNTERSUCHUNG TAG 38 - Attack on the Human and Society
CORONA UNTERSUCHUNG TAG 37 - The Billing: Legal System and mRNA Technology
CORONA UNTERSUCHUNG TAG 36 - Is it a devil's stuff? - mRNA technology in sheep's clothing
CORONA UNTERSUCHUNG TAG 35 - Recht und Gesundheit / Lex et salutem - Der blinde Fleck
CORONA UNTERSUCHUNG TAG 35 - Law and Health - The Blind Spot
CORONA UNTERSUCHUNG TAG 34 - Those in the Dark You Can't See
CORONA UNTERSUCHUNG TAG 33 - The Closing Line 2020
CORONA UNTERSUCHUNG TAG 32 - The role of churches and religious communities in the Corona crisis
CORONA UNTERSUCHUNG TAG 31 - The Dam Breaks with Love
CORONA UNTERSUCHUNG TAG 30 - Under the Magnifying Glass
CORONA UNTERSUCHUNG TAG 29 - The Attack on Body and Soul
CORONA-KLAGE: Jetzt Geht Es Los ! - Lawsuit involving PCR, Drosten & Co. filed at HighCourt Berlin / Germany
CORONA UNTERSUCHUNG TAG 28 - The Sliding Slope
CORONA UNTERSUCHUNG TAG 27 - A Swiping Blow (mostly in English)
CORONA UNTERSUCHUNG TAG 26 - PCR-Test - the Dominoes fall
CORONA UNTERSUCHUNG TAG 25 - The danger of equalisation of our legal system, police violence and Attacks by private individuals
CORONA UNTERSUCHUNG TAG 24 - The strenght of our Immune-System and the Voices of the Children
CORONA UNTERSUCHUNG TAG 23 - Games and Reality& A look into the interna of a labour union
CORONA UNTERSUCHUNG TAG 22 - The Players: Drosten, Ferguson, Wieler, the Charité and the Role of TIB Molbiol
CORONA UNTERSUCHUNG TAG 21 - The Power of the Corporations and Corruption
CORONA UNTERSUCHUNG TAG 20 - Finance-System and Hartz IV-Regime
CORONA UNTERSUCHUNG TAG 19 - Risiks of Medical Treatment & Insights from the Schools
CORONA UNTERSUCHUNG TAG 18 - The Dangers of Corona Measures & Risks due to medical interventions
CORONA UNTERSUCHUNG TAG 17 - The Economy in the Grip of the Pandemic & The Corona Vaccination
CORONA UNTERSUCHUNG TAG 16 - The Corona-Counsel: Help to Self-Help concerning Masks, Tests and Quarantine
CORONA UNTERSUCHUNG TAG 15 - Hypnosis, Rituals, and ways out of the corona trauma crisis
SPECIAL SESSION with Robert F. Kennedy Jr. - The problems of vaccinations and the demonstration in Berlin (mostly English)
CORONA UNTERSUCHUNG TAG 14 - Astroturfing and the Berlin Demonstrations
CORONA UNTERSUCHUNG TAG 13 - SMEs in crisis, State Debt, Pandemic Sharks
CORONA UNTERSUCHUNG TAG 12 - Misincentives of the System - The Role of the Media II & MONEY TALKS II - The Plan to achieve compensation
CORONA UNTERSUCHUNG TAG 11 - Data Protection - 1mio Genomes, Health-ID, Tracking App / Legal System - Basics for measures, Violations of Basic Rights
CORONA UNTERSUCHUNG TAG 10 - The Dangers of the Virus, Treatment of the Disease, Is Vaccination a Solution?
CORONA UNTERSUCHUNG TAG 9 - The Role of the Media
CORONA UNTERSUCHUNG TAG 8 - USA - the view from inside & Present situation in Schweden, Frankreich, Italien, Ireland etc. (English/German)
CORONA UNTERSUCHUNG TAG 7 - The Masks - Protection or Danger? & Present situation in Schweden, Frankreich, Italien, Netherlands etc. (English/German)
CORONA UNTERSUCHUNG TAG 6 - The Situation of the Children - SCA hears Psychologists or Children
CORONA UNTERSUCHUNG TAG 5 - The Situation of the Small Entrepreneurs and the Self-employed & Intermediate Report & MONEY TALKS I
CORONA UNTERSUCHUNG TAG 4 - The Drosten-Test, Immunity and the second wave
CORONA UNTERSUCHUNG TAG 3 - Bergamo - what happened there? with Top-Experts from Italy
CORONA UNTERSUCHUNG TAG 2 - The situation of the elderly in the care homes
CORONA UNTERSUCHUNG TAG 1 - Workplan of the commission, focal points of the inquiry & The Swineflu Pandemic
Corona Commission of Inquiry starts its work - International Media Event
===