EcoNews BASE - in a troubled world we still plant trees, protect nature and humanity for our common future !
Details
Who was Dr. Wilhelm Reich?
And Why Has History Tried So Hard To Erase Him?

By Jerry Morton - 13. March 2003 (*)
In the mid 1930s Dr. Reich began noticing an energetic connection that is shared by all living beings and had the clarity of mind to not dismiss the observation as unimportant. Dr. Reich called this energy "orgone" and worked for decades demonstrating its laws and studying its various manifestations.
His work encompassed 40 years within six countries, but in the end he suffered the indignity of seeing his life's work banned in America and tons of his books and journals burned by the U.S. Food and Drug Administration per bureaucratic decree.
Details
Details
and it is very very very beautiful!
by Alan Cohen (*) - 18. June 2002
When a woman in a certain traditional African community knows she is pregnant, she goes out into the wilderness with a few friends and together they pray and meditate until they hear the song of the child. They recognize that every soul has its own vibration that expresses its unique flavor and purpose. When the women attune to the song, they sing it out loud. Then they return to their clan and teach it to everyone else.
When the child is born, the community gathers and sings the child's song to him or her.
Details
By Ahmad Fani - Fall 2011
In 1994 I went to Canada, and 1997 they accepted me as a refugee. Not knowing what was awaiting me, I thought that all my problems were over, and I was going to live a happy life. Somehow for six to seven years my life went on as I was expecting, studying, working, and so on. In March 2001 the perps which I believe are CIA and the CISS of Canada agents targeted me for the first time when I was living in Toronto, Ontario and that was the beginning of most horrible era of my life.
First I was not sure what was going on, but it started with horrendous nightmares every night; then I realized some people that were following me around, residing beside my apartment and coming to my work place before that happened were CISS and CIA agents. After that I moved around, and every 5 to 6 months I changed my apartment, but they always targeted me, and I only was able to run from them whenever I was not sleeping in my car or in my apartment. But from 2005 they never lost me for one minute, and that was when the horrible tortures started.
They were directing sharp microwaves at my head that I had to remain still and could do nothing. I wrote a letter to Paul Martin Prime Minister of Canada at the time and sent copies to my doctor and UNHCR but it reached nowhere. Later they increased the torture by directing sharp microwaves at my eyes and ears. It was absolutely unbearable; my eyes were turning red full of blood and I lost almost 1.5 visual acuity of my sight causing my eyesight to reduce to 20/12 approximately, necessitating my having to get glasses. At that time I was working for a pizza store as a supervisor and I found it impossible for me to continue my work there or live in Canada.
Details
EARTH JURISPRUDENCE
An Essay (Draft July 2001)
By
Mike Bell
Inukshuk Management Consultants
Yellowknife, Northwest Territories, X1A 1G3
Phone: (867) 873-5042 Fax: (867) 873-9169
Email:
PROLOGUE
Many people around the world today are deeply concerned about the decline of the planet, its eco-systems and its species-- and on a smaller scale, the deterioration of their local environments and bio-regions. Frustrated at the slow pace of public education and consciousness raising efforts, they see their respective legal systems as "courts of last resort." "We can write stronger laws," they think, "and we can force those who are destroying our planet and damaging our environments to change their ways."
Details
Seven Fires Prophecy of the Anishnabe People and the Process of Reconciliation
By Tom Dostou - 11. July 2000
The Seven Fires Prophecy of the Anishnabe is spiritually encoded in the Wampum Belt.
The belt is sewn with thousands of tiny, polished, cylindrical purple and white sea shell beads woven together with leather strips.
This Wampum Belt has been handed down among the Algonquin for hundreds of years. It has seven Diamonds which represent the Seven Fires.
Grandfather Commanda and other Traditional Leaders believe that we have entered the time of the Seventh Fire, which is the time of decision between the two roads of materialism and of spirituality.
Read more: Seven Fires Prophecy and Process of Reconciliation
Details
WEST's HANDS DIRTY IN EAST TIMOR
By Matthew Jardine (*) - IPS - 01. February 2000
VENICE, CALIFORNIA, JAN (IPS) - ''You cannot deal with the future unless you also come to terms with the past.'' US Ambassador to the United Nations Richard Holbrooke intended these words for his Indonesian hosts before his visit last November to East Timor. But they could as easily pertain to the obligations of the US and other Western countries toward the soon-to-be independent East Timor.
Without a doubt Holbrooke's call for accountability was appropriately levelled at Jakarta. The Indonesian military and its paramilitary allies devastated East Timor in September in the aftermath of the United Nations-run vote on the territory's political future, destroying the vast majority of the country's buildings and infrastructure, and killing untold numbers.
And although the United Nations has assumed political and military control of the territory, many problems remain. As Human Rights Watch reported in mid-December, for example, upwards of 110,000 East Timorese remain virtual prisoners in paramilitary- controlled camps in Indonesian West Timor. The recent discovery of two more mass graves in East Timor only serves to reinforce the importance of Holbrooke's message.
Details
UPDATE 23. January 2020: The Boer War Genocide: Inside History's First Concentration Camps + PICTURE GALLERY
The Boer War Remembered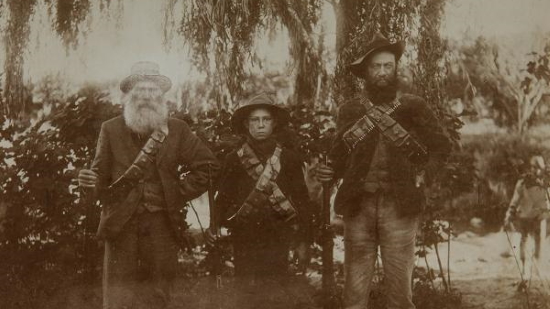 By Mark Weber - 01. May 1999
The Anglo-Boer War of 1899-1902 was more than the first major military clash of the 20th century.
Pitting as it did the might of the globe-girdling British Empire, backed by international finance, against a small pioneering nation of independent-minded farmers, ranchers and merchants in southern Africa who lived by the Bible and the rifle, its legacy continues to resonate today. The Boers' recourse to irregular warfare, and Britain's response in herding a hundred thousand women and children into concentration camps foreshadowed the horrors of guerilla warfare and mass detention of innocents that have become emblematic of the 20th century.
Read more: The Anglo-Boer War of 1899-1902 in Southern Africa
Details
This article was first presented by Moses and Rikha Havini to the UN International Conference on Indigenous Peoples, Environment and Development, Zurich, 1995. It has been sub-edited and slightly abridged with the approval of the authors.

Young freedom fighter from the Bougainville Revolutionary Army
with home made shotgun stands guard over the Panguna copper mine.
photo: Francis O'Neill, April 1994
Details
UPDATE:
ECOTERRA Intl. spoke with a source, who stated: "Klaus confided to me in March 1994 that he had observed large movements of weapons and ammunitions and Tutsi looking soldiers crossing from Uganda through Mga Hinga National Park into Rwanda. Klaus knew that 'they' didn't want him there and feared for his life, but he had dedicated his work to the protection of the gorillas and their habitat and said he wouldn't give up. He had reached out to other international protection ecologists, because his German sponsors were suddenly pulling the plug, and one of them was subjected to three assassination attempts in Uganda in the months before Klaus was hit. Luckily that other nature defender could escape - injured but alive. Klaus was not fighting against the indigenous Twa people, whose biggest oppressor are cruel racist circles in the government of Uganda, where a minister publicly stated that the Twa are of less value than any wildlife - Klaus resisted against the USAmerican agents and their machinations, who worked with these Ugandans under President Museveni, himself a Tutsi, who allowed the Americans to train and equip Tutsi commandoes inside Uganda and to deploy them across the border prior to the genocide."
On 6 April 1994, an aeroplane carrying Rwanda's President Habyarimana and Burundian President Cyprien Ntaryamira, both Hutu, was shot down on its descent into Kigali. Genocidal killings began the following day. Soldiers, police, and militia quickly executed key Tutsi and moderate Hutu military and political leaders who could have assumed control. From 7 April to mid-July 1994 up to around 1,000,000 Rwandans, including 10,000 of the persisting population of 30,000 Twa forest people, were killed and since then the Tutsi are in power.
And in Uganda the Gorillas left Magahinga in 2011.
For a Fist Full of Dollars ... the Mysterious Death of the Gorilla Conservationist Klaus-Jürgen Sucker
By Ulrich Karlowski
"Although this final report should be viewed with consideration to the fact that my involvement in the MGNP (Mgahinga Gorilla National Park) was prematurely terminated, the goals of the project, i.e. to establish a functioning national park and to improve the protection of the local flora and fauna, were successfully met. To install another person to continue the project is unrealistic and of high risk, particularly in view of the possible motives for my transfer. Unfortunately, the remaining time available to me before my transfer on August 1, 1994, does not permit me to travel to Germany right now to personally inform you of the current situation. I will undertake everything in my power to personally get in touch with you as soon as possible."
These are Klaus-Jürgen Sucker's concluding lines in his final letter to the Deutscher Tierschutzbund dated June 15. The letter arrived after his death.
[Ed.: KJS was assassinated on † 20. Juni 1994 in his place at Kisoro, Uganda]
Never-ending Investigations?
Details
Gorilla Journal 2/1994
In the 1/94 issue of the Gorilla Journal, we already relayed the sad news of the death of Klaus- Jürgen Sucker, the leader of the Mgahinga Gorilla National Park Project and long-standing member of Bergorilla & Regenwald Direkthilfe (BRD). The following report gives an overview of Klaus-Jürgen Sucker's life and work, which he devoted to the mountain gorillas and their environment, and examines the facts so far known to us concerning his as yet unexplained death.
On 20 June 1994 Klaus-Jürgen Sucker was found strangled in his house in Kisoro by his housekeeper. The 37-year-old leader of the Mgahinga Gorilla National Park Project in Uganda, which was created by the BRD and the Deutscher Tierschutzbund (German Animal Protection Society), was dead. The authorities gave suicide as the cause of death. However, there are many indications that Klaus-Jürgen Sucker was the victim of a crime. As a dedicated conservationist, he had many enemies, ranging from poachers and smugglers to the leaders of a developmental aid project who wanted to establish sustainable use projects in this small national park. With Klaus-Jürgen, they were dealing with someone whose first priority was the protection and conservation of fauna and flora and who acted accordingly.