UPDATES: Important new videos downunder!
- After Two Babies Died Just Minutes After Receiving It
By Lauren Ferri - DMAustralia - 08. July 2018

The Samoan government has ordered doctors to stop administering a vaccination protecting against the measles, mumps and rubella. The nation-wide halt was requested after two babies died minutes after receiving the MMR vaccination.

The babies were rushed to Safotu Hospital in Savai'i but couldn't be saved.

The first baby, a one-year-old girl, died within three minutes of being injected with the vaccine, TV1 Samoa reported.
Two hours later, a second family brought in their one-year-old boy to be vaccinated, but refused to go through with it after hearing about the earlier death.
The nurse allegedly injected the boy without the parents' consent and he died within one minute.

An immediate withdrawal of the vaccine was ordered by Ministry of Health CEO Dr Take Naseri.

A forensic autopsy on the two babies has also been requested. Their deaths are being investigated by police.

Prime Minister Tuilaepa Lupesoliai Dr. Sailele Malielegaoi expressed his condolences to the families via Facebook.

'There are already processes that will determine if negligence is a factor. And if so, rest assured those processes will be implemented to the letter to ensure that such a tragedy will not be repeated and those responsible will be made to answer,' he said.

'Providing quality health care for our people remains a key government priority.'
The Samoan government has pulled the MMR vaccine throughout the entire country following the tragic deaths (stock image)


STATEMENT FROM THE PRIME MINISTER
The following is a statement issued by Prime Minister Tuilaepa Lupesoliai Dr. Sailele Malielegaoi today in response to reports that two young babies died over the weekend in Savaii after being administered with immunization vaccination.
"I have not been fully briefed concerning the circumstances leading up to the death of the two innocent young children who passed away reportedly after the young boy and girl were administered vaccination injections at a District Hospital in Savai'i last Friday. But it will not detain me from reiterating a message of sympathy and condolences to the parents and families.
Death leaves a heartache no one can heal. And I can imagine that there is no pain more far reaching and deeper than losing a child. My heart and prayers go out to the grieving families at this most difficult time. To that effect, I humbly extend my deepest sympathy, condolences and pray that comfort and peace will come to them.
As a grandfather and father, I can relate to the grief by the families for their loss.
I also almost lost one of my grandsons several years ago under similar circumstances.
But with the Grace of our Father in Heaven, my grandson survived with the proper treatment. But he will never be the same as he has lost the ability to speak.
As Prime Minister, I have called a full inquiry into the circumstances leading up to this devastating incident which I do not take lightly.
There are already processes that will determine if negligence is a factor. And if so, rest assured those processes will be implemented to the letter to ensure that such a tragedy will not be repeated and those responsible will be made to answer.
The deaths also reaffirm the desires behind the government to proceed with the merger between the National Health Services and the Ministry of Health at full speed. When completed, the merge will ensure that incidents of this nature will not be repeated. It is a message to our people that deaths of the two young infants are not in vain.
Providing quality health care for our people remains a key government priority.
To that end, we have just inked a partnership with medical specialists from India ranked as the best medical practitioners in the world to start the second phase of our engagement which will see specialists from India performing state of the art surgeries in Samoa. Six other medical specialists from the People's Republic of China will soon join our medical staff to share their wealth of experience.
When it comes to the Health Sector, government does not and will not put a price tag on saving our peoples lives. This is reflected by government's resolve to provide the best and latest lifesaving treatment available for our people. For the government it is not just an obligation but a given.
Again, I extend my sincere condolences to the grieving parents and relatives.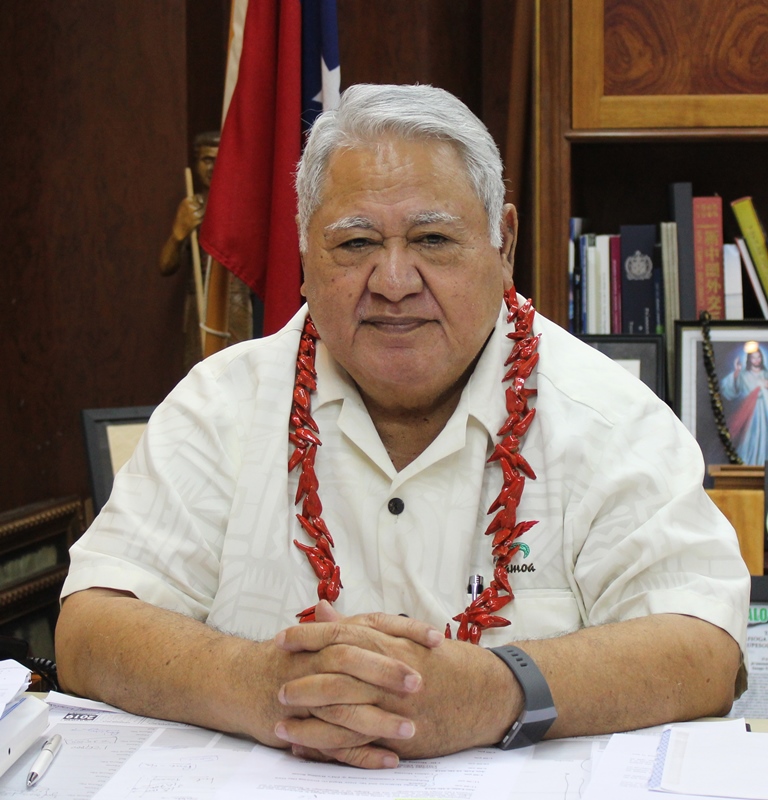 Prime Minister Tuilaepa Lupesoliai Dr. Sailele Malielegaoi - Government of Samoa
READ ALSO:
As a medical journalist and producer for national TV programs such as Dr. Phil and The Doctors, Del Bigtree's career took a dramatic turn when he learned of the coverup of a study revealing a causal link between the MMR vaccine and autism, as exposed by the Center for Disease Control (CDC) whistleblower Dr. William Thompson.
In his recent testimony given to the International Tribunal for Natural Justice, Del reveals what he discovered through subsequent forensic investigation into vaccine safety, and his ongoing campaign for legitimate scientific testing. Despite the never-ending claims of scientific evidence from the vaccine industry, in reality nobody is presenting any science but merely repeating claims about the science.
Currently in the US, a country with arguably the best doctors and medical facilities in the world, one in six children has a developmental disability, while a shocking 54 percent have a chronic illness. Diseases such as ADD, Autism, Anxiety, Asthma, Depression, and Diabetes are at epidemic levels, and for the first time in history the national IQ is in decline, yet the CDC refuses to fund studies into vaccines as a causal factor.
Perhaps even more shocking is the rate of babies dying on their first day of life: 50 percent higher in the US than in any other developed nation. Yet it remains unquestioned that the US is also the only country where babies are vaccinated the very day they are born.
Del Bigtree is one of the preeminent voices of the vaccine risk awareness movement. His non-profit organisation, Informed Consent Action Network (ICAN)
is leading worldwide investigations into drug and vaccine fraud and has already resulted in two winning lawsuits against US government agencies; Health and Human Services and the National Institute of Health.
Del Bigtree, testified on June 23, 2019 before the ITNJ Commission of Inquiry into Weaponisation of the Biosphere.
The global vaccine lobby is the largest and most powerful of all lobbies, with a revolving door policy operating between the pharmaceutical companies and their regulating bodies. As the list of vaccines being added to the schedule grows with alarming frequency, and with forced vaccines for adults looming large as the REAL hidden agenda, we are greatly indebted to Del Bigtree for the risks he takes in refusing to remain silent at this crucial time when our very survival is under threat.
===
Interestingly and actually sadly, shortly after that batch of MMR vaccines was withdrawn, Samoa was hit with an increase in measles cases and 60 children did. Coincidence or plan? Nobody has really investigated apart from one blamegame, which tried to establish that nurses had used a wrong dilutant.
AND THEREAFTER:
The mass immunisation drive has now increased vaccine coverage to 90 percent from 30 percent when the epidemic began.
Meanwhile counter-narratives are being published:
Published by Steven Novella
I know this is old news – or at least it should be – but it bears repeating, especially as we are in the midst of a resurgence of measles. There is no link between the mumps, measles, and rubella vaccine (MMR) and autism, or any neurological disorder. A new study confirms this lack of association. This should go a long way to reassure the vaccine hesitant that the MMR vaccine at least is safe and should not be avoided.
This is a Danish study, and the largest study of the MMR vaccine and autism to date – "657,461 children born in Denmark from 1999 through 31 December 2010, with follow-up from 1 year of age and through 31 August 2013." They found:
During 5,025,754 person-years of follow-up, 6517 children were diagnosed with autism (incidence rate, 129.7 per 100,000 person-years). Comparing MMR-vaccinated with MMR-unvaccinated children yielded a fully adjusted autism hazard ratio of 0.93 (95% CI, 0.85 to 1.02). Similarly, no increased risk for autism after MMR vaccination was consistently observed in subgroups of children defined according to sibling history of autism, autism risk factors (based on a disease risk score) or other childhood vaccinations, or during specified time periods after vaccination.
Overall there was no association between getting the MMR vaccine and later being diagnosed with autism. Further, there was no correlation when looking specifically at children who have a sibling with autism, and therefore might constitute a susceptible subpopulation. Further still, there was no clustering of autism diagnosis following the MMR vaccine administration, as might be expected if there was a causal link. This is a very large study with an adequate study design, so that if there were any increased risk of developing autism from the MMR vaccine we should be seeing it in this data – and we don't.
We were already there with existing data. We now have many studies in many different countries showing no correlation between the MMR and autism. The new data is really beating a dead horse, which is fine when showing a lack of a risk. You can never prove a zero risk, only set limits on how high a risk can be. So the more data we collect, the closer we push any remaining possible risk toward zero. Adding a new massive study to the MMR data is therefore welcome.
It's also worth pointing out that there was never any reason to suspect that the MMR could cause autism or that there was any correlation. Fears were largely triggered by Andrew Wakefield's fraudulent and now retracted study from 1998. Even at that time the evidence was leaning against an association, and the study inspired a new round of research which not only failed to replicated Wakefield's findings, they clearly showed that the alleged link does not exist.
Of course antivaxxers are never deterred by reality. As with any pseudoscientific group, when their claims collapse they simply migrate over to a new claim, without ever admitting error or truly giving up on the original claim. They never admitted error with MMR, and will resurrect their fearmongering about it when they feel they can.
After MMR their big focus became thimerosal, which is a vaccine preservative in some vaccines (it was never in the MMR) that contains a small amount of ethylmercury. Again, there was never any reason to suspect that thimerosal caused any health problems, let alone autism. All the antivaxxers had was a general trend of increasing vaccine schedule and increasing diagnosis rates of autism happening at the same time (along, of course, with countless other things – see spurious correlations for examples). But again, scientists are happy to investigate any potential risk, especially to reassure the public.
Two decades of subsequent research has shown no correlation between vaccines in general or thimerosal specifically and autism or any neurodevelopmental disorder. Further, out of an abundance of caution and to limit total human exposure to mercury, thimerosal was removed from the routine vaccine schedule in the US in 2002. At the time antivaxxers predicted that autism rates would plummet – they never did. They kept trying to push back the time, saying that pediatricians still had stockpiles of old vaccine with thimerosal (even long past their shelf life). Claims kept getting more an more bizarre – the mercury in vaccines is being exactly replaced by mercury from coal burning, or the tiny dose in some flu vaccines (also on the wane) is enough to cause the full harmful effect (so – no dose response curve, even though that was the very basis of their original claims).
So here we are, 17 years later, thimerosal in the routine vaccine schedule is a distant memory, there is barely any in a shrinking subset of flu vaccines, and autism rates continue to rise – although they are starting to level off (which is what scientists predicted – at some point the diagnosis rates will start to match the true rates).
On that last point – the incidence of autism diagnoses has increased, but the evidence is pretty clear that this is due to an expanded diagnosis and increased efforts to diagnose autism, plus some diagnostic substitution. In fact, when consistent methods are used to estimate the true incidence of autism, the rates have been steady for the last two decades.
After the death of the MMR hypothesis, and the death of the thimerosal hypothesis, antivaxxers did not give up. They never do, because they are ideologues. For them it is always and forever about the vaccines. So they just move on to new claims, or just make vague claims about "toxins" without getting specific.
But for those who are interested in the science, the results are pretty clear. This new study adds to the pile showing that vaccines are safe and effective. What is a real hazard is misinformation about vaccines, causing well-meaning parents to avoid them, putting their children and society at risk for once-eliminated diseases. We all pay the price.
"All vaccines are safe and never fail!" - is the going song.
HOWEVER - and for eternity saved here - read what CDC had to admit in 1989:
"More than half of measles cases occurred among appropriately vaccinated children 5-19 years of age. Primary vaccine failure (rather than waning of vaccine-induced immunity) may be the major reason for the occurrence of measles in this group."
Reference:
During the first 26 weeks of 1989, local and state health departments reported a provisional total of 7335 measles cases to CDC--a 380% increase over the 1529 cases reported for the same period in 1988; at least 10 measles-associated deaths were also reported. In addition, another 30 suspected measles-associated fatalities are being investigated by local and state health departments and CDC. Forty states and the District of Columbia reported cases, compared with 36 states for the first 26 weeks of 1988. During the 1989 period, the incidence rate was 3.0 cases per 100,000 population--five times the rate of 0.6 per 100,000 for the same period in 1988 and more than double the rate for all of 1988 (1.4 per 100,000) (1).
Thirteen states reported at least 100 cases and accounted for 6588 (89.8%) of all reported cases: Texas (2764), California (1189), Ohio (661), Illinois (489), New Jersey (271), Missouri (237), New York (193), North Carolina (167), Pennsylvania (147), Connecticut (146), Nebraska (110), Kansas (108), and Oklahoma (106). Incidence rates of greater than 4.0 per 100,000 population occurred in Texas (16.4), Delaware (8.9), Nebraska (6.9), Ohio (6.1), Missouri (4.6), Connecticut (4.5), Kansas (4.3), Illinois (4.2), California (4.2), and Rhode Island (4.1).
For 6880 (94%) cases, more detailed information was collected by CDC. Of these, 6373 (92.6%) met the clinical case definition for measles,* and 1775 (25.8%) were serologically confirmed.
Consistent with the usual seasonal pattern, most of the 6880 cases occurred from March through May (weeks 9-19). Ninety-three (1.4%) cases were imported from other countries; an additional 157 (2.3%) cases were epidemiologically linked to imported cases.
One hundred twenty-eight outbreaks involving five or more persons were reported and accounted for 78.8% of the 6880 cases. Almost half the cases occurred in outbreaks involving greater than or equal to 100 persons. The three largest outbreaks occurred in Houston, Los Angeles, and Chicago and accounted for 31.9% of the 6880 cases. Twenty percent of all cases were reported from the outbreak in Houston.
Detailed information on age was provided for 6873 (99.9%) cases (Table 1). Children less than 5 years of age accounted for 30.2% of measles cases, compared with 19.4% during the same period in 1988. Of this group, 664 (32.0%) were less than 1 year of age. School-aged children (5-19-year-olds) accounted for 51.1% of cases in 1989 but for 66.2% of cases in 1988. The incidence rates for all age groups were higher in 1989 than in 1988; the highest were for 0-4-year-olds (11.3 per 100,000) and 15-19-year-olds (11.2 per 100,000).
Complications were reported in 672 (9.8%) cases, including otitis media in 318 (4.6%) cases, pneumonia in 178 (2.6%), diarrhea in 171 (2.5%), and encephalitis in five (0.1%). Nine hundred thirteen patients (13.3%) were hospitalized, and 10 measles-associated fatalities were reported (case-fatality rate: 1.5 deaths per 1000 reported cases). Eight of the deaths were reported in children less than 5 years of age, all of whom were unvaccinated. None had a reported underlying illness or immunodeficiency. Most deaths have been attributed to pneumonia.
The setting of transmission was reported for 4057 (59.0%) cases: 1899 (46.8%) persons acquired measles in primary or secondary schools; 796 (19.6%) in colleges or universities; 627 (15.5%) at home; 248 (6.1%) in medical settings; 89 (2.2%) in day-care centers; and 398 (9.8%) in other settings, including work, church, and the military. The number of cases occurring in colleges and universities was 60.7% higher than those from the same period in 1988.
A total of 3520 (51.2%) measles patients had been vaccinated on or after their first birthday, including 1298 (18.9%) who had been vaccinated between the ages of 12 and 14 months; 3340 (48.5%) were unvaccinated or vaccinated before their first birthday. Of the 6873 patients for whom age information was provided, 3512 (51.1%) were school-aged children, 2830 (80.6%) of whom had been appropriately vaccinated. As in 1988, most vaccine failures occurred in 12-19-year-olds (Figure 1), and children less than 2 years old were most affected. Measles occurred in 1261 (18.3%) persons for whom vaccine was not routinely indicated, and 226 (3.3%) were unvaccinated for other reasons. Of those unvaccinated, vaccine would have been routinely indicated for 1853 (55.5% (26.9% of total)) (Table 2). The percentage of cases in unvaccinated persons for whom vaccination was indicated varied by age group. Most occurred among children 16 months to 4 years of age (64.7%) and among persons greater than or equal to 20 years of age (52.9%). Reported by: Div of Immunization, Center for Prevention Svcs, CDC.
Editorial Note
Editorial Note: In 1989, measles outbreaks have involved previously vaccinated school-aged children and college students, as well as unvaccinated urban preschoolers who are predominantly black and Hispanic (2). Large outbreaks involving minority populations are continuing in Houston, Los Angeles, and Chicago. Aggressive outbreak-control strategies aimed toward reaching inner-city children have been implemented and include intensified surveillance, door-to-door vaccination in high-risk communities, emergency department vaccination clinics, and lowering of the recommended age for vaccination to 6 months during outbreaks, with revaccination at 15 months.
The increased incidence of measles in preschoolers living in densely populated urban areas reflects low vaccination levels in these populations. While these children are generally well immunized by the time they enter school, immunization levels in some inner cities are as low as 49% in children 2 years of age (3). Many of these children receive intermittent health care and are less likely to be age-appropriately immunized with other antigens (4). Innovative efforts need to be directed toward reducing barriers to immunization services and toward full use of existing opportunities to vaccinate eligible children whenever they present for health care. This approach should increase opportunities for vaccine administration in highly susceptible populations and reduce transmission to infants too young for routine immunization.
Suboptimal vaccination also played a major role in measles incidence among adults: 53% of cases in adults greater than or equal to 20 years of age were in unvaccinated persons for whom vaccine was indicated. Many young adults may have missed immunization during the first years after vaccine licensure, may not have been immunized before the adoption of comprehensive state school laws, or may not have been infected naturally because of declining measles transmission.
In 1989, the number of measles-associated deaths and the case-fatality rate are higher than in any year since 1971 (CDC, unpublished data). The reason for this increase is not known but could be associated with underreporting of cases, resulting in spuriously high case-fatality rates.
More than half of measles cases occurred among appropriately vaccinated children 5-19 years of age. Primary vaccine failure (rather than waning of vaccine-induced immunity) may be the major reason for the occurrence of measles in this group (5). To reduce the number of primary vaccine failure-related cases, the Immunization Practices Advisory Committee (ACIP) has recommended a routine two-dose measles vaccine schedule (6). The initial dose is to be administered to children at 15 months of age, except for children in high-risk areas for preschool transmission, who should be vaccinated at 12 months of age. The second dose is recommended at school entry (4-6 years of age), although localities can choose other ages, such as entry to middle school or junior high school. Both doses should generally be given as measles-mumps-rubella vaccine. In addition, ACIP recommends that colleges and other educational institutions require documentation of two doses of live measles vaccine or other evidence of measles immunity (i.e., prior physician diagnosis or laboratory evidence) for entering students born in or after 1957.
Two approaches to measles control and prevention are crucial until all localities can fully implement a two-dose schedule. The highest priority should always be given to assuring that susceptible persons receive at least one dose of vaccine. In addition, during an outbreak, localities should implement the new outbreak-control recommendations (6), which call for vaccination of all persons at risk (e.g., students attending schools where cases have occurred) who have not received two prior doses and have no other evidence of measles immunity. The ultimate goal, however, will be to implement a routine two-dose schedule in all communities.
References
CDC. Measles--United States, 1988. MMWR 1989;38:601-5.

CDC. Measles outbreak--Chicago, 1989. MMWR 1989;38:591-2.

CDC. Measles--Dade County, Florida. MMWR 1987;36:45-8.

Hutchins SS, Escolan J, Markowitz LE, et al. Measles outbreak among unvaccinated preschool-aged children: opportunities missed by health care providers to administer measles vaccine. Pediatrics 1989;83:369-74.

Markowitz LE, Preblud SR, Fine PEM, Orenstein, WA. Duration of live measles vaccine-induced immunity. Pediatr Infect Dis J (in press).

CDC. Measles prevention: recommendations of the Immunization Practices Advisory Committee (ACIP). MMWR 1989;38(no. S-9).
*Fever greater than or equal to 38.3 C (101 F), if measured, generalized rash lasting greater than or equal to 3 days, and at least one of the following: cough, coryza, or conjunctivitis.
Disclaimer All MMWR HTML documents published before January 1993 are electronic conversions from ASCII text into HTML. This conversion may have resulted in character translation or format errors in the HTML version. Users should not rely on this HTML document, but are referred to the original MMWR paper copy for the official text, figures, and tables. An original paper copy of this issue can be obtained from the Superintendent of Documents, U.S. Government Printing Office (GPO), Washington, DC 20402-9371; telephone: (202) 512-1800. Contact GPO for current prices.
Newsweek Op-Ed Absurdly Lies that Vaccination Entails No Health Risks
By Jeremy R. Hammond - 17. January 2019

This article was originally published at JeremyRHammond.com and has been used here with permission.
A Newsweek propaganda piece absurdly lies that vaccination entails no health risks -- and that anyone who knows better has no "faith in science"
here's a Newsweek opinion article making the rounds on social media this week that shamelessly lies to readers by communicating the message that getting vaccinated does not come with any health risks.
The very title of the piece reveals that it's nothing more than mindless vaccine propaganda: "The Anti Vaxxer Movement Is Growing—We Need to Restore Faith in Science".
"Anti Vaxxer", of course, is the media's derogatory label for anyone who dares to question public vaccine policy. Anytime you see this label being tossed out, you can know with 100% certainty that what you are reading is not a science-based discussion, but pure propaganda.
One would think that doing a modicum of research into why more and more people are refusing vaccines for themselves or their children would be a requirement for writing an article about it. But not when the purpose is to advocate public vaccine policy instead of properly informing the public so they can make a truly informed choice!
So, to fill anyone in who isn't already in the know: the problem is emphatically not that people are losing their faith in science. On the contrary, it's that they recognize that what public health officials and propaganda rags like Newsweek say science says about vaccines and what science actually says are two completely different and mutually incompatible things.
They recognize that, when it comes to vaccines, the mainstream media prefers to do public policy advocacy instead of journalism.
What the author, Barbara Rath, really means is that there is a need for public vaccine policy advocates to restore faith in public vaccine policy.
But she doesn't want to do that by doing the science and finding safer and more effective ways of preventing disease.
Instead, she wants to do that by straight up lying to people about vaccine safety.
We can see this by reading just the first two sentences of the article: "The anti-vaxx movement has been gaining momentum in countries across the globe. In a world of post truth politics, more and more parents are buying into the belief that vaccines come with health risks."
So there you have it. The implication, of course, is that vaccines don't come with health risks—which is an utterly stupid and recklessly irresponsible lie.
Seriously, how insulting to our intelligence can these pro-vaxxers—to borrow their derogatory label—be?
How stupid do they think we are?
Notice that, by definition, an "anti-vaxxer" is someone who believes that there are health risks associated with vaccination.
As an illustration of just how idiotic this article is, by that definition, the vaccine manufacturers themselves are "anti-vaxxers" since they include package inserts with all their vaccine products warning consumers of the known associated health risks.
For examples, Merck's product insert for its measles, mumps, and rubella (MMR) vaccine includes the following warnings:
For mothers, contraindications to vaccination include pregnancy, as "the possible effects of the vaccine on fetal development are unknown" since there are "no adequate studies" into that question. "However," Merck appropriately adds, "it would be prudent to assume that the vaccine strain of virus is also capable of inducing adverse fetal effects." The vaccine-strain mumps virus "has been shown to infect the placenta and fetus". Studies have shown that the vaccine-strain of rubella virus can be transmitted to infants through the breast milk. Whether this is also true of the measles and mumps viruses "is not known". Merck advises that "pregnancy should be avoided for 3 months following vaccination" and that "Caution should be exercised when M-M-R II is administered to a nursing woman." The vaccine also "has not been evaluated for carcinogenic or mutagenic potential, or potential to impair fertility." Among those who should not receive it are children who are hypersensitive to any of the vaccine's components, including gelatin and eggs, the latter because the live viruses are propagated in chick embryo cell cultures. The rubella portion of the vaccine is propagated in "human diploid lung fibroblasts"; specifically, WI-38 (ATCC®CCL-75TM), which contaminates the vaccine with human DNA from an aborted female fetus. (This has raised some concern over "ethical problems" at the Vatican; specifically about "cooperation in evil" and the "unjust" practice of forcing parents "to act against their conscience".) Another ingredient is "fetal bovine serum". Another is "recombinant human albumin"; specifically, Recombumin® Prime, a product of Novozyems Biopharma US Inc. This is a genetically engineered protein ("recombinant" means it was made by dicing and splicing genetic material). The product was developed because of concerns that using the blood protein albumin from humans or cattle carries the risk of blood-borne contaminants like mycoplasma, prions, or viruses. (This has happened. In March 2010, the rotavirus vaccine Rotarix, manufactured by GlaxoSmithKline, was found to have been contaminated with a pig virus after it was administered to a million children.) Possible adverse reactions to the vaccine include:

Snycope (fainting)
Dizziness
Vasculitis (a condition in which the immune system mistakenly attacks the blood vessels, causing inflammation that can lead to serious problems, including aneurysms)
Pancreatitis (inflammation of the pancreas that occurs when the digestive enzymes it produces begin digesting the pancreas itself)
Vomiting
Parotitis (inflammation of the parotid glands)
Nausea
Diabetes mellitus (diabetes)
Thrombocytopenia (a disorder in which there is an abnormally low amount of platelets, which help blood to clot)
Anaphylaxis (a life-threatening allergic reaction that can cause cardiac and respiratory arrest)
Arthritis (joint inflammation)
Arthralgia (joint pain)
Myalgia (muscle pain)
Encephalitis (inflammation of the brain, which can cause permanent brain damage or death)
Guillain-Barré syndrome (an autoimmune disorder in which the immune system attacks the peripheral nervous system, which can result in paralysis or death)
Febrile seizures (convulsions brought on by fever)
Afebrile seizures (convulsions without fever, which may indicate epilepsy)
Pneumonia
Measles-like rash
Death
But we're supposed to believe that anyone who knows that vaccination is a medical intervention entailing risk is somehow anti-science!
The insults to our intelligence don't stop there, of course. You can probably guess what the very next sentence in the Newsweek propaganda piece is about….
That's right, you guessed it! The supposedly "debunked" link between vaccines and autism! Rath writes, "Many still believe the MMR (measles, mumps and rubella) vaccine is linked with autism, despite numerous scientific studies debunking this myth."
Of course, "anti-vaxxer" parents know that the claim that science has disproven the hypothesis that vaccines can cause autism at least in a subpopulation of genetically susceptible individuals is a Big Lie.
The "anti-vaxxers" understand that, in reality, the number of studies examining the hypothesis that the CDC's routine childhood vaccine schedule might be contributing to the autism epidemic is zero.
Zero!
In fact, the body of studies the pro-vaxxers are referring to when they state their Big Lie has only considered one vaccine on the CDC's schedule (the MMR) and one vaccine ingredient (Thimerosal, which by weight is about half ethylmercury, a known neurotoxin).
"Anti-vaxxers" also understand that the hypothesis is not only biologically plausible, but that those studies weren't designed to test it.
Rath's motive is illuminated further down the page, where she opines that "Restoring trust in vaccines and immunization requires innovative solutions…."
Notice that she's dropped the pretense of restoring faith in science and just stated flatly that it's faith in public vaccine policy that she's really after—and these are two mutually incompatible aims.
She speaks of "the widening communication gap between patients and healthcare professionals."
There is indeed such a communication gap. This is because the patients are doing their own research and thinking for themselves and most healthcare professionals simply are not.
The most fundamental communication gap, though, is that between what the public is told science says and what science actually says.
Of course, the aim of this Newsweek article isn't to educate people about the science, but to advocate public vaccine policy. In fact, the whole purpose of the article is to promote a new mobile app developed by the Vienna Vaccine Safety Initiative, of which the author is co-founder and chair.
The app is called VaccApp, and as we can deduce from Rath's implicit lie that getting vaccinated doesn't come with any health risks, it isn't designed to properly inform people about the science, but only to give them information to persuade them to follow the CDC's vaccine recommendations.
In other words, we can glean from this Newsweek article that the VaccApp is less than worthless and you should not use it because it's obviously going to be an untrustworthy source for information about whether or not to vaccinate.
If you want to be able to make a truly informed choice about whether to vaccinate, you need to know what science really says, as opposed to what you're being told by mainstream propaganda outlets, who are just serving the function outlined by Edward Herman and Noam Chomsky in their book Manufacturing Consent. (That is, they are doing public policy advocacy to manufacture consent for the CDC's vaccine recommendations, not journalism.)
The simple fact of the matter, as this mindless Newsweek piece so amply demonstrates, is that there is no serious discussion of the vaccine issue in the mainstream media.
So, if you're not already on my mailing list, get real journalism on the vaccine issue by clicking here and entering your name and email address to sign up for my newsletter and download a free report explaining why the words "FDA approved" don't mean much especially when it comes to how vaccines get to market.
For additional research on over 200 adverse effects linked to vaccines in today's schedule, visit the GreenMedInfo Database on the subject.
Jeremy R. Hammond is an independent journalist and analyst, publisher and editor of Foreign Policy Journal, and author. To explore his other writings on the critically important topic of vaccines download his free report "5 Horrifying Facts about the FDA Vaccine Approval Process", click here to sign up for his newsletter.
Disclaimer: This article is not intended to provide medical advice, diagnosis or treatment. Views expressed here do not necessarily reflect those of GreenMedInfo or its staff.
IMPORTANT UPDATES:
Global Vaccine Safety Summit:
•Jan 14, 2020
DNA contaminated vaccines
•Aug 29, 2019