UPDATE 06. October 2020: 'Powers unseen since oil barons': Democrats threaten to BREAK UP Apple, Google, Amazon & Facebook, accusing Big Tech of monopolism
UPDATE 09. September 2019: Apart from the Evil, many Business Leaders are truly committed to the Principles of Corporate Governance and stick to them, but can we trust the signatories? In several cases clearly not.
World's top 5 'most evil' corporations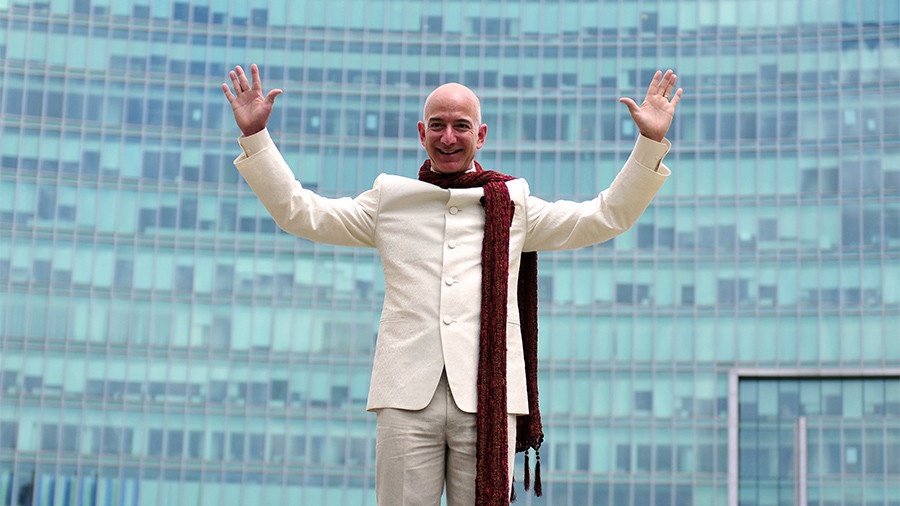 By RT - 03. March 2018
Jeff Bezos, founder and chief executive officer of Amazon, poses as he stands atop a supply truck during a photo opportunity at the premises of a shopping mall in the southern Indian city of Bangalore (Picture credit: © Abhishek N. Chinnappa© Reuters), but is he benevolent?
Most companies become successful thanks to their stellar reputations.
But not always. RT Business scraped the bottom of the barrel to find the most hated companies trending on the internet.
Monsanto
The company, now owned by BAYER, that needs no introduction, creator of DDT and Agent Orange, Monsanto is one the world's largest pesticide and GMO seed manufacturers. It is known for being the first company to genetically modify a seed to make it resistant to pesticides and herbicides. Monsanto's herbicides have been blamed for killing millions of crop acres, while its chemicals were added to blacklists of products causing cancer and many other health problems.
Apple
Once the darling of Microsoft-hating gadget lovers, Apple more recently has been accused of mistreating or underpaying their employees, hiding money offshore, and not paying taxes. It has also been accused of violating health or environmental legislation, and misusing its position where they have a monopoly in the market. And, oh yes, deliberately slowing older iPhones and overcharging for its products to boot.
Nestle
The world's largest food and beverage company Nestle says it is committed to enhancing quality of life and contributing to a healthier future. However, it has been dragged through numerous scandals involving slave labor. The multinational is one of the most boycotted corporations in the world, as violations of labor rights have been reported at its factories in different countries.
Philip Morris
The products of the American multinational cigarette and tobacco manufacturing company are sold in over 180 countries outside the United States. Philip Morris owns Marlboro, one of the world's biggest brands. Back in 1999, Philip Morris courted officials of the Czech Republic by explaining how smoking would in fact help their economy, due to the reduced healthcare costs from its citizens dying early.
McDonald's
American fast-food company McDonald's was founded in 1940. The company serves more customers each day than the entire population of Great Britain, but has a long history of terrible labor practices. It has been constantly under fire for serving unhealthy junk food, which contributes health problems. Researchers have found that McDonald's burgers cannot decompose on their own.
Notable mentions of corporations not quite evil enough to make the top list:

Goldman Sachs
JPMorgan Chase
ExxonMobil
Halliburton
British American Tobacco
Dow Chemical
DuPont
Bayer
Microsoft
Google
Facebook
Amazon
Walmart
===
UPDATES:
'Powers unseen since oil barons': Democrats threaten to BREAK UP Apple, Google, Amazon & Facebook, accusing Big Tech of monopolism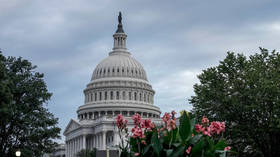 By RT - 06. October 2020
House Democrats are targeting Silicon Valley tech giants for antitrust action. US Capitol, October 2, 2020 file photo. © REUTERS/Ken Cedeno
House Democrats called for an overhaul of antitrust laws to break up Silicon Valley, comparing them to Gilded Age monopolies, even as tech giants backed their calls for increased speech policing ahead of the November election.
That's the main thrust of the 449-page report released on Tuesday by the majority on the House Judiciary Committee's antitrust subcommittee. It found that Google has an unfair monopoly on online searches, Facebook rules online advertising and social networking, Apple controls all software on iOS devices, and Amazon effectively monopolizes third-party sellers and many suppliers.
Big Tech used "killer acquisitions" to buy out rivals, forced small businesses into "oppressive"contracts and charged exorbitant fees because they could, the report argued.
To put it simply, companies that once were scrappy, underdog startups that challenged the status quo have become the kinds of monopolies we last saw in the era of oil barons and railroad tycoons.
Moreover, competing in the marketplaces of their own making created "a position that enables them to write one set of rules for others, while they play by another," the report added.
As proposed remedies, the Democrats want to give more money and power to the Federal Trade Commission and the Justice Department's Antitrust Division. They also want to eliminate arbitration and allow class-action suits.
Platforms would also be forced to offer "equal terms for equal products and services," rather than preferential treatment to their own, and be required to make their service compatible with competitors so users could transfer their data between them.
Breaking up the companies is also on the table. The report urges lawmakers to override "problematic precedents" in antitrust case law and review past mergers and acquisitions, such as Facebook's purchase of Instagram and WhatsApp.
Moreover, it wants to change the rules for future mergers to force companies to prove they would not harm competition, rather than making regulators prove that they would.
The recommendations come as no surprise, after the July hearing that featured virtual testimonies from the CEOs of the four Big Tech firms – Apple's Tim Cook, Amazon's Jeff Bezos, Facebook's Mark Zuckerberg, and Sundar Pichai of Alphabet, Google's parent company.
Questions from Democrats on the panel focused on the accusations of monopolistic behavior, while Republicans were more concerned about censorship.
This is reflected in Tuesday's report. While staff from both parties did the research on which it was based, the actual document was compiled only by the Democrats, led by Rep. David Cicilline (D-Rhode Island). No Republican has endorsed it.
The committee's ranking member, Rep. Jim Jordan (R-Ohio), described the report as containing "radical proposals that would refashion antitrust law in the vision of the far left."
Jordan is preparing a minority report in response. His colleague Ken Buck (R-Colorado) has already published his own, calling for "targeted antitrust enforcement" rather than "onerous and burdensome regulation" that would kill innovation.
The "presumption that success can only be the result of anti-competitive behavior is simply wrong,"an Amazon spokesperson said, after the Democrat report was made public. The company argued the proposals would hurt small businesses and customers alike.
Facebook has already preempted the report by leaking a 14-page memo to the media, arguing that it was so enmeshed with Instagram and WhatsApp – which it acquired in 2012 and 2014, respectively – that reversing the mergers would be "a complete nonstarter," costing billions and hurting user experiences.
There is little chance any of the recommendations in either report would translate into specific policy before the November 3 election, but the timing of their release may also figure into the electoral calculus. Republicans have criticized Silicon Valley giants for censoring conservative opinions, while Democrats have accused them of not censoring enough, insisting that the platforms – once praised for their reach and innovation – endangered American democracy by helping President Donald Trump bypass traditional media in 2016 and allegedly spread "misinformation" since.
In response, Big Tech has embarked on a campaign of "deplatforming" content the Democrats have labeled as "hate speech," while largely ignoring Republican criticism. While most Silicon Valley companies insist they aren't partisan, their staff donates overwhelmingly to Democrats. Amazon's Bezos also owns the Washington Post, a newspaper known for partisan coverage of the Trump administration.
READ ALSO:
Mark Zuckerberg is whining: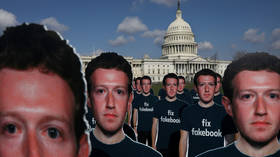 Separating Facebook from Instagram and WhatsApp would harm consumers, cost billions and defy US law, the social media giant argues in a memo leaked to the media ahead of a congressional report expected to advise otherwise.
===
Apart from the Evil, many Business Leaders are truly committed to the Principles of Corporate Governance and stick to them, but can we trust the signatories? In several cases clearly not.
09. September 2019
Those mentioned above just continue, while others undestood that the tide changes, and now stick to the promise:
Our Commitment
America's economic model, which is based on freedom, liberty and other enduring principles of our democracy, has raised standards of living for generations, while promoting competition, consumer choice and innovation. America's businesses have been a critical engine to its success.
Yet we know that many Americans are struggling. Too often hard work is not rewarded, and not enough is being done for workers to adjust to the rapid pace of change in the economy. If companies fail to recognize that the success of our system is dependent on inclusive long-term growth, many will raise legitimate questions about the role of large employers in our society.
With these concerns in mind, Business Roundtable is modernizing its principles on the role of a corporation.
Since 1978, Business Roundtable has periodically issued Principles of Corporate Governance that include language on the purpose of a corporation. Each version of that document issued since 1997 has stated that corporations exist principally to serve their shareholders. It has become clear that this language on corporate purpose does not accurately describe the ways in which we and our fellow CEOs endeavor every day to create value for all our stakeholders, whose long-term interests are inseparable.
We therefore provide the following Statement on the Purpose of a Corporation, which supersedes previous Business Roundtable statements and more accurately reflects our commitment to a free market economy that serves all Americans. This statement represents only one element of Business Roundtable's work to ensure more inclusive prosperity, and we are continuing to challenge ourselves to do more.
Just as we are committed to doing our part as corporate CEOs, we call on others to do their part as well. In particular, we urge leading investors to support companies that build long-term value by investing in their employees and communities.
Statement on the Purpose of a Corporation
Americans deserve an economy that allows each person to succeed through hard work and creativity and to lead a life of meaning and dignity. We believe the free-market system is the best means of generating good jobs, a strong and sustainable economy, innovation, a healthy environment and economic opportunity for all.
Businesses play a vital role in the economy by creating jobs, fostering innovation and providing essential goods and services. Businesses make and sell consumer products; manufacture equipment and vehicles; support the national defense; grow and produce food; provide health care; generate and deliver energy; and offer financial, communications and other services that underpin economic growth.
While each of our individual companies serves its own corporate purpose, we share a fundamental commitment to all of our stakeholders. We commit to:
Delivering value to our customers. We will further the tradition of American companies leading the way in meeting or exceeding customer expectations.
Investing in our employees. This starts with compensating them fairly and providing important benefits. It also includes supporting them through training and education that help develop new skills for a rapidly changing world. We foster diversity and inclusion, dignity and respect.
Dealing fairly and ethically with our suppliers. We are dedicated to serving as good partners to the other companies, large and small, that help us meet our missions.
Supporting the communities in which we work. We respect the people in our communities and protect the environment by embracing sustainable practices across our businesses.
Generating long-term value for shareholders, who provide the capital that allows companies to invest, grow and innovate. We are committed to transparency and effective engagement with shareholders.
Each of our stakeholders is essential. We commit to deliver value to all of them, for the future success of our companies, our communities and our country.
But can we really trust their promises? - Check the signatories!
Kevin J. Wheeler

President & Chief Executive Officer

A. O. Smith Corporation

Miles D. White

Chairman and Chief Executive Officer

Abbott

Julie Sweet

Chief Executive Officer Designate

Accenture

Carlos Rodriguez

President and CEO

ADP

Mike Burke

Chairman and CEO

AECOM

Andrés Gluski

President and CEO

The AES Corporation

Daniel P. Amos

Chairman and CEO

Aflac

Roger K. Newport

Chief Executive Officer

AK Steel Corporation

Brent Saunders

Chairman and CEO

Allergan plc

John O. Larsen

Chairman, President & CEO

Alliant Energy

Lee Styslinger, III

Chairman & CEO

Altec, Inc.

Jeffrey P. Bezos

Founder and Chief Executive Officer

Amazon

Doug Parker

Chairman & CEO

American Airlines

Nicholas K. Akins

Chairman, President and CEO

American Electric Power

Stephen J. Squeri

Chairman and Chief Executive Officer

American Express

James D. Taiclet

Chairman, President and CEO

American Tower Corporation

James Cracchiolo

Chairman and Chief Executive Officer

Ameriprise Financial

Gail Koziara Boudreaux

President and CEO

Anthem, Inc.

Greg Case

CEO

Aon

Tim Cook

CEO

Apple

Eric Foss

Chairman, President & CEO

Aramark

Alan B. Colberg

President and CEO

Assurant

Randall Stephenson

Chairman and Chief Executive Officer

AT&T Inc.

John A. Hayes

Chairman, President and CEO

Ball Corporation

Brian Moynihan

Chairman of the Board and Chief Executive Officer

Bank of America

José (Joe) E. Almeida

Chairman, President and Chief Executive Officer

Baxter International Inc.

Philip Blake

President

Bayer USA

Brendan P. Bechtel

Chairman & CEO

Bechtel Group, Inc.

Corie Barry

Chief Executive Officer

Best Buy Co., Inc.

Laurence D. Fink

Chairman and Chief Executive Officer

BlackRock, Inc.

Charles W. Scharf

Chairman & CEO

BNY Mellon

Dennis A. Muilenburg

Chairman, President & CEO

The Boeing Company

Frédéric B. Lissalde

President and Chief Executive Officer

BorgWarner Inc.

Rich Lesser

CEO

Boston Consulting Group

Robert Dudley

Group CEO

BP plc

Giovanni Caforio

Chairman and Chief Executive Officer

Bristol-Myers Squibb

Maurice R. Greenberg

Chairman and CEO

C.V. Starr & Co., Inc.

Kewsong Lee

Co-Chief Executive Officer

The Carlyle Group

D. James Umpleby III

Chairman & CEO

Caterpillar, Inc.

Robert E. Sulentic

President & CEO

CBRE Group, Inc.

W. Anthony Will

President & Chief Executive Officer

CF Industries

Michael K. Wirth

Chairman and Chief Executive Officer

Chevron Corporation

Evan G. Greenberg

Chairman and CEO

Chubb

David M. Cordani

President and Chief Executive Officer

Cigna

Chuck Robbins

Chairman and CEO

Cisco Systems, Inc.

Michael L. Corbat

Chief Executive Officer

Citigroup, Inc.

Hubertus M. Mühlhäuser

Chief Executive Officer

CNH Industrial

James Quincey

Chairman and Chief Executive Officer

The Coca-Cola Company

Brian Humphries

Chief Executive Officer

Cognizant

Brian L. Roberts

Chairman & CEO

Comcast Corporation

Ryan M. Lance

Chairman & CEO

ConocoPhillips Company

Wendell P. Weeks

Chairman, Chief Executive Officer, & President

Corning Incorporated

Tom Linebarger

Chairman and CEO

Cummins Inc.

Larry Merlo

President & CEO

CVS Health

Hal Yoh

Chairman and Chief Executive Officer

Day & Zimmermann

Michael S. Dell

Chairman and CEO

Dell Technologies

Punit Renjen

Chief Executive Officer

Deloitte

Jim Fitterling

Chief Executive Officer

Dow

Lynn Good

Chairman, President & CEO

Duke Energy

JM Lawrie

Chairman, President and CEO

DXC Technology

Mark J. Costa

Chairman and CEO

Eastman Chemical Company

Craig Arnold

Chairman and CEO

EATON

Pedro J. Pizarro

President & CEO

Edison International

Darren W. Woods

Chairman and CEO

Exxon Mobil Corporation

Carmine Di Sibio

Global Chairman & CEO

EY

Frederick W. Smith

Chairman & CEO

FedEx Corporation

Gary Norcross

Chairman, President & CEO

FIS

Revathi Advaithi

Chief Executive Officer

Flex

Carlos M. Hernandez

Chief Executive Officer

Fluor Corporation

James P. Hackett

President and CEO

Ford Motor Company

Lachlan K. Murdoch

Executive Chairman & CEO

Fox Corporation

Richard C. Adkerson

Vice Chairman, President and Chief Executive Officer

Freeport-McMoRan Inc.

Phebe Novakovic

Chairman and CEO

General Dynamics Corporation

Mary Barra

Chairman & CEO

General Motors Company

David M. Solomon

Chairman and Chief Executive Officer

The Goldman Sachs Group, Inc.

Bradley J. Preber

Interim CEO

Grant Thornton LLP

Deanna M. Mulligan

President and CEO

Guardian Life Insurance Company of America

Gerald W. Evans

Chief Executive Officer

Hanesbrands Inc.

Dinesh C. Paliwal

President and Chief Executive Officer

HARMAN International

Steven R. Swartz

President & Chief Executive Officer

HEARST Corporation

Craig Menear

Chairman, CEO and President

The Home Depot

Darius Adamczyk

Chairman and CEO

Honeywell

Mike Petters

President and Chief Executive Officer

Huntington Ingalls Industries

Ginni Rometty

Chairman, President and CEO

IBM Corporation

Charles Phillips

Chief Executive Officer

Infor

Mark S. Sutton

Chairman and CEO

International Paper Co.

Michael I. Roth

Chairman and Chief Executive Officer

Interpublic Group

Linda H. Apsey

President & CEO

ITC Holdings Corp.

Steve Demetriou

Chair and CEO

Jacobs

Samuel R. Allen

Chairman and CEO

John Deere

Alex Gorsky

Chairman of the Board and Chief Executive Officer

Johnson & Johnson

George R. Oliver

Chairman and CEO

Johnson Controls

Jamie Dimon

Chairman and CEO

JPMorgan Chase & Co.

Beth E. Mooney

Chairman and Chief Executive Officer

KeyCorp

Bruce E. Grewcock

CEO and Chairman of the Board

Kiewit Corporation

Lynne M. Doughtie

Chairman and Chief Executive Officer

KPMG LLP

William M. Brown

Chairman & Chief Executive Officer

L3Harris Technologies, Inc.

Beth E. Ford

President and CEO

Land O'Lakes, Inc.

Roger A. Krone

Chairman and Chief Executive Officer

Leidos

Stuart Miller

Executive Chairman

Lennar Corporation

Marillyn A. Hewson

Chairman, President and Chief Executive Officer

Lockheed Martin Corporation

Bhavesh V. (Bob) Patel

Chief Executive Officer

LyondellBasell Industries

Jeff Gennette

Chairman & Chief Executive Officer

Macy's, Inc.

Mark Trudeau

President and Chief Executive Officer

Mallinckrodt Pharmaceuticals

Lee M. Tillman

Chairman, President and CEO

Marathon Oil Corporation

Gary R. Heminger

Chairman and CEO

Marathon Petroleum Corporation

Arne M. Sorenson

President and Chief Executive Officer

Marriott International, Inc.

Roger W. Crandall

Chairman, President & CEO

MassMutual

Ajay Banga

President & CEO

Mastercard

Lawrence E. Kurzius

Chairman, President and CEO

McCormick and Company, Inc.

Brian Tyler

Chief Executive Officer

McKesson Corporation

Kevin Sneader

Global Managing Partner

McKinsey & Company

Omar Ishrak

Chairman & CEO

Medtronic plc

Michel Khalaf

President and Chief Executive Officer

MetLife

Sanjay Mehrotra

President & CEO

Micron Technology

Ken Moelis

Chairman and CEO

Moelis & Company

James P. Gorman

Chairman and CEO

Morgan Stanley

Greg Brown

Chairman & CEO

Motorola Solutions

Adena T. Friedman

President and CEO

Nasdaq

Thomas C. Nelson

Chairman, President & CEO

National Gypsum Company

Ted Mathas

Chairman, President and CEO

New York Life Insurance Co.

David L. Stover

Chairman and CEO

Noble Energy, Inc.

Kathy Warden

Chairman, Chief Executive Officer and President

Northrop Grumman Corporation

Steve Fisher

President and CEO

Novelis

Mauricio Gutierrez

President and CEO

NRG Energy, Inc.

Safra Catz

CEO

Oracle

Brian Chambers

President and Chief Executive Officer

Owens Corning

Ramon Laguarta

Chief Executive Officer

PepsiCo

Dr. Albert Bourla

Chief Executive Officer

Pfizer Inc.

Greg C. Garland

Chairman and CEO

Phillips 66

Marc B. Lautenbach

President and Chief Executive Officer

Pitney Bowes

Daniel J. Houston

Chairman, President and CEO

Principal

David S. Taylor

Chairman of the Board, President and Chief Executive Officer

The Procter & Gamble Company

Tricia Griffith

President & CEO

Progressive Corporation

Bob Moritz

Chairman

PwC

Steve Mollenkopf

Chief Executive Officer

Qualcomm Incorporated

Earl C. Austin, Jr.

President and Chief Executive Officer

Quanta Services

Thomas A. Kennedy

Chairman and CEO

Raytheon Company

Blake D. Moret

Chairman and Chief Executive Officer

Rockwell Automation

Douglas L. Peterson

President and CEO

S&P Global

Keith Block

Co-CEO

Salesforce

Bill McDermott

Chief Executive Officer

SAP

Jim Goodnight

CEO

SAS Institute

Tamara L. Lundgren

President and Chief Executive Officer

Schnitzer Steel Industries, Inc.

Jeffrey W. Martin

Chairman & CEO

Sempra Energy

Lisa Davis

CEO

Siemens Corporation USA

Egon Durban

Managing Partner and Managing Director

Silver Lake

Thomas A. Fanning

Chairman, President and CEO

Southern Company

James M. Loree

President & Chief Executive Officer

Stanley Black & Decker

James P. Keane

President and CEO

Steelcase Inc.

Kevin Lobo

Chairman & CEO

Stryker

John F. Fish

Chairman and Chief Executive Officer

Suffolk

Brian Cornell

Chairman & CEO

Target

Russell K. Girling

President and Chief Executive Officer

TC Energy

LeRoy T. Carlson, Jr.

CEO

Telephone & Data Systems, Inc.

Richard K. Templeton

Chairman, President & Chief Executive Officer

Texas Instruments Incorporated

Rob Speyer

President & CEO

Tishman Speyer

Alan D. Schnitzer

Chairman and Chief Executive Officer

The Travelers Companies Inc.

M. Troy Woods

Chairman, President & CEO

TSYS

Peter J. Davoren

President & CEO

Turner Construction Co.

Lance M. Fritz

Chairman, President & CEO

Union Pacific

Oscar Munoz

Chief Executive Officer

United Airlines

Gregory J. Hayes

Chairman & CEO

United Technologies Corporation

David Abney

Chairman and Chief Executive Officer

UPS

Stuart Parker

CEO

USAA

Mortimer J. Buckley

President and Chief Executive Officer

Vanguard

Scott G. Stephenson

Chairman, President and Chief Executive Officer

Verisk Analytics

Alfred F. Kelly Jr.

Chairman and Chief Executive Officer

Visa Inc.

Robert F. Smith

Founder, Chairman & CEO

Vista Equity Partners

Curt Morgan

President and CEO

Vistra Energy

Stefano Pessina

Executive Vice Chairman and CEO

Walgreens Boots Alliance

Doug McMillon

President and CEO

Walmart, Inc.

John J. Engel

Chairman, President and CEO

WESCO International, Inc.

John F. Barrett

Chairman, President & CEO

Western & Southern Financial Group

Hikmet Ersek

CEO

Western Union

Marc Bitzer

Chairman and Chief Executive Officer

Whirlpool Corporation

Abidali Z. Neemuchwala

CEO & Managing Director

Wipro Limited

Michael J. Kasbar

Chairman, President and CEO

World Fuel Services Corporation

Jim Kavanaugh

CEO

World Wide Technology

John Visentin

Vice Chairman and Chief Executive Officer

Xerox Corporation

Patrick Decker

President and CEO

Xylem Inc.

Anders Gustafsson

Chief Executive Officer

Zebra Technologies Corporation

Michael Roman

Chairman of the Board and Chief Executive Officer

3M
---
Media Coverage Download Statement on the Purpose of a Corporation Leadership in Action: Our Commitment to Our Employees and Communities
https://opportunity.businessroundtable.org/ourcommitment/