Join the climate strikes this September
15.08.2019 - updated 15.09.2019
Fighting climate breakdown is about much more than emissions and scientific metrics – it's about fighting for a just and sustainable world that works for all of us. If we are going to fight for this, we need everyone.
When the planet we love is under attack – STAND UP, FIGHT BACK.
THERE IS NO PLANET B !!!
Our house is on fire: sound the alarm. The time has come for multigenerational action against climate breakdown. We must follow alongside the youth who have been leading the way this year
This September, millions of us will walk out of our workplaces and homes to join young climate strikers on the streets and demand an end to the age of fossil fuels.
Our house is on fire — let's act like it. We demand climate justice for everyone.
Join young people in the streets for global climate strikes and a week of actions to demand an end to the age of fossil fuels and to achieve climate justice for everyone.
Start or Join a Climate Strike
in the timeframe of the Global Climate Strike → Sep. 20–27, 2019
Pick your country =>
Climate strikes will work differently depending on where you are in the world – please select the country you're in to get started:
Global Climate Strike → Sep. 20–27
Please select your country below and click on it to proceed to the next step.
Please select your country above and click on it to proceed to the next step.
#ClimateStrike
https://globalclimatestrike.net/start/ keeps you updated about events near you and how to support the climate strikes.
Marches
If your community has a large and active climate movement, consider organising a big march through the centre of town or to a government building. With enough people, marches are a powerful way to get your message into the street (and into the media). They're loud, they're often disruptive, and they jolt people out of their ordinary day to make them think about your key message and demands.
Make sure to go big on banners, signs, and visually-compelling elements that get your message across clearly.
Rallies
Like marches, rallies help push your message into the public sphere in a big way. They're loud, they take up physical space, and they disrupt business as usual — especially if you're in a busy place. You don't need quite as big a group as for a march but you can still make a loud impact.
Rallies are a great way to fire up the crowd — everybody loves to cheer! — educate the public about the nuances of your issue, and give young climate strikers and other partner groups a platform to get their message across. Rallies & marches = better together!
Invite your friends and family
Send them an email, invite them to the RVSP page for your local event, call them, text them, send them an Instagram video. Whichever way you can, it's important for you to reach out to those around you.
Most Global Climate Strike events are an open invitation to anyone who wants to join. Everyone can have a role to play. Your brother could help make food for people, your best friend could help take photos, a total stranger may be up for organising a banner-making session etc.
It's also important as the week of 20 September gets closer to re-invite people! Reminders are crucial.
Amplify #ClimateStrike stories from around the world
Students have been striking for months now, with the March 15 and May 24 school strikes being the largest climate mobilisations worldwide, EVER.
In the lead up to September, use your social media and post a #ThrowbackThursday — sharing some of the awesome climate strikes energy that has inspired you in the past few months.
Students will continue to march and strike so follow the #ClimateStrike and #FridaysforFuture hashtags for amazing stories and make connections with them.
Tell people how they can help you
Not everyone will be able to strike on September 20, but a lot of people will want to help anyway. Do you need help painting banners beforehand? Are you in a community that requires a permit for your march? Reach out to your community with your to-do list, a blog, a Facebook post and let people volunteer their skills!
We scientists must rise up to prevent the climate crisis. Words aren't enough
Our profession has been great at raising awareness. But this alone won't succeed against the might of the oil and gas lobbyists
By Charlie Gardner and Claire Wordley - 0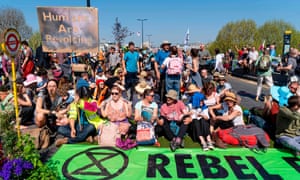 Extinction Rebellion protesters on Waterloo Bridge, London, April 2019. 'This is what we have been waiting for, yet strangely the reaction within the scientific community has been muted.' Photograph: Niklas Halle'n/AFP/Getty Images
As scientists, we tend to operate under an unspoken assumption – that our job is to provide the world with factual information, and if we do so our leaders will use it to make wise decisions. But what if that assumption is wrong? For decades, conservation scientists like us have been telling the world that species and ecosystems are disappearing, and that their loss will have devastating impacts on humanity. Meanwhile, climate scientists have been warning that the continued burning of fossil fuels and destruction of natural carbon sinks, such as forests and peatlands, will lead to catastrophic planetary heating.
We have collectively written tens of thousands of peer-reviewed papers, and shared our findings with policymakers and the public. And, on the face of it, we seem to have done a pretty good job: after all, we all know about the environmental and climate crises, don't we?
But while we're now well informed, we haven't actually changed course. Biodiversity loss proceeds apace, to the extent that a million species face extinction in the coming decades, and we continue to pump carbon into the atmosphere at ever faster rates. We have emitted more greenhouse gases since 1990, in full awareness of its impacts, than we ever did in ignorance. It seems that knowledge alone cannot trigger the radical global changes we so urgently need.
It was this realisation that incited us both to embrace activism, and to take to the streets and engage in non-violent civil disobedience as members of Extinction Rebellion. The refusal to obey certain laws has a long and glorious history: from the suffragettes to Rosa Parks and Gandhi, many of the 20th century's greatest heroes engaged in non-violent civil disobedience to win their rights.
Today, civil disobedience is again on the rise. And it is working. The protests that shut down four sites in London in April raised the climate crisis rapidly up the political agenda, and into the public consciousness. The environment is now the third most pressing issue for British voters, above the economy, crime and immigration: the UK parliament and half the country's local councils have declared a climate emergency, and a zero-carbon target has been enshrined into law. We don't know what policy change will follow, but it is an encouraging start.
Alongside this are the Greta Thunberg-inspired school strikes and our sister movements worldwide. This is what we have been waiting for. And yet, the reaction within the scientific community has been strangely muted. In conversation, our conservationist colleagues (and we imagine climate scientists, too) have long bemoaned the fact that environmental issues remain so marginal in the public consciousness. "If only conservation was mainstream," we lament, "and if only people would take action to fight for our world." Well, now they are, yet few of us seem to have joined them.
Young people have embraced the movement, and grandparents, too. So have doctors and lawyers, farmers and unemployed people. But not many scientists, which is odd given we probably know more about the severity of the problems we face than anybody. Perhaps it's related to an unspoken assumption that if our job is to provide information, then adopting a position will weaken our authority. In fact, research shows it doesn't.
Alternatively, scientists may be reluctant to rise up because there are "proper" channels for influencing policy: you can vote, you can write letters and sign petitions, and if things get really desperate you can walk from A to B on a sanctioned march. The trouble is, these avenues aren't working, and lobbyists for fossil-fuel industries have far greater access to political decision-makers. In 2018, for example, oil and gas lobbyists alone spent more than $125m (£100m) lobbying politicians in just one country, the United States.
Worse, these lobbyists and the corporations they work for have invested heavily in an anti-science agenda, all with the aim of convincing the world that we can carry on as normal. They are endangering our very survival in pursuit of profit, and undermining the faith in truth, rationality and the scientific method that – surely – will be critical to surviving these crises. This is why we have taken a break from our usual areas of research to publish an article in the prestigious journal Nature Ecology and Evolution, urging our fellow scientists to rise up and embrace rebellion.
As scientists we have spent years telling policymakers that we must change course, but they haven't taken action. They may be starting to now, but only because people have engaged in open rebellion, making it clear that we will no longer accept inaction. Surely scientists have a moral duty to join the masses, and rebel for life.
• Claire Wordley is a postdoctoral research associate at the University of Cambridge, Charlie Gardner is a lecturer in conservation biology at the University of Kent
Bill McKibben: This Climate Strike Is Part of the Disruption We Need
"It can't just be young people. It needs to be all of us."
By Bill McKibben
Business as usual is what's doing us in.
We live on a planet that finds itself rather suddenly in the midst of an enormous physical crisis. Because we burn so much coal and gas and oil, the atmosphere of our world is changing rapidly, and that atmospheric change is producing record heat. July was the hottest month we've ever recorded. Scientists predict with confidence that we stand on the edge of the sixth great extinction event of the last billion years. People are dying in large numbers and being left homeless; millions are already on the move because they have no choice.
And yet we continue on with our usual patterns. We get up each morning and do pretty much what we did the day before. It's not like the last time we were in an existential crisis, when Americans signed up for the Army and crossed the Atlantic to face down fascism and when the people back home signed up for new jobs and changed their daily lives.
That's why it's such good news that the climate movement has a new tactic. Pioneered last August by Greta Thunberg of Sweden, it involves disrupting business as usual. It began, of course, in schools: Within months, millions of young people around the world were striking for days at a time from their classes. Their logic was impeccable: If the institutions of our planet can't be bothered to prepare for a world we can live in, why must we spend years preparing ourselves? If you break the social contract, why are we bound by it?
And now those young people have asked the rest of us to join in. After the last great school strike in May, they asked adults to take part next time. The date is Sept. 20, and the location is absolutely everywhere. Big trade unions in South Africa and Germany are telling workers to take the day off. Ben and Jerry's is closing down its headquarters (stock up in advance), and if you want to buy Lush cosmetics, you're going to be out of luck. The largest rally will likely be in New York City, where the U.N. General Assembly begins debating climate change that week—but there will be gatherings in every state and every country. It will almost certainly be the biggest day of climate action in the planet's history. (If you want to be a part—and you do want to be a part—go to globalclimatestrike.net.)
It's not a "strike" in the traditional sense, of course—no one is demanding better wages. But we are demanding better conditions. In the most literal sense, the world isn't working as it should (studies say that increased heat and humidity have already reduced human work capacity as much as 10%, a figure that will double by midcentury). And what we're saying is, disrupting business as usual is the way to get there.
This strike will not be the last such action. And activists are flooding into the electoral battles now underway and taking on the financial community, too. It's starting to add up: The polling shows that for young Americans, climate change is far and away the most important issue.
But it can't be just young people. It needs to be all of us—especially, perhaps, those of us who have been placidly operating on a business-as-usual basis for most of our lives, who have rarely faced truly serious disruptions in our careers and our plans. Our job is precisely to disrupt business as usual. When the planet leaves its comfort zone, we need to do the same. See you on the streets on Sept. 20!