UPDATE 29. August 2019: Political prisoner Luiz Inácio Lula da Silva spoke with the BBC and bemoaned that there is stupidity at the highest level of the Brazilian government that damages the reputation of Brazil. The 73-year-old former Brazilian President led Brazil between 2003 and 2010, and is seen as an iconic figure for the serious reduction of poverty in the country and the drastic reduction of Amazon forest destruction.
Igniting global outrage, Brazil's Bolsonaro baselessly blames NGOs for Amazon fires
By Reuters/DW/VF - 22. August 2019
Key Points
"Everything indicates" that NGOs were going to the Amazon to "set fire" to the forest, Bolsonaro said in a Facebook Live broadcast on Wednesday morning.
When asked if he had evidence to back up his claims, he said he had "no written plan," adding "that's not how it's done."
The former army captain turned politician said the slashing of NGO funding by his government could be a motive.
Record-breaking number of fires burn in Brazil's Amazon
Brazil's far-right President Jair Bolsonaro on Wednesday accused non-governmental organizations of burning down the Amazon rainforest to hurt his government, as a growing global outcry against the wildfires raged through social media.
Presented without evidence and disputed by environmental and climate experts, Bolsonaro's comments enraged critics and fanned a growing social media campaign over the dangers to the Amazon, one of the world's key bulwarks against climate change.
#PrayforAmazonas was the world's top trending topic on Twitter on Wednesday, and millions of people took to Instagram and Facebook to share concerns over the future of the Amazon. With global awareness growing, Bolsonaro's comments risk creating a spiraling crisis for his government, imperiling an EU-Mercosur trade pact and upsetting key agribusiness clients.
"Everything indicates" that NGOs were going to the Amazon to "set fire" to the forest, Bolsonaro said in a Facebook Live broadcast on Wednesday morning. When asked if he had evidence to back up his claims, he said he had "no written plan," adding "that's not how it's done."
The former army captain turned politician said the slashing of NGO funding by his government could be a motive.
"Crime exists," he said. "These people are missing the money."
Bolsonaro said his administration was working to control the Amazon fires, which have reached a record number this year. Brazil's space research center, INPE, has detected 72,843 fires so far in 2019, an 83% increase on the same period in 2018.
Environmental and climate experts labeled his claims that NGOs were responsible a "smoke screen" to hide his government's dismantling of protections for the world's largest tropical rainforest. They said farmers clearing land were responsible for the uptick in fires.
"This is a sick statement, a pitiful statement," said Marcio Astrini, Greenpeace Brazil's public policy coordinator. "Increased deforestation and burning are the result of his anti-environmental policy."
Bolsonaro, a longtime skeptic of environmental concerns, wants to open the Amazon to more agriculture and mining, and has told other countries worried about rising deforestation under his watch to mind their own business.
Congressman Nilto Tatto, leader of the lower house environment caucus, said Bolsonaro's "stunning" attack on NGOs was an attempt to obscure his administration's destruction of 30 years of Brazilian environmental protections.
What began as a "day of fire" a week and a half ago has now turned daytime skies in São Paulo an inky black. The Amazon has been in deep, deep trouble ever since far-right president Jair Bolsnaro took over running Brazil. Advocates feared his regime would commit
Climate scientist Carlos Nobre said farmers seeking to clear land for cattle pastures wait for the dry season when forests become combustible and then set them alight. He attributed this year's spike to illegal deforestation since it has not been unusually dry.
"NGOs working in the Amazon do not use fire in farming. On the contrary, they encourage rural communities to avoid fire," said Nobre, senior researcher at Sao Paulo University's Institute for Advanced Studies.
Former presidential candidate and environment minister Marina Silva took to Twitter to criticize Bolsonaro.
Brazilian President Jair Bolsonaro delivers a speech during the International Youth Day celebration at Planalto Palace in Brasilia on August 16, 2019. EVARISTO SA | AFP | Getty Images
"The Amazon is on fire," she wrote. "The president says NGOs may be behind this. The lack of commitment to the truth is a chronic pathology. This irresponsible attitude only aggravates an environmental disaster in Brazil."
Speaking later on Wednesday, Bolsonaro also took aim at the Paris climate accord, saying that if it were so good, the United States would have stayed in it. But he added that for the time being, Brazil would remain in the pact.
French President Emmanuel Macron warned in June he would not sign the EU-Mercosur trade treaty if Bolsonaro pulled Brazil out of the Paris accord.
Earlier this month, Norway and Germany suspended funding for projects to curb deforestation in Brazil after becoming alarmed by changes to the way projects were selected under Bolsonaro.
"In an interesting twist the heir of Spanish Conquistadores-genes Jair "Messias" Bolsonaro accused now French president Macron of being a colonialists, because the host of th Paris climate talks spoke out against the devastation of the Amazon forest by stating that "the house is on fire" - to which Bolsonaro launched a protest, because Macron would interefere in internal affairs of Brazilia. Bolsonaro is clearly out of his mind, because the negative impact of th Amazon destruction that Bolsonaro pushes are international and NOT internal affairs. Well, colonialists might easily recognize each other, but in the case of the Amazon Bolsonaro is the culprit, who represents the 30% of Brazilians, who are all part of the ruthless Taker Society. The majority wants to protect the Amazon and nature in Brazil in general, but they are oppressed by a few rich conclomerates and the military. That must change."
News
Amazon wildfires: Leaders pressure Brazil to quell 'international crisis'
Brazil has lashed out at international critics who are blaming President Jair Bolsonaro for not doing enough to curb massive Amazon fires. Bolsonaro accused media organizations of trying to undermine his government.
In a series of statements, Brazilian President Jair Bolsonaro on Thursday responded to mounting international criticism of his handling of the rapidly spreading Amazonian wildfires.
Bolsonaro initially stated that there was a "very strong" indication that some non-governmental groups could be behind the massive Amazon fires since his government drew back their funding, and accused international actors of trying to "interfere with our sovereignty." Later, however, in a Facebook live broadcast, he said that farmers could be involved in lighting the fires.
Degradation could devastate global climate
Brazil's National Institute for Space Research (INPE) said that nearly 73,000 forest fires were recorded in the country between January and August, compared with 39,759 in the first eight months of 2018, and INPE figures show the fires are mainly concentrated in Amazon states.
Satellite images of the area have shown smoke rising and reaching across the Latin American continent to the Atlantic coast, according to the World Meteorological Organization.
Brazil is home to about 60% of the Amazon rainforest. Environmentalists say its degradation could have severe consequences for global climate and rainfall.
Watch video 00:37
Bolsonaro: 'The biggest suspects are the NGOs'
'A campaign against Brazil'
Earlier on Thursday, UN chief Antonio Guterres had said he was "deeply concerned" by the extent of the fires. "In the midst of the global climate crisis, we cannot afford more damage to a major source of oxygen and biodiversity," he said on Twitter.
Bolsonaro's government has come under increasingly sharp criticism for its inability to control the fires that have destroyed vast swathes of a forest considered a vital bulwark against climate change.
The president, however, accused media organizations of exploiting the issue to undermine his government. "Most of the media wants Brazil to end up like Venezuela," he said, referring to political and economic instability in the neighboring South American country.
"I do not defend the burnings, because there always was and always will be burnings. Unfortunately, this has always happened in the Amazon," Bolsonaro said, referring to dry season, land-clearing fires.
"But accusing me of being a Captain Nero setting fire to things is irresponsible. It is campaigning against Brazil," the president told reporters on Thursday, referring to the legend of the Roman emperor who fiddled while Rome burned.
Brazilian prosecutors on Thursday launched a formal investigation into the Amazon fires.
International condemnation
Last week, citing Brazil's apparent lack of commitment to fighting deforestation, Germany and Norway announced they had decided to withhold more than $60 million (€54.14) in funds for sustainability projects in Brazil's forests.
Filipe Martins, an adviser to Bolsonaro, said on Twitter that the government is committed to fighting illegal deforestation and that many other countries are causing environmental damage.
The Amazon will be saved by Brazil and not "the empty, hysterical and misleading rhetoric of the mainstream media, transnational bureaucrats and NGOs," Martins said.
London-based Amnesty International, however, blamed the Brazilian government for lying about the fires.
"Instead of spreading outrageous lies or denying the scale of deforestation taking place, we urge the president to take immediate action to halt the progress of these fires," said Kumi Naidoo, Amnesty's secretary general.
The World Wide Fund for Nature (WWF) conservation group also said that Bolsonaro is trying to divert "the focus of attention from what really matters: the well-being of nature and the people of the Amazon."
Watch video 01:41
Record number of fires rage in Brazil's Amazon rainforest
G7 summit to discuss fires
Brazil is set to host a UN regional conference on climate change in the northeastern city of Salvador ahead of December's summit in Chile.
The 25th UN Conference on Climate Change (COP25) was originally planned for Brazil, but the South American country pulled out.
French President Emmanuel Macron on Thursday said the Amazon wildfires were an "international crisis" as he called on this weekend's G7 summit to address the issue.
"Our house is on fire. Literally. The Amazon, the lung of our planet, which produces 20% of our oxygen is burning. It is an international crisis. Members of the G7, let's talk in two days about this emergency," Macron said on Twitter.
Bolsonaro blasted Macron for the comment, accusing him of having a "colonialist mentality" and highlighting the fact that Macron's tweet contained an outdated photo of an Amazon fire.
"The French president's suggestion that Amazon issues be discussed at the G-7 without participation by the countries in the region evokes a colonialist mentality that is out of place in the 21st century," the Brazilian president wrote on Twitter.
shs, jcg/kl (AP, AFP, Reuters, dpa)
The "Lungs Of The Earth" Are Being Burned Away As Unprecedented Wildfires Absolutely Ravage The Planet
We have never seen anything quite like this.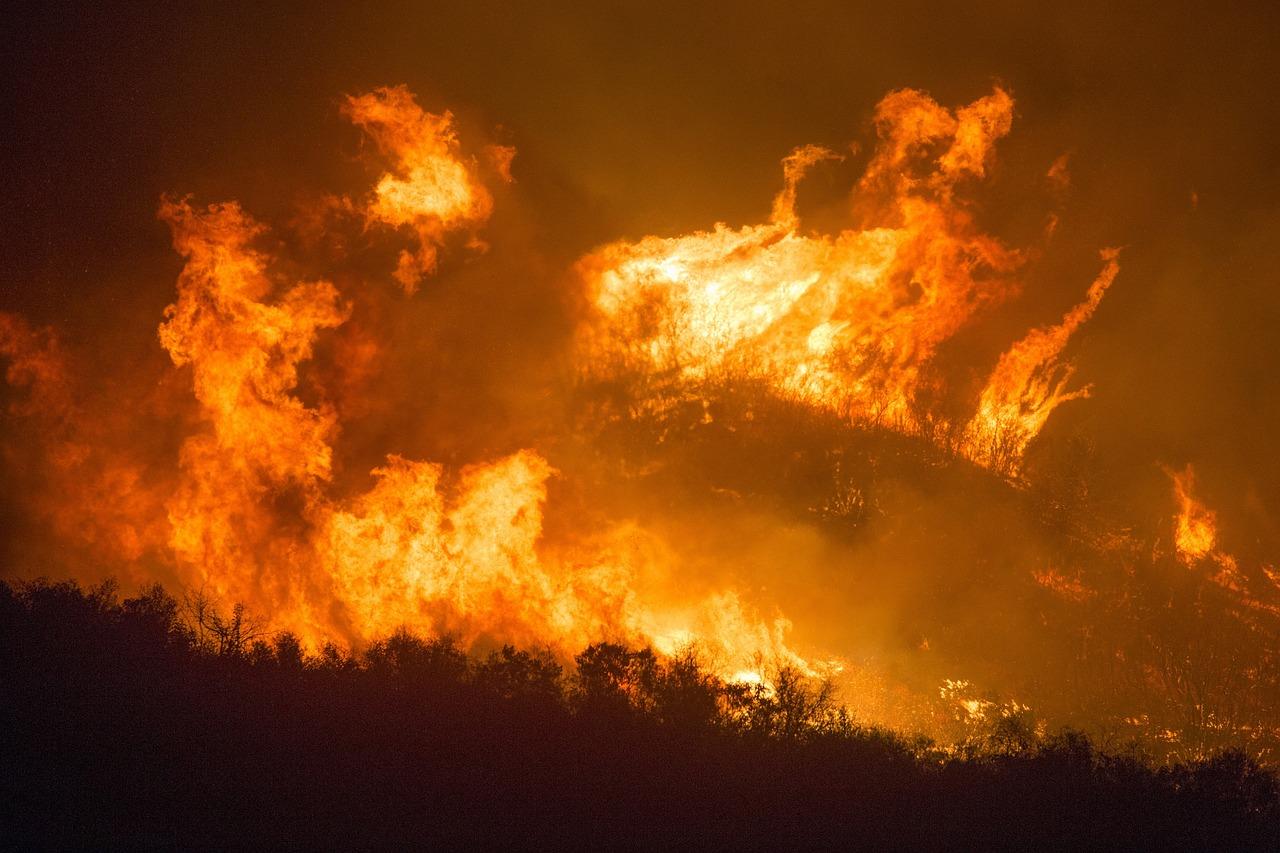 This week the skies above Brazil's largest city turned black in the middle of the afternoon due to the massive wildfires that are currently raging in that country. But the wildfires aren't actually happening anywhere near São Paulo. In fact, the smoke that turned the skies black actually came from fires that were happening more than 1,000 miles away. Can you imagine how powerful the fires have to be in order to do that?
And it isn't just Brazil – right now horrific fires are scorching vast stretches of our planet from South America all the way up to the Arctic. Some of the fires are producing so much smoke that you can actually see it from space. And in the process, irreversible damage is being done to our ecosystems.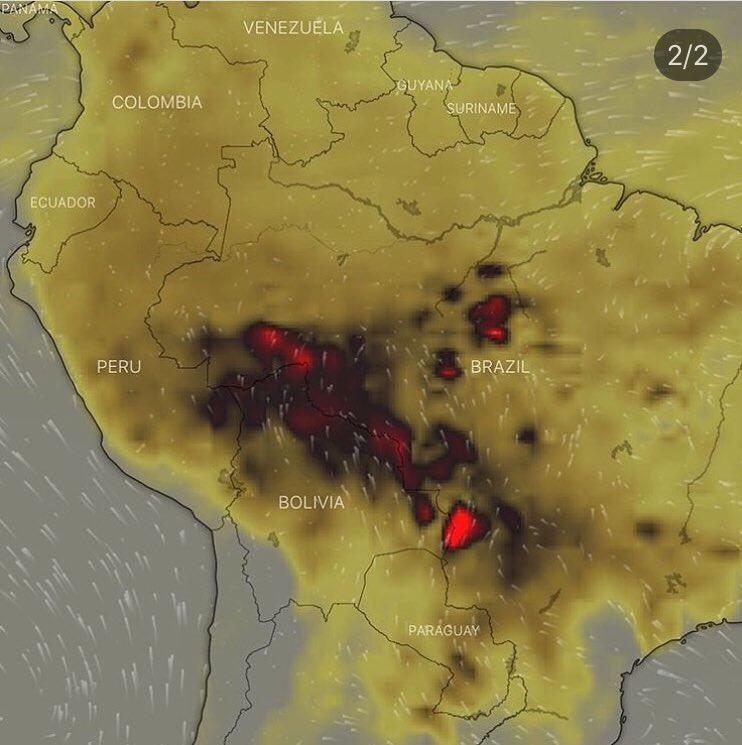 I know that this number is hard to believe, but there have been more than 72,000 wildfires in Brazil so far in 2019, and most of those fires are happening in the Amazon rainforest. I understand that many of you may not care what happens in Brazil, but you should. Approximately 60 percent of the entire Amazon rainforest is in Brazilian territory, and that rainforest produces approximately 20 percent of all the oxygen in our atmosphere. So essentially the "lungs of the Earth" are being burned away right in front of our eyes…
The fires are burning at the highest rate since the country's space research center, the National Institute for Space Research (known by the abbreviation INPE), began tracking them in 2013, the center said Tuesday.

There have been 72,843 fires in Brazil this year, with more than half in the Amazon region, INPE said. That's more than an 80% increase compared with the same period last year.

The Amazon is often referred to as the planet's lungs, producing 20% of the oxygen in the Earth's atmosphere.
Every minute of every single day, an average of 1½ soccer fields of Amazon rainforest are being wiped out. This is an ongoing crisis that hasn't been getting nearly the attention that it deserves in the United States.
You will find more infographics at Statista
But when the skies above Sao Paulo suddenly turned completely black at three in the afternoon on Monday, that set off a social media frenzy…
São Paulo's skies were blackened for roughly an hour at around 3 p.m. Monday due to raging fires throughout the region and weather conditions that pushed particulate matter over the city, setting off intense speculation on social networks about the reason why the day was seemingly transformed into night.

Videos and images posted by local residents depicted disturbing scenes of pedestrians walking under black skies and cars driving in the mid-afternoon with their headlights on as the continued fires throughout the Amazon rainforest drove the hashtags #PrayforAmazonia and #PrayforAmazonas to worldwide viral status.
Sadly, these fires are not going to end any time soon. It is being reported that more than 9,000 fires are raging at the moment, and it is being estimated that 640 million acres have been affected by those fires.
Yes, you read that number correctly.
640 million acres.
Meanwhile, 50 large wildfires are burning in a dozen U.S. states right now. The worst fires are happening in Alaska, where "more than 400,000 acres are currently burning"…
Multiple fires are burning near the state's biggest city, and firefighters have called in assistance from the Lower 48. More than 400,000 acres are currently burning, and one of the biggest concerns is the McKinley Fire, which has destroyed at least 50 structures about 100 miles north of Anchorage. Officials with the Matanuska-Susitna Borough declared a state of emergency, and firefighters hoped that calmer weather predicted for Wednesday could permit evacuees to return.
When I think of Alaska, I think of a place that is bitterly cold. But apparently it is hot enough this year for wildfires to sweep across hundreds of thousands of acres.
And we are also witnessing highly unusual wildfires in the Arctic in 2019…
The Arctic as a whole has seen unusually high wildfire activity this summer, Parrington said, including areas such as Greenland that typically don't see fires. One estimate found that the amount of carbon dioxide emitted from fires burning within the Arctic Circle in in June 2019 was greater than all of the CO2 released in the same month from 2010 through to 2018 put together.
To me, it is very strange to be talking about "wildfires in the Arctic", but we have entered a period of time when our entire definition of "normal" is going to change. Last winter we experienced one of the coldest winters in ages, during the first half of this year the middle of the U.S. experienced unprecedented rainfall and flooding, and now we are being told that last month was the hottest July ever recorded…
The average global temperature in July was 1.71 degrees F above the 20th-century average of 60.4 degrees, making it the hottest July in the 140-year record, according to scientists at NOAA's National Centers for Environmental Information.

The previous hottest month on record was July 2016. Nine of the 10 hottest recorded Julys have occurred since 2005; the last five years have ranked as the five hottest. Last month was also the 43rd consecutive July and 415th consecutive month with above-average global temperatures.
Unfortunately, many believe that this is just the beginning. Global weather patterns are going haywire, and so the extremes that we have seen so far may just be the tip of the iceberg.
The environment that we depend upon for life every moment of every day is being shaken, and many are deeply alarmed about what is happening to the Earth. Each day it is being destroyed a little bit more, and the clock is ticking…
Brazil forest fires rage as farmers push into the Amazon
Forest fires are surging in Brazil, with thousands being recorded this week alone. Scientist Carlos Nobre from Sao Paolo University says politics is to blame for the alarming increase.
Nearly 73,000 fires were recorded between January and August, compared with 39,759 in all of 2018, according to the latest figures from INPE, Brazil's National Institute for Space Research, which monitors forest fires in the Amazon region. The number is the highest since records began, and an 83% increase on the number of fires in the same period last year. President Jair Bolsonaro suggested Wednesday, without citing evidence, that nongovernmental organizations could be setting them to make him look bad.
Carlos Nobre, a Senior researcher with the Institute for Advanced Studies at the University of Sao Paolo, says the combination of traditional farming methods and the current political rhetoric is lethal for the future of the forest.
DW: What's behind this surge in forest fires in Brazil? Is it to do with warmer temperatures or stronger winds this year, or is it something else?
Carlos Nobre: It is something else. In fact the dry season this year is not extremely dry, it is normal. The winds in that part of the Amazon are not that strong. So really, most of the forest fires in the Amazon are not natural forest fires, they are human-induced, usually by farmers and ranchers.
Read more: Mass deforestation: How trade fells trees in Brazil and Indonesia
Unfortunately, in tropical agriculture, fire is still used routinely. And some of those fires spread, then reach and burn large areas of forest. The typical system in Brazil and in all Amazonian countries is that people cut down trees and then leave the area to dry out for about two or three months before setting it on fire in order to clear the land for agricultural purposes.
So this is a very common phenomenon. But what we're seeing this year is more deforestation. We estimate that the forest areas in the Brazilian Amazon have decreased something between 20% and 30% compared to the last 12 months.
Is there any attempt to stop these fires?
It's very difficult because the use of fire is a traditional part of tropical agriculture in order to clean up agricultural land, grazing land, so it's very difficult to stop. For many years, there were periods in which fire was prohibited, but unfortunately most of the farmers and cattle ranchers do not abide by those legal instruments. They get fined, but it does not work. Fires are increasing. There is a culture in the agricultural sector in the Amazon to use fire extensively and intensively.
How big are these fires and how much damage are they doing?
INPE's systems rely on satellites which detect hot spots related to fire. So they are measuring both fires which are for agricultural purposes and also fire in the forest.
This is not unique, we have seen these fires for many decades. But unfortunately, the number of fires has peaked this year. This shows that deforestation is increasing and that farmers and ranchers are using fire even more intensively.
Brazil's new federal government is encouraging these models of agricultural development. Even the president is encouraging it, making almost daily statements saying that agriculture is a powerful economic sector for Brazil and the agricultural frontier has to expand.
Read more: Brazil registers huge spike in Amazon deforestation
So there is not even a hidden message, it's an open message that these farmers and cattle ranchers are heroes, that they should move the agricultural frontier because they are bringing progress and income, which is not necessarily true. But these messages send a signal to the farmers and ranchers: Let's clear more land, let's cut down the forests, let's set fires, because nothing will happen to us.
How much forest do we stand to lose if this continues?
It's very likely that deforestation rates in the last twelve months will be significantly higher than the preceding 12 months. Looking at the satellite images, we can estimate about 20% to 30% higher, which is a very high rate.
Unfortunately, data shows that even during the years in which deforestation reduced a lot, the number of fires did not reduce at the same rate. So we got very concerned because it shows that farmers and ranchers continue to use fire even when the rate of clearing and cutting down of forests goes down.
It also shows that the forest is becoming more vulnerable, because people are not abiding by the laws. Across the Brazilian Amazon, most states have laws which outline periods during the dry season when no farmer or rancher is allowed to use fire. But they do not abide by that law, and fires are increasing.
The Amazon basin, home to the world's largest tropical forest, is vital to countering global warming.
What can be done to reduce the fires there?
There is an educational approach, which takes a long time. Modern agriculture does not use fire at all. You do not need to use fire to clean the grazing land or the crop land after harvest. In countries where agriculture is very developed, fire is not used. But teaching this approach takes time, many years or decades.
The other issue that is more urgent is really to be rigorous in terms of law enforcement. Up to 80% of deforestation in the Brazilian Amazon is illegal. Between 2005 and 2014, deforestation rates decreased because there were many more control measures. A lot of those guilty of these environmental crimes were arrested. There were campaigns against illegal deforestation and also campaigns against using fire. But unfortunately those campaigns, and that moment of being very rigorous about people not abiding by the law, are over. So now we are seeing an increase in deforestation and also fires.
Germany and Norway have halted their protection subsidies for the Amazon. How much will that affect conservation work in the region?
That will do much more harm than good. The total amount of those funds is not large, it's about one billion dollars over 10 years. And only something like 600 million dollars was used over 10 years. However, it was very important, because those funds from Norway and Germany were instrumental in demonstrating ways that the Amazon could be developed without clearing and cutting down forests, without fire, by empowering local communities.
Read more: Brazil's Amazon deforestation documented via massive satellite imaging
So I think it would be very bad for the future of the Amazon if we — Amazonian countries, in particular Brazil — lose that support from other countries that show there is an alternative. Since the politicians in power in many Amazonian countries do not share that vision, it's important for these countries to receive some international aid that really demonstrates in practice that we can have a different development model for the Amazon.
It's even more essential at this point, because if these countries decide not to donate, just to say they disagree with the current government policies, the government policies will not change.
Brazil's president is making jokes about Norway and Germany withdrawing from funding international aid. So it's almost like, "we are winning, our models of development, destroying the forests, replacing them with cattle ranches and crop land. This is our model and we are succeeding. Even international aid is being reduced, so we are winning the game." So I think the loss of funding is a bad thing. It's the serious Brazilian institutions that are going to miss out on this international aid.
Carlos Nobre is a senior researcher with the Institute for Advanced Studies at the University of Sao Paolo. He previously worked as a researcher at INPE and was not directly involved in this latest study.
The interview was edited and condensed for clarity.
What space can teach us about the environment

Valuable data

Before satellites were first launched into space in the mid-20th century, we knew very little about the dynamics of our climate. Today, numerous satellites collect information which helps us piece together the story of our changing planet. In 1985, they helped discover the hole in the ozone layer, and data from space remains key to tackling global warming.
READ ALSO: