UPDATE 22. August 2019: Internet Access to West Papua totally cut.
We demand that Indonesia withdraws its forces from West Papua immediately and that @UN grants West Papua special status to protect the rights of Indigenous peoples pending a referendum that will be internationally supervised. #AfrikaForWestPapua
"The people of West Papua have been denied their basic human rights, including the right to self-determination" - Archbishop Desmond Tutu
GPAN is extremely dissatisfied with how @UN has been handling humanitarian catastrophe in West Papua.West Papuans have been subjected to severe human rights abuses causing deaths of over 500,000 Indigenous people yet UN has failed to see the black genocide #AfrikaForWestPapua
#
Indonesia deploys more troops to West Papua as protests spread
By Febriana Firdaus
Jakarta, Indonesia - Indonesia has deployed more troops to West Papua as demonstrations spread across the region, with government buildings torched and reports of a prison break, injuries and more attacks that belie earlier assurances by the government that the unrest had been contained.
President Joko Widodo's chief security minister, Wiranto, told reporters on Tuesday that Jakarta is deploying more forces to West Papua in anticipation of larger protests on Wednesday across the region.
Video obtained by Al Jazeera showed hundreds of military and police personnel arriving in Manokwari, capital of West Papua province and scene of violent protests on Monday, while Major General Sisriadi, spokesman for Indonesia's armed forces, told Al Jazeera on Wednesday the military had sent 300 troops to Manokwari.
West Papua comprises the West Papua and Papua provinces and shares an island with Papua New Guinea.
It was a Dutch colony until the early 1960s when Indonesia took it over; becoming part of the country in a controversial 1969 referendum where only some 1,000 people were able to vote.
An armed rebellion by the indigenous West Papua National Liberation Army has been rumbling ever since.
The region is the poorest in Indonesia, in spite of its natural wealth, and there have been numerous allegations of human rights violations there.
In December, an attack by independence fighters killed at least 17 people and triggered a military crackdown that caused 35,000 civilians to flee their homes as security forces tried to flush rebels out of the mountains.
East Java, where Papuan students faced the mistreatment that set off the protests, is on the main Indonesian island of Java.
Protests continue in spite of calls for calm
Late on Monday, President Widodo had appealed for calm in West Papua, calling on his countrymen to "forgive" and observe more "patience".

East Java Provincial Governor Khofifah Indar Parawansa also apologised to Papuan students who had been racially abused - reportedly being called "monkeys" - by bystanders and subsequently arrested during a pro-independence demonstration they were holding in the East Java city of Malang.

The anger resulting from the mistreatment of Papuan students is still burning across the region.

Images sent by a source to Al Jazeera on Wednesday showed Papuan protesters in Fakfak, West Papua province, raising their pro-independence flag, a crime under Indonesian law carrying a punishment of up to 15 years in prison.

Another image showed what appeared to be a fire in a coastal area of Fakfak, with reports saying the local market had been set on fire.

On Wednesday afternoon, reports said military and police reinforcements had arrived in Fakfak.

Meanwhile, in Timika, angry protesters took to the streets on Wednesday as soldiers in riot gear and carrying rifles looked on.

On Tuesday, angry protests had spread to at least six areas in West Papua, with reports of injuries.

A female protester was shot in the ankle in Manokwari, according to Victor Yeimo, spokesperson for the West Papua National Committee (WPNC), which initiated and organised the protests.

In Sorong, West Papua province's largest city, protesters blocked roads and gathered in front of the mayor's office on Tuesday.

Image obtained by Al Jazeera on Wednesday showed a coastal area in Fakfak, West Papua province, on fire [Al Jazeera]

Local media reported that the angry protesters destroyed Domine Eduard Osok Airport, forcing airlines to cancel flights to Sorong.

Protesters also set fire to the local prison, which allowed up to 250 prisoners to escape on Tuesday.

Another video obtained by Al Jazeera showed a group of men armed with sticks chasing and throwing rocks at police officers, who were outnumbered. In the video, one officer was seen falling and being hit.

A police officer told Al Jazeera that an officer in Jayapura, the capital of Papua province, had been shot and injured.
'Under control'
Mario Christy Siregar, police chief of Sorong regency, told Al Jazeera there were no serious casualties.
"None [was injured]. [Everything is] under control," he said.
In an interview with Al Jazeera late on Tuesday, Indonesia's national police spokesman, Dedi Prasetyo, said the police had observed maximum restraint and no protesters had been hurt.
"None of the police uses any bullet," he said.
In other parts of West Papua such as Nabire, Biak, Bintuni Bay, Kaimana, and Yahukimo, the number of protesters swelled as they shouted: "Papua! Freedom! Papua! Freedom!" and "We are not red and white. We are morning star."
Red and white refers to the Indonesian flag, the morning star to the political symbol for pro-independence West Papuans.
West Papuans explained to Al Jazeera why they are joining the rallies, as protests enter their third day on Wednesday.
"The Papuan people continue to protest because they want independence ... We believe that only by getting the independence makes our self-esteem equal to other nations'," said Victor of the WPNC.
On Tuesday evening, Victor had appealed to the international community to monitor West Papua, "especially after the deployment of hundreds of military and police".
Benny Wenda, chairman of the United Liberation Movement for West Papua, expressed deep concern over the situation of Papuan students in Indonesia.
"Racism goes hand-in-hand with colonisation and repression. Like the black people of South Africa, fighting against apartheid, our struggle against racism is also a struggle for self-determination," he said in a statement released on Tuesday.
"President Widodo's words are not enough: Papuans will not stop fighting until we achieve equality, self-determination and a referendum on independence," added Benny, who is accused by some of being behind the protests.
West Papuan protesters reportedly raised their banned pro-independence flag in Fakfak, West Papua
Internet slowdown
As the unrest continues, the Indonesian government has slowed the internet in parts of West Papua.

Arnold Belau, chief editor of regional online news leader Suara Papua, said the internet in Jayapura has been off since Monday.

Communications and Information Minister Rudiantara told Al Jazeera that the government applied a "throttling mechanism" to filter information and prevent the spread of rumours during the protest.

Rudiantara explained that throttling was only being applied in three areas - Jayapura, Manokwari and Sorong - between noon and 8pm.

"We need to do that not only due to the national security but also to avoid hoax from spreading to provoke (the masses)," he argued.

Throttling is an intentional slowing of the internet by service providers.

Rudiantara also teamed up with national police to examine postings on social media. Police said they found two social media accounts they believe provoked the riots in Manokwari.

The ministry's site published some of the alleged hoaxes they thought had contributed to stirring anger. One of these so-called hoaxes was a post by human rights lawyer Veronica Koman, who focuses on West Papua issues, on the arrest of two Papuan students in Surabaya, East Java.

The ministry came under fire after the public realised that Veronica's tweet had been misquoted, changing her use of the word "arrested" to "kidnapped". She is publicly seeking an apology from the ministry.

Protesters burn tyres in the middle of the road in Manokwari, West Papua province, on Monday [File: Antara/Reuters]

Veronica has said that the throttling measure is a violation of the West Papuan people's right to freedom of expression and access to information, rather than a measure to limit the spread of hoaxes.

With the internet blocked, people are only able to access television, meaning Jakarta can control the narrative, added Victor, the WPNC spokesperson.
Racial slurs, rights abuses
Monday's demonstrations in West Papua erupted following the arrest last week of ethnic Papuan students living in Surabaya and Malang in East Java.
In Surabaya, the students were accused of throwing the Indonesian flag into a sewer - allegations that they denied in an interview with Suara Papua.
According to local media, a number of mass organisations had gathered at the Papuan student's dormitory on Saturday - Indonesia's independence day - to confront them about the alleged defilement.
In the confrontation that ensued, racist abuse was hurled at the Papuan students, including the slurs "monkey, dog, animal and pig". Security forces arrived, locking down the students' dormitory, firing tear gas and arresting the Papuan students.
The police force has said that all the students were returned to their dormitory later that evening and that no arrests had taken place, the students were simply removed for their own safety.
On Thursday, reports of injuries and arrests had circulated after a pro-independence rally held by Papuan students in Malang, East Java. According to a press release by Amnesty International, the students were attacked by residents and, shortly after the incident, the deputy mayor of the city threatened to remove the students and return them forcibly to West Papua.
A low-level armed rebellion by indigenous Papuans has been going on for years in West Papua
"Indonesia must leave West Papua and the world's largest gold-mine must be handed back to the people of West Papua!"
Indonesia deploys 1,000 police to West Papua to quell protests
By Tia Asmara and Joshua Berlinger, CNN - Updated August 22, 2019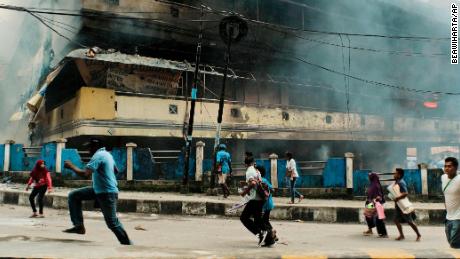 People flee as the local market is seen burning during a protest in Fakfak in Indonesia's Papua province Wednesday.
Jakarta, Indonesia (CNN)Indonesia has sent more than a thousand security personnel to quell protests in the restive provinces of Papua and West Papua, as violence spirals in the region. The protests were sparked by allegations that Indonesian police used excessive force on a group of Papuan students, after they were accused of throwing the country's flag into a ditch.
On Wednesday, protesters set buildings alight, damaged the local parliament and airport and engaged in pitched battles with police, authorities said. One thousand police personnel from across Indonesia and 100 soldiers from the Indonesian Army have been deployed to stop the unrest.
Six hundred were deployed to Manokwari, the capital of West Papua; 300 to Sorong, the province's largest city; and 100 to the town of Fakfak, according to West Papua Police spokesman Mathias Krey.
Internet access to the region was also temporarily throttled, according to Indonesia's communications ministry.
Krey said calm had been restored Thursday and that several people had been detained and were being questioned by police. "People are getting to school, working, traditional market is open and road access is open, people back to their activity," he said.
Papua and West Papua are home to a long-simmering and occasionally violent separatist movement, but the recent unrest was sparked by events hundreds of miles away in the city of Surabaya, on the island of Java.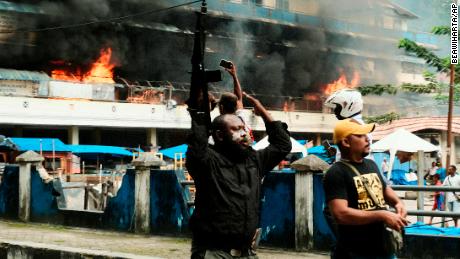 A police officer raises his rifle as the local market is seen burning during a protest in Fakfak in Indonesia's Papua province on Wednesday
On Saturday, during a national holiday marking Indonesia's independence from Dutch rule, students from Papua were accused of throwing the Indonesian flag into a ditch. A crowd of angry local residents then clashed with the students, according to CNN Indonesia.
Activists say that police who were supposed to calm the situation fired tear gas into a student dormitory, and then arrested 43 Papuan students. They also alleged that police abused them with racist terms.
Police on Monday said they were investigating the use of tear gas and denied that students had been formally arrested. A spokesperson from the East Java Police Department told CNN that the police had brought 43 Papuan students to the police station on Friday to halt the clashes, and that the students were later brought back to the dormitory.
The rapid escalation of the protests underscores the volatility of the region and the tumultuous relationship between roughly four million Papuans and the central Indonesian government.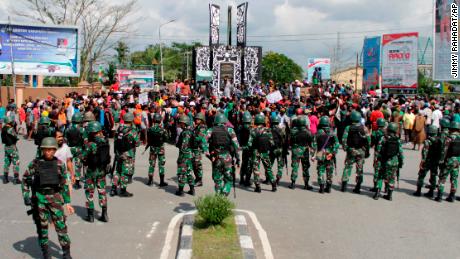 Indonesian soldiers stand guard during a protest in Timika in Papua province Wednesday.
Papuan activists have long disputed the results of the referendum that led to both provinces becoming part of Indonesia in 1969, during the country's transition to independence from colonial rule. Only 1,000 people from the local Melanesian population were handpicked to vote in what was called the "Act of Free Choice."
Activists also say that Indonesia maintains control of the area by force. "West Papua is a militarized zone. People's everyday life is colored by harassment and intimidation at the hands of security forces," said Benny Wenda, a Nobel Peace Prize nominee in the UK who leads a global push for rights in Papua.
Wenda also criticized the government's decision to block internet access, and called on the UN to investigate.
Internet shutdowns have become increasingly common worldwide during periods of unrest, especially in authoritarian countries. Indonesia's government has said throttling the internet in Papua was meant to stop the spread of misinformation, though critics accuse it of using the tactic to clamp down on dissent.
Protest riots in Indonesia's West Papua province
People set fire to a local parliament building in West Papua on 19 August, in protest against arrests and alleged racial abuse of Papuan students by Indonesian police.
By Robin Gomes - 19. August 2019
Violence erupted in the West Papua province of Indonesia on Monday, with people setting fire to the local parliament building, in protest against the alleged racial abuse of students from neighbouring Papua province.
The backlash came in the wake of news that security forces led by an angry mob reportedly launched physical and racial verbal attacks on some Papuan students living in a dormitory in the East Java city of Surabaya on Sunday, accusing them of refusing to celebrate Indonesia's Independence Day the previous day.
The students were accused of throwing an Indonesian flag into a sewer, which they denied.
In the West Papuan capital Manokwari, a mob set fire to the West Papua Regional Legislative Council (DPRD) building and a number of other buildings and blocked roads with burnt cars and tyres.
Police also reported that protesters destroyed parts of an airport in Sorong, another city in West Papua province.
Residents of West Papua are ethnically similar to those in the neighbouring province of Papua. The two provinces became part of Indonesia controversially in the 1960s, despite the former Dutch colony declaring independence in 1961.
Since then, a separatist movement has been simmering in Papua, with people complaining of discrimination and rights abuses at the hands of Indonesian authorities.
In recent years, some Papua students, including some who study in other provinces, have become vocal in calling for self-determination for the province.
The arrested students were released on Aug. 18, by which time outrage in Papua had emboldened protesters to take to the streets.
Papua Governor Lukas Enembe condemned the Surabaya incident saying, "Indonesia has been independent for 74 years, and intolerant, racist and discriminatory actions should not be allowed in
this country." "Racial acts in Surabaya have hurt us in Papua," he said in a statement. "Intolerant, racial and discriminatory actions should not exist in today's Indonesia."
Indonesian President Joko Widodo is seeking to defuse the tension, with his chief security minister, Wiranto, pledging a "complete and fair" investigation into the East Java incidents.
Home Affairs Minister Tjahjo Kumolo said he would summon the governors of Papua, West Papua and East Java to get to the bottom of the matter.
Religious groups and rights activists condemned the weekend arrests, saying it was a setback to efforts to end tensions in Papua.
Yuliana Langowuyo, deputy director of the Franciscan Commission for Justice, Peace and Integrity of Creation, said the students were treated in a "very degrading way."
"Such racism and discrimination show the failure of the state in protecting the rights of all citizens," she told UCANEWS.
Natalius Pigai, a Papuan activist and former member of the National Human Rights Commission, called on police to punish those involved in the student arrests. "The police must move immediately to try and diffuse the situation," he said.
Riots in Manokwari, the capital of Indonesia's West Papua province. (AFP)
Riots break out in Indonesia's West Papua over students arrest in Java
By Xinhua, August 19, 2019
JAKARTA, Aug. 19 (Xinhua) -- Riots broke out in the capital of Indonesia's [ILLEGALLY OCUPIED] West Papua province of Manokwari on Monday as protesters blocked main roads and set fire on the provincial parliament building.
The protesters turned violent to respond to alleged police abuse of Papuan students.
Police arrested dozens of students in Surabaya and Malang in Java Island on Friday afternoon following the national flag was vandalized in their dormitory.
While setting fire on the provincial parliament building, the protesters used machetes to cut the trees along the roads, blocked the roads with logs and burned tires.
Chief of the Indonesian National Police General Tito Karnavian confirmed that the riots in Manokwari are related to the recent arrests of the Papuan students over the vandalism.
The students were released from police on Sunday. But by then, tension had already risen which were partly fueled by rumors.
Meanwhile in Jakarta, the Indonesian Police Headquarters said that areas around Manokwari are normal and not affected by the riots.
A spokesperson for the police headquarters said in a press conference that police and the military would act to prevent the riots from spreading.
The spokesperson said that the police and the military would also seek help from local senior tribal figures to give the correct information to people.
Police would also hunt for the social media account spreading the provocative contents that led to the riots.
READ ALSO:
Indonesian Defence Minister calls for Papuan crackdown
15 August 2019
The Indonesian defense minister has called for a crackdown on West Papuan rebel fighters amid ongoing deaths from armed conflict in the Melanesian region.
Ryamizard Ryacudu was speaking after Papuan rebels this week abducted and killed a policeman in Puncak Jaya regency.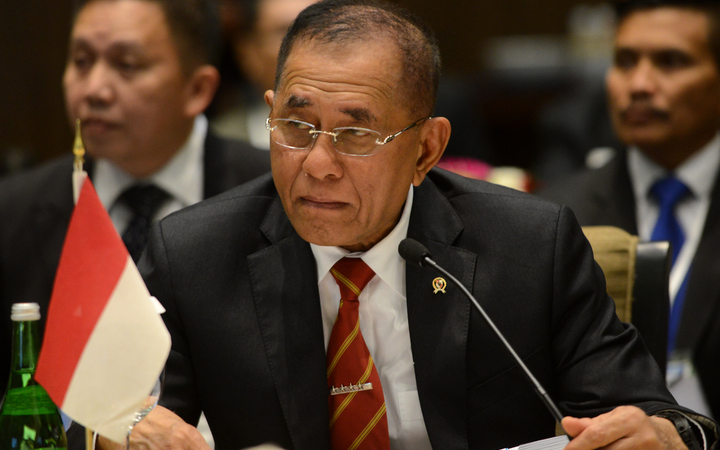 Photo: AFP
It comes amid protracted violence between the West Papua National Liberation Army and Indonesian security forces in Papua's highlands.
Violence escalated since last December when the Liberation Army killed as many as 19 workers on the Trans-Papua Road project in Nduga regency.
The state news agency Antara reports the minister saying the rebels must be crushed, as they can't just kill people with reckless abandon.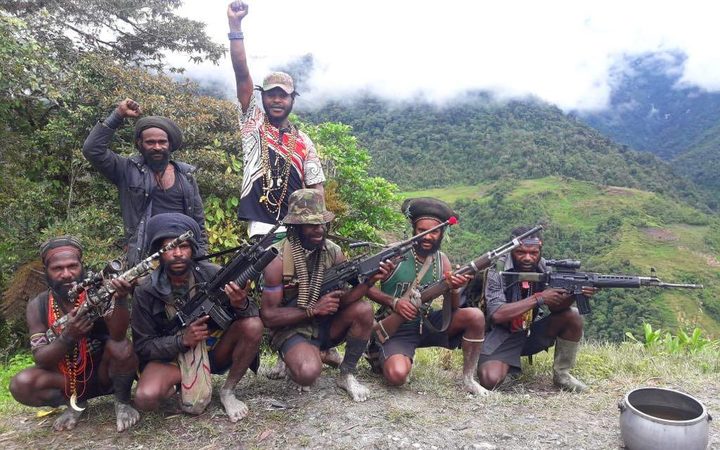 West Papua Liberation Army unit, led by Egianus Kogoya. Derakma, Nduga regency, Papua. March 2019 Photo: Supplied
Following last December's massacre, Indonesia promptly dispatched around 150 police and soldiers to the region, and a further 600 soldiers in March, in pursuit of the Liberation Army's guerilla fighters.
The increased presence of Indonesian military in the regency, and raids on villages, have sparked mass displacement of Papuan villagers.
While the Indonesian forces have largely asserted control of public spaces, Papuan guerillas have continued to launch deadly attacks from the bush.
The police officer, identified as Heidar, was found dead from gunshot wounds on Monday in Puncak after negotiations with his abductors failed, according to Senior Commissioner Ahmad Musthofa Kamal, a spokesman for police in Papua.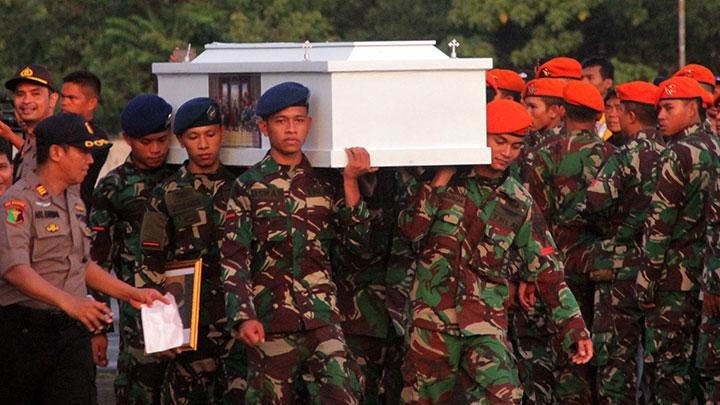 Indonesian National Armed Forces carrying a coffin of a fallen fellow soldier. Three Indonesian soldiers were reportedly killed by the West Papuan Liberation Army in Nduga regency on March 7th, 2019 Photo: Tempo
Meanwhile, on Wednesday, a team monitoring the humanitarian situation in Nduga urged Indonesia's government to pull troops out of the regency.
Tens of thousands of Nduga residents fled their villages due to the increased military operations in the area - at least 182 people have died of hunger and disease after fleeing.
Theo Hasegem, director of the Papuan Justice and Unity and a member of the humanitarian team, said that from the outset they had called on the government to withdraw the troops because it is civilians who are harmed.
He urged the government to open Nduga to journalists, church workers and human rights observers so they could see "the truth".
BENNY WENDA SET FOR PRESIDENT IN WEST PAPUA
but
Indonesia complains to Pacific Forum over Wenda participation
14 August 2019
Indonesia has complained to the Pacific Islands Forum secretariat over West Papuan leader Benny Wenda's participation at this year's Forum summit.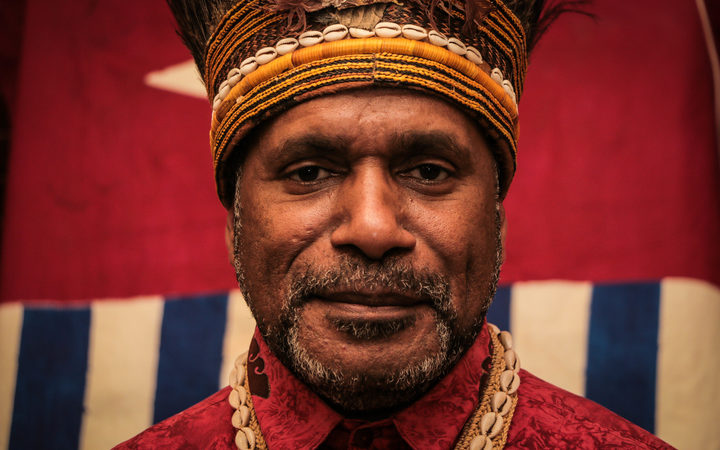 West Papuan independence leader Benny Wenda. Photo: RNZI/Koroi Hawkins
Leaders of Forum member states are meeting in Tuvalu this week, with Vanuatu's government including West Papuan representatives in its delegation.
As the chairman of the United Liberation Movement for West Papua, Benny Wenda has been a most active lobbyist for greater regional representation for his people.
Vanuatu, the key regional supporter of Papuan aims for independence from Indonesia, has included Mr Wenda and other Liberation Movement representatives in its forum delegation.
Detik News reports a spokesman for Indonesia's Foreign Affairs Ministry saying it has lodged a protest with the Forum secretariat.
He said that by allowing Mr Wenda, with his separatist aims, to participate in the summit, the Forum was not showing neutrality on the Papua issue.
Eager to grow connections in the Pacific, Jakarta says it has no desire to talk with unfriendly countries, but rather those that seek economic development co-operation.
For the freedom struggle of West Papuans:
See: FREE WEST PAPUA
Please link up with fPcN (friends of Peoples close to Nature) via