Ethiopia says it planted 350m trees in a day to help tackle climate crisis
National 'green legacy' initiative aims to reduce environmental degradation
By Anna Ploszajski -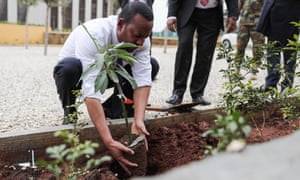 About 350m trees have [allegedly] been planted in a single day in Ethiopia, according to a government minister. [see caveat below]
The planting is part of a national "green legacy" initiative to grow 4bn trees in the country this summer by encouraging every citizen to plant at least 40 seedlings.
Public offices have reportedly been shut down in order for civil servants to take part.
Prime minister, Abiy Ahmed, was observed to plant a tree in Addis Ababa. Photograph: Aron Simeneh
The project aims to tackle the effects of deforestation and climate change in the drought-prone country. According to the UN, Ethiopia's forest coverage was just 4% in the 2000s, down from 35% a century earlier.
#
CAVEAT LECTOR: The figure of having planted 350 million trees during 12 hours on a single day has been challenged and the Ethiopian government has so far not provided proof. It would have taken an effort to plant 29 million trees per hour countrywide. Since with all time to carry the seedling to the spot, plant it, water it etc. it takes at least 5 minutes per tree, if everything would have been organized perfectly, that would mean that 2.5 million people would have been required to plant the trees continuously for 12 hours. Such mass mobilization was nowhere observed in Ethiopia during that day. Efforts observed did show in several centres some hundred people (many school-children) planted a tree or two, which is already a good effort and must not be diminished, but the overall claim to have planted 350 million trees on that day is certainly false and fake news as part of Abiy Ahmed's propqganda campaign. The fake news propaganda, however, must not discouraged Ethiopians to continue, beause any trees they plant will benefit their natural habitat and country when Abiy will be long gone.
#
Ethiopia's minister of innovation and technology, Dr Getahun Mekuria, tweeted estimates of the number of trees planted throughout the day. By early evening on Monday, he put the number at 353m.
The previous world record for the most trees planted in one day stood at 50m, held by India since 2016.
Dr Dan Ridley-Ellis, the head of the centre for wood science and technology at Edinburgh Napier University, said: "Trees not only help mitigate climate change by absorbing the carbon dioxide in the air, but they also have huge benefits in combating desertification and land degradation, particularly in arid countries. They also provide food, shelter, fuel, fodder, medicine, materials and protection of the water supply.
"This truly impressive feat is not just the simple planting of trees, but part of a huge and complicated challenge to take account of the short- and long-term needs of both the trees and the people. The forester's mantra 'the right tree in the right place' increasingly needs to consider the effects of climate change, as well as the ecological, social, cultural and economic dimension."
Ethiopia plants over 350 million trees in a day, setting new world record
In a record-breaking day this week, at the Gulele Botanical Garden in Addis Ababa, Ethiopia launched an historic tree planting campaign. Over 350 million trees were planted in an ambitious move to counter the effects of deforestation and climate change.
The event is part of Ethiopian Prime Minister Abiy Ahmed's Green Legacy Initiative. It aimed at planting 200 million trees in a single day in 1,000 sites across the country.
Prime Minister Ahmed congratulated the country for not only meeting its collective Green Legacy goal but also exceeding it.
Ethiopia's Minister of Innovation and Technology Getahun Mekuria was quoted saying that more than 350 million trees were planted in 12 hours, breaking the world record held by India since 2016, for the most trees planted in one day and which stood at 50 million trees.
The tree planting event was attended by a representative of the UN Environment Programme's Liaison Office to Africa Union Commission, UN Economic Commission for Africa and representative to Ethiopia, and whose support for this ambitious action was crucial, as well as other United Nations Agencies and various international organizations.
The initiative aims to tackle the effects of deforestation and climate change in the country. The United Nations estimates that Ethiopia's forest coverage has declined drastically to a low of just 4 per cent in the 2000s from 35 per cent a century earlier.
"Afforestation is the most effective climate change solution to date and with the new record set by Ethiopia, other African nations should move with speed and challenge the status quo," said Juliette Biao Koudenoukpo, Director of UN Environment's Africa Office.
"Africa has what it takes to spearhead this global push and as the most affected and vulnerable continent, climate change mitigation must be the topmost priority in the coming days. We at UN Environment are taking the lead in helping to build capacity for nations and people to apply themselves to afforestation and climate change mitigation strategies," she added.
Trees provide many ecosystem services and environmental benefits for the planet as a whole. As they grow, they absorb and store carbon dioxide—a major driver of global heating. In a scientific paper published in the Science magazine, researchers estimate that a worldwide tree planting programme could remove two thirds of all the emissions that have been pumped into the atmosphere as a result of human activities.
Researchers found that tree restoration was among the most effective strategies for climate change mitigation. They show that the global potential tree coverage stands at 4.4 billion hectares of canopy under the current climate. Planting trees is therefore considered the biggest and cheapest way to tackle the climate crisis.
Many African countries have recently engaged in massive tree planting campaigns including Kenya who has recently, with support from the UN Environment Programme, launched the "Greening Kenya Initiative" to reverse the declining forest cover.
UN Environment Programme is working with countries across the continent to replicate such initiatives to stop deforestation and increase forest cover. This is crucial in honoring African countries' commitments to mitigate climate change and contribute to the achievement of the UN Decade on Ecosystem Restoration.
UPDATE: