After Assange's Espionage Act Indictment, Police Move Against More Journalists for Publishing Classified Material
Less than two months after the arrest of journalist Julian Assange, and two weeks after his indictment under the U.S. Espionage Act, emboldened governments have sent the police after journalists who've challenged the state. Joe Lauria reports.
By Joe Lauria
in Sydney, Australia
Special to Consortium News
Following the arrest and Espionage Act indictment of Julian Assange a number of police actions against journalists for publishing classified information and other journalistic activity has heightened fears among mainstream journalists that they could be next.
Police in Sydney, Australia on Wednesday raided the offices of the taxpayer-funded Australian Broadcasting Corporation, copying thousands of files related to a 2017 ABC broadcast that revealed allegations of war crimes by Australian special forces in Afghanistan.
Three Australian Federal Police officers and three police technicians entered ABC's Sydney headquarters with a search warrant that named two ABC investigative journalists and the network's news director. The police demanded to look through the journalists' emails, ABC reported.
David Anderson, the ABC managing director, said it was "highly unusual for the national broadcaster to be raided in this way".
"This is a serious development and raises legitimate concerns over freedom of the press and proper public scrutiny of national security and Defence matters," he said. "The ABC stands by its journalists, will protect its sources and continue to report without fear or favour on national security and intelligence issues when there is a clear public interest." John Lyons, ABC's executive editor and head of investigative journalism, tweeted:
Lyons said the federal police were going through dozens of emails with the authority to delete or even change their content. Protagonist Winston Smith's job in Orwell's 1984 was to rewrite news archives.
"I recall writing ages ago about Australian legislation giving the Australian govt power to 'add, alter or delete' targeted material," Australian psychologist and social critic Lissa Johnson told Consortium News. "The msm barely batted an eyelid at the time. Now that power is being wielded against the ABC."
Gaven Morris, ABC's news director, said: "Journalism is not a crime."
"Our journalists do a really difficult job, I'm proud of what they do, they do it in the public's interest," he said. "I'd say to all the journalists at the ABC and all the journalists across Australia, don't be afraid of the job you do."
Marcus Strom, president of Australia's journalists' union, the Media, Entertainment and Arts Alliance, called the raid "disturbing."
"It should chill the public as well as journalists," he said."These raids are all about intimidating journalists and intimidating whistle blowers so that mistakes made by the Government, including potential crimes, by the military, remain covered up, remain secret, and don't fall in to the public domain."
Political Editor's Home Raided
On Tuesday morning in an unrelated case, Canberra police entered the home of the political editor of the Murdoch-owned Daily Telegraph. "Journalist Annika Smethurst opened her front door to find seven AFP officers [Ed.: AFP is here Australian Federal Police - not Agence France Press] waiting for her. All because she dared to do her job and keep the nation informed on what its government was doing," the Telegraph said in an editorial.
Ironically, the Smethhurst article in April 2018 that raised the ire of the government "revealed the departments of Defence and Home Affairs were considering new powers allowing Australians to be monitored for the first time," The Telegraph reported. "Her original article included images of top secret letters between Home Affairs Secretary Mike Pezzullo and Defence Secretary Greg Moriarty."
French Journalists Arrested
Assange was arrested in London on April 11. Police in Paris arrested two journalists who were covering Yellow Vest protests on April 20. One of the journalists, Alexis Kraland, said he was taken into custody after refusing to be searched and to turn his camera over to police at Gare du Nord train station. The largest journalism union in France demanded an explanation from police.
SF Police Raid Journalists' Home
And on May 10 in San Francisco, police using sledgehammers to break down the door, raided the home of Bryan Carmody, a freelance journalist, to get him, while handcuffed, to reveal the source who leaked him a police report into the sudden death of the city's elected public defender. Police took away computers, cameras, mobile phones and notes.
San Francisco Police Chief William Scott said initially that Carmody had "crossed a line" with his report. After a public outcry and demands that Scott resign, the police chief issued an apology.
Fears Justified
While there is no direct connection between Assange's arrest and indictment for possessing and disseminating classified material and these subsequent police actions, a Western taboo on arresting or prosecuting the press for its work has clearly been weakened. One must ask why Australian police acted on a broadcast produced in 2017 and an article published in April only after Assange's arrest and prosecution.
Within hours of Assange's Espionage Act indictment on May 23, major publications and media figures, who have harshly treated Assange, began lining up in his defense out of self-interested concern that the government could apply the same prosecutions to them for also routinely publishing classified information.
Their fears are beginning to be realized.
Joe Lauria is editor-in-chief of Consortium News and a former correspondent for The Wall Street Journal, Boston Globe, Sunday Times of London and numerous other newspapers. He can be reached at and followed on Twitter @unjoe .
... and so on. Long prepared move by neo-Fascist Australian governance.
---
More Police Raids As War On Journalism Escalates Worldwide
The Australian Federal Police have conducted two raids on journalists and seized documents in purportedly unrelated incidents in the span of just two days.
Yesterday the AFP raided the home of News Corp Australia journalist Annika Smethurst, seeking information related to her investigative report last year which exposed the fact that the Australian government has been discussing the possibility of giving itself unprecedented powers to spy on its own citizens. Today they raided the Sydney headquarters of the Australian Broadcasting Corp, seizing information related to a 2017 investigative report on possible war crimes committed by Australian forces in Afghanistan.
In a third, also ostensibly unrelated incident, another Australian reporter disclosed yesterday that the Department of Home Affairs has initiated an investigation of his reporting on a story about asylum seeker boats which could lead to an AFP criminal case, saying he's being pressured to disclose his source.
"Why has AFP suddenly decided to carry out these two raids after the election?" tweeted Australian Sky News political editor David Speers during the Sydney raid. "Did new evidence really just emerge in both the Annika Smethurst and ABC stories?!"
Why indeed?
"If these raids unconnected, as AFP reportedly said, it's an extraordinary coincidence," tweeted The Conversation chief political correspondent Michelle Grattan. "AFP needs to explain ASAP the timing so long after the stories. It can't be that inefficient! Must be some explanation – which makes the 'unconnected' claim even more odd."
Odd indeed.
It is true that the AFP has formally denied that there was any connection between the two raids, and it is in fact difficult to imagine how the two could be connected apart from their sharing a common theme of exposing malfeasance that the government wanted kept secret. If it is true that they are unconnected, then what changed? What in the world could have changed to spark this sudden escalation of the Australian government's assault on the free press?
Well, if as I suggested recently you don't think in terms of separate, individual nations, it's not hard to think of at least one thing that's changed.
"The criminalization and crack down on national security journalism is spreading like a virus," WikiLeaks tweeted today in response to the ABC raid. "The Assange precedent is already having effect. Journalists must unite and remember that courage is also contagious."
"The arrest and espionage charges against Assange was just the beginning, as many in the media, even those who hate Assange, feared," tweeted Consortium News editor-in-chief Joe Lauria in response to the News Corp raid. "The home of a mainstream Australian journalist was raided Wed. morning by police because of a story she worked on."
"Shameful news from Australia as the police raid journalists' offices and homes," tweeted legendary Australian journalist John Pilger. "One warrant allows them to 'add, copy, delete or alter' computer files at the ABC. The assault on Julian Assange was a clear warning to all of us: it was only the beginning."
If you think about it, it would have been far less disturbing than the alternative if there were a connection between the two raids, because the alternative is vastly more sinister: that the Australian government's attitude toward the free press has changed. And that it has perhaps done so, as Australia has been doing for decades, in alignment with the behavior of the rest of the US-centralized empire.
In an article for Consortium News titled "After Assange's Espionage Act Indictment, Police Move Against More Journalists for Publishing Classified Material", Joe Lauria reminds us that Australia is not the first nation within the western power alliance to see such an escalation since the paradigm-shifting imprisonment of Julian Assange in the UK.
"Police in Paris arrested two journalists who were covering Yellow Vest protests on April 20," Lauria writes. "One of the journalists, Alexis Kraland, said he was taken into custody after refusing to be searched and to turn his camera over to police at Gare du Nord train station. The largest journalism union in France demanded an explanation from police."
"And on May 10 in San Francisco, police using sledgehammers to break down the door, raided the home of Bryan Carmody, a freelance journalist, to get him, while handcuffed, to reveal his source who leaked him a police report into the sudden death the city's elected public defender," Lauria added. "Police took away computers, cameras, mobile phones and notes."
So we're seeing a pattern already. You can choose to ignore it or dismiss it with a pleasant story, or you can acknowledge that we appear to be in the midst of a rapidly escalating shutdown of the free press in the western world.
There does not necessarily have to be any centrally-planned conspiracy behind this trend; it can simply be the natural result of an ailing empire seeing that it's going to need a lot more war, lies and deception in order to keep from collapsing, and responding accordingly. Once the Assange line was crossed, it could simply have served as a precedent for the other governments within the empire to begin doing things they'd already wanted to do anyway.
Julian Assange is the dot of a question mark at the end of a historically important question which we are all being asked right now. That question reads as follows: Does humanity wish to create a society that is based on truth and holds power to account, or does it want the exact opposite?
So far, the general consensus answer to that question has been going somewhere along the lines of "We're actually fine with a headlong plunge into Orwellian dystopia, thanks." But as the implications of that answer become clearer and clearer, we may yet see some stirrings in the other direction before it is too late.
_____________________
The best way to get around the internet censors and make sure you see the stuff I publish is to subscribe to the mailing list for my website, which will get you an email notification for everything I publish. My work is entirely reader-supported, so if you enjoyed this piece please consider sharing it around, liking me onFacebook, following my antics on Twitter, throwing some money into my hat on Patreon or Paypal, purchasing some of my sweet merchandise, buying my new book Rogue Nation: Psychonautical Adventures With Caitlin Johnstone, or my previous book Woke: A Field Guide for Utopia Preppers. For more info on who I am, where I stand, and what I'm trying to do with this platform, click here. Everyone has my unconditional permission to republish or use any part of this work (or anything else I've written) in any way they like free of charge.
---
The global war on journalism
By Mike Head - 6 June 2019
Australian Federal Police officers raided two separate news offices within 24 hours this week, in a chilling and blatant attack on the freedom of the press, aimed at intimidating journalists who report on government misconduct and war crimes.
On Wednesday, police spent more than eight hours trawling through nearly 10,000 files, including journalists' notes, draft versions of stories, raw footage, meeting minutes and emails, at the Sydney headquarters of the Australian Broadcasting Corporation. A day earlier, police spent hours ransacking the home of a News Corp political editor, Annika Smethurst.
In both cases, the raids were triggered by the publication of leaks exposing key elements of Australia's US-linked military-intelligence apparatus—war crimes committed by the Australian special forces in Afghanistan and plans to legalise internal mass surveillance by Australia's electronic spy agency.
The raids have graphically confirmed the warnings issued by the World Socialist Web Site: the persecution and jailing of WikiLeaks founder Julian Assange is setting a precedent for the criminalisation of journalism.
By targeting journalists, as well as the individuals leaking the damning information, the Australian government is directly following the lead of the Trump administration's charging of Assange, a journalist and publisher, with 17 counts under the US Espionage Act, for which he faces life imprisonment and possibly the death penalty.
"The arrest and prosecution of our publisher at the behest of the Trump administration is a watershed for the rest of the media—from seeking to prosecute whistleblowers, law enforcement is now being used to silence those who hold government to account," WikiLeaks wrote on Twitter. "We have long warned that other prosecutions will follow."
What is taking place in Australia is not the only verification of these warnings. In France, the government of Emmanuel Macron is moving to prosecute journalists from Disclose, who have exposed, in partnership with the Intercept, Radio France, Mediapart, Arte Info and Konbini, France's complicity in Saudi Arabia's illegal war in Yemen and the Macron government's efforts to cover it up.
In the US itself, now that Assange is behind bars, through a conspiracy between the governments of Australia, Britain, the US and Ecuador, whisleblower Chelsea Manning has been re-imprisoned, indefinitely. She has refused to testify at a grand jury established to concoct evidence and bring further frame-up charges against the WikiLeaks publisher.
The only supposed "crime" committed by Assange and Manning has been to reveal to the people of the world the war crimes, spying, regime-change operations and mass murder carried out by the US and its allies, including Australia.
WikiLeaks continued, "Like the WikiLeaks publications that Julian Assange is being persecuted for in the United States, the articles in question contained not only information detailing the overreach of intelligence agencies, but also evidence of war crimes including torture and unlawful killings which have so far been kept from the public."
In fact, it is inconceivable that the Australian government would have instigated and pursued the investigation of the ABC and Murdoch media journalists without the agreement, if not urging, of Washington. Both the Special Air Service (SAS) and the Australian Signals Directorate (ASD) surveillance agency are closely integrated into all the wars and war preparations of the US.
The war crimes of the SAS—which include the killing of children and unarmed civilians, and the desecration of corpses—are an inseparable and inevitable aspect of the ongoing US-led invasion and occupation of Afghanistan.
The ASD is part of the US-led global "Five Eyes" surveillance network. As Edward Snowden's leaks in 2013 revealed, the ASD collaborates with the US National Security Agency in exchanging information, including on Australian citizens. The Australian government's proposed changes in 2018, exposed by the leaks to Smethurst, would have legalised these spying operations.
The timing of the Australian raids is not accidental. Although the alleged leaks occurred in 2017 and 2018, the search warrants were executed just after Australia's May 18 election, which saw the return of the Liberal-National Coalition, and within weeks of the April 11 arrest of Assange.
In both cases, too, the precedent set by the Assange witch-hunt is being exploited to target journalists. The police are investigating alleged offences under section 79 of the Crimes Act. Dating back to World War I, this legislation outlaws not just "communicating," but also "receiving," information that "prejudices the security or defence" of Australia. If convicted, journalists could be jailed for up to seven years.
As the WSWS has warned, these developments are directly related to covering up, not just the past crimes of the US and its allies, but the even greater ones now being prepared as Washington threatens Iran, Syria and Venezuela, and escalates its economic war and military confrontation with China.
Successive Australian governments, both Liberal-National and Labor, have made Australia a testing ground for the militarisation of society and the suppression of political dissent. This has included basing US Marines in the strategic northern city of Darwin and imposing legislation permitting the police and intelligence agencies to access online "metadata," crack open encryption systems and prosecute anyone accused of "foreign interference."
Throughout all the corporate media coverage of the Australian raids, there has been not one mention of Assange and Manning. None of the journalists voicing, legitimately, alarm at the chilling impact on freedom of speech, has referred to the obvious connection.
The global crackdown on the freedom of the press after the charging of Assange throws into relief the utterly pernicious role of all those who have played a role in the persecution of the WikiLeaks founder.
The list is long. Nearly every major news outlet—including the New York Times, the Washington Post, and the Guardian—has taken part in a conspiracy to calumniate and defame Assange. Middle-class pseudo-left organisations such as the Democratic Socialists of America and the now-defunct International Socialist Organization have issued statements supporting Sweden's vindictive persecution of Assange at the behest of the United States.
It is no surprise then, that neither the Times, the Post, nor the Guardian have issued a statement condemning the raids in Australia, while Jacobin, associated with the DSA, has not even bothered to report them.
The defence of the freedom of the press will not come from these quarters.
The global crackdown on the freedom of speech is targeted squarely at the working class: against its right to know the crimes and conspiracies of the ruling elites and the state apparatuses they control.
A free press and freedom of expression online are vital for the working class to organise the struggle against war, inequality, and all the other social scourges of capitalism. As they enter into struggles all over the world, workers must take up the demand to free Assange and Manning, and to oppose the prosecution of all journalists.
The police-state attacks on journalists underscore the urgent necessity of the campaign being waged by the WSWS, the International Committee of the Fourth International and the Socialist Equality Parties around the world to mobilise the broadest opposition to Assange's threatened extradition to the US and for his complete freedom. We urge our readers to take up this struggle!
---
Australian feds raid broadcaster's office over Afghan war crime stories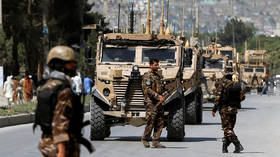 Australian police have raided national broadcaster ABC's headquarters over a 2017 story series exposing crimes committed by special forces in Afghanistan, the second raid on journalists in two days.
Six officers, including three police technicians, descended on the broadcaster's Sydney offices with a warrant explaining the raid was "in relation to allegations of publishing classified material, contrary to provisions of the Crimes Act 1914." The classified material in question? Hundreds of pages of leaked defense documents marked AUSTEO (Australian Eyes Only) that formed the basis of ABC's 2017 story series 'The Afghan Files.' The warrant names the report's authors, Dan Oakes and Sam Clark, as well as ABC news director Gaven Morris.
The officers rounded up ABC's IT staff to assist in examining their email server looking for "a series of key words," while others scoured a hard drive, according to John Lyons, ABC executive editor and head of investigations department, who live-tweeted the raid. Officers helpfully told him they were interested in "very specific matters" and "certain things," dryly noting "this could take some time," Lyons reported. Four hours into the raid, they had collected over 9,200 files and were deciding which could be seized under the warrant.
"It is highly unusual for the national broadcaster to be raided in this way," ABC managing director David Anderson told news.com.au, promising to support its journalists, protect its sources, and "continue to report without fear or favor on national security and intelligence issues when there is a clear public interest."
The federal police released a statement after the raid on Wednesday claiming "no arrests are planned today as a result of this activity" and denying it was connected to an intimidating visit paid to another journalist in Canberra the previous day – though it's hard not to see a connection, given both were publishing stories on government misconduct based on documents unavailable to the public.
Officers raided News Corp journalist Annika Smethurst's home on Tuesday, triggered by a story she wrote last year revealing the government's plans to dramatically expand the Australian Signals Directorate's spying on its own citizens, giving the agency power to secretly access bank records, text messages, and emails without an individual's knowledge. Officers reportedly spent seven hours picking through Smethurst's possessions; an unauthorized "leak of national security information" was cited as the cause.
That same day, 2GB radio host Ben Fordham said he had been contacted by the Department of Home Affairs in an effort to find out how he'd obtained "highly confidential" information for his reporting on asylum seeker vessels.
Condemning the "disturbing pattern of assaults on Australian press freedom," the Media, Entertainment and Arts Alliance, Australia's journalists' union, called the raids "nothing short of an attack on the public's right to know."
The Afghan Files describes a number of incidents in which Australian special forces shot civilians in addition to the insurgents they were supposed to be fighting and reveal Afghan authorities "were becoming increasingly agitated over Australians allegedly killing unarmed civilians" to the point that they "threatened to stop working with Australians."
PM Scott Morrison has refused to condemn the raids, declaring all Australians must abide by national security laws. He won a "miracle" reelection last month, giving his Liberal National party a third straight term in power. Morrison appears to be using his mandate to crack down on antagonistic journalism, the MEAA noted.
It seems that when the truth embarrasses the government, the result is the Federal Police will come knocking at your door.
---
'You don't stand a chance': how the press freedom argument will go for Assange
When former CIA counter-terrorism officer John Kiriakou was facing an espionage trial for blowing the whistle on torture in interrogations, he hired O.J. Simpson's jury consultant.
"He'd never lost a case in his whole career," Kiriakou says. "He came to Washington, got security clearance and reviewed the papers. He said 'in any other district I'd say let's go for it, we're going to win'.
"'But your jury is going to be made up of people with friends, relatives at the CIA, the Pentagon, national security, intelligence contractors. You don't stand a chance. Just take the deal.'
"And that's going to be Julian [Assange]'s jury."
Kiriakou took the deal. He'd faced up to 45 years in prison – less than half Assange's potential sentence - but bargained it down to 30 months plus a promise he would never appeal, or file a Freedom of Information request on himself, or reveal any more classified information. With good behaviour he was out in 23 months.
And that's the good news Kiriakou has for the WikiLeaks founder.
"Julian has leverage. WikiLeaks hasn't released everything. The NSA [intelligence agency] is going to have to do a damage control study, look at whether there is something he can offer in exchange for a lighter sentence."
But if it goes to trial, Kiriakou says, they're going to put duct tape over the doors and plastic over the windows, they will encode evidence into a "gibberish" cipher to protect national secrets, and they will clear the courtroom so it's just lawyers, judge and jury.
They call judge Leonie Brinkema's courtroom in the Eastern District of Virginia the "Espionage Court".
"No national security defendant has ever won a case there," Kiriakou warns.
The game has changed for Assange. And the stakes got higher for everyone: his prosecution could form a precedent, for generations, for the limits on what the public can know about how the secret services and the military work.
Many were shocked when on May 23, the District Court for the Eastern District of Virginia published a new indictment charging Assange with 17 counts of espionage to add to the one they'd already revealed of computer hacking, over WikiLeaks' 2010 work with army whistleblower Chelsea Manning.
"I was not surprised at all," gravelly-voiced 85-year-old American lawyer James Goodale says. "I've been warning about this for seven years.
"The Obama administration thought it over and concluded there were too many dangers to the free press. But the Trump administration went through with it. Their difference in philosophy is rather obvious."
Goodale was the general counsel for The New York Times and represented the newspaper in its famous Pentagon Papers case in 1971 – when the Supreme Court ruled that America's constitutional freedom of speech meant the government could not stop the paper publishing leaked top-secret military documents.
Goodale can see a future Assange v United States going all the way to the US Supreme Court.
"I think the world should pay attention to it. It will be a defining case. [A conviction would] make it constitutional to have the equivalent of an Official Secrets Act in the US. It was always thought the First Amendment would stop [that]."
Australia already has its equivalent of Britain's Official Secrets Act, the 1914 Crimes Act, cited this week after AFP raids on the home of a News Corp journalist and the ABC's Ultimo offices over leaked classified material. There is, however, no Australian equivalent of the US Constitution's First Amendment protecting free speech.
Goodale says there is "constant drumbeat" in Washington "to get the leakers … administrations want to stop the leaks because they make government more difficult".
But, says Goodale, "leaks are the safety valve in the system".
The Pentagon Papers set a powerful precedent but is of only limited help to Assange, says Goodale. It ruled there could be no barrier to stop publication, but it said nothing about what happens once something is published.
"Rules for [whether someone can be guilty of espionage for] publication have never been set out in the history of the republic," Goodale says. "What we really don't want in the world is reporters and publishers subject to criminal sanctions when they're publishing the truth about what's going on in the world."
In mid-1917, the US was poised to enter World War I, as German submarines stepped up their efforts to sink any American ship approaching Europe.
US president Woodrow Wilson warned Germany had "filled our unsuspecting communities and even our offices of government with spies and set criminal intrigues everywhere afoot".
"If there should be disloyalty, it will be dealt with with a firm hand of stern repression," he said.
Two months later Congress passed the Espionage Act, making it a crime to obtain, copy or communicate "information respecting the national defence with intent or reason to believe that the information is to be used to the injury of the United States".
The government has only twice charged non-government third parties with Espionage Act crimes.
In 2005 two employees of a pro-Israel lobby group allegedly conspired with a Pentagon analyst to get (verbal) classified information about Iran and pass it on to Israel. The charges were dropped in 2009 after a District Court judge required a high standard of proof that they had known distributing the information would harm US national security, and knew they were breaking the law.
This is likely to be a significant hurdle for the US in the Assange case.
And before that was the 1971 prosecution of Anthony Russo, who helped military analyst Daniel Ellsberg copy the Pentagon Papers, a top-secret study of US strategy in the Vietnam war.
That prosecution fell apart after it emerged a Nixon White House team had broken into Ellsberg's psychiatrist's office to steal medical files.
But the Assange indictment marks the first time anyone has been charged under the Espionage Act on the act of publication. Three of the 17 charges against Assange allege publication as a crime (as opposed to conspiring with a source, or aiding and abetting the acquisition of classified information, which other Assange charges relate to).
Gabe Rottman, counsel to the American Civil Liberties Union, says there have been four previous cases in which the government contemplated bringing such "pure publication" charges – but it never did.
The Washington Post has reported that two prosecutors disagreed with bringing charges against Assange "in large part because Assange's conduct was too similar to that of reporters at established news organisations".
Rottman says it does not matter whether Assange is or was acting as a journalist (a subject of some debate). The First Amendment covers everyone, but so does the Espionage Act.
Unlike Goodale, Robert Chesney, a professor of law specialising in national security law at the University of Texas, was "flabbergasted" at the espionage charges added to Assange's rap sheet. They increase the difficulty of prosecuting Assange and of extraditing him to the US from Britain. The government would also have known it would provoke intense controversy, Chesney says.
He believes the move may reflect a "studied determination" by authorities to send a larger signal to others who would leak or publish national security secrets.
"They view WikiLeaks as a hostile foreign organisation that should not be in the same category as the Washington Post or New York Times – but if [prosecution] has that chilling effect on, say, The Guardian, they might like that into the bargain."
He says it is not yet clear if prosecutors will make a distinction between what Assange has done and what "traditional" news organisations do – or if that is even possible.
"[Assange] says a great deal about affirmatively harming the US government and its intelligence apparatus, and no traditional news organisation would say that, but I'm not sure that's enough of a distinction," he says.
And he agrees with Goodale that the Pentagon Papers case is not the powerful shield that some believe. In that case the judges "held open the door" to prosecution after publication.
Nevertheless, Chesney thinks it is "preposterous" to claim Assange will not get a fair trial. He says there is a lot of "baloney" being spread about the US justice system, particularly with bogus comparisons to Chelsea (then Bradley) Manning, who was tried in a military court.
Chesney says there would be "all kinds of media attention, all kinds of legal representation, people donating time and money and amicus [briefs]" on Assange's behalf.
"He will have his fair day in court and he may well win."
That's if he gets there. First, there will be a legal fight in Britain over extradition.
Chesney says espionage is one of the classic examples cited in what is known as the "political exception" to extradition, alongside sedition and treason. There is a good chance a British court could consider it the kind of crime that should and does fall outside extradition rules. Assange's side will likely argue this.
One of Britain's leading extradition lawyers, who asked not to be identified in this article, said UK courts had recently made landmark decisions preventing extraditions to the US, including alleged hacker Lauri Love in 2018, on the grounds of his "physical and mental condition".
Assange is reported to have long-term physical and mental health issues, and extradition is not granted if it would be "oppressive or unjust or cruel". However Assange does not have Love's UK connections and arguably his physical and mental problems could be treated just as well in the US.
Another argument Assange could employ would be "double criminality", the lawyer said. The court will have to "sit down and decide whether what Assange did would necessarily be a crime here [in Britain], and would then get sucked into what the defences would be".
The UK does have an Official Secrets Act, but in the case of journalists courts would usually look at whether it was in the public interest to publish.
"It's pretty unclear the extent [to which] you can run a public interest defence on official secrets in [Britain]," the lawyer said. "In this case there are a lot of unknowns."
So Assange's case could end up setting a precedent in that country, too.
And then there's the Swedish question. If Assange is sent first to Sweden to face the rape investigation there, the US would likely find it easier to extradite from there – not because of any deficiency in Swedish justice, but because it is an easier case for the defence to fight in English, in British courts that have proven "robust and independent" in extradition fights.
At a time when media freedoms are being tested around the world, Assange could prove the biggest test of all.
(*) Nick Miller is Europe correspondent for The Sydney Morning Herald and The Age