UPDATE 06. May 2022: The Promise of South African Democracy
UPDATE 20. January 2021: Are the Brexit-Brits on their way back to the colonies? Race in South Africa: 'We haven't learnt we are human beings first'
UPDATE July 2019: UNPACKING THE DEEP STATE PROJECT IN SOUTH AFRICA
ICYMI: THE WAR ON SOUTH AFRICA - BEHIND THE DEEP STATE
New White-Only South African Town Denies Allegation of Racism
By tS/vf - 05 May 2019
Since over 25 years the first white-only town of South-Africa - Orania - strives with presently just over 1,800 residents, 100 hundred businesses, and more than 300 children are in its schools, the town's municipality manages a budget of around R30 million.
No Black South African or any other person who is not an Afrikaner is allowed to reside in Orania town, even if they speak Afrikaans or are married to an Afrikaner.
For many years, critics have accused Orania authorities of rejecting the concept of a Rainbow Nation and attempting to recreate the idea of White supremacy, more than two decades after the end of Apartheid.
Now a town called Eureka - also in the Northern Cape province of South Africa - is built by white Afrikaans exclusively for themselves but they deny the move is racist.
A white-only town is not racist according to the inhabitants.
The new town Eureka is only for white Afrikaans speaking people who allege to be victims of racism.
The place is built to protect and preserve the Afrikana culture, language, and way of life according to Okkert Swanpoel, one of the inhabitants of Eureka. "With affirmative action, it made it increasingly difficult for us as white people to get jobs… and also job security," Swanpoel said.
Adriaan Nieuwoudt, founder of Eureka told Al-Jazeera, "The shoe is now on the other foot and now we are fighting against the racists. How can we be racists when it is us who are being forced out of the country?"
So far only 20 families reside in Eureka while more homes are being built.
However, the local government urged courts to stop people from building any more houses in the area. According to the municipality, the homes were built without permission and against building regulations. The court agreed on stopping further construction but it is also deliberating on whether a white-only town should be allowed to exist.
Racism has been a concern of Black people in South Africa even after the end of apartheid. White people still own most of the lands that they have taken away from Black farmers during the colonial period. The social movements have been demanding the government passes a law of expropriating land from white farmers without compensation.
Since the end of apartheid in the early 1990s, no more than 10 percent of the white-owned land has been transferred back to Black South Africans. Most of South Africa's arable land remains controlled by white farmers. In 2016, the country's parliament approved a bill allowing the "compulsory purchase" of land by the state to later transfer it to Black citizens, but not many white farmers have been interested in selling their property. The bill was withdrawn in 2018.
The land expropriation without compensation plan will seek to take back lands from white Afrikaners and to redistribute them to Black citizens who had been denied rightful ownership since the apartheid period.
That demand raised an outcry from white farmers who claimed to be victims of racism.
"The law of this country is anti-Black," said Andile Mingxitama of Black First Land First party. "The whole economic system is anti-Black. The media projection of Black problems is anti-Black. We are going to the parliament, therefore, to represent the real voice of our people."
South Africa is going to elections Wednesday and the issues of racism, land, and segregation are considered to be the main concerns of voters in this election.
===
UPDATES:
PROLOGUE: The US-American author of Jewish heritage, Evan Lieberman, tries with the following article again to paint a soothing picture of the situation in South Africa to please his friends in high places. His intention to obfuscate the hidden hand of the Rothschilds and Oppenheimers as well as their Anglo-American corporations in the backbone of Southern Africa's wealth and economy - the mining sector that was never decolonised - is obvious. Exploitation and oppression are still the left and the right hand of the masters and the hallmarks of the elite.
The Promise of South African Democracy
By EVAN LIEBERMAN - 06.
Although South Africans' increasing frustration with their government is borne out in public polling, critics who describe the country as a failed state completely miss the mark. Considering where South Africa started in 1994, its progress has been nothing short of remarkable.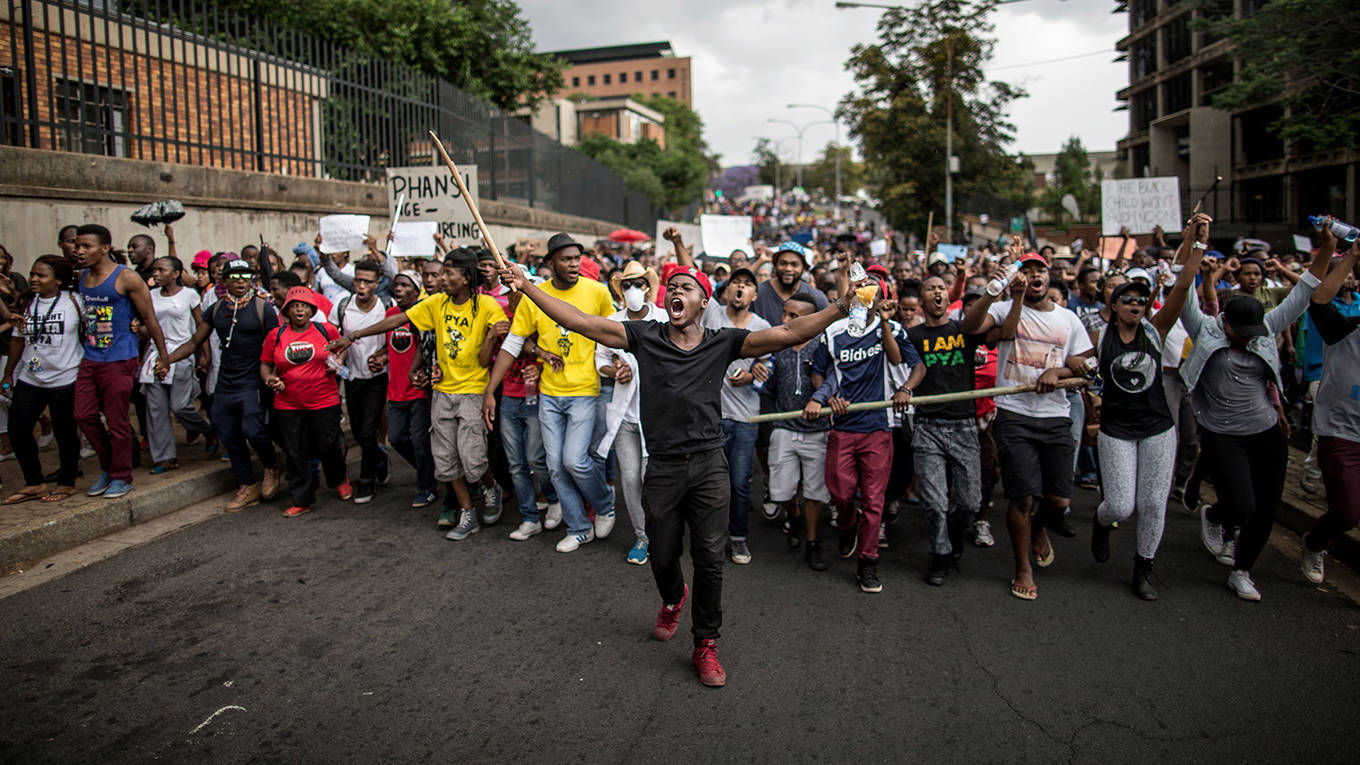 EVAN LIEBERMAN thinks highly publicized governance failures and scandals need to be seen in their proper context.
BOSTON – At a time when many democracies are under threat, it is important to highlight the success stories. South Africa may not be the first country that comes to mind as a model democracy, but it should be. In the 28 years since apartheid ended in 1994, South Africa has developed a multiracial, pluralistic form of government that includes a multiparty parliament, independent judiciary, free press, robust civil society, and a broad social safety net.
One could easily assume the opposite. International press coverage of South Africa is often dominated by stories of violent crime and government corruption, giving much of the world a warped view of the country. And some local observers have gone so far as to label South Africa a "failed state." But while South Africa certainly has its problems, the country looks nothing like actual failed states. Moreover, we would do well to remember where the country started almost 30 years ago.
Between modern South Africa's founding in 1909 and Nelson Mandela's election as president in 1994, a racial minority maintained political supremacy by legal force and violence. The economy boomed for white people, but the black majority remained overwhelmingly poor, deprived of equal education and opportunities to work. The government restricted black people's movement and lives even more thoroughly than the American South did under Jim Crow segregation.
The legacy of apartheid meant that when the African National Congress took power in 1994, living conditions were appallingly unequal. In the mid-1990s, virtually the entire white population lived in modern housing, with access to piped water, electricity, and other basic services. Less than half the black population lived in formal structures or had access to such services, and over 20% lived in flimsy metal shacks.
South Africa's progress over the past quarter-century is reflected in how those numbers have improved. Today, approximately 80% of black people live in formal structures, 65% have direct access to piped water, and over 95% have access to electricity. Making headway on a promise written into South Africa's post-apartheid constitution, the government built 3.2 million houses for the poor between 1994 and 2018.
Although millions still live in informal settlements, and though people often must wait years for a house, the government has made greater strides than most developing countries in providing suitable shelter for its citizens. The government has also provided cash grants to millions of the most vulnerable, keeping them out of extreme poverty.
South Africa's post-apartheid trajectory is an example of "dignified development." Across the divides of race, language, gender, sexual orientation, wealth, and disability status, people's rights, voices, and histories have been enshrined in law and in practice, and vigorously defended by civil society.
Nonetheless, in recent years, South Africans have expressed increasing frustration with their system of government. In a 2015 Afrobarometer survey, just 48% of respondents said they were satisfied or very satisfied with the way democracy was working. By 2018, that number declined to 42%, and by 2021, satisfaction eroded even further, to just 31% of those surveyed.
Although white South Africans constitute less than 10% of the population, their continued economic dominance and international ties have made them important interlocutors in shaping global opinion about the country. And they are often the most critical of the government. As a white South African man told me (after hearing my American accent), "[The ANC] made this country into a ball of shit." I have heard similar sentiments from white residents throughout the country. When I surveyed adults aged 40 and older in one bellwether municipality in 2019, 55% of white people said life was worse today than under apartheid. Black South Africans tend to recognize much more progress.
Nonetheless, 50% of black residents in that survey also said that things were better then, compared to just 40% who said things were better now.
South Africans of all races complain about government corruption, high crime, unemployment, and staggering economic inequality. Despite improvements, basic services still do not reach substantial segments of the population. These are valid and important concerns. But the broader point to remember is the remarkable degree of progress achieved under a democratic government in a country with an extraordinarily difficult past.
While widespread mistrust toward the government introduces the prospect that the country could succumb to a populist authoritarian like Donald Trump or Vladimir Putin, there is little evidence of such a turn so far. South Africa's multiparty system has done a good job of representing a diversity of perspectives at all levels of government. Although the ANC has controlled the presidency since Mandela, many of the most important cities and municipalities are governed by coalitions or other parties.
In some ways, South Africans' expressions of disappointment, and even anger, are evidence of a functioning democracy. Robust public debate about problems like corruption and economic inequality attests to the functioning of a free and vigorous press. Many of the biggest government scandals in recent years were uncovered by enterprising reporters; in case after case, public anger has led to parliamentary inquiries and sometimes to real change in the form of resignations, prosecutions, and policy reversals.
Rather than seeing these scandals as an indictment of South African democracy, we should take them as proof that the system is working. In authoritarian countries like Russia or China, most abuses of power never become public in the first place.
I have been traveling extensively in South Africa for three decades, and I am encouraged by its progress. I certainly don't see a failed state. Is the country's governance flawed? Of course. Are its politics messy? Definitely. No democracy is perfect, but South Africa offers a more hopeful vision than its critics – both internal and external – are willing to acknowledge.
In too many places around the world today, including the United States, populist authoritarians are winning hearts and minds with empty promises and rhetoric blaming the blameless for citizens' frustrations. South Africa's example of dignified, democratic development offers a realistic alternative for governing diverse societies.
Author:

EVAN LIEBERMAN - Writing for PS since 2022, Evan Lieberman, Professor of Political Science and Contemporary Africa at MIT, is author of the forthcoming Until We Have Won Our Liberty: South Africa after Apartheid (Princeton University Press, June 2022).
===
Are the Brexit-Brits on their way back to the colonies?
Race in South Africa: 'We haven't learnt we are human beings first'
By BBC - 20 January 2021


The election of Nelson Mandela as president in 1994 marked the end of legalised racial discrimination - image copyright Corbis

Legal discrimination along racial lines in South Africa ended with the demise of apartheid but racial categorisation is still being used by the government for monitoring economic changes and continues to cause controversy, as Mohammed Allie writes from Cape Town.
The charge of fraud made three months ago against teacher Glen Snyman for ticking the "African" box on his application form when applying for a head teacher job in 2017 has highlighted the country's ongoing problem with racial classification.
Mr Snyman, who was defined as coloured (mixed racial heritage) by the apartheid government, subsequently had the charge dropped by the local authority but the issue the case raised has not gone away.
The Population Registration Act was the cornerstone of the apartheid policy that legalised discrimination. It was introduced in 1950 and divided South Africans into four broad groups - white, African, coloured and Indian - to enforce the minority government's policy of racial segregation.
It was repealed in 1991 as the country moved towards democratic governance in 1994 but racial classification is still very much part of the conversation in the country.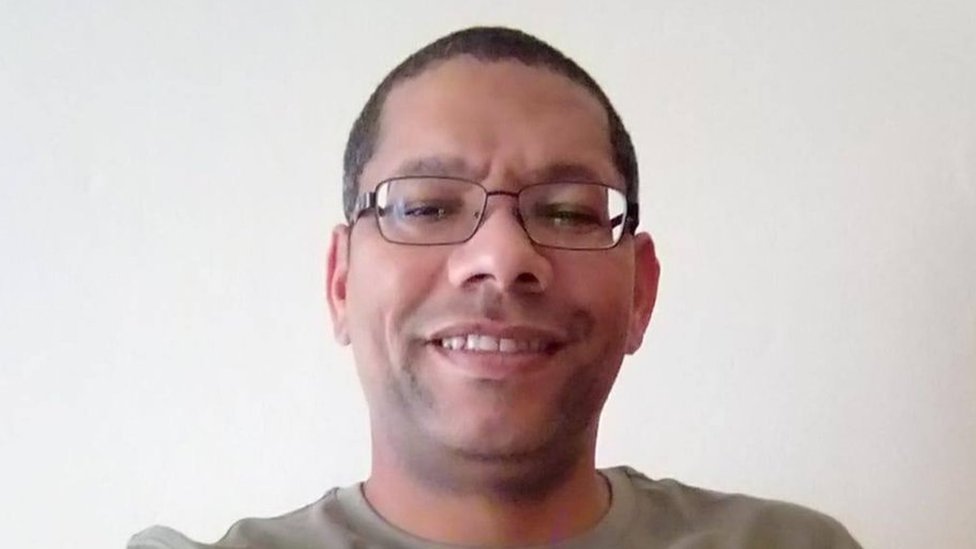 The government and private sector should deliver to all South Africans equally and not discriminate on identity"
The government uses it to gather data to help redress the stark imbalances in income and economic opportunities that are a legacy of the official racism of the past.
But many in the country, including Mr Snyman, who founded the organisation People Against Racial Classification (Parc) in 2010, believe the use of the categories has no place in a democratic South Africa.
"The fact that the Population Registration Act was scrapped gives job recruitment officers, any government or private system, no legal right to classify any South African by race," he wrote in a submission to the country's Human Rights Commission.
'Use class, not race'
While acknowledging there are still huge imbalances that need to be redressed, Mr Snyman suggests that government should instead use a poverty measure to replace racial classification as a means of giving those in need a much-needed leg-up.
"The government doesn't have to know the identity of people by groups, they need to know the people who are in need of services, jobs or whatever the need might be.
"The government and private sector should deliver to all South Africans equally and not discriminate on identity," he said.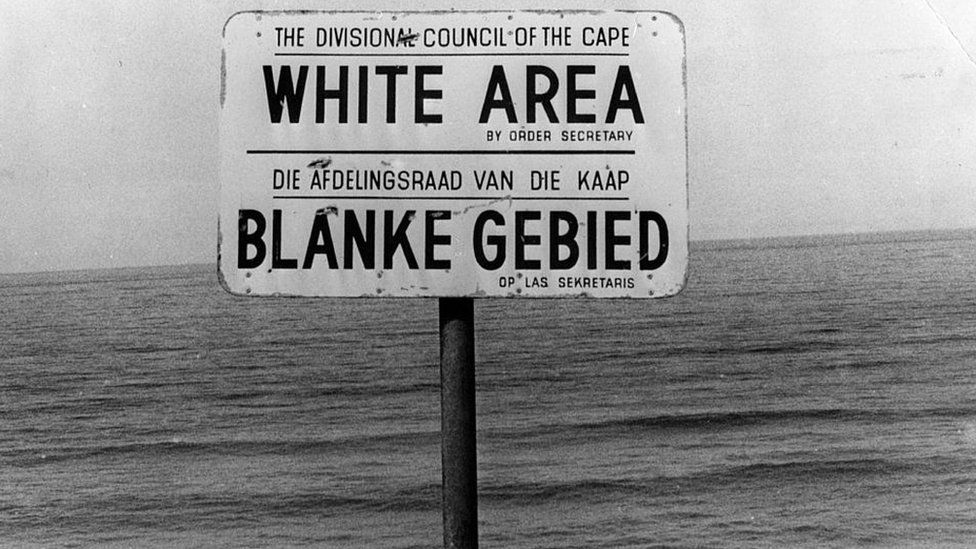 Ryland Fisher, a former newspaper editor who initiated the One City Many Cultures project in 1999 while at the Cape Times, agrees.
"If we adopt class as the marker for redress we will inevitably be able to benefit more black people," he said.
"Blacks are the majority in this country and they are also the majority of poor people in this country.
"If you say you will redress on the basis of class, a black person who has lived a life of privilege won't qualify for economic opportunities via the government's affirmative action policies."
During the 1970s when the anti-apartheid struggle was gaining momentum, and inspired by the Black Consciousness Movement led by famed activist Steve Biko and the South African Students Organisation, many among the disenfranchised - African, coloured and Indian - identified as black in a statement of solidarity in the fight to topple the apartheid regime.
'We regard ourselves as black'
And it is in this vein that Mr Snyman has received support from the country's largest teaching union, the South African Democratic Teachers Union.
"Many of us have made a conscious decision not to identify with the racial classification as prescribed by the apartheid regime. We regard ourselves as black, African, South African," says the union's Western Cape spokesperson Jonavon Rustin.
Pointing to a much more nuanced understanding of identity, he adds that "some people embrace the ethnic classification of coloured, Khoisan, African, Xhosa, Zulu, white, Camissa African, Korana African, Griqua, European, Afrikaner and so on."
But some make a distinction between a political or cultural identity and addressing the imbalances created by apartheid.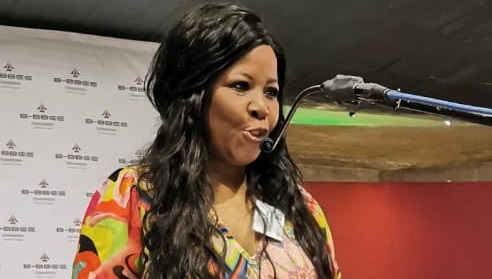 B-BBEE Commission
No-one is permitted to use the racial or gender classification for purposes of excluding any citizen from enjoying the rights in the country, that would be illegal"
Zodwa Ntuli, South Africa's Broad-Based Black Economic Empowerment (B-BBEE) Commissioner argues that as much as racial classification is an anomaly in a country trying to move away from its race-based past, regulators and government can only measure progress through statistics based on the old categories.
The impact of apartheid discrimination against Africans, Indians and coloured people, she points out, was so pervasive that white people continue to dominate the economy in terms of ownership and decision-making power.
But she stresses that "no-one in South Africa is permitted to use the racial or gender classification for purposes of excluding any citizen from enjoying the rights in the country - that would be illegal".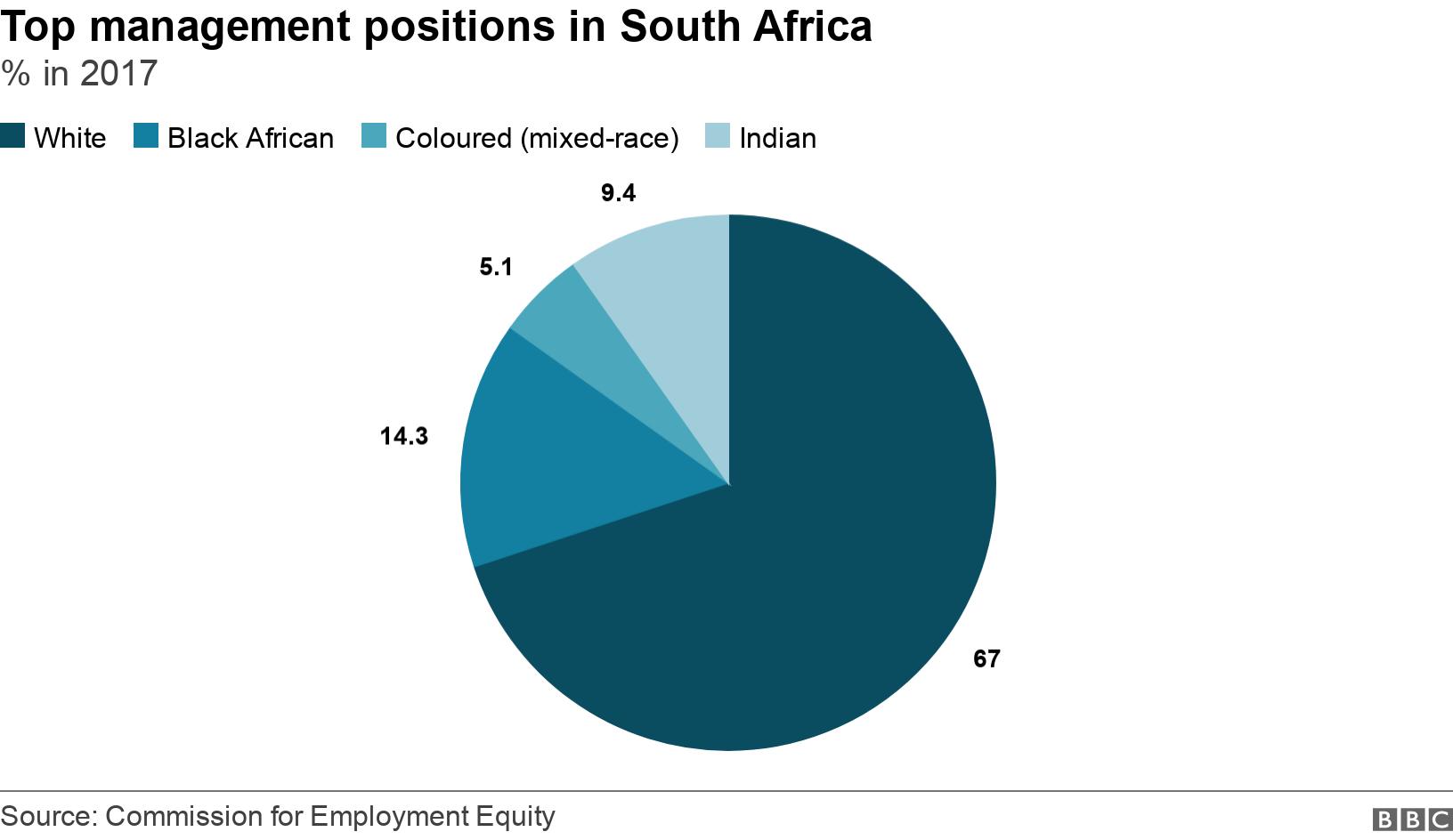 Kganki Matabane, who heads the Black Business Council, says that even though democratic rule is nearly 27 years old, it is still too soon to ditch the old categories.
"We need to ask: Have we managed to correct those imbalances? If we have not, which is the case - if you look at the top 100 Johannesburg Stock Exchange-listed companies, 75% or more of the CEOs are white males - then we have to continue with them."
As apartheid discriminated on the basis of race then that is the only way the problems can be dealt with, rather than looking at class, he adds.
"We can only have a sunset clause when the economy reflects the demographics of the country. Until it gets to that, it will be premature to talk about the end of black economic empowerment."


More on race relations in South Africa:


But in some cases the continued use of racial classification to monitor change has led to the hardening of the categories.
In the Western Cape, which has a large number of people formerly classified as coloured, there is a long-standing feeling among some that in an effort to redress the problems from the past, the democratic government has ignored their needs.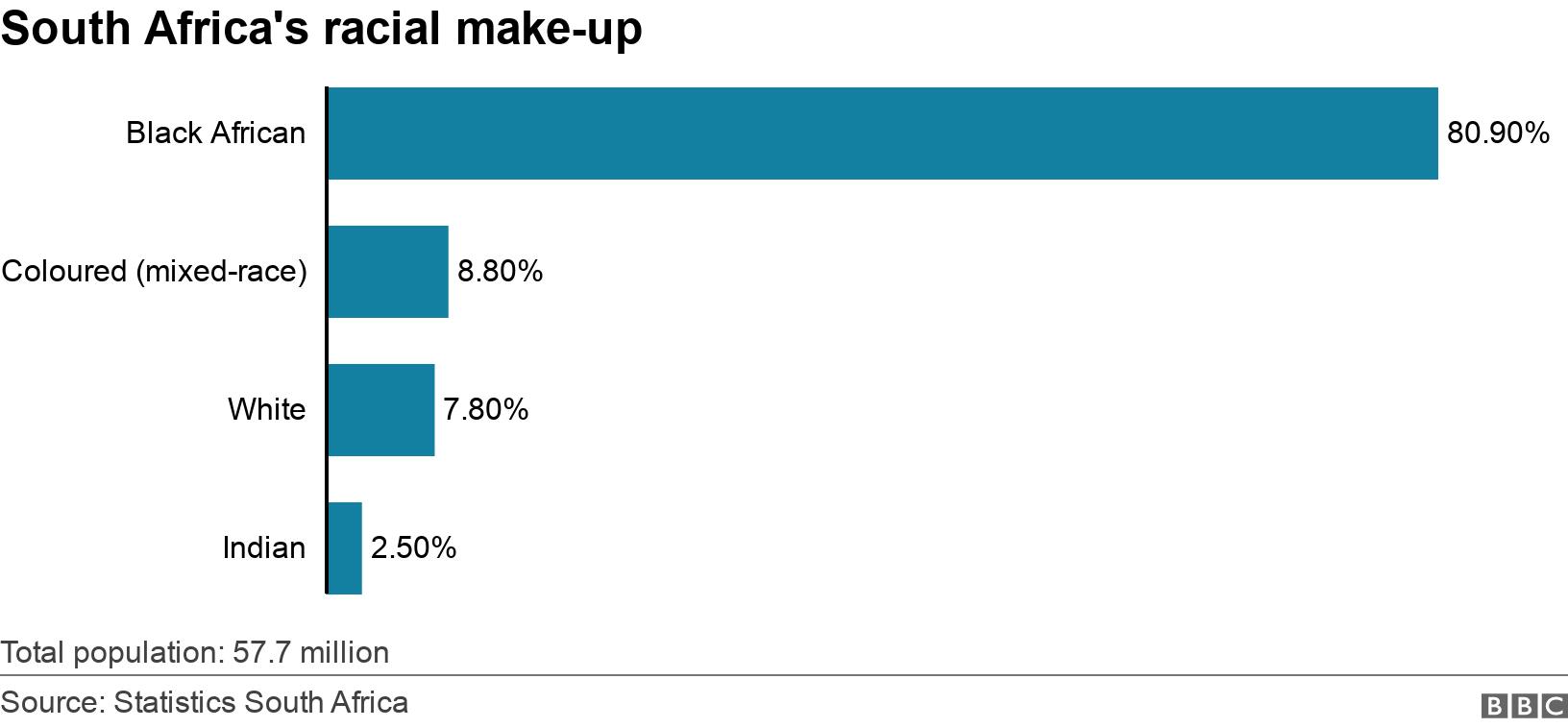 For the neo-colonial Anglo-American mouthpiece, the BBC, the aboriginal people do not exist in the their racial view. The genocide against the Aboriginal San people and other khoisan-speaking First Nations of South Africa like the Nama has already succeeded in their opinion. But in reality the real owners of all these unceded lands of Southern Africa with whom neither the Dutch Vortrekkers or Afrikaaner Bures nor the British ever had any kind of treaty still persist.
In Cape Town, a group of activists who identify as coloured, started a pressure group called the Gatvol ("fed up") Capetonian movement in 2018.
In an introductory video on the group's Facebook page, their leader Fadiel Adams explains that "all arms of government have declared an economic war on the coloured people", complaining that there are no jobs for members of the community despite them making up the majority in the area.
Mr Fisher, the former newspaper editor, said people who were classified as coloured were happy to fight alongside black people in the anti-apartheid struggle. But he blames the African National Congress (ANC) government for the sharpening of racial differences.
"What has happened in recent years is that the majority [in Western Cape] has decided to raise their voices and to assert their right to identify as coloured.
"The ANC didn't really take into consideration these kinds of nuances. They alienated people who identified themselves as coloured. What it meant is that these people… identified the kind of things that could affirm their identity as coloured people including things around culture, food, music and language."
He, and others, accuse the ANC-led government of not doing enough for coloured people, and instead concentrating on the national majority, who are officially classified as African, or black.
'We need to identify as South Africans'
Dr Saths Cooper, a clinical psychologist who was an associate of Steve Biko during his student days in the 1970s, argues that dominance of a racial identity has prevented the forging of a truly common identity.
"We haven't learnt we are human beings first," he says.
"We always put a colour, we put external attributes to it and then we put maybe language and maybe belief to it and that allows for further division. That narrative then perpetuates itself.
"We haven't given people enough reason to say we identify as South Africans."
Mr Snyman, through Parc, is meanwhile continuing the fight to outlaw racial classification. "We will take all steps, including legal ones to rid South Africa of this scourge that has once again led to discrimination against those who do not meet the preferred criteria of the present government."
===
UNPACKING THE DEEP STATE PROJECT IN SOUTH AFRICA
Re-published on BITCHUTE April 14th, 2022.
===
ICYMI:
THE WAR ON SOUTH AFRICA - BEHIND THE DEEP STATE
Re-published on BITCHUTE April 14th, 2022. - from 2019
===