UPDATE 03. May 2022: Canadian General Trevor Kadier (real name Cadieu) Captured While Trying To Escape From Azovstal + RUSSIA BRIEFING ON RUSSIA-UKRAINE MILITARY ACTIVITIES 03RD MAY 2022
UPDATE 02. May 2022: CANADIAN BIOLAB GENERAL TREVOR CADIEU (aka KADIER) TAKEN TO MOSCOW TO STAND TRIAL + RUSSIA BRIEFING ON RUSSIA-UKRAINE MILITARY ACTIVITIES 02ND MAY 2022
UPDATE 01. May 2022: RUSSIA BRIEFING ON RUSSIA-UKRAINE MILITARY ACTIVITIES 01ST MAY 2022
UPDATE 30. April 2022: RUSSIA BRIEFING ON RUSSIA-UKRAINE MILITARY ACTIVITIES 30TH APRIL 2022
UPDATE 29. April 2022: Full interview with Russia's Foreign Minister Sergey Lavrov + RUSSIA BRIEFING ON RUSSIA-UKRAINE MILITARY ACTIVITIES 29TH APRIL 2022 + THIS SOUTH AFRICAN POLITICIAN ABSOLUTELY NAILS IT! 👊👊👊 SHAIK EMAM - SOUTH AFRICAN POLITICIAN - SO TRUE
UPDATE 28. April 2022: Eva Bartlett Interview – Evidence On The Ground In Ukraine Directly Contradicts Western Narrative
UPDATE 27. April 2022: DONBASS I'M ALIVE! DOWNLOAD AND SHARE THIS! + THE AMERICAN REED WAS TAKEN TO MOSCOW'S VNUKOVO AIRPORT, FROM WHERE HE FLEW TO THE UNITED STATES + + RUSSIA BRIEFING ON RUSSIA-UKRAINE MILITARY ACTIVITIES 27TH APRIL 2022
UPDATE 26. April 2022: Russia warns Ukraine conflict could bring WWIII + RUSSIA BRIEFING ON RUSSIA-UKRAINE MILITARY ACTIVITIES 26TH APRIL 2022 + UKRAINIAN INTELLIGENCE OFFICER OF THE EXTREME "AIDAR" BATTALION QUESTIONED + RUSSIAN SF ARREST ASSASSINS BEFORE MURDER OF UKRAINE JOURNALIST ORDERED BY ZELENSKY'S SBU
UPDATE 25. April 2022: RUSSIA BRIEFING ON RUSSIA-UKRAINE MILITARY ACTIVITIES 25TH APRIL 2022
UPDATE 24. April 2022: RUSSIA BRIEFING ON RUSSIA-UKRAINE MILITARY ACTIVITIES 24TH APRIL 2022
UPDATE 23. April 2022: Russian MoD: US Planning Provocations to Accuse Russian Forces of Using WMDs in Ukraine + Russia 'Liberates' Port City Of Mariupol; Lavrov Explains Why Russia Went To War + RUSSIA BRIEFING ON RUSSIA-UKRAINE MILITARY ACTIVITIES 23TH APRIL 2022
UPDATE 22. April 2022: STUNNING NATO weapons cache found by Russian forces in Ukraine + RUSSIANS HAVE FOUND US ARMY FM (FIELD MANUALS) AT AZOV/AZOG BASE + RUSSIA BRIEFING ON RUSSIA-UKRAINE MILITARY ACTIVITIES 22TH APRIL 2022
UPDATE 21. April 2022: RUSSIA SUCCESSFULLY TESTS THE RS-28 SARMAT - WORLD'S MOST POWERFUL INTERCONTINENTAL BALLISTIC MISSILE (IBM) + VLADIMIR PUTIN'S MESSAGE TO THE PEOPLE OF ALL COUNTRIES OF THE WORLD + LIEUTENANT OF UKRAINIAN MILITARY SAW WAR CRIMES AGAINST CIVILIANS IN MARIUPOL HAPPEN + RUSSIA BRIEFING ON RUSSIA-UKRAINE MILITARY ACTIVITIES 21TH APRIL 2022 + THE "SOMALI" BATTALION RETURN HOME VICTORIOUS TO DONETSK AFTER HELPING TO LIBERATE MARIUPOL
UPDATE 19. April 2022: Zelenskyy Wanted Nuclear Weapons, India Old Friend & Strategic Partner | Sergey Lavrov EXCLUSIVE
UPDATE 14. April 2022: Dozens of Murdered civilians Found in Mariupol after Ukraine retreats (Some hands bound) + Russia Confirms Black Sea Flagship On Fire, "Seriously Damaged" Off Odessa After Reported Missile Strike
UPDATE 03. April 2022: Manufactured Crisis: CIA trained the Neo-Nazi Azov Battalion and has chosen Ukraine as birthplace of new "Global White Supremacist" Terror Threat + Russia's 5th Column + Hollywood Nazis will not be treated as Prisoners of War – Russians
UPDATE 02. April 2022: Ukraine Sitrep Day 36 – A Look at The Ukrainian Military As The Fight for Donbass Looms + UPROAR OVER WITNESS VIDEO "Ukrainians allegedly torture Russian troops"
Latest Anglo-American proxy: Azov Battallion Leader operates under Nazi emblem and British flag.
UPDATE 26. March 2022: Putin Must Hunt Down Azov and These War Criminals - Ukranian Azov Battalion shooting Russian POW soldiers in the knees and thights to bleed out + Barack Obama spearheaded setting up of dangerous bio-weapon lab in Ukraine, US President Joe Biden's son Hunter Biden secured funding for it: Reports
UPDATE 20. March 2022: WATCH: NEGATING COLONIAL LIES ABOUT RUSSIA + KEY TO UNDERSTANDING
WATCH: NEGATING COLONIAL LIES ABOUT RUSSIA
Streamed live on March 20, 2022.
Continued discussion on Russia's defensive war in Ukraine against the global colonial powers.
"The attitude of the Russians were quite different because they are not attitudes that were born, that came from, [that] developed from slavery and colonialism like you find in the so-called West where the colonialism and slavery has its origins, and that continues to dominate the consciousness of white people, here, now. That's why you see the white left, the so-called leftists in the United States, they are white nationalists. Most of them are like colonialist leftists. They are left colonizers and they're not, generally speaking, able to unite against the oppression of the peoples of the world – including unite with Russia in this defensive war that is fighting against the United States through Ukraine…
This propaganda against Russia extends beyond just the war – the Russian people are being targeted in various places in the free world, in the colonial world. The fact of the matter is that this left, this left that comrade Tasha is talking about, this left that supports Ukraine,
is the same left that Lenin was criticizing more than a hundred years ago. It's the same left. It's an opportunist left. It's a colonial base left. So it's nothing new with how this left is acting. In the United States, or in much of Europe. This left supported French colonialism. At the same time the French claimed to be fighting against colonialism, fascism, in the 1940s – they were oppressing and killing black people in in Algeria – and and they continued to control something like fifteen different countries in Africa today under colonialism. And the communists of those countries supported that. They worked with that. So there's a difference in a struggle against colonialism. If you don't understand that – that the entire foundation of so-called western civilization rests upon colonial domination of Black people and other oppressed peoples around the world – that's why we stand with Russia." — Chairman Omali Yeshitela
FEATURED SPEAKERS
Chairman Omali Yeshitela, African People's Socialist Party (APSP), Alexander Ionov, President, Anti-Globalization Movement of Russia, LIVE from Moscow, Luwezi Kinshasa, Secretary General, African Socialist International (ASI) and Tafarie Mugeri, Director of Organization, ASI Africa Region.
===
Situation in Ukraine
On 20. February, Russia launched a special military operation amid Kiev's ongoing shelling of the DPR and LPR. President Vladimir Putin stated that the op is meant to protect the people of Donbass, and its goal is the complete demilitarisation and denazification of Ukraine.
===
UPDATES:
Canadian General Trevor Kadier (real name Cadieu) Captured While Trying To Escape From Azovstal
By Mod2 03. May 2022
A Canadian high-ranking officer tried to escape from the territory of the Azovstal metallurgical plant in Mariupol.

General Trevor Kadier (real name: Cadieu) was arrested by Russian military personnel, media reported.
According to information, the general led the First Biolab, where 18 people worked on the creation of a deadly virus.

The general has already been taken to Moscow, media reports.

In social networks, they suggest testing new medications on the Canadian general as punishment.

Everything happened after the messages that on metallurgical plant was foreign general in contact with Zelensky.

Earlier, information appeared in the Western media that General Trevor Cadieu was accused of sexual harassment in Canada, and is now on the territory of Ukraine, as the official representative of the DPR military command, Eduard Basurin, had informed us with the likelihood of the general being in Mariupol. The fact that Trevor Kadier (aka Cadieu) is in Ukraine was also reported by Western media.
===
Former Canadian General Trevor Kadier (aka Cadieu) arrested by Russian Forces. Will face Trial in Moscow for his involvement in Bio Labs Nr. 1
By CaptainRussia - 02. May 2022
Ex General who fled to Ukraine after a sexual misconduct scandal was arrested in Mariupol. He had previously been involved in a Bio Lab in Mariupol, where they researched deadly pathogens. All Bio Labs in Ukraine are funded by the US military, something which Victoria Nuland openly admitted in Congress.

Lets see what Russian Forces will find in those labs.


Source: https://en.topcor.ru/25432-istochniki-soobschajut-o-zahvate-kanadskogo-generala-v-mariupole-i-dostavke-ego-v-moskvu.html

===
RUSSIA BRIEFING ON RUSSIA-UKRAINE MILITARY ACTIVITIES 03RD MAY 2022
First published on BITCHUTE May 03rd, 2022.
===
RUSSIA BRIEFING ON RUSSIA-UKRAINE MILITARY ACTIVITIES 02ND MAY 2022
First published on BITCHUTE May 02nd, 2022.
===
CANADIAN BIOLAB GENERAL TREVOR CADIEU (aka KADIER) TAKEN TO MOSCOW TO STAND TRIAL
02. May 2022
Trevor Cadieu (aka Kadier) - under Canadian police (RCMP) investigation for alleged sexual misconduct - left the Canadian military on April 5, according to the Canadian Department of National Defence. He travelled to Ukraine shortly after with the intention to volunteer for that country's military which is battling a Russian invasion, multiple defence sources confirmed.
The Canadian Forces National Investigation Service (CFNIS) is still investigating retired Canadian Forces lieutenant general Trevor Cadieu for sexual misconduct, but he is now in Ukraine, as confirmed to the Ottawa Citizen newspaper.
The CFNIS originally had difficulty contacting the retired lieutenant-general but has since established communication with him.
Senior Canadian military leaders were briefed about Cadieu's decision to travel to Ukraine, according to sources.
Cadieu did not respond to requests for comment from the newspaper.
But Cadieu's alleged victim said she cannot believe that an individual under police investigation was allowed to leave the country. "I find it shocking," the woman, who asked not to be identified for fear of retribution, said in an interview with this newspaper Thursday. "What is going on here?"
Cadieu was supposed to take command of the Canadian Ground Forces in September last year. However, since one of the former employees accused him of violence and sexual harrassment, the appointment did not take place. Shortly thereafter, Trevor Kadier resigned his position, retired from military service, and after some time left for Ukraine.
===
RUSSIA BRIEFING ON RUSSIA-UKRAINE MILITARY ACTIVITIES 01ST MAY 2022
First published on BITCHUTE May 01th, 2022.
===
RUSSIA BRIEFING ON RUSSIA-UKRAINE MILITARY ACTIVITIES 30TH APRIL 2022
First published on BITCHUTE April 30th, 2022.
===
RUSSIA BRIEFING ON RUSSIA-UKRAINE MILITARY ACTIVITIES 29TH APRIL 2022
First published on BITCHUTE April 29th, 2022.
===
THIS SOUTH AFRICAN POLITICIAN ABSOLUTELY NAILS IT! 👊👊👊
SHAIK EMAM - SOUTH AFRICAN POLITICIAN - SO TRUE
First published on BITCHUTE April 29th, 2022.
EVERYTHING HE SAYS IS 100% TRUE & THE WORLD NEEDS TO WAKE UP TO IT.
STOP WATCHING FAKE NEWS. THEY'RE PUSHING THE NWO AGENDA & LIE ABOUT EVERYTHING.
THE CITIZENS OF THE USA NEED TO STAND UP AND GET RID OF THEIR GOV. THERE IS NO MILITARY LEFT IN THE USA. THEY ARE SCATTERED AROUND THE WORLD STICKING THEIR NOSE INTO OTHER COUNTRYS BUSINESS. THE USA CITIZENS HAVE BEEN LEFT EXPOSED. DELIBERATE? ID SAY SO. THEY ARE ARMED AND THATS NOT A GOOD THING. ONLY PROBLEM IS - ARE THE CITIZENS PREPARED TO USE THOSE ARMS THEY ALWAYS BRAG ABOUT. THIS ALL BOILS DOWN TO THE US CITZ. IF THE USA FALLS TO THE GREAT RESET SO DOES THE REST OF THE WORLD. IF USA CITZ REGAIN POWER OVER THEIR COUNTRY THIS WHOLE GENOCIDAL RESET IS OVER.
===
Full interview with Russia's Foreign Minister Sergey Lavrov
Apr 29, 2022
Russia's Foreign Minister Sergey Lavrov in an hour-long interview with Al Arabiya amid the ongoing Russia-Ukraine war.
===
RUSSIA BRIEFING ON RUSSIA-UKRAINE MILITARY ACTIVITIES 28TH APRIL 2022
First published on BITCHUTE April 28th, 2022.
===
Eva Bartlett Interview – Evidence On The Ground In Ukraine Directly Contradicts Western Narrative
By Ryan Cristián - 28. April 2022
Joining me today is independent investigative journalist Eva Bartlett, reporting live from the ground in Ukraine, here to discuss the stark contrast between what the corporate media has been reporting and what Eva herself has been personally documenting on the ground.
SECURED ON BITCHUTE:
EVA BARTLETT INTERVIEW – EVIDENCE ON THE GROUND IN UKRAINE DIRECTLY CONTRADICTS WESTERN NARRATIVE
Securely published on BITCHUTE April 30th, 2022.
Independent investigative journalist Eva Bartlett, reporting live from the ground in Ukraine, here to discuss the stark contrast between what the corporate media has been reporting and what Eva herself has been personally documenting on the ground. From "mass graves" to "Russian war crimes", it appears this is yet another example of corporate media disinformation and outright deception. However, the ultimate point is for each one of us to review the evidence with discernment and skepticism, whichever side it comes from, and decide for ourselves in what direction is truly points.
✶ ✯ ► ► FEARLESS NATION ◄ ◄ ✯ ✶
We are all explorers trying to find ourselves...
Some people around you will not understand your journey.
They don't need to; it's not for them.
SECURED ON SUPERU:
SECURED ON ODYSEE:
Video Source Links (In Chronological Order)
Eva's Links
https://twitter.com/EvaKBartlett
https://linktr.ee/evakarenebartlett
Mass Graves
https://ingaza.wordpress.com/2022/04/24/western-claims-of-russian-mass-graves-near-mariupol-another-fake-news-hoax-i-know-i-went-to-see-for-myself/
https://www.youtube.com/watch?v=CeEnCcn1S3I&feature=emb_title
https://www.theguardian.com/world/2022/apr/21/russian-forces-accused-of-secret-burials-of-civilians-in-mariupol
https://twitter.com/MaxvanderWerff/status/1519606869446492161
https://cnnportugal-iol-pt.translate.goog/videos/os-mil-corpos-enterrados-em-dois-cemiterios-as-portas-de-mariupol-no-ultimo-mes/6269a4e80cf26256cd210348?_x_tr_sl=pt&_x_tr_tl=en&_x_tr_hl=en&_x_tr_pto=wapp
https://www.maxar.com/press-releases/maxar-technologies-appoints-gilman-louie-to-its-board-of-directors
https://www.aljazeera.com/news/2022/4/4/will-the-bucha-massacre-wake-up-the-world
https://web.archive.org/web/20220428131734/https://www.wsj.com/articles/ukraine-brings-first-war-crimes-charges-against-russian-soldiers-in-bucha-11651148489
https://www.wsj.com/livecoverage/russia-ukraine-latest-news-2022-04-23/card/russian-officer-accused-of-bucha-atrocities-promoted-to-colonel-ukraine-says-BQZkptIU1tunnCBT0vpR
https://www.theguardian.com/world/2022/apr/24/dozens-bucha-civilians-killed-flechettes-metal-darts-russian-artillery
https://www.wsj.com/articles/u-s-sending-soviet-air-defense-systems-it-secretly-acquired-to-ukraine-11647878422?mod=Searchresults_pos1&page=1
https://news.yahoo.com/surgeons-ukraines-rebel-donetsk-confirm-cluster-bomb-usage-205747600.html
https://twitter.com/ManuelL58931052/status/1511314653053435908
OSCE
https://ingaza.wordpress.com/2022/04/28/on-the-osces-claims-of-russian-war-crimes/
https://www.osce.org/files/f/documents/e/7/233896.pdf
https://www.atlanticcouncil.org/blogs/ukrainealert/ukraine-s-deadly-profession-three-journalists-attacked-in-july/
https://twitter.com/EvaKBartlett/status/1519694322802769920
https://twitter.com/doodlebugeye/status/1518977408887570433
Ending
https://www.thelastamericanvagabond.com/ukraine-new-al-qaeda/
https://www.thelastamericanvagabond.com/not-just-azov-documents-prove-cia-has-been-cultivating-fascism-ukraine-since-1948/
https://time.com/5926750/azov-far-right-movement-facebook/
https://cisac.fsi.stanford.edu/mappingmilitants/profiles/azov-battalion#text_block_33846
https://twitter.com/doodlebugeye/status/1519293055844630528
https://www.youtube.com/watch?v=DfhgdFjrLGg
Source:
https://www.thelastamericanvagabond.com/eva-bartlett-interview-evidence-ground-ukraine-directly-contradicts-western-narrative
===
DONBASS I'M ALIVE! DOWNLOAD AND SHARE THIS!
First published on BITCHUTE April 27th, 2022.
===
RUSSIA BRIEFING ON RUSSIA-UKRAINE MILITARY ACTIVITIES 27TH APRIL 2022
First published on BITCHUTE April 27th, 2022.
===
THE AMERICAN REED WAS TAKEN TO MOSCOW'S VNUKOVO AIRPORT, FROM WHERE HE FLEW TO THE UNITED STATES.
First published on BITCHUTE April 27th, 2022.
The American Reed was taken to Moscow's Vnukovo airport, from where he flew to the United States.
Earlier today, the Russian Foreign Ministry reported that an American convicted of attacking a police officer was exchanged for a Russian pilot Yaroshenko.
===
Russia warns Ukraine conflict could bring WWIII
Russia warned the Ukraine conflict risks into a WWIII and accused Kyiv of playing at peace talks a day after top US officials visit Kyiv
By AFP - 26. April 2022
Russia on Monday warned the Ukraine conflict risked escalating into a third world war and accused Kyiv of playing at peace talks a day after visiting US officials said Ukrainian forces could beat back Moscow's invasion.
Russian Foreign Minister Sergei Lavrov attends a meeting with UN Secretary-General in Moscow on 26 April, 2022. Photo: Maxim SHIPENKOV / POOL / AFP
The conflict has triggered an outburst of support from Western nations that has seen weapons pour into Ukraine to help them wage war against Russian troops.
Speaking to Russian news agencies, Russian Foreign Minister Sergei Lavrov criticised Kyiv's approach to floundering peace talks, saying the risk of a World War III "is serious".
"It is real, you can't underestimate it."
While he said talks with Kyiv would continue, Lavrov accused Ukrainian President Volodymyr Zelensky of "pretending" to negotiate, adding: "You'll find a thousand contradictions."
For months, Zelensky has been asking Ukraine's western allies for heavy weapons — including artillery and fighter jets — vowing his forces could turn the tide of the war with more firepower.
The calls appear to be resonating now, with a host of NATO countries pledging to provide a range of heavy weapons and equipment, despite protests from Moscow.
"The first step in winning is believing that you can win," Pentagon chief Lloyd Austin told a group of journalists after he and Secretary of State Antony Blinken met Zelensky in Kyiv.
"We believe that we can win — they can win — if they have the right equipment, the right support."
The highly sensitive US trip by two of President Joe Biden's top cabinet members came as fighting continued across Ukraine, casting a long shadow over Easter celebrations in the largely Orthodox country.
ZELENSKY HAILS RESISTANCE
"Thanks to the courage, the wisdom of our defenders, thanks to the courage of all Ukrainians — our state is a true symbol of the struggle for freedom,"

Zelensky said in his evening address vowing victory.
Following a weekend full of fighting, at least five people were killed and another 18 injured on Monday after a Russia rocket attack targeted railway infrastructure in the central Ukraine region of Vinnytsia.
On Monday, the governor of a Russian region bordering Ukraine accused Kyiv of bombing one of its villages, injuring two civilians and damaging several houses.
"A village was targeted… It is already clear that there are injured civilians," Belgorod region governor Vyacheslav Gladkov wrote on Telegram.
Russia in recent weeks has accused Ukrainian forces of striking targets on Russian soil, including two villages in Belgorod and another in the region of Bryansk.
The governor of the Kursk region near Ukraine also said Russian forces had shot down two Ukrainian drones in the early hours of the morning.
UK Defence Secretary Ben Wallace announced Monday that Britain would send Ukraine armoured vehicles able to fire missiles against Russian warplanes.
"These Stormer vehicles will give Ukraine forces enhanced short-range anti-air capabilities both day and night,"

he said.
The United States has been a leading donor of finance and weaponry to Ukraine, and a key sponsor of sanctions targeting Russia.
But it had not previously sent top officials to Kyiv. Several European leaders have already travelled there to underscore their support.
"Many countries are going to come forward and provide additional munitions and howitzers. So we're going to push as hard as we can, as quickly as we can, to get them what they need,"

Austin said.
Blinken and Austin also said US diplomats would begin a gradual return to Ukraine this week and announced $700 million (653 million euros) in additional military aid.
ALSO READ: 'Worldwide energy shock since 1970's'
RUSSIA HITS UKRAINE'S SUPPLY LINES
Forty German diplomats will meanwhile be heading home from Russia after Moscow announced their expulsion, following Berlin's decision to kick out 40 Russian diplomats earlier this month.
From The Hague, the International Criminal Court's chief prosecutor is to join an EU investigations team to probe "alleged core international crimes committed in Ukraine", officials said.
Russia's air force targeted 82 Ukrainian military sites, including four command posts and two fuel depots, and the army fired high-precision missiles at 27 targets in their latest attacks, the Russian defence ministry said on Monday.
The Ukrainian defence ministry said Russia was continuing to hit infrastructure and supply lines bringing military assistance from Ukraine's partners.
Ukraine's second city Kharkiv remains partially surrounded and Moscow's forces are regrouping in the south, but a Russian attempt to break through towards Zaporizhzhia in the east failed, the ministry added.
Russia on Monday accused Kyiv of preventing civilians trapped with Ukrainian soldiers in Mariupol's Azovstal steelworks from leaving the besieged industrial centre despite a ceasefire announcement.
The defence ministry had said it would allow a civilian evacuation from Mariupol's sprawling steel plant, which has been sheltering the remaining Ukrainian resistance in the southeastern port city.
But the Russian army on Monday evening said no one used the proposed humanitarian corridor.
A video posted by the far-right Azov Regiment, whose fighters are based in Azovstal, showed war-weary women and children sheltering in the plant's underground bunkers, pleading for relief.
"There are 600 people here. No water, no food. What are we going to do here? How long will we stay here?"

asked one woman.
"We haven't been out for two months now. I don't even know what the weather is like there. It feels like it's still February 28," said another woman.
Mariupol, which the Kremlin claims to have "liberated", is pivotal to Russia's war plans to forge a land bridge to Russian-occupied Crimea — and possibly beyond, as far as Moldova.
© Agence France-Presse
===
RUSSIA BRIEFING ON RUSSIA-UKRAINE MILITARY ACTIVITIES 26TH APRIL 2022
First published on BITCHUTE April 26th, 2022.
===
UKRAINIAN INTELLIGENCE OFFICER OF THE EXTREME "AIDAR" BATTALION QUESTIONED
First published on BITCHUTE April 26th, 2022.
===
RUSSIAN SF ARREST ASSASSINS BEFORE MURDER OF UKRAINE JOURNALIST ORDERED BY ZELENSKY'S SBU
First published on BITCHUTE April 25th, 2022.
FSB footage of the detention of members of an AZOV assassin group who were preparing an attempted murder of journalist Vladimir Solovyov on instructions from Ukrainian SBU
===
RUSSIA BRIEFING ON RUSSIA-UKRAINE MILITARY ACTIVITIES 25TH APRIL 2022
First published on BITCHUTE April 25th, 2022.
===
RUSSIA BRIEFING ON RUSSIA-UKRAINE MILITARY ACTIVITIES 24TH APRIL 2022
First published on BITCHUTE April 24th, 2022.
===

---
including
---
===
RUSSIA BRIEFING ON RUSSIA-UKRAINE MILITARY ACTIVITIES 23TH APRIL 2022
First published on BITCHUTE April 23rd, 2022.
===
Russian MoD: US Planning Provocations to Accuse Russian Forces of Using WMDs in Ukraine
By Svetlana Ekimenko - 23. April 2022
Lieutenant General Igor Kirillov, the head of Russia's Nuclear, Chemical, and Biological Protection Troops, revealed the planned Western provocations at a briefing on Saturday.
CC BY 2.0 / Tony Webster / BIOHAZARD
The USA is planning provocations to accuse Russian forces carrying out the special operation to demilitarise and de-Nazify Ukraine of using WMDs, the Russian Ministry of Defence said.
The MoD has information that Russia will be accused of utilising chemical, biological, or tactical nuclear weapons, in line with at least three scenarios already developed as a response to Moscow's success in conducting its special military operation, said Lt Gen Igor Kirillov, the chief of the Russian MoD's Nuclear, Chemical, and Biological Protection Forces.
In an attempt to discredit Russia's ongoing military operation, which exclusively targets military infrastructure, the Kiev regime, at Washington's instigation, is planning to set in motion scenarios that would lead to the "death of tens of thousands of Ukrainian citizens and cause an environmental and humanitarian catastrophe", he said.
Kirillov recalled that to date, the United States is "the only state in world history that has used all three types of weapons of mass destruction".
The Western provocation is likely to target chemical and biological facilities in Kharkov and Kiev, and possibly the Zaporozhye Nuclear Power Plant. Moreover, the US State Department has already determined the procedure for the subsequent investigation and appointed officials responsible for its conduct, said Lt Gen Igor Kirillov.
"A provocation is not ruled out at nuclear power facilities, primarily at the Zaporozhye Nuclear Power Plant, which is under the control of Russian forces… Thus, on 21 April a convoy of 10 vehicles with dangerous cargo heading towards the nuclear power plant was stopped and turned back to the city of Zaporozhye at a national guard checkpoint, he added.
The high probability of the US planning to stage a provocation using chemical weapons in Ukraine is confirmed by the supply of poisonous substances and antidotes to Ukraine, said Igor Kirillov, as he pointed out that "in 2022 alone, at the request of the Ministry of Health of Ukraine, more than 220,000 ampoules with atropine were delivered from the United States".
According to the general, this fact testifies to the intentional preparation of provocations involving chemical nerve agents.
"With regard to chemical incidents, the attributive mechanism of the Organisation for the Prohibition of Chemical Weapons (OPCW) will be activated, which allows fabricating the necessary evidence and appointing the perpetrators at one's own discretion", emphasised Kirillov.
Another one of the scenarios concocted by the West could be the use of weapons of mass destruction in the cities of Slavyansk and Kramatorsk, the general stated.
"Open use of WMDs on the battlefield in case of failure to succeed with conventional weapons… is likely being considered for Slavyansk and Kramatorsk, which have been turned into fortification zones", Kirillov said, while adding that such a scenario is the least likely.
According to the MoD, another Western provocation presupposes the "covert use of WMDs in small volumes" to suppress troops' ability to carry out specific operational tasks. This plan was ostensibly considered for implementation by the Pentagon at the Azovstal steel enterprise.
Most of Mariupol, barring Azovstal, recently came under the control of the joint forces of the Donetsk People's Republic (DPR) and the Russian military.
However, the aborted Russian assault on the plant put paid to those US plans, said Kirillov.
On Thursday, Russian Defence Minister Sergei Shoigu told President Vladimir Putin that while Mariupol had come under the control of the Russian Armed Forces, militants remained holed up on the territory of the steel plant.
Putin, in turn, called the assault on Azovstal pointless and ordered it to be cancelled, emphasising the importance of saving the lives of Russian soldiers and officers, while ordering that the Azovstal zone be blocked.
"The staging of the use of weapons of mass destruction is aimed at accusing Russia of resorting to prohibited weapons, which would be followed by the implementation of the so-called 'Syrian scenario', whereby a state is subjected to economic and political isolation, as well as exclusion from international organisations, including the UN Security Council", said Igor Kirillov.
In line with those scenarios, the mechanism for investigating facts of the alleged use of biological weapons by Russia during its special operation in Ukraine would be sanctioned by the UN secretary-general.
"In areas of hostilities where representatives of NATO countries are not allowed access, it is planned to involve representatives of the International Committee of the Red Cross, provided with means of protection and monitoring equipment", added Kirillov.
It was emphasised at the briefing that the goal of such a scenario would likely be to put pressure on countries such as China and India, which have resisted Western attempts to join the sweeping sanctions campaign targeting Russia.
According to the lieutenant general, the rapid seizure of evidence at the scene of the planned incident (collection of samples, interviewing witnesses, assembling photo and video documentation) will be of fundamental importance.
Igor Kirillov referenced how on numerous occasions in the past, the US has similarly resorted to provocations to achieve political goals.
"The most striking example… is the speech of then-US Secretary of State Colin Powell on February 5, 2003. A vial of 'white powder' in his hands served as a pretext for the invasion of Iraq and the cause of the death of almost half a million civilians", he said.
Kirillov cited other examples, such as how photographs spread by news agencies in 2017 showing people wearing ordinary gauze masks taking samples at a site of alleged sarin use led to a missile attack on the Shayrat airfield controlled by the Syrian government.
Likewise, how on 14 April 2018, the US, France, and UK launched missile strikes on Syria, in response to an alleged poison gas attack on the terrorist stronghold Douma, for which they held the Syrian government responsible.
Rumours about a chemical attack started with videos and photos disseminated on social media by the Syrian Civil Defence, known as the White Helmets, among others, of children ostensibly being treated in a hospital with respiratory problems.
However, "no organophosphorus nerve agents or their degradation products were detected, either in the environmental samples or in plasma samples from the alleged casualties", the OPCW report on the Douma incident later read.
On 21 April, Ukraine dropped a container with ampoules from a UAV onto the position of Russian forces, said Igor Kirillov. It was planned that a chemical reaction would occur causing an explosion and fire with the release of toxic substances. According to the MoD, the contents of the ampoules are currently undergoing chemical analysis at a scientific research centre of the Russian Defence Ministry, accredited with the Organisation for the Prohibition of Chemical Weapons, with the findings to be forwarded to its technical secretariat
Kirillov noted at the MoD briefing on Saturday that since March, Western countries have been regularly making provocative statements about the possibility of Russia using weapons of mass destruction.
Kirillov also denounced as "absurd" CIA Director William Burns' statement about Russia possibly using tactical nuclear weapons in Ukraine. It would simply be impossible to conceal the use of such weapons, bearing in mind the modern level of technical equipment of the international system for nuclear test monitoring, underscored the general.
"If the CIA director doesn't understand this, then he is either unprofessional or he is being misled", Kirillov added.
In order to falsely accuse Russia, Kiev is also seriously considering carrying out missile strikes on the storage of radioactive waste at the site of the former chemical plant in the village of Kamenskoye, Dnepropetrovsk region, said the MoD.
"The Ministry of Defence has a document confirming the critical state of storage facilities and misappropriation of funds allocated by the European Union for the maintenance of the facility", Kirillov stated.
Russia started a special military operation in Ukraine on 24 February after the Donetsk and Lugansk People's Republics (DPR and LPR) appealed for help in defending themselves against continued attacks by Ukrainian forces. Russia underscored that the aim of its special operation is to target only military infrastructure, and has repeatedly stressed that it has no plans to occupy Ukraine.

Author:
Svetlana Ekimenko Write to the author
===
===
Russia 'Liberates' Port City Of Mariupol; Lavrov Explains Why Russia Went To War
Apr 23, 2022
Russian President Vladimir Putin on Thursday claimed the "liberation" of the flattened city of Mariupol after nearly two months of fighting, demanding its trapped Ukrainian defenders be sealed into their underground last stand. Also in World Today, India Today's Foreign Affairs Editor Geeta Mohan speaks to Russian Foreign Minister Sergey Lavrov.
===
STUNNING NATO weapons cache found by Russian forces in Ukraine
By jimstone.is - PERMALINK - 22. April 2022
Multiple billions of dollars worth in several buildings.
The whole ball of wax. American light anti tank weapons. American mortars. Old Ukranian stock. Stuff Ukraine was assembling. Stuff from other EU countries. Huge anti tank missiles. Huge anti aircraft or whatever else missiles. Even Russian stuff. An entire warehouse full of spent casings to be reloaded. THE WHOLE BALL OF WAX, - AND MOST IMPORTANTLY: The Ukranian forces abandoned this which means they had no ability to relocate it before being overtaken. That means they are losing. There are enough weapons in this stache to win a war against a major power, the discovery was THAT BIG.

It is not just the first warehouse full at the beginning, they go through multiple warehouses and prove NATO is supplying Ukraine with a dream stache.
In case your browser doesn't play the embedded version go directly HERE or watch:
BACKUP ON BITCHUTE:
and that:
Situation in Ukraine: Mariupol Residents Able to Move Freely, No Longer Have to Shelter From Nazis' Shelling - Russian MoD
23. April 2022
===
RUSSIA BRIEFING ON RUSSIA-UKRAINE MILITARY ACTIVITIES 22TH APRIL 2022
First published on BITCHUTE April 22nd, 2022.
===
Classified US Army Manuals Found at Azov Neo-Nazis' Base Near Mariupol – Video
By Sputnik - 22. April 2022
The unearthed materials are just the latest addition to a collection of trophies of military equipment and weaponry that western countries have been sending to Ukraine for years, despite objections from Moscow.
The inspection of the former base of the Ukrainian neo-Nazi battalion Azov near Mariupol led to a discovery of classified manuals — courtesy of the US Army.
The documents, contain instructions on to conduct counter-insurgency and reconnaissance operations, were supposed to be destroyed to prevent them from falling into enemy hands, but Azov fighters failed to do so.
The manuals, written in the Ukrainian, Russian and English languages according to a video shot by a journalist who was briefly able to study them, were discovered at the base where a sabotage team named SS Medvedi had been stationed. One of the manuals mentions the US Army Intelligence Centre at Fort Huachuca, while the other was published by the US Department of the Army.
Most of Mariupol, barring the Azovstal steel plant, has recently come under control of the joint forces of the Donetsk People's Republic (DPR) and the Russian military, which extended help as a part of the special military operation launched on 24 February.
Russian President Vladimir Putin said Russia was "forced" to start the operation to end the tragedy, genocide and suffering in Donbass, which has been sustaining shelling by Ukrainian forces for years.
Secret US Army manuals and guidelines, in particular for intelligence units, were found at the base of the neo-Nazi Azov Battalion near Mariupol, a Sputnik correspondent reports from the site.

According to the Russian military, such documents must be destroyed if they cannot be retrieved but Azov radicals failed to do so in time.
RUSSIANS HAVE FOUND US ARMY FM (FIELD MANUALS) AT AZOV/AZOG BASE
First published on BITCHUTE April 22nd, 2022.
PNN America just dropped a new vid. WATCH: https://www.bitchute.com/video/5tRfLMRyatc3/
These FMs are fucking great. You can download them for free from Army's TRADOC site. There's hundreds of them. USMC also has a bunch of great ones "MCDP 1 - Warfighting" is my favorite.
So when you watch this war, just remember that this is a NATO vs Russia war. US has spent BILLIONS of dollars training and equipping Ukrainians over the past 8 years and they are fully trained to a NATO standard. You could substitute a Ukrainian squad with a US/UK/Can one and they would function the same. And Ukrainian forces are filled with NATO officers and are getting orders and intel from US commanders. This is a full-blown proxy war.
===
RUSSIA SUCCESSFULLY TESTS THE RS-28 SARMAT - WORLD'S MOST POWERFUL INTERCONTINENTAL BALLISTIC MISSILE (IBM)
First published on BITCHUTE April 21st, 2022.
Footage of the launch and then Russian military briefing to Putin on the success...
Nature protectors, however, criticized that the Russian Generals did choose the Kamchatka Peninsula, one of the greatest and most outstanding nature paradises in the Russian North as target area. Next time Putin must do better and instruct the Generals to choose e.g. one of the devastated forest areas in the Russian East, where clearcutting U.S. timber-Mafia conglomerates in collaboration with corrupt Oligarchs have destroyed for more than a decade pristine forests and did not engage in reafforestation.
===
VLADIMIR PUTIN'S MESSAGE TO THE PEOPLE OF ALL COUNTRIES OF THE WORLD
21. April 2022:
Dear citizens of our beautiful planet Earth!
I, Vladimir Putin, President of the Russian Federation, have decided to address you all directly, leaving out diplomats, your rulers and journalists.
In Russia, there is such a concept as a "radio station" where one must not lie, deceive and cheat. So I'm going to speak plainly so that everyone can verify the truth of my words.

Russia is a huge and rich country. Its main value is the more than 150 peoples who live on its territory, where freedom comes first and justice. We do not need new territories. We have plenty of energy and all other resources. Since the days of the Great Tartary and the Great Mughal Empire the peoples of northern Eurasia have developed not through the plunder and colonization of America, Africa, India, the narcotization of China, but through their industriousness and peacefulness.
Those who know the Russian language understand that "Russian" is an adjective for all the peoples of our country. Russian Slavs, Russian Tatars, Russian Jews, Russian Evenks, etc. are Russians in soul, although their culture, language and way of life may differ. We welcome this diversity of unity!

All peoples of Russia are once again forced to sacrifice their lives in the defense of the world against Nazism and Fascism. We have exchanged 50 of our prisoners of war for 50 Ukrainian soldiers. The Ukrainian soldiers were treated in our hospitals, fed three meals a day and returned home safely.

We brought our soldiers back from captivity with their fingers and genitals cut off. Even the Nazis didn't do that during the last war. We will present this evidence at a future tribunal.
Shame on all those who now support these bastards!

Your rulers in the United States, Europe, Japan, Australia and other countries have sided with these subhumans who hide behind civilians in combat, behind pregnant women and children and deliberately mutilate prisoners of war. I can hardly imagine any sane person supporting these atrocities.

And your Bidens, Scholzes, Macrons and other obscure Dendmocrats are not only protecting these criminals, but actively arming them and supplying them - leving you with not enough money to keep prices down in your countries.

Prices are rising and the world is collapsing, but not because the Russians are liquidating the Nazi vermin in Europe, but because you are silently watching and actually supporting the new wave of Nazism. We are not going to Berlin this time. We will stop at our historic borders while all the Nazi vermin your rulers are opening up to -.to prepare a new "crystal" life for you just like the Nazis did - add to it...

I appeal to every person who wants to live and work in peace, raise children and be friends with the peoples of the world. Help Russia deal with the new cancer - the Ukrainian Nazism. Not that Ukraine, where peaceful and hard-working people live, but that where Nazism grown by hawks with your tax money from the US and NATO prevails.
If your rulers support Nazism, drive them out, take power into your own hands!

While Ukrainian Nazis are protecting themselves from bullets behind the backs of peaceful citizens, your rulers have decided to pass on the burden of high prices under the pretext of a terrible Russia and the threat of shortages onto the population. Both in Ukraine and in your country, the Nazis live well behind and on the backs of ordinary citizens, while ordinary people have to suffer - in Ukraine and in the West, the same crimes. We have not broken any of our promises, while your rulers have stolen 300 billion dollars and Euros from the Russian people.

They are plundering the property of the citizens of our country all over the world, deliberately mutilating our soldiers, banning the Russian language and attacking the Orthodox Church.

I observe that in countries where governments are tightening sanctions against Russia, there is a growing awareness of what is happening and a wave of protest is spreading. You should be thinking about replacing the politicians who are hiding behind your backs from bullets and high prices. And don't put it off. If we unite, in a week's time there will be no Nazis in Ukraine, normal life will resume in Europe, the USA and other countries, and we will together bring the Ukrainian Nazis and all the rulers, who support Nazism, before a new tribunal.

Our efforts are justified. We will defeat Nazism.
I would like to share this victory with everyone and as soon as possible.

Vladimir Putin, President of the Russian Federation
Translated by Romana
@RomanaV
Original Gabber
Journalist Lara Logan has been trying to get the message out since the start of this war and is backing Putin up on this story too
===
LIEUTENANT OF UKRAINIAN MILITARY SAW WAR CRIMES AGAINST CIVILIANS IN MARIUPOL HAPPEN
First published on BITCHUTE April 21st, 2022.
===
RUSSIA BRIEFING ON RUSSIA-UKRAINE MILITARY ACTIVITIES 21TH APRIL 2022
First published on BITCHUTE April 21st, 2022.
===
THE "SOMALI" BATTALION RETURN HOME VICTORIOUS TO DONETSK AFTER HELPING TO LIBERATE MARIUPOL
First published on BITCHUTE April 21st, 2022.
Muslims and Christians fighting together to stop globalist and fascist corporations banking institutions who are the enemy of the people. Follow the Money folks. Think who is making money from this misery. In the end it is good vs evil.
===
===
Zelenskyy Wanted Nuclear Weapons, India Old Friend & Strategic Partner | Sergey Lavrov EXCLUSIVE
Apr 19, 2022
According to Russian foreign minister Sergey Lavrov, the current situation in Ukraine is a direct result of the US and West's desire to rule and dominate the world. In an exclusive interview with India Today, he said, "The current events are rooted in the US and West's desire to rule the world. They wanted to show the world there would be no multipolarity, only unipolarity, and created a springboard [Ukraine] against us [Russia] at our borders. They pumped arms into Ukraine." He added, "The real reason [for the war] is the complacency of most countries after World War II. They violated their promises to Russian leadership and started moving Nato eastward after the Soviet Union disappeared. They said it's a defensive alliance and not a threat to Russian security."
===
Plague and Typhus: What Have American Scientists Been Up to in Ukraine's Biolabs?
17 April 2022
===
Dozens of Murdered civilians Found in Mariupol after Ukraine retreats (Some hands bound)
Patrick Lancaster - American Independent Correspondent - currently on the ground where Ukraine leaves dozens of murdered civilians in Mariupol after retreating.

Apr 14, 2022 - Unfortuately behind GooTube age limit/verification barrier.
Dozens of Murdered civilians Found in Mariupol after Ukraine retreats
===
Russia Confirms Black Sea Flagship On Fire, "Seriously Damaged" Off Odessa After Reported Missile Strike
Update(2011ET): Russia has belatedly confirmed that its Moskva warship has suffered significant damage after Ukrainian officials said its forces scored direct missile hits on the ship off Odessa's coast.
However, Russian state RIA is seeking to counter the Ukrainian narrative, saying that the Moskva has been "seriously damaged" due to a fire that broke out on board which detonated ammunition. But there weren't further details provided, resulting in an emerging consensus among Western observers that likely the ship was indeed struck. The Ukrainians said earlier they struck the vessel with two Neptune anti-ship cruise missiles...
Thus like in many other cases in this grinding war, two contrary narratives have quickly emerged...
But while there were reports that over 500 Russian crewmembers could be in immediate danger of sinking, RIA is reporting, ""The crew was completely evacuated. The reasons for the incident are being established"...leaving things still unclear.
The incident suggests things are likely to heat up, also as the US administration has just vowed to ramp up its weapons shipments to Kiev.
Prior footage of a Neptune in action:
* * *
Update(1820ET): Into the late and overnight hours local time Ukrainian sources are claiming a Russian warship is sinking off the Odessa coast after being struck by Ukrainian missiles. Regional media has cited Ukrainian military officials in Odessa, saying:
The Ukrainian military has struck a Russian naval cruiser with two missiles, causing "severe damage" to the warship, an official said late Wednesday.

Maksym Marchenko, head of the Odessa Regional Military Administration, said on Telegram that the Moskva, the flagship of the Russian Black Sea Fleet, was hit with two Neptune anti-ship missiles.
There's reportedly over 500 Russian crew members on board, however the Russian military has not confirmed the incident, nor was their initial confirmation out of high level Ukrainian defense Ministry officials.
Earlier in an afternoon press briefing, Pentagon spokesman John Kirby said the US believes based on intelligence that Russian troops are suffering "low morale" after immense battlefield losses.
* * *
Update(1417ET): The White House is moving to significantly expand its intelligence sharing with Ukraine, The Wall Street Journal is reporting based on admin officials.
"The Biden administration is moving to significantly expand the intelligence it is providing to Ukraine's forces so they can target Moscow's military units in Russian-occupied Donbas and Crimea and potentially take back territory, U.S. officials said," the report says.
Further it comes as Biden has said the Pentagon will step up its weapons flow to Kiev. This was revealed following a phone call with Zelensky on Wednesday, where Biden said he informed his Ukrainian counterpart he's authorized an additional $800 million in weapons, ammunition, and other security assistance to Ukraine, according to the official readout.
Crucially, the transfer of helicopters was named as part of the new assistance package. Some of these are weapons systems the Pentagon has never given Ukraine before. The section of the readout indicates as follows:
These new capabilities include artillery systems, artillery rounds, and armored personnel carriers. I have also approved the transfer of additional helicopters. In addition, we continue to facilitate the transfer of significant capabilities from our Allies and partners around the world.

The steady supply of weapons the United States and its Allies and partners have provided to Ukraine has been critical in sustaining its fight against the Russian invasion. It has helped ensure that Putin failed in his initial war aims to conquer and control Ukraine. We cannot rest now. As I assured President Zelenskyy, the American people will continue to stand with the brave Ukrainian people in their fight for freedom.
It was previously reported that these would likely be Mi-17 helicopters.
The WSJ report separately comments that the new intelligence guidance has been issued as Russian forces appear poised for a major new assault deeper into the Donbas in the coming days.
Meanwhile, and hugely alarming, the Kremlin has put out the following statement saying that all of this is a recipe for expanding the war:
"We see attempts of sabotage and strikes by Ukrainian troops on objects on the territory of the Russian Federation," said Russian Ministry of Defense spokesperson Maj. Gen. Igor Konashenkov, in a statement. "If such cases continue, the Armed Forces of the Russian Federation will strike at decision-making centers, including in Kyiv, from which the Russian army has thus far refrained."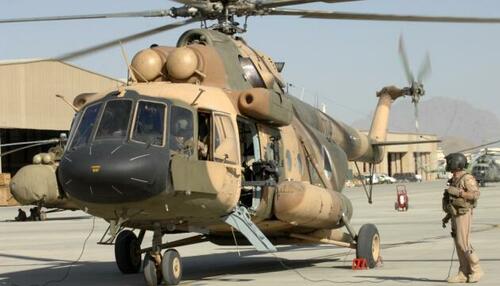 Mi-17 military transport helicopter, file image
* * *
At a moment the Pentagon has vowed to "speed up" weapons deliveries to Ukraine forces, and after Slovakia announced early this week it is in discussion with NATO allies to provide Kiev with MiG-29 fighter jets, the Kremlin has repeated its warning that any weapons shipments entering the country will be viewed as "legitimate military targets".
The renewed warning was issued Wednesday by Russia's Deputy Foreign Minister Sergei Ryabkov, who told TASS news agency that the military stands ready to attack any US or NATO vehicles caught transporting weapons into the conflict.
"We are warning that US-NATO weapons transports across Ukrainian territory will be considered by us as legal military targets," said Ryabkov, after last month the Kremlin issued a similar warning. But this time the language has been narrowed to specifically put the US and NATO on notice, whereas previously this was left somewhat ambiguous.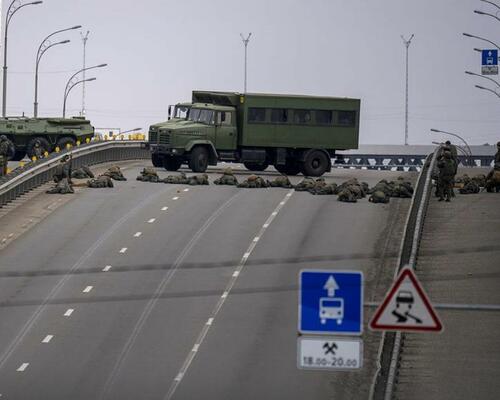 Image source: AP
He warned further that these attempts to inflict damage on Russian forces will be "harshly suppressed", explaining that...
"We are making the Americans and other Westerners understand that attempts to slow down our special operation, to inflict maximum damage on Russian contingents and formations of the DPR and LPR (Donetsk and Luhansk People's republics) will be harshly suppressed."
Ryabkov's words come days after the Kremlin said ship-fired cruise missiles destroyed S-300 anti-air systems which had been provided by a European country.
"Defense Ministry spokesman Major General Igor Konashenkov said on Monday Russian Kalibr missiles destroyed on Sunday four S-300 launchers concealed in a hangar on the outskirts of the central-eastern Ukrainian city of Dnipro, hitting 25 Ukrainian soldiers in the attack," it was reported Monday based on state sources.
However, Slovakia - which had recently confirmed sending an S-300 system to Kiev - as well as Ukraine itself denied the Russian claims. Given the apparent delivery of such major systems to Ukraine, it's likely other European and NATO countries will join with sending heavier and heavier weaponry, also amid reports of Soviet-era tank transfers.
Meanwhile, Reuters reports that the Department of Defense is looking to further ramp up its own shipments to Kiev: "The Pentagon's Defense Security Cooperation Administration is having weekly meetings of its European Crisis Management Team to review specific requests related to Ukraine," writes Reuters.
And the report notes things are about to speed up: "To speed up U.S. government approval for sales and transfers of arms produced by American defense contractors, the Pentagon has re-established a team to respond to the increased demand," according to Reuters.
===
Situation in Ukraine: Actions of the West in Ukraine Could Lead to 'Military Confrontation' Between US & Russia - Antonov
9 April 2022
===
Manufactured Crisis: CIA trained the Neo-Nazi Azov Battalion and has chosen Ukraine as birthplace of new "Global White Supremacist" Terror Threat
By Whitney Webb - 03. April 2022
The eruption of war between Russia and Ukraine appears to have given the CIA the pretext to launch a long-planned insurgency in the country, one poised to spread far beyond Ukraine's borders with major implications for Biden's "War on Domestic Terror"
As the conflict between Ukraine and Russia continues to escalate and dominate the world's attention, the increasing evidence that the US Central Intelligence Agency (CIA) is and has been working to create and arm an insurgency in the country has received considerably little attention considering its likely consequences.
This is particularly true given that former CIA officials and a former Secretary of State are now openly saying that the CIA is following the "models" of past CIA-backed insurgencies in Afghanistan and Syria for its plans in Ukraine. Given that those countries have been ravaged by war as a direct result of those insurgencies, this bodes poorly for Ukraine.
Yet, this insurgency is poised to have consequences that reach far beyond Ukraine. It increasingly appears that the CIA sees the insurgency it is creating as more than an opportunity to take its hybrid war against Russia ever closer to its borders. As this report will show, it appears the CIA is determined to manifest a prophecy propagated by its own ranks over the past two years.
This prediction from former and current intelligence officials dates from at least early 2020 and holds that a "transnational white supremacist network" with alleged ties to the Ukraine conflict will be the next global catastrophe to befall the world as the threat of Covid-19 recedes.
Per these "predictions", this global network of white supremacists – allegedly with a group linked to the conflict in the Donbas region of Ukraine at its core – is to become the new Islamic State-style threat and will undoubtedly be used as the pretext to launch the still-dormant infrastructure set up last year by the US government under President Biden for an Orwellian "War on Domestic Terror."
Given that this CIA-driven effort to build an insurgency in Ukraine began as far back as 2015 and that the groups it has trained (and continues to train) include those with overt Neo-Nazi connections, it seems that this "coming Ukrainian insurgency," as it has been recently called, is already here.
In that context, we are left with the unnerving possibility that this latest escalation of the Ukraine-Russia conflict has merely served as the opening act for the newest iteration of the seemingly endless "War on Terror."
Insurgency Rising
Soon after Russia began military operations in Ukraine, Foreign Affairs – the media arm of the Council on Foreign Relations (CFR) – published an article entitled "The Coming Ukrainian Insurgency."
The piece was authored by Douglas London, a self-described "retired Russian-speaking CIA operations officer who served in Central Asia and managed agency counterinsurgency operations." He asserted in the article that "Putin will face a long, bloody insurgency that will spread across multiple borders" with the potential to create "widening unrest that could destabilize other countries in Russia's orbit."
Other notable statements made by London include his assertion that "the United States will invariably be a major and essential source of backing for a Ukrainian insurgency."
He also states that "As the United States learned in Vietnam and Afghanistan, an insurgency that has reliable supply lines, ample reserves of fighters, and sanctuary over the border can sustain itself indefinitely, sap an occupying army's will to fight, and exhaust political support for the occupation at home."
London explicitly refers to models for this apparently imminent Ukrainian insurgency as the CIA-backed insurgencies in Afghanistan in the 1980s and the "moderate rebels" in Syria from 2011 to the present.
London isn't alone in promoting these past CIA-backed insurgencies as a model for "covert" US aid to Ukraine. Former Secretary of State Hillary Clinton, whose State Department helped to create the "moderate rebel" insurgency in Syria and oversaw the US and NATO-backed destruction of Libya, appeared on MSNBC on February 28th to say essentially the same.
In her interview, Clinton cited the CIA-backed insurgency in Afghanistan as "the model that people [in the US government] are now looking toward" with respect to the situation in Ukraine. She also references the insurgency in Syria in similar fashion in the same interview. It is worth noting that Clinton's former deputy chief of staff when she was Secretary of State, Jake Sullivan, is now Biden's National Security Adviser.
The Afghanistan insurgency, initially backed by the US and CIA beginning in the late 1970s under the name Operation Cyclone, subsequently spawned the US empire's supposedly mortal enemies – the Taliban and Al Qaeda – who would go on to fuel the post-9/11 "War on Terror."
The US' campaign against the descendants of the insurgency it had once backed resulted in horrific destruction in Afghanistan and a litany of dead and war crimes, as well as the longest (and thus most expensive) war and occupation in American military history. It also resulted in the bombings and destruction of several other countries along with the whittling down of civil liberties domestically.
Similarly, in Syria, the US and CIA's backing of "moderate rebels" was and remains incredibly destructive to the country it supposedly wants to merely "liberate" from the rule of Bashar al-Assad. The US military continues to occupy critical areas of that country.
With these openly touted as "models" for the "coming Ukraine insurgency," what is to become of Ukraine, then? If the history of CIA-backed insurgencies is any indicator, it heralds significantly more destruction and more suffering for its people than the current Russian military campaign.
Ukraine will become a failed state and a killing field. Those in the West cheering on their governments' support for the Ukrainian side of the conflict would do well to realize this, particularly in the United States, as it will only lead to the escalation of yet another deadly proxy war.
However, in addition to the above, we must also consider the very unsettling reality that this Ukrainian insurgency began to be formed by the CIA at least several months, if not several years, prior to Russia's currently ongoing military campaign in Ukraine. Yahoo! News reported in January that the CIA has been overseeing a covert training program for Ukrainian intelligence operatives and special ops forces since 2015.
Their report explicitly quotes one former CIA official with knowledge of the program as saying that the CIA has been "training an insurgency" and has been conducting this training at an undisclosed US military base. This training of Ukrainian "insurgents" was supported by the Obama, Trump, and now Biden administrations, with the latter two expanding its operations.
While the CIA denied to Yahoo! that it was training an insurgency, a New York Times report also published in January stated that the US is considering support for an insurgency in Ukraine if Russia invades.
Given that the CIA, at that time and prior to this year, has been warning of an imminent Russian invasion of Ukraine up until the current escalation of hostilities took place, it is worth asking if the US government and the CIA helped "pull the trigger" by intentionally crossing Russia's "red lines" with respect to NATO encroachment in Ukraine and post-2014 Ukraine's acquisition of nuclear weapons when it became clear that the CIA's repeated predictions about an "imminent" invasion failed to materialize.
Russia's red lines with Ukraine have been stated clearly – and violated repeatedly by the US – for years. Notably, the US' efforts to provide lethal aid to Ukraine have coincided with the winding down of its lethal support to Syrian "rebels", suggesting that the US war and intelligence apparatus has long seen Ukraine as the "next" on its list of proxy wars.
However, more recently, the CIA's warnings of an imminent invasion of Ukraine were scoffed at, not only by many American analysts, but also apparently by both the Russian and Ukrainian governments themselves.
It is alleged that this all changed, at least from the Russian perspective, following Ukrainian President Volodymyr Zelensky's claim at the Munich Security Conference that his government would seek to make Ukraine a nuclear power in violation of the 1994 Budapest Memorandum. Surely, Zelensky and his supporters in Washington DC and Langley, Virginia would have known that such an extreme claim from Zelensky would elicit a response from Russia.
One need only consider the reverberations that follow any country announcing its intentions to become a nuclear power on the world stage. Russian leadership has since made the case that they felt compelled to act militarily after Ukraine, which has been regularly attacking separatists along its border with Russia with embedded paramilitary units that have called for the "extermination" of ethnic Russians who live in those regions, announced plans to acquire nukes.
In addition, given Ukraine's growing ties to NATO and its desire to integrate itself into that alliance, these theoretical nuclear weapons would be NATO-controlled nukes on Russia's border. Zelensky, the US, and their other allied parties surely knew that this intention, particularly its admission in public, would push an already tense situation to the next level.
Of course, this statement from Zelensky followed a US-led airlift of weapons to Ukraine early last month, weeks before the current Russian military campaign. US lethal aid to Ukraine has previously been described as being tantamount to a "declaration of war" on Russia by the US, per members of Russia's Ministry of Defense as far back as 2017.
It is worth considering that these red lines and the potential to cross them was discussed by Zelensky and representatives of Ukraine's intelligence services when they met with the head of the CIA, William Burns, in January. The CIA, at that time, was already claiming a Russian invasion of Ukraine was imminent. Given the events described above, could it be possible that the CIA wanted to bring about the insurgency they have been preparing for, potentially since 2015?
Would they have done so by pushing their allies in Ukraine's government to manifest the conditions necessary to begin that insurgency, i.e. prompting them to cross Russia's "red lines" to elicit the reaction needed to launch a pre-planned insurgency? With the CIA also training Ukraine's intelligence operatives for nearly seven years, the possibility is certainly one to consider.
If this theory is more than plausible and close to the truth of how we got here, we are left with more questions, mainly – Why would the CIA look to launch this insurgency in Ukraine and why now? The apparent answer may surprise you.
Manufacturing the Narrative and the Threat
In May 2020, Politico published an article entitled "Experts Knew a Pandemic Was Coming. Here's What They're Worried About Next."
The article was written by Garrett Graff, former editor of Politico, a professor at Georgetown's Journalism and Public Relations program, and director of cyber initiatives at The Aspen Institute – a "non-partisan" think tank funded largely by the Rockefeller Brothers Fund, the Carnegie Corporation and the Bill & Melinda Gates Foundation. Graff's introduction to the piece states the following:
"Every year, the intelligence community releases the Worldwide Threat Assessment — a distillation of worrisome global trends, risks, problem spots and emerging perils.
But this year, the public hearing on the assessment, usually held in January or February, was canceled, evidently because intelligence leaders, who usually testify in a rare open hearing together, were worried their comments would aggravate President Donald Trump. And the government has not yet publicly released a 2020 threat report."
In 2020, the CIA did not release a "worldwide" threat assessment for the first time since it first began annually releasing them decades ago. This article published by Politico was intended by Graff to serve as a "Domestic Threat Assessment" in the absence of the CIA's Worldwide Threat Assessment and is styled as a "list of the most significant events that might impact the United States" in the short, medium and long terms.
Graff created this Threat Assessment document after interviewing "more than a dozen thought leaders," many of whom were "current and former national security and intelligence officials." A few months later, the Department of Homeland Security, for the first time since its creation in 2003, would publish its own "Homeland" Threat Assessment in October of that year.
As I noted at the time, this signalled a major shift within the US national security/intelligence apparatus away from "foreign terror", its ostensible focus since 9/11, to "domestic terror."
Just months after this Homeland Threat Assessment was published, the war on domestic terror would be launched in the wake of the events of January 6th, which itself was apparently foreseen by then-DHS official Elizabeth Neumann.
In early 2020, Neumann had presciently stated: "It feels like we are at the doorstep of another 9/11 — maybe not something that catastrophic in terms of the visual or the numbers — but that we can see it building, and we don't quite know how to stop it."
Indeed, when January 6th took place, no real effort was made by Capitol Police or other law enforcement officials present to stop the so-called "riot", with plenty of footage from the event instead showing law enforcement waving the supposed "insurrectionists" into the Capitol building.
This, however, did not stop top politicians and national security officials from labelling January 6th as the "another 9/11" that Neumann had apparently predicted. Notably, the DHS' first-ever Homeland Threat Assessment, Neumann's warning, and the subsequent official narrative regarding the events of January 6th were all heavily focused on the threat of "white supremacist terror attacks" on the US homeland.
Returning to the May 2020 Politico article – Graff notes that many supposed pandemic "experts", which – per Graff – includes Bill Gates and US intelligence officials James Clapper and Dan Coats, had "projected the spread of a novel virus and the economic impacts it would bring" as well as "details about the specific challenges" the US would face during the initial phase of the Covid-19 crisis. Graff then asks "What other catastrophes are coming that we aren't planning for?"
According to the "thought leaders" he consulted for this piece, which included several current and former intelligence officials, the most immediate "near-term threat" likely to disrupt life in the US and beyond following Covid was "the Globalization of White Supremacy." In discussing this imminent threat, Graff wrote:
"'Terrorism' today conjures images of ISIS fighters and suicide bombers. But if you ask national security officials about the top near-term terrorism threat on their radar, they almost universally point to the rising problem of white nationalist violence and the insidious way that groups that formerly existed locally have been knitting themselves together into a global web of white supremacism.
In recent weeks, the State Department — for the first time — formally designated a white supremacist organization, the Russian Imperial Movement, as a terrorist organization, in part because it's trying to train and seed adherents around the globe, inspiring them to carry out terror attacks …" (emphasis added)
Graff then adds that "There are serious — and explicit — warnings about this coming from U.S. government and foreign officials that eerily echo the warnings that came about for al Qaeda before 9/11." He then quotes FBI Director Christopher Wray as stating:
"It's not just the ease and the speed with which these attacks can happen, but the connectivity that the attacks generate. One unstable, disaffected actor hunkered down, alone, in his mom's basement in one corner of the country, getting further fired up by similar people half a world away. That increases the complexity of domestic terrorism cases we have in a way that is really challenging."
This quote from Wray was first published in a piece Graff had written a month prior to publishing his Politico piece. The focus of that interview centered around domestic terrorism in the US, with extensive discussion about the 1995 Oklahoma City bombing and the Russian Imperial Movement.
In that article, published in Wired, the State Department's coordinator for counterterrorism, Nathan Sales, characterized that movement as "a terrorist group that provides paramilitary-style training to neo-Nazis and white supremacists, and it plays a prominent role in trying to rally like-minded Europeans and Americans into a common front against their perceived enemies."
This Russian Imperial Movement, or RIM, advocates for the re-establishment of the pre-1917 Russian empire, which would exert influence over all territory inhabited by ethnic Russians. Their ideology is described as white supremacist, monarchist, ultra-nationalist, pro-Russian Orthodox, and anti-Semitic. They are not considered neo-Nazi, but have worked to build ties with other, far-right groups with neo-Nazi connections.
RIM was allegedly responsible for training a bomber whose acts resulted in no deaths in Sweden from 2016-2017. The bomber, Victor Melin, was not an active RIM member but was reportedly trained by them, and he conducted 2 of his 3 bombings with an individual completely unaffiliated with RIM. Melin was, however, a member of the Nordic Resistance Movement at the time.
A few years later, in April 2020, RIM became the first "white supremacist" group to be labeled a Specially Designated Global Terrorist Entity (SDGT) by the US, despite not being tied to an act of terror since 2017 and despite those previous acts resulting in no deaths. The acts of terror cited as justification by then Secretary of State Mike Pompeo were those perpetrated by Melin.
However, the Nordic Resistance Movement, of which Melin was an active member at the time of the bombings, did not receive the SDGT label, even though it is significantly larger in terms of membership and reach than RIM. The decision to label RIM this way was considered "unprecedented" at the time.
It has since been claimed that the group now numbers in the "several thousand" worldwide, though little publicly available evidence exists to support this statistic and that statistic notably only emerged roughly a month after the US terror designation and originated from a US-based institute. There are also no statistics available on the number of individuals they have allegedly trained via their paramilitary arm, known as the Imperial Legion.
Per the US government, RIM's reach is global and extends to the US. However, its US ties are based on dubious allegations of a relationship with Atomwaffen Division's Russian affiliate and a "personal relationship" with the 2017 "Unite the Right" rally organizer Matthew Heimbach. However, this again is based on the allegations (not direct evidence) that Heimbach received funds from RIM.
Heimbach's group, the Traditionalist Workers' Party, has been inactive since 2018, two years before the US SDGT designation for RIM. It is also alleged that RIM offered to train other "Unite the Right" figures, though RIM and the "white supremacists" who supposedly received this offer deny the reports. Furthermore, there remains no evidence of any US citizen ever participating in paramilitary training with RIM.
This contradicts Nathan Sales' April 2020 claim that RIM plays "a prominent role in trying to rally like-minded Europeans and Americans into a common front against their perceived enemies." Despite the lack of evidence left-leaning, non-partisan, and right-leaning think tanks have continued to use RIM as proof of a "large, interconnected, transnational network" of violent white supremacists.
It seems odd that a group that is apparently small and very limited in terms of its presence in the US and that is responsible for no deadly terror attacks would earn the honor of becoming the first US-designed, white supremacist Specially Designated Global Terrorist Entity. This is especially true when the acts cited as justification for the SDGT designation were committed by a member of a different, larger group, a group that did not receive this designation at the time or in the years since.
However, in the context of current events in Ukraine, the 2020 designation of RIM begins to make more sense, at least from the US national security perspective.
RIM is alleged to support separatists in Ukraine's Donetsk and Luhansk regions since 2014 and has been described by the US as "anti-Ukrainian." These regions are at the center of the current conflict and its most recent escalation last month.
The US government and pro-Western think tanks list RIM's "first attack" as its involvement in the conflict in eastern Ukraine. According to Stanford University's Center for International Security and Cooperation (CISAC), the number of fighters sent by or trained by RIM in Eastern Ukraine is unknown, though one report states RIM sent "groups of five to six fighters" from Russia to Eastern Ukraine in mid-June 2014.
RIM's paramilitary arm, the Imperial Legion, has not been active in Ukraine since January 2016. However, some reports have asserted that "some individuals opted to stay and continue fighting." Claims have also been made in more recent years that RIM members have fought in the Syrian conflict and in Libya on the side of General Haftar.
Following this "first attack," Stanford's CISAC claims that, from 2015 to 2020, they have been "building a transnational network," though as previously noted – their success in that endeavor is based on reports of dubious authenticity and/or significance, particularly in the United States.
However, their alleged role on the side of separatists in the Donbass has been used by US think tanks to argue that RIM advances Moscow's policy goals, which they say include "seeking to fuel white supremacist extremism in Europe and the United States."
Some think tanks in the US, like Just Security, have used RIM to argue that Russia's government plays a major role in "transnational white supremacy" due to "a mutual affection between Western white supremacists and the Russian government." They claim that because Russia "tolerates" RIM's presence domestically, "the Kremlin facilitates the growth of right-wing extremism in Europe and the United States that exacerbates threats to the stability of democratic governments."
However, what Just Security fails to mention is that RIM has vocally opposed and protested against Putin's government, has been labeled an extremist group by the Russian government and has even had its offices raided by Russian police because of their opposition to Putin's leadership.
Notably, Just Security's advisors included former CIA deputy director and Event 201 participant, Avril Haines as well as former deputy chief of staff to Hillary Clinton at the State Department, Jake Sullivan. Haines and Sullivan now serve as Biden's Director of National Intelligence (i.e. the top intelligence official in the country) and Biden's National Security adviser, respectively.
The Dawn of "Domestic Terror"
As a result of the current escalation of events in Ukraine, it appears inevitable that the effort to use RIM to paint Russia as a driving force behind "transnational white supremacism" are due to resurface. This effort appears to have as one of its goals the minimization of the role that neo-Nazi groups like the Azov Battalion, the Neo-Nazi paramilitary unit embedded within Ukraine's National Guard, are actively playing in the current hostilities.
In January of this year, Jacobin published an article about the CIA efforts to seed an insurgency in Ukraine, noting that "everything we know points to the likelihood that [the groups being trained by the CIA] includes Neo-Nazis inspiring far-right terrorists across the world."
It cites a 2020 report from West Point which states that: "A number of prominent individuals among far-right extremist groups in the United States and Europe have actively sought out relationships with representatives of the far-right in Ukraine, specifically the National Corps and its associated militia, the Azov Regiment."
It adds that "US-based individuals have spoken or written about how the training available in Ukraine might assist them and others in their paramilitary-style activities at home."
Even the FBI, though more publicly concerned about RIM, has been forced to admit that US-based white supremacists have cultivated ties with the group, with the Bureau stating in a 2018 indictment that Azov "is believed to have participated in training and radicalizing United States–based white supremacy organizations." In contrast, there remains no proof of any concrete ties of a single US citizen to RIM.
With the CIA now backing an insurgency that prominent former CIA officials are claiming will "spread across multiple borders," the fact that the forces being trained and armed by the agency as part of this "coming insurgency" include Azov battalion is significant.
It seems that the CIA is determined to create yet another self-fulfilling prophecy by breeding the very network of "global white supremacy" that intelligence officials have claimed is the "next" big threat after the Covid-19 crisis wanes.
The injection of the group RIM into the narrative should also be of concern. It seems plausible, given the pre-conflict terror designation for the group and its alleged past ties to the Ukraine conflict, that a CIA-trained Ukrainian insurgent, perhaps from a group like Azov or an equivalent, would willingly pose as a member of RIM, allowing RIM to be labeled as the "new Al Qaeda", with its base of operations conveniently located in Russia and its presence there "tolerated" by Moscow.
It certainly would serve the now, rather pervasive narrative equating Putin with Adolf Hitler in the wake of Russia's decision to launch its military campaign in Ukraine. It would also serve to launch, in earnest, the up-until-now largely dormant War on Domestic Terror, the infrastructure for which was launched by the Biden administration just last year.
While January 6th was used to equate support for former President Donald Trump with neo-Nazism and white supremacism, recent articles that have followed Russia's recent military campaign against Ukraine deliberately link this "Putin as Hitler" narrative with US Republicans. US conservatives have long been the focus of "domestic terror" fear-mongering over the past several years (They are also, incidentally, the majority of gun owners).
An editorial by Robert Reich published in The Guardian on March 1st claims "the world is frighteningly locked in a battle to the death between democracy and authoritarianism." Reich goes onto to state that Russia's incursion into Ukraine "is a new cold war … The biggest difference between the old cold war and the new one is that authoritarian neo-fascism is no longer just an external threat to America and Europe.
A version of it is also growing inside western Europe and the US. It has even taken over one of America's major political parties. The Trump-led Republican party does not openly support Putin, but the Republican party's animus toward democracy is expressed in ways familiar to Putin and other autocrats." Other articles making similar claims have appeared in The New York Times and The Intercept, among others, in just the past week.
On March 2, Salon followed Reich's piece with a similar editorial entitled "How white supremacy fuels the Republican love affair with Vladimir Putin," which concludes with the assertion that "today's Republican Party is America's and the world's largest white supremacist and white identity organization" and "that "conservatism" and racism are now fully one and the same thing here in America."
As this muddying of the waters regarding the relationship among Putin, the US Republican Party, and white supremacism escalates, we also have intelligence agencies in Europe and the US increasingly linking opposition to Covid measures, like lockdowns and vaccine mandates, to neo-Nazism, white supremacism and the far-right, frequently with little to no evidence.
This recently occurred with the Freedom Convoy in Canada and, more recently, German security agencies and officials asserted just days ago that they can no longer distinguish between "far-right radicals" and those who oppose vaccine mandates and Covid restrictions. However, these efforts to link opposition to Covid measures with "domestic terrorism" and the far-right go back to 2020.
In addition to these trends, it also seems inevitable that the "Russian misinformation" label, used and abused for the past several years so that any dissenting narrative was often labeled "Russian" in origin, is likely to make a comeback in this context and provide the justification for a zealous censorship campaign online and particularly on social media, where this "transnational white supremacist network" is said to be dependent upon for its supposed success.
The coming "global white supremacist" terror threat, if we are to believe our unusually prescient intelligence officials, appears to be the "next thing" to befall the world as the Covid crisis wanes.
It also appears that the CIA has crowned itself the midwife and chosen Ukraine as the birthplace of this new "terror threat," one which will create not only the next proxy war between US empire and its adversaries, but also the pretext to launch the "War on Domestic Terror" in North America and Europe.
===
Ukraine Sitrep Day 36 – A Look at The Ukrainian Military As The Fight for Donbass Looms
ER Editor: Readers may also be interested in this rather harrowing video from Patrick Lancaster yesterday, where he helps in the search and rescue effort of local Mariupol citizens, especially the elderly, who find themselves abandoned in the basements of wrecked buildings. It is also revealed that it is the Ukrainian military who are lobbing incendiary devices into what remains of their living quarters:
********
Day 36 of the Russian SMO in the Ukraine – a look at Ukrainian military
By THE SAKER - 02. April 2022
Today, I want to comment on a topic I did not address yet: the quality of the Ukrainian armed forces.
Over night, two Ukrainian helicopters flying at very low altitude and high speed flew across the Russian Ukrainian border, and in only six minutes of flight time found themselves next to a fuel storage facility near the Russian city of Belgorod. They both fired, one missed, but the second one hit perfectly and the entire fuel storage facility ignited. Not a big deal, the fire has been contained, but very embarrassing nonetheless 🙁
Another case: the night before yesterday, a group of 5 Ukrainian helicopters took off from Nikolaev, flew 7 meters above the waves and landed in Mariupol. Their mission was to evacuate the leadership of the Azov force still hiding inside the Azovstal industrial facility. After they took off, two helicopters were shot down, but another three flew away, with a possible 3rd helicopter ditching in the waters off the coast (unclear at this time).
Why do I consider these two events very telling?
Because it shows that the Ukrainian soldiers have A LOT of VERY REAL courage. Not only that, in both of these operations, a great deal of careful planning went into the preparations of these missions. So they are not only courageous, they are SMART.
Yes, the Ukie Volkssturm (ER: arming local citizens) is a joke, but not the entire Ukrainian military and most definitely not the Nazis of the Azov "battalion" (it is not really a battalion, but rather a regiment or a small brigade, but spread out in key sectors of the Ukrainian defenses). Why is that so important to realize?
Because a HUGE battle is preparing in the Donbass.
Quick reminder:
While nobody knows the true size of the Ukrainian force surrounded in the Donbass, most observers place that force at about 60-80 thousand men. They are VERY well armed, courtesy of 7 years of mass delivery of weapons by the Empire of Lies. Their defenses are very solid, since they have been preparing them also for seven years. Furthermore, the Ukrainians are reportedly trying to bring in another major force from the central Ukraine to either reinforce their forces in the Donbass, or to help it to escape from their cauldron.
On the other side, nobody really knows how many Russian/LDNR forces are being concentrated around the Donbass either. There are reports of "immense" columns of Russian forces moving towards the Donbass, including some the Russian forces which were deployed near Kiev to pin down Ukrainian forces away from the Donbass.
The same feint was used by the Black Sea Fleet off the coast of Odessa.
There are two ways to control a road: you can stand on the road, place a roadblock, maybe lay mines and generally by physically [sic] on top of that road. Or you can do that remotely, without stepping on the road but by being able to fire (small arms, RPG, artillery, CAS) at any vehicle driving on that road. The Russian "encirclement" of the Ukrainian force in the Donbass into 2 small cauldrons, which themselves are locked in a bigger cauldron, are a mix of these two techniques. In other words, the Ukrainians still have retained *some* ability to move on the ground. But only at VERY high risk. Keep in mind that the Donbass is pretty flat terrain and that the Russians have air supremacy. But, with enough luck, immense courage and determination, some APC or cars could try to move out, or reinforcements move in. Let's look at these two options:
Moving out: for a FEW vehicles, and with a lot of luck, that could still be doable. But for the overwhelming majority of the Ukrainian force in the Donbass, this not an option. Not only do they lack fuel, any big force would attract the attention of the Russians (which a 4 passenger car going at full speed in the dark might not) resulting in immediate strikes.
Moving in: here the Ukrainians would still have fuel (or they would not even try, which they apparently are), but the problem is that it is impossible to hide any significant force from the Russians, who could then use their long range artillery and close air support to destroy that force. I am personally very dubious as to the chances of any Ukrainian subunit making it to the Donbass.
And yet.
The Ukrainian propaganda is beyond ridiculous, but we should NOT assume that if Ukie propagandists are clowns, so are the Ukrainian soldiers. The fact is that the Ukrainians never had the initiative, and they still don't, and all their counter-attacks, including the airstrike on Belgorod, only had a limited and local effect. But that does not mean that they would not fight very hard for their lives, even when surrounded, even without air cover, with no ability to rotate forces and not enough fuel to engage in manoeuver warfare.
Here is what the map of the area of operations looks like today:
The yellow circle is roughly the area where the outcome of this battle will be decided.
The small black arrow represents the likely Ukrainian effort to send in reinforcements
The big black arrow represents the move away from Kiev and towards the Donbass by Russian forces
Speaking about maps: while they do, more or less, show the military reality on the ground, they do not show the political realities the same way. The truth is that there are plenty of towns and cities which are blocked/surrounded by Russian forces, but which are still run by the "old" Nazi authorities. Yes, the Russians could go in and denazify these town and cities manu militari, but that would take time, results in casualties on both sides and ruin the civilian infrastructure. And the Russians sure don't want, say, Kharkov to become a 2nd Mariupol.
[Sidebar: some of you must have heard that canard about the Russians "running out of ammo", right? Well, local residents near the Ukrainian positions in the Donbass report that for three days, the Russian artillery has been shelling the Ukrainian positions nonstop. In reality, anybody who has studied the Soviet and, later, Russian military knows that with the exception of some very modern systems which have just been deployed, Russia has huge stores of ammunition. In fact, when the Russians prepare a military offensive the expenditures in ammo, POL, and any other form of logistics required are carefully calculated. If not, then the order to attack will not be given. And, with a few exceptions, the kind of hardware and supplies the Russians are using in the Ukraine is both modern and plentiful. By the way, there are signs that the Ukrainian forces are running out of ammo, most of their shelling is directed at LDNR cities and result in scores of death and injured civilians on a daily basis]
One possible option would be to warn the Nazi authorities that while the Russian military won't invade their city, the Russian can use special forces and means to target "just" these Nazi authorities. Yes, the Nazi will set up traps, like, say, placing the cellphone of a Nazi leader right on top of a Kindergarten, so the Russian intelligence services will have to do a lot of careful preparations and planning, or just make the threat and then wait for the Nazis to freak out and wonder where the promised missile will be aimed at.
All this means the following:
The Russians need to take the Ukrainians much more seriously and if that means having early warning aircraft and interceptors on combat air patrol 24/7 – then that is what the Russians should do. A pair of MiG-31BM on constant high altitude CAP over the central Ukraine would be a good start.
While the outcome is not in doubt, the Russians need to be very careful and assume that the Ukrainians will fight with skill and courage.
I don't like making predictions, even less so, time-related ones, but I think that we need to prepare ourselves for a major battle lasting several weeks, possibly even a month.
Have have to assume that the PSYOPs of the Empire of Lies will go in full attack mode, and since it will be very hard to make sense of what will be going on, we have to ready for a major attack on our minds.
Once that Ukrainian force in the Donbass is defeated, this will basically mean the end of the 2nd phase of this Special Military Operation (SMO) and the very best and combat capable Ukrainian will have disappeared and a 3rd phase will begin, probably by an attack on the Nikolaev and Odessa regions.
Still, we need to remember that all wars are political in nature and that while the military "pain dial" is turned up quite high for the Ukrainians, the US PSYOPs are still telling the Ukrainians that they are winning and soon the first Ukie tanks will enter Moscow. The de facto fall of Mariupol (as evidenced by the desperate attempts to evacuate the Azov leaders by helicopter) is already a major blow for the Ukrainian narrative. But this blow pales in comparison to what will happen when the best forces the Ukraine has will simply disappear from the maps of the Donbass. At that point, no amount of hot air, grand statements or other lies will make a difference – such a defeat is impossible to conceal, it will make the news.
Furthermore, we need to keep another thing always present in our minds: while in actual combat the Russians are facing Ukrainians, in the war itself Russia is not fighting the Nazis in Kiev, but the US/NATO/EU and their vassal states. It is also certain that the "Biden" administration does not want peace but, instead, they want that war to last as long as possible and to destroy as much of the Ukrainian population and civilian infrastructure as possible. And, of course, the Russians are not negotiating with the Nazis, they are negotiating with Uncle Shmuel via the Nazis. Big difference. Right now, some Ukrainians might be willing to look at reality and surrender just to save lives and the Ukrainian infrastructure. But they know that the Nazis will kill them or kidnap their family members (as has happened to one Ukrainian mayor). And these Nazis are taking orders only from many western "advisors" in Kiev who tell them "fight down to the last solider, then we will evacuate you".
You could say that the hardcore Ukronazis act like political commissars did during the Russian civil war.
The Russians fought phase one of the SMO with a force which was deliberately kept smaller than the opposing Ukrainian force. But against an elite Ukrainian force deeply dug in in the heavily fortified defenses, Russia will have to to do some combination of two things: more man and more firepower. And, by all accounts, that seems to be exactly what they are gearing up for.
As many others have already pointed out, the chances of a false flag are extremely high, most likely some chemical attack, possibly in Kiev or Kharkov. Such an attack, while fake, will result in the usual hysterics of the Empire of Lies, so we all need to prepare ourselves for this too.
The Empire of lies is so desperate now, that US PSYOPs claim that the Russian generals are afraid of telling Putin the "horrible truth" and that Shoigu is preparing a coup against Putin. Right now, the Ukronazis say that the Russians are on the run, but even the US Pentagon admits that the forces moved away from Kiev are only regrouping.
Remember, in maneuver warfare you do not "hold terrain" anymore than you do in naval warfare, and that is what the first phase of the SMO was all about. But in the Donbass, holding terrain will become much more important and since both sides are very skilled and courageous, do NOT expect big movements on the map. Instead, expect several weeks of very severe "grinding down" of Ukrainian defensesfollowed by slow and deliberate movements, mostly short distance – from a few hundred meters to a few clicks.
I hope that the above will be helpful once the 2nd phase is fully launched.
One more thing: western military aid to the Ukraine. Most of it is in Poland. True, there is A LOT of western kit found in Mariupol or the Donbass, but that stuff was brought in long ago. Just look at the map, look at where the Polish-Ukrainian border is and then look at where the yellow circle is. In order to make a difference, western weapon systems need to get across the entire Ukraine and enter into a highly contested and dangerous area. How can such a delivery be made? Three options:
In all three cases, if the force is tiny, say a few cars fill with MANPADs, there is a chance of making it, albeit a small one and such a "delivery" would be fantastically dangerous. But the Ukrainians have now PROVEN that they can be very tough and very smart. But such tiny reinforcements won't make any difference. Now a bigger force might, but it would be instantly detected and attacked by Russians standoff weapons, close air support and long range artillery. So all this stuff about sending weapons to the Ukrainians really is a load of crap. It's just irrelevant fake news.
So far the Russians did not consider such a possibility as significant, hence the fact that they did not blow up any bridges, remotely mined any roads or destroyed any train tracks (that I am aware of). But if the risk of a significant reinforcements from the western Ukraine becomes a real threat, you can rest assured that the Russians will do all of the above, especially since there are very few towns and civilians in some parts of this track to the East.
So far the Russian policy was to let the (covert) NATO forces to gather in an assembly area and only then hit them really hard. This is a very effective strategy which the NATO forces have found no way to counter (if only because NATO air defenses are a joke, even against trans-sonic and subsonic missiles and drone).
Finally, the Ukrainians don't have any air force left, and no navy, but they have proven that they still can use helicopters flying very low and fast, especially at night when local air defense operators might mistake them for a Russian helicopter (friendly fire is always a major risk in warfare). BTW – a helicopter is a hard target, not only do they fly very low, they can fly both fast (say to avoid a MANPAD) or very slow, to hide for fighters and interceptors. A slowly moving and low flying helicopter is a difficult target for fighter aircraft's radar and infrared search and track system. A hilly or mountainous terrain makes detection even harder.
Russian attack helicopters all have air to air capabilities, both gun and missile, and so they can be very effectively used against Ukrainian helicopters (which are a full generation behind modern Russian helicopters), but you need to have them ready and you need to have them fly under air cover. So that is doable, it just takes time.
Conclusion:
Phase one, pure manoeuver warfare is over and it was a military success.
Politically, it was pretty close to a failure: not only did the PSYOPS of the Empire of Lies totally crush the rather clumsy and primitive Russian counter-propaganda efforts, the Russians also failed to realize that they could not count on the local civilian authorities to simply do their job under a new flag.
Which means that Russia failed to properly denazify even the towns and cities which were deep in the Russian rear. Now that miscalculation will have to be fixed the hard way: with more men and more firepower.
Phase two of this war will be the liquidation of the Donbass cauldron and it will decide the outcome of this war (not that this outcome was ever in doubt).
On a personal note, I will only add that the past month has convinced me that Russia should NOT permanently occupy more of the Ukraine than the "full" LDNR plus the entire Ukrainian Black Sea coast. But neither can Russia leave the Ukraine like a Petri dish for Nazi toxins, so it seems to me that the optimal solution would be a breakup of the country into several successor states: neutral, with only police forces and light arms and with a clear understanding that Russia has the means to militarily intervene at any minute should the successor states attempt to violate their neutral, unarmed and denazified status.
Will that happen?
I don't know. Putin has already surprised me twice with very risky operations which I would have recommended against (Syria and that "big" SMO in lieu of a "small" liberation of "just" the LDNR). Considering that Russia has used only a small fraction of her armed forces, it is impossible for me to predict what Putin and the Russian General Staff will decide after the second phase of this SMO is over.
Finally, I am going to take the next two days off, barring some major developments, of course.
So until Monday, then, God willing.
Andrei
************
===
Russia's 5th Column
By danceaway - 03. April 2022
Thinking Slow
This is a topic which has concerned Paul Craig Roberts for years.
This video is from a British creator. One of the points he demonstrates is that the Russian oligarchs established in Britain, who support the Conservative Party, are strongly anti-Putin.
https://www.youtube.com/watch?v=tJodMr83aY8
They are also heavily involved with such NGOs as the Atlantic Council which is directly involved with and funded by the military-industrial complex.
Hence BJ's vociferous rhetoric and position perhaps?
The author's view is that there is a serious division between the Davos crowd within Russia and the normal conservative people of Russia.
What he does not go into is the activities of such NGOs as the BBC Media Action, which works within countries to foment colour revolutions, as in Syria.
They have undoubtedly been active in Russia and are very probably responsible for much of the opposition movement there. I have a slight acquaintance with a Russian woman who lives in the UK part time, and is proud that she reads the Guardian and the BBC.
She told me recently that her son is part of the opposition. I was not surprised but said nothing.
===
Hollywood Nazis will not be treated as Prisoners of War – Russians
BY MIKE 03. April 2022
DONETSK, March 31. The authorities of the Donetsk People's Republic, when liberating their territory, will not treat captured foreign mercenaries as prisoners of war, Eduard Basurin, a representative of the People's Militia of the DPR, told RIA Novosti.
'They will not be treated as prisoners of war. They will be arrested and put on trial,' the source said. The international law of armed conflict does not give mercenaries the rights of prisoners of war.'
Konstantin Gavrilov , head of the Russian delegation at the talks in Vienna on military security and arms control, said the day before that the number of foreign mercenaries in Ukraine reached 6.5 thousand people, they came from 62 states. According to the diplomat, over the past two weeks, Russian troops have eliminated about 600 'soldiers of fortune' with precision-guided weapons, and more than 500 have left the country.
On February 24, Russia launched a special military operation to demilitarize Ukraine. Vladimir Putin called its goal 'the protection of people who have been subjected to bullying and genocide by the Kiev regime for eight years.'
According to the Ministry of Defense, the armed forces strike only at the military infrastructure and Ukrainian troops and, as of March 25, they have completed the main tasks of the first stage, they have significantly reduced the combat potential of Ukraine. The main goal of the operation in the Russian military department was called the liberation of Donbass .
Meet Russell Bonner Bentley. His friends call him 'Texas.' He's a 61-year-old American from Dallas, Texas who has been fighting alongside Russian speaking separatists of the breakaway eastern Donbas region in Ukraine since 2014. This spring Bentley finds himself embedded with the Russian Army fighting north of the besieged capital city Kiev. He calls himself an information warrior and sees the fight as a Good vs Evil battle. 'This is very clear cut.' he says. 'This is a battle, not just of Ukraine.
This is a battle between good and evil for the future of the world.' His disdain for Western governments and their news sources is equally transparent. 'With U.S. politicians and mainstream media, everything they say is a lie. It is 180 degrees—the opposite direction of what is true.' Like Putin, Bonner (now a citizen of Donetsk) says he wants to 'bring Ukraine back into the Slavic family where it belongs and has been for 1,000 years.' Source
===
ICRC / RED CROSS - THE PARTISANS
Ukrainian Red Cross van (bought from YOUR donations) brings Ukrainian / Azov snipers into position.
===
UPROAR OVER WITNESS VIDEO
A video of Ukrainian forces allegedly shooting and beating Russian prisoners of war has caused anger among Russian officials and widespread condemnation online.
"Ukrainians allegedly torture Russian troops"
The Anglo-American war-machine has created this war. And of course three days after the video of the Ukrainian atrocity emerged, the BBC-Worldservice had its counterstory ready - abusing an AFP journalist - to blare a horror radio story of Russian soldiers allegedly executing cuffed civilians ready, but without any evidence and just to produce a counter-narrative for people far away from the conflict. Meanwhile the gang-wars between state-armed gangster groups de facto produce killed civilians in all cities not yet liberated from the Khazar regime.
The Azov battalion group leader has a British flag on his arm.
Worst: RUSSIAN GETS STABBED BY UKRAINIAN SOLDIER shown on crazy and sick website, but apparently the footage is genuine.(WARNING).
===
Putin Must Hunt Down Azov and These War Criminals
Ukranian Azov Battalion shooting Russian POW soldiers in the knees to bleed out.
26. March 2022
ATTENTION: Viewer Discretion: Graphic Content!
© 2022 Gab AI, Inc.
They are called Nazis…but Nazis followed rules of warfare. The Azovs are communists.
Where is the outrage from all the damn world???? This is pure evil!!
Not the knees, the thighs. Which is basically a death sentence if not treated asap.
Shocking Videos Allegedly Show Ukrainians Shooting And Torturing Russian POWs
Videos that surfaced late last night purportedly show members of the Ukrainian military shooting Russian POWs in the kne...
The worst atrocities of the (((communist Khazar plutocrats))) are begining to come back. As planned. And as planned for the rest of the humanity, whoever doesn't succumb to their tyranny. As they roll out communism 2.0 while sittings in their safe fortresses entertained by the first hand information they receive, about how their paid for schemes are going.

© 2022 Gab AI, Inc.
===
Barack Obama spearheaded setting up of dangerous bio-weapon lab in Ukraine, US President Joe Biden's son Hunter Biden secured funding for it: Reports
Former President Barack Obama had pushed an arrangement to develop bio-weapon labs processing "especially dangerous pathogens" in Ukraine, reports suggested.
OpIndia Staff - 26. March 2022
In a stunning disclosure, Russia said that US President Joe Biden's son Hunter Biden and his investment fund Rosemont Seneca financed the Pentagon's bio-weapon programme in Ukraine.
According to the reports, Moscow said that Hunter Biden secured finance to fund the US military 'bioweapons' research program in Ukraine. The leaked emails, accessed by Hunter Biden's laptop, showed that he had helped secure millions of dollars of funding for Metabiota, a Department of Defense contractor specialising in research on pandemic-causing diseases.
The US Agency for International Development (USAID), the George Soros Foundation, and the Centers for Disease Control and Prevention also provide financial support to the Pentagon programme, the Russian Defense Ministry added.
The commander of the Russian Nuclear, Biological and Chemical Protection Forces said there was a scheme of interaction between US government agencies and Ukrainian biological objects and revealed that there was a funding involvement close to the current US leadership, in particular, the investment fund Rosemont Seneca, headed by Hunter Biden.
The Russian Defence Ministry has said Hunter had a prominent role in making sure Metabiota was able to conduct its pathogen research just a few hundred miles from the border with Russia. Metabiota has worked in Ukraine for Black & Veatch, a US defence contractor with deep ties to military intelligence agencies, which built secure labs in Ukraine that worked on killer diseases and bioweapons, said Russia.
Apparently, Hunter Biden also introduced Metabiota to the Ukrainian gas firm – Burisma for a 'science project' involving high biosecurity level labs in Ukraine.
The Daily Mail report suggested that Hunter Biden and his colleagues at Rosemont Seneca Technology Partners (RSTP) regularly raised millions of dollars for technology companies. Metabiota was one of those firms in which Biden invested his money. The emails between Hunter and his colleagues excitedly discuss how the company's monitoring of medical data may be useful in future as governments and companies look to spot outbreaks of infectious diseases.
Hunter Biden raised several million dollars of funding for the company from investment giants, including Goldman Sachs. The emails show Hunter was also particularly involved in Metabiota's operations in Ukraine. Biden's firm invested at least $500,000 in Metabiota through their firm Rosemont Seneca Technology Partners.
According to Lt General Igor Kirillov, head of the radiation, chemical and biological defence forces of the Russian Armed Forces, Hunter Biden raised funds close to $2.4 billion.
In 2014, when the funding was allegedly secured, Hunter served as a board member of the Ukrainian gas firm Burisma, owned by a former top government official and corrupt billionaire Mikolay Zlochevsky. His father, Joe Biden, was the Vice-President of the United States of America.
Meanwhile, the US government spending records show the Department of Defense awarded an $18.4million contract to Metabiota between February 2014 and November 2016, with $307,091 earmarked for 'Ukraine research projects'.
The US-funded bio-weapon labs project has turned into a national security liability for Ukraine as Russian forces have uncovered these secret facilities run by the United States, exposing the nefarious designs of the US administration.
Barack Obama ordered the construction of Biolabs in Ukraine to create dangerous pathogens
Former President Barack Obama had pushed an arrangement to develop bio-weapon labs processing "especially dangerous pathogens" in Ukraine, reports suggested.
This comes days that Biden administration had informed the United States Senate that the US government is anxious over biological research centres slipping into Russian control as a consequence of the escalating fighting in Eastern Europe.
The latest reports confirm that Washington was working with Kiev on dangerous pathogens in those labs authorised by former US President Barack Obama himself. The now-deleted report titled "Biolab Opens in Ukraine" gives details how Obama, while serving as an Illinois Senator, helped negotiate a deal to build a level-3 biosafety lab in the Ukrainian city of Odessa.
The article also highlighted the work of former Senator Dick Lugar, who joined hands with senator Barack Obama to enter a partnership with Ukrainian officials. The report said that Lugar and Obama also helped coordinate efforts between the US and Ukrainian researchers to study and help prevent avian flu.
In one of its research papers, a US research lab explained how the Odessa-based laboratory is responsible for identifying especially dangerous biological pathogens.
"This laboratory was reconstructed and technically updated up to the BSL-3 level through a cooperative agreement between the United States Department of Defense and the Ministry of Health of Ukraine that started in 2005. The collaboration focuses on preventing the spread of technologies, pathogens, and knowledge that can be used in the development of biological weapons," the report read.
The report further said that the updated laboratory served as Interim Central Reference Laboratory with a depozitarium (pathogen collection). According to Ukrainian regulations, it has a permit to work with both bacteria and viruses of the first and second pathogenic groups.
"The US-funded lab studied viruses such as Ebola and viruses of pathogenicity group II by using of virology, molecular, serological and express methods," the report said. In addition to research on pathogens, the lab also provided special training for specialists on biosafety and biosecurity issues during the handling of dangerous biological pathogenic agents.
This shocking revelation comes at a time when the United States government is facing intense scrutiny over funding risky, "gain-of-function" research in Wuhan at a Chinese Communist Party-run lab with military ties, which may have been the source of the coronavirus pandemic.
US-funded bio-weapon labs in Ukraine
Recently, the Russian Defence Ministry had stated that they had found evidence of US-funded Biolabs in Ukraine, which had urgently destroyed samples of deadly pathogens when the 'military operation' started.
This is two days after Russia claimed that Ukraine was close to building a plutonium-based dirty bomb nuclear weapon. On March 6, Moscow's Foreign Ministry had tweeted that Russian forces found evidence that Kyiv was eradicating traces of the military-biological program in Ukraine, financed by the Pentagon.
On several occasions, Russia had accused the US and Ukraine of developing bio-weapons close to its borders. In 2021, while talking about the inability of the World Health Organisation to establish the origin of the Covid-19 virus, Russian Security Council Secretary Nikolai Patrushev told Kommersant reporter that Russia believed the US was developing bioweapons near its borders.
The war between Russia and Ukraine broke out on February 24 when Russia began a full-scale invasion of Ukraine through neighbouring countries.
===