UPDATE 28. December 2021: Archbishop Emeritus Desmond Tutu: A truth-talker, a unifier, a comforter, a leader
UPDATE 26. December 2021: Archbishop Emeritus Desmond Tutu 'had the heart of a lion'
PROLOGUE: Archbishop Emeritus Desmond Mpilo Tutu's life and legacy: One of South Africa's giants in the fight against the apartheid regime in the 20th century, Desmond Tutu remained a critical voice in the country's politics throughout his life. Like he did earlier during the first big waves of the AIDS scarce, he recently also spoke out against the 'Medical Apartheid' that is imposed by NWO Governments due to the Corona crimes against humanity the world over. Freedom fighters and Anti-Apartheid activists, who fought the long struggle alongside the witty clergyman, mourn the world over that "Arch", as we used to call him, passed away - much too early and before the Corona Tribunal even started.
Obituary: South Africa's Archbishop Desmond Tutu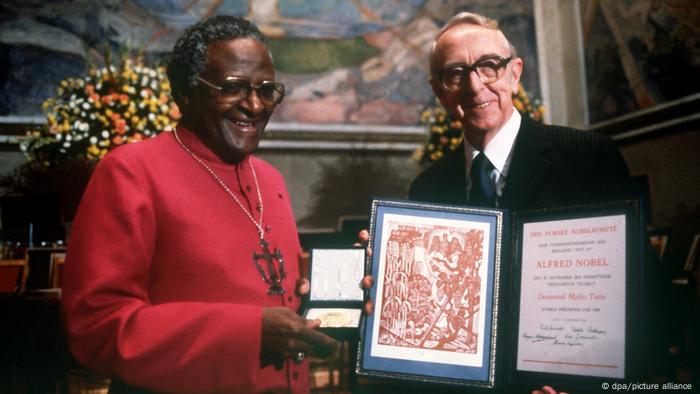 Desmond Tutu received the Nobel Peace Prize in 1984. He deserved it truly and much more than the warmongers Hussein Barak Obama or Abiy Ahmed Ali
By Adrian Kriesch - 26. December 2021
South Africa - Archbishop Desmond Tutu, who died on Sunday aged 90, was one of South Africa's most important Nobel Laureates and a tireless opponent of apartheid.
The current Archbishop of Cape Town announced the death of Desmond Tutu.
In April 1993, South Africa was a powder keg. Three years earlier, after decades of oppression of the black population, President Frederik Willem de Klerk had announced reforms. Many political prisoners, among them Nelson Mandela, were released, and their parties and organizations were no longer outlawed. But negotiations on a new democracy had stalled.
Then, a white right-wing radical murdered prominent politician and freedom fighter Chris Hani, pushing the country to the brink of civil war.
At Hani's funeral, which was attended by over 100,000 people, Desmond Tutu defused a tense situation by leading the crowd in a chant: "We will be free! All of us — black and white together!"
It was in these difficult moments in South Africa's history that Desmond Tutu showed his strength. Throughout his life, he followed his ideals without wavering and fought for the Rainbow Nation — a term for South Africa he coined himself — in the name of peace and nonviolence.
Nobel Peace Prize for struggle against apartheid
Born in the mining town of Klerksdorp in 1931, Tutu first job was as a teacher, but he quit after the government implemented policies that undermined the education of black students.
Tutu opted for a new career in the church, becoming the first black Anglican bishop of Johannesburg and, later, the Archbishop of Cape Town.
He never stopped fighting for the abolition of racial segregation. He sympathized openly with the goals of Nelson Mandela's party, the African National Congress (ANC), which wanted to build a democratic South Africa, undivided by race. In 1984, Tutu was awarded the Nobel Peace Prize for his nonviolent efforts against the apartheid regime.
'An incredible day'
But a different event proved much more important to him: The day in April 1994, when he cast his vote in South Africa's first free, democratic elections.
"It's an incredible day for all of our people," a visibly jubilant Tutu told members of the press outside the polling station. "And I mean all of our people — black and white. Because as of now, we won't be able to say 'that illegal regime.' It will be our government."
His cheerful, lighthearted nature — which he retained throughout the often frustrating years of the struggle for justice — endeared the archbishop to many South Africans. He had originally planned to retire to the US after the election to spend more time with his grandchildren there. But after President Nelson Mandela asked him to head the Truth and Reconciliation Commission, which was set up to come to terms with the crimes of apartheid, he decided to stay.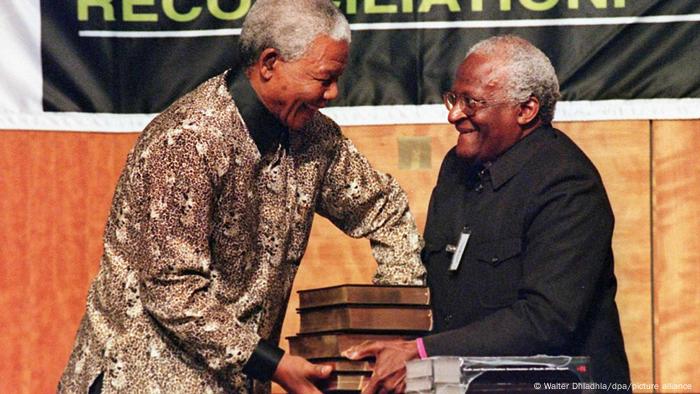 South African President Nelson Mandela (left) received the five volumes of the Truth and Reconciliation Commission final report from Archbishop Desmond Tutu in 1998
Pleas for reconciliation
Tutu and the commission tried to find a middle ground between victors' justice and amnesty, appealing for reconciliation and forgiveness. Over the next three years, thousands of victims were given the chance to describe their suffering. Perpetrators asked for forgiveness.
Clad in a purple robe, Tutu often struggled to hold back tears. But he always directed attention away from himself, emphasizing that the focus had to be on the victims.
'He was a legend': South Africans on Desmond Tutu's death
Once the commission was over, Tutu continued to speak out against injustice in the world, from the war in Iraq, to autocratic regimes. He didn't spare South Africa's neighbors. "He is an angry, even embittered little bishop," Zimbabwe's longtime ruler Robert Mugabe once said following Tutu's remarks on his leadership.
The archbishop wasn't always popular among many in South Africa's ruling ANC party either — especially when he railed against the government's relationship with Mugabe, its hesitancy in the fight against AIDS, and what overpaid political elites.
Disillusioned with South African politics, he later said it was no longer a given to vote ANC: "People are asking questions, which is a good thing. That's what a democracy is."
Retreat into privacy
In 1997, Desmond Tutu was diagnosed with prostate cancer. Three years later, on his 79th birthday, he officially withdrew from all public duties. In his typical upbeat way, he explained he simply wanted more time to drink rooibos tea with his wife.
But he wouldn't — or couldn't — stay completely out of politics. In 2014, he called for a boycott of mining and oil companies. Climate change, he said, should be fought with the same vigor that apartheid was fought in the 1980s. An ardent supporter of gay rights, he said he would rather go to hell than worship a homophobic god.
His daughter Mpho Tutu van Furth married a woman in the Netherlands in December 2015. As a priest in the Anglican Church of South Africa, she was forbidden to continue her duties in the church. Already in failing health, her father attended her second wedding ceremony in South Africa in May 2016, when same-sex marriage was legalized.
Cancer treatment left Desmond Tutu vulnerable to persistent infections. In recent years, South Africa often worried about its "Arch" — as Tutu was nicknamed. But the civil rights activist continued to make appearances in public life.
In 2020, during the Black Lives Matter protests in the US, Tutu said it was an "inconvenient truth" that the lives of certain groups in society were considered more valuable than those of others. Tutu's words of caution followed the violent death of African-American George Floyd during a police operation in the US.
===
UPDATE:
Archbishop Emeritus Desmond Tutu: A truth-talker, a unifier, a comforter, a leader
By Kristin Engel - 28. December 2021
When news spread on Sunday of Archbishop Emeritus Desmond Mpilo Tutu's death, it came as no surprise.
For years he had been battling illness, most notably prostate cancer, which forced him to withdraw from public life in 2010, but despite this his voice against injustice and corruption, which subsumed South Africa, forced him to the front lines.
This meant he was often subjected to abuse from those in the ANC who were perhaps irritated Tutu held them to a different standard than the apartheid regime they replaced.
While most of the leaders of South Africa's liberation organisations were either jailed, or in exile, Tutu, along with many others, including Winnie Mandela and Allan Boesak, lead the fight against the apartheid regime from inside the country's borders through peaceful protest.
Tutu's fight against injustice was not just restricted to South Africa; his commitment was to a world more just, more compassionate and tolerant.
Desmond and Leah Tutu Legacy Foundation CEO Piyushi Kotecha said: "His unwavering moral compass guided him to speak out against the evils of racism, oppression, intolerance and injustice not just during apartheid South Africa, but wherever in the world he saw moral wrongs, especially impacting the most vulnerable and voiceless in society."
Over the years, the archbishop formed a unique bond with his spiritual brother and friend the Dalai Lama – they shared various moments of mischievousness and joy.
Sharing a moment of misfortune, in 2011 the Dalai Lama was unable to attend Tutu's 80th birthday as South African authorities refused to grant him an entry visa.
However, Tibet's spiritual leader still gave his birthday lecture via a video link to celebrate his dear friend Tutu.
"Wherever there is abuse of human rights or people's freedom is being snatched away, be it Burma or Tibet, he (Tutu) was always the first person to speak against it. He works tirelessly for truth, honesty and equality. He doesn't see any differences," said the Dalai Lama.
Tutu also stood in solidarity with the Palestinians and the South African Boycott, Divestment and Sanctions (BDS) Coalition.
"The Arch understood the role that boycott, divestment and sanctions played in bringing the South African apartheid regime to its knees and how urgent it is that we utilise this powerful weapon to end apartheid in Israel," said SA BDS campaign co-ordinator Roshan Dadoo.
Former intelligence minister Ronnie Kasrils said: "Israel denied him access to Gaza in 2006 but he persisted, gaining access through Egypt, in his mission to report to the Human Rights Council on the Beit Hanoun massacre that killed 19 Palestinians, including seven children.
"This was one example of his consistency and fearlessness in the face of repression, in apartheid South Africa and in supporting the Palestinian struggle for freedom."
Tutu together with his wife, regularly visited Tygerberg Hospital where they talked to parents and children, read stories and brought laughter into the paediatric wards.
Author:
Kirstin Engel can be reached via
===
Archbishop Emeritus Desmond Tutu 'had the heart of a lion'
By Tarryn-Leigh Solomons - 26. December 2021
Cape Town – Acting chairperson of the Archbishop Tutu IP Trust, Dr Mamphela Ramphele, says the late Archbishop Emeritus Desmond Tutu lived the core values of ubuntu.
South Africa, and the world as a whole, woke up to the sad news that Tutu passed away in Cape Town on Sunday.
A man who was loved for his compassionate spirit, warm smile and contagious laugh, Ramphele told those gathered at a press briefing held in the Cape Town civic centre that the clergy never allowed circumstances to put a dampener on his love for people around him.
"He was a man who was not given any chance to survive his childhood, because of polio. He didn't have a chance, people thought, to survive his youth because of tuberculosis.
"And the latter part of his life, for 23 years, he lived with prostate cancer. In all of that, all you heard from him was that chuckle – that joy – that deep sense of gratitude. As we mourn the passing of this great man, we would like South Africa and the world to focus on the teaching moments of this man's life.
"It is in recognising that whatever his vulnerabilities, he had to use every moment to make sure that people do not suffer whatever he had suffered. He was a great promoter of well-being and healthcare," Ramphele said.
Public Works and Infrastructure Minister Patricia de Lille, said Tutu played many roles in people's lives.
"He was a pastor, he was a spiritual leader, he was an activist, a healer and he also opposed racial discrimination. He had an extraordinary ability to diffuse tension and contain anger. He used humour to convey important messages and had a contagious laugh."
The Anglican Archbishop of Cape Town, Rev Dr Thabo Makgoba said even in pain, Tutu would have laughed and joked.
"We cry with South Africans, we cry with the family. May his soul rest in peace."
Cape Town mayor Geordin Hill-Lewis said even though he may not have met Tutu in person, the legacy he has left behind will live on.
"We mourn the passing of the greatest Capetonian, the recipient of Freedom of the City honour board, and one of the last giants of our time," the mayor said.
Born Desmond Mpilo Tutu on October 7, 1931 in Klerksdorp, the Anglican cleric received the Nobel Prize for Peace in 1984 for his non-violent role in opposing apartheid in South Africa. On Thursday, the international community joined South Africa in celebrating his milestone 90th birthday.
Author:
Tarryn-Leigh Solomons can be reached via