UPDATE 04. December 2021: WHICH PFIZER BATCH CODES ARE TOXIC? + BATCH CODES AND TOXICITY + Dr. Malone: Experimental Vaccines Breed Vaccine Resistant Mutations
UPDATE 03. December 2021: Moderna Patent Uncovers Horror: Nanosensor Contained in Bioweapon + NO to Merck's new COVID pill + Blurring the clear vision: British mainstream covers adverse vaxx reaction as PPSD + Court Orders FDA To Comply With FOIA and Release Information On Pfizer Vaccine – First Batch of Documents Shows Over 1,200 Vaccine Deaths WITHIN FIRST 90 DAYS
UPDATE 01. December 2021: WHICH MODERNA BATCH CODES ARE TOXIC ? + NEW COVID 'SCARIANT' - FACT OR FICTION WITH DR. KAUFMAN + LANCET: "No Benefits of being vaxxed
UPDATE 28. November 2021: "DR. NOACK IST TOT!" WONDER WHY? + DR ANDREAS NOACK - MURDERED ?
UPDATE 27. November 2021: GERMAN HEGEL 2.0: Planting the Problem - Fostering Over-Reaction - Imposing Fake Solutions - Push the Own Agenda - German state broadcaster DW (the German Wave) on Omicron: What we know so far about the new COVID-19 + Marjorie Taylor Greene Attacks Travel Bans, Doctors Who Won't Prescribe Ivermectin + Getting exposed to another coronavirus can help you fight COVID-19 naturally, study says
UPDATE 26. November 2021: The Variant Confusion Game inside the Hoax - the OMICRON hype + Corporate media hysteria pushers puke up another COVID "scariant" campaign in desperate FEAR PLOY for totalitarian control + VERY ALARMING SCIENTIFIC FINDINGS: DR ANDREAS NOACK - GRAPHENE HYDROXIDE ACTS LIKE RAZORBLADE + Jenin Younes on Legal Challenges to Vaccine Mandates
UPDATE 23. November 2021: VACCINE SCANDAL IN SLOVENIA – BOTTLES HAVE CODE #'S FOR PLACEBO, VAX, OR KILL SHOT
ICYMI: VARIATION IN TOXICITY OF COVID VACCINE BATCHES + TUTORIAL 1 : USING EXCEL TO ANALYSE BATCH TOXICITY + Moderna CLASHES with US govt over jab patent rights + Why only 5% of the Pfizer lots "seem" to be causing 100% of the damage in USA
Vaccinated dying at twice the rate of the unvaccinated in U.K.
Government data consistent with trend in other countries
Army Sgt. Heidy Bucheli, noncommissioned officer in charge of anesthesiology at Landstuhl Regional Medical Center, prepares a COVID-19 vaccination for children ages 5 to 11 at LRMC in Landstuhl, Germany, Nov. 18, 2021. (U.S. Dept. of Defense photo by Marcy Sanchez)
By Art Moore - 23. November 2021
Vaccinated people under age 60 are dying from all causes at twice the rate of the unvaccinated in the United Kingdom, according to data compiled by the British government.
"I don't know how to explain this other than vaccine-caused mortality," wrote former New York Times reporter Alex Berenson on his Substack page.
Berenson, the author of a series of books on government response to the pandemic, noted the most recent rate of death per 100,000 people for the unvaccinated in Britain is 0.9% while the rate for the vaccinated is 2.2%.
Recent data in several countries show the rate of infection and transmission among COVID-19 vaccinated individuals is increasing, noted Günter Kampf, a professor of medicine at the University of Greifswald in Germany, in the medical journal The Lancet Regional Health – Europe.
TRENDING: So it begins: FBI raids home of mom who protested school board
He recalled that high COVID-19 vaccination rates "were expected to reduce transmission of SARS-CoV-2 in populations by reducing the number of possible sources for transmission and thereby to reduce the burden of COVID-19 disease."
"Many decision-makers assume that the vaccinated can be excluded as a source of transmission," he writes. "It appears to be grossly negligent to ignore the vaccinated population as a possible and relevant source of transmission when deciding about public health control measures."
In his home country of Germany, the rate of symptomatic COVID-19 cases among the fully vaccinated has been reported weekly since July 21. Initially the rate of "breakthrough" cases was 16.9% among patients of 60 years and older.
But by Oct. 27, it had reached 58.9%, Kampf wrote, "providing clear evidence of the increasing relevance of the fully vaccinated as a possible source of transmission."
Similarly, in the U.K., which also has kept weekly figures, at one point recently the COVID-19 case rate per 100,000 was higher among the vaccinated than the unvaccinated in all age groups of 30 years or more.
The professor also pointed to a recent long-term study in the U.K. that found the rate of transmission in households that were fully vaccinated was statistically the same as unvaccinated households. It found a rate of 23% among the unvaccinated compared to 25% among the vaccinated.
In Israel, Kampf wrote, a fully vaccinated person was determined to be the source of a clinic outbreak in which 16 health-care workers, 23 patients and two family members were infected. Fourteen fully vaccinated patients became severely ill or died. There were two unvaccinated patients, and they developed only mild disease.
Finally, the German medical researcher pointed out that the U.S. Centers for Disease Control identifies four of the top five U.S. counties with the highest percentage of the population fully vaccinated (99.9–84.3%) as "high" transmission counties.
In Canada, the government's chief health minister, Theresa Tam, confirmed that people who have been fully vaccinated have viral loads similar to the unvaccinated, meaning they can transmit the virus.
Author:
EDITOR'S NOTE: Last year, America's doctors, nurses and paramedics were celebrated as frontline heroes battling a fearsome new pandemic. Today, under Joe Biden, tens of thousands of these same heroes are denounced as rebels, conspiracy theorists, extremists and potential terrorists. Along with massive numbers of police, firemen, Border Patrol agents, Navy SEALs, pilots, air-traffic controllers, and countless other truly essential Americans, they're all considered so dangerous as to merit termination, their professional and personal lives turned upside down due to their decision not to be injected with the experimental COVID vaccines. Biden's tyrannical mandate threatens to cripple American society – from law enforcement to airlines to commercial supply chains to hospitals. It's already happening. But the good news is that huge numbers of "yesterday's heroes" are now fighting back – bravely and boldly. The whole epic showdown is laid out as never before in the sensational October issue of WND's monthly Whistleblower magazine, titled "THE GREAT AMERICAN REBELLION: 'We will not comply!' COVID-19 power grab ignites bold new era of national defiance."
Content created by the WND News Center is available for re-publication without charge to any eligible news publisher that can provide a large audience.
===
===
===
UPDATES:
BATCH CODES AND TOXICITY
First published on BITCHUTE December 4th, 2021.
A closer look at Pfizer batch codes and the toxicity levels they code for.
===
WHICH PFIZER BATCH CODES ARE TOXIC?
First published on BITCHUTE December 4th, 2021.
Its the question on everyones lips.
Well, I'll try and provide an answer.
Its easy to obtain a list of the Pfizer batch codes from the VAERS database, and count their associated adverse reactions.
In the video I order the batches in order of highest adverse reaction number, and discover that the most toxic Pfizer batches all possess batch codes belonging to the same alphanumeric sequence.
I then proceed to repeat the same discovery for each lower range of toxicity, finding that the batches in each different toxic range possess batch codes that also belong to the same alphanumeric sequence.
Scientists always label each experimental condition with a code so that they can record and monitor the effects of each condition upon their subjects. And Covid 19 vaccines are AN EXPERIMENT !
So it appears that different batches of Pfizer vaccine have been labelled in accordance with their different concentrations (and hence toxicities).
It is easily demonstratable that these toxic batches have resulted in many deaths and disabilities
So we now know that they have been carrying out Lethal Dosage Testing (LD50 Test) upon the American public.
I have published a written report here - https://t.me/covidsciencelibrary/373
Note: Number of deaths caused by a batch has been found to have a high correlation (0.95) with the number of adverse reactions for that batch. However, even though some batches have only 1 adverse reaction report, the reaction may still be severe.
===
Via War Room: https://rumble.com/c/BannonsWarRoom
Get Dr. Vladimir 'Zev' Zelenko M.D.'s Z-Stack Protocol, use code RVM for discount: https://redvoicemedia.net/zstack
Sign the petition: Ban Federal Vaccine Mandates: https://redvoicemedia.net/mandatesrvm
===
Moderna Patent Uncovers Horror: Nanosensor Contained in Bioweapon
Stew Peters Show Published December 3, 2021 DIREKT LINK <<<--- in case your browser doesn't play sound -->> BACKUP
Rumble — Dr. Ariyana Love returns to the Stew Peters Show to expose her findings in the Moderna Vaccine patents, confirming the La Quinta graphine oxide study and the Globalist's plan to install nano-sensors in every human body that they can.
Get Dr. Zelenko's Anti-Shedding Treatment, NOW AVAILABLE FOR KIDS: www.zStackProtocol.com
===
Court Orders FDA To Comply With FOIA and Release Information On Pfizer Vaccine – First Batch of Documents Shows Over 1,200 Vaccine Deaths WITHIN FIRST 90 DAYS
By DAVID ICKE 03. December 2021
The Food and Drug Administration (FDA) released the first batch of documents related to Pfizer's Covid-19 vaccine after a federal judge ordered that they must comply with a massive Freedom of Information Act (FOIA) request that was filed by a government accountability group called Public Health and Medical Professionals for Transparency.
The esteemed group of more than 30 professors and scientists asked the federal government to share any and all data that factored into the agency's hasty decision to grant Pfizer's experimental mRNA vaccine an emergency use authorization (EUA) – which amounts to a trove of over 329,000 documents.
In a shameless effort to bury the information, the FDA challenged the FOIA request in court. After the agency was told that it must turn over the documents, Justice Department lawyers representing the FDA asked a federal judge to allow them an unthinkable 55 years to process the request, saying that they would be able to release just 500 pages a month.
In other words, Elon will make it to Mars way before the documents would be fully released – in the year 2076.
Read more: Court Orders FDA To Comply With FOIA and Release Information On Pfizer Vaccine – First Batch of Documents Shows Over 1,200 Vaccine Deaths WITHIN FIRST 90 DAYS
===
NO to Merck's new COVID pill
3 Dec 2021 on GooTube - read the many comments
The FDA absolutely should not approve Merck's experimental COVID pill molnupiravir. The drug works by encouraging VIRUS MUTATIONS which could result in "escape mutations" being unleashed on the world—i.e. a new pandemic. Proponents claiming that the benefit outweighs the risk are self-serving and shortsighted. Remember, they gave similar reassurance regarding "gain of function" research—which may very well have led to present pandemic. There are already more effective treatments like monoclonal antibodies that don't pose such risk.
===
Blurring the clear vision: British mainstream blames adverse vaxx reaction as PPSD.
PROLOGUE: Look at this British gutter press (The Evening-Standard) shoutout - instead of telling the truth they blame the known adverse effects of the COVD-19 vaccines like myocarditis now on you and your distressed psyche, callig it brazenly PPSD (Post Pandemic Stress Dorsorder) - to confuse and to also boost some new doctor's outfits. Read about the real reasons: Mrna COVID Vaccines Dramatically Increase Endothelial Inflammatory Markers and ACS Risk as Measured by the PULS Cardiac Test: a Warning
Up to 300,000 people facing heart-related illnesses due to post-pandemic stress disorder, warn physicians
By Elly Blake - 03 December 2021
Up to 300,000 people in the UK are facing heart-related illnesses due to post-pandemic stress disorder (PPSD), two London physicians have warned.
This could result in a 4.5 per cent rise in cardiovascular cases nationally because of the effects of PPSD, with those aged between 30 to 45 most at-risk, they claim.
Mark Rayner, a former senior NHS psychological therapist and founder of EASE Wellbeing CIC, said that as many as three million people in Britain are already suffering from PPSD, thanks to stress and anxiety caused by the effects of Covid-19.
He fears this could result in a dramatic rise in physical health issues, such as coronary heart failure, if cases are not detected or treated early.
Mr Rayner said: "PPSD is a very real problem on a massive scale. As well as the condition itself with all its immediate problems, one of the biggest collateral issues is the affect it can have on heart health.
"It is widely recognised that reducing stress and mental healthproblems is crucial to the prevention and recovery of cardiovascular events such as heart attacks and strokes.
"We are talking about as many as 300,000 new patients with heart issues."
Mr Rayner warned that without at least doubling the current funding, the NHS will not be able to tackle the "trauma timebomb", which could have potentially fatal consequences for those suffering with long-term PPSD.
Meanwhile, Tahir Hussain, a senior vascular surgeon at Northwick Park Hospital in Harrow, said he has seen a significant rise in cases where he works.
He said: "I've seen a big increase in thrombotic-related vascular conditions in my practice. Far younger patients are being admitted and requiring surgical and medical intervention than prior to the pandemic.
"I believe many of these cases are a direct result of the increased stress and anxiety levels caused from the effects of PPSD.
"We also have evidence that some patients have died at home from conditions such as pulmonary embolism and myocardial infarction. I believe this is related to many people self-isolating at home with no contact with the outside world and dying without getting the help they needed."
PPSD is a mental health condition induced by the pandemic. While it is not yet officially recognised, many experts believe it should be.
Mr Rayner added: "Everyone has heard of PTSD but we really urgently need to get our heads around PPSD.
"The pandemic and the resulting lockdowns it's brought have had a massive effect on the mental health of the whole nation."
Research suggests that patients with symptoms of depression are at 64 per cent greater risk of developing coronary artery disease and 59 per cent more likely to have a future adverse cardiovascular event, such as a heart attack or cardiac death.
Heart and circulatory diseases account for a quarter of all deaths in the UK - equating to more than 160,000 deaths each year.
Figures show there are around 7.6 million people living with a heart or circulatory disease in the UK.
===
WHICH MODERNA BATCH CODES ARE TOXIC ?
First published on BITCHUTE December 1st, 2021.
Batch Numbers Code for Toxicity ! They know which ones are bad
Common Practice : It is common practice for scientists to carefully label their vials and test-tubes, especially in an experiment. Vials are not labelled randomly, but rather denote specific experimental conditions. In this way, they can tell which medical treatment was applied to which person.
Perhaps this was their slip up – their inevitable mistake.
Do Batch Numbers Code for Toxicity? : I had previously discovered what appeared to be a wide variation in batch toxicity, and each batch has a batch code
So naturally I asked the question – do the batch numbers code for different levels of toxicity? Perhaps there is an algorithm – hidden in the batch numbers themselves – revealing the amount of poison within…
Looking at the VAERS Data for Moderna: and I looked at the Moderna batch numbers. Then
I created a pivot table to count the number of adverse reaction reports for each batch. This produced a two column table –
Column 1 = Batch Number
Column 2 = Number of Adverse Reaction Reports
Then I ordered the Batch Number column alpha numerically..
Results : I found that batches associated with very high numbers of adverse reaction reports, almost always ended in 20A or 21A
I manually looked through the first 10000 batches and EVERY SINGLE ONE of the ALPHA-NUMERIC CODES
with very high toxicity ended in either 20A or 21A, Lets look at the video.
Closer examination revealed that EVERY Moderna batch that produced more than 1780 adverse reaction reports, had a batch code ending in 20A, whilst this changed abruptly for batches producing less than 1780 adverse reaction reports - the batch code now ending mostly in 21A.
Not all batches that end in these numbers produce high adverse reactions, but every batch that produced high adverse reactions ended in these numbers.
This is mad. I have to release this information.
You can find the full excel spread sheet here - https://t.me/CovidScienceLibrary/363
And you can find my write up here - https://t.me/CovidScienceLibrary/364
In addition I have analysed Moderna's deployment separately : you can find it here - https://t.me/CovidScienceLibrary/370
---
COMMENT:
This evidence is remarkable. It does lend a lot of credence to the hypothesis that deliberate testing for toxicity is taking place.
The vaccine manufactures will most likely come up with excuses deriving from the following set of questions:
Is there some way of reconciling the lot number patterns with a more accidental correlation with adverse events?
Might there be some inadvertent failure within the manufacturing process that would explain the patterns?
Might some groups of lots have been ruined in the shipping process (e.g., they were ruined by high temperature)?
See http://whale.to/c/olmsted_on_autism1979.html for a historical example of a pharmaceutical company doing a coverup of bad vaccine lots.
===
NEW COVID 'SCARIANT' - FACT OR FICTION WITH DR. KAUFMAN
First published on BITCHUTE December 1st, 2021.
The BS "Variant" strikes again. Designed for only complete MORONS to fall for it.
Oh, and BTW, the PCR test is so accurate that I use it to pick my LOTTO numbers.
And now I'm rich...
===
===
"DR. NOACK IST TOT!" WONDER WHY?
By SALLY MORRIS - 28.November 2021
Today I watched one the most disturbing videos to date about the "vaccines". We need to stop using this word for them. I have used it only because people need to understand what I'm talking about – when everyone is calling it this I felt I needed to identify the same product. Henceforth I think we must all call it by its proper term – it is a BIOWEAPON. It is designed not to immunize people against a dread disease at all. No. Instead, a lab-manufactured disease which in the general population is relatively mild has been used as a vehicle to introduce a deadly bioweapon and induce otherwise sane people to accept having it injected into their bodies.
We all know already that the injections do not work for the purpose advertised. It is perhaps the first time that we have seen something called a "vaccine" which does not protect the user from any disease, does not prevent the spread of anything and requires continued use of masks which do nothing to stop a virus either. It is a theater of the absurd. Last night I was in a grocery store. At the checkout there were panels of plexiglas hung artfully on either side of the little shelf where you write a check. There was a gap about two feet by three feet left un-shielded around the shelf. This must be the dumbest virus we have ever seen. But of course we haven't seen it – this "virus" has never actually been isolated.
While we have the Greek chorus chanting that we must all get the "vaccine", that we must do this "for others" (?) and that the world can never "go back to normal" until we all comply with this nonsense, we are seeing the top athletes in their various sports collapsingon the field, doctors dying "mysteriously", we see stillbirths in numbers unprecedented. Young boys are dying in hospitals of heart damage. We've seen several cases of victims of this injection who have lost limbs. In order to force this on a frightened public and panic them further into illogical behavior and magical thinking, all of the safe and effective and well-tested medications were artificially - and very cruelly – withheld. The media piled on and not only misled the public deliberately, but managed to censor every voice of reason, stifle every question. Doctors, scientists and researchers who discovered that this was indeed a deadly bioweapon where silenced. Some lost their jobs, some lost their earned credentials, they were hounded and their careers destroyed simply for reporting what they knew and for cautioning us that the path we were on was dangerous. Some have died because they said too much. If nothing else troubles you about this injection, that alone should.
But there's more, of course. Despite the active promotion by various politicians and the government's efforts to force it on us by hook or by crook, no one seems willing to hold the producers and benefactors of this program to account. The people who are injured by this, the families of those who are killed by this are not able to claim any relief. Just to make sure, their deaths and injuries are not even acknowledged, no matter how obvious they are. The young boy who jack knifes with a heart attack at 16, the 12-year-old girl who becomes paralised from the neck down, the counselor whose hands and legs must be amputated due to gangrene, the nurse whose spasms have left her disabled – it's all "coincidence". Never before has the general public seemed so dense.
Now we have a presentation from a chemist in Germany. He made a video describing what he found and explained what it means. His findings and revelations were of such import and so shocking that speaking out was a very dangerous act requiring tremendous courage. Dr. Andreas Noack was murdered for his trouble, but his video can still be seen. It is a damning accusation against the politicians and the complicit medical establishment, likening them to the hierarchy of the Third Reich. While not unique in his observation of the similarity, his evidence brings it into sharp focus.
This video is a must-see for everyone. If you have had the shots, don't take any more of them! Reject the "booster" shots no matter what. It is more than likely that the new "variants" are nothing more than sickness induced by the shots - "side effects" if you will. The vaccinated are falling ill in greater numbers than those who have not been vaccinated.
I wanted to keep this brief. The real message is coming from the late Dr. Noack. It is extremely important that you watch this. The human race is being injected with a lethal concoction. Depending upon how well it works we will see mounting deaths which will be ascribed to cancer, heart attacks, strokes, various autoimmune diseases, maybe pneumonia or flu. Probably "covid" variants. But the deaths will pile up. Young people, men and women in the prime of life . . . children who will never live to adulthood. This is beyond the kind of evil we used to see in Bond movies, it is way beyond the scope, if not the spirit, of Hitler. The parallels are surely there.
Share this with everyone – especially the members of your city council, your state legislature and yes – your employer. Find some way to get this message out to people. No one should be subjected to such an evil execution in which they are required to actually participate themselves. We are at a tipping point. Either we will pull back from this precipice and save ourselves, our families, our nation and humanity or we will rapidly descend into death and living hell. I hate to bring this kind of message but really, it cannot wait for a better time. Now is the time.
Comments? (RE: Dakota Beacon on subject line, please)
===
DR ANDREAS NOACK - MURDERED ?
First published with translation on BITCHUTE November 28th, 2021. Original video of 27. Nov. 2021 is still on GooTube: Dr Andreas Noack ist tot
Dr. Andreas Noack, as reported by his partner, is dead. He was attacked and didn't survive
HE WOULDN'T BE THE FIRST. APPARENTLY THEY WERE COMING AFTER HIM SINCE THE "Infection Protection Law" WAS PASSED.
https://www.bitchute.com/video/pEBQm4hCh5cz/
Almost exactly a year ago he was subjected to abrutal raid by a heavily armed special police unit and briefly arrested, but never charged. It was a kind of warning to shut up and not to publish his scientific findings. VIDEO Violently raided Dr. Andreas Noack not charged
Also back then there was at first a total media blackout and an organized campaign on social media to discredit and brand the live-streamed video-footage of the raid as a fake. But the incident was then offically confirmed.
===
Getting exposed to another coronavirus can help you fight COVID-19 naturally, study says
Can getting sick with a minor coronavirus help defeat COVID-19? [YES, and we said this all the way along!]
By Herb Scribner - 27. November 2021
This 2020 electron microscope image IS ANOTHER FAKE provided by FRAUDULENT FAUCI's National Institute of Allergy and Infectious Diseases-Rocky Mountain Laboratories shows SARS-CoV-2 virus particles [NONSENSE - ITS JUST CELL DEBRis] that cause COVID-19, isolated from a patient in the U.S., emerging from the surface of [ MONKEY] cells cultured in a lab. National Institute of Allergy and Infectious Diseases via Associated Press
Getting sick from a harmless coronavirus may protect you from COVID-19, researchers at the University of Zurich recently found.
A team of researchers found that antibody responses from previous coronavirus infections can help create immunity to COVID-19.
"People who have had strong immune responses to other human coronaviruses also have some protection against SARS-CoV-2 infection," said Alexandra Trkola, head of the Institute of Medical Virology at the university, according to SciTechDaily.
The researchers reviewed antibody levels from people sick from coronaviruses before SARS-CoV-2 was around and compared them to samples taken from people infected with COVID-19.
"Our study shows that a strong antibody response to human coronaviruses increases the level of antibodies against SARS-CoV-2. So someone who has gained immunity to harmless coronaviruses is therefore also better protected against severe SARS-CoV-2 infections," Trkola said, per SciTechDaily.
In recent weeks, researchers have been reviewing how antibodies can protect people from COVID-19.
Author:
===
GERMAN HEGEL 2.0
Planting the Problem - Fostering Over-Reaction - Imposing Fake Solutions - Push the Own Agenda
Apart from the USA and China, Germany and through their WEF-planted agent Ursula von der Leyen the EU was and is the core of the network driving the plandemic. Here one can see, how they try to push their narrative through state-broadcaster Deutsche Welle, the German Wave of the Plandemic,onto the world:
Omicron: What we know so far about the new COVID-19 variant | DW News
27 Nov 2021
There's growing global alarm over Omicron - the new coronavirus variant that first emerged in South Africa.
Researchers say it could be the most infectious form of the virus so far, and it might even beat current vaccines. The international response has been swift. Many countries have shut down air travel from southern Africa. The South African government says the bans are an overreaction.
Omicron has moved quickly. Now countries around the world are racing to get ahead, banning flights from the region where the variant was first discovered. South Africans suddenly find themselves cut off from the world. Since the UK announced its travel ban, many other countries have followed suit. South Africa's government says they acted too quickly.
As quickly as the travel restrictions were announced, they are more likely to slow down rather than completely stop the spread of omicron. Dutch health officials fear that dozens of COVID-infected passengers who arrived in Amsterdam on Friday might also be infected with the new variant. Hong Kong, Israel, and Belgium have already confirmed cases.
The world has made progress in the fight against the coronavirus, but the new variant shows that the battle is far from won.
The message for now from many officials [according to the Germans]: Get the vaccine, get the booster, and follow public health regulations.
Comment:
Sure, German BIONTECH/Pfizer is the top winner then and South Africans are clearly targeted individuals.
And btw: Moderna says an omicron variant vaccine could be ready in early 2022 - CNBC - WAKE UP VAXXINATED! YOUR VACCINATION WAS FOR NOTHING NOW! IT JUST DESTROYED YOUR NATURAL RESISTANCE AND HEALING SYSTEM.
But it is not only the German Press that continues to mislead, also the British gutter-press like the Bill and Melinda Gates Foundation financed GUARDIAN publishes utter nonsense with The Omicron variant reveals the true global danger of 'vaccine apartheid' trying to help western states to push their expiring and now useless vaxx left-overs onto Africans and Asians. Any president of developing nation must be chased from office, if such is accepted.
Under the heinous by-line "Sharing vaccines with poorer countries is the right thing and the self-interested thing to do. The west needs to stop being so short-sighted" scribe Larry Elliot (no honest journalist works for The Guardian any longer since the WikiLeaks debacle) tries to play the caring role. Yes, the intellectual property rights of these injection inventions should be lifted, but not only because manufacturing then could become cheaper with copy-producers, but he fails to mention that the EU, the UK and Switzerland are against it not only to maintain the profit margin for their companies but also not to provide evidence for the worldwide frau committed with the doses delivered so far, because ingredient checks then could reveal the fraud. That's why Pfizer already sealed their information for 55 years - stupid.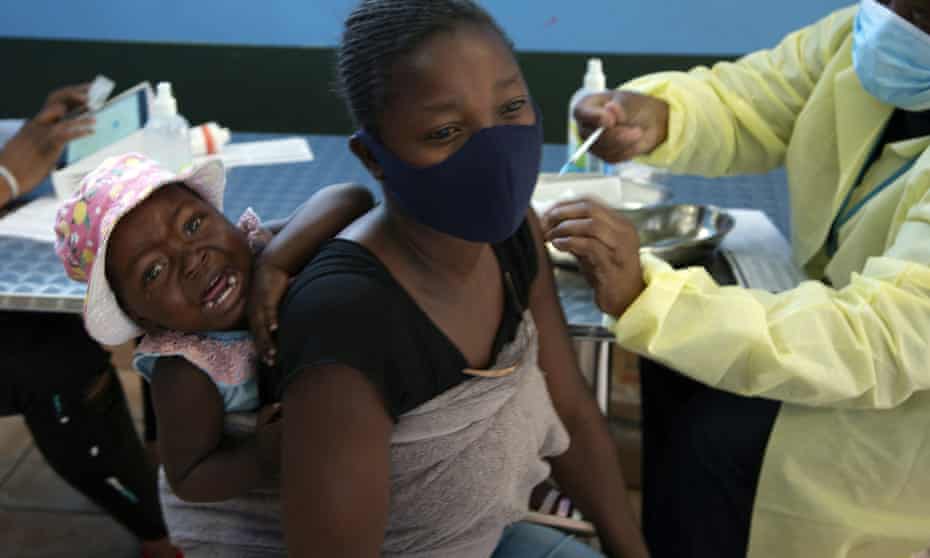 A mother receives her Pfizer vaccine against in Diepsloot Township near Johannesburg, South Africa. Photograph: Denis Farrell/AP - the baby senses the grave danger.
===
Marjorie Taylor Greene Attacks Travel Bans, Doctors Who Won't Prescribe Ivermectin
By FATMA KHALED
WHO Classifies New Omicron COVID Variant As 'Variant Of Concern'
Republican Rep. Marjorie Taylor Greene told her Twitter followers they "might have a wrongful death suit in your hands" if a loved one died of COVID and wasn't allowed to take ivermectin or monoclonal antibodies." She also criticized world leaders for implementing travel bans in response to the newly detected Omicron COVID variant.
In a Twitter thread on Saturday, Greene accused doctors who refuse to recommend ivermectin to COVID patients of taking part in "politics that is killing people."
"Ivermectin, the 'Wonder drug' from Japan, has a long safe history of saving lives especially among the poor all over the world," Greene claimed on Twitter. "If you had a loved one die from Covid, and they were not allowed to take Ivermectin or monoclonal antibodies, you might have a wrongful death suit in your hands."
The Georgia congresswoman also said that Africans have taken ivermectin "for decades."
"Many clinical trials have proven Ivermectin to be a very effective safe & cheap treatment against COVID," she alleged.
The Food and Drug Administration has stated it has not approved ivermectin for the prevention or treatment of the coronavirus.
NEWSWEEK SUBSCRIPTION OFFERS >
Greene also added that Africans have high levels of vitamin D and zinc due to "being outdoors a lot," which she claimed has been effective along with the ivermectin treatment and "low obesity rates" in the continent.
The congresswoman defended her stance against COVID-related restrictions as she called against vaccine and mask mandates.
"Treatment & healthy living is the way out of this nightmare, NOT vaccine mandates, masks, & shutdowns," she said while calling on world leaders to "immediately stop their tyrannical forced shutdowns, vaccine mandates, and absurd masking policies."
She also criticized the recent travel restrictions that were imposed on South Africa and seven other nations to control the spread of the Omicron variant.
"With all that is known about COVID and all the covid studies and the known miracle of low deaths in Africa with very little vaccinations, it's no wonder the Tyrants announce a new COVID variant from Africa and apply travel restrictions," she tweeted. "They control you with irrational fear."
The World Health Organization deemed the Omicron variant as a COVID strain of "concern" after it was first detected in South Africa.
In an email to Newsweek from Greene's spokesperson, the Georgia Republican shared her vaccination status and weighed in on recent travel restrictions.
"I'm not vaccinated just like 94% of African people, and the Democrats hate it," she said, according to her spokesperson.
"Watch how the travel ban lifts after 'talks' when the U.S. announces their 'life-saving' plan with global partners to provide free vaccines to South Africa, who has the lowest COVID death rate," she added.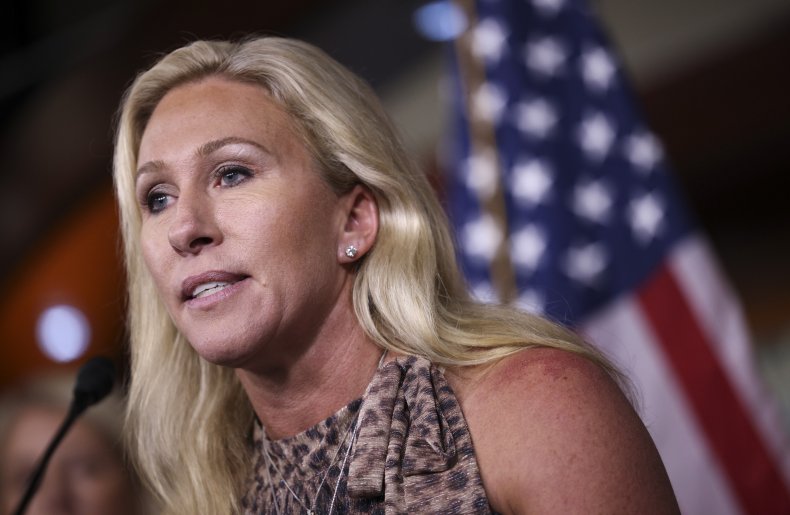 The White House chief medical advisor, Dr. Anthony Fauci, said on Friday that there is "no indication" that the Omicron variant had reached the U.S, but he confirmed that "everything" needs to be done "to protect the American public."
President Joe Biden announced a travel ban, taking effect on Monday, that restricts travel from South Africa, Eswatini, Mozambique, Malawi, Lesotho, Namibia, Zimbabwe and Botswana.
Other countries, including the Australia, Japan and Canada, moved quickly to impose similar travel restrictions on southern African countries.
Meanwhile, vaccine manufacturers expressed confidence in their ability to deliver a new vaccine within 100 days to fight the Omicron variant.
===
Jenin Younes on Legal Challenges to Vaccine Mandates
26 Nov 2021
Our guest is Jenin Younes, a Litigation Counsel for the New Civil Liberties Alliance. She joins us to discuss her involvement in advocacy and in legal challenges against vaccine mandates. She holds a B.A. degree from Cornell University and a J.D. from New York University School of Law. She has been featured on several national media outlets for her commentary and she recently penned an op-ed in the Wall Street Journal building the case against mandatory vaccination in children.
GUEST:
Jenin Younes: Twitter and webpage
Show notes: https://accadandkoka.com/episode186
===
Corporate media hysteria pushers puke up another COVID "scariant" campaign in desperate FEAR PLOY for totalitarian control
By Mike Adams - 26. November 2021
(Natural News) As you've noticed over the last two days, the global corporate media psyop spell weavers have puked up another "scariant" called "Nu," and they are now hyperventilating over it, claiming it has over "30 horrifying mutations" and might spread faster than anything in history.
The underlying message, of course, is that everybody should stop resisting and immediately obey the demands of (corrupt) government.
The thing spreading the fastest, of course, is the media hysteria. A passenger plane that departed from South Africa and landed in Amsterdam was prevented from de-boarding, stranding South African passengers on the plane, all due to mass media hysteria over the new covid "scarient."
People are panicking as they realize all the vaccines and boosters they already took are now worthless
Part of the message being delivered in this mass media scariant panic is that all the vaccines and boosters that people already took are apparently worthless against this new variant. This means that everybody's vaccine compliance "vaccine passport" status essentially resets to zero.
The Associated Press is reporting that Israelis are already losing their minds over this new covid scariant and that Prime Minister Naftali Bennett is on the verge of declaring an "emergency situation." According to the AP, the new variant is being detected in fully vaccinated individuals traveling to Israel. Bennett is already stoking the flames, warning that travel and borders will be locked down while the Israeli military hunts down people who recently traveling from those countries and throws them into covid quarantine camps:
The government later said that all countries in sub-Saharan Africa would be considered "red countries" from which foreign nationals are barred from traveling to Israel. Israelis are prohibited from visiting those countries and those returning from them must undergo a period of isolation.
The Israeli military will work to locate all individuals who have been to red countries within the past week and instruct them to go into isolation while testing is carried out, it said.
With the Australian military now hunting down and forcibly vaccinating indigenous people (Aborigines), the world's terrorist governments are ramping up their final assault on humanity, and this coordinated "Nu variant" media hysteria campaign is designed to drive to much fear into the minds of world citizens that they will go along with full-blown tyranny and genocide.
Will you comply if the media terrorizes you enough?
As I explain in today's short Situation Update podcast, this is all a campaign to try to achieve global compliance with government tyranny. The media are all acting as journo-terrorists, pushing mass hysteria to drive people into compliance (and more vaccines). Big Pharma is drooling over the potential new profits from a whole new wave of vaccines, which will of course set off more mutations and lead to yet more variants in 2022 and beyond.
The entire thing is a rigged criminal scam rooted in fraud and evil. This will never end by complying with it. The people of the world must peacefully rise up and stand strong against the fear campaigns, the bioterrorism and government-run genocide.
The reason this "scariant" was just released in a coordinated media fear campaign, of course, is because humanity is waking up and learning to resist covid tyranny. So the globalists are doubling down on their attacks against humanity, defrosting more bioweapons from Fauci's freezer collection while pounding the psyche of the population with relentless media fear campaigns.
The good news in all this? If you have natural immunity against covid, you're naturally immune to all the variants, too.
But the oblivious masses who already took the early covid jabs have destroyed much of their immune function, meaning they are now extremely vulnerable to any new real variant that might emerge, assuming they really exist at all.
Notice, too, how convenient the timing is with all this, where the media now has an excuse for why so many vaccinated people are dying and have compromised immune systems. It's the variant's fault!
Bottom line? If you comply, you die.
Do not comply.
Full details in today's podcast here: Brighteon.com/f13adc33-72bf-47ca-99bd-f3f85523592f
===
The Variant Confusion Game inside the Hoax
Africans advised to keep affordable Ivermectin and Hydroxychloroquine stocks ready.
By CO/VF - 26. November 2021
The WHO names Covid-19 variants with the Greek alphabet to avoid stigmatization.
Read below the given names of the computer-modelled variants:
What are the new names of existing COVID-19 variants?
The current list of COVID-19 variants includes 10 mutations, according to CNN and The Guardian.
According to CNN, the four variants of concern and their new names include:
Variant B.1.1.7, first identified in Kent, the United Kingdom, is now called alpha.
Variant B.1.351, first identified in South Africa, is now called beta.
Variant P.1, first identified in Brazil, is now called gamma.
Variant B.1.617.2, first identified in India, is now called delta.
Two other variants first identified in the U.S. have received new Greek names.
According to CNN, these include:
Variant B.1.427/429 is now called epsilon.
Variant B.1.526 is now called iota.
And now the Nu variant
Latest addition is the Variant B.1.1.529, first identified in South Africa, is now called omicron.
They're definitely not in order, or they've been changed because we have the chart!
However, of course, Snopes says this chart is a lie.
How much money did Cyril Ramaphosa get to release the new synthetic strain?
South African Presidentt Cyril Ramaphosa shaking hands with criminal Bill Gates who is now charged for murder in India.
A 32-Mutations Coronavirus Variant Detected in South Africa
"The variant surprised us. It has a huge evolutionary leap and more mutations than we expected... Potentially, this variant could spread very quickly," KRISP scientist Oliveira said.
On Thursday, South African scientists confirmed the detection of B.1.1.529, a new variant of coronavirus having 32 spike protein mutations whose effects have yet to be studied.
The new strain presents a very unusual constellation of mutations but their "meaning is still uncertain," said Tulio de Oliveira, a professor at the Kwazulu-Natal Research Innovation and Sequencing Platform (KRISP).
The National Institute of Infectious Diseases of South Africa reported that confirmed cases of this variant have been recorded in South Africa, Hong Kong, and Botswana so far. The B.1.1.529 strain presents 32 mutations, some of which are cause for concern due to their possible impact on transmissibility and their potential ability to evade previous immunity or protection.
"The variant surprised us. It has a huge evolutionary leap... Potentially, it could spread very quickly," Oliveira said, explaining that the new strain caused a significant increase in COVID-19 cases in Gauteng, the province where Johannesburg and Pretoria are located.
The detection of this new variant, however, has been done "very, very early," which will make it easier to control its expansion. The discovery of this variant occurred on Nov. 23 from samples taken in Johannesburg and Pretoria between November 14 and 16, as reported Health Minister Joe Phaahla.
To date, South Africa has recorded 2.95 million COVID-19 cases and nearly 90,000 related deaths. Previously, South Africans suffered both the expansion of the Beta variant between late 2020 and early 2021, and the spread of the Delta variant in mid-2021. All these variants emerged in this African country.
On Friday, the World Health Organization (WHO) baptized the new variant with the Greek letter OMICRON to hype up the hype and the development seems to be ahead of the plandemic schedule.
Researchers from the Network for Genomic Surveillance in South Africa said current PCR tests were able to detect the variant, which has also been found in Botswana and Hong Kong in people who traveled from South Africa.
South Africa was the first country to detect the beta variant last year, one of only four labeled "variants of concern" by the WHO over evidence those particular variants are more contagious and that vaccines are less effective against them.
Vaccine hesitancy in South Africa
South Africa has the highest pandemic numbers in Africa, recording 2.95 million cases since the start of the pandemic, of which 89,657 have been fatal.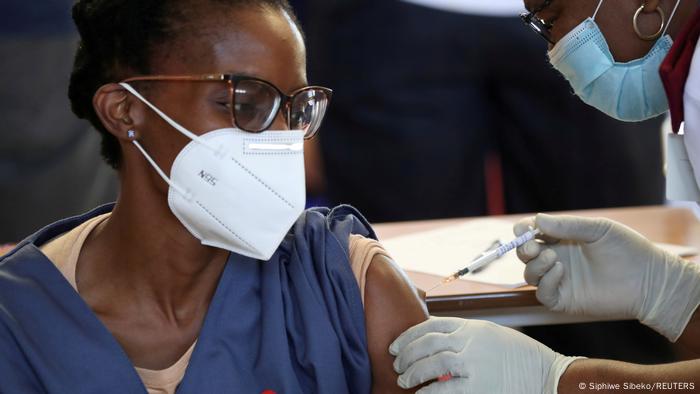 South Africa is not reaching it's target of 250,000 injections a day
More than 25 million doses have been administered but only 35.2% of the adult population is "fully vaccinated".
Earlier in the week, health authorities asked Johnson&Johnson to suspend delivery of the company's COVID-19 vials as it now has enough stock.
Phaahla said the number of people getting injected is dropping and that they are not reaching the target of 250,000 jabs a day. South Africans seem to have wisened up and realize it's a pademic of th "vaccinated".
HOW THE HYPE IS SOLD TO THE WORLD
New COVID variant sparks international alarm
The World Health Organization has held talks about the new COVID-19 variant found in South Africa. Concern over the variant has prompted several countries to suspend and limit flights from the region.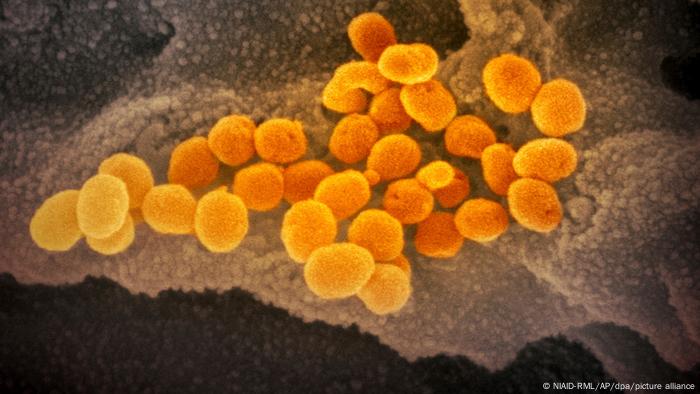 FAKE PICTURES ARE HANDED OUT TO THE MAINSTREAM MEDIA BY THE USA TOGETHER WITH THE HYPE-REPORTS
Scientists have said it will take a few weeks until they know more about the new COVID-19 variant
Officials have sounded the alarm over new variant first detected in South Africa
The WHO held emergency talks Friday regarding the new variant, decides naming it 'omicron'
First confirmed case in Europe detected in Belgium
Countries around the world race to shut down air traffic from South Africa
What do we know about the variant?
The new B.1.1.529 variant was first discovered on November 11, 2021 in Botswana, a country just north of South Africa, in travellers ftom South Africa. Since then, it has been detected in South Africa, mostly in the province of Gauteng, which includes Johannesburg and Pretoria, where the incidence rates are currently about 1,200.
After an emergency meeting on Friday, the World Health Organization classified the new variant as a 'variant of concern,' and gave it the name omicron.
B.1.1.529 has multiple mutations that could help it evade the body's immune response and make it more transmissible, South African scientists said on Thursday.
Dr Ulrich Elling, a molecular biologist at the Institute of Molecular Biotechnology in Vienna — a laboratory that specializes in sequencing the coronavirus and detecting new variants — said the first estimates indicate the new variant "might be 500% more infectious than delta." But that means only that natural community immunity (often derogatorily called "herd" immunity) can achieved faster.
"Delta was about 60% more infectious than alpha, so the spread that we will see around the globe is going to be much faster than we saw it for delta."
While the delta variant has eight mutations and the beta variant has three, the B.1.1.529 variant has at least 32 spike protein mutations. Specialist had warned since long to NOT 'vaccinate' during the spreaing phase of a pathogen.
Wolfgang Preiser, the head of Medical Virology at Stellenbosch University, South Africa, told DW that the new virus may evade the immune system, which "means it can infect people who've been infected before and recovered."
Younger people appear to be contracting and spreading the newly identified variant, but the coming weeks will be key in determining how severe the variant is, scientists have said.
Long queues at Amsterdam airport as flights arrive from South Africa
Around 600 passengers arriving in Amsterdam on two flights from South Africa on Friday faced hours of delay at the airport as they waited for their COVID test results.
The Dutch government banned all air travel from South Africa and several surrounding countries early on Friday, adding that all passengers in the air would have to undergo testing and wait for their results before being allowed to enter Amsterdam.
If they tested positive for the virus, passengers would have to quarantine at a hotel and await another round of testing.
While passengers tweeted they were kept waiting for hours on the tarmac, airport authorities said processes had to be conducted carefully and that this took time.
European Union temporarily suspends travel from South Africa
All 27 European member states on Friday agreed to temporarily suspend travel from seven southern African nations over the outbreak of the new variant, according to the Slovenian EU presidency.
The decision came after the European Commission proposed activating the so-called "emergency brake" for the bloc's shared coronavirus travel rules.
Germany declared South Africa as a "virus variant area" and said airlines would only be allowed to bring in German nationals from the country. Others like Denmark and Greece suspended non-essential travel.
European Commission President calls for flight ban from variant locations
At a press conference in Brussels, European Commission President Ursula von der Leyen said air travel to countries where the new coronavirus variant was detected should be suspended until there is a better understanding of the new variant.
Contracts with vaccine manufacturers state the vaccine must be adapted immediately to new variants as they emerge, she said.
Earlier Friday, Belgian virologists confirmed a case of the variant had been detected in a traveler returning from Egypt earlier this month.
Belgium: First European country to announce case of variant
Belgium has become the first European country to confirm the presence of the new variant.
Belgian health minster Frank Vandenbroucke said, "We have one case of this variant that is confirmed. It's someone who came from abroad."
Marc Van Ranst, a virologist who works closely with Belgian public health officials, wrote on Twitter the case was in a traveler to Egypt who returned to Belgium on November 11. They first developed symptoms on November 22.
US restricts travel from eight southern African countries
The United States is going to restrict entry to travelers from eight southern African countries amid concerns over the new coronavirus variant, President Joe Biden said Friday.
Biden added his administration was not considering new vaccine mandates since they didn't know very much about the variant yet.
"We don't know a lot about the variant except that is of great concern," Biden told reporters.
"I decided that we are going to be cautious," Biden added.
The travel restrictions do not apply to US citizens and go into effect on Monday.
Fauci: US health officials in touch with South Africa
Dr. Anthony Fauci, the top US infectious disease official, said Friday that US public health officials were in contact with South African scientists regarding the new variant detected earlier in the week.
Fauci told CNN there was no indication yet that the new variant was in the US nor was it clear whether existing vaccines offered protection against the new variant.
US officials have not yet opted to restrict travel from South Africa or elsewhere amid concerns over the new variant.
Israel expands travel ban
Israel imposed a travel ban covering most of the African continent on Friday — expanding a ban that had previously applied to seven southern African nations. Only North African countries are exempt from the ban, while all others have been added to Israel's high-risk "red list." Israelis have been barred from traveling to the countries on the list, while foreign nationals from the affected countries are barred from entering Israel.
Returning Israelis will be required to quarantine. The country has also logged its first case of the new variant in a vaccinated traveler who arrived from Malawi. Two other people suspected of having the variant are also in quarantine.
BioNTech-Pfizer need two weeks to assess new variant's impact
German pharmaceutical company BioNTech said Friday it would need two weeks at most to assess how well its coronavirus vaccine holds up against the new variant.
"We expect more data from the laboratory tests in two weeks at the latest," a BioNTech spokesperson said in a statement. The company will assess whether the variant "may require an adjustment of our vaccine if the variant spreads globally."
Vaccine developers keep close tabs
The European Medicines Agency, the EU's regulator for medicinal products, said it was closely monitoring the situation. It added it was too soon to know whether vaccines had to be upgraded to curb the spread of omicron.
AstraZeneca said in a statement it was hopeful that its antibody cocktail against COVID would retain efficacy against the new variant.
AstraZeneca added it was conducting research in Botswana and Eswatini to collect data.
US giant Johnson & Johnson also said it was monitoring the spread of the new variant.
WHO advises risk-based, scientific approach to travel restrictions
The World Health Organization has cautioned against the hasty implementation of new travel restrictions due to the emergence of the B.1.1.529 variant, and urged instead a "risk-based and scientific approach."
WHO spokesman Christian Lindmeier told a press conference in Geneva: "At this point, implementing travel restrictions is being cautioned against."
At a meeting Friday, experts will discuss whether to classify the variant as one "of interest" or "of concern." It will take scientists a few weeks to learn more about the variant.
South African president's office convenes council to assess developments
In a series of tweets Friday, the office of President Cyril Ramaphosa announced he is convening the National Coronavirus Command Council (NCCC) on Sunday to assess developments, including scientific ones regarding the new variant.
Ramaphosa called on citizens to protect themselves against COVID-19 while scientists work to determine what they can learn about the new variant.
"The outcome of the NCCC discussions and further consultations will be communicated in the coming days," his office tweeted.
Nicholas Crisp, a senior official at South Africa's health department, told a media briefing that the WHO may promote the new variant as a 'variant of concern.' Crisp said they were trying to get more information on what took place at the emergency WHO meeting.
Germany 'very concerned'
Germany's health minister and the director of federal agency for disease control and prevention, the Robert Koch Institute (RKI), were asked about the B1.1.529 variant during their weekly press briefing on Friday.
Health Minister Jens Spahn told reporters in Berlin that the "high number of mutations" noted were "at least cause for preliminary concern," even if tests were ongoing to determine how transmissible it is, or how resistant the variant was to vaccines.
Spahn described the German decision to impose travel restrictions on South Africa and some other countries in the region, with an exact list yet to be decided, as a "necessary, proactive, preventive protective measure."
RKI director Lothar Wieler said some genome mutations appeared to "suggest that there could be a higher rate of transmission."
"And there are other mutations where it's not yet clear what they mean biologically. That means we really are very concerned," he said.
Spahn was also asked about people who had recently returned to Germany from South Africa. Legally, he said, the new restrictions could only apply once imposed. However, he appealed to anyone who had recently returned from southern Africa, even if it was 10 or 20 days ago, to isolate themselves and to "take a test — and preferably a PCR test."
Markets down across the board on variant news
Europe's main equity markets were down at least 3% in afternoon trading following sharp falls in Asia.
Germany's DAX fell by 2.93% and UK's FTSE 100 fell to 3.08%, its lowest in more than a month.
The Dow Jones Industrial Average slumped 2.2% at the open of a shortened trading day Friday, after Americans celebrated Thanksgiving holiday.
Oil fell below $80 (€71) per barrel.
Bitcoin also tumbled 7.8% to $54,337, its lowest since October 12. The second largest cryptocurrency by market capitalization, Ether, tumbled 11.6%.
Investors dashed to the relative safety of the Japanese yen and the Swiss franc. Gold also rose 0.7% on Friday.
Roland Kaloyan, the head of European equity strategy at Societe Generale, told Reuters: "We don't know so much about this variant yet but if it's serious, it could change the macro scenarios altogether."
Israel finds case of variant
Israel's Health Ministry said it had detected its first case of the new variant in a person returning from Malawi.
In a statement on Friday, the ministry said the individual and two other people with suspected cases of the variant were all in quarantine. All three were fully vaccinated.
Prime Minister Naftali Bennett held consultations with health experts Friday regarding the variant.
"During the night I was informed that there is one verified case here in Israel, and this is disturbing," he said.
On Thursday, authorities announced travel to southern Africa from Israel was banned for citizens. Foreign nationals from the region would be denied entry.
"We are currently on the verge of a state of emergency," Bennett said.
Officials sound the alarm
Scientists are studying the variant that was first detected in South Africa earlier in the week. The National Institute for Communicable Diseases in South Africa said 22 cases of the new B.1.1.529 variant, as it is known, had been detected in the country but that it expected more cases as genomic analysis is ongoing.
The WHO's COVID-19 technical lead Maria Van Kerkhove said there are currently fewer than 100 whole genome sequences of the variant available. She said it would take a few more weeks of scientific work to determine whether the variant would be considered a "variant of interest" or a "variant of concern."
"Everybody that's out there needs to understand that the more this virus circulates, the more opportunities the virus has to change, the more mutations we will see," she said.
The UK Health Security Agency has reported that the new variant has also been detected in Botswana and Hong Kong. Germany's Health Ministry has moved to declare South Africa a virus variant area.
WHO convenes emergency talks
The WHO has convened an emergency meeting set for early Friday afternoon to discuss the new variant.
Scientists are concerned about the high number of mutations within the variant and worry it could be resistant to vaccines and more easily passed on to others.
Friday's working group meeting determined to officially label the variant "of concern," a distinction only four variants to date have received.
Countries move to close air traffic from southern Africa
Countries in Asia and Europe including Germany, the Czech Republic, Italy and the UK, quickly imposed restrictions Friday after the emergence of a potentially vaccine-resistant COVID-19 variant was detected in South Africa.
The EU has moved to halt air travel from the entire southern African region amid concerns over the newly detected South African variant, said European Commission President Ursula von der Leyen.
She said the Commission will propose "to activate the emergency brake to stop air travel from the southern African region" due to the emergence of the new variant.
(- with hype from DW, AFP, AP, dpa, Reuters) - The mainstream media hype had been very well prepared this time.
===
===
VERY ALARMING SCIENTIFIC FINDINGS:
DR ANDREAS NOACK - GRAPHENE HYDROXIDE ACTS LIKE RAZORBLADE
First published with translation on BITCHUTE November 28th, 2021. Original was first released and published in German on 23. November 2021 at around 10h CET. Approximately 2.5-3 h later Dr. Noack was fiercely attacked. The attack was "extremely devious and unexpected" and he "didn't survive it". It seems that he was driven to his death.
APPARENTLY HE WAS ATTACKED STRAIGHT AFTER THE VIDEO WENT UP AND DIDN'T SURVIVE
https://www.bitchute.com/video/X9oMvf6dbhCi/
BACKUPS:
BITCHUTE - DR. ANDREAS NOACK - DETECTION OF GRAPHENE IN COVID19 VACCINES BY MICRO-RAMAN SPECTROSCOPY
Reference: https://www.researchgate.net/publication/355979001_DETECTION_OF_GRAPHENE_IN_COVID19_VACCINES
https://verificarfirma.ual.es/verificarfirma/code/+vLJuznAs3HyEXzIEiEZyg
Unsere anderen Kanäle / Our other channels
Ursprunc- Dr.Andreas Noack LiveStream via Kanalinfo
🇺🇸🇬🇧 Youtube Channel: https://bit.ly/3mULzg9 🇺🇸🇬🇧 YouTube LiveStream: https://bit.ly/2L00589
Link zum Zoom meeting: https://bit.ly/3nVRdyp Meeting-ID: 721 933 7724 | Passwort: 7L2SeJ
===
VACCINE SCANDAL IN SLOVENIA – BOTTLES HAVE CODE #'S FOR PLACEBO, VAX, OR KILL SHOT
By Admin - 23. November 2021
Many of us have long suspected a situation like this but coming across a whistleblower nurse in Slovenia is another.
I am posting this as is but have reached out to a friend living in Ljubljana to see if he can cast some light on this.
First, I came across this from Hal Turner
Word is coming out of Slovenia that, if verified, will cause an unimaginable world reaction.
On Saturday 20 November, the Chief Nurse of the University Medical Center, Ljubljana Clinical Center, (pictured above, who deals with the administration of vaccine vials and manages everything, quit her job, went in front of TV cameras and took out vaccine bottles.
She showed the gathered journalists the codes on the bottles, each with the final number 1, 2, or 3 in the code, and then explained the meaning of these numbers:
Number 1 is placebo, saline.
Number 2 is the classic mRNA "vaccine"
Number 3 is an mRNA strang containing the ONC gene, related to adenovirus, which contributes, among other things, to the development of cancer.
For these who get jabbed from the vial whose code ends in the number 3, she says people who received them will have soft tissue cancer within 2 years.
She said that she had personally witnessed the vaccinations of all politicians and tycoons and that they all received the preparation number 1 .
The media has been told to absolutely bury this story and fierce efforts at containing this information are underway right now.
More details if they become available.
So far Hal Turner.
Then, I found this:
I also found something on VK HERE
Through that I found the following video which appears to be dated 30 July but ostensibly relates to the above.

RUMBLE - 23. November 2021 <<<--- In case your browser doesn't play the sound click the direct link to the video
Someone provided a rough translation in the comments:
"Yesterday there was a big scandal in Slovenia, and today all of Slovenia is talking about a big vaccination.
The head nurse of the University Medical Center, a clinical center in Ljubljana, which takes care of the bottles and everything, gave up, went in front of the cameras and took out the bottles with the liquid bottles.
She showed people the codes on the bottles, each containing the numbers 1, 2 or 3 in the code, and then explained the meaning of the numbers.
Number 1 is placebo, saline. *
Number 2 is the classic mRNA bottle.
Number 3 is the mRNA strang containing the onc gene, related to the adenovirus, which contributes to the development of cancer.
For these bottles, the number 3 says people who received them in 2 years will have soft tissue cancer.
* She says she personally witnessed the stings of all politicians and tycoons and they all got sting number 1 and thereby received saline, a placebo. "And that explains why the same character stabs all our politicians when they shoot for the media."
---
Similar, Elisa McBrierty revealed:
Final digit states the following:
1 = Liquid consists mainly of saline
2 = Liquid consists of saline and the mRNA vaccine
3 = Liquid consists only of the vaccine
===
Editorial Comment: Further research is needed to decipher the codes, since also some batches contain grapheneoxide and others not. So there seems to be a whole range of different composition in this experimental "vaccie"trial.
===
Comment by jimstone.is:
The most toxic Covid vax batch numbers end in 20A or 21A
This does not mean the others are OK, it just means that those two are the ones that make people complain. But based on Britain's stats, they are ALL bad. Just some are (a lot) worse than others, to such an extent they look like they are probably outright weapons given to "the right people".
Since there are now known to be 3 different vax variants - one for politicians and "elite", one for general nobodies, and one for "bad people", it is probably safe to assume that you can delete 2/3 of the vaxxes from the column he shows and conclude that your personal chance of getting a bad one are much much higher than it looks on screen. The killer batches are probably produced in higher numbers than the rest of the batches also. And remember, this is from Vaers, which means for real world numbers you have to multiply by 100.
===
===
ICYMI:
TUTORIAL 1 : USING EXCEL TO ANALYSE BATCH TOXICITY
First published on BITCHUTE November 25th, 2021.
By popular request I am providing a video showing the steps I took in order to analyse the variation in batch toxicity using VAERS data. This will help others to replicate my findings.
===
VARIATION IN TOXICITY OF COVID VACCINE BATCHES
First published on BITCHUTE November 16th, 2021.
The purpose of this study was to determine if there is any significant variation in batch toxicity - by counting the number of adverse reaction reports associated with each batch number.
The number of adverse reactions in each State of the USA caused by each individual batch was also counted.
The results were interesting.
70% of the batches were harmless - producing only one adverse reaction report each.
80% of the batches produced only 1 or 2 adverse reaction reports. So the vast majority of the batches were harmless.
However, a very distinct and significant anomaly appeared.
1 in 200 (0.5%) of the batches was found to be between 1000 and 5000 times more toxic than the average batch, and accounted for 70% of all of the adverse reactions, and 70% of all of the deaths
1 in 20 (5%) of the batches accounted for 90% of the adverse reactions and deaths.
These toxic batches consistently produced high levels of adverse reactions, disability and death across every State in the USA, in sharp contrast to the harmless batches. As a consequence the toxic batches are easily visible as a string of numbers across the screen in the video above.
The consistency with which these batches produce adverse reactions indicates that the adverse reactions are caused by the batches rather than by the health status of the recipients.
The probable reason for these more toxic batches is either
1. The batches contain added ingredients that are highly toxic
2. The batches are of a higher concentration of the same ingredients
The later suggests that Pharma may be investigating the LD50 (Lethal Dose) in order to establish the therapeutic range. Needless to say, such experimentation carried out on human beings has already resulted in deaths and disabilities - as shown in this report.
The question arises -
If there is such high variation in the toxicity of the batches, should we be mandating this medical intervention?
Should we be coercing people under threat of losing their job or being confined at home , into taking something where death or disability is a possible adverse reaction?
===
Moderna CLASHES with US govt over jab patent rights
RT Published November 11, 2021 DIRECT LINK
Rumble — COVID vaccine manufacturer Moderna and the US government are in dispute, with the drugs-maker claiming it is the sole inventor of a crucial component in a patent claim, despite having had help from federal scientists to create the jab.
===
Exposing THE EXPOSE
Why only 5% of the Pfizer lots "seem" to be causing 100% of the damage in USA
By Andreas Oehler - 08. November 2021
In previous articles, I have mentioned the bombshell story by THE EXPOSE: "EXCLUSIVE – 100% of Covid-19 Vaccine Deaths were caused by just 5% of the batches produced according to official Government data." Therein, they claim exactly what the title says: "An investigation of data found in the USA's Vaccine Adverse Event Reporting System (VAERS) has revealed that extremely high numbers of adverse reactions and deaths have been reported against specific lot numbers of the Covid-19 vaccines several times, meaning deadly batches of the experimental injections have now been identified."
On top of this investigative article, Karl Denninger in his post "Uh, That's Not A Conspiracy Theory" went a step further and identified and listed the exact Pfizer lot numbers causing all the damage. But not the dates when those lots started being administered. I have spent an hour or two to fish out of VAERS the dates of first jabs associated with dangerous lots. To say that the result surprised me would be an understatement. See for yourself:
lot deaths 1st jabbed
EN6201 117 2021.01
EN5318 99 2021.01
EN6200 97 2021.01
EN6198 89 2021.01
EL3248 86 2021.01
EL9261 84 2021.01
EM9810 82 2021.01
EN6202 75 2021.02
EL9269 75 2021.01
EL3302 69 2021.01
EL3249 67 2021.01
EL8982 67 2021.01
EN6208 59 2021.03
EL9267 58 2021.01
EL9264 57 2021.01
EL0140 54 2021.01
EN6199 54 2021.01
EJ1686 51 2021.01
EL9265 50 2021.01
EL1283 48 2021.01
ER2613 48 2021.02
EN6204 47 2021.02
EN6205 45 2021.02
EK9231 43 2021.01
EL3246 43 2021.01
EN6207 41 2021.02
EN6203 41 2021.02
ER8732 40 2021.03
EL1284 39 2021.01
EL0142 38 2021.01
EJ1685 38 2021.01
ER8737 37 2021.03
EN9581 36 2021.01
EN6206 35 2021.02
EP7533 35 2021.03
EL9262 34 2021.01
EL9266 33 2021.01
EL3247 32 2021.01
ER8727 28 2021.03
EP6955 27 2021.02
ER8730 26 2021.03
EW0150 25 2021.03
EK5730 24 2021.01
EP7534 24 2021.03
EM9809 22 2021.01
EK4176 22 2021.01
EH9899 21 2021.01
EW0171 21 2021.03
ER8731 19 2021.03
ER8735 18 2021.04
EW0172 18 2021.04
EL9263 17 2021.01
EW0151 15 2021.03
ER8733 15 2021.03
EW0158 14 2021.04
EW0164 14 2021.03
EW0162 14 2021.03
EW0169 14 2021.04
ER8729 13 2021.03
ER8734 13 2021.03
EW0153 13 2021.03
EW0167 12 2021.04
EW0168 10 2021.05
EW0161 10 2021.04
EW0182 9 2021.04
EW0181 8 2021.06
EW0186 8 2021.05
ER8736 8 2021.04
EW0191 8 2021.06
FF2589 7 2021.09
EW0173 6 2021.05
EW0175 6 2021.04
FA7485 6 2021.07
EW0177 6 2021.05
FD0809 6 2021.08
EW0170 6 2021.04
FC3182 6 2021.08
EW0217 6 2021.06
EW0196 5 2021.06
EW0176 5 2021.04
EW0183 4 2021.05
EN5318 4 2021.01
EL3249 4 2021.01
EW0178 4 2021.03
EW0179 4 2021.03
EW0187 4 2021.05
FA6780 4 2021.06
FA7484 4 2021.07
EN6207 4 2021.02
Do you see the odd pattern, dear reader? All deadliest lots were first administered in Jan., Feb., and few in March of 2021. The first time we see a lot administered in April 2021 is about 2/3 down the list:
ER8735 18 2021.04
And since April, all the lots seem to be really benign.
Should we rejoice at this point? It seems like Pfizer really had some issues with the safety of its lots that they were too modest to admit publicly. But they have pulled themselves together, ironed out the kinks, and started offering, since April of 2021, great jabbing experience for very little down side in the form of adverse events and deaths.
Alas, as my analysis has proven (e.g., "Zeroing in on Gifts from "Science" to Humanity"), the Pfizer lots in the second half of 2021 are as bad-ass as they have always been. What is then a reasonable explanation?
It's so simple that it's even mundane. It's not Pfizer, but CDC and FDA that got their act together and stopped registering most of serious adverse events and deaths in the VAERS. We know this from a multitude of witness accounts. Gaslighting is a new bliss.
I can see two lots that commenced jabbing in Jan. 2021 that are kinda benign (EN5318 and EL3249 with 4 fatalities each), but THE EXPOSE's conclusion that 95% of lots are benign does not tread water any more.
Thanks for the tip from Tim Lundeen! Here's even a time graph of VAERS entries against Pfizer:
You can see that the number of entries into the VAERS database dropping precipitously at the end of Apr. 2021 and staying that way until now. And that despite the "vaccinations" in the US staying highly elevated all the way till June, and staying at a significant level after that:
Not to speak about the delayed adverse events that should've registered in May and June of 2021, at the very least.
The fact that the earlier lots were distributed more widely throughout the US can be explained by lower production rates of the "vaccine" at that time and trying to cover more ground with a shorter blanket, so to say. This does away with the other conclusion made by THE EXPOSE that somehow the more dangerous lots were distributed more widely. It's an artifact of the just mentioned facts.
On top of this, something similar may be observed with Moderna lots too:
lot deaths 1st jab
039K20A 87 2021.01
013L20A 66 2021.01
012L20A 64 2021.01
010M20A 62 2021.01
037K20A 49 2021.01
029L20A 48 2021.01
012M20A 46 2021.01
024M20A 44 2021.01
027L20A 44 2021.01
015M20A 43 2021.01
025L20A 42 2021.01
026A21A 41 2021.01
013M20A 41 2021.01
016M20A 41 2021.01
022M20A 41 2021.01
030L20A 40 2021.01
026L20A 39 2021.01
007M20A 39 2021.01
013A21A 36 2021.01
011A21A 36 2021.01
031M20A 35 2021.01
032L20A 35 2021.01
010A21A 33 2021.01
011J20A 33 2021.01
030A21A 33 2021.01
028L20A 32 2021.01
011L20A 32 2021.01
004M20A 32 2021.01
041L20A 31 2021.01
011M20A 31 2021.01
031L20A 30 2021.01
032H20A 29 2021.01
030M20A 28 2021.01
042L20A 27 2021.01
006M20A 27 2021.01
012A21A 25 2021.01
002A21A 25 2021.01
043L20A 24 2021.01
032M20 24 2021.02
023M20A 23 2021.01
040A21A 23 2021.02
027A21A 23 2021.01
017B21A 22 2021.02
036A21A 20 2021.01
020B21A 19 2021.02
047A21A 19 2021.02
006B21A 18 2021.01
044A21A 17 2021.01
038K20A 17 2021.01
048A21A 15 2021.02
003A21A 15 2021.02
014M20A 15 2021.01
031A21A 15 2021.01
031B21A 15 2021.01
021B21A 15 2021.02
025A21A 14 2021.01
007B21A 14 2021.01
003B21A 14 2021.02
001A21A 13 2021.01
038A21A 13 2021.02
025B21A 13 2021.02
001B21A 12 2021.01
046A21A 12 2021.01
027B21A 11 2021.01
045A21A 11 2021.01
038B21A 11 2021.03
025J20A 11 2021.01
002C21A 11 2021.02
016B21A 11 2021.02
036B21A 11 2021.01
039B21A 10 2021.03
002B21A 10 2021.02
018B21A 10 2021.02
019B21A 10 2021.02
008B21A 10 2021.01
029K20A 10 2021.01
029A21A 10 2021.01
028A21A 9 2021.01
047B21A 9 2021.01
001C21A 9 2021.01
044B21A 8 2021.03
045B21A 8 2021.03
009C21A 8 2021.02
048B21A 8 2021.02
026B21A 8 2021.02
039A21A 7 2021.01
040B21A 7 2021.02
046B21A 7 2021.03
032B21A 7 2021.02
038C21A 6 2021.02
030m20a 6 2021.01
027C21A 6 2021.03
008C21A 6 2021.03
006C21A 6 2021.02
004C21A 6 2021.02
047C21A 6 2021.04
007C21A 5 2021.03
025C21A 5 2021.03
042B21A 5 2021.02
043B21A 5 2021.03
052E21A 5 2021.03
003C21A 5 2021.03
030B21A 5 2021.02
030a21a 5 2021.01
016C21A 5 2021.01
017C21A 5 2021.01
037A21B 5 2021.01
037B21A 5 2021.03
024m20a 4 2021.01
031l20a 4 2021.01
003b21a 4 2021.02
026a21a 4 2021.01
041B21A 4 2021.02
005C21A 4 2021.01
033C21A 4 2021.01
035C21A 4 2021.04
021C21A 4 2021.03
040a21a 4 2021.02
041C21A 4 2021.04
006D21A 4 2021.03
022C21A 4 2021.03
037k20a 4 2021.01
048C21A 4 2021.05
03M20A 3 2021.01
008B212A 3 2021.02
039k20a 3 2021.01
024C21A 3 2021.03
016m20a 3 2021.01
038k20a 3 2021.01
025b21a 3 2021.02
033B21A 3 2021.03
026C21A 3 2021.04
033c21a 3 2021.04
014C21A 3 2021.03
So, did Moderna have exact same vaccine production issues and fixed them just like Pfizer? No. This fact reinforces our conclusion about the severely rigged VAERS data starting from April; not that they were not rigged before…
In light of these data, it is obvious now that there isn't a singe VAERS underreporting factor (URF), rather, at least three URFs: one in Jan.-Feb., one in Mar.-Apr., and one after that. So, whatever Steve Kirsch calculated based on the CDC methodology, may be an aggregate URF for all three. And if one asked the good people at FDA what they think the VAERS URF is, the only answer they can give is "still too small", as they are actively working at driving it to infinity.
If you thought that FDA and CDC are out there to protect public health, you ought to reconsider. I am not sure how a smoking gun looks to you, but this does it for me. This proves to me beyond reasonable doubt that FDA/CDC are actively involved in undermining of the VAERS system. If this is not criminal, nothing is, as many human lives are at stake, and many have been lost already to indiscriminate "vaccinations" for the sake of "vaccinations". So, let's add this to the established facts in this saga: FDA/CDC are criminal enterprises in cahoots with Big Pharma to push the jabs at the cost of human lives and well-being. Just to reinforce this message, have a look at the CDC Director lying through her teeth repeatedly and shamelessly in this video from Nov. 4, 2021:
If you don't agree with me and have an alternative explanation, I will be happy to reconsider.
Author:
===