UPDATE 26. November 2021: The Variant Confusion Game inside the Hoax - the OMICRON hype + Corporate media hysteria pushers puke up another COVID "scariant" campaign in desperate FEAR PLOY for totalitarian control
UPDATE 23. November 2021: Vaccinated dying at twice rate of unvaccinated in U.K.
UPDATE 22. November 2021: Kenya should educate, not coerce, to boost vaccine rates: Amnesty International + Kenyan Health Minister Kagwe: No Covid-19 vaccine, no service
UPDATE 21. November 2021: NO COVID JAB, NO SERVICE – NYSC, Nigeria
UPDATE 20. November 2021: Germany | Dr Thomas Jendges Head of Clinic, Commits Suicide?
UPDATE 19. November 2021: 🚨 AUSTRIA GOVT DECLARES FORCED INJECTIONS! UNVACCINATED WILL BE JAILED! MORE COUNTRIES TO FOLLOW - this will bring civil war.
UPDATE 18. November 2021: Back To The Unspeakable: Europe Locks Down 'Unclean' Unvaxxed + FDA Won't Release Information on Pfizer COVID Vaccine Trials for Another 55 Years – What Are They Hiding?
UPDATE 16. November 2021: GIBRALTAR - Definitive proof the vax is a scam + MONTREAL HOMELESS FORCE VACCINATED ON THREAT OF ARREST
UPDATE 15. November 2021: Thousands protest Austria's COVID lockdown for the unvaccinated
Gibraltar cancels Christmas celebrations amid Covid spike
GIBRALTAR has cancelled official Christmas celebrations, amid an "exponential" rise in Covid-19 cases.
Gibraltar has cancelled Christmas celebrations amid Covid spike (Image: Getty)
By MILLIE COOKE - 15. November 2021
We use your sign-up to provide content in ways you've consented to and to improve our understanding of you. This may include adverts from us and 3rd parties based on our understanding. You can unsubscribe at any time. More info
While the government has called upon the public to "exercise their own judgement", they have "strongly" advised against any social events for at least the next four weeks, discouraging people from holding private Christmas events. Gibraltar has seen a steady increase in active cases of COVID-19 throughout October and November, which has gained pace over the past few days.
Health Minister, the Hon Samantha Sacramento, described the increase in case numbers as "drastic", encouraging people to come forward to receive their booster vaccine.
The government has advised members of the public to wear masks, avoid large gatherings and maintain social distancing.
They also advised people to "conduct themselves in a cautious and sensible manner", reminding the public that "we are still in a global pandemic and that people are losing their lives every day all over the world."
Gibraltar has seen an average of 47 cases per day over the last seven days.
Gibraltar received 4680 more vaccine doses this week (Image: Getty)
The country saw 124 new cases appear over the weekend, taking the number of active cases to 474.
Ms Sacramento said: "The drastic increase in the numbers of people testing positive for COVID-19 in recent days is a stark reminder that the virus is still very prevalent in our community and that it is the responsibility of us all to take every reasonable precaution to protect ourselves and our loved ones.
"The vaccination programme for 12 to 15-year-olds and the booster vaccination programme are now underway, and Gibraltar received 4680 more doses this week.
"Everyone who is eligible for a vaccine or a booster is strongly encouraged to take up the offer when they are called."
The UK Big Brother government has advised members of the public to wear masks (Image: GETTY)
In a statement released by the Gibraltar government, a spokesperson said: "Given the exponential rise in the number of cases, the Government, for example, intends to cancel a number of its own functions including official Christmas parties, official receptions and similar gatherings.
"The public, at this stage, are ultimately called upon to exercise their own judgement in this respect bearing in mind the current advice given.
"This consideration should include the number of persons, the setting whether indoor or outdoor, the degree of ventilation if indoor and whether those attending are vaccinated, elderly or vulnerable.
"In the same way, as has happened in the past, this advice may change going forward.
Health Minister, the Hon Samantha Sacramento, described the increase in case numbers as 'drastic' (Image: Getty)
DON'T MISS:
Boris admits incoming Covid 'storm' could ruin Christmas again [REVEAL]
Javid told to 'act now or regret it' as new lockdown fears
Where will coronavirus vaccines be produced (Image: Express)
===
SIRACUSA PRINCIPLES:
Non-Derogable Sights
58. No state party shall, even in time of emergency threatening the life of the nation, derogate from the Covenant's guarantees of the right to life; freedom from torture, cruel, inhuman or degrading treatment or punishment, and from medical or scientific experimentation without free consent; freedom from slavery or involuntary servitude; the right not be be imprisoned for contractual debt; the right not to be convicted or sentenced to a heavier penalty by virtue of retroactive criminal legislation; the right to recognition as a person before the law; and freedom of thought, conscience and religion. These rights are not derogable under any conditions even for the asserted purpose of preserving the life of the nation.
===
===
UPDATES:
Corporate media hysteria pushers puke up another COVID "scariant" campaign in desperate FEAR PLOY for totalitarian control
By Mike Adams - 26. November 2021
(Natural News) As you've noticed over the last two days, the global corporate media psyop spell weavers have puked up another "scariant" called "Nu," and they are now hyperventilating over it, claiming it has over "30 horrifying mutations" and might spread faster than anything in history.
The underlying message, of course, is that everybody should stop resisting and immediately obey the demands of (corrupt) government.
The thing spreading the fastest, of course, is the media hysteria. A passenger plane that departed from South Africa and landed in Amsterdam was prevented from de-boarding, stranding South African passengers on the plane, all due to mass media hysteria over the new covid "scarient."
People are panicking as they realize all the vaccines and boosters they already took are now worthless
Part of the message being delivered in this mass media scariant panic is that all the vaccines and boosters that people already took are apparently worthless against this new variant. This means that everybody's vaccine compliance "vaccine passport" status essentially resets to zero.
The Associated Press is reporting that Israelis are already losing their minds over this new covid scariant and that Prime Minister Naftali Bennett is on the verge of declaring an "emergency situation." According to the AP, the new variant is being detected in fully vaccinated individuals traveling to Israel. Bennett is already stoking the flames, warning that travel and borders will be locked down while the Israeli military hunts down people who recently traveling from those countries and throws them into covid quarantine camps:
The government later said that all countries in sub-Saharan Africa would be considered "red countries" from which foreign nationals are barred from traveling to Israel. Israelis are prohibited from visiting those countries and those returning from them must undergo a period of isolation.
The Israeli military will work to locate all individuals who have been to red countries within the past week and instruct them to go into isolation while testing is carried out, it said.
With the Australian military now hunting down and forcibly vaccinating indigenous people (Aborigines), the world's terrorist governments are ramping up their final assault on humanity, and this coordinated "Nu variant" media hysteria campaign is designed to drive to much fear into the minds of world citizens that they will go along with full-blown tyranny and genocide.
Will you comply if the media terrorizes you enough?
As I explain in today's short Situation Update podcast, this is all a campaign to try to achieve global compliance with government tyranny. The media are all acting as journo-terrorists, pushing mass hysteria to drive people into compliance (and more vaccines). Big Pharma is drooling over the potential new profits from a whole new wave of vaccines, which will of course set off more mutations and lead to yet more variants in 2022 and beyond.
The entire thing is a rigged criminal scam rooted in fraud and evil. This will never end by complying with it. The people of the world must peacefully rise up and stand strong against the fear campaigns, the bioterrorism and government-run genocide.
The reason this "scariant" was just released in a coordinated media fear campaign, of course, is because humanity is waking up and learning to resist covid tyranny. So the globalists are doubling down on their attacks against humanity, defrosting more bioweapons from Fauci's freezer collection while pounding the psyche of the population with relentless media fear campaigns.
The good news in all this? If you have natural immunity against covid, you're naturally immune to all the variants, too.
But the oblivious masses who already took the early covid jabs have destroyed much of their immune function, meaning they are now extremely vulnerable to any new real variant that might emerge, assuming they really exist at all.
Notice, too, how convenient the timing is with all this, where the media now has an excuse for why so many vaccinated people are dying and have compromised immune systems. It's the variant's fault!
Bottom line? If you comply, you die.
Do not comply.
Full details in today's podcast here: Brighteon.com/f13adc33-72bf-47ca-99bd-f3f85523592f
===
The Variant Confusion Game inside the Hoax
Africans advised to keep affordable Ivermectin and Hydroxychloroquine stocks ready.
By CO/VF - 26. November 2021
The WHO names Covid-19 variants with the Greek alphabet to avoid stigmatization.
Read below the given names of the computer-modelled variants:
What are the new names of existing COVID-19 variants?
The current list of COVID-19 variants includes 10 mutations, according to CNN and The Guardian.
According to CNN, the four variants of concern and their new names include:
Variant B.1.1.7, first identified in Kent, the United Kingdom, is now called alpha.
Variant B.1.351, first identified in South Africa, is now called beta.
Variant P.1, first identified in Brazil, is now called gamma.
Variant B.1.617.2, first identified in India, is now called delta.
Two other variants first identified in the U.S. have received new Greek names.
According to CNN, these include:
Variant B.1.427/429 is now called epsilon.
Variant B.1.526 is now called iota.
And now the Nu variant
Latest addition is the Variant B.1.1.529, first identified in South Africa, is now called omicron.
They're definitely not in order, or they've been changed because we have the chart!
However, of course, Snopes says this chart is a lie.
How much money did Ramaphosa get to release the new synthetic strain?
A 32-Mutations Coronavirus Variant Detected in South Africa
"The variant surprised us. It has a huge evolutionary leap and more mutations than we expected... Potentially, this variant could spread very quickly," KRISP scientist Oliveira said.
On Thursday, South African scientists confirmed the detection of B.1.1.529, a new variant of coronavirus having 32 spike protein mutations whose effects have yet to be studied.
The new strain presents a very unusual constellation of mutations but their "meaning is still uncertain," said Tulio de Oliveira, a professor at the Kwazulu-Natal Research Innovation and Sequencing Platform (KRISP).
The National Institute of Infectious Diseases of South Africa reported that confirmed cases of this variant have been recorded in South Africa, Hong Kong, and Botswana so far. The B.1.1.529 strain presents 32 mutations, some of which are cause for concern due to their possible impact on transmissibility and their potential ability to evade previous immunity or protection.
"The variant surprised us. It has a huge evolutionary leap... Potentially, it could spread very quickly," Oliveira said, explaining that the new strain caused a significant increase in COVID-19 cases in Gauteng, the province where Johannesburg and Pretoria are located.
The detection of this new variant, however, has been done "very, very early," which will make it easier to control its expansion. The discovery of this variant occurred on Nov. 23 from samples taken in Johannesburg and Pretoria between November 14 and 16, as reported Health Minister Joe Phaahla.
To date, South Africa has recorded 2.95 million COVID-19 cases and nearly 90,000 related deaths. Previously, South Africans suffered both the expansion of the Beta variant between late 2020 and early 2021, and the spread of the Delta variant in mid-2021. All these variants emerged in this African country.
On Friday, the World Health Organization (WHO) baptized the new variant with the Greek letter OMICRON to hype up the hype and the development seems to be ahead of the plandemic schedule.
Researchers from the Network for Genomic Surveillance in South Africa said current PCR tests were able to detect the variant, which has also been found in Botswana and Hong Kong in people who traveled from South Africa.
South Africa was the first country to detect the beta variant last year, one of only four labeled "variants of concern" by the WHO over evidence those particular variants are more contagious and that vaccines are less effective against them.
Vaccine hesitancy in South Africa
South Africa has the highest pandemic numbers in Africa, recording 2.95 million cases since the start of the pandemic, of which 89,657 have been fatal.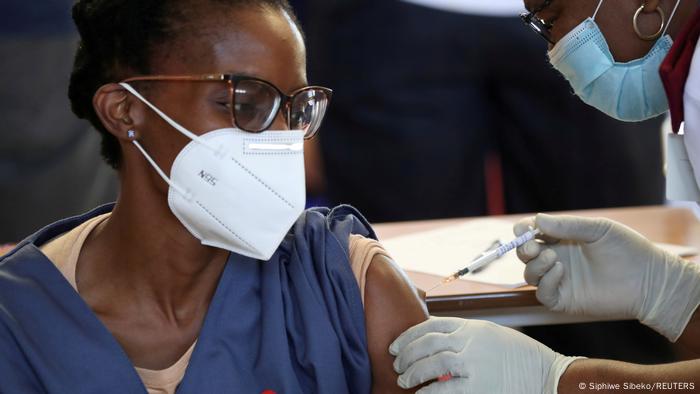 South Africa is not reaching it's target of 250,000 injections a day
More than 25 million doses have been administered but only 35.2% of the adult population is "fully vaccinated".
Earlier in the week, health authorities asked Johnson&Johnson to suspend delivery of the company's COVID-19 vials as it now has enough stock.
Phaahla said the number of people getting injected is dropping and that they are not reaching the target of 250,000 jabs a day. South Africans seem to have wisened up and realize it's a pademic of th "vaccinated".
HOW THE HYPE IS SOLD TO THE WORLD
New COVID variant sparks international alarm
The World Health Organization has held talks about the new COVID-19 variant found in South Africa. Concern over the variant has prompted several countries to suspend and limit flights from the region.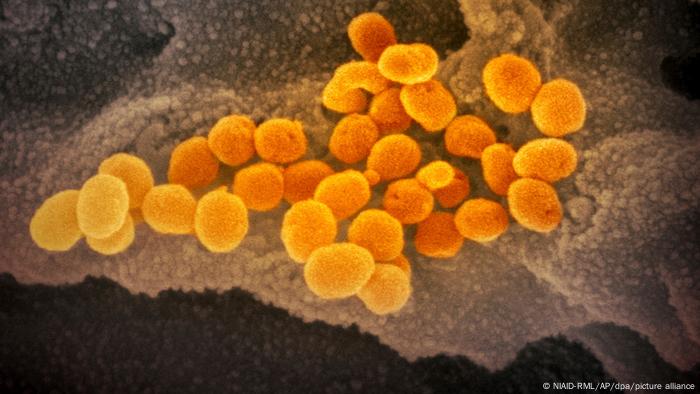 FAKE PICTURES ARE HANDED OUT TO THE MAINSTREAM MEDIA BY THE USA TOGETHER WITH THE HYPE-REPORTS
Scientists have said it will take a few weeks until they know more about the new COVID-19 variant
Officials have sounded the alarm over new variant first detected in South Africa
The WHO held emergency talks Friday regarding the new variant, decides naming it 'omicron'
First confirmed case in Europe detected in Belgium
Countries around the world race to shut down air traffic from South Africa
What do we know about the variant?
The new B.1.1.529 variant was first discovered on November 11, 2021 in Botswana, a country just north of South Africa, in travellers ftom South Africa. Since then, it has been detected in South Africa, mostly in the province of Gauteng, which includes Johannesburg and Pretoria, where the incidence rates are currently about 1,200.
After an emergency meeting on Friday, the World Health Organization classified the new variant as a 'variant of concern,' and gave it the name omicron.
B.1.1.529 has multiple mutations that could help it evade the body's immune response and make it more transmissible, South African scientists said on Thursday.
Dr Ulrich Elling, a molecular biologist at the Institute of Molecular Biotechnology in Vienna — a laboratory that specializes in sequencing the coronavirus and detecting new variants — said the first estimates indicate the new variant "might be 500% more infectious than delta." But that means only that natural community immunity (often derogatorily called "herd" immunity) can achieved faster.
"Delta was about 60% more infectious than alpha, so the spread that we will see around the globe is going to be much faster than we saw it for delta."
While the delta variant has eight mutations and the beta variant has three, the B.1.1.529 variant has at least 32 spike protein mutations. Specialist had warned since long to NOT 'vaccinate' during the spreaing phase of a pathogen.
Wolfgang Preiser, the head of Medical Virology at Stellenbosch University, South Africa, told DW that the new virus may evade the immune system, which "means it can infect people who've been infected before and recovered."
Younger people appear to be contracting and spreading the newly identified variant, but the coming weeks will be key in determining how severe the variant is, scientists have said.
Long queues at Amsterdam airport as flights arrive from South Africa
Around 600 passengers arriving in Amsterdam on two flights from South Africa on Friday faced hours of delay at the airport as they waited for their COVID test results.
The Dutch government banned all air travel from South Africa and several surrounding countries early on Friday, adding that all passengers in the air would have to undergo testing and wait for their results before being allowed to enter Amsterdam.
If they tested positive for the virus, passengers would have to quarantine at a hotel and await another round of testing.
While passengers tweeted they were kept waiting for hours on the tarmac, airport authorities said processes had to be conducted carefully and that this took time.
European Union temporarily suspends travel from South Africa
All 27 European member states on Friday agreed to temporarily suspend travel from seven southern African nations over the outbreak of the new variant, according to the Slovenian EU presidency.
The decision came after the European Commission proposed activating the so-called "emergency brake" for the bloc's shared coronavirus travel rules.
Germany declared South Africa as a "virus variant area" and said airlines would only be allowed to bring in German nationals from the country. Others like Denmark and Greece suspended non-essential travel.
European Commission President calls for flight ban from variant locations
At a press conference in Brussels, European Commission President Ursula von der Leyen said air travel to countries where the new coronavirus variant was detected should be suspended until there is a better understanding of the new variant.
Contracts with vaccine manufacturers state the vaccine must be adapted immediately to new variants as they emerge, she said.
Earlier Friday, Belgian virologists confirmed a case of the variant had been detected in a traveler returning from Egypt earlier this month.
Belgium: First European country to announce case of variant
Belgium has become the first European country to confirm the presence of the new variant.
Belgian health minster Frank Vandenbroucke said, "We have one case of this variant that is confirmed. It's someone who came from abroad."
Marc Van Ranst, a virologist who works closely with Belgian public health officials, wrote on Twitter the case was in a traveler to Egypt who returned to Belgium on November 11. They first developed symptoms on November 22.
US restricts travel from eight southern African countries
The United States is going to restrict entry to travelers from eight southern African countries amid concerns over the new coronavirus variant, President Joe Biden said Friday.
Biden added his administration was not considering new vaccine mandates since they didn't know very much about the variant yet.
"We don't know a lot about the variant except that is of great concern," Biden told reporters.
"I decided that we are going to be cautious," Biden added.
The travel restrictions do not apply to US citizens and go into effect on Monday.
Fauci: US health officials in touch with South Africa
Dr. Anthony Fauci, the top US infectious disease official, said Friday that US public health officials were in contact with South African scientists regarding the new variant detected earlier in the week.
Fauci told CNN there was no indication yet that the new variant was in the US nor was it clear whether existing vaccines offered protection against the new variant.
US officials have not yet opted to restrict travel from South Africa or elsewhere amid concerns over the new variant.
Israel expands travel ban
Israel imposed a travel ban covering most of the African continent on Friday — expanding a ban that had previously applied to seven southern African nations. Only North African countries are exempt from the ban, while all others have been added to Israel's high-risk "red list." Israelis have been barred from traveling to the countries on the list, while foreign nationals from the affected countries are barred from entering Israel.
Returning Israelis will be required to quarantine. The country has also logged its first case of the new variant in a vaccinated traveler who arrived from Malawi. Two other people suspected of having the variant are also in quarantine.
BioNTech-Pfizer need two weeks to assess new variant's impact
German pharmaceutical company BioNTech said Friday it would need two weeks at most to assess how well its coronavirus vaccine holds up against the new variant.
"We expect more data from the laboratory tests in two weeks at the latest," a BioNTech spokesperson said in a statement. The company will assess whether the variant "may require an adjustment of our vaccine if the variant spreads globally."
Vaccine developers keep close tabs
The European Medicines Agency, the EU's regulator for medicinal products, said it was closely monitoring the situation. It added it was too soon to know whether vaccines had to be upgraded to curb the spread of omicron.
AstraZeneca said in a statement it was hopeful that its antibody cocktail against COVID would retain efficacy against the new variant.
AstraZeneca added it was conducting research in Botswana and Eswatini to collect data.
US giant Johnson & Johnson also said it was monitoring the spread of the new variant.
WHO advises risk-based, scientific approach to travel restrictions
The World Health Organization has cautioned against the hasty implementation of new travel restrictions due to the emergence of the B.1.1.529 variant, and urged instead a "risk-based and scientific approach."
WHO spokesman Christian Lindmeier told a press conference in Geneva: "At this point, implementing travel restrictions is being cautioned against."
At a meeting Friday, experts will discuss whether to classify the variant as one "of interest" or "of concern." It will take scientists a few weeks to learn more about the variant.
South African president's office convenes council to assess developments
In a series of tweets Friday, the office of President Cyril Ramaphosa announced he is convening the National Coronavirus Command Council (NCCC) on Sunday to assess developments, including scientific ones regarding the new variant.
Ramaphosa called on citizens to protect themselves against COVID-19 while scientists work to determine what they can learn about the new variant.
"The outcome of the NCCC discussions and further consultations will be communicated in the coming days," his office tweeted.
Nicholas Crisp, a senior official at South Africa's health department, told a media briefing that the WHO may promote the new variant as a 'variant of concern.' Crisp said they were trying to get more information on what took place at the emergency WHO meeting.
Germany 'very concerned'
Germany's health minister and the director of federal agency for disease control and prevention, the Robert Koch Institute (RKI), were asked about the B1.1.529 variant during their weekly press briefing on Friday.
Health Minister Jens Spahn told reporters in Berlin that the "high number of mutations" noted were "at least cause for preliminary concern," even if tests were ongoing to determine how transmissible it is, or how resistant the variant was to vaccines.
Spahn described the German decision to impose travel restrictions on South Africa and some other countries in the region, with an exact list yet to be decided, as a "necessary, proactive, preventive protective measure."
RKI director Lothar Wieler said some genome mutations appeared to "suggest that there could be a higher rate of transmission."
"And there are other mutations where it's not yet clear what they mean biologically. That means we really are very concerned," he said.
Spahn was also asked about people who had recently returned to Germany from South Africa. Legally, he said, the new restrictions could only apply once imposed. However, he appealed to anyone who had recently returned from southern Africa, even if it was 10 or 20 days ago, to isolate themselves and to "take a test — and preferably a PCR test."
Markets down across the board on variant news
Europe's main equity markets were down at least 3% in afternoon trading following sharp falls in Asia.
Germany's DAX fell by 2.93% and UK's FTSE 100 fell to 3.08%, its lowest in more than a month.
The Dow Jones Industrial Average slumped 2.2% at the open of a shortened trading day Friday, after Americans celebrated Thanksgiving holiday.
Oil fell below $80 (€71) per barrel.
Bitcoin also tumbled 7.8% to $54,337, its lowest since October 12. The second largest cryptocurrency by market capitalization, Ether, tumbled 11.6%.
Investors dashed to the relative safety of the Japanese yen and the Swiss franc. Gold also rose 0.7% on Friday.
Roland Kaloyan, the head of European equity strategy at Societe Generale, told Reuters: "We don't know so much about this variant yet but if it's serious, it could change the macro scenarios altogether."
Israel finds case of variant
Israel's Health Ministry said it had detected its first case of the new variant in a person returning from Malawi.
In a statement on Friday, the ministry said the individual and two other people with suspected cases of the variant were all in quarantine. All three were fully vaccinated.
Prime Minister Naftali Bennett held consultations with health experts Friday regarding the variant.
"During the night I was informed that there is one verified case here in Israel, and this is disturbing," he said.
On Thursday, authorities announced travel to southern Africa from Israel was banned for citizens. Foreign nationals from the region would be denied entry.
"We are currently on the verge of a state of emergency," Bennett said.
Officials sound the alarm
Scientists are studying the variant that was first detected in South Africa earlier in the week. The National Institute for Communicable Diseases in South Africa said 22 cases of the new B.1.1.529 variant, as it is known, had been detected in the country but that it expected more cases as genomic analysis is ongoing.
The WHO's COVID-19 technical lead Maria Van Kerkhove said there are currently fewer than 100 whole genome sequences of the variant available. She said it would take a few more weeks of scientific work to determine whether the variant would be considered a "variant of interest" or a "variant of concern."
"Everybody that's out there needs to understand that the more this virus circulates, the more opportunities the virus has to change, the more mutations we will see," she said.
The UK Health Security Agency has reported that the new variant has also been detected in Botswana and Hong Kong. Germany's Health Ministry has moved to declare South Africa a virus variant area.
WHO convenes emergency talks
The WHO has convened an emergency meeting set for early Friday afternoon to discuss the new variant.
Scientists are concerned about the high number of mutations within the variant and worry it could be resistant to vaccines and more easily passed on to others.
Friday's working group meeting determined to officially label the variant "of concern," a distinction only four variants to date have received.
Countries move to close air traffic from southern Africa
Countries in Asia and Europe including Germany, the Czech Republic, Italy and the UK, quickly imposed restrictions Friday after the emergence of a potentially vaccine-resistant COVID-19 variant was detected in South Africa.
The EU has moved to halt air travel from the entire southern African region amid concerns over the newly detected South African variant, said European Commission President Ursula von der Leyen.
She said the Commission will propose "to activate the emergency brake to stop air travel from the southern African region" due to the emergence of the new variant.
(- with hype from DW, AFP, AP, dpa, Reuters) - The mainstream media hype had been very well prepared this time.
===
Vaccinated dying at twice rate of unvaccinated in U.K.
Government data consistent with trend in other countries
By Art Moore - 23. November 2021
Vaccinated people under age 60 are dying from all causes at twice the rate of the unvaccinated in the United Kingdom, according to data compiled by the British government.
"I don't know how to explain this other than vaccine-caused mortality," wrote former New York Times reporter Alex Berenson on his Substack page.
Berenson, the author of a series of books on government response to the pandemic, noted the most recent rate of death per 100,000 people for the unvaccinated in Britain is 0.9% while the rate for the vaccinated is 2.2%.
Recent data in several countries show the rate of infection and transmission among COVID-19 vaccinated individuals is increasing, noted Günter Kampf, a professor of medicine at the University of Greifswald in Germany, in the medical journal The Lancet Regional Health – Europe.
TRENDING: So it begins: FBI raids home of mom who protested school board
He recalled that high COVID-19 vaccination rates "were expected to reduce transmission of SARS-CoV-2 in populations by reducing the number of possible sources for transmission and thereby to reduce the burden of COVID-19 disease."
"Many decision-makers assume that the vaccinated can be excluded as a source of transmission," he writes. "It appears to be grossly negligent to ignore the vaccinated population as a possible and relevant source of transmission when deciding about public health control measures."
In his home country of Germany, the rate of symptomatic COVID-19 cases among the fully vaccinated has been reported weekly since July 21. Initially the rate of "breakthrough" cases was 16.9% among patients of 60 years and older.
But by Oct. 27, it had reached 58.9%, Kampf wrote, "providing clear evidence of the increasing relevance of the fully vaccinated as a possible source of transmission."
Similarly, in the U.K., which also has kept weekly figures, at one point recently the COVID-19 case rate per 100,000 was higher among the vaccinated than the unvaccinated in all age groups of 30 years or more.
The professor also pointed to a recent long-term study in the U.K. that found the rate of transmission in households that were fully vaccinated was statistically the same as unvaccinated households. It found a rate of 23% among the unvaccinated compared to 25% among the vaccinated.
In Israel, Kampf wrote, a fully vaccinated person was determined to be the source of a clinic outbreak in which 16 health-care workers, 23 patients and two family members were infected. Fourteen fully vaccinated patients became severely ill or died. There were two unvaccinated patients, and they developed only mild disease.
Finally, the German medical researcher pointed out that the U.S. Centers for Disease Control identifies four of the top five U.S. counties with the highest percentage of the population fully vaccinated (99.9–84.3%) as "high" transmission counties.
In Canada, the government's chief health minister, Theresa Tam, confirmed that people who have been fully vaccinated have viral loads similar to the unvaccinated, meaning they can transmit the virus.
Author:
EDITOR'S NOTE: Last year, America's doctors, nurses and paramedics were celebrated as frontline heroes battling a fearsome new pandemic. Today, under Joe Biden, tens of thousands of these same heroes are denounced as rebels, conspiracy theorists, extremists and potential terrorists. Along with massive numbers of police, firemen, Border Patrol agents, Navy SEALs, pilots, air-traffic controllers, and countless other truly essential Americans, they're all considered so dangerous as to merit termination, their professional and personal lives turned upside down due to their decision not to be injected with the experimental COVID vaccines. Biden's tyrannical mandate threatens to cripple American society – from law enforcement to airlines to commercial supply chains to hospitals. It's already happening. But the good news is that huge numbers of "yesterday's heroes" are now fighting back – bravely and boldly. The whole epic showdown is laid out as never before in the sensational October issue of WND's monthly Whistleblower magazine, titled "THE GREAT AMERICAN REBELLION: 'We will not comply!' COVID-19 power grab ignites bold new era of national defiance."
Content created by the WND News Center is available for re-publication without charge to any eligible news publisher that can provide a large audience.
===
Kenya should educate, not coerce, to boost vaccine rates: Amnesty International
As of Dec. 21, Kenyan state facilities are due to start a 'no jab, no service' policy
By Andrew Wasike - 22. November 2021
NAIROBI, Kenya - As Kenya prepares to bar unvaccinated people from accessing in-person government services, Amnesty International on Monday urged officials to educate the public on the benefits of COVID-19 vaccines rather than using coercion.
In a statement, Amnesty urged Kenya to accelerate education about jabs and dispel misinformation as a way to boost vaccination rates.
Irungu Houghton, executive director of Amnesty International Kenya, said Kenya should not deny its people's fundamental constitutional rights and freedoms if they are unvaccinated.
"While there are legitimate health reasons for as many people as possible to be vaccinated, these reasons should not deprive a person of their right to work, essential services including education, health, and security, and their freedom of movement," he said.
Amnesty said that it would be unrealistic for Kenya's vaccination figures to jump from 8.8% to 60% within a month as the government is on record as stating that it currently only has enough vaccine for 15% of the population and requires more human resources to reach all Kenyans.
Kenya on Sunday said that as of Dec. 21, state facilities would apply a "no jab, no service" policy.
Health Minister Mutahi Kagwe on Sunday warned that those who will not have been vaccinated will be denied in-person services at government facilities, and that the policy will soon extend to transport and hospitality in hotels and tourism.
On Monday data said nearly 6.4 million vaccines had so far been administered across the country. Of these, 3.99 million were partially vaccinated while 2.41 million were fully vaccinated.
Eighteen people tested positive for the disease on Monday from a sample size of 3,982 tested in the last 24 hours.
Total confirmed positive cases are now 254,728 and cumulative tests so far conducted are over 2.8 million.
===
===
PROLOGUE: The economic hitmen of the WorldBank, the IMF and China-guided WHO coerced Kenyan leadership to follow the LOCKSTEP playbook of the WEF-imposed "Greät Reset", which created havoc, economic decline and a division of society in all countries where the plan of the plandemic has been imposed.
Kenyan Health Minister Kagwe: No Covid-19 vaccine, no service
By Aggrey Omboki - 22. November 2021
Kenyans will now be required to provide proof of vaccination before they can access in-person services at government offices.
The directive takes effect from December 21, 2021.
During a media briefing held on November 21, 2021, Ministry of Health Cabinet Secretary Mutahi Kagwe said the move was necessary to reduce the risk of COVID-19 spread.
According to the CS, the directive covers prison visits, public transport, hotels and restaurants with a sitting capacity of more than 50 people, appointments at the National Transport Safety Authority (NTSA) and visits to the port.
He defended the move from criticism as a step towards mandatory vaccination, saying getting the shot was still an individual choice.
"No one is forcing anyone to get the jab," said the CS.
He also said the ministry is expecting the possibility of some aggrieved Kenyans heading to court to challenge the directive, terming it a usual habit.
"We know that some people may go to court to challenge the directive, but it is to be expected. That is Kenya for you," he said.
The CS said while it was the right of Kenyans to go to court to challenge the move, there was no legal obligation for anyone to accommodate unvaccinated persons within their workspaces.
"It is not illegal for anyone to go to court and challenge the directive.
But there is no law that says that anyone should accommodate unvaccinated people who will endanger their lives," said Mr Kagwe.
He also reminded anti-vaccination proponents that the Public Health Act is still in force, adding that the move was legally mandated.
At the same briefing, he also announced that Kenya has now allowed teens aged between 15 and 18 to receive COVID-19 vaccination.
This means that Kenyans within that age bracket can get the Pfizer vaccine.
The government has however clarified that the Pfizer jab is the only one so far cleared for administration to that age group.
While making the announcement, CS Kagwe said the clearance was part of the country's efforts to vaccinate some 30 million people by the end of next year.
The Pfizer jab, which has been approved for emergency use by the World Health Organization (WHO), the US Food and Drug Administration (FDA), has also been approved for emergency use covering people aged 15 years and above in the country by the Pharmacy and Poisons Board (PPB).
Sunday's announcement marks a significant advance in the journey to vaccinate a projected 30 million people by the end of 2022.
CS Kagwe confirmed the move, saying the PPB had cleared the jab for use among people aged 12 and above.
"Pharmacy and Poisons Board has reviewed and given emergency use authorization for the administration of Pfizer vaccines for all persons 12 years of age and above as recommended by WHO," said the CS Kagwe.
He further revealed that the country was expecting an additional 4 million Pfizer vaccine doses targeting the younger population. This age-group is comprised of 5.7 million citizens.
"We are expecting 4 million doses of this vaccine which will be administered to the teenagers," he added
So far, Kenya has received 10.7 million doses of assorted vaccines.
As the vaccination program proceeds, the country is still set to receive 8 million more doses in the coming weeks.
The program, he says, will also require the country's younger population to get vaccinated.
"This means that beyond our adult population, we must also vaccinate the young people who in most cases, though not bearing the burden of the disease, are the main carriers and therefore spreaders of the virus," the CS told the media.
He added that inclusion of teenagers in the vaccination schedule would reduce their chances of getting infected and spreading the highly contagious viral disease to others.
"As such, it is important to get them vaccinated to reduce their chances of transmitting the virus," he said.
As at November 20, 2021, Kenya has administered a total of 6,388,427 COVID-19 vaccines.
A total of 3,986,501 Kenyans have been partially vaccinated while 2,401,926 are fully vaccinated.
The ministry of health expects to fully vaccinate some 10 million adults by the end of 2021.
The process has however been hampered by vaccine hesitancy that has been fuelled by misinformation, conspiracy theories on the intention of the vaccination program, religious beliefs and superstitions.
So far, the Astra Zeneca, Pfizer and Johnson and Johnson vaccines are locally available for free at designated public health facilities.
If you wish to get vaccinated, log on to the ministry of health at the htpps/portal.health.go.ke and once your details are confirmed, the ministry will book your vaccination appointment.
===
===
NO COVID JAB, NO SERVICE – NYSC, Nigeria
21. November 2021
National Youth Service Corps (NYSC) has said that the 2021 Batch 'C' Stream II service year will begin on Wednesday, November 24 with corps members required to be vaccinated against Covid-19.
Director, Press and Public Relations of NYSC, Mrs Adenike Adeyemi, said in conformity with the directive of the Presidential Steering Committee on COVID-19, corps members would, from Dec. 1, show evidence of vaccination.
"Federal civil servants including corps members will be required to show evidence of COVID-19 vaccination before they are allowed access into offices and orientation camps from Dec. 1," Adeyemi said in a statement.
"Please note that presentation of forged COVID-19 vaccination certificate is a criminal offence."
According to the NYSC spokesperson, Prospective Corps Members (PCMs) mobilized for the service year must present themselves for the COVID-19 test at the camp before registration.
She said: "Successfully registered PCMs will be sworn-in on Tuesday, Nov. 30. The mandatory orientation course will hold till Tuesday, Dec. 14.
"PCMs are to fill the COVID-19 Rapid Diagnostic Test self-reprinting form and print verification slip to be presented in camp for COVID-19 test.
"We have partnered with the National Centre for Disease Control and state health agencies to ensure COVID-19-free orientation camps," the statement read.
It added that PCMs must report to camp only on the dates indicated in their call-up letters to ensure that the observance of COVID-19 protocols was maintained.
The statement said that all PCMs were expected to report to camp with adequate face masks and personal pocket-size hand sanitizer.
MOST CORPS MEMBER ARE DRUG ADDICTS – NYSC LAMENTS
The National Youths Service Corps, NYSC, has expressed worry over the high rate of drug abuse and addiction among Corps members in the country.
The NYSC Coordinator in Ondo State, Mrs Victoria Ani lamented that the situation calls for concern following the huge numbers of Corps members taking illicit drugs.
Speaking in Akure, at the 2021 Corps members, employers workshop on Wednesday, Mrs Ani emphasised that the Corps will not relent in sensitizing Corpers on the dangers of hard drugs.
Stakeholders at the workshop with the theme 'Optimizing the NYSC/ Corps Employers Partnership for National Development in the context of the New Normal had lamented that many corps members deployed to their establishments for Places of Primary Assignment, PPA, engaged in various acts of drug abuse and smoking of Indian Hemp.
She urged employers of corps members to assist in rehabilitating them rather than rejecting such corps members, saying "For the Corps members that take weeds, I need to let you know that NYSC is doing so much. Many of our children (Corps members) are drug addicts.
"I am talking out of experience. In this our very last orientation, we had one that was suffering from withdrawal syndrome. We were managing this boy and he was eagerly wanting to take more.
"I never knew that this TomTom, when you put it inside coca-cola, will make you high. I never knew that when they hold Lacaserra, you will think it is Lacaserra. Even Known seasoning cubes that you and me use in cooking. These children will put it inside Lacassera, drink it and they are high.
Mrs Ani added that "Another female corps member brought over one hundred tablets of Diazepam drugs to the camp. So the issue of drug abuse is getting alarming. Some will wake up at midnight and be shouting, they will refuse to close their mouths till daybreak, disturbing others.
"So when you have such in your employment, please, let them become your own children, help them because so many of them are into drugs, that is the truth."
===
===
PROLOGUE: Since the mayor and the police meanwhile declared that they have no knowledge that any suicide note or last letter would exist, the possibility of a murder can not be ruled out.
Germany | Dr Thomas Jendges Head of Clinic, Commits Suicide?
By DK - #genocide #pandemic #covid19 #covidvaccine #genocide #pandemic #covid19 #covidvaccine
About Covid 'vaccines' he allegedly wrote in a letter to his employer:
These are "bio-warfare agents".
It is also said that he had described the vaccinations in his letter as ''genocide and a crime against humanity", but that has been disputed.
Fact is that the Head of the Chemnitz Clinic in Germany, Dr Thomas Jendges, plunged from the rooftop of his clinic. If he was saying he no longer wants to be part of the Genocide happening vis the COVID-19 Vaccine, is subject of an investigation.
If the Chief of a Clinic in Chemnitz, Germany was not murdered he obviously committed suicide. In a letter allegedly found on the scene, he reportedly explains that he can no longer be part of the Genocide, but the police would not confirm this.
On Tuesday, Dr Thomas Jendges, Head of the Chemnitz Clinic, committed suicide by jumping from the top of the clinic's building in Flemmingstrasse, Germany, according to Bild. He was 55 years old.
The Doctor died on the spot from his injuries. Jendges had only been appointed sole managing Director of the Chemnitz Clinic since October 1st 2021. Since April, he was acting as Managing Director of East Germany's largest municipal hospital.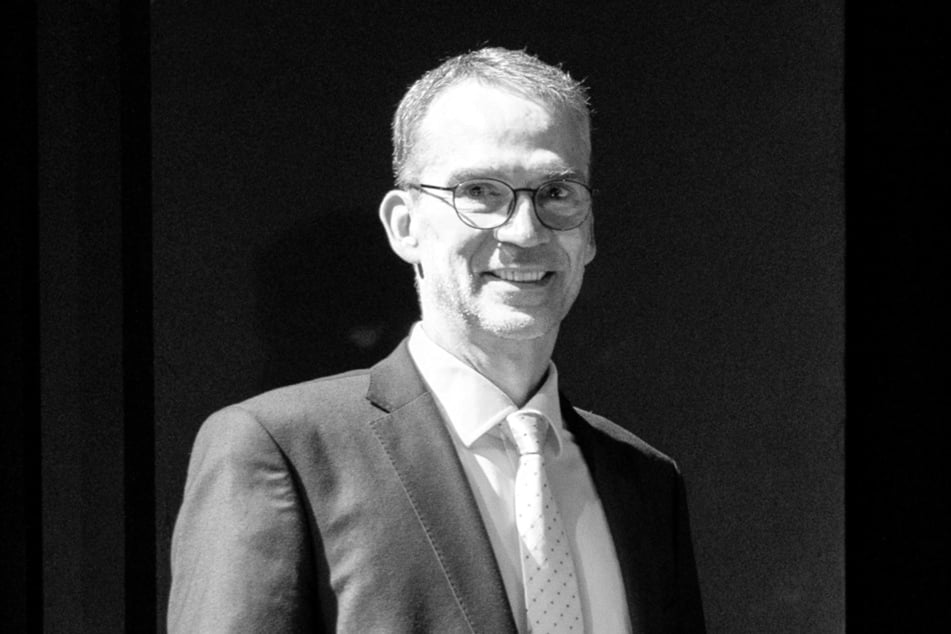 Dr. Thomas Jendges (55) was since 1. Oktober 2021 the sole CEO of the 'Chemnitzer Klinikum'. © Klinikum Chemnitz/Lili Hofmann
Jendges leaves behind a wife and a son.
Reports of a letter that the deceased left behind are circulating on the Internet. Jendges allegedly killed himself to set an example against the corona vaccinations. These are "bio-warfare agents", so it is said in the Internet postings. He is also said to have described the vaccine in his letter as "genocide and a crime against humanity", according to Tag24.
According to Las repúblicas, in the lengthy farewell letter Dr. Thomas Jendges wrote before his suicide and demanded its publication, he is said to have harshly criticized the information policy of governments in dealing with the dangers of Covid vaccines. The constant lies to the patients and the vaccinated ,and the deceit that the vaccines are supposedly harmless, he could no longer bear, is allegedly said in the letter.

He reportedly condemned vaccinating the population with experimental and lethal vaccines against Covid-19, which is in fact more of a biological warfare agent created and manipulated for that use, than for any other known utility. For Dr. Thomas Jendges a genocide and a crime against humanity is taking place, according to the German press such as the Bild newspaper.

Because the mayor threatened to fire him if he no longer stayed in the submissive line imposed by government order and refused to vaccinate patients at the clinic, there were presumably no more options for Jendges. This director has not wanted to support a crime of the federal government, the state government and their faithful henchmen. So he considered that his suicide was the only way to oppose, is speculated by articles on numerous wesites.
Sven Schulze explained on Tuesday afternoon, on the city's website that the Chemnitz Clinic, despite the tragic death of Dr. Thomas Jendges, is still able to function. Schulze: "The expanded management team will be in charge of business in the coming days."
"It is with great dismay that I have just learned of the tragic death of Dr. Thomas Jendges' experience. Last night (Monday, ed) we talked at length about the difficult situation of the crown ", said the mayor of Chemnitz Sven Schulze (50, SPD) on Tuesday morning.
There are some details of the farewell letter that are currently in circulation. Although Dr. Jendges had allegedly ordered that his entire suicide letter be published, the mayor of Chemnitz, Sven Schulze of the SPD denies this. Apparently he continues to prevent this publication, saying such letter would not exist. Numerous groups have formed in various fora demanding that Schulze abandons his blocking attitude and finally respects Jendges' last wish.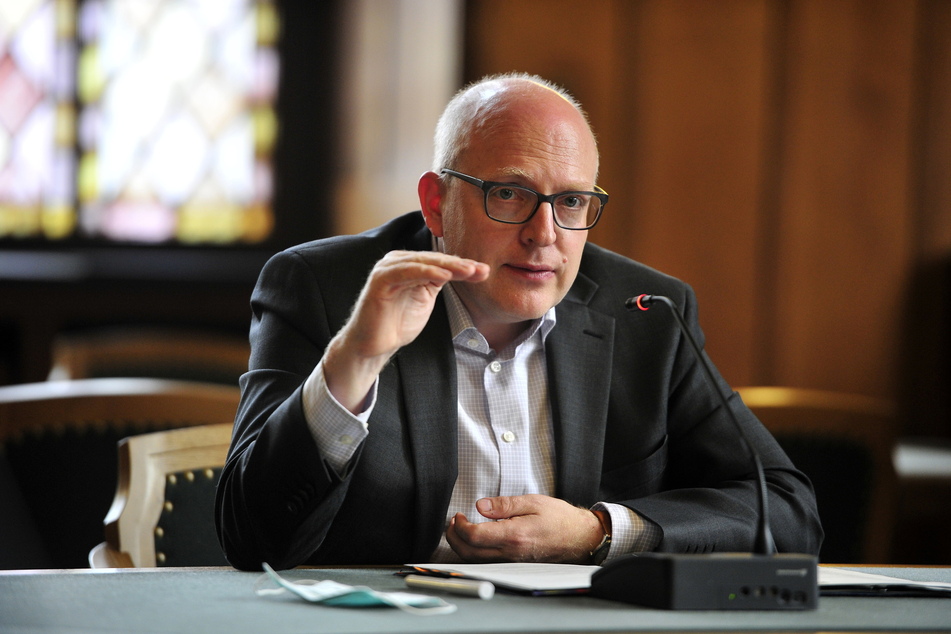 Oberbürgermeister (mayor) Sven Schulze (50, SPD) © Sven Gleisberg
Deleted on GooTube
BACKUP of the Video:
CAVEAT:
This is not Dr Thomas Jendges (who allegedly committed suicide) in the video. It is Dr. Guido Hofmann. They look similar.

Dr. Guido Hofmann
https://rairfoundation.com/dr-guido-hofmann-coronavirus-is-an-introduction-to-a-worldwide-dictatorship/

Dr Thomas Jendges
https://stessnews.online/2021/11/17/germany-dr-thomas-jendges-head-of-clinic-commits-suicide-covid-19-vaccine-is-a-genocide/amp/
ONE LAST MESSAGE BEFORE COMMITTING "SUICIDE"?
GERMAN WITH ENGLISH SUBTITLES)
In this video, DR GUIDO HOFMANN and NOT DR THOMAS JENDGES (CHEMNITZER CLINIC), states "It's not about a virus" and that the measures taken to combat it are "disproportionate" and akin to a "dictatorship" (his words). Note there is a translation typo and it should say 'months' not 'month'.
This comes shortly after Professional and Managing Director of the Chemnitz Clinic, Thomas Jendges, committed suicide on Tuesday the 2nd of November and whose death was announced by Lord Mayor Sven Schulze on the city's website.
Original is at https://www.redezeit.net/2021/09/18/es-geht-nicht-um-gesundheit-dr-guido-hofmann/
For clarity, Dr Guido Hofmann is thankfully alive and in good health. The last words from Thomas Jendges were in fact never published, despite claims by some german media he had similar reservations as Dr Hoffman regarding the vaccine strategy.
German Dr. Thomas Jendges was the chief of a clinic in Cheminitz, Germany, and committed suicide(???) after declaring he could no longer live with lies to civilians and patients and calling the "vaccines" genocide. Chemnitz mourns the loss of Dr. Thomas Jendges (55), message Thetruthseeker.co.uk.
Whatever the truth of the death, his courageous, truthful, honest and honorable video message STANDS!
The head of the Chemnitz hospital "fell" from the hospital building on Flemmingstrasse on Tuesday morning, November 2, 2021. He died on the spot from his serious injuries. (Making it look like suicide?)
Messages are circulating about a letter [video letter above? ed.] which the deceased presumably left behind. Jendges reportedly committed suicide to set an example against the Covid vaccinations. These are "biological warfare agents," the reports say. He is also said to have described the vaccine in his letter as "genocide and a crime against humanity."
===
🚨 AUSTRIA GOVT DECLARES FORCED INJECTIONS! UNVACCINATED WILL BE JAILED! MORE COUNTRIES TO FOLLOW
First published on BITCHUTE November 19th, 2021.
===
===
PROLOGUE: The Vaxxinated are the Contaminated Ones - but the Unvaxxed do not discriminate them! Only fascism is on the rise in Austria and Germany - history to repeat itself?
Back To The Unspeakable: Europe Locks Down 'Unclean' Unvaxxed
By Daniel McAdams - 18.November 2021
November 18, 2021 - Email Daniel McAdams
===
FDA Won't Release Information on Pfizer COVID Vaccine Trials for Another 55 Years – What Are They Hiding?
By Jim Hoft - 18.November 2021
The FDA is holding back information.
In response to a Freedom of Information Act request (FOIA) filed months ago the FDA has asked a federal judge to give them 55 years to release data related to the Pfizer COVID vaccines.
Americans are currently being forced by the regime to take this vaccine to hold a job but have no rights to see how this "vaccine" was approved.
But their grand-children may get to see the data in 55 years.
The US medical community is losing all trust and credibility.
In response to a Freedom of Information Act request (FOIA) filed over three months ago, in August of 2021, the U.S. Food and Drug Administration (FDA) has asked a federal judge for 55 years to review its data before releasing it to the public in its entirety.

The data refers to the FDA's decision to license what is now known as the Comirnaty vaccine against Covid-19, produced by Pfizer in collaboration with BioNTech. Back in November of 2020, when considering Pfizer-BioNTech's request for emergency use authorization (EUA) of its product, the FDA promised that:

"In keeping with the FDA's commitment to ensuring full transparency, dialogue and efficiency, the Vaccines and Related Biological Products Advisory Committee … will meet to discuss the totality and safety and effectiveness data provided … The FDA understands there is tremendous public interest regarding vaccines for COVID-19. We remain committed to keeping the public informed about the evaluation of the data … so that once available, the public and the medical community can have trust and confidence in receiving the vaccine for our families and ourselves."

In September of 2021, when amending its EUA to include booster doses, the FDA reiterated its commitment to transparency, writing:

"As we learn more about the safety and effectiveness of COVID-19 vaccines … we will continue to evaluate the rapidly changing science and keep the public informed…"

The FDA noted at the time that it was studying data provided not only by Pfizer-BioNTech, but also from the "Israeli Ministry of Health, the University of Bristol, U.K. and the Centers for Disease Control and Prevention [CDC]."
Author:
Jim Hoft is the founder and editor of The Gateway Pundit, one of the top conservative news outlets in America. Jim was awarded the Reed Irvine Accuracy in Media Award in 2013 and is the proud recipient of the Breitbart Award for Excellence in Online Journalism from the Americans for Prosperity Foundation in May 2016.
===
===
GIBRALTAR - Definitive proof the vax is a scam
By Jim Stone - 16. November 2021
Gibraltar is almost 100 percent triple jabbed, and they are shutting down for Christmas over an "outbreak". Also, look at Pitcairn. Pitcairn is the last place on earth anyone would ever want to be. It is a small island that was mined to oblivion for fertilizer and the landscape is wasted.
Fewer than 50 people live there. 50 people who were an isolated pocket that would never have gotten Covid, yet all are double jabbed and 12 are triple jabbed (just do the math on the numbers posted). Pitcairn proves that someone is so hell bent on wiping out humanity that they could not even leave Pitcairn alone. That right there, on this chart, is proof of how grave the situation is, and how hard "they" are going to push this shot.
===
MONTREAL HOMELESS FORCE VACCINATED ON THREAT OF ARREST
Heidi, who is homeless, tell the facts about how the 'vaccination drive' targeting the homeless in Montreal really went down.
Ottawa Senators 100% Vaccinated & 40% Covid-19 Positive
===
Thousands protest Austria's COVID lockdown for the unvaccinated | DW News
15 Nov 2021
Austria went into a new pandemic lockdown at midnight on Sunday night - but only for its unvaccinated population. It's in response to a record surge in COVID-19 cases that the government says threatens to overwhelm intensive care units. For ten days, millions of people will be required to stay at home - unless their journey is deemed essential. Crowds took to the streets of the capital, Vienna, to protest what they say is a vaccine mandate by the back door. They chanted for their freedom outside a fortified Chancellery - but under the new measures they will have to stay home. The protestors were there to make their hostility to the new lockdown heard. But in a country entering a fourth wave of the COVID pandemic - not all are opposed. Speaking on Sunday the country's Interior Minister Karl Nehammer had a stern warning to the Austrian people. 63 percent of the population have currently had both jabs, with Chancellor Alexander Schallenberg calling on those still unvaccinated to take up the offer of a shot. Those who currently haven't received two jabs will only be permitted to leave their homes for work and carry out essential tasks such as shopping and attending medical appointments. The announcement follows a record surge in COVID infections and government concerns hospitals could become overwhelmed.