UPDATE 25. November 2021: Ethiopia says PM Abiy 'at battlefront', but no evidence
UPDATE 22. November 2021: Warlord Ethiopian PM vows to lead troops in war against rebels
UPDATE 18. November 2021: USA warns pilots of weapon fire as war nears Ethiopia's capital
UPDATE 15.November 2021: A groom, a lawyer, an ambulance driver among Ethiopia's dead
UPDATE 09. November 2021: Rebels are closing in on Ethiopia's capital. Its collapse could bring regional chaos
UPDATE 08. November 2021: Biden Regime Abandons Americans in Ethiopia – "US Embassy Unlikely to be Able to Assist US Citizens – if Commercial Options Become Unavailable"
UPDATE 05.November 2021: Ethiopia 'cleared' by UN High Commissioner for Human Rights
UPDATE 04. November 2021: Ethiopia: Addis Ababa residents asked to prepare to defend their rights
UPDATE 03. November 2021: Ethiopia heads towards civil war, Tigray forces advance further south + Ethiopia faces nationwide emergency; authorities order strict measures like curfew, road closure + Why is Ethiopia at war with itself?
Prologue: As predicted, Abiy of Abyssinia (Primeminister of the fake Ethiopia - the real Ethiopia is in Sudan) used the so-called 'Peace-Prize' - set out by Alfred Nobel who made his fortune by producing gun-powders and dynamite - to blindfold the world, fool the 'Ethiopians' and make war. The former intelligence officer turned polit-actor, who had already the blood of many Oromo, their refugees and other dissidents on his hands under the former regime, added now the blood of thousands of innocent people from Tigray and of those Amhara, whom he uses as cannon-fodder. The U.S. 'Go Brandon' governance pays only lip service to the atrocities and secretly still funds Abiy Ahmed – adding to the bloodshed, because the U.S. eyes the oil- and gas-deals and the country hosts the largest U.S. drone base in the region, which the American hawks don't risk losing. The U.N. had its humanitarian staff expelled and is like always tooth-less, while the international community - incl. Germany, which provided hardware incl. arms to what they call the 'state police' of the police-state - just couldn't bother less.
The installed poster-boy of the New World Order in Ethiopia, Abiy Ahmed Ali, failed miserably and seeks now as his only way out 'martyrdom' to which he also wants to compel brainwashed Ethiopian Youth, whom he wants to follow his insane call to arms. If he survives Abiy Ahmed must be held responsible for the deaths and also personally liable for the refugee crisis he caused as burden to the international community as well as for the plight and the losses incurred by thousands of refugees, who fled into the little safety Sudan and Kenya have to offer. Abiy Ahmed must be removed as fast as possible to avert the cruel and senseless bloodshed in Ethiopia and kept in a safe lockup at the ICC - to await trial and also to prevent self-harm.
Appealing to all sides to remain calm and to do otherwise nothing is just the response needed to escalate the conflict into a regional war in the Horn of Africa. Is that what the globalist UN wants to then even further enlarge the UN army of useless 'peace'-keepers at the cost of global taxpayers? The roadmap to real peace, on the other hand, is still the true independence of the real nation states like Oromiya, Ogadenia, Amhara as well as Tigray and of the smaller First Nations, which were packed together into the so-called 'Southern Nations State', whereby each of them from a position of pacified and independent nations can then decide on and arrange for peaceful cooperation with neighbours and as sovereign states with the world. Hopefully this time the traitors in all the camps, who always and on the order of their foreign masters split their own people with the power-hungry vision of becoming the 'central government' in Addis Ababa - de facto located in Oromo territory - for all the other nations of the present-day Federal Ethiopia or being in it, will not succeed. Abiy Ahmed Ali, however, must be brought to trial for crimes against humanity, war crimes, genocide as well as ecocide in the case of the many environmental crimes he committed by ordering or not restraining his troops from burning down forests e.g. in the Bale mountains at the heart of Oromiya, the heart of the land of the Oroomo peope, and dense bush-land of the mountains in Tigray as well as elsewhere - all assumed to be 'rebel' hideouts. Meanwhile the U.S. embassy in Addis Ababa already allowed some staff to leave Ethiopia on a voluntary basis. France, Germany and Turkey have told their citizens to leave. With the kidnapping of a businessman from Tigray, who was abducted in Nairobi, Kenya, Abyi Ahmed allegedly collects now hostages as pawns for his personal safety. Joe Biden's envoy Jeffrey Feltman only poured oil into the fire of the conflict, while the peace seeking attempts of several players did not achieve anything, because Abiy Ahmed remains stubborn and doesn't want to leave the country in peace.
ICYMI: Ethiopia Declares State of Emergency as Rebels Advance Toward Capital + In Ethiopia, the Battle of Dessie opens the way for Tigrayan rebels to Addis Ababa + Objectivity concerns over UN's report on Tigray civil war + BOYCOTT ETHIOPIAN AIRLINES - Documents: Ethiopia uses its airlines to transport deadly injured and weapons to and from Eritrea + U.N. aid chief to Ethiopia on famine in Tigray: 'Get those trucks moving' + A Message from PM Abiy Ahmed as Eritrea Observes Martyrs Day
Ethiopia declares state of emergency as rebels threaten capita
By Yacob Reyes - 03. November 2021
Ethiopia declared a state of emergency on Tuesday as rival forces from the northern region of Tigray move toward the capital, per AP.
Why it matters: It's the latest escalation of a yearlong civil war that threatens to tear apart Africa's second-most populous country and has killed thousands of citizens.
The state of emergency is effective immediately and is slated to last about six months, according to AP.

Under the state of emergency, Prime Minister Abiy Ahmed can impose curfews, order citizens into military service and restrict the news media.
The big picture: President Biden announced on Tuesday that Ethiopia would be terminated from a U.S. trade program, saying that the war-torn country was in "gross violations of internationally recognized human rights."
The sanction is set to take effect on Jan. 1, and a pathway toward reinstatement will be provided to each country removed from the program.
===
===
UPDATES:
Ethiopia says PM Abiy 'at battlefront', but no evidence
By AAP Newswire - 25. November 2021
Still-PM Abiy Ahmed is down to the trust of his red-barret unit.
Ethiopia's undeserving Nobel Peace Prize-winning prime minister has gone to the battlefront to take charge in a year-long war as rival fighters approach the capital, his government says.
State media showed no images of Abiy Ahmed, a 45-year-old former spy and soldier, while his spokeswoman Billene Seyoum dismissed a request for details on his location as "incredible".
He arrived at the front on Tuesday, according to a government spokesman.
Tens of thousands of people have died in the war between Ethiopian federal and allied troops and fighters from the country's Tigray region.
The prospect of the ancient country breaking apart has alarmed both Ethiopians and observers who fear what would happen to the often turbulent Horn of Africa at large.
Countries including France, Germany and Turkey have told their citizens to leave immediately.
Abiy's trajectory from winning the Nobel just two years ago to now potentially heading into battle has shocked many.
But a move to the front would follow the tradition of Ethiopian leaders including Emperor Haile Selassie and Emperor Yohannes IV, who was killed in battle in 1889, said Christopher Clapham, a retired professor associated with the University of Cambridge.
"It strikes me as a very traditional Ethiopian exertion of leadership," Clapham said.
"It might be necessary to rescue what looks like a very faltering Ethiopian military response."
The Tigray forces, who had long dominated Ethiopia's government before Abiy came to power, appear to have the momentum.
They have approached the capital of Addis Ababa in recent weeks with the aim of strengthening their negotiating position or simply forcing the prime minster to step down.
While unusual, a leader's move to the front has occurred elsewhere in Africa but at times with deadly results: Chad's president, Idriss Deby Itno, was killed while battling rebels in April, according to the military.
"The situation is extremely dangerous," said Adem Abebe, researcher with the International Institute for Democracy and Electoral Assistance.
"If (Abiy) gets hurt or killed, it's not just the federal government that will collapse, the army will as well."
The prime minister announced earlier this week that he would go to the battlefront, saying that "this is a time when leading a country with martyrdom is needed".
The deputy prime minister is handling the government's day-to-day operations in the meantime, spokesman Legesse Tulu said Wednesday.
Abiy also invited Ethiopians to join him - the latest call for every able citizen in the country of more than 110 million people to fight.
There have been reports of hurried military trainings and allegations of forced conscription in recent months while analysts have warned that, with the military apparently weakened, ethnic-based militias are stepping up.
"He may be seriously considering becoming a martyr," said the man who nominated Abiy for the Nobel, Awol Allo, a senior lecturer in law at Keele University in the UK.
Allo said the move fits with the prime minister's view of himself and his sense that he was destined to lead.
But he also didn't rule out the possibility that Abiy may have simply left the capital for a safer location - not the front - and was directing the war from there.
US envoy Jeffrey Feltman told reporters on Tuesday that he fears that "nascent" progress in mediation efforts with the warring sides could be outpaced by the "alarming" military developments.
The war began in November 2020, when a growing political rift between the Tigray leaders and Abiy's government broke into open conflict.
The Tigray forces have said they want Abiy out, among other demands.
Abiy's government wants the Tigray forces, which it has designated as a terrorist group, to withdraw to their region as part of their conditions.
"Unless there is some kind of divine intervention, I don't see any chance for a peaceful resolution through dialogue because the positions are highly polarised," said Kassahun Berhanu, professor of political science at Addis Ababa University, who added he believed Abiy's announcement about going to the front is "aimed at boosting popular morale".
===
Warlord Ethiopian PM vows to lead troops in war against rebels
Nobel Peace prize winner Abiy Ahmed's statement came as the Tigray People's Liberation Front continued to press towards Addis Ababa
"This is a time when leading a country with martyrdom is needed," Prime Minister Abiy Ahmed said in a statement posted on social media Monday night, while rival Tigray and united opposition forces are advancing and moving closer to the capital.
By TG Staff and agencies -22. November 2021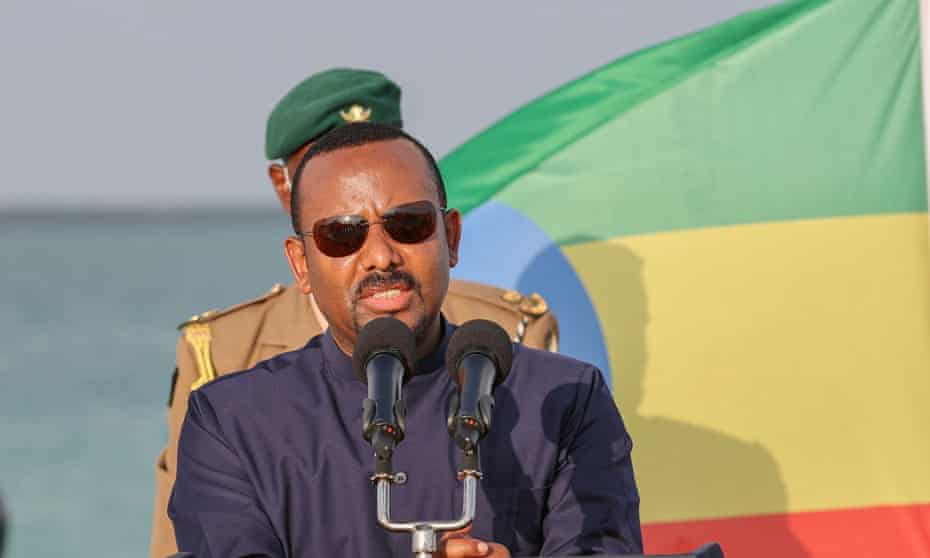 "Starting tomorrow, I will mobilise to the front to lead the defence forces," Abiy, said in a statement posted on Twitter on Monday.
"Those who want to be among the Ethiopian children who will be hailed by history, rise up for your country today. Let's meet at the front."
Abiy's statement came as the Tigray People's Liberation Front (TPLF) rebel group continued to press towards Addis Ababa, claiming control of the town of Shewa Robit, just 220km northeast of the capital by road.
Tens of thousands of people have been killed in the war between Ethiopian and allied forces and fighters from the country's northern Tigray region. A de facto blockade on Tigray has triggered a humanitarian crisis and prevented the delivery of essential medical supplies.
The US and others have warned that Africa's second-most populous country could fracture and destabilise the whole Horn of Africa.
Abiy was awarded the Nobel Peace prize in 2019 after he signed a deal to end a nearly 20-year military stalemate with Eritrea after their 1998-2000 border war.
But last November he sent troops into Ethiopia's northernmost Tigray region to topple the TPLF, saying the move came in response to TPLF attacks on army camps.
Though he promised a swift victory, by late June the TPLF had regrouped and retaken most of Tigray including its capital Mekelle, prompting the federal army to largely withdraw from the region.
Since then the TPLF has pushed into the neighbouring Afar and Amhara regions.
It has also formed an alliance with other insurgent groups including the Oromo Liberation Army (OLA), which is active in the Oromia region surrounding Addis Ababa.
Fears of a rebel advance on the capital have prompted several countries including the US and the UK to pull out non-essential diplomatic staff.
These countries are also urging their citizens to leave Ethiopia while commercial flights are still available.
In a year's time, Abiy's government has gone from describing the conflict as a "law enforcement operation" to an "existential war".
===
USA warns pilots of weapon fire as war nears Ethiopia's capital
By CARA ANNA - 18. November 2021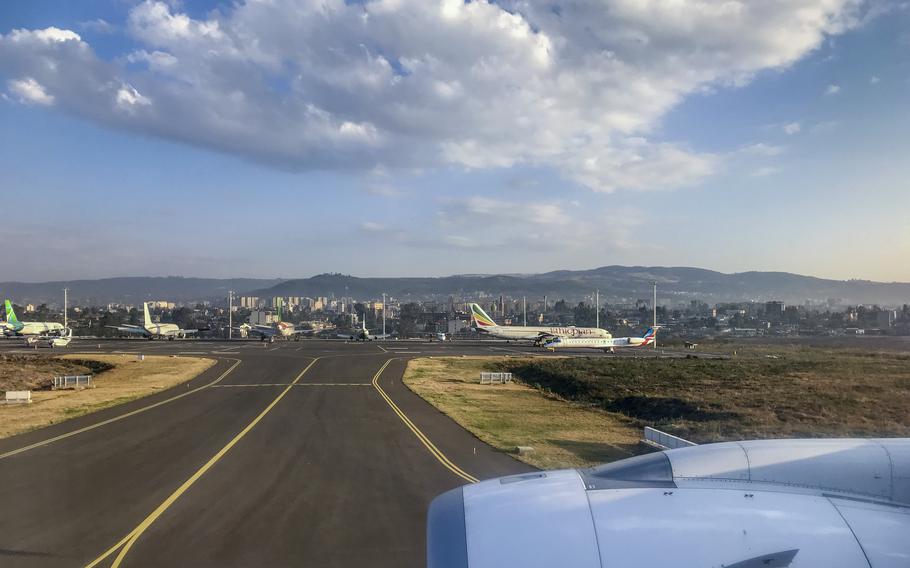 Planes sit on the tarmac at Bole International Airport in Addis Ababa, Ethiopia, on March 10, 2021. The United States Federal Aviation Administration warned pilots on Wednesday, Nov. 17, 2021 that planes operating at the airport could be "directly or indirectly exposed to ground weapons fire and/or surface-to-air fire. (Cara Anna/AP)
NAIROBI, Kenya — The United States is warning pilots that planes operating at one of Africa's busiest airports could be "directly or indirectly exposed to ground weapons fire and/or surface-to-air fire" as Ethiopia's war nears the capital, Addis Ababa.
The Federal Aviation Administration advisory issued Wednesday cites the "ongoing clashes" between Ethiopian forces and fighters from the northern Tigray region, which have killed thousands of people in a year of war. The U.S. this week urged its citizens in Ethiopia to "leave now," saying there should be no expectation of an Afghanistan-style evacuation.
Diplomatic efforts to stop the fighting have met resistance, but Kenya's president told visiting U.S. Secretary of State Antony Blinken on Wednesday that Ethiopia's prime minister in a meeting on Sunday gave the impression he was ready to consider several proposals to ease tensions and reduce violence, a senior State Department official said.
Those include opening humanitarian access to Tigray and restoring government services to the region. Such steps, combined with a ceasefire agreement, could set the stage for more comprehensive peace talks, the U.S. official said.
Diplomatic efforts by an African Union envoy, former Nigerian president Olesegun Obasanjo, and U.S. envoy Jeffrey Feltman continue. Ethiopia's Foreign Ministry spokesman, Dina Mufti, told reporters that both are in Ethiopia but didn't give details.
The Addis Ababa international airport is the hub for the state-owned Ethiopian Airlines, a symbol of Ethiopia's former status as one of the world's most rapidly growing economies before the war. The airline in recent years became Africa's largest and best-managed carrier, turning Addis Ababa into the gateway to the continent. Addis Ababa is also the continent's diplomatic capital as home of the AU.
The FAA advisory notes no reports of disruptions at Bole International Airport and "no indication of an intent to threaten civil aviation," but it says the risk to approaching and departing planes could increase if the Tigray fighters encircle the capital.
The Tigray fighters "likely possess a variety of anti-aircraft capable weapons, including rocket-propelled grenades, anti-tank weapons, low-caliber anti-aircraft artillery, and man-portable air-defense systems," or MANPADS, which could reach up to 25,000 feet above ground level, the FAA advisory says.
In an acknowledgment of Bole airport's importance for onward travel for the African continent and beyond, the U.K. Minister for Africa Vicky Ford last week told reporters that Britain now advises against all travel to Ethiopia apart from the airport for departures and transfers.
The Tigray forces who had long dominated the national government before current Prime Minister Abiy Ahmed took office in 2018 have approached Addis Ababa in recent weeks and joined up with another armed group, the Oromo Liberation Army, with the aim of pressing Abiy to step aside.
The Tigray forces also say they are pressuring Ethiopia's government to lift a months-long blockade on the Tigray region, which includes an Ethiopian government restriction on flights over Tigray. No food, medicine or other humanitarian aid has entered Tigray, a region of some 6 million people, for more than a month since Ethiopia's military resumed airstrikes there for the first time since June.
Ethiopian Airlines seized the world's attention in 2019 when the crash of a Boeing 737 Max shortly after takeoff from Addis Ababa killed 157 people. That and the earlier crash of another brand-new 737 Max off the coast of Indonesia had far-reaching consequences for the aeronautics industry as it brought about the grounding of Boeing 737 Max jets until late last year.
___
Associated Press diplomatic writer Matt Lee contributed.
===
A groom, a lawyer, an ambulance driver among Ethiopia's dead
By CARA ANNA - 15. November 2021
NAIROBI, Kenya (AP) — A groom at his wedding, a construction worker and father of four, an ambulance driver: All three are among the thousands who have died in Ethiopia's brutal year-long war that began in Tigray.
The death toll is one of the biggest unknowns of the war. But a man in the diaspora has confirmed the deaths of more than 3,000 ethnic Tigrayans, the victims of much of the violence as Ethiopian and allied forces fight Tigray ones.
On the other side, a diaspora group has confirmed close to 2,000 deaths of ethnic Amhara as Tigray forces push toward Ethiopia's capital. Experts call both tallies a small fraction of the true toll.
Here are some of their stories:
Victim Number 940: Mulugeta Girmay
The soldiers came to Mulugeta Girmay's home in Tigray while he was watching television with his wife and child. They took him away, beat him and left his body outside the police station.
Girmay Tesfay, his brother in Germany, wishes he knew more. But phone access to Tigray is often cut off and the government is accused of listening in on calls.
"My cousins say, 'We are afraid of telling you everything by phone,'" he says.
Girmay says his brother raised sheep and knew little of Ethiopia's political tensions.
Girmay was delighted when Abiy Ahmed became Ethiopia's prime minister in 2018 and introduced political reforms that led in part to his Nobel prize the following year. But the war, and Ethiopia's harsh treatment of ordinary Tigrayans, has changed Girmay's thinking.
"It's life and death," he says. "Nobody can win."
Shoes left behind belonging to Tigrayan refugees are scattered near the banks of the Tekeze River on the Sudan-Ethiopia border after Ethiopian forces blocked people from crossing into Sudan, in Hamdayet, eastern Sudan, Dec. 15, 2020. Thousands have died in Ethiopia's brutal year-long war that began in Tigray. The death toll is one of the biggest unknowns of the war. (AP Photo/Nariman El-Mofty, File)
———
Victim Number 1,599: Zeray Asfaw
Life, and love, have continued despite the war. In late January, Zeray Asfaw was celebrating his wedding in a village outside the holy city of Axum.
But Eritrean soldiers allied with the Ethiopian government came to the house where the wedding party had gathered, a friend recalls. They locked the women inside, then killed all the men, according to the friend, who spoke on condition of anonymity for fear of retaliation. The soldiers forbade the survivors to bury the bodies for three days.
The best man, construction worker Ezgineamin Legesse, was among those killed.
"He had nothing to do with politics," the friend says. "He had two kids. Hardworking. I was angry. I still hurt."
He has lost at least 10 of his own friends and five of his family to the war.
Birhan Etsana, 27, from Dengelat, uses a nasogastric tube to feed her malnourished baby, Mebrhit, who at 17 months old weighs just 5.2 kilograms (11 pounds and 7 ounces), at the Ayder Referral Hospital in Mekele, in the Tigray region of northern Ethiopia, on May 10, 2021. The lone survivor of her triplets, the infant was admitted with complications stemming from severe acute malnutrition, including heart failure. (AP Photo/Ben Curtis, File)
———
Amhara victim: Alemu Kassaw
Alemu Kassaw was a road construction worker and the father of four children. His wife says Tigray fighters found him on the street and killed him when he was trying to flee their community of Kobo in July.
"I was told over the phone by my mother's cousin," the wife, Shewaye Taye, says.
She had fled ahead of her husband to the city of Dessie. She thought he had escaped, but the news of his death abruptly ended her desperate hunt for him among the displaced. Now, like hundreds of thousands in the Amhara region uprooted by the Tigray forces' recent advance, she feels lost and alone.
"I think this war is endless," she says.
Newspapers and magazines reporting on the war in the country are seen at a newsstand on a street in the capital Addis Ababa, Ethiopia, Nov. 7, 2020. Cut off from Tigray due to communications blackouts, many in the Tigrayan diaspora have waited for months to know whether loved ones are alive. (AP Photo/Samuel Habtab, File)
———
Victim Number 348: Berhe Akelom
Lawyer Berhe Akelom and judge Teklit Gebrehiwet were friends and leaders in the legal community of Humera, one of the first places to see fighting.
When colleagues hadn't heard from Berhe, they went to his home. His neighbors said Ethiopian soldiers had come to Berhe's door, pounded on it and asked him to come out, then shot him.
"He was not a member of any political party," Teklit says. "I think the reason he was killed was military forces in Ethiopia want to eradicate all educated people in Tigray."
When his friend died, Teklit fled to Sudan. He has since learned that his property was ransacked, and he no longer has a home. He knows at least 30 people killed in the war, including his father and brother-in-law.
"We are not lucky," Teklit says.
A fighter loyal to the Tigray People's Liberation Front (TPLF) mans a guard post on the outskirts of the town of Hawzen, then-controlled by the group, in the Tigray region of northern Ethiopia, May 7, 2021. Thousands have died in Ethiopia's brutal year-long war that began in Tigray. The death toll is one of the biggest unknowns of the war. (AP Photo/Ben Curtis, File)
———
Victim Number 190: Mulu Gebremedhin
Mulu Gebremedhin, who worked at a butcher shop in Axum, was one of several hundred people killed by Eritrean soldiers in the deadliest known massacre of the war.
His younger brother, Zelalem, heard about his brother's death nearly a month later, on Christmas Day. They killed him in front of his house, before his 8-year-old son.
The family, including Mulu's son, young daughter and pregnant wife, had been at church when gunshots sent the congregation fleeing. They reached home, but the Eritrean soldiers found Mulu in their house-to-house searches.
"He was a good guy, a very decent guy," Zelalem says, beginning to weep. "He never fought all his life."
By the time he reached Mulu's wife by phone weeks later, she had given birth to a baby boy. She had also moved from their home to flee the memories.
Tigrayans stand in line to receive food donated by local residents at a reception center for the internally displaced in Mekele, in the Tigray region of northern Ethiopia, on May 9, 2021. Starvation is now sweeping Tigray, and even basic medicines are running out under a government blockade. (AP Photo/Ben Curtis, File)
———
Victim Number 2,915: Amdekiros Aregawi Gebru
On Nov. 22, Amdekiros, or Andom, an ambulance driver with the local Red Cross society, was taking a woman in labor to the hospital in the town of Adwa when Eritrean soldiers stopped him.
"He tried to explain the situation, but they are very cruel," his brother says, speaking on condition of anonymity for fear of retaliation. "They shot him."
Andom managed to bandage his wound and take the pregnant woman to the hospital, but he bled to death. His brother, who lives in the regional capital, Mekele, didn't learn about his death for another month or so because of poor phone connections and no public transport.
"It's painful, you know?" the brother says. "It's hard for every Tigrayan."
Andom left behind two children, a boy and a girl.
———
This story was funded by a grant from the Pulitzer Center on Crisis Reporting.
———
===
Rebels are closing in on Ethiopia's capital. Its collapse could bring regional chaos
By Scott Neuman, Eyder Peralta - 07. November 2021 - Updated November 9, 2021
A year after civil war erupted between the Ethiopian government and its Eritrean and ethnic militia allies on one side, and soldiers hailing from the northern region of Tigray on the other, a once-unlikely scenario looks like a real possibility: the rebels could topple the government.
This past week, Ethiopia declared a state of emergency amid fears that soldiers from the armed wing of the Tigray People's Liberation Front, or TPLF, would march through the streets of the capital, Addis Ababa. The federal armed forces have appealed to retired soldiers and veterans to rejoin the military. And they have asked residents of Addis Ababa to join the war effort with whatever weapons they have.
The TPLF, supported by the Oromo Liberation Army (OLA) — a rebel group from Ethiopia's Oromia region — are a bit more than 200 miles from the capital, but it could still take days or weeks of fighting across mountainous and hostile terrain for them to close the distance, the latest reports from inside the country suggest.
Saturday the U.S. State Department ordered "non-emergency U.S. government employees and their family members" to leave Ethiopia. The White House has declared the situation in Ethiopia "an unusual and extraordinary threat to the national security and foreign policy of the United States," and the U.S. special envoy for the Horn of Africa, Jeffrey Feltman, arrived in Addis Ababa on Thursday to push for cease-fire talks.
Neighboring Kenya issued a plea to end what it calls a "nationwide social convulsion." China and Russia, who had been reluctant to weigh in on the conflict, joined a U.N. Security Council statement calling for an "end to hostilities."
On Friday, the TPLF and OLA signed an alliance with seven other rebel groups. "Definitely we will have a change in Ethiopia before Ethiopia implodes," Berhane Gebrechristos, a former foreign minister and Tigray official, told reporters at a signing ceremony in Washington, D.C.
For Ethiopia's prime minister, Abiy Ahmed, it has been a sharp turn of events. He's gone from freshly minted Nobel Peace Prize laureate to international outcast in less than two years. Abiy now faces grim prospects: continue a war that could easily spill into the densely populated capital, a defeat at the hands of a renegade army or a negotiated settlement that would severely weaken his position.
Before the prime minister came to power in 2018, the TPLF ruled Ethiopia for more than a quarter century and waged two intensely bloody wars: a 15-year conflict that toppled a communist military dictatorship and saw the country's Eritrean region win independence, and years later a much shorter but brutal border conflict with the newly formed country.
One of Abiy's first moves was to extend an olive branch to his Eritrean counterpart, President Isaias Afwerki, an overture that led to the Ethiopian leader receiving the Peace Prize in 2019.
But there remains "a lot of bad blood" between Eritrea and the Tigrayans, says Michelle Gavin, a senior fellow at the Council on Foreign Relations. She says there's "a lot of historical grievance coming from the Eritrean elite and [aimed] very specifically at the TPLF from that era," adding that the Eritreans still nurse a "sense of betrayal" over the years of violence.
The humanitarian situation is growing worse by the day
A report released Wednesday by the Office of the United Nations High Commissioner for Human Rights and the Ethiopian Human Rights Commission blamed all sides in the year-long conflict for atrocities including extrajudicial executions, torture, rape and attacks on refugees.
While the U.N. did not come to a conclusion on whether genocide was committed, an internal U.S. report concluded that last November, forces allied with Ethiopia's government "deliberately and efficiently" rendered Western Tigray "ethnically homogeneous through the organized use of force and intimidation."
While all factions have committed violence against civilians, Cameron Hudson, a senior fellow at the Atlantic Council's Africa Center says the most egregious human rights abuses in Tigray have been carried out by Eritrean soldiers. "They have tried to eliminate the Tigrayans," he says, "and there's no telling what the Tigrayans might be interested in doing if they were able to seize the upper hand against the Ethiopian government."
Amnesty International says Eritrean soldiers slaughtered hundreds of unarmed civilians in the northern Tigrayan city of Axum, "opening fire in the streets and conducting house-to-house raids in a massacre that may amount to a crime against humanity."
NPR has independently verified reports of sexual violence in Tigray, speaking with witnesses and victims, including one woman in the rebel capital of Mekele who was held captive for about a month by government forces. The woman told NPR that she was chained up for nine days and gang-raped by Eritrean soldiers.
In an emailed statement, Amnesty also said 16 women from the town of Nifas Mewcha in the Amhara region said they had been raped by TPLF fighters.
Survivors described being raped at gunpoint, robbed, and subjected to physical and verbal assaults by TPLF fighters, who also destroyed and looted medical facilities in the town. Fourteen of the 16 women Amnesty International interviewed said they were gang raped.
Ethiopia's government declared a cease-fire this summer, pulling its troops out of Tigray. But fighting continued and the government has employed strategic choke points to maintain a de facto blockade on the wayward region that "has been nothing short of devastating for civilians," according to Refugees International.
That has made it nearly impossible for aid trucks to enter and relief flights to land, Alex de Waal, the executive director of the World Peace Foundation at Tufts University's Fletcher School of Law and Diplomacy, tells NPR. "That is a piece of what makes it so very difficult to get humanitarian material into Tigray."
The U.N. called for access to the region in July, warning that some 400,000 people there had "crossed the threshold into famine," with 1.8 million more on the brink. The same month, the U.N. refugee agency said that a full-scale humanitarian crisis had been unfolding in Tigray since the start of the conflict, with more than 46,000 people fleeing to neighboring Sudan and an additional 1.7 million internally displaced.
If Addis Ababa falls to the rebels, Ethiopia could collapse, triggering regional chaos
There's "a tremendous amount of anger" in many parts of Ethiopia over the legacy of the TPLF's long and repressive rule that is "unquestionably going to lead to resistance," the CFR's Gavin says.
Ethiopia's regional states are largely divided along ethnic lines and have their own militia groups, Hudson, of the Atlantic Council, says.
"They have feuds, they have grudges against their neighbors and against the central authorities," he says. "So, I think the question is what becomes unleashed by the fall of the government?"
You're talking about [the possibility of] millions of refugees flooding a very unstable region.
Amnesty International on Friday offered a sobering assessment, noting in a statement sent to NPR that there had been "an alarming rise in social media posts advocating ethnic violence" in the country in recent says.
More broadly, an internal collapse of Ethiopia could have repercussions for the whole of east and northeast Africa. Eritrea's leader views the rise of the Tigrayans as "an existential threat," Hudson says. Kenya is worried about an influx of refugees and a humanitarian crisis on its doorstep, a problem with which Sudan is already all too familiar.
"You're talking about millions of refugees flooding a very unstable region. You're talking about a humanitarian catastrophe," Hudson says. "The disruption that causes, not just to Ethiopia and neighboring states, but well beyond, is cataclysmic."
It could make the U.S. fight against terrorism much more difficult
For Washington, the biggest regional concern is Somalia and the potential for that nation to be used as a platform for international terrorism.
Ethiopia has long helped keep a lid on the Islamist al-Shabab militia, and offered crucial backing for the fragile government in Somalia, which seems to be ever on the verge of anarchy.
Ethiopian forces "are a powerful actor in Somalia," writes Vanda Felbab-Brown, senior fellow in foreign policy at the Brookings Institution. "Their military heft significantly surpasses that of the Somali National Army (SNA) or Somali National Police (SPN)," which she says have "little independent capacity even for defensive operations against al-Shabab."
A failed state in Ethiopia would likely make things much worse there, the CFR's Gavin says. "Instability in Ethiopia is absolutely a boon to terrorist organizations in East Africa writ large."
The Atlantic Council's Hudson agrees that such environments are a breeding ground for extremism.
"I think you create a scenario where this part of the world is exporting instability well beyond it," he says. "It becomes a magnet for malign actors seeking a home base."
Authors:
Scott Neuman is a reporter and editor, working mainly on breaking news for NPR's digital and radio platforms. Email
Eyder Peralta is NPR's East Africa correspondent based in Nairobi, Kenya.
===
Biden Regime Abandons Americans in Ethiopia – "US Embassy Unlikely to be Able to Assist US Citizens – if Commercial Options Become Unavailable"
By Jim Hoft - 08. November 2021
The Biden regime announced last week they stranded THOUSANDS of Americans in Afghanistan when they departed the country based on their arbitrary timeline.
The US turned the country over to the Taliban terrorists and armed with billions of dollars of US weapons.
Of course, the Biden regime lied for weeks saying only 100 Americans were left stranded in the country when they withdrew troops and closed all US offices in the country.
They knew this was a lie at the time. They did it anyway.
Now the Biden regime is warning Americans in Ethiopia they are on their own if the civil war escalates.
The National Pulse reported on this statement from The US Embassy in Ethiopia:
You are on your own under this U.S. administration.
===
Ethiopia: Addis Ababa residents asked to prepare to defend their rights
Nov 4, 2021
Residents of Addis Ababa have been ordered to defend their neighbourhoods, this comes amid fears that rebels were heading for the capital, the measure comes after several days of reported advances of the rebel group.
===
PROLOGUE: Ethiopia has been since long an important playing field for the imperial colonialists in their quest for the sources of the Nile, the rich Christianized and in a small pocket ancient Jewish highlands raising above the surrounding Muslim lowlands of the poor, and today for the machinations of the United Nations (UN) in their strife to rule the world under one global governance, for which Abiye Ahmed had vowed to be a stir-up holder. The strategic interests of the US military must among all this not be forgotten. But always the people had and have to suffer.
... and at he end of the days, they will lay at your feet and tell you: "Rule us, but feed us!"- World Food Programme storage in Tigray.
Today's Ethiopia is a neo-colonial conglomerate par excellence that cannot persist. The UN failed so far miserably in their duty to decolonize also Ethiopia, since its predecessor, the Legue of Nations, fostered even more conflict by having awarded the vast lands of the so-called Somali zone (the oil-and gas-rich lands of the Somali Ogaden) completely unwarranted to the fake 'Ethiopia' - over which earlier the British crown and Italy fought - with Italy staying in power over the territory of exiled emperor Haile Selassi. It is therefore not astonishing that Michelle Bachelet, who with her duty to uphold human rights already played a rather dubious role in the Venezuela crisis - caused by the imperialistic USA as well as China, both eying for that country's riches in oil and gold - again falls back into the arrogant stance of a governmental official, who is diplomatically savvy but does not provide anything for the people nor deliver justice - in order not to upset the external stake-holders. Her 'human rights report' on Ethiopia is not even worth the cheap copy paper on which it is written, though she has all the detailed information, delivered to her also by the UN's spy agency for remote locations - the UNHCR. The UN's refugee agency held always a rather intimate relationship with the stick-holders in Addis Ababa. Bachelet therefore knows exactly about the genocide targeting the Oromo since long and now killing the people of Tigray, and she knows exactly how many innocent women, children and men were killed and how many are now again starved to death, but she tries to cover that up. Shame on that no longer so high office of impartial and unalienable human rights.
Ethiopia 'cleared' by UN High Commissioner for Human Rights
By VOLTAIRE NETWORK - 05. DEUTSCH ESPAÑOL FRANÇAIS ITALIANO TÜRKÇE
The United Nations High Commissioner for Human Rights, Michelle Bachelet, released on 3 November 2021 her report on the conflict in Tigray (its own nation in the Federal Ethiopia). While determining that numerous crimes were committed, the HCHR exonerates the government from any genocidal intent or using hunger as a weapon. [But both are fact and she contradicts the UN Secretary General, who at least sees genocide and crimes against humanity on both sides.]
Prime Minister, Abiy Ahmed, is a devout Pentecostal with a military background and a half-Omoro (the main ethnic group in the country for a long time discriminated against). He received the Nobel Peace Prize in 2019 for his efforts to promote peace between Ethiopia and Eritrea. In contrast, World Health Organization chief Tedros Adhanom Ghebreyesus is a biologist and a member of the Tigrayan ethnic group, which is involved in an ongoing rebellion against federal forces. From his office in Geneva, he operates the arms supply for his people.
President Biden's Special Representative for the Horn of Africa is Ambassador Jeffrey Feltman. He oversaw the war against Syria, including the funding and arming of the Jihadists, and organized the current crisis in Sudan.
The accusations against the Ethiopian government, relayed by the international press but disproved by the High Commissioner's report, come after the expulsion of a team sent by the UN secretary general.
READ ALSO:
genocidal intent or using hunger as a weapon. (...)
«A Perspective on the Ethiopian-U.S. Relationship After a Year of Conflict»
by Jeffrey D. Feltman
1 NOVEMBER 2021
Had someone previewed for me in 2015 — in the middle of my six-year tenure as United Nations Under-Secretary-General for Political Affairs — that I would someday serve as the U.S. Special Envoy for the Horn of Africa, I would have scoffed: Government service fell into the "been there/done that" (...)
Egyptian perspective on the Renaissance dam
by Sameh Shokry
CAIRO (EGYPT) | 25 JUNE 2021
I am writing further to my letters addressed to the President of the Security Council dated 13 April 2021 (S/2021/354) and 11 June 2021 (S/2021/565) on the question of the Grand Ethiopian Renaissance Dam (GERD).
After a decade of fruitless negotiations, the question of the GERD has, (...)
Statement by Joe Biden on the Crisis in Ethiopia
by Joseph R. Biden Jr.
WASHINGTON D. C. (ÉTATS-UNIS) | 26 MAY 2021
I am deeply concerned by the escalating violence and the hardening of regional and ethnic divisions in multiple parts of Ethiopia. The large-scale human rights abuses taking place in Tigray, including widespread sexual violence, are unacceptable and must end. Families of every background and (...)
WHO chief accused of arms trafficking
20 NOVEMBER 2020
The Ethiopian army has accused WHO director general, Tedros Adhanom Ghebreyesus, of being the sponsor behind the war in Ethiopia's Tigray region.
Tedros Adhanom Ghebreyesus served as Ethiopian Minister of Health (2005-12), before being appointed Minister of Foreign Affairs (2012-16). He is a (...)
Second African Union meeting on the Renaissance Dam
ADDIS-ABABA (ETHIOPIA) | 21 JULY 2020
Communiqué of the second extraordinary African Union Bureau of the Assembly of Heads of State and Government video teleconference meeting on the Grand Ethiopian Renaissance Dam (GERD), 21 July 2020
His Excellency President Matamela Cyril Ramaphosa, President of the Republic of South Africa, in (...)
The African Union at the Renaissance Dam
ADDIS-ABABA (ETHIOPIA) | 26 JUNE 2020
Communiqué of the extraordinary African Union Bureau of the Assembly of Heads of State and Government video teleconference meeting on the Grand Ethiopian Renaissance Dam (GERD), 26 June 2020
President Matamela Cyril Ramaphosa of the Republic of South Africa, and Chairperson of the African (...)
The Egypt/Sudan/Eritrea/Ethiopia crisis
6 FEBRUARY 2018
Egypt and Sudan are entangled in a number of conflicts:
– The border between the two states has not been defined. The Halayeb region, occupied by Egypt since 2000, is still claimed by Sudan. Upon Egypt's surrender of the Tiran and Sanafir islands to Saudi Arabia, in 2016, the kingdom reportedly (...)
Washington Opens New US Drone Base in Africa
8 NOVEMBER 2011
Washington increased its drone fleet to 7 000 units in Africa, and opened a new drone base in an airport in Southern Ethiopia.
Along with two other drone bases located in Djibouti (Camp Lemonier) and on the Seychelles Islands, in the Indian Ocean, the new base in Ethiopia increases the (...)
by Galal Nassar
CAIRO (EGYPT) | 27 SEPTEMBER 2009
Despite the humanitarian rhetoric about the problems plaguing African nations, the first visit by an Israeli foreign minister in 20 years was mainly used to lay the groundwork for arms deals. Tel Aviv's promises to African states are the gloss on an exercise in extreme cynicism. Behind a (...)
===
Ethiopia heads towards civil war, Tigray forces advance further south
Nov 3, 2021
Residents of Addis Ababa have been ordered to defend their neighborhoods, this comes amid fears that rebels were heading for the capital, the measure comes after several days of reported advances of the rebel group.
===
Ethiopia faces nationwide emergency; authorities order strict measures like curfew, road closure
Nov 3, 2021
Residents of Addis Ababa have been ordered to defend their neighborhoods, this comes amid fears that rebels were heading for the capital, the measure comes after several days of reported advances of the rebel group.
===
Why is Ethiopia at war with itself?
Gravitas: Nov 3, 2021
A state of Emergency has been declared in Ethiopia, as rebel forces march towards the capital. Ethiopian PM Abiy Ahmed has promised to 'bury the enemy'. The rebels say their forces are 'unstoppable'. Why is Ethiopia at war with itself? Palki Sharma explains. #Ethiopia #Emergency #Gravitas
About the Channel: WION -The World is One News, examines global issues with in-depth analysis. We provide much more than the news of the day. Our aim to empower people to explore their world. With our Global headquarters in New Delhi, we bring you news on the hour, by the hour. We deliver information that is not biased. We are journalists who are neutral to the core and non-partisan when it comes to the politics of the world. People are tired of biased reportage and we stand for a globalised united world. So for us the World is truly One.
===
ICYMI:
Ethiopia Declares State of Emergency as Rebels Advance Toward Capital
In a milestone in the yearlong conflict, the government called on civilians to arm themselves and defend Addis Ababa after Tigrayan forces captured two towns nearby.
NAIROBI, Kenya — Ethiopia declared a state of emergency on Tuesday and called on its citizens to pick up arms and prepare to defend the capital as rebel forces from the northern region of Tigray pressed south toward the city following the capture of two key towns.
The Tigrayans, who have been fighting the government for the past year, have joined forces with another rebel group as they advance on the capital, Addis Ababa. Foreign officials monitoring the fighting said there were signs that several Ethiopian Army units had collapsed or retreated.
The state of emergency reflected the rapidly changing tide in a metastasizing war that threatens to tear apart Ethiopia, Africa's second-most populous country.
One year ago, in the early hours of Nov. 4, Mr. Abiy launched a military campaign in the northern Tigray region, hoping to vanquish the regional ruling party, the Tigray People's Liberation Front — his most troublesome political foe. But after promising a swift, even bloodless campaign, Mr. Abiy was quickly drawn into a military quagmire.
The Ethiopian military suffered a major defeat in June when it was forced to withdraw from Tigray, and several thousand of its soldiers were taken captive. Now the fighting is rapidly moving toward Mr. Abiy.
In recent days, Tigrayan rebels took the towns of Dessie and Kombolcha, just 160 miles to the northeast of the capital. A United Nations official said the Tigrayan forces were seen moving farther south from Kombolcha on Tuesday.
Under the state of emergency, Mr. Abiy has sweeping powers to arrest and detain critics, impose curfews and restrict the news media. Any citizen over 18 could be called into the fight, Justice Minister Gedion Timothewos told a news conference.
"Those who own weapons will be obliged to hand them over to the government," he said. The state of emergency will last six months, the government said.
Hours earlier, the city administration in Addis Ababa had called on citizens to use their weapons to defend their neighborhoods. House-to-house searches were being conducted in search of Tigrayan sympathizers, it said in a statement.
The announcements added to a growing sense of trepidation in the city, where tensions have been building for days as news filtered in of Tigrayan military advances. A taxi driver named Dereje, who in the capital's tense climate refused to give his second name, said he intended to join in the fight.
"I am not going to sit in my house and wait for the enemy," he said. "I will fight for my kids and my country."
But a teacher, who declined to give his name, said he had lost faith in the Ethiopian government. "They lied to us that T.P.L.F. have been defeated," he said, referring to the Tigray People's Liberation Front. "I am terribly worried about what is going to happen. May God help us."
President Biden, who has threatened to impose sanctions on Ethiopia unless it moves toward peace talks, said Tuesday he would revoke trade privileges for Ethiopia, including duty-free access to the United States because of "gross violations of internationally recognized human rights."
Ethiopia's Ministry of Trade and Regional Integration said in a statement that the decision to revoke trade privileges would reverse economic gains in Ethiopia "and unfairly impact and harm women and children." Ethiopia is committed to bringing perpetrators of serious rights abuses to justice, it added.
The deteriorating situation in Ethiopia has sent alarm across the region, with fears that the fighting could spill into neighboring countries such as Kenya, or send waves of refugees across borders.
A darling of the West after he won the Nobel Peace Prize in 2019, Mr. Abiy has grown increasingly defensive in the past year as the war spilled out of Tigray, and once-close allies have subjected him to withering criticism.
That criticism has recently focused on Ethiopia's punishing blockade of Tigray, which has prevented most supplies of food and medicine from reaching a region where the United Nations estimates that 5.2 million people urgently need help and 400,000 are living in famine-like conditions.
After the United States threatened Mr. Abiy's government with sanctions in September, he accused the West of neocolonial bias and expelled seven senior U.N. officials, including a humanitarian aid coordinator in Tigray.
Last month, the Ethiopian military launched an offensive against Tigrayan forces that expanded to include airstrikes against the region's besieged capital, Mekelle. In recent days, Mr. Abiy has blamed his losses on unidentified foreigners he says are fighting alongside the Tigrayans.
International efforts to coax the sides to the negotiating table have come to nothing. Mr. Abiy has pushed ahead with military operations, despite mounting evidence that his army has come under crushing strain.
Understand the Conflict in Ethiopia
A year of war. On Nov. 4, 2020, Prime Minister Abiy Ahmed began a military campaign in the country's northern Tigray region, hoping to vanquish the Tigray People's Liberation Front — his most troublesome political foe.
Rebels turned the tide. Despite Mr. Abiy's promise of a swift campaign, the Ethiopian military suffered a major defeat in June when it was forced to withdraw from Tigray. Now the fighting is rapidly moving south.
Tigrayan forces close in. In recent days, Tigrayan rebels captured two towns near Addis Ababa, the nation's capital. The government declared a state of emergency and called on citizens to arm themselves.
A mounting crisis. As the rebels drew closer, Mr. Abiy vowed to "bury this enemy" in an inflammatory speech. His comments came as a U.N. report offered evidence that all sides had committed atrocities.
No end in sight. President Biden has threatened to impose sanctions on the country to coax the sides to the negotiating table, but the war's current trajectory could cause the collapse of Ethiopia.
The Tigrayans, for their part, say they are fighting to break a siege that is strangling their region and starving their people.
Western pressure on Mr. Abiy has amounted to little more than "drips," General Tsadkan Gebretensae, the rebels' top strategist, told The New York Times last month. "We need more than drips."
Human rights groups have also accused Tigrayan fighters of abuses, including the killing of Eritrean refugees, although not on the same scale as Ethiopian troops. The Ethiopian government accused Tigrayan fighters of killing "youth residents" in Kombolcha in recent days, but provided no evidence.
They have been pushing south, into Amhara region, since July, in a grinding battle that has unfolded largely out of sight as a result of internet blackouts and reporting restrictions.
The breakthrough came with the capture this weekend of Dessie and Kombolcha, strategically located towns on a highway running from north to south that has become the spine of a war that could determine the future of Ethiopia.
As they push south, the Tigrayans have linked up with the Oromo Liberation Army, a far smaller rebel group fighting for the rights of the Oromo, Ethiopia's largest ethnic group.
After years of battle in the bush, the O.L.A. appears to be moving into Ethiopia's towns.
Odaa Tarbii, an O.L.A. spokesman, said Tuesday it had captured a town 120 miles north of Addis Ababa and expected to start moving south, alongside the Tigrayans, in two or three days.
For much of the war Mr. Abiy enjoyed staunch support from neighboring Eritrea, whose fighters entered Tigray in the conflict's early weeks in late 2020, and were accused of many of the worst atrocities against civilians.
But in recent weeks, for reasons that are unclear, the Eritreans have been nowhere to be seen in the latest fighting, Tigrayan and Western officials said.
Getachew Reda, a spokesman for the Tigray People's Liberation Front, said the Ethiopian military was falling into disarray as it retreated south, leaving behind bands of heavily armed ethnic militias.
"The command and control structure has collapsed," he said, in an account that was broadly confirmed by two Western officials who could not be identified because of diplomatic sensitivities.
A Year of War in Ethiopia
Why Is Ethiopia at War With Itself?
Ethiopia Launches New Offensive on Tigray Rebels as Famine Looms - Oct. 12, 2021
How Local Guerrilla Fighters Routed Ethiopia's Powerful Army - July 11, 2021
'They Told Us Not to Resist': Sexual Violence Pervades Ethiopia's War - April 1, 2021
Author:
Declan Walsh is the Chief Africa correspondent. He was previously based in Egypt, covering the Middle East, and in Pakistan. He previously worked at the Guardian and is the author of The Nine Lives of Pakistan. @declanwalsh
Lara Jakes contributed reporting from Washington, and an employee of The New York Times contributed reporting from Addis Ababa, Ethiopia.
===
In Ethiopia, the Battle of Dessie opens the way for Tigrayan rebels to Addis Ababa
By editorial - 02. November 2021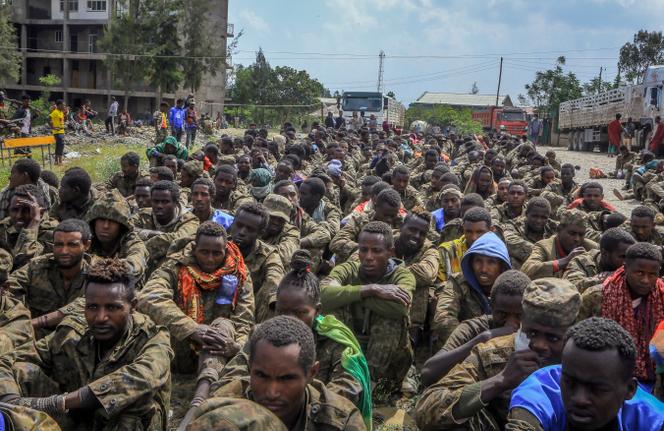 Captured Ethiopian government soldiers and allied militia members sit in a row waiting to be taken to a detention center in Makale, the capital of northern Ethiopia's Tigray region, on October 22, 2021. AP
Has the counteroffensive launched by the Ethiopian government north of the capital Addis Ababa failed to the point of causing a boomerang effect? One year, almost to the day, after the start of the civil war opposing the federal troops to the Tigray Defense Forces (TDF), now supported by several disparate rebel formations, a crucial battle is turning to the disadvantage of the men of Prime Minister Abiy Ahmed. The stake in these fights is the control of Dessié and Kombolcha, two towns in the province of Wollo, 400 kilometers from Addis Ababa.
For nearly three weeks, the very violent clashes, involving waves of young militiamen just recruited and massacred by rebel forces equipped with tanks and cannons, were concentrated in the countryside north of these two towns. In addition to their size, and the large contingents of the army that were massed there, Dessié and Kombolcha, some twenty kilometers away, are one of the main entry points to the northern zone of the country where the troops are deployed. insurgents who left their region of Tigray. Part of these territories were to be reconquered as part of the government counter-offensive that began with the end of the rainy season in September. The reverse is true.
Propaganda
Not only did the federal forces fail to push through the rebel positions, but the TDF – structured around the former Popular Front for the Liberation of Tigray (TPLF) party – entered both towns on Saturday. According to a Tigrayan spokesperson, Dessié and Kombolcha are now under the control of the rebels, which the head of a humanitarian agency confirms. This information is however very difficult to verify, the media having no access to the fronts. Despite the cut in telecommunications, testimonies from residents of Dessié still reported, Monday 1er November, street fights. Hostilities also appear to be continuing in the vicinity of Kombolcha, where there is an airport and an industrial park.
In their respective propaganda, the two belligerents accuse each other of abuses. The communications office of the federal government assures that the Tigrayan rebels have " executed more than a hundred young inhabitants in the areas of Kombolcha where they infiltrated ". For his part, Getachew Reda, the spokesperson for TDF, affirms that they have " no need to kill young people because there was no resistance to Kombolcha ".
===
Objectivity concerns over UN's report on Tigray civil war
Scope of UN investigation constrained by Addis Ababa's involvement, experts say
By Dan Sabbagh and agencies - 02. November 2021
An international human rights investigation into the brutal civil war in Ethiopia's Tigray province will be published on Wednesday amid concerns that the scope of the UN inquiry has been constrained by both Addis Ababa and the ongoing conflict.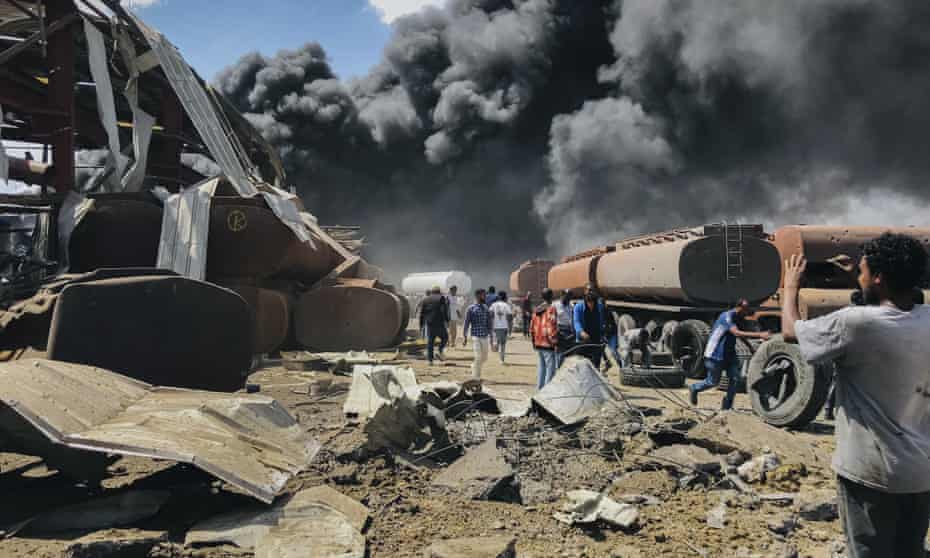 Due to be released almost exactly a year after the conflict began, the joint UN Human Rights Office and government-created Ethiopian Human Rights Commission (EHRC), will nevertheless be the most authoritative overview of the war and its consequences.
Independent human rights groups, humanitarian organisations and foreign media are banned from Tigray, in a conflict where at least tens of thousands have died and there have been accusations of sexual violence and deliberate starvation.
Investigators were allowed to visit Tigray however, because of the partnership with the EHRC – but were not able to visit all key locations, including the site of an alleged massacre in Axum in November 2020 by Eritrean troops fighting alongside the Ethiopian government.
The involvement of the EHRC has left Tigrayan leaders sceptical about the investigation's independence – while the conflict, which saw much of Tigray recaptured by rebels over the summer, has created further difficulties.
David Crane, the founder of the Global Accountability Network and founding chief prosecutor for the special court for Sierra Leone, an international tribunal, said: "What you need when you go into an atrocity zone is a clean slate so outside investigators can look into it neutrally, dispassionately.
"You want to do these things where you don't build doubt, distrust from the beginning," including among people interviewed, he added.
Ethiopia expelled seven senior UN officials last month, including the human rights officer Sonny Onyegbula, who was working on the report. Addis Ababa accused the officials of "meddling in internal affairs".
Rising tensions between the Ethiopian government led by Abiy Ahmed and the Tigrayan TPLF, previously the dominant group in the country's politics, led to the start of fighting in November 2020.
Initially, Ethiopia, in alliance with neighbouring Eritrea, seized control of Tigray, amid multiple reports of atrocities. Tigrayan forces regrouped and staged a counterattack, regaining much of Tigray in June and capturing parts of neighbouring provinces.
Despite a recent counterattack by Ethiopian forces in October, the TPLF claims to have gained further ground, seizing strategic towns on the road to Addis, prompting speculation that the capital itself could fall to the rebels.
In a sign of paranoia around the fate of Addis Ababa, state media called on Monday for residents to register weapons in the next two days. On Sunday, Ahmed called for citizens to "use any type of weapons to block the destructive [rebel push], to overturn it and bury it". "Dying for Ethiopia is a duty for all of us," he said.
The rights report only covers the period from November 2020 to 28 June 2021, when the TPLF recaptured Mekelle, the province's capital, and is based on 269 interviews with victims and witnesses, as well as with other sources.
Some involved in the investigation told the Associated Press that the head of the EHRC, Daniel Bekele, underplayed some allegations that fighters from the country's Amhara region were responsible for abuses and pressed to highlight abuses by Tigray forces.
But Bekele asserted the commission's independence, saying it was "primarily accountable to the people it is created to serve" and that he and the commission had consistently cited "serious indications that all parties involved in the conflict have committed atrocities".
Bekele also said the investigation lacked the support of the Tigray authorities now administering the region.
The UN has said Ethiopia's government had no say in the report's publication, though it was given the chance to read it in advance and to point out "anything it believes to be incorrect". It has acknowledged there have been difficulties in accessing key locations.
Last week, Ethiopia's government released the results of its own investigations focusing on alleged abuses by Tigray forces. The ministry of justice said it found 483 non-combatants were killed and 109 raped in parts of Amhara and Afar that have been recaptured by federal forces in recent weeks.
The spokesperson for the Tigray forces, Getachew Reda, said the allegations were not worth "the paper they're written on". Accusations of rapes and killings by Tigray forces are "absolutely untrue, at least on a level these organisations are alleging," he said.
Read Also:
Ethiopia expels 'meddling' UN staff as famine deepens in Tigray without aid
===
BOYCOTT ETHIOPIAN AIRLINES
Documents: Ethiopia uses its airlines to transport weapons to and from Eritrea
By Heba Abdel Karim - 06. October 2021
A CNN investigation found that the Ethiopian government used the country's leading commercial airline, Ethiopian Airlines, to transport weapons to and from Eritrea, during the civil war in the Tigray region.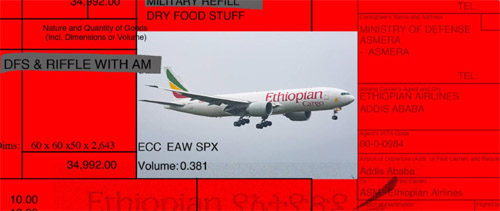 The network confirmed that it is the first time that the arms trade between the two former rivals during the war (Eritrea and Ethiopia) is documented. Experts said the flights would constitute a violation of international aviation law, which prohibits the smuggling of weapons for military use on civilian aircraft.
Ethiopian Airlines is a state-owned economic powerhouse that generates billions of dollars a year, carrying passengers to hubs across the African continent and around the world. The airline has previously denied transporting weapons.
In response to CNN's investigation, Ethiopian Airlines said it "strictly adheres to all national, regional and international aviation regulations and has not transported any weapon of war through any of its aircraft." The governments of Ethiopia and Eritrea did not respond to CNN's requests for comment.
Long-running tensions between the Ethiopian government and the ruling party exploded in the Tigray region on November 4, when Ethiopia accused the Tigray People's Liberation Front of attacking a federal military base.
The Ethiopian Prime Minister, Abiy Ahmed, ordered a military offensive to remove the RUF from power. Government forces and regional militias poured into Tigray, joined on the front lines by troops from Eritrea.
Documents obtained by CNN indicate that flights carrying weapons between Ethiopia and Eritrea began at least a few days after the outbreak of the Tigray conflict.
On at least six occasions (November 9-November 28), Ethiopian Airlines billed tens of thousands of dollars to the Ethiopian Ministry of Defense for military items including rifles and ammunition to be shipped to Eritrea, according to records seen by CNN.
The documents, known as an air waybill, show the contents of each shipment. In one of the documents, the (nature and quantity of goods) is listed as military packaging and dry food items. Other entries included Description (Standard). The records also included abbreviations and misspellings such as (AM) for ammunition and (RIFFLES) for rifles, according to airline employees. They told CNN that misspellings were made when the contents were manually entered by employees into the shipping database.
Another air waybill a few days later, November 13, has the same shipper and consignee details. The document stated that the contents of that shipment were (military repacking and dry foodstuffs). The shipments came at a time of increased military activity. Security sources in the area said Eritreans need to resupply to fight in Tigray.
On November 9, five days after Abiy ordered a military offensive in Tigray, records show that an Ethiopian Airlines flight transported weapons and ammunition from Addis Ababa to Asmara, the capital of Eritrea.
With planes moving back and forth between the two countries, the massacres of the Tigrayans in Aksum and the village of Dingilat by Eritrean forces occurred on November 19 and November 30, respectively.
Some current and former Ethiopian Airlines employees, who spoke on condition of anonymity for fear of repercussions, said flights had continued to this date, but the majority of arms flights to Eritrea were in November.
Both cargo and passenger planes were used in the operation, although CNN had no evidence that commercial passengers on any of the flights were carrying weapons. Many of these flights do not appear on popular online flight tracking platforms such as Flightradar 24." When that happens, the destination in Eritrea is often not visible and the flight path disappears once the plane crosses the border from Ethiopia.
The staff told CNN that staff could manually turn off the ADS-B signal on the plane to prevent flights from being publicly tracked.
Flights were often assigned the same flight numbers, primarily ET3312, ET3313 and ET3314, with (ET) being the code for Ethiopian Airlines.
Ethiopian Airlines workers confirmed seeing other airline employees loading and unloading weapons and military vehicles on flights to Asmara. Some claimed that they helped load the weapons onto the planes themselves. Everyone spoke of being Tigrayans.
CNN reviewed the Ethiopian Airlines identity cards of these employees and confirmed their identities.
A former employee told the network that they were instructed at Bole International Airport in Addis Ababa to load weapons and four military vehicles onto an Ethiopian Airlines cargo plane that was scheduled to fly to Belgium but was instead sent to Eritrea.
The former employee warned soldiers that the vehicles were carrying far more gas than is allowed under international air transport rules, but said they were canceled after a direct call from a commander in the army.
The employee said the plane, loaded with weapons and flowers, flew to Eritrea, then returned to Addis before heading to Brussels the next day. CNN compared this testimony with FlightRadar24 and found the record of the Ethiopian Airlines plane returning from the direction of Eritrea and flying to Brussels the next day, but was unable to independently verify that it was the same flight the employee had indicated.
"I had to stop a flight to Brussels, a 777 freighter was loaded with flowers, then we unloaded half of the perishable goods to make room for the weapons," the employee confirmed.
Days later, the employee said he was temporarily suspended. They believe they have been suspended for being Tigrayans.
In its statement, Ethiopian Airlines told CNN that no employee had been fired or terminated because of their ethnic background
===
U.N. aid chief to Ethiopia on famine in Tigray: 'Get those trucks moving'
By World Press -
Source: Reuters
September 28, 2021
United Nations aid chief Martin Griffiths said on Tuesday he assumes famine has taken hold in Ethiopia's Tigray where a nearly three-month long "de-facto blockade" has restricted aid deliveries to 10% of what is needed in the war-torn region.
Griffiths told Reuters during an interview that his request was simple: "Get those trucks moving."
"This is man-made, this can be remedied by the act of government," he said.
War broke out 10 months ago between Ethiopia's federal troops and forces loyal to the Tigray People's Liberation Front (TPLF), which controls Tigray. Thousands have died and more than two million people have been forced to flee their homes.
"We predicted that there were 400,000 people in famine-like conditions, at risk of famine, and the supposition was that if no aid got to them adequately they would slip into famine," said Griffiths, referring to a U.N. assessment in June. read more
"I have to assume that something like that is happening," he said, adding that it was difficult to know exactly what the situation was on the ground in Tigray because of a de-facto aid blockade and lack of fuel, cash and trucks.
Ethiopia's U.N. mission in New York said that "any claim on the existence of blockade is baseless." It said aid groups "faced shortage in trucks as a result of the non-return of almost all trucks that traveled to Tigray to deliver aid."
Truck drivers carrying aid into Tigray have been shot at at least twice and some Tigrayan drivers have been arrested in the neighboring region of Afar, although they were later released, according to U.N. reports.
MALNUTRITION
Griffiths said a lot of trucks go into Tigray and don't come back, compounding the humanitarian problems. He said no fuel trucks had gone into Tigray since late July.
"First of all, they probably don't have fuel to come out," he said. "And secondly, they may not wish to, so the consequences for humanitarian operations – whatever the cause – is problematic."
The United Nations in Ethiopia said on Sept. 16 that only 38 out of 466 trucks that entered Tigray since July 12 had returned. On Tuesday, World Food Programme (WFP) in Ethiopia posted on Twitter that 61 commercial trucks had left Tigray in recent days and they expected more to depart in coming weeks.
"We'll continue to work with transporters to overcome any logistical issue to ensure trucks are on the road, facilitating the delivery of humanitarian aid," WFP Ethiopia said.
In Tigray the United Nations says 5.2 million people, or 90% of the population, need help.
According to the United Nations, screening of children under age 5 during the first half of September revealed that 22.7% of are malnourished and more than 70% of some 11,000 pregnant or breastfeeding women are acutely malnourished.
"As a comparison this is about the same levels of malnutrition that we saw in 2011 in Somalia at the onset of the Somali famine," Griffiths said.
Griffiths said 100 trucks a day of aid needed to get to Tigray, but only 10% had gained access in the past three months.
"We need the Ethiopian government to do what they promised to do which is to facilitate access," said Griffiths, who met with Ethiopia's Deputy Prime Minister Demeke Mekonnen last week during the annual U.N. gathering of world leaders in New York.
Mekonnen assured him that access is improving, but Griffiths said "it needs to improve a great deal more."
===
A Message from PM Abiy Ahmed as Eritrea Observes Martyrs Day
By TESFANEWS - 19.June 2021
(Translation BY BEREKET KIDANE)
Federal Democratic Republic of Ethiopia
Office of the Prime Minister
Dear brotherly people of Eritrea:
June 20 is a day to remember the heroes who fell fighting for Eritrea's independence or in defense of its sovereignty. Sovereignty is achieved through the sacrifice of blood and limbs.
Nation building and the preservation of sovereignty are also given added weight by the honor accorded to the nation's fallen heroes.
A people who forget their yesterday's fallen heroes will never have present day or future heroes. As such, it is appropriate and weighty for the people and Government of Eritrea to honor their fallen heroes.
This year's Eritrea's Martyrs Day has an additional special quality to it. It is the one-year anniversary of the positive response given by the Government of Eritrea to the new Ethiopian government's olive branch and call for peace.
As a result, Martyrs Day, in addition to commemorating the sacrifices of Eritrea's fallen heroes, is also a day that ushered a new hopeful era for the two peoples.
Glory to Eritrea's Martyrs!
Peace and Prosperity to the Eritrean People!
Best Wishes for a long and healthy life to President Isaias!
June 12, 2011 E.C
---
Original Message in Amharic
---