UPDATE 03. December 2021: Apple Alerts Biden Admin Officials Their Phones Hacked By Israeli Pegasus Spyware
UPDATE 17.November 2021: National emergency alert test to be conducted today in Canada
UPDATE 16. November 2021: Mexico's World Bank-Funded Mandatory Biometric Database Raises Serious Ethical and Legal Questions
UPDATE 14. November 2021: EU snooping laws could see YOUR private messages being read – stark warning
UPDATE 29. October 2021: Parler CEO: Facebook rebranding to Meta 'terrifying'
UPDATE 28. October 2021: EU's Green Pass Vaccination ID Private Key

Leaked or Forge
UPDATE 19. October 2021: The UK Is Trying To Use MP Assassination To Call For Social Media ID Verification System!!!
UPDATE 29. September 2021: "It's Already Too Late, I Can't Hide It Anymore"| Edward Snowden (2021)
UPDATE 22. September 2021: FBI Director: Ban Encryption to Counter Domestic Extremism
UPDATE 21. September 2021: MUST WATCH - MOOC CRDA: Children's rights in the age of hyper-surveillance - Edward Snowden
UPDATE 20. September 2021: MERKELS GERMANY GOES NUTS - TRIES TO MUZZLE U.S. FREE SPEECH PLATFORM GAB
UPDATE 18. September 2021: GRAPHENE DIGITAL HEALTH PASS CONFIRMED
ICYMI: Pegasus Spyware Detector: 4 Ways to Tell If Your Android Is Infected and How to Use Amnesty's Toolkit
PROLOGUE: Neo-colonial EU-Commissioner Ursula von der Leyen already plays NWO - CCP/WEF style - in the EU. And, if in one country the protests get too strong - like in the UK against the health passport - she implements it in others first - in order to break the resistance. Soon also Boris Johnson will use the trick to implement it through state-coerced private entities. Segregation and discrimination Apartheid-style are old tools of the tyrants, which Ursula von der Leyen learned while studying in London. The remedy against 'Divide et Impera' (Divide and Rule) is unity among the oppressed, clever disobedience and non-compliance towards the public institutions or their goons and BOYCOTT of the private entities. Let these non-resisting or even oppression-enforcing businesses get bankrupt and the bureaucracies suffocate in their own machinations.
Fines and suspension: Italy makes health passport mandatory in the workplace
By archyde - 17. September 2021
Italy is tightening the Corona rules: every employee must submit a vaccination or test certificate from mid-October, the so-called "green passport". Anyone who refuses to do so may be suspended and no longer receive a salary.
Italy will require vaccinations or negative corona tests from all employees in the country when they go about their work. From October 15th, all employees are obliged to prove this with the document called "Green Passport" in Italy. Otherwise there is a risk of sanctions. "We are extending the 'green passport' obligation to the entire world of work, both in the public and private sectors," said Health Minister Roberto Speranza at a press conference.
"We are doing this for two main reasons: to make these places safer and to strengthen our vaccination campaign," said Speranza. In Italy, the "Green Passport" shows whether the holder has been vaccinated against Covid-19, whether he has tested negative in the past 48 hours or whether he has recently recovered from the lung disease. Currently, the pass must already be presented in the interior of restaurants, in cinemas or sports stadiums, on intercity trains, buses and on domestic flights.
There were protests in many places in Italy against the mandatory introduction of the passport. According to media reports, workers who do not present their passports face fines of up to a thousand euros. Anyone who stays away from work because they cannot produce the document can expect to be suspended. In some areas, such as schools, the "green pass" is already compulsory. Employers who do not carry out controls face fines of up to 1500 euros. The new decree will apply from October 15th to December 31st. The Corona emergency still officially applies in Italy until the end of the year. The government's decision affects "a total of 23 million workers, the entire human capital of the country," said Administration Minister Renato Brunetta.
De facto, among adults, only pensioners, unemployed people and housewives and housewives are not affected by the passport requirement. Currently around 75 percent of Italians over the age of twelve are fully vaccinated against the coronavirus. The government hopes that the passport will give the vaccination campaign a further boost. In Italy, it has been compulsory to have vaccinations for medical professions. According to the national medical association, 728 doctors have since been suspended because they did not get vaccinated.
Draghi pushed through the new decree despite protests from the trade unions and parts of the right-wing parties. In the consultations with the head of government, they unsuccessfully demanded that Covid tests should remain free as an alternative to vaccinations. It shouldn't be that you have to pay to go to work, they said. Draghi's cabinet, however, only decided to cap prices: Adults may pay a maximum of 15 euros per test, children 8 euros.
Italy is not alone with the mandatory health passport: In Greece, all unvaccinated workers have had to be tested once or twice a week at their own expense since September 13th. In Slovenia, the health passport became compulsory for all employees on Wednesday.
Italy was the first country in Europe to be affected by the corona pandemic; more than 130,000 people died there in connection with a coronavirus infection. Last year, Italy experienced its worst recession since World War II as a result of the pandemic.
===
UPDATES:
Apple Alerts Biden Admin Officials Their Phones Hacked By Israeli Spyware
By Tyler Durden - 03. December 2021
There's been a huge revelation in the ongoing saga of the Israel-based NSO Group Pegasus spyware scandal. To recap, NSO Group was recently blacklisted by the United States after months ago a major journalistic investigation exposed that the technology was repeatedly used by abusive governments to infiltrate the devices of journalists, activists, and even foreign government officials – on up to the communication devices of President Emmanuel Macron.
Now, a breaking Reuters story has confirmed that several Biden administration officials were also hacked by Pegasus, in the first such revelation involving the targeting of US government officials.
"Apple Inc iPhones of at least nine U.S. State Department employees were hacked by an unknown assailant using sophisticated spywaredeveloped by the Israel-based NSO Group, according to four people familiar with the matter," Reuters writes.
The report details the hacks occurred within the "last several months" and the officials under surveillance included State Department staff in East Africa, with Uganda specifically named as their host country.
The report says the identity of what entity or which country may have been behind the targeting of American officials remains unknown at this point.
Previously there were indicators that Americans may have been targeted using Pegasus, but Reuters says it now has confirmation the breaches against US officials succeeded:
The intrusions, first reported here, represent the widest known hacks of U.S. officials through NSO technology. Previously, a list of numbers with potential targets including some American officials surfaced in reporting on NSO, but it was not clear whether intrusions were always tried or succeeded.
This is likely to have huge repercussions – possibly even damaging the normally close US-Israel relationship, despite prior attempts by Tel Aviv to distance itself from NSO. The US Commerce blacklisting from early November stated:
NSO Group and Candiru (Israel) were added to the Entity List based on evidence that these entities developed and supplied spyware to foreign governments that used these tools to maliciously target government officials, journalists, businesspeople, activists, academics, and embassy workers.
BREAKING: Apple alerts US diplomats to #Pegasus spyware hacking.

NSO = in-plain-sight national security threat for years.

Embarrassing that it took a private company to warn them.

How did we get here? THREAD 1/

Story: @Bing_Chris & @josephmennhttps://t.co/5qSntn8PlLpic.twitter.com/yKHeGbhD1Z

— John Scott-Railton (@jsrailton) December 3, 2021
But it remains that NSO Group is well-known to work closely with the Israeli government as a key defense contractor, and government authorities oversee and regulate the export of Pegasus as a unique defense technology which must be prevented from being used by Israel's enemies.
The spyware is actually controlled for export in the same way that weapons would be. It's believed the Saudis, for example, used such technology to hack and track journalists and dissidents, such as the murdered Jamal Khashoggi, killed at the Istanbul consulate in 2018 at the hands of Saudi operatives on orders from the kingdom.
This article was originally published by Zero Hedge.
===
National emergency alert test to be conducted today in Canada
By Canadian Press - 17. November 2021
The national public alerting system is conducting a Canada−wide test of the emergency alert system today.
Canadians should expect to see one test message from their provincial or territorial emergency management organization over television, radio, and compatible wireless devices at 9:55 am PST.
The organization that runs the system says the testing sound will simulate an emergency alert, beginning with the alert tone.
The message will indicate that it is a test and does not require action.
Tests such as this one are conducted twice a year in May and the third week of November.
Canadians do not have an option to opt out of the test or actual alerts distributed by the national alerting system.
===
===
Mexico's World Bank-Funded Mandatory Biometric Database Raises Serious Ethical and Legal Questions
By Nick Corbishley - 16.November 2021
Mexico's government wants the biometrics of all its citizens. Given the fragility of its institutions and organized crime's infiltration of both government and law enforcement, this is a major cause for concern.
Mexico has a serious problem with identity theft. Last year, the country ranked eighth worldwide in terms of the incidence of the crime, according to data from the country's central bank, Bank of Mexico. Since then the scale of the problem has done nothing but grow, as huge amounts of work, leisure and consumption have migrated online.
A cybersecurity study conducted by Citrix found that 60% of the Mexican companies it consulted had suffered some form of cyber attack since the start of the pandemic, including identity theft and ransomware. Mexico is also one of the countries most frequently targeted by Trickbot, a Trojan horse whose main function is the theft of banking details and other credentials, according to a recent report by the newspaper Milenio.
Against this backdrop Mexico's Lopez Obrador government is seeking to pass a draft law that will create a "Unique Digital Identity Card," or CUID. If the law is passed, digital identity will become mandatory for all Mexican citizens and foreigners living on Mexican soil. All the information, including each user's biometric data, will be stored on a centralised database. The proposed law was already passed by Mexico's lower chamber in December 2020 and is now awaiting passage in the Senate.
World Bank Funding
The biometric ID card project is being funded by the World Bank, an organisation that is driving digital ID adoption around the world, particularly in the Global South. The bank is pushing digital ID in poorer countries with the ostensible goal of providing legal identity to the 1.1 billion people, mainly in Asia and Africa, who do not currently have one.
But the program is mired in controversy. After the recent exodus of U.S.-allied forces from Afghanistan, it was discovered that many of the World Bank-funded data troves left behind had fallen into the hands of the Taliban, and could be used to track down people who had aided the occupation forces. That data included some half a million records, including biometric identifiers, on every member of the Afghan National Army and Afghan National Police, reported MIT Technology Review:
The data is collected "from the day they enlisted," says one individual who worked on the system, and remains in the system forever, whether or not someone remains actively in service. Records could be updated, he added, but he was not aware of any deletion or data retention policy—not even in contingency situations, such as a Taliban takeover.
A presentation on the police recruitment process from NATO's Combined Security Training Command–Afghanistan shows that just one of the application forms alone collected 36 data points. Our sources say that each profile in APPS holds at least 40 data fields.
These include obvious personal information such as name, date, and place of birth, as well as a unique ID number that connects each profile to a biometric profile kept by the Afghan Ministry of Interior.
But it also contains details on the individuals' military specialty and career trajectory, as well as sensitive relational data such as the names of their father, uncles, and grandfathers, as well as the names of the two tribal elders per recruit who served as guarantors for their enlistment. This turns what was a simple digital catalogue into something far more dangerous, according to Ranjit Singh, a postdoctoral scholar at the nonprofit research group Data & Society who studies data infrastructures and public policy. He calls it a sort of "genealogy" of "community connections" that is "putting all of these people at risk."
Security Risks in Mexico
More than 25 national and international organisations, including Privacy International, Access Now and Red en Defensa de los Derechos Digitales (R3D), have called on Mexico's Senate to block the CUID program's implementation, citing security risks to civilians as well as the Mexican government's authoritarian drift. In April, the AMLO government passed a controversial reform to the Federal Communications Law that created the National Register of Mobile Telephone Users, a centralised database containing the line number, date and time of activation for each user, their full name and biometric data, among other information.
The government claims the data is needed for its fight against organized crime. Smart phones, it says, are routinely used in many of the worst crimes committed, including kidnappings and extortion.
Roughly 75% of Mexicans have a smartphone, according to a government survey. Now, the government wants the biometric data of everyone. And that should be cause for concern. In a recent interview with Rest of World, a global nonprofit publication "covering the impact of technology beyond the Western bubble," the Mexican digital rights activist Luis Fernando García said that the centralised nature of the proposed biometric database system would make it much easier for the government to track and control citizens:
When the government creates this one identity system, every time someone goes to a public or private service, they give the same centralized ID. Before, officials would need to go to different places to collect all the information they need. With the CUID, they would have a way to connect all of the databases. This gives the government and corporations the power to surveil, control, manipulate, and punish people.
Given the inherent weakness of Mexico's political and legal institutions and the extent to which organised crime has infiltrated both government and law enforcement agencies, so much so that the line between organized crime and the public authorities is barely distinguishable, "a digital ID that simply provides a new surveillance tool…, enabling the tracking, surveilling and profiling at scale, is a great cause for concern," says the London-based charity Privacy International:
Digital ID systems risk being a surveillance tool, used to track movements and activities, and linking all of a person's activities back to a single number. This is particularly acute in Mexico, given the ongoing targeting of communities at risk including journalists, human rights defenders, and environmental activists. And, if the abuse of Aadhaar by criminals in India is anything to go by, organised crime could be looking to use this system for their own, deadly ends. In an interview with PI, a lawyer at the Mexican human rights organisation CentroProdh spoke movingly of the impact that surveillance has on human rights defenders, lawyers, and activists. The intrusion of this surveillance impacts not only the lives and work of activists, but also their families.
Data Insecurity
There is also the issue of data security to consider. Political and financial institutions in Mexico have suffered numerous breaches in recent years. In 2018, hackers pulled off an audacious $20 million heist of Mexico's inter-bank payment system, run by the Bank of Mexico. As mentioned at the beginning of this article, Mexico ranks eighth in the world in identity theft. A centralised database of every citizen's biometric data will be the ultimate honey pot for sophisticated cyber-criminals.
"The idea of a data breach is not a question of if, it's a question of when," says Prof. Sandra Wachter, a data ethics expert at the Oxford Internet Institute. "Welcome to the internet: everything is hackable.
Authorities in India, South Korea and the Philippines have already suffered breaches that led to the theft of biometric ID data belonging to millions of individuals in those respective countries, says Privacy International. And when biometric data is leaked, the consequences can be catastrophic. If biometric data is hacked, there is no way of undoing the damage. There is no way of changing or cancelling your fingerprint, iris or DNA like you can change a password or cancel your credit card. The UN High Commissioner for Human Rights says that biometrics are "by definition inseparably linked to a particular person and that person's life, and has the potential to be gravely abused."
Another problem with biometric systems is they are far from flawless. As Wired reported in 2019, US government tests found that even top-performing facial recognition systems misidentify blacks five to 10 times more often than they do whites. In Mexico this could be a major problem given that 67% of the population self-classify their skin colour as medium tones and 20% as dark tones.
ID4D
The World Bank's Identification for Development (ID4D) program was launched in 2014 with "catalytic contributions" from the Bill & Melinda Gates Foundation as well as the UK Government, the French Government, the Australian Government and the Omidyar Network. According to the World Bank Group's website, it is a "cross-sectoral platform that creates and leverages partnerships with United Nations agencies, other donors, non-government organizations, academia, and the private sector" with the goal of "help[ing] countries realise the transformational potential of digital identification systems."
The program is wrapped up in cosy buzz words such as digital development, social protection, gender issues and financial inclusion. But digital ID systems can also be weaponized by authorities to exclude millions of people from access to the most basic services, or even to deprive people of the legal right to remain within the respective jurisdiction.
This is precisely what happened in the Dominican Republic. As Eve Hayes de Kalaf, a research associate at University of London's Centre for Latin American and Caribbean Studies, reported in an article for The Conversation, the Dominican government, in conjuction with World Bank programmes providing citizens with proof of their legal existence, "introduced exclusionary mechanisms that systematically blocked black Haitian-descended populations from accessing and renewing their Dominican ID":
For years, people of Haitian ancestry born in the Dominican Republic have found themselves in a fierce battle to (re)obtain their ID. Officials claimed that for over 80 years they had erroneously provided people born to Haitian migrants with Dominican paperwork and now needed to rectify this mistake. These people say they are Dominican. They even have the paperwork to prove it. But the state doesn't agree…
Who was deemed eligible for inclusion in the civil registry (meaning Dominican citizens) and who was excluded as foreigners (the Haitian-descended) was considered a sovereign issue for the state to address. As a result, tens of thousands of people found themselves without documentation and subsequently excluded from essential healthcare services, welfare and education…
Hayes de Kalaf lists other cases where digital ID registrations had been used for discriminatory purposes, including India's ostracism of the Assam and Kenya's systematic mistreatment of Somali refugees:
For people who find themselves excluded from this new digital age, daily life isn't just difficult, it is almost impossible.
And while the need to speed up digital ID registrations is pressing, in this post-pandemic world we need to take a step back and reflect. Calls for digital COVID passports, biometric ID cards and data-sharing track-and-trace systems are facilitating the policing not only of people crossing borders but also, increasingly, of the populations living within them.
It is high time we had a serious discussion about the potential pitfalls of digital ID systems and their far-reaching, life-altering impact.
One can only hope that before voting on CUID, Mexico's Senate gives full consideration to these potential risks. The same goes for many governments around the world, in both the Global South and Global North.
===
EU snooping laws could see YOUR private messages being read – stark warning
EU PROPOSALS to "snoop" on private chats could see people in the UK having their messages read by European investigators without their knowledge, the Express can exclusively reveal. EU are 'bullies' and UK should 'stand up to them' says Tice
By ALEKS PHILLIPS - 14. November 2021
New legislation being considered by the European Parliament would allow EU authorities to view private and encrypted chats will likely have an impact on UK residents, despite the UK leaving the EU at the start of the year. The EU Commission wants to oblige all providers – such as WhatsApp, Skype and Signal – to scan private chats, under the guise of countering child abuse online.
New legislation would allow EU authorities to view private and encrypted chats (Image: Getty)
If an image sent privately pings an automated system as being suspect, the chat provider will send it to investigators.
Even though the new proposals are only intended to affect individuals living in the EU, as many chat services are worldwide, the "obligation" placed on service providers may extend to "all users", Patrick Breyer, a Pirate Party MEP and privacy campaigner, told the Express.
"So this would very likely impact UK citizens," he said.
Breyer: 'The EU Commission intends to impose indiscriminate chat control globally' (Image: Getty)
Mr Breyer explained: "The EU Commission intends to impose indiscriminate chat control globally, even for non-EU services.
"The obligation may apply to all users since oftentimes it's not possible for a service to determine the location of the user.
"The current voluntary chat control technologies are also used globally on all users."
He added that one of the "greatest risks" to the new proposals was "the end of digital secrecy of correspondence, making digital communications untrustworthy."
The EU Commission is pushing to oblige all providers to scan private chats (Image: Getty)
Mr Breyer has previously said that "to snoop on personal communications without specific suspicion is not possible".
In the UK, the Investigatory Powers Act 2016 – also known as the Snoopers' Charter – allows investigators access to online data, and issue general "bulk" warrants for data.
In April 2018, human rights group Liberty won a case in the High Court, which found that it was unlawful to order private companies to story individuals' data.
Venice tracks tourists through mobile phones
EU accused of 1984-style data surveillance in bid to monitor people...
===
Parler CEO: Facebook rebranding to Meta 'terrifying'
Oct 29, 2021
Parler CEO George Farmer reacts to Zuckerberg's unveiling of 'Meta' and former President Trump's new social media platform called Truth Social.
===
EU's Green Pass Vaccination ID Private Key Leaked or Forge
By Lisa Vaas - 28.
UPDATE: French & Polish authorities found no sign of cryptographic compromise in the leak of the private key used to sign the vaccine passports and to create fake passes for Mickey Mouse and Adolf Hitler, et al.
As of Thursday morning Eastern time, Adolf Hitler and Mickey Mouse could still validate their digital Covid passes, SpongeBob Squarepants was out of luck, and the European Union was investigating a leak of the private key used to sign the EU's Green Pass vaccine passports.
Two days earlier, on Tuesday, several people reported that they'd found a QR code online that turned out to be a digital Covid certificate with the name "Adolf Hitler" written on it, along with a date of birth listed as Jan. 1, 1900.
On Wednesday, the Italian news agency ANSA reported that several underground vendors were selling passes signed with the stolen key on the Dark Web, and that the EU had called "several high-level meetings" to investigate whether the theft was an isolated incident.
The private key used to verify Hitler's pass was reportedly revoked as of Wednesday, but there were multiple reports of working certificates still being sold online. Threatpost confirmed this on Thursday morning by using the official Verifica C19 app to scan a QR code that had been shared on Twitter by a penetration tester.
Adolf's certificate got the green light, as shown in the screen capture below:
Other QR codes posted to GitHub turned up a validly signed certificate for Mickey Mouse, though SpongeBob's certificate has since been turned away as the key(s) gets revoked.
As of Thursday, the certificate for Adolf Hitler was also still being accepted by Germany's Covid app "CovPass," where the private certificate itself appears to originate from France.
Serious Repercussions of a Leaked Private Certificate
Dirk Schrader, global vice president of security research at New Net Technologies (NNT), now part of change management software provider Netwrix, told Threatpost on Thursday that this leak is likely going to be a big issue as travelers increasing require proof of vaccination.
"A leaked private certificate is a likely a big issue as other nations, specially non-EU nations, might require additional proof for any traveler, once the full scope of this incident unfolds," he said via email. "The market for such fake vaccination certificates seems to be promising, as the use of Mickey Mouse and other fictitious and historic names certainly is used as a proof and assurance for potential buyers."
Authentic EU Digital Passports Could Be Invalidated
The worst potential outcome of this, Schrader pointed out, would be revocation of that private key – an outcome that could affect 278 million EU citizens.
Joseph Carson, chief security scientist and Advisory CISO at ThycoticCentrify, a Washington D.C. based provider of cloud identity security solutions, said the news of the leak is "shocking,"
"It is a major concern that the private keys have been reportedly leaked/sold and actively being used to create forged EU Digital COVID passports," he told Threatpost on Thursday. "This leak could, in fact, invalidate existing authentic EU Digital Passports unless a full incident response and root cause analysis is determined that could minimize any potential damage this could cause."
Carson pointed out that aach country is responsible for their private keys, so one country being compromised "would not be a major surprise."
That, however, isn't the case: multiple countries are being reported, which is going to damage the trust that the EU Digital Passport provides and which "could force a revamp on travel restrictions or trust in the passport," Carson said.
"The whole trust is based on keeping those private keys secured and protected, and I just hope that the impacted countries have minimized the risks and [are] not dependent on a single set of private keys for all EU Digital Passports," he continued.
"[Determining] how the private keys have been compromised should be a top priority," while reducing the risks of such a leak reoccurring should mean that security and protection of the keys will be significantly improved, he said.
A 'Growing Black Market' in Forged Vaccine Passports
Besides fictional or dead characters, the penetration tester who shared the QR code – @reversebrain – noted that this is no laughing matter. "This is worrying," they said. "If the leak would be confirmed, this means that fake EU Digital COVID Certificate can be forged to any person."
It wouldn't be the first time. In June, Germany set up a police task force to battle what the BBC called a growing black market in forged vaccine certificates, as scammers communicated via the encrypted Telegram messaging service to dupe people into paying about €100 (£86; $122) for a whole lot of nothing.
Telegram is again featuring in the forged certificates this time around. GitHub user Emanuele Laface said on Tuesday that the encrypted messenger service is where most of the forged Green Passes are being passed around:
"On various groups (Telegram mainly) are circulating several forged Green Pass with valid signature." —Emanuele Laface's Oct. 26 GitHub post
Laface suggested that the leak could encompass more than just one private key. Rather, it could be that a database of private keys was compromised: a possibility that "may [end] up in a break of the chain of trust in the Green Pass architecture," they noted.
That chain of trust could be broken in a lot of places: According to BleepngComputer, the fake certificates circulating online have been issued from countries including France, Germany, Italy, Netherlands, North Macedonia, Poland, and more, "indicating the issue could very well impact the entire EU."
EU (Slowly) Moves to Block Bogus Certificates
102821 13:05 UPDATE: The European Commission told Threatpost on Thursday that it's in contact with the relevant Member States authorities that are investigating and which are putting remedial actions in place.
A spokesperson said that Member States in the eHealth Network decided on Wednesday to coordinate their actions on the incident. As a first step, he said, "Member States have agreed to block the two fraudulent certificates so that they will be shown as invalid by the verifying apps."
The Commission didn't give a timeline for when the certificates will be blocked, nor why Threatpost and others could still validate some of the bogus certificates on Thursday.
But the Commission did say that Member States and the Commission are working at the national and European level on improving invalidation and revocation systems, "to be able to react to any such cases even more quickly."
The Commission condemned the private key theft: "The Member States and the Commission condemn this malicious act in the strongest possible terms, which comes at a time when health services in all Member States are under pressure fighting the pandemic."
Cryptographic Keys Not Compromised
The Commission's statement said that the certificates were apparently generated "by persons with valid credentials to access the national IT systems, or a person misusing such valid credentials."
An investigation now being conducted by authorities in France and Poland is looking into possible causes of the fraudulent activity, including potential forgery of documents and identity theft.
At this point, the investigation has ruled out a compromise of the cryptographic keys used to sign certificates, according to the Commission:
"According to the information available, the cryptographic keys used to sign certificates have not been compromised. This incident is caused by an illegal activity and not by a technical failure. Together with the Member States, we reaffirm our full trust in the EU Digital COVID Certificate system."
Author:
102821 13:23 UPDATE: Added input from the European Commission.
102821 13:39 UPDATE 2: Added input from Dirk Schrader, Joseph Carson.
===
===
The UK Is Trying To Use MP Assassination To Call For Social Media ID Verification System!!!
19. October 2021
Speaker of the UK Parliament's House of Commons, Lindsay Hoyle, has backed measures to eliminate internet users' anonymity, connecting threatening communications received by politicians online with their overall safety, particularly in light of last week's tragic stabbing of an MP.
The UK Is Trying To Use MP Assassination To Call For Social Media ID Verification System!!!
ZeroTech News Published October 19, 2021 111 Views
Rumble — This isn't good for the people in the UK!!!
Hoyle's remarks come in the wake of the assassination of Conservative MP David Amess, which is being investigated as a possible terrorist attack, with the suspect's objectives tied to Islamist radicalism.
The suspect, a British citizen of Somali ancestry, was sent to the Prevent scheme several years ago as a strategy to reduce the risk of terrorist radicalization. At this moment, it's unclear whether the suspect had previously targeted his victim on social media or why the link is being made.
However, some high-ranking officials, including Hoyle and Home Secretary Priti Patel, are using the terrible incident to brainstorm methods to better protect MPs, one of which is robbing online users of their anonymity.
According to reports in the UK media, Hoyle said that he received a message from an "offshore account" threatening to plant a bomb under his car. He chastised tech companies for not doing enough and signaled that he supported new legislation that would allow authorities to track people online if they are suspected of transmitting threats.
Patel, on the other hand, wants social media accounts to be connected to real-world identities. He also referenced the impending Online Harms Bill, which supporters claim will curb bigotry and threats on the internet, while detractors believe it will damage free speech.
Under the bill, digital companies could be fined up to £18 million or 10% of their annual global turnover, with their executives potentially facing criminal charges in some situations.
Patel said it was difficult to delete insulting or threatening remarks from social media, and that unmasking people could help.
"When councilors and MPs report behavior that would be criminal in the real world, major platforms must respond faster," Conservative MP David Warman said, adding, "that starts with acknowledging that anonymity gives protection for language that would never be spoken to anyone's face."
===
===
"It's Already Too Late, I Can't Hide It Anymore"
| Edward Snowden (2021)
29 Sept 2021
"It's Already Too Late, I Can't Hide It Anymore" | Edward Snowden (2021)
Please SHARE this as widely as you feel drawn... Edward Snowden explains how the government is taking advantage of it's people, stealing their information and storing it in a secret data center. Edward Snowden tells all about his experience working at the CIA, NSA, FBI and the government as a contractor. Edward Snowden further explains that we need to take action against mass surveillance against the American people. This is a motivational and educational video which will give you different perspective about many things, You will listen to incredible advice that is very important. Check it out!
Special thanks to Edward Snowden https://twitter.com/Snowden​ https://edwardsnowden.com
===
FBI Director: Ban Encryption to Counter Domestic Extremism
By Ken Silva - 21. September 2021 - Updated: September 22, 2021
FBI Director Christopher Wray said on Sept. 21 that restrictions on encrypted chat services are needed to combat domestic terrorism—a claim that has been disputed by a wide array of tech companies, industry associations, and privacy groups, as well as other government agencies.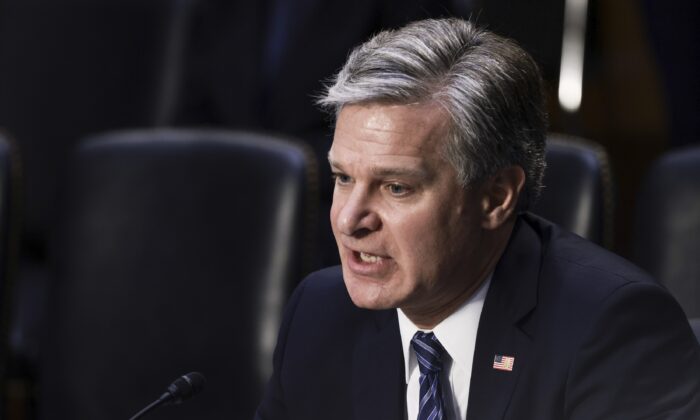 FBI Director Christopher Wray speaks on Capitol Hill on Sept. 15, 2021. (Anna Moneymaker/Getty Images)
Wray made the remarks during the Senate Committee on Homeland Security's counterterrorism hearing.
"I can't overstate the impact of default encryption and the role it's playing, including on terrorism," Wray said in response to a question from Sen. Jacky Rosen (D-Nev.) about what tools Congress can give law enforcement to counter domestic extremism.
"The information that will allow us to separate the wheat from the chaff, in terms of social media, is being able to—with lawful process—get access to those communications, where most of the meaningful discussions of the violence is occurring."
Wray's remarks were the latest in what tech companies, industry groups, and civil rights organizations have criticized as an anti-encryption campaign by law enforcement.
In May 2020, then-Attorney General William Barr and Wray criticized Apple for not helping investigators who were attempting to gain access to two iPhones used by Mohammed Alshamrani, who launched a terror attack at the Pensacola Naval Air Station in Florida in December 2019.
In June 2020, Barr endorsed the now-dormant Lawful Access to Encrypted Data (LAED) Act, which would have required companies with more than 1 million customers to annually redesign their systems to make their data decryptable.
Wray continued his anti-encryption efforts in March, when he told the Senate Judiciary Committee that encryption was stifling his agents from investigating domestic extremism.
"Like Alshamrani, the plotters who sought to kidnap the governor of Michigan late last year used end-to-end encrypted apps to hide their communications from law enforcement. Their plot was only disrupted by well-timed human source reporting and the resulting undercover operation," Wray said at the time.
"Subjects of our investigation into the Jan. 6 Capitol siege used end-to-end encrypted communications as well."
According to Wray and other law enforcers, tech companies should be able to build "backdoors" into their encryption that preserves privacy, while allowing for access when necessary. That, they say, strikes the proper balance between data security and national security.
Industry Response
However, numerous tech experts, civil libertarians, and others say that it's impossible to build a backdoor that can't be exploited by hackers. They also say that by banning encryption, the United States would be following in the footsteps of authoritarian countries such as China, which recently blocked the encrypted messaging app Signal.
"It is important to understand that any kind of back door (or front door) access for the 'good guys' can also be exploited by the 'bad guys,'" the pro-industry Information Technology & Innovation Foundation stated in a July 2020 report, in the midst of the Apple-Barr controversy.
"For example, key escrow systems would introduce new attack vectors that could allow attackers to gain access to encrypted information, such as by compromising the system that maintains copies of the keys."
Encryption is one of the few issues of agreement between tech companies and nonprofit organizations such as the American Civil Liberties Union (ACLU).
For instance, when Wray attacked Facebook's plans to encrypt its messaging system in October 2019, a coalition of more than 100 organizations wrote a letter supporting Facebook founder and CEO Mark Zuckerberg.
"Given the remarkable reach of Facebook's messaging services, ensuring default end-to-end security will provide a substantial boon to worldwide communications freedom, to public safety, and to democratic values, and we urge you to proceed with your plans to encrypt messaging through Facebook products and services," the letter reads.
"We encourage you to resist calls to create so-called 'backdoors' or 'exceptional access' to the content of users' messages, which will fundamentally weaken encryption and the privacy and security of all users."
Some government agencies are pro-encryption. New York Attorney General Letitia James and the U.S. Federal Trade Commission (FTC) both initiated enforcement actions against Zoom in 2020 for falsely claiming that its chats were encrypted. The FTC and New York state settlements required Zoom to upgrade its security practices.
What Companies Are Doing
Zoom responded to regulatory actions by purchasing the encryption firm Keybase and expanding its encryption services to all users.
Facebook's general messaging system remains unencrypted, but its subsidiary WhatsApp increased its encryption efforts in early September. While WhatsApp messages have always been encrypted, the backups stored in the cloud haven't.
Facebook said on Sept. 10 that it's rectifying the situation.
"People can already back up their WhatsApp message history via cloud-based services like Google Drive and iCloud. WhatsApp does not have access to these backups, and they are secured by the individual cloud-based storage services," Facebook stated.
"But now, if people choose to enable end-to-end encrypted (E2EE) backups once available, neither WhatsApp nor the backup service provider will be able to access their backup or their backup encryption key."
However, Apple seems to be moving in the opposite direction. The company announced in August that it plans to incorporate tools in its products that can scan data for child pornography and other illicit materials—much to the dismay of privacy advocates.
"To say that we are disappointed by Apple's plans is an understatement. Apple has historically been a champion of end-to-end encryption, for all of the same reasons that EFF has articulated time and time again," the Electronic Frontier Foundation (EFF) stated in response to the announcement.
"Apple's compromise on end-to-end encryption may appease government agencies in the U.S. and abroad, but it is a shocking about-face for users who have relied on the company's leadership in privacy and security."
Privacy experts have contended that law enforcement can still investigate child pornography by tracking metadata. If a grown man is messaging numerous children, law enforcers can and should monitor that person closely, they say.
Apple said in early September that it's delaying the rollout amid heavy criticism and will take more time to make improvements before releasing the child safety features.
However, EFF said the only route that the company should take is keeping Apple data fully encrypted.
"Apple can explain at length how its technical implementation will preserve privacy and security in its proposed backdoor, but at the end of the day, even a thoroughly documented, carefully thought-out, and narrowly scoped backdoor is still a backdoor."
Author: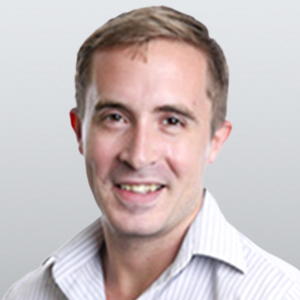 Ken Silva covers national security issues for The Epoch Times. His reporting background also includes cybersecurity, crime and offshore finance – including three years as a reporter in the British Virgin Islands and two years in the Cayman Islands. Contact him at
MUST READ ALSO TO UNDERSTAND THE TIMELINE AND NOOSE:
... Fallout From "Biggest Ransomware Attack In History" === MUST READ ALSO: You Will be Subject to Total Control III Global Vaccine Passports Have Arrived Courtesy of ...
Global Vaccine Passports Have Arrived Courtesy of Google, EU UPDATE 29. June 2021: Vaccine passports: It's all over! UK Cabinet agrees it's time to 'live with Covid'... and you ...
... and credit cards, transit passes, and more. Under the guise of aiding the marginalized and protecting their civil liberties, despotic technocrats will be able to use digital IDs to control access ...
... legal process for addressing violations of European values. The EU Commission has stated that the Polish judiciary is under "the political control of the ruling majority. In the absence of judicial independence, ...
===
MUST WATCH:
MOOC CRDA: Children's rights in the age of hyper-surveillance - Edward Snowden
Sep 21, 2021
#HumanRights #GCHumanRights #childrensrights
Surveillance of children has grown to mean far more than catching them on the CCTV security camera at the community store. Surveillance technologies have become more accessible and affordable to consumers, and monitoring with cameras and devices in the home has become a primary feature of modern childcare.
Edward Snowden, Right Livelihood Laureate, is a new father who also happens to be an expert on privacy and counter-surveillance. He has generously accepted to be interviewed exclusively for this MOOC. Listen in to hear more about his opinions on protecting children's privacy in the age of hyper-surveillance. This lecture is part of the MOOC Children's Rights and Technology in the Digital Age.
The Global Campus of Human Rights is an inter-disciplinary centre of excellence supported by the EU, aiming at pursuing the continued promotion of human rights and democratisation through education, specialised training, and research cooperation worldwide through a network of regional partners. Its main headquarters are based in Venice, and the regional partner's headquarters are based in Sarajevo/Bologna for South East Europe, in Yerevan for the Caucasus, in Pretoria for Africa, in Bangkok for Asia-Pacific, in Buenos Aires for Latin America and the Caribbean, and in Beirut for the Arab world.
===
MERKELS GERMANY GOES NUTS
- TRIES TO MUZZLE U.S. FREE SPEECH PLATFORM GAB
20. September 2021
The German government has been coming at Gab hard to try and force us to comply with their draconian online censorship laws. We have obviously refused to do so and now they are coming after us with fines of tens of thousands of dollars and other legal action. Our lawyers informed us that we have three options:

1) Obey German censorship laws and start censoring content that the German Govt doesn't like (not going to happen)
2) Disobey German censorship laws and pick a fight with the nation state of Germany (I wouldn't ever be able to leave the US again, they would come at us from every possible angle through state-sponsored deplatforming, and Lord knows what else.)
3) Cease providing this service in Germany by blocking German IPs.

So obviously a very difficult decision, but one that must be made very soon. I wanted to share with you all to be fully transparent with what is going on.
---
Germany Wants To Force Gab To Censor, It's Not Happening
By Andrew Torba - 20. September 2021
This week we received a huge packet of documents with fines and legal threats from the nation state of Germany. Gab is refusing, and has refused for many years, to comply with the German Network Enforcement Act. Gab is a US company and as such we are under zero obligation to obey foreign laws from tyrannical governments.
For those unfamiliar, the Network Enforcement Act is a draconian German law aimed at combatting "fake news" on social networking websites. "Fake news" is of course, whatever the German Government says it is.
For example this week Facebook deleted 150 accounts belonging to an anti-lockdown movement in Germany, likely at the behest of the German government under the Network Enforcement Act.
Because of Gab's unwillingness to participate in State-mandated censorship of free speech, the German government is now coming after our bootstrapped tech startup with heavy fines and other legal action.
Gab is not a lawless website. We work diligently to stop and prevent illegal activity from taking place on our platform. We have great relationships with many foreign countries who understand and respect our position on free speech and appreciate our zero tolerance for criminal activity. The German government isn't concerned about any actual criminal activity, they are concerned with Thought Criminals who dare to dissent against their globalist regime.
According to our legal team, who has been working with us on this issue for several months, we have three choices.
1) Obey German censorship laws and start censoring content that the German Government doesn't like (this is not going to happen)
2) Disobey German censorship laws and pick a fight with the nation state of Germany (I likely wouldn't ever be able to leave the US again, they would come at us from every possible angle through state-sponsored deplatforming, heavy fines, they would possibly leverage contacts in the Biden Admin to come after Gab in other ways, and Lord knows what else.)
3) Temporarily stop providing this service in Germany by blocking German IPs.
I hate everything about these choices, which is why we went public with this information to gather feedback and consensus from our community on the topic.
The overwhelming majority of people have been very supportive of the third option. Our lawyers are suggesting this option. Our community is suggesting this option. I've had many people email me and reach out privately to say that this is our best course of action. We seem to have a consensus.
Yet it doesn't sit right with me.
Ultimately as the CEO of Gab I alone need to make this decision. These are the types of decisions that define a man and make history. If we block German IPs to appease the German government that sets a precedent that other countries will want to follow. We are not IP blocking ourselves into a corner here. If the German government wants to stop German IPs from accessing Gab they can block us themselves.
Why should we block an entire country from accessing Gab because their government is sending us fines we won't pay and veiled legal threats that mean nothing to Gab as a US corporation? I won't be able to travel to Europe anyway because I'm not getting injected with an experimental substance. On the bright side I now have a huge stack of kindling paper for my wood stove this winter.
The reality is the German government has zero authority or jurisdiction over how we operate Gab. We have no corporate entity in Germany, we have no employees in Germany, and we are not German citizens. We are Americans.
In America you play by our rules, we don't play by yours. Germany is a guest in our community and they will respect our values and way of doing things, not the other way around. I have nothing but love for the German people and they too deserve the fundamental human right to speak freely on the internet.
Our mission is to defend free speech online for all people, everywhere. Including in Germany. We will continue to do that, regardless of any threats from foreign governments. If we bow to Germany today, what's to stop us from bowing to literal tyrants, such as those in Russia (like Google and Apple did just last week) or China (as Apple has donefor years)?
In matters pertaining to serious crime, German police forces already know how to reach us, as indeed they have done many times in the past. We will continue to respond to those requests and provide prompt assistance to those police forces on a voluntary basis. What we will not do is restrict access to, or remove, content which is legal in the United States on or from servers in the United States.
As I write this today is the day the American Constitution was signed over 234 years ago. We must stand up now to defend it and fight for the freedoms enshrined in it, which come from God, for all nations.
I'm not sure what will come of this decision, but I will not make an important choice like this from a position of fear. I leave the outcomes of this decision in the hands of God Almighty and I pray that the German people will take back their country and freedoms very soon.
Until then: wir werden nicht nachgeben, "Nuts!". (we will not comply, Nuts!)
Andrew Torba
CEO, Gab.com
===
Pegasus Spyware Detector: 4 Ways to Tell If Your Android Is Infected and How to Use Amnesty's Toolkit
By - 14. July 2021
Pegasus spyware developed by the NSO Group is in the spotlight after international media organizations collaborated on a massive report revealing governments in the company's clientele using the malware to surveil different persons of interest. Find out how you can tell if your smartphone is infected with the spyware and how you can use Amnesty's toolkit.
What is Pegasus Spyware?
The Pegasus spyware works as malware that infiltrates smartphones via apps like iMessage and WhatsApp. Victims can also introduce the spyware into their devices by inadvertently clicking a link containing the vulnerability, Time explained. The Israeli NSO Group insists it is only intended for use against criminals and terrorists, but the investigation was done by The Guardian and 16 other media organizations revealed widespread and continuing abuse of the spyware.
Spyware like Pegasus takes advantage of known and unknown flaws in a computer's operating system until the companies making the devices roll out fixes.
The NSO Group has also demonstrated the ability to install malware on devices with zero need for interaction from the victim. Receiving a call from someone attempting to infect a device was enough to successfully infiltrate the operating system's defenses without raising any alarms. The spyware is difficult to detect as it exists in the smartphone's memory, similar to other malware like ransomware.
Once installed, Pegasus can harvest practically any data from the device and transmit it back to the attacker, The Guardian explained. The spyware user can secure a log of the phone owner's past movements and track their location in real-time with pinpoint accuracy, including the speed at which their car was traveling.
In the data leak provided by Paris-based journalism nonprofit Forbidden Stories and Amnesty International, around 50,000 phone numbers were potential surveillance targets, TechCrunch said.
The list contained phone numbers of more than 180 journalists, including reporters, editors, and executives at the Financial Times, CNN, the New York Times, France 24, The Economist, Associated Press, and Reuters. Phone numbers of lawyers, activists, journalists, political opponents, government critics, as well as relatives of these individuals were also found in the list.
At least 10 governments are believed to be NSO's clients who were entering numbers into a system: Azerbaijan, Bahrain, Kazakhstan, Mexico, Morocco, Rwanda, Saudi Arabia, Hungary, India, and the United Arab Emirates (UAE), The Guardian revealed. The phone numbers were from 45 countries across four continents.
The NSO Group still maintains it "does not operate the systems that it sells to vetted government customers, and does not have access to the data of its customers' targets."
Read Also: Joker Malware in Android: 11 Apps to Avoid in Google Play Store to Prevent Infection
4 Ways to Tell if Your Android is Infected with Pegasus or any other Malware
Look out for these warning signs of an infiltrated smartphone. Using the recently released toolkit should also be helpful in scanning your device for any malicious software.
4. Check for signs of battery drainage
Spyware can drain an excessive amount of battery from your device. See if your battery is depleting very quickly or that you find yourself needing to charge your phone often.
3. Check for encrypted text messages
Receiving strange SMS messages that look like code could be a worrisome sign that the device is hit with spyware. Beware of other texting scams like smishing that steal sensitive information from devices as well.
2. Check for high data usage
When your phone is hacked, the hacker is trying to extract data from your phone which means it needs a connection to transfer that data. Go to Settings then tap Connections. Select Data usage and then review your current amount of available data.
1. Use the Mobile Verification Toolkit
The MVT scans the device backup for text messages with links to domains known to be used by NSO as well as any potentially malicious applications installed on the device, Tech Crunch explained.
Here's what Israel's NSO Group Pegasus #spyware can do- software they willingly sell to "vetted" parties. Graphics from @guardian This was recently found to work on iPhones as well by Amnesty International. pic.twitter.com/Y7Q3L7ixjD

— Mindful Vegan Canadian🇨🇦🧘‍♂️ (@mindfulvegan_ca) July 22, 2021
Read Also: Afraid Your Samsung Galaxy Phone Has Been Hacked? Check For Warning Signs, Perform Fixes
How to Use Amnesty's Mobile Verification Toolkit
The open-source toolkit can be downloaded from Github and is available for both Android and iOS users.
The Amnesty International Security Lab does inform the users that the tool does require some technical skills like understanding the basics of forensic analysis and using command line tools. Installation of the MVT does require the installation of dependencies that are compatible with the computer being used for the scans.
A more in-depth guide to using the tool is available in their documentation that walks the user step by step from installation to scanning.
The tool is not limited to scanning for Pegasus as it can also check for other malicious apps.

Related Article: Afraid Your iPhone Is Infected With Spyware? Major Warning Signs and 6 Ways You Can Remove It
First published by Tech Post
===
GRAPHENE DIGITAL HEALTH PASS CONFIRMED
First published BITCHUTE September 18th, 2021.
EU Flagship, same people behind Global Vaccination Summit Sept 2019
Problem Reaction Solution
Resist at all cost
===
HOW CIA USES MIND CONTROL ON INDIVIDUALS AND ENTIRE URBAN POPULATIONS
BLOGMAN - BLACKSMITH OF TRUTH -18. March 2015
I have made postings before about this disturbing fact, that we are mind controlled and these technologies will increase and we have to know how to deal with them.
Here are previous post about it:
>> https://www.auricmedia.net/synthetic-telepathy-the-hidden-truth/
>> https://www.auricmedia.net/mind-control-the-ultimate-terror/
>> https://www.auricmedia.net/microchip-implants-mind-control-and-cybernetics/
>> https://www.auricmedia.net/how-to-protect-yourself-from-the-largest-pandemic-of-all-time-4glte-mobile-internet-and-wifi/
>> https://www.auricmedia.net/targeted-individuals/
And here is the latest article:
>> HOW CIA USES MIND CONTROL ON INDIVIDUALS AND ENTIRE URBAN POPULATIONS USING DIRECTED ENERGY (pdf)
Good to read is also Robert Duncan's:
>> https://www.auricmedia.net/wp-content/uploads/2013/05/the_matrix_deciphered.pdf
LINK TO THE FREE E-BOOK: https://www.stopthecrime.net/docs/thematrixdeciph.pdf
And here is his interview on the subject: