UPDATE 17. September 2021: FDA Votes 16-2 AGAINST Widespread Covid-19 Booster Shots
UPDATE 16. September 2021: 24 AGs' Letter To Pres. Biden On Vaccine Mandate: your plan is... disasterous and counterproductive. + Italy to Impose Strict Covid-19 Health Pass for All Workers + Israeli Researchers Can Confirm Only 12 Days of Protection From COVID-19 Virus with Booster Shot
UPDATE 14. September 2021: EXPLOSIVE Truth About Vaccines & COVID with Inventor Of mRNA Vaccine Technology, Dr. Robert Malone
UPDATE 11. September 2021: NURSES IN STANISLAUS COUNTY, CA, SPEAK UP AT BOARD OF SUPERVISORS MEETING + CHOOSE YOUR COVID POISON
UPDATE 10. September 2021: WORDS IN YOUR HEAD - HOW THEY ARE TELLING YOU TO 'GET THE VACCINE' - DAVID ICKE DOT-CONNECTOR
UPDATE 09. September 2021: WHO chief urges halt to booster shots for rest of the year - WHO previously called to halt booster shots through the end of September. Eugenicists call with highest priority to first genetically compromise everyone with an initial shot.
UPDATE 08. September 2021: CDC Changes Definition of "Vaccine", Vindicates Alex Berenson
UPDATE 05. September 2021: THIRD SHOT DEATH SKYROCKETING IN ISRAEL + CRISIS IN AMERICA: MILLIONS OF NURSES ARE RESIGNING OR BEING FIRED OVER COVID VACCINE MANDATES + List of U.S. Attorneys against forced inoculations
UPDATE 04. September 2021: We're Being Set Up For 'Escape Mutant Virus' + Natural Immunity Is 20X More Effective Than The Vaccine + FORWARDED FROM WIKILEAKS "I think this whole pandemic, from the beginning, was about the vaccine"
UPDATE 03. September 2021: OVID-19 jabs are 'not really vaccines': Top infectious diseases expert + SHOCKING REVELATION - DOCTOR EXPOSES COVID BIOWEAPONS PROGRAM & REVEALS VACCINE WILL KILL MILLIONS + ROBERT KENNEDY JR, PEOPLE IN AUTHORITY LIE
UPDATE 03. September 2021: COVID Shots Are Killing and Crippling Teens in Record Numbers – Young Children Are Next
60% of Those Older than 50 "Who Die from COVID" Are Double Vaxxed
By Dr. Joseph Mercola - 02. September 2021
As of August 15, 2021, 68% of COVID patients admitted to hospital in the U.K. who were over the age of 50 had received one or two doses of COVID injections.
By mid-August, 59% of serious cases in Israel were also among those who had received two COVID injections, mirroring U.K. data
Only in the 50 and younger category were a majority, 74%, of British COVID patients unvaccinated. Those claiming we're in a pandemic of the unvaccinated fail to differentiate between age groups
The same applies to COVID deaths in the U.K. Unvaccinated make up the majority of deaths only in the under-50 age group. In the over-50 group, the clear majority, 70%, are either partially or fully "vaccinated"
We cannot rely on U.S. data to get a clear idea of how the COVID shots are working, as the CDC has chosen to only track breakthrough cases that result in hospitalization and/or death
Reanalysis of Pfizer's, Moderna's and Janssen's COVID trial data using the proper endpoint show the shots are hurting the health of the population, and if mass vaccination continues we face "a looming vaccine-induced public health catastrophe"
A new study shows that vaccinated individuals are up to 13 times more likely to get infected with the new Delta variant than unvaccinated individuals who have had a natural COVID infection
*
The oft-repeated refrain right now is that we're in a "pandemic of the unvaccinated," meaning those who have not received the COVID jab make up the bulk of those hospitalized and dying from the Delta variant. For example, August 20, 2021, England's chief medical officer professor Chris Whitty tweeted:1,2
"Four weeks working on a COVID ward makes stark the reality that the majority of our hospitalized COVID patients are unvaccinated and regret delaying. Some are very sick including young adults. Please don't delay your vaccine."
Curiously, if you take the time to actually look at the data, you'll find that this blanket statement is rather deceptive. Here's a graphic published in the Evening Standard, sourced from Public Health England:3
As you can see, as of August 15, 2021, 58% of COVID patients admitted to hospital who were over the age of 50 had actually received two doses of COVID injections and 10% had received one dose. So, partially or fully "vaccinated" individuals made up 68% of hospitalizations.
Only in the 50 and younger category were a majority, 74%, of hospitalizations among the unvaccinated. Whitty, however, completely neglected to differentiate between the age groups. The same applies to deaths. Unvaccinated only make up the majority of COVID deaths in the under-50 age group. In the over-50 group, the clear majority, 70%, are either partially or fully "vaccinated."
It's also unclear whether hospitals in the U.K. (and elsewhere) are still designating anyone who is admitted and tests positive with a PCR test as a "COVID patient." If so, people with broken bones or any number of other health problems who have no symptoms of COVID-19 at all might be unfairly lumped into the "unvaccinated COVID patient" total.
Israeli Data Show COVID Jab Is Failing in Over-50s
In Israel, where vaccine uptake has been very high due to restrictions on freedom for those who don't comply,4 data show those who have received the COVID jab are 6.72 times more likely to get infected than people with natural immunity.5,6,7
The fully "vaccinated" also made up the bulk of serious cases and COVID-related deaths in July 2021, as illustrated in the graphs below.8 The red is unvaccinated, yellow refers to partially "vaccinated" and green fully "vaccinated" with two doses. By mid-August, 59% of serious cases were among those who had received two COVID injections,9 mirroring the data coming out of the U.K.
In an August 16, 2021, Science article,10 Israeli Minister of Health Nitzan Horowitz is quoted saying the nation has entered a "critical time" in the race against the pandemic. Horowitz allegedly was given a third booster shot August 13, 2021, the day they began offering a third dose to people over the age of 50.
From Public Health England's data, it seems clear that the COVID shots are failing to protect people over the age of 50 in the U.K. as well, so it's probably only a matter of time before booster shots are rolled out there too. And, provided the COVID injections are the same irrespective of country, there's every reason to assume the same trends will emerge in other countries, including the U.S.
This is precisely what Ran Balicer, chief innovation officer at Clalit Health Services, Israel's largest health maintenance organization (HMO), told Science: "If it can happen here, it can probably happen everywhere."11
Israeli Data Considered the Best Around
The data coming out of Israel is considered by many to be the best we have, and can give us a glimpse of what to expect elsewhere. As explained by Science magazine:12
"Israel is being closely watched now because it was one of the first countries out of the gate with vaccinations in December 2020 and quickly achieved a degree of population coverage that was the envy of other nations — for a time.
The nation of 9.3 million also has a robust public health infrastructure and a population wholly enrolled in HMOs that track them closely, allowing it to produce high-quality, real-world data on how well vaccines are working.
'I watch [Israeli data] very, very closely because it is some of the absolutely best data coming out anywhere in the world,' says David O'Connor, a viral sequencing expert at the University of Wisconsin, Madison.
'Israel is the model,' agrees Eric Topol, a physician-scientist at Scripps Research. 'It's pure mRNA vaccines. It's out there early. It's got a very high level population [uptake]. It's a working experimental lab for us to learn from.'
Israel's HMOs … track demographics, comorbidities, and a trove of coronavirus metrics on infections, illnesses, and deaths. 'We have rich individual-level data that allows us to provide real-world evidence in near–real time,' Balicer says …
Now, the effects of waning immunity may be beginning to show in Israelis vaccinated in early winter; a preprint13 published last month … found that protection from COVID-19 infection during June and July dropped in proportion to the length of time since an individual was vaccinated.People vaccinated in January had a 2.26 times greater risk for a breakthrough infection than those vaccinated in April."
Where Will It End?
According to Science magazine, breakthrough cases are now multiplying at breakneck speed. "There are so many breakthrough infections that they dominate and most of the hospitalized patients are actually vaccinated," Uri Shalit, a bioinformatician at the Israel Institute of Technology told Science.14
Nearly 1 million Israelis over the age of 50 have now received a third booster of Pfizer's mRNA shot. Time will tell whether this will worsen the rate of breakthrough cases or tame it.
Dvir Aran, a biomedical data scientist at the Israel Institute of Technology doesn't seem very hopeful, telling Science the surge is already so steep, "even if you get two-thirds of those 60-plus [boosted], it's just gonna give us another week, maybe two weeks until our hospitals are flooded" again.15
The obvious question is, what then?! Will the answer be a fourth injection before the year is over? Will we be looking at quarterly injections? Monthly injections? Biweekly? Weekly? Where and when does it end? It is fairly easy to predict that this can only end very badly.
US Tracks Only Fraction of Breakthrough Infections
Unfortunately, we cannot rely on U.S. data to get a clear idea of how the COVID shots are working, as the U.S. Centers for Disease Control and Prevention has chosen not to track all breakthrough cases. As reported by ProPublica,16 May 1, 2021, the CDC stopped tracking and reporting all breakthrough cases, opting to log only those that result in hospitalization and/or death.
As noted in the article, this irrational decision has "left the nation with a muddled understanding of COVID-19's impact on the vaccinated." It also prevents us from understanding how variants are spreading and whether those who have received the jab can still develop so-called "long-haul syndrome."
Individual states are also setting their own criteria for how they collect data on breakthrough cases, and this patchwork muddies the waters even further. Despite these limitations, what little data we do have is starting to mirror that of Israel and the U.K.
August 18, 2021, the CDC released three reports,17,18,19 which show the protection you get from the COVID shot is rapidly waning.
"Among nursing home residents, one of the studies showed vaccine effectiveness dropped from 74.7% in the spring to just 53.1% by midsummer,"ProPublica writes.20 "Similarly, another report found that the overall effectiveness among vaccinated New York adults dropped from 91.7% to just under 80% between May and July.
The new findings prompted the Biden administration to announce on Wednesday that people who got a Moderna or Pfizer vaccine will be offered a booster shot eight months after their second dose. The program is scheduled to begin the week of Sept. 20 but needs approval from the Food and Drug Administration and a CDC advisory committee.
This latest development is seen by some as another example of shifting public health messaging and backpedaling that has accompanied every phase of the pandemic for 19 months through two administrations. A little more than a month ago, the CDC and the FDA released a joint statement saying that those who have been fully vaccinated 'do not need a booster shot at this time' …
The CDC tracked all breakthrough cases until the end of April, then abruptly stopped without making a formal announcement. A reference to the policy switch appeared on the agency's website in May about halfway down the homepage.
'I was shocked,' said Dr. Leana Wen, a physician and visiting professor of health policy and management at George Washington University. 'I have yet to hear a coherent explanation of why they stopped tracking this information' …
Sen. Edward Markey, D-Mass., became alarmed after the Provincetown outbreak and wrote to CDC director Dr. Rochelle Walensky on July 22, questioning the decision to limit investigation of breakthrough cases. He asked what type of data was being compiled and how it would be shared publicly21 … Markey asked the agency to respond by Aug. 12. So far the senator has received no reply …"
Vaxxed Are Up to 13 Times More Likely to Get Delta Variant
While the U.S. is lax about recording breakthrough infections, researchers in Israel have some breaking news: They have been keeping track, and their studies22 show that vaccinated individuals are up to 13 times more likely to get the Delta variant of COVID-19 than those who were not vaccinated, but had recovered from a COVID infection.
As explained by ScienceMag:23 The study "found in two analyses that people who were vaccinated in January and February were, in June, July and the first half of August, six to 13 times more likely to get infected than unvaccinated people who were previously infected with the coronavirus. In one analysis, comparing more than 32,000 people in the health system, the risk of developing symptomatic COVID-19 was 27 times higher among the vaccinated, and the risk of hospitalization eight times higher."
The study also said that, while vaccinated persons who also had natural infection did appear to have additional protection against the Delta variant, the vaccinated were still at a greater risk for COVID-19-related-hospitalizations compared to those without the vaccine, but who were previously infected. Vaccinees who hadn't had a natural infection also had a 5.96-fold increased risk for breakthrough infection and a 7.13-fold increased risk for symptomatic disease.
One thing to note here is that the wording of this is important: The study does not say that getting a vaccine helps protect you if you've had a natural infection; rather, it says that natural protection helps boost the vaccine. Either way, even if you do have natural infection in combination with the vaccination, vaccinees are still at an increased risk for a breakthrough infection.
"This study demonstrated that natural immunity confers longer lasting and stronger protection against infection, symptomatic disease and hospitalization caused by the Delta variant of SARS-CoV-2, compared to the BNT162b2 two-dose vaccine-induced immunity," the study authors concluded.
Fully Vaxxed Speak Out
Back America, in an August 24, 2021, article,24 The Defender cites data from seven states (California, Colorado, Massachusetts, Oregon, Utah, Vermont and Virginia) that keep more detailed records than most. In six of these states, breakthrough infections accounted for 18% to 28% of all new COVID diagnoses in the past several weeks, as well as 12% to 24% of all COVID-related hospitalizations.
In Los Angeles, breakthrough cases have risen from 5% in April and 13% in July to a current of 30%. Fully vaxxed celebrities and elected officials have now started speaking out after getting COVID. As reported by The Defender: 25
"Melissa Joan Hart, the former 'Sabrina the Teenage Witch' star is 'really mad' she has a breakthrough case. Hart shared on Instagram Aug. 19 … 'I got COVID. I am vaccinated. And I got COVID. And it's bad. It's weighing on my chest, it's hard to breathe' …
Celebrity Hilary Duff, revealed she had COVID on Instagram Aug. 20. Duff said she was experiencing a bad headache, brain fog, sinus pressure and a loss of taste and smell despite being vaccinated …
Slipknot singer Corey Taylor, 47, was devastated after testing positive for COVID and was forced to call off his upcoming appearance at a Michigan pop culture convention this weekend, Rolling Stone reported. 'I wish I had better news,' said Taylor in a recorded video message last week on Facebook. 'I woke up today and tested positive and I'm very, very sick' …
Rev. Jesse Jackson, and his wife, Jacqueline, remained under doctors' observation Monday[August 23, 2021] at a Chicago hospital after getting COVID … Jackson, a Chicago civil rights leader, was fully vaccinated and received his first dose in January during a publicized event where he urged others to receive the vaccine as soon as possible …
Three U.S. senators — John Hickenlooper (D-Colo.), Angus King (I-Maine) and Roger Wicker (R-Miss.) — announced Aug. 19 they tested positive for COVID despite being fully vaccinated, CBS News reported …
The news came days after Texas Gov. Greg Abbott, who also was fully vaccinated, tested positive for COVID. Illinois state Sen. Dan McConchie announced Aug. 21 he had a 'breakthrough' case of COVID."
CDC Has Also Hidden Breakthrough Cases in Other Ways
The CDC also cooked the books on COVID breakthrough cases in other ways. Originally, the CDC recommended labs use a CT of 4026 when testing for SARS-CoV-2 infection. This, despite using a CT above 35 was known to create a false positive rate of 97%.27 By using an exaggerated CT, healthy people were deemed stricken with COVID-19.
In May 2021, the CDC lowered the CT from 40 to 28 or lower — but only when doing PCR testing on individuals who have received the COVID jab.28 Unvaccinated were still tested using a CT of 40. The end result is obvious: "Vaccinated" individuals became far less likely to test positive for SARS-CoV-2 infection while unvaccinated were still exceedingly getting false positives. As noted by Off-Guardian:29
"This is a policy designed to continuously inflate one number, and systematically minimizethe other. What is that if not an obvious and deliberate act of deception?"
How the CDC Invented the 'Pandemic of Unvaxxed' Narrative
The CDC also played fast and loose with the data when it invented the "pandemic of the unvaccinated" narrative30 that we're now being indoctrinated with. In a July 16, 2021, White House press briefing,31 CDC director Dr. Rochelle Walensky claimed "over 97% of people who are entering the hospital right now are unvaccinated."
As it turns out, that statistic is based on hospitalization data from January through June 2021, when the majority of Americans had not yet gotten the COVID jab. January 1, 2021, only 0.5% of the U.S. population had received a COVID shot. By mid-April, an estimated 31% had received one or more shots,32 and as of June 30, just 46.9% were "fully vaccinated."33
COVID Shots 'Proven to Cause More Harm Than Good'
While the official narrative is that the COVID shots may be "less than perfect" but are still better than the alternative (i.e., getting the infection when you're unvaccinated), Dr. Bart Classen published a study34 in the August 2021 issue of Trends in Internal Medicine, disputing this claim.
The study,35 "U.S. COVID-19 Vaccines Proven to Cause More Harm than Good Based on Pivotal Clinical Trial Data Analyzed Using the Proper Scientific Endpoint, 'All Cause Severe Morbidity,'" details a core problem with Pfizer's, Moderna's and Janssen's (Johnson & Johnson) trials.
All three employ a surrogate primary endpoint for health, namely "severe infections with COVID-19." This, Classen says, "has been proven dangerously misleading," and many fields of medicine have stopped using disease-specific endpoints in clinical trials and have adopted "all-cause mortality and morbidity" instead.
The reason for this is because if a person dies from the treatment or is severely injured by it, even if the treatment helped block the progression of the disease they're being treated for, the end result is still a negative one.
To offer an extreme example of what you can do with a disease-specific endpoint, you could make the claim that shooting people in the head is a cure for cancer, because no one who got the treatment — who got shot in the head — died from cancer.
When reanalyzing the clinical trial data from these COVID shots using "all-cause severe morbidity" as the primary endpoint, the data reveal they actually cause far more harm than good.
The proper endpoint was calculated by adding together all severe events reported in the trials, not just COVID-19 but also all other serious adverse events. By doing this, severe COVID-19 infection gets the same weight as other adverse events of equivalent severity. According to Classen:36
"Results prove that none of the vaccines provide a health benefit and all pivotal trials show a statistically significant increase in 'all cause severe morbidity' in the vaccinated group compared to the placebo group.
The Moderna immunized group suffered 3,042 more severe events than the control group. The Pfizer data was grossly incomplete but data provided showed the vaccination group suffered 90 more severe events than the control group, when only including 'unsolicited' adverse events.
The Janssen immunized group suffered 264 more severe events than the control group. These findings contrast the manufacturers' inappropriate surrogate endpoints:
Janssen claims that their vaccine prevents 6 cases of severe COVID-19 requiring medical attention out of 19,630 immunized; Pfizer claims their vaccine prevents 8 cases of severe COVID-19 out of 21,720 immunized; Moderna claims its vaccine prevents 30 cases of severe COVID-19 out of 15,210 immunized.
Based on this data it is all but a certainty that mass COVID-19 immunization is hurting the health of the population in general. Scientific principles dictate that the mass immunization with COVID-19 vaccines must be halted immediately because we face a looming vaccine induced public health catastrophe."
To make the above numbers more clear and obvious, here are the prevention stats in percentages:
Pfizer 0.00036%
Moderna 0.00125%
Janssen 0.00030%
Where Do We Go From Here?
If you've already gotten one or two shots, there's nothing you can do about that. It seems pretty obvious, though, if you objectively analyze the data, that your best bet is to say no to any and all future boosters, as each additional shot can magnify the damage and increase your risk of serious side effects.
If you develop symptoms of SARS-CoV-2 infection, there are several treatment protocols available that have been shown to be effective. Options include the Zelenko protocol,37 the MATH+ protocols38 and nebulized hydrogen peroxide, as detailed in Dr. David Brownstein's case paper39 and Dr. Thomas Levy's free e-book, "Rapid Virus Recovery."
Whichever treatment protocol you use, make sure you begin treatment as soon as possible, ideally at first onset of symptoms. Also, realize that if you've gotten one or more COVID shots, your risk of severe infection may actually be greater, not lesser, than had you not gotten the injections. This appears particularly true if you're over the age of 50. So, do not delay treatment if you develop symptoms.
* Note to readers: Please forward this article to your email lists. Crosspost on your blog site, internet fora etc.
Notes
2, 3 Evening Standard August 20, 2021
4 Our World in Data, Data for Israel
5 David Rosenberg 7 July 13, 2021
6 Sharylattkisson.com August 8, 2021
7 Sharylattkisson.com August 6, 2021
8 Twitter Alex Berenson July 18, 2021
9, 10, 11, 12, 14, 15 Science August 16, 2021
13 medRxiv July 31, 2021 DOI: 10.1101/2021.07.29.21261317 (PDF)
16, 20 ProPublica August 20, 2021
17 CDC MMWR August 18, 2021; 70 New COVID Cases and Hospitalizations Among Adults by Vaccination Status
18 CDC MMWR August 18, 2021; 70 Sustained Effectiveness of Pfizer and Moderna Vaccines Against COVID Associated Hospitalizations Among Adults
19 CDC MMWR August 18, 2021; 70 Effectiveness of Pfizer and Moderna Vaccines Among Nursing Home Residents
21 Ed Markey Press Release July 22, 2021
24, 25 The Defender August 24, 2021
26 FDA.gov CDC 2019-nCoV Real-Time RT-PCR Diagnostic Panel Instructions, July 13, 2020 (PDF) Page 35
27 Clinical Infectious Diseases September 28, 2020; ciaa1491
28, 29 Off-Guardian May 18, 2021
30 The New York Times July 16, 2021
31 WH.gov Press Briefing July 16, 2021
32 Bloomberg COVID Vaccine Tracker
33 Mayo Clinic COVID Vaccine Tracker
34, 35, 36 Trends in Internal Medicine August 2021; 1(1): 1-6
39 Science, Public Health Policy and The Law July 2020; 1: 4-22 (PDF)
Featured image is from Mercola
===
List of U.S. Attorneys against forced inoculations
https://uscfc.uscourts.gov/sites/default/files/Vaccine%20Attorneys.pdf
===
IT IS NOT LAWFUL TO "REQUIRE" VACCINATIONS - WHAT CAN YOU DO?
Employer & School Forms - https://pandemic.solari.com/employer-school-forms/
===
IN ANY CASE: AMENDMENT XXVII IS CRYSTAL CLEAR AND BASED ON THE NUREMBERG CODEX:
U.S. Assistant Secretary for Health Rachel Levine
===
===
UPDATES:
FDA Votes 16-2 AGAINST Widespread Covid-19 Booster Shots
Biden booster shot plan faced major public backlash
By Kit Daniels - 17. September 2021
Image Credit: Paul Hennessy/SOPA Images/LightRocket via Getty Images
The Federal Drug Administration has voted 16-2 against a widespread Covid-19 booster shot program, stating that more data is needed.
The FDA's Vaccines and Related Biological Products Advisory Committee held a hearing on Friday with scientists and Pfizer representatives, the latter of whom were pushing for a third "booster" dose of the company's vaccine to the general public.
"While the agency hasn't always followed the advice of its committee, it often does," reported CNBC. "A final FDA decision could come in a matter of hours."
"The Centers of Disease Control and Prevention has scheduled a two-day meeting next week to discuss plans to distribute the third shots in the U.S."
The committee voted against Pfizer booster shots given to most Americans, but greenlit the shots to Americans over 65.
The vote isn't entirely unexpected given public pushback against booster shots – pushback which was also occurring inside the government.
Earlier this month, it was reported that two senior FDA officials resigned over Biden's plan to roll out Covid-19 booster shots before the agency even had an opportunity to review it.
"…Sources told Endpoints and Politico that Gruber and Krause were upset with Biden administration's booster-shot plan," according to Business Insider. "The administration announced last month that most people would be offered a COVID-19 booster shot about eight months after vaccination."
===
16. September 2021
U.S. Attorneys General of 24 states to President Biden on his attempt to mandate the vaccination of private citizens:
"Your plan is disasterous and counterproductive."
===
Vaccination, frequent testing or recent recovery from virus to be required for going to work, the most sweeping mandate of any major Western country
16. September 2021
===
Israeli Researchers Can Confirm Only 12 Days of Protection From COVID-19 Virus with Booster Shot
By Shane Trejo - 16. September 2021
Israeli researchers have only been able to demonstrate that the COVID-19 booster shot provides a proven 12 days of protection from the virus after being administered to people aged 60 or above.
However, the vaxx pushers and their captive propagandists in the media are spinning these findings as proof of vaccine efficacy.
The Jerusalem Post is reporting that the third Pfizer vaccine provides a ten-times boost of the immunity within individuals against individuals who have received only two vaccine shots. These findings, of course, presume that there was any real immunity boost given from the vaccines to begin with.
Thus far, nearly three million Israelis have received the third booster shot. Israel has emerged as the world leader in vaccine compliance, and their COVID-19 case totals keep shattering records as more Israelis line up to comply.
The authors claim that the study makes it "evident that booster vaccination is very effective at reducing the rate of both confirmed infection and severe illness." Perhaps they came to these dubious conclusions after making considerations about preserving their budgets and maintaining their prestigious jobs.
Big League Politics has reported about how cases are surging in countries that have boasted the most compliance with the vaccine:
"Many countries listed as a high travel risk by the Centers for Disease Control and Prevention (CDC) have enforced vaccine compliance the best according to data from the Johns Hopkins University (JHU) School of Medicine.
The nations of Malta, the United Arab Emirates, Seychelles, Uruguay, Chile, Bahrain, Mongolia, Israel and Ireland are on the CDC's list of Level 4 countries for COVID-19 risk. This is despite all of these countries vaccinating well over 50 percent of their population, with countries listed reaching as high as 78.8 percent compliance.
The data compiled by JHU omits Gibraltar, which also appears as a Level 4 country by the CDC. Gibraltar has boasted 99 percent rates of vaccine compliance, the highest of any country in the world, which has corresponded with a recent case spike and a renewal of crippling lockdown policies.
The CDC advises Americans to "avoid travel to these destinations," adding that "if you must travel to these destinations, make sure you are fully vaccinated before travel." Of course, there is no guarantee that a fully-vaccinated traveler would be protected any more than the individuals in those countries where vaccination levels are high but cases continue to spike.
As the vaccines fail to contain the spread of the virus, pharmaceutical corporations that have already cashed out mightily due to the crisis get ready for their next fear-induced pay day."
Despite the Big Pharma-owned public health establishment's spin to the contrary, the vaccine is failing on all the metrics that the public was sold upon. The public must resist because this is only the beginning of a cruel technocracy that will feature unending invasive and nonsensical mandates.
Author:
===
===
EXPLOSIVE Truth About Vaccines & COVID with
Inventor Of mRNA Vaccine Technology, Dr. Robert Malone
Sep 14, 2021
===
===
CHOOSE YOUR COVID POISON
First published BITCHUTE September 11th, 2021.
Bill Gates is against vaccinating his own family, because he knows it's poison, and members of Congress and their staff will be exempted from any Biden Covid vaccine mandates; But you have to take their poison they're pushing on everyone else.
===
NURSES IN STANISLAUS COUNTY, CA, SPEAK UP AT BOARD OF SUPERVISORS MEETING
First published BITCHUTE September 11th, 2021.
While I think that it is great that more people are speaking out about the tyranny that has spread world wide. Those that deem to impose this on humanity, do not care about people begging and pleading, voting or protesting.
The only thing that will make this stop is by hunting these criminals down over all corners of the planet and exterminating them ALL.
We are at war, they have outright declared it.
Who are they? Well the ADL of B'nai B'rith and the ACLU have declared it on the American people and they spit in your face over your rights.
In WAR there are no court trials .. there is only I have to Kill you before you Kill me.
===
WORDS IN YOUR HEAD - HOW THEY ARE TELLING YOU TO 'GET THE VACCINE' - DAVID ICKE DOT-CONNECTOR
First published on BITCHUTE September 10th, 2021.
===
===
PROLOGUE: Tedros Adhanom Ghebreyesus, who still stands accused of the warcrimes he committed in Ethiopia, knows he will have to stand trial for crimes against humanity by providing the fake pandemic tag to the Corona masterplan of organized transnational crime, for covering up for China, for around a thousand deaths in overdosed Hydroxichloroquine trials and then for many more thousands who died because Hydroxichloroquine and Ivermectin were withheld based on false recommendations by the WHO, follows here a double agenda: First he doesn't want to get more dead people on his personal account, which happens with the 3rd shot as seen in Israel already, and secondly he follows the orders of his eugenicist paymasters, like Bill Gates, to first get EVERYBODY genetically compromised with the dangerous mRNA jabs. Surely he sells this as philantropic effort "to help the poor countries", but omits the second part of the sentence: "to kill more of their own people in developing countries", where the population is already highly sceptical towards the WHO and their own corrupted governments.
WHO chief urges halt to booster shots for rest of the year
WHO previously called to halt booster shots through the end of September
By Associated Press - 09. September 2021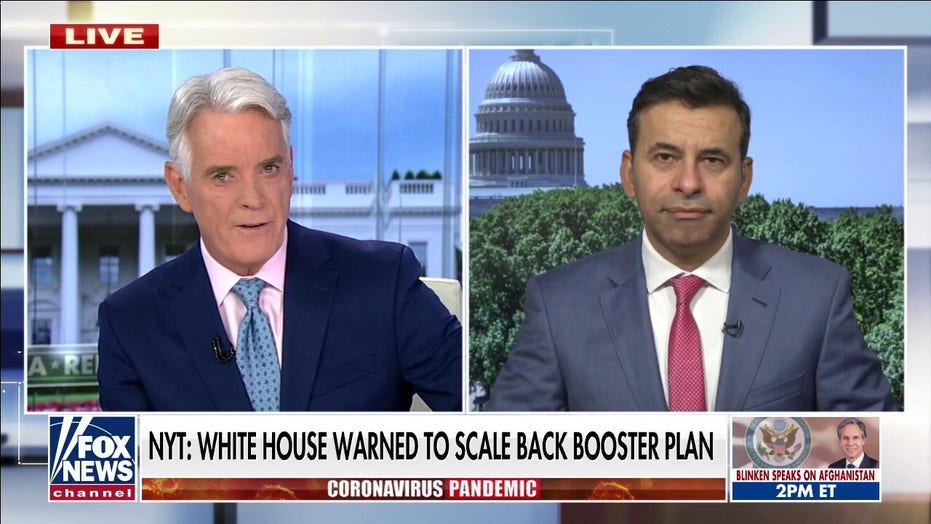 Video
White House warned to scale back vaccine booster shot plans by top health officials: Report
Sep. 03, 2021 - Dr. Marty Makary weighs in on The New York Times report where top health officials allegedly indicated regulators needed more time to collect and review data - all highly orchestrated.
GENEVA – The head of the World Health Organization
is calling on rich countries with large supplies of
coronavirus
vaccines
to refrain from offering booster shots through the end of the year, expanding a call that has largely fallen on deaf ears.
WHO Director-General Tedros Adhanom Ghebreyesus also said Wednesday he was "appalled" at comments by a leading association of pharmaceutical manufacturers who said vaccine supplies are high enough to allow for both booster shots and vaccinations in countries in dire need of jabs but facing shortages.
COVID-19 BOOSTER SHOTS: FAUCI STRESSES NEED FOR FDA APPROVAL AMID WHITE HOUSE SPAT
"I will not stay silent when companies and countries that control the global supply of vaccines think the world's poor should be satisfied with leftovers," he told a news conference.
Tedros had previously called for a "moratorium" on booster shots through the end of September, but the United States and other countries have begun or are considering plans to offer them to their vulnerable people.
---
Reference for earlier, unheaded call:
WHO presses world leaders to hold off on Covid vaccine booster shots through September
By Rich Mendez - 01, September 2021
The World Health Organization asked world leaders again to hold off on giving Covid-19 booster shots so poorer nations can vaccinate more of their populations with first doses.
Nearly 1 million boosters have already been administered in the U.S. since health officials authorized the third shots of Pfizer's or Moderna's vaccines for people with weakened immune systems on Aug. 12.
More than 5 billion Covid vaccine shots have been administered globally, with 75% of them in just 10 countries, according to the WHO.
World Health Organization (WHO) Director-General Tedros Adhanom Ghebreyesus attends a news conference organized by Geneva Association of United Nations Correspondents (ACANU) amid the COVID-19 outbreak, at the WHO headquarters in Geneva Switzerland July 3, 2020. Fabrice Coffrini | Pool | Reuters
The World Health Organization asked world leaders again to hold off on administering Covid-19 boosters for at least another month to give poorer nations the chance to inoculate more of their populations with first doses.
More than 5 billion Covid vaccine shots have been administered globally, with 75% of them administered in just 10 countries, according to the WHO.
"That's why I have called for a moratorium on boosters, at least until the end of this month to allow those countries that are furthest behind to catch up," WHO Director-General Tedros Adhanom Ghebreyesus said in a briefing Wednesday.
The director of the global health agency said that some high-income countries have adult vaccination rates of 50%, while low-income countries, including many in Africa, still have adult vaccination rates of less than 2%. The U.S. has fully vaccinated more than 52% of its population, according to the Centers for Disease Control and Prevention.
Additional doses may be required for those with compromised immune systems or waning immunity, "but for now, we do not want to see widespread use of boosters for healthy people who are fully vaccinated," Tedros said.
Nearly 1 million Covid-19 vaccine booster shots have already been administered in the U.S. since health officials authorized administering extra shots of Pfizer's or Moderna's vaccines to people with weakened immune systems on Aug. 12, according to the CDC.
President Joe Biden said the U.S. plans to widely distribute Covid booster shots beginning the week of Sept. 20, pending clearance from Food and Drug Administration and CDC scientists.
===
CDC Changes Definition of "Vaccine", Vindicates Alex Berenson
By Larry Johnson - 08. September 2021
If you think that our establishment medical community is honest, think again. They are not. The litany of lies and deception grows with each passing day. The latest victim of the new Orwellian world of redefining truth comes courtesy of the CDC. They have changed the definition of "vaccine" and "vaccination" because so many vaccinated people are still being infected with a variant of Covid. This is good news for Alex Berenson, who is suing Twitter for defamation.
Here is the tweet about the Covid vaccine that got Alex banned:
"It doesn't stop infection. Or transmission. Don't think of it as a vaccine.
So look at what the CDC did? Here's the definition the CDC used on 26 August 2021:
Vaccine– "a product that stimulates a person's immune system to produce immunity to a specific disease."
Vaccination– "the act of introducing a vaccine into the body to produce immunity to a specific disease."
Got it? A vaccine is supposed to produce immunity to a specific disease.
The problem is that Covid 19 is not a disease. It causes a variety of diseases. CDC Director Rochelle Walensky recently admitted that the effectiveness of the COVID-19 vaccines are "waning."
Rather than admit the Covid vaccine is not working as advertised, CDC took a page out of Orwell's 1984 and opted for new spin language.
Here is the new definition:
Vaccine– "a preparation that is used to stimulate the body's immune response against diseases."
Note the subtle but important change. Instead of "PRODUCING IMMUNITY" the new definition moves the goal posts and states that their pseudo vaccine "STIMULATES THE BODY'S IMMUNE RESPONSE."
The problem for people keen on protecting their health is that the Immune Response produced by the Covid vaccines appears to actually spark more Covid infection in some patients.
In light of Fauci's demonstrable lying before Congress, it is time to stop trusting anything the CDC says.
Alex Berenson is taking a victory lap. He was banned from Twitter for claiming, CORRECTLY, that the Covid vaccine DID NOT PRODUCE IMMUNITY. Looks like the CDC now agrees with Alex.
Author:
===
THIRD SHOT DEATH SKYROCKETING IN ISRAEL
By John Hopkins University - 05. September 2021
===
CRISIS IN AMERICA: MILLIONS OF NURSES ARE RESIGNING OR BEING FIRED OVER COVID VACCINE MANDATES
First published on BITCHUTE September 5th, 2021.
Crisis in America: Millions of Nurses are Resigning or Being Fired Over COVID Vaccine Mandates
===
FORWARDED FROM WIKILEAKS
"I think this whole pandemic, from the beginning, was about the vaccine"
First published on BITCHUTE September 4th, 2021.
"I think this whole pandemic, from the beginning, was about the vaccine"
14,879 medical & public health scientists, 43,804 medical practitioners, 797,721 concerned citizen
https://gbdeclaration.org/view-signatures/
DOCTORS AROUND THE WORLD ISSUE DIRE WARNING: DO NOT GET THE COVID VACCINE!!
https://www.bitchute.com/video/FaABtOXhVBrf/
https://www.bitchute.com/video/EpvsnC9JqGrs/
https://www.bitchute.com/video/po8dUV4ODnjM/
PLANET LOCKDOWN https://planetlockdownfilm.com/trailer/
https://planetlockdownfilm.com/full-interviews/
The Trojan Vaccine: Interview met Dr. Sucharit Bhakdi (Banned on Youtube)
https://www.bitchute.com/video/GTlFern4h30E/
FRENCH VIROLOGIST AND NOBEL PRIZE WINNER LUC MONTAGNIER SAYS COVID19 WAS CREATED IN A LAB (Mei 2020)
https://www.bitchute.com/video/aqBtwQ4dYZVv/
2008 Nobel Laureate Luc Montagnier - Warns Covid Vaccine May Lead to 'Neurodegenerative Illness'
https://www.bitchute.com/video/pbahsDgg3Y7q/
'Vaccines':
America's Frontline Doctors White Paper On Experimental Vaccines For COVID-19: https://tinyurl.com/n6em725s
Great Barrington declaration:https://gbdeclaration.org/view-signatures/
World Doctors Alliance: www.worlddoctorsalliance.com
Americas Frontline Doctors https://americasfrontlinedoctors.org/
Law Cases:
Class action Lawsuit ACU2020: https://tinyurl.com/h5mubkf9
International Tribunal for Natural Justice: https://www.itnj.org/
General:
CORMAN DROSTEN REVIEW REPORT: https://cormandrostenreview.com
Factsheet Covid19: https://docs4opendebate.be/wp-content/uploads/2021/02/FACT-SHEET-feb-2021_NL.pdf
Dossier PCR: https://tinyurl.com/58pemjkm
HCQ Studies: https://c19hcq.com/
Ivermectine studies: https://c19ivermectin.com/Drama Mexicaanse griep Vaccin: https://tinyurl.com/3nvcraec
Watch Media:
BLCKBX: https://www.blckbx.tv/
The Highwire: https://thehighwire.com/
Truman Show: https://www.youtube.com/c/JornLuka/videos
Documentaires:
Covid19 - The system: https://www.docsfair.nl/covid19movie
World War C: https://www.docsfair.nl/wwc
Plandemic: https://www.plandemicseries.com/
Vaxxed: https://www.vaxxed2.com/
Books:
Plague of Corruption: https://plaguethebook.com/plague-of-corruption/
The Contagion Myth: https://tinyurl.com/23bxthrn
===
ROBERT KENNEDY JR, PEOPLE IN AUTHORITY LIE
Re-published on BITCHUTE September 3rd, 2021.
Planned Surveillance by Global Technocrats: https://tinyurl.com/pzcr9357
The Great Reset?: https://tinyurl.com/5fs67n8e
===
Natural Immunity Is 20X More Effective Than The Vaccine
Bannons War Room Published September 4, 2021
Rumble — Natural Immunity Is 20X More Effective Than The Vaccine
===
We're Being Set Up For 'Escape Mutant Virus'
Bannons War Room Published September 4, 2021
Rumble — We're Being Set Up For 'Escape Mutant Virus'
===
PLANNED COVID-19 VARIANTS
These are the PLANNED COVID-19 VARIANTS - just look at the dates when they will be "released" to the media.
Ahead of schedule ?
===
OVID-19 jabs are 'not really vaccines': Top infectious diseases expert
The world-class expert, censured and censored for his support for COVID-19 treatments, described how the pandemic should be managed.
By Peter Levinson - 03. September 2021
PARIS, France (LifeSiteNews) – A prominent French scientist with extensive expertise in infectious diseases has called the COVID-19 vaccines "dangerous" and stated that they "are not really vaccines."
In an interview he gave to British news organization UK Column, Professor Christian Perronne also called the international government-led vaccination campaign "a great mistake."
Perronne is one of France's foremost expert on infectious diseases. Until recently, he was the head of the Medical Department for Infectious Diseases at Raymond Point Carré hospital in Garches, a post he held from early 1994. Raymond Point Carré hospital is the teaching hospital for the University of Versailles-St Quentin near Paris. Perronne is also a fellow at Institut Pasteur, a world-renowned biomedical research center.
The professor is by no means anti-vaccine; he has been involved in France's vaccination policy for many years. Perronne has served as chairman of such important French health committees as the National Consultation Group on Vaccination or Technical Committee on Vaccination (CTV) and HSCP the French High Council on Public Health, the Infectious and Tropical Diseases Teaching College (CMIT), the Infectious Diseases Federation (FFI, which he co-founded), and the National Medical and Healthcare products Safety Agency (ANSM). ANSM examines the health risks of medicines and is France's only regulator of biomedical research. Perronne was also on the Scientific Council of the French Microbiology and Infectious Diseases Research Institute (IMMI/INSERM) until 2013.
On the international level, Perronne has served as Vice President of the European Advisory Group to the World Health Organization.
But in spite of his many years of service in the French healthcare sector and his infectious diseases expertise, Perronne was dismissed as head of the Medical Department for Infectious Diseases at Raymond Pointcarré hospital following a number of statements he made in defense of hydroxychloroquine and for criticizing the global response to the COVID-19 pandemic. His critique included the vaccination campaign.
Perronne has also been the victim of censure and censorship by the French media, who paint him as a conspiracy theorist. His reputation has been badly damaged by these attacks, and he has been ostracized and discredited by his former colleagues. The French medical elite are working hand in glove with pharmaceutical lobbies and have aligned themselves with the official policy of the French government on the management of the COVID-19 crisis.
The danger of the vaccines
Perronne began the interview by insisting that he is not against vaccines as such.
"I am not anti-vaccine because I wrote the vaccination policy for France for a great many years," he told UK Column's chief editor Brian Gerrish.
"The problem is that the products they call 'vaccines' for Covid-19 are not really vaccines."
Perronne has studied in detail the various products now commonly referred to as "COVID vaccines;" he says they are better described as "genetic modifiers." He explained that the process on which their supposed efficacy is based is dangerous, as it involves the uncontrolled production of proteins by the body.
"When you inject messenger RNA to produce a huge amount of a spike protein, a fragment of the SARS-CoV-2 virus, you can't control the process," he stated.
When asked why the vaccination campaign was permitted, the professor replied: "I think you should put this question to the politicians because in the history of infectious disease medicine, it has never happened that a state or politicians recommend systematic vaccinations for billions of people on the planet for a disease whose rate of mortality now is 0.05%."
In December 2020, the French professor expressed in an open letter his concerns regarding COVID "vaccines," warning of their potential danger. Some of his fears have now materialized, as he explained in the interview.
"… [We] now know (it's officially published) that in the human genome, sequences of DNA corresponding to the RNA of the virus [have been found]," he said.
"That's proof that what I said in an open letter in December, saying that it was dangerous to inject these products, has now been confirmed," he continued.
"And all the governments continue! To me, it's a great mistake."
The inefficacy of the lockdowns
Perronne also criticized a number of measures taken by governments in response to the pandemic, saying the lockdowns were "useless."
"We now have the proof, by comparison between many countries in the world, that lockdown was completely useless," he told Mike Robinson, the co-editor of UK Column.
"… [T]he countries with the strictest policies of restricting civil liberties and so on, like France (…), a champion of the suppression of liberties today, have the worst results in the world."
The unreliability of PCR testing
The professor questioned the reliability of the data on the actual number of COVID cases. He claims PCR tests are not reliable as they tend to produce a great number of false positives.
"We cannot really rely on the statistics in many countries because with PCR tests, which amplify the RNA of the virus (…), we have many, many false positive results." Perronne said.
The efficacy of treatments
A controversy surrounding his defense of various treatments against COVID-19, including ivermectin and hydroxychloroquine, precipitated Perronne's fall from grace in late 2020. The professor suffered much censorship around this particular topic and was therefore delighted to take the opportunity to share his scientific opinion on the matter.
"We have treatments," he assured his interviewers.
"There are hundreds of publications showing that early treatments work: there's hydroxychloroquine, azithromycin, ivermectin, zinc, Vitamin D, and so on—it works! There are publications!"
In response to the argument that ivermectin could be dangerous, Perronne cited the many studies proving its efficacy and the fact that millions of people worldwide took the medicine long before COVID vaccines were around. He stated:
"To think that ivermectin is toxic is completely stupid," he stated.
"Hundreds of millions, maybe billions of people in the world have taken ivermectin for [parasitic] diseases, for [lymphatic] filariasis and so on. So, it's a very well-known product," he continued.
"It works; it's completely proven."
Perronne denounced the conflict of interest between pharmaceutical companies and the "experts" tasked with advising governments on the right course of action.
"I'm deeply shocked at all these so-called 'experts' who are advisers to our authorities, who are on the TV every day," he said.
"Most of them have huge conflicts of interest with pharmaceutical companies."
The inefficacy of the COVID vaccines
Perronne then reiterated his criticism of the COVID-19 "vaccines," pointing out that an efficient vaccine should provide full protection.
He explained: "If you are vaccinated with an efficient vaccine, you are protected. You should not have to wear a mask anymore; you should have a normal life."
The professor then illustrated how the inefficacy of COVID-19 vaccines is being used as a political weapon by governments to spread fear, especially a fear of the unvaccinated, among the vaccinated population.
"In many countries, they say, 'Oh, you've been vaccinated, but you're not really protected,'" Perrone said.
"And now they say to the vaccinated—who are supposed to be protected, who should have confidence! — 'Oh, the unvaccinated will contaminate you!'"
What should be done?
In the last minutes of the interview, Perronne was asked by his hosts what he would do if he were in charge of the management of the crisis. The professor made the five following suggestions:
1. Substitute the "vaccination" campaign with a treatment campaign
"First of all, I would stop the so-called 'vaccination' campaign,' he said, adding that he would focus on treating patients who contract COVID-19 as early as possible.
"I would promote, among general practitioners, early treatment with ivermectin, zinc, Vitamin C and Doxycycline or azithromycin."
2. Isolate sick people instead of healthy people
Perronne then recommended isolating the sick instead of the healthy, saying that only those with symptoms should be strictly isolating with masks.
"I would encourage the strict isolation of symptomatic patients, because that's the way to control the transmission" he said.
"Just two weeks of isolation is enough, during the contagious period of symptomatic people, but strictly isolated, with a mask if needed, and so on."
He also stressed the important of early treatment to reduce transmission and deaths.
"Treat them very early," he said, "and if you do that, [COVID] rapidly ends."
3. Abandon lockdown policies and mask mandates
The professor repeated his criticism of lockdown measures and mask mandates, insisting that these are not efficient.
"You don't stop an epidemic with a lockdown, with masks in the street," he said.
"That was shown in Denmark, with randomised studies with people wearing and not wearing masks. The mask is not efficient."
4. Restore democracy and civil liberties
Perronne denounced the quasi dictatorial turn the management of the pandemic has taken in many countries, including France, and advocated for the return of democracy and civil liberties.
"I would immediately re-establish all civil liberties "because now France is no longer a democracy," he said.
"It's like a dictatorship, with only five or six people around the table now able to bypass Parliament and say, 'vaccination is mandatory' and so on."
5. Stop testing asymptomatic people
Lastly, the professor challenged the policy of testing asymptomatic people and called for a stop to "PCR testing of the asymptomatic general population," which he considers "completely anti-scientific."
He explained that this is because this practice tends to generate a high number of false positive results rendering the data on new COVID cases highly unreliable.
"The people who developed the PCR test never, never did PCR tests of asymptomatic patients at large scale, because you get a huge rate of false positives," he stated.
This last point wa also raised by cardiologist and COVID-19 expert Doctor Peter McCullough in an interview he gave to LifeSiteNews in July.
The full transcript of the July 2021 UK Column interview with Professor Christian Perronne and Dr. Anne-Marie Yim can be found in multiple languages here.
===
SHOCKING REVELATION - DOCTOR EXPOSES COVID BIOWEAPONS PROGRAM & REVEALS VACCINE WILL KILL MILLIONS
First published at on BITCHUTE September 3rd, 2021.
Trinidad's Dr. Michael McDowell explains how the Covid-19 bioweapon was created as a chimera, he outlines where it was made, and some of the guilty parties who developed it. The doctor then goes on to reveal the Global conspiracy to vaccinate the world's population is intended to cause a mass DIE-OFF on a scale the world has never seen.
This is truly the greatest Crime Against Humanity the world has ever known.
Since every FOIA request had come back stating that the virus had never been isolated, many speculated (including myself) that the symptoms associated with Covid-19 were caused by a weaponized spike protein encased in a graphene oxide nanoparticle that was being introduced into the environment and that there was no actual virus. However, after hearing the information presented by Dr McDowell, perhaps there is another reason why no agency anywhere in the world had been able to provide proof that the virus was isolated. In light of what the doctor just shared, one plausible explanation would be that all the agencies who had received a Freedom of Information Request are in on the conspiracy, and that the reason they could not provide an isolated virus was because doing so would immediately reveal that Covid-19 was a chimera bioweapon and the jig would be up.
===
COVID Shots Are Killing and Crippling Teens in Record Numbers – Young Children Are Next
By Brian Shilhavy - 02. September 2021
COVID-19 "vaccines" are killing and destroying the lives of many teens. This is the true "pandemic" facing our society now, as we are seeing a record number of injuries and deaths in people so young, and previously healthy, after taking one of the COVID-19 shots.
The FDA and CDC's own statistics in their Vaccine Adverse Event Reporting System (VAERS) database actually implicate them in their crimes against humanity, and yet most people are still sleeping and deluded by the Big Pharma-funded corporate media which continues to lie to the American people on a daily basis.
Here are the current stats of injuries and deaths among 12 to 17-year-olds during the past 9 months since the COVID injections were authorized, and keep in mind that authorization for 12 to 15-year-olds did not come until May 11th, less than 5 months ago.
Also keep in mind that this is a very tiny percentage of all actual cases, as many healthcare whistleblowers have now come forward to report that there is pressure put on doctors and nurses to NOT attribute an injury or death to the COVID vaccines and file a report with VAERS (which takes on average about 30 minutes to do).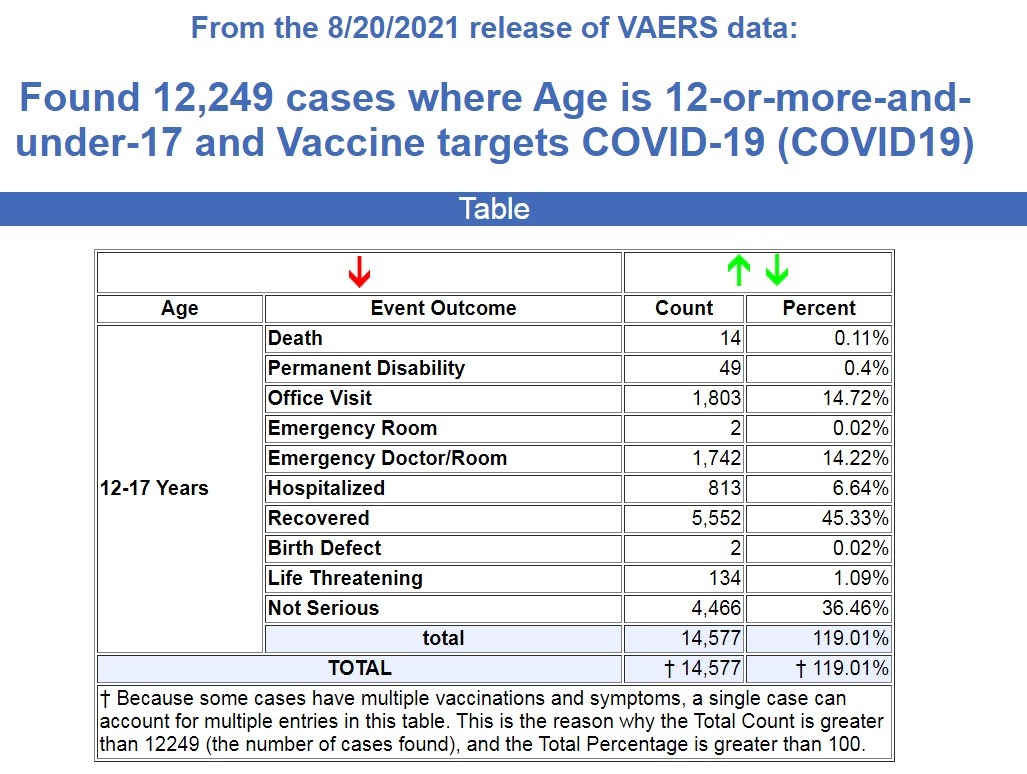 Now here is the exact same report from ALL vaccines in the same age group for the past 5 years, minus 1 month (December 2020 when the COVID-19 shots were first authorized).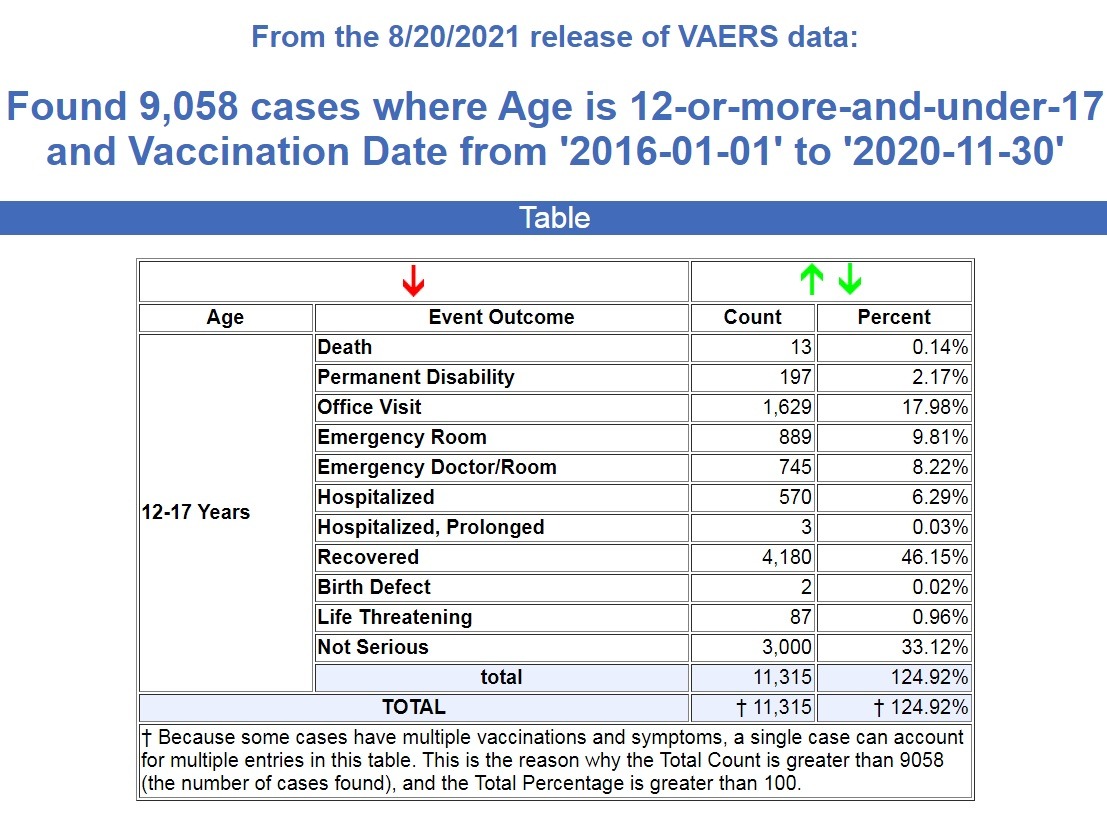 As you can see, there have been 3000 more cases, more deaths, more hospitalizations, and more life threatening events in the past 9 months among our teens, than there have been for the previous 5 years for ALL vaccines.
And now the push is to authorize the COVID shots for children between the ages of 6 months and 11 years old, and this authorization is expected any day now.
As we previously reported earlier this week, there are now more deaths recorded in VAERS following COVID shots for the past 9 months than for the past 30 years following ALL vaccines.
And for the past 30 years, prior to the authorization of the COVID shots, which age group do you think has suffered the most from vaccines based on the VAERS report?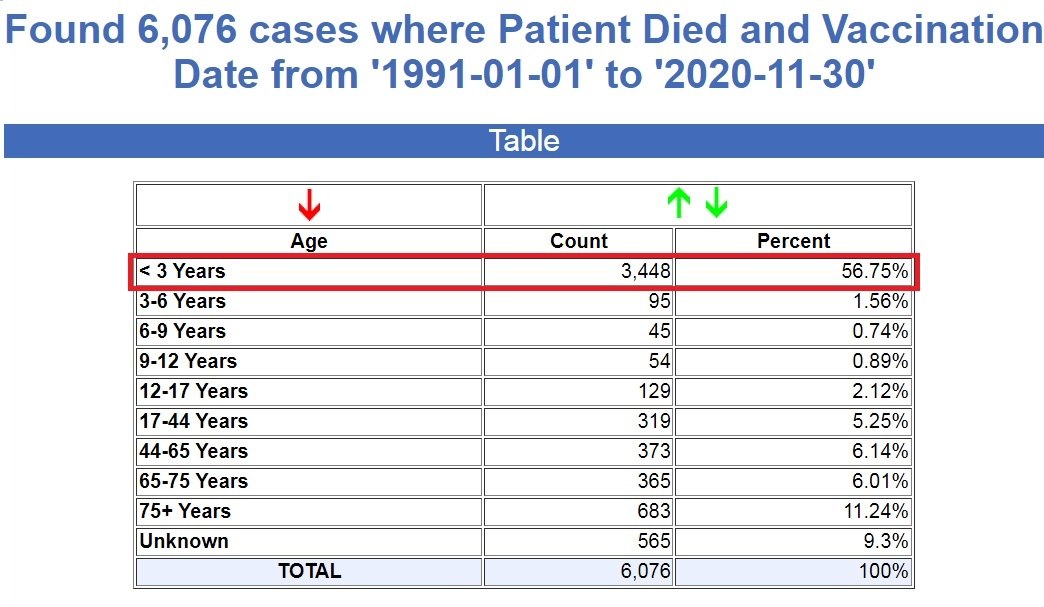 Over 56% of the 6,076 recorded deaths following vaccination for the previous 30 years prior to COVID were among infants below the age of 3, according the government.
And not a single one of these babies who died had the cause of death documented as "vaccines" on their death certificate, because the CDC does not have any category that lists "vaccines" as a cause of death, so they were listed as SIDS (sudden infant death syndrome) instead. (Source.)
And this is the next age group that they are going to start injecting with COVID-19 mRNA injections with spike proteins.
Do you still think reducing the world's population to "save the earth" via the use of vaccines is a "conspiracy theory"? Eugenics is alive and well in the U.S. today.
Putting Some Faces on the Numbers
Here are some faces to attach to the cold numbers of teens who have paid the ultimate sacrifice by taking a COVID-19 shot. The media will continue to try and blame their deaths on "COVID" or other things, and ignore the fact that they were "vaccinated" with a COVID-19 shot.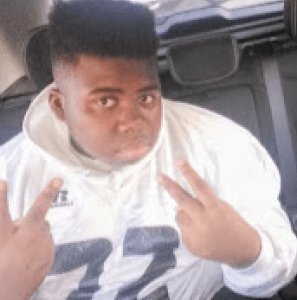 Azorean Tatum: 16-year-old Tennessee kid collapses at school, dies days later after receiving Pfizer mRNA injection
MEMPHIS — A 16-year-old high school football player is dead; and mainstream media are doing their best to blame "COVID-19."
Mr. Azorean Tatum returned to Westwood High School in Memphis, Tennessee for his junior year on Monday, August 9 – the first day of school. Four days later, Friday, August 13, Azorean, who goes by "Zo," suddenly collapsed at school. He called his mom, crying and barely able to breath. Azorean told her something was seriously wrong. He couldn't stand up or walk on his own. Paramedics rushed him to Baptist Children's Hospital.
Ms. Quintina Buckner, Azorean's mother, told WREG News Channel 3 in Memphis, that doctors diagnosed her son with "COVID-19." The Commercial Appeal reported that Azorean spent two days in the hospital before being released and "quarantined." There are no reports of tests (CT scans, EKG, etc.) being performed on Azorean, except COVID-19 tests. The young man's condition rapidly deteriorated when he got home. Ms. Buckner gave him Tylenol, vitamins, fluids and whatever else, but nothing helped.
Azorean was taken to Le Bonheur Children's Hospital on Friday, August 20. But by then it was too late. Young Azorean passed away at the hospital on Saturday, August 21.
Mainstream media manipulation, medical industry failure
This story is perhaps the most blatant case of deliberate indifference and manipulation by the mainstream medicine and media, respectively, so far on this blog. Ms. Buckner said Azorean was at school, like normal Monday through Thursday.
"He wasn't wheezing, he wasn't coughing, he was just happy-go-lucky. He was at school for three days, and he just drastically got sick. It's unbelievable."
But somehow, trained medical professionals chalked up a 16-year-old kid collapsing and being unable to breathe as "COVID-19." Ms. Buckner made clear that Azorean received the first dose of Pfizer mRNA right before school started. But both mainstream media and apparently all the doctors involved ignored this very important fact.
Read the full story at The COVID Blog.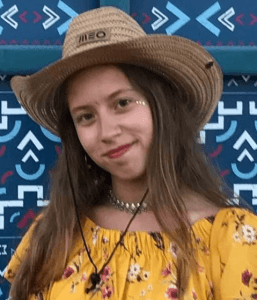 Inês Rafael Mendes: 18-year-old Portuguese college student dead five days after COVID-19 "vaccine"; police blame alcohol consumption
VIEIRA DO MINHO — An 18-year-old journalism student is dead as authorities refuse to acknowledge what took place less than a week earlier.
Ms. Inês Rafael Mendes received one of the experimental COVID-19 injections on Monday, August 2, family members told the Correio da Manhã newspaper. It's unclear which of the injections she received. But Portugal is only administering AstraZeneca injections to people over age 60. Infarmed, the Portuguese equivalent to the U.S. Food and Drug Administration (FDA), suspended use of a Johnson & Johnson batch last month after numerous people fainted following the injections in Mafra. Thus Ms. Mendes most likely received one of the experimental mRNA injections (Pfizer or Moderna).
Ms. Mendes, 18 (some reports say she was 19), and 12 friends went on a camping trip at the Cabreira Camping Park, Friday, August 6. Like virtually all teenagers in the Western world, they were drinking and partying into the night. Ms. Mendes woke up early Saturday morning feeling "unwell." Of course this is the norm after long nights of drinking. She had also been diagnosed with gastroenteritis (an intestinal infection) two weeks earlier and was potentially still feeling the effects thereof.
A hangover turned into cardiac arrest and a "sudden illness" early that Saturday morning. Paramedics attempted to revive her, but it was too late. Ms. Mendes died shortly thereafter.
Blame it on the alcohol
We've seen and heard it all as it relates to authorities and the medical industry protecting the experimental mRNA and viral vector DNA injections. Doctors blamed hormones for one post-injection woman's partial paralysis and seizures. There have now been at least two cases that food allergies were blamed as the post-injection killer. The Centers for Disease Control (CDC) says anxiety causes most "vaccine" adverse reactions.
The Judiciary Police of Braga are operating on the assumption that Ms. Mendes died because she drank too much alcohol. She had no heart issues or serious preexisting conditions prior to her death that has already been called cardiac arrest. Her uncle told the Correio da Manhã that Ms. Mendes practiced classical dance and perfectly healthy prior to the injection. He is not allowing the official narrative to take hold. He said:
"It's revolting for a healthy girl, who played sports and had a careful diet, to die like that suddenly. I do not believe there were excesses because Inês did not drink alcohol.
Alcohol poisoning occurs when your blood alcohol concentration (BAC) exceed .40%. The average person (including a 120-pound-looking Ms. Mendes) would need to consume 25 to 30 beers or four bottles of wine in three hours or less to get a BAC that high. In other words, you either have to be on a mission or be a serious alcoholic to get alcohol poisoning and die without vomiting, which slows down the effects.
An autopsy was performed the following Monday. But authorities said it cannot determine if the experimental injection caused her death five days later.
Read the full article at The COVID Blog.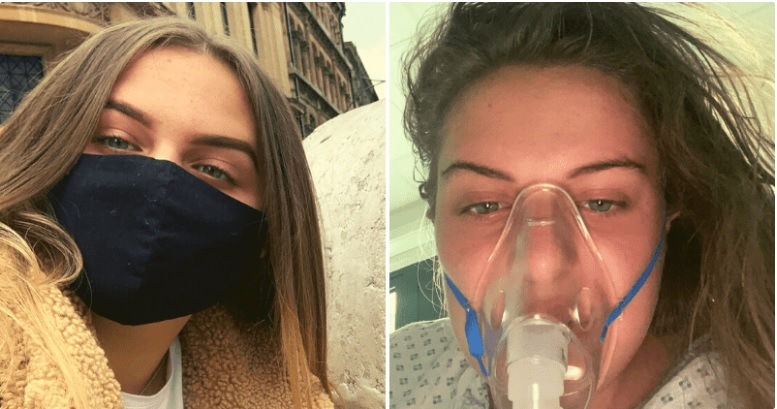 Maisy Evans: 17-year-old Welsh girl develops blood clots, hospitalized after first Pfizer mRNA injection, blames COVID, encourages teenagers to "get vaccinated"
NEWPORT, WALES — A 17-year-old Welsh girl is still hospitalized and promoting experimental injections despite the unquestioned cause of her condition.
Ms. Maisy Evans received her first experimental mRNA injection on August 11, according to her Twitter page. It is unclear which injection she received. But only Pfizer, Moderna and AstraZeneca are used in Wales. AstraZeneca is only being offered to people over age 40, according to Wales Online. Thus Ms. Evans received the Pfizer injection, which is the only one authorized in the U.K. for children under age 18.
General malaise kicked in on August 13. Headaches and muscle aches followed. Ms. Evans said she "tested positive" for COVID-19 on August 14 and has ran with that ever since.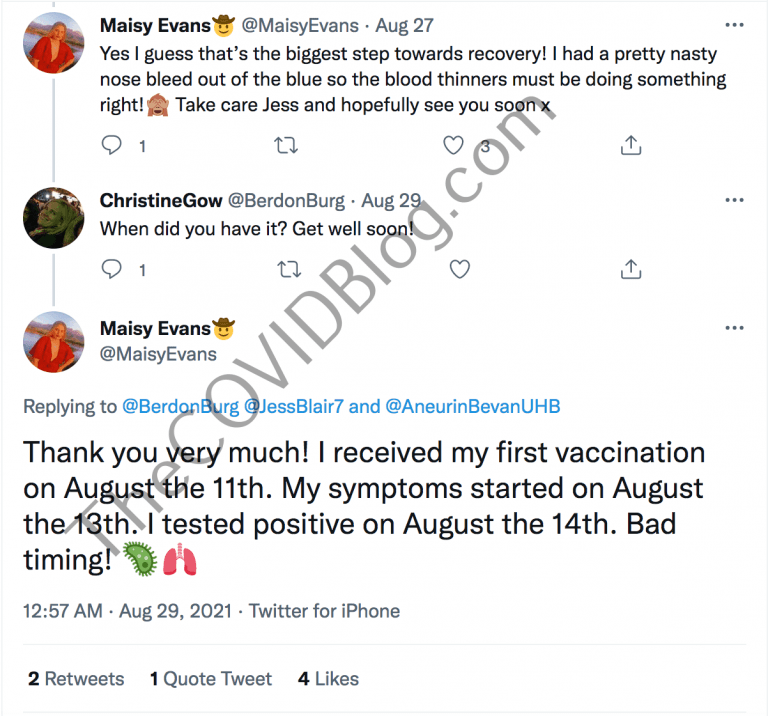 She tweeted "who said COVID doesn't effect young people badly? Wrong, sir," on August 19. That tweet included the hashtags #WearAMask and #GetVaccinated.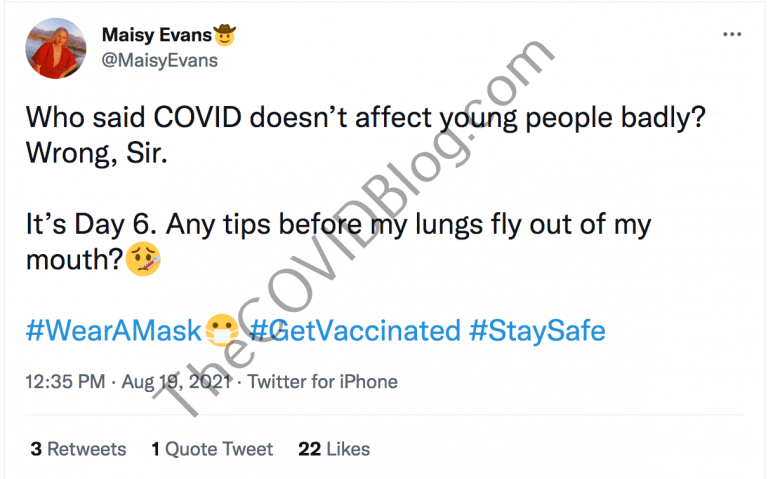 Ms. Evans continued blaming COVID-19 for her condition. Despite not getting sick in an 18-month so-called pandemic, then getting sick days after an mRNA injection, Ms. Evans wished she'd been offered the injection sooner.
Read the full article at The COVID Blog.
The following stories are posted on the "Covid Vaccine Injuries" Telegram channel.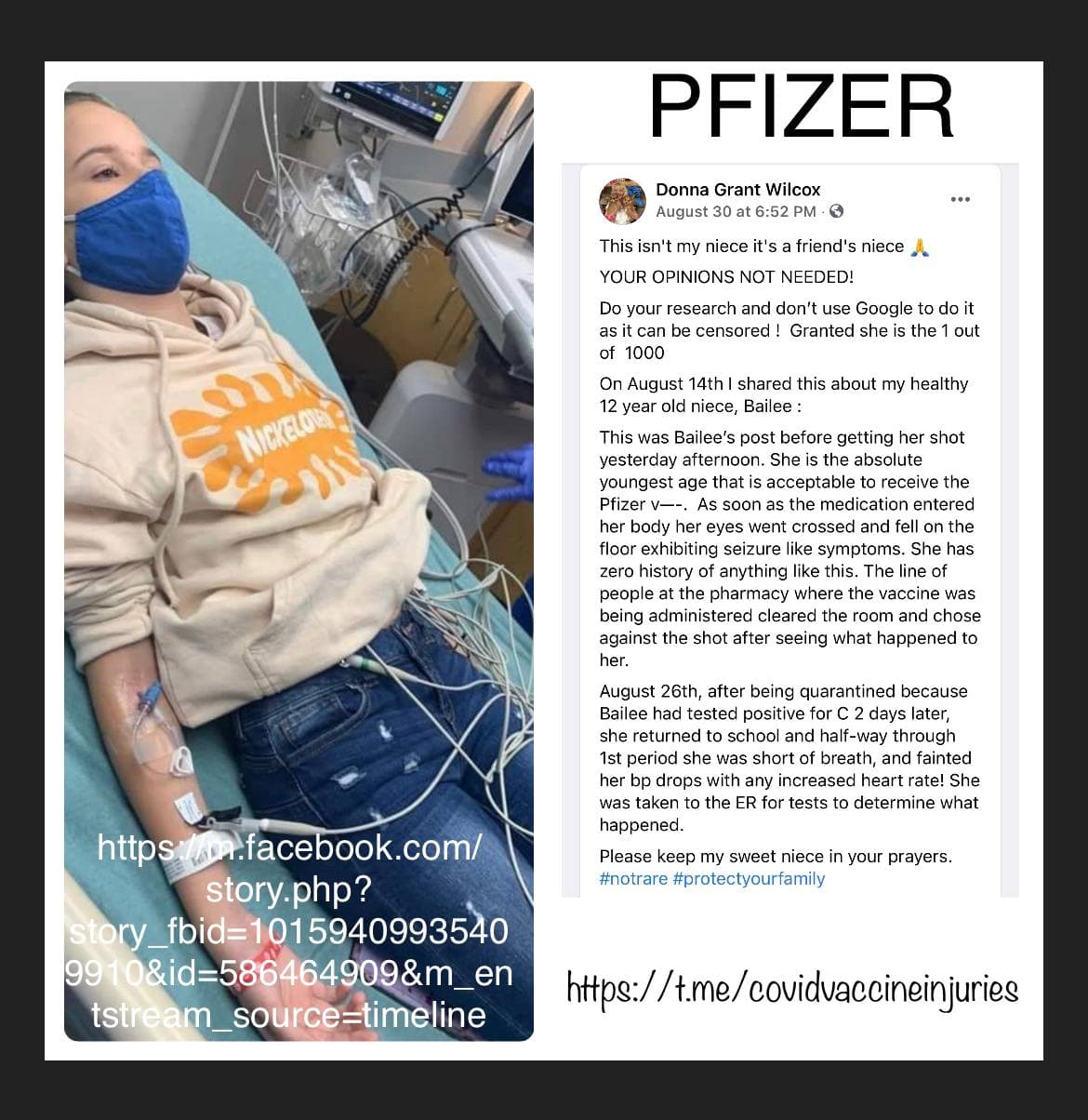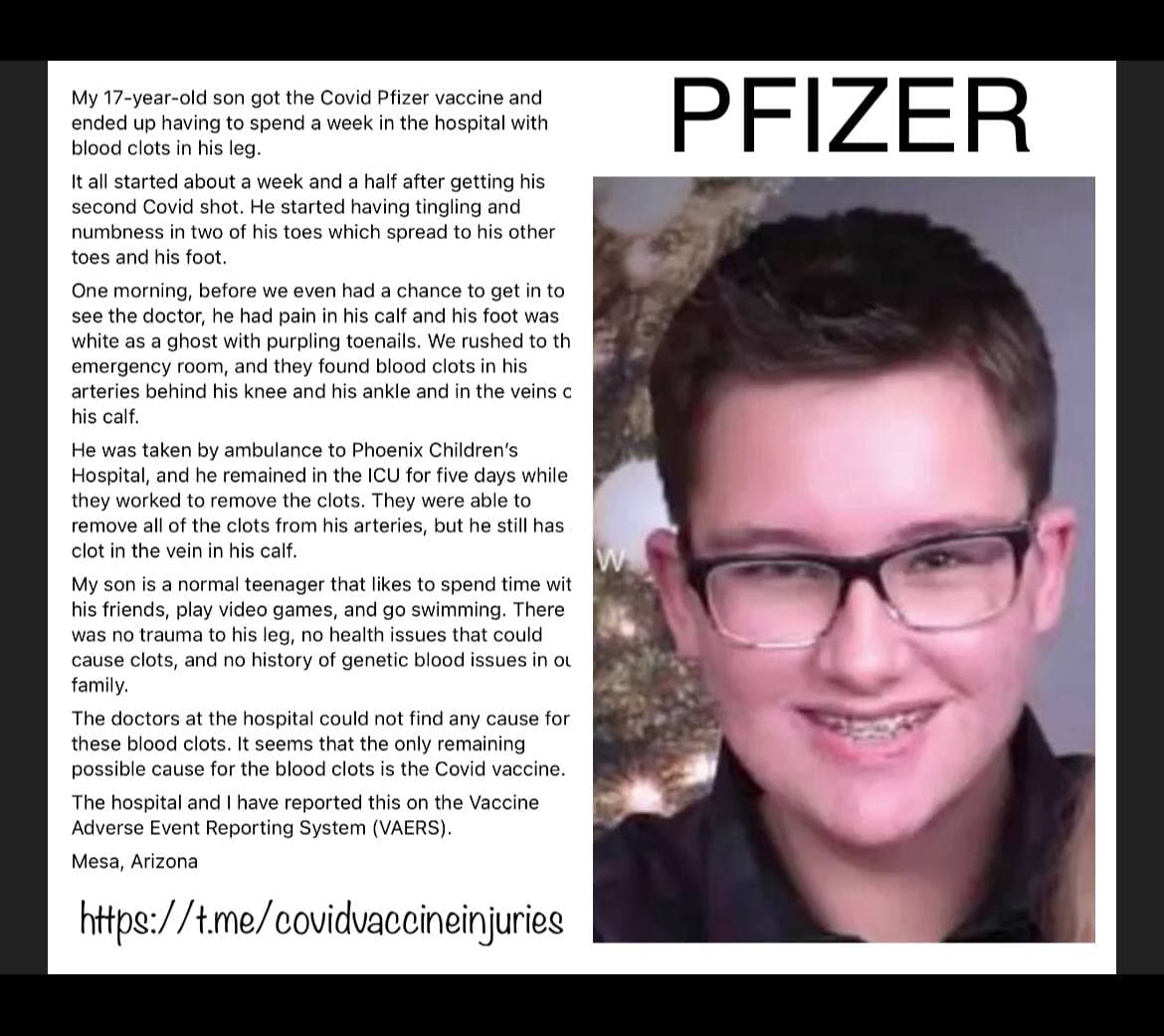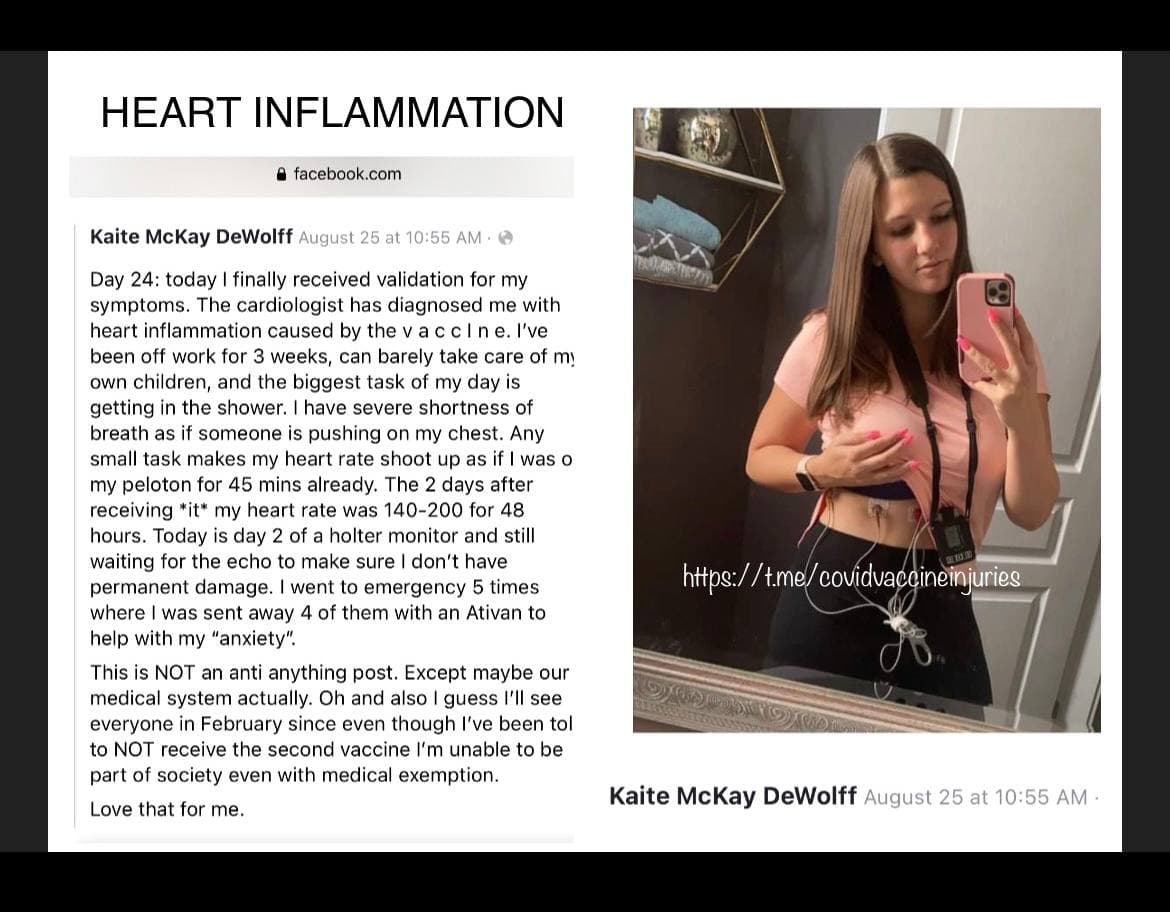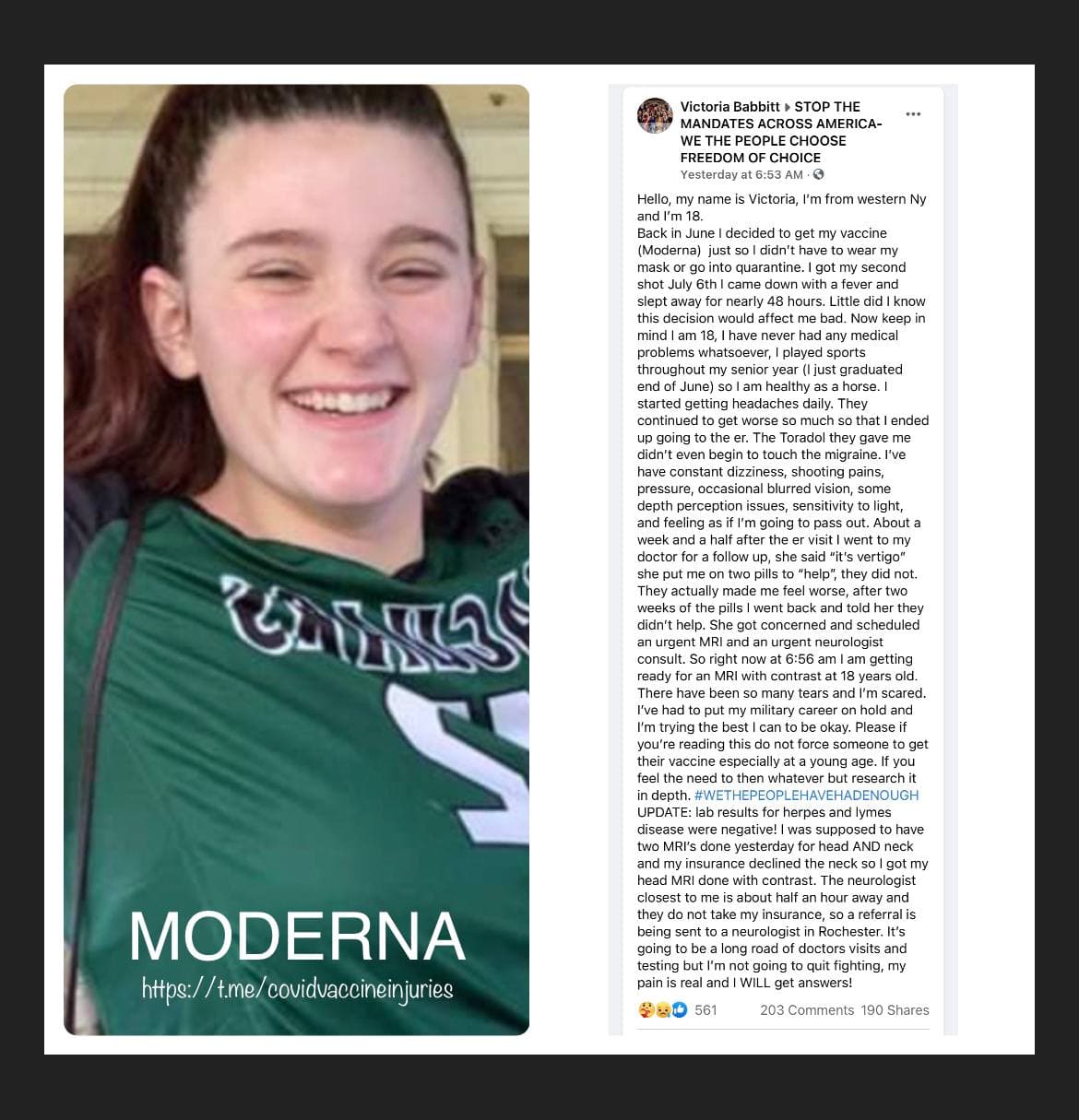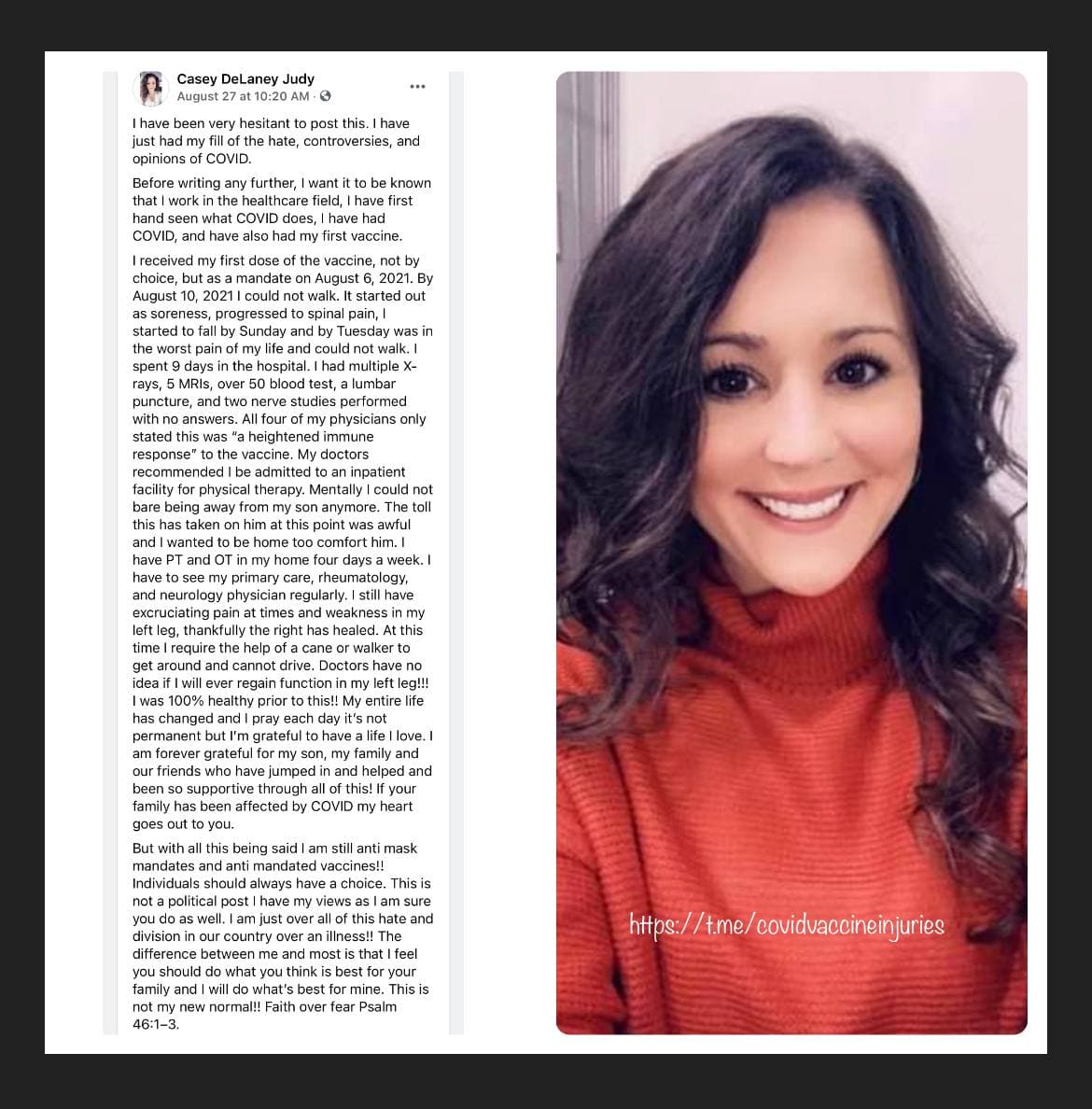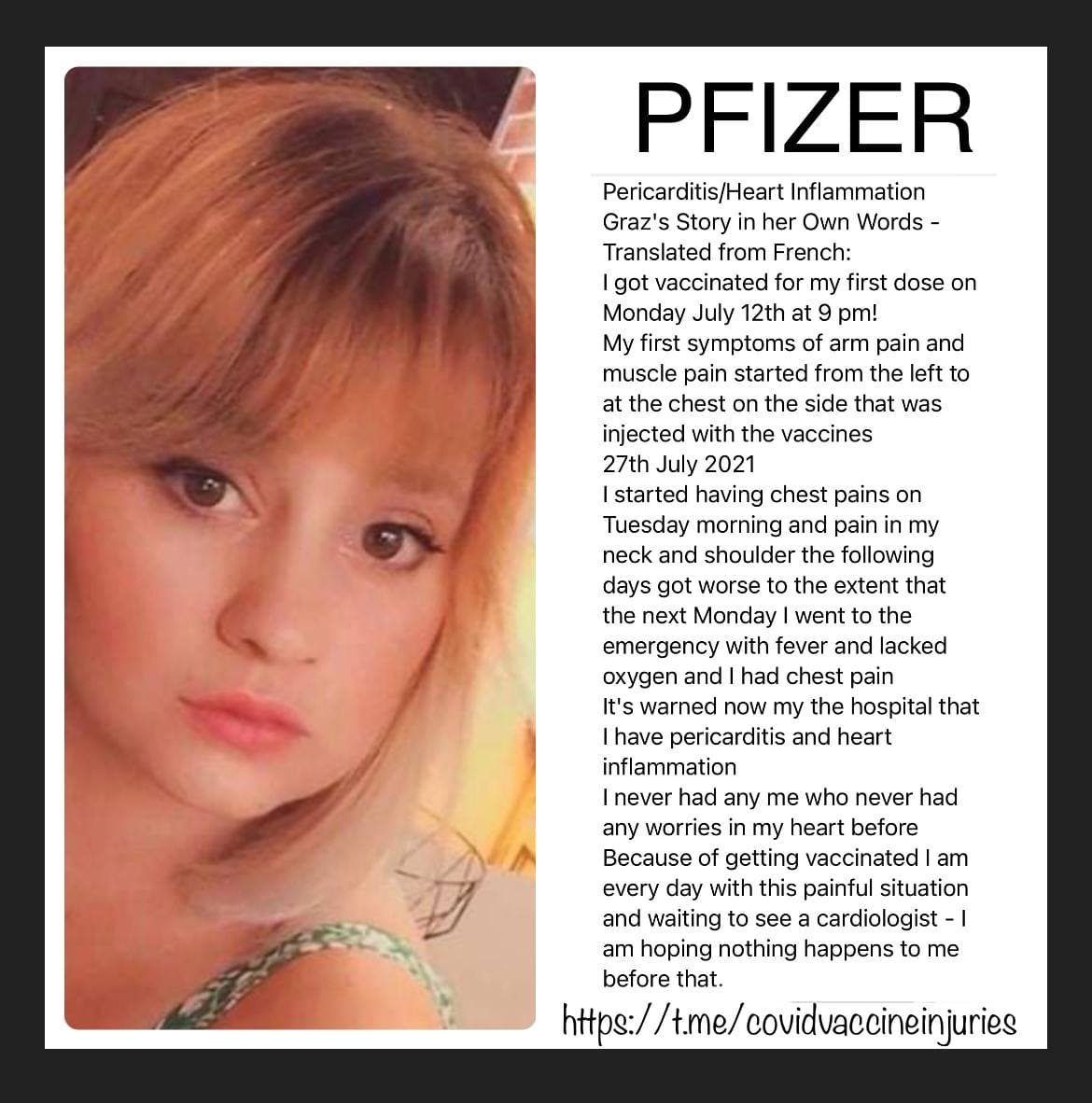 Here is a video of some of the previous stories of teens and young people that we have also covered.
See Also:
COVID-19 Bioweapon Injection Casualties List