UPDATE 18. September 2021: Investigation: Majority Of NYC Restaurants Not Enforcing Vax Mandate — Backlash Against Tyrannical Mandate Grows
UPDATE 14. September 2021: Federal Judge Blocks New York State Health Care Worker Vaccination Mandate - role model for the world ! + U.S. MARINES AGAINST FORCED VAXX
UPDATE 11. September 2021: The Great American Walkout Press Conference #TheGreatAmericanWalkout - To be copied and implemented worldwide !
UPDATE 06. September 2021: Oregon Police And Firefighters Suing Governor In Resistance Of Vaccine Mandate
UPDATE 26. August 2021: Claiming 'discrimination,' Vancouver businesses say they won't enforce B.C.'s vaccine passport
UPDATE 25. August 2021: Opposition from all four police unions against vaccine mandate for Chicago city employees + L. A. FIRE DEPT. CAPTAIN BLASTS DEADLY VACCINE MANDATE "TYRANNY," THREATENS WALK-OUT WITH HUNDREDS OF MEN
UPDATE 24. August 2021: Putin Bans Employer-Mandated COVID Vaccination, Russia More Free Than U.S. Now
UPDATE 20. August 2021: Pilots seek restraining order against United Airlines' 'unlawful, life-threatening, vaccine-mandate'
ICYMI: United Airlines, union agree against mandatory COVID-19 vaccinations for pilots
FIRST AIRLINES BREAK RANKS
Southwest, American, Delta break with United, won't mandate vaccine for workers
By JOSEPH CHOI - 11. August 2021
Three major airlines — Southwest, American and Delta — have decided against following United Airlines in requiring COVID-19 vaccinations for employees.
The CEOs of all three major airlines have each said that they will not be requiring their employees to get vaccinated, CNN reports.
Last week, United Airlines became the first major airline to issue a vaccine mandate for its employees
"The facts are crystal clear: everyone is safer when everyone is vaccinated," United Airlines CEO Scott Kirby and President Brett Hart told employees in a memo.
Southwest Airlines CEO Gary Kelly said in a memo obtained by CNN that while the company will "continue to strongly encourage" vaccination, it would not be changing its position on vaccine requirements.
"Obviously, I am very concerned about the latest Delta variant, and the effect on the health and Safety of our Employees and our operation, but nothing has changed," Kelly said in the memo.
Delta CEO Ed Bastian said in an interview that 75 percent of his airline's workforce was already vaccinated, appearing to argue that a vaccine mandate was unnecessary. CNN notes that Delta was the first airline to announce that all new hires would have to be vaccinated.
Though not requiring vaccines, American Airlines is incentivizing vaccines for their workers by giving them one extra vacation day in 2022 if they get vaccinated by the end of this month, CNN reports.
"We certainly encourage it everywhere we can, encourage it for our customers and our employees, but we're not putting mandates in place," American Airlines CEO Doug Parker said in an interview.
Picture: © Greg Nash
===
Citizen Action Turns to Lobbying State Legislators
As the Biden administration's position on the injections is encourage employers and businesses to make "vaccine" mandates, protection against such mandates now lies in the state legislatures. Organizations such as RightToRefuse.Org have so far successfully passed state laws against vaccine passports and mandates in 14 states. RightToRefuse.Org welcomes new members in all states. Another organization is NationalHealthFreedom.org, which has created an online tool for easily writing to all of one's state legislators at once.
Below: United Airlines Pilots File Lawsuit Against 'unlawful, life-threatening, vaccine-mandate.' Interview of Attorney for Pilots (view at Rumble)
==
UPDATES:
Investigation: Majority Of NYC Restaurants Not Enforcing Vax Mandate — Backlash Against Tyrannical Mandate Grows
By GWP - 18. September 2021
An investigation of 15 restaurants in Manhattan found 11 are not enforcing New York City's vaccine mandate.
Only 4 of the 15 asked for proof of vaccination to those eating at the restaurant.
Most of the 15 Manhattan restaurants visited by undercover sleuths this week were not enforcing Mayor Bill de Blasio's city-wide COVID-19 vaccine mandate for people dining inside, according to a new investigation.

Only four of the 15 restaurants asked reporters for ID along with proof of vaccination before seating them inside, according to a segment from Inside Edition.

Advertisement - story continues below

…

The city's vaccine mandate, dubbed the "Key to NYC," went into effect last month, requiring New Yorkers who want to dine inside restaurants, work out at a gym or attend an indoor concert to show proof they've gotten at least one of their shots.

After a roughly one-month grace period, enforcement of the order on businesses went into effect on Sept. 13.
According to City Hall, they have done 5,500 total inspections and issued about 2,200 warnings.
Back on August 28th, New Yorkers took to the streets to let their feelings about the vaccine mandate known.
"New York Unions for Choice" hosted a large rally protesting Biden, former New York State Governor Andrew Cuomo, and NYC Mayor Bill de Blasio's Medical Mandates at City Hall in Manhattan on Wednesday.

The New York City Department of Education has mandated the vaccine for all teachers," said event organizer Michael Kane. "Our union, the United Federation of Teachers, have not come to our aid and rolled over. That is why I am announcing today that I am leaving my union."

The protest, described to be the largest protest of rank-and-file union members in NYC History, had thousands of attendees- from teachers, firefighters, nurses, healthcare workers, EMTs, EMS, police, detectives, sanitation, postal workers and federal workers who reject what they perceive to be a looming Covid-19 vaccine mandate now threatening their unions and freedom of choice.
Advertisement - story continues below
Another protest is scheduled for Saturday, September 18th.
Tens of thousands are expected to attend.
Tens of thousands will protest against vaccine passports in New York's Times Square on Saturday and rallying is just the first step we are taking towards ending the tyranny, Eric Grassi, an organizer of New York's Freedom Rally told the Gateway Pundit.

Advertisement - story continues below

"We are banding together to stop this," he said. "This movement is growing rapidly because the fire departments, the teachers' unions, our troops, the hospital workers – none of these people want this injection. They know what's in it. It's causing tremendous death and devastation across the world. The injection of children is an absolute criminal act – a capital crime. Plus, the vaccination programs are driving new forms are driving and developing new forms of the disease.

"We must stop and end all vaccine mandates. They are overthrowing medical ethics, which allows the individual to decide if they want medical treatment. This is an absolute violation of our fundamental rights. The coronavirus is biological and psychological warfare on humanity – that was obvious from the beginning. Rallying is just the first step towards ending this tyranny. There was no pandemic."

"There are worldwide demonstrations going on. Our goal is to evict the perpetrators of this crime from their political offices," Rassi said. "These arrogant people – De Blasio, Fauci, Biden – then need to be stopped. It's apparent – criminal politicians conspired a world coup d'etat at pandemic planning conferences. They have planned this entire operation down to the fine, exact details of what they rolled out. This is a world takeover. It's a world coup d'etat.
===
U.S. MARINES AGAINST FORCED VAXX
===
Federal Judge Blocks New York State Health Care Worker Vaccination Mandate - role model for the world !
By MATTHEW VADUM - 14. September 2021
A federal judge on Tuesday granted an emergency injunction blocking the state of New York from enforcing a new CCP (Chinese Communist Party) virus vaccine mandate for healthcare workers.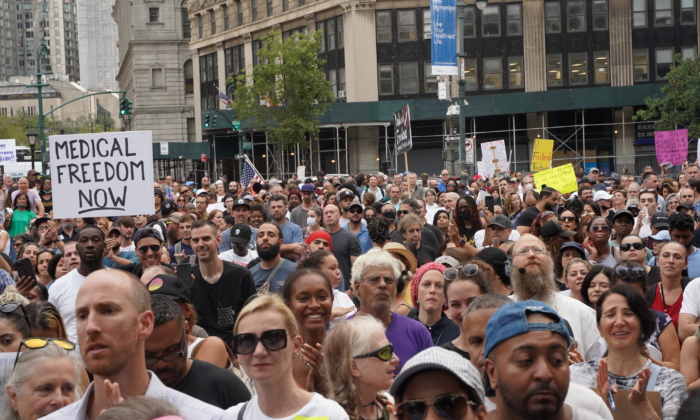 Protesters gather to oppose the new COVID-19 vaccine mandate in New York City on Sept. 13, 2021. (Enrico Trigoso/The Epoch Times) NY NEWS
Seventeen medical health professionals had asked the court to enjoin enforcement of New York's mandate that then-Gov. Andrew Cuomo announced on Aug. 16. The mandate required staff at hospitals and long-term care facilities such as nursing homes, adult care facilities, and other congregate care settings, be vaccinated for COVID-19 to continue to be employed.
The plaintiffs, including doctors, nurses, a medical technician, and a physician's liaison, were facing termination, loss of hospital admitting privileges, and the destruction of their careers unless they consent to be vaccinated with vaccines in contradiction of their religious beliefs, the lawsuit argued.
Their religious beliefs compelled the plaintiffs "to refuse vaccination with the available COVID-19 vaccines, all of which employ aborted fetus cell lines in their testing, development, or production," according to court documents.
The health care employees argued that the vaccine mandate would nullify protections for sincere religious beliefs under Title VII of the Civil Rights Act of 1964, even though the prior state health order in effect just days earlier had afforded the same protections. Specifically, they argued that the mandate violated the First and Fourteenth Amendments, the Supremacy Clause, and the Equal Protection Clause of the U.S. Constitution.
"What New York is attempting to do is slam shut an escape hatch from an unconstitutional vaccine mandate," attorney Christopher Ferrara, Thomas More Society special counsel, said in a statement before the injunction was granted.
"And they are doing this while knowing that many people have sincere religious objections to vaccines that were tested, developed, or produced with cell lines derived from aborted children."
The plaintiffs are identified in the lawsuit only by pseudonyms because, as they state in the legal complaint, they are "vilified" by the media as "pariahs who must be excluded from society until they are vaccinated against their will."
The new mandate "emerges in the context of an atmosphere of fear and irrationality in which the unvaccinated are threatened with being reduced to a caste of untouchables if they will not consent to being injected … with vaccines that violate their religious beliefs, are clearly not as effective as promised, and have known and increasingly evident risks of severe and even life-threatening side effects."
Judge David Hurd of the U.S. District Court for the Northern District of New York, a Bill Clinton appointee, granted a temporary restraining order (pdf) the morning of Sept. 14 in the case. The lawsuit was brought against New York Gov. Kathy Hochul (D).
"The vaccine mandate is suspended" and the New York Department of Health "is barred from taking any action, disciplinary or otherwise, against the licensure, certification, residency, admitting privileges or other professional status or qualification of any of the plaintiffs on account of their seeking or having obtained a religious exemption from mandatory COVID-19 vaccination," Hurd's order states.
Ferrara learned the court injunction was granted while he was being interviewed over the telephone by The Epoch Times.
Asked if he was pleased by the ruling, Ferrara laughed and said, "Are you kidding me?"
Author: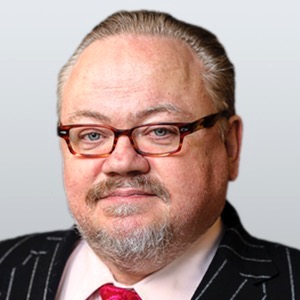 Matthew Vadum is an award-winning investigative journalist and a recognized expert in left-wing activism.
===
The Great American Walkout Press Conference
The Great American Walkout Press Conference - Premiered Sep 11, 2021
Get your "We are Free" sticker here: https://wearefreeid.com
Get your "We are Free" sticker here: https://wearefreeid.com #TheGreatAmericanWalkout
Let's connect on Instagram: @therachelhamm Twitter: @rachelhammSOS Rachel's personal website is: https://rachelhamm.com
If you'd like to mail Rachel something, you can send it to: PO Box 2866 Clovis, CA 93613
===
Oregon Police And Firefighters Suing Governor In Resistance Of Vaccine Mandate
Trooper already placed on leave for publicly resisting
By Steve Watson - 0
Police and firefighters in Oregon are suing the governor and the state after it was mandated that state workers must get COVID vaccines. Mohamad Faizal Bin Ramli / Getty Images

KOIN-TV reports that the lawsuit was brought by the Oregon Fraternal Order of Police, as well as state troopers and firefighters at the Kingsley Field Air National Guard Base.

Gov. Kate Brown recently mandated vaccines for workers, as well as instituting a fresh mask mandate, which was roundly criticised for going against logic and science.

The police and firefighters want to see Brown's executive order deemed "unenforceable" by a judge, noting that there are statutes in place to protect workers rights and that vaccine mandates will lead to wrongful dismissals.

Last week an Oregon trooper was placed on leave for posting a video to social media vowing to defy the mandate.

"I swore an oath to uphold the Constitution of the United States, to protect the freedom of the people who pay my salary," said Zachary Kowing in the video, adding "I do not work for my governor but for them."

Watch:

===
Claiming 'discrimination,' Vancouver businesses say they won't enforce B.C.'s vaccine passport
The businesses include independent photographers, restaurants and massage parlours
By Cameron Thomson - 26. August 2021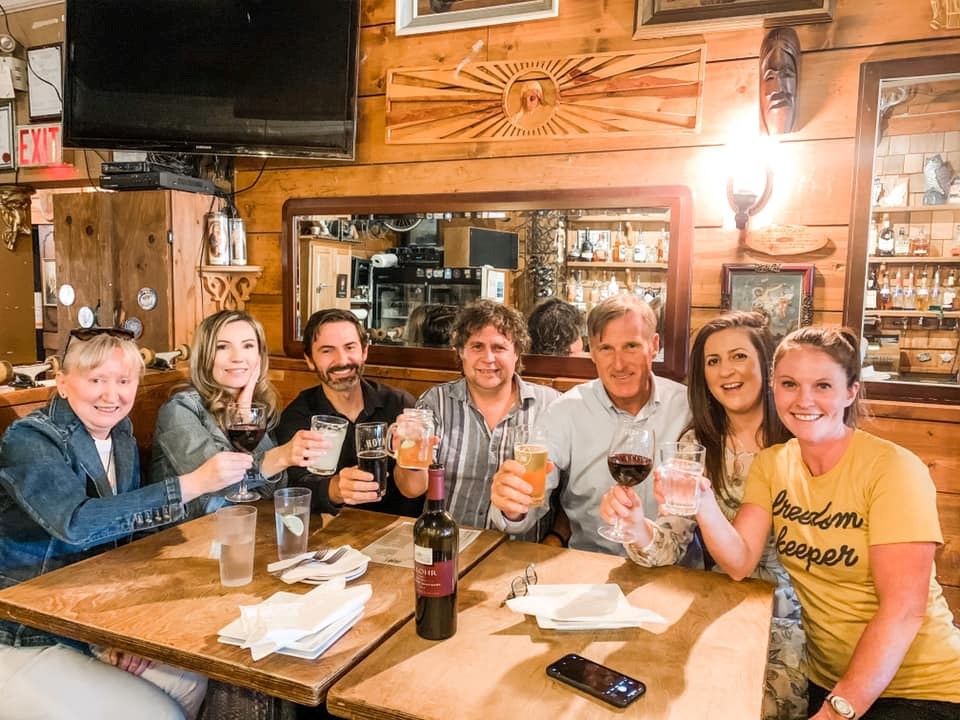 Patrons and staff at Courdoury Restuarant openly defied provincial health orders in April which led to the City of Vancouver suspending the restaurant's business licence. Corduroy Restaurant
Following the provincial government's announcement that B.C. residents will need to show proof of vaccination to attend certain social events, many small businesses took to social media to announce they will not be enforcing the order.
The movement was spurred by the Instagram account @savesmallbusinessbc which helped coordinate and promote anti-vax protests earlier this year. Off Instagram, over 64,000 have joined the Facebook group BC Businesses against Health Pass where the narrative is much the same. Posts from business owners say they will not "discriminate" against those who are vaccinated or unvaccinated.
Katia Somerville, the owner of and an artist at Rainfire Tattoo located on East Pender Street posted to the Facebook group advertising her business and how she conducts it.
Rainfire Tattoo "does not discriminate against anyone, v or no v," Somerville writes. "We are a private studio and do not require a mask while getting tattooed."
Massage parlours, naturopaths, restaurants
The tattoo shop is one of the 28 Vancouver businesses on a growing online list also called BC Businesses against Health Pass. Among them are several massage parlours, naturopaths or vitamin businesses along with two Vancouver eateries: Just Waffles on East Hastings and Kitsilano's Corduroy Restaurant.
Rebecca Matthews, Corduroy's owner was vehemently opposed to B.C.'s first mask mandate and spoke at anti-vax rallies earlier this year. Patrons and staff at Corduroy also openly defied provincial health orders in April which led to the City of Vancouver suspending the restaurant's business licence.
In a recent post to her restaurant's Instagram page, Matthews spoke about the actions she will be taking and encouraged others to do the same.
"The government is asking us to defy the Canadian Constitution or lose our business," Matthews wrote. "They want small businesses to invade the medical privacy of their customers and DISCRIMINATE them based on a new, still in trial phase, medical treatment."
Pre-existing restrictions on liberty
Kyla Lee is a Vancouver lawyer who in recent days has received many questions asking if the vaccine passport is indeed an infringement on Canadian's Charter Rights. She took to TikTok to share her thoughts on the matter and says ultimately it's a fair balance.
"Your Charter Rights aren't absolute. Like at any time the government has the ability to limit your Charter rights," Lee says. "That can include restrictions on your rights to access certain things, restrictions on your rights to go certain places, restrictions on your bodily integrity rights."
In her explanation, Lee draws a comparison between the vaccine and taking a breathalyzer test. Since driving is a privilege and not a right there are restrictions on your rights. Provided the demand for the breathalyzer test is lawful, there is a restriction on your bodily integrity rights and you must provide the sample or face legal consequences.
"We already see these types of liberty restrictions existing in our society," Lee adds. "They exist because there's a public safety balance that has to be done."
Activities of privilege
Lee goes on to say it is important to recognize what's actually being restricted with B.C.'s vaccine passport, i.e. not people's rights to access essential services.
"You have to be vaccinated to do things that we commonly understand to be part of the most privileged activities in society: going to casinos, going to restaurants, going to bars, those are activities of privilege," Lee said. "What the government is saying is that if you are going to participate in those activities of privilege then you have to be vaccinated."
Finally, Lee lays out what would likely happen if the order is challenged in court, something she says undoubtedly will happen anyways. Lee expects the courts will look at the type of balance that has been struck, the activities that have been chosen, the level of risk associated and deem it a justifiable infringement of rights.
"Even if they find that you have a right to go to a restaurant, which you don't necessarily have," Lee said.
===
Opposition from all four police unions against vaccine mandate for Chicago city employees
"This has literally lit a bomb underneath the membership," said Fraternal Order of Police President John Catanzara. "We're in America, G-ddamn it. We don't want to be forced to do anything. Period. This ain't Nazi f---ing Germany."
By Fran Spielman - 25. August 2021
Mayor Lori Lightfoot got her second dose of the Pfizer coronavirus vaccine in February. It was administered by Chicago Department of Public Health Commissioner Allison Arwady. Lightfoot said all city employees will be required to get a COVID-19 vaccination. The policy will take effect Oct. 15. Pat Nabong/Sun-Times
Mayor Lori Lightfoot on Wednesday forged ahead with an Oct. 15 vaccine mandate for all city employees over strenuous and united opposition from all four police unions.
"As cases continue to rise, we must take every step necessary and at our disposal to keep everyone in our city safe and healthy," Lightfoot was quoted as saying in a press release.
"Getting vaccinated has been proven to be the best way to achieve that and make it possible to recover from this devastating pandemic. And so, we have decided to join other municipalities and government agencies across the nation, including the U.S. military, who are making this decision to protect the people keeping our cities and counties moving."
The press release doesn't say what happens to city employees who refuse to comply, just that the new policy "applies to all city employees and volunteers" and takes effect Oct. 15.
Employees "can apply for medical or religious exemptions." Those requests would be reviewed the city's Department of Human Resources on a "case-by-case basis."
Fraternal Order of Police President John Catanzara has been at loggerheads with Lightfoot on many issues, and this time, he's not alone.
"It ain't just our guys. It's the sergeants, lieutenants and captains. This is a united front. ... It's no longer John Catanzara's big mouth, like they like to spin it all the time," Catanzara said Wednesday.
"This has literally lit a bomb underneath the membership. ... And what are they gonna do when four or five thousand coppers say, 'Screw you. I'm staying home. You're not making me get this f---ing vaccination. Don't pay me. That's fine. We'll see you in court.'"
Catanzara said he's not threatening a blue-flu style protest. He claims the city is literally talking about "putting people on no-pay status who refuse to get" the vaccination.
"You're not gonna pay me. You're gonna make me stay home. But you're gonna have thousands of coppers willing to stay home, not getting paid to not get a vaccine and then, what are you gonna do for manpower on the streets?" he said.
Earlier this week, Catanzara told the Sun-Times there are "no studies for long-term side-effects or consequences" from coronavirus vaccines.
On Wednesday, he doubled down on that argument in a profanity-laced tirade.
"We're in America, G-ddamn it. We don't want to be forced to do anything. Period. This ain't Nazi f---ing Germany, [where they say], 'Step into the f---ing showers. The pills won't hurt you.' What the f--k?" he said.
"Nobody knows what the long term side effects could possibly be. Nobody. And anybody who says they do are full of s--t."
Catanzara's analogy was condemned by the Anti-Defamation League.
"The comparison of mandatory vaccinations to Nazi Germany and the Holocaust is factually incorrect and deeply offensive to the millions of innocent people killed at the hands of the Nazis," the group tweeted, calling on Catanzara to apologize.
Speaking after a mental health roundtable on Wednesday, Lightfoot stood by her decision to require police officers to be vaccinated, noting that "the leading killer of police officers through the pandemic is the virus."
The mayor further insisted city workers who interact closely with the public, like police officers, are acting irresponsibly and putting those they serve in danger if they refuse to be vaccinated.
"Coming to work, particularly in a job where you've gotta interface with the public on a regular basis, and you're not vaccinated — not only are you putting yourself at risk, you're putting every single person that you come into contact with at risk."
Lightfoot has argued the city has no choice but to join New York City and Cook County in issuing a vaccine mandate.
"It's for the safety of all involved, particularly members of the public who are interacting with city employees on a daily basis. It's important for colleagues to also feel like they have a workplace that is safe," the mayor said earlier this week.
"City employees are absolutely gonna be required to be vaccinated. We're working through those discussions, which have been ongoing now for a couple of weeks with our colleagues in organized labor that represent city employees."
Chicago Federation of Labor President Bob Reiter said his member unions "believe in vaccines" and believe those shots are "important to protect workers and residents." But they don't believe the end justifies the mayor's means.
"We don't think that the way to get people vaccinated is by issuing mandates and being punitive about it. What we should be doing is continuing to work together around education and encouraging people. … That has to be something that is collaborative," Reiter said.
"I'm on board with creating a vaccine policy of some sort. I'm not on board with making it a vaccine mandate that exists in a vacuum. At a minimum, if we are going to ask people to be vaccinated, we should also be presenting a testing alternative."
The CFL has an ownership stake in Sun-Times Media.
Reiter said union leaders are discussing with the city "what a policy looks like" and those meetings will continue.
"This announcing what they want to do — or putting down a marker — is too early in the process. We are at the beginning. We're not at the middle or at the end," Reiter said.
"We've verbally told them what we think a policy should look like. We haven't seen a response. ... It's undefined yet as to where we end up."
Contributing: Tom Schuba
===
L. A. FIRE DEPT. CAPTAIN BLASTS DEADLY VACCINE MANDATE "TYRANNY," THREATENS WALK-OUT WITH HUNDREDS OF MEN
A Los Angeles Fire Department captain, who could have easily retired, and left half his men to their devices, has come out blasting in defense of his men who are against the department's new mandate for injections of mRNA bio-agents, which already show more possibly-linked deaths than all other vaccines combined, since the reporting system began in 1990. He said he will walk out with them if necessary, whatever the consequences.
LAPD Captain Christian Granucci called his department's new mandate a form of "tyranny" which he felt bound to oppose now, or he would never be able to "look his children in the eye" in years to come.
Capt. Granucci said:
"it will be a booster, and another booster and another booster. When will this end? When will this tyranny stop?"
There are now over 12,000 possibly related deaths recorded into the CDC's official Vaccine Adverse Event Reporting System, (VAERS,) as well as over 41,000 hospitalizations, 13,000 permanent disabilities, and 300 birth defects. One-third of the deaths occurred within 48 hours, in one large sample.
Even Pizer and Moderna have warned that "many" people "should NOT" get the shots under any circumstances.
Since the FDA gave "emergency authorization use" last December:
— The inventor of the mRNA platform, Dr. Robert Malone formerly of the Salks Institutute, says data shows that the products are not behaving as intended and have placed recipients in "danger," as spike proteins have failed to stay anchored at the injection site and lodge in the organs, with unknown long-term consequences which should have been revealed in the normal 3 to 6 years of animal trials. Dr. Malone says the FDA knew full well of the spike protein dangers long before "emergency use authorization."
— Many other scientists and doctors, including a world renown immunologist, Dr. Sucharit Bhakdi, professor emeritus at the University of Mainz and 2001 winner of the Aronson Prize for achievements in microbiology and immunology, have called for the mass vaccinations to be halted until the full two years of closely-watched clinical trials originally submitted to and required by the FDA are completed, due to the unknown long-term effects of the novel mRNA technology. . (Links to doctors' and scientists' calls for halts to mass vaccinations, partial list: 1, 2, 3, 4.)
— Another scientist, former Chief Science Officer and VP at Pfizer for 16 years, Dr. Mike Yeadon, has accused goverments and medical authorities of dishonesty and being beholden to pharmaceuticals companys' grant money, and has said anyone who takes the Pfizer/Moderna shots is in terrible danger due to lack of long-term safety data. Dr. Yeadon, a successful bio-tech enterpreneur, has called scientists at the companies and the FDA "reckless idiots."
Neverheless, the Biden FDA this month blithely approved the drugs for full general use, and Joe Biden went on camera to demand that employers "require" the injections.
Both Pfizer and Moderna had over a year to two years left in the clinical trials for safety which the FDA itself approved.
===
Putin Bans Employer-Mandated COVID Vaccination, Russia More Free Than U.S. Now
29 Aug 2021 - Date of Putin remarks August 24, 2021.
===
Pilots seek restraining order against United Airlines' 'unlawful, life-threatening, vaccine-mandate'
The pilots assert in their lawsuit that United Airlines' vaccine mandate places them at a significant risk of harm with enhanced possibility of heart failure and clotting while working at high altitudes, endangering the numerous souls aboard their aircraft 
United Airlines plane Shutterstock

By Doug Mainwaring - 20. August 2021

A group of United Airlines (UAL) pilots have petitioned a Florida Court seeking a temporary restraining order against the company's vaccine mandate which they see as dangerous and life threatening not only for themselves but for their passengers.

The 18 pilots —who have a combined total of roughly 200 years of military aviation and 440 years of commercial aviation experience— believe that "United Airlines' mandate and policies are discriminatory at best, predicated on misinformation or disinformation, and places the pilots and general public at dire risk."

With 834 aircraft and 67,000 employees, UAL is one of the largest airlines in the world.
An unconscionable ultimatum
In May, United reportedly offered its pilots up to $4,500 as an enticement to receive the COVID-19 vaccine as soon as possible.
As of August 6, UAL pilots risk losing their jobs if they refuse the vaccination, now mandated by the airline.
"United has given its employees an unconscionable ultimatum," they claim, "which among other things, grossly violates numerous provisions of the Constitution: choose between their jobs which afford them the ability to feed, clothe, and house their families – or – take an experimental, life-threatening vaccine which evidence suggests not only does more harm than good; but poses greater risks to those in the airline industry."
"What is at stake is literally a matter of life and death; not only for the United employees but the public-at-large," say the pilots.
COVID-19 vaccine: Unsafe for pilots
The pilots assert in their lawsuit that UAL's COVID-19 vaccine mandate "places them at a particular, significant risk of harm with enhanced possibility of heart failure and clotting working at high altitudes that transport numerous souls aboard their aircraft who entrust the Pilots to fly them safely to their destinations on a daily basis."
The suit was filed one week after UAL announced its vaccine mandate. According to the court filing:
The mandate requires all employees to be vaccinated no later than five weeks after FDA vaccine approval, or five weeks after September 20, 2021, whichever comes first. Employees not vaccinated by October 25, 2021, will be terminated. Plaintiffs believe the vaccines to be dangerous generally and particularly unsafe for pilots. Blood clots, vision impairment, neurological issues, and heart issues, are among the many vaccine-related injuries; and the overall responsibility for passengers and crew falls on the pilots. In short, Plaintiffs believe this mandate is a danger to themselves, as well as, the general flying public.
Dr. Peter A. McCullough, MD, MPH offered expert testimony on behalf of the pilots.  He said, in part:
I believe within a reasonable degree of medical certainty that the COVID-19 vaccine(s) are not safe generally; and particularly dangerous for airline pilots. It is my belief based on a reasonable degree of medical certainty that the vaccine could cause the death of airline pilots and that their lives are in danger should they be administered the vaccine and travel at high altitudes. I believe within a reasonable degree of medical certainty that the data upon which United Airlines has based its mandate upon is flawed and/or inaccurate; and imposing this vaccine is not only dangerous and could cause harm to the pilots, but to their passengers and the public-at-large. . . .

In my expert medical opinion, the Emergency Use Authorization and administration of COVID-19 vaccines for pilots creates an unethical, unreasonable, clinically unjustified, unsafe, and poses an unnecessary risk to the pilots of the United States of America. Likewise, in my medical expert opinion, the mandatory administration of COVID-19 vaccines in pilots creates unnecessary risk to pilots, flight crew, and the airline passengers of the United States of America.
Dr. W. Ben Edwards, who also filed an affidavit on behalf of the pilots, noted that many adverse outcomes and deaths from the COVID-19 "are related to blood clotting problems, including stroke, heart attack, and pulmonary embolism."
"It is well established that airline travel, due to altitude and prolonged sitting, is a risk factor for blood clotting problems," he added. "In my expert medical opinion, subjecting airline pilots to the emergency use authorized Covid-19 gene therapy injections would subject them to a greater risk of harm than any benefit."
Not a 'right' or 'left' issue; It's about our Constitution
The pilot's attorney, Kenneth W. Ferguson, said that when he reached out to UAL officials in advance of filing the suit on August 14, UAL officials showed no concern. One of the airlines' in-house attorneys hung up on him, demonstrating a "callous indifference and lack of concern toward the lives of the people who make the company function."
Ferguson concluded at the time, "United Airlines does not care."
"This is not a left or right issue," Ferguson told LifeSiteNews.  "And this is not about being anti-vax."
"People should have the right to choose," said Ferguson.  "Just because you have 'Inc.' behind your name doesn't give you the right to infringe upon inalienable constitutional rights."
"All sources of power emanate from the same place: The Constitution," he explained. "That's not something the judiciary, the executive branch, or Congress can take away."
"We need to get back to our roots," he concluded.
In addition to United Airlines, the pilots have named five other defendants in their lawsuit:
The United States Department of Transportation (DOT)
United States Secretary of Transportation Pete Buttigieg,
The United States Department of Labor (DOL)
United States Secretary of Labor Martin J. Walsh
The Federal Aviation Administration (FAA)