UPDATE 16. July 2021: South Africa — The First Country Built on "Critical Race Theory" — Officially Implodes
UPDATE 15. July 2021: CAUGHT ON VIDEO: Politician Telling People in South Africa "Go Into Indian and White Neighborhoods; Kill Them and Burn their houses down" + South African Army 'Activates' All Reserve Members Amid Worsening Social Unrest
PDATE 14. July 2021: More Troops Called Up To Squash Unrest As South African Rioters Target Critical Infrastructure + LOOTERS SHOT DEAD IN SOUTH AFRICA AS LOOTING CONTINUES. MASS STARVATION POSSIBLE!
ICYMI: Vigilantes Rise Up As Black Looters Destroy South Africa! 45+ Dead - Extremely GRAPHIC FOOTAGE
PROLOGUE: Example for the worst implementation of "COVID-Rules" on the African continent, imposed by the United Nations (WHO and WorldBank/IMF) and the WEF, in cohorts with the Pharma-Mafia and a totally corrupt governance. This is exactly what the COVID-Cult has planned with operation LOCKSTEP since 20 years. The imprisonment of Jacob Zuma is only the spark that triggered the long overdue events, calculated precisely to cause mass-death (not caused by a "deadly variant', but out of government- and oldmedia-instilled fear, brutal restrictions on Ivermectin and Hydroxichloroquine as well as the forced 'vaccinations', whose death figures are no longer counted) and bring South-Africa down on its knees to be picked up by venture capital and the banksters. The uproar will catch on and lead to country-wide hunger-"games". Other African countries must not follow the ill-advised example of South-Africa or will be plunged into the same chaos and misery.
South Africa riots: At least 72 killed, over 1,000 arrested amid worst violence in decades
The chaos erupted following the imprisonment of former President Jacob Zuma. Unrest continues in South Africa over former president's imprisonment.
At least 72 people have been killed and 1,234 arrested after former South African President Jacob went to jail.
LONDON and PRETORIA -- At least 72 people have been killed in ongoing riots across South Africa, despite the efforts of heavily outnumbered authorities to quell the violent unrest sparked by the imprisonment of former President Jacob Zuma.
The South African Police Service said in a statement Tuesday that the death toll had risen to 27 in Zuma's home province of KwaZulu-Natal and to 45 in the economic hub of Gauteng province, with many of the fatalities occurring in "stampedes" as scores of people looted food, liquor, clothes and electrical appliances from shops in poor areas.
Other deaths were caused by explosions when people tried to break into ATM machines as well as shootings, according to police.
At least one police officer was killed in an attack on law enforcement, while seven others were injured while responding to the riots, police said.
So far, 1,234 people have been arrested, according to police, but the chaos has continued. Looters were seen ransacking warehouses and supermarkets in the port city of Durban on Tuesday, while rioters set fire to a chemical plant near the town of Umhlanga, just north of Durban.
The South African Police Service has recalled officers from leave and rest days, while the South African National Defence Forces has deployed thousands soldiers to assist the overstretched law enforcement agencies on the ground.
South African President Cyril Ramaphosa has vowed to "restore calm and order," describing the unrest as the worst the country has witnessed since the 1990s, before the end of the apartheid regime,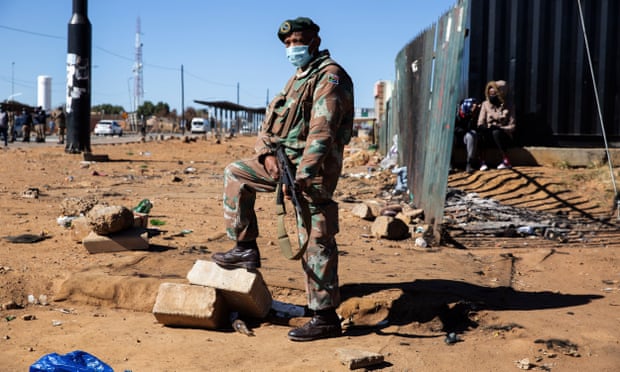 A South African soldier stands guard in Soweto, Johannesburg, South Africa. Essential services, including the country's vaccine rollout, have been disrupted by the raging unrest. Photograph: James Oatway/Getty Images
"Over the past few days and nights, there have been acts of public violence of a kind rarely seen in the history of our democracy," Ramaphosa said in a televised address to the nation on Monday evening. "Let me be clear: We will take action to protect every person in this country against the threat of violence, intimidation, theft and looting. We will not hesitate to arrest and prosecute those who perpetrate these actions and will ensure that they face the full might of our law."
The lawlessness has disrupted South Africa's COVID-19 vaccination program, which Ramaphosa warned will have "lasting effects on our ability to consolidate some of the progress we were already witnessing in our economic recovery." Vaccine shots are urgently needed in the country, which -- along with other nations in Africa -- is fighting a new wave of COVID-19 infections. The South African government recently reimposed and extended tight restrictions, including a nightly nationwide curfew, school closures, a ban gatherings and limits on alcohol sales.
MORE: South Africa to end captive lion breeding, bone trade
Violence and unrest has gripped parts of South Africa since Zuma turned himself in to police on July 7 to begin his 15-month jail term for contempt of court. South Africa's highest court handed down the sentence after Zuma failed to appear before an inquiry examining corruption during the nine years that he served as president. Zuma has maintained his innocence, saying he is the victim of a politically motivated witch hunt, and his supporters took to the streets last week. But the protests appear to have reawakened deep-seated grievances over persistent poverty, unemployment and inequality, some 27 years after apartheid ended.
"There is no grievance, nor any political cause, that can justify the violence and destruction that we have seen in parts of KwaZulu-Natal and Gauteng," Ramaphosa said. "The path of violence, of looting and anarchy, leads only to more violence and devastation. It leads to more poverty, more unemployment, and more loss of innocent life. This is not who we are as a people."
===
UPDATES:
South Africa — The First Country Built on "Critical Race Theory" — Officially Implodes
By RN - 16. July 2021
South Africa is disintegrating.
After the jailing of Jacob Zuma, supporters of the former president took to the streets, ostensibly to protest but actually to simply plunder at will. The official death toll already runs into the dozens, but in a country as violent as South Africa (57 murders a day) the real toll will likely never be known for certain.
Rioters have plundered shops and entire shopping malls. When they run out out of normal goods, they steal livestock. When it's too heavy to carry by hand, they bring a forklift.
The meltdown in South Africa isn't a natural disaster or a random fluke. It's a choice. South Africa was the first modern nation to be refounded on the anti-white principles of critical race theory, and now it is reaping the whirlwind of that choice.
South Africa did everything that is being done in America right now. As a hyperdiverse multiethnic, multilingual society, South Africa has followed almost every prescription embraced by the globalist ruling class.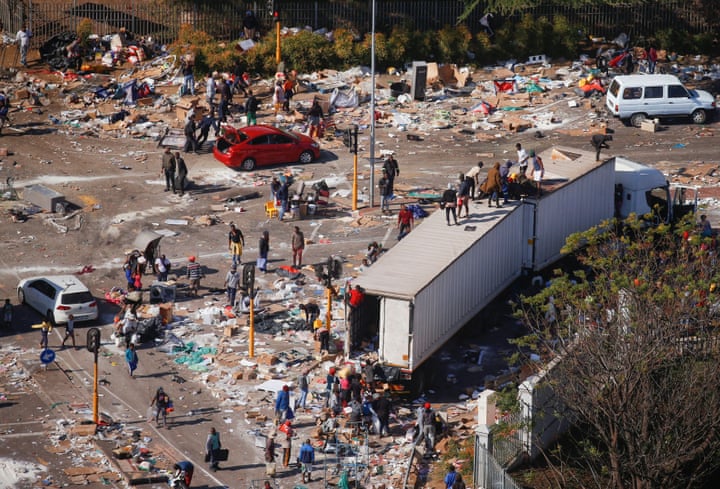 Durban, South Africa - People loot an area near a burning warehouse after violence erupted following the jailing of former South African president, Jacob Zuma. Photograph: Rogan Ward/Reuters

This is about more than riots. This wave of violence will eventually peter out. But there is no reason to be optimistic when that happens. There will be no sense of having survived a calamity, and having a chance to rebuild. When this wave of burning and looting and killing are over, there is nothing to look forward to but the next wave.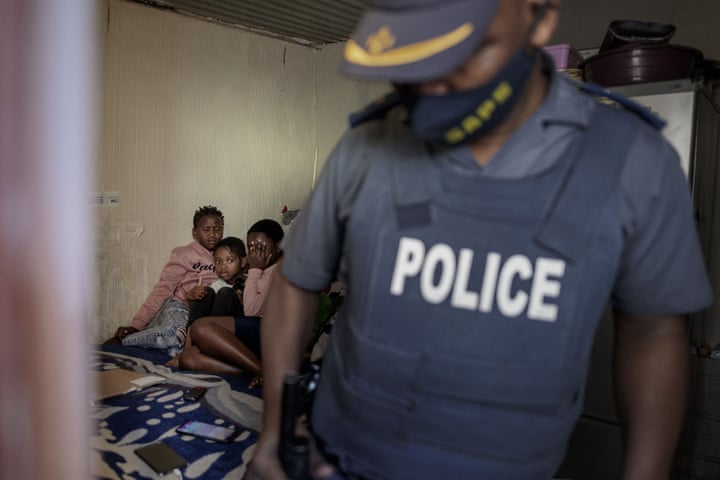 Johannesburg, South Africa - A police officer searches for stolen goods and weapons in the house of a suspected looter, as his daughters sit on the bed, in Jeppestown. Photograph: Luca Sola/AFP/Getty Images

The specter of doom hangs over South Africa. The optimism that peaked when the country hosted the 2010 World Cup is now gone. Despite being warned for years about failing water infrastructure, local governments ignored the problem and now the country has routine, severe water crises. South Africa began experiencing rolling blackouts in 2007, and has battled them ever since. Even the government says the blackouts will likely continue for at least five more years. Hint: Bet your money that they last even longer.

Despite being the "economic superpower" of Sub-Saharan Africa, South Africa's brain drain is significant and accelerating. Those who have options are abandoning the country. More than four percent of all deaths are murders, and the murder rate is somehow still rising; last year it rose by 8.4 percent. But it's not just about day-to-day violence. It's the expectation for what is to come.

South Africa's dominant African National Congress party is corrupt and ineffective, but its most dangerous rival is one of the most radical political parties to enjoy representation on Earth. The Economic Freedom Fighters vow to seize white-owned land (without payment), nationalize the banking and mining sectors, and double welfare payments.

But EFF isn't a radical outlier in South African politics. It's the natural endgame for the country's post-apartheid ideology. For decades, the South African economy has been shaped by a policy known as Broad Based Black Economic Employment. Despite its name, there is nothing "based" about BBBEE. Instead, the policy uses the same tactics to achieve "equity" that activists in the United States are demanding.

BBBEE relies openly and explicitly on injecting racial preferences throughout the economy. Companies receive a BBBEE scorecard based on hiring black workers, elevating black management, and giving black South Africans a share of ownership. Companies with high BBBEE scores are given favorable tax treatment and preferences in government contracts. Corporate actors are strongly incentivized to give contracts to high BBBEE scorers as well.

The results are predictable. Remember those rolling blackouts Revolver mentioned above? Eskom, South Africa's public electric utility company, is one of the most aggressive adopters of BBBEE. South African National Assemblywoman Gwen Ngwenya described the outcome of this approach in a 2019 column:
Why is Eskom in trouble? Because it has high operating costs and it cannot meet its debt obligations. Why? It's ambitious programme to build two big power stations has incurred substantial cost overruns and technical faults. Why? In part it was flawed from the beginning with a small bidding pool, meaning it was likely not cost competitive from the start. Why? There was political meddling. Why? Chancellor House. Why? Contractors needed to have a black partner in order to secure contracts. Why? BEE. [PoliticsWeb.za]
In her column, Ngwenya explains how BBBEE has fueled the decay of South Africa's power utility at every step of the process. The country has two expensive, botched power plants because Hitachi's African subsidiary secured contracts based on black empowerment criteria rather than actual expertise. Eskom has problems with coal supply because it gave favoritism to black-owned mining companies, and even pushed foreign firms to divest from the country. In one case, the CEO of Wescoal resigned his position solely because having a white CEO hindered the company's ability to compete in South Africa.
But most damaging of all, BBBEE has driven a catastrophic dilution of Eskom's core human capital.
Eskom has experienced a skills carnage for many years, and the long spectre of race-based policies has never been far from the crime scene.

A decade after the skills shortages plaguing Eskom at the time of the 2008 financial crisis, it still cites 'people issues' as one of its major concerns. This is startling for a company where the staff complement has increased by almost 50% in the last 10 years. As recently as 2015 Eskom was talking about reducing the number of white engineers by 1,081 and white artisans by 2,179 in professional and mid-management positions in order that the utility could more accurately resemble the demographics of the country.

Estimates vary but Eskom has lost thousands of skilled personnel since 1994, and often paid a premium for it via costly severance packages. Many were taken up by individuals who could smell the blood in the water and for whom retirement or employment abroad presented a more attractive offer than sticking around for the looming apocalypse. [PoliticsWeb.za]
As time passes, the situation only gets bleaker for Eskom. The company's infrastructure is aged and failing. Its workforce is unskilled or outright incompetent. Thanks to racially-motivated contracting, its logistics are breaking down.
But there is more going on than skills decay rooted in racial discrimination. Just like in the United States, rampant affirmative action is an invitation to naked cronyism, insider dealing, and corruption. Burdensome racial quota laws fall heaviest on small and up-and-coming businesses, while the largest mega-corporations have the easiest time complying. If a company is to be politically rewarded for handing out ownership based on race, why not gain even more security and let the politically connected into the ownership caste? If you have to hire unqualified hacks for senior management, why not give the jobs to politicians' children? Corrupt behavior like this happens even in the best systems. But as one South African observer notes, in that country it's by design:
Across state in-house institutions like the South African Revenue Service, the National Prosecuting Authority and the National Intelligence Agency, black-first narratives were used to effect 'state capture' which meant shielding those corrupt rent-seekers (black and white) who used BEE deals, slush-funds and tax dodging to fizz their champagne while flattening the rest of us.

In the private sector, BEE is one of many onerous costs of business that the biggest, well-established firms can bear while their up-and-coming competition is hounded off the grid or else simply bankrupted. This creates a winner-take-all economy while the sum of it all shrinks. The Small Business Project's (SBP) landmark new analysis finds that contrary to former expectations there are not millions of formal Small and Medium Enterprises (SMEs) but only about 250 000. It also notes that formal SMEs 'only account for 28% of the jobs' while, 'based on international trends, this should be about 60% or 70%'. [South African Institute of Race Relations]
South Africa's unemployment rate is at a record 32.6 percent. That's not simply a quirk of coronavirus. The country's unemployment was 32.5 percent in early 2020, before a single lockdown hit. The country's GDP per capita peaked in 2011 and has fallen by 25 percent since.
As the country has broken down, race hate against white people isn't used to reduce inequality but to increase it — much like in America. One of South Africa's richest families is the Gupta family; Indian immigrants who arrived in 1993 to profit off the end of apartheid. The Guptas soon built a close relationship with the now-jailed Jacob Zuma. When Zuma became president, his actions benefited the Guptas to such a degree that it constituted state capture.
The Guptas owned a portfolio of companies that enjoyed lucrative contracts with South African government departments and state-owned conglomerates. They also employed several Zuma family members — including the president's son, Duduzane — in senior positions.

According to testimony heard at the inquiry, the Guptas went to great lengths to influence their most important client, the South African state.
Public officials responsible for various state bodies say they were directly instructed by the Guptas to take decisions that would advance the brothers' business interests.

It is alleged that compliance was rewarded with money and promotion, while disobedience was punished with dismissal.
The public bodies that are said to have been "captured" in this fashion included the ministries of finance, natural resources and public enterprise, as well as the government agencies responsible for tax collection and communications, the state broadcaster SABC, the national carrier, South African Airways, the state-owned rail-freight operator Transnet and the energy giant Eskom, one of the world's largest utility companies. [BBC]
Crucially, when political heat was directed toward the Gupta family, they knew exactly how to fight back: Point the finger at society's most acceptable target, white people. The Guptas employed a British PR firm to argue that South Africa's problem wasn't a corrupt family dynasty, but the white race hoarding resources from everyone else:
According to an investigation by the Sunday Times last month, Bell Pottinger took on the Gupta family as clients in 2016 to try to improve their image, and the chosen strategy was to target white business leaders as a distraction from serious allegations of state capture.

One of the strategies was apparently to drive a predominantly social media narrative that "white monopoly capital", the SA Communist Party and National Treasury have been standing in the way of transforming the South African economy.

The phrase "white monopoly capital" has, over past months, become a major feature of mainstream political discourse, with even President Jacob Zuma using it.

…

The paper said it had seen evidence of the PR plan (presumably including the document above) involving Andile Mngxitama and his Black First Land First Organisation, Mzwanele Manyi and his Decolonisation Foundation, and others.

The Bell Pottinger plan reportedly involved using, among other things, Twitter bots involved in a fake news campaign to support messages critical of white monopoly capital and be defensive of the Guptas. [The Citizen]
To get an idea of what ideologies the Guptas were enabling with their campaign, here is an interview with a member of Black First Land First, one of the radical organizations promoted by Bell Pottinger's scheme:
Black First Land First remains a marginal political party, but one party that isn't marginal is the Economic Freedom Fighters, South Africa's third-largest party. Even after the exposure of the Gupta family's methods, the party's leader embraced the racial attack on South Africa's white minority.
Addressing thousands of EFF supporters in red regalia and berets, [EFF leader Julius] Malema said Mbeki and former finance minister Trevor Manuel were wrong when they said there's no white monopoly capital in the country.

"I know president Mbeki, you're fighting your own factional battles. But when you fight your battles, don't distort the truth. Whites are monopolising our economy," he said.

He said that's one reason why they don't want to invest their money into the country's economy through industrialisation "because they don't trust South Africa's democracy".

"There is white dominance and control of our economy. Today when you remove the ownership by pension fund from the stock exchange, the remaining 90% belongs to white families," he said, before asking "who owns the land, factories and monopoly industries in the country"? [News24]
Malema has also infamously declared that his party is not calling for the murder of white people, "at least for now," a comment that was declared to not be hate speech by South Africa's human rights commission.
In South Africa's 2019 elections, the EFF received almost 11 percent of the vote. The party's rise has driven the ANC to contain it by gradually moving toward a constitutional amendment that would allow the state to confiscate land from white farmers without any compensation. For a preview of how that works, just look at neighboring Zimbabwe:
But as South Africa's CRT-driven economic policies break down, the country is likely to only get more radical. Much of South Africa has fully embraced the ideology of American critical race theory darling Ibram X. Kendi, which holds that if outcomes differ between two racial groups, the only possible cause is racism, and the only possible remedy is direct intervention to correct the "injustice." The disastrous example of Zimbabwe barely matters.
As South African society frays apart, the always-dangerous country is returning to the levels of violence seen at the end of apartheid, when onlookers feared full-blown genocide was imminent. It's not from lack of police. South Africa has one police officer for every four hundred people, a substantially higher figure than the United States. But the police are borderline useless at actually protecting the nation's law-abiding citizens, who are forced to rely on private security or their own devices in order to keep themselves safe.
From the late 90s onwards, in the name of hitting diversity quotas, South Africa's police adopted a "fast-track" promotion strategy while also gutting training requirements for new recruits. Senior police leadership became political appointees selected for loyalty rather than competence. The end result is a shoddy police force that kills people with hammers for violating COVID-19 lockdowns but abandons the population in the face of lethal riots.
Despite being the most consistently violent country on Earth, South Africa is unwilling to use real force to stand up for civilization. The death penalty was abolished in 1995 and hasn't been in use since 1990.
But just like how American elites are increasingly obsessed with century-old riots while ignoring the anarchy they unleashed in 2020, in South Africa rising crime rates have been coupled with a growing obsession with the ever-more-distant legacy of apartheid. Just days before the riots began, South African law enforcment announced a new effort to investigate and prosecute decades-old crimes during the apartheid era.
The National Prosecuting Authority (NPA) and the Hawks [a police organization that targets organized crime, economic crime, corruption, and other serious crime] are bolstering resources to go after those responsible for apartheid-era atrocity crimes in the 1960s.

In a joint statement on Sunday, the crime fighting bodies said the NPA was in the process of setting up a specialist unit to investigate and prosecute these crimes.

…

The Hawks, meanwhile, had created a dedicated detective team of 34 "competent and highly skilled" former police officials to assign to such cases. [News24]
Nobody wanted South Africa to fail. It would have been nice if the hamhanded affirmative action and redistribution policies of the "Rainbow Nation" had quickly created a successful, wealthy, safe multiracial democracy. But they did not, because those policies are fundamentally not based in reality. A nation cannot raise up the weak by tearing down and ruining the strong. It does not become prosperous by despoiling the rich to simply hand their wealth to the poor (or by extorting them to give politicians a cut). It cannot achieve peace by letting the mob rampage, loot, burn, and kill at will.
For three decades, South Africa has avoided the calamitous implosion suffered by Zimbabwe. But because it has accepted the same basic assumptions about reality, it will soon suffer the same fate. And if America continues down the same path, the path demanded by anti-white doctrines such as Critical Race Theory and other identity politics hustlers, it too will collapse in turn.
===
===
CAUGHT ON VIDEO: Politician Telling People in South Africa "Go Into Indian and White Neighborhoods; Kill Them and Burn their houses down"
Astonishing video is out showing a South African government official telling Blacks to go into Indian and White neighborhoods, Kill them and burn their houses down.
Today, Thursday July 15, 2021, is Day 4 of the societal collapse in South Africa. It began as a protest over the weekend over the jailing of former President Zuma, who was held in Contempt of Court for refusing to turn over evidence in a corruption trial.
Within hours, the "protest" turned into rioting, then looting. Literally thousands of businesses in the city of Durban were looted bare, and when there was nothing left to steal, many were set on fire.
As the looting parties grew, the attacks moved out into the suburbs – the Indian and White suburbs. Houses were broken into, families robbed, some beaten, some raped, some killed. Then the houses were set on fire.
Astonishing videos and photos of the ONGOING carnage appear in stories HERE and HERE.
Turns out, it was all PLANNED.
Video below shows a South African government official, speaking with a PA system to a group of Black folks, telling them to "go into Indian neighborhoods, KILL THEM and burn their houses." He then tells them, "Then go into White neighborhoods, Kill them and burn their houses."
Every time this video is posted to social media, the big tech censors take it down. They don't want the world to see the racist hatred of Blacks against Indians and Whites. They want to frame the issue as one of the poverty-stricken, desperate for food, doing what they must to survive; which is all a fallacy.
Here, watch the video yourself:
So all the wanton destruction we see taking place in South Africa is not some grassroots uprising by poor, starving people; it is outright racist hatred with looting, burning, and killing, taking place AT GOVERNMENT ORDER!
This is state sponsored GENOCIDE and TERRORISM being openly perpetrated by the Black government of South Africa against Indians from the sub-continent, and against White people.
UPDATE 3:15 PM EDT —
Thanks to my former colleagues in the Intelligence Community, from my years working with the FBI Joint Terrorism Task Force (JTTF), I can now report to all of you that intelligence entities have been monitoring the ENCRYPTED COMMUNICATIONS of political leaders and certain other government officials inside South Africa, and can now PROVE in a court of law – or International Criminal Court– that active, current, elected political officials and other government employees, have been coordinating these riots, looting sprees, and the burning of homes and businesses.
Thanks to the Intel Community's ability to crack ENCRYPTED communications, hundreds of people have now been effectively "caught" participating in the organizing and perpetrating of these riots, arson attacks and even murders in South Africa.
A bunch of these low-intellect people used what they THOUGHT was a totally impenetrable communications "chat" message system for their criminal activities. This is the message they got when they entered the chat:
Turns out, it isn't as private as any of them were lead to believe. The "encryption" was easily broken by intelligence agencies.
Take a look at all the telephone numbers showing, just from this very brief video, joining the criminal activities, and coordinating attacks:
All of those cell phone numbers can be entered into computerized TARGET SELECTION computers for deployment of US missile strikes against clusters of such numbers or, on an individual scale, each phone number can be the target of a helicopter-launched HellFire missile, taking out the phone and everyone within 500 feet around the phone . . . like in the dark of night . . . when they're all asleep in their homes thinking they're safe.
Through an effort such as this, the entire leadership involved in the riots, can be wiped out quickly and effectively.
Source: halturnerradioshow.com
===
===
South African Army 'Activates' All Reserve Members Amid Worsening Social Unrest
Update (1810ET): As social unrest nears the 7th day in Gauteng and KwaZulu-Natal provinces, the South African Army Reserve has ordered "all Reserve Members" for duty on Thursday morning.
"As directed by Chief of the South African Army, Lieutenant General Lawrence Khulekani Mbatha all Reserve Members are to report for duty at First Light tomorrow morning 15 July 2021 at their respective units," the statement read.
Here's the complete media statement: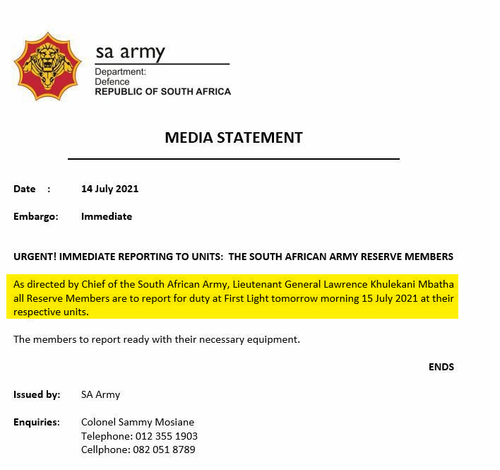 The statement wasn't clear how many reserves the army has but a Wikipedia entry on the "South African Army" estimates around "12,300 reserve force personnel."
* * *
Update (1702ET): Vigilante groups and armed community members patrol Gauteng and KwaZulu-Natal, the two provinces hit hard by the social unrest in South Africa. The country could become a failed state as the police and military have yet to quell the violence.
* * *
Update (1455ET): Social unrest raged in South Africa for nearly a week as food, fuel, and ammo shortages materialized. Farming, manufacturing, and oil refining have gone offline in certain regions as the worst unrest in decades continues.
President Cyril Ramaphosa released a statement Wednesday that deployment of the military will expand. Political leaders have requested the president to put more boots on the ground as local police forces are overwhelmed. In some areas, police have looted businesses themselves as the country descends into what could be a failed state.
"President Ramaphosa welcomed proposals made by political leaders and said expanded deployment of the South African National Defence Force was being addressed," according to a statement from the president.
All of this suggests the South African government should expand domestic military operations to quell unrest or risk spreading to other provinces by the weekend.
* * *
South Africa could be on the verge of collapse, and all the warning signs are there. The looters have targeted foreign shops, shopping centers, distribution cente
===
LOOTERS SHOT DEAD IN SOUTH AFRICA AS LOOTING CONTINUES. MASS STARVATION POSSIBLE!
First published on BITCHUTE July 14th, 2021.
===
More Troops Called Up To Squash Unrest As South African Rioters Target Critical Infrastructure
Update (1455ET): Social unrest raged in South Africa for nearly a week as food, fuel, and ammo shortages materialized. Farming, manufacturing, and oil refining have gone offline in certain regions as the worst unrest in decades continues.
President Cyril Ramaphosa released a statement Wednesday that deployment of the military will expand. Political leaders have requested the president to put more boots on the ground as local police forces are overwhelmed. In some areas, police have looted businesses themselves as the country descends into what could be a failed state.
"President Ramaphosa welcomed proposals made by political leaders and said expanded deployment of the South African National Defence Force was being addressed," according to a statement from the president.
According to the "Unrest Map" via PolicyLab, the unrest unfolds in two provinces, Gauteng and Durban.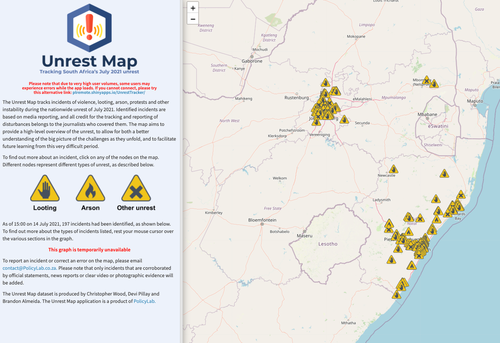 Many rioters have crushed massive supply chains and transport networks in Johannesburg and the southeastern province of KwaZulu-Natal.
The Port of Durban, the fourth-largest container terminal in the Southern Hemisphere, has been impacted by the looting. Reuters reports looters have hit Durban warehouses and other news outlets say the port area has come to a standstill.
"Sadly, South Africa is on its knees. Entire communities have been razed, but more significantly – at least for those trying to calculate what the future might hold – the violence has targeted vital nodes of distribution: logistics capacity in Mooi River; local food and dry good stores throughout eThekwini; large malls and warehouse facilities along the coastline and up into Pietermaritzburg," local newspaper Daily Maverick said.
Here are more visuals South Africa may be descending into further chaos.
Rioters targeting infrastructure.
More looting of malls.
More warehouses lit on fire.
YouTuber "Paratus" describes 'citizen militias' are guarding communities as the police and government have failed the citizens.
Gunshots are heard in KwaZulu-Natal.
All of this suggests the South African government should expand domestic military operations to quell unrest or risk spreading to other provinces by the weekend.
* * *
South Africa could be on the verge of collapse, and all the warning signs are there. The looters have targeted foreign shops, shopping centers, distribution centers/warehouses, and raided gun shops. Shortages are emerging in food, fuel, and ammo.
Over 70 have reportedly been killed since social unrest beganlast week after ex-president Jacob Zuma was jailed for failing to appear at a corruption inquiry. Supporters of Zuma, the nation's first Zulu president, have been on a looting spree that has crippled KwaZulu-Natal and parts of Johannesburg and disrupted national supply routes, resulting in food and fuel shortages in the affected area.
According to the Consumer Goods Council of South Africa, more than 600 stores have been looted with hundreds millions of dollars in damage.
President Cyril Ramaphosa deployed the military to quell the unrest, but nothing has worked so far worked.
Civilians are defending their own communities and running low on food, fuel, and ammo; supply chains are destroyed, and it wasn't quick, about a week, as the country faces collapse.
On Tuesday, Sapref refinery near Durban, operated by Shell and BP, had shuttered operations due to civil unrest.
There's also news that the country's top chicken and meat processor, Rainbow Chickens Ltd., was raided by looters, which means widespread food shortages could be imminent.
Allegedly, some security firms are reporting police are "low on ammunition."
Supposedly from a security group, looters are targeting all the gun shops.
Community members have set up private patrols to defend their community from rioters.
Someone explains that the unrest from Zulu rioters is to starve out the "Whites/Indians." The unknown person said this could be "civil war."
More scenes of the chaos.
📹| Violent scenes in South Africa

▪️Deadly unrest continues to spread across the country.#SouthAfrica pic.twitter.com/ix7xU4Vm0n

— EHA News (@eha_news) July 14, 2021
Even the police are looting.
One Twitter user said, "crumbling economy - KwaZulu-Natal - Durban total destruction after mobs in the thousands descended on Nandi Drive looting destroying and burning factories warehouses private businesses shops vehicles."
More chaos.
Footage of private residences being petrol bombed by rioters.
Massive manufacturing facility on fire. This was one of many set on fire this week.
More destruction of warehouses.
===
Warning: EXTREMELY GRAPHIC FOOTAGE !!!
Vigilantes Rise Up As Black Looters Destroy South Africa! 45+ Dead GRAPHIC FOOTAGE
Vigilantes Rise Up As Black Looters Destroy South Africa! 45+ Dead GRAPHIC FOOTAGE
Olin Live 13. July 2021 (in case your browser does not resolve the video click on the link)
===
ICYMI:
PROLOGUE: The 400 year long oppression in Southern Africa is now hitting back in an organized way, which uses the grievances of the black majority and the never resolved colonial injustices to unleash terror, but the bigger agenda is to bring South Africa down, to cause wide depopulation and then to pick up the gems again. The people instigated to commit murders and other crimes crimes now do not even realize which agenda they serve. They will be deposed of after they did their bloody job.
THE COMING CIVIL WAR IN SOUTH AFRICA: PURE SAVAGERY
First published on BITCHUTE March 14th, 2018.