UPDATE 11. July 2021: As expected: ALSO ETHIOPIAN ELECTION RIGGED - Ethiopia's Abiy Ahmed wins election in landslide amid Tigray conflict and voting fraud concerns
UPDATE 29. June 2021: BBC calls the rightfull owners 'Rebels' - Ethiopia's Tigray conflict: Street celebrations as rebels seize capital + Tigrayan Rebel Force Defeat Abiy Ahmed, Recapture Mekelle Capital from Ethiopian Govt Army + Rebel forces in Ethiopia's Tigray region claim to have regained control of the embattled regional capital
UPDATE 27. June 2021: 'Like a hell': Ethiopia+ airstrike survivors recall massacre - 3 staff of Doctoithout Borders murdered - War criminal Abiy Ahmed continues genocide, airforce targets civilians
UPDATE 26. June 2021: 900,000 face famine in Ethiopia's Tigray region, U.S. says
UPDATE 23. June 2021: Ethiopia conducted election in a 'credible' manner, AU observers say
UPDATE 22. June 2021: Vote count under way in Ethiopia after contentious election
UPDATE 21. June 2021: Ethiopia holds a vital, flawed election + Ethiopia elections 2021: Abiy Ahmed faces first vote amid conflict
ICYMI: Ethiopia elections 2021: Five things to know + Ethiopia election: A sham or democratic rebirth? + EU envoy: Ethiopia's leaders said they "are going to wipe out" Tigrayans
A Voice from the Ethiopian Diaspora
By Teferi Adem - 19. June 2021
As many of you might be aware, in Ethiopia, there has been and still is a political discourse [dispute], that involves FIGHTING.
I am originally from Ethiopia. I left Ethiopia during the fascistic military dictatorship, in 1976.
In 1991, The Coalition of The Diverse/Different National Liberation Fronts, overthrew the Junta. The National Liberation Forces were jointly fighting against the Junta and its collaborators from 1974-1991.
What is happening now mainly in Tigray, and in the regions of the Nations & the regions of other nationalities of Ethiopia, is very much worrisome for many of us, who were forced to live in 'exile', and to those living inside of our homeland.
You can see from the video below, how many people of Ethiopian origin and all the supporters of Ethiopia are very much concerned.
As many of them spoke out, including Pope Francis and other dignitaries, Ethiopia is facing many problems, including: fighting, draught, famine, locust, and many more socio-economic, environmental and political problems, but most of them are created by people.
Prayers for Peace - Streamed live on Jun 19, 2021
The Abyssinian Baptist Church joins with the Peace and Development Center International to host A Global Interfaith Prayer Service for Peace in Ethiopia. Prayer Requests:
N.B.: Actually Abyssinia is the better term for the country, since the original 'Ethiopia' is in what is called Sudan today.
ETHIOPIA IS A MULTINATIONAL ENTITY
IN ETHIOPIA THERE ARE OVER EIGHTY [80] "DISTINCT NATIONS AND NATIONALITIES", WHO EACH SPEAK THEIR OWN DISTINCT LANGUAGES [not dIalects!], WITH THEIR OWN ORIGINAL CULTURE, THEIR TRADITIONAL, CUSTOMARY AND BELIEF SYSTEMS, WHICH PREVAILED FOR MANY CENTURIES.
IN THE PAST, THESE DIFFERENT NATIONS CO-EXISTED SIDE-BY-SIDE, AS EQUALS FOR MANY EONS. THAT IS WHY OUR BELOVED ETHIOPIA IS THE ONLY AFRIKAN COUNTRY, WHICH WAS NOT AND NEVER HAS BEEN "COLONIZED" IN THE TRUE SENSE.
OFCOURSE, AS BOOKS AND ORAL STORIES TESTIFY, UNTIL THE 18/19TH CENTURY, MOST OF THESE NATIONS HAVE HAD THEIR OWN DISTINCT HEADS OF STATES [KINGS, QUEENS, SPIRITUAL LEADERS].
WHAT IS GOING ON NOW, 21 YEARS AFTER THE 21st [2021] CENTURY [GREGORIAN CALNDER], AND/OR, 13 YEARS AFTER THE 21st [2021] CENTURY IN THE ETHIOPIAN CALENDER STARTED, SEEMS LIKE WE ARE GOING BACK TO, WHAT WAS GOING ON SOME 200-300 YEARS AGO.
UNFORTUNATELY THE CURRENT LEADERS ARE CAMPAIGNING FOR THE ALLEMBRACING ELECTION, THAT WILL BE TAKING PLACE BETWEEN TOMORROW [21-06-2021 G.C. / 2014EC] & SEPTEMBER [2021GC / 2014EC].
WILL IT AND CAN IT BE A TRULY DEMOCRATIC PROCESS?
WE ARE WATCHING.
Author:
Teferi Adem, Diploma, B.A., B.S.W., M.S.W. - Human Rights, Equality/Equity, & Anti-Racism Advisor - Toronto ONT Canada - can be reached directly via
===
EPILOGUE: The 2021 Ethiopian general election to elect officials to the House of Peoples' Representatives was held on 21 June 2021. It was supposed to be held on 29 August 2020, but was delayed with the fake excuse of the COVID-19 pandemic. Regional and municipal council elections were also planned to be held at the same time around the country. The Genocide in Tigray is ongoing amidst a sham election
===
UPDATES:
As expected: ALSO ETHIOPIAN ELECTION RIGGED
Ethiopia's Abiy Ahmed wins election in landslide amid Tigray conflict and voting fraud concerns
By Mia Alberti - 11. July 2021
Ethiopian Prime Minister Abiy Ahmed attends the inauguration of the newly remodeled Meskel Square on June 13 in Addis Ababa, Ethiopia.
(CNN)Ethiopian Prime Minister Abiy Ahmed's ruling Prosperity Party (PP) overwhelmingly won general elections Saturday, meaning he will stay in power another term, according to CNN affiliate Nation Media Group.
Abiy's party is expected take more than 410 of the 546 parliamentary seats in the first round of the contest, Ethiopia's sixth national election.
Abiy, 44, took office in April 2018 following the resignation of his predecessor, becoming the first Oromo person to lead the country.
Although he was a recipient of the 2019 Nobel Peace Prize, his administration has garnered negative criticism during the past year for delaying elections twice and its military action in the Tigray region, where thousands of civilians are believed to have been killed.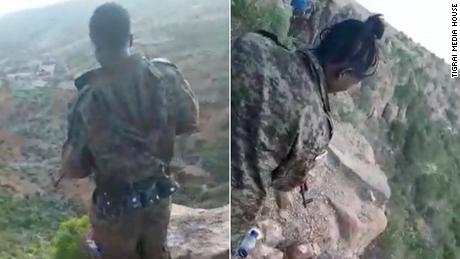 New video of Ethiopia massacre emerged and shows soldiers documenting executions
Opposition movements have raised concerns about the integrity of the June 21 ballot, Ethiopia's first multi-party election in 16 years, albeit one riven with conflict, jailed opposition figures and parts of the country unable to vote.
The US State Department said in a statement last month, before the vote. that it was "gravely concerned about the environment under which these upcoming elections" were to be held.
A similar statement from European Union countries said the vote was happening in "problematic conditions."
Abiy dismissed those allegations on Twitter last month, calling the vote Ethiopia's "first attempt at free and fair elections."
Among the 47 parties participating in the general and regional elections, Abiy's Prosperity Party led the chart on the number of registered candidates contesting for seats at the parliament with a total of 2,432 aspirants.
Thirty-seven million of Ethiopia's 109 million citizens are registered to vote. However, many Ethiopians in conflict-ridden areas will have to wait until September 6 to cast their ballots when the second round of voting will be held.
It appears war criminal Abiye Ahmed lost the support of the U.S. adminstration, since its lip-serving media like the New York Times, CNN and WaPo report:

https://www.nytimes.com/2021/06/29/world/africa/Tigray-Ethiopia.html (Behind a fricking paywall)
MEKELLE, Ethiopia — A column of triumphant fighters paraded into the city just after dawn on Tuesday, led by a woman in camouflage who brandished a Kalashnikov and the flag of the Tigray region ...
A view shows a street in Mekelle
Rebels in Tigray reject calls for ceasefire after Ethiopian government forces withdraw from regional capital
By Eliza Mackintosh, Bethlehem Feleke and Vasco Cotovio - 29. June 2021
Rebel forces in the war-torn Ethiopian region of Tigray have rejected a ceasefire offer from the central government, raising fears of further violence a day after the fighters retook the regional capital Mekelle.
The recapture of the city by Tigrayan fighters and the retreat of Ethiopian government troops on Monday marked a stunning about-turn in the country's devastating eight-month civil war.
In the wake of Mekelle's capture, the Ethiopian government announced a unilateral ceasefire for several months. But on Tuesday, Tigrayan forces categorically ruled out a truce, with a spokesman for the region's ruling party saying their forces would not rest until the Ethiopian military and its allied forces had left the entire region.
"We are not party to and will not be part of such a joke," Getachew Reda, spokesman for the Tigray People's Liberation Front (TPLF), said in a telephone interview, reacting to the government's proposal.
"The capital is firmly in the hands of our forces," he said, adding that clashes with the Ethiopian army were continuing on Tuesday 30 kilometers east of the capital.
The Ethiopian military has been in control of much of Tigray since last November, when it launched a major assault on the region with the support of Eritrean soldiers and local ethnic militias in an effort to remove the TPLF from power. The operation was initiated after Abiy accused the TPLF of attacking a federal military base in Mekelle, and after Tigray's leaders took the unilateral decision to elect a regional administration.
The armed wing of the TPLF, known as the Tigray Defense Forces (TDF), had steadily been gearing up for the offensive and in recent days kicked off a coordinated push to recapture Mekelle.
The Tigrayan counterattack was a big blow for Ethiopian Prime Minister Abiy Ahmed, who had declared victory in late November last year when Ethiopia's military took control of the city of a half-million people.
Since then, the clash has deteriorated into a protracted conflict that, by many accounts, bears the hallmarks of genocide. The ongoing war has left thousands dead, forced millions to flee, fueled famine and severely damaged the international reputation of Ethiopia's Nobel Peace Prize-winning leader.
News of the TDF's advance into Mekelle on Monday was greeted with mass celebrations in the city, sending thousands pouring into the streets and shooting off fireworks into the night. CNN spoke with residents who welcomed the end of the government's occupation, cheering as they watched Tigrayan trucks roll through the capital.
But on Tuesday, telephone and internet services were down in Mekelle and CNN was unable to get through to contacts there.
A UN official, speaking on the condition of anonymity due to fear of reprisals from the Ethiopian government, told CNN that communication lines had gone down some time after Tigrayan fighters captured the city. The official said their office in Ethiopia's capital Addis Ababa has not been able to reach field teams in Mekelle since early Tuesday morning.
The TPLF blamed the government for the blackout, but CNN could not confirm which side was responsible.
Throughout the conflict, Ethiopia's government has clamped down on information coming in and out of Tigray, enforcing a widespread communications blackout, severely restricting access to journalists and blocking humanitarian aid.
Ethiopia's government has not responded to CNN's multiple requests for comment on the sudden withdrawal of Ethiopian National Defense Forces from Mekelle. It issued an immediate and unilateral ceasefire for the region on Monday night after a request from Tigray's federally-appointed interim government.
Witnesses in Mekelle told CNN Ethiopian soldiers were seen entering banks, media bureaus and the offices of humanitarian agencies before leaving the city on Monday. A UN official told CNN that the offices of the UNICEF and the World Food Program were raided by Ethiopian forces. UNICEF Executive Director Henrieta Fore condemned the action "in the strongest terms."
International observers, humanitarian workers, doctors and refugees have accused the government and allied forces, including Eritrean soldiers, of carrying out a range of grim atrocities in Tigray, including massacres, sexual violence and ethnic cleansing.
A CNN investigation published Sunday revealed fresh evidence about a massacre committed by Ethiopian soldiers in the Tigrayan town of Mahibere Dego in January. The report identified one the perpetrators of the massacre, geolocated human remains to the site of the attack.
In an exclusive report from Tigray in April, CNN revealed that Eritrean troops were operating with total impunity central Tigray, killing, raping and blocking humanitarian aid to starving populations more than a month after Abiy pledged to the international community that they would leave.
Abiy had hoped that last week's national and regional elections — a vote he described as "witnessing the atmosphere of democracy," though millions of Ethiopians could not cast their ballots — would serve as a distraction from international criticisms of the war in Tigray.
But a government airstrike that killed dozens of people last Tuesday, in one of the bloodiest moments of the war, once again raised alarms over human rights violations in the country, triggering condemnation from the United States, European Union and UN officials.
At least 30 people died in the strike on a busy marketplace in the small town of Togoga, west of Mekelle, as fighting intensified between the TPLF and forces aligned with Ethiopia's military, eyewitnesses and medics told CNN.
Following the strike, Tigray's military spokesperson Gebre Gebretsadkan said that the TDF had downed an Ethiopian air force plane, as part of a renewed offensive against the Ethiopian military. Ethiopia's military spokesman denied that the plane had been shot down, blaming the crash on technical issues.
When asked by CNN whether the offensive was further placing civilians in harm's way, Gebre said: "We have to protect our people. We can't just stand by and watch them be massacred."
Now that the Tigrayans appear to have wrested control of Mekelle and the surrounding area, what comes next in the conflict is unclear.
In spite of an agreement to withdraw from Tigray in March, and pressure from the US to follow through on that pledge, Eritrean troops are still ensconced in the region.
The State Department recently announced visa restrictions for Ethiopian and Eritrean government officials and the Biden administration has imposed wide-ranging restrictions on economic assistance to the country.
But it is not clear whether efforts by the US and other countries to force Ethiopia's hand have made much of a difference.
The US mission to the UN has called for an open meeting of the UN Security Council to be held on Friday to discuss the situation in Ethiopia.
The-CNN-Wire
™ & © 2021 Cable News Network, Inc., a WarnerMedia Company. All rights reserved.
CNN's Eliza Mackintosh and Vasco Cotovio wrote and reported from London. Bethlehem Fekele reported from Nairobi. CNN's Nima Elbagir, Katie Polglase and Gianluca Mezzofiore contributed to this report.
===
The city of Mekele is seen through a bullet hole in a hospital window, in the Tigray region of northern Ethiopia, in May. (Ben Curtis/AP)
By Max Bearak - 29. June 2021
Seven months after they were dislodged by Ethiopia's military, the former leaders of Ethiopia's Tigray region claimed to have regained control Monday over the regional capital, marking what could be a significant — and unexpected — turning point in a deadly civil war.
In a statement, the Tigray People's Liberation Front said Mekele was under its "complete control." The statement said the group anticipated retaliation from the government and called on the city's residents to rally behind the group.
An official in Tigray's Addis Ababa-appointed interim government, speaking on the condition of anonymity to discuss the situation, said celebrations broke out Monday.
"People are firing fireworks, hooting horns, shouting in groups," he said.
He added the interim government's top leadership had all left Mekele.
Amid the apparent territorial gains by Tigrayan rebels, Ethiopia's government unilaterally declared a cease-fire Monday, claiming it would last until the end of Tigray's planting season in September.
"An unconditional, unilateral ceasefire has been declared starting from today, June 28," read a statement published by state media Monday night.
A cease-fire had long been sought by humanitarian groups and Western governments.
Tigrayan officials did not address the cease-fire publicly, and on Tuesday morning spokesman Getachew Reda told Reuters that rebel forces were "still in hot pursuit" of government-aligned forces to the south and east of Mekele.
Meanwhile, west of Mekele, in the contested town of Shire, Reuters also reported the apparent withdrawal of troops from neighboring Eritrea, which have been fighting alongside Ethiopia's military. Eritrea's government has not publicly acknowledged the cease-fire either.
The United Nations and humanitarian organizations have warned that nearly 1 million people could be facing famine conditions. Fighting, as well as alleged incidents of outright theft of humanitarian vehicles and cargo by combatants, have severely hindered aid delivery.
U.N. Secretary General António Guterres said he had spoken with Ethiopian Prime Minister Abiy Ahmed, and he was "hopeful an effective cessation of hostilities will take place."
Last week, an Ethiopian airstrike hit a bustling market in a town near Mekele, killing at least 60, according to the interim government official. Ethiopia's military claimed all the dead were rebel fighters, despite numerous reports of children being among the casualties.
Days later, three Doctors Without Borders employees were killed in an ambush. The Ethiopian government and Tigrayan forces traded blame for that attack
On Monday morning, Ethiopian soldiers allegedly entered the offices of UNICEF in Mekele and dismantled a satellite communication device, according to the organization's top official. Agence France-Presse cited witness reports from Mekele of federal soldiers and police raiding banks and commandeering vehicles belonging to private citizens while fleeing the city ahead of the rebel advance.
Ethiopian troops have fought alongside ethnic militias and neighboring Eritrea's military. Tigray's western portion, which also borders Sudan, has been under administration for months by officials from Ethiopia's Amhara region.
While Abiy had claimed at the outset of the conflict in November that it would be brief and that Tigray's rebellious leadership would be eliminated with surgical precision, it long ago became clear a protracted battle for the region was unfolding. Tigray's rebel leaders ran Ethiopia for decades as part of the regime that preceded Abiy's.
Large-scale atrocities have accompanied the fighting, including allegations of door-to-door killings and rapes by Eritrean troops, massacres carried out by both Tigrayan and Amhara militias, and scores of extrajudicial killings by Ethiopian troops.
The Tigrayan militia, known as the Tigray Defense Forces, had been gaining momentum in moving back toward Mekele in recent weeks, according to U.N. security reports. Tigray's interim government leaders, who are ethnic Tigrayans but appointed by the federal government, quietly left the city last week, telling colleagues it was related to recently concluded voting in national elections — even though no voting took place in Tigray.
"A lot of young people, merchants, farmers have joined the TDF," the interim government official said. "They feel that they are fighting for survival. They will fight forever, that's for sure. It is now irreconcilable."
Read more:
Airstrike hit a crowded market in Ethiopia's Tigray region, officials say
Ethiopia's election overshadowed by a cascade of crises and conflict
===
Tigrayan Rebel Force Defeat Abiy Ahmed, Recapture Mekelle Capital from Ethiopian Govt Army
By CP1 - 29. June 2021
Rebel forces in Ethiopia's northern Tigray region have retaken its capital, Mekelle, sparking street celebrations and forcing officials to flee.
Residents reported scenes of joy, with fireworks and thousands waving flags.
The government, which took Mekelle in November after rebels rejected political reforms and captured army bases, has now called a "humanitarian ceasefire" in the region.
The fighting has left thousands dead and has pushed 350,000 towards famine.
More than two million have been displaced.
There had been recent reports of renewed fighting between fighters of the Tigray People's Liberation Front (TPLF) and government forces outside Mekelle.
But a rapid offensive on Monday led to the unexpected recapture of the city by the rebels, in what marks a possible turning point in the bitter conflict.
A statement released by what was termed the Government of the National State of Tigray praised a "stunning victory", saying Mekelle was "now under the complete control of the Tigray Defence Forces".
It calls on the people and rebel forces "to stay vigilant, relentless and on constant alert until Tigray is fully free of all invading forces".
One government official confirmed to Agence France-Presse that the rebels had retaken Mekelle.
The official said the interim government had decided to leave after rebels closed in "on every side", adding: "Everybody has left. The last ones left in the afternoon… The region doesn't have a government."
Residents told the BBC they were celebrating the federal troops' departure. One witness was quoted by AFP as saying: "Everybody is out of their house. Everybody is excited and they have music on the streets. Everybody has their flags out and music is playing."
The UN children's agency, Unicef, said Ethiopian government troops had entered its offices on Monday in Mekelle and destroyed satellite equipment. "We are not, and should never be, a target," it said.
Ethiopia's government is yet to comment on any withdrawal but said a ceasefire would begin immediately and "stay until the farming season ends" to allow aid to reach those in need and give space to find a political solution.
===
BBC calls the rightfull owners 'Rebels'
Ethiopia's Tigray conflict: Street celebrations as rebels seize capital
Rebel forces in Ethiopia's northern Tigray region have retaken its capital, Mekelle, sparking street celebrations and forcing officials to flee.
By BBC - 29. June 2021
Residents reported scenes of joy, with fireworks and thousands waving flags.
The government, which took Mekelle in November after Tigrayan rebels rejected political reforms and captured army bases, has now called a "humanitarian ceasefire" in the region.
The fighting has left thousands dead and has pushed 350,000 towards famine.
More than two million people have been displaced.
There had a recent upsurge in fighting between the Tigray People's Liberation Front (TPLF) and government forces outside Mekelle.
A rapid offensive led to the unexpected recapture of the city by the rebels on Monday.
A statement released by what was termed the Government of the National State of Tigray praised a "stunning victory", saying Mekelle was "now under the complete control of the Tigray Defence Forces".
It calls on rebel forces "to stay vigilant, relentless and on constant alert until Tigray is fully free of all invading forces".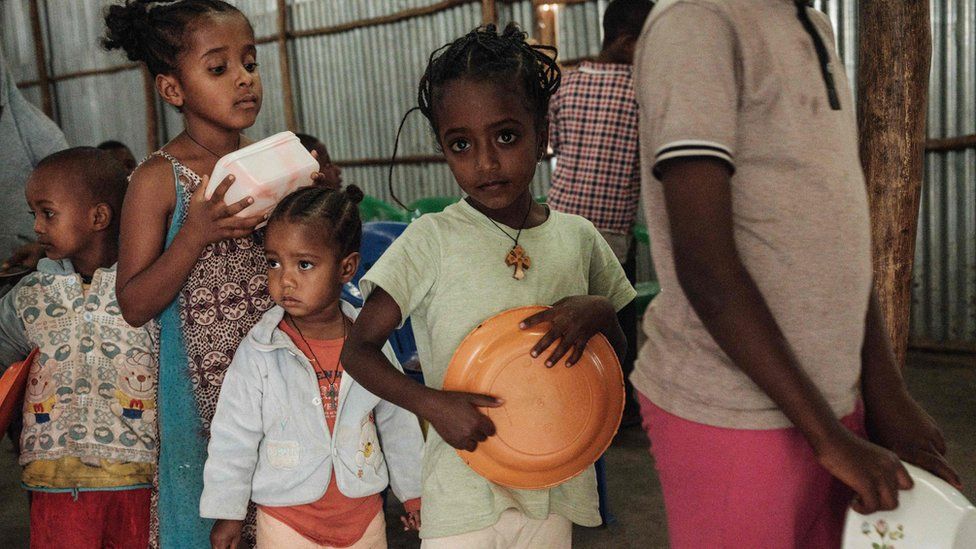 Rebel spokesman Getachew Reda told Reuters news agency that Tigrayan fighters would "destroy the enemy" by entering the neighbouring Amhara region as well as Eritrea - whose troops have been supporting the Ethiopian army.
"We have to ensure that the enemy, whether from the Eritrean side or Amhara side or Addis Ababa, doesn't have the capability to threaten the security of our people anymore," he said.
A turning point?
Vivienne Nunis, BBC News, Nairobi
With TPLF rebels seizing back control of Mekelle, Prime Minister Abiy Ahmed appears to have had few options left when he unilaterally declared a ceasefire.
But by framing the decision as a "humanitarian" one, the government in Addis Ababa is attempting to save face.
So what now? The TPLF has so far ignored the ceasefire saying it's intent on driving out all so-called "invading enemies".
That means not just the Ethiopian troops, but the Amhara militia and Eritrean forces who have been fighting alongside the Ethiopian army.
The international community will be watching to see whether the ceasefire is a turning point, and in particular, whether humanitarian groups can now travel freely in the region to deliver supplies to the millions of people in desperate need of food.
Tigray - the basics
Since 1994, Ethiopia has been divided into states, now numbering 10; they are defined on ethnic grounds by the constitution and described as largely autonomous, but with central institutions
In 2018, following anti-government protests, Abiy Ahmed took over as prime minister and introduced reforms
Powerful politicians from Tigray, Ethiopia's northernmost state, accused Mr Abiy of trying to increase federal power
Relations worsened and, after the government accused Tigrayan rebels of attacking military bases, the Ethiopian army moved in in November, backed by Eritrean troops.
Mr Abiy declared the conflict over in late November, but fighting continued and increased ahead of national elections on 21 June.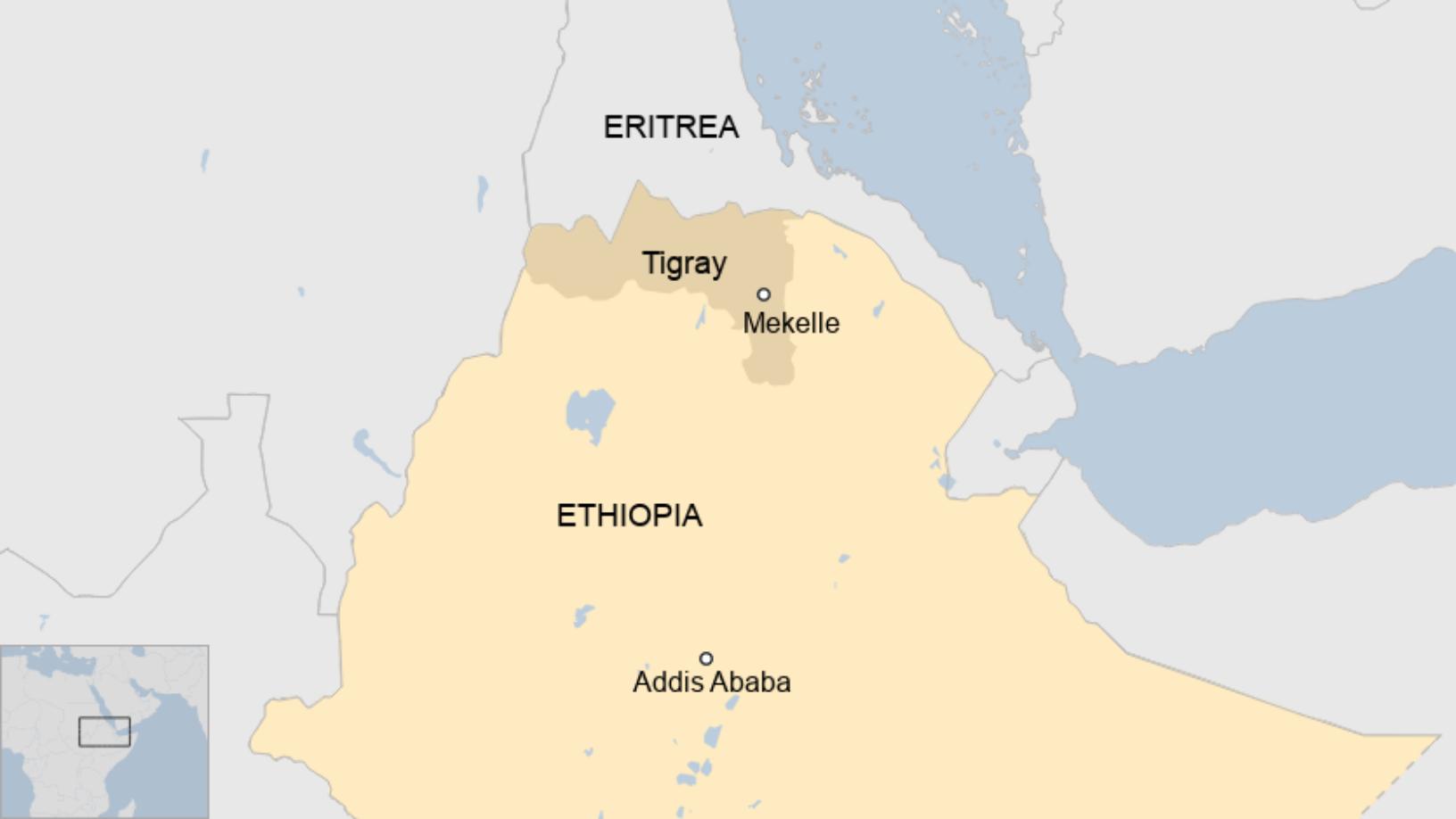 A federal official told AFP news agency that the interim administration in Mekelle had decided to leave on Monday after rebels closed in "on every side".
Locals are celebrating. One eyewitness quoted by AFP said: "Everybody is out of their house. Everybody is excited and they have music on the streets."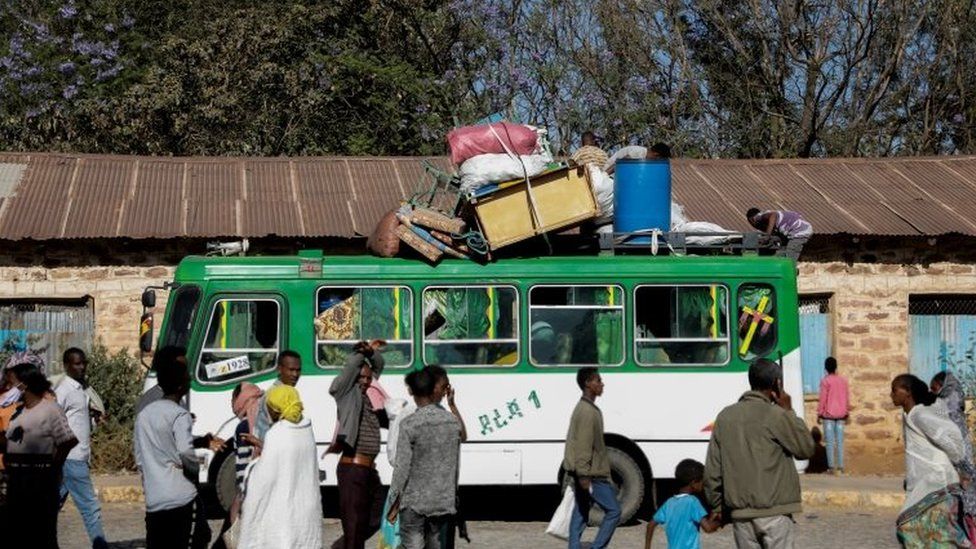 Ethiopia's government said it was calling a military ceasefire for humanitarian reasons. It pointed to the need for aid workers to gain access, for farmers to get help during the planting season and for the return of internally displaced people.
The UK, the US and Ireland have called for an emergency UN Security Council meeting.
All sides in the conflict have been accused of carrying out mass killings and human rights violations.
The status of Eritrean troops remains unclear, although one resident of the town of Shire told Reuters the Eritreans appeared to be moving north, towards the border.
Earlier this month, the UN described a situation of famine in northern Ethiopia. The UN's World Food Programme (WFP), Food and Agriculture Organization and Unicef have all called for urgent action.
However Ethiopia's government has denied that there is a famine in the country.
Ethiopia is still awaiting the results of its 21 June parliamentary elections. Boycotted by some opposition groups and not held in some regions, including Tigray, they are expected to favour Mr Abiy.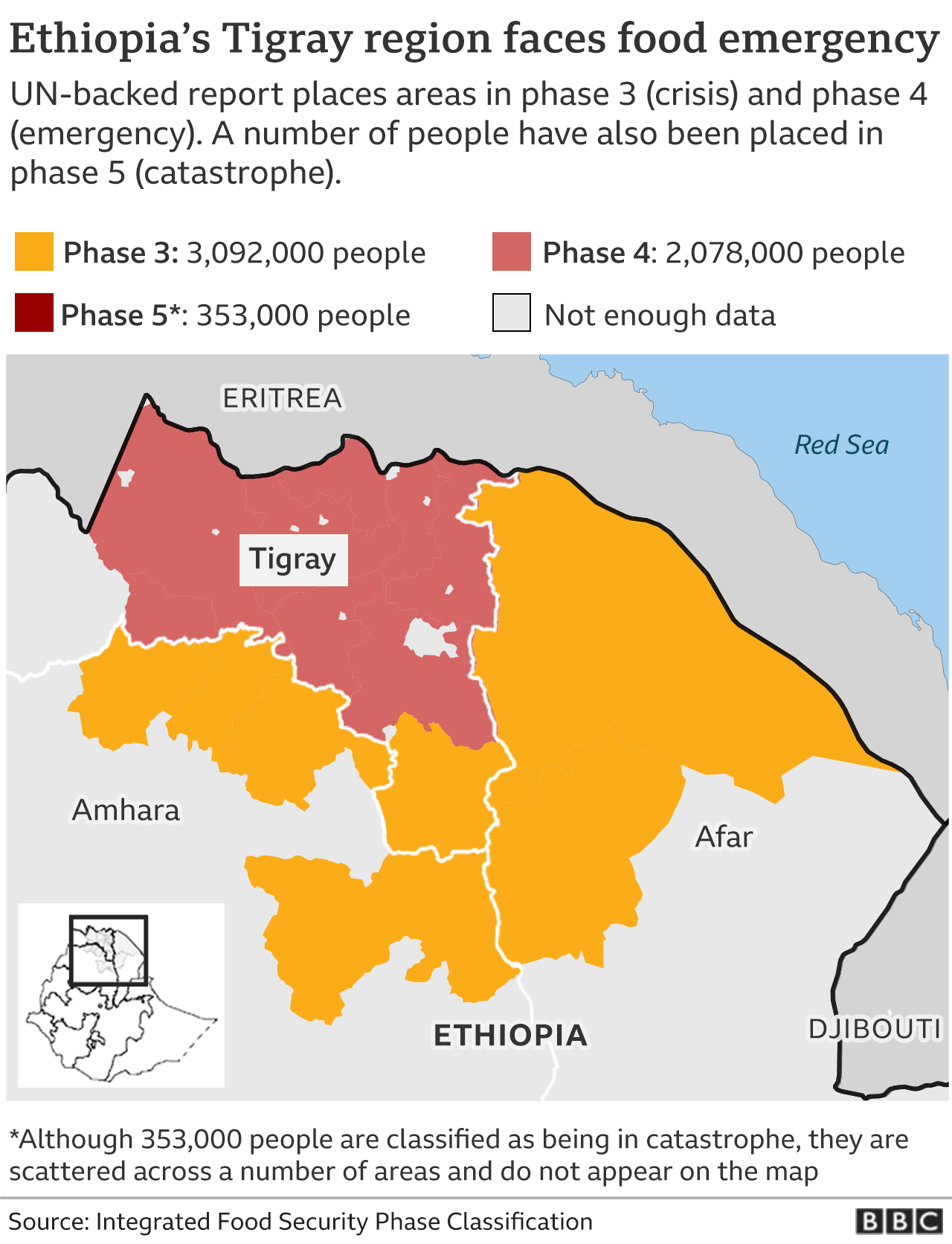 ===
'Like a hell': Ethiopia airstrike survivors recall massacre
In this image made from video, an injured victim of an airstrike on a village arrives in an ambulance at the Ayder Referral Hospital in Mekele, in the Tigray region of northern Ethiopia, Wednesday, June 23, 2021.

(AP Photo)

(AP Photo)

An airstrike hit a busy market in Ethiopia's northern Tigray village of Togoga on Tuesday and killed at least 51 people, according to health workers who said soldiers blocked medical teams from traveling to the scene.
Ethiopia Tigray Crisis
ADDIS ABABA, Ethiopia — Maerg was serving customers at his cafe in Ethiopia's Tigray village of Togoga when the military airstrike occurred, filling the room with dust and bringing down debris that struck him on the head.
"Everything was covered in black smoke, it was like a hell," he told The Associated Press by phone, recounting one of the deadliest attacks in the Tigray conflict. "There was so much blood."
Seven people were killed in his cafe alone, and some 30 were wounded, including his sister-in-law, who suffered burns on her face, hands and legs. Outside, he said, he saw dozens more bodies. As time passed, he watched in horror as survivors realized that Ethiopian soldiers were blocking medical aid from arriving.
"We feel very angry because a lot of lives could have been saved," he said.
Such witness accounts are emerging after Ethiopia's military has said it was responsible for the airstrike that struck Togoga's busy marketplace on Tuesday, which health officials said killed at least 64 people and injured dozens more. Many died when soldiers blocked medical teams from reaching them, or from taking them to hospitals in the regional capital, Mekele, just 60 kilometers (37 miles) away, health workers said.
The military said the airstrike targeted Tigray fighters dressed in civilian clothes who had gathered to celebrate Martyrs' Day. But witnesses told the AP that although fighters loyal to Tigray's former leaders had been active in the surrounding countryside days before the airstrike, armed men were not in Togoga on the day of the attack.
Most of the victims were women and children, said a doctor who treated people at the scene.
In a war that has been largely fought in the shadows, with communications and transport links often cut since fighting in Tigray began in November, the airstrike in Togoga was a rare instance of a massacre emerging almost immediately. Within minutes, one former resident had tweeted the news. Within hours, there was international condemnation.
"Reprehensible," the United States said, as it, the United Nations and the European Union again called for a cease-fire in Tigray, where thousands of people have been killed and hundreds of thousands now face the world's worst famine in a decade.
Shaken survivors of the airstrike challenged the Ethiopian government's narrative, saying only civilians had been killed.
"There were not any fighters in the marketplace, just rural people who had arrived for the market," said Luel, a farmer who was buying clothes there when the earth shook and his leg was broken by the blast. He said he saw "around 60" bodies on the ground. As with others interviewed, the AP is using only his first name for his safety.
Habtay, who also was shopping in the market, also said no fighters were present. He suffered a shrapnel wound to his stomach but couldn't reach a hospital until Thursday, two days after the bombing.
"Everything was covered in dust and smoke," he said. Helpless, he watched some survivors try to give each other first aid.
Medical care would not reach people for hours, even more than a day. Health workers told the AP they were repeatedly denied access to the Togoga by Ethiopian soldiers on the day of the attack and the following morning. One doctor, who spoke on condition of anonymity for fear of reprisals, said soldiers shot at his ambulance when it tried to pass a checkpoint.
Yohannes, a farmer hit in the chest by a bomb fragment, said a convoy of four ambulances attempting to evacuate him and other patients to hospitals in Mekele was blocked by soldiers and ordered back to Togoga. One patient died after returning to the village, he said.
Even after reaching Mekele, six wounded survivors of the airstrike were detained en route to a hospital, a regional health official said, on condition of anonymity for fear of reprisals. Three were later released, but the others, including a teenage boy, were held at a military barracks, the official, who described the situation as "very desperate." It was not clear why they were detained.
The airstrike occurred at a pivotal moment in Ethiopia, a day after much of the country voted in a national election that Prime Minister Abiy Ahmed, the 2019 Nobel Peace Prize winner, has promoted as part of political reforms.
But the war in Tigray, sparked in part because the national election was delayed last year amid the COVID-19 pandemic, has overshadowed the vote. The election itself has drawn criticism by the U.S. and other observers who pointed to the detention or harassment of some opposition figures and deadly insecurity in parts of the country.
Ethiopia, with the airstrike, again finds itself on the defensive. It has disputed allegations that its troops have committed widespread human rights violations in Tigray — though the U.N. has said all sides in the war have committed them — and it asserts that aid has reached 5.2 million people in the region of 6 million.
The murder of three Doctors Without Borders staffers, announced by the aid group on Friday, brought a new round of condemnation of the atrocities in Tigray. It was not immediately clear who killed them.
===
900,000 face famine in Ethiopia's Tigray region, U.S. says
By Erin Doherty - 26. June 2021
As many as 900,000 in Ethiopia's Tigray region are facing famine conditions and millions more are at risk, Samantha Power, the head of the U.S. Agency for International Development, said Friday, per AP.
Why it matters: Tigray is experiencing the world's worst hunger crisis in a decade, while the prime minister has said there is "no hunger" in the region, according to AP.
The new USAID analysis more than doubles previous estimates issued earlier this month by the United Nations and aid groups.
The big picture: The real number of people facing famine conditions is unknown as fighting persists and restrictions keep aid workers from entering the region.
Earlier this week, Ethiopia's military took responsibility for a deadly airstrike on a marketplace in Tigray that killed at least 64 people.
What they're saying: "Conditions will worsen in the coming months, particularly as Tigray enters the July-to-September lean season, unless humanitarian assistance reaches the populations most in need," the new USAID analysis says, per AP.
===
PROLOGUE: WHY CAN AFRICAN UNION (AU) OBSERVERS NEVER SPEAK THE TRUTH? These 100 'Observers' just had a party and a good time, wasting taxpayers money.
Ethiopia conducted election in a 'credible' manner, AU observers say
ADDIS ABABA - Ethiopia's parliamentary polls, held on Monday, were conducted in a "credible" manner, the African Union's election observer mission said on Wednesday.
Ethiopians count casted votes in the Ethiopian parliamentary and regional elections in Addis Ababa - © Reuters/STRINGER
"Overall the election and election day processes were conducted in an orderly, peaceful and credible manner," former Nigerian President Olusegun Obasanjo, the head of the mission of 100 observers, told a news conference in Addis Ababa as authorities continued counting ballots.
The election in the country of 109 million people has been billed by the government as the first free vote in the country's history. But it has been marred by an opposition boycott, war and reports of irregularities in some areas.
Authorities were unable to hold elections in four of Ethiopia's 10 regions on Monday, though polling took place a day late in one of those regions, Sidama, on Tuesday, according to the elections board.
The board was expected to hold a news conference later on Wednesday.
(Reporting by Ayenat Mersie; Writing by Maggie Fick; Editing by Andrew Heavens, William Maclean)
===
Vote count under way in Ethiopia after contentious election
Authorities unable to hold elections in four of Ethiopia's 10 regions, and results are not expected for several days, says the election board.
No date has been set for voting in Tigray's 38 constituencies [Tiksa Negeri/Reuters]
By AlJazeera/Agencies - 22. June 2021
Ballot papers are still being counted following delayed parliamentary elections in Ethiopia, the first electoral test for Prime Minister Abiy Ahmed.
Africa's second-most populous country went to the polls on Monday but an opposition boycott, a months-long war in the northern region of Tigray, ethnic violence elsewhere and logistical challenges overshadowed the vote in some regions.
Abiy's newly formed Prosperity Party (PP) is seen as the frontrunner in a crowded field of candidates, mostly from smaller, ethnically-based parties.
The vote was seen as a crucial test for the prime minister, whose rise to power in 2018 initially seemed to signal a break with decades of authoritarian rule, but who has since waged war in the Tigray region and whose party has been accused of election abuses.
More than 37 million of Ethiopia's 110-plus million people were registered to vote, choosing from 46 parties and more than 9,000 candidates – a record, according to the electoral board. But some prominent opposition parties, notably in the country's most populous region, Oromia, boycotted the election citing intimidation and imprisonment of some of their leaders and supporters.
"Abiy is desperate to get a popular mandate because this country is riddled with so many problems – from the conflict in Tigray to ethnic troubles in several hotspots," Al Jazeera's Mohamed Adow, reporting from the capital, Addis Ababa, said on Tuesday.
"Many of his supporters and people in his party believe that with a popular mandate he will have the legitimacy he needs to deal decisively with Ethiopia's problems," he added.
Some polling stations have started posting results. Preliminary results are expected within five days, and final ones within two weeks.
"In most polling stations across the country, Abiy's Prosperity Party is leading," Adow said. "But the opposition is making headways in areas like the capital and towns in other parts of the country and they seem happy with that," he added.
"There have been problems with the process and opposition parties in rural areas have filed hundreds of complaints including some about tampering with electoral material. The electoral commission says it is investigating those allegations."
Election board chief Birtukan Midekssa said authorities were unable to hold elections in four of Ethiopia's 10 regions. In two of the regions that did vote, opposition observers were reportedly chased away from many polling stations, she said.
"This will jeopardise the credibility of the election process," Midekssa warned.
Voting was delayed in different areas for different reasons.
Voters in Ethiopia's Sidama state had a second chance to cast ballots on Tuesday after officials there ran out of voting papers the day earlier. The second day of voting in Sidama started at 11am (08:00 GMT).
Voting was also not held in some parts of the Benishangul-Gumuz region after ethnic violence prevented voter registration.
In more than 100 of the country's 547 constituencies, polls were not even open on Monday – either because of the ongoing war in Tigray or logistical issues elsewhere.
No date has been set for voting in Tigray's 38 constituencies, while polling in the other regions that did not participate on Monday is expected to take place in September. The next government is unlikely to be formed until that happens.
Berhanu Nega, head of one of the leading opposition parties the Ethiopian Citizens for Social Justice, said in a video statement released by the party after casting his ballot that observers from his party had been "kicked out" of many places.
"In the Amhara region and in the south, there is an additional serious problem that we have observed which is that in a number of places they have kicked out our observers or they wouldn't allow them from the start in the morning," said Nega.
"We have compiled this and informed the election board about this. We have also informed the authorities hoping that there will be some solution to this before one can conclude in any form or shape that this is a reflection of the whole process," he added.
International concern has been growing about the vote, and opposition groups have accused Ethiopia's governing party of harassment, manipulation and threats of violence that echo abuses of the past.
Abiy is also facing growing international criticism over the war in Tigray, sparked in part because the region's now-fugitive leaders objected to Ethiopia postponing the election last year amid the COVID-19 pandemic.
William Davison, a senior analyst at the International Crisis Group specialising on Ethiopia, said it was "reasonable to hold out some hope" that Abiy would "change course" and reach out to political opponents who either boycotted the polls or are engaged in armed campaigns against the government – but there were also clear reasons "why perhaps that will not happen".
"There does seem to have been something of a systematic exclusion of some opponents from the democratic process, and with the government having gained a majority we might expect to see a continuation of that," he told Al Jazeera.With regards to Tigray, Davison noted that Abiy's government had recently classified the northern region's removed ruling party, the Tigray People's Liberation Front (TPLF), a "terrorist" organisation.
"So it would be quite a significant backward step for the federal government to start opening negotiations with the TPLF," he said. "If there is going to be a change of heart there, there is a lot of work to do."
Davison said Ethiopia is experiencing a difficult period, with chronically difficult socioeconomic conditions being compounded by the coronavirus downturn, a debt crisis, the civil war in Tigray and growing armed campaigns elsewhere in the country, as well as regional tensions over its massive dam on the Blue Nile.
"There is a huge amount of work to do," Davison said.
"Unless there is some programme of political reconciliation here, reaching out to those who've been excluded from the political process and indeed even those who are engaged in armed insurgency, then it's going to be very hard for the prime minister – even with a solid majority – to sort of establish the stability needed to embark upon political and economic reforms."
Source: Al Jazeera and news agencies
===
Ethiopia holds a vital, flawed election
By Dave Lawler - 21. June 2021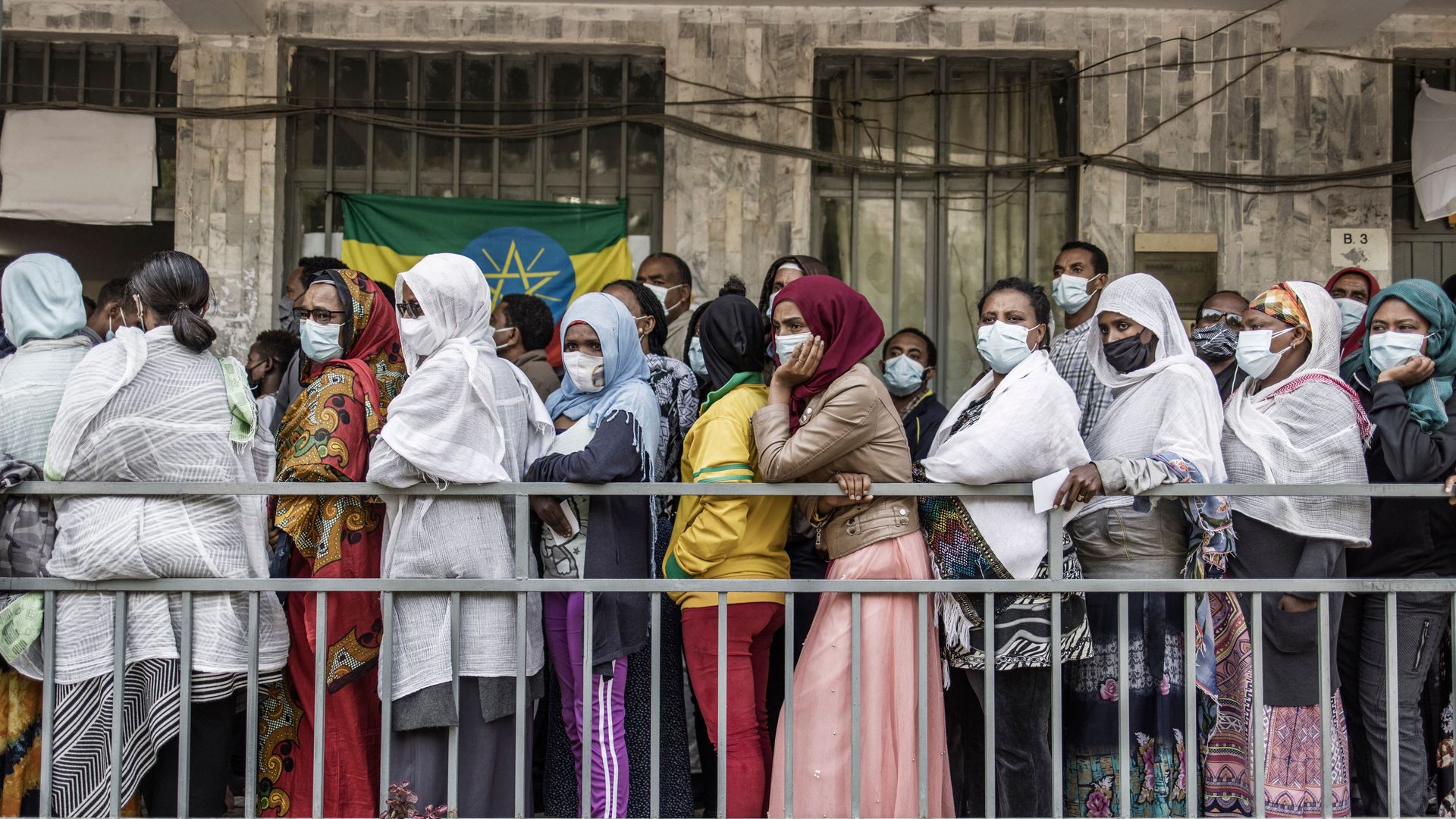 Waiting to vote in Addis Ababa. Photo: Marco Longari/AFP via Getty
Ethiopians went to the polls on Monday in long-delayed elections. Well, some did. Millions were prevented from voting due to security or logistical concerns, and others boycotted the vote, citing the repression of opposition parties.
Why it matters: Prime Minister Abiy Ahmed has won a Nobel Peace Prize and launched a war that has devolved into ethnic cleansing — all without having been elected. This election had been seen as a chance for him to gain democratic legitimacy and Ethiopia to hold its first free and fair election.
But there will be no votes cast in Tigray, where a war is raging on after seven months, and voting was postponed in two other regions.
In Ethiopia's largest region, Oromia, the leading opposition parties are boycotting the vote.
Abiy's Prosperity Party is almost certain to win.
The big picture: Abiy took power in 2018 promising new political freedoms and espousing a vision of an Ethiopia defined by national rather than ethnic or regional identity.
But with that period of liberalization came intense unrest, and Abiy has clamped back down. He once symbolized the end of authoritarian rule, but some fear he's now reestablishing it.
Author:

===
Ethiopia elections 2021: Abiy Ahmed faces first vote amid conflict
By BBC/Agencies - 21. June 2021
Ethiopians have been voting in key elections amid rising tensions and a conflict in the northern Tigray region.
This pandemic-delayed poll is Prime Minister Abiy Ahmed's first electoral test since coming to power in 2018.
But the vote was postponed in Tigray, where the army has been fighting a local force since November.
Insecurity and logistical problems have hit other parts of the country as well, so overall there was no voting in about a fifth of constituencies.
The Tigray conflict has sparked a humanitarian crisis, with 350,000 people living in famine conditions, according to a recent assessment.
The head of the electoral commission, Birtukan Mideksa, said that while things had gone mostly smoothly she was worried about the intimidation of opposition party agents in some places - particularly in the Amhara region and the Southern Nations, Nationalities, and Peoples' Region.
"Some complain they have been beaten or denied access to voting stations," she told journalists.
"If this issue is not resolved immediately the outcome of the election might be compromised."
Voting was due to end at 18:00 local time (15:00 GMT) but has been extended by three hours in some areas because election materials arrived late.
In the capital, Addis Ababa, BBC reporters saw long queues of voters during the day. It is one area where Mr Abiy is expected to face a stiff challenge and where the opposition has succeeded in the past.
"I came here to contribute to the election which I believe could be a great milestone for democracy," Demiss Beyene, who started queuing two hours before polls opened, told the BBC.
"I believe the election will bring in peace... I really wish this election brings back our unity, instead of dividing us over ethnicity," Tadelech Benti, another voter in Addis Ababa, said.
The general election, the first since 2015, was originally slated for August 2020 but was rescheduled because of coronavirus.
Results are expected within five days.
Why are these elections so important?
Mr Abiy came to power in 2018 as the nominee of the then-ruling coalition but he has never faced the electorate.
He became prime minister on the back of protests against the government dominated by the Tigray People's Liberation Front (TPLF) and introduced a series of reforms.
In the last election, the ruling Ethiopian People's Revolutionary Democratic Front (EPRDF) coalition and its allies won all the seats but Mr Abiy has dissolved the coalition and created a new party - the Prosperity Party - in an attempt to reduce ethnic division. The TPLF, however, did not join.
Mr Abiy will keep his post if the party wins a majority of the 547 seats in the national assembly. He says the polls will be "the nation's first attempt at free and fair elections".
His reformist zeal saw him win the 2019 Nobel Peace Prize, but just a year later, he launched a military operation in his own country. He deployed troops to Tigray to oust the TPLF as the region's ruling party after it seized military bases in what Mr Abiy saw as a bid to overthrow him.
It resulted in a conflict that has killed thousands of people and has led to mass hunger and reports of a famine in the region.
What does the opposition say?
More than 40 parties have fielded candidates but most of them are regional parties.
Opposition parties have complained that a government crackdown against their officials disrupted their plans to prepare for the polls.
Casting his vote, Berhanu Nega the leader of one of the main opposition parties, Ethiopian Citizens for Social Justice, said he hoped the result would reflect the popular will.
"This doesn't mean there will not be problems. But the problems would not be significant enough to overturn or reflect what the public actually voted," he told journalists at the polling station.
In some pivotal regions, such as Oromia, opposition parties are boycotting the election, alleging government intimidation.
The TPLF has been designated a terrorist organisation. Some of its leaders have been arrested, while others are on the run or are continuing to wage a guerrilla war in Tigray.
The view from Abiy Ahmed's home constituency
Catherine Byaruhanga, BBC News, Beshasha village, Ethiopia
In the valley between rolling hills the local market in Beshasha village has been turned into a polling station for the day.
This is where Prime Minister Abiy Ahmed was born and grew up and he is hugely popular.
But there are two candidates running against Mr Abiy and they tell me that local officials have harassed their supporters and made it hard for them to campaign. Yet they're careful about how much they criticise the prime minister.
Some of the country's biggest political parties have boycotted this election citing intimidation from the state. And some of Mr Abiy's biggest opponents on the national stage are in detention accused of trying to destabilise the country.
Despite the fact that 20% of constituencies will not vote today the government is standing by today's vote and says it will be a genuine reflection of the will of Ethiopians.
Will the poll be free and fair?
Despite being billed as a national contest, elections will not be held in around one-fifth of the country's 547 constituencies, including all 38 seats in Tigray and 64 others across Ethiopia.
Most of the delayed votes are scheduled for 6 September though no date has been set yet for Tigray.
There are election observers from the African Union as well as a number of Ethiopian groups but the EU will not be sending a team. In May, the EU accused Ethiopia of failing to guarantee the independence of its mission.
Mr Abiy has dismissed international concern and has insisted the election will be free and fair.
"When the entire world is saying we will fight on election day, we will instead teach them a lesson," he told supporters at a rally last week.
===
ICYMI:
Ethiopia elections 2021: Five things to know
The twice-postponed polls will mark the first test of voter support for Prime Minister Abiy Ahmed.
Monday's vote will be the sixth since the overthrow of Mengistu Haile Mariam's communist government in 1991 [File: Mulugeta Ayene/AP Photo] By AJ & Agencies - 18. June 2021
Ethiopians vote next week in twice-delayed elections overshadowed by warnings of famine and mounting reports of atrocities in the war-hit northern region of Tigray.
Some 37 million people of Ethiopia's about 110 million have registered to cast ballots on Monday, although many will have to wait until September to vote due to logistical, legal and security-related challenges. Here are five things to know about the crucial polls in Africa's second-most populous country.
Abiy seeks mandate
In the areas where the elections will proceed, voters will pick national and regional parliamentarians. The national MPs are tasked with electing the prime minister, who is head of government, as well as the president – a largely ceremonial role.
The polls will mark the first test of voter support for Prime Minister Abiy Ahmed, 44, Africa's youngest leader and Ethiopia's first from the Oromia region.
Abiy's appointment as prime minister in 2018 – after years of anti-government protests forced his predecessor, Hailemariam Desalegn, to step down – was initially met by many with an outburst of optimism both at home and abroad.
Within months at the helm of Ethiopia's ruling coalition, Abiy released tens of thousands of political prisoners and allowed the return of exiled opposition groups. He also announced economic reforms, including opening parts of Ethiopia's tightly controlled markets and the creation of a stock exchange.
In 2019, Abiy was awarded the Nobel Peace Prize partly for his reform drive and for making peace with neighbouring Eritrea by ending a long-running border standoff.
"We will secure Ethiopia's unity," Abiy said before his final campaign rally on Wednesday, repeating his pledge of a free and fair election after past votes – all won by the four-party alliance Ethiopian People's Revolutionary Democratic Front (EPRDF) – were marred by accusations of fraud and irregularities. In 2015, the EPRDF and its allies won every parliamentary seat in a process marred by allegations of voter intimidation.
Delayed election
More than a year after taking power, Abiy disbanded the EPRDF coalition as a whole and formed the Prosperity Party (PP) with his political allies.
The Tigray People's Liberation Front (TPLF), which dominated the governing coalition for nearly 30 years before Abiy came to power, refused to follow the EPRDF's other three ethnically based parties into the PP. It accused the prime minister of centralising power at the expense of Ethiopia's ethnically-based regions, which he denies. PP officials said the EPRDF's dissolution would reduce societal fragmentation and bolster democracy, with the highly anticipated elections scheduled for August 2020.
But in March last year, Abiy postponed the polls by 10 months citing the COVID-19 pandemic. The elections were postponed a second time to June 21 because of logistical setbacks, including delays in voter registration and a lack of electoral officials.
The initial postponement provoked the anger of much of the country's political opposition, which accused the governing party of using the pandemic as an excuse to illegally extend its time in office, an allegation denied by the government.
The TPLF went on to hold elections – and win in a landslide – in the northern region of Tigray anyway, setting it on a collision course with the federal government.
Tigray war
On November 4, after months of tensions, Abiy ordered federal forces into Tigray accusing the TPLF of launching an attack to take over the Northern Command of Ethiopia's military. The then-regional leaders denied the allegation, accusing the federal government and their longtime foe Eritrea, whose troops have backed Ethiopian soldiers in the fighting, of launching a "coordinated attack" against it.
Abiy promised a swift military campaign to detain and disarm the TPLF's leadership and militias. Fighting, however, is still ongoing and reports of massacres, rapes and widespread hunger keep emerging.
The conflict is estimated to have killed thousands of people and displaced more than two million. Last week, humanitarian agencies warned that 350,000 people in Tigray are on the brink of famine, a crisis that several diplomats have described as "manmade" amid allegations of forced starvation. Ethiopia's government has rejected the figure and says food aid has reached 5.2 million in the region of six million people.
The fighting means that there will be no voting in Tigray's 38 constituencies, where military personnel who usually play a key role in transporting election materials are busy with the conflict.
Overall, voting has been delayed in 110 out of 547 constituencies. Some areas were deemed too insecure to hold a vote, plagued by armed campaigns and ethnic violence that has worsened under Abiy, as regions push for greater freedoms.
In other cases, the electoral board was not ready, with printing errors on ballot papers, and other logistical setbacks, making a timely election across the board impossible.
A second phase of voting will take place on September 6 to accommodate many of the constituencies not taking part on Monday – but not in Tigray, where no date has been set.
Opposition boycott
The PP is the frontrunner in a field of nearly 50 parties vying for parliamentary seats. It has registered 2,432 candidates in the election, while the next largest party, Ethiopian Citizens for Social Justice (ECSJ), is fielding 1,385 candidates.
However, some prominent opposition parties have said they will boycott the polls in protest against the jailing of their leaders and other concerns over the fairness of the process.
Among them are the Oromo Liberation Front (OLF) and the Oromo Federalist Congress (OFC).
Several high-profile OFC members remain behind bars after a wave of unrest last year sparked by the killing of a popular Oromo musician, and the OLF's leader is under house arrest. The leader of the Balderas Party for True Democracy, Eskinder Nega, was also arrested and is contesting the election from prison.
On Sunday, five opposition parties released a joint statement saying that campaigning outside the capital, Addis Ababa, "has been marred by serious problems, including killings, attempted killings and beatings of candidates".
Yet, some are choosing to stay in the race hoping their participation will help the country in its quest to democratise.
"We are very hopeful as we say it internally we are giving the ruling party a run for its money," Nathaniel Felega, of the Ethiopia Citizens for Social Justice party, told Al Jazeera. "We will continue doing that until the campaigns are over. And we are hopeful that the next parliament will not be as dull as the previous ones."
View from outside
Despite Abiy's pledges, there are growing international concerns over whether the elections will be fair.
The European Union has said it will not observe the vote after its requests to import communications equipment were denied.
In response, Ethiopia said external observers "are neither essential nor necessary to certify the credibility of an election", although it has since welcomed observers deployed by the African Union.
Last week, the United States State Department said it is "gravely concerned about the environment under which these upcoming elections are to be held", citing "detention of opposition politicians, harassment of independent media, partisan activities by local and regional governments, and the many interethnic and inter-communal conflicts across Ethiopia".
Earlier this month, Abiy accused "traitors" and "outsiders" of working to undermine Ethiopia, while this week, his spokeswoman Billene Seyoum described the election as a chance for citizens to "exercise their democratic rights" and accused international media of mounting a "character assassination of the prime minister".
Source: Al Jazeera and news agencies
Keep reading
===
Ethiopia election: A sham or democratic rebirth?
By BBC News - 17. June 2021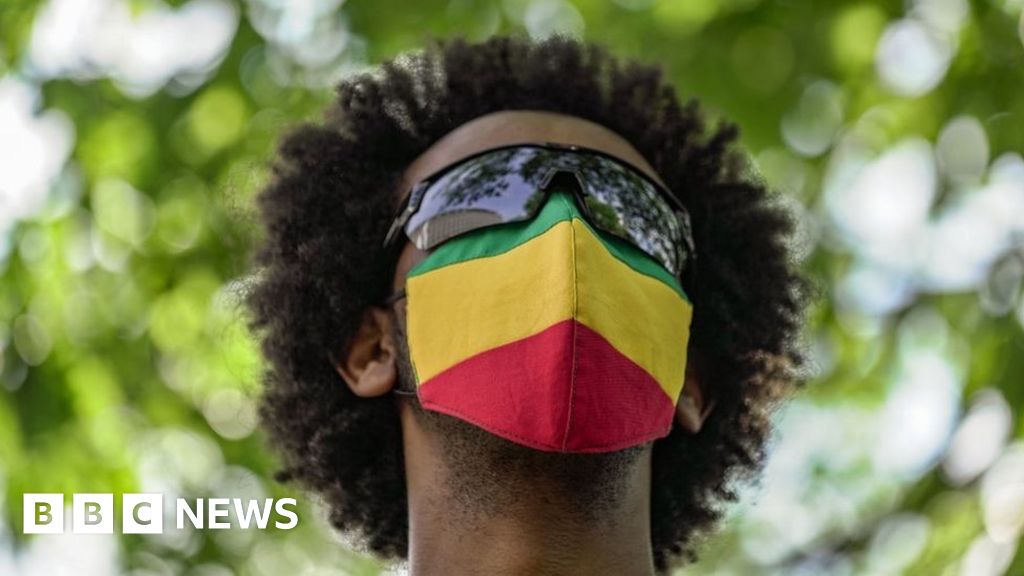 Ethiopia is poised to hold what its prime minister calls the nations first attempt at free and fair elections, but it is taking place amid deepening insecurity, a boycott by some leading opposition parties, and the Tigray region being consumed not only by conflict but by starvation and the rising threat of famine, writes BBC Africa correspondent Andrew Harding.
This was supposed to be a defining moment for Ethiopia - an ambitious nation eager to reveal itself not simply as Africas rising economic powerhouse, but as a fast maturing democracy, finally making a decisive break from decades of authoritarianism and overtly rigged elections.
So, can Ethiopia pull it off? And might this election prove to be a "pivot" point for the conflict in Tigray, as the central government faces growing international pressure for a ceasefire?
It was back in 2018 that Ethiopia gave the clearest sign of its democratic intent in these elections, by inviting a former political prisoner, Birtukan Mideksa, to return from exile to chair the countrys overhauled electoral commission.
How could anyone dispute this giant countrys determination to break with the past and hold free and fair elections, and, by extension, to cement Ethiopias dominant position in the region and beyond?
"We are in very good shape," Ms Birtukan declared recently, of the commissions lengthy preparations.
Her return reinforced the sense of a nation in the midst of an exhilarating transition - as political prisoners were freed from Ethiopias "gulag archipelago," the media was unmuzzled, and a peace deal signed to end a long border conflict with neighbouring Eritrea.
Ethiopias young Prime Minister Abiy Ahmed received the Nobel Peace Prize in 2019, in part as recognition of his achievements, but also as a spur to further reforms in a country which - as many observers pointed out - would need delicate handling in order to prevent it fracturing into turmoil along ethnic lines.
That turbulence is not quite comparable to the break-up of the Soviet Union. But some of the same historic tensions and risks - of a once-ruthless Marxist state attempting to liberalise while still controlling potentially explosive internal tensions - were clear to many.
Two years later, and is it possible to argue that Mr Abiys ambitious reform agenda remains on track?
There seems to be little doubt that Mr Abiy and his new Prosperity Party - formed from the once-mighty ruling Ethiopian Peoples Revolutionary Democratic Front (EPRDF) - will win a decisive victory at these elections, enabling him to claim a powerful mandate for his policy of "medemer," or "coming together".
Under that slogan, Mr Abiy appears keen to nudge Ethiopia away from the ethnic federalism of the EPRDF, and towards a more centralised state.
That likely victory will, almost certainly, be accompanied by rhetoric that looks to put Ethiopias current electoral challenges in perspective.
The government will argue that the failure to hold elections in war-torn Tigray is unfortunate but not debilitating, given that the region has only a small fraction of seats in parliament. Tigray can hold elections when the situation there has been stabilised.
International warnings about famine, the government insists, are simply wrong. Besides, it is reasonable to argue that the central government had to act aggressively against a rebellious Tigray in order to prevent larger regions from following suit.
There are major security challenges across much of Ethiopia - in Afar, the Somali region, Amhara, Oromia, Harari, Benishangul-Gumuz, South Wollo and elsewhere. Nearly two million people have been displaced by conflict outside Tigray.
The instability will affect registration, turnout, and the participation of some major opposition parties.
But again, the government and its supporters will argue, this election needs to be seen in proper context - as part of a broader, imperfect process of reform in a nascent democracy, with more than 50 parties already involved.
The answer to violence and incitement by politicians is, surely, not to retreat, or to pretend the elections were flawless, but rather to push ahead with the process in order to keep Ethiopia on a trajectory of reform.
Convinced? Increasingly, many Ethiopians, and foreign observers, are not.
The first concern is about insecurity. Just as Tigrays decision to push ahead with regional elections last year during the pandemic - a move considered illegal by the central government - helped to steer its then ruling party, the TPLF, towards open conflict, and war, with the Ethiopian state, so there are concerns that holding national elections today, in the midst of so many regional conflicts, will trap Ethiopian politics in a long-term crisis of legitimacy.
That, in turn, could drive new recruits and more support towards the ethnic forces and separatist groups that have already turned their backs on the electoral process in order to challenge Mr Abiys centralising impulses.
By that analysis, the price of impatiently pushing ahead with a flawed election next week could be years, or even decades, of escalating conflict.
Then comes the risk that prolonged chaos and conflict - in Tigray and beyond - will drive the Ethiopian state back towards greater authoritarianism.
Theres already evidence of this - not least the number of "political" arrests, and the chilling effect of so many reports of atrocities by government and allied forces in Tigray.
Again, its worth remembering Russias experience of post-Soviet transformation, with the giddy reforms unleashed by Mikhail Gorbachev and Boris Yeltsin soon giving way to a return to repression under Vladimir Putin.
How serious are these risks?
The Western nations that once cheered on Ethiopia, and its Nobel Prize-winning leader, are certainly sounding alarmed.
The G7 and the White House have both issued statements about a slide away from reform, with Joe Biden warning Mr Abiy over "the escalating violence and hardening of regional and ethnic divisions in multiple parts of Ethiopia".
Ethiopian officials have hit back, indignantly, against western interference and "condescension". A political tilt towards Russia and China - already a key economic ally - seems very possible.
Much now depends on Mr Abiy himself. Will he back down - the "pivot" some western diplomats say theyve been promised by his aides - after the elections, and agree, at the very least, to improve humanitarian access in Tigray?
It seems hard to imagine any Ethiopian leader prepared to preside over a repeat of the 1984 famine.
But Mr Abiys critics point to what they say is a worrying trend of poor decision-making - from his handling of the growing diplomatic row with Egypt and Sudan over control of the River Nile, to the chaos in Tigray, to concern that neighbouring Eritrea - its army invited in to Tigray and accused of horrific human rights abuses - has deftly out-manoeuvred Ethiopia, to broader fears that Mr Abiys centralising tendencies are simply unsuited for such a complex patchwork of a nation at such a difficult time.
So, will this be an irrelevant sham election? A flawed, but significant step on the path to democracy? Or a catalyst for spiralling conflict? Right now, there is no country on the continent with more at stake.
===
EU envoy:
Ethiopia's leaders said they "are going to wipe out" Tigrayans
By Erin Doherty - 18. June 2021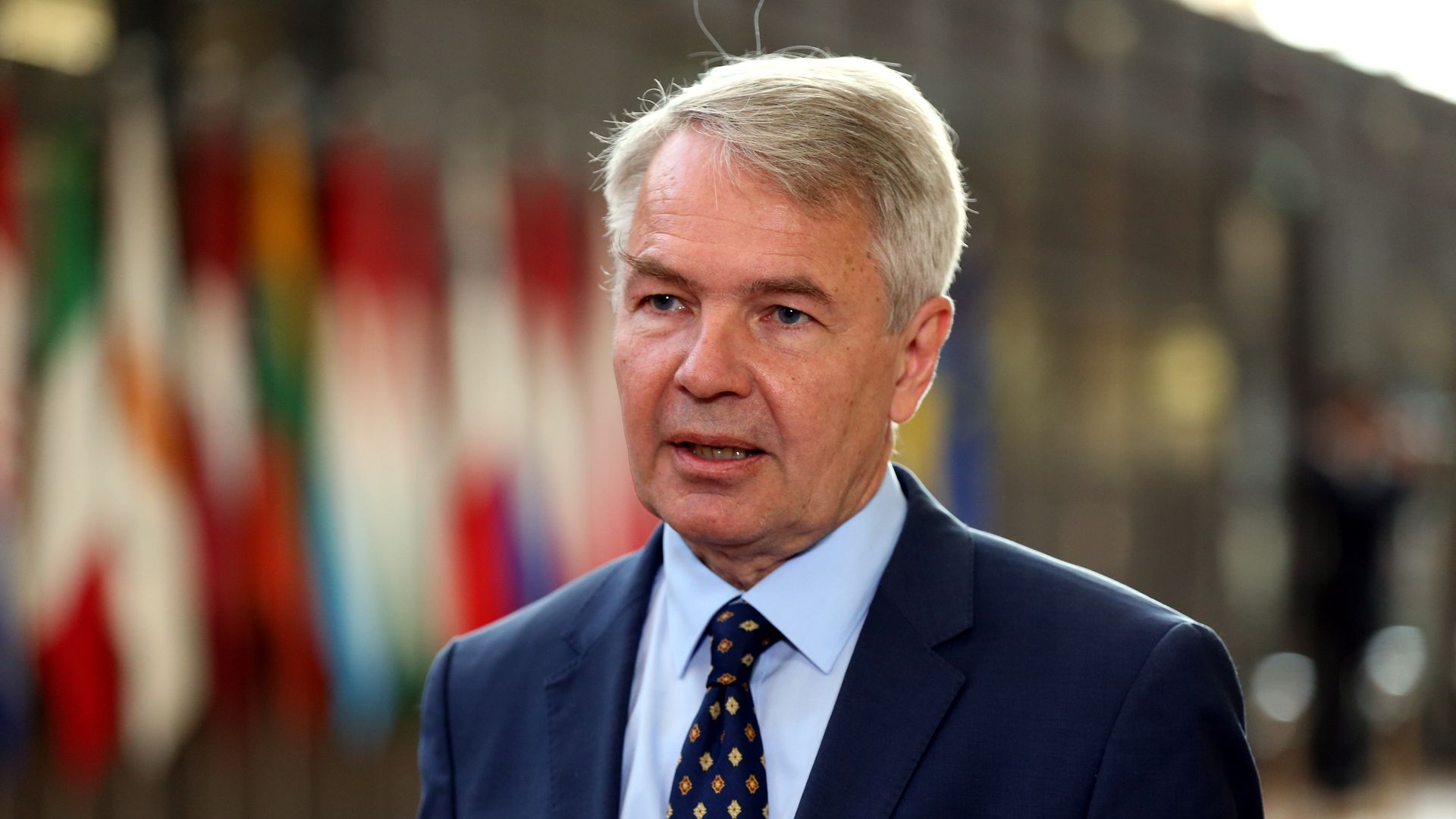 Pekka Haavisto speaks to media on September 21, 2020. (Photo by Dursun Aydemir/Anadolu Agency via Getty Images)
During closed-door talks in February, Ethiopian Prime Minister Abiy Ahmed and other ministers said they were "going to wipe out the Tigrayans for 100 years," according to a European Union special envoy, the AP reports.
Why it matters: Pekka Haavisto, Finland's foreign minister, condemned the statements this week, warning that the claims from Ethiopia's leaders "looks for us like ethnic cleansing," per AP.
Flashback: Haavisto, who has served as the EU's special envoy in Ethiopia for months, had two days of "substantive meetings" with Abiy and other ministers in February.
They discussed the growing humanitarian crisis in the northern Tigray region of Ethiopia, where thousands of civilians have been killed and a famine has plagued more than 350,000 people.
Driving the news: Haavisto's statements come as Ethiopia prepares to vote in a national election on Monday, which will test Abiy's leadership and the prospects for democracy in the country, which is facing a wave of ethnic violence.
What they're saying: "If you wipe out your national minority, well, what is it?" Haavisto said this week during a question-and-answer session with a European Parliament committee.
"You cannot destroy all the people, you cannot destroy all the population in Tigray," Haavisto said. "And I think that's very obvious, that we have to react, because it looks for us like ethnic cleansing. It is a very, very serious act if this is true."
Ethiopia's foreign ministry dismissed Haavisto's comments as "ludicrous" and a "hallucination of sorts or a lapse in memory of some kind," according to AP.