UPDATE 27. June 2021: NOBEL PRIZE WINNING VIROLOGIST CONDEMNS VACCINES, OUTRAGED, SAYS THEY MAY CAUSE NEURODEGENERATION
UPDATE 24. June 2021: YOU WON'T SEE THIS ON MSM! EXCLUSIVE: Vaccine Inventor Drops A 'TRUTH BOMB' — There Are Risks But We Don't Have Access To The Data
UPDATE 21. June 2021: 15,472 Dead 1.5 Million Injured (50% Serious) Reported in European Union's Database of Adverse Drug Reactions for COVID-19 Shots + Thousands Of Women Report Period Problems Potentially Tied To COVID Jabs + Thousands of flights cancelled as vaccinated pilots fall ill or die
UPDATE 20. June 2021: Who wants to be flown by a vaccinated pilot? Four British Airway pilots DIE in the same week, just days after getting second covid shot
UPDATE 16. June 2021: Eric Clapton says his musician friends cut him off after he spoke out about his 'disastrous' vaccine side effects: 'I just don't hear from them anymore'
UPDATE 15. January 2021: Airlines now want to reject vaccinated passengers for fear of blood clot complications + REPLACING THE DEAD: Corporations already planning to replace "vaccinated" employees who will likely die within a few years
UPDATE 14. January 2021: HIGHLY PAID KILLERS: CV_19 VACCINES, VACCINATORS, AND THE U.S.A. + Ex-head of Myanmar's COVID-19 vaccination programme arrested (With CAVEAT)
UPDATE 13. June 2021: 'Urgent' British Report Calls For Complete Cessation Of COVID Vaccines In Humans + Biden regime caught bribing hospital staff to supply positive reviews for covid vaccines
UPDATE 12. June 2021: SHOCKING JUMP in Vaccine Deaths Reported This Week at CDC-Linked VAERS Tracking Website
ICYMI 10. June 2021: VACCINE REMORSE: GOT THE SHOT? JUDY MIKOVITS ON WHAT TO DO ABOUT IT
ICYMI: First case of postmortem study in a patient vaccinated against SARS-CoV-2 (Pfizer/BioNTech) + Methylene Blue - The nootropic benefits of Methylene Blue (caveat)
French ethics committee advises against rush to vaccinate teenagers
The advisory board surprisingly said it 'regretted' that a decision on vaccinating young people was made 'so quickly.'
By Jeanne Smits - 11. June 2021
One week after the French government announced that youth between ages 12 and 18 will be able to receive the experimental COVID vaccines starting June 15, the National Ethics Advisory Board (CCNE) published an answer to a question submitted by the Ministry of Health regarding the ethics of giving the jab to minors, stating in an official notice published Wednesday that the CCNE "regretted" that the decision to vaccinate adolescents had "been made so quickly" without waiting for its opinion.
The 19-page notice poses many questions regarding the benefits, or absence thereof, of the "vaccine" for young people and also underscores the imperfect knowledge both of the disease the jab is supposed to protect against and of its effects on young people because the phase III testing of the experimental vaccines is incomplete, and particularly so regarding teenagers.
The report also states that while parental consent is required for minors to receive the jab, adolescents should receive proper information about the benefits and risks in a form adapted to their own capacity of understanding. It also warned that COVID restrictions and the fear of further lockdowns could "pressure" them into accepting the vaccination.
Such a show of caution is almost unheard of from public governing bodies since the beginning of the COVID crisis, making the fact that the government has not overturned its hasty decision regarding vaccinations for adolescents appear all the more reckless.
Ironically, CCNE president Jean-François Delfraissy, who was reappointed to that position last April, is also the head of the so-called "Scientific Council" that has been steering government responses to SARS-CoV-2, including lockdowns, masking mandates and vaccine policy. To be sure, he decided to reserve his position on this particular question within the Ethics Advisory Board because of his role in public choices, including vaccinating the young. Be that as it may, he is now in a place where he is formally contradicting the advice of the Ethics Board he presides over.
The report makes clear that there are two types of benefits from vaccines: the personal benefit of the receiver and the collective benefit where vaccination aims at protecting the population at large (in this case, the elderly, through what it calls "intergenerational solidarity"). Interestingly, it recalls that the collective benefit can be invoked when vaccination protects the larger population from serious illnesses of which there is good medical knowledge. "We can agree that this is not the case for Covid-19, for which new characteristics are being discovered every day," he said.
In the report, the CCNE underscores that if "collective immunity" can only be reached when 80 percent to 85 percent of the population have received the experimental vaccine (no clear studies exist regarding this proportion), the fact that only 78 percent of the population is over 18 years old and that some 20 percent of adults have said they will not take the vaccine, according to recent surveys, means that vaccination will not suffice.
At present, approximately 52 percent of the adult population in France have received the jab, and reports suggest that while more vaccines are available, there are now fewer appointments being made to receive the first shot than in recent weeks.
The report also affirms that "natural immunity" after an infection is a factor that favors collective immunity – something that is rarely stressed in official communications – even if it says its duration and efficacy are at present uncertain. However, it adds that in the group of 20- to 49-year-olds, seropositivity after a natural infection is higher than in the older groups, reaching more than 30 percent instead of 22.7 percent in the total population, and that this higher rate is probably also true for adolescents.
The CCNE even talks about "cross-protection" from other seasonal coronaviruses.
According to its report, it is necessary to take into account that very few youngsters actually die from COVID-19. The risk only exists in children over 10, and then, in the rare cases that it did occur, usually at least one serious underlying condition is present. There is a "very limited" personal benefit associated with coronavirus vaccinations for teenagers, it states.
The CCNE then goes on to describe the multiple negative effects of COVID restrictions that particularly affected young people and adolescents. It adds that the adverse psychological effects are lasting and will probably not disappear with the pandemic. "Children are vulnerable members of society who will possibly have new forms of post-COVID," the report warns. Already, "anxiety, suicidal thoughts, depression and sleep disorders" were higher during the long months when older teenagers followed classes at home on their computer screens. The report adds that masking and social distancing are not natural to children and teenagers, and states:
"The deleterious repercussions on the pediatric population of all the measures taken needs to trigger a reflection on the preservation of global health that cannot be limited to the imperative of non-contamination, especially since this specific population represents the reserve of energy, commitment and initiative for the common future."
It even asks whether "the policy of prevention applied to the whole population could not be considered as excessive regarding the young."
In another section, the CCNE stresses that while the phase III and IV trials of the "vaccines" are benefiting from the feedback related to "millions" of vaccinations, pharmacovigilance has not reached the same kind of precision for children, stressing that vaccinal reactions can be different in newborns, children, adolescents and adults. It adds that as young people have less severe forms of COVID, it is difficult to correctly evaluate the efficiency of the vaccine in preventing those severe forms in the adolescent population.
"The existing experience does not allow ensuring the full safety of these new vaccines in adolescents (…) and in children no data is available, although it can be noted that several tens of millions of adolescents have been vaccinated in the USA," it notes, adding that "a few cases of mild, post-vaccination myocarditis in adolescents are beginning to be published."
Do children and adolescents actually spread coronavirus? The CCNE warily replies, "The decision to vaccinate children and adolescents must therefore take into account their role in the spread of the virus. Although controversies persist, more and more publications show that children, especially those under 10-12 years of age, are not the most frequent source of contamination." The risk is higher in teenagers, it remarks. It also stresses that infections most often occur at home in the adolescent population, even though schools have been at least partially open throughout the second and third lockdowns in France.
It then comments that "keeping schools, colleges and high schools open ensures equal access to education and a balanced diet for some, and allows for the social ties that are essential to the construction of the individual, especially for adolescents. These arguments could be in favor of opening vaccination to 12- to 18 year-olds. However, if vaccination were presented to them as their only chance to return to a normal life, this effective pressure would raise the question of the validity of their consent."
Elsewhere, the report worries that "pressure on the part of society can implicitly oblige adolescents to receive vaccination" even though it is of no particular benefit to themselves. Refusing the jab may lead adolescents to be "stigmatized," it underlines.
That is true, but also what is what is happening in many countries with pressure put on the adult population to get the vaccine so as not to be "anti-social" and to enjoy the "reopening" of society.
In its ethical considerations, the CCNE stresses that the well-being of the young is every bit as important as the protection of the old, even suggesting that it is more so:
"The vast majority of the adolescents showed real self-sacrifice in respecting the successive confinements, which were nevertheless the cause of a significant loss of opportunity for them in terms of learning at school, but also of a deprivation of social relations.

"After more than a year of constraints weighing on their morale and their psychic health, the question of their own vulnerability emerges and deserves increased attention. A society that leaves its youth in a situation of long-term suffering is a society that runs the risk of damaging its energy, its hopes and its future. It is in the light of this singular context that one of the ethical questions of the extension of vaccination to minors arises."
It then asks, unfortunately, whether it is "ethical" to make the young bear the brunt of the refusal of adults to receive the "vaccine," suggesting in substance that there should be more government propaganda in favor of adult vaccination.
But the French CCNE is conscious of the uncertainties surrounding the experimental jabs:
"Compulsory vaccination, especially in the adolescent population, is not a relevant issue at this time, but the motivation induced by the possible freedom regained through vaccination, particularly in the adolescent population, must ensure that such a practice is not harmful in the short, medium and long term. It also questions the notion of free consent."
The CCNE also warns against possible future contamination in widely-vaccinated populations because of variants and less vaccinal prevalence in other countries, adding:
"Adolescents, like the general population, are at risk of being re-confined even though they will be vaccinated. This information must be made known to the young people who choose to be vaccinated and is at the heart of the process of obtaining their consent.
"The risk here is significant: if adolescents go for vaccination with the certainty that it will allow them to return to normal life and this motivation ends up being disappointed in reality, it is their trust in institutions that risks being shaken in the long term."
Or perhaps even faster than that …
The CCNE concludes that it's clearly advisable to avoid vaccination of children under 12, and given the absence of personal benefit, is wary of the vaccinating 12- to 16-year-olds, repeating that the American FDA greenlighted the practice based on its faith in only one study and that possible harmful long-term effects will only be known after the vaccination of "several million adolescents."
It adds:
"Is it ethical to solicit the participation of young people in order to achieve a collective benefit, knowing that this benefit concerns them, but that other measures could avoid it? According to the CCNE, it seems desirable, given the difficulties encountered and the specific issues related to a population for which social ties and learning are essential resources for life, to agree to vaccinate adolescents who request it against Covid-19, but after having received clear information adapted to this age group on the uncertainties related to the disease, to the vaccine itself and to its medium- and long-term effectiveness, as well as on the other alternatives available for preventing the disease."
In a clear warning to the government regarding future restrictions, the CCNE concludes:
"Ensuring that adolescents over 12 years of age have free and informed consent to the vaccine implies assuring them at the same time that other strategies are implemented, in the event of an epidemic rebound, taking into account the evolution of the health situation, so as to spare their way of life, education, relationships and freedom, which, as all French people, whatever their age, they need for their vitality, and which are then considered to be proportionate with regard to the risk posed by the virus in this section of the population.
On Thursday evening, an "Independent Scientific Council" created in France by medical professionals and academics held its ninth online conference during which Dr. Eric Menat, a general practitioner, welcomed the CCNE's official advice to the government and commented on the unethical nature of giving the experimental jab to young people "up to age 30" in his opinion.
Menat recalled that by May 18, 2021, of the more than 100,000 deaths attributed to COVID-19 in France, only 88 occurred in people below age 29, of which four in the 0 to 9 age group and nine in the 10-19 age group. The overwhelming majority of cases involving young people who died had congenital malformations, severe cancer or other serious diseases. No healthy teenager died of COVID, he insisted, concluding that "vaccination of the young is of no benefit to them, while its benefit for public health has absolutely not been demonstrated."
On the other hand, public health statistics reveal a large number of severe adverse reactions. More than 600 deaths after the Pfizer jab alone, and thousands of serious side effects, with more than 1,100 of these affecting people in the 16-49 age group, even though they have received 10 times fewer jabs in absolute numbers than the elderly population, according to Menat, leading him to fear that the number and gravity of adverse reactions will be higher in the younger age groups than in the rest of the population.
Menat added that widespread vaccination of those younger than 30 would probably lead to some deaths of otherwise healthy individuals who are at no risk whatsoever of dying of COVID-19.
He concluded with a question: "Is it ethical to sacrifice people whose life is in front of them, to save the lives of people aged over 84?"
Author:
Jeanne Smits, Paris correspondent FOLLOW JEANNE - picture: SHUTTERSTOCK
===
Almost 26 Thousand Vaccine Deaths in USA
"Under budget and ahead of schedule", as Trump would say. Remember who, in a state of panic, and INFLUENCE by known peddlers of poison, brought AMERICA these "vaccines" in the first place. Kirsch knows this shit in and out. He's a voice to pay attention to on vaccine issues.

https://twitter.com/stkirsch/status/1404091942737092612
===
===
It can be confirmed that especially inhaling saltwater-steam helps tremendously.
===
===
UPDATES:
NOBEL PRIZE WINNING VIROLOGIST CONDEMNS VACCINES, OUTRAGED, SAYS THEY MAY CAUSE NEURODEGENERATION
First published on BITCHUTE June 27th, 2021.
Luc Montagnier, the man who won the Nobel prize in virology for identifying the AIDS virus, has come out vocally and emphatically against the new experimental mRNA vaccines which have been rolled out without following scientific safety protocols and procedures for vaccines, making this the largest most dangerous human genetic experiment in world history.
He has raised many concerns about this MRNA technology, most notably that sequences in the spike protein resemble prions, and may cause the brain to make prions.
Prions are some of the scariest things on earth. They can withstand temperatures of up to 1200 degrees Fahrenheit without being destroyed and once they infect your brain they modify the natural proteins in your brain into more prions, this cascading effect causes a fatal neurodegenerative disease known as spongiform encephalopathy which causes an extremely painful and sometimes violent descent into neurodegeneration which always results in death most often from lack of sleep. Initially when it was first discovered in Cannibals it was originally called Creutzfeldt-Jakob disease. Apparently, with mammals when they consume the neuronal tissue from their same species, it produces these prions. It was also discovered, when the meat industry ground up and tried to feed downer cows to other cows, effectively turning them into cannibals, and Mad Cow Disease was born.
It was discovered not only that the cows pass this neurodegenerative disease onto their offspring which do not even make it to adulthood,, but also that eating the meat from these infected cows, the prions cross the species barrier infecting humans with this fatal neurodegenerative disease. Now that Luke Montagnier one of our greatest scientists has stated emphatically that there is a firm scientific basis for the rumor that these spike proteins are prion like and may cause the brain to produce prions, we all have cause for great concern.
Links:
https://rairfoundation.com/nobel-laureate-luc-montagnier-warns-covid-vaccine-may-lead-to-neurodegenerative-illness-video/
https://www.francesoir.fr/videos-le-defi-de-la-verite/pr-luc-montagnier-au-defi-de-la-verite
===
On Wednesday night, mRNA vaccine inventor Dr. Robert Malone joined Tucker Carlson after pro-CCP YouTube deleted his video on the dangers and risks of the mRNA vaccine that the US government is at the moment promoting to children.
This interview took place on the same day that the CDC admitted that doctors were seeing more cases of rare heart inflammation with young adults after they receive the COVID vaccine.
During the interview, Dr. Malone stated that he is truly concerned about the risk of these treatments.
Transcript as it follows:
TUCKER CARLSON: YouTube took it down. They did this even though Dr. Malone may be the most qualified person on Planet Earth to discuss this subject. Why? Because he helped create the mRNA technology behind the COVID vaccine. We think he has a right to speak… In a way that's accessible to non-scientists, do you have concerns about these vaccines for people who aren't at great risk?
DR. ROBERT MALONE: Yes, I think my concerns are the government is not being transparent with us about what those risks are. And so I'm of the opinion that people have the right to decide whether to accept vaccine or not especially since these are experimental vaccines. This is a fundamental right having to do with clinical research ethics. So my concern is I know that there are risks but we don't have access to the data and the data having been captured rigorously enough so that we can accurately access those risks. And therefore for folks like your audience, you and me, we don't really have the information that we need to make a reasonable decision.
When asked about whether college-aged young adults should take the shot, Dr. Robert Malone explained:
"So I have a bias that the benefits probably don't outway the risks in that cohort. But unfortunately, the risk-benefit analysis is not being done… Certainly I can say the risk-benefit of those 18 and below doesn't justify vaccines. And there's a pretty good chance that it doesn't justify vaccinations in these very young adults."
MUST WATCH:
===
15,472 Dead 1.5 Million Injured (50% Serious) Reported in European Union's Database of Adverse Drug Reactions for COVID-19 Shots
By Brian Shilhavy - 21. June 2021
The European database of suspected drug reaction reports is EudraVigilance, which also tracks reports of injuries and deaths following the experimental COVID-19 "vaccines."
A subscriber from Europe recently emailed us and reminded us that this database maintained at EudraVigilance is only for countries in Europe who are part of the European Union (EU), which comprises 27 countries.
The total number of countries in Europe is much higher, almost twice as many, numbering around 50, although there are some differences of opinion as to which countries are technically part of Europe.
So as high as these numbers are, they do NOT reflect all of Europe. The actual number in Europe who are reported dead or injured due to COVID-19 shots would be much higher than what we are reporting here.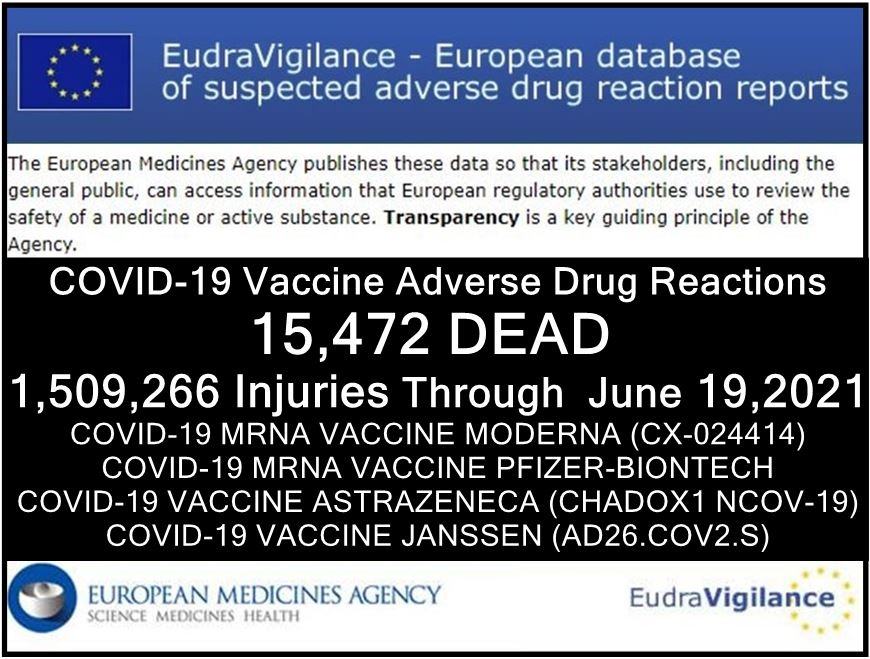 The EudraVigilance database reports that through June 19, 2021 there are 15,472 deaths and 1,509,266 injuries reported following injections of four experimental COVID-19 shots:
From the total of injuries recorded, half of them (753,657) are serious injuries.
"Seriousness provides information on the suspected undesirable effect; it can be classified as 'serious' if it corresponds to a medical occurrence that results in death, is life-threatening, requires inpatient hospitalisation, results in another medically important condition, or prolongation of existing hospitalisation, results in persistent or significant disability or incapacity, or is a congenital anomaly/birth defect."
A Health Impact News subscriber in Europe ran the reports for each of the four COVID-19 shots we are including here. This subscriber has volunteered to do this, and it is a lot of work to tabulate each reaction with injuries and fatalities, since there is no place on the EudraVigilance system we have found that tabulates all the results.
Since we have started publishing this, others from Europe have also calculated the numbers and confirmed the totals.[1]
Here is the summary data through June 19, 2021.
Total reactions for the experimental mRNA vaccine Tozinameran (code BNT162b2,Comirnaty) from BioNTech/ Pfizer: 7,420 deaths and 560,256 injuries to 19/06/2021
16,133 Blood and lymphatic system disorders incl. 81 deaths
12,637 Cardiac disorders incl. 964 deaths
101 Congenital, familial and genetic disorders incl. 6 deaths
7000 Ear and labyrinth disorders incl. 4 deaths
265 Endocrine disorders incl. 1 death
8,122 Eye disorders incl. 17 deaths
51,030 Gastrointestinal disorders incl. 348 deaths
155,486 General disorders and administration site conditions incl. 2,290 deaths
468 Hepatobiliary disorders incl. 31 deaths
6,110 Immune system disorders incl. 32 deaths
17,549 Infections and infestations incl. 762 deaths
6,275 Injury, poisoning and procedural complications incl. 104 deaths
13,249 Investigations incl. 285 deaths
4,162 Metabolism and nutrition disorders incl. 139 deaths
79,125 Musculoskeletal and connective tissue disorders incl. 88 deaths
325 Neoplasms benign, malignant and unspecified (incl. cysts and polyps) incl. 23 deaths
100,895 Nervous system disorders incl. 780 deaths
384 Pregnancy, puerperium and perinatal conditions incl. 10 deaths
107 Product issues
9,928 Psychiatric disorders incl. 105 deaths
1,765 Renal and urinary disorders incl. 115 deaths
2,696 Reproductive system and breast disorders incl. 3 deaths
23,689 Respiratory, thoracic and mediastinal disorders incl. 848 deaths
26,641 Skin and subcutaneous tissue disorders incl. 66 deaths
846 Social circumstances incl. 10 deaths
281 Surgical and medical procedures incl. 19 deaths
14,987 Vascular disorders incl. 289 deaths
Total reactions for the experimental mRNA vaccine mRNA-1273 (CX-024414) from Moderna: 4,147 deaths and 122,643 injuries to 19/06/2021
2,239 Blood and lymphatic system disorders incl. 29 deaths
3,315 Cardiac disorders incl. 446 deaths
39 Congenital, familial and genetic disorders incl. 3 deaths
1,454 Ear and labyrinth disorders
82 Endocrine disorders incl. 1 death
1,883 Eye disorders incl. 7 deaths
10,655 Gastrointestinal disorders incl. 142 deaths
33,936 General disorders and administration site conditions incl. 1,759 deaths
209 Hepatobiliary disorders incl. 11 deaths
1,117 Immune system disorders incl. 5 deaths
3,835 Infections and infestations incl. 234 deaths
2,480 Injury, poisoning and procedural complications incl. 77 deaths
2,670 Investigations incl. 89 deaths
1,297 Metabolism and nutrition disorders incl. 85 deaths
15,131 Musculoskeletal and connective tissue disorders incl. 77 deaths
128 Neoplasms benign, malignant and unspecified (incl. cysts and polyps) incl. 15 deaths
21,684 Nervous system disorders incl. 424 deaths
255 Pregnancy, puerperium and perinatal conditions incl. 2 death
20 Product issues
2,437 Psychiatric disorders incl. 69 deaths
807 Renal and urinary disorders incl. 52 deaths
459 Reproductive system and breast disorders incl. 1 death
5,640 Respiratory, thoracic and mediastinal disorders incl. 399 deaths
6,538 Skin and subcutaneous tissue disorders incl. 28 deaths
504 Social circumstances incl. 13 deaths
397 Surgical and medical procedures incl. 38 deaths
3,432 Vascular disorders incl. 141 deaths
Total reactions for the experimental vaccine AZD1222/VAXZEVRIA (CHADOX1 NCOV-19) from Oxford/ AstraZeneca: 3,364 deaths and 793,036 injuries to 19/06/2021
9,136 Blood and lymphatic system disorders incl. 132 deaths
12,135 Cardiac disorders incl. 396 deaths
95 Congenital, familial and genetic disorders incl. 2 deaths
8,797 Ear and labyrinth disorders
309 Endocrine disorders incl. 2 deaths
13,459 Eye disorders incl. 12 deaths
81,806 Gastrointestinal disorders incl. 161 deaths
212,663 General disorders and administration site conditions incl. 891 deaths
525 Hepatobiliary disorders incl. 25 deaths
3,085 Immune system disorders incl. 11 deaths
17,791 Infections and infestations incl. 217 deaths
7,854 Injury, poisoning and procedural complications incl. 77 deaths
16,731 Investigations incl. 79 deaths
9,765 Metabolism and nutrition disorders incl. 50 deaths
123,637 Musculoskeletal and connective tissue disorders incl. 45 deaths
332 Neoplasms benign, malignant and unspecified (incl. cysts and polyps) incl. 8 deaths
169,286 Nervous system disorders incl. 532 deaths
223 Pregnancy, puerperium and perinatal conditions incl. 4 deaths
103 Product issues
14,931 Psychiatric disorders incl. 27 deaths
2,809 Renal and urinary disorders incl. 29 deaths
5,967 Reproductive system and breast disorders
26,631 Respiratory, thoracic and mediastinal disorders incl. 387 deaths
36,457 Skin and subcutaneous tissue disorders incl. 22 deaths
772 Social circumstances incl. 4 deaths
671 Surgical and medical procedures incl. 16 deaths
17,066 Vascular disorders incl. 235 deaths
Total reactions for the experimental COVID-19 vaccine JANSSEN (AD26.COV2.S) from Johnson & Johnson: 541 deaths and 33, 331 injuries to 19/06/2021
306 Blood and lymphatic system disorders incl. 16 deaths
496 Cardiac disorders incl. 56 deaths
14 Congenital, familial and genetic disorders
177 Ear and labyrinth disorders
8 Endocrine disorders incl. 1 death
383 Eye disorders incl. 3 deaths
3,086 Gastrointestinal disorders incl. 23 deaths
8,761 General disorders and administration site conditions incl. 137 deaths
52 Hepatobiliary disorders incl. 4 deaths
85 Immune system disorders
392 Infections and infestations incl. 13 deaths
320 Injury, poisoning and procedural complications incl. 8 deaths
2,003 Investigations incl. 37 deaths
184 Metabolism and nutrition disorders incl. 10 deaths
5,718 Musculoskeletal and connective tissue disorders incl. 17 deaths
16 Neoplasms benign, malignant and unspecified (incl. cysts and polyps)
7,093 Nervous system disorders incl. 68 deaths
9 Pregnancy, puerperium and perinatal conditions incl. 1 death
9 Product issues
355 Psychiatric disorders incl. 5 deaths
119 Renal and urinary disorders incl. 8 deaths
114 Reproductive system and breast disorders
1,130 Respiratory, thoracic and mediastinal disorders incl. 43 deaths
804 Skin and subcutaneous tissue disorders incl. 2 deaths
72 Social circumstances incl. 3 deaths
336 Surgical and medical procedures incl. 26 deaths
1,289 Vascular disorders incl. 60 deaths

*
Note to readers: Please click the share buttons above or below. Follow us on Instagram, @crg_globalresearch. Forward this article to your email lists. Crosspost on your blog site, internet forums. etc.
Notes
[1] These totals are estimates based on reports submitted to EudraVigilance. Totals may be much higher based on percentage of adverse reactions that are reported. Some of these reports may also be reported to the individual country's adverse reaction databases, such as the U.S. VAERS database and the UK Yellow Card system. The fatalities are grouped by symptoms, and some fatalities may have resulted from multiple symptoms.
Featured image is from Ali Raza from PxHere.
SOURCE: Health Impact News
Related Articles
17 May 2021
26 May 2021
8 June 2021
The original source of this article is Health Impact News
Copyright © Brian Shilhavy, Health Impact News, 2021
Articles by:Brian Shilhavy
===
Thousands Of Women Report Period Problems Potentially Tied To COVID Jabs
The UK's vaccine watchdog is "closely monitoring" claims that 4K+ women have suffered period problems after receiving the COVID-19 jab. While side effects like sore arms, lethargy, soreness and muscle aches are included in warnings about potential drawbacks of receiving the vaccine, there are no warnings about period-related complications.
Nowhere are period irregularities listed as a potential side effect of vaccination, so British regulators are trying to determine whether there is actually a link between the complaints and the vaccines.
Official data obtained by The UK's Sunday Times show that the Medicines & Healthcare products Regulatory Agency - better known as MHRA received 2,734 reports of period problems linked to the AstraZeneca vaccine, 1,158 related to the Pfizer jab, and another 66 linked to the Moderna vaccine as of May 17.
Complaints focused on "heavier than usual" bleeding, and it's possible that this could have affected many more women who didn't think to report their issues. The majority of issues were reported by women aged between 30 and 49. ;
So far, at least, MHRA says that there's no evidence that it should add period complications to the list of side effects. That is, the "current evidence" don't suggest an "increased risk of period problems following the jab, the regulator said.
But others are calling for more data to be collected. For example, Dr. Sue Ward, vice-president of the Royal College of Obstetricians and Gynaecologists, said "anecdotally some women seem to be reporting heavier periods after receiving the Covid-19 vaccine and we would support more data collection in this area to understand why this might be the case. If you do notice any bleeding that is unusual for you, we would recommend you contact your doctor."
Complaints haven't only been seen in the UK. In the US, some women have taken to Reddit to share their experiences.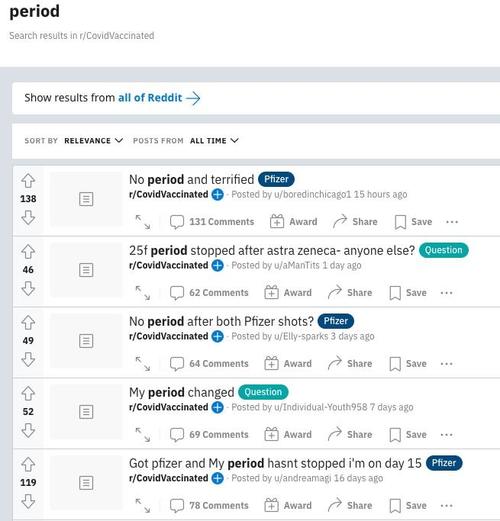 Victoria Male, a reproductive immunologist at Imperial College London, said more women were likely to have been affected than the number of case reports. "It's definitely true that not everyone will be reporting any menstrual changes they have noticed to Yellow Card [the MHRA's scheme for people to report suspected side effects] simply because not everyone knows that it exists and that they can file a report."
Although a clear link between the COVID jab and menstrual disorders hasn't been established, "lots of people have contacted me to tell me about changes that they have noticed in their periods following vaccination," Male said. "The kinds of things they are telling me about, mostly periods that are heavier or later than usual, are very similar to the reports we are seeing in Yellow Card."
Angharad Planells,a 34-year-old from Cheltenham, said her period had been 11 days late following her second dose of the AstraZeneca vaccine. "My whole life I've been pretty regular and I track my period on an app. It was super late," she said. "When it did start, it was one of — if not the — most painful periods I've ever had, to the point where I felt a bit nauseous." Planells, who reported the suspected adverse reaction to the MHRA, added: "I would still have the vaccine again. I have had family members die from COVID. It's just the lack of information out there."
===
Thousands of flights cancelled as vaccinated pilots fall ill or die
By Herald Staff - 21. June 2021
According to a 2014 study published in the Journal of Thrombosis and Haemostasis, pilots suffer an increased risk of clotting issues due to frequent and prolonged air travel. Pilots are encouraged to be aware of the signs of deep venous thrombosis and clotting issues and take preventative measures such as compression stockings and stretching of their legs during long flights.
Medical News Today published a study on June 15th, 2021 that showed an increased risk of blood clotting and low platelets in AstraZeneca COVID-19 vaccine recipients. Some scientists hypothesize that since the ethylenediaminetetraacetic acid (EDTA) in the shot causes a full body reaction, once the vaccine comes into contact with platelets inside the human body, the vaccine activates those platelets, causing them to change shape and transmit chemical signals to the immune system. Those platelets send out platelet factor 4 (PF4), which regulates blood clotting.
However, in some people, after some undetermined amount of time, at random, PF4 latches onto the vaccine, and large "complexes" form. Since those complexes are "unknown," the human body interprets those clusters as threats. Thus, immune cells in the body mistakenly attack PF4's, prohibiting them from preventing the problematic clots seen in some COVID-19 vaccine recipients.
Pilots have an increased risk of blood clots. COVID-19 vaccine recipients have an increased risk of blood clots. Reuter's and Fact Checkers cannot hide the fact that an increased risk on top of an increased risk is potentially a disaster, but neither has any regard for human life or the truth, as evidenced by the propaganda they're currently creating by the minute.
Delta Airlines now requires the COVID-19 vaccine for all new employees, potentially putting Delta employees at risk of blood clots and death. American Airlines doesn't require the vaccine but gives its employees one day off of work and $50 for getting the vaccine. No mention of the inherent risk for non air employees, let alone those who spend ample time in the clouds, is ever made by Delta or American.
At British Airways, at least four pilots have died this week, but the airline wants you to know that their deaths are totally unrelated; Reuter's and Fact Checkers are working hard to dispel any rumors that the pilots could have died from the COVID-19 vaccine. British Airways boasts that 85% of its employees are vaccinated. Airlines are so quick to obey the COVID-19 vaccine narrative that they forget the welfare of their own employees is at stake.
According to flightaware.com, 120,000 cancellations per year is the average for global flights. An average day would see 329 cancellations. A 2 day average would see 658 cancellations. But between Friday and Saturday, 3,533 cancellations occurred. That's a 580% increase in cancellations globally in the past 2 days.
Southwest delayed or cancelled hundreds of flights last week and blamed a host of issues such as technical difficulties and weather on the cancellations and delays. American Airlines announced Sunday that it would cancel hundreds of flights through mid-July. American blames weather issues and labor shortages on its preemptively cancelled flights. British Airways, which has seen at least 4 pilots die recently, cancelled hundreds of flights but then furloughed thousands of its employees with 85% pay this week.
Not to worry; the same agencies (mainstream media, Reuters, and Fact Checkers) tasked with exploring the safety and efficacy of a vaccine for the general public and for pilots who transport 6 million people per day also ruled out a Wuhan lab leak and any conceivable voter fraud in the 2020 elections. Those agencies have reversed their stance on one of those issues, the Wuhan lab leak, only after it became impossible not to do so. One day, it's conceivable that the media may reverse its stance on the COVID-19 vaccine…when it becomes impossible not to do so…
Pilots are already at increased risk of blood clots; categorizing them as high risk for a vaccine with a known side effect of blood clots isn't misinformation. It's science.
For now, pilots should exercise their right to medical freedom and refuse to become vaccinated. Clearly, the truth isn't coming anytime soon.
~Darcy Schoening
===
PROLOGUE: Unvaccinated pilots eye now for the top-jobs flying private passenger planes and business-jets.
Who wants to be flown by a vaccinated piot?
Four British Airway pilots DIE in the same week, just days after getting second covid shot
By Lance D Johnson - 20. June 2021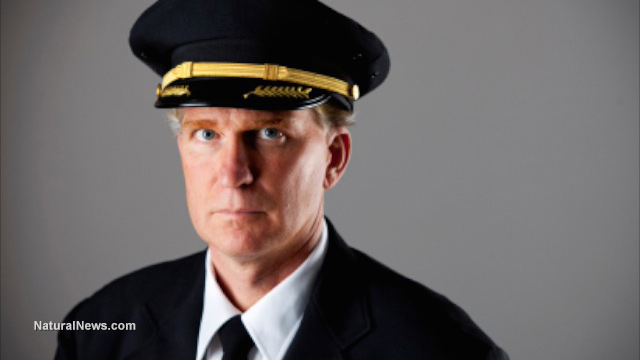 A heartbreaking photo is circulating online. The photo shows four British Airway pilotsmemorialized in framed pictures that are propped up beside four books of condolence. A Reuters fact check just authenticated the picture and confirmed that the four British Airways pilots DIED in the same week, just days after getting a second covid shot. The Reuters fact checker attempts to debunk the link between the deaths and the vaccines after a spokesperson from British Airways tweeted that the four deaths are not linked.
Reuters reached out to British Airways and "confirms" that the pilot fatalities are not connected to the vaccine. "Sadly four members of our pilot community passed away recently," said Julie from British Airways. "Our thoughts are with their family and friends. However, there is no truth whatsoever in the claims on social media speculating that the four deaths are linked."
Reuters used this tweet to confirm that the vaccines did not play a role in the pilots' deaths. Apparently, Reuters, the know-all fact checker, has received exclusive access to the four pilots' medical records. Apparently, Reuters also has absolute medical authority to analyze each pilot's unique situation and make an official declaration on their death, just a week after their passing.
Why are so many young people dying of unexplained causes?
With all the safety protocols and contact tracing in place, how come the public health authorities were unable to prevent these premature deaths? The four airline pilots were young and in good health, so what could have caused them all to die in the same week? Why are vaccinated people dying so young if they are "protected?"
In March 2021, British Airway's chief executive officer, Sean Doyle, said, "I think people who've been vaccinated should be able to travel without restriction." How can vaccinated people travel without restriction if the vaccine causes real life physical restrictions such as hospitalization, disability and death? From blood clots to facial paralysis to inflammation of the heart: The vaccinated group in this live experiment are facing real-life health restrictions. But out of fear of losing their job, many people are succumbing to this mental and physical abuse just to comply with coercive, rights-stripping company policies.
British Airways wants to give vaccinated "preferential treatment" but can't even keep their own vaccinated pilots alive
How can people travel at all or trust the process if pilots are dying left and right? British Airway's internal policy already requires pilots and other crew members to take part in the experimental, spike protein inoculation process. Up to 80 percent of the pilots and crew have received these spike protein-producing injections.
Mr. Doyle has called on Britain to work with other governments to mandate a digital vaccine and covid testing passport system. British Airways began using a Verifly Mobile Health Passport for flights traveling between London and the US. This discriminatory app gives preferential treatment to the vaccinated and "fast-tracks" them to designated check-in desks, while forcing unvaccinated subjects to surrender their medical privacy, give up their due process rights, and produce a negative covid-19 test as a precondition to their liberty. In their effort to discriminate against non-compliant "anti-vaxxers," British Airways wants to give vaccinated passengers "preferential treatment," but can't even keep their own vaccinated pilots alive.
Why are vaccinated people receiving preferential treatment at all if they continue to test positive for covid and are at greater risk of sudden blood clots, neurological dysfunction, seizures, brain bleed and aneurysm? How can the general population depend on these weakened, susceptible leaders, especially if these "leaders" are in charge of flying a commercial plane?
Sources include:
===
===
Eric Clapton says his musician friends cut him off after he spoke out about his 'disastrous' vaccine side effects: 'I just don't hear from them anymore'
By DAVE URBANSKI - 16. June 2021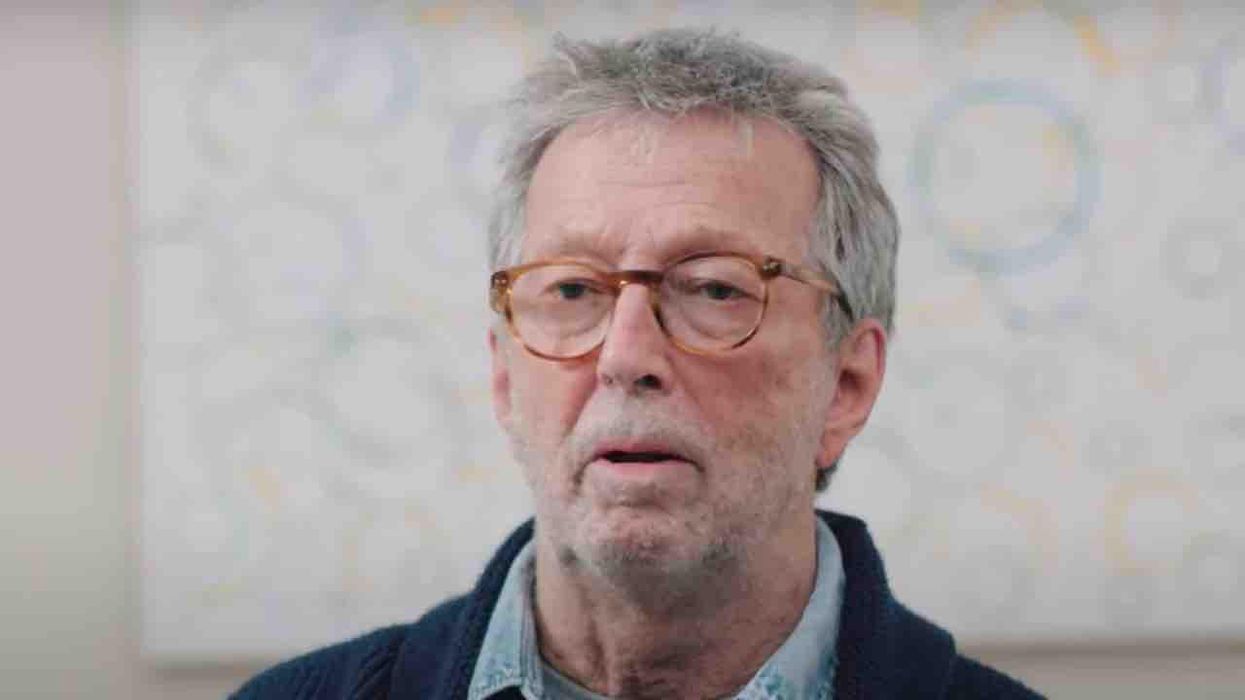 Legendary guitarist Eric Clapton said his musician friends stopped communicating with him after he recently spoke out about his "disastrous" COVID-19 side effects. Image source: YouTube screenshot
"I've tried to reach out to fellow musicians," Clapton said during a video Q&A mostly about his COVID-19 vaccine experience and his reaction to the powers-that-be afterward. "I just don't hear from them anymore. My phone doesn't ring very often. I don't get that many texts and emails any more. It's quite noticeable."
Clapton's aforementioned statements come at the very end of the below video, just before the 24-minute mark — but the whole interview is pretty eye-opening:
According to Vulture.com, Clapton also said, "I was ostracized. And I could feel that everywhere."
What else did Clapton say?
Clapton added that after speaking out he "did get some flack from the people I least wanted to get flack from," but on the positive side he welcomed the prospect of "becoming a nuisance for [political leaders]. I'd love to be an annoyance to some of them that sit 'round that table; that would give me tremendous satisfaction."
He also called out the pro-lockdown, pro-vaccine contingent's use of "propaganda" and their "making it so that you're responsible for other people's lives" if you don't do everything you're told to do: "I could be labeled a murderer, and people would really believe that."
Clapton — who added that he'd been reading George Orwell's dystopian novel "1984" over the course of lockdowns and vaccine pressures — said such propaganda is "powerful" and "very clever."
What's the background?
Rolling Stone reported that Clapton got an initial AstraZeneca vaccine shot in February.
"I took the first jab of AZ and straight away had severe reactions which lasted ten days," Clapton wrote in a letter about his experience, according to the magazine. "I recovered eventually and was told it would be twelve weeks before the second one…"
He added that "about six weeks later I was offered and took the second AZ shot, but with a little more knowledge of the dangers. Needless to say the reactions were disastrous, my hands and feet were either frozen, numb or burning, and pretty much useless for two weeks, I feared I would never play again," Rolling Stone said.
Clapton also shared in the letter that he suffers from "peripheral neuropathy and should never have gone near the needle" and that "the propaganda said the vaccine was safe for everyone," the magazine reported.
'Stand and Deliver'
Clapton also hit the headlines late last year for a related reason: an anti-lockdown song "Stand and Deliver" — penned by iconic vocalist Van Morrison and recorded and released by Clapton.
As you might imagine the guitarist took a lot of grief from the left over the tune — as did Morrison.
Clapton said in the letter that "I found my voice" after being directed to Morrison and his new music, the magazine reported.
"And even though I was singing his words, they echoed in my heart," Clapton added in his letter, according to Rolling Stone. "I recorded 'Stand and Deliver' in 2020 and was immediately regaled with contempt and scorn."
The magazine noted that Clapton said in a statement that accompanied the song: "There are many of us who support Van and his endeavors to save live music; he is an inspiration. We must stand up and be counted because we need to find a way out of this mess. The alternative is not worth thinking about. Live music might never recover."
Anything else?
Last September, a Northern Ireland health minister labeled Morrison's anti-lockdown songs "dangerous." His tunes — "Born to Be Free," "As I Walked Out," and "No More Lockdown" — reportedly targeted the U.K. government for using COVID-19 lockdowns to "enslave" the people.
And he wasn't through by a long shot.
"Remember, those who are shutting down our economy haven't missed a paycheck since lockdown began," Morrison tweeted to his nearly 66,000 followers in December before adding a mocking zinger. "We are not in this together."
===
REPLACING THE DEAD: Corporations already planning to replace "vaccinated" employees who will likely die within a few years
By Ethan Huf - 15. June 2021
An executive who works in the oil and gas industry to strategize succession plans for large corporations has issued a warning that companies all around the world are already anticipating having to replace their "vaccinated" workers within the next few years.
In the followinf video from Brighteon.com, listen as the woman featured explains how the corporations she works with know full well that those injected for the Wuhan coronavirus (Covid-19) will more than likely die within the next three years, leaving employment holes that will need to be quickly filled:
"Companies need to plan for what's going to happen as their staff move on … and succession planning is something that I help companies with, specifically recruitment services," she explains.
"Executives are having their HR staff and their managers, superintendents, floormen, etc., go through and look at the staff that have received the vaccines, and they're planning on having to replace them all within the next three years. What does that say to you?"
The woman does not name herself, but does claim that she runs a company that works in succession planning. We are taking her word for it, but it does resonate with what French virologist and Nobel Laureate Luc Montagnier recently admitted about what will happen to jabbed people within the next few years.
"It's got some of these guys literally in tears as they're going through the company and literally checking off all of these individuals who have taken the vaccine, knowing that most likely within the next three years they're going to have to replace that person," the woman adds.
"This is a really big thing in the industry that I'm in. These massive gas and oil companies are looking to have to replace thousands of personnel."
Injecting people with anything during a "pandemic" is unthinkable
Montagnier made similar comments during a recent interview, suggesting that once the injections run their course throughout a person's body, death is pretty much certain. This could take weeks, months or years depending on the person.
"There is no hope and no possible treatment for those who have already been vaccinated," Montagnier is quoted as saying.
Montagnier also railed on the idea of injecting people with anything at all during an alleged "pandemic," calling it "unthinkable" because of the risks involved. Worse is what has been uncovered about how the injections function like a "slow kill" mechanism to end the recipient's life on a time-delayed schedule.
In time, all the people who have been injected will start to see the effects of this when their immune systems are unable to ward off simple diseases like influenza and the common cold that become more prevalent yearly during the winter months.
Could it be that the effects of these injections will fully manifest in the fall and winter when the sun grows dimmer, temperatures grow colder, and sickness abounds? Many believe this will be the case, and there are only a few months that remain before we find out for sure.
"Once you realize that ALL vaccines are the head of pyramid schemes, everything begins to make sense," a Natural News commenter wrote. "We are lied to about most everything. Vaccines and medications bring in tons of profits and power. All pharm products are dangerous and deadly."
"The injected spike proteins destroy your immune system," wrote another. "When the poisonous ingredients break down to their half-life in the body, they turn into other poisons. Side effects include fluid in the lungs, looks like covid and will be blamed on covid."
More related news about Chinese Virus "vaccine" outcomes in the coming years can be found at ChemicalViolence.com.
Sources for this article include:
===
Airlines now want to reject vaccinated passengers for fear of blood clot complications
After telling the cold hard truth in THIS BROADCAST, Sky News, which is Australia's CNN (lucky Australia, they had something real) is now probably going to be flushed.
Jim Stone (www.jimstone.is) reports on 15. June 2021:
They went where no mainstream media outlet has gone before, not even supposedly real ones like OAN and Brietbart. And it needed to be said. And they will pay for this.
Here is some text from the Corona vax broadcast that triggered this change at Wikipedia and everywhere else.
Some text from the broadcast:
"It's just another sign that there really is not anyone in a position of authority you can truly trust anymore. And therein lies the problem - The global push is towards empowering the clearly un-trustables with even more authority and control over all of us. These people
are already re-writing history to suit themselves. They are poisoning our children's minds with harmful and damaging concepts about race and gender fluidity in schools. They are now insisting we submit to a global medical experiment while making little more than educated guesses as to why.
For decades, these totalitarians have been taking baby steps towards their final goal but now they are sprinting towards the finishing line sensing their victory is near at hand.
It is now up to us to put a stop to this madness. We can't rely on government to do it for us because the government is actually a big part of the problem. We need less of them, and more of us - us individuals who ought to be able to make decisions for ourselves, who can wean ourselves off of government dependency and pursue a mission of individual autonomy and de-centralized authority.
WATCH THIS BROADCAST. THIS IS EXACTLY WHAT YOU HEAR WHEN IT IS TOTAL DOOM and if America's media had any credibility at all, they would be saying this, and ONLY THIS, on repeat!.
I don't expect this to last, and have it saved. I'll post this if suddenly "this video has been removed by the uploader" appears.
===
HIGHLY PAID KILLERS
CV_19 VACCINES, VACCINATORS, AND THE U.S.
CVS workers are now paid $6,500 PER WEEK to give the covid jab.
•Jun 14, 2021 To save this witness statement as mp3 - please go HERE (7.8MB) source: https://www.youtube.com/watch?v=mKbWABCO5S8)
This is obviously supposed to be a secret. Watch a soon to be banned hour long video posted by a CVS injector who quit after it was well proven the shot is maiming people en masse.
This video probably won't last on the GooTube platform for very long...but I'm trying to share some very important details. Please feel free to copy this video IMMEDIATELY and share as you are able to. I tried to post this video five days ago...but it has become ALMOST IMPOSSIBLE to get a "single" video up now. I am praying for our ME community, and also for all the people in the world who don't realize what is being done to them. When I am able to get more videos done...I will be posting shorter ones...and they "all" will be on the only topic which actually matters at this point (in the grandest overview of things). Much love to everyone! God bless.
Clearly they are seeking people who are morally compromised and will destroy for a profit. To hear this it is at 7:30 in the video. (or MP3) It is for real folks. Pharmacists that would normally get paid about $800 a week are getting paid $6500 PER WEEK to do this. The people doing the covid con job know full well the people giving the shots will be witnessing deaths and maiming, and are paying them very well to bury their conscience and just do it.
===
CAVEAT LECTOR: Though the article below by the Hal Turner Show cites the correct facts and sources, we do NOT endorse the fearmongering, which comes along with it. FEAR is your greatest enemy and seriously detrimental to your health - under any given circumstances. F.E.A.R. is often and mainly just "False Evidence Appearing Real". The false impression created here is that people would not find a way to reverse-engineer the genetic modification and only because the Deagel list had the 2025 predictions of a huge population decline we do not neccecarily need to belive that this would soley derive from vaccine-death.
Most Who Took COVID Vax will be dead by the year 2025. We now know the following facts . . .
Most of the people who took a COVID "vaccine" will be dead by the year 2025. The proof is now available for all to see.
Thanks to the people who participated in this first ever human experiment with a mRNA gene-therapy, fooled into thinking it was a "vaccine" for a phony "pandemic" allegedly caused by the never-isolated "COVID-19," we now know the following based on fact-based, post-vaccine research:
1.) It's not a vaccine. The COVID-19 mRNA vaccine does not provide immunity to Covid or it's variants so you can still catch Covid and transmit it to others making you asymptomatic. You will likely need a booster shot every 6 months, so get ready to roll up that sleeve every six months once that system rolls out.
[link to www.bustle.com]

2.) The 95% efficacy is the RRR (Relative Reduction Risk) where the real reduction rate ARR (Absolute Reduction Risk) is less than 2% as per this scientific Lancet study.
[link to www.thelancet.com]

This means you are really not protected much at all, as the architects of this phony pandemic would like you to 'believe.'

3.) The lipid nanoparticles in the vaccines do not remain in the intramuscular region of the deltoid muscle. They seep out into the cardiovascular system infecting the entire body with spike-protein. Something the manufacturers claimed would never happen, yet it does and is why the adverse-side effects are so bad with this shot.
[link to www.sciencedirect.com]

4.) The spike-protein itself is toxic and a part of the disease pathology being the cause of inflammation, ACE2 deregulation, and opens up immunity pathways. This means Myocarditis (heart inflammation), Encephalitis (brain inflammation ) and hepatomegaly (liver inflammation) are huge risks and confirmed by many adverse-reactions reported to VAERS and EuroVigilance.
[link to www.ahajournals.org]
[link to www.salk.edu]
[link to www.news-medical.net]
[link to pubmed.ncbi.nlm.nih.gov]
[link to www.jimmunol.org]

This means the spike-protein itself is enough to damage the cardiovascular system and organs. Some of that damage will kill them within a short time (weeks-to-0months) while some can have harmful events farther in the future. Think of it like injecting someone with Covid-19 damaging the inside of the body, rather than the lungs.

5.) The synthetic spike-protein itself has coding errors and a 5 GxxxG motif placing it in the category of a prion which could pose a long-term risk of neural degenerative diseases.
[link to www.longdom.org]
[link to ijvtpr.com]
[link to www.newstarget.com]
[link to www.nature.com]
[link to www.preprints.org]
[link to www.nature.com]
[link to www.biorxiv.org]

6.) The lipid nanoparticles after injection bulk-accumulate in Ovaries in women followed by bone-marrow. Research is also showing the spike proteins accumulate in the testes of men. The implications for infertility are obvious. Dr. Robert Malone the inventor of mRNA covers these findings in lay terms for stupid people who can't process scientific data easily.
[link to www.bitchute.com]
Hal Turner Editorial Opinion
If it wasn't for the gullible and naïve idiots who jumped on an experimental gene-therapy shot which skipped any real, meaningful, trials that would have presented the above findings, we now have this data and evidence from the human lab-rats running around gleefully and ignorantly celebrating their Eugenics shot, completely blind to the short-term and long term consequences that this data all points to: MOST of them will die from one or more of the conditions outlined in the reports above, and MOST of those deaths will take place by the year 2025.

Enjoy your harmful spike-protein that you will never get out of your body, and the neural degenerative, long-term risks, which ultimately could lead to untreatable deadly neurological illnesses as your brain slowly rots and deteriorates from the prion causing misfolded proteins that damage your neurons slowly over time.

Your sacrifice for the safety of others, which will likely kill most of you, was based on your ignorance, your failure to research things for yourself, and your willingness to simply accept what other (ignorant) people - like politicians - told you.
World population of 500 million coming; just as the Georgia Guide Stones suggested, and the psychotic maniacs who believe humans need to be culled from the planet, took literally.
How about we blame the real culprits who created this in the first place:
Fauci with his gain-of-function research that was banned in the US so he moved it the lab in Wuhan where this took place.
Bill Gates with his depopulation agenda and ties to pedophile Jeffery Epstein.

The CDC/WHO/Rockefeller Foundation and John Hopkins, who ran Event 201, Spars, Lockstep, planning all of this for their globalist new world order.
===
Ex-head of Myanmar's COVID-19 vaccination programme arrested
By Reuters -
The former head of Myanmar's COVID-19 immunisation programme has been arrested and faces charges of high treason for colluding with opponents of the military authorities, state media reported on Monday.
Myanmar's healthcare system and coronavirus prevention measures have collapsed since the army seized power on Feb. 1 and overthrew elected leader Aung San Suu Kyi, whose government had successfully stopped two waves of the virus.
On Sunday, reported cases surged to their highest since shortly after the coup.
Doctors and other medical workers have been at the forefront of a Civil Disobedience Movement (CDM), leading strikes that have paralysed official and private business. Dozens have been arrested and hundreds more are wanted.
The Global New Light of Myanmar said Htar Htar Lin had been arrested on June 10 and she was also accused of working with an underground National Unity Government (NUG).
"According to her confession, she not only joined the CDM and formed the CDM Core Group together with other CDM doctors and staff but also colluded with terrorist NUG," it said.
Reuters was unable to reach her or any lawyer representing her for comment.
The paper said she and 11 other doctors would face charges that included high treason, incitement and colluding with an illegal organisation.
The junta has branded the NUG set up by supporters of Suu Kyi and other opponents of military rule as a terrorist group.
The arrest of Htar Htar Lin and other doctors was condemned by U.S.-based Physicians for Human Rights.
"Dr. Htar Htar Lin's arbitrary arrest is yet another sign that the military junta will stop at nothing in its war against Myanmar's health workers," said Jennifer Leigh, an epidemiologist serving as the group's Myanmar Researcher.
The 373 new cases of COVID-19 reported on Sunday was the highest since Feb. 3, just before testing collapsed in the wake of the coup.
---
Meanwhile Myanmar's ousted leader Aung San Suu Kyi went on trial on Monday, appearing unwell as the first witnesses took the stand.
Suu Kyi, 75, faces a slew of charges since being overthrown by the army in a Feb. 1 coup that cut short a decade of tentative democratic reforms and has plunged the Southeast Asian country into chaos.
"Daw Aung San Suu Kyi seemed not very well but throughout the hearing she seemed quite interested and paid keen attention," the head of her legal team, Khin Maung Zaw, said in a statement after the day of hearings.
Suu Kyi's faces - apart from some minor issues for which she got arrested - charges of incitement and more serious charges of violating the Official Secrets Act and under the Anti-Corruption Law. Next hearings is set for Tuesday.
===
'Urgent' British Report Calls For Complete Cessation Of COVID Vaccines In Humans
By HAF - 13.June 2021
An "urgent preliminary report of Yellow Card data" issued by the UK-based Evidence-Based Medicine Consultancy Ltdsubmitted to the Medicines and Healthcare Products Regulatory Agency (MHRA) states that "the MHRA now has more than enough evidence on the Yellow Card system to declare the COVID-19 vaccines unsafe for use in humans."
Similar to the U.S. Vaccine Adverse Events Reporting System(VAERS), the MHRA describes the purpose of its Yellow Card system as providing "an early warning that the safety of a medicine or a medical device may require further investigation."
The report, signed by Evidence-based Medicine Consultancy Ltd and EbMC Squared CiC Director Dr. Tess Lawrie (MBBCh, PhD), says: "we have searched the Yellow Card reports using pathology-specific key words to group the data according to the following five [sic] broad, clinically relevant categories:
Bleeding, Clotting and Ischaemic ADRs
Immune System ADRs
'Pain' ADRs
Neurological ADRs
ADRs involving loss of Sight, Hearing, Speech or Smell
Pregnancy ADRs"
The report goes on to say:
"We are aware of the limitations of pharmacovigilance data and understand that information on reported Adverse Drug Reactions should not be interpreted as meaning that the medicine in question generally causes the observed effect or is unsafe to use.
We are sharing this preliminary report due to the urgent need to communicate information that should lead to cessation of the vaccination roll out while a full investigation is conducted.
According to the recent paper by Seneff and Nigh, potential acute and long-term pathologies include:
Pathogenic priming, multisystem inflammatory disease and autoimmunity
Allergic reactions and anaphylaxis
Antibody dependent enhancement
Activation of latent viral infections
Neurodegeneration and prion diseases
Emergence of novel variants of SARSCoV2
Integration of the spike protein gene into the human DNA
"It is now apparent that these products in the blood stream are toxic to humans. An immediate halt to the vaccination programme is required whilst a full and independent safety analysis is undertaken to investigate the full extent of the harms, which the UK Yellow Card data suggest include thromboembolism, multisystem inflammatory disease, immune suppression, autoimmunity and anaphylaxis, as well as Antibody Dependent Enhancement (ADE)."
The report concludes:
"The MHRA now has more than enough evidence on the Yellow Card system to declare the COVID-19 vaccines unsafe for use in humans. Preparation should be made to scale up humanitarian efforts to assist those harmed by the COVID-19 vaccines and to anticipate and ameliorate medium to longer term effects.
As the mechanism for harms from the vaccines appears to be similar to COVID-19 itself, this includes engaging with numerous international doctors and scientists with expertise in successfully treating COVID-19.
"There are at least 3 urgent questions that need to be answered by the MHRA:
How many people have died within 28 days of vaccination?
How many people have been hospitalised within 28 days of vaccination?
How many people have been disabled by the vaccination?"
Source: AmericasFrontlineDoctors.org
===
Biden regime caught bribing hospital staff to supply positive reviews for covid vaccines
By Ethan Huff - 13. June 2021
A social media "influencer" hired by the White House has been caughttrying to bribe hospital systems into procuring fake positive reviews about Wuhan coronavirus (Covid-19) "vaccines" in order to encourage more uptake.
Eben Vorster, a "digital relational organizer" at Main Street One, reportedly sent a private message to one institution offering a "paid Instagram partnership for one post" pushing Chinese Virus injections as the solution to the plandemic.
"I am reaching out to you to share a possible content partnership opportunity!" the message announced.
"For this campaign, we are looking for healthcare professionals who would like to address the topic of vaccine hesitancy with their social media audience. We want to hear from you about what the COVID vaccine means to you and why you're tackling vaccine misinformation in this crucial vaccine rollout period."
The message goes on to explain that once the targeted person or organization puts up the desired post, it will "get rewarded for your using your voice!"
Since Wuhan Flu shot uptake is dismally low across the United States, the medical fascists are busying trying to conjure up new ways to trick people into getting jabbed.
In Ohio, Republican Gov. Mike DeWine introduced a vaccine lottery to award five "lucky" winners $1 million each in exchange for reprogramming their DNA with mRNA chemicals.
China Joe and his cabinet are taking the tried-and-true influencer approach manipulating the medical system into pushing the injections in exchange for good ol' cash.
"After all the recent firings of medical professionals for refusing to get vaccinated from the dangerous COVID-19 vaccine, it appears there is now a push to use communist style fake reviews to push the vaccine even further," reported Populist.press.
"If the vaccine was so great they wouldn't have to pay people to rave about it. This is a serious issue and shows how deceitful big pharma and the Biden admin are being."
Wuhan Flu shots are so "amazing" that Americans must be bullied into taking them
Main Street One, by the way, prides itself on helping to promote "social justice" causes that it claims are changing the world for the better. Included in the "recent work" section of its website are the following boastful posts:
• "We Amplified Latinx Voices To Fight Climate Change"
• "We Helped Black Women Get Out the Vote in Georgia"
• "What A COVID-19 Vaccine Means To This New Mother"
• "Committed To Getting A COVID-19 Vaccine"
Main Street One's three methods of accomplishing these and other goals include the following:
• "Identify opportunities and risks emerging online"
• "Recruit creators and social influencers"
• "Persuade audiences via highly personalized content"
As you can see, this fits right into the White House goal of injecting a majority of Americans for Chinese Germs by the Fourth of July, formerly known as "Independence Day."
Since Americans are not taking the bait as planned, Beijing Biden is now planning to ship off some one billion doses of Chinese Virus injection to third world countries to see if poor people will more easily take them.
Wuhan Flu shots sure have been a tough sell, which if we were really in the throes of a true "pandemic" would probably not require this type of aggressive marketing. Because the whole thing is a sham, however, the medical deep state is attempting every trick in the book to get those needles into people's arms at "warp speed."
"Anyone who refuses the vaccine does so on the basis of research," wrote one commenter at Populist.press. "That kind of hesitancy based on science and plain facts is not going to be ameliorated by some paid shill trying to convince me otherwise."
More related news about Chinese Virus injection gimmicks can be found at ChemicalViolence.com.
Sources for this article include:
===
SHOCKING JUMP in Vaccine Deaths Reported This Week at CDC-Linked VAERS Tracking Website
By Jim Hoft - 12. June 2021
There are more US deaths related to vaccines in 2021 in less than 5 months than there were the entire past decade.
The number of deaths linked to vaccines this year has absolutely skyrocketed. According to the CDC's own data, in 2021 n the first 3 months, the VAERS website recorded over 1,750 deaths due to vaccines in the US.
That number is now at 5,997.
"The Vaccine Adverse Event Reporting System (VAERS) database contains information on unverified reports of adverse events (illnesses, health problems and/or symptoms) following immunization with US-licensed vaccines. Reports are accepted from anyone and can be submitted electronically at www.vaers.hhs.gov."
TRENDING: Developing: The Same Suspicious SQL Software Discovered in Michigan Dominion Voting Machines Was Just Found in Pennsylvania Dominion Voting Machines
There were huge increases over last week. Deaths went up by an additional 700 in a week.
VAERS COVID Vaccine Data (Vaccine Adverse Events Reporting System, USA)
329,021 Reports Through June 4, 2021
DEATHS 5,888
HOSPITALIZATIONS 19,597
Urgent Care 43,891
OFFICE VISITS 58,800
ANAPHYLAXIS 1,459
BELL'S PALSY 1,737
Life Threatening 5,885
Heart Attacks 2,190
Myocarditis/Pericarditis 1,087
Thrombocytopenia/Low Platelet 1,564
Miscarriages 652
Severe Allergic Reaction 15,052
Disabled 4,583
Author:
Jim Hoft is the founder and editor of The Gateway Pundit, one of the top conservative news outlets in America. Jim was awarded the Reed Irvine Accuracy in Media Award in 2013 and is the proud recipient of the Breitbart Award for Excellence in Online Journalism from the Americans for Prosperity Foundation in May 2016.
===
ICYMI:
VACCINE REMORSE: GOT THE SHOT?
JUDY MIKOVITS ON WHAT TO DO ABOUT IT
First published BITCHUTE June 10th, 2021.
What is the best way to end the plague of corruption? Share the truth! And get the truth on the bestseller lists and keep it there!
Official Website of Judy Mikovits and the PLAGUE Book Series: https://www.PlagueTheBook.com
Judy's new book, ENDING PLAGUE, co-authored with Kent Heckenlively, JD and Dr. Francis W. Ruscetti, provides a prescription for ending the plague of corruption. Pre-order now!
===
Here we go... Pfizer/BioNTech
June 2021
===
PROLOGUE: He really sounds like one of those typical USAmerican snake-oil peddlers und we do not trust the company BAYER with anything (they also peddled Cocaine at one time as a "good medicine" and promoted DDT as remedy to keep flies from children) - BUT consult with your physician and make your own decicion.
Methylene Blue
The nootropic benefits of Methylene Blue
6 Nov 2017
In this video you'll discover the nootropic benefits of Methylene Blue. Including why we use Methylene Blue as a nootropic, recommended dosage, side effects and clinical research.
Methylene Blue is the first synthetic drug ever developed. It was originally synthesized as a textile dye in 1876. But in 1891, Paul Ehrlich found it could be used in the treatment of malaria. Methylene Blue has since been used to treat dementia, cancer chemotherapy, malaria, methemoglobinemia, urinary tract injections, cyanide and carbon monoxide poisoning.
As a nootropic, Methylene Blue assists brain cell respiration by increasing intracellular oxygen. It donates electrons to the electron transport chain within mitochondria which helps create the ATP needed to fuel mitochondria.
Methylene Blue is a potent antioxidant. It binds to superoxide created during metabolism within brain cells. Reducing it to water and stopping the oxidative cascade at its very beginning. Before it gets a chance to do damage. And Methylene Blue inhibits monoamine oxidase (MAOI) and acetylcholinesterase activity which increases levels of catecholamines and acetylcholine.
Boosting serotonin and norepinephrine levels.
Affecting anxiety, depression, energy and memory. Neurohackers report Methylene Blue feels different than any other supplement they've ever tried. Most say the biggest nootropic effect they experience with Methylene Blue is "after the fact learning". You take in the information. And it's like your brain sorts through the material. Then stores it in a form you can easily access later. Methylene Blue has this uncanny ability to rewire your brain to forget about any negative associations you have of a situation. And only retains the positive aspects of that memory.
Some say Methylene Blue helps them "feel young again". You have more energy for workouts, and recovery is easier. It helps eliminate stress. And many report improved sleep. For nootropic use, ensure you only use USP Grade Methylene Blue as a nootropic.
Industrial-grade and chemical-grade Methylene Blue typically comes with 8 - 11% of contaminants including arsenic, aluminum, cadmium, mercury and lead.
Methylene Blue recommended dose is 0.5 – 4 mg/kg of body weight per day.
But do NOT use Methylene Blue if you're using any type of antidepressant or anti-anxiety medication.
This indepth Methylene Blue review covers:
00:00 Methylene Blue intro
00:24 Methylene Blue as a nootropic
01:37 How does Methylene Blue work in the brain?
05:13 Methylene Blue benefits
11:21 How does Methylene Blue feel?
12:55 Methylene Blue clinical studies
13:36 Methylene Blue recommended dosage
15:36 Methylene Blue side effects
17:55 Available forms of Methylene Blue to buy
For more on Methylene Blue including a full transcript of this video and links to clinical studies, go to: https://nootropicsexpert.com/methylen...
For a full list of all the popular nootropics used today, go to: https://nootropicsexpert.com/nootropi...
My new book "Head First - The Complete Guide to Healing & Optimizing Your Brain with Nootropic Supplements" is almost 500-pages. And the best guide for fixing and optimizing your brain on the planet.
More on Head First here: https://nootropicsexpert.com/store/
And for your FREE download of my book "Secrets of the Optimized Brain", optin here: https://nootropicsexpert.com/free-dow...
If you could use some help with choosing the right nootropics or figuring out how to deal with your own brain health issues, consider booking a personal consultation with me: https://nootropicsexpert.com/personal...
I upload new videos every week providing individual nootropic reviews, and tips on the best nootropic stacks no matter what your brain optimization goals. For a list of all the videos I have so far, go to my channel: https://www.youtube.com/c/nootropicse...