UPDATE 12. June 2021: They are injecting graphene oxide as an adjuvant in vaccines
UPDATE 07. June 2021: Magnetofection EXPOSED! Magnetism INTENTIONALLY Added to 'Vaccine' to Force mRNA Through Entire Body - ARREST ALL PFIZER, BIONTECH AND MODERNA EXECS NOW! Crimes against humanity!
UPDATE 25. May 2021: Superparamagnetic nanoparticles delivered via vaccines
UPDATE 24. May 2021: MAGNETOGENETICS – MAGNETOFECTION and COVID-19 Vaccines
UPDATE 21. May 2021: THE COVID VACCINE MAGNET CHALLENGE
UPDATE 17. May 2021: #covidMagnetChallenge solved + Jim Stone reports: The two shots proven to magnetize people are Pfizer and Moderna
UPDATE 11. May 2021: Why Are Magnets Sticking To Where People Got Covid Vaccines Injected?! 4 Videos!
ICYMI: Wondering why magnets stick to your vaccine injection site?? The technology was already present in 1995. Dr Pierre Gilbert on Magnetic Vaccines (from 1995)
Genetically engineered 'Magneto' protein remotely controls brain and behaviour
"Badass" new method uses a magnetised protein to activate brain cells rapidly, reversibly, and non-invasively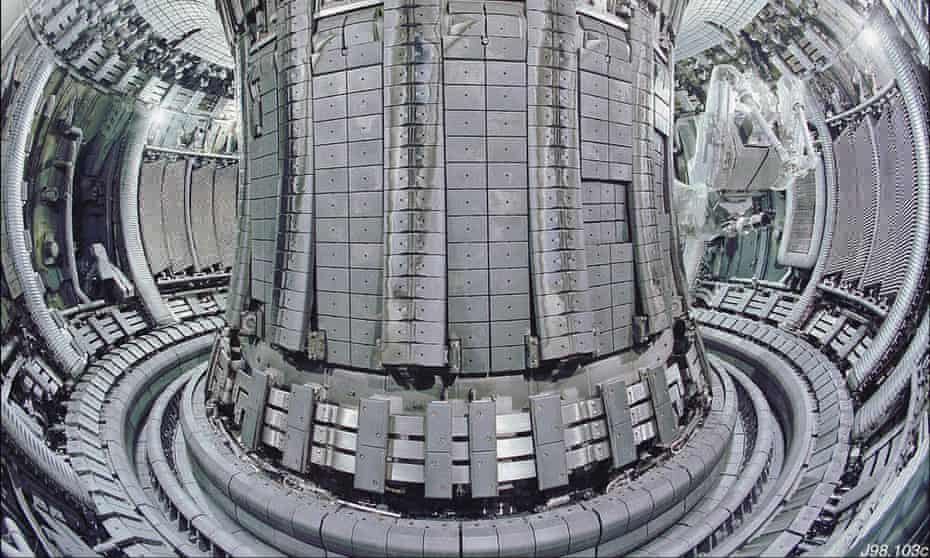 The toroidal magnetic chamber (Tokamak) of the Joint European Torus (JET) at the Culham Science Centre. Photograph: AFP/Getty Images
By Mo Costandi - 24. March 2016
Researchers in the United States have developed a new method for controlling the brain circuits associated with complex animal behaviours, using genetic engineering to create a magnetised protein that activates specific groups of nerve cells from a distance.
Understanding how the brain generates behaviour is one of the ultimate goals of neuroscience – and one of its most difficult questions. In recent years, researchers have developed a number of methods that enable them to remotely control specified groups of neurons and to probe the workings of neuronal circuits.
The most powerful of these is a method called optogenetics, which enables researchers to switch populations of related neurons on or off on a millisecond-by-millisecond timescale with pulses of laser light. Another recently developed method, called chemogenetics, uses engineered proteins that are activated by designer drugs and can be targeted to specific cell types.
Although powerful, both of these methods have drawbacks. Optogenetics is invasive, requiring insertion of optical fibres that deliver the light pulses into the brain and, furthermore, the extent to which the light penetrates the dense brain tissue is severely limited. Chemogenetic approaches overcome both of these limitations, but typically induce biochemical reactions that take several seconds to activate nerve cells.
The new technique, developed in Ali Güler's lab at the University of Virginia in Charlottesville, and describedin an advance online publication in the journal Nature Neuroscience, is not only non-invasive, but can also activate neurons rapidly and reversibly.
Several earlier studies have shown that nerve cell proteins which are activated by heat and mechanical pressure can be genetically engineered so that they become sensitive to radio waves and magnetic fields, by attaching them to an iron-storing protein called ferritin, or to inorganic paramagnetic particles. These methods represent an important advance – they have, for example, already been used to regulate blood glucose levels in mice – but involve multiple components which have to be introduced separately.
The new technique builds on this earlier work, and is based on a protein called TRPV4, which is sensitive to both temperature and stretching forces. These stimuli open its central pore, allowing electrical current to flow through the cell membrane; this evokes nervous impulses that travel into the spinal cord and then up to the brain.
Güler and his colleagues reasoned that magnetic torque (or rotating) forces might activate TRPV4 by tugging open its central pore, and so they used genetic engineering to fuse the protein to the paramagnetic region of ferritin, together with short DNA sequences that signal cells to transport proteins to the nerve cell membrane and insert them into it.
When they introduced this genetic construct into human embryonic kidney cells growing in Petri dishes, the cells synthesized the 'Magneto' protein and inserted it into their membrane. Application of a magnetic field activated the engineered TRPV1 protein, as evidenced by transient increases in calcium ion concentration within the cells, which were detected with a fluorescence microscope.
Next, the researchers inserted the Magneto DNA sequence into the genome of a virus, together with the gene encoding green fluorescent protein, and regulatory DNA sequences that cause the construct to be expressed only in specified types of neurons. They then injected the virus into the brains of mice, targeting the entorhinal cortex, and dissected the animals' brains to identify the cells that emitted green fluorescence. Using microelectrodes, they then showed that applying a magnetic field to the brain slices activated Magneto so that the cells produce nervous impulses.
To determine whether Magneto can be used to manipulate neuronal activity in live animals, they injected Magneto into zebrafish larvae, targeting neurons in the trunk and tail that normally control an escape response. They then placed the zebrafish larvae into a specially-built magnetised aquarium, and found that exposure to a magnetic field induced coiling manouvres similar to those that occur during the escape response. (This experiment involved a total of nine zebrafish larvae, and subsequent analyses revealed that each larva contained about 5 neurons expressing Magneto.)
In one final experiment, the researchers injected Magneto into the striatum of freely behaving mice, a deep brain structure containing dopamine-producing neurons that are involved in reward and motivation, and then placed the animals into an apparatus split into magnetised a non-magnetised sections. Mice expressing Magneto spent far more time in the magnetised areas than mice that did not, because activation of the protein caused the striatal neurons expressing it to release dopamine, so that the mice found being in those areas rewarding. This shows that Magneto can remotely control the firing of neurons deep within the brain, and also control complex behaviours.
Neuroscientist Steve Ramirez of Harvard University, who uses optogenetics to manipulate memories in the brains of mice, says the study is "badass".
"Previous attempts [using magnets to control neuronal activity] needed multiple components for the system to work – injecting magnetic particles, injecting a virus that expresses a heat-sensitive channel, [or] head-fixing the animal so that a coil could induce changes in magnetism," he explains. "The problem with having a multi-component system is that there's so much room for each individual piece to break down."
"This system is a single, elegant virus that can be injected anywhere in the brain, which makes it technically easier and less likely for moving bells and whistles to break down," he adds, "and their behavioral equipment was cleverly designed to contain magnets where appropriate so that the animals could be freely moving around."
'Magnetogenetics' is therefore an important addition to neuroscientists' tool box, which will undoubtedly be developed further, and provide researchers with new ways of studying brain development and function.
Reference
Wheeler, M. A., et al. (2016). Genetically targeted magnetic control of the nervous system. Nat. Neurosci., DOI: 10.1038/nn.4265 [Abstract]
READ ALSO: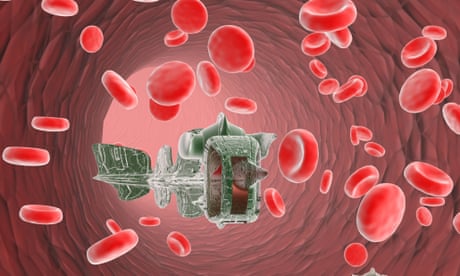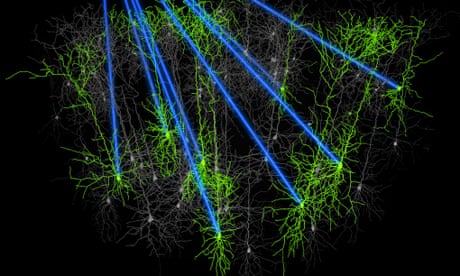 ===
UPDATES:
They are injecting graphene oxide as an adjuvant in vaccines
12. June 2021
They are injecting graphene oxide as an adjuvant in vaccines | La Quinta Columna
Magnetized people after The Vaccine: Measuring with electromagnetic field detection devices

They are injecting graphene oxide as an adjuvant in vaccines.

This video belongs to Ricardo Delgado from La Quinta Columna (https://www.laquintacolumna.net) and was subtitled in English by Orwell City (https://www.orwell.city).

SHARE IT!!!
===
Magnetofection EXPOSED!
Magnetism INTENTIONALLY Added to 'Vaccine' to Force mRNA Through Entire Body (Video: 11:40)
Stew Peters Show Published June 7, 2021
(Begin at the 2-minute mark)
https://rumble.com/vi6vfp-exposed-magnetism-intentionally-added-to-vaccine-to-force-mrna-through-enti.html
Rumble — BREAKING! Dr. Jane Ruby joined Stew Peters with a horrific revelation regarding the 'magnetism' videos circulating the world of social media in self-recorded videos of people sticking metal objects to themselves.
The CDC has said receiving the 'vaccine' will not make you magnetic, including at the site of 'vaccination' which is usually your arm.
Dr. Ruby says, "They're lying", and provided evidence in support of her claim, as well as a disturbing warning about the ingredients in the jab, directly from the source.
Dr. Jane Ruby speaks of Magnetofection - The *magnetofection principle is to associate nucleic acids with cationic
magnetic nanoparticles: these molecular complexes are then concentrated and transported into cells supported by
an appropriate magnetic field. In this way, the magnetic force allows a very rapid concentration of the entire applied
vector dose onto cells, so that 100% of the cells get in contact with a significant vector dose.

Hear what she has to say for this additionally, with intent, added component, an acronym, called:
SPIONS - Supremagnetic Iron Oxide Nanoparticles.
A forced gene delivery system used in Pfizer and Moderna vaccines.

*Magnetofection
Magnetofection is a simple and highly efficient transfection method that uses magnetic fields to concentrate
particles containing nucleic acid into the target cells.

Dr. Jane Ruby

www.janeruby.com
===
Superparamagnetic nanoparticles delivered via vaccines; Operation Warp Speed a TRAP for Democrats, and the engineered collapse of America accelerates
By: Mike Adams - 25. May 2021
(Natural News) If you've seen any of the recent videos of magnets sticking to people's arms after they've been vaccinated, you might be wondering: Are there magnetic nanoparticles in those vaccines?
A study published in the National Library of Medicine in 2014 proves that "superparamagnetic nanoparticles" are successfully delivered into the body via vaccines, and once in the body, they can be used to inject DNA into cells, altering their genetics. The study is entitled Superparamagnetic nanoparticle delivery of DNA vaccine.
It states:
The use of superparamagnetic iron oxide nanoparticles (SPIONs) to deliver genes via magnetofection shows promise in improving the efficiency of gene delivery both in vitro and in vivo… Polyethylenimine was chosen to modify the surface of SPIONs to assist the delivery of plasmid DNA into mammalian cells due to the polymer's extensive buffering capacity through the "proton sponge" effect.
A second study, also published in PubMed / National Library of Medicine, states that superparamagnetic nanoparticles can be driven into brain cells through the use of external magnets.
That study is entitled, Superparamagnetic Nanoparticle Delivery to the Cochlea Through Round Window by External Magnetic Field: Feasibility and Toxicity.
The study found that external magnets were able to control SPIONs into injecting genetic material (DNA) into the cells of rats. This means that external magnetic fields can be used to cause "magnetofection," which means the altering of DNA using external magnetic fields combined with special nanoparticles that are injected.
The study concluded:
The histological study of the cochleae showed that SPIONs were driven into the scala tympani in the basal turn, the second turn, and the apex.
What this tells us is crucial to understand: Vaccine scientists have been experimenting with magnetic nanoparticles for many years, and they've already created techniques to use vaccine injections to deliver nanoparticles into the brain, allowing them to be controlled by external magnetic fields.
In today's Situation Update podcast (in 4 parts), I cover this topic and many others. See the titles and podcast segments below, followed by the FULL podcast at the very bottom:
Situation Update, May 25th, 2021 – Part 1 of 4 – Insane news and current events
Brighteon.com/334ae1a2-6792-4b0b-9944-eb8ea501fd60
Situation Update, May 25th, 2021 – Part 2 – The race to save America before the Left destroys it
Brighteon.com/3d43f2ba-6658-46c5-98c2-0cf85ae7cb42
Situation Update, May 25th, 2021 – Part 3 – Operation Warp Speed A TRAP for Democrats to EXTERMINATE themselves!
Brighteon.com/3a678c36-d0ca-4dc1-804b-33861d306be6
Situation Update, May 25th, 2021 – Part 4 – Superparamagnetic nanoparticle delivery via vaccines, with "magnetofection" of DNA
Brighteon.com/378d5d4c-fe49-4737-b99f-03de11e3120c
And here's the final FULL podcast, combining all the parts:
Brighteon.com/cf80e74f-9d1a-4213-967f-a9feb1593f75
Check out a new Situation Update podcast each day at:
===
Magnetofection & Covid Vaccines
By SotN - 24. May 2021
MAGNETOGENETICS – MAGNETOFECTION and COVID-19 Vaccines
CAYMAN PRODUCTS – SM-102 Choroform and Luciferase in Delivery of Covid-19 mRNA Vaccines
Product Description
SM-102 is an ionizable amino lipid that has been used in combination with other lipids in the formation of lipid nanoparticles.1 Administration of luciferase mRNA in SM-102-containing lipid nanoparticles induces hepatic luciferase expression in mice. Formulations containing SM-102 have been used in the development of lipid nanoparticles for delivery of mRNA-based vaccines.
______________________________________________________________
'Magnetofection' delivers DNA in experimental malaria vaccine (2011)
Today's drug-delivery word of the day is "magnetofection," which essentially is the use of magnetic fields to build up a concentration of magnetic nanoparticles, each containing nucleic acids, and guide them into target cells.
SPIONs enable effective delivery of Malaria DNA vaccine (2011)
(Nanowerk Spotlight) Superparamagnetic iron oxide nanoparticles (SPIONs) are emerging as promising candidates for various biomedical applications such as enhanced resolution imaging or targeted drug or gene delivery due to their biocompatibility, low cost of production, ability to immobilize biological materials on their surfaces, and potential for direct targeting using external magnets. Over the past few years, researchers demonstrated that magnetofection is an appropriate tool for rapid and specific gene transfection with low dose in vitro and site-specific in vivo applications.
In new work, scientists in Australia have now successfully demonstrated the use of magnetofection for the delivery of malaria DNA vaccine.
(Academia.edu) NANOTECHNOLOGY SCIENCE AND TECHNOLOGY SUPERPARAMAGNETIC IRON OXIDE NANOPARTICLES: SYNTHESIS, SURFACE ENGINEERING, CYTOTOXICITY AND BIOMEDICAL APPLICATIONS
---
NANOTECHNOLOGY_SCIENCE_AND_TECHNOLOGY_SU (1).pdf
Super-Paramagnetic Iron Oxide Nanoparticles (SPIONs)
______________________________________________________________
MAGNETOGENETICS – Is this why magnets are sticking to people's arms after taking the Covid vaccine?
https://www.brighteon.com/0c85a496-75cc-4181-9c54-931dda1626d2
Magnetogenetics: A New Technique For Controlling Mouse Behavior
https://conductscience.com/maze/magnetogenetics-a-new-technique-for-controlling-mouse-behavior/
Magnetogenetics Goes Deep Into the Brain – MARCH 19, 2016
https://epigenie.com/magnetogenetics-goes-deep-into-the-brain/
"The Human Bomb": Effects of mRNA "Vaccination" on Unvaccinated People?
https://www.globalresearch.ca/human-bomb-effects-mrna-vaccination-unvaccinated-people/5745424
Artificial 'Magneto' Protein Remotely Controls Brain And Behaviour – Published on May 19, 2021
Researchers in the United States have developed a new method for controlling the brain circuits associated with complex animal behaviours, using genetic engineering to create a magnetised protein that activates specific groups of nerve cells from a distance.
Genetically engineered 'Magneto' protein remotely controls brain and behaviour (Guardian)
Report Claims Covid Test Swabs Packed with Dangerous Hydrogel and Lithium by (Tim Truth)
https://odysee.com/@FreedomFromTyranny:0/REPORT-CLAIMS-COVID-TEST-SWABS-PACKED-WITH-DANGEROUS-HYDROGEL-AND-LITHIUM-BY-TIM-TRUTH:4
Analysis of test sticks from surface testing in the Slovak Republic – confirmation of genocide. (PDF)
Hi in today's video I try to explain the possibility that this could be why magnets are sticking to people's arms were they took the covid 19 jab ( here is link to Hugo talks video were I first came across this information)
https://brandnewtube.com/watch/magnets-what-is-going-on-hugo-talks-lockdown_DUbHM8PgZS849Ce.html
Plus this is some interesting information about the subject
https://conductscience.com/maze/magnetogenetics-a-new-technique-for-controlling-mouse-behavior/
Pfizer Admits
A PHASE 1/2/3, PLACEBO-CONTROLLED, RANDOMIZED, OBSERVER-BLIND,
DOSE-FINDING STUDY TO EVALUATE THE SAFETY, TOLERABILITY,
IMMUNOGENICITY, AND EFFICACY OF SARS-COV-2 RNA VACCINE
CANDIDATES AGAINST COVID-19 IN HEALTHY INDIVIDUALS
https://blazingpress.com/wp-content/uploads/2021/04/C4591001_Clinical_Protocol_Nov2020_Pfizer_BioNTech.pdf
VIDEO: Covid Test Swabs UP CLOSE: New Report Claims Test Fibers Packed Dangerous DARPA Hydrogel & Lithium (Blood Clots) – Tim Truth
VIDEO: Bedtime Stories: "Operation Seaspray"
History of Government spraying Cities with toxins
VIDEO: The Communist Takeover Explained (1966)
WHY IS 50 U.S. Code § 1520a ONLY RESTRICTING THE DOD AND NOT EVERYONE?
50 U.S. Code § 1520a – Restrictions on use of human subjects for testing of chemical or biological agents
https://www.law.cornell.edu/uscode/text/50/1520a
GLOBAL RESEARCH: Frontline Doctors File Temp Restraining Order (TRO) on Vaccinating Children
TRO DOC: Frontline Doctors File Temp Restraining Order on Vaccinating Children
TRO DOC PDF: Frontline Doctors File Temp Restraining Order on Vaccinating Children
===
THE COVID VACCINE MAGNET CHALLENGE
First published on BITCHUTE May 21st, 2021.
THE COVID VACCINE MAGNET CHALLENGE
The "Covid Vaccine Magnet Challenge" is the new viral sensation on social media where vaccinated individuals place a magnet on their arm near the shot site to see if it will stick. Our Mom-on-the-Street, Carmen Estel, tested this out in the field with some pretty shocking results. Check it out!
===
===
JIM STONE REPORTS
Investigative journalist Jim Stone (www.jimstone.is) reports:
The two shots proven to magnetize people are Pfizer and Moderna.
SIT BACK, AND WATCH ME BE RIGHT.
Update:The following may seem like I am tooting my own horn a bit (and in the first paragraph I am) but what I am saying here as a conclusion is extremely likely to happen, JUST WATCH IT HAPPEN. The magnetic spots are very likely to spread due to the fact that the shot is genetic modification, and "magnetic everywhere" may end up being the new normal.
Every last thing you are reading on the web about magnetic vaxxes, AND the fact that the vaccinated can't go into an MRI if they did not get the saline started on this site. All others are building on what started here. And since I was the first with this, I am going to take it a step further and tell you the next step in all of this, in sequence, with the last part of the sequence not admitted to yet, but it eventually will be:
1. The shots are not vaccines, instead they are GMO shots that program your body to rob it's blood of iron and build with that iron. I have not seen anyone else state even step 1 elsewhere yet, but this is the reason for the clotting, it is not the spike protein. Whatever the body is being commanded to do by the shot to get the iron out of the blood is being seen as an attack by the blood that is causing clotting. Blood clots when it detects an injury, it is how it blocks a vessel to stop bleeding. When attacked for it's iron, it sees the attack as an injury and then clots, it is that simple and when it all washes out 3 years from now, there won't be anything other than this said.
2. Once taken from the blood, the iron is somehow transported back to the injection site where it is transported across cell membranes that normally won't accept iron, but it is being accepted. I do not know how this could possibly be done, but it is being done.
3. Once the iron is inside the cell, another aspect of the vaccine - possibly the spike protein - is assembling the iron into crystals that span the entire length of the cells and it is doing it without killing the cells. I had assumed an extra-cellular structure was being built but today I came across something that indicates that the structures are being built inside the cells themselves, all the way to the epidermis just under stratum cornicum which puts the magnetism right on the surface, and that's what the magnets are sticking to. Mark my word, I am right. I am 100 percent right that the magnetism is originating right from the epidermis (and probably a lot deeper also) but the epidermis is involved.
One of the earlier studies I quoted stated that these iron crystals were tested in the brains of lab rats and when exposed to a magnetic or electromagnetic signal, they could modify behavior. That's probably one of the big goals with this shot, but clearly there's something else going on also.
I firmly believe that if I had not served the early magnet stick vids on this site so they could not be censored, this would have been successfully censored and no one would be aware of anything on this topic. But the genie is now out of the bottle, and it is not going back in. Watch everything I said here be SPOT ON, no matter what trollage you see these people CANNOT go into an MRI EVER AGAIN and over time the magnets are going to stick more and more strongly, possibly across their entire bodies. This mess is not going to reverse itself, the body has been programmed to do this as if it was a natural function. This is not going to go away.
The most important quote from the link above: "To make the new crystals, the researchers fused genes encoding ferritin and Inkabox-PAK4cat and expressed the new protein in human cells in a petri dish. The resulting crystals, which grew to about 45 microns in length (or about half the diameter of a human hair) after 3 days, did not affect cell survival."
IN OTHER WORDS: The iron crystals grow SO LONG they stretch the cells out but don't puncture the cell membrane and kill the cell. They are programmed to the max size the body can survive making, and that's why the magnets stick. Cells are a LOT smaller than half the width of a human hair, this is stretching the hell out of them.
AVOID THE CORONA JAB AT ALL COSTS, EVEN IF ONLY OUT OF SELF RESPECT. I was surprised by this, how audacious the people who did these shots really are.
Snopes would "debunk" this because the linked report does not have the words "epidermis" and "stratum cornicum" in it, when the fact those cells have to be involved to make the magnet stick is OBVIOUS.
AND #4: Once the top layer of epidermis dies to make stratum cornicum, the magnetic properties would be smack dab on the surface. Once this really comes home to roost, the skin that flakes off will stick to a magnet. God only knows how much losing iron from the body that way is going to impact people and kick off problems with anemia, but you can safely bet the creators of this shot don't care. Maybe that's why they are now working so hard to stifle meat consumption. Speed up the impending slow kill.
And they'll just sit there and laugh as possibly the most key element in the body flakes away as room dust, leaving people in horrible condition, possibly even dead. Whatever happens will be determined by how widespread the magnetic effects eventually become. If they become widespread, where a magnet will stick practically anywhere, this is going to be killing people because their blood will be too raped of iron to carry oxygen and that iron will be sloughed away as lost skin. The body does not lose iron that way naturally, how's that going to work out? MY BET: NOT WELL AT ALL.
---
JUST WATCH. you heard it here first. The full effects of this will take a couple years to play out. But if things go as bad as they could, they will.
UPDATE TO ABOVE: THE IRON PARTICLES ARE SO BIG THAT IF YOU LEAVE A MAGNET IN PLACE, IT WILL RIP THEM OUT OF THE CELLS.
We are headed into horrible now. How many people got this sh*t? it is likely that 60 percent of the shots were saline. How many does that leave in this condition?
Your typical leftist: "I got the NEW shot that does not do this. See, no iron particles pull out and no magnets stick to me, THAT means I am OK so YOU have to take it!!!!
===
WHAT'S WRONG WITH ME ???
===
Why Are Magnets Sticking To Where People Got Covid Vaccines Injected?! 4 Videos!
May 11th, 2021
===
ICYMI:
Wondering why magnets stick to your vaccine injection site??
The technology was already present in 1995.
Dr Pierre Gilbert on Magnetic Vaccines (from 1995)
Re-published BITCHUTE May 26th, 2021.
"In the biological destruction there are the organized tempests on the magnetic fields. What will follow is a contamination of the bloodstreams of mankind, creating intentional infections. This will be enforced via laws that will make vaccination mandatory. And these vaccines will make possible to control people. The vaccines will have liquid crystals that will become hosted in the brain cells, which will become micro-receivers of electromagnetic fields where waves of very low frequencies will be sent. And through these low frequency waves people will be unable to think, you'll be turned into a zombie. Don't think of this as a hypothesis. This has been done. Think of Rwanda"
Posted for educative purposes under THE FAIR USE NOTICE:
These Videos may contain copyrighted (© ) material the use of which has not always been specifically authorized by the copyright owner. Such material is made available to advance understanding of ecological, political, human rights, economic, democracy, scientific, moral, ethical, and social justice issues, etc. It is believed that this constitutes a 'fair use' of any such copyrighted material as provided for in section 107 of the US Copyright Law. In accordance with Title 17 U.S.C. Section 107, this material is distributed without profit to those who have expressed a prior general interest in receiving similar information for research and educational purposes. For more information go to: https://www.law.cornell.edu/uscode​ "Copyright Disclaimer Under Section 107 of the Copyright Act 1976, allowance is made for "fair use" for purposes such as criticism, comment, news reporting, teaching, scholarship, and research. Fair use is a use permitted by copyright statute that might otherwise be infringing. Non-profit, educational or personal use tips the balance in favor of fair use." Disclaimer: 17 Notwithstanding the Provisions of Sections 17 U.S.C. @ 106 and 17 U.S.C. @ 106A, the Fair Use of a Copyrighted work for Educational Purposes- Not For Profit- Non-Commercial.