UPDATE 05. May 2021: Most Vaccinated Country on Earth Closes Schools and Sports as COVID Cases Surge — 35% of New Cases Are Fully Vaccinated Residents
UPDATE 03. May 2021: Who Will Survive the Vaccine Holocaust?
ICYMI: Here are 12 important questions and answers before considering getting the COVID-Jab - TEMPLATES FOR LEGAL INTERVENTIONS
REVEALING: There is an antidote to the mRNA jab
PROLOGUE: Unfortunately the brave former head of the U.S. FDA, Dr. David Hahn. who had testified in a hearing on 23. September 2020 that the FDA would not approve the mRNA jabs until all safety studies could be presented, was replaced by Janet Woodcock on 20. January of 2021. Working for the good of the American people did apparently not fit the Communist agenda. It is expected that Janet Woodcock will get enough money from Pfizer to approve their FrankenJab first. Shall we make a bet?
Israeli People Committee's Report Finds Catastrophic Side Effects Of Pfizer Vaccine To Every System In Human Body
The Israeli People Committee (IPC), a civilian body made of leading Israeli health experts, has published its April report into the Pfizer vaccine's side effects indicating damage to almost every system in the human body.
If the findings by IPC are genuine, then Pfizer vaccine is linked to more deaths in Israel than AstraZeneca's in the whole of Europe.
The findings are catastrophic on every possible level. This is a detailed report that highlights the most devastating findings.
Their verdict is that "there has never been a vaccine that has harmed as many people." The report is long and detailed (read full report below).
"We received 288 death reports in proximity to vaccination (90% up to 10 days after the vaccination), 64% of those were men."
Yet the report states, "according to data provided by the Ministry of Health, only 45 deaths in Israel were vaccine related."
If these are the genuine numbers, then Israel has failed to report on its experimental results genuinely.
We have been hearing a lot about the rare side effects of the AstraZeneca vaccine and more than 300 cases of blood clots found in Europe.
German scientists have found the exact 2 step process how the AstraZeneca COVID-19 vaccine causes blood clots in recipients. They describe a series of events that has to happen in the body before the vaccines create these large clots.
If the findings by IPC are genuine, then Pfizer vaccine is linked to more deaths in Israel than AstraZeneca's in the whole of Europe.
Meanwhile, the US CDC and FDA have lifted their recommended pause on use of Johnson & Johnson's coronavirus vaccine with a condition that it will now include a safety label warning that its vaccine comes with blood clot risks.
"According to Central Bureau of Statistics data during January-February 2021, at the peak of the Israeli mass vaccination campaign, there was a 22% increase in overall mortality in Israel compared with the previous year."
"In fact, January-February 2021 have been the deadliest months in the last decade, with the highest overall mortality rates compared to corresponding months in the last 10 years."
The IPC finds that "amongst the 20-29 age group the increase in overall mortality has been most dramatic. In this age group, we detect an increase of 32% in overall mortality in comparison with previous year."
"Statistical analysis of information from the Central Bureau of Statistics, combined with information from the Ministry of Health, leads to the conclusion that the mortality rate amongst the vaccinated is estimated at about 1: 5000 (1: 13000 at ages 20-49, 1: 6000 at ages 50-69, 1: 1600 at ages 70+)."
"According to this estimate, it is possible to estimate the number of deaths in Israel in proximity of the vaccine, as of today, at about 1000-1100 people."
If this is a genuine statistical analysis, then numbers reported by health authorities of Israel are misleading to a very great extent.
"There is a high correlation between the number of people vaccinated per day and the number of deaths per day, in the range of up to 10 days, in all age groups."
"Ages 20-49 – a range of 9 days from the date of vaccination to mortality, ages 50-69 – 5 days from the date of vaccination to mortality, ages 70 and up – 3 days from the date of vaccination to mortality."
The IPC also reveals that the "the risk of mortality after the second vaccine is higher than the risk of mortality after the first vaccine."
This is not only about the death risk, as per the reports of IPC, "as of the date of publication of the report, 2066 reports of side effects have accumulated in the Civil Investigation Committee and the data continue to come in.
These reports indicate damage to almost every system in the human body. Our analysis found a relatively high rate of heart-related injuries.
26% of all cardiac events occurred in young people up to the age of 40, with the most common diagnosis in these cases being Myositis or Pericarditis.
Also, a high rate of massive vaginal bleeding, neurological damage, and damage to the skeletal and skin systems has been observed.
It should be noted that a significant number of reports of side effects are related, directly or indirectly, to Hypercoagulability (infarction), Myocardial infarction, stroke, miscarriages, impaired blood flow to the limbs, pulmonary embolism."
Read the Israeli People Committee report in Hebrew below.
Israeli-People-Committees-Report-Find-Catastrophic-Side-Effects-Of-Pfizer-Vaccine-To-Every-System-In-Human-Body
We need your support to carry on our independent and investigative research based journalism on the Deep State threats facing humanity. Your contribution however small helps us keep afloat. Kindly consider supporting GreatGameIndia.

Myitosis is weakening of the muscle from a virus. These mRNA vaccines contain a virus which then attaches to the RNA (the messenger) of man's DNA which can never be undone. This means that the RNA/messenger will always carry a virus; the very one they inject into the body! This is pure wickedness and those whom are doing such things will have to answer for what they have done. God clearly told us in scripture to not mess with HIS creation by changing the DNA which is exactly what these 'vaccines' do! All of it is by design – all of it. Who are the puppet masters many call the 'elites' which also entails the minions or 'useful idiots' as the real puppet masters call them. Who are the real puppet masters?
I have done a lot of historical research of their own documentations and bible study to find out who the people are who have been controlling this world in wickedness; creating this free slave world in which we all now live in a debt based, fiat economic system and you can read about them here; if you care to and if you do, read to the end to learn all of the truth. It is slow going in the beginning because the ground work had to be laid so you will understand how it all ties together; be patient it will be worth your time. tinyurl.com/matrixofgog OPERATION LOCKSTEP FROM THE ROCKEFELLER PLAYBOOK:
The Plandemic:
"1st Phase: Common/cold/Flu. Mild symptoms at most. Media endorsement of mass paranoia and fear. Flawed testing system utilized, which picks up any genetic material in the body and triggers a positive result. Inflation of Covid case numbers, through changing of death certificates, double-counting, and classifying all deaths including other diseases and natural causes as Covid19. Lockdown will condition us to life under Draconian laws, prevent protests and identify public resistance.
2nd Phase: The 1st Phase will lead to compromised and frail immune system through lack of food, social distancing, wearing of masks, and lack of contact with sunlight and healthy bacteria. Exposure to 5G radiation will further attack the immune system. Thus, when people re-emerge into society, more people will fall ill. This will be blamed on Covid19. This will all occur before the vaccination is ready to justify it. A longer and more potent lockdown will follow until everyone takes the vaccine.
3rd Phase: If majority of people resist the vaccine, a weaponized SARS/HIV/MERS virus will be released. A lot of people will die from this. It will be survival of the fittest. It will also be the ultimate push for everyone to be vaccinated, in order to return to normality. Those who have taken the vaccine will be at war with those who have not. It will be anarchy from all sides."

I think there is an antidote : https://www.youtube.com/watch?v=JYHrmmmoX30

THE ANTIDOTE w/ Dr. Mikovits

•Apr 21, 2021

Just the other day, I had the honor of interviewing Dr. Judy Mikovits for "The Academy of Divine Knowledge" and she went DEEP. Have you ever heard of "suramin"? Well... if you haven't, look it up. And when you do, I suggest reading the link titled "Suramin & Autism" published by the University of California San Diego. Did you know that it's ILLEGAL to use "suramin" for any therapeutic purposes in the United States? Hmm... I wonder why?!?! Throughout this interview, Dr. Mikovits shares insights regarding different antidotes that can be used to treat the ill-effects of the "you know what". She also speaks about the misuse of "suramin" in the past (in regards to improper dosage) along with steps that can be taken to END this plague of corruption once and for all! I seriously look forward to releasing this full interview on our new platform dedicated to FREE SPEECH & EXPANSIVE KNOWLEDGE... THE ACADEMY OF DIVINE KNOWLEDGE! Join the academy at: www.AcademyofDK.com

N.B.: DO NOT SELF-MEDICATE - GET ADVICE FROM A LICENCED MEDICAL DOCTOR

Suramin is a century-old drug used to treat African sleeping sickness or trypanosomiasis. It works by inhibiting ATP signaling. In animal studies and in a small Phase I/II clinical trial completed in 2017, we reported that suramin produced dramatic reductions in classic ASD symptoms, such as social abnormalities and learning disabilities. Dr.Robert Naviaux had success with the 100 year old drug suramin in a small double-blind, placebo controlled trial of children with autism. All the children who received a single dose of suramin showed improvements in the core symptoms of autism.Suramin may cause serious side effects.

Suramin is a polysulfonated naphthylamine that is a primary agent in the treatment of African trypanosomiasis (African sleeping sickness) caused by Trypanosoma brucei gambiense or Trypanosoma brucei rhodesiense. Suramin is a secondary agent in treatment of Onchocerciasis (river blindness), but because of its toxicity, it is rarely used. It is given by injection into a vein. Suramin causes a fair number of side effects. Suramin works by causing the parasites to lose energy, which causes their death. Suramin is available under the following different brand and other names: Suramin sodium.

Suramin is on the World Health Organization's List of Essential Medicines, which has the safest and most effective medicines needed in a health system.

Anyone who has had these Experimental Gene Therapy Toxins is going to be in serious trouble just like the Ferrets nearly all died in the Animal trials about 20 years ago for MRNA Gene Therapy by getting a wild virus and since the Humans are the real Animal trials a common cold could wipe out most or all during Flu Season. When you add 5G in the mix it's a powder Keg as did you know that when Wuhan had the entire city connected to 5G that's when people died on the street and when Whuan turned off the Grid maybe only have small clusters of 5G running that when 5G hits the human body kicks into gear Flu like symptoms so Covid 19 is really the 5G flu.

David Icke explains that the Experimental Gene Therapy Toxins contains Nanoparticles with the PCR test has a live organism that can penetrative the brain barrier so the Nanoparticles can attach itself to the brain ready to receive transmission and with the Spike Protein the Nanoparticles in the blood will disable the human DNA Antenna. David believes those who get these Toxic injections will create human 2.0 what's to say he could be on the money with this. We should refuse these injections and continue social distancing with no masks because the unvaccinated will receive the transmission from the Vaccinated its possibly why women now experiencing irregular menstrual cycles, miscarriages and women on menopause now starting to have menstrual cycles again. The first message is to change the DNA in women who will only have boy babies or never carry a baby to delivery. Until 2030 will be heading towards Depopulation until only 500M human species exists.
===
===
UPDATES:
Most Vaccinated Country on Earth Closes Schools and Sports as COVID Cases Surge
— 35% of New Cases Are Fully Vaccinated Residents
By Jim Hoft - 05. May 2021
Seychelles, the most vaccinated country in the world, is seeing a surge in coronavirus cases.
The island country shut down schools and sporting events this week due to the outbreak.
35% of the cases are people who were already vaccinated.
Bloomberg reported:
TRENDING: Most Vaccinated Country on Earth Closes Schools and Sports as COVID Cases Surge -- 35% of New Cases Are Fully Vaccinated Residents
Seychelles, which has fully vaccinated more of its population against Covid-19 than any other country, has closed schools and canceled sporting activities for two weeks as infections surge.
The measures, which include bans on the intermingling of households and the early closure of bars, come even as the country has fully vaccinated more than 60% of its adult population with two doses of coronavirus vaccines. The curbs are similar to those last imposed at the end of 2020.
Author:
Jim Hoft is the founder and editor of The Gateway Pundit, one of the top conservative news outlets in America. Jim was awarded the Reed Irvine Accuracy in Media Award in 2013 and is the proud recipient of the Breitbart Award for Excellence in Online Journalism from the Americans for Prosperity Foundation in May 2016. Contact
===
Who Will Survive the Vaccine Holocaust?
Within 5 years, 80% or more of those who have been vaccinated, either by choice or by coercion, will at worst be dead, and at best, will be deathly injured due to prions, spike proteins, Messenger RNA converted into transhumanist DNA; anaphylactic shock, paralysis of the lungs, fatal blood clotting, and a cocktail of aborted fetal and animal tissue containing viruses which include AIDS. Same curtain call, just more pain.
By Steven Fishman - 03. May 2021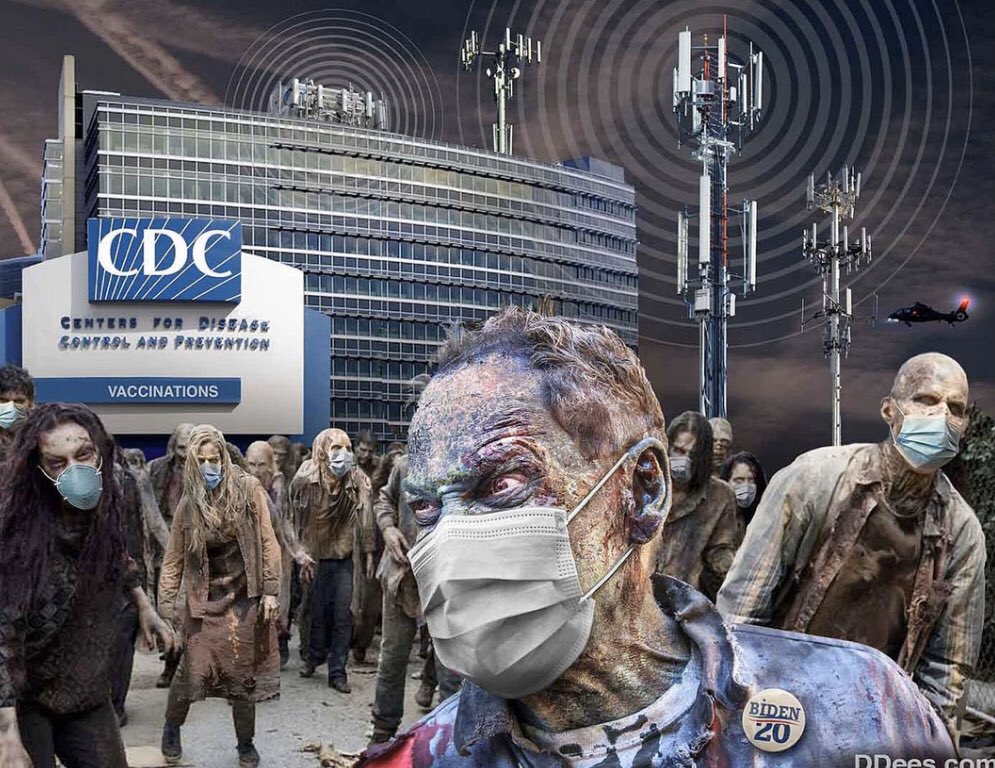 Illustrator David Dees was an inspired visionary. Note the Biden 2020 button on zombie.
In his 1859 book, "The Origin of the Species," Charles Darwin stated that only the strongest will survive.
But in times of our Vaccine Holocaust, strength comes from researching the issues, becoming thoroughly informed, following real science, and knowing how to overcome an onslaught of demons in Government and in the media.
Politics have little to do with this issue anymore. Both the 45th and 46th Presidents are in a pissing contest – seeing which one will amass the most credit for "Operation Warp Death." Not helpful.
Face reality here: Within 5 years, 80% or more of those who have been vaccinated, either by choice or by coercion, will at worst be dead, and at best, will be deathly injured due to prions, spike proteins, Messenger RNA converted into transhumanist DNA; anaphylactic shock, paralysis of the lungs, fatal blood clotting, and a cocktail of aborted fetal and animal tissue containing viruses which include AIDS. Same curtain call, just more pain.
But I am not talking to the "vaccinated." They are the Walking Dead. There is no cure for the "vaccine," because it is not a "vaccine," but rather Experimental Eugenics Depopulation Gene Therapy by Bill Gates and Big Pharma exported under the guise of an "Emergency Use Authorization."
It has been craftily designed to make people want something "appealing" that will kill them. And the end [for them] is very near. Life Insurance companies are already talking about not paying the Vaccinated. No compensation for insanity, stupidity, or gullibility!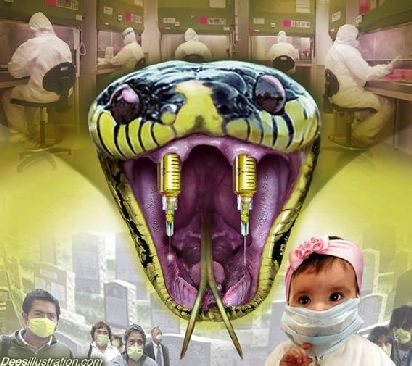 It is we, the unvaccinated that need protection from the Walking Dead. I am an older guy that admires beautiful women. But if a Victoria's Secret Model or a James Bond Girl told me she was "vaccinated," I would run like hell!
The persecuted "Unvaccinated" are waking up. Heroes and heroines like Health Ranger Mike Adams, Dr. Christiane Northrup, Dr. Carrie Madej, Dr. Simone Gold, Henry Makow and others are beacons of light and who will some day soon be heralded into the realm of "Vaccine Holocaust Sainthood" for saving the lives of people willing to listen and follow the real science, not the madness of Dr. Phony Fauci and his ilk of mass murderers.
Why am I writing this paper? Because we, the "unvaccinated," need protection from THEM
! And by "THEM," I mean all of those who are now spreading their Messenger RNA contagion through a form of Frequency Transmissibility called "Shedding." Dr. Sherri Tenpenny has done incredible research on this issue. "Contagious" doesn't even mildly describe what it is.
Thousands of couples are headed for divorce over this problem. Families are splitting apart. We are in a civil war of the mind, which we will ultimately win, because we won't be the ones who all wind up dead, because we KNOW what is happening around us and they don't!
I hope someone designs a T-shirt that reads: "If you have been vaccinated, then stay the f— away from me!" We need at least a hundred million of those right now
!
For those who have been vaccinated, there is nothing we can do. There is no cure. They are deathly sick, and they will die. Most do not know it yet, but it will hit them all like a ton of bricks.
Our society as we know it will collapse. Our monetary system, the "great reset," as the Globalists call it, will be in full swing. Federal Reserve Notes are worthless anyway, because they are debt notes, and you can never repay debt with debt. Real Estate values will plummet and fall into the largest housing crash ever, because dead people won't be selling their houses and demand from unvaccinated survivors will drop to nothing!
After all, would you buy a Vaccine Death House? So, what's a good business to get into? I guess the funeral business: lots of demand there; but make sure you get paid in gold or silver, not even in sh-tcoins, because the banking system will collapse.
So why is this "Darwinian Natural Selection?" Because none of us, the "unvaccinated," will ever want to be within a feather's throw of the dead and the dying.
Ever wonder why the TV series "The Walking Dead" was produced? Creative minds wanted to test-market the idea of a caste society where only those humans who are sane, capable or discernment, students of truth, and those capable of evaluating genuine data buried within a quagmire of lies, Governmentally-false narratives, and media quicksand will emerge as "Darwinian Survivors."
The only way to "win the human race" is to avoid the "vaccine" like the plague [because that's what it is]! Anyone who has ever had faith in a "vaccine" instead of a higher power probably deserves to sacrifice his or her brain, heart, and lungs to Bill Gates at the bottomless pit of the Georgia Guidestones, which he worships, mandating human population at 500 million or less, which is why he wants the rest of the 7 billion to die!
I am writing this not to scare you [although being aware of the impending terror is undoubtedly a good thing], but to rather to keep you safe and alive! Even if means never getting on a plane or going to a sporting event or a store on Black Friday, stay the hell away from vaccinated people – unless you are a psychic and can tell the sane ones from the inoculated "sheeple."
I hate to sound heartless, but let natural selection take its course and after five years of seeing funeral pyres on every block, we sane ones may have a fighting chance to inherit the earth.
The good news is that the Walking Dead eventually will die. Sorry if it's a loved one. There was grief and heartbreak in the TV series too.
And I hope that we, the unvaccinated and "never-will-be-vaccinated" flourish and prosper long enough to see true justice prevail, where Bill Gates and Dr. Fauci and the Globalists at "[mRNA]" Moderna, Pfizer, Johnson & Johnson, and Nazi-Zeneca get tried and convicted in Nuremberg-style proceedings, and then get slowly lowered into a boiling vat of hydro-sulfuric acid to compensate for the deaths of billions of people. And I wish that for them happily and without the slightest bit of anger, I say in subtle sarcasm.
Stay safe, healthy, and far away from the Walking Dead!
—-
Related
– People Who Administer Vaccine ARE Liable
Source:
https://www.henrymakow.com/2021/05/steve-fishman-who-will-survive-vaccine.html?_ga=2.108213442.1919444607.1616347091-903648786.1588285733
===
Dr Naomi Wolf comments
Gates said: 'The animal trials are giving us pretty good hope that one of these (vaccines) will work.'
If they don't, says Gates, there will be other candidates in six months. Did no one else hear this???? https://youtu.be/uQYZUXVpExI via @youtube
WATCH: One Of Bill Gates And Melinda Gates' Final Interviews Together Before Divorce Announcement
===
===
ICYMI:
THE COVID JAB
Questionnaire to show people to wake them up
Here are 12 important questions and answers before considering getting the COVID-Jab:
'1. "If I get 'vaccinated' can I stop wearing a mask(s)?"
Government: "NO"

2. "If I get 'vaccinated' will the restaurants, bars, schools, fitness clubs, hair salons, etc. reopen and will people be able to get back to work like normal?
Government: "NO"

3. "If I get 'vaccinated' will I be resistant to Covid?"
Government: "Maybe. We don't know exactly, but probably not."

4. "If I get 'vaccinated', at least I won't be contagious to others - right?"
Government: "NO. The 'vaccine' doesn't stop transmission."

5. "If I get 'vaccinated', how long will the 'vaccine' last?"
Government: "No one knows. All Covid 'vaccines' are still in the experimental stage."

6. "If I get 'vaccinated', can I stop social distancing?"
Government: "NO" [N.B.: The opposite: You have to keep distace more strictly. Do not hug, kiss or sleep with people, who do not know that you have been inocculated with the FrankenJab. Like with HIV you can be prosecuted in numerous jurisdictions if you infect another person thereby on purpose.]

7. "If my parents, grandparents and myself all get 'vaccinated' can we hug each other again?"
Government: "NO"

8. "So, what's the benefit of getting 'vaccinated'?"
Government: "Hoping that the virus won't kill you."

9."Are you sure the 'vaccine' won't injure or kill me?"
Government: "NO"

10. "If statistically the 'virus' won't kill me (survival rate 99.7%- 99.9% depending on variant), why should I get vaccinated?
"Government: "To protect others."

11. "So, if I get 'vaccinated', I can protect all the people I come in contact with"
Government: "NO"

12. "If I experience a severe adverse reaction, long term effects (still unknown) or die from the 'vaccine' will I (or my family) be compensated from the 'vaccine' manufacturer or the Government"
Government: "NO - the government and the 'vaccine' manufacturers have 100% zero liability regarding this experimental drug."

This is a Dilettante Presumption Theorem: All statements of fact, opinion, or analysis expressed do not necessarily reflect official positions or views of any other entity, past or present. Nothing in the contents should be construed as asserting or implying endorsement of interpretations and factual statements.
===
===
Free Download Documents
(MS Word Format)

The best way to claim and protect your rights is IN WRITING. The free download documents here have value and utility for anyone who wishes to secure their lives and protect themselves and their families from a rigged and hostile civic and corporate infrastructure.

These documents provide answers, claims and notice to many of the bad actors and wrongdoers in government and corporations who think it is their privilege to violate your rights, seize your wealth and property, invade your privacy and assault your health and safety.

When you are silent, when you fail to clearly state your position on the record, you are presumed to agree with whatever is being done to you! You are presumed to be a servant, slave and ATM card to the system. These documents help you correct that problem.
---
VACCINE
CONDITIONAL ACCEPTANCE
DOWNLOAD LINK

This document "accepts" vaccination on the condition that ALL administrators of that vaccine accept that there are risks and accept personal liability for all harm they cause with their vaccine. They will not sign it because they know vaccines are hazardous. When they refuse to sign, that is their admission of risk, and, with that admission, you may rightfully refuse the vaccine. A more complete explanation of this vaccination notice is below.
---
REFUSAL OF
VACCINES
DOWNLOAD LINK

We may soon be facing "mandated" vaccines. Those who have studied vaccines know that vaccines come with severe hazards and we must resist and oppose unlawful forced medical treatments. If you do not state your position you can be presumed to agree with any offer made to you! This document is a formal refusal of medical testing. This document should be given to anyone who threatens to force medical treatment on us.
---
REFUSAL OF
MEDICAL TESTING
DOWNLOAD LINK

If you are concerned that medical testing may be forced on you, and that results of that test may be used as an excuse to violate your rights, at the very least have a statement printed and ready which states your position. If you do not state your position you may be presumed to agree with any offer or demand made of you. You may download and print the REFUSAL OF MEDICAL TESTING at the link above and you may edit that as you wish to suit your own views.


FOR EMPLOYERS WHO TRY AND COERCE VACCINATION
DOWNLOAD LINK

Some employers seem to have the foolish, ignorant and unlawful notion that they have privilege to force vaccination as a condition of employement. This is not only wrong, it is extremely unfair and difficult for employees who wish to protect their health and safety and control their own medical options. Employers who attempt to require medical treatments for their employees should receive a stern demand to cease with notice of major consequences if they fail to do so. The download template above is such a document/notice. It can be very powerful to share this form with fellow employees so that the employer will face major disruption if medical rights are not observed. This site does not contain professional advice, only layman opinion. If you are being coerced to receive medical treatments it may be wise to seek legal counsel and take legal actions to protect your health, safety and rights.

VACCINE INJURY TABLE
DOWNLOAD LINK

This document is published by the U.S. Federal Agency HRSA (Health Resources & Services Administration) under HHS (Health and Human Services). The document lists the various vaccines and their known risks for specific injuries, disabilities, illnesses, conditions and deaths and the time frames for which compensation may be paid to the victim by HRSA. Anyone who believes vaccination is risk-free should see this document. If you believe you have been injured by a vaccine this is a good place to start to determine your path to remedy, then contact: https://www.hrsa.gov/
This document was taken from the HRSA web site in March, 2021, for a current copy we recommend accessing this information directly from the HRSA web site at https://www.hrsa.gov/
---
The VACCINATION NOTICE And Acceptance of Liability by the vaccination providers
DOWNLOAD LINK
Vaccinations have been proven to be extremely hazardous, unsafe, contaminated and often completely ineffective. They have even been used to fraudulently deliver sterility drugs under guise of "Malaria" vaccines!

Tens of thousands of people are killed every year by vaccines, millions are injured permanently worldwide. Correlation to autism is now scientifically confirmed, yet the same vaccine regimens are still prescribed!

Even after decades of tragedies and atrocities caused by vaccinations, pharmaceutical interests have been allowed to buy corrupt legislation to try and force literally every American to accept this invasive and dangerous treatment.

Vaccines have been scientifically proven to have caused a worldwide Autism epidemic, Gardasil has been found to cause disability and death, and many other vaccines are known to cause host of crippling and life-threatening injuries, illnesses and unexpected consequences.

Pharmaceutical companies have even obtained legislation making themselves IMMUNE FROM LIABILTY for the harm they know vaccines cause! People only seek immunity when they KNOW THEY ARE GUILTY.

If you are being pressured to accept a vaccine for yourself or your children, DO NOT do so until you REQUIRE THE VACCINE PROVIDERS AND REGULATION ENFORCERS ACCEPT LIABILITY FOR THE DAMAGE THEY CAUSE with the free download contract form above titled "Vaccination Notice".

THIS IS NOT A FORM YOU SIGN. This is a form you present to your healthcare providers and REQUIRE THEM TO SIGN to insure the safety of their vaccinations, or at least accept personal responsibility to pay for any damages caused by their vaccinations.

Before accepting vaccinations for you or your child it is critical to get the providers of those vaccines to sign this form accepting liability and admitting the hazards so that you will have recourse against the many serious injuries and illnesses which vaccines are known to cause.

Of course, the healthcare providers may resist taking responsibility for what they are doing, but if they refuse to sign this form, you have legal grounds to refuse the vaccination.

You are welcome to modify the form or have an attorney do so, it is a free template.

Vaccine providers and regulators may refuse to sign this form because they know they are peddling poison, but refusal to sign the form is ADMISSION that harm may result from the vaccination. If vaccinations were truly harmless, they would gladly sign the form and accept liability.

If the vaccination providers do not sign the form, and thereby infer that vaccinations are hazardous, they have no right to demand that you accept their dangerous and ineffective medical treatments.


By the way, if you disagree with any of the above points and you believe people may be forced to accept risky medical treatments such as vaccines, then contact us. You may be invited to participate in a videotaped and published debate opposite medical researchers and scientists on the health effects and safety record of vaccines. Can you support the idea of mass forced vaccinations by non-physician politicians? Here's your chance!

---
NOTICE TO HEALTHCARE PROVIDER
DOWNLOAD LINK
Emergency rooms, clinics and even physicians usually have the terrible habit of NOT telling you what they plan to charge you until after they have provided the services! Then that bill is truly a shocker, packed with all kinds of overcharges, false charges, and services you would not have accepted if you knew how much they would cost.

Never accept any medical service without knowing and approving the charges IN ADVANCE. Simply by giving this form (see above link) to the receptionist you will obligate the medical facility to disclose all fees in advance and get your approval before providing the service! You are then entitled to refuse payment of any services that were not disclosed and approved by you in advance.
===
NEVER FORGET
In terms of prosecutions PFIZER is by far the most criminal company
Récords de sanciones individuales:
Haga clic en la compañía o en el monto de la multa para obtener más información sobre cada caso.
Descargar resultados como
o XML
| EMPRESA | TIPO DE DELITO PRINCIPAL | AÑO | AGENCIA | MONTO DE LA MULTA |
| --- | --- | --- | --- | --- |
| Pfizer Inc. | Promoción fuera de etiqueta o no aprobada de productos médicos. | 2009 | FDA | $2,300,000,000 |
| Pfizer Inc. | Ley de Reclamaciones Falsas y afines | 2016 | DOJ_CIVIL | $784,600,000 |
| Wyeth Pharmaceuticals Inc. | Promoción fuera de etiqueta o no aprobada de productos médicos. | 2013 | FDA | $490,900,000 |
| Warner-Lambert | Promoción fuera de etiqueta o no aprobada de productos médicos. | 2004 | FDA | $430,000,000 |
| Wyeth Pharmaceuticals, Inc. | Ley de Reclamaciones Falsas y afines | 2016 | MULTI-AG | (*) $371,351,180 |
| Pfizer, Inc. | comisiones ilegales y sobornos | 2009 | MULTI-AG | (*) $331,485,170 |
| Wyeth Pharmaceuticals, Inc. | Promoción fuera de etiqueta o no aprobada de productos médicos. | 2013 | MULTI-AG | (*) $257,400,000 |
| Warner-Lambert | Promoción fuera de etiqueta o no aprobada de productos médicos. | 2004 | MULTI-AG | (*) $190,000,000 |
| King Pharmaceuticals | Ley de Reclamaciones Falsas y afines | 2005 | DOJ_CIVIL | $124,000,000 |
| King Pharmaceuticals | Ley de Reclamaciones Falsas y afines | 2006 | MULTI-AG | (*) $124,000,000 |
| Pfizer Inc. | Promoción fuera de etiqueta o no aprobada de productos médicos. | 2008 | MULTI-AG | $60,000,000 |
| Pfizer Inc. | violación de seguridad de medicamentos o equipos médicos | 2012 | FDA | $55,000,000 |
| Corporación Pfizer | Ley de Reclamaciones Falsas y afines | 2002 | DOJ_CIVIL | $49,000,000 |
| Pfizer Inc. | Promoción fuera de etiqueta o no aprobada de productos médicos. | 2012 | MULTI-AG | $42,900,000 |
| Alpharma Inc. | Ley de Reclamaciones Falsas y afines | 2010 | DOJ_CIVIL | $42,500,000 |
| Pfizer Inc. | Ley de Reclamaciones Falsas y afines | 2019 | IL-AG | $41,047,101 |
| Pfizer | Promoción fuera de etiqueta o no aprobada de productos médicos. | 2014 | MULTI-AG | $35,000,000 |
| División de laboratorios Wyeth-Ayerst | violación de seguridad de medicamentos o equipos médicos | 2000 | FDA | $30,000,000 |
| Pharmacia Corporation | Ley de Reclamaciones Falsas y afines | 2013 | WI-AG | $29,453,247 |
| Pfizer Inc. | Ley de Prácticas Corruptas en el Extranjero | 2012 | SEGUNDO | $26,339,944 |
| Pfizer, Inc. | Ley de Reclamaciones Falsas y afines | 2018 | DOJ_CIVIL | $23,850,000 |
| Pfizer Inc. | Ley de Reclamaciones Falsas y afines | 2002 | MULTI-AG | (*) $21,084,700 |
| Pharmacia & Upjohn Company Inc. | comisiones ilegales y sobornos | 2007 | USAO | $19,700,000 |
| Pharmacia Corporation | Ley de Reclamaciones Falsas y afines | 2019 | IL-AG | $18,960,210 |
| Wyeth LLC | Ley de Prácticas Corruptas en el Extranjero | 2012 | SEGUNDO | $18,876,624 |
| Pfizer Inc. | Ley de Reclamaciones Falsas y afines | 2013 | TX-AG | $18,170,000 |
| Pfizer HCP Corporation | Ley de Prácticas Corruptas en el Extranjero | 2012 | DOJ_CRIMINAL | $15,000,000 |
| Pharmacia & Upjohn Company LLC | comisiones ilegales y sobornos | 2007 | USAO | $15,000,000 |
| Pfizer Inc. | Promoción fuera de etiqueta o no aprobada de productos médicos. | 2011 | FDA | $14,500,000 |
| Alpharma USPD, Inc. y Purepac Pharmaceutical Co. | Ley de Reclamaciones Falsas y afines | 2011 | KY-AG | $10,200,000 |
| Pfizer Inc. | violación de seguridad de medicamentos o equipos médicos | 2014 | NV-AG | $9,500,000 |
| Alpharma Inc. | Ley de Reclamaciones Falsas y afines | 2010 | MULTI-AG | (*) $8,900,000 |
| Pfizer, Inc. y Pharmacia Corporation | Ley de Reclamaciones Falsas y afines | 2010 | HI-AG | $8,200,000 |
| Pfizer | violación de seguridad de medicamentos o equipos médicos | 2003 | MULTI-AG | $6,000,000 |
| Pfizer, Inc. | violación de seguridad de medicamentos o equipos médicos | 2012 | OR-AG | $3,340,000 |
| Pfizer Inc. y Pharmacia Corp. | Ley de Reclamaciones Falsas y afines | 2012 | ID-AG | $2,900,000 |
| Pfizer Inc. | Ley de Reclamaciones Falsas y afines | 2011 | MULTI-AG | (*) $2,621,154 |
| Alpharma, Inc. | prácticas de fijación de precios o anticompetitivas | 2004 | FTC | $2,500,000 |
| Pharmacia Corporation | Ley de Reclamaciones Falsas y afines | 2011 | NY-AG | $2,500,000 |
| King Pharmaceuticals LLC | violación ambiental | 2013 | EPA | $2,200,000 |
| REY FARMACÉUTICOS | violación ambiental | 2013 | EPA | (*) $2,200,000 |
| Alpharma USPD, Inc., | Ley de Reclamaciones Falsas y afines | 2011 | MS-AG | $2,010,667 |
| Purepac Pharmaceutical Co., n / k / a Actavis Elizabeth, LLC | Ley de Reclamaciones Falsas y afines | 2011 | MS-AG | $2,010,667 |
| Wyeth | violación del administrador del plan de beneficios | 2013 | demanda privada federal | $2,000,000 |
| Pfizer | discriminación laboral | 2009 | demanda privada federal | $1,365,003 |
| Pfizer Inc. | violación ambiental | 2008 | EPA | $975,000 |
| Pfizer | violación de la protección del consumidor | 2019 | OR-AG | $975,000 |
| FABRICACIÓN GLOBAL DE PFIZER | violación ambiental | 2008 | EPA | (*) $975,000 |
| Alpharma, Inc. | prácticas de fijación de precios o anticompetitivas | 2004 | MULTI-AG | $750,000 |
| Pfizer Pharmaceuticals LLC | violación ambiental | 2014 | EPA | $728,000 |
| Pfizer Pharmaceuticals, LLC | violación ambiental | 2014 | EPA | (*) $728,000 |
| Pfizer Inc. | violación de la protección del consumidor | 2018 | NY-AG | $700,000 |
| Pharmacia & Upjohn Company | violación ambiental | 2005 | EPA | $676,250 |
| Alpharma USPD, Inc. | Ley de Reclamaciones Falsas y afines | 2010 | ID-AG | $600,000 |
| Purepac Pharmaceutical Co. | Ley de Reclamaciones Falsas y afines | 2010 | ID-AG | $600,000 |
| Hospira Inc. | discriminación laboral | 2015 | OFCCP | $400,000 |
| Pharmacia Corp. | Ley de Reclamaciones Falsas y afines | 2009 | OH-AG | $400,000 |
| Pfizer Inc. | Promoción fuera de etiqueta o no aprobada de productos médicos. | 2013 | MA-AG | $375,000 |
| Pfizer Pharmaceuticals, LLC | violación ambiental | 2016 | EPA | $190,000 |
| HOSPIRA, INC. | violación de la seguridad o salud en el lugar de trabajo | 2004 | OSHA | $132,300 |
| SEARLE LTD | violación ambiental | 2002 | EPA | $95,000 |
| Wyeth Pharmaceuticals Company, Inc. | violación ambiental | 2010 | EPA | $77,000 |
| Pfizer Pharmaceuticals LLC | violación ambiental | 2005 | EPA | $55,000 |
| Punto de Wyeth Rouses | violación ambiental | 2008 | EPA | $44,500 |
| Wyeth Biopharma | violación de salario y hora | 2005 | WHD | $40,187 |
| PFIZER PHARMACEUTICAL (WARNER LAMBERT) 721450001000059 | violación ambiental | 2004 | EPA | $37,000 |
| Productos farmacéuticos de Wyeth Ayerst | violación ambiental | 2004 | EPA | $37,000 |
| Pharmacia y Upjohn Company LLC | violación ambiental | 2017 | EPA | $34,170 |
| FABRICACIÓN GLOBAL DE PFIZER 090110003800170 | violación ambiental | 2010 | EPA | $31,266 |
| PHARMACIA Y UPJOHN CARIBE | violación ambiental | 2001 | EPA | $27,168 |
| EMPRESA DE FARMACÉUTICOS WYETH – OTC | violación ambiental | 2000 | EPA | $25,000 |
| Productos farmacéuticos de Pfizer | violación ambiental | 2010 | EPA | $24,650 |
| SITIO DE PFIZER INC / GROTON | violación ambiental | 2005 | EPA | $22,500 |
| FABRICACIÓN GLOBAL DE PFIZER 090110003800129 | violación ambiental | 2006 | EPA | $20,113 |
| Pfizer Pharmaceuticals Ltd. | violación ambiental | 2004 | EPA | $20,025 |
| Pfizer Inc. | violación de la seguridad del ferrocarril | 2002 | DESDE | $11,250 |
| REY FARMACÉUTICOS | violación de la seguridad o salud en el lugar de trabajo | 2001 | OSHA | $7,200 |
| PFIZER, INC. | violación de la seguridad o salud en el lugar de trabajo | 2009 | OSHA | $7,155 |
| HOSPIRA | violación de la seguridad o salud en el lugar de trabajo | 2006 | OSHA | $6,750 |
| PHARMACIA & UPJOHN (P&U) – KAPI Y EMU | violación ambiental | 2004 | EPA | $5,000 |