UPDATE 29. April 2021: Dr. Vernon Coleman - A Syringe Full Of Death
UPDATE 28. April 2021: DOCTORS WORLDWIDE ARE EXPOSING THE CORONA 'VACCINE' SIDE EFFECTS + CRIMES AGAINST HUMANITY: Two Year Old Baby Died Within Six Days Of Taking Second Shot Of Pfizer Vaccine In Clinical Trials On Children
UPDATE 26. April 2021: World Doctors Alliance Update Video
UPDATE 24. April 2021: ALERT ALERT ALERT - French drug evaluation center concludes: 'All 4 COVID 'vaccines' should be discontinued' + Nurse Warns: Stay Away From 'Vaccinated' People
UPDATE 22. April 2021: Dr. Michael Yeadon on Vaccine Passports: We Will be Standing at the "Gates of Hell" if Implemented, and They Will Push Us In
UPDATE 20. April 2021: The Doctors Speak - The 'Vaccinated' Will Be A Danger To The 'Unvaccinated' - and it is NOT a 'vaccine'.
UPDATE 15.-17. April 2021: Indian celeb actor Vivekh passes away 2 days after bragging while receiving COVID shot.
UPDATE 16. April 2021: Beware of Covid PCR Testing and the Relentless "Vaccinate Vaccinate Vaccinate" Campaign
UPDATE 14. April 2021 - Experimental J&J Covid-19 vaccine halted in U.S. due to deadly blood clots… yet no one is allowed to mention vaccine injuries or deaths
ICYMI: And the benefits of getting the COVID -19 vaccines are… (totally FREE e-BOOK)
Denmark permanently bans Covid-19 vaccine from AstraZeneca over deadly blood clots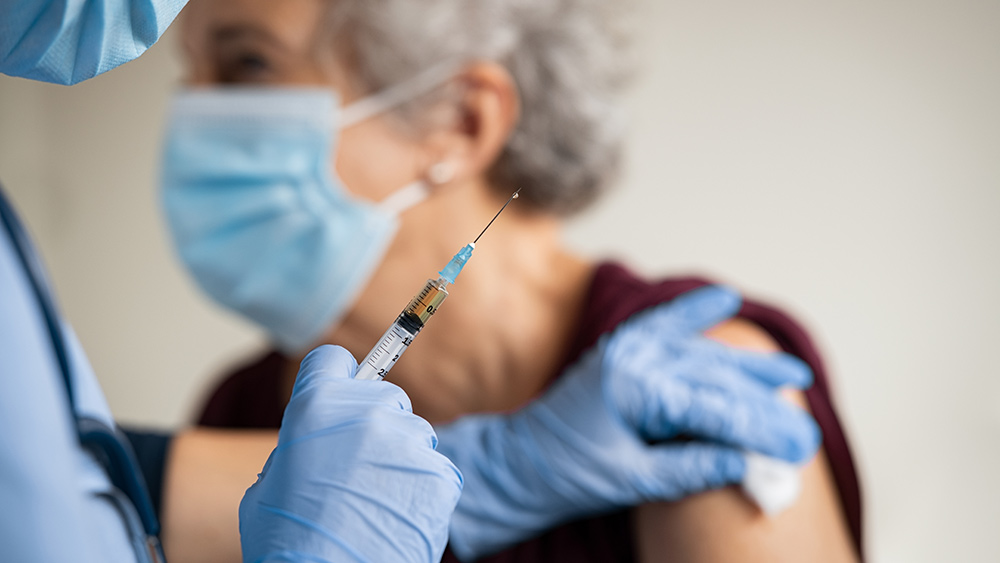 By Ethan Huff - 14. April 2021
Following an in-depth safety review, Denmark has decided to permanently ban the Wuhan coronavirus (Covid-19) injection from AstraZeneca due to the risk of deadly blood clots.
The first European nation to do so, Denmark determined that continuing to administer AstraZeneca's China Virus jab to Danes puts them at undue risk of suffering serious adverse events.
While some recipients suffered deadly blood clots, others experienced low blood platelet counts. Both phenomena render the injection dangerous, officials determined.
As we previously reported, Denmark put the AstraZeneca jab on temporary hold after a 60-year-old woman died shortly after receiving it.
"She died with a very unique disease picture, where she was both affected by internal bleeding, a very low platelet count and blood clots," reports indicate. "Roughly three dozen similar cases have been reported across the E.U. (European Union)."
Proponents of the jab claim such side effects are "very rare" and the result of random immune system reactions to the injection's adenovirus components. Since most people probably will not have an immediate reaction, they say, the benefits outweigh the risks.
Denmark disagrees, though. The risks clearly outweigh the benefits, and even the European Medicines Agency (EMA) says there appears to be a direct connection between the jabs and the reactions, which have also been documented with the Johnson & Johnson (J&J) adenovirus injection for the Wuhan flu.
The only other jab for Chinese germs that contains adenovirus technology is Russia's "Sputnik V," which Dr. Peter Marks of the U.S. Food and Drug Administration (FDA) says is also being looked at along with the others for safety and efficacy.
Czech Republic says it will take all of Denmark's AstraZeneca injections to administer to its own population
Denmark's decision to stop using the AstraZeneca jab will set the country back as far as vaccinating its entire population according to the proposed schedule. Officials now estimate that it could take an additional three months to inject everyone as planned.
E.U. Commission President Ursula von der Leyen recently announced that Europe as a whole has plunged 100 million vaccines into people's arms, a milestone that was made possible by a recent "acceleration" in the program.
"We spare no effort to ensure that Europeans can be vaccinated as fast as possible," Leyen tweeted, along with the hashtag "#StrongerTogether."
Other European countries are already showing interest in taking Denmark's AstraZeneca vaccine stockpile to administer to their ownpopulations. Czech Interior Minister Jan Hamacek made an offer via tweet, and others are gearing up to make their own offers.
"Funny how the only vaccines left are those using mRNA. Coincidence? Probably not," wrote one Zero Hedge commenter making a valid observation about the hidden agenda behind all this.
"Look, there is a cure, why are they still pushing experimental vaccines when there is a cure? The FDA is corrupt. Pay attention to what is going on here because it is important."
Others speculated that billionaire eugenicist Bill Gates is probably thrilled about the news, seeing as how it coincides with his plan to massively reduce the world's population.
"A virus can be a vector for the transfer of genes from one organism to another," wrote another. "Of course, the problem with such a mechanism is targeting it to a specific group, as a virus could presumably come back to bite you."
"The best way of accomplishing that would be to give your target group a precursor that would allow it to become more susceptible to the gene altering virus, then build a virus that was dependent, for example. Then install a gene into people that the virus would look for, for its own needs. An mRNA vaccine would be just the ticket."
More related news about the deadly effects of Wuhan coronavirus (Covid-19) injections can be found at ChemicalViolence.com.
Sources for this article include:
===
===
CARRY THIS
Let your Notary draft one specifically for you and deposit it with them.
===
---
Dr. Vernon Coleman - A Syringe Full Of Death
Republished on BITCHUTE April 29th, 2021
Credit, thanks & respect to Dr. Vernon Coleman - www.vernoncoleman.org
===
CRIMES AGAINST HUMANITY:
Two Year Old Baby Died Within Six Days Of Taking Second Shot Of Pfizer Vaccine In Clinical Trials On Children
A two year old baby has died within six days of taking the second shot of the Pfizer COVID-19 vaccine in the ongoing experimental clinical trials on more than 10,000 children under the age of 5 to 11.
Pfizer and Moderna are going through clinical trials for their mRNA shots on more than 10,000 children as young as six months old. The trials of these vaccines started in mid-March.
Moderna refers to its study as KidCOVE. The children are also being used as guinea pig by Johnson and Johnson and AstraZeneca.
Meanwhile, its possible the parents of these children are unaware of these facts.
Michelle Lynam is the current Dr. United States of America, an anesthesiologist in Midlothian, Virginia. She posts videos on Facebook sneaking over experimental shots. She is also subjecting her children to these experimental shots.
Lynam registered her two teenage daughters for clinical trials of Pfizer. She enrolled her six year old daughter for clinical trial of Moderna.
Clinical Research Partners in Richmond, Virginia is facilitating the guinea pig trial of children by Moderna in the state.
There is very low possibility that people would know about any negative results of these trials. However, the Vaccine Adverse Event Reporting System (VAERS) provide an insight on the effects of the experimental mRNA shots on these children.
A two-year-old girl received her second (Dose 2) experimental Pfizer mRNA shot on February 25. She apparently developed some sort of serious adverse reaction on March 1. The baby was dead on March 3. No further details were provided.
The mainstream media is silent on this issue, so is the CDC. The incident should be investigated by CDC immediately.
The baby had been hospitalized for 17 days, or since February 14, according to VAERS. Thus the baby was perhaps sick from the first shot. But someone administered the second shot anyway.
Further, no experimental shots are authorized for use in babies and children under age 16 in the United States.
Even, their own promotion says the vaccination trials were for children from age 5 to 11. So, how come a 2 year old baby got vaccinated?
As reported by GreatGameIndia, German scientists have recently found the exact 2 step process how the mRNA based COVID-19 vaccine causes blood clots in recipients.
Meanwhile, the US CDC and FDA have lifted their recommended pause on use of Johnson & Johnson's coronavirus vaccine with a condition that it will now include a safety label warning that its vaccine comes with blood clot risks.
For reporting extensively on the blood clots controversy, GreatGameIndia as well as other reporting sites are targeted for the flimsy reason that the true information is shared in gabs or tweets widely.
===
===
DOCTORS WORLDWIDE ARE EXPOSING THE CORONA 'VACCINE' SIDE EFFECTS
Republished on BITCHUTE April 28th, 2021
===
World Doctors Alliance Update Video
First published on BITCHUTE April 26th, 2021.
Credit, thanks & respect to The World Doctors Alliance - https://worlddoctorsalliance.com/
===
French drug evaluation center concludes: 'All 4 COVID vaccines should be discontinued'
The Centre Territorial d'Information Pharmaceutique d'Avis (CTIAP for its French acronym) concluded that none of the four vaccines implemented in France are safe or effective. They all received emergency use authorization with insufficient clinical evidence and therefore demanded their immediate suspension.
CTIAP, which is linked to the Cholet public hospital in western France, recently published a report showing that the vaccines used against CCP Viruses underwent insufficient clinical testing. Also, the quality of the active substances, their "excipients—some of which are new," and the manufacturing processes are deficient.
Dr. Catherine Frade leads the research team, a renowned pharmacist who worked on public data reported by the European Medicines Agency (EMA) regarding injections from Pfizer, Moderna, AstraZeneca, and Janssen (Johnson & Johnson).
The first warning published in the report is that all these products have only temporary marketing authorizations (MA). Besides, they are all subject to further studies until 2024, making it almost impossible to complete them given the accelerated way vaccines are being distributed.
In this regard, CTIAP warns that all vaccines began to be marketed and actively applied in humans before the "quality testing of the active substance and the finished product" had taken place: All manufacturing laboratories have future deadlines to submit their studies in this regard. Even though they knew that by the time they submitted them, many of the world's population would already be vaccinated.
The report does not indicate that vaccines are dangerous, but current knowledge is not valid enough to demonstrate their effectiveness and/or safety.
The vaccines began to be manufactured and applied amid laboratory trials, which implies that an alteration in the results during the next few months could invalidate any previous trials because they are still in a period of research and adaptation.
The report draws an interesting parallel between vaccine production and automobile production. It asks whether we would imagine it feasible to start a production line for a new car and begin marketing it without completing quality studies on each of its parts and engine, including safety-related components such as its brakes and electrical systems.
The logical answer is no, so why would we do so with vaccines, a substance intended to be inoculated directly into the body of every human being in the world?
The report concludes, "Prudence would even dictate that, in all countries where these vaccines against COVID-19 (CCP Virus) have been marketed, all the batches thus 'released' should be withdrawn immediately; and that these MA's that have been granted should be suspended, or even canceled, as a matter of urgency until further notice."
===
The Doctors Speak
- The Vaccinated Will Be A Danger To The Unvaccinated
- and it is NOT a 'vaccine'!
20. April 2021 - Republished on BITCHUTE April 27th, 2021
Many women across the world after receiving CoViD vaccines are complaining of irregularities in their menstrual bleeding; some experiencing heavy menstrual bleeding (menorrhagia), some bleeding before their periods were due or bleeding frequently (metrorrhagia/polymenorrhea), whereas some are complaining of postmenopausal bleeding.
As of 5th April 2021, there have been ~958 cases of post-vaccination menstrual irregularities, including vaginal haemorrhages, that were recorded in MHRA's adverse event reports. There were twice more cases of menstrual irregularities with CoViD Vaccine AstraZeneca than Pfizer (643 vs 315 respectively) [1]. It is anticipated that the actual numbers of cases are much higher than the numbers recorded in the pharmacovigilance systems as many women in different cultural context may have felt uncomfortable to talk about it, may not have thought that it was vaccine-related, or may have not been encouraged by their clinicians to make an official report into the adverse events reporting system.
There have been recent reports of haemorrhage, blood clots and thrombocytopenia following administration of CoViD-19 vaccines that have raised concerns over the safety of genetic vaccines for people with pre-existing coagulation disorders or those on certain medications. Regulatory bodies have also issued warnings to the patients and healthcare professionals to be vigilant and seek prompt medical assistance if they experienced typical symptoms of cerebral venous sinus thrombosis (CVST), a potentially fatal clot in the brain [2,3]. European Medicines Agency has also revised the summary of product characteristics and listed thrombocytopenia (very low platelets) as a 'common' side effect (i.e., 1 in 100 to 1 in 10) of Vaxzevria, i.e., the CoViD vaccine AstraZeneca [4]. The pharmacovigilance data also suggests that thrombocytopenia is also a frequent observation followed by mRNA CoViD vaccines such as Pfizer or Moderna.
The 'heavy menstrual bleeding' has been previously reported in females with underlying platelets disorders [5]. It is plausible that the vaccine-induced thrombocytopenia may be an explanation for the recent incidences of heavy menstrual bleeding experienced by women in different countries after the CoViD-19 vaccination. The significant loss of blood in many women may lead to severe anaemia, further exacerbate thrombocytopenia, and therefore may significantly increase the risk of haemorrhages and clots.
Clinicians and front-line healthcare workers are advised to encourage women to report heavy menstrual bleeding or other extraordinary bleeding events post-vaccination formally into the vaccine adverse events reporting system and seek prompt medical advice. Public health agencies and regulatory authorities are also requested to investigate these incidences and issue further warnings, as this can, possibly be an early sign of potentially fatal vaccine-induced prothrombotic thrombocytopenia leading to rare CVST events in younger women. There may be some women with pre-existing conditions or those on certain medications that may be at increased risk of experiencing post-vaccination severe adverse events and early warnings will help saving lives.
Read more: CoViD-19 post-vaccine menorrhagia, metrorrhagia or postmenopausal bleeding and potential risk of vaccine-induced thrombocytopenia in women
Will vaccinated dupes spread plague to others?
THE CYTOKINE STORM IS COMING
WATCH THIS:
https://robertdavidsteele.com/adverse-vaccine-effects-on-unvaccinated-women/
The Freedom Cell Network
Carrie Madej - Home | Facebook (unfortunately on fascistbook)
===
===
Nurse Warns: Stay Away From Vaccinated People
Republished on BITCHUTE April 24th, 2021.
Mirrored - https://brandnewtube.com/watch/stay-away-from-vaxxed-people-nurse-warns_cILdEtbUS9KLpwf.html
===
===
Dr. Michael Yeadon on Vaccine Passports: We Will be Standing at the "Gates of Hell" if Implemented, and They Will Push Us In
By Brian Shilhavy - 22. April 2021
We are providing another short video clip of the interview with Dr. Michael Yeadon in the Perspectives on the Pandemic published on their [NOW DELETED] YouTube channel.
BACKUP from BITCHUTE:
Dr. Michael Yeadon on Vaccine Passports: We Will be Standing at the "Gates of Hell"
Republished on BITCHUTE April 24th, 2021.
In this video clip, Dr. Yeadon explains how universal vaccine passports do not benefit either the COVID vaccinated or unvaccinated, but only the totalitarian controllers who implement it, and that if they succeed, "we'll not only be standing at the gates of Hell, we'll just be given a little push and in we'll go."
After this short clip, we are republishing Makia Freeman's excellent article from this week, "Vaccine Passports: One Passport to Rule Them All."
This is from our Rumble channel. It will also be on our Bitchute channel.
---
Vaccine Passports: One Passport to Rule Them All
By Makia Freeman
The Freedom Articles
Vaccine passports are a major goal of those orchestrating Operation Coronavirus, though not the ultimate end goal of the COVID agenda.
The purpose of vaccine passports is clear, despite whatever flimsy and mealy-mouthed excuses given to justify them: to restrict the movement of the unvaccinated, or in plainer terms, to restrict the movement of those who have seen through the agenda.
There are no clever legal arguments that can distract from this basic truth: vaccine passports are inherently discriminatory.
In a sane society, no nation that even pays lip service to caring about human rights could claim that vaccine passports are in alignment with their existing laws on individual rights, freedom of choice, freedom of movement, informed consent and medical sovereignty.
However, it hardly bares stating that we do not live in a sane world. Below is a brief list of the vaccine passport schemes that are either proposed, about to be rolled out or already in existence.
This is a worldwide agenda being rapidly promoted and implemented.
EU Planned for Vaccine Passports in 2018
Long before the word 'coronavirus' become a household world, or the term 'COVID' even existed, the European Union (EU) was planning for a vaccine passport scenario.
The European Commission (the executive arm of the EU) published a proposal for vaccine passports on April 26th 2018 in a document entitled "Proposal for a Council Recommendation on Strengthened Cooperation against Vaccine Preventable Diseases".
It lays out the plan for a "vaccine passport" or "vaccine card" and "vaccine portals":
"HEREBY WELCOMES THE COMMISSION'S INTENTION TO:

17. Examine issues of insufficient vaccine coverage caused by cross-border movement of people within the EU and look into options to address them, including developing a common EU citizens' vaccination card/passport, compatible with electronic immunisation information systems and recognised for use across borders.

…

HEREBY WELCOMES THE COMMISSION'S INTENTION TO TAKE THE FOLLOWING ACTIONS, IN CLOSE COOPERATION WITH THE MEMBER STATES:

10. Aim at establishing a European Vaccination Information Sharing (EVIS) system, coordinated by the European Centre for Diseases Prevention and Control (ECDC), in order to:

a. Together with the national public health authorities,

i. examine the options of establishing, by 2020, guidelines for a core EU vaccination schedule, aiming to facilitate the compatibility of national schedules and promote equity in Union citizens' health protection, and subsequently ensuring broad uptake of the core schedule as well as a common vaccination card;

ii. strengthen the consistency, transparency, and methodologies in the assessment of national and regional vaccination plans, by sharing scientific evidence and tools with the support of National Immunization Technical Advisory Groups (NITAGs);

iii. design EU methodologies and guidance on data requirements for better monitoring of vaccination coverage rates across all age groups, including healthcare workers, in cooperation with the World health Organisation (WHO). Collect such data and share them at EU level;

b. By 2019, establish a European vaccination information portal, with the support of the European Medicines Agency, to provide online objective, transparent and updated evidence on vaccines, their benefit and safety, and the pharmacovigilance process.

c. Monitor online vaccine misinformation and develop evidence-based information tools and guidance to support Member States in countering vaccine hesitancy, in line with the Commission Communication on tackling online disinformation."
Interestingly, on pg.13, this document also mentions the term vaccine hesitancy as it recommends a "Joint Action on Vaccination, co–funded by the third Programme for the Union's action in the field of health … to address vaccine hesitancy."
Vaccine hesitancy has also become a theme in the COVID op because so many people have become aware of just how toxic vaccines can be and how experimental these ones are in particular; in my article from August 2020 I revealed how a Yale study was analyzing how to combat vaccine hesitancy and increase vaccine uptake through a variety of psychological techniques and manipulation.
European Vaccine Passports
Given the above documents, it's no great surprise that Europe is at the forefront of implementing vaccine passports.
The UK and many European countries are getting close to rolling out their passport scheme; on March 17th 2021, the European Commission proposed the following draft legislation to create a "Digital Green Certificate" as you can see from this document. In a classic example of doublepseak, Commissioner for Justice, Didier Reynders, said:
With the Digital Green Certificate, we are taking a European approach to ensure EU citizens and their family members can travel safely and with minimum restrictions this summer.

The Digital Green Certificate will not be a pre-condition to free movement and it will not discriminate in any way.

A common EU-approach will not only help us to gradually restore free movement within the EU and avoid fragmentation.
No pre-condition for movement? Not discriminate in any way?
The very essence of the vaccine passport is regulate and restrict movement, as well as to discriminate. Otherwise, what is the point of it?
This is a constant theme of the COVID op. Politicians make rules to control your life, and right when they announce these rules, they claim they are not controlling you.
Black is white, up is down and tyranny is freedom.
American Vaccine Passports
They're coming to America too. The US state of New York was the first state to introduce a pilot program.
Authorities have said it's optional, but that's how all these schemes of control initially work; first they're optional to break down resistance and get people accustomed, and then they're mandatory.
New York is calling its vaccine passport the "Excelsior Pass" and the official announcement states:
Developed in partnership with IBM, the Excelsior Pass will use proven, secure technology to confirm an individual's vaccination or a recent negative COVID-19 test through a confidential data transfer to help fast-track the reopening of theaters, stadiums and other businesses in accordance with New York State guidelines…

The Excelsior Pass will play a critical role in getting information to venues and sites in a secure and streamlined way, allowing us to fast-track the reopening of these businesses and getting us one step closer to reaching a new normal.
On the upside, there are certain states which have preemptively banned vaccine passports in some form or another, including Florida, Texas, Arizona, Montana and Idaho.
As for much of the duration of the COVID op, support or resistance to vaccine passports is mostly following party lines, with the left-wing Democratic states supporting it and the right-wing Republican states resisting it.
Vaccine Passports in Israel, China and India
Israel has earned itself another dubious distinction by leading the world in COVID vaccination rates, and by already implementing its vaccine passport program.
Unvaccinated Israelis are being banned from going to so-called non-essential places. Tyrannical Israeli Health Minister Yuli Edelstein warned:
"Whoever doesn't vaccinate will only go out to supermarkets or pharmacies, while the vaccinated will go to stadiums and gyms."
The tyranny doesn't stop there.
Israel has also issued "Freedom Bracelets" to be worn by those entering the country from abroad.
Israel's parliament joined action taken previously by the Spanish government in approving a law to create a registry of people refusing the COVID vax.
Interestingly, UK Cabinet Office minister Michael Gove was recently seen arriving in Israel for what they say was "vaccine passport talks" but in reality, from those who know the backstory of the Zionist New World Order (NWO), was likely his marching orders.
China and India have both joined the vaccine passport game. China called their version the "International Travel Health Certificate" (downloadable from its WeChat mobile app) while India has a QR code certificate version.
One Passport to Rule Them All
No matter what fancy and different names these passports, apps and QR codes have, there are plans afoot to link them all via a common software or framework.
The leading developers of this technology include AOK Pass, Common Pass, the Vaccination Credential Initiative, Good Health Pass Collaborative and the IATA Travel Pass.
This is a clear manifestation of the NWO Agenda of a One World Government with detailed information on every single person (except for the ruling elite) on Earth, who are planned to be its subjects or slaves.
This has been a long time coming.
It seems like a long time ago now – over a year ago – when Bill Gates started mouthing off about the need for immunity certificates and digital vaccine passports.
The plan is not hidden, but rather wide out in the open. Of course, there is a distinct lack of logic about the whole issue.
First of all, as I have exhaustively documented, there is no evidence that the virus SARS-CoV-2 exists.
But putting that inconvenient truth aside for a moment, why couldn't natural immunity to the virus qualify you for the vaccine passport?
Mainstream brainwashed medical authorities may say it's because you can still get re-infected. However the same goes for the vaccine … hence all the talks of a 2nd and 3rd shot (actually the plan is to give people countless shots as they upgrade and rewire their DNA operating system).
This is the very same group of vaccines which by the way don't give you proper immunity and are even admitted to only protect against mild symptoms and not to stop transmission.
It's not about actual real immunity to disease. It's about finding out who is vaccinated and who is unvaccinated, and subsequently punishing the non-compliant, disobedient, recalcitrant unvaccinated ones.
For those who want their shiny new vaccine passport – think about this. What happens when the authorities say that you have to keep getting vaxxed … and vaxxed … and vaxxed … every year … just to keep your passport and privileges?
Are we going to stand in our inherent soveriegn rights or grovel beneath the slavemasters for government-bestowed privileges?
Final Thoughts
The truth is that vaccine passports are a scheme to force people into getting vaxxed so that they become genetically modified humans.
The vaccine is the real bioweapon, not an imaginary virus.
The vaccine passports will function to make life uncomfortable for the unvaccinated, and also as a registration system to distinguish between the vaccinated and unvaccinated, so the NWO controllers know exactly which citizens have certain nanotechnology embedded inside of them – which you can be sure will be used to further whatever nefarious goals the NWO manipulators have in mind.
See Also:
HealthImpactNews collects the horrorstories from cases where well known people died after and due to the FrankenJabs. The always updated collection is already too large to mirror here. Please go directly to THAT SITE
===
Beware of Covid PCR Testing and the Relentless "Vaccinate Vaccinate Vaccinate" Campaign
By Peter Koenig - 16. April 2021
The validity of the PCR test has been questioned for months, if not from the very beginning of the declared covid-19 plandemic, including lately also by WHO. However, this test is still and ever more so being forced upon us. This despite the fact that ever more scientific evidence comes to the fore that the test is absolutely unsuited to determine whether a person is "infected" with the covid-19 virus. According to some scientists there are up to 90% false positives. Besides, a positive in 97% of the cases does not indicate that you will come down with symptoms. Especially young people, and people without any co-morbidities rarely show any symptoms.
On the other hand, there is a relentless drive by western countries, foremost Europe and the US to vaccinate-vaccinate-vaccinate – and this with a substance that is not even qualifying as a vaccine, namely a new type of what's also called "gene-therapy", a mRNA-type injection which will affect the human genome and most likely the human ADN. mRNA stands for messenger ribonucleuc acid.
The best-known pharma-manufacturers of these mRNA-type substances, falsely called vaccines, include Pfizer, Moderna, AstraZeneca, Johnson and Johnson (J & J) and a few other inoculations from the Bill Gates created GAVI Alliance, or the Global Alliance for Vaccines and Immunizations, also called the Vaccine Alliance. They are located in Geneva, next door to WHO.
This therapy is untested. No substantial animal trials. In the few animal trials carried out on ferrets and rats, all animals died. Claiming an emergency, the Food and Drug Administration (FDA) recognizes the gravity of the current public health emergency and has granted a so-called Emergency Use Application (EUA) for what effectively is a gene-therapy, not a vaccine. Therefore, further animal trials were skipped and this experimental gene-treatment, the mRNA-type jabs went directly to humans – which are now acting as guinea pigs.
For the tremendous risks and dangers of this therapy, see the recent exclusive interview with Lifesitenews.com (7 April 2021), and testimony of former Pfizer VP and Chief Science Officer, Mike Yeadon, who says "Your government is lying to you in a way that could lead to your death.' See full interview here.
It appears that so-called vaccination and testing are in reverse proportions related, i.e. the fewer people volunteer to take the jab, the more governments force these false PCR test on the population. In many countries, Switzerland is a case in point, governments "allow" schools to test school children, including Kindergarten up to four times per month, and businesses may do the same, for the "safety of co-workers" – never mind that most people in many countries still work from their home offices. Not submitting to a test or a highly questionable vaccine, may result in dismissal – losing your job. That's as gloomy and spooky as it has become, this covid-craze.
Now they have introduced "self-testing kits" sold or distributed by pharmacies. Despite intense propaganda, most of these government bought and subsidized tests remain in pharmacies warehouses, as ever fewer people are willing to submit to this lunacy. On top of it all, you have to report only the positive tests of the self-tests – a further up-wards distortion of the anyway false picture of the so-called "infection rate". – And nobody seems to ask why. Or if they do, they do it not LOUD ENOUGH.
Of course, the higher the number of covid positives, the higher the willingness to vaccinate, so the propaganda assumes, and if not, the better the justification for more lockdowns, more fear – and again – maybe – more willingness to vaccinate. You see – all actions drive to more fear and eventually "more vaccination". It is as if countries were given a vaccination quota they have to fulfill, and there seems to be no measure of coercion strong enough to get people to submit to this awful, untested jab.
Even the US top-doc, Dr. Anthony Fauci, expresses his doubts on the vaccines' effectiveness. See here.
One may also ask, why does Europe and the US not allow the Russian Sputnik V or one of the internationally rolled-out Chinese vaccines? – Maybe because these vaccines are real vaccines, based on a decades long experience, the traditional method of injecting a weak or dead virus which will react when it comes in contact with a live virus and creates antibodies to create immunity – without affecting your DNA?
It becomes increasingly obvious that there is a special agenda behind this fierce testing and vaccination craze. To top it all off, and to come closer with a reason for it all, a recent report suggests (yet to be confirmed) that according to Johns Hopkins University, You can be vaccinated with a PCR test, even without knowing (11 April 2021). There we go. See here for more details.
So, why is "vaccination" so important? – And especially vaccination with an mRNA-type injection why? – One reason may be this: as reported by The Daily Mail and RT.
Pentagon scientists reveal a microchip that senses COVID-19 in your body.
The technology was developed by the Defense Advanced Research Projects Agency (DARPA), which operates under the Pentagon. The microchip is sure to spark worries among some about a government agency implanting a microchip in a citizen. And who knows what else the microchip does in your body. Anything coming from DARPA is not as benign as it is made to believe, and is certainly not an attraction or a convincer for people who are anyway not keen on getting covid-jabbed.
In addition, the collateral damage of these untested toxins that go as vaccines, the immediate side effects are already by an order of magnitude higher than those of conventional vaccinations. The Defender (Children's Health Defense – CHD) lists statistical figures from CDC, that the Vaccine Adverse Event Reporting System (VAERS) received data that between Dec. 14, 2020 and April 1, 2021, a total of 56,869 adverse events were reported, including 2,342 deaths — an increase of 93 over the previous week — and 7,971 serious injuries, up 245 over the same time period. This is the latest from CDC.
According to CDC, these figures are vastly under-reported.
*
In January 2019, the WHO defined the growing number of vaccine critics as one of the ten greatest threats to global health, and since the unprecedented corona vaccination fiasco, the number of vaccine refusers has multiplied. Meanwhile, resistance is emerging even within the conventional medical community. But the masterminds at WHO continue to insist on an unrealistic vaccination rate of at least 70 percent.
Why this tremendous push for vaccination? We know that the covid-19 death rate is comparable to that of a common flu. See Dr. Fauci in peer-reviewed "Navigating the Uncharted". Listening to Dr. Yeadon, we also know that vaccination is unnecessary, as there are many effective preventive and curing medicines available.
In addition to the immediate side effects, the medium to long-term collateral damage may be much more significant. Dr. Yeadon, Pfizer's former VP says that two to three years down the road, we may see massive genocide-like deaths from mRNA-type injections. See this.
It is increasingly clear that behind this covid cum vaccination drive, there is a eugenics agenda of gigantic proportions. This has recently also been recognized by the leading German Human Rights lawyer, Dr. Reiner Füllmich, a member of the Corona Investigative Committee, which investigates globally on the prosecution of fraudulent reporting of covid- vaccination, testing and leading to fraudulent "case figures" – and to a massive drive to instill fear in the population. He and his team are launching several Class Action suits in the US and in Canada, and several lawsuits against individuals and institutions in Europe and the US. He calls these coming trials "Nuremberg 2", after the Nuremberg trials following WWII.
In a recent interview (12 April 2021), Dr. Füllmich said he sees the light at the end of the tunnel. He also said about Corona measures,
"These are the worst crimes against humanity ever committed. The few people who can still think independently, about 10 to 20 percent of the population, they know that the question was never about a virus or human health, but about a massive thinning of the world population, and total control." – See the full interview here.
Add to the horrendous deadly future for maybe hundreds of millions of people from the vaccines, that more mRNA-type substances will be implanted in people old and young, including children, without them knowing, by repeated testing – and in some countries even forced or coerced repeated testing.
If we go by the words of experienced Dr. Mike Yeadon, former VP Chief Science for Pizer, we might be in for mass-dying – an outright genocide – in a few years.
And this in addition to the collateral social, economic and health damage already perpetuated by false covid-data and government fear-instilling lying, leaving hundreds of millions in misery, despair and abject famine – leading to death.
Is massive depopulation an objective of this corona fraud?
Hence, be aware of even more exposure to the risk by accepting the incessant call for testing-testing and more testing. Be alert and aware and follow the light.
*
Note to readers: please click the share buttons above or below. Forward this article to your email lists. Crosspost on your blog site, internet forums. etc.
Peter Koenig is a geopolitical analyst and a former Senior Economist at the World Bank and the World Health Organization (WHO), where he has worked for over 30 years on water and environment around the world. He lectures at universities in the US, Europe and South America. He writes regularly for online journals and is the author of Implosion – An Economic Thriller about War, Environmental Destruction and Corporate Greed; and co-author of Cynthia McKinney's book "When China Sneezes: From the Coronavirus Lockdown to the Global Politico-Economic Crisis" (Clarity Press – November 1, 2020)
He is a Research Associate of the Centre for Research on Globalization.
===
===
Experimental J&J Covid-19 vaccine halted in U.S. due to deadly blood clots… yet no one is allowed to mention vaccine injuries or deaths
04/14/2021 / By Ethan Huff - 14. April 2021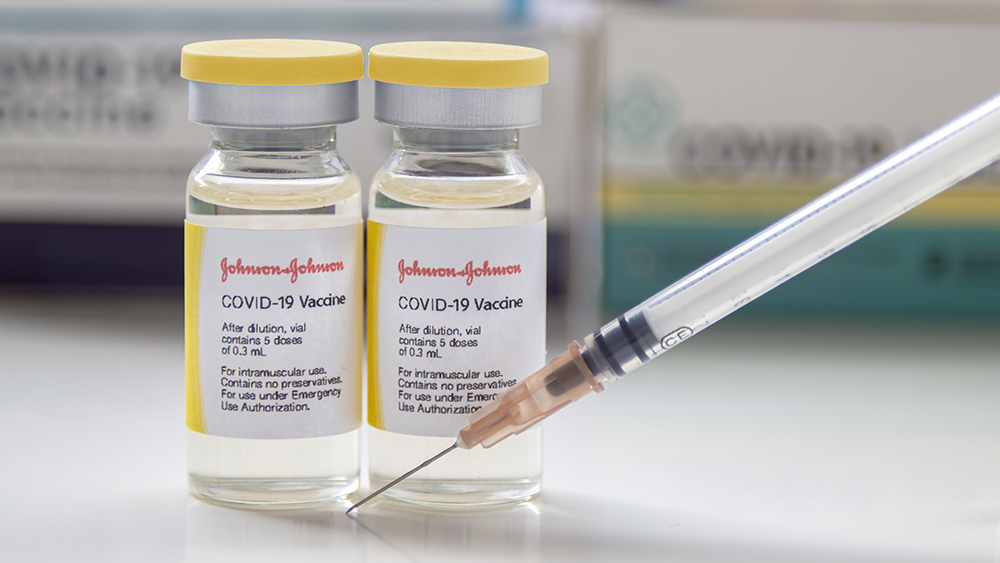 Multiple cases of deadly blood clots have prompted health officials in the United States to temporarily halt all further administration of Johnson & Johnson's (J&J) Wuhan coronavirus (Covid-19) injection.
The so-called "experts" are reportedly working to update physicians all across the country about new vaccine "fact sheets" that warn about the deadly blood clots, which can be triggered by "interference" from other pharmaceutical medications.
When asked about the AstraZeneca injection, which is doing the same thing in Europe, health officials brushed aside the question and went on to insist that the J&J injection is "safe and effective."
Only in "rare cases," they claim, will a person who receives a J&J shot for the China Virus develop a deadly blood clot. Dr. Peter Marks from the Food and Drug Administration (FDA), however, admitted that the blood clotting issue between the J&J and AstraZeneca vaccines is "related" because both jabs operate on an adenovirus platform.
"The real thing that is so notable here is not just the cerebral blood clots," Dr. Marks explained. "It's their occurrence together that makes a pattern, and that pattern is very, very similar to what was seen with another vaccine."
Neither the FDA nor the Centers for Disease Control and Prevention (CDC) have issued any guidance thus far about the issue and how medical professionals should proceed. A CNN reporter claims to have been told that the issue was being "looked into," but nothing has come of it yet.
Vaccine-related adverse effects feared to once again overload hospitals
Dr. Marks worries that a whole lot more people are going to be seeing doctors like himself if the list of potential side effects from the jabs is expanded to include things like "headaches" and "abdominal pain."
If jab recipients are told to seek emergency care in the event that they develop serious adverse effects, hospitals and emergency rooms could very quickly become overloaded, possibly leading to more lockdowns.
"A wave of patients being told to seek emergency care as a precaution could push ER occupancy rates higher again," Zero Hedge warned. "Suddenly, the numbers will be telling us that we are back in the worst of the COVID pandemic."
Meanwhile, the Biden regime is doing everything it can to downplay the news, claiming that because most people who receive the J&J jab supposedly do just fine, we should all just forget about the minority that is seriously injured or killed.
"This announcement will not have a significant impact on our vaccination plan," stated Jeffrey Zients, Beijing Biden's White House Coronavirus Response Coordinator.
China Joe is still on track to plunge 200 million injections into Americans' arms by his 100th day in office, a plan that apparently will not be disrupted by a few pesky blood clots or deaths.
Patients who were scheduled to receive the J&J injection are quickly being rescheduled to receive either the Pfizer-BioNTech or Moderna injection instead.
Moderna, meanwhile, put out a statement claiming that "a comprehensive assessment of safety data" shows "no connection" between its jab and any negative health outcomes – so line right up and get stabbed, America.
"Nobody in their right mind would take a vaccine that has a higher chance of killing them than the virus does," wrote one Zero Hedge commenter.
"Yes, these injections are fatal," wrote another. "But there is a time delay, random, and the method of death varies. Very clever. Very deadly. Streets are going to be very empty. The WEF (World Economic Forum) will be pleased."
To learn more about the dangers and ineffectiveness of Wuhan coronavirus (Covid-19) shots, be sure to check out ChemicalViolence.com.
Sources for this article include:
===
===
===
ICYMI:
And the benefits of getting the COVID -19 vaccines are…
By Dr. John Reizer - 06 March 2021
I continue to be perplexed by the decisions being made by people determined to receive the COVID-19 mRNA vaccines.
While there continues to be an encouraging number of citizens globally deciding not to take the unapproved medical products, the vast majority of sheeple are blindly following mainstream medicine's advice.
I had an exhausting day on Friday, the fifth of March, listening to several patients tell me that they wanted to return to the office for chiropractic care, but were waiting to get second covid shots before doing so.
I asked one woman, "Are you aware of the fact that according to the makers of the vaccines, the shots you are receiving will not protect you from catching the coronavirus, nor will they prevent you from spreading the pathogen to others should you contract the illness?"
There was a long pause on the phone before the woman replied. "All I know is that my medical doctor told me that I could die if I don't get the shots and that the vaccines were approved and considered safe by the CDC."
There's no sense trying to talk logic or science to the sheeple who have been brainwashed by medical fictionists. It does not matter how many scientific documents you place in front of them or how many credentialed scientists with a dissenting opinion about the vaccines you expose them to — they will not be interested in what anyone has to say that veers off the official pandemic narrative.
Once again, let me reiterate the facts:
1.There's no sars-cov-2 virus.
2. There's no COVID-19 disease.
3. The lab tests were designed to generate false-positive case numbers.
4. The false-positive case numbers were necessary to declare the world pandemic.
5. The world pandemic terminology was declared to implement Emergency Use Authorizations which opened the doors for drugmakers to dispense and administer to the sheeple billions upon billions of untested, unsafe, unapproved experimental vaccines.
You did not stumble onto this website by chance! As I have written many times prior, I don't believe in coincidences. Everything in life happens for a perfect reason, and that is why you are reading this article at this moment in time.
Presently, the world's citizens are lining up to take COVID-19 vaccines marketed by different sovereign governments as life-saving prophylactics against a deadly disease. People are being asked, strongly coerced, and highly pressured to receive an untested, unproven, experimental drug that has already injured, maimed, and killed many human beings who were previously healthy and exhibited no signs of illness whatsoever.
You will only get one chance to make the right choice concerning this vaccine agenda. What you decide to do will determine your life's future and the fate of future generations.
HERE ARE YOUR OPTIONS:
Will you choose the red syringe below and go down a deep dark rabbit hole where you learn the truth about the global agenda known as sars-cov-2?
Or…
Will you choose the blue syringe below and accept the words of different government leaders who have locked down the global population and have proclaimed there will be no return to normal until everybody has been jabbed with a COVID-19 vaccine?
Before getting jabbed for real…
Chooese the Red or the Blue "Pill"
…Click on a syringe below to proceed!
https://johnswordpressblog.files.wordpress.com/2021/02/newsbreak-107-1-1.mp4?_=1
https://www.cdc.gov/coronavirus/2019-ncov/index.html
________________________________________
Author:
FREE e-BOOK
(no money, no subscription, no address involved)