UPDATE 15. April 2021: Cardiologist warns about covid vaccine fraud and hyper-inflammatory immune responses caused by the shots + J&J, AstraZeneca Covid-19 jabs both contain aborted human fetal tissue + South Africa accuses J&J of unreasonable covid-19 vaccine demands
UPDATE 14. April 2021: *SHARE THIS EVERYWHERE* SENIOR NHS NURSE INVOLVED IN UK 'VACCINATION' PROGRAMME CALLS IT GENOCIDE + Shock Witness Footage: Cops Force-Vaccinate Special Needs Girls In Statewide 'Operation Homebound' Program - Los Angeles police are force-vaccinating special needs children in heinous "Operation Homebound" program that resembles Nazi euthanasia of the retarded (PARENTAL GUIDANCE ADVISED FOR THIS VIDEO, IF A CHILD VIEWS IT)
UPDATE 13. April 2021: SHOCK VIDEO: BILL GATES ADMITS COVID-19 VACCINE WILL KILL AND MAIM 700,000
UPDATE 12. April 2021: The Shadowy Alliance Between Big Pharma and Big Tech + DNA/RNA Vaccines: "Can They Alter Our Own Genetic Codes" - Ken Biegeleisen, M.D., Ph.D., explains why he believes Johnson & Johnson cannot guarantee its COVID vaccine won't alter your genetic code.
UPDATE 11. April 2021: BUSTED: Corona Vax incredients are horrific beyond belief
UPDATE 10. April 2021:
CANADIANS DRAGGED FROM THEIR HOMES AND VACCINATED – HOSPITALS ARE EMPTY + Information Sources That Disclose The Dangers of The SARS-COVID-2 Vaccines
UPDATE 09. April 2021: mRNA Vaccines May EDIT Your Genes Through 'Retro-Integration' And The DNA Damage Might Be Passed On To Future Generations, If Any
UPDATE 08. April 2021: Dolores Cahill: Why You Shouldn't Get An mRNA Vaccination
UPDATE 07. April 2021: They're Not Even Trying To Hide Their Lies - Health minister of Belgium gets vaccinated with safety cap on and plunger not pushed in!!!
UPDATE 05. April 2021: Wannabe Tyrant Klaus Schwab Declares Unvaccinated People to Be a Threat to Humanity
UPDATE 04. April 2021: USA stops production of AstraZeneca / Vaxzevria vaccine + Germany: Government now " thinking " about only allowing people with the shots to be able to travel and be out and about or to buy food. + Harvard Medical Prof & Vaccine Expert Explains: COVID Shot Isn't Necessary For Many
UPDATE 01. April 2021: 15 million J&J COVID Vaccines Thrown Away After Ingredient Mix-Up With AstraZeneca
UPDATE 31. March 2021: Don't trust your Government nor Big Parma and don't get the Covid jabs - Dr Mike Yeadon
ICYMI: Awkward Video Shows Former U.S. Presidents Promoting Vaccine
'Breaking Through' — States Report Growing Number of COVID Cases Among Fully Vaccinated
Washington, Florida, South Carolina, Texas, New York, California and Minnesota have all reported breakthrough cases of COVID.
By CHD - 31. March 2021
The Washington State Department of Health (DOH) announcedTuesday it is investigating reports of people who tested positive for COVID more than two weeks after being fully vaccinated against the disease.
According to Kiro 7 News, a CBS affiliate in Washington, the DOH is investigating reports of the so-called "breakthrough cases," which it said are expected with any vaccine. Each case was confirmed with a polymerase chain reaction (PCR) test or a positive antigen test more than two weeks after the person had been fully vaccinated.
A majority of people with confirmed vaccine breakthrough experienced mild symptoms, if any. However, since Feb. 1, eight people with vaccine breakthrough cases were hospitalized and the DOH "is investigating two potential vaccine breakthrough cases where the patients died.
Both patients were more than 80 years old and suffered underlying health issues," officials said in a press release.
Washington isn't the only state reporting breakthrough cases. Florida, South Carolina, Texas, New York, California and Minnesota have also reported cases of fully vaccinated people testing positive and becoming ill with COVID.
The Florida Department of Health in Volusia County had six documented breakthrough cases, Sumter County had six and Lake County had 26 cases, according to emails from each county spokespersons.
Dr. Sunil Joshi, president of the Duval County Medical Foundation, compared the COVID vaccine to the flu vaccine. "It's like the flu shot, for instance, right. We know, we encourage people to get the flu vaccine. That doesn't mean that you're not going to get the flu. But the disease is significantly lessened," Joshi said. "So remember, the whole goal for this, from the very beginning, has been to keep people out of the hospital. And so anything positive after the vaccine is not unusual, it can happen."
In Charleston, South Carolina, the Department of Health and Environmental Control (DHEC) identified 134 breakthrough cases in those fully vaccinated across the state. In the past month alone, Roper St. Francis Healthcare treated four patients in the hospital and were aware of 10 other "breakthrough" cases that did not need hospitalization.
The Medical University of South Carolina reported seven COVID cases in fully vaccinated people. Roper Hospital is working with DHEC to analyze positive test results to see if variants may play a role.
"All of these individuals we identify who get infected or even hospitalized despite receiving two doses, that virus will be sent on to DHEC for further analysis," infectious disease physician Dr. Kent Stocksaid. "The question is, is that phenomenon influencing these numbers?"
In Wichita Falls, Texas, seven vaccine breakthrough cases were reported Monday in those fully vaccinated against COVID. Of the seven cases, six had the Pfizer vaccine and one had Moderna.
"We've been watching that since the very beginning, since vaccinations started and so we started noticing it was just maybe one per week, two per week, now we are currently at seven," Amy Fagan, assistant health director of the Wichita Falls Wichita County Public Health District, said.
As of March 24, Minnesota had identified 89 "breakthrough" COVID infections with a small number resulting in hospitalization, according to Star Tribune.
Out of caution, the state is reviewing the cases to see if they have anything in common, state infectious disease director Kris Ehresmann said. "A cluster of cases vaccinated at the same site could suggest a handling problem with the vaccine, or that a lot was tainted," she said.
When asked about Minnesota's vaccine breakthrough cases during a White House press briefing on March 26, Dr. Anthony Fauci, President Biden's chief medical advisor, said: "This is something we take seriously and follow closely. You will see breakthrough infections in any vaccination when you're vaccinating literally tens and tens and tens of millions of people. So in some respects, that's not surprising."
According to Fox News, a Long Island, New York woman tested positive for COVID Tuesday — more than a month after receiving her second dose of the Moderna vaccine meant to protect against the virus. "I was shocked," Rosen said. "I'm the 4.9% that got Moderna and actually got COVID."
In a March 23 letter to the editor of the New England Journal of Medicine, eight physicians reported on a study they conducted on breakthrough cases at the University of California, San Diego and University of California, Los Angeles (UCLA) health systems.
According to the letter, UCLA instituted an optional testing program on Dec. 26, 2020, for asymptomatic healthcare workers using PCR nasal testing in an effort to detect asymptomatic SARS-CoV-2infections after vaccination.
From Dec. 16, 2020, through Feb.9, 2021, a total of 36,659 healthcare workers received the first dose of a COVID vaccine, and 28,184 of these persons (77%) received the second dose. Among those vaccinated, 379 people tested positive for COVID at least one day after vaccination, and the majority (71%) tested positive within the first two weeks after the first dose. After receiving both vaccinations, 37 healthcare workers tested positive.
According to the study, the risk of testing positive for COVID after vaccination was between 0.97% and 1.19% –– rates higher than the risks reported in the Moderna and Pfizer vaccine trials.
As The Defender reported in December 2020, one explanation for "breakthrough cases" in the fully vaccinated may be the use of polyethylene glycol (PEG) in mRNA COVID vaccines like Moderna and Pfizer.
Studies have found approximately 72% of people may have PEG antibodies. In those people, the antibodies may cause an anaphylactic reaction to the vaccine. Or, the antibodies may break down and degrade the PEG-coated mRNA in the vaccine before it gets a chance to get into the cell and start programming the production of spike proteins, resulting in the vaccine being less effective.
Author:
Megan Redshaw is a freelance reporter for The Defender. She has a background in political science, a law degree and extensive training in natural health.
===
Before you continue ...
Take a moment and breathe. Place your hand over your chest area, near your heart. Breathe slowly into the area for about a minute, focusing on a sense of ease entering your mind and body.
Over time, these practices also helps to build self-awareness which helps us see our own bias' more clearly.
Research from The Institute of HeartMath illustrating the difference in coherent and incoherent heart rhythms.
Further research has shown that a connection between thoughtful breathing and the production of a compound in the cerebrum called noradrenaline. This compound goes about as a "mind compost" that is delivered when we are feeling tested, inquisitive, or centered.
---
MUST READ:
===
---
*SHARE THIS EVERYWHERE*
SENIOR NHS NURSE INVOLVED IN UK 'VACCINATION' PROGRAMME CALLS IT GENOCIDE
First published on BITCHUTE April 14th, 2021.
Source, UK Column News, 14 April, 2021: https://youtu.be/ap1A7ihzZsM
===
Cardiologist warns about covid vaccine fraud and hyper-inflammatory immune responses caused by the shots
By Lance D Johnson - 15. April 2021
An expert physicist-nuclear cardiologist appeared on a recent episode of Pandemic War Room to warn the public about the dangers of the experimental covid vaccines and to discuss the fundamental fraud that was used to falsely advertise vaccine efficacy.
Dr. Richard Fleming has thoroughly studied the clinical trials for the experimental covid vaccines and understands the fraud behind clinical trials and vaccine marketing campaigns. Dr. Fleming warns that the vaccines have never been proven effective for achieving any human health objective. The efficacy studies were based on random chance and did not investigate viral load nor use verifiable diagnostic criteria to determine if the vaccine has any effect on a person's immune system. He also warns that the vaccines can cause Mad Cow disease in animals — the kind of nerve damage that precedes Alzheimer's and other neurological conditions often associated with old age.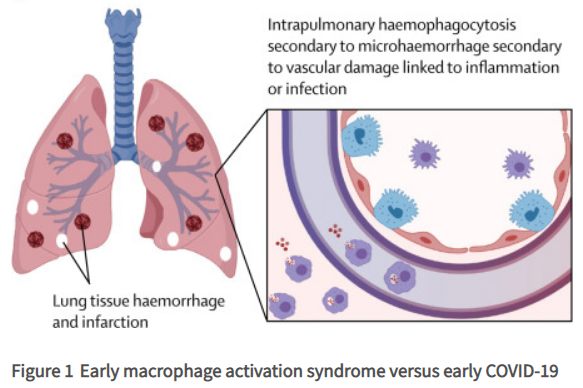 Vaccine efficacy was determined based on random chance, not verifiable diagnostic criteria
"I'm not anti-vax," Fleming told War Room. "I'm just anti-bad medicine." Dr. Fleming pointed out the fundamental fraud from the vaccine maker's own data that was used to falsely advertise the product's so-called efficacy.
Pfizer, Moderna, and Johnson & Johnson all determined vaccine efficacy based on random chance, bypassing verifiable diagnostic criteria and ignoring viral load. According to the FDA's Emergency Use Authorization data, there is no demonstrable difference between the vaccine's ability to stop covid compared to anything else. The vaccine efficacy data is a fraud because it relies on random chance and faulty high-cycle amplification of non-infectious virus material to falsely diagnose covid in the control group and inflate the vaccine's efficacy. The vaccine makes zero difference in stopping covid and does not address any underlying immune deficiencies that lead to severe illness.
Covid vaccines will inevitably cause Antibody-Dependent Enhancement, an even greater threat
In fact, the vaccine may contribute to more severe health problems and immune system issues. If the public is continually vaccinated with such intense speed, these individual health problems will become a public health catastrophe. Antibody-dependent enhancement is a serious problem observed in animals that were exposed to coronavirus vaccines. All previous attempts to design a coronavirus vaccine for SARS and MERS, and similar attempts to create the RSV and dengue vaccine caused antibody-dependent enhancement. While antibodies measurably go up after vaccination, these same antibodies lead to a hyper-inflammatory immune reaction once the animal or person is exposed to the wild virus again. These vaccinations ultimately led to deadly immune reactions in the animals, priming them for death once they were exposed to the virus again.
The vaccine's spike protein synthesis causes severe inflammation, a precursor to many severe diseases
Dr. Fleming said the man-made spike proteins, encoded by the vaccine, cause inflammation. In the 1990s, he discovered that inflammation causes cardiovascular disease. The blood clot issue, which has been observed for all the coronavirus vaccines, is a sign that the encoded spike protein synthesis presents an alarming level of inflammation in the body, especially for people who already eat inflammatory foods and have plaque buildup in their arteries.
Dr. Fleming warned about another long-term adverse events that will result from covid vaccination over the next year or two: "In the animal model, they develop (Lewy bodies, associated with dementia), spongiform, and Mad Cow disease. We also know two weeks afterwards they develop…what causes Alzheimer's and neurological disorders."
Fleming concluded that the vaccines have "no statistically significant benefit" and advised the Biden regime to call for an immediate evaluation "whether there's any demonstrated efficacy" of the vaccines, "because there's not."
Sources include:
===
N.B.: The author of the article below reports correctly, though the vaccine manufacturers argue that they actually use just cells from a cell-line and multiply these cells artificially in the lab - trying to rightly debunk wrong assumptions that abortions would be fostered to harvest these cells. However, it is correct to state that incredients that are used in these injections derive from multiplied cells, which originally came from an aborted baby. People will have to make up their own mind if they want incredients based on such to enter their body. What is also important to know is the fact that the injections of both companies contain simian adenovirus that derived from monkeys.
J&J, AstraZeneca Covid-19 jabs both contain aborted human fetal tissue
By Ethan Huff - 15. April 2021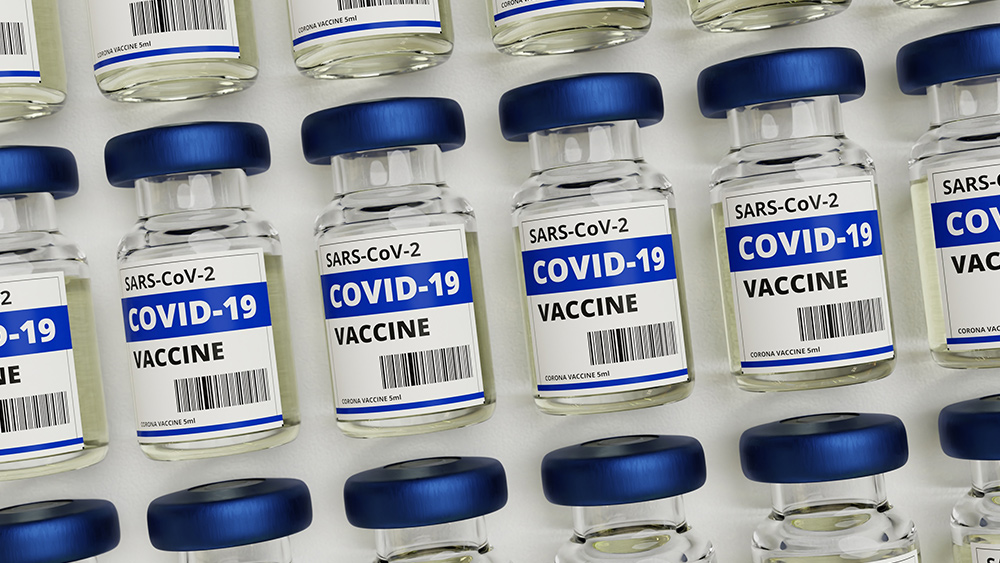 Some leaders in the Roman Catholic Church are warning their laity not to be injected with experimental Wuhan coronavirus (Covid-19) chemicals from Johnson & Johnson (J&J) or AstraZeneca because the jabs contain ingredients derived from aborted human babies.
Archbishop Allen H. Vigneron and a coalition of six other Catholic leaders across the state of Michigan say that many people do not even know the so-called "vaccines" contain aborted fetal tissue because public health officials are failing to be honest and transparent about it.
"They utilized in the design, production, development, and confirmatory testing a cell line that originated from tissue taken from an aborted baby," the Catholic leaders warn about the two injections from J&J and AstraZeneca. "These vaccines may be received only if there are no other alternatives.
To learn more about the dangers and ineffectiveness of vaccines made from aborted human fetal tissue, visit ChemicalViolence.com.
Catholic leaders say it's "morally permissible" to become a GMO human with Pfizer, Moderna jabs
As for the more widely administered messenger RNA (mRNA) injections made by Pfizer-BioNTech and Moderna, the Catholic leaders say that these are preferable because neither of them contains cell lines originating in tissue that was taken from aborted babies.
"It is morally permissible to receive the vaccines developed by Pfizer and Moderna," they declared.
Even though both the Pfizer-BioNTech and Moderna jabs were tested using cell lines from aborted fetal tissue, the Catholic leaders claim that this "connection to the abortion is very remote," and thus morally acceptable in the eyes of the god of Roman Catholicism.
"… it is important to keep in mind that there are varying levels of responsibility," they claim as justification for why the one pair of jabs is "better" than the other pair.
"Greater moral responsibility lies with the researchers than with those who receive the vaccine."
Because J&J and AstraZeneca directly synthesized aborted baby body parts into their vaccine formulas as opposed to just using the tissue for testing purposes like Pfizer-BioNTech and Moderna did, the latter companies' injections are what Catholics should opt for, if possible, the leaders say.
"The vaccines developed by Johnson & Johnson and AstraZeneca are morally more problematic.
Big Tech censoring personal reports about health damage caused by Covid-19 injections
As for the litany of health risks associated with all of these injections, the Catholic leaders failed to warn their laity about any of them, instead choosing to focus on the "immorality" of choosing J&J or AstraZeneca over Pfizer-BioNTech or Moderna.
This could be due to the fact that reports about serious adverse events caused by the injections are being silenced all across social media, including on Facebook where users' personal reports about side effects are being "fact-checked" or censored.
According to reports, Facebook "fact-checked" a woman's post about the serious adverse reactions she suffered immediately after getting injected. One week later, she passed away.
On March 10, Denise Penrod wrote about multiple side effects she suffered after getting jabbed:
'The vaccine is killing me today. My arm hurts, beyond exhausted, headache, stomach cramps and earaches. Multiple people told me that I looked pale today. Yesterday, I was fine but today it's taking a toll on me."
Facebook quickly plastered up a warning over Penrod's post stating that "COVID-19 vaccines go through many tests for safety and effectiveness before they're approved. Source: World Health Organization."
Just a few days later, Penrod's "safe and effective" vaccine injection killed her, defying Facebook's claim that this is impossible because of all the "tests for safety and effectiveness" that her jab supposedly underwent before being plunged into her arm.
According to Penrod's obituary, she passed away "unexpectedly" on March 17, one week after her injection. She was only 25 years old.
Sources for this article include:
===
South Africa accuses J&J of unreasonable covid-19 vaccine demands
By BB - 15 April 2021
South Africa is facing delays to coronavirus-vaccine supplies because of "unreasonable terms" being demanded by manufacturers including Johnson & Johnson in return for delivering millions of much-needed doses, Health Minister Zweli Mkhize said.
The government has been notified by J&J that the company won't sign off on the order agreed last month until it receives greater assurance of support from the state, Mkhize told lawmakers Wednesday, without being more specific.
"We have been taken aback by this as there are clauses in the agreement that express this support," he said. "I mention this to demonstrate to members some of the difficult and sometimes unreasonable terms and preconditions that we have had to navigate through."
J&J didn't immediately reply to emailed request for comment.
The impasse threatens to further delay a vaccine program that lags not just richer countries like the U.S. and the U.K., but also some other African nations. The government's order for 30 million J&J doses is intended to make up a significant portion of a target to inoculate about two-thirds of the population, with the version made by Pfizer Inc. and BioNTech SE the only other one due to arrive.
An earlier plan to partially rely on the vaccine developed by AstraZeneca Plc was shelved after a trial showed limited effect preventing mild illness from a coronavirus variant found in the country late last year.
Pfizer Disagreement
The dispute with J&J follows an earlier one with Pfizer that related to the U.S. drugmaker's demand to be indemnified from any claims made against it in the country. That disagreement has now been resolved, and South Africa is due to start receiving 20 million doses of that version next month.
Pfizer had demanded that the health and finance ministers personally sign the agreement to give more weight to the indemnity, according to a letter between the ministers seen by Bloomberg. Finance Minister Tito Mboweni did not accede to the demand, the National Treasury said.
One issue that South Africa has had with vaccine manufacturers relates to patents. The country, with support from others including India, is pushing for drugmakers to make the intellectual property that prevents mass production of doses more freely available. The pharmaceutical companies are largely opposed to this to maintain future revenue and profit streams.
Separately, Mkhize said late Tuesday South Africa has halted the rollout of J&J vaccines after U.S. health agencies made the same call, citing concerns about rare and severe blood clotting side effects.
"We hope that the deliberations will only take a few days," he told reporters.
J&J last year agreed with Aspen Pharmacare Holdings Ltd. that Africa's biggest drugmaker could manufacture its vaccine at a plant in South Africa.
This story has been published from a wire agency feed without modifications to the text. Only the headline has been changed.
===
Los Angeles police are force-vaccinating special needs children in heinous "Operation Homebound" program that resembles Nazi euthanasia of the retarded
By Ethan Huff - 14. April 2021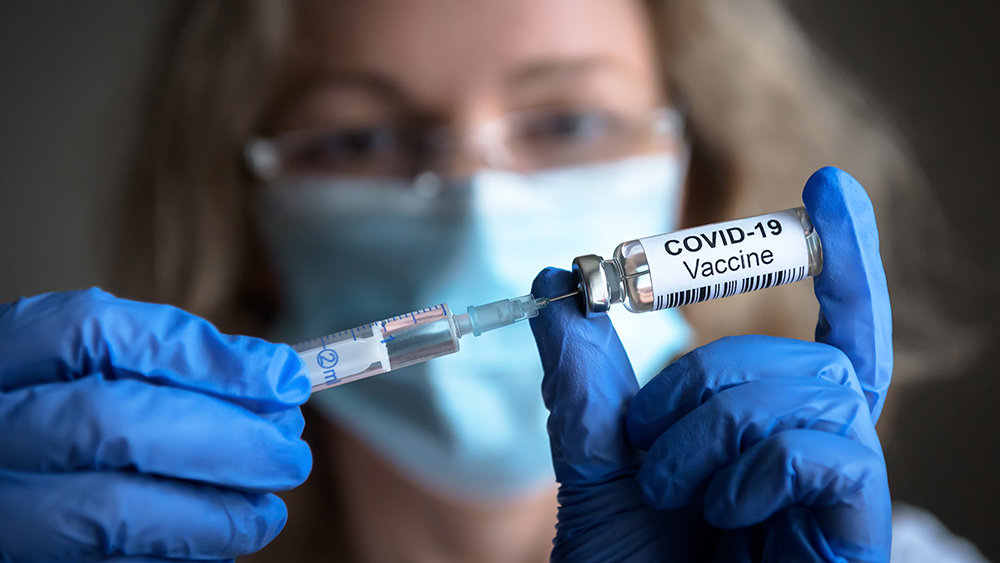 California has launched a new Wuhan coronavirus (Covid-19) vaccination program called "Operation Homebound" that involves sending police officers to people's homes to force-vaccinate their special needs children.
Shocking video footage – see below – shows masked Los Angeles Police Department (LAPD) officers jabbing needles into the arms of scared children with disabilities who clearly do not consent to being medically raped by the police state in the name of "public health."
So they're going after the mentally disabled/housebound ppl who CAN'T fight back/aren't allowed to say no?
Gee, this reminds me of…🤔
The way Nazi's started with the mentally disabled.
How long before we hear of these ppl dying?
This is wrong on SO many levels!#BidensAmerica pic.twitter.com/71bxP4wRWu

— TheJokerMouce (@TheJokerMouce) April 11, 2021
In one of the clips, a terrified special needs woman is seen struggling to escape her captors as they pull out a syringe and chase her arm for injection. Two officers are then seen restraining the woman while a third stabs it into her body without her permission.
"I'll be gentle, okay? I'll be gentle," the officer holding the vaccine says.
"Noooooo!" the poor woman yells as she attempts to resist the chemical violence being inflicted upon her.
After finishing up forever modifying the woman's DNA with the experimental messenger RNA (mRNA) syringe, the officers start clapping while the woman wails in horror at what happened to her.
In another clip, a special needs girl is seen in her driveway trying to escape officers who similarly inject her against her will with a gene-modifying cocktail, all while her family stands around watching.
An Alzheimer's patient in yet another clip is seen being given an injection without even knowing what was going on.
"There you go; piece of cake," the female officer who administered the shot to the dementia patient says. "It's okay, hon, we just gave you a vaccination, that's all."
According to the Los Angeles County Sheriff's Office, Operation Homebound is a "program designed to vaccinate the most underrepresented, homebound, and underserved disabled residents in our communities, including those experiencing homelessness."
Why are Americans putting up with these crimes against humanity?
Forcibly vaccinating the sick and vulnerable without their consent is no different than what violent dictators from the past did to prisoners who were kept in concentration camps.
While the prisoners of yesteryear were held behind barbed wire, today's prisoners are kept inside their homes, distanced from others and masked for their own "protection." And while the prisoners of old were experimented on in confined sanitariums, today's prisoners are visited in person by a masked law enforcement gestapo.
The only thing that has changed all these years is that the genocide now taking place is slightly more veiled than that of the early 20th century. Instead of being herded into gas chamber "showers," today's victims are herded into testing and vaccine clinics for their disease "cure."
And today we have communist China pulling many strings with regards to the total annihilation of the West, as opposed to Benito Mussolini or Joseph Stalin.
"And the cops wonder at why they are being targeted," wrote a commenter at Newswars about how door-to-door forced vaccinations is a really bad look for law enforcement. "When those sick Gestapo bastards come to your door, do not answer it."
"The war is on my friends and if we do not start fighting back this will shortly become another dying socialist experiment by stupid politicians who are beyond being touched by education," this same person added, noting that this is why our founders put the Second Amendment in place.
"Only when enough of those bastards [pay a price] will the politicians get the message that they cannot pull this crap on patriotic Americans."
More of the latest news about how the American police state is blatantly violating the Nuremberg Code with forced Wuhan coronavirus (Covid-19) vaccination of the disabled can be found at ChemicalViolence.com.
Sources for this article include:
===
!!! PARENTAL GUIDANCE REQUIRED, IF WATCHED BY CHILDREN !!!
LA County Sheriff Going Home to Home Forcibly Injecting Handicapped Adults and Children
Republished on BITCHUTE April 24th, 2021
On January 7, 2021, Los Angeles County Sheriff Alex Villanueva put "Operation Homebound" into motion.
It is allegedly a program designed to vaccinate "the most underrepresented, homebound, and underserved disabled residents in our communities, including those experiencing homelessness."
The program is currently on hold due to the J&J shots, the only "single dose" COVID-19 "vaccines" available, being paused by the FDA temporarily due to fatal blood clots.
A disturbing video has surfaced of the program in action, where mentally disabled adults and children try to resist the shots, but are held down and forcibly injected anyway.
===
SHOCK VIDEO: BILL GATES ADMITS COVID-19 VACCINE WILL KILL AND MAIM 700,000
First published at 00:14 UTC on BITCHUTE April 13th, 2020.BANNED.VIDEO
Vaccines, for Bill Gates, are a strategic philanthropy that feed his many vaccine-related businesses (including Microsoft's ambition to control a global vaccination ID enterprise) and give him dictatorial control of global health policy.
===
Shock Witness Footage: Cops Force-Vaccinate Special Needs Girls In Statewide 'Operation Homebound' Program
By Jamie White - 12. April 2021
Horrific video out of California shows LAPD officers forcibly administer the COVID-19 vaccine to a trio of women with special needs who were forcefully resisting the shot.
LA officers worked to administer vaccine to "underrepresented, homebound, and underserved disabled residents." Image Credit: @TheJokerMouce/Twitter
The footage shows a terrified special needs woman struggling to escape getting jabbed while being constrained by two officers as the third officer sticks the needle in her arm.
"I'll be gentle, ok? I'll be gentle," the officer with the vaccine said.
"Noooooo!" the woman screamed.
After forcibly injecting her with the experimental mRNA vaccine, the officers then clapped as the woman continued wailing.
Another special needs girl is seen in a driveway trying to escape the officers with the vaccine before also getting jabbed.
Next, the officers appeared to administer the COVID-19 to a sleeping patient with Alzheimer's disease without her knowledge or consent.
"There you go, piece of cake. It's okay hon, we just gave you a vaccination, that's all," the female officer said as the woman began to wake up.
This disturbing footage is part of Los Angeles' Operation Homebound, which the LA County Sheriff's Department says is a "program designed to vaccinate the most underrepresented, homebound, and underserved disabled residents in our communities, including those experiencing homelessness."
"We are administering the Johnson & Johnson (1 shot only) vaccine utilizing our deputy sheriff personnel who are certified paramedics and emergency medical technicians," the website states. "LASD is working with local community based organizations like 'Integrated Community Collaborative' and 'Disability Voices United' to connect with LA County residents most in need, go to their residences, and provide them this life-saving opportunity."
This particular state-run vaccine initiative appears to be just another insidious form of the eugenics operation already underway as the vaccine is being rolled out across the world.
Alex Jones is interviewed by former CBC host Kerry Lee on his world reaching 'The Awakening' podcast to break down the globalists' COVID-19 vaccine eugenics plan.
===
The Shadowy Alliance Between Big Pharma and Big Tech
By Robert F. Kennedy Jr and Dr. Joseph Mercola - 12. April 2021
CHD Chairman Robert F. Kennedy, Jr. and Dr. Joseph Mercoladiscuss how the narrative perpetuated by Big Pharma and Big Tech — that "vaccines are the only way to restore normalcy" — is leading to the destruction of our Constitutional rights.
In the latest episode of "TRUTH" with Robert F. Kennedy, Jr., Kennedy interviews Dr. Joseph Mercola on the fear-driven COVID-19 narrative, ongoing efforts to resist government restrictions and the loss of freedom seen around the world.
Highlights from their wide-ranging discussion include:
Notes about the soon-to-be-released book "The Truth About COVID-19," by Mercola and Ronnie Cummins. Kennedy, who wrote the forward to the book, says the pandemic is being used to shift wealth upwards, abolish civil rights and destroy democracy. The official release of the book is April 29.
The massive effort from the get-go to sell the idea that the only possible way to control COVID was through masks and lockdowns.
How the public was largely conditioned to believe the world needed to wait on a vaccine for any meaningful intervention against COVID.
How government officials and the media suppressed information about potential treatments such as Hydroxychloroquine and Ivermectin.
How personal data collected by Google over the past nearly two decades is being used to manipulate public behavior.
How Google searches steer people away from anything that goes against Pharma's narrative including natural health, chiropractors and nutrition.
===
DNA/RNA Vaccines: "Can They Alter Our Own Genetic Codes"
Ken Biegeleisen, M.D., Ph.D., explains why he believes Johnson & Johnson cannot guarantee its COVID vaccine won't alter your genetic code.
By Dr. Ken Biegeleisen - 12. April 2021
Everyone is talking about DNA/RNA vaccines. Can they alter our own genetic codes?
The vaccine lobby says "Never!" I, however — laboring beneath the weight of a Ph.D. in virology — would instead quote Gilbert and Sullivan: "Well, hardly ever."
Most people don't know very much about DNA or RNA, so I'll start with a 30-second chemistry discussion. DNA and RNA are both polymers, long strings (in this case, very long strings) composed of seemingly endless repetitions of a single basic chemical building block, called a nucleotide.
The resulting structure is often likened to a string of pearls, or to the rungs of a very, very long ladder. A single human cell contains some 6 billion nucleotide building blocks in its chromosomes.
In the picture below, the DNA basic building block is on the left, and the RNA building block is on the right. Take a look and see whether or not you can discern the difference:
Don't see much difference? That's because there isn't much. The red asterisk (*) shows the primary difference. RNA has an extra "O" (the abbreviation for an Oxygen atom). That's about it.
Viruses have no lives of their own. They can grow only in host cells, such as, for example, your cells. In order for a virus to infect you, it needs to recognize a "receptor" on your cell surfaces. If — and only if — the virus can recognize such a receptor, then it has its own clever way of attaching itself to that receptor and sneaking its DNA (or RNA — viruses can have either one) into your cells.
Once inside, the DNA (or RNA) virus chromosome proceeds to reproduce itself, giving rise to hundreds or thousands of exact copies.These are then turned into complete virus particles by being covered with a protective protein coat. Next, the cell is broken open and the new progeny viruses disperse, infecting hundreds or thousands of other cells.
It's easy to see how a viral infection can spread like wildfire in your body.
Even though the chemical differences between DNA and RNA are relatively small, the cell is smart enough to instantly recognize those small differences and act accordingly.
DNA is replicated in our cells by means of an enzyme called "DNA polymerase." RNA, however, will not ordinarily be replicated by our cells because that's simply not the way things work. So how does the RNA virus reproduce?
Some RNA viruses have an enzyme called "reverse transcriptase," which begins each new viral life cycle by converting the virus' RNA chromosome into DNA. This DNA copy can then be replicated by the cell's own DNA polymerase-based system.
But other RNA viruses, including the COVID-19 strain of coronavirus, bring in their own special reproductive enzyme called "RNA polymerase," which has the ability to directly produce numerous copies of the virus' own RNA chromosome without any help from the cell's native DNA polymerase system.
Now let's speak for a moment about alteration of our genetic code. The interaction between a virus and the host cell is generally classified as being one of two distinct types of interaction.
Historically, the first type of interaction (discovered in the late 19th and early 20th centuries) was what we now call, in retrospect, a "productive infection." Here the virus reproduces and kills the cell, releasing the many progeny as described above.
It was only in the later years of the 20th century that it became clear that there is a second sort of interaction, very different in nature, known as a "transforming" interaction (also called a "latent" infection). In a transforming interaction there is no virus growth at all. Instead, the single chromosome of the virus uses its bag of genetic tricks to insert itself into one of the 46 chromosomes of the host cell. There the viral DNA remains, sometimes forever.
In some species, such as herpesviruses, the virus' chromosome just sits there, inside the host chromosome, apparently doing nothing — unless and until some sort of stimulus causes it to "pop out" again and begin growing. This produces a "cold sore" of the lips (herpesvirus type 1) or genitalia (herpesvirus type 2).
A large number of publications have documented that many — perhaps most — human beings have, within their nervous systems, cells which quietly harbor latent herpesvirus infections, even though the majority of humans will never get a cold sore. It is a known fact that herpes type I, in the latent state, resides in the trigeminal ganglion, inside the skull near the spinal cord. It is believed to be perfectly harmless in this latent state.
Other viruses, however, are not harmless in the latent state. A good example is SV-40, a DNA virus which is known to be capable of causing cancer in many mammalian species. SV-40 infects cells, but it usually doesn't grow. Instead, it inserts its own chromosome into one of the cell's chromosomes (a process called "integration"), and from that new base of operations it converts the cell from a normal cell, which is subject to normal forms of growth control, to a malignant cell which respects none of the host organism's growth controls, and thereby causes cancer. This alteration, from normal to cancerous, is referred to as a "malignant transformation."
But the term "transformation" does not automatically connote malignancy. Although a "transformation" may be harmful in any number of ways (and not solely limited to cancer), it might in other cases be entirely inconsequential (as far as the eye can see). In special cases, it might even be beneficial.
Curiously, however, even now — 68 years after the publication of the "Watson-Crick double-helix" structure for DNA — the dream of curing disease via human genetic re-engineering, employing custom-made viruses, remains in its infancy.
On the other hand, certain questionable forms of hastily-contrived human genetic experimentation, empowered by "executive orders," and facilitated by "fast-track" bypassing of safety protocols, have become alarmingly commonplace.
Can a DNA-based vaccine 'transform' a human cell into something genetically different?
With all this in mind, we can now ask the question of whether or not a DNA-based vaccine might "transform" a human cell into something genetically different.
This is no small question, because if the answer is "yes," and if the transformation proves to be harmful, then that harm may be passed to every subsequent generation — forever.
From 1972-1978, I was an M.D. – Ph.D. student at the New York University School of Medicine. Our lab addressed a question which was current at that time: In "productive infections," where a virus replicates in cells and ultimately destroys them, might there nevertheless be integration of viral DNA into the host cell chromosomes?
We asked that question because, at that time in virological history, it had become abundantly clear that many different types of viruses could transform many different types of cells into malignant cancer cells. Those cells, if transplanted into animal hosts, would then form cancerous growths which would quickly kill the animal.
This sort of virus-mediated malignant transformation always began with the insertion (i.e., integration) of viral DNA into the chromosomes of the host cells. (Yes, I'm talking about that which the vaccine companies "assure" us will not follow vaccination with their "fast-tracked" new products).
Once these viral genes take up residence in host cell chromosomes, they are thereby empowered to seize control of the cell's metabolism, perverting it to their own purposes.
So the question virologists were asking in the 1970s was this: Is the insertion of viral genes into host cell chromosomes a process uniquely associated with cancerous transformations? Or might the insertion of viral genes into host cell chromosomes take place in any and every sort of viral infection, whether it was a "productive" infection leading to virus multiplication and cell death, or whether it was a "transforming" infection where there was no virus multiplication at all?
We looked into this question by studying the infection of mammalian cells by herpesviruses. In the end, we published three papers, all in leading virology journals. These papers, listed below, are very difficult reading for anyone not familiar with the peculiar jargon of the field. But for those who are interested, here are the three references:
Rush MJ & Biegeleisen K. Association of Herpes simplex virus DNA with host chromosomal DNA during productive infection. Virology, 69:246-257 (1976). https://doi.org/10.1016/0042-6822(76)90211-7.
Rush MJ, Yanagi K & Biegeleisen K. Further studies on the association of Herpes simplex virus DNA and host DNA during productive infection. Virology, 83:221-225 (1977). DOI: 10.1016/0042-6822(77)90227-6.
Yanagi K; Rush MG; Biegeleisen K. Integration of herpes simplex virus type 1 DNA into the DNA of growth-arrested BHK-21 cells. Journal Of General Virology, 44(3):657-667 (1979). DOI: 10.1099/0022-1317-44-3-657.
The first paper proved that herpesvirus genes are integrated into host cell chromosomes, but left some important questions unanswered concerning the physico-chemical nature of the linkage between viral and host DNA.
By the third paper, however, all reasonable doubt about the integration of viral DNA into host chromosomes had been laid to rest.
Another line of investigation going on at about the same time, in the laboratory of W. Munyon, led to the same conclusion. Munyon and his associates studied an enzyme called "thymidine kinase." What that enzyme does is extraneous to this discussion. What matters is that the gene for the enzyme is normally found in human chromosomes, and also in herpesvirus chromosomes.
Munyon and his team had a mutant strain of cells that lacked the thymidine kinase gene. They infected those cells with herpesvirus that had been irradiated, and thereby rendered incapable of multiplying in and killing the cells.
But the virus did, nevertheless, carry in its own thymidine kinase gene. Upon infection, the cells were shown to suddenly have acquired that enzyme, even though they were mutants who had none of their own. Because the virus had been irradiated, it did not kill the cells, which continued growing in the laboratory.
Eight months — which is hundreds of generations — later, the progeny of those cells were still producing thymidine kinase!
So if a DNA vaccine company alleges that their vaccine will cause my cells to temporarily manufacture corona spike protein, but will not permanently "transform" my cells in any other way, what am I to think?
Or, perhaps I'm not supposed to think?
So far we've talked only about herpesvirus. The new Johnson & Johnson vaccine uses "reproductively incompetent" genetically engineered adenovirus as the carrier for the corona spike protein gene.
Should we worry? After all, unexpected integration of viral genes may be peculiar only to herpesvirus, and not adenovirus, right?
Unfortunately, that's not the case. What I did not realize, at the time I was doing my own Ph.D. research on herpesvirus, was that other labs were conducting the same type of research on the adenovirus. Here's an example of that work:
Schick J, Baczko K, Fanning E, Groneberg J, Burgert H, & Doerfler W (1975). Intracellular forms of adenovirus DNA: Integrated form of Adenovirus DNA appears early in productive infection. Proc Nat Acad Sci USA, 73(4):1043-1047. DOI: 10.1073/pnas.73.4.1043. PMID: 1063388. PMCID: PMC430196.
Like coronavirus, there are dozens of known adenovirus types, most of which are classified as "cold viruses." But some adenoviruses cause much more serious disease, including cancer.
In the 1970s, the adenovirus researchers were asking the same questions that the herpesvirus workers were asking. And they were coming up with the same answers: In "productive infection," where adenovirus was supposed to only replicate and destroy the cell, there was indeed extensive integration of viral genes into the host cell chromosomes — even though there was no obvious biological reason for the virus to do that.
No guarantees, despite what vaccine makers say
It seems that in many, perhaps most viral infections, integration of viral DNA into the host cells is a very real possibility. When this occurs, there is absolutely no way to "guarantee" that the genetic code of the host cell will not be re-written.
The question then arises: If this is the case, why do vaccine manufacturers "assure" us that their marginally tested products are genetically "safe?"
I would suggest three possible explanations, all equally reprehensible:
It may be that the scientists in these companies simply do not know the history of this field. What can one say? "Those that fail to learn from history are doomed to repeat it."
It may be that anything in industry which does not improve the quarterly profit report is at great risk of being ignored.
It may be that calling a new vaccine "safe," in the pharmaceutical world, means little more than that the company has the legal resources to deal with any liability claims that arise.
Which of these three possible explanations is the correct one? Or is it all three?
In any event, you now know why I shall not take the Johnson & Johnson vaccine.
What about RNA vaccines?
We've been discussing DNA vaccines. What about RNA vaccines, such as Pfizer and Moderna?
Although I have no personal experience working in the lab on genetic transformation of human cells by RNA viruses, it is appropriate to comment briefly on that subject before closing.
The RNA vaccines are alleged by their promoters to be genetically "safe" because RNA cannot be directly incorporated into human chromosomes.
Is that true? Yes. But does that make them "safe?" Perhaps not.
What the vaccine companies forgot to tell you is that our cells have several types of "reverse transcriptase" of their own, which can potentially convert the vaccine RNA into DNA.
In December 2020, a team of researchers from Harvard and MIT (Zhang et al) posted an article at the Cold Spring Harbor Laboratory-hosted bioRxiv preprint server showing that, in all probability, incorporation of coronavirus spike protein genes, into the chromosomes of infected cells, does indeed take place, and is mediated by the so-called "LINE-1" type of human reverse transcriptase. (For more on the Harvard-MIT study and its implications, read this article previously published by The Defender).
To be clear, this was not a vaccine study, but a study in which cells were deliberately infected with whole, non-inactivated virus, as happens in nature, and which apparently can result in genetic transformation of the cells after all.
This, suggested the authors, may account for the now-frequent observation of COVID-19 test "positivity" in people who are clearly not sick. That is, the bodies of such people are continually manufacturing corona spike protein, from the viral genes which have been permanently incorporated into their genetic codes.
It could be said, in defense of the genetics-based-vaccine lobby, that since infection with whole, functional coronavirus clearly appears capable of transforming the human genetic code, causing our cells to forever manufacture the viral spike protein, there may therefore be some justification in mimicking this natural transformation via an unnatural RNA vaccine.
In condemnation of that lobby, however, we cannot overlook the obviously unwarranted assurances of vaccine manufacturers that alteration of our genetic code "will not happen." Such a statement casts doubt on (a) their competence in their own field, and (b) their willingness to accept the consequences of their own actions.
Moreover, reverse transcription is a known means of normal human chromosome-to-chromosome gene mobility, a fascinating process whose study goes back to the pioneering work of Barbara McClintock in the 1930s. It has thus been well-known, for the better part of a century, that the effects of moving genes around will very much depend on where they are moved, and on exactly and precisely what is moved.
In the case of the current vaccine-borne corona spike protein gene, no one has any clue as to where in our genomes it will wind up, or what it will do when it gets there.
There is a corona vaccine, Novavax, which contains no genetic material at all (i.e., no DNA or RNA), but rather consists solely of the corona spike protein. Of all the available vaccines, this is the one least likely to cause human genetic harm. But almost no one gets it, because it's not available in most countries. Why not?
There are also at least two corona vaccines (Sinopharm, Sinovac) which are made from whole inactivated virus, analogous to the polio vaccines of the 20th century. This is a tried and tested form of technology, but very few people get those vaccines either.
Instead, we're all being pressured into taking hastily prepared genetic vaccines, which are likely to transform our heredity, permanently. Is there any reason for this, other than countless billions of dollars in windfall profits?
It is my view that the massive and barely studied global human genetic experiment going on right now is the biological equivalent of a drunk driver, speeding down the highway with impunity at 60 mph — at night without headlights — because he says that "he knows the road."
Most sensible people are wary about "GMO," even in food. Now we're going to genetically modify ourselves? Why? What madness is this?
Author:
Ken Biegeleisen, M.D., Ph.D., has studied virology and is the author of multiple studies on virology and DNA/protein structure.
Featured image is from Children's Health Defense
===

Source: JimStone.is
===
CANADIANS DRAGGED FROM THEIR HOMES AND VACCINATED – HOSPITALS ARE EMPTY
It has reached the point people where if you don't stand up for your rights and Freedom, they will drag you out of your home like they already have in Alberta and you will be forcibly vaccinated.
NO MORE! ENOUGH IS ENOUGH!/ fat ford shut up!
April 10, 2021 BITCHUTE
===
===
Information Sources That Disclose The Dangers of The SARS-COVID-2 Vaccines
By Gary - 10. April 2021
These vaccines are not technically licensed, as their clinical trials will not be completed until 2023, yet their promotion is rampant everywhere.
The government, corporations, and celebrities are on an orchestrated campaign to sell us the vaccine, but on what basis are they promoting it?
If you are looking for more information on the safety of and/or dangers associated with the offerings being touted as COVID vaccines, please click on the links below.
THIS IS AN INCOMPLETE LIST OF DEATHS & ADVERSE EVENTS REPORTED IN GLOBAL MEDIA AFTER PEOPLE RECEIVED COVID-19 SHOTS – It doesn't even cover a complete month and doesn't include other events the press ignored, so this is just the tip of the iceberg!
===
MRNA Vaccines May EDIT Your Genes Through 'Retro-Integration' And The DNA Damage Might Be Passed On To Future Generations, If Any
By HR/ET - 09. April 2021
With each passing day, it's becoming increasingly obvious that mRNA vaccines are a death weapon against humanity. Now, we're learning that mRNA vaccines may pose a threat to the viability of the human species thanks to the fact that a mechanisms exists whereby mRNA sequences can be transformed into DNA and inserted into your human genome.
This means there is a possibility that mRNA vaccines might turn you into a "genetically engineered" organism, with potentially catastrophic consequences for your own health as well as impacting fertility and future generations.
It is technically possible that mRNA vaccines may cause widespread infertility, birth defects or horrific deaths by altering human DNA.
The problem is that nobody knows for sure how many people might be impacted in this way because no long-term safety trials have been conducted.
Thus, people taking the vaccine right now are unwittingly taking part in a global vaccine experiment that may alter their own genes and remove them from the human gene pool.
In effect, mRNA vaccines might be the most powerful vector of so-called "natural selection" we've ever seen, wherever people remove themselves from the gene pool by rendering their own reproductive capabilities non-functional.
This is all covered in great detail at the Children's Health Defense website.
Sources: AFinalWarning.com; Brighteon
===
Dolores Cahill: Why You Shouldn't Get An mRNA Vaccination
By Gary - 08. April 2021
They are really not vaccines as you know them historically and have not been subject to the testing regimen that approved vaccines must follow.
They change your genetic structure which can lead to both short-term problems and more severe issues down the road.
Dolores Cahill, Professor, University College Dublin
Professor Cahill received her degree in Molecular Genetics from Trinity College Dublin (1989) and her Ph.D. in Immunology from Dublin City University in 1994. She was the group leader of the Protein Technology Group in the Max Planck Institute for Molecular Genetics, Berlin, Germany (1996-2003) She co-founded a biotechnology company, Protagen AG (www.protagen.de) in Dortmund to commercialize this technology. She was a Professor of Translational Science at the UCD School of Medicine and Medical Sciences from 2005 until March 2021 when she was removed as a lecturer because of her stance on this issue.
Her research, publication, and patent record are in high content protein/antibody arrays and their biomedical applications. Applications include the characterization of antibody specificity (including therapeutic antibodies), biomarker discovery validation, diagnostics, assay development, protein-interaction studies, proteomics, large-scale/systems biology research.
For the past ten years, she has been on a number of Science Advisory & Review Boards, including for BMBF/DLR in Germany; BBSRC in the UK; Vinnova in Sweden. She has received prizes for her research, including the prestigious BMBF 'BioFuture' Award from the German Minister of Science. She was awarded the Federation of European Biochemical Societies (FEBS) 2009 Award for her research & its significance. Other recipients of this award include Prof. J. Craig Venter & Prof. Robert Huber.
===
They're Not Even Trying To Hide Their Lies
Health minister of Belgium gets vaccinated with safety cap on and plunger not pushed in!!!
First published on BITCHUTE April 7th, 2021.
===
Wanna-be Tyrant Klaus Schwab Declares Unvaccinated People to Be a Threat to Humanity
By Ethan Huff - 05. April 2021
Several dozen heads of the World Health Organization (WHO), the World Economic Forum (WEF), and various other globalist bodies have declared that the "Great Reset" needs to include the establishment of a global "pandemic" treaty to ensure that all humans are "vaccinated" in accordance with government edicts.
WEF head Klaus Schwab, who looks an awful lot like an aged Heinrich Himmler of the Nazi SS, says humans who refuse to go along with the plan are a threat to everyone else. He, U.K. Prime Minister Boris Johnson, French President Emmanuel Macron, German Chancellor Angela Merkel, and many of the other usual suspects all agree.
These international "leaders" signed on to a letter that says the next phase of the plandemic transition into a New World Order necessitates that the world's social engineers and societal architects "build a more robust international health architecture that will protect future generations."
The letter goes on to declare the Wuhan coronavirus (Covid-19) as the "biggest challenge to the global community since the 1940s," adding that there will definitely be "other pandemics and other major health emergencies" in the years to come.
"No single government or multilateral agency can address this threat alone," the letter adds.
"The question is not if, but when. Together, we must be better prepared to predict, prevent, detect, assess and effectively respond to pandemics in a highly co-ordinated fashion. The Covid-19 pandemic has been a stark and painful reminder that nobody is safe until everyone is safe."
Wuhan virus "vaccines" are the first piece of the Mark of the Beast
Schwab stated just a few weeks ago that he believes "nobody will be safe" unless "everybody is vaccinated."
It does not matter if a "vaccine" is experimental and still undergoing clinical trials, which is the case for all Wuhan virus vaccines currently being distributed. If the government says you should get it, then you have to get it, Schwab contends.
The other signatories have essentially declared that they believe the same thing. All injections, no matter their purpose or the risks involved, must be taken by all humanity in order for everyone to feel "safe" against scary germs from China or elsewhere.
This will bring about a "public good" that will fulfill the tenets of the New World Order as long planned by the secret societies, and as delineated on the Georgia Guidestones, in the Noahide laws, and in other key deep state texts that function as blueprints for a future totalitarian world.
The Wuhan coronavirus (Covid-19) plandemic is just one piece of this much larger agenda, which involves injecting all of humanity with the first piece of the Mark of the Beast.
Once the vaccine "software" is installed, more components will be added later to bring about total and absolute worship of the "beast."
Nobody will be able to buy or sell anything without first being "vaccinated." By agreeing to get vaccinated, people are giving their worship and allegiance to the New World Order beast system known as Western "medicine," which is forever enslaving them through lies and deception.
"The main goal of this treaty would be to foster an all of government and all of society approach, strengthening national, regional and global capacities and resilience to future pandemics," the letter further reads.
"This includes greatly enhancing international co-operation to improve, for example, alert systems, data-sharing, research and local, regional and global production and distribution of medical and public health counter-measures such as vaccines, medicines, diagnostics and personal protective equipment."
===
Short News 04. April. 2021
USA stops production of AstraZeneca / Vaxzevria vaccine
The administration of US President Joe Biden has decided to stop production of the AstraZeneca vaccine at the Emergent Biosolutions plant in Baltimore, Maryland.
---
Germany: Governement now " thinking " about only allowing people with the shots to be able to travel and be out and about or to buy food.
That is against the law. So now they are " thinking " about changing laws. Through the grape wine it is reported, they believe if people will not be able to buy food without the shot ,they will have to take it. They say In adversity, people will have no other choice. They will have to take the shots or have no food. This is also on the table. If something is debated in politics you can bet your sorry ass that is what they want to do. My opinion.
===
Harvard Medical Prof & Vaccine Expert Explains:
COVID Shot Isn't Necessary For Many
By Arjun Walia - 04. April 2021
IN BRIEF
The Facts:

Harvard Medical Professor & vaccine safety expert explains why he believes the covid vaccine is not necessary for most people as well as children.

Reflect On:

Are vaccines really as safe and effective as they are marketed to be?
Martin Kulldorff is a "pro vaccine" Harvard medical professor and scientist who has experienced something many of his colleagues have during this pandemic, censorship and ridicule. It's something he's never experienced, especially given the fact that he is a renowned expert in his field, but covid has unleashed a large attack on scientists, doctors and journalists who present information, data, science, or even an opinion that calls into question the claims of governments and the measures they are and have been taking in an attempt to stop the spread of covid. There is a lot of science and data showing that lockdowns, for example, do nothing to stop the spread of covid and have/will kill more people than the virus itself, as well as cause many other problems that go even beyond health. There are multiple dozens of these studies that have now been published.
Kulldorff recently tweetedthe following,
-->Free e-book - Eat to Defeat Cancer : Are you eating any of the foods that fuel cancer... or the foods that help PREVENT it? Get the TRUTH, and discover the top 10 Cancer-Fighting Superfoods Click here to get the free ebook.
Thinking that everyone must be vaccinated is as scientifically flawed as thinking that nobody should. COVID vaccines are important for older high-risk people, and their caretakers. Those with prior natural infection do not need it. Nor children.
He also recently tweeted,
After having protected themselves while working class were exposed to the virus, the vaccinated #Zoomers now want #VaccinePassports where immunity from prior infection does not count, despite stronger evidence for protection. One more assault on working people.
He has been quite outspoken in his belief as to why those pushing the idea of vaccine passports are doing nothing but harm and that the censoring of vaccine discussions is the real problem.
Again, Kulldorff is not against vaccines, in fact, he supports them. But when it comes to covid, he believes that people who have been infected, which is probably more than a billion people around the globe, already have developed immunity to the virus. Meanwhile, when it comes to the efficacy of the vaccine, we still don't know how effective it is at stopping the spread.
There are multiple studies hinting at the point the professor makes, that those who have been infected with covid may have immunity for years, and possibly even decades. For example, according to a new study authored by respected scientists at leading labs, individuals who recovered from the coronavirus developed "robust" levels of B cells and T cells (necessary for fighting off the virus) and "these cells may persist in the body for a very, very long time." This is just one of many examples. There are studies that suggest infection to prior coronaviruses, which prior to COVID-19 circled the globe infecting hundreds of millions of people every single year, can also provide protection from COVID-19.
When making unscientific claims, media often refer to 'health officials' or 'health experts' without naming those experts. I challenge Twitter to name vaccine epidemiologists who think that everyone must get the Covid vaccine, including children and those with immunity from prior infection. – Kullforf
He also states that the covid vaccine has not been approved for children and we know nothing about the efficacy of it or potential adverse reactions some children may have to it.
Kulldorff recently gave an interview with, according to his tweet, "a top mainstream journalist who chose to remain anonymous rather than risk his/her livelihood." Again, this is a common theme. For example, Jonas F Ludvigsson, a paediatrician at Örebro University Hospital and professor of clinical epidemiology at the Karolinska Institute is quitting his work on covid-19 because of harassment from people who dislike what he discovered, that out of nearly 2 million school children, zero died as a result of covid during the first wave when there were no lockdowns, school closures or mask mandates. You can read more about that specific story here.
According to Kulldorf, from the recent interview he gave:
Since most children are asymptomatic or only mildly symptomatic, it will be hard to show that the vaccine can reduce symptoms, hospitalisations or mortality in children, requiring a large sample size in countries that still has considerable disease spread.

I have worked with vaccines for a couple of decades, but Twitter clearly thinks that scientific discussions about these things are dangerous. Maybe social media is dangerous to those in power. I do hope that social media is dangerous to the lockdowns that have done so much damage to public health during this past year. The enormous collateral public health damage, which is being documented by Collateral Global, is something that we will continue to to live with, and die with, for many years to come. It truly is a public health tragedy of epic proportions.
I recently wrote an article titled "The Top Four Reasons Why Many People, Doctors & Scientists Refuse To Take The COVID Vaccine." It's about a 20 minute read and goes into greater detail on this topic, presenting information that you'll probably never come across via mainstream media or social media platforms due to the censorship that's occurred.
The Takeaway: At the end of the day, things are not as black as white as it seems when it comes to all things covid. With the new vaccines in particular, if you read through the article above, this becomes quite clear. Despite this fact, any doctor, scientist, journalist or peer reviewed scientific publication that calls into question the vaccine, its efficacy and its safety in both the short term and long term
Author:
===
===
Number of COVID Vaccine Injuries Reported to VAERS Surpasses 50,000, CDC Data Show
VAERS data released today showed 50,861 reports of adverse events following COVID vaccines, including 2,249 deaths and 7,726 serious injuries between Dec. 14, 2020 and March 26, 2021.
By CHD - 02. April 2021
Data released today by the Centers for Disease Control and Prevention (CDC) on the number of injuries and deaths reported to the Vaccine Adverse Event Reporting System (VAERS) following COVID vaccines revealed steadily rising numbers, but no new trends. VAERS is the primary mechanism for reporting adverse vaccine reactions in the U.S. Reports submitted to VAERS require further investigation before a causal relationship can be confirmed.
Every Friday, VAERS makes public all vaccine injury reports received to the system as of Friday of the previous week. Today's data show that between Dec. 14, 2020, and March 26, a total of 50,861 total adverse events were reported to VAERS, including 2,249 deaths — an increase of 199 over the previous seven days — and 7,726 serious injuries, up 631 over the same time period.
Of the 2,249 deaths reported as of March 26, 28% occurred within 48 hours of vaccination, 19% occurred within 24 hours and 43% occurred in people who became ill within 48 hours of being vaccinated.
In the U.S., 136.7 million COVID vaccine doses had been administered as of March 26.
This week's VAERS data show:
19% of deaths were related to cardiac disorders.
45% of those who died were male, 43% were female and the remaining death reports did not include gender of the deceased.
The average age of those who died was 77.7 and the youngest death was an 18-year-old.
As of March 26, 341 pregnant women had reported adverse events related to COVID vaccines, including 104 reports of miscarriage or premature birth.
Of the 578 cases of Bell's Palsy reported, 63% of cases were reported after Pfizer-BioNTech vaccinations — almost twice as many as reported (36%) following vaccination with the Moderna vaccine. Seven cases of Bell's Palsy were reported with Johnson & Johnson (J&J) vaccine (1%).
There were 2,578 reports of anaphylaxis, with 53% of cases attributed to the Pfizer-BioNTech vaccine, 44% to Moderna and 3% to J&J vaccine, which was rolled out in the U.S. on March 2.
Using a broadened search for any reference to anaphylaxis in chart notes resulted in 15,193 reports, with 52% of cases attributed to Pfizer's COVID vaccine, 45% to Moderna and 3% to J&J. With each vaccine, nearly 42% of anaphylactic reports occurred in people aged 17-44.
According to the CDC's website, "the CDC follows up on any report of death to request additional information and learn more about what occurred and to determine whether the death was a result of the vaccine or unrelated."
To date, the only information the CDC has published related to the investigation of COVID vaccine-related deaths and how those investigations were conducted is a COVID-19 Vaccine Safety Updatevia the Advisory Committee on Immunization Practices, published Jan. 27.
An interview in MedPage Today highlighted the shortfalls of the post-marketing surveillance of the COVID vaccine. Aaron Kesselheim, professor of medicine at Harvard Medical School and Brigham and Women's Hospital in Boston, said we are seeing a lot of spontaneous reporting, a lack of formal post-approval studies because vaccines have only received Emergency Use Authorization and vaccines being given outside the healthcare systems — interfering with the ability to rigorously collect observational data.
Although the CDC and U.S. Food and Drug Administration (FDA) have various systems in place to monitor the safety of vaccines, they are not "up and running" and do not have adequate resources behind them, Kesselheim said.
According to Kesselheim, there's essentially nobody keeping track of COVID adverse reactions in the U.S. and no long-term safety data, but emphasized that this new mRNA technology is "extremely effective and extremely safe."
On March 8, The Defender contacted the CDC with questions about reported deaths and injuries related to COVID vaccines. We provided a written list of questions about how the CDC conducts investigations into reported deaths, the status of investigations on deaths reported in the media, if autopsies are being done and the standard for determining whether an injury is causally connected to a vaccine.
We also inquired about whether healthcare providers are reporting all injuries and deaths that might be connected to the COVID vaccine, and what education initiatives are in place to encourage and facilitate proper and accurate reporting.
It took the CDC 22 days to respond to our repeated inquiries. When someone did, the person told us the agency had never received the questions — even though the employees we talked to several times said their press officers were working through the list of questions and were reviewing the email we sent. We provided the questions again yesterday, and requested a response by April 7.
Breakthrough cases
On March 31, The Defender reported on the increasing number of "breakthrough cases" of COVID in fully vaccinated people. Washington, Florida, South Carolina, Texas, New York, California and Minnesota have all reported breakthrough cases of COVID, some of which have resulted in hospitalization and death. Investigations are underway to determine if there were problems with the vaccines or if people had been infected with a variant.
When asked about the increasing number of breakthrough cases during a White House press conference, Dr. Anthony Fauci, President Biden's chief medical advisor, said it is something they will take seriously and follow closely, but breakthrough infections happen with any vaccination.
CDC issues new travel guidance, vaccine passports stir controversyThe CDC today issued new travel guidance stating that fully vaccinated Americans traveling within the U.S. do not have to get tested for COVID before or after their trip, and do not need to self-quarantine when they return home.
On March 29, The Defender reported that the Biden administration and private companies are working to develop vaccine passports that would require Americans to prove they've been vaccinated against COVID as the country opens.
Dr. Naomi Wolf, founder and CEO of Daily Clout, said the passport system really isn't about the vaccine. It's about your data, and "once this rolls out you don't have a choice about being part of the system."
Rep. Pete Sessions (R-Texas) said that vaccine credentials are a complete government overstep that will undermine public trust and substantially limit normal day-to-day essential activities. Rep. Lauren Boebert (R-Colo.) said "vaccine passports are unconstitutional. Period."
On March 26, New York launched a digital vaccine passport system known as Excelsior Pass that residents can use to prove they've been vaccinated or recently tested negative for infection. The New York system, built on IBM's digital health pass platform, will be used at dozens of events, including arts and entertainment venues.
J&J makes headlines with manufacturing mix-up, report of severe allergic reaction
As The Defender reported April 1, 15 million doses of J&J's vaccine failed quality control after workers at a Baltimore manufacturing plant negligently put an AstraZeneca ingredient in J&J's COVID vaccine. The mix-up forced regulators to delay authorization of the plant's production lines and prompted an investigation by the FDA.
On March 31, Business Insider reported that a 74-year-old Virginia man suffered a rare reaction to J&J's vaccine that caused a painful rash to spread across his entire body and skin to peel off. Richard Terrell told local news station WRIC he began suffering strange symptoms four days after receiving the vaccine.
"I began to feel a little discomfort in my armpit and then a few days later I began to get an itchy rash, and then after that I began to swell and my skin turned red," Terrell said.
The rash spread to his entire body and his skin peeled off. He went to the emergency room, where doctors determined that he had experienced an adverse reaction to the COVID vaccine.
AstraZeneca suspended in Germany and Canada
On March 31, The Defender reported that Germany indefinitely suspended use of the Oxford-AstraZeneca COVID vaccine for anyone under 60 following advice from STIKO, the country's independent vaccine committee and external experts.
The committee investigated reports of blood clots, some fatal, in people who received the vaccine and decided to give the vaccine only to people 60 or older unless they belong to a high-risk category where the benefits outweigh the risk of a serious side-effect.
As The Defender reported on March 30, several regions of Germany, including Berlin and Munich, had temporarily paused the vaccine for people under 60 after Germany's vaccine regulator disclosed 31 cases of a rare brain blood clot, nine of which resulted in deaths. The decision was made as a precaution ahead of a meeting with national medical regulators scheduled for later in the day where it was decided to indefinitely suspend the vaccine.
On March 30, Canada announced it was suspending AstraZeneca's vaccine for people under age 55 following concerns it might be linked to rare blood clots, The Defender reported.
Health Canada demanded AstraZeneca conduct a detailed study on the risks and benefits of its COVID vaccine across multiple age groups, and suspended the vaccine for younger groups pending the outcome of that review.
On March 24, Health Canada updated the product information for AstraZeneca's COVID vaccines to warn of the risk of rare blood clots associated with low levels of blood platelets following vaccinations — a stark reversal from Canada's former position.
Children's Health Defense asks anyone who has experienced an adverse reaction, to any vaccine, to file a report following these three steps.
Author:
Megan Redshaw is a freelance reporter for The Defender. She has a background in political science, a law degree and extensive training in natural health.
===
15 million J&J COVID Vaccines Thrown Away After Ingredient Mix-Up With AstraZeneca
By CHD - 01. April 2021
The mix-up at a Baltimore manufacturing plant forced regulators to delay authorization of the plant's production lines and prompted an FDA investigation.
Fifteen million doses of Johnson & Johnson (J&J's) vaccine failed quality control after workers at a Baltimore manufacturing plant negligently combined ingredients from AstraZeneca and J&J's COVID vaccine.
The mix-up forced regulators to delay authorization of the plant's production lines and prompted an investigation by the U.S. Food and Drug Administration (FDA).
According to The New York Times, the plant is run by Emergent BioSolutions, a manufacturing partner with J&J and AstraZeneca, whose vaccine has yet to be authorized for use in the U.S.
Ask Congress to Investigate COVID Origins -Take Action
Emergent has been cited repeatedly by the FDA for problems such as poorly trained employees, cracked vials and mold around one of its facilities, according to records obtained by the Associated Press through the Freedom of Information Act.
AstraZeneca and J&J's COVID vaccines employ the same technology which uses a version of a virus — known as a vector — that is transmitted into cells to make a protein that then stimulates the immune system to produce antibodies.
However, J&J's and AstraZeneca's vectors are biologically different and not interchangeable.
Federal officials said Emergent's mistake was human error that went undiscovered for days until J&J's quality control checks uncovered it, according to people familiar with the situation. By then, up to 15 million doses had been contaminated, reported The Indian Express.
The error does not affect any J&J doses currently being distributed and administered in the U.S., as those were produced in the Netherlands where operations have been fully approved by federal regulators.
"As with the manufacturing of any complex biologic medication or vaccine, the start-up for a new process includes test runs and quality checks to ensure manufacturing is validated and the end product meets our high-quality standards," J&J said in a statementWednesday. "This approach includes having dedicated specialists on the ground at the companies that are part of our global manufacturing network to support safety and quality."
Details of the issue were identified and addressed with Emergent and the FDA, J&J said.
An FDA spokesperson told news outlets: "FDA is aware of the situation, but we are unable to comment further. Questions about a firm's manufacturing facilities should be directed to that firm."
As reported by The Defender, J&J has never made a vaccine, but since entering the pharmaceutical market in 1959, the company has made a lot of headlines and has been fined billions of dollars for bad, including some illegal, behavior.
Developing a vaccine requires many years and necessitates the establishment of an R&D infrastructure vastly different than the structure required for conventional drug development. Yet the company was able to rush to market its first vaccine for a viral strain identified just 14 months ago.
J&J has a relationship with the Bill & Melinda Gates Foundation and the Global Alliance for Vaccines and Immunizations and has a $1 billion deal with the U.S. government to provide 100 million doses of its Emergency Use Authorization experimental vaccine.
According to the FDA, J&J's vaccine consists of a "replication-incompetent recombinant adenovirus type 26, a SARS-CoV-2 spike protein, and contains the following inactive ingredients: citric acid monohydrate, trisodium citrate dihydrate, ethanol, 2-hydroxypropyl-β-cyclodextrin (HBCD), polysorbate 80, sodium chloride, sodium hydroxide and hydrochloric acid. The adenovirus is also grown in the PER.C6® aborted fetal cell line.
Polysorbate 80, an ingredient in J&J's vaccine, is a suspectedunderlying cause of anaphylactic COVID vaccine adverse reactions. Studies show that polysorbate 80 disrupts the normally protective blood-brain barrier.
As The Defender Reported, the FDA authorized J&J's single-dose COVID vaccine in late February with a reported overall efficacy rating of 66% for preventing "moderate to severe COVID-19." The vaccine was only 42.3% effective about a month after getting the shot in people 60 or older who had comorbidities.
Although the FDA identified no safety concerns with J&J's COVID vaccine, suspected vaccine injuries associated with the vaccine have been reported to the Vaccine Adverse Events Reporting System since March 2 — the primary mechanism for reporting adverse vaccine reactions in the U.S.
Author:
Megan Redshaw is a freelance reporter for The Defender. She has a background in political science, a law degree and extensive training in natural health.
===
===
Don't trust your Government nor Big Parma -
and don't get the Covid jabs - Dr Mike Yeadon
Dr Mike Yeadon, former CSO and VP, Allergy and Respiratory Research Head with Pfizer Global R&D and co-Founder of Ziarco Pharma Ltd, talks about his grave concerns about the Coronavirus jab
===
ICYMI:
Awkward Video Shows Former U.S. Presidents Promoting Vaccine
- who all have investments in Big Pharma
Creepy Video that shows since how many deades and presidents the USA is on the wrong track already.
By Terrence K Williams - 24. March 2021
Former Presidents Barack Obama, George Bush, and Bill Clinton made a video with the Ad Council promoting the covid vaccine.
---
Grab a copy of my new book!
From the Foster House to the White House https://fosterhousewhitehouse.com/