UPDATE 30. March 2021: THE NEXT STEP TO GLOBAL GOVERNANCE BY THE INCORPORATED MAFIA STATES - Covid-19: World leaders call for international pandemic treaty
ICYMI: Breaking News: FDA Medical Advisor Accuses U.S. Congress of being owned by Pharma + China and Russia rewrite 'global health order' with their Covid-19 vaccines as West struggles to spread its aid & influence + COVID-19 & The Emergence Of The Pandemic Industrial Complex + Pfizer-BioNTech tried to gouge the EU with 65-DOLLAR vaccine doses, German media report + Big Pharma, government crooks now exploiting COVID-19 pandemic for profit, warns health care expert + 15 Companies and 1 Government Profiting From COVID-19
The 'COVID-industrial complex' — a web of Big Pharma, Big Tech, and politicians — are profiting off the pandemic at the expense of the public
Protesters protest high drug prices. Erik McGregor/LightRocket via Getty Images
By Ahmed Sule - 28. March 2021
In the aftermath of the coronavirus pandemic, several companies and individuals have gained financially.
Some of these profits have been characterized by secrecy, overpricing, cronyism, inefficiency, and unfairness.
There is something morally wrong with excessive gains made while millions of people are suffering.
Ahmed Sule is a London based financial analyst, writer, and social critic.
This is an opinion column. The thoughts expressed are those of the author.
It has been over a year since the World Health Organization declared the coronavirus pandemic a public health emergency of international concern. The pandemic has left in its wake fear, death, and economic ruin to millions of people worldwide. However, for Big Pharma, Big Tech, outsourced corporates, management consultants, military outfits, politicians and their cronies, and a select number of scientists, life has been good. These individuals and organizations benefiting from the pandemic constitute what I call the COVID-industrial complex (CIC).
The COVID-industrial complex is a transnational multi-billion dollar public-private partnership. It is a well-oiled machine, hence why it is only appropriate to add it to the select list of industrial complexes where "Businesses become entwined in social or political systems or institutions, creating or bolstering a profit economy from these systems."
Under this industrial complex, the government, which sits at the top of the food chain, uses its financial power to create an enabling environment that rewards other participants in the CIC. Some may justify the existence of the COVID-industrial complex because overspending and waste are permissible if it results in saved lives.
Others may argue that capitalism rewards those who produce things that are rare and valuable. While there is nothing wrong with making a profit, there is something morally wrong when the excessive gain is made on the back of people's misery, primarily when characterized by secrecy, overpricing, cronyism, inefficiency, and unfairness.
Excessive profiteering
Several COVID contracts have been awarded without a proper competitive tendering process. An investigation by USA Today on 15 of the states most impacted by the pandemic revealed over 1,600 COVID contracts with no competitive bids.Some of the contracts even went to vendors engaged in tax fraud.
According to the National Audit Office, between March 2020 and July 2020, the British government awarded £10.5 billion (roughly $14.4 billion) in COVID contracts without a competitive tender process. NPR identified 250 companies that got COVID deals worth more than $1 million without going through a fully competitive bidding process. These companies included a company that imported vodka.
In some instances, funds for COVID emergencies have been utilized for other uses, as in the case of the Pentagon, which diverted some of the $1 billion funds meant to build up the country's supplies of medical equipment. Instead, the fund was channelled to defense contractors and used to produce jet engines, body armor, and uniforms.
In 2020, the British government introduced the NHS Test and Trace scheme to help track and prevent the spread of COVID-19. The government earmarked £22 billion (roughly $30 billion) to the system for the 2020 financial year, which was more than the combined police and fire service budget. Despite the astronomical budget, the project was characterized by data breaches, unqualified staff, and inefficiencies. In July 2020, over 100 public health experts, academics, journalists, and trade union leaders wrote to the British Health Secretary asking for details of the contract awarded to the private sector to run the track and trace program. The authors noted that 90% of the funding was unaccounted for.
Cronyism has been a key feature of the COVID-industrial complex. According to Public Citizens, a non-profit consumer advocacy organization that champions the public interest in the halls of power, 27 clients of Donald Trump-connected lobbyists received federal COVID aid, totalling more than $10.5 billion.
In Britain, the current chancellor, Rishi Sunak, is a co-founder of Theleme Partners, a hedge fund with a $500 million investment in Moderna. As of November 2020, the UK Government had secured 7 million doses of the Moderna vaccine. Sunak has refused to disclose whether he will profit from the vaccine. In Germany, two members of the Christian Democratic Union resigned over allegations of profiting from brokering deals to procure face masks.
Governments around the world have purchased vaccines from Big Pharma for their citizens. According to the Financial Times, at least 476 million doses of coronavirus vaccines have been administered worldwide as of March. Pfizer, which jointly produces the Pfizer-BioNTech COVID-19 vaccine, expects $15 billion in 2021 sales based on current deals. Barclays forecasts sales of $19.6 billion in 2021, $12.2 billion in 2022, and $11.4 billion in 2023 for Moderna, assuming regular vaccinations. Over the past year, Moderna's share price has risen by 372%.
As people socially distance globally, they have come to rely on technology to go about their daily lives. Governments have also engaged the services of tech giants. A consortium of Big Tech firms such as Microsoft, Oracle, and Salesforce has teamed up to develop a digital vaccine passport.
'It's a crisis though'
Some may argue that Big Pharma and Big Tech deserve to make excessive profits from the pandemic because they are working towards ending the crisis. But this argument cannot withstand analysis. Big Pharma and Big Tech have benefited significantly from taxpayers' government-funded research. The US government has spent $10 billion to support the development of potential drugs and vaccines to fight coronavirus. Also, Big Pharma has benefited historically from tax breaks that increase its cash flow — an intellectual property regime that enables it to overcharge patients and a legal framework that gives it the upper handin prescription drugs price negotiations.
Furthermore, concerning the production of the COVID vaccine, the risk-reward principle has been turned on its head. The UK and US governments have given Pfizer indemnity, protecting it from legal action should people die or have a severe vaccine reaction. According to CNBC, "If you experience severe side effects after getting a Covid vaccine, lawyers tell CNBC there is basically no one to blame in a US court of law." As a consequence of these legal protections, the government has provided an asymmetric environment whereby Big Pharma privatizes the gains from the vaccine rollout. At the same time, the risks are socialized by the public.
Even though the COVID-industrial complex appears to be headquartered in the global north, it has branches in the global south. The Kenyan government ordered an investigation into 15 government officials and business people who misappropriated $7.8 million designated to purchase PPE for hospitals throughout Kenya. In Nigeria, during the "End Sars" protest against police brutality last fall, protesters overran several government-owned warehouses where relief materials funded by a private-sector coalition against the coronavirus were hoarded instead of distributed to people suffering from the economic impact of the virus. Recently, protesters in Paraguay have accused the government of colluding with private contractors to acquire COVID medical supplies that were ineffective.
On January 17, 1961, President Dwight D. Eisenhower delivered his final address to America. During the speech, he introduced the concept of the military-industrial complex. He cautioned on the influence of the military-industrial complex, the power of money and state capture by a scientific-technological elite. Sixty years after the speech, his words ring true in our present age where the COVID-industrial complex continues to make gains from people's pain. To paraphrase President Eisenhower, we must guard against the acquisition of unwarranted wealth, whether sought or unsought, by the COVID-industrial complex.
===
THE NEXT STEP TO GLOBAL GOVERNANCE BY THE INCORPORATED MAFIA STATES
Covid-19: World leaders call for international pandemic treaty
Countries must work in a highly co-ordinated fashion to be ready for new health crises, Angela Merkel, Boris Johnson, Emmanuel Macron and others say. IMAGE COPYRIGHTGETTY IMAGES [N.B.: Over 61% of Germans do no longer trust Merkel and the ratings for the other kingpins is not much better.]

Prime Minister Boris Johnson has joined more than 20 world leaders in calling for a new global settlement to help the world prepare for future pandemics.

By BBC - 30. Mach 29021

In a newspaper article the leaders, including the German chancellor and French president, said Covid posed the biggest challenge since World War Two.
The pandemic has shown "nobody is safe until everyone is safe", they said.
Business Secretary Kwasi Kwarteng said the UK would need a surplus of vaccines before it could export supplies.
Writing in the Daily Telegraph and publications such as Le Monde in France and El Pais in Spain, the 24 leaders argue that a treaty similar to that reached in the wake of World War Two is needed to build cross-border cooperation.
The signatories, who include the head of the World Health Organization, Dr Tedros Adhanom Ghebreyesus, said: "At that time, following the devastation of two world wars, political leaders came together to forge the multilateral system.
"The aims were clear: To bring countries together, to dispel the temptations of isolationism and nationalism, and to address the challenges that could only be achieved together in the spirit of solidarity and co-operation - namely peace, prosperity, health and security."
France's President Emmanuel Macron, German Chancellor Angela Merkel and the other leaders said that in the same spirit, countries must now "be better prepared to predict, prevent, detect, assess and effectively respond to pandemics in a highly co-ordinated fashion".
A new treaty would help to establish better systems for alerting people about potential pandemics, they said, while also improving the sharing of data and distribution of vaccines and personal protective equipment.
"There will be other pandemics and other major health emergencies. No single government or multilateral agency can address this threat alone. The question is not if, but when.
"The Covid-19 pandemic has been a stark and painful reminder that nobody is safe until everyone is safe."
The letter added: "At a time when Covid-19 has exploited our weaknesses and divisions, we must seize this opportunity and come together as a global community for peaceful co-operation that extends beyond this crisis."
Dr David Nabarro, a special envoy on Covid-19 for the WHO, told BBC Radio 4's Today programme that without "some kind of special action, the world as a whole will not be vaccinated until well into 2022".
"During that time all sorts of problems with variants will emerge, and so all that leaders are saying is 'this problem is so huge we've got to work together to deal with it'," he added.
'Will the US change sides in the battle for vaccines?'
While the concept of an international vaccine treaty suggests cosy cooperation, elsewhere there is quite the battle going on between the signatories of this letter over the issue of the blueprints to the new vaccines.
South Africa and India are leading dozens of mainly developing countries seeking a temporary pandemic waiver to global rules protecting the technology and recipes for Covid vaccines.
Without these rules, they say they have the capacity to manufacture more vaccine doses.
Over the past few months, wealthier countries including the UK, the US and the EU have repeatedly blocked a waiver.
The argument is that the pharmaceutical companies have performed well in getting a vaccine into arms within a year, and need to be able to have the incentive of making money out of this innovation in years to come.
The drugs companies say the bottleneck is not the patents, but the ability to manufacture globally.
The big unknown factors here are suggestions that the Biden administration might be about to change sides in this battle for vaccines.
That would mark a stunning change, and leave the UK and the EU under pressure to change tack, or at least to put more flesh on the bones of the goal of this treaty - that the pandemic will not be over until it is over for everyone.
Mr Kwarteng told the programme that making vaccines available to other counties "can happen once we have a surplus of vaccines here in the UK".
"There's still a way to go. We've got to make sure we do everything we can deal with the pandemic and coronavirus in this country," he said.
"But obviously we want to work in the spirit of co-operation as well, and when we do have surpluses we'll be looking to export those, I'm sure."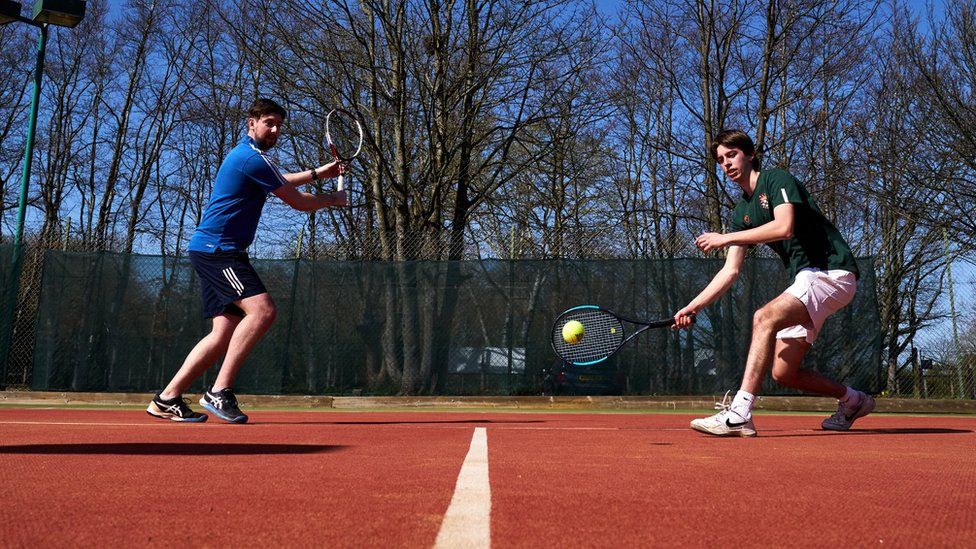 Outdoor sports like tennis were able to resume on Monday IMAGE COPYRIGHTPA MEDIA The joint article comes in the wake of disagreement between the UK and the EU over vaccines, after the bloc introduced tougher export controls on jabs produced there.

The UK and the World Health Organization warned against blockades, while the EU blamed pharmaceutical companies - primarily AstraZeneca - for not delivering promised doses.

AstraZeneca has denied that it is failing to honour its contract.

At a Downing Street briefing on Monday, Mr Johnson announced that tens of millions of doses of the Novavax vaccine would now be produced and packaged in north-east England.

The prime minister said a deal had been agreed with GlaxoSmithKline to bottle 60 million doses at its facility in Barnard Castle.

The original plan was for the "fill and finish" process - by which vaccines are packaged up in vials - to be done in Europe.

Novavax is currently being assessed by the Medicines and Healthcare products Regulatory Agency.

Also at the briefing, the PM said the UK did not know "exactly how strong" its defences against another wave of Covid would be despite its "impressive" vaccine rollout.

He was speaking as the stay-at-home rule came to an end in England, allowing groups to meet outdoors. Outdoor sport facilities, including swimming pools, tennis courts and golf courses, have reopened, while weddings are also on again.

Mr Johnson warned more deaths, infections and hospitalisations were inevitable as the UK comes out of lockdown.

But he also said he could not "see anything in the data right now that would cause us to deviate from the road map" of easing further restrictions.

From 12 April, shops, hairdressers, gyms and outdoor hospitality will reopen in England, if strict conditions are met.

A further 4,654 Covid cases were recorded in the UK on Monday, compared with 5,342 cases a week ago.

There were another 23 deaths of people within 28 days of a positive test, compared with 17 on the same day last week.

The latest figures show 293,542 UK adults received a first dose of the vaccine on Sunday, taking the overall number to 30,444,829 - with 146,785 having their second dose, bringing that total to 3,674,266.

===

===
Exclusive: World leaders call for pandemic treaty
Boris Johnson, Emmanuel Macron and Angela Merkel propose global accord akin to that forged after Second World War
By Lucy Fisher and Paul Nuki -
Boris Johnson and other world leaders said the virus pandemic had been 'a stark and painful reminder that nobody is safe until everyone is safe' CREDIT: Hollie Adams/AFP Pool
The world needs a global settlement like that forged after the Second World War to protect countries in the wake of Covid, Boris Johnson and other world leaders have said.
Writing for The Telegraph on Tuesday, Mr Johnson, Emmanuel Macron, the French president, and Angela Merkel, the German chancellor, said the virus pandemic had been "a stark and painful reminder that nobody is safe until everyone is safe".
Amid growing international tension over vaccine supplies, they called for an end to isolationism and nationalism in favour of a new era of solidarity.
The call by 24 world leaders alongside Dr Tedros Adhanom Ghebreyesus, the World Health Organisation (WHO) chief, is made in The Telegraph and newspapers across the world including Le Monde in France, El Pais in Spain and Frankfurter Allgemeine Zeitung in Germany.
The leaders said a treaty akin to the settlement forged in the aftermath of the war was needed to build cross-border co-operation ahead of the next international health crisis, describing Covid as "the biggest challenge to the global community since the 1940s".
They wrote: "At that time, following the devastation of two world wars, political leaders came together to forge the multilateral system. The aims were clear – to bring countries together, to dispel the temptations of isolationism and nationalism and to address the challenges that could only be achieved together in the spirit of solidarity and co-operation, namely peace, prosperity, health and security."
A treaty on pandemics "should lead to more mutual accountability and shared responsibility, transparency and co-operation within the international system and with its rules and norms", the leaders said.
The joint article comes in the wake of deepening strain between Britain and the European Union over the production and distribution of Covid vaccines.
The European Commission has threatened to block shipments of potentially millions of AstraZeneca jabs from the company's Halix plant in the Netherlands to the UKfollowing fury in Brussels about the company falling short in its deliveries so far this year.
On Monday night, Mr Johnson unveiled his latest move to ensure the resilience of the UK's domestic vaccine supply chains amid the threat of jabs trade wars.
He announced that the Government's vaccine taskforce had clinched a deal with the British pharmaceuticals giant GlaxoSmithKline to "fill and finish" 60 million doses of the new Novavax vaccine at a plant in Barnard Castle in the North-East.
The agreement removes the need for doses of Novavax – which Mr Johnson called "a potentially significant new weapon in our armoury against Covid" – to be sent to Germany to be put in vials.
A Downing Street source said the move was motivated in part by a desire to pour investment into the UK's domestic vaccine manufacturing capability, while also making the nation's vaccine supplies "more secure".
The Novavax jab has undergone phase three clinical trialsand is expected to be approved by the UK medicines regulator in the coming weeks. It is expected that doses will start being processed in the UK from May.
Mr Johnson acknowledged that Monday was a "big day" for many Britons as they were allowed to see friends and family outdoors for the first time since the most recent lockdown began in January.
The Prime Minister stressed the "importance of everybody maintaining the discipline people have shown for so long" and warned that it was unclear "how robust our defences are against another wave". He declined to rule out another lockdown, but said he was "hopeful" that the one from which the country was beginning to emerge would be the last.
He has been a leading advocate of a new global pandemic agreement and last month directly petitioned fellow G7 leaders to back the proposal. The alliance agreed to "explore the potential value" of the idea, which is set to be discussed further at a summit in Cornwall in June.
His emphasis on the need for better health data-sharing between countries follows concerns about China withholding information and access from global health inspectors as they examined the origins and progression of Covid.
On Monday it emerged that the long-awaited WHO report on the origins of the virus had concluded that a leak from a laboratory, while possible, was "extremely unlikely".
The report, seen by The Telegraph, concluded that Covid was most likely to have been passed from bats via an "intermediate animal host" to humans before sparking an "explosive outbreak" in Wuhan in December 2019.
The repeatedly delayed report was finally sent to all WHO member states on Sunday evening. The 123-page document presented detailed studies of morbidity, cases, pharmacy records, food samples and genetic sequencing from in and around Wuhan in late 2019, "to better understand how the virus might have been introduced and started".
It found no firm evidence to distract from the already established idea that the pandemic started in Wuhan in or around that December, and that the Huanan wet market either sparked or "amplified" the outbreak.
In their article, the 24 world leaders warned that regardless of the origins of the outbreak, a future global pandemic was an inevitability.
The group, also including Charles Michel, the European Council president, Mark Rutte, the Dutch prime minister, and the presidents of South Africa, South Korea, Indonesia, Tunisia and Senegal, said the key question was not "if but when" the next health crisis would strike.
They warned that "no single government or multilateral agency can address this threat alone", arguing: "Together, we must be better prepared to predict, prevent, detect, assess and effectively respond to pandemics in a highly co-ordinated fashion."
Other central aims of a pandemic agreement would be to enhance international co-operation around alert systems, data-sharing and research, as well as the local, regional and global production and distribution of vaccines, medicines, diagnostics and personal protective equipment.
It comes as governments engage in fresh rounds of talks about the prospect of a pact ahead of health ministers convening at the World Health Assembly in May. A resolution outlining plans for the WHO to strengthen its pandemic preparedness and response framework is set to be tabled at the meeting, along with a proposal for a working group to negotiate an international treaty.
The world leaders' proposed new treaty would be rooted in the constitution of the WHO, which could draw in other relevant organisations, and would support the principle of "health for all". The International Health Regulations and other existing global health frameworks would underpin the treaty, ensuring "a firm and tested foundation".
"At a time when Covid-19 has exploited our weaknesses and divisions, we must seize this opportunity and come together as a global community for peaceful cooperation that extends beyond this crisis," the leaders said.
"Building our capacities and systems to do this will take time and require a sustained political, financial and societal commitment over many years."
ICYMI:
As French big pharma firm gets away with a FINE for 2,000 deaths, who can blame vaccine refuseniks for their distrust?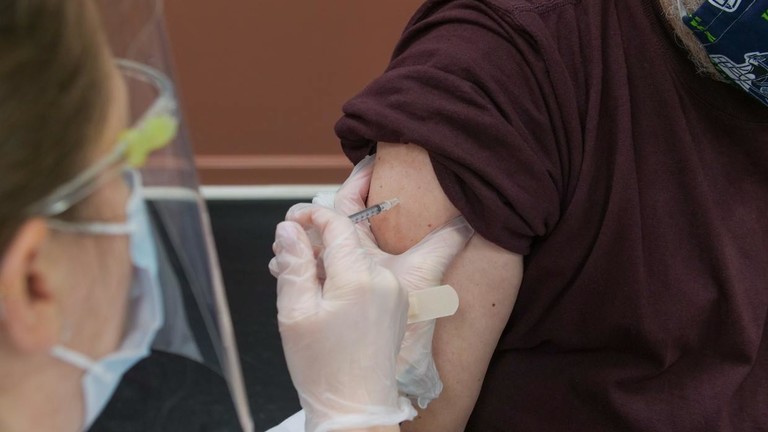 By Damian Wilson - 29. March 2021
Although guilty of causing around 2,000 fatalities with a toxic diet drug, none of Servier's bosses went to prison. It's little wonder that Covid-19 vaccine sceptics believe that business, not safety, is big pharma's main concern.
When everyone at the top of one of France's big pharma giants avoids serving prison time, and the company faces a fine of just €2.7 million for producing a drug that led to the death of around 2,000 people over 33 years, you start to understand the mistrust at the heart of French Covid-19 vaccine refuseniks.
The drug at the centre of the scandal, Mediator, was produced by Servier for use by diabetics, but it ended up being prescribed as an appetite suppressant taken by more than five million people until its withdrawal from the market in 2009, a significant number of whom developed fatal heart problems as a result.
First alerted to the toxicity of the drug in the 1990s, Servier "never took the necessary measures," said the president of the Paris Criminal Court, Sylvie Daunis, in her deliberation.
After a trial lasting 18 months, the company was found guilty of "homicide and unintentional injuries" on top of "aggravated deception" in another massive hit not just for Servier, but for a French pharma industry facing an existential crisis.
ALSO ON RT.COMAs a doctor, people ask me if it's safe to take a new Covid vaccine. Given that criticism is risky, here's my very careful answer
The conclusion of the trial is the latest in a series of big pharma missteps. Not only has Servier and its top brass been shamed and many fined individually, but elsewhere the highly-regarded Pasteur Institute admitted to humiliating defeat in its bid to find its own Covid-19 vaccine and Sanofi – one of the top 10 companies worldwide in drug sales – announced its coronavirus jab won't be ready until the end of the year at the earliest.
These are not les belles jours for French pharma.
While Servier will clearly take a huge reputational hit for this scandal, any sort of punishment here is really just an abstract idea. No one is being unceremoniously bundled into the back of a police van and whisked off to prison to share a cell and bunk time with a lusty homicidal maniac.
In terms of actual people being punished for their misdeeds, the company's former number two, Jean-Philippe Seta – boss and founder Jacques Servier died in 2014 – was hit hardest and given a four-year suspended sentence, along with a €90,000 fine, and he faces paying out tens of millions of euros in compensation cases. But still, that's not particularly onerous when you consider 2,000 people died as a result of consuming his firm's product. And he did nothing about it.
How would that compare to the treatment expected of those who ran a business that made sausages which led to the deaths of a couple thousand customers? The sausage market would disappear overnight. Big pharma is immune to such effects.
This latest scandal tells us something about the substantial number of vaccine refuseniks in La Republique. The French people just do not trust whatever the government and big pharma is telling them anymore, particularly when it's something new. It's not so much about vaccines in general – after all, French children need 11 immunisations before they can even start school – it's about THIS vaccine.
And that is a massive problem for a government wanting to vaccinate an adult population of 52 million. According to official projections, at the current rate, that goal won't be achieved until April next year, nearly nine months later than initially hoped. Inevitably, that delay will mean further deaths on top of an already grim toll of more than 94,000 lives lost to Covid-19.
As recently as November last year, a report from Imperial College found only 25% of adults said they would willingly take the Covid-19 jab if it was available to them. Since then, that figure hasclimbed to 40%, still low compared to the 77% in the UK. It also means that 60% of the people don't want the jab. Hesitance might be slowly diminishing, but a study in the Lancet last month found within that 60%, a hardcore of 29% would say a rock-solid 'Non!' to any Covid-19 vaccine.
That figure of nearly one in three helps explain why take-up for the Covid-19 vaccine has been markedly slower in France than many other European countries, with just 11.56% of the population immunised so far. To reach the figure of 60% of the population vaccinated, which might achieve herd immunity, 48.44% of people still need a jab. That is a long way to go.
However, the damage to public trust is not just a result of the failures of big pharma. The National Medicines Safety Agency (ANSM), the French health police responsible for oversight of the industry, was singled out by the criminal court for its failure to ban the sale of Mediator earlier, and fined €303,000 for its role in the scandal.
The people of France are right to ask themselves who they can trust when being asked to take a vaccine. Can scandal-ridden pharmaceutical giants be relied on to put people before profits? Are politicians really on the lookout for what's best for all, and not just for themselves? Is the ANSM fit for purpose?
Unless public health officials and the big pharma companies involved can provide the right answers to a justifiably suspicious population, they will continue to struggle to reach national vaccination targets that, at this point, seem the best way out of this pandemic, but a helluva long way off.
Unfortunately for the French government, there is no jab available to cure public trust when it appears to be terminally ill.
Author: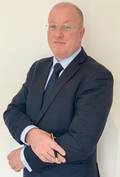 Damian Wilson is a UK journalist, ex-Fleet Street editor, financial industry consultant and political communications special advisor in the UK and EU.
===
Breaking News: FDA Medical Advisor Accuses U.S. Congress of being owned by Pharma
By Tina Ingenthron - 27. March 2021
After years of an increasingly close relationship between the FDA and the pharmaceutical industry, an insider is finally speaking out. Dr. Raeford Brown, a pediatric anesthesiologist at the University of Kentucky Children's Hospital and chair of the Food and Drug Administration (FDA) Committee on Analgesics and Anesthetics, has been openly critical of big pharma and the lack of proper oversight from the FDA, according to a new article on Yahoo Finance.
Dr. Brown admits the issue is "because Congress is owned by Pharma".
Even though many politicians are beginning to speak out against Big Pharma, Brown doubts this will change anything because of the amount of money the pharmaceutical industry pours into Congress annually.
"The pharmaceutical industry pours millions of dollars into the legislative branch every single year," Dr. Brown told Yahoo Finance. "In 2016, they put $100 million into the elections. That's a ton of money."
The image below shows the contributions from the pharmaceutical and health products industry during the 2017-2018 election cycle:
House Minority Leader Takes Most Pharma Money
In the 2018 election year, the pharmaceutical industry spent more than $27 MILLION in campaign donations to candidates. During the '17-'18 election cycle, Congressman Kevin McCarthy, current House Minority leader, received the second-highest amount of funds from the pharmaceutical industry. The California-based politician received a total of $380,350 in campaign contributions, with a large sum coming from pharmaceutical companies.
"I'm really much more concerned because Congress is supposed to have oversight for the FDA," Brown said. "If the FDA isn't going to hold pharma accountable, and Congress is getting paid to not hold pharma accountable, then it really doesn't matter who the President is because it's really about Congress."
===
China and Russia rewrite 'global health order' with their Covid-19 vaccines as West struggles to spread its aid & influence
By Tom Fowdy - 22. February 2021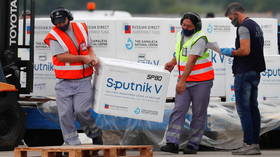 A shipment of doses of the Sputnik V vaccine against Covid-19 arriving in Buenos Aires, Argentina January 28, 2021 © REUTERS / Agustin Marcarian
Developed Western countries have traditionally placed themselves as the benefactors of the developing world. But with Covid-19 vaccines, that scheme broke down – allowing China and Russia to move in.
The Covid-19 pandemic has raged on for a year, infecting over 100 million people and claiming 2.5 million lives. Now, however, the world is entering a phase which might be called "the beginning of the end" of the pandemic – the start of global vaccine rollouts which slowly but very steadily build up immunity and lay the foundations for life getting back to normal. Multiple vaccines were created along the way. The ones most championed by mainstream media are those created by American companies Pfizer (with Germany's BioNTech) and Moderna. But there are others, too, including three created by China, and Russia's own Sputnik V, the latter claiming to be the first one registered in the world.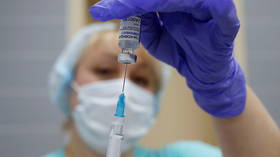 Irrespective of various debates about quality and efficacy, for most of the world the more pressing question and problem pertains to "how" and "when" a given country gets a vaccine. Here, the Western countries, overwhelmed by the virus themselves, have not been so helpful. Instead of taking their typical role of "assisting" developing countries, the catastrophe of Covid-19 has been so disastrous that Western nations have found no option but to help themselves first, putting poorer nations to the back of the queue. The United States, be it under Trump or Biden, has persistently held up an "America First" vaccine policy, refusing to assist other nations until the domestic pandemic, which is estimated to have killed about half a million people, is handled first.
These unusual circumstances have created an opening for both China and Russia, especially the former, which has been in an advantageous position as it defeated the virus a year ago. Both nations have distributed millions of vaccines around the globe to poorer countries and aim to ship out millions more, and have effectively left the West lagging behind in a field it had traditionally been dominating. Beijing itself has in fact been building an entire international supply chain to do so, creating what has been styled as a "health silk road" across the Middle East and Africa. These advances are re-writing the logic of global healthcare and aid as we know it, and will have lasting repercussions long beyond the pandemic itself.
For decades, global medical aid and assistance has been understood through one frame of logic: The West helps the rest of the world. Western nations have appointed themselves overseers of the status quo by the right of being wealthier, more developed and stable, and pitched themselves as the "saviours" of the poorer, undeveloped and often unstable developing world, which has historically been placed or kept in that condition by the West itself. When disease outbreaks came, typically the West would be "unaffected" and in turn provide aid, supplies and vaccines to the afflicted countries – take for example Ebola in West Africa – subsequently creating a "global healthcare order" which they led.
Suddenly, the West doesn't have an all benevolent and "caring" attitude towards the developing world anymore. As soon as its privilege was stripped away, so was its willingness to help others. As a result, China and Russia have moved to fill in the gap. Despite its own huge population, Beijing is stepping up its vaccine donations to a growing number of countries, including to ones in Eastern and Central Europe, and has already shipped vaccines to almost all of Latin America and South East Asia. Many of China's recipient countries have also acquired Russia's Sputnik V vaccine, named aptly for the fact it was the first, as was the Russian satellite in the space race, to cross the line.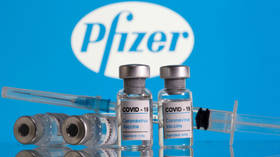 But Covid-19 has been a gamechanger, a huge one. Never since the Spanish Flu epidemic of 1918 have Western countries been completely overwhelmed by a pandemic to the point that they are not able to focus on helping others, but instead opting for a "every man for himself" policy. Especially when it comes to vaccines. Countries such as the United Kingdom and United States aggressively piled on limited supplies and hoarded them for themselves, even to the point of squabbling with other Western countries over it, observe how Canada ended up left with nothing, how the EU's vaccine rollout has been sluggish and how Australia and New Zealand are only starting today.
These vaccines are subsequently rewriting the global 'health world order' by displacing the West's dominant role and allowing these countries to make new inroads in healthcare and pharmacy which they did not previously have. Therefore, even though many commentators have praised the speed of the vaccine rollout in the United States and the United Kingdom, the aspect of "vaccine nationalism" which has accompanied it has undermined their global standing and influence. Any country pinning its hopes on waiting for support from Western countries is effectively relegating itself to the 'back of the queue' – that means waiting for potentially up to a year before receiving vaccines from them. Western benevolence always extends to the West first, and for many others China and Russia have been left as the primary options.
The political ramifications matter, even after the Covid-19 pandemic itself is over. Take Serbia, for example. It's a country that has received both Chinese and Russian vaccines. This has put it in a more advantageous position than any other country in the European Union (except Hungary, which did the same thing) and, on such a premise, why would it integrate further with the West? Where are the incentives? And many other countries in the world will subsequently feel the same way, thus undermining the ability of the West to try and isolate Beijing and Moscow and, in turn, shifting the balance of power away from the 'status quo' countries.
Author: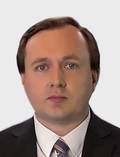 Tom Fowdy is a British writer and analyst of politics and international relations with a primary focus on East Asia.
===
COVID-19 & The Emergence Of The Pandemic Industrial Complex
By Brian Berletic - 12. January 2021
If official numbers are to be believed, the United States is one of the worst hit countries in terms of COVID-19 infections and deaths. According to the US Center for Disease Control and Prevention (CDC), at the time of writing, there are supposedly 19 million COVID-19 cases with an alleged 300,000+ deaths suggesting between a 1-2% chance of dying from COVID-19 if infected by it.
The mainstream media has played a key role in this Image Credit: Fiordaliso / Getty
However, these numbers are problematic – even before questioning the validity of the statistics themselves leading to them.
For example, asymptomatic cases will likely go both untested and unreported, meaning many more people are actually being infected by COVID-19, exhibiting no symptoms, receiving no treatment, and most certainly not making it into the CDC's "cases" statistics.
This means that your chances of being infected by COVID-19 and dying are actually much, much less than the often touted claim of 1-2%. Only those who exhibit severe enough symptoms to be tested and/or treated will make it into the statistics of "cases."
In terms of framing any pandemic, an exaggeration of the lethality of the virus becomes a fundamental issue. If this information by itself is carelessly or dishonestly presented to the public without mention of the many more people likely being infected and exhibiting no symptoms at all, panic can, and clearly has been spread across society and the world, enabling extreme policies to glide through approval, beginning the process of disfigurement society now suffers today.
This was a fact highlighted by the work of Dr. John Ioannidis who, even at the onset of COVID-19, attempted to raise the alarm about needlessly stoking public hysteria, the folly of driving public health policy without proper data, and the catastrophic impact it would have – and is now clearly having – on society if this trend isn't reversed.
A video interview conducted by Journeyman Pictures from April 2020 noted Dr. Ioannidis' breakdown of data and the results of his own studies conducted to illustrate exactly this. His study included widespread serological (antibody) testing in Santa Clara County, California to see how many individuals may have been infected by COVID-19 but simply never exhibited symptoms, or symptoms serious enough to seek medical attention and be tested for COVID-19.
Dr. Ioannidis would note:
If you compare the numbers that we estimate to have been infected, which vary from 48,000-81,000, versus the number of documented cases that would correspond to the same time horizon around April 1st, when we had 956 cases documented in Santa Clara County, we realize that the number of infected people is somewhere between 50 and 85 times more compared to what we thought, compared to what had been documented. Immediately, that means that the infection fatality rate, the chance of dying, the probability of dying, if you are infected, diminishes by 50-85 fold, because the denominator in the calculation becomes 50-85 fold bigger. If you take these numbers into account, they suggest that the infection fatality rate for this new coronavirus is likely to be in the same ballpark as seasonal influenza.
Dr. Ioannidis also noted that there was a large gradient regarding death rates based on age and underlying medical conditions, with the risk of death for people under 65 with no underlying medical conditions being virtually negligible.
The need for wider testing to fully establish mature datasets – as Dr. Ioannidis and his team at Stanford illustrated – and efforts to communicate to the public the difference between the infection fatality ratio (IFR) and the case fatality ratio (CFR), have been neglected by Western governments and even more so by the Western corporate media. In some cases, efforts appear to be being made to deliberately obfuscate or confuse this crucial information in order to continue stoking panic and hysteria.
But in addition to this, there is the fact that governments – particularly in the West – have been caught using dubious or disorganized methods to tally COVID-19 deaths – meaning that both IFR and CFR numbers could be easily skewed.
For example, British state-funded media outlet, the BBC in an August 2020 article titled, "Coronavirus: England death count review reduces UK toll by 5,000," would admit:
A review of how deaths from coronavirus are counted in England has reduced the UK death toll by more than 5,000, to 41,329, the government has announced.
The article also noted that:
The new methodology for counting deaths means the total number of people in the UK who have died from Covid-19 comes down from 46,706 to 41,329 – a reduction of 12%.
The article revealed that Public Health England had "included everyone who had tested positive [for COVID-19], even if they died months afterwards and their death may have had another cause."
Similar statistical gymnastics are being performed in the US. Even The New York Times raised the issue fairly early on in article, "Is the Coronavirus Death Tally Inflated? Here's Why Experts Say No," clearly inferring that there may be a problem with the official methodology, and went on to explain throughout the article how it is impossible to ever know since accurate counts – or even accurate systems to use in counting – may not presently exist in the US.
In other words: the current systems are less than perfect and vulnerable to systemic distortions in the presentation of data. Again, this is a fundamental issue when public health policy is based on the perceived severity of the epidemic.
The Real Impact of COVID-19
Based on what were clearly misused and incomplete statistics, the US, the UK, and much of Western Europe have led the world in stoking unprecedented hysteria, enforcing travel restrictions and lockdowns, including the closing of businesses and schools, and grinding the economies of the world to a halt either directly or indirectly – in a manner similar to but with an impact much greater than the US-led global "War on Terror" starting in 2001.
Pressure from "international organizations" like the World Health Organization (WHO) using its UN-affiliated platform to declare a "global pandemic," along with Western governments and the corporations that dominate foreign and domestic policy, has created a global crisis – not in terms of human health, but in terms of socioeconomics.
Businesses are closed – not because those who regularly run or patronize them are in hospital beds or dead – but by order of governments, and with official policy backing from organizations like the WHO.
The mainstream media has played a key role in this – not only repeating narratives provided by governments and healthcare institutions uncritically, but refusing to fulfill their role as watchdogs and investigators searching out impropriety.
It is a state of hysteria that is crippling small and medium-sized businesses (SME), but a boon to big-business.
Headlines from papers like the Wall Street Journal admit, "Big Tech Companies Reap Gains as Covid-19 Fuels Shift in Demand," or as the Guardian reported, "Amazon third-quarter earnings soar as pandemic sales triple profits," make it clear that some big-businesses are profiting from the hysteria.
Moreover, the Guardian report, "The mystery of which US businesses are profiting from the coronavirus bailout," reveals how struggling big-businesses are being bailed out by government money – while the SME sector, the real pulse of any vibrant economy and society – is being left behind.
But there is one industry who stands out above all others to benefit, an industry notorious for its deeply rooted corruption, and an industry that has already been caught using its ties with international organizations like the WHO to declare pandemics, stoke hysteria, and profit handsomely from the resulting chaos.
It's the West's pharmaceutical industry.
At no time in human history has it been more powerful and influential than it is now. And at no other time in human history has it been so dangerous.
Big-Pharma: The Least Trustworthy Pandemic Partner
Western Big-Pharma's profiteering and corruption under ordinary circumstances is already shocking. The current climate of public confusion, panic, and growing socioeconomic desperation only invites the industry's impropriety to new levels.
Pharmaceutical corporations like Pfizer, Johnson & Johnson, AstraZeneca, and Moderna – having received billions of dollars directly or indirectly from taxpayers to develop COVID-19 vaccines – have long, documented histories of corruption, including bribing regulators, doctors, and governments.
They have also been caught falsifying safety and efficacy data. They have promoted the use of their products for patients in cases not approved of by regulators, including on children.
They have even been caught knowingly selling products they knew were dangerous or even deadly – withholding critical information from both regulators and the public.
Pfizer alone – as its COVID-19 vaccine began rolling out publicly – was under investigation this year, according to its own Security Exchange Commission (SEC) filing, for its Greenstone generics business over antitrust concerns, for manufacturing issues regarding Quillivant XR, regarding quality issues over the manufacturing of auto-injectors, over corruption inquiries regarding its Russian and Chinese operations, and in regards to lawsuits in Mexico over the manufacturing of Zantac and a cancer-causing chemical called N-Nitrosodimethylamine (NDMA) found in the product.
The investigation regarding Zantac finally prompted the US Food and Drug Administration (FDA) – who had originally approved the drug – to request it be pulled from the market after finding it is indeed linked to an increased likelihood of causing cancer.
The Wall Street Journal in a 2020 article titled, "Pfizer Receives Inquiry From SEC Bribery Unit," would note of Pfizer's past scandals that:
Pfizer has had past run-ins with U.S. authorities over allegations of bribery among its operations abroad. The company in 2012 agreed to pay $60.2 million to settle investigations by the SEC and the Justice Department into alleged violations of the FCPA in several countries in Europe and Asia, including China and Russia.
The US Department of Justice in its own statement regarding part of the 2012 payout by Pfizer would note:
According to court documents, Pfizer H.C.P. made a broad range of improper payments to numerous government officials in Bulgaria, Croatia, Kazakhstan and Russia – including hospital administrators, members of regulatory and purchasing committees and other health care professionals – and sought to improperly influence government decisions in these countries regarding the approval and registration of Pfizer Inc. products, the award of pharmaceutical tenders and the level of sales of Pfizer Inc. products. According to court documents, Pfizer H.C.P. used numerous mechanisms to improperly influence government officials, including sham consulting contracts, an exclusive distributorship and improper travel and cash payments.
Such bribery might help explain why Pfizer and other pharmaceutical corporations are able to sell dangerous products like cancer-causing Zantac or – in the case of fellow COVID-19 vaccine producer Johnson and Johnson – cancer-causing baby powder – for years before mounting lawsuits and public outrage spur regulators to finally do their job properly.
In Johnson & Johnson's case, a Reuters investigation would note (emphasis added):
Facing thousands of lawsuits alleging that its talc caused cancer, J&J insists on the safety and purity of its iconic product. But internal documents examined by Reuters show that the company's powder was sometimes tainted with carcinogenic asbestos and that J&J kept that information from regulators and the public.
What this illustrates is a consistent pattern of corruption stretching across Pfizer's (and Johnson & Johnson's) manufacturing process to their business practices and spanning years. It is an entire industry that repeatedly engages in dangerous impropriety, is repeatedly investigated and fined, but allowed to not only continue conducting business – but is still entrusted with matters critical to public healthcare.
The implications it has for the process of developing, approving, producing, and distributing vaccines for COVID-19 should be obvious.
The 2009 H1N1 "Heist"
Despite the immense amount of publicly-known corruption engaged in by the Western pharmaceutical industry and the obviously troubling implications it has for the current COVID-19 vaccine rollout – it is only one dimension of a much wider problem.
There is also the Western pharmaceutical industry's known history of creating public scares to attract massive government contracts and wield power and influence over public discourse regarding human healthcare issues.
The same large corporate media outlets today helping fuel public hysteria regarding COVID-19 and promoting big-pharma's vaccine rollout had previously reported on past instances of big-pharma crying "pandemic," using its influence over international organizations like the WHO, and securing massive government contracts worth billions of dollars for unnecessary and ineffective medication and vaccines.
Think back to 2009 and the H1N1 "Swine Flu" scare. Following the WHO's dramatic declaration of a "global pandemic," the headlines and articles from the mainstream Western media read almost identical to those being circulated today regarding COVID-19.
NPR in a 2009 article would claim:
Seven months into the flu pandemic of 2009, North America leads the world in cases, the WHO says.

Unlike elsewhere, the new H1N1 never exited stage left after its debut appearance in late April. In fact, it's making more noise than ever. Mexico has experienced more cases of pandemic flu since September than it did over the first four months of the pandemic this spring.
The ratcheting up of hysteria continued both from the WHO and across the Western media, accompanied by drives to fund vaccine development and stockpile medication like Roche's Tamiflu.
The UK Daily Mail in a 2009 article titled, "Tamiflu: What you MUST know as swine flu threatens to strike," would claim:
The Government has announced that stocks of drugs – known as antivirals – to fight the imminent threat of a swine flu pandemic are being built up to cover more than 50million people – or 80 per cent of the country's population.
But as hysteria faded, the truth emerged. Articles began to appear like this one from Reuters in 2014 titled, "Stockpiles of Roche Tamiflu drug are waste of money, review finds," which noted:
Researchers who have fought for years to get full data on Roche's flu medicine Tamiflu said on Thursday that governments who stockpile it are wasting billions of dollars on a drug whose effectiveness is in doubt.
The article also pointed out:
Tamiflu sales hit almost $3 billion in 2009 – mostly due to its use in the H1N1 flu pandemic – but they have since declined.
There were also Roche's financial ties to WHO experts who designated the appearance of H1N1 as a "pandemic," helping pave the way for the public hysteria required to fuel Roche's profits from selling what was essentially a useless drug to government stockpiles.
The BBC in their 2010 article, "WHO swine flu experts 'linked' with drug companies," would report:
Key scientists behind World Health Organization advice on stockpiling of pandemic flu drugs had financial ties with companies which stood to profit, an investigation has found.
Roche was mentioned by name by the BBC (emphasis added):
The advice prompted many countries around the world into buying up large stocks of Tamiflu, made by Roche, and Relenza manufactured by GlaxoSmithKline.
Despite these revelations post-H1N1 after 2009, the very same actors have taken the stage for a repeat performance in 2020 – with little to no alarm from the same media organizations who ignored the H1N1 "heist" in 2009 and reluctantly reported on it only long after the damage was done.
Big-Pharma's Pandemic Industrial Complex
Over the past ten years – big pharma's control over the WHO and its influence over both the media and Western governments has only grown.
Powerful organizations like the Wellcome Trust – which claims to be an "independent foundation" funded through an investment portfolio – counts several large pharmaceutical corporations – Novartis, Roche, Johnson & Johnson, and Abbott Labs – on their list of "significant directly held public equity holdings."
Its governance includes representatives from the pharmaceutical industry, various Western governments, academia, the media, and of course the WHO itself.
It is an institutionalization of the conflicting interests that have tolerated, accommodated, even helped expand the unwarranted power, wealth, influence, and corruption of big pharma.
And while Wellcome Trust claims to be "independent" of corporate and government ties, alongside the Bill and Melinda Gates Foundation – it has helped create another front organization called The Coalition for Epidemic Preparedness Innovations (CEPI) – through which it accepts and disperses huge amounts of Western taxpayers' money.
The work of CEPI directly impacts the business prospects of many of the corporations Wellcome Trust owns stocks in – with its investments paying off above average amid this most recent round of public hysteria and government spending on this latest declared pandemic.
International Publishers Limited in an article titled, "Wellcome Trust 'prospers' under COVID-19 fallout with 12.3% return," would report:
Wellcome Trust's portfolio has not just survived, but prospered, in the highly volatile environment following the COVID-19 outbreak, according to Eliza Manningham-Buller, the charity's chair, introducing its annual report which unveiled a 12.3% return for the year to 30 September 2020, up on the 6.9% of the previous year.

The trust, which supports medical research worldwide, is the UK's largest charity, with a £29.1bn (€31.9bn) portfolio at end-September 2020. Wellcome's investments have returned an average 12.1% a year over the past decade.
It's worth noting that back in March, both Wellcome and the Bill & Melinda Gates Foundation provided $125 million in "seed funding" to accelerate certain pharmaceutical products claiming to treat COVID-19, including Gilead Science's antiviral Remdesivir. Despite failing repeatedly in clinical trials, and after the National Institute of Health (NIH) was exposed attempting to rewrite the rules in their attempt to salvage the drug's reputation as a viable therapeutic for COVID-19 – Remdesivir was continually hyped in the media by Bill Gates and NIH Director Anthony Fauci, and is still defended by the WHO to this day.
It's also important to note that as of 2020, the number one funder of the World Health Organization is the Bill and Melinda Gates Foundation, who supplied the WHO with approximately $531 million in its 2018-19 biennial budget, roughly 12% of WHO's total budget.
Unlike the H1N1 scare and multiple scandals that emerged out from behind the smokescreen of public hysteria deliberately created around it, the COVID-19 crisis has been sustained for now nearly a year with enduring regiments being put in place to condition and control the public – and to control the flow of information through traditional channels as well as online and particularly across US-based social media platforms, and direct public funding into the coffers of the healthcare and pharmaceutical industry.
At the same time, other major industries are either being spared the same regulations and restrictions strangling smaller businesses out of existence, or being bailed out by public funding.
It has gone from the "H1N1 Heist" of 2009 to what appears to be a "Pandemic Industrial Complex" taking shape today.
How far this goes in shaping – or more accurately – disfiguring society, is up to those people who can clearly see public and private sectors conspiring together and consisting of the least reliable partners for actually taking on a real pandemic and protecting the public from it – if that is truly what we are facing.
On one hand, even if we believe the statistics and claims being made on a daily basis by the mainstream media and government representatives, we can see for ourselves the corporations elected by the government to create the solutions claimed are needed to end the crisis, are guilty of serial abuses including the production and distribution of entirely unsafe products – products developed and "approved" of by government regulators under normal conditions that would go on to making people ill or even killing them.
But the COVID-19 vaccines being rolled out now aren't even going through that process. They have instead been rushed through approval and unpredictable results and adverse effects are already emerging.
It hearkens back to another chapter involving a novel virus – 1976's Swine Flu – where vaccines were rushed into production and resulted in mounting adverse effects, particularly paralyzing Guillain-Barré syndrome in over 400 individuals. And these were only the cases that were reported, as the true total of those who suffered varying degrees of complications will never be fully known.
In 1976, the vaccination program was abandoned and the government's response deemed a failure of historic proportions. But apparently the lessons learned then, or in 2009, have been lost entirely today – and in some cases – deliberately buried by a complicit media.
If COVID-19 is the crisis we are told it is – why isn't there a greater demand for more trustworthy and transparent partners to work with to face it? These would be partners capable of acknowledging past mistakes and explaining how their plan today differs from those in the past.
But, unfortunately, history has already taught us that pandemics can be declared – not because they actually exist and/or pose as grave a threat as government, media and corporate stakeholders claim – but because profits are to be made by big pharma, in connection with those in organizations like the WHO who have the unique power to declare pandemics, and perpetuate them regardless of the truth.
We watched for two decades as the West orchestrated an entirely false "War on Terror" around the globe, justifying actions as extreme as invasions, wars, and illegal occupations of other countries and the expenditure of trillions of dollars of taxpayers' money.
Is it really that hard to imagine as possible, this formula being reworked atop the 2009 H1N1 scandals and pushed forward aggressively?
***
Author Brian Berletic, formerly known under his pen name Tony Cartalucci, is Bangkok-based geopolitical researcher, writer and special contributor to 21st Century Wire. See more of his work at Tony's archive. Over the last decade, his work has been published on a number of popular news and analysis websites, and also on the online magazine "New Eastern Outlook". Also, you can follow him on VK here.
Article References:
CDC – United States COVID-19 Cases and Deaths by State:
https://covid.cdc.gov/covid-data-tracker/#cases_casesper100klast7days
Journeyman Pictures – Perspectives on the Pandemic | Dr. John Ioannidis:
https://youtu.be/cwPqmLoZA4s
MedRxiv – COVID-19 Antibody Seroprevalence in Santa Clara County, California:
https://www.medrxiv.org/content/10.1101/2020.04.14.20062463v2
WHO – Infection fatality rate of COVID-19 inferred from seroprevalence data:
https://www.who.int/bulletin/online_first/BLT.20.265892.pdf
BBC – Coronavirus: England death count review reduces UK toll by 5,000:
https://www.bbc.com/news/health-53722711
NYT – Is the Coronavirus Death Tally Inflated? Here's Why Experts Say No:
https://www.nytimes.com/interactive/2020/06/19/us/us-coronavirus-covid-death-toll.html
Coronavirus outbreak declared a pandemic: what does it mean, and does it change anything?
https://www.telegraph.co.uk/global-health/science-and-disease/pandemic-coronavirus-who-what-impact-uk/
WSJ – Big Tech Companies Reap Gains as Covid-19 Fuels Shift in Demand:
https://www.wsj.com/articles/amazon-sales-surge-amid-pandemic-driven-online-shopping-11604003107
Guardian – Amazon third-quarter earnings soar as pandemic sales triple profits:
https://www.theguardian.com/technology/2020/oct/29/amazon-profits-latest-earnings-report-third-quarter-pandemic
Guardian – The mystery of which US businesses are profiting from the coronavirus bailout:
https://www.theguardian.com/us-news/2020/jun/09/us-congress-billions-coronavirus-aid-relief-package
Pfizer SEC Filing For the quarterly period ended September 27, 2020:
https://d18rn0p25nwr6d.cloudfront.net/CIK-0000078003/5164adeb-657b-446f-820d-6934e6484165.pdf
FDA – FDA Requests Removal of All Ranitidine Products (Zantac) from the Market:
https://www.fda.gov/news-events/press-announcements/fda-requests-removal-all-ranitidine-products-zantac-market
WSJ – Pfizer Receives Inquiry From SEC Bribery Unit:
https://www.wsj.com/articles/pfizer-receives-inquiry-from-sec-bribery-unit-11604674900
Reuters – Johnson & Johnson knew for decades that asbestos lurked in its Baby Powder:
https://www.reuters.com/investigates/special-report/johnsonandjohnson-cancer/
NPR – North America Leads Swine Flu Pack:
https://www.npr.org/sections/health-shots/2009/11/north_america_leads_the_pack_o.html
Daily Mail – Tamiflu: What you MUST know as swine flu threatens to strike:
https://www.dailymail.co.uk/health/article-1176661/Tamiflu-What-MUST-know-swine-flu-threatens-strike.html
Reuters – Stockpiles of Roche Tamiflu drug are waste of money, review finds:
https://www.reuters.com/article/us-roche-hldg-novartis-search/stockpiles-of-roche-tamiflu-drug-are-waste-of-money-review-finds-idUSBREA390EJ20140410
BBC – WHO swine flu experts 'linked' with drug companies:
https://www.bbc.com/news/10235558
Wellcome Trust – Directly held public equity holdings:
https://wellcome.org/about-us/investments/direct-public-equity-holdings
Wellcome Trust – Board of Governors:
https://wellcome.org/about-us/governance/board-governors
CEPI – Who We Are:
https://cepi.net/about/whoweare/
IPE – Wellcome Trust 'prospers' under COVID-19 fallout with 12.3% return:
https://www.ipe.com/news/wellcome-trust-prospers-under-covid-19-fallout-with-123-return/10049623.article
Gates Foundation and Wellcome set up $125m coronavirus drug fund:
https://www.ft.com/content/566acfb0-6216-11ea-b3f3-fe4680ea68b5
New data on Gilead's remdesivir, released by accident, show no benefit for coronavirus patients. Company still sees reason for hope:
https://www.statnews.com/2020/04/23/data-on-gileads-remdesivir-released-by-accident-show-no-benefit-for-coronavirus-patients/
Inside the NIH's controversial decision to stop its big remdesivir study:
https://www.statnews.com/2020/05/11/inside-the-nihs-controversial-decision-to-stop-its-big-remdesivir-study/
Remdesivir Fails to Prevent Covid-19 Deaths in Huge Trial:
https://www.nytimes.com/2020/10/15/health/coronavirus-remdesivir-who.html
'Big concerns' over Gates foundation's potential to become largest WHO donor:
https://www.devex.com/news/big-concerns-over-gates-foundation-s-potential-to-become-largest-who-donor-97377
Discover – The Public Health Legacy of the 1976 Swine Flu Outbreak:
https://www.discovermagazine.com/health/the-public-health-legacy-of-the-1976-swine-flu-outbreak
===
Pfizer-BioNTech tried to gouge the EU with 65-DOLLAR vaccine doses, German media report
By RT - 19. February 2021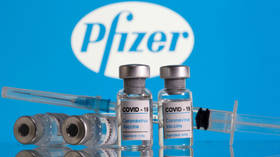 FILE PHOTO: Vials labelled "COVID-19 Coronavirus Vaccine" and a syringe are seen in front of the Pfizer logo in this illustration taken February 9, 2021 © Reuters / Dado Ruvic
Drugmakers Pfizer and BioNTech wanted to charge the EU Commission €54.08 per dose of their Coronavirus vaccine, according to German media reports. The jab would have cost more than 20 times that of a rival shot from AstraZeneca.
The prospective price tag was revealed on Thursday by German broadcasters NDR and WDR, and the Suddeutsche Zeitung newspaper. The paper claims that Pfizer and BioNTech submitted a bid to the EU offering 500 million doses at €54.08 ($65.58) per dose, for a total cost of €27 billion ($32.74 billion).
ALSO ON RT.COMPandemic will be with us until EVERYONE on earth given Covid-19 vaccine, says Merkel after G7 summit
At €54.08, the BioNTech vaccine would have cost more than 20 times as much as the rival vaccine developed by AstraZeneca and Oxford University, and 500 million doses would have cost the EU €3 billion more than the annual GDP of Iceland. In comparison, Russia's 'Sputnik V' vaccine was expected to be priced at no more than $10 (€8.26), according to its backers.
"I see it as a pursuit of profit that is in no way justified in the current situation of the pandemic,"Wolf Dieter Ludwig, drug chairman of the German Medical Association, told the newspaper.
Pfizer-BioNTech has made no profit on the sale of vaccines, according to the Suddeutsche Zeitung, and during negotiations last year reportedly told EU officials that the €54.08 price tag already included "the highest percentage discount" offered to any developed country.
The final cost per dose of the vaccine is still unknown, though a document leaked by Belgian MP Eva De Bleeker in December suggested that Pfizer-BioNTech had been bargained down to €12 ($14.55). Reuters later stated that it had reviewed documents showing the price at €15.50 ($18.79) per dose, "slightly lower than the $19.50 per shot the United States agreed to pay for a first shipment of 100 million doses of the same vaccine."
ALSO ON RT.COMBill Gates calls for THIRD vaccine dose to combat mutations in coming years after calling anti-vaxxers 'crazy' and 'evil'
The European Commission has thus far secured 600 million doses of the Pfizer-BioNTech vaccine, 460 million Moderna shots, and 400 million AstraZeneca doses. A further 1.1 billion doses of vaccines by other manufacturers, including Johnson & Johnson and CureVac, have been reserved, but these vaccines are still under development or evaluation.
Individual countries have set their sights further afield, however: Hungary last week became the first EU country to start administering Russia's 'Sputnik V', and will soon deploy China's Sinovac shot too. The Czech Republic is also considering buying the Russian vaccine, should it be approved by EU regulators.
===
Big Pharma, government crooks now exploiting COVID-19 pandemic for profit, warns health care expert
Friday, October 02, 2020 by: Michael Alexander
(Natural News) Big Pharma and its tentacles within the American government are looking to benefit from the ongoing COVID-19 pandemic, a noted healthcare policy analyst said.
Dave Janda, a retired orthopedic surgeon and a researcher who also operates the podcast and radio show Operation Freedom, made the statement during his appearance in Health Ranger Mike Adams' Brighteon Conversations.
According to Janda, who worked under former Surgeon General C. Everett Coop during the latter part of the Reagan presidency, many elements – some of whom are connected to both Big Pharma and the government – are exploiting the hysteria surrounding COVID-19 in order to make a profit off the pandemic, as well as to take away the "American public's inherent freedoms."
"Look where our freedoms were in January. I mean they were already being limited, but look at where our freedoms were in January and where we are now," Janda said, noting in his interview that the measures enforced by the government such as store closures, mask-wearing mandates, indefinite lockdowns and planned forced vaccinations, are all about keeping the population under control.
Compounding the issue, he said, is that these measures – such as the mandates enforced by Governor Gretchen Whitmer throughout the state of Michigan – are all based on fraudulent data.
"This is about control, pure and simple, because when you look at the studies — I'm a data guy, I'm a science guy, my basis is analytics and we have a governor [Whitmer] who talks smoke about science but she never comes up with the science — the initial data she came up with about where our state was going to be, where millions of people would be hospitalized…was based on that goofball in England that just manufactured this stuff and none of it turned out to be the case," Janda said.
Janda also hit back at mandates that enforce mask-wearing in public, noting that there are no medical and scientific journals that support their effectiveness against COVID-19.
"The data behind masks — I have gone through dozens of peer-reviewed published journals and articles on masks and I have yet to find a positive article that shows that the coronavirus can be prevented by wearing a mask. I wish I could tell you one, but I can't," Janda said, adding that a review by several doctors affiliated with the American Association of Physicians and Surgeons (AAPS) even found that SARS-CoV-2 is too small to be filtered effectively by surgical masks. This, Janda said, is comparable to "a basketball going through a hula hoop."
Furthermore, the current arms race for the creation of a vaccine against COVID-19 must be examined more closely, Janda said, especially since rushing the latter's production and distribution could lead to a public health disaster, such as the one caused by the 1976 swine flu outbreak.
"We already lived through this: in 1976, Gerald Ford was president and we had a swine flu outbreak and then he was "we're going to rush through a vaccine!' and they did. What was the result? At least 500 Americans ended up paralyzed because of it," Janda said, adding that the current race to produce a COVID-19 vaccine has led to several companies such as Moderna, which stands to get $1.5 billion from the U.S. Government cutting back on certain measures for their testing.
"That Moderna vaccine was given only to healthy people — these are people that did not have diabetes, they weren't obese, they didn't have underlying cardiac conditions or pulmonary conditions," the doctor and policy expert stated, noting that some of the people who were injected with the still-experimental vaccine experienced side effects from it.
According to Janda, this current push for the development and forced distribution of a COVID-19 vaccine is indicative of Big Pharma's desire to cement their hold on America, as well as keep their pockets lined with the people's money. (Related: Fascism on display: The NIH owns HALF of Moderna's new coronavirus vaccine.)
"It is all about the money…it comes down to their ever-precious dollar and how much can go to their pockets," Janda continued, noting that it is because of this that Big Pharma and their allies in the American government are doing double duty to push aside and even scrub information that could spell trouble for their money-making schemes.
"Hydroxychloroquine, Zithromax, zinc — they're pennies, but when you start looking into antivirals, if you start looking into vaccines, you're looking at a hundred bucks, two hundred bucks three hundred — you're looking at big bucks and that's what drives this and that's what's so sick," Janda stated.
As of this writing, the coronavirus pandemic has infected over 5 million individuals in the United States, with 171,823 deaths.
WATCH:

Sources include:
===
15 Companies and 1 Government Profiting From COVID-19
By Burgess Powell - Apr 5, 2020
Not everyone is struggling during the COVID-19 pandemic, despite what you, your friends and your family may be experiencing. In fact, a few industries are reaping unprecedented rewards from widespread quarantine, cleaning, and the search for the vaccine itself.
In some cases, such as that of cleaning product suppliers, success may be short-lived. But for others, the coronavirus may consolidate a company's already massive impact on day-to-day life. New digital players are also coming to the fore and experiencing wider use than would be allowed or necessary during normal conditions.
The day-to-day realities of COVID-19 are challenging at best. But the virus' impact is extending far beyond our homes and livelihoods. Here are 7 industries you should be paying attention to.
Mass Unemployment and Debt For the Many
As the pandemic evolves into a global health and economic crisis, many expect unemployment levels rival those of the Great Depression, during which they peaked at around 25%.
Over 10 million Americans have filed for unemployment at the time of writing. That brings unemployment to approximately 13%, which is already the highest it has been since the Great Depression according to The New York Times.
To put it in context, more people have filed for unemployment in the past couple of weeks than during the entirety of the Great Recession, which was considered to be a year and a half long.
Small Business Takes an Unprecedented Hit
Small businesses — most immediately those in the hospitality and tourism industry that accounts for 15 million jobs in the U.S — are suffering. The aid offered to them takes the form of a $350 billion loan program overrun with technical issues.
In other words, life for individuals and small businesses has crumbled to unprecedented levels of uncertainty. Through this, it's important to remember that not all companies and industries are in the same boat. In fact, the coronavirus offers a unique opportunity to profit for some of our nation's largest.
1. Big Tech
The White House is working with companies such as Alphabet (Google), Amazon, Microsoft, and IBM in its efforts to stem the coronavirus outbreak. Though the details remain uncertain, the White House's Big Tech partnership aims to use supercomputers to do two things:
Track the spread of the virus and model possible scenarios.
Use genetic sequencing to develop a vaccine.
Doing the former will undoubtedly involve user tracking — ironically, using the same practices that led to antitrust investigations concerning Google and Facebook. It would seem that the U.S. plans to use South Korea's tracking techniques to monitor the movements of those with the virus. It also seems unlikely that governments (or Big Tech companies) will surrender these controls after the pandemic is over.
A Taxpayer-Subsidized Vaccine Patented by Big Tech?
Using Big Tech to create a vaccine or treatment for the virus could lead to decades of profit off of a patent that was sponsored by taxpayer dollars.
Beyond direct involvement in the COVID-19 pandemic response, Big Tech is also experiencing a boom in internet use, concentrated around social media (like Facebook/Instagram), search engines (Google), and increased use of iPhones and computers (Apple).
2. Grocery Store Chains
Despite Trader Joes' struggles with unionization, the grocery store is benefitting from the closure of restaurants in 30 states at the time of writing. This has translated to a jump in profits in 2020 for a company that made over $13 billion in 2017.
In fact, Trader Joes is planning on giving employees working during the pandemic bonuses based on the grocery store's "unprecedented" sales increase, according to a company memo.
Chains like Whole Foods (Amazon) and Target are experiencing similarly high sales — and challenging shopping and working conditions. See these photos of lines and empty shelves for proof, if you haven't experienced this personally.
3. Digital Health Companies
Corporations that you may never have heard of are coming to the fore during the COVID-19 pandemic. In short, we're at the beginning of the consumerization of healthcare — thanks to regulatory changes and lack of or inaccessible government programs, according to Jacobin.
One company called Ro is working with the federal government on their online test used to assess whether someone is exhibiting COVID-19 symptoms. The Ro Telehealth Assessment will then connect someone with a doctor via video chat.
Another digital health company, Babylon, has built a similar program called the COVID-19 Care Assistant.
Convenience vs. Privacy
Telehealth may give consumers access to medical advice and diminish the strain on governments. However, there is concern that some of these programs don't have sufficient oversight, which translates to serious privacy concerns.
According to David Shepherd, NDP health critic for Alberta, Canada, [regarding the Babylon App] "video recording of patient visits is copied and stored on Babylon's servers, and that the video may be shared with corporate partners and entities outside of Canada, including foreign governments."
4. Amazon
Amazon is part technology, part e-commerce, part media, and part search engine company. It is in a category of its own — especially when it comes to profiting off of the coronavirus.
Not only is Amazon part of the White House's coalition of Big Tech companies, but it accounted for 49% of U.S. e-commerce sales before coronavirus. As all but essential services have closed, we are increasingly dependent on e-commerce for food, cleaning supplies, masks, and more.
Lured by free shipping and overnight deliveries, many forget that Amazon takes approximately 30% of all sales dollars made on its platform from vendors and has notoriously tough working conditions for warehouse employees and management alike.
5. The Chinese Government
The U.S. is set to need 6.5 billion face masks during the COVID-19 pandemic. Currently, medical facilities only have access to 1% of that, which includes both N95 masks and simple face masks.
Prior to the coronavirus, China made half of the world's face masks. Since then, it has multiplied production by 12x, according to the New York Times. It has also been accused of hoarding, going so far as to buy up masks and respirators from other nations. On January 30, 2020, China imported 20 face surgical masks and respirators in a single day.
It is uncertain how the Chinese government is planning on capitalizing on mask hoarding. The same New York Times article writes that China may be looking for political clout as political leaders thank them for their donations.
5. Cleaning Supply Companies
It should go without saying that the producers of essential cleaning supplies are doing well during the epidemic, though the degree to which their success will continue following it remains uncertain.
Purrell is manufactured by a company called Gojo Industries, which accounts for approximately 25% of U.S. hand sanitizer sales. Clorox (CLX) stock peaked at an all-time high of $197 per share on March 17th, a day on which the DOW was averaging slightly above 20,000 after a record drop.
Demand for cleaning supplies and disinfectants have been so significant that companies outside the industry, such as distilleries, have been manufacturing alcohol-based cleaners.
Packaged Food Brands
Stockpiling and closed restaurants have benefited packaged food brands as people prepare to self-isolate and make meals at home. Stocks such as General Mills [GIS], Kraft Heinz [KHC], Campbell Soup [CBP], and Kellog's [K] are fairing well during market downturns.
Credit Swisse estimates that packaged food companies could see sales increase between 15 and 30% in the upcoming months. Prior to the COVID-19 pandemic, Americans were spending more money at restaurants than at grocery stores, according to Eater.
Whether the pandemic leads to a Renaissance of at-home cooking or a return to restaurants following a vaccine remains to be seen.
Big Tech Already Profiting From COVID-19
Beyond immediate financial and health concerns, the biggest worry for many is whether governments and big business, notably Big Tech, will maintain their grip on surveillance and consumer goods — and extend their revenue sources to include healthcare — following the pandemic.
Such a consolidation of power and money in the face of rapid and prevalent unemployment will only further the wealth disparity problem we have in this country.
Author:
===
Greek parliament to probe 10 politicians over pharma scandal
Associated Press - February 21, 2018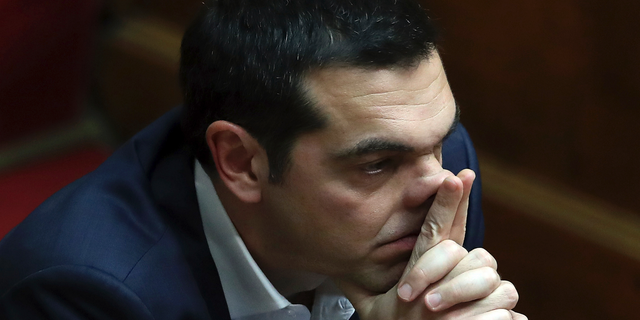 ATHENS, Greece – Greece's parliament voted early Thursday following a marathon 20-hour session to investigate 10 senior politicians, including two former prime ministers, over allegations they were involved in a pharmaceutical bribery scandal.
The allegations follow a judicial investigation into bribes Swiss drugmaker Novartis allegedly paid to boost the sales and prices of its products in Greece. Officials in the government of left-wing Prime Minister Alexis Tsipras have described the alleged bribery scandal as the worst in modern Greek history.
The politicians to be investigated include current central bank governor and former finance minister Yannis Stournaras and Dimitris Avramopoulos, a European commissioner and former health minister.
A parliamentary committee will be set up to investigate each of the 10, in a process expected to last for at least one month. Under Greek law, parliament must first investigate allegations against lawmakers before they can be stripped of immunity and prosecuted by judicial authorities.
Government and opposition parties all backed the investigation, either in support of the probe or to clear the names of their colleagues. Separate ballot boxes were set up for each of the 10 politicians during the secret vote.
Prime Minister Tsipras promised that justice would be done.
"We will not cover up (the scandal)," he said during the debate. "The Greek people must learn who turned pain and illness into a means of enrichment."
All of the politicians implicated angrily denied the allegations, accusing the government of engineering a politically motivated campaign against them. Novartis says it is cooperating with Greek authorities.
"I'm not here to provide answers regarding this despicable libel but to denounce these ridiculous allegations," conservative former prime minister Antonis Samaras said.
The claims against the politicians stem from testimonies made by protected, anonymous witnesses.
Speaking during the debate, central bank governor Stournaras said secret witness testimonies implicating himself and his wife, who runs a communications and consultancy company specializing in the health sector, were lies, and called for the parliamentary investigative committee to be set up to look into all allegations.
Allegations against the politicians include bribery, breach of duty, and possibly money laundering. But it was unclear what the scope of the investigation would be, given that the statute of limitations regarding politicians is linked to terms of government.
Former caretaker prime minister Panagiotis Pikramenos, his voice at times breaking as he addressed the lawmakers, noted he had only been in office for 35 days at a time of political and economic turmoil in Greece.
"And today, after six years, I find myself before you to face a baseless accusation," he said, describing the accusations against him as "lies and unacceptable slander."
Conservative New Democracy leader Kyriakos Mitsotakis accused the government of "shamelessly and regularly interfering in the work of the judiciary" to undermine its political opponents.
"Who will invest in a country with such a toxic political environment?" he said during the debate late Wednesday.
___
AP journalist Derek Gatopoulos contributed to this report.
Follow Becatoros at https://www.twitter.com/ElenaBec