UPDATE 30. March 2021: Canada halts AstraZeneca / Vaxzevria vaccine roll-out for people under 55, citing 'substantial uncertainty' amid blood clot concerns - Germany follows this scheme and will give it only to people over 60.
UPDATE 26. March 2021: AstraZeneca Vaccine Has Changed Its Name To VAXZEVRIA
UPDATE 25. March 2021: Exclusive: Former Pfizer VP to AFLDS: 'Entirely possible this will be used for massive-scale depopulation'
UPDATE 23. March 2021: Pfizer Vaccine More Deadly Than The Virus In Young People + GAVI Vaccine Alliance: The source of terror behind global lockdowns and vaccine coercion
UPDATE 21. March 2021: Huge compilation of COVID-19 inoculation adverse response reports.
UPDATE 19. March 2021: Vaccination alone cannot stop coronavirus – German minister + AstraZeneca: German team discovers thrombosis trigger + Dr Geert Vanden Bossche Interview about Vaccines and whether they create more harm than good
UPDATE 18. March 2021: Blindness, Blurry Vision, Tunnel Vision & More Eyesight Issues: Over 350 Reports Of Sight Disturbances After Vaccine (VAERS) + GLOBAL MEDICAL & SCIENTIFIC EXPERTS CALL UPON WORLD GOVERNMENTS TO ACT NOW TO SAVE LIVES!!! + Italy launches manslaughter case after AstraZeneca's coronavirus vaccine kills teacher +
UPDATE 16. March 2021: After just one day of vaccinations, irresponsible Ethiopia rolls out AstraZeneca jab, says no evidence of harm
UPDATE 15. March 2021: Finally also Germany halts Oxford/AstraZeneca killer-jab and becomes latest country to suspend use of Oxford/AstraZeneca's Covid-19 vaccine over concerns of possibly serious side effects after Netherlands stopped to administer that 'vaccine' + I think I know the end game with the vaccinations, and it is "impossibly bad," I am probably right, here it is + Italy prosecutors seize batch of AstraZeneca vaccine after death of man
UPDATE 14. March 2021: COVID VACCINES ARE WEAPONS OF MASS DESTRUCTION & COULD WIPE OUT THE HUMAN RACE (DR VERNON COLEMAN)
UPDATE 13. March 2021: Donald J. Trump beats out Prince Charles, Prince of Wales as qualifier for 666 Antichrist of Book of Revelation
UPDATE 12./13. March 2021: Bombshell: Moderna Chief Medical Officer Admits mRNA Alters DNA, while on the Oxford/AstraZeneca jab only the German Merkill governance remains stubborn and endangers people.
UPDATE 12. March 2021: Ten nations halt covid vaccine & AstraZeneca vaccine: Germany rejects blood clot risk [Health Minister Jens Spahn and EMA must be held fully responsible]
Eight European nations pause AstraZeneca coronavirus vaccinations after reports of "serious" blood clots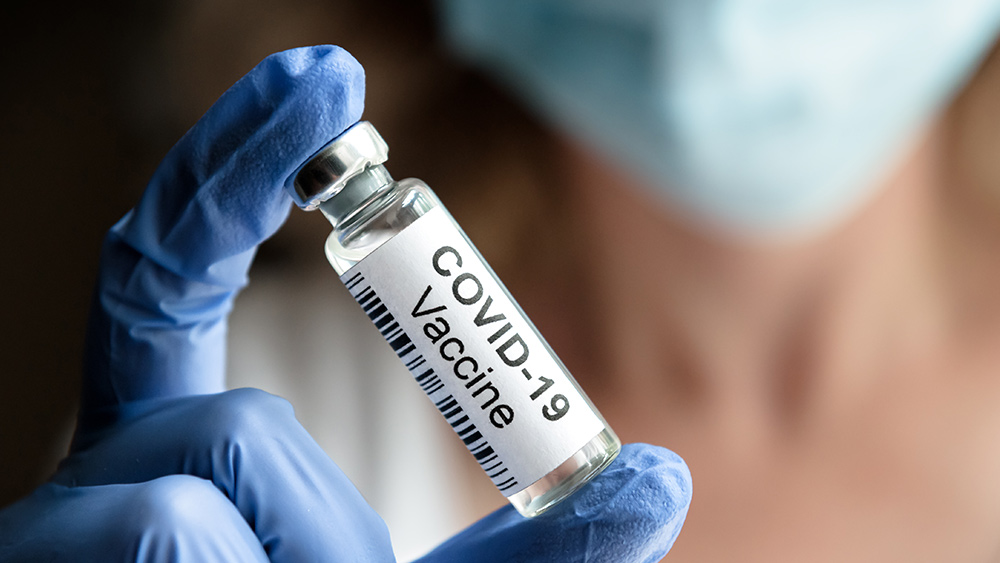 By Ethan Huff - 11. March 2021
At least eight countries in Europe have suspended all administration of Wuhan coronavirus (Covid-19) vaccines from AstraZeneca and the University of Oxford after dozens of recipients developed "serious" blood clots post-injection.
The European Medicines Agency (EMA), Europe's equivalent of the U.S. Food and Drug Administration (FDA), confirmed that no fewer than 30 patients who received AstraZeneca's China virus jab suffered this adverse outcome. At least one of the cases, in Denmark, resulted in death.
"This AstraZeneca story isn't getting enough attention," tweeted ForexLive. "It's going to undermine vaccine takeup. If people are dying it's a disaster for the company too."
It is apparent from this tweet that ForexLive is more concerned about the profits of AstraZeneca than it is about people's lives. ForexLive is also more worried about other people refusing vaccination based on the news than it is about the people who already did get vaccinated and are now suffering.
Denmark, Norway, Estonia, Lithuania, Luxembourg, Latvia, Italy and Iceland have halted administration of the vaccine due to this deadly side effect. At least two cases of blood clots were reported in Austria as well, however that country is still administering the vaccine, at least for now.
Magnus Heunicke, Denmark's health minister, is bending over backwards trying to separate the vaccine from the blood clots. He claims that there is "no way to know for certain" whether the vaccine is the culprit, and thinks his country "acted early" in suspending the operation while the situation is "thoroughly investigated."
A few days prior, Italian Prime Minister Mario Draghi stopped a shipment of AstraZeneca injections from being shipped off to Australia in order to keep more of them available for Italians. Now, the jabs will go into nobody's arms due to the suspension.
North America's mRNA vaccines are even worse, says Alex Berenson
In the meantime, health "authorities" in Brussels and London have dismissed all concerns about the AstraZeneca-Oxford jab, and are now pushing to approve Johnson & Johnson's (J&J) China virus jab as well.
"After a thorough evaluation," the European Union's (EU) medicines regulator announced that the J&J shot will be authorized for all adults over the age of 18, having met the agency's criteria for safety, efficacy and quality.
Former New York Times reporter Alex Berenson, meanwhile, warned on Twitter that the AstraZeneca-Oxford jab is "hardly worse" than the messenger RNA (mRNA) vaccines from Pfizer-BioNTech and Moderna, both of which are causing a litany of deadly side effects in North American recipients.
Both jabs were rushed through production under Donald Trump's "Operation Warp Speed" mass vaccination campaign, skipping the normal scientific process in favor of an act now, ask questions later model of "science."
"Just wait until they hear what the mRNA vaccines can do," Berenson wrote. "Really, though, the side effect profile of the [AstraZeneca] vaccine is hardly worse than the mRNA shots, but somehow it has faced much more scrutiny. Follow the politics, I mean science."
It is a wonder that Berenson's tweet is still on Twitter, and without a "fact check" overlay no less, seeing as how Jack Dorsey and his communist employees recently implemented a new five strikes and you're out policy for users who say anything "negative" about vaccines on the platform.
"The real fun begins next winter when the fools who have had their second jab and maybe even a third one, start to keel over because they have caught a common cold or mild flu," wrote one Zero Hedge commenter about the cytokine storm that Wuhan coronavirus (Covid-19) vaccine recipients will eventually suffer now that their bodies have been pathogenically primed to overreact to infection.
Sources for this article include:
More stories like this one can be found at Pandemic.news.
===
===
Vaccine Changes Its Name
By Chris King - 26. March 2021
AstraZeneca Vaccine Has Changed Its Name To Vaxzevria
The website of the European Medicines Agency (EMA), shows that the coronavirus vaccine from Anglo-Swedish pharmaceutical company AstraZeneca and the British University of Oxford has changed its name to Vaxzevria, and indicates that Vaxzevria is composed of a modified adenovirus that, since it is not SARS-CoV-2 itself, cannot cause COVID-19.
The portal of the Swedish National Medicines Agency (Läkemedelsverket) confirms that the name change was approved by the EMA on March 25 after a request from the company.
The EMA also claims that the vaccine Vaxzevria of AstraZeneca is safe and effective in preventing new coronavirus in people aged over 18 years old, but that it has lowered its effectiveness from 79 to 76 per cent.
No official reason has been given for the name change, but it could be due to the latest UK-based pharmaceutical crisis that involved its vaccine with cases of thrombosis, with at least a dozen countries in Europe suspending the use of the vaccine, but then resuming once the EMA affirmed that it is "safe and effective" against COVID-19, although without ruling out its relationship with "very rare" cases of coagulation blood associated with thrombosis.
The Swedish body is quick to point out to everybody that the name change of the product is not associated with any other change in the drug, but stressed the importance that those responsible for receiving the vaccination are aware of the change, since the information on the product, labelling, and packaging can look different from before
===
Canada halts AstraZeneca vaccine roll-out for people under 55, citing 'substantial uncertainty' amid blood clot concerns
By RT - 30. March 2021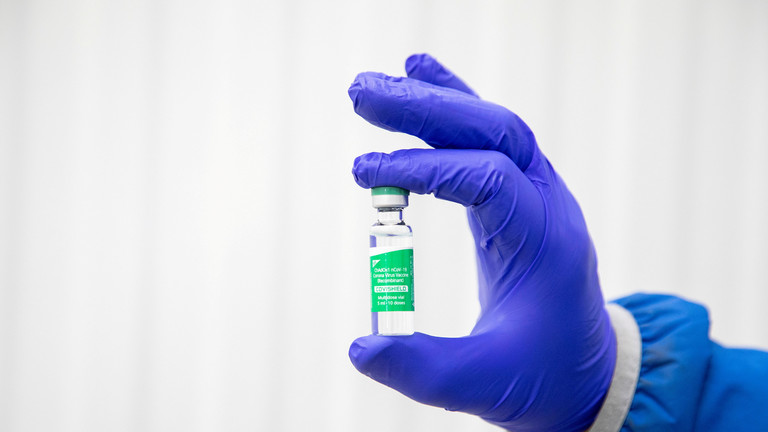 A vial of AstraZeneca's coronavirus vaccine is seen at a facility in Milton, Ontario. © Reuters / Carlos Osorio
Canada has suspended its use of AstraZeneca's coronavirus vaccine for those younger than 55, pointing to safety concerns following a number of reports of serious blood clotting among recipients in Europe.
The move comes after a recommendation from Canada's National Advisory Committee on Immunization on Monday, which called for a pause to buy time to evaluate the safety concerns, namely over a rare blood clotting condition known as vaccine-induced prothrombotic immune thrombocytopenia, or VIPIT.
"There is substantial uncertainty about the benefit of providing AstraZeneca Covid-19 vaccines to adults under 55 given the potential risks associated with VIPIT," said Shelley Deeks, who serves as vice-chair of the National Advisory Committee.
The recommendation was prompted by new data out of Europe suggesting the risk of blood clotting in AstraZeneca recipients could be as high as one in 100,000, far above the one in 1 million figure previously estimated by researchers, Deeks said. She added that most of the European patients experiencing clotting were women under the age of 55, and that the fatality rate among those who develop blood clots is as high as 40%.
Because the AstraZeneca jab is not expected to make up a large proportion of Canada's overall vaccine supply, however, the Committee said the country's immunization drive "will not be significantly delayed" by the pause.
The head of Manitoba's provincial vaccine taskforce, Joss Reimer, said that while "we don't know yet exactly how common this side effect is," it is better to err on the side of caution.
"While we still believe the benefits for all ages outweigh the risks I'm not comfortable with 'probably'. I want to see more data coming out of Europe so I know exactly what this risk-benefit analysis is," Reimer said
More than a dozen countries across Europe have temporarily suspended their rollout of the AstraZeneca vaccine as reports of blood clots cropped up, though several have since resumed after EU health authorities declared the vaccine safe and not related to the clotting issues, which in some cases were fatal.
Despite the all-clear given by European regulators, however, a research team from Germany's Greifswald University Hospital recently claimed to have found a link between the vaccine and blood clots. The researchers said an immune response to the jab could lead to the formation of antibodies that are normally stimulated when an organism needs to heal a wound through blood coagulation, potentially creating blood clots, particularly in the brain.
===
Poisonous Experimental 'Covid' Injection Trials on Infants Have Begun: They Should All Be Imprisoned!
By Gary D. Barnett - 27. March 2021
"The victimization of children is nowhere forbidden; what is forbidden is to write about it."
~ Alice Miller (1998). "Thou Shalt Not Be Aware: Society's Betrayal of the Child", p.235, Macmillan
I will write about this government's efforts to not only victimize children, but to purposely cause them irreparable harm and even death, so as to control their bodies, minds, and spirits in the quest to achieve power over all in the future.
The hope in life is that it will be filled with joy and happiness, but often this is not the case. We strive to achieve a better way, but still life can be consumed by misery and evil. The normal expectation of parents is that their children are healthy, happy, and free of strife, and have a better chance at life than they did. Children, especially when they are first born and very young, are not only totally helpless, but they are completely innocent beings fully dependent on others to survive and remain unscathed. The protection we provide for them is vital, and nothing is more important than protecting the innocent, especially our children. We have reached a stage where this government that has been voluntarily allowed to exist by this population of fools, is attempting to destroy children in order to control humanity. This is an immoral abomination. Alice Miller Best Price: $3.61 Buy New $11.29 (as of 04:40 EDT - Details)
If the children are destroyed, so goes the rest of the world, but if the powerful and their government pawns succeed in this plot to mutilate the bodies and minds of children, those that allowed such a travesty will deserve no life of joy.
There are many forms of abusive and tyrannical governing systems simultaneously at work in this now mentally deficient country, but this is certainly a fascist oligarchy, where the government and the corporate state are partnered at most every level. Maybe the worst aspects of these partnerships are those between the two most abhorrent entities of corruption and abuse, this government and the murderous pharmaceutical industry. They are right before our eyes attempting to harm every child in America, and have no conscience whatsoever concerning their efforts to do so. They see only dollars, control, and power over all, and the children be damned.
At this point in time, there are several Covid 'vaccine' trials going on that are using children as guinea pigs. This is total insanity, but what is happening now is even worse, as trials have begun on infants as young as 6 months old. The past trials, which are all atrocious, have been on children above the age of 11, but now these murderous pharmaceutical companies are targeting children from 6 months to 11 years old, all with the blessing of "your" government. Both Pfizer and Moderna have been testing on older children. Pfizer has been using 12 to 15 year olds, while Moderna has been using 12 to 17 year olds. Now both are experimenting on children from 6 months to 11 years. Johnson & Johnson has also announced that it would be testing their "Covid-19 vaccine" on infants as well as newborns!
"Pfizer's trial will test three different vaccine doses: 10, 20 and 30 micrograms per shot, according to the Times. (The Pfizer dose for adults is 30 micrograms per shot, according to CNBC.) The doses will first be tested in children ages 5 to 11, then 2 through 4 and finally 6 months to 2 years, the Times reported." Pfizer's second trial is set to begin soon with 4,500 children; two-thirds will receive the real shot, and one-third will get a placebo.
This is all a plotted set up for the mass injection of all children, and I expect that this will become mandated for all children in schools across the country at every age. The most evil monster Fauci said "he projects that U.S. high school students could be vaccinated in the fall and elementary and middle school students in the first quarter of 2022, according to CNBC." So the stated plan is to inject every single child in America with this toxic, poisonous, gene altering, and mind controlling concoction. Miller, Alice Best Price: $7.50 Buy New $12.56 (as of 04:40 EDT - Details)
People are dying worldwide due to these deadly "Covid" injections, the side effects have been horrendous, and sickness has been rampant due to these shots. Now they are coming after your children. What sane parent would allow their children to be used as experimental rats by this evil and corrupt government and its partners in murder? What kind of parent would allow their newborn or infant child to go through virulent exploratory testing by giant corporate whores? What parent would allow the use of aborted fetal cell lines into their own child? These are not parents; they are uncaring predators!
Much has been written about 'vaccine' trials on children, but if one looks at the mainstream, he would come away thinking that every trial is a godsend, and is being done to protect the children. Everything is for the children after all, but is it really? In this case it is meant for alteration and damage in order to achieve another part of this global takeover, which is based on total control over all of society.
Children are not fodder for the government and its criminal partners in the pharmaceutical industry to use for experimentation. Newborns, infants, and young children cannot protect themselves at all, they cannot opt out, they cannot fight back, and they cannot defend themselves from evil and immoral parents.
As I have said over and over again, government cares nothing about you, your children, or your grandchildren, unless it benefits their desire to harm and kill in order to stay in power. I care not that any consenting adult decides voluntarily to agree to these fake 'vaccine' experiments, regardless of the consequences, because that is their choice, and stupidity is no crime.
All of us should do whatever is necessary to stop this abuse and slaughter of young children being used by this government and all its criminal partners for their own benefit. Any parent using their young children for government experimentation should be confronted, they should be investigated, and they should be prosecuted for child abuse. Miller, Alice Best Price: $2.34 Buy New $12.57 (as of 04:40 EDT - Details)
What in the hell has happened to the people of this country that they would use their own babies as tools for the state? What has happened to society when they do not question such atrocities? What will be the fate of those that stand by and allow this abuse against children at the hands of tyrants?
The souls of humanity are at stake here, as nothing could be more depraved than this exhibition of allowed abuse against the most innocent of all mankind. A child's life is precious, it is the epitome of innocence, and all those that touch a child leave a mark. All should protect the innocent, so that the mark left is one of love and not the mark of the beast that is this evil that is before us today.
"If we don't stand up for children, then we don't stand for much."
~ Marian Wright Edelman, Reading Between the Lines of Arne Duncan's 'Major' Speech" by Valerie Strauss, www.washingtonpost.com. January 12, 2015.
Source links:
Pfizer starts Covid-19 vaccine trial in young kids
Pfizer vaccine trial on infants
Johnson & Johnson vaccine morally compromised
Gary D. Barnett [send him mail] is a retired investment professional that has been writing about freedom and liberty matters, politics, and history for two decades. He is against all war and aggression, and against the state. He recently finished a collaboration with former U.S. Congresswoman, Cynthia McKinney, and was a contributor to her new book, "When China Sneezes" From the Coronavirus Lockdown to the Global Political-Economic Crisis." Currently, he lives in Montana with his wife and son. Visit his website.

Previous article by Gary D. Barnett: Lies, Damned Lies, Statistics, and Murder: The Real Nature of Government
===
Exclusive: Former Pfizer VP to AFLDS: 'Entirely possible this will be used for massive-scale depopulation'
Dr. Michael (Mike) Yeadon, PhD
By Mordechai Sones - 25. March 2021
America's Frontline Doctors (AFLDS) spoke to former Pfizer Vice President and Chief Science Officer Dr. Mike Yeadon about his views on the COVID-19 vaccine, hydroxychloroquine and ivermectin, the regulatory authorities, and more.
At the outset, Dr. Yeadon said "I'm well aware of the global crimes against humanity being perpetrated against a large proportion of the worlds population.
"I feel great fear, but I'm not deterred from giving expert testimony to multiple groups of able lawyers like Rocco Galati in Canada and Reiner Fuellmich in Germany.
"I have absolutely no doubt that we are in the presence of evil (not a determination I've ever made before in a 40-year research career) and dangerous products.
"In the U.K., it's abundantly clear that the authorities are bent on a course which will result in administering 'vaccines' to as many of the population as they can. This is madness, because even if these agents were legitimate, protection is needed only by those at notably elevated risk of death from the virus. In those people, there might even be an argument that the risks are worth bearing. And there definitely are risks which are what I call 'mechanistic': inbuilt in the way they work.
"But all the other people, those in good health and younger than 60 years, perhaps a little older, they don't perish from the virus. In this large group, it's wholly unethical to administer something novel and for which the potential for unwanted effects after a few months is completely uncharacterized.
"In no other era would it be wise to do what is stated as the intention.
"Since I know this with certainty, and I know those driving it know this too, we have to enquire: What is their motive?
"While I don't know, I have strong theoretical answers, only one of which relates to money and that motive doesn't work, because the same quantum can be arrived at by doubling the unit cost and giving the agent to half as many people. Dilemma solved. So it's something else. Appreciating that, by entire population, it is also intended that minor children and eventually babies are to be included in the net, and that's what I interpret to be an evil act.
"There is no medical rationale for it. Knowing as I do that the design of these 'vaccines' results, in the expression in the bodies of recipients, expression of the spike protein, which has adverse biological effects of its own which, in some people, are harmful (initiating blood coagulation and activating the immune 'complement system'), I'm determined to point out that those not at risk from this virus should not be exposed to the risk of unwanted effects from these agents."
AFLDS: The Israel Supreme Court decision last week cancelling COVID flight restrictions said: "In the future, any new restrictions on travel into or out of Israel need, in legal terms, a comprehensive, factual, data-based foundation."
In a talk you gave four months ago, you said
"The most likely duration of immunity to a respiratory virus like SARS CoV-2 is multiple years. Why do I say that? We actually have the data for a virus that swept through parts of the world seventeen years ago called SARS, and remember SARS CoV-2 is 80% similar to SARS, so I think that's the best comparison that anyone can provide.

"The evidence is clear: These very clever cellular immunologists studied all the people they could get hold of who had survived SARS 17 years ago. They took a blood sample, and they tested whether they responded or not to the original SARS and they all did; they all had perfectly normal, robust T cell memory. They were actually also protected against SARS CoV-2, because they're so similar; it's cross immunity.

"So, I would say the best data that exists is that immunity should be robust for at least 17 years. I think it's entirely possible that it is lifelong. The style of the responses of these people's T cells were the same as if you've been vaccinated and then you come back years later to see if that immunity has been retained. So I think the evidence is really strong that the duration of immunity will be multiple years, and possibly lifelong."
In other words, previous exposure to SARS – that is, a variant similar to SARS CoV-2 – bestowed SARS CoV-2 immunity.
The Israel government cites new variants to justify lockdowns, flight closures, restrictions, and Green Passport issuance. Given the Supreme Court verdict, do you think it may be possible to preempt future government measures with accurate information about variants, immunity, herd immunity, etc. that could be provided to the lawyers who will be challenging those future measures?
Yeadon: "What I outlined in relation to immunity to SARS is precisely what we're seeing with SARS-CoV-2.
The study is from one of the best labs in their field.
"So, theoretically, people could test their T-cell immunity by measuring the responses of cells in a small sample of their blood. There are such tests, they are not "high throughput" and they are likely to cost a few hundred USD each on scale. But not thousands. The test I'm aware of is not yet commercially available, but research only in U.K.
"However, I expect the company could be induced to provide test kits "for research" on scale, subject to an agreement. If you were to arrange to test a few thousand non vaccinated Israelis, it may be a double edged sword. Based on other countries experiences, 30-50% of people had prior immunity & additionally around 25% have been infected & are now immune.
"Personally, I wouldn't want to deal with the authorities on their own terms: that you're suspected as a source of infection until proven otherwise. You shouldn't need to be proving you're not a health risk to others. Those without symptoms are never a health threat to others. And in any case, once those who are concerned about the virus are vaccinated, there is just no argument for anyone else needing to be vaccinated."
My understanding of a "leaky vaccine" is that it only lessens symptoms in the vaccinated, but does not stop transmission; it therefore allows the spread of what then becomes a more deadly virus.
For example, in China they deliberately use leaky Avian Flu vaccines to quickly cull flocks of chicken, because the unvaccinated die within three days. In Marek's Disease, from which they needed to save all the chickens, the only solution was to vaccinate 100% of the flock, because all unvaccinated were at high risk of death. So how a leaky vax is utilized is intention-driven, that is, it is possible that the intent can be to cause great harm to the unvaccinated.
Stronger strains usually would not propagate through a population because they kill the host too rapidly, but if the vaccinated experience only less-serious disease, then they spread these strains to the unvaccinated who contract serious disease and die.
Do you agree with this assessment? Furthermore, do you agree that if the unvaccinated become the susceptible ones, the only way forward is HCQ prophylaxis for those who haven't already had COVID-19?
Would the Zelenko Protocol work against these stronger strains if this is the case?
And if many already have the aforementioned previous "17-year SARS immunity", would that then not protect from any super-variant?
"I think the Gerrt Vanden Bossche story is highly suspect. There is no evidence at all that vaccination is leading or will lead to 'dangerous variants'. I am worried that it's some kind of trick.
"As a general rule, variants form very often, routinely, and tend to become less dangerous & more infectious over time, as it comes into equilibrium with its human host. Variants generally don't become more dangerous.
"No variant differs from the original sequence by more than 0.3%. In other words, all variants are at least 99.7% identical to the Wuhan sequence.
"It's a fiction, and an evil one at that, that variants are likely to "escape immunity".
"Not only is it intrinsically unlikely – because this degree of similarity of variants means zero chance that an immune person (whether from natural infection or from vaccination) will be made ill by a variant – but it's empirically supported by high-quality research.
"The research I refer to shows that people recovering from infection or who have been vaccinated ALL have a wide range of immune cells which recognize ALL the variants.
"This paper shows WHY the extensive molecular recognition by the immune system makes the tiny changes in variants irrelevant.
"I cannot say strongly enough: The stories around variants and need for top up vaccines are FALSE. I am concerned there is a very malign reason behind all this. It is certainly not backed by the best ways to look at immunity. The claims always lack substance when examined, and utilize various tricks, like manipulating conditions for testing the effectiveness of antibodies. Antibodies are probably rather unimportant in host protection against this virus. There have been a few 'natural experiments', people who unfortunately cannot make antibodies, yet are able quite successfully to repel this virus. They definitely are better off with antibodies than without. I mention these rare patients because they show that antibodies are not essential to host immunity, so some contrived test in a lab of antibodies and engineered variant viruses do NOT justify need for top up vaccines.
"The only people who might remain vulnerable and need prophylaxis or treatment are those who are elderly and/or ill and do not wish to receive a vaccine (as is their right).
"The good news is that there are multiple choices available: hydroxychloroquine, ivermectin, budesonide (inhaled steroid used in asthmatics), and of course oral Vitamin D, zinc, azithromycin etc. These reduce the severity to such an extent that this virus did not need to become a public health crisis."
Do you feel the FDA does a good job regulating big pharma? In what ways does big pharma get around the regulator? Do you feel they did so for the mRNA injection?
"Until recently, I had high regard for global medicines regulators. When I was in Pfizer, and later CEO of a biotech I founded (Ziarco, later acquired by Novartis), we interacted respectfully with FDA, EMA, and the U.K. MHRA.
Always good quality interactions.
"Recently, I noticed that the Bill & Melinda Gates Foundation (BMGF) had made a grant to the Medicines and Healthcare products Regulatory Agency (MHRA)! Can that ever be appropriate? They're funded by public money. They should never accept money from a private body.
"So here is an example where the U.K. regulator has a conflict of interest.
"The European Medicines Agency failed to require certain things as disclosed in the 'hack' of their files while reviewing the Pfizer vaccine.
"You can find examples on Reiner Fuellmich's "Corona Committee" online.
"So I no longer believe the regulators are capable of protecting us. 'Approval' is therefore meaningless.
"Dr. Wolfgang Wodarg and I petitioned the EMA Dec 1, 2020 on the genetic vaccines. They ignored us.
"Recently, we wrote privately to them, warning of blood clots, they ignored us. When we went public with our letter, we were completely censored. Days later, more than ten countries paused use of a vaccine citing blood clots.
"I think the big money of pharma plus cash from BMGF creates the environment where saying no just isn't an option for the regulator.
"I must return to the issue of 'top up vaccines' (booster shots) and it is this whole narrative which I fear will he exploited and used to gain unparalleled power over us.
"PLEASE warn every person not to go near top up vaccines. There is absolutely no need to them.
"As there's no need for them, yet they're being made in pharma, and regulators have stood aside (no safety testing), I can only deduce they will be used for nefarious purposes.
"For example, if someone wished to harm or kill a significant proportion of the worlds population over the next few years, the systems being put in place right now will enable it.
"It's my considered view that it is entirely possible that this will be used for massive-scale depopulation."
===
Pfizer Vaccine More Deadly Than The Virus In Young People
By James Allard 23. March 2021
In a shocking new piece of research by Aix-Marseille University Faculty of Medicine Emerging Infectious and Tropical Diseases Unit's Dr. Hervé Seligmann and engineer Haim Yativ it is being claimed that mortality from the Pfizer Vaccine is hundreds of times greater in young people compared to those young people who suffer from SARS-CoV-2 without the Vaccine.
The report initially appeared on the front page of the French publication FranceSoir[1]. Since its release the World has scrabbled to try and debunk the claims, which Seligmann and Yativ are actively working to respond too[2].
Here are some of their findings:
German journalist Alice Echtermann published data apparently obtained from the Israeli Ministry of Health , cumulative from December 20 to March 10, on patients vaccinated and unvaccinated against COVID-19.

Her interpretation of this data, in response to a post from nakim.org, is that vaccination decreased deaths, from 1566 (unvaccinated) to 709 (between doses), to 84 (within 7 days after the 2nd dose). ) and 105 (7 days after 2nd dose) (Table 1). This is misleading because vaccination statuses differ in duration and sample size. Adjusted for time, there are 20 (= 1566 deaths / 80 days), 34, 12 and 4 deaths / day for the different vaccine statuses, in the same order as above. Adjusted for the total number of patients with COVID-19, deaths / day per person increase from unvaccinated to fully immunized (Table 1) and are multiplied by 11.65, 27.92 and 15 (390-7.49 ) compared to unvaccinated (Table 1).

This confirms a threefold increase in detection rates of COVID-19 in the first 7 days after the first dose, compared to the initial levels of COVID-19 on the day of the first injection. – FranceSoir[1]
We see this time and time again, misleading interpretation of data to produce the positive outcome required. For those struggling to process the information stated above, the authors made this statement on their website:
Our reanalyses of these data explain why during the massive vaccination project initiated mid-December 2020 during a confinement, daily new confirmed COVID-19 cases failed to decrease as they do during confinements, and, more importantly, why numbers of serious, critical, and death cases increased during that period that covered at least one month.

From mid-December to mid-February (two months), 2,337 among all Israeli 5,351 official COVID-deaths occurred. Our analyses indicate orders of magnitude increases in deaths rates during the 5-week long vaccination process, as compared to the unvaccinated and those after completing the vaccination process.

Presumably, asymptomatic cases before vaccination, and those infected shortly after the 1st dose, tend to develop graver symptoms than those unvaccinated. – Nakim[3]
Dr Seligmann and Haim Nakim also found that the percentage of asymptomatic cases decreased in the unvaccinated when compared to the vaccinated population. The believe this to be because the vaccinated population have had their natural immune response weakened.
Make of this what you will, the authors claim to have no conflict of interest, but time will tell. Certainly their findings require consideration.
Whichever way you look at it, vaccinating the younger population, the very population that is at virtually no risk from dire consequences from the COVID-19 is a counterproductive operation. What need is their for this group of people to be vaccinated?
There is an argument to be made for the vunerable populations to be vaccinated, if you believe in vaccines that is. But vaccinating a population sub-set which have virtually no risk from the thing the vaccine is alleged to protect them from is just ludicrous, particularly when you consider the fact that the vaccine does not stop the receiver from spreading the virus.
So the argument that the young need to be vaccinated to protect the older and more vunerable is not even valid.
Sources:
Author:
James Allard has been with OYE NEWS from the start, with extensive knowledge across a wide range of subjects his work is diverse. He is essentially an Anarchist and believes in individual freedom and sovereignty.
===
GAVI Vaccine Alliance: The source of terror behind global lockdowns and vaccine coercion
By Lance D Johnson - 23. March 2021
(Natural News) The World Health Organization (WHO) is facilitating a global health dictatorship, commanding all member states to enforce totalitarian lock downs and far-reaching medical edicts that empower government authorities and the vaccine industry – not human health.
WHO's authoritarian recommendations were adopted in rapid fashion by almost every government on Earth. The behavioral controls and livelihood restrictions imposed by WHO have no basis in immune system health, mental health, or general well being. WHO operates like a global oligarchy, forcing all member states to carry out their orders. In 2020 and beyond, WHO has ordered populations into isolation, avoidance, and unlawful quarantines. WHO has forced perpetual oxygen restrictions, coercive DNA harvesting, and mRNA vaccines experiments, while instructing governments around the world to quash civil liberties and promote medical martial law. This dictatorship is giving rise to a medical apartheid – a system of segregation that punishes healthy people for not complying.
Bill Gates Vaccine Alliance is the source of terror behind WHO's lock downs and coercive vaccine passports
Where is WHO coming up with these restrictive medical edicts and coercive vaccine policies? According to WHO insider Astrid Stuckelberger, Ph.D., WHO serves the financial interests of GAVI, the Vaccine Alliance run by Bill Gates. GAVI was formed in 2000 and set up as an international institution in Switzerland. GAVI operates tax free and enjoys blanket immunity against criminal sanctions. Bill Gates leveraged GAVI and bought his influence into the WHO. He even asked to become a member state in 2017, with the privilege of being on WHO's executive board.
Bill Gates now controls Swissmedic, the FDA of Switzerland, due to a three-way vaccine distribution contract agreement reached by Gates, WHO, and the Swiss regulatory agency. By controlling WHO, Gates funnels tens of billions of dollars through his GAVI Vaccine Alliance, with the ultimate power of controlling member states. As the controller of information and the arbiter of science, Gates and the vaccine industry has the power to suppress prophylactics, treatments, phytonutrients, adaptogens, and antivirals. Bill Gates and GAVI is the source of terror behind WHO, the lock downs, restrictions, and authoritarian medical edicts that are compelling vaccination experiments.
WHO insider, Astrid Stuckelberger came clean about WHO's political motivations and how the science is manipulated and leveraged to force populations to comply with vaccine experiments. Stuckelberger is an international expert who evaluates scientific research and advises policymakers. She has written more than 180 scientific articles, policy papers and governmental reports. She admits that this research is conducted to support political agendas and to justify government policy. Since 2009, she managed WHO's international health regulations, which were primarily used to prepare member states to act in unison during a future pandemic. At the center of this world government plandemic is Bill Gates and the GAVI Vaccine Alliance.
GAVI and WHO control governments around the world now, threaten populations
Bill Gates has more power and influence over WHO than entire nations. The United Nations originally established WHO, but has repeatedly refused to rein in their dictatorial powers, illegal quarantine procedures, coercive vaccine passports, and undemocratic power grabs.
Justus Hoffmann, Ph.D., one of the German Corona Extra-Parliamentary Inquiry Committee members, pointed out that GAVI has no political power but enjoys "qualified diplomatic immunity." GAVI is immune from all criminal business dealing, as well, whether their potential criminal actions are intentional or inadvertent.
"They can do whatever they want," Stuckelberger confirmed, and they answer to no authority. No law enforcement is allowed to investigate GAVI, even if the Vaccine Alliance was implicated in a criminal conspiracy to defraud or coerce people. Stuckelberger, who worked four years on the ethics committee for the WHO, said its "disturbing" that GAVI enjoys blanket immunity especially when GAVI is "directing, as a corporate entity, the WHO."
The director general of WHO forces all member states to follow GAVI's orders, from the type of diagnostic tests, to the type of treatments allowed, to top-down populations controls, pandemic messaging, and most importantly, vaccine experimentation. The WHO has been set up over the years to assume dictatorial power over world governments and GAVI is the source of their authoritarianism, terror, and coercive vaccination push. After months of using high cycle PCR tests to diagnose covid-19, the WHO finally alerted the world in January of 2021 that these tests were producing mostly false positives all along. As laboratories dial back the cycle threshold on the PCR tests, the official number of covid cases and deaths will slowly dissipate. This medical fraud will not stop the wave of hospital dependence, ventilator-associated pneumonia, lung infections, stress induced heart disease, drug overdoses, severe mental illness, and vaccine injury that is now taking hold of the world.
Sources include:
Researchers confirm antibodies from the AstraZeneca coronavirus vaccine cause blood clots
Disposable face masks, PPE contributing to worsening global plastic pollution problem, warn environmentalists
British Medical Association warns that genetically targeted bioweapons can now be easily developed and deployed
CDC pretending that nobody is getting injured or dying from COVID-19 vaccines
Linda Lacewell, one of Cuomo's senior aides accused of rewriting DOH report to cover up nursing home covid deaths, taught ethics at NYU School of Law
Two Danes suffer from brain hemorrhage after getting AstraZeneca coronavirus jab
Bayer won't ask the Supreme Court to reverse Roundup cancer verdict
Oregon wants to make COVID-19 restrictions permanent and track all vaccine refusers
GAVI Vaccine Alliance: The source of terror behind global lockdowns and vaccine coercion
Wearing a mask, quarantining, social distancing, and getting the mRNA vaccine nearly GUARANTEES you'll catch the next round of morphed COVID-19
===
Huge compilation of COVID-19 inoculation adverse response reports:
===
AstraZeneca: German team discovers thrombosis trigger
By Alex Berry 19. March 2021
Scientists at Greifswald teaching hospital claim they have discovered the cause of blood clots among a small number of AstraZeneca vaccine recipients. Doctors say a targeted treatment can now be used.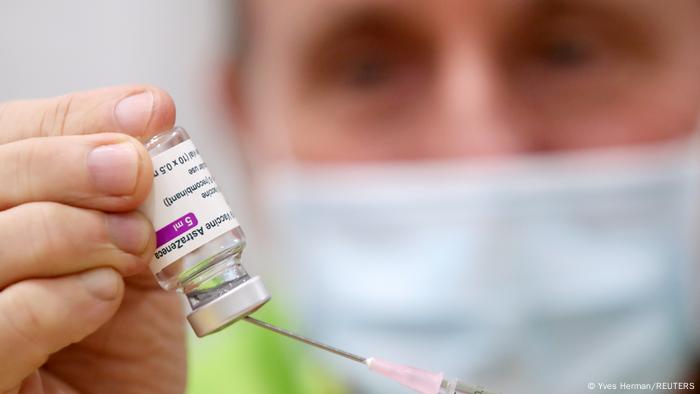 The AstraZeneca jab is one of the cheaper vaccine options
Researchers at the Greifswald teaching hospital in northern Germany said on Friday that they had discovered the cause of the unusual blood clotting found in some recipients of the AstraZeneca coronavirus vaccine, public broadcaster Norddeutscher Rundfunk (NDR) reported.
The investigation showed how the vaccine caused rare thrombosis in the brain in a small number of patients.
The discovery means that targeted treatment can be offered to those who suffer similar clotting, using a very common medication.
The success was a result of cooperation between the Greifswald hospital, state health regulator the Paul Ehrlich Institute (PEI), as well as doctors in Austria — a nurse there died from thrombosis in the brain after being vaccinated with the AstraZeneca jab.
The researchers emphasized that treatment would only be possible in patients where blood clots appear, rather than as a preventative treatment.
The information has been shared with hospitals around Europe.
Symptoms like continuous headache, dizziness or impaired vision lasting more than three days after vaccination need further medical check-ups, according to the German Research Association for Thrombosis and Hemostasis in a statement on the recent findings.
AstraZeneca vaccine gets the green light
The Greifswald findings have not yet been published in a scientific journal and therefore have not been reviewed by independent experts. The Paul-Ehrlich-Institute in Germany is now looking into the scientists' work.
AstraZeneca jabs back on track in Europe
Germany, along with several other EU member states, suspended the use of the AstraZeneca vaccine on Monday following reports of unusual blood clots.
On Thursday the European Medicines Agency (EMA) said that there were no proven links between the vaccine and the clots, based on the information they had. They also stated that the benefits of the jab outweighed any possible risks.
In response to the updated guidance, Germany was set to restart vaccinations with the British-Swedish jab on Friday.
By Thursday, Germany had administered over 10 million doses of COVID-19 vaccines, including the AstraZeneca vaccine.
DW's Katja Sterzik contributed to this article.
===
===
Vaccination alone cannot stop coronavirus – German minister
By Agencie - 19.
A third wave of the Coronavirus (COVID-19) infections has hit Germany and it will not be stopped by vaccinations alone, the German Health Minister, Jens Spahn, said on Friday.
Speaking ahead of a summit between Germany's federal and state governments about the vaccination drive, Mr. Spahn said that "there are not yet enough vaccine doses in Europe to stop the third wave by vaccination alone."
"Even if the deliveries from EU orders come reliably, it will still take a few weeks until the risk groups are fully vaccinated," he said.
He further said that the increasing number of new infections meant that Germany could go back into a hard lockdown.
Experts also said that Germany has already entered its third wave of infections, with its caseload – especially cases of the more contagious British coronavirus variant – on the rise again.
The number of new infections per 100,000 residents during the course of seven days rose to 95.6 on Thursday, having stood at 90 the day before, according to the Robert Koch Institute (RKI) for disease control.
When the metric reaches 100, Germany is expected to return to a hard lockdown.
Hamburg authorities have already decided to reverse their recent loosening of coronavirus containment measures, after the city-state's seven-day incidence rate soared above 100.
Mayor Peter Tschentscher confirmed the move, saying that the city had recorded 100 cases per 100,000 residents during a seven-day period for three days in a row.
The number of new coronavirus infections in Germany is rising "exponentially," according to the Robert Koch Institute (RKI) for disease control.
"The infection process is gaining momentum," RKI vice president Lars Schaade said.
The rapid spread of the more contagious coronavirus variant first discovered in Britain meant that "unfortunately, there are difficult weeks ahead," he said, urging the public to self-isolate over the upcoming Easter holiday to the greatest extent possible.
Friday's talks between the federal and state governments are taking place a day after the European Medicines Agency (EMA) deemed the AstraZeneca jab safe.
The talks are expected to center on Germany's vaccination campaign – which has been widely criticised for its slow pace – and the involvement of general practitioners in the inoculation effort.
The AstraZeneca jab is important in this regard because it does not need to be stored at extremely low temperatures like counterparts from other pharmaceutical companies.
Administration of the AstraZeneca vaccine resumes across Germany on Friday, but authorities have issued a warning for women under the age of 55 that it may be associated with a risk of cerebral blood clots.
One topic to be discussed on Friday is the possibility of involving general practitioners in the vaccination drive.
So far, most jabs have been delivered in special facilities.
Participants in the vaccine summit will also discuss the shortage of vaccine doses that has plagued Germany's inoculation effort in recent weeks.
In the second quarter, 40.2 million doses of the BioNTech/Pfizer vaccine are expected to enter circulation.
Some 6.4 million doses of the Moderna jab are also expected to arrive during that time.
In addition, delivery of the Johnson & Johnson vaccine, which only requires a single jab, is expected to begin in the second half of April.
===
===
GLOBAL MEDICAL & SCIENTIFIC EXPERTS CALL UPON WORLD GOVERNMENTS TO ACT NOW TO SAVE LIVES!!!

At a March 18, 2021 press conference, a group of medical and scientific experts convened by the Front Line COVID-19 Critical Care Alliance (FLCCC) called for action to put an end to the COVID-19 pandemic by immediately adopting policies that allow for the use of ivermectin in the prevention and treatment of COVID-19.

Scientists and physicians from the U.S., U.K., E.U., South America, and Israel gathered to discuss the latest data on how ivermectin has reduced positive COVID-19 cases in major cities across the world, ivermectin's role in the early treatment of COVID-19, and why ivermectin needs to be adopted as safe and effective prevention and treatment of COVID-19.


Front Line COVID-19 Critical Care Alliance on BITCHUTE
Global Medical & Scientific Experts Call Upon World Governments to Act Now to Save Lives
===
Dr Geert Vanden Bossche Interview about Vaccines and whether they create more harm than good
•19 Mar 2021
Dr Geert Vanden Bossche Interview about Vaccines and whether they create more harm than good. Geert Vanden Bossche PhD, is an internationally recognised vaccine developer having
===
Blindness, Blurry Vision, Tunnel Vision & More Eyesight Issues: 350+ Reports Of Sight Disturbances After Vaccine (VAERS)
March 18th, 2021 https://odysee.com/@TimTruth:b/Eyesightissues:e
Join our leading researchers on https://GroupDiscover.com to find the best videos from across the censorship-resistant internet platforms like Odysee, LBRY, Bitchute & Brighteon. Coupon code noforcedmeds 40% off, recurring discount! (limited time offer)
Add me on these great platforms: https://odysee.com/@TimTruth:b/ https://bitchute.com/timtruth/ https://GroupDiscover.com and https://flote.app/timtruth1
Brought to you by the great supporters of this channel who fund this research. Join us on Patreon https://www.patreon.com/timtruth for exclusive content, censored videos and to help me make this channel even better.
===
Italy launches manslaughter case after AstraZeneca's coronavirus vaccine kills teacher
By Ethan Huff - 18. March 2021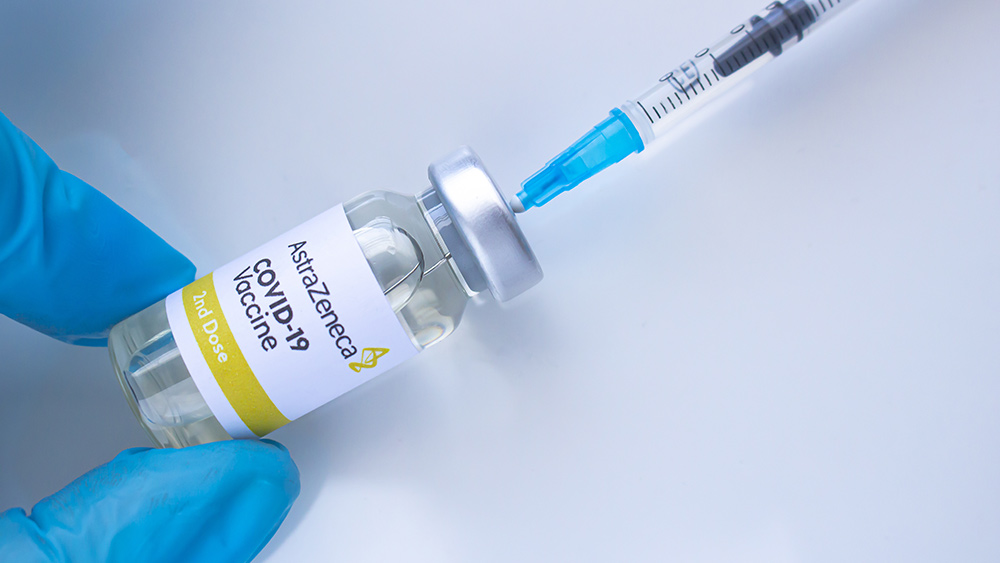 Prosecutors in Italy are launching a probe into the sudden death of a music teacher who died just hours after being injected with the Wuhan coronavirus (Covid-19) vaccine from AstraZeneca and the University of Oxford.
According to reports, Sandro Tognatti, 57, was jabbed in his hometown of Biella on Saturday afternoon and very quickly developed a high fever. Simona Riussi, his wife, says her husband still had a high fever the next morning, prompting her to call the paramedics.
An ambulance arrived and took Tognatti away, however the clarinetist died not long after.
Attorneys in the northern Italian region of Piedmont where the incident occurred have since launched a formal investigation into the matter, using the term "manslaughter" to describe what appears to have occurred.
AstraZeneca's Chinese virus injection clearly killed Tognatti, and prosecutors want answers as to what will be done to hold the company, as well as Oxford, accountable for his death.
Nearly 400,000 doses of the jab from the same batch as the one that killed Tognatti have also been seized for analysis. Italy and at least a dozen other European nations have halted all administration of the AstraZeneca jab until further notice.
Government officials claim that there is "no evidence" of a direct link between the injection and Tognatti's death. This is why prosecutors have launched a criminal investigation so they can be "completely sure" that Tognatti's death "cannot be attributed to the above-mentioned inoculation."
Tognatti's wife says people should still get vaccinated, despite her husband's death
According to AstraZeneca, its Wuhan flu shot is completely safe. The World Health Organization (WHO) agrees. However, the nations of Italy, France, Germany, Ireland, Denmark, Norway, The Netherlands, Bulgaria, Luxembourg, and Thailand all disagree.
The evidence would appear to show that many people who receive the AstraZeneca jab end up developing deadly blood clots. Tognatti just so happens to be one of the many fatality cases that is making global headlines.
Here in the United States, regulators have not yet approved the use of AstraZeneca's Chinese virus vaccine. "Emergency" approval is expected to happen before the end of the month, however.
Amazingly, Riussi still thinks that people should get jabbed with the AstraZeneca injection, despite her husband's death.
"My husband believed in the vaccine and we must continue to believe in it because it is the only way that can free us from this situation," Riussi said in a statement to the Italian newspaper La Repubblica.
Sweden has since joined the European cohort of nations that is refusing to administer any more AstraZeneca vaccines, at least for now. Most of its neighbors have done the same out of an abundance of caution, which has angered the WHO.
"Yes, we should continue using the AstraZeneca vaccine," announced WHO spokeswoman Margaret Harris. "There is no indication to not use it."
The WHO has set up a special advisory panel to look at the vaccine more closely. The European Medicines Agency (EMA) is also converging to decide what actions, if any, should be taken to protect Europeans against the dangerous injection.
Until then, the agency is claiming that the benefits of being stabbed with an AstraZeneca needle outweigh the risk of possibly developing blood clots and dying.
"Vaccines are the devil's handiwork and if you let them inject Satan's concoction in your veins, don't be surprised if you are put through hell," wrote one of our own commenters.
"I hope that there are some doctors around who know how to repair or reverse DNA damage," wrote another, referring to the experimental gene therapy aspect of the jabs.
To learn more about the injuries and deaths resulting from Chinese virus injections, visit ChemicalViolence.news.
Sources for this article include:
NYDailyNews.com
… but the vaccine zealots accuse him of being a murderer
===
VIROLOGIST COULD NOT FIND ANY EVIDENCE OF COVID IN TEST SAMPLES AND IS SUING THE CDC.
First published on BITCHUTE March 18th, 2021.
SOURCE: 15. February 2021 on BrandNewTube
===
===
PROLOGUE: Good example of an irresponsible governance that is masterminded by BigPharma. After ONE DAY of vaccination they declare: NO EVIDENCE OF HARM!
Ethiopia rolls out AstraZeneca jab, says no evidence of harm
Summary
Some eight European countries last week suspended the use of the Covid-19 vaccine over fear of blood clots.
By TESFA-ALEM TEKLE - 16. March 2021
A man receives a dose of the Oxford-AstraZeneca COVID-19 coronavirus vaccine. PHOTO | AFP
Ethiopia on Monday announced that it will not ban the use of AstraZeneca vaccine despite concern in some European countries over blood clotting after receiving the shot.
Some eight European countries last week suspended the use of the Covid-19 vaccine over fear of blood clot side effects.
Ireland, Denmark, Austria, Bulgaria, Iceland, Italy and Norway are among the countries that have suspended the use of the vaccine.
Ethiopia began administering the AstraZeneca vaccine on Sunday and said it would continue rolling out the vaccine to its citizens, as there was no evidence it was unsafe for use.
The Ethiopian Ministry of Health echoed the World Health Organization's statement that there is no evidence linking the vaccine to blood clotting.
"Therefore, Ethiopia will continue to provide the vaccine to its citizens as long as there is no scientific evidence that the vaccine can cause blood clots," the ministry said.
The vaccine was launched at the federal level in Addis Ababa and other regions of Ethiopia on Sunday.
Ethiopia has received 2.2 million dozes of the vaccine in the first round last week from India's Serum Institute.
Ethiopia plans to vaccinate 20 percent of its over 100 million population by December 2021, according to the Ministry of Health.
In a statement on its website, AstraZeneca says it reviewed data, which showed no evidence of increased risk to blood or heart problems.
"A careful review of all available safety data of more than 17 million people vaccinated in the European Union (EU) and UK with Covid-19 Vaccine AstraZeneca has shown no evidence of an increased risk of pulmonary embolism, deep vein thrombosis (DVT) or thrombocytopenia, in any defined age group, gender, batch or in any particular country," it said.
===
===
Germany pauses AstraZeneca COVID shots as a 'precaution'
By Reuters Staff - 15. March 2021
BERLIN - Germany has suspended use of AstraZeneca's COVID-19 vaccine, Health Minister Jens Spahn said on Monday, making it the latest of several European countries to hit pause following reports of blood coagulation disorders in recipients.
Health workers prepare syringes with the AstraZeneca vaccine against Covid-19 at a new vaccination centre inside the former Tempelhof airport in Berlin, Germany March 8, 2021. Tobias Schwarz/Pool via REUTERS
Spahn said the decision followed a recommendation from the Paul Ehrlich Institute (PEI), Germany's authority in charge of vaccines, following newly registered cases of thrombosis.
"The decision today is purely precautionary. It is a purely technical and not a political decision. And that is why I am following the recommendation of the Paul Ehrlich Institute here," Spahn said, adding that cases were very rare.
The PEI said in a statement that more instances of coagulation disorders had been reported following vaccination with AstraZeneca's shot since Thursday.
The institute noted a "conspicuous accumulation" of cases of a very rare cerebral vein thrombosis together with lack of blood platelets known as thrombocytopenia and bleeding.
The European Medicines Agency (EMA) said on Friday that several cases of immune thrombocytopenia, a lack of platelets in the blood that can lead to bleeding and bruising, had been reported under its vaccine safety monitoring process.
It added at the time it would assess reports of the condition after vaccines by AstraZeneca, Pfizer/BioNTech BioNtech and Moderna had been given.
Several EU countries have called a halt to the AstraZeneca vaccine after reports from Denmark and Norway of possible serious side-effects, including bleeding and blood clots.
Spahn said on Monday the outcome of the review was open and he was counting on the EMA to come to a decision and recommendation ideally this week.
The EMA has said that as of March 10, a total of 30 cases of blood clotting had been reported among close to 5 million people vaccinated with the AstraZeneca shot in the European Economic Area, which links 30 European countries.
PEI said people who were still feeling unwell four days after receiving a dose of AstraZeneca's shot should immediately seek medical treatment
Spahn said there have been seven reported cases after vaccination that could be related to cerebral vein thrombosis out of 1.6 million vaccinations in Germany.
Clemens Wendtner, head of infectious diseases and tropical medicine at Munich clinic Schwabing, said the background incidence, or normally expected risk, for this condition was two to five cases per 1 million individuals per year.
"This should be the reason to suspend the vaccination in Germany until all cases, including suspected cases in Germany and Europe, have been completely cleared up," he added.
In Britain, where more than more than 11 million doses of AstraZeneca's shot have been administered, only three such cases have been reported, government documents here show.
Karl Lauterbach, the main health expert of Chancellor Merkel's junior coalition partner SPD, called the suspension a "big mistake" because it undermined trust in an urgently needed vaccine.
The health minister for the state of Thuringia called the decision to halt AstraZeneca vaccinations a "disaster".
Reporting by Thomas Escritt, Ludwig Burger and Caroline Copley; Editing by Maria Sheahan, Nick Macfie and Jonathan Oatis
===
===
I think I know the end game with the vaccinations, and it is "impossibly bad," I am probably right, here it is
By Jim Stone - 15. March 2021
The end game is to turn people into living computers that can interface with 5G, and it is not far fetched at all. Here is how it can happen:
First of all, to interface remotely, you need an antenna. Anyone with any common sense knows there's nothing in the body that can be used as an antenna that can transmit, RIGHT? Well, common sense would indeed imply that, but as it turns out, human DNA is in 23 pairs for a total of 46 strings that are all bundled up in a neat little antenna, which if stretched out is 1.695 inches in length. The actual length of all the strands is 78 inches if you put them end to end, but that's not how an antenna based on DNA would work, it will work on the actual length of the individual DNA strands that are all wound up together. That's 1.695 inches long, JUST RIGHT FOR 5G.
So there is something in the human body that can act as an antenna - DNA itself.
What else in the system is missing? To interface people you need a processor, RIGHT? That can't be done, can it?
Actually, YES, and it has already been done. In a report I posted yesterday, researchers managed to manipulate DNA well enough with CRSPR to force a cell to turn itself into a dual core microprocessor. That's something I never thought we'd see, but yes, it is indeed possible to command a cell to create structures that can be used for computing. That is, by conventional logic, not possible. And it has been done, it is not the future.
But there's no software you could run on that, RIGHT? How would that work?
Actually, everyone has seen the reports by now where AstraZeneca openly admitted their version of the corona vax is an operating system. That's month old news that has been around long enough to turn bread moldy. Literally, that's how fast things are moving now, - the life span of a loaf of bread is long enough for all new horrors to come to fruition -
AND, finally, ALL the vax manufacturers are admitting that their vaccines work by tweaking the genetic makeup of cells. FIGURE IT OUT. HERE IT IS, ALL ADDED UP:
Via a DNA tweak in a corona shot that they ALL ADMIT, ALL MANUFACTURERS ADMIT, functions by causing genetic changes, they will soon, (if not now) be able to cause cells to create within themselves microprocessors via a shot (they already have done this, whether or not they can via a shot is the only question) - and those microprocessors have a cute little 5G antenna right there inside the cells they can use - the DNA itself. We have AstraZeneca being honest, stating they already have an operating system.
They don't have to broadcast far, - only to the next street light, because there are going to be so damn many 5G antennas installed. They can't justify 5G even existing, because 4G was already so powerful it was impossible to exhaust the bandwidth with a typical customer base, why did they suddenly need MANY TIMES more bandwidth? EASY ANSWER: They want everyone connected to a system no one can escape from by leaving their cell phone at home.
5G was forced on us when almost everyone said they did not want it. Why? why would they then proceed to force a totally unneccesary system on us, with 4G being enough to truly connect everyone very well? EASY ANSWER: FREQUENCY. They needed the 5G frequencies to make it possible to install a system that could receive signals that were broadcast directly from strands of DNA. And from there, they have their perfect inescapable 666 system, as outlined in the Bible. Lots of people said "They'd never be able to do that" but now we know exactly how that could indeed happen, and it is probably happening now. The vaccines are devastating people because let's face it, you are not made to be a transmitter.
The big question: Can they do this NOW? I'd say under controlled conditions, absolutely. And the only question is whether or not any of the corona shots are advanced enough to get your cells to accept it. If they are not to that level yet, they surely will be, and my guess is that when it comes to cellular tweaking, "Moore's law" is probably now the "life span of a loaf of bread" law.
The stale bread law.
===
Germany Joins Growing List of Countries to Suspend Astra Vaccine
By Tim Loh and Alberto Brambilla - 15.
Measures will mean further delays for EU inoculation campaign
Italy has seized hundreds of thousands of Astra shots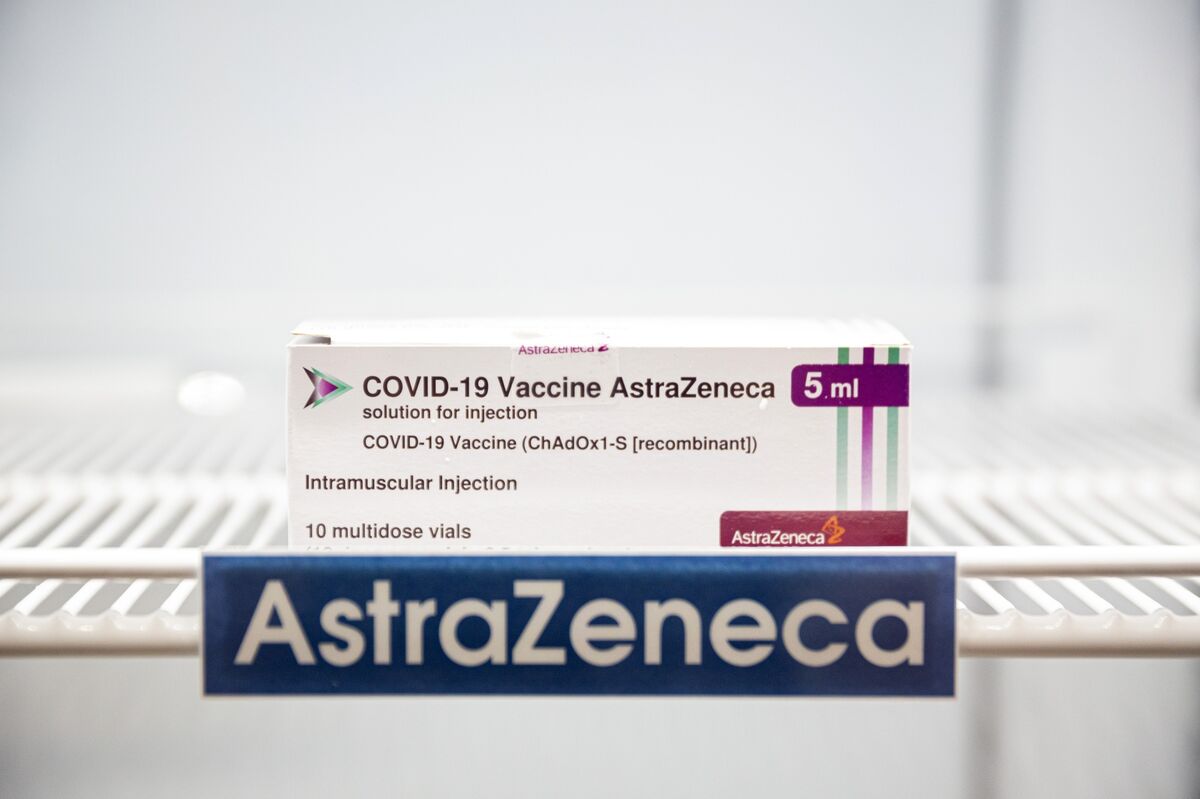 Photographer: Andre Malerba/Bloomberg
Germany joins about a dozen places, including Northern Italy, the Netherlands and Ireland, that have halted use of the product amid reports of serious blood clotting. It's yet another blow to a vaccination campaign that's proving embarrassingly slow and politically damaging for governments across the EU.
While regulators have tried to reassure the public about safety of the Astra shot, concerns are growing. Some Italian regions are reporting a high level of cancellations of vaccine appointments where the dose offered is the Astra one. Authorities in Italy have also seized hundreds of thousands of Astra shots as part of their response.
The decision of governments to pause Astra shot deliveries could delay a goal of immunizing three-quarters of the population by as much as a month. London-based research firm Airfinity Ltd. said it could push back the timing by at least a couple of weeks and potentially longer -- to September instead of August.
As the EU tries to accelerate the inoculation plan, national governments are paying a price. In Germany, Angela Merkel's Christian Democratic Union suffered a rout in regional elections at the weekend that's being partly blamed on the government's handling of the pandemic.
Europe is still on track to meet vaccine supply targets as increased output from Pfizer offsets any shortages in AstraZeneca shots, EU Industry Commissioner Thierry Breton said on Europe 1 radio over the weekend.
At the current average rate of 1.26 million doses per day, it would take 16 months for the European Union to cover 75% of its population with two-dose vaccines, compared with five months for the U.S. and seven for the U.K., according to Bloomberg's Vaccine Tracker. Airfinity's estimates assume that the daily rate of shots will increase as supplies grow, speeding up progress toward that key threshold.
— With assistance by James Paton
===
Netherlands becomes latest country to suspend use of AstraZeneca's Covid-19 vaccine over concerns of possibly serious side effects
By RT 15. March 2021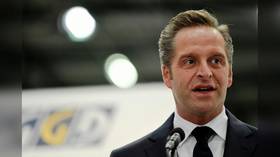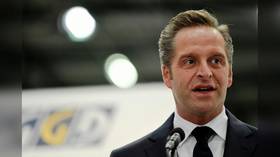 Dutch Health Minister Hugo de Jonge is shown speaking at a January 6 event kicking off Covid-19 vaccinations in the Netherlands © Reuters / Piroschka van de Wouw
The Netherlands has halted use of AstraZeneca's Covid-19 vaccine for at least two weeks while an investigation into possibly serious side effects from the jab is undertaken by the European Medicines Agency (EMA).
The precautionary decision to suspend use of the vaccine until at least March 28 was based on new information from Norway and Denmark regarding potentially serious side effects in people who received the inoculation, Dutch Health Minister Hugo de Jonge said on Sunday.
Op basis van nieuwe informatie uit Noorwegen en Denemarken pauzeren we, uit voorzorg en in afwachting van nader onderzoek, het toedienen van het AstraZeneca-coronavaccin voor twee weken. Lees hier meer 👉 https://t.co/hGgiqwrlpupic.twitter.com/fLrS82Wmrm

— Hugo de Jonge (@hugodejonge) March 14, 2021
"We can't allow any doubts about the vaccine," de Jonge said. "We have to make sure everything is right, so it is wise to pause for now." Dutch health authorities reportedly had to cancel 43,000 vaccination appointments because of the suspension.
Ireland made the same decision earlier on Sunday, suspending use of the AstraZeneca vaccine after four new cases of people suffering serious blood clotting after receiving the shot were reported in Norway. Denmark stopped offering AstraZeneca vaccine jabs on Thursday after some recipients developed blood clots, and Norway followed suit.
Austria, Iceland and Italy also have postponed or restricted their rollouts of the vaccine based on the same concerns. Health authorities have pointed out that they haven't yet established a clear link between the AstraZeneca jab and the reported medical issues that patients suffered.
The World Health Organization has said the vaccine is still considered safe to use and hasn't been proven to cause blood clotting.
Seven people died shortly after receiving their Covid-19 shots in the first week of South Korea's vaccine rollout, which began on February 26. All seven cases involved the AstraZeneca vaccine, and 17 others who received the jab had severe, non-fatal reactions. Since then, there have been 46 more severe reactions, but no additional deaths, and nearly 562,000 people have received the shot, according to government data. South Korean health authorities have reportedly found no evidence that the deaths were caused by the vaccine.
The Dutch vaccine setback comes amid growing unrest over Covid-19 restrictions. Anti-lockdown protests continued on Sunday, and saw clashes between police and demonstrators gathering in The Hague.
Ireland becomes latest nation to halt rollout of AstraZeneca vaccine following new reports of blood clotting
South Korean government investigates 7 deaths that followed Covid-19 vaccination with AstraZeneca's jab
===
===
Italy prosecutors seize batch of AstraZeneca vaccine after death of man
By Reuters - 15. March 2021
ROME - Prosecutors in the northern Italian region of Piedmont said on Monday they had seized a batch of 393,600 shots of the AstraZeneca COVID-19 vaccine following the death of a man hours after he had received a jab.
The move represents another blow to the image of the AstraZeneca vaccine in Italy and will further hinder the government's anti-coronavirus inoculation campaign.
On Sunday Piedmont's regional government suspended use of the batch, ABV5811, after Sandro Tognatti, a 57-year-old music teacher, fell ill and died in circumstances that have not yet been clarified.
Magistrates in Sicily ordered the seizure of a separate batch of AstraZeneca vaccine last week following the sudden deaths of two men who had recently been inoculated.
The Italian government has said there was no evidence of a connection between the deaths and the jabs and has allowed the AstraZeneca vaccine to continue to be administered.
By contrast, Ireland, Denmark, Norway and Iceland have all suspended use of the vaccine following blot-clotting issues, some of them fatal, in people who had used it.
Tognatti had his shot on Saturday afternoon, his wife told Italian newspapers. He developed a high temperature during the night and felt ill again on Sunday morning. An ambulance was called, but he died shortly afterwards.
"It is therefore important to ensure that continued administration of the drug throughout the country does not lead to further consequences (harmful or fatal) ... until we are completely sure that (Tognatti's) death cannot be attributed to the above-mentioned inoculation," prosecutor Teresa Angela Camelio said in a statement.
Meanwhile the region of Lombardy became a 'red zone', going into lockdown as the country struggles to reduce the coronavirus disease (COVID-19) infections.
Reporting by Emilio Parodi and Angelo Amante, writing by Gavin Jones and Crispian Balmer; editing by Philippa Fletcher
===
COVID VACCINES ARE WEAPONS OF MASS DESTRUCTION & COULD WIPE OUT THE HUMAN RACE (DR VERNON COLEMAN)
First published on BITCHUTE March 14th, 2021.
Dr. Coleman states that this is the most crucial video he's ever made about covid-19. Please share this far and wide. Also visit his new website @ https://www.vernoncoleman.org/ AND look into https://lightpaper.co.uk/
Dr. Vernon Coleman warns of genocide and the mRNA gene therapy injections. In autumn, 2021 and in "The Winter of Our Discontent" in 2022, we will witness a MASS EXTINCTION EVENT occurring worldwide.
Of course, this will be blamed on COVID "variants" and the WHO, CDC & govts will then require folks to get additional death-jabs and "health" passports to enter stores to buy food, travel, etc. WE WILL BECOME THE SAVAGES living in off-grid colonies Huxley's "Brave New World."
In addition, those awake individuals who DID NOT take these "death jabs" will now be at a greater risk of getting infected from those who are "vaccinated." who are now carriers of the bio-engineered lethal strains. i foresee communities of unvaccinated folks forming to avoid contact with those who are now carriers of the mutated, weaponized virus.
REFERENCES:
G. Vanden Bossche, Open Letter: https://dryburgh.com/geert-vanden-bossche-open-letter-to-who-halt-all-covid-19-mass-vaccination/
Chien-Te Tseng et al., Immunization with SARS Coronavirus Vaccines Leads to Pulmonary Immunopathology on Challenge with the SARS Virus https://www.ncbi.nlm.nih.gov/pmc/articles/PMC3335060/
Yasui, F. et al. (2008). Prior Immunization with Severe Acute Respiratory Syndrome (SARS)-Associated Coronavirus (SARS-CoV) Nucleocapsid Protein Causes Severe Pneumonia in Mice Infected with SARS-CoV. The Journal of Immunology, 181(9), 6337–6348. doi:10.4049/jimmunol.181.9.6337 https://sci-hub.do/10.4049/jimmunol.181.9.6337
Informed consent disclosure to vaccine trial subjects of risk of COVID-19 vaccines worsening disease https://onlinelibrary.wiley.com/doi/pdf/10.1111/ijcp.13795
Immunization with SARS coronavirus vaccines leads to pulmonary immunopathology on challenge with the SARS virus https://pubmed.ncbi.nlm.nih.gov/22536382/
==========
"Proof That Face Masks Do More Harm Than Good" by Dr. Coleman
https://www.vernoncoleman.com/bannedmaskbook.pdf
"Covid-19, The Greatest Hoax in History" by Dr. Coleman
https://thelightpaper.co.uk/issues/covid-19-the-greatest-hoax-in-history
==========
Video (1080p) is from Dr. Coleman's brandnewtube channel@
https://brandnewtube.com/@DrVernonColeman
Video with Transcript:
https://vernoncoleman.org/videos/covid-19-vaccines-are-weapons-mass-destruction-and-could-wipe-out-human-race
Special Thanks to tangentopolis (world orders review) for providing the above reference links:
https://www.bitchute.com/video/07SvRvplS9s6/
===
Donald J. Trump beats out Prince Charles, Prince of Wales as qualifier for 666 Antichrist of Book of Revelation
13. March 2021
Donald J. Trump beats out Prince Charles, Prince of Wales as qualifier for 666 Antichrist of Book of Revelation
https://exopolitics.blogs.com/tracking_666_antichrist/2021/03/donald-j-trump-beats-out-prince-charles-prince-of-wales-as-qualifier-for-666-antichrist-of-book-of-r.html
Although Prince Charles, Prince of Wales, is the subject of a 450 page analysis that concluded he qualifies as the 666 Antichrist of the Book of Revelation [See THE ANTICHRIST AND A CUP OF TEA by Tim Cohen]
Download The Antichrist and a Cup of Tea by Tim Cohen (z-lib.org)(1)
https://exopolitics.blogs.com/files/the-antichrist-and-a-cup-of-tea-by-tim-cohen-z-lib.org1.pdf
The following post on GAB.com on March 10, 2021 by Donald J. Trump qualifies as an admission against interest that Donald J. Trump is in fact the 666 AntiChrist of the Book of Revelation:
CONVICTED OF GENOCIDE & CRIMES AGAINST HUMANITY: See Tribunal at https://www.peaceinspace.org
Posted at 02:37 PM in 666 AntiChrist | Permalink
===
Bombshell: Moderna Chief Medical Officer Admits mRNA Alters DNA
By Suzanne Hamner - 12/13. March 2021
Several prominent physicians, doctors, Sons of Liberty Media Health and Wellness expert Kate Shemirani, her colleague Dr. Kevin Corbett, and I have postulated that the current experimental mRNA injection for coronavirus, aka COVID-19, could alter one's genetic code or DNA. Bill Gates stated it, which was included in my video "Human Genome 8 and mRNA Vaccine" on Brighteon.com. It is one reason the term "experimental human genome altering mRNA injection" has been used to describe the jab being foisted onto the mostly unsuspecting public. While many in the media, Dr. Anthony Fauci and his merry band of chronic liars, and "fact checkers" have declared this claim as false, a video of a TEDx Beacon Street talk by Tal Zaks, chief medical officer of Moderna, Inc., one pharmaceutical company manufacturer of the experimental mRNA technology injection, confirms mRNA injection for COVID-19 can change your genetic code or DNA. This TEDx Beacon Street talk occurred in 2017. H/T to YouTube channel Silview Media Backup Channel.
Zaks calls it "hacking the software of life". In the first minute of the video Zaks states, "we've been living this phenomenal digital scientific revolution, and I'm here today to tell you, that we are actually hacking the software of life, and that it's changing the way we think about prevention and treatment of disease." [Emphasis mine.] He even repeats that they (Moderna) think of it like an operating system, which the Moderna website indicates as "Our Operating System".
At one minute in, Zaks states, "In every cell there's this thing called messenger RNA or mRNA for short, that transmits the critical information from the DNA in our genes to the protein, which is really the stuff we're all made out of. This is the critical information that determines what the cell will do. So we think about it as an operating system. …. So if you could actually change that, … if you could introduce a line of code, or change a line of code, it turns out, that has profound implications for everything, from the flu to cancer." [Emphasis mine.]
When "changing" a line of code or "introducing" a line of code" (referring to DNA), the "code" or DNA is then altered, meaning the individual or "subject" has now had their genome changed to what the "scientists" have coded. The individual or subject is no longer a creation of God but a creation of man, meaning the individual or subject could be the object of a "patent". He goes on to say, the mRNA would tell the cells to "code" for the protein of the "virus". This "viral protein" is foreign to the body. The individual's body is making a foreign protein the immune system is to attack. When the body makes a protein the immune system then attacks, your immune system is attacking a protein your body is making, meaning what is occurring in an "auto-immune response" or "auto-immune disease".
This has been repeated a number of times by experts, physicians, nurses and countless others. As readers can see, none of us were "whistling Dixie". Zaks talks about turning this system on; however, there is no way to turn it off. When do the cells know to stop making this "viral protein"? The cells don't; therefore, this continues for the duration.
In a normal vaccine, the immune system attacks the limited amount of "particles" in the adjuvant to produce antibodies or immune response that the body can recognize at a later time if the individual comes in contact with the same or similar "particle".
The study Zaks cites at the 3:12 minute mark can be found and read here. The abstract is contained on the NIH Pub Med Library website. In the full test of the study on ResearchGate, the mention of "Luciferase" occurs on page 10. A crucial piece of information in this study is contained on page 4 – "Ferrets immunized with 200 micrograms and challenged [exposed to influenza H7N9 via IN (intranasal)] on day 49 had viral loads below the level of detection". If a viral load was "below the level of detection", two questions emerge: 1) did the ferrets even contract H7N9 through intranasal challenge; and, 2) if a viral load is below the level of detection, how do you know the animals even had a viral load? This would bring into question the efficacy of the injection.
Moreover, the studies Zaks cites as occurring in humans only lasted approximately 18 months.
At about the 4:00 minute mark, Zaks begins discussing mRNA vaccines for cancer. Immediately following that, Zaks discusses a children's condition where a gene or "code" is missing that causes production of a certain enzyme critical for metabolism where the current treatment is to transplant an entire organ – in this case, the liver. Zaks proposes to inject mRNA that codes for the missing gene, a gene contained in DNA on the human genome, it would "correct" the genetic defect.
Ask this question: what causes the cells/body to produce needed enzymes/proteins? Zaks answers that by saying the genetic code or DNA. So, mRNA has to alter a genetic code or the DNA for the body to produce the proteins of COVID-19 for the body to mount an immune response.
Out of the words of Tal Zaks of Moderna, mRNA can alter the human genome. Whether by design or "unintended consequences", this technology is being used to do just that. He calls this "information therapy"; although, some would call it "mad science". In attempts to "rewrite" genetic code to correct defects, studies have shown there were "cascading failures". In other words, changing one "defective gene" in one genome caused other genes to "fail" or cause problems. And, it was not just one subsequent gene becoming defective, but many. This is more than likely why there are over 400 adverse events surrounding the experimental mRNA injection.
So, the next time someone claims these "vaccines" do not alter the human genome or DNA, you can refer that individual to Tal Zaks of Moderna, Inc. who claims otherwise. Dr. Fauci should be eating some four and twenty blackbird (crow) pie.
Article posted with permission from Sons of Liberty Media
Suzanne Hamner (pen name) is a registered nurse, grandmother of 4, and a political independent residing in the state of Georgia, who is trying to mobilize the Christian community in her area to stand up and speak out against tyrannical government, invasion by totalitarian political systems masquerading as religion and get back to the basics of education.
===
Situation Update, March 12th – Ten nations halt covid vaccine; California company subjects employees to bizarre CULT training camp
By Mike Adams - 12. March 2021
In Australia, the nation's health minister Greg Hunt has been hospitalized just one day after taking the coronavirus vaccine. The hospital says they're giving him fluids and antibiotics. In reality, they're probably panicked that he might die.
If anal swabs can detect covid, by the way, doesn't that mean people who fart a lot are super spreaders? Perhaps Biden should announce rectum restrictions for America and start parading around in double diapers.
Now, as Humans Are Free reports, ten European nations have halted the AstraZeneca covid vaccine due to shocking reports of serious blood clots forming in people after they are vaccinated. But anyone who points out that these vaccines are causing blood clots is immediately branded "anti-science" and de-platformed or censored. Because no truth is allowed when it comes to vaccines.
Meanwhile, according to the UK Daily Mail, scientists are now hoping to collect sperm and eggs from 6.7 million species on planet Earth, and launch them to the moon for long-term lunar storage. Sadly, no one has given any real thought to who is supposed to run around collecting all the sperm from 6.7 million animal species on Earth… or how it might be accomplished. It definitely sounds like a job for left-wing scientists, of course, who probably think that giving hand jobs to polar bears is "saving the planet."
Peter Schiff's son has sadly gone all-in on Bitcoin, and daddy Schiff isn't too happy about it. Truth be told, Peter Schiff is going to win this argument in the end, as anyone who goes 100% all-in with any cryptocurrency is probably going to learn a very, very expensive lesson at some point in what happens when irrational bubbles implode.
Bill Gates just scored $3.5 billion in covid bailout money for one of his non-profit groups, proving that the covid "stimulus" is nothing more than stealing from the poor (taxpayers) and giving to the rich (globalists).
But the truly shocking story of the day comes from PJ Media which reports that a Panda Express franchise in California subjected its employees to a bizarre, cult-like indoctrination training seminar where employees were forced to strip nearly naked and endure "psychological abuse" while being taunted and body shamed. Naturally, this could only come out of California, where deranged Leftists have zero empathy, morality or ethics whatsoever, thus leading to such events that somehow don't seem wrong to left-wing absolutists.
As PJ Media reports, "The exercise culminated when the victims and other participants had to stand up to yell about their inner struggles until everyone else in the group believed them…" which sounds exactly like AOC on any given day in Congress, come to think of it. Perhaps Panda Express is training employees to be member of Congress.
Get the full download of today's insanity in the Situation Update for March 12th:
Brighteon.com/370d3465-537d-4f9b-8b6d-04670d48ea85
Watch for a new Situation Update on Monday morning at the Health Ranger Report channel on Brighteon.com:
https://www.brighteon.com/channels/hrreport
===
===
AstraZeneca vaccine: Germany rejects blood clot risk
The country's health minister Jens Spahn (a banker by profession) disagrees with several European countries suspending the AstraZeneca vaccine rollout, saying the "benefit is far greater than the risk.
By DW - 12. March 2021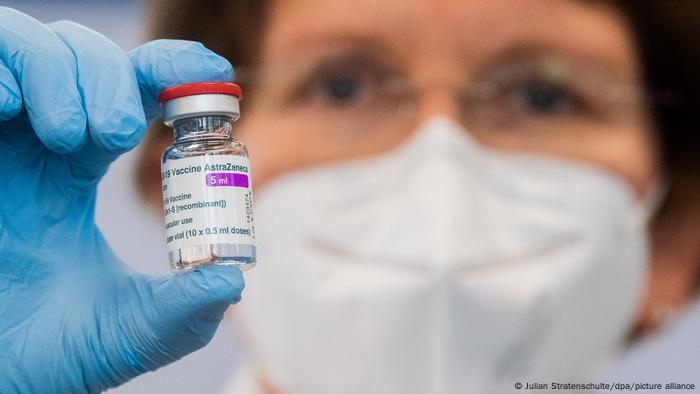 Several European countries have suspended the rollout of AstraZeneca's COVID vaccine
German Health Minister Jens Spahn said Friday there is no evidence of an increase in blood clots in connection with the AstraZeneca COVID vaccine.
Spahn's comments come after Denmark and several other European countries suspended the AstraZeneca vaccine's rollout over reports of people developing severe thrombosis after receiving a dose.
What Jens Spahn, and others, said about AstraZeneca
The health minister spoke after consulting with experts at the European Medicines Agency (EMA), which has approved the shot for use in the EU.
"I regret that ... some countries in the European Union have suspended vaccination with AstraZeneca," Spahn said, adding that Germany takes possible side effects "very seriously."
"From what we know so far, the benefit ... is far greater than the risk," he added.
The EMA said in a statementThursday that information available so far indicates that the number severe blood clotting events in vaccinated people is "no higher than that seen in the general population."
"There is currently no indication that vaccination has caused these conditions," the statement said.
The World Health Organization (WHO) said Friday that the vaccine is safe and that there is no reason to stop using the jab.
AstraZeneca has an "excellent vaccine, as are the other vaccines that are being used," WHO spokeswoman Margaret Harris told reporters at a briefing in Geneva.
"We've reviewed the data on deaths. There has been no death, to date, proven to have be caused by vaccination," she said.
EU regulators expand side effects warning
However, in an unrelated development, the EMA said it was listing severe allergic reactions as a possible side effect of the AstraZeneca vaccine in a limited number of cases.
It said the adjustment was being made after 41 reports of possible anaphylaxis from among around 5 million vaccinations in the United Kingdom.
The amendment followed 41 reports of possible anaphylaxis seen among around 5 million vaccinations in the United Kingdom, the EMA said. The Pharmacovigilance Risk Assessment Committee said a link to the vaccine was likely in at least some of these cases.
Why did European countries suspend use?
Denmark halted using the vaccine on Thursday as a "precautionary" principle after one person who had received a dose of the vaccine developed a blood clot and died. Several other countries, including Norway and Italy, followed suit soon after.
Austria suspended use of an AstraZeneca vaccine batch after a person died from "severe blood coagulation problems" following vaccination.
On Friday, Bulgaria halted use of the vaccine over safety concerns, although the health ministry said no severe side effects had been reported in the country thus far. Bulgaria has the lowest vaccination rate in the EU and relies primarily on the AstraZeneca vaccine.
Bulgarian Prime Minister Boyko Borisov said that vaccinations would be halted until the EMA issued Bulgaria a "written statement" with a "clearly confirmed diagnosis" that the vaccine is safe to administer.
The EU has struggled so far with its COVID vaccination rollout, suffering with delivery delays from vaccine suppliers and bureaucratic hurdles.
The EU has so far approved vaccines from BioNTech-Pfizer, Moderna, and AstraZeneca, with Johnson & Johnson's single-dose vaccine added to the list Friday.
wmr/rt (dpa,AP,Reuters, AFP)
===
===
Germany's state-broadcaster spins counter-narratives, DW turns into one of the Fake FactCheckers
Fact check: No links found between vaccination and deaths
Reports of coronavirus vaccines causing lethal side effects have been making headlines. DW looked into these reports in eight different countries.
By DW - 12. March 2021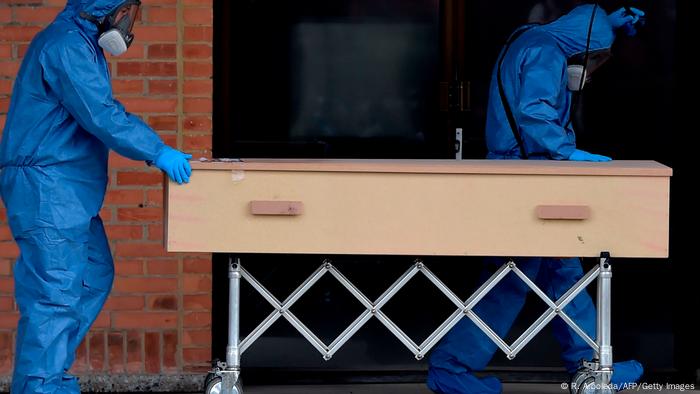 So far, no causal links between vaccinations and deaths have been found [, says German broadcaster and will be held responsible for such misinformation.]
With coronavirus vaccine distribution underway around the world, all eyes are on those who have already received the jabs.
For those who don't read past the headlines, a concerning narrative appears — "Fifteen deaths after coronavirus vaccination," "Deaths at care home after coronavirus vaccine," "Volunteer in vaccine trial dies after COVID-19 vaccine."
In each case, there's more to the story than meets the eye. DW reviewed several cases in Austria, South Korea, Germany, Spain, the United States, Norway, Belgium, and Peru, finding that in most cases experts from multiple health authorities have not found causal links between the vaccination and deaths.
When this article was last updated, over 330 million vaccinations in over 120 countries had been administered, according to Bloomberg's global vaccine tracker. That's about eight million doses per day. Were any deaths reported in connection with the immunization drive? DW investigates.
Austria: Nurse reportedly dies after coronavirus vaccination
News of a 49-year-old nurse dying from a bleeding disorder after receiving a coronavirus vaccination made headlines in Austria. Another woman reportedly died from a pulmonary embolism after receiving her jab. Austria's Office for Safety in Health Care (BASG) ordered remaining doses of the AstraZeneca batch in question to be discarded — even though officials found "no causal link between the vaccination" and the deaths.
Several European countries suspend AstraZeneca vaccine
The European Medicines Agency's (EMA) Pharmacovigilance Risk Assessment Committee (PRAC) also states it sees "no indication that vaccination has caused these conditions, which are not listed as side effects with this vaccine." PRAC further states that "information available so far indicates that the number of thromboembolic events in vaccinated people is no higher than that seen in the general population."
As of March 10, 2021, 30 cases of thromboembolic events have been recorded among the 5 million people vaccinated with the AstraZeneca COVID-19 vaccine in the European Economic Area. PRAC says it will "continue its assessment of any potential issue with the batch as well as its review of thromboembolic events and related conditions."
South Korea reportedly sees several vaccination-related deaths
Several days after the launch of South Korea's immunization drive, the Korea Disease Control and Prevention Agency (KDCA) reported that two individuals had died after receiving coronavirus vaccinations. The South Korean agency subsequently launched an investigation.
The latest reports from March 12 indicate a total of 15 individuals died after receiving vaccinations. Said individuals were given the AstraZeneca vaccine, which is administered only to people under 65 in South Korea. Almost all of the deceased had preexisting medical conditions.
The eight deaths reported until March 6 have been examined by the KDCA. The agency's deputy communications chief, Seung-ho Choi, told DW "we reached the preliminary conclusion that a connection between the vaccination side effects and deaths of these eight patients can be ruled out."
The KDCA says it studied potential problems and anomalies linked to the vaccine administered to the eight patients in question. It also looked into the possibility of a serious allergic reaction, or anaphylaxis, that may have gone undetected following the vaccination.
The agency says both factors could be ruled out as causes of death. Most of the deceased in question suffered from preexisting medical conditions, such as cerebrovascular or cardiovascular diseases. These health issues, according the KDCA, partially account for the deaths. Even so, the investigation is ongoing. Autopsies will be carried out on four of the eight deceased individuals. Additional investigations into the other deaths are ongoing in cooperation with local authorities.
Germany: 'Deaths after coronavirus vaccination'
People in Germany find COVID-19 vaccination is lagging
The Paul Ehrlich Institute (PEI), which is in charge of vaccination in Germany, has been looking into 113 reported deaths in the country. In all these cases, those who died were aged between 46 and 100-years old and died between one hour and 19 days after receiving the vaccine. Of those 113, 20 died as a result of the COVID-19 infection (19 of them did not have full vaccination protection; the other case is still unclear). 43 people died as a result of pre-existing conditions or other infections, according to Brigitte Keller-Stanislawski, the head of the PEI's department of safety for medical products.
"Based on the data that we have, we assume that the patients died of their underlying disease — in a coincidental time with the vaccination," she told German broadcaster n-tv. While she did not comment on individual cases, she said, "They were very seriously ill patients with many underlying diseases."
"If the elderly or people with severe pre-existing conditions are vaccinated, there will be a certain number of accidental deaths that occur shortly after vaccination, which cannot be causally associated with the vaccination. In its latest safety report, the Paul Ehrlich Institute highlights the cases of 20 vaccinated individuals who died in the setting of the COVID-19 disease.
A press spokeswoman told DW via email that "all of them except one man had incomplete vaccination protection, since the COVID-19 disease occurred after the first vaccination. Protection begins seven to 14 days after the second vaccination (depending on the vaccine) so it is possible to become ill and die from COVID-19 after receiving only the first dose. 33 Individuals with multiple pre-existing conditions are either suffering from the worsening of their underlying disease or from another disease independent of vaccination. Ten individuals died from another infectious disease, not COVID-19."
"In all other persons, there were in some cases multiple previous diseases such as carcinomas, renal insufficiency, heart diseases and arteriosclerotic changes, which were presumably the cause of death," she added. In 50 cases, the cause of death remains unknown.
According to calculations of the Paul-Ehrlich-Institut in this report, the deaths with an unclear cause reported by 31.01.2021 are not more frequent than the expected number of deaths.
According to Ulrike Protzer, a virologist at the Technical University of Munich, the number of deaths after vaccination is below the expected number of deaths without vaccination. "If you make that comparison, it's actually the case that fewer died after the vaccination than one would expect," she told public broadcaster ARD.
The public prosecutor's office is currently looking into another case of three elderly deceased people in Cologne. They died after being vaccinated, all of three suffered from previous serious illnesses, according to Markus Rothschild, the director of the Cologne Institute of Forensic Medicine.
In an interview with DW in January, PEI President Klaus Cichutek, said the BioNTech-Pfizer and Moderna vaccines currently being used in Germany offer a high degree of safety and protection.
Spain: 'At least seven die at care home after getting Pfizer COVID-19 jab'
Spanish media report that nine people died in a Spanish care home after receiving the first dose of the BioNTech-Pfizer vaccination, all of whom had previous illnesses.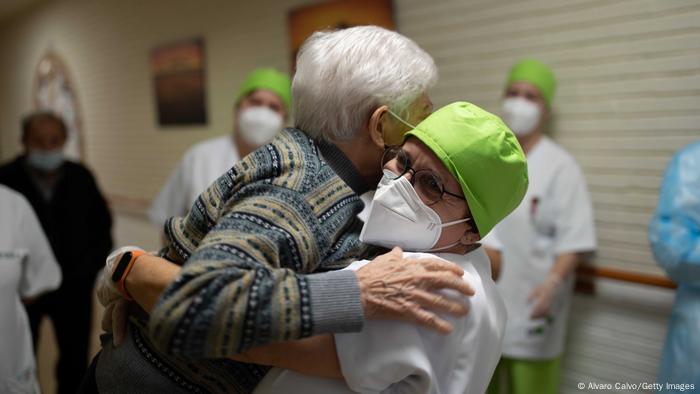 The reported deaths in a Spanish care home have been attributed to complications arising from COVID-19 infections
The director of the El Salvador residence for the elderly in Lagartera said symptoms "such as headaches or occasional diarrhea" started showing in residents after five days and a doctor told him these could be due to side effects of the vaccinations.
All nine deaths have been attributed to complications with COVID-19 infection, as the consequence of an outbreak that took place while the vaccination schedule was underway.
The manager of the care home said: "The vaccine will protect you, infections are not derived from the first vaccination."
Even after a vaccination, it's possible to develop the illness if the vaccination took place during the coronavirus incubation period (5-6 days). It is also possible to become infected after the vaccination has been administered, as it usually takes effect 10-14 days after the first dose, according to the Robert Koch Institute for Infectious Diseases (RKI).
BothRussian andChinese state media have heavily reported on this case, with the latter citing the former.
Despite the attention-grabbing headline, the original article from Russian state media clearly states, "There is currently no indication that the vaccine played any role in the deaths."
It then refers readers to a fact-check stating that "It is statistically inevitable that some people will get sick and die after getting the shot, for reasons that are unrelated to their body's response to the vaccine." This disclaimer is missing from those who have replicated the article.
US: 'Government database shows 181 deaths following COVID-19 vaccine'
Mistrust curbs India's COVID-19 vaccination drive
Widely reported in India, this claim is based on a press release by Children's Health Defense, an anti-vaccination advocacy group headed by prominent anti-vaxxer Robert F. Kennedy, Jr., and known for producing misinformation on vaccines and anti-vaccine propaganda.
Although the headline claims that data comes from a "government database," the figures linked to are on the website of the National Vaccine Information Center, an organization described as "the most powerful anti-vaccine organization in America," by science, technology and public health journalist Michael Specter.
Digging deeper, the National Vaccine Information Center (NVIC) claims their data is drawn from the US Government's Vaccine Adverse Event Reporting System (VAERS), which explicitly states "anyone can submit a report to VAERS, including parents and patients," and that "VAERS reports alone cannot be used to determine if a vaccine caused or contributed to an adverse event or illness."
Furthermore, VAERS encourages vaccines providers to report significant health problems "whether or not they believe the vaccine was the cause," and disclaims that its data "cannot be interpreted or used to reach conclusions about the existence, severity, frequency, or rates of problems associated with vaccines" and "should be interpreted in the context of other scientific information."
As far back as 2015, a study assessing claims of deaths from vaccinations highlights that data from the VAERS system is skewed, as it is a system which "accepts any submitted report of an adverse event without judging its clinical significance or whether it was caused by a vaccination." The Centers for Disease Control and Prevention also warns against reporting bias and inconsistent data quality in the VAERS system.
However, the NVIC also solicits reports through its own website in the same basic format as the VAERS report. It does not specify whether the two datasets are combined in their database or kept separate.
Norway: '30 people died in nursing homes following the coronavirus vaccine'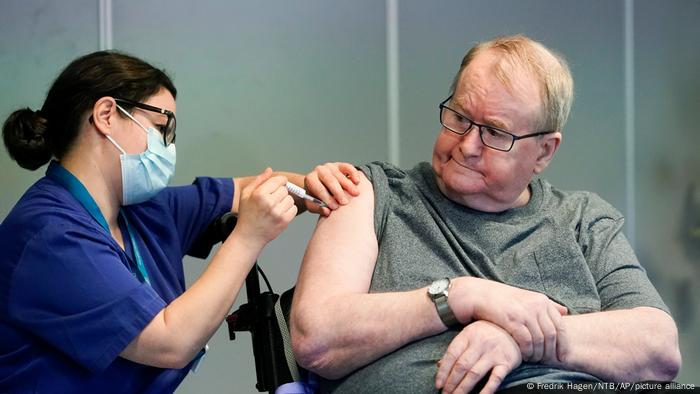 The Norwegian Medicines Agency says there's no connection between deaths in a nursing home and the vaccine.
The Norwegian Medicines Agency, Statens Legemiddelverk, has investigated a total of 33 reports of deaths in nursing homes following vaccination of residents, as of January 26, 2021.
In a subsequent analysis, the agency writes "many of the nursing home residents who have been vaccinated so far are very frail or terminally ill patients. Every day, an average of 45 people die in Norwegian nursing homes or other similar institutions. Therefore, deaths that occur close to time of vaccination is expected, but it does not imply a causal relationship to the vaccine."
The European Medicines Agency'sPharmacovigilance Risk Assessment Committee (PRAC) also investigated the cases, stating in a report that "the review did not reveal any safety concerns," adding, "(multiple) pre-existing diseases seemed to be a plausible explanation for death. In some individuals, palliative care had already been initiated before vaccination."
When assessing the cases, an article in the British Medical Association's peer-reviewed medical trade journal quotes Steinar Madsen, medical director of the Norwegian Medicines Agency saying, "There is no certain connection between these deaths and the vaccine." Instead, Madsen said that "common adverse reactions, that are not dangerous in fitter, younger patients and are not unusual with vaccines, may aggravate underlying disease in the elderly."
"We are not alarmed or worried about this, because these are very rare occurrences and they occurred in very frail patients with very serious disease," he said.
Belgium: 'Fourteen deaths after coronavirus vaccination'
In Belgium, the Federal Agency for Medicines and Health Products (FAMHP) reported that 14 people died after being vaccinated against the coronavirus. However, causality has not been found.
All of the patients were over 70 and five over 90, the Brussels Times reported. Further details of the individuals who died have not been released.
"The fact that the reported deaths did not present a common clinical picture is a rather reassuring element, as is the fact that the deaths occurred after a variable period of time," the FAMHP told the Brussels Times, adding "to date, no causal relationship has been formally found" with the COVID-19 vaccine.
As a result, the FAMHP has published weekly reports examining vaccine side effects. The February 4 report outlined "To date, no formal causal relationship with the COVID-19 vaccine has been established."
Although the exact vaccinations were not specified in these cases, Belgium issues the Pfizer/BioNTech and Moderna coronavirus vaccines.
Peru: 'Volunteer in vaccine trial dies of COVID-19 pneumonia'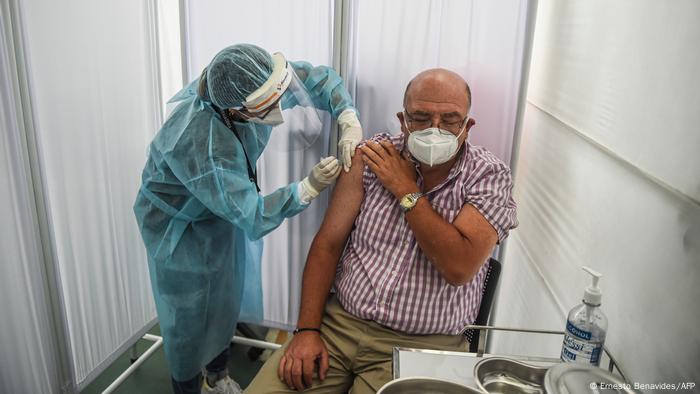 A volunteer (not pictured above) in a Peruvian trial of a Chinese vaccine died of pneumonia related to COVID-19, however she had been given a placebo, not the vaccine.
Cayetano Heredia University, which was conducting a study on China's Sinopharm vaccination had to unblind a local Peruvian trial after a participant died of COVID-19-related pneumonia, according to Reuters.
After unblinding the trial, it was revealed that the volunteer who died has not been administered the vaccine but was instead in the placebo group. In a statement, the university said, "It is important to stipulate that the death of the participant is not related to the vaccine since she received the placebo."
This article was updated on March 12 to reflect new developments in Austria and South Korea.
READ in the above context:
===
Merkel and the German Regime defend the interests of Bill Gates
Bill Gates and his co-investors want their financial return of usually >20:1 from the global 'vaccination' drive - leave no stone unturned and no politician or media not corrupted.