UPDATE 01. June 2021: Obama Administration Used Foreign Intelligence Service To Spy On U.S. Allies In Europe: Report
UPDATE 02. April 2021: SECURITY FOR HAMBURG'S CITY CENTRE - Robot dog on trial in the city centre
UPDATE 24. January 2021: US Defense Intelligence Agency Buys Your Smartphone Location Data From Brokers
UPDATE 23. January 2021: IOT SURVEILLANCE OR CARE FOR THE HOMELESS? - Homeless In Germany Offered Futuristic 'Coffin-Like' Pods To Sleep In + Smart Homes Can Easily Be Hacked
UPDATE 22. January 2021: The SolarWinds Hack, The Takeover Of The US & The Final Stage Of The War On You
UPDATE 21. January 2021: Another Mega Group Spy Scandal? Samanage, Sabotage, and the SolarWinds Hack
UPDATE 20. January 2021: Barrage Of New Countries And Airlines To Adopt Vaccine Passports + Video: China Builds Massive COVID Detention Camp
ICYMI: Losing the Right to Encryption Means Losing Business + Data leak: Corona test results of almost 400,000 Slovaks public
Dystopia Now! – Surveillance Through Vaccine Certificates, Digital IDs, and Biometric Data
With the pandemic, the "digital transformation" that so many analysts have been referring to for years, without being exactly sure what it meant, has found its catalyst. One major effect of confinement will be the expansion and progression of the digital world in a decisive and often permanent manner.
– Klaus Schwab, COVID-19: The Great Reset (p. 153)
No matter the origin or true lethality of SARS-CoV-2, the coronavirus pandemic has been utilized to implement broader agendas that have been planned well in advance. One of the motivations for declaring a global pandemic was to make possible the widespread usage of new technology such as facial recognition, digital IDs and payment systems, mRNA vaccines and vaccine certificates. This is openly stated in books such as COVID-19: The Great Reset and The Fourth Industrial Revolution.
The engineers of the "plandemic" recognized that new technology is often resisted by the masses, but could be adopted quickly due to a public health crisis. What better way to coerce people into using technology that has long been planned to enslave humanity than by holding them hostage to a "deadly" virus causing people to fear for their lives? From the outset of the COVID-19 crisis, humanity was told the world could not return to normal without global vaccination against the coronavirus. We were even told that some things would never return to normal. In fact, the people and organizations behind exercises such as Crimson Contagion and Event 201 secretly planned to reshape the world in their technocratic image using the guise of the pandemic to implement their schemes.
For decades Hollywood, a major partner in advancing globalist agendas, has been conditioning people to accept all-pervasive surveillance through films such as Enemy of the State, Eagle Eye, and Minority Report. The societies depicted in those dystopian films is now a reality. Welcome to Dystopia Now!
Vaccine Certificates Will Change the Future of Work and Travel
On January 14 the Vaccination Credential Initiative (VCI), a broad coalition of health and technology corporations, was announced. The VCI combines the efforts of companies such as Microsoft, Oracle, and Mayo Clinic for the purpose of standardizing digital access to vaccination records. The VCI also garners support from the World Economic Forum (i.e., Klaus Schwab and his Great Reset) through The Commons Project Foundation and its Common Pass project.
Common Pass is a "globally-interoperable platform for people to document their COVID-19 status (health declarations/PCR tests/vaccinations) to satisfy country entry requirements, while protecting their health data privacy." In other words, it's a digital tracking system designed to keep people from traveling unless current with vaccines and other future health requirements. Common Pass requires a smartphone and works on Apple (through the Apple Health app) and Android (through the CommonHealth app) devices. Authorities will be able to scan a QR code embedded in the app that will verify whether an individual is cleared for travel. It is expected to launch in the first half of 2022.
In the new world being erected right before our eyes, the Global Syndicate does not want the average citizen to have the right to travel freely without being closely monitored for compliance with new societal rules. They claim reducing travel will help the environment and solve the problem of climate change, but this is just a ruse to destroy individual freedom and rights. In reality, they want humanity locked into a surveillance grid that can track every movement and eventually, every thought!
As I warned in part four of the Beware the Vaccine series, employers will eventually make it difficult to work without proof of vaccination. Additionally, stores, concert and sports venues, restaurants, museums, and parks may also soon require a tool like Common Pass to shop for necessities and access entertainment and leisure. But it doesn't stop here.
Facial Recognition, Thermal Cameras, and Biometric Wearables
Surveillance including the use of facial recognition technology was increasingly used by governments worldwide under the guise of fighting the spread of COVID-19. As early as last April, Amazon began using thermal cameras to scan workers for fever and other symptoms of coronavirus. Companies such as Thermal Guardian and Flir have been supplying thermal cameras to airports, healthcare centers, businesses, casinos and even grocery stores throughout the plandemic.
Contact tracing plans largely failed because people were uncooperative, and the technology was not well developed. Companies such as TraceSafe and Estimote have created the next wave of contact tracing tools in the form of biometric wearable devices. Wearables from Flywallet and Digital DNA will hold your vaccine certificates. For now, these new surveillance devices are meant to be worn outside the body, but the ultimate goal is for widespread adoption of bodily implants as documented in my Internet of Bodies article.
Though there have been some rumblings about the privacy violations these technologies could create, it hasn't stopped their development or implementation by governments and companies worldwide. This does not bode well for the future as the digital transformation of society races on.
Digital IDs Will Place All Humans on the Surveillance Grid
Globalists have a funny way of posing as saviors while secretly planning humanity's total subjugation. A global technocracy cannot be imposed without robust surveillance systems, widespread deployment of artificial intelligence, and the digitization of everything.
The push for digital identification is increasing at a pace faster than Usain Bolt's 100-meter dash. As I wrote in part 5 of the Beware the Vaccine series:
…the plan is to roll out a full-fledged digital ID (ID2020) which would contain driver's licenses, passports, work badges, building access cards, debit and credit cards, transit passes, and more.
Under the guise of aiding the marginalized and protecting their civil liberties, despotic technocrats will be able to use digital IDs to control access to government, finance, health, travel, and any service where an ID would be required for access or benefits. The road to the ID2020 initiative leads to the Bill & Melinda Gates and Rockefeller Foundations. You may recall that both were co-sponsors of Event 201, the pandemic planning exercise that became reality just a few months later. Is it a mere coincidence that these two foundations are the driving forces behind global pandemic planning, vaccination, and the creation and enforcement of digital IDs?
Digital Payment Systems, Global Digital Currencies, and the Cashless Society
The next domino to fall, coinciding with a planned and coordinated global economic reset, will be universal adoption of digital payments and the outlawing of cash.
The plandemic has served to rapidly change the way people think about money, especially cash. Last March, the World Health Organization vilified cash as a coronavirus spreader, and its use was restricted around the world. Coin shortages also soon followed, resulting in a dramatic shift toward digital payments. Talks and moves to implement digital currencies ramped up, all according to schedule.
Prior to the plandemic, cash usage was still prominent in the U.S., but was already on the decline in China and many Asian countries. The COVID-19 crisis provided the perfect cover to accelerate adoption of digital payments throughout Western nations.
Many are excited about digital money and the blockchain technology behind it, believing it will be the key to decentralization and less oversight by central banks. However, history has proven that elites tend to establish greater control of economies as societies move away from physical currency.
This push for digitalization is placing the world at a crossroads. I believe the transition to a global digital economy will happen similar to the way Napster revolutionized digital file sharing (mainly music) in the late 90s. As millions of songs were uploaded, downloaded, and shared across Napster's networks, consumers relished the ability to obtain "free" music. However, the music industry and many of its artists were not happy and launched an all-out assault against Napster and the many services it spawned, such as Limewire and BitTorrent. After years of legal proceedings, the music industry was able to smash Napster and other file-sharing platforms to pieces. The Recording Industry Association of America (RIAA) even sued individual citizens for illegal downloading and file-sharing. Through the creation of platforms like iTunes, Spotify and Apple Music, the music industry regained iron-clad control of its copyrighted material. Sadly, artist revenue never rebounded to pre digital piracy heights.
I see a similar situation with blockchain and digital currency. Though blockchain technology and cryptocurrency may initially provide financial freedom and anonymity through products like BitCoin, eventually the banking elites and their technocratic partners will find a way to regain control. The Federal Reserve has already proposed a new FedCoin that threatens to centralize digital currency with the ability to track and/or prohibit transactions. Attacks on cryptocurrency are on the rise as governments, credit card companies, and mega-corporations have banned their use. Big tech giants like Facebook and Google joined together to ban cryptocurrency ads. However, Facebook (which owns data from billions of people) has announced it will launch its new rebranded cryptocurrency called Diem later this year.
To top it off, several countries and banks have issued Central Bank Digital Currencies (CBDC) which threaten to destroy the independent and anonymous financial system brokered through blockchain technology. Once these efforts by governments, central banks, and mega-corporations gain steam, it won't be long before BitCoin and other cryptocurrencies will be targeted for extinction. Those who possess them may be sued, criminalized, and excluded from financial systems much like those who pirated music in the earlier part of the century.
The War on Terror Set the Stage for Global Surveillance

A significant outcome of the war on terror was the emergence of the surveillance state. Initially sold as a way to track terrorists, governments soon turned these tactics on their citizens, as revealed by whistleblowers Edward Snowden and Julian Assange and through legislation like the Patriot Act (which President-Elect Joe Biden bragged about writing) and National Defense Authorization Act (NDAA). It even spawned the U.S. Department of Homeland Security (DHS), an entirely new government agency conceived to monitor known and "potential" terrorists and prevent future terror attacks. With time and the advancement of technology, the fledgling surveillance state of the early 2000s has grown exponentially into the monstrous biosecurity police state now emerging.
What began as eagle eye tools for militaries to track and monitor "terrorists" abroad have now been adapted for use in everyday consumer products like nanny cams, smartphones, smart watches, and vehicles. Use of traffic and surveillance cameras have exploded in the years since 9/11 to the point where the U.S. and China combined possess one surveillance camera for every four people. It is expected that 2021 will see the global deployment of over one billion cameras.
DHS expects to have biometric data including DNA and face, fingerprint, and iris scans of at least 259 million people by 2022. DHS is using cloud-based software called Homeland Advanced Recognition Technology (HART), hosted by Amazon Web Services to "make it possible to confirm the identity of travelers at any point in their travel," according to former secretary Kevin McAleenan. The possibilities of using this software to curb individual rights and freedom are staggering. According to the Electronic Frontier Foundation:
The records DHS plans to include in HART will chill and deter people from exercising their First Amendment protected rights to speak, assemble, and associate. Data like face recognition makes it possible to identify and track people in real time, including at lawful political protests and other gatherings. Other data DHS is planning to collect—including information about people's "relationship patterns" and from officer "encounters" with the public—can be used to identify political affiliations, religious activities, and familial and friendly relationships. These data points are also frequently colored by conjecture and bias.
Northrop Grumman, a preeminent U.S. defense contractor, received a $95 million contract to develop the first two phases of the HART system under DHS's Office of Biometric Identity Management (OBIM). But this is just one of many ongoing government surveillance projects designed to spy on and incorporate all of humanity in biometric databases.
Technology Isn't the Problem, It's the People Behind It
For the record, I am not advocating against the use of new technology. Technology is simply a tool used to achieve a task or goal. It's mostly neither good nor bad. How it's used, who's using it, and for what purpose typically determines benefit or harm. However, it has been proven time and again that digital systems are fragile, ripe for hacking, and contain back doors that can be used to spy on users. Though the technologies discussed in this article promise privacy and individual control, trusting those overseeing their development or deployment is foolish. Most involved in the creation, implementation, distribution, and use of these technologies have ties to governments, global entities, spy agencies, and billion-dollar tech companies.
All these new inventions are being used to create a global panopticon, making it easy for technocrats to control humanity through technological innovation. So pardon me if I don't get all excited about artificial intelligence, augmented reality, body implants, and other rapidly developing technologies. In fact, these unprecedented modern times make me nostalgic for corded telephones and fax machines.
To be continued…
===
===
UPDATES:
Obama Administration Used Foreign Intelligence Service To Spy On U.S. Allies In Europe: Report
By Ryan Saavedra - 01. June 2021
Former Democrat President Barack Obama's administration reportedly spied on U.S. allies in Europe and top European politicians – including German Chancellor Angela Merkel – by using Denmark's Defense Intelligence Service (FE).
"The findings are the result of a 2015 internal investigation in the Danish Defense Intelligence Service into NSA's role in the partnership," Reuters reported. "According to the investigation, which covered the period from 2012 to 2014, the NSA used Danish information cables to spy on senior officials in Sweden, Norway, France and Germany, including former German Foreign Minister Frank-Walter Steinmeier and former German opposition leader Peer Steinbrück."
The alleged operation – dubbed "Operation Dunhammer" – allowed the NSA to obtain phone calls, texts, and chat messages to and from the official's telephones.
Some of the reaction from European officials include:
Norwegian Prime Minister Erna Solberg: "It's unacceptable if countries which have close allied co-operation feel the need to spy on one another."
French President Emmanuel Macron: "If the information is correct, then that's unacceptable between allies, and even less so between European allies. We expect complete openness and a clarification of the facts from our Danish and American partners."
French Minister for European Affairs Clement Beaune: "These potential facts, they are serious, they must be checked."
Former German opposition leader Peer Steinbrück said it was "grotesque that friendly intelligence services are indeed intercepting and spying on top representatives" of other countries, adding: "politically I consider it a scandal."
German government spokesman Steffen Seibert: "The federal government has taken note of the report and is in contact with all relevant national and international bodies for clarification. As a matter of principle, and you already know this, I would ask you to understand that the federal government does not openly comment on matters concerning intelligence activities."
Reports first surfaced that the Obama administration was spying on U.S. allies in 2013 when it was revealed that they had spied on Germany and France. The spying on France appears to have started during the latter years of former President George W. Bush's administration.
CNN reported:
Revelations that the US National Security Agency (NSA) tapped Merkel's cellphone emerged in 2013 after former NSA contractor and whistleblower Edward Snowden shared documents with The Guardian showing that a US official had handed the agency 200 phone numbers, including those of world leaders, for the agency to monitor.

The report did not name any of the 35 world leaders that were allegedly on in the list. However, few months after the initial reports, the German government publicly said it had information that suggested the US might have monitored Merkel's cell phone. Germany's Federal Prosecutor's Office launched an investigation into the allegation, but dropped it in 2015, saying it had uncovered insufficient evidence to launch a successful prosecution.
"The Danish government can and will not comment on speculation in the media concerning our intelligence services," Danish Defense Minister Trine Bramsen said. "The position of the Danish government is clear — systematic targeting against our close allied partners is unacceptable. Clearly, that is a well-established principle that Danish authorities adhere to."
The Daily Wire is one of America's fastest-growing conservative media companies and counter-cultural outlets for news, opinion, and entertainment. Get inside access to The Daily Wire by becoming a member.
===

Photo: Daniel Reinhardt/dpa
By BILD - 02 April 2021
Hamburg - Many Hanseatic citizens were amazed!
A robot resembling a dog or a creature from Star Wars caused astonishment in Hamburg's city centre on Thursday.

The robot is to be used by a security company as a robotic security solution with artificial intelligence Photo: Daniel Reinhardt/dpa
Berlin-based security service provider Ciborius unveiled a new technology for security guards that will be deployed across Germany.
The four-legged robot "Spot" from Boston Dynamics can secure buildings without tiring, the company explained.
It has an all-round camera and is programmed in such a way that it can make its rounds agilely on its own. If it detects inconsistencies, it reports it.
===
SECURITY FOR HAMBURG'S CITY CENTRE
Robot dog on trial in the city centre
Hamburg - Many Hanseatic citizens were amazed!
A robot resembling a dog or a creature from Star Wars caused astonishment in Hamburg's city centre on Thursday.
Berlin-based security service provider Ciborius unveiled a new technology for security guards that will be deployed across Germany.
The four-legged robot "Spot" from Boston Dynamics can secure buildings without tiring, the company explained.
It has an all-round camera and is programmed in such a way that it can make its rounds agilely on its own. If it detects inconsistencies, it reports it.
===
US Defense Intelligence Agency Buys Your Smartphone Location Data From Brokers
US Defense Intelligence Agency has just confirmed that the US government does indeed buy your location data collected from your smartphones by brokers.
In a memo sent to Sen. Ron Wyden (D-OR) and obtained by The New York Times, the Defense Intelligence Agency (DIA) admitted that it buys location data from brokers — and that the data isn't separated by whether a person lives in the US or outside of it.
Data brokers are companies that, as the name implies, collect and sell people's information. The companies collect people's location information (and much more) by paying app makers and websites for it.
Once the broker has the information, they can aggregate it and sell it to whoever's willing to pay for it — including the US government.
Sen. Wyden, who requested the memo be made, has a bill called "The Fourth Amendment Is Not For Sale," which aims to "ban the government from buying information that would otherwise require a court order or a warrant."
Usually we would put in a line or two about the relevance of the development to the Indian context.
But since we do not even have Data Protection Law everything is up for sale.
===
IOT SURVEILLANCE OR CARE FOR THE HOMELESS?
Homeless In Germany Offered Futuristic 'Coffin-Like' Pods To Sleep In
The German city of Ulm has unveiled futuristic insulated sleep pods for the homeless on cold winter nights.
Two of these "Ulm nests" were positioned in Ulm, 75 miles west of Munich, earlier this month. The pods give homeless people an emergency place to sleep as colder weather has blanketed much of Germany.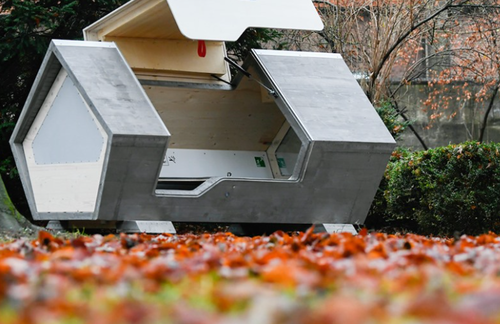 These small shelters are positioned in parks and other strategic areas. Each pod can accommodate two occupants and is made of wood, steel, and plastics. Thermal insulation surrounds the pod's interior while fresh air circulates, allowing occupants to survive cold winter nights.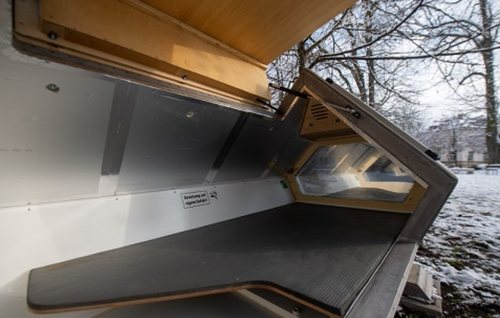 From the initiative's official Facebook page, they said Ulm nests "are equipped with solar panels, which allows (at least) energy neutral use during the day."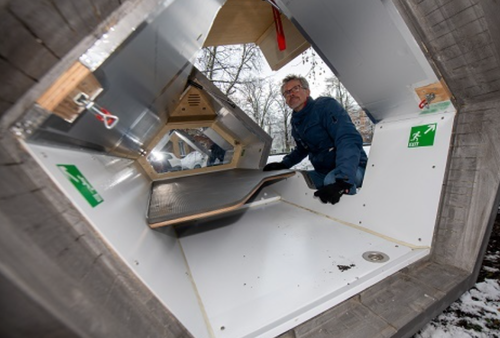 The initiative said each Ulm nest is connected to their internet of things network that alerts the Caritas Ulm-Alb-Donau charity association or Ulmer Nest about overnight stays. The next day, charity members will direct occupants to the city's homeless service, ensuring they will have the care to get them off the streets.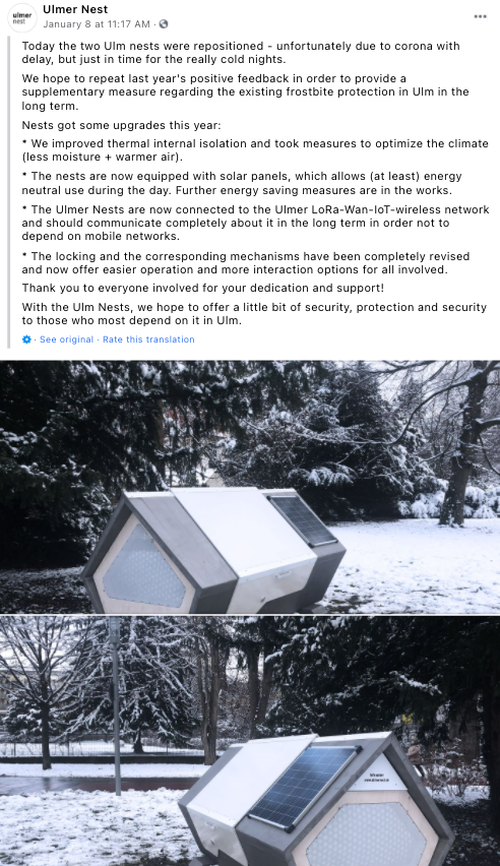 We suspect the popularity of Ulm nest could increase over the coming quarters as the global economy stumbles amid severe virus-related impacts. As BofA's Michael Hartnett points out, the bursting of the bubble remains the most significant bull risk, the "decade-long backdrop of maximum liquidity and technological disruption has caused maximum inequality & massive social and electoral polarization…value of US financial assets (Wall Street) now 6X size of GDP."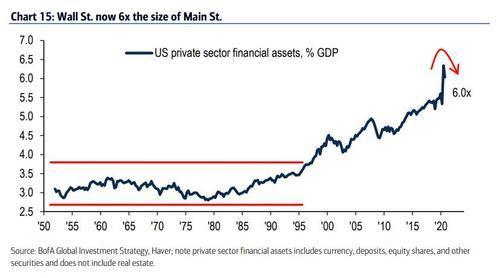 This means that more and more people across the Western world are becoming homeless as central banks have no other choice but to inflate assets to the moon to save what is left of the badly bruised economy In Europe and the US, the deep economic scarring has resulted in millions of jobs permanently lost and the middle class left in ruins.
While these emergency pods could become popular among the homeless, there's a possibility that down the line, those who can no longer afford tiny homes will find coffin-like pods a cheap alternative.
MUST READ IN THIS CONTEXT:
Smart Homes Can Easily Be Hacked and Most Internet of Things Devices Don't Have Any Security Standards
January 23, 2021
By B.N. Frank
"Smart" Homes may sound like the coolest thing ever. However, privacy and security experts have warned for many years about privacy and cybersecurity risks associated with ALL "Smart" and wireless technology including "Smart" home appliances (Alexa, Google Nest, etc.), light bulbs, TVs, and everything that uses Internet of Things (IoT) technology (see 1, 2).
Last month, researchers proposed product warning labels that would make it easier for consumers to understand the risks. Of course, manufacturers may not be interested in advertising any of this because their "Smart" products also allow them to collect data on consumers to analyze and sell to 3rd parties. This is referred to as "Surveillance Capitalism."
More details about "Smart" home hacking and IoT vulnerability were described in a recent article:
Can Smart Homes be Hacked?
January 6, 2021 in Hackers
Table of contents
Can Smart Homes be Hacked? This is a very important question, especially when getting hacked means people can gain unwanted access into your home. Most smart home owners are either to scared to find out the answer or do not know enough about home networking to understand the answer.
We spent some time researching this question. We also spent a lot more time finding a way to convey the answer in such a way that the average (or potential) smart home owner can understand and gain valuable insights.
Let's get straight into the answer.
The Short Answer
The short answer is YES, smart homes can definitely be hacked. Let's briefly go over why. You should stick around however and read the long answer too as it gives important background into why smart homes can be hacked.
The Long (but Important) Answer
Smart Homes and IoT
You cannot talk about smart homes without mentioning IoT (Internet of Things). All smart home devices are IoT devices but not all IoT devices are smart home devices.
Why is this so important? Initially, IoT devices were targeted to factories and manufacturing-focused enterprises. The main selling point was being able to use these devices to monitor the factories in real-time and to also allow factory owners to automate certain aspects of the factory. For example, being able to switch factory lights on and off at certain defined intervals or being able to monitor the health of the machines at the factory.
This means IoT was initially targeted towards enterprises that could afford to create and operate their own security if the device's security was not enough. That "if" is where the trouble begins. "If" the device is not secure enough then you are in for a world of trouble.
However, with every consumer-facing solution, there are standards and guides that make sure the solution is safe for customers to use. You are probably breathing a sigh of relief. The standards exist, they are strong and they will protect your smart home.
What if I told you most IoT devices do not have any security standards at all?
IoT Security Standards
If you want to create cyber-attack resilient hardware, it is very important to implement security at the design stage of the hardware. However, It is very hard to make security standards due to the sheer amount of different IoT devices. From smart plugs to wireless cameras, all these different smart devices have different use cases and requirements which make it very difficult to create a security standard.
Also, IoT devices have limits when it comes to power, computing ability, storage, and communication. This makes it much harder to develop security into these devices, especially when you compare them to other internet-connected devices like computers and laptops.
This is a key issue, the corporations that make these devices are not lazy or incompetent. It is just not currently feasible to be able to make all IoT devices on the market follow a specific security protocol. There is a more important issue that can render all built in security useless and it is not a technical issue.
The Average Smart Home Setup
Let us start this section off with an analogy. Imagine a fortress with 10-ft thick cement walls, these walls are also 100-ft high and resistant to any damage from conventional weapons and the elements. Now imagine if someone left the door to this fortress unlocked. That person just rendered the impenetrable walls of the fortress useless.
Why the previous analogy? Simple, this is the setup of the vast majority of smart homes. People buy expensive routers with AI-powered monitoring but they leave the default password set. Allowing any low skill hacker to waltz comfortably into their home.
Even worse, some smart-home owners have never even logged into their routers to see what is going on. We live in a culture where device security is either seen as a boring optional task or something that is ignored completely.
This culture needs to change. Smart device owners love the benefits these devices give them but do not want to put in the time to properly secure the devices. In time, this will come back to bite the smart device owner hard.
Conclusion
What does this mean for you?
If you have made it to this point, good job. It means you care about the protection of your home, your family, and your privacy. Smart home devices can definitely be hacked. They can be hacked quite easily in fact, we hope this post made that abundantly clear to you.
The important question is, what can you do? Smart homes can bring great benefits but if done wrong you can endanger yourself. So are there any steps you can take? or any guides you can use to keep yourself and your family safe?
Yes, there are!
Keeping yourself safe
We have done a lot of research into keeping yourself and your family safe while in your smart home. Take a look at the links below. You never know when this information will come in handy.
Thanks for reading this article. Please like and share this article as it helps spread awareness for various security issues relating to smart homes. Have a great day.
References
===
The SolarWinds Hack, The Takeover Of The US & The Final Stage Of The War On You
By Ryan CristiánComments - 22. January 2021
Welcome to The Daily Wrap Up, a concise show dedicated to bringing you the most relevant independent news, as we see it, from the last 24 hours (1/22/21).
As always, take the information discussed in the video below and research it for yourself, and come to your own conclusions. Anyone telling you what the truth is, or claiming they have the answer, is likely leading you astray, for one reason or another.
Stay Vigilant.
(https://www.rokfin.com/TLAVagabond)
(https://odysee.com/@TLAVagabond:5)
(https://www.bitchute.com/channel/24yVcta8zEjY/)
Video Source Links:
https://www.thelastamericanvagabond.com/another-mega-group-spy-scandal-samanage-sabotage-and-the-solarwinds-hack/
https://www.forbes.com/sites/worldeconomicforum/2016/11/10/shopping-i-cant-really-remember-what-that-is-or-how-differently-well-live-in-2030/?sh=7b5058bf1735
https://www.businessinsider.com/israel-planted-devices-near-white-house-spy-on-trump-report-2019-9
https://www.zerohedge.com/covid-19/eu-set-implement-bloc-wide-vaccine-passport-standard
https://www.forbes.com/sites/arielshapiro/2021/01/14/americas-biggest-owner-of-farmland-is-now-bill-gates-bezos-turner/?sh=14c04e7a6096
===
Another Mega Group Spy Scandal? Samanage, Sabotage, and the SolarWinds Hack
The devastating hack on SolarWinds was quickly pinned on Russia by US intelligence. A more likely culprit, Samanage, a company whose software was integrated into SolarWinds' software just as the "back door" was inserted, is deeply tied to Israeli intelligence and intelligence-linked families such as the Maxwells.
By Whitney Webb - 21. January 20921
In mid-December of 2020, a massive hack compromised the networks of numerous US federal agencies, major corporations, the top five accounting firms in the country, and the military, among others. Despite most US media attention now focusing on election-related chaos, the fallout from the hack continues to make headlines day after day.
The hack, which affected Texas-based software provider SolarWinds, was blamed on Russia on January 5 by the US government's Cyber Unified Coordination Group. Their statement asserted that the attackers were "likely Russian in origin," but they failed to provide evidence to back up that claim.
Since then, numerous developments in the official investigation have been reported, but no actual evidence pointing to Russia has yet to be released. Rather, mainstream media outlets began reporting the intelligence community's "likely" conclusion as fact right away, with the New York Times subsequently reporting that US investigators were examining a product used by SolarWinds that was sold by a Czech Republic–based company, as the possible entry point for the "Russian hackers." Interest in that company, however, comes from the fact that the attackers most likely had access to the systems of a contractor or subsidiary of SolarWinds. This, combined with the evidence-free report from US intelligence on "likely" Russian involvement, is said to be the reason investigators are focusing on the Czech company, though any of SolarWinds' contractors/subsidiaries could have been the entry point.
Such narratives clearly echo those that became prominent in the wake of the 2016 election, when now-debunked claims were made that Russian hackers were responsible for leaked emails published by WikiLeaks. Parallels are obvious when one considers that SolarWinds quickly brought on the discredited firm CrowdStrike to aid them in securing their networks and investigating the hack. CrowdStrike had also been brought on by the DNC after the 2016 WikiLeaks publication, and subsequently it was central in developing the false declarations regarding the involvement of "Russian hackers" in that event.
There are also other parallels. As Russiagate played out, it became apparent that there was collusion between the Trump campaign and a foreign power, but the nation was Israel, not Russia. Indeed, many of the reports that came out of Russiagate revealed collusion with Israel, yet those instances received little coverage and generated little media outrage. This has led some to suggest that Russiagate may have been a cover for what was in fact Israelgate.
Similarly, in the case of the SolarWinds hack, there is the odd case and timing of SolarWinds' acquisition of a company called Samanage in 2019. As this report will explore, Samanage's deep ties to Israeli intelligence, venture-capital firms connected to both intelligence and Isabel Maxwell, as well as Samange's integration with the Orion software at the time of the back door's insertion warrant investigation every bit as much as SolarWinds' Czech-based contractor.
Orion's Fall
In the month since the hack, evidence has emerged detailing the extent of the damage, with the Justice Department quietly announcing, the same day as the Capitol riots (January 6), that their email system had been breached in the hack—a "major incident" according to the department. This terminology means that the attack "is likely to result in demonstrable harm to the national security interests, foreign relations, or the economy of the United States or to the public confidence, civil liberties, or public health and safety of the American people," per NextGov.
The Justice Department was the fourth US government agency to publicly acknowledge a breach in connection to the hack, with the others being the Departments of Commerce and Energy and the Treasury. Yet, while only four agencies have publicly acknowledged fallout from the hack, SolarWinds software is also used by the Department of Defense, the State Department, NASA, the NSA, and the Executive Office. Given that the Cyber Unified Coordination Group stated that "fewer than ten" US government agencies had been affected, it's likely that some of these agencies were compromised, and some press reports have asserted that the State Department and Pentagon were affected.
In addition to government agencies, SolarWinds Orion software was in use by the top ten US telecommunications corporations, the top five US accounting firms, the New York Power Authority, and numerous US government contractors such as Booz Allen Hamilton, General Dynamics, and the Federal Reserve. Other notable SolarWinds clients include the Bill & Melinda Gates Foundation, Microsoft, Credit Suisse, and several mainstream news outlets including the Economist and the New York Times.
Based on what is officially known so far, the hackers appeared to have been highly sophisticated, with FireEye, the cybersecurity company that first discovered the implanted code used to conduct the hack, stating that the hackers "routinely removed their tools, including the backdoors, once legitimate remote access was achieved—implying a high degree of technical sophistication and attention to operational security." In addition, top security experts have noted that the hack was "very very carefully orchestrated," leading to a consensus that the hack was state sponsored.
FireEye stated that they first identified the compromise of SolarWinds after the version of the Orion software they were using contained a back door that was used to gain access to its "red team" suite of hacking tools. Not long after the disclosure of the SolarWinds hack, on December 31, the hackers were able to partially access Microsoft's source code, raising concerns that the act was preparation for future and equally devastating attacks.
FireEye's account can be taken with a grain of salt, however, as the CIA is one of FireEye's clients, and FireEye was launched with funding from the CIA's venture capital arm In-Q-tel. It is also worth being skeptical of the "free tool" FireEye has made available in the hack's aftermath for "spotting and keeping suspected Russians out of systems."
In addition, Microsoft, another key source in the SolarWinds story, is a military contractor with close ties to Israel's intelligence apparatus, especially Unit 8200, and their reports of events also deserve scrutiny. Notably, it was Unit 8200 alumnus and executive at Israeli cybersecurity firm Cycode, Ronen Slavin, who told Reuters in a widely quoted article that he "was worried by the possibility that the SolarWinds hackers were poring over Microsoft's source code as prelude to a much more ambitious offensive." "To me the biggest question is, 'Was this recon for the next big operation?'" Slavin stated.
Also odd about the actors involved in the response to the hack is the decision to bring on not only the discredited firm CrowdStrike but also the new consultancy firm of Chris Krebs and Alex Stamos, former chief information security officer of Facebook and Yahoo, to investigate the hack. Chris Krebs is the former head of the Department of Homeland Security's Cybersecurity and Infrastructure Security Agency (CISA) and was previously a top Microsoft executive. Krebs was fired by Donald Trump after repeatedly and publicly challenging Trump on the issue of election fraud in the 2020 election.
As head of CISA, Krebs gave access to networks of critical infrastructure throughout the US, with a focus on the health-care industry, to the CTI League, a suspicious outfit of anonymous volunteers working "for free" and led by a former Unit 8200 officer. "We have brought in the expertise of Chris Krebs and Alex Stamos to assist in this review and provide best-in-class guidance on our journey to evolve into an industry leading secure software development company," a SolarWinds spokesperson said in an email cited by Reuters.
It is also worth noting that the SolarWinds hack did benefit a few actors aside from the attackers themselves. For instance, Israeli cybersecurity firms CheckPoint and CyberArk, which have close ties to Israeli intelligence Unit 8200, have seen their stocks soar in the weeks since the SolarWinds compromise was announced. Notably, in 2017, CyberArk was the company that "discovered" one of the main tactics used in an attack, a form of SAML token manipulation called GoldenSAML. CyberArk does not specify how they discovered this method of attack and, at the time they announced the tactic's existence, released a free tool to identify systems vulnerable to GoldenSAML manipulation.
In addition, the other main mode of attack, a back door program nicknamed Sunburst, was found by Kaspersky researchers to be similar to a piece of malware called Kazuar that was also first discovered by another Unit 8200-linked company, Palo Alto Networks, also in 2017. The similarities only suggest that those who developed the Sunburst backdoor may have been inspired by Kazuar and "they may have common members between them or a shared software developer building their malware." Kaspersky stressed that Sunburst and Kazuar are not likely to be one and the same. It is worth noting, as an aside, that Unit 8200 is known to have previously hacked Kaspersky and attempted to insert a back door into their products, per Kaspersky employees.
Crowdstrike claimed that this finding confirmed "the attribution at least to Russian intelligence," only because an allegedly Russian hacking group is believed to have used Kazuar before. No technical evidence linking Russia to the SolarWinds hacking has yet been presented.
Samanage and Sabotage
The implanted code used to execute the hack was directly injected into the source code of SolarWinds Orion. Then, the modified and bugged version of the software was "compiled, signed and delivered through the existing software patch release management system," per reports. This has led US investigators and observers to conclude that the perpetrators had direct access to SolarWinds code as they had "a high degree of familiarity with the software." While the way the attackers gained access to Orion's code base has yet to be determined, one possibility being pursued by investigators is that the attackers were working with employee(s) of a SolarWinds contractor or subsidiary.
US investigators have been focusing on offices of SolarWinds that are based abroad, suggesting that—in addition to the above—the attackers were likely working for SolarWinds or were given access by someone working for the company. That investigation has focused on offices in eastern Europe, allegedly because "Russian intelligence operatives are deeply rooted" in those countries.
It is worth pointing out, however, that Israeli intelligence is similarly "deeply rooted" in eastern European states both before and after the fall of the Soviet Union, ties well illustrated by Israeli superspy and media tycoon Robert Maxwell's frequent and close associations with Eastern European and Russian intelligence agencies as well as the leaders of many of those countries. Israeli intelligence operatives like Maxwell also had cozy ties with Russian organized crime. For instance, Maxwell enabled the access of the Russian organized crime network headed by Semion Mogilevich into the US financial system and was also Mogilevich's business partner. In addition, the cross-pollination between Israeli and Russian organized crime networks (networks which also share ties to their respective intelligence agencies) and such links should be considered if the cybercriminals due prove to be Russian in origin, as US intelligence has claimed.
Though some contractors and subsidiaries of SolarWinds are now being investigated, one that has yet to be investigated, but should be, is Samanage. Samanage, acquired by SolarWinds in 2019, not only gained automatic access to Orion just as the malicious code was first inserted, but it has deep ties to Israeli intelligence and a web of venture-capital firms associated with numerous Israeli espionage scandals that have targeted the US government. Israel is deemed by the NSA to be one of the top spy threats facing US government agencies and Israel's list of espionage scandals in the US is arguably the longest, and includes the Jonathan Pollard and PROMIS software scandals of the 1980s to the Larry Franklin/AIPAC espionage scandal in 2009.
Though much reporting has since been done on the recent compromise of SolarWinds Orion software, little attention has been paid to Samanage. Samanage offers what it describes as "an IT Service Desk solution." It was acquired by SolarWinds so Samanage's products could be added to SolarWinds' IT Operations Management portfolio. Though US reporting and SolarWinds press releases state that Samanage is based in Cary, North Carolina, implying that it is an American company, Samanage is actually an Israeli firm. It was founded in 2007 by Doron Gordon, who previously worked for several years at MAMRAM, the Israeli military's central computing unit.
Samanage was SolarWinds' first acquisition of an Israeli company, and, at the time, Israeli media reported that SolarWinds was expected to set up its first development center in Israel. It appears, however, that SolarWinds, rather than setting up a new center, merely began using Samanage's research and development center located in Netanya, Israel.
Several months after the acquisition was announced, in November 2019, Samanage, renamed SolarWinds Service Desk, became listed as a standard feature of SolarWinds Orion software, whereas the integration of Samanage and Orion had previously been optional since the acquisition's announcement in April of that year. This means that complete integration was likely made standard in either October or November. It has since been reported that the perpetrators of the recent hack gained access to the networks of US federal agencies and major corporations at around the same time. Samanage's automatic integration into Orion was a major modification made to the now-compromised software during that period.
Samanage appears to have had access to Orion following the announcement of the acquisition in April 2019. Integration first began with Orion version 2019.4, the earliest version believed to contain the malicious code that enabled the hack. In addition, the integrated Samanage component of Orion was responsible for "ensuring the appropriate teams are quickly notified when critical events or performance issues [with Orion] are detected," which was meant to allow "service agents to react faster and resolve issues before . . . employees are impacted."
In other words, the Samanage component that was integrated into Orion at the same time the compromise took place was also responsible for Orion's alert system for critical events or performance issues. The code that was inserted into Orion by hackers in late 2019 nevertheless went undetected by this Samanage-made component for over a year, giving the "hackers" access to millions of devices critical to both US government and corporate networks. Furthermore, it is this Samanage-produced component of the affected Orion software that advises end users to exempt the software from antivirus scans and group policy object (GPO) restrictions by providing a warning that Orion may not work properly unless those exemptions are granted.
Samanage, Salesforce, and the World Economic Forum
Around the time of Samange's acquisition by SolarWinds, it was reported that one of Samanage's top backers was the company Salesforce, with Salesforce being both a major investor in Samanage as well as a partner of the company.
Salesforce is run by Marc Benioff, a billionaire who got his start at the tech giant Oracle. Oracle was originally created as a CIA spin-off and has deep ties to Israel's government and the outgoing Trump administration. Salesforce also has a large presence in Israel, with much of its global research and development based there. Salesforce also recently partnered with the Unit 8200-linked Israeli firm Diagnostic Robotics to "predictively" diagnose COVID-19 cases using Artificial Intelligence.
Aside from leading Salesforce, Benioff is a member of the Vatican's Council for Inclusive Capitalism alongside Lynn Forester de Rothschild, a close associate of Jeffrey Epstein and the Clintons, and members of the Lauder family, who have deep ties to the Mega Group and Israeli politics.
Benioff is also a prominent member of the board of trustees of the World Economic Forum and the inaugural chair of the WEF's Centre for the Fourth Industrial Revolution (C4IR), making him one of the most critical players in the unfolding of the WEF-backed Great Reset. Other WEF leaders, including the organization's founder Klaus Schwab, have openly discussed how massive cyberattacks such as befell SolarWinds will soon result in "even more significant economic and social implications than COVID-19."
Last year, the WEF's Centre for Cybersecurity, of which Salesforce is part, simulated a "digital pandemic" cyberattack in an exercise entitled Cyber Polygon. Cyber Polygon's speakers in 2020 included former UK Prime Minister Tony Blair, the Prime Minister of Russia Mikhail Mishustin, WEF founder Klaus Schwab, and IBM executive Wendi Whitmore, who previously held top posts at both Crowdstrike and a FireEye subsidiary. Notably, just months before the COVID-19 crisis, the WEF had held Event 201, which simulated a global coronavirus pandemic that crippled the world's economy.
In addition to Samanage's ties to WEF big shots such as Marc Benioff, the other main investors behind Samanage's rise have ties to major Israeli espionage scandals, including the Jonathan Pollard affair and the PROMIS software scandal. There are also ties to one of the WEF's founding "technology pioneers," Isabel Maxwell (the daughter of Robert Maxwell and sister of Ghislaine), who has long-standing ties to Israel's intelligence apparatus and the country's hi-tech sector.
The Bronfmans, the Maxwells, and Viola Ventures
At the time of its acquisition by SolarWinds, Samanage's top investor was Viola Ventures, a major Israeli venture-capital firm. Viola's investment in Samanage, until its acquisition, was managed by Ronen Nir, who was also on Samanage's board before it became part of SolarWinds.
Prior to working at Viola, Ronen Nir was a vice president at Verint, formerly Converse Infosys. Verint, whose other alumni have gone on to found Israeli intelligence-front companies such as Cybereason. Verint has a history of aggressively spying on US government facilities, including the White House, and created the backdoors into all US telecommunications systems and major tech companies, including Microsoft, Google and Facebook, on behalf of the US' NSA.
In addition to his background at Verint, Ronen Nir is an Israeli spy, having served for thirteen years in an elite IDF intelligence unit, and he remains a lieutenant colonel on reserve duty. His biography also notes that he worked for two years at the Israeli embassy in Washington, DC, which is fitting given his background in espionage and the major role that Israeli embassy has played in several major espionage scandals.
As an aside, Nir has stated that "thought leader" Henry Kissinger is his "favorite historical character." Notably, Kissinger was instrumental in allowing Robert Maxwell, Israeli superspy and father of Ghislaine and Isabel Maxwell, to sell software with a back door for Israeli intelligence to US national laboratories, where it was used to spy on the US nuclear program. Kissinger had told Maxwell to connect with Senator John Tower in order to gain access to US national laboratories, which directly enabled this action, part of the larger PROMIS software scandal.
In addition, Viola's stake was managed through a firm known as Carmel Ventures, which is part of the Viola Group. At the time, Carmel Ventures was advised by Isabel Maxwell, whose father had previously been directly involved in the operation of the front company used to sell bugged software to US national laboratories. As noted in a previous article at Unlimited Hangout, Isabel "inherited" her father's circle of Israeli government and intelligence contacts after his death and has been instrumental in building the "bridge" between Israel's intelligence and military-linked hi-tech sector to Silicon Valley.
Isabel also has ties to the Viola Group itself through Jonathan Kolber, a general partner at Viola. Kolber previously cofounded and led the Bronfman family's private-equity fund, Claridge Israel (based in Israel). Kolber then led Koor Industries, which he had acquired alongside the Bronfmans via Claridge. Kolber is closely associated with Stephen Bronfman, the son of Charles Bronfman who created Claridge and also cofounded the Mega Group with Leslie Wexner in the early 1990s.
Kolber, like Isabel Maxwell, is a founding director of the Peres Center for Peace and Innovation. Maxwell, who used to chair the center's board, stepped down following the Epstein scandal, though it's not exactly clear when. Other directors of the center include Tamir Pardo, former head of Mossad. Kolber's area of expertise, like that of Isabel Maxwell, is "structuring complex, cross-border and cross industry business and financial transactions," that is, arranging acquisitions and partnerships of Israeli firms by US companies. Incidentally, this is also a major focus of the Peres Center.
Other connections to Isabel Maxwell, aside from her espionage ties, are worth noting, given that she is a "technology pioneer" of the World Economic Forum. As previously mentioned, Salesforce—a major investor in Samanage—is deeply involved with the WEF and its Great Reset.
The links of Israeli intelligence and Salesforce to Samanage, and thus to SolarWinds, is particularly relevant given the WEF's "prediction" of a coming "pandemic" of cyberattacks and the early hints from former Unit 8200 officers that the SolarWinds hack is just the beginning. It is also worth mentioning the Israeli government's considerable ties to the WEF over the years, particularly last year when it joined the Benioff-chaired C4IR and participated in the October 2020 WEF panel entitled "The Great Reset: Harnessing the Fourth Industrial Revolution."
Start Up Nation Central, an organization aimed at integrating Israeli start-ups with US firms set up by Netanyahu's longtime economic adviser Eugene Kandel and American Zionist billionaire Paul Singer, have asserted that Israel will serve a "key role" globally in the 4th Industrial Revolution following the implementation of the Great Reset.
Gemini, the BIRD Foundation, and Jonathan Pollard
In addition to Viola, another of Samange's leading investors is Gemini Israel Ventures. Gemini is one of Israel's oldest venture-capital firms, dating back to the Israeli government's 1993 Yozma program.
The first firm created by Yozma, Gemini was put under the control of Ed Mlavsky, who Israel's government had chosen specifically for this position. As previously reported by Unlimited Hangout, Mlavsky was then serving as the executive director of the Israel-US Binational Industrial Research and Development (BIRD) Foundation, where "he was responsible for investments of $100 million in more than 300 joint projects between US and Israeli high-tech companies."
A few years before Gemini was created, while Mlavsky still headed BIRD, the foundation became embroiled in one of the worst espionage scandals in US history, the Jonathan Pollard affair.
In the indictment of US citizen Pollard for espionage on Israel's behalf, it was noted that Pollard delivered the documents he stole to agents of Israel at two locations, one of which was an apartment owned by Harold Katz, the then legal counsel of the BIRD Foundation and an adviser to Israel's military, which oversaw Israel's scientific intelligence-gathering agency, Lekem. US officials told the New York Times at the time that they believed Katz "has detailed knowledge about the [Pollard] spy ring and could implicate senior Israeli officials."
Subsequent reporting by journalist Claudia Wright pointed the finger at the Mlavsky-run BIRD Foundation as one of the ways Israeli intelligence funneled money to Pollard before his capture by US authorities.
One of the first companies Gemini invested in was CommTouch (now Cyren), which was founded by ex-IDF officers and later led by Isabel Maxwell. Under Maxwell's leadership, CommTouch developed close ties to Microsoft, partially due to Maxwell's relationship with its cofounder Bill Gates.
A Coming "Hack" of Microsoft?
If the SolarWinds hack is as serious as has been reported, it's difficult to understand why a company like Samanage would not be looked into as part of a legitimate investigation into the attack. The timing of Samanage employees gaining access to the Orion software and the company's investors including Israeli spies and those with ties to past espionage scandals where Israel used back doors to spy on the US and beyond raises obvious red flags. Yet, any meaningful investigation of the incident is unlikely to take place, especially given the considerable involvement of discredited firms like CrowdStrike, CIA fronts like FireEye and a consultancy firm led by former Silicon Valley executives with their own government/intelligence ties.
There is also the added fact that both of the main methods used in the attack were analogous or bore similarities to hacking tools that were both discovered by Unit 8200-linked companies in 2017. Unit 8200-founded cybersecurity firms are among the few "winners" from the SolarWinds hack, as their stocks have skyrocketed and demand for their services has increased globally.
While some may argue that Unit 8200 alumni are not necessarily connected to the Israeli intelligence apparatus, numerous reports have pointed out the admitted fusion of Israeli military intelligence with Israel's hi-tech sector and its tech-focused venture capital networks, with Israeli military and intelligence officials themselves noting that the line between the private cybersecurity sector and Israel's intelligence apparatus is so blurred, it's difficult to know where one begins and the other ends. There is also the Israeli government policy, formally launched in 2012, whereby Israel's intelligence and military intelligence agencies began outsourcing "activities that were previously managed in-house, with a focus on software and cyber technologies."
Samanage certainly appears to be such a company, not only because it was founded by a former IDF officer in the military's central computing unit, but because its main investors include spies on "reserve duty" and venture capital firms linked to the Pollard scandal as well as the Bronfman and Maxwell families, both of whom have been tied to espionage and sexual blackmail scandals over the years.
Yet, as the Epstein scandal has recently indicated, major espionage scandals involving Israel receive little coverage and investigations into these events rarely lead anywhere. PROMIS was covered up largely thanks to Bill Barr during his first term as Attorney General and even the Pollard affair has all been swept under the rug with Donald Trump allowing Pollard to move to Israel and, more recently, pardoning the Israeli spy who recruited Pollard during his final day as President. Also under Trump, there was the discovery of "stingray" surveillance devices placed by Israel's government throughout Washington DC, including next to the White House, which were quickly memory holed and oddly not investigated by authorities. Israel had previously wiretapped the White House's phone lines during the Clinton years.
Another cover up is likely in the case of SolarWinds, particularly if the entry point was in fact Samanage. Though a cover up would certainly be more of the same, the SolarWinds case is different as major tech companies and cybersecurity firms with ties to US and Israeli intelligence now insist that Microsoft is soon to be targeted in what would clearly be a much more devastating event than SolarWinds due to the ubiquity of Microsoft's products.
On Tuesday, CIA-linked firm FireEye, which apparently has a leadership role in investigating the hack, claimed that the perpetrators are still gathering data from US government agencies and that "the hackers are moving into Microsoft 365 cloud applications from physical, on-premises servers," meaning that changes to fix Orion's vulnerabilities will not necessarily deny hacker access to previously compromised systems as they allegedly maintain access to those systems via Microsoft cloud applications. In addition to Microsoft's own claims that some of its source code was accessed by the hackers, this builds the narrative that Microsoft products are poised to be targeted in the next high-profile hack.
Microsoft's cloud security infrastructure, set to be the next target of the SolarWinds hackers, was largely developed and later managed by Assaf Rappaport, a former Unit 8200 officer who was most recently the head of Microsoft's Research and Development and Security teams at its massive Israel branch. Rappaport left Microsoft right before the COVID-19 crisis began last year to found a new cybersecurity company called Wiz.
Microsoft, like some of Samanage's main backers, is part of the World Economic Forum and is an enthusiastic supporter of and participant in the Great Reset agenda, so much so that Microsoft CEO Satya Nadella wrote the foreword to Klaus Schwab's book "Shaping the Fourth Industrial Revolution." With the WEF simulating a cyber "pandemic" and both the WEF and Israel's head of Israel's National Cyber Directorate warning of an imminent "cyber winter", SolarWinds does indeed appear to be just the beginning, though perhaps a scripted one to create the foundation for something much more severe. A cyberattack on Microsoft products globally would certainly upend most of the global economy and likely have economic effects more severe than the COVID-19 crisis, just as the WEF has been warning. Yet, if such a hack does occur, it will inevitably serve the aims of the Great Reset to "reset" and then rebuild electronic infrastructure.
Question Everything, Come To Your Own Conclusions.
===
Video: China Builds Massive COVID Detention Camp
Nothing to see here, just a Communist super state building a massive detention camp
By Steve Watson - 20 January 2021
Yang Shiyao/Xinhua via Getty Images
Footage has emerged of a huge quarantine facility being built in China to house people infected with coronavirus, and presumably anyone else the state deems to be a COVID threat.
The time lapse video shows a sprawling complex in the province of Hebei being fully completed within a week.
The camp, on the outskirts of the city of Shijiazhuang is said to contain more than 4000 'isolation suites', which resemble shipping container like cells.
Xinhua/Yang Shiyao via Getty Images
The bars on the windows are probably to keep people out… right?
Xinhua/Yang Shiyao via Getty Images
Reports indicate that more than 20,000 local villagers in the area have already been quarantined in isolation facilities since the beginning of the year.
This photo taken on January 16, 2021 shows residents undergoing Covid-19 coronavirus tests at a makeshift testing centre inside a residential compound in Shijiazhuang, in northern Hebei province, as part of a mass testing programme after the province declared an "emergency state". (Photo by STR / CNS / AFP) / China OUT (Photo by STR/CNS/AFP via Getty Images)
Chinese state media organisation CCTV toured the inside of the facilities:
Nothing to see here, just a Communist super state building a massive detention camp.
SHIJIAZHUANG, CHINA – JANUARY 19: Aerial view of Chinese characters reading 'cheer up' on the roof of prefabricated rooms at the construction site of a centralized quarantine site during the COVID-19 pandemic on January 19, 2021 in Shijiazhuang, Hebei Province of China. (Photo by Ren Quanjun/VCG via Getty Images)
SHIJIAZHUANG, CHINA – JANUARY 19: Workers at the construction site of a centralized quarantine site with a total of 3,000 prefabricated rooms amid the coronavirus outbreak on January 19, 2021 in Shijiazhuang, Hebei Province of China. (Photo Ren Quanjun/VCG via Getty Images)
It won't happen here though… right?
The idea of camps to detain COVID dissenters isn't so far fetched in Germany, where it is actually being openly implemented, in the wake of new mutant strain being discovered and an expected super lockdown being announced, to include the suspension of all travel within the country.
Authorities in numerous different areas of Germany have outlined where they will incarcerate those who break lockdown laws or refuse to self-isolate after catching COVID.
===
Barrage Of New Countries And Airlines To Adopt Vaccine Passports
New York Times admits schemes could lead to "a dystopic system that would limit the rights of people who have been careful to avoid infection and are unable or unwilling to be vaccinated"
By Steve Watson -
Michele Ursi / Getty Images
Several more countries have indicated that they are to adopt vaccination passports, meaning anyone crossing their borders will need to be able to prove they have been inoculated against coronavirus.
It is being reported that the South African government is working on implementing an entire Covid-19 vaccine 'ID system', which will not only encompass the so called 'passports', but will also include "management and surveillance of the Covid-19 vaccine," as well as "an integrated track-and-trace system," and "a dashboard system… to capture the reasons given for vaccine refusal."
The country's COVID battle has come under scrutiny in recent weeks with a purported super 'mutation' of the virus being discovered there.
The South African Department of Health has announced that all citizens who are vaccinated will be placed on a national register and provided with a vaccination card.
Meanwhile, in Europe, another country has indicated it will adopt the vaccination passport scheme with Ukrainian health officials announcing that all vaccinated people will be entered into an electronic health care database.
"When mandatory vaccination passports are introduced at the international level, Ukrainian doctors will be able to promptly issue a certificate of vaccinations," said chief sanitary doctor of Ukraine Viktor Liashko.
Another country said to be mulling the introduction of COVID passports is Russia. The New York Times reported that "The Russian government is considering issuing coronavirus health certificates that could ease travel and commerce for people who have been vaccinated."
The Times quoted the head of the Russian Parliament's committee on public health, Dmitri Morozov, who said that a Covid passport was "very important and needed."
"This is great, this is the new world," Morozov reportedly stated.
The Times also noted that "A regional governor in Russia, Radi Khabirov, proposed on Monday that Covid passport holders receive discounts at stores, as an incentive for people to obtain the certificate."
The report also noted that "President Vladimir V. Putin's spokesman, Dmitri S. Peskov, said on Tuesday that the government is considering issuing Covid passports."
After the Times report was published, Russian state media denied that a COVID passport scheme to limit travel had been discussed by Peskov or the Kremlin.
"We are far from a unified point of view on this subject right now, there are no consistent approaches or a consensus on this subject," Peskov said, but added that "this subject is circulating, it's being worked out."
Interestingly, while the likes of the New York Times has reported on other countries adopting the COVID passports, in its coverage of Russia potentially doing the same, it paints a much darker picture, stating that "Opponents fear a dystopic system that would limit the rights of people who have been careful to avoid infection and are unable or unwilling to be vaccinated."
"Russia has a grim history rooted in the Soviet era of controlling citizens' movements, through a residency permit system that was never fully abolished," the Times report continues.
So when Russia do it, it's bad, but when other countries do it, it's part of restoring 'open society'. Hmmmm.
COVID lockdown rulebreakers in Germany will be arrested and detained in refugee camps located across the country, it has been revealed.
While scores of countries are now slowly moving toward the implementation of vaccination passports, airlines appear to have fully embraced the idea and essentially already have them in place.
Emirates airlines has announced that it will be trialling the IATA Travel Pass 'digital passport' which shows passengers' proof of Covid-19 tests and other entry requirements when flying.
Adel Al Redha, Emirates' Chief Operating Officer said that "While international travel remains as safe as ever, there are new protocols and travel requirements with the current global pandemic."
"We have worked with IATA on this innovative solution to simplify and digitally transmit the information that is required by countries and governments into our airline systems, in a secure and efficient manner,"Al Redha continued, adding "We are proud to be one of the first airlines in the world to pilot this initiative, which will provide an enhanced customer experience and conveniently facilitate our customers' travel needs."
As we reported last November, the IATA, the world's largest air transport lobby group, expects its COVID travel pass app to be fully rolled out in the first months of 2021.
Other airlines, including United Airlines and Cathay Pacific have already trialled the IATA's scheme.
Meanwhile, American Airlines has reportedly partnered with biometric authentication provider VeriFLY to develop its own COVID passport app, which will be rolled out within days.
"We support the implementation of a global program to require COVID-19 testing for travelers to the United States, and we want to do everything we can to make travel a seamless experience for customers," Julie Rath, the vice president of customer experience at American Airlines, said in a statement.
Virgin Atlantic owner Richard Branson has also thrown his weight behind the vaccination passport idea, telling CNBC he hopes that soon "there will be a proof-of-vaccination piece of paper that people can use to be able to get on a plane without having to be tested or without having to quarantine."
"Vaccination is everything. Once vulnerable people, in particular, have been vaccinated, I think all kinds of businesses can start opening up again: restaurants, travel companies, cruise companies," Branson declared.
The narrative of adopting vaccination passports is now so ubiquitous that it would be surprising not to see them adopted world-wide, despite the fact that even the World Health Organisation has warned that such schemes should absolutely not be implemented while there is no proof that vaccinations can provide immunity to coronavirus.
"Being vaccinated should not exempt international travellers from complying with other travel risk reduction measures," the WHO committee stressed during its meeting held on January 14.
Others have warned that the adoption of vaccination passports will inevitably lead to a two-tier society, and must be prevented.
"The immunity passport could become a 'passport for privilege,' accentuating the divide between those who already have a comfortable position in society and those on the margins," warns Dr Israel Butler, Head of Advocacy, at the Civil Liberties Union for Europe, Liberties.
===
ICYMI:
Losing the Right to Encryption Means Losing Business
By Caleb Chen - 29. September 2020
Every time a government passes a law that affects the Internet, tech companies must ask themselves a critical question: can they still properly provide their services while protecting user privacy under the new rules?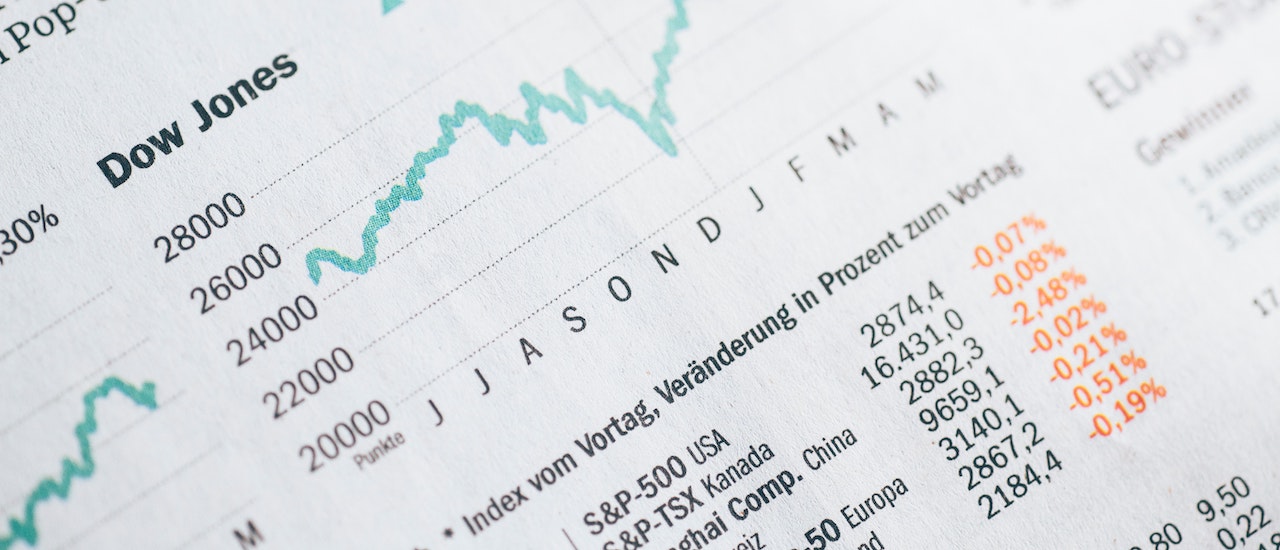 For companies operating in countries pursuing anti-privacy legislation, the answer is increasingly scary from both a user and corporate perspective.
That's because anti-privacy laws often try to accomplish their goals by breaking or bypassing encryption – arguably the strongest and most widely available form of privacy and security in our digital age. Weakening encryption makes people and nations around the world more vulnerable to harm online.
But governments around the world that pass anti-privacy legislation are incurring unplanned costs that go beyond the chilling effects of lessened privacy for their citizenry.
Laws that attack encryption and privacy stifle their local tech industry and tarnish their reputation internationally, both of which are detrimental to their own economy.
To uphold the privacy and security of their users, some companies actually end up physically exiting a region and relocating servers – rather than weakening their service. This is something that the VPN company I work for, Private Internet Access, has done multiple times with the most recent example being in Hong Kong.
The Hong Kong Example
The imposition of a new national security law in Hong Kong has granted law enforcement the writ to seize servers located in Hong Kong without a warrant and otherwise execute warrantless interception of online communications. As a result, Private Internet Access stopped hosting servers in the physical jurisdiction of Hong Kong because doing so would represent a privacy risk to our users. Though our no-log policy and secure setup are designed to protect our users even in the event a server is seized, we felt we were unable to offer a Hong Kong-based VPN gateway that maintains the exemplary level of privacy and security we demand for our users. To be clear, Internet users in Hong Kong may use our service, we just can't physically host an exit gateway in Hong Kong given the current laws in effect.
Private Internet Access isn't the only tech company that has had to react quickly to the new anti-privacy laws in Hong Kong. Reactions ranged from companies like Zoom, Microsoft, Facebook, Google, and Twitter announcing that they would stop processing data requests from Hong Kong law enforcement, to other companies that have also removed their servers and ended existing business relationships in Hong Kong.
These government attacks on privacy and encryption may seem a whole other world away, but there is likely a battlefield to be found in your home country. Several governments worldwide have either passed or are considering laws that would change the legal playing field in which tech companies operate.
Legislation targeting encryption or encrypted data is an attack on privacy.
There are four general types of anti-privacy laws targeted at encryption or encrypted data emerging around the world: warrantless access, mandatory logs, mandatory man-in-the-middle access, and mandatory backdoors. Here's how the security of people and businesses at risk.
When a government has granted itself the power to go into any data center located on its sovereign soil and seize servers, such as in Hong Kong, they are able to access any unencrypted data on those servers.
When a government has mandated that data centers and Internet service providers retain Internet activity logs or connection records, they've saved the metadata for future analysis and use.
With mandatory man-in-the-middle access and with warrantless server access, governments are put in the privileged position to execute attacks on encrypted data by any means, including the use of unpatched vulnerabilities known as "zero-days."
Mandatory backdoors force companies using encryption to add backdoors that allow governments access to encrypted data, but in doing so make their customers vulnerable to criminals and other bad actors because there's no such thing as a backdoor that only the government can access.
The new national security law in Hong Kong provides for warrantless access to servers. Yet, this is also a threat in countries without laws permitting it.
For instance, Private Internet Access has previously physically left countries such as Russia and South Korea for that very reason. Legislation requiring mandatory Internet logs to be stored at the ISP or data center level is something that has passed in countries like Australia, Russia, and the United Kingdom. Germany is the latest country to legislate for mandatory man-in-the-middle access for its law enforcement while countries like the United States and India have been pushing for mandatory encryption backdoors. The list goes on and on.
Regulations targeting encryption are not the only types of proposed legislation that create unfavorable legal environments for Internet companies to thrive. There are many others that have legal experts on edge for their potential impact on the customer privacy and security.
When such laws are passed, tech companies face difficult choices. Governments around the world need to realize that attacking encryption not only damages civil liberties but also has real economic impacts – something that should make any self-interested government wary. After all, other legislation like trade agreements take so long to negotiate because of the acknowledged drastic economic impact. Despite this logical framework, technology and the Internet seems to be the one area in which governments legislate without regard for the potential economic impact.
Strong encryption practices are critical to the development of national economies worldwide. With the growing importance of the tech industry in every country's economy, governments must support end-to-end encryption to ensure they don't legislate away their competitive edge.
Author: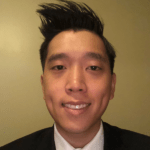 Image by Markus Spiske via Unsplash
===
Data leak: Corona test results of almost 400,000 Slovaks public
By guenni 20. September 2020
[German]
Serious data leak in Slovakia: The corona test results of almost 400,000 Slovaks were publicly available on the Internet. There is no need for hackers anymore if personal data is handled so carelessly.
Deutsche Welle reports on the case in the Corona Ticker and writes there in English:
Slovakia: The personal data of about 400,000 people who were tested for the coronavirus was leaked online after a cybersecurity breach of the state public health system.

The data leaked included names, dates of birth, addresses, test results, information on disease progression and other laboratory data.

The breach has now been repaired, reported authorities.
IT specialist Pavol Luptak came across the data by chance. He writes on Twitter that the personal data of Slovaks on COVID 19 tests was found publicly.
A coronavirus app has published this personal data. The English language Slowakia Spectator reported about the data breach in Slovakia. In the Moje eZdravie app the security researchers found a trivial vulnerability, as they write in this blog post. The vulnerability allowed the security researchers to retrieve personal information about more than 390,000 patients tested for COVID-19 in Slovakia. Personal information on more than 130,000 patients was retrieved for the demonstration, and more than 1,600 of them tested positive for COVID-19.
The personal information obtained for each patient includes first and last name, birth number, date of birth, sex, cell phone number, place of residence, details of clinical symptoms (pneumonia, fever, cough, malaise, rhinitis, headache, joint and muscle pain), code samples, the date of the exact sampling, the laboratory that performed the test, the applicant's doctor, the protocol number, the date of receipt and examination, the type of test and, of course, its result.
The vulnerability was actually trivially exploitable: any public search engine could call an API that provided the data. This way, the data of the tested patients were indexed in the search engine and could be viewed. Access to the API was in no way protected by authentication. The patient records could be retrieved by simply enumerating a numerical identifier. There were probably no mechanisms that could prevent the massive downloading of these data, and all data were retrievable in unencrypted format. The security researchers reported the vulnerability on 13 September 2020 via the official CSIRT channel, whereupon public access to the data was blocked on 16 September 2020.