UPDATE 06. May 2022: Xi Jinping Calls in Communist Leaders to Berate Them Out of Questioning Endless Lockdown Policy
UPDATE 28. October 2021: CONTINUOUS GOVERNMENT LIES: Top UK Health Official Admits That A Covid 'Plan C' Has Been 'Proposed'
UPDATE 23. July 2021: 'The harm done by lockdown will last for decades'
UPDATE 08. January 2021: PLANET LOCKDOWN - A WALK WITH CATHERIEN AUSTIN FITTS
UPDATE 03. January 2021: Ecuador: State of emergency imposed since Dec. 21 was declared unconstitutional - Ecuador unlikely to reimpose lockdown: health minister
UPDATE 22. December 2020: Catherine Austin Fitts | Full Interview | Planet Lockdown
UPDATE 18. December 2020: Catherine Austin Fitts – Reset Means Digital Control System
UPDATE 30. November 2020: THE BEAST SYSTEM & COVID-1984: CATHERINE AUSTIN FITTS & DR. SHERRI TENPENNY
UPDATE 04. May 2020: Nobel Laureate: 'Coronavirus Lockdown Policy Was Huge Mistake, There Will Be a Reckoning'
ICYMI: 'Professor Lockdown' Modeler (Neil Ferguson) Resigns in Disgrace
PROLOGUE: Understand the Bankster created Plandemic and their intended end game!
Austin Fitts Explains the Politics of COVID-19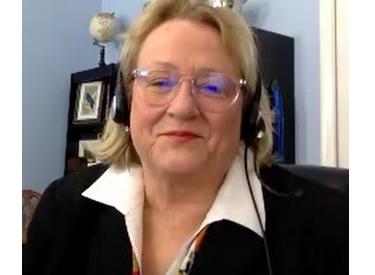 Catherine Austin Fitts, Youtube
By NTK - 08. April 2020
Catherine Austin Fitts says there is a connection between what she calls the current plandemic and the fact that we are in the middle of an economic war. America traded the gold standard for pegging the US dollar to oil, but the rest of the world wants to break free from the US dollar. She says the pandemic is being used to stop inflation, which will result from an economic slump. China is planning the Silk Road to capture the center of global power.
China is no longer buying US Treasury notes but is using the ones she already holds to buy American businesses, natural resources, and land. Fitts also says Israel and the US co-engineered 5G for crowd-control purposes and that the contest between China and the US over 5G is to determine who will control the backdoor of the technology.
She has much more to say about globally prominent personalities, housing bubbles, missing trillions of government money, civil war, global war, and crypto currency. If you are looking for a different perspective on current affairs, this is it. -GEG
Catherine Austin Fitts is an American investment banker and former public official who served as managing director of Dillon, Read & Co. and as United States Assistant Secretary of Housing and Urban Development for Housing during the Presidency of George H.W. Bush.
===
UPDATES:
Xi Jinping Calls in Communist Leaders to Berate Them Out of Questioning Endless Lockdown Policy
Chinese leader Xi Jinping chaired a meeting of the Chinese Communist Party on Thursday in which he appeared to warn members against questioning the Party's draconian "zero tolerance" policy toward the Chinese coronavirus, which has seen Shanghai and Beijing endure punishing lockdowns in recent days, Xinhua News Agency reported.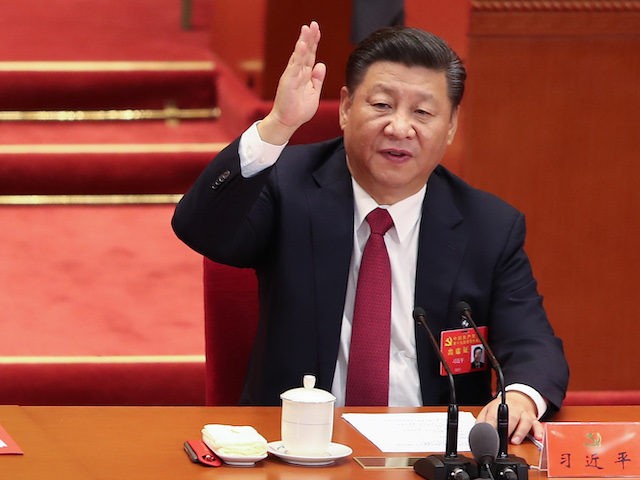 "The meeting stressed the importance of unswervingly adhering to the dynamic zero-COVID [Chinese coronavirus] policy and resolutely fighting any attempts to distort, question or dismiss China's anti-COVID [Chinese coronavirus] policy," Xinhua, which is China's official state-run press agency, reported on May 5.
The meeting was comprised specifically of "the Standing Committee of the Political Bureau of the Communist Party of China (CPC) Central Committee [and] was chaired by Xi Jinping, general secretary of the CPC Central Committee," according to Xinhua. Xi Jinping not only presided over the summit but also "delivered an important speech" during the assembly, indicating his voice provided the guiding thread for the meeting's overarching message, as relayed by Xinhua.
An observer of China's ruling Communist Party named David Bandurski, who also servesas a co-director of the University of Hong Kong's China Media Project, argued that Xi Jinping and the Chinese Communist Party (CCP)'s Standing Committee used specific language during their May 5 meeting that "should be read as a direct criticism of unspecified local CCP leaders who have questioned the policies at the center, or who have been insufficiently successful in applying them."
China's ruling Communist Party ordered a city-wide lockdown of Shanghai on April 5 to contain the city's latest epidemic of the Chinese coronavirus. The edict remained in place at press time on May 6, meaning all of Shanghai's nearly 26 million residents have been confined to their homes for an entire month. Shanghai's total lockdown followed a mandatory testing scheme for all of the city's residents that saw one-half of Shanghai locked down for five days at a time from March 28 to April 5. Just as the testing measures were due to expire on April 5, Shanghai's Communist Party-controlled government shocked the metropolis by issuing its total lockdown notice.
Shanghai's extreme movement restrictions have especially upset the financial hub's populace as they were imposed after Chinese state health authorities confirmed that the majority of Shanghai's latest Chinese coronavirus caseload was asymptomatic.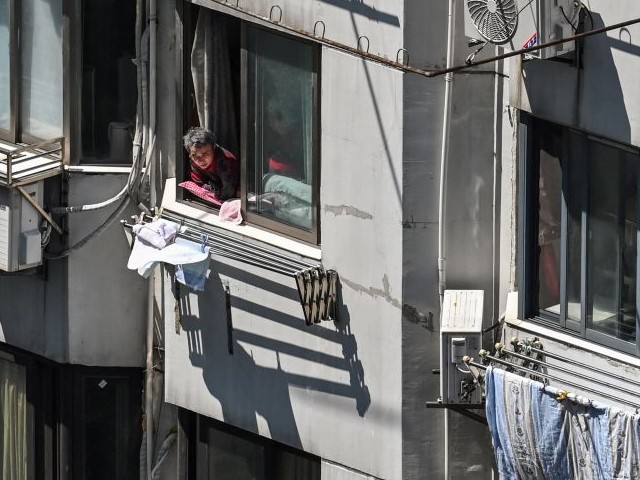 A resident looks out at the street from their window during the coronavirus lockdown in the Jing'an district in Shanghai on May 5, 2022. (HECTOR RETAMAL/AFP via Getty Images)
"The broader lockdown came after testing saw asymptomatic COVID-19 [Chinese coronavirus] cases surge to more than 13,000. Symptomatic cases fell on Monday [April 4] to 268, from 425 the previous day," Reuters observed on April 5.
Beijing, China's national capital, has largely followed in Shanghai's anti-epidemic footsteps since April 22, when its latest outbreak of the Chinese coronavirus began. Reuters reported on April 29 that Beijing had "closed more residential compounds," indicating that the city's Communist Party officials had already begun sealing off personal residences prior to that date. Beijing's government — which is directly administered by China's central government — had yet to announce a total lockdown of the city's 21.3 million residents at press time on May 6, though it continued to tighten movement restrictions. Beijing, on May 4, indefinitely closed dozens of subway stations across the metropolis accounting for 12 percent of the city's vast transit system.
"On Wednesday Beijing reported just 51 local infections, five of them asymptomatic," Agence France-Presse reported of the city's Chinese coronavirus caseload on May 4.
===
CONTINUOUS GOVERNMENT LIES:
Top UK Health Official Admits That A Covid 'Plan C' Has Been 'Proposed'
By Niamh Harris - 28. October 2021
Boris Johnson (pictured) and his health minister Agrar denied so far, but a covid "plan C" has been proposed, according to Department of Health and Social Care (DHSC) science chief Professor Lucy Chappell,
The Governments senior scientific adviser admitted that the idea of so-called 'plan C' restrictions has been discussed should the surge in covid cases get worse.
Last week, health minister Edward Argar denied there was a harsher 'plan c' option which could see mixing between households banned over Christmas if the current back up plan fails to suppress the spread of the virus.
Sky News reports: There has been pressure for the government to move from the current level of COVIDcontrols to "plan B", which involves working from home and mask-wearing in enclosed spaces.
And speaking in front of a parliamentary committee, Professor Lucy Chappell, chief scientific adviser at the DHSC, was asked about the plans.
"[Plan C] has been proposed – the name has been mentioned," she said.
"It is not being extensively worked up – people have used the phrase."
The revelation came following a question from Rebecca Long-Bailey – to which Prof Chapelle said that "plan A and plan B and whatever the plan C looks like" are not mutually exclusive.
Asked further by the Science and Technology Committee's chair, Greg Clark, about the matter, Prof Chappell said "at the moment the focus is on plan B".
Asked if they were aware of preparations beyond plan B, Dr Thomas Waite, the interim deputy chief medical officer at the DHSC said he had not been consulted on the matter of Plan C, and Prof Chapell shook her said and said no.
A government spokesman said: "As we have repeatedly made clear, there is no plan C. We knew the coming months would be challenging which is why we set out our Plan A and Plan B for autumn and winter last month.
"We are monitoring all the data closely and the government remains committed to taking further action if necessary to protect the NHS from being overwhelmed."
On Thursday last week, Mr Argar was asked by Sky News' Kay Burley about reports that "plan C" would involve a ban on different households mixing.
The minister said: "Of course as a government, as we've done with plan B, we look at alternatives and ways that you might, if you needed to, start easing that pressure [on the NHS] but the specifics that are mooted in it, about limiting household mixing, about going back, is that it isn't something that's being actively considered.
"There is no intention to reinvent lockdown, one of the reasons we did it last year is we didn't have the vaccine and earlier this year it was still being rolled out.
Author:
===
'The harm done by lockdown will last for decades'
Carl Heneghan on where we went wrong in the fight against Covid.
By SPIKED - 23. July 2021
Over the past 18 months, we have had three national lockdowns. We have grappled with all kinds of other restrictions, too – masks, social distancing and more. Yet despite all this, over 125,000 people have died. Have any of the measures actually worked? And have they justified the enormous collateral damage they have undoubtedly caused?
Carl Heneghan is the director of Oxford University's Centre for Evidence-Based Medicine and sits on the board of Collateral Global, a publication that analyses the global impact of Covid restrictions. spiked caught up with him to find out more.
spiked: Why do you feel that lockdowns are such an ineffective tool in the fight against Covid?
Heneghan: In healthcare, people like quick fixes. There are some amazing examples of them, like antibiotics, which can be silver bullets. When you look at lockdowns, they seem like such a simple intervention that will sort everything out. It's as if magically, all of the cases will disappear.
In reality, lockdowns are a kind of intervention that has not been tried before. The debate about them has become a political argument as opposed to an evidence-based one. That has created all sorts of issues, because it has allowed opinions to reign over evidence. In situations like that, we should not intervene with lockdowns. All healthcare interventions should start with the premise of 'first, do no harm'. But the conversation about the balance of benefits and harms is not being had, even now.
Lockdowns don't really help in care homes or with hospital-acquired infections. Care homes and hospitals make up a big chunk of the caseload. The thinking is that lockdowns reduce the risk among young people and that this will aid the wider population. But if you build up immunity among the young, you get a better barrier against the spread of the virus through the rest of society.
'Flattening the curve' just slows down the transmission rate of the virus. It does not affect the overall attack rate. That means we have just prolonged the pandemic.
spiked: What about the collateral damage of lockdowns?
Heneghan: The collateral damage will start to emerge over the next two to five years. Clinically speaking, that is what has happened in previous pandemics like the Ebola crisis – it caused an upsurge in measles two years later, because it disrupted vaccination programmes.
It's similar with economics. We are borrowing a lot of money and at some point, somebody will have to switch the tap off.
The longer all this goes on, the more the harms will accentuate. The anxiety instilled in the population is already so ingrained that even as we are opening up, many people remain highly fearful.
We are going to be talking about the damage of lockdowns for decades to come. Will we try to bury it all, or will we think critically about what we did and how well it went?
spiked: How should the government deal with the 'pingdemic'?
Heneghan: We have had so many interventions against Covid. Lockdowns. Social distancing. Masks. Test and trace. At some point, somebody is going to have to ask the question of which ones work. The case data suggests that not many of them do.
It could be that test and trace works in certain situations. There is evidence to suggest that many young people, for example, are only contagious for 24 to 48 hours. They could probably self-isolate for a short time, fairly effectively. But once we make people self-isolate for 10 days, and make them do so on multiple occasions, the chances of them adhering to the rules obviously fall. What we need to do is find out how infectious people are. Otherwise, we will continue forcing people to self-isolate unnecessarily.
spiked: Now that so many people are vaccinated, is there any justification at all for measures like vaccine passports?
Heneghan: In a liberal democracy, vaccine passports are a non-starter. In a policy sense, their introduction shows a lack of experience. We don't appear to be weighing up the benefits and the harms when we make these decisions.
Part of the reason for introducing vaccine passports seems to be to encourage young people to get vaccinated. But if you have just had Covid, you have to wait for a month before getting vaccinated. There are hundreds of thousands of people aged between 16 and 40 who are getting the virus at the moment. They won't be able to get vaccinated until August. We are marginalising them.
spiked: Do you think we will get back to normality soon?
Heneghan: The situation reminds me of HIV in the 1980s and 1990s. There used to be adverts on TV about the virus, depicting tombstones. It was really scary. One day, the government decided to change the narrative, because it realised it had done more harm than good. I think that's what's going to happen with Covid. But we are still some way away from that. I don't think we'll be back to a normal mindset before May or June next year.
In order to get back to normal, we need to fix the data. People see snippets of data and they panic, without asking any questions about it. Until we put things in their proper context, our problems will continue.
Author:
Carl Heneghan was speaking to Paddy Hannam. SPIKED
===
PLANET LOCKDOWN - A WALK WITH CATHERIEN AUSTIN FITTS
First published on BITCHUTE January 8th, 2021.
Catherine discusses the broad spectrum of our current situation.
It was done as apart of the full length documentary. We are releasing the full interview for the betterment of public understanding of the situation.
Catherine's analysis can be found at: https://home.solari.com
===
Ecuador: State of emergency imposed since Dec. 21 was declared unconstitutional
Ecuador unlikely to reimpose lockdown: health minister
By Xinhua - 03. January 2021
QUITO -- Ecuador is unlikely to reimpose a nationwide lockdown despite an increasing COVID-19 infection rate, said Vice Minister of Health Xavier Solorzano on Sunday.
His remarks came the same day as a state of emergency imposed since Dec. 21 was declared unconstitutional.
The 30-day state of emergency, which included a daily curfew and restrictions on mobility, drinking and hospitality industry, could have a strong adverse effect on the economy as well as people's mental health, Solorzano said in a television interview.
Following the Constitutional Court's ruling, Ecuadorian President Lenin Moreno said that the government will continue to apply measures within its reach to save lives.
Ecuador has registered over 214,600 COVID-19 cases and 9,495 confirmed deaths as of Sunday.
The country was expected to begin a vaccination program this month, said Moreno.
DETAILS: Corte Constitucional: Decreto 1217 para estado de excepción es inconstitucional
===
Catherine Austin Fitts | Full Interview | Planet Lockdown
•Dec 22, 2020 (Deleted by the criminal GooTube censors!)
This sit down interview with Catherine covers the spectrum of the current situation we find ourselves in. It was conducted as apart of the full length documentary. We are releasing the full interview for the betterment of public understanding of the situation. Catherine's analysis can be found at: https://home.solari.com The full film, when released, will be available at https://www.PlanetLockdownFilm.com
BACKUP:
PLANET LOCKDOWN FILM - CATHERINE AUSTIN FITTS, FULL INTERVIEW
Re-published on BITCHUTE January 8th, 2021. (another BACKUP HERE)
"This sit down interview with Catherine covers the spectrum of the current situation we find ourselves in.
It was conducted as apart of the full length documentary. We are releasing the full interview for the betterment of public understanding of the situation.
Catherine's analysis can be found at: https://home.solari.com
The full film, when released, will be available at https://www.PlanetLockdownFilm.com
Sign up to receive notification of the release of the feature length documentary film and full interviews by clicking here:
https://aw6dcc5.aweb.page/p/28c34ce9-88a2-41f6-be0f-4bd7c1c2d3e2
===
Catherine Austin Fitts – Reset Means Digital Control System
•Dec 18, 2020
Join Greg Hunter of USAWatchdog.com as he goes One-on-One with Catherine Austin Fitts, Publisher of The Solari Report."
Investment advisor and former Assistant Secretary of Housing Catherine Austin Fitts says the reset is "the end of currencies." She goes on to say, "It's the death of currencies. Currency is something that is liquid. Currency is something I can put in my pocket and walk away. This is a digital control system. This is a credit at the company store. You will be given a credit at the company store, and if you do what you are told, you can buy things at the company store, but you can't start your own store. That's what we are watching right now in the U.S. economy. This is how it works.
The insiders and their businesses are deemed essential and can stay open. Then they can do a series of things to shut down all the independent people and herd all those cash flows into theirs. So, you can't go to church and you can't sing, but you can stream Netflix. You can go to Costco. You can go to Walmart. . . . If the Fed and New York money center banks can make money from it, it's essential, and you can do it. They can borrow from the Fed at 0%, and our credit cards cost 16%. This is how this works.
So, this is economic warfare, and it's designed to destroy the independent producer."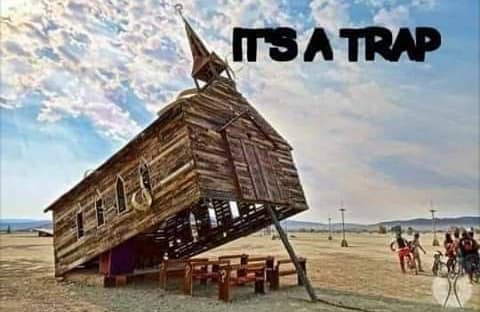 ===
Nobel Laureate: 'Coronavirus Lockdown Policy Was Huge Mistake, There Will Be a Reckoning'
By NW - 04. May 2020
This is a very revealing interview. As the US and UK continue their disastrous 'lockdown' policy, derelict politicians and mainstream media pundits are slow to acknowledge the serious damage on the economic and societal fronts building. Leaders seem determined to double-down on what seems to be a failed policy of virus containment even though scientists had already shown that the crisis had in fact peaked some weeks ago.
According to Professor Michael Levitt from Standford University's School of Medicine, "There is no doubt in my mind, that when we come to look back on this, the damage done by lockdown will exceed any saving of lives by a huge factor."
In other words, the 'cure' of government mandated mass-quarantine is actually worse than the disease. Prof. Levitt also points out that Sweden should be seen as a clear winner in term of its choice to avoid lockdown policy.
Prof Levitt believes the UK was actually on the right path when Boris Johnson had initially unveiled a plan similar to Sweden's, but was then quickly pressured by a media and political opposition into pursing the self-destructive 'lockdown' approach.
"I think the policy of herd immunity is the right policy. I think Britain was on exactly the right track before they were fed wrong numbers. And they made a huge mistake."
He also added that a lesson learned going forward should be not to accept the diktats of political leaders and their appointed 'experts' at face value, while warning that:
"There will be a reckoning. Maybe countries will start to see that they need governments that are not necessarily great in rhetoric, but [who are] actually thinking [when] doing things. I often go back and think about what Socrates said 2,400 years ago, 'Use your common sense, instead of listening to the rhetoric of leaders."
UnHerd reports…
As he is careful to point out, Professor Michael Levitt is not an epidemiologist. He's Professor of Structural Biology at the Stanford School of Medicine, and winner of the 2013 Nobel Prize for Chemistry for "the development of multiscale models for complex chemical systems." He's a numbers guy — as he told us in our interview, his wife says he loves numbers more than her — but then, much of modern science is really about statistics (as his detractors never tire of pointing out, Professor Neil Ferguson is a theoretical physicist by training).
With a purely statistical perspective, he has been playing close attention to the Covid-19 pandemic since January, when most of us were not even aware of it. He first spoke out in early February, when through analysing the numbers of cases and deaths in Hubei province he predicted with remarkable accuracy that the epidemic in that province would top out at around 3,250 deaths.
His observation is a simple one: that in outbreak after outbreak of this disease, a similar mathematical pattern is observable regardless of government interventions. After around a two week exponential growth of cases (and, subsequently, deaths) some kind of break kicks in, and growth starts slowing down. The curve quickly becomes "sub-exponential".
This may seem like a technical distinction, but its implications are profound. The 'unmitigated' scenarios modelled by (among others) Imperial College, and which tilted governments across the world into drastic action, relied on a presumption of continued exponential growth — that with a consistent R number of significantly above 1 and a consistent death rate, very quickly the majority of the population would be infected and huge numbers of deaths would be recorded. But Professor Levitt's point is that that hasn't actually happened anywhere, even in countries that have been relatively lax in their responses.
He takes specific issue with the Neil Ferguson paper. "In a footnote to a table it said, assuming exponential growth of 15% for six days. Now I had looked at China and had never seen exponential growth that wasn't decaying rapidly."
The explanation for this flattening that we are used to is that social distancing and lockdowns have slowed the curve, but he is unconvinced. As he put it to me, in the subsequent examples to China of South Korea, Iran and Italy, "the beginning of the epidemics showed a slowing down and it was very hard for me to believe that those three countries could practice social distancing as well as China." He believes that both some degree of prior immunity and large numbers of asymptomatic cases are important factors.
Prof Levitt was joining us down the line from Tel Aviv and we had intermittent bandwidth issues which have done our best to edit out. Watch:
.
(con't) He also observes that the total number of deaths we are seeing, in places as diverse as New York City, parts of England, parts of France and Northern Italy, all seem to level out at a very similar fraction of the total population. "Are they all practicing equally good social distancing? I don't think so." He disagrees with Sir David Spiegelhalter's calculations that the totem is around one additional year of excess deaths, while (by adjusting to match the effects seen on the quarantined Diamond Princess cruise ship) he calculates that it is more like one month of excess death that is need before the virus peters out.
More generally, he complains that epidemiologists only seem to be called wrong if they underestimate deaths, and so there is an intrinsic bias towards caution. "They see their role as scaring people into doing something, and I understand that… but in my work, if I say a number is too small and I'm wrong, or too big and I'm wrong, both of those errors are the same."
On the moral issue of lockdown as a measure to supposedly "save lives", Dr. Levitt explains,"When we come to look back on this, the damage done by lockdown will exceed any saving of lives – by a huge factor."
"Economists have a very simple way of of looking at death. They don't count people, (rather) they come to the conclusion that if you're 20 (years old) and you die that's a greater loss than if you're 85, and you die. It's a hard issue, but …. are we evaluating the potential of future – like of the 20 year old, or are we valuing the loss of a more senior person by what's called DALY, 'Disability-Adjusted Life Years.' Basically, if somebody is in their 80's and has Alzheimer's disease and then dies from pneumonia perhaps due to Corona, that is less of a 'loss' than if a 15 year old is riding his motorcycle, or his bike, and gets run over. So this is an important way of looking at the death."
Levitt also believes the much-discussed R0 is a faulty number. R0 is a mathematical term which is meant to indicate how contagious an infectious disease is by calculating its reproduction number. The R0 (or "R number" as the British PM Boris Johnson has renamed it), was made popular in Hollywood films, and can be highly misleading. It is more a theoretical representation, and is presently being misused by some officials, and is essentially meaningless without the time infectious alongside. In other words, the R0 is meaningless without the context of the time in which a case is 'infectious.'
He describes indiscriminate lockdown measures as "a huge mistake," and advocates a "smart lockdown" policy, focused on more effective measures, focused on protecting elderly people.
"I think the policy of herd immunity is the right policy. I think Britain was on exactly the right track before they were fed wrong numbers. And they made a huge mistake. I see the standout winners as Germany and Sweden. They didn't practice too much lockdown and they got enough people sick to get some herd immunity. I see the standout losers as countries like Austria, Australia and Israel that had very strict lockdown but didn't have many cases. They have damaged their economies, caused massive social damage, damaged the educational year of their children, but not obtained any herd immunity."
.
See the original report at UnHerd
Visit Professor Michael Levitt's Levitt Lab and see his COVID-19 reports HERE
===
THE BEAST SYSTEM & COVID-1984:
CATHERINE AUSTIN FITTS & DR. SHERRI TENPENNY
A SGTreport.TV exclusive interview with Catherine Austin Fitts & Dr. Sherri Tenpenny about Covid-19 and the Beast system to come., thanks for tuning in! I'm making this public now because it's simply too important to keep as a members-only exclusive.