UPDATE 23. April 2021: The WHO Confirms that the Covid-19 PCR Test is Flawed: Estimates of "Positive Cases" are Meaningless. The Lockdown Has No Scientific Basis
UPDATE 21. April 2021: Reiner Fuellmich Interview 21 April 2021 (ss titres francais)
UPDATE 09. April 2021: French Nat'l Academy of Medicine: COVID nasal swabs associated with increased meningitis risk
UPDATE: 21. January 2021: WHO Admits High-Cycle PCR Tests Produce Massive COVID False Positives - Right on Cue for Biden
PROLOGUE: After the World Health Organization (WHO) already admitted that Masks don't work, it's head - the war-criminal Tedros Ghebreyesus Adhanom - now also rows back on the PCR test. But without the placet given by the WHO for the fake Drosten-Test, the pandemie could never have been postulated. The damage is done and for this the UN must and will have to be held fully responsible - to the full extent. This time the UN can not wiggle itself out of its responsibility like in the cholera-death cases of Haiti.
WHO (finally) admits PCR tests create false positives - Warnings concerning high CT value of tests are months too late…so why are they appearing now? The potential explanation is shockingly cynical.
By Kit Knightly - 18. December 2020
The World Health Organization released a guidance memo on December 14th, warning that high cycle thresholds on PCR tests will result in false positives.
While this information is accurate, it has also been available for months, so we must ask: why are they reporting it now? Is it to make it appear the vaccine works?
The "gold standard" Sars-Cov-2 tests are based on polymerase chain reaction (PCR). PCR works by taking nucleotides – tiny fragments of DNA or RNA – and replicating them until they become something large enough to identify. The replication is done in cycles, with each cycle doubling the amount of genetic material. The number of cycles it takes to produce something identifiable is known as the "cycle threshold" or "CT value". The higher the CT value, the less likely you are to be detecting anything significant.
This new WHO memo states that using a high CT value to test for the presence of Sars-Cov-2 will result in false-positive results.
To quote their own words [our emphasis]:
Users of RT-PCR reagents should read the IFU carefully to determine if manual adjustment of the PCR positivity threshold is necessary to account for any background noise which may lead to a specimen with a high cycle threshold (Ct) value result being interpreted as a positive result.
They go on to explain [again, our emphasis]:
The design principle of RT-PCR means that for patients with high levels of circulating virus (viral load), relatively few cycles will be needed to detect virus and so the Ct value will be low. Conversely, when specimens return a high Ct value, it means that many cycles were required to detect virus. In some circumstances, the distinction between background noise and actual presence of the target virus is difficult to ascertain.
Of course, none of this is news to anyone who has been paying attention. That PCR tests were easily manipulated and potentially highly inaccurate has been one of the oft-repeated battle cries of those of us opposing the "pandemic" narrative, and the policies it's being used to sell.
Many articles have been written about it, by many experts in the field, medical journalists and other researchers. It's been commonly available knowledge, for months now, that any test using a CT value over 35 is potentially meaningless.
Dr Kary Mullis, who won the Nobel Prize for inventing the PCR process, was clear that it wasn't meant as a diagnostic tool, saying:
with PCR, if you do it well, you can find almost anything in anybody."
And, commenting on cycle thresholds, once said:
If you have to go more than 40 cycles to amplify a single-copy gene, there is something seriously wrong with your PCR."
The MIQE guidelines for PCR use state:
Cq values higher than 40 are suspect because of the implied low efficiency and generally should not be reported,"
This has all been public knowledge since the beginning of the lockdown. The Australian government's own website admitted the tests were flawed, and a court in Portugal ruled they were not fit for purpose.
Even Dr Anthony Fauci has publicly admitted that a cycle threshold over 35 is going to be detecting "dead nucleotides", not a living virus.
Despite all this, it is known that many labs around the world have been using PCR tests with CT values over 35, even into the low 40s.
So why has the WHO finally decided to say this is wrong? What reason could they have for finally choosing to recognise this simple reality?
The answer to that is potentially shockingly cynical: We have a vaccine now. We don't need false positives anymore.
Notionally, the system has produced its miracle cure. So, after everyone has been vaccinated, all the PCR tests being done will be done "under the new WHO guidelines", and running only 25-30 cycles instead of 35+.
Lo and behold, the number of "positive cases" will plummet, and we'll have confirmation that our miracle vaccine works.
After months of flooding the data pool with false positives, miscounting deaths "by accident", adding "Covid19 related death" to every other death certificate…they can stop. The create-a-pandemic machine can be turned down to zero again.
…as long as we all do as we're told. Any signs of dissent – masses of people refusing the vaccine, for example – and the CT value can start to climb again, and they bring back their magical disease.
===
UPDATE:
The WHO Confirms that the Covid-19 PCR Test is Flawed: Estimates of "Positive Cases" are Meaningless. The Lockdown Has No Scientific Basis
By Prof Michel Chossudovsky 21. March 2021, updated 23. April 2021
The Real Time Reverse Transcription Polymerase Chain Reaction (rRT-PCR) test was adopted by the WHO on January 23, 2020 as a means to detecting the SARS-COV-2 virus, following the recommendations of a Virology research group (based at Charité University Hospital, Berlin), supported by the Bill and Melinda Gates Foundation. (For Further details see the Drosten Study)
Exactly one year later on January 20th, 2021, the WHO retracts. They don't say "We Made a Mistake". The retraction is carefully formulated.
While the WHO does not deny the validity of their misleading January 2020 guidelines, they nonetheless recommend "Re-testing" (which everybody knows is an impossibility).
The contentious issue pertains to the number of amplification threshold cycles (Ct). According to Pieter Borger, et al
The number of amplification cycles [should be] less than 35; preferably 25-30 cycles. In case of virus detection, >35 cycles only detects signals which do not correlate with infectious virus as determined by isolation in cell culture…(Critique of Drosten Study)
The World Health Organization (WHO) tacitly admits one year later that ALL PCR tests conducted at a 35 cycle amplification threshold (Ct) or higher are INVALID. But that is what they recommended in January 2020, in consultation with the virology team at Charité Hospital in Berlin.
If the test is conducted at a 35 Ct threshold or above (which was recommended by the WHO), segments of the SARS-CoV-2 virus cannot be detected, which means that ALL the so-called confirmed "positive cases" tabulated in the course of the last 14 months are invalid.
According to Pieter Borger, Bobby Rajesh Malhotra, Michael Yeadon, et al, the Ct > 35 has been the norm "in most laboratories in Europe & the US".
The WHO's Mea Culpa
Below is the WHO's carefully formulated "Retraction". The full text with link to the original document is in annex:
WHO guidance Diagnostic testing for SARS-CoV-2 states that careful interpretation of weak positive results is needed (1). The cycle threshold (Ct) needed to detect virus is inversely proportional to the patient's viral load. Where test results do not correspond with the clinical presentation, a new specimen should be taken and retested using the same or different NAT technology. (emphasis added)
WHO reminds IVD users that disease prevalence alters the predictive value of test results; as disease prevalence decreases, the risk of false positive increases (2). This means that the probability that a person who has a positive result (SARS-CoV-2 detected) is truly infected with SARS-CoV-2 decreases as prevalence decreases, irrespective of the claimed specificity.
"Invalid Positives" is the Underlying Concept
This is not an issue of "Weak Positives" and "Risk of False Positive Increases". What is at stake is a "Flawed Methodology" which leads to invalid estimates.
What this admission of the WHO confirms is that the estimate of covid positive from a PCR test (with an amplification threshold of 35 cycles or higher) is invalid. In which case, the WHO recommends retesting: "a new specimen should be taken and retested…".
The WHO calls for "Retesting", which is tantamount to "We Screwed Up".
That recommendation is pro-forma. It won't happen. Millions of people Worldwide have already been tested, starting in early February 2020. Nonetheless, we must conclude that unless retested, those estimates (according to the WHO) are invalid.
I should mention that there are several other related flaws regarding the PCR test which are not addressed in this article. (See Michel Chossudovsky's E-book: The 2020 Worldwide Corona Crisis: Destroying Civil Society, Engineered Economic Depression, Global Coup d'État and the "Great Reset" (Chapter III)
From the outset, the PCR test has routinely been applied at a Ct amplification threshold of 35 or higher, following the January 2020 recommendations of the WHO. What this means is that the PCR methodology as applied Worldwide has in the course of the last 12-14 months led to the compilation of faulty and misleading Covid statistics.
And these are the statistics which are used to measure the progression of the so-called "pandemic". Above an amplification cycle of 35 or higher, the test will not detect fragments of the virus. Therefore, the official "covid numbers" are meaningless.
It follows that there is no scientific basis for confirming the existence of a pandemic.
Which in turn means that the lockdown / economic measures which have resulted in social panic, mass poverty and unemployment (allegedly to curtail the spread of the virus) have no justification whatsoever.
According to scientific opinion:
"if someone is tested by PCR as positive when a threshold of 35 cycles or higher is used (as is the case in most laboratories in Europe & the US), the probability that said person is actually infected is less than 3%, the probability that said result is a false positive is 97% (Pieter Borger, Bobby Rajesh Malhotra, Michael Yeadon, Clare Craig, Kevin McKernan, et al, Critique of Drosten Study)
As outlined above, "the probability that said result is a false positive is 97%": It follows that using the >35 cycles detection will indelibly contribute to "hiking up" the number of "fake positives".
At the time of writing (mid-March 2021), despite the WHO retraction, the PCT test is being used extensively to hike up the numbers with a view to sustaining the fear campaign, justifying the ongoing lockdown policies as well as the implementation of the Covid vaccine.
Ironically, the flawed numbers based on "invalid positives" are in turn being manipulated to ensure an upward trend in Covid positives.
Moreover, those PCR tests are not routinely accompanied by a medical diagnosis of the patients who are being tested.
And now, national health authorities have issued (fake) warnings of a "Third Wave" as part of their propaganda campaign in support of the Covid-19 Vaccine.
The WHO confirms that the Covid PCR test procedure as applied is invalid. There is absolutely no scientific basis for implementing the Covid Vaccine.
Both the WHO and the scientific assessment of Pieter Borger, et al (quoted above) confirm unequivocally that the tests adopted by governments to justify the lockdown and the destabilization of national economies are INVALID.
Invalid Data and the Numbers' Game
It should be understood that these "invalid estimates" are the "numbers" quoted relentlessly 24/7 by the media in the course of the "First Wave" and "Second Wave", which have been used to feed the fear campaign and "justify" ALL the policies put forth by the governments:
lockdown,
closure of economic activity,
poverty and mass unemployment,
bankruptcies
social distancing,
face mask,
curfew,
the vaccine.
the health passport
Invalid Data. Think Twice Before Getting Vaccinated
And Now we have entered a so-called "Third Wave". (But where's the data??)
It's a complex "Pack of Lies".
It's a crime against humanity.
***
Postscript
Since its release on March 21, 2021, quite unexpectedly tens of thousands of people have read this article.
My intent was essentially to Refute and Reveal the Big Lie (focussing on scientific and statistical concepts) without directly addressing the broader implications of the lockdown and closure of economic activity.
This diabolical project which emanates from the upper echelons of the financial establishment (including the World Economic Forum) is destroying people's lives Worldwide. It is creating mass unemployment, triggering famines in developing countries.
With some exceptions including Tanzania, most of the 193 member states of the United Nations have endorsed the WEF's "corona consensus".
The Truth is a peaceful yet powerful weapon.
Now is the time to confront those governments and demand a repeal of the lockdown policies which are triggering poverty and despair Worldwide.
The WHO's BIG LIE is refuted by the WHO.
The alleged pandemic is a scam. That is something which cannot be denied or refuted.
And that was the object of this article.
It's a complex scam based on "a pack of lies" with devastating consequences.
In the course of the last 14 months starting in early January 2020, I have analyzed almost on a daily basis the timeline and evolution of the Covid crisis. From the very outset in January 2020, people were led to believe and accept the existence of a rapidly progressing and dangerous epidemic.
We are at the crossroads of one of the most serious crises in World history. We are living history, yet our understanding of the sequence of events since January 2020 has been blurred.
Worldwide, people have been misled both by their governments and the media as to the causes and devastating consequences of the Covid-19 "pandemic".
The unspoken truth is that the novel coronavirus provides a pretext and a justification to powerful financial interests and corrupt politicians to precipitate the entire World into a spiral of mass unemployment, bankruptcy, extreme poverty and despair.
More than 7 billion people Worldwide are directly or indirectly affected by the corona crisis.
I invite Global Research readers to view the Video below (which provides an overview) as well as consult my E-Book (consisting of 10 chapters) which addresses in detail the complexities of this crisis.
The 2020 Worldwide Corona Crisis: Destroying Civil Society, Engineered Economic Depression, Global Coup d'État and the "Great Reset"
Also please forward this article. Your support is invaluable.
Video
.
Annex

Nucleic Acid Testing (NAT) Technologies that Use Polymerase Chain Reaction (PCR) for Detection of SARS-CoV-2
Product type: Nucleic acid testing (NAT) technologies that use polymerase chain reaction (PCR) for detection of SARS-CoV-2
Date: 13 January 2021
WHO-identifier: 2020/5, version 2
Target audience: laboratory professionals and users of IVDs.
Purpose of this notice: clarify information previously provided by WHO. This notice supersedes WHO Information Notice for In Vitro Diagnostic Medical Device (IVD) Users 2020/05 version 1, issued 14 December 2020.
Description of the problem: WHO requests users to follow the instructions for use (IFU) when interpreting results for specimens tested using PCR methodology.
Users of IVDs must read and follow the IFU carefully to determine if manual adjustment of the PCR positivity threshold is recommended by the manufacturer.
WHO guidance Diagnostic testing for SARS-CoV-2 states that careful interpretation of weak positive results is needed (1). The cycle threshold (Ct) needed to detect virus is inversely proportional to the patient's viral load. Where test results do not correspond with the clinical presentation, a new specimen should be taken and retested using the same or different NAT technology.
WHO reminds IVD users that disease prevalence alters the predictive value of test results; as disease prevalence decreases, the risk of false positive increases (2). This means that the probability that a person who has a positive result (SARS-CoV-2 detected) is truly infected with SARS-CoV-2 decreases as prevalence decreases, irrespective of the claimed specificity.
Most PCR assays are indicated as an aid for diagnosis, therefore, health care providers must consider any result in combination with timing of sampling, specimen type, assay specifics, clinical observations, patient history, confirmed status of any contacts, and epidemiological information.
Actions to be taken by IVD users:
Please read carefully the IFU in its entirety.
Contact your local representative if there is any aspect of the IFU that is unclear to you.
Check the IFU for each incoming consignment to detect any changes to the IFU.
Provide the Ct value in the report to the requesting health care provider.
Notes
1. Diagnostic testing for SARS-CoV-2. Geneva: World Health Organization; 2020, WHO reference number WHO/2019-nCoV/laboratory/2020.6.
2. Altman DG, Bland JM. Diagnostic tests 2: Predictive values. BMJ. 1994 Jul 9;309(6947):102. doi: 10.1136/bmj.309.6947.102.
Author:
Michel Chossudovsky is an award-winning author, Professor of Economics (emeritus) at the University of Ottawa, Founder and Director of the Centre for Research on Globalization (CRG), Montreal, Editor of Global Research. He has taught as visiting professor in Western Europe, Southeast Asia, the Pacific and Latin America. He has served as economic adviser to governments of developing countries and has acted as a consultant for several international organizations. He is the author of eleven books including The Globalization of Poverty and The New World Order (2003), America's "War on Terrorism" (2005), The Global Economic Crisis, The Great Depression of the Twenty-first Century (2009) (Editor), Towards a World War III Scenario: The Dangers of Nuclear War (2011), The Globalization of War, America's Long War against Humanity (2015). He is a contributor to the Encyclopaedia Britannica. His writings have been published in more than twenty languages. In 2014, he was awarded the Gold Medal for Merit of the Republic of Serbia for his writings on NATO's war of aggression against Yugoslavia. He can be reached at []
Michel Chossudovsky, Biographical Note
===
Reiner Fuellmich Interview 21 April 2021 (ss titres francais)
By De Groene Geus - 26. April 2021
German lawyer Reiner Fuellmich participated in an interview conducted by Stéphane Blais and attorney Dominic Desjarlais (Quebec).
Progress is being made and many lies are being unveiled…
Mirrored from Mariaisler70, 26-4-2021 (69min).
The German lawyer Reiner Fuellmich (1958) has had a long career in which he has conducted controversial lawsuits. Fuellmich has focused on investigating the facts surrounding the current crisis from April 2020. Together with a team of specialists, he has had a large number of investigations that have brought him to the point where he can determine that he and his team have evidence of the true facts.
Fuellmich calls the events of the past year the worst crime ever committed against humanity. It is not about health.
https://www.openpetition.eu/petition/online/stop-the-vaccination-certificate-in-the-eu?fbclid=IwAR0qyGk-z7HdqTE5XwZ7CZspPiia3cj2M965E2NESbVBGjx2BgP2O6NpXMU
Pfizer's former Vice President and Chief Scientist for Allergy and Respiratory, Michael Yeadon, here to discuss his expert opinion on the topics of COVID Illusion, asymptomatic spread, mRNA vaccine technology, as well as suppression and outright censorship of medical and scientific experts.
https://www.thelancet.com/journals/lancet/article/PIIS0140-6736(21)00425-6/fulltext
https://onlinelibrary.wiley.com/doi/10.1111/eci.13554?fbclid=IwAR2ff36mgB7n0wYKAXwPvwhe8ma11G_3FD_-ZgHU7jvK52Qlkce6zIceqIQ
https://www.who.int/news/item/20-01-2021-who-information-notice-for-ivd-users-2020-05?fbclid=IwAR19f3bFkjLwoELkEStphb6s_YCIY2o7mn6UX_PCGwwpO5Q1AI0G7227AyA
Here is a study from Wuhan where they followed up on about 10 million people. It shows that asymptotic positive tested people, tested with PCR test, are incapable of spreading the Coronavirus:
https://www.nature.com/articles/s41467-020-19802-w?fbclid=IwAR0-RMOGRpCv6f6PLAxTjnw8-hNCLqmilbUFxMi2iSZEAefZem4PVBD_mK4
https://americanconservativemovement.com/2021/04/17/stanford-study-quietly-published-at-nih-gov-proves-face-masks-are-absolutely-worthless-against-covid/?fbclid=IwAR3gbpX0u0MgLZJIc-_ALQ5F8S68TINe84wYmDUMRFGrInvTNBOLLYjFhGA
https://www.ncbi.nlm.nih.gov/pmc/articles/PMC7680614/
Is a Mask That Covers the Mouth and Nose Free from Undesirable Side Effects in Everyday Use and Free of Potential Hazards?
Many countries introduced the requirement to wear masks in public spaces for containing SARS-CoV-2 making it commonplace in 2020. Up until now, there has been no comprehensive investigation as to the adverse health effects masks can cause. The aim was to find, test, evaluate and compile scientifically proven related side effects of wearing masks. For a quantitative evaluation, 44 mostly experimental studies were referenced, and for a substantive evaluation, 65 publications were found. The literature revealed relevant adverse effects of masks in numerous disciplines. In this paper, we refer to the psychological and physical deterioration as well as multiple symptoms described because of their consistent, recurrent and uniform presentation from different disciplines as a Mask-Induced Exhaustion Syndrome (MIES). We objectified evaluation evidenced changes in respiratory physiology of mask wearers with significant correlation of O2 drop and fatigue (p < 0.05), a clustered co-occurrence of respiratory impairment and O2 drop (67%), N95 mask and CO2 rise (82%), N95 mask and O2 drop (72%), N95 mask and headache (60%), respiratory impairment and temperature rise (88%), but also temperature rise and moisture (100%) under the masks. Extended mask-wearing by the general population could lead to relevant effects and consequences in many medical fields.
https://www.mdpi.com/1660-4601/18/8/4344/htm
===
French Nat'l Academy of Medicine:
COVID nasal swabs associated with increased meningitis risk
The invasive up-the-nose tests 'are not without risks.'
By Jeanne Smits - 09. April 2021
(LifeSiteNews) – The Académie nationale de médecine, an independent but official learned society in France, published a statement on Thursday warning that nasopharyngeal swabs used for PCR tests to detect the SARS-CoV-2 virus "are not without risks." The alert came days before nasal auto-testing kits will become available in French pharmacies.
According to the statement published online by the Academy, a growing amount of data show that "complications" can and do occur, some of them "serious."
Most are "benign," and include "discomfort, pain or bleeding." But the statement notes that over the last weeks, scientific articles have been appearing in medical journals describing undesirable events "including breaches of the anterior skull base associated with a risk of meningitis."
Several studies were quoted by the Academy, including one documenting "meningitis due to cerebrospinal fluid leak after nasal swab testing for COVID-19."
The nasopharyngeal swab is done with a long, thin cotton swab introduced high up into the nasal cavity, often successively via both nostrils, and rotated quickly each time in order to collect a sample of cells and mucus to analyze for the Wuhan virus using the highly controversial PCR test, or to be used in view of an antigenic test.
The Academy noted that these tests have now become extremely common. The learned society is concerned because swabs are being increasingly used, and that more and more individuals are getting repeat tests, "sometimes in inadequate conditions."
"It is important to recall that precautions need to be taken and that risks do exist," it said.
The Academy advises that medical personnel should be making the swabs, and then exclusively those who received training to be able to observe the necessary "technical conditions."
These include asking patients whether they had a medical history of accidents or surgery in the ORL field that may have modified the anatomy of the nasal and sinus cavities, and not placing their heads in hyperextension during sample taking: they should remain in a natural position, with the chin "parallel" to the floor. Swabs should be introduced "horizontally following the base of the nasal cavity and they should under no circumstance be deviated upwards, in the direction of the base of the skull."
The Académie de médecine appears to be particularly worried about children, strongly suggesting that they should be tested using saliva samples "because of both their safety and their acceptability."
Regarding the upcoming auto-tests that also rely on nasal swabs, the statement said that their users should be warned about their use. "Auto-sampling can lead to false negatives when the swab is too shy and too superficial, but it can also become dangerous when the swab goes too deep and is orientated in the wrong direction," it said.
Auto-tests are not exactly like the nasal swabs used by health professionals in France since the beginning of the COVID crisis: the swab is shorter, wider, and less disagreeable and only requires entering three to four centimeters into the nasal cavity – some of these swabs, but not all, include a little "collar" showing how far to go. Instead of being processed in special lab instruments, the auto-test will give a positive or negative result within minutes. If negative, people are advised to continue "social distancing" and wearing masks; if positive, the result needs to be confirmed by an RT-PCR test in order to mark the "variant" and allow contact-tracing.
French health authorities are hoping that the tests will be used by private individuals who want to know their status before a visit to a vulnerable person, for instance, but they also expect to use them for large-scale testing in apartment buildings or high schools for people aged over 15.
In Germany, similar tests are being marketed and will include a flash code allowing the identification and tracking of "positive cases."
At the beginning of the crisis in March 2020, very little testing was done even on symptomatic patients, to the detriment of isolation procedures that would have stopped the spread of the virus much more efficiently. If early treatment of positive patients had been allowed and recommended, many would not have seen their condition worsen: according to Professor Christian Perronne, 24,500 deaths out of 30,000 during the spring epidemic last year could have been avoided.
Now testing in France is beyond imagination. Since March 1, 2020 and April 4 of this year, some 70 million tests were done: 57.7 million PCR tests, the rest antigenic, according to a public health statistics institution, DREES. And the numbers are going up and up: from March 29 to April 4, 3.8 million test results were validated in one week. They were obviously not limited to people with flu-like symptoms.
PCR tests remain the so-called gold standard of COVID-19 testing, even though the World Health Organization (WHO) has warnedthat they should mostly be considered as an "aid for diagnosis" and that their results should be carefully interpreted according to manufacturers' guidance and accompanied by clinical observations, among others. The WHO also said that "the probability that a person who has a positive result (SARS-CoV-2 detected) is truly infected with SARS-CoV-2 decreases as prevalence decreases."
Present curves representing the evolution of positives, hospitalizations, and deaths in France show a slow increase of the latter and a fast increase of the former as thousands of people test each day and "positives" keep climbing, while hospitalizations and deaths remain quite stable.
With the introduction of more and more kinds of tests and auto-tests, the "epidemic of cases" is not set to end.
===
WHO Admits High-Cycle PCR Tests Produce Massive COVID False Positives
Right on Cue for Biden, WHO Admits High-Cycle PCR Tests Produce Massive COVID False Positives
By Tyler Durden - 21. January 2021
Were the 'conspiracy theorists' just proven right about the "fake rescue plan" for COVID?
Did the 'science-deniers' just get confirmation that it was political after all?
The short answer to both of these questions regarding the COVID-19 'casedemic' and the fallacy of asymptomatic PCR testing is YES and YES!
We have detailed the controversy surrounding America's COVID "casedemic" and the misleading results of the PCR test and its amplification procedure in great detail over the past few months.
As a reminder, "cycle thresholds" (Ct) are the level at which widely used polymerase chain reaction (PCR) test can detect a sample of the COVID-19 virus. The higher the number of cycles, the lower the amount of viral load in the sample; the lower the cycles, the more prevalent the virus was in the original sample.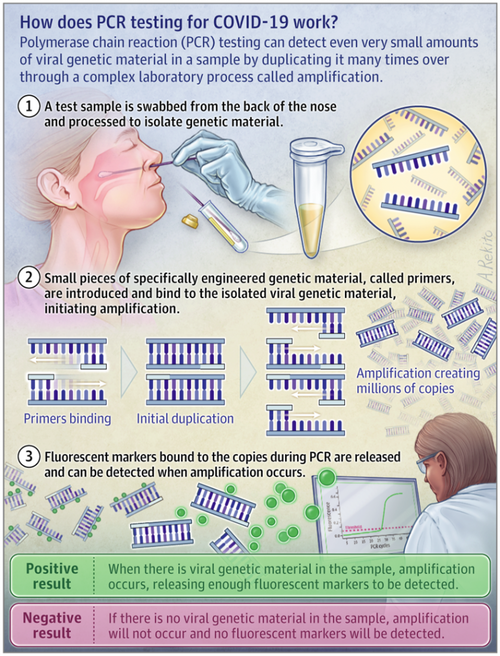 Numerous epidemiological experts have argued that cycle thresholds are an important metric by which patients, the public, and policymakers can make more informed decisions about how infectious and/or sick an individual with a positive COVID-19 test might be. However, as JustTheNews reports, health departments across the country are failing to collect that data.
In fact, as far back as October, we brought the world's attention to the COVID-19 "casedemic" and the disturbing reality of high-cycle threshold PCR tests being worse than useless as indicators of COVID-19 "sickness". PJMedia's Stacey Lennox said at the time:
Biden will issue national standards, like the plexiglass barriers in restaurants he spoke about during the debate, and pressure governors to implement mask mandates using the federal government's financial leverage.

Some hack at the CDC or FDA will issue new guidance lowering the Ct the labs use, and cases will magically start to fall.

In reality, the change will only eliminate false positives, but most Americans won't know that.

Good old Uncle Joe will be the hero, even though it is Deep-State actors in the health bureaucracies who won't solve a problem with testing they have been aware of for months. TDS is a heck of a drug.
And now, as Lennox explains in detail below, we have been proved 100% correct as less than one hour after President Biden's inauguration, the WHO proved us right.
In August of last year, The New York Times published an article stating that as many as 90% of COVID-19 tests in three states were not indicative of active illness. In other words, they were picking up viral debris incapable of causing infection or being transmitted because the cycle threshold (Ct) of the PCR testing amplified the sample too many times.
Labs in the United States were using a Ct of 37-40. Epidemiologists interviewed at the time said a Ct of around 30 was probably more appropriate. This means the CDC's COVID-19 test standards for the PCR test would pick up an excessive number of false positives. The Times report noted the CDC's own data suggested the PCR did not detect live virus over a Ct of 33. The reporter also noted that clinicians were not receiving the Ct value as part of the test results.
Yet a PCR test instruction document from the CDC that had been revised five times as of July 13, 2020, specified testing and interpretation of the test using a Ct of 40. On September 28, 2020, a study published in the journal Clinical Infectious Diseases from Jaafar et al. had asserted, based on patient labs and clinical data involving nearly 4,000 patients, that a Ct of 30 was appropriate for making public policy. An update to the CDC instructions for PCR testing from December 1, 2020, still uses a Ct of 40.
Shortly before the New York Times article was published, the CDC revised its COVID-19 test recommendations, saying that only syptomatic patients should be tested. The media went insane, and Dr. Fauci went all over television saying he was not part of the decision to change the testing standards:
"I am concerned about the interpretation of these recommendations and worried it will give people the incorrect assumption that asymptomatic spread is not of great concern. In fact it is."
So, of course, the Mendacious Midget™ had spoken, and the guidelines went back to testing everyone, all the time, with an oversensitive test.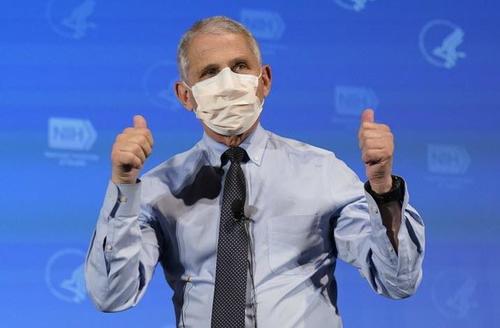 The idea that asymptomatic spread was a concern as of August was just one of many lies Dr. Fauci told. At the beginning of the pandemic in late January, he said:
The one thing historically that people need to realize is that even if there is some asymptomatic transmission, in all the history of respiratory borne viruses of any type, asymptomatic transmission has never been the driver of outbreaks. The driver of outbreaks is always a symptomatic person. Even if there is a rare asymptomatic person that might transmit, an epidemic is not driven by asymptomatic carriers.
There is not a single study or meta-analysis that differs from Fauci's original assessment.
Today, within an hour of Joe Biden being inaugurated and signing an executive order mandating masks on all federal property, the WHO sent out a notice to lab professionals using the PCR test. It said:
WHO guidance Diagnostic testing for SARS-CoV-2 states that careful interpretation of weak positive results is needed (1).

The cycle threshold (Ct) needed to detect virus is inversely proportional to the patient's viral load.

Where test results do not correspond with the clinical presentation, a new specimen should be taken and retested using the same or different NAT technology.
literally one hour after Biden takes the oath, the WHO admits that PCR testing at high amplification rates alters the predictive value of the tests and results in a huge number of false positives pic.twitter.com/iDtXmappRw

— Andy Swan (@AndySwan) January 20, 2021
This translates to "in the absence of symptoms, a high Ct value means you are highly unlikely to become ill or get anyone else sick in the absence of very recent exposure to an infected person."
Dr. Fauci knew this in July when he said that tests with a Ct above 35 were likely picking up viral debris or dead virus.
Even at a Ct of 35, the incidence of virus samples that could replicate is very low, according to Jaafar et al.
The only state I know that requires reporting the Ct with every test is Florida, which started this policy in December.
The WHO went on, stating:
Most PCR assays are indicated as an aid for diagnosis, therefore, health care providers must consider any result in combination with timing of sampling, specimen type, assay specifics, clinical observations, patient history, confirmed status of any contacts, and epidemiological information.
In short, a positive PCR test in the absence of symptoms means nothing at a Ct of higher than 30, according to the experts interviewed by the New York Times and according to Jaafar et al. Yet positive tests is the number CNN loves flashing on the screen.
If the percentage found by the Times in August holds, there have been approximately 2.43 million actual cases to date, not 24.3 million.
There is also no way to calculate the deaths from COVID-19 rather than deaths with some dead viral debris in the nostrils.
What I have referred to as the "casedemic" since September will be magically solved just in time for Joe Biden to look like a hero. For doing absolutely nothing.
Do not tell me there is not a politicized deep state in our health agencies. Do not ever tell me I need to listen to Dr. Anthony Fauci again. And every business owner who has been ruined because of lockdowns due to a high number of "cases" should be livid. Any parent whose child has lost a year of school should be furious.
None of this was for your health. It was to get rid of Orange Man Bad.
now they will drop the cycle rates and you can watch the curve go negative... like magic... because the new magic man isn't the bad man and the masks he ordered worked!!!!!

— Andy Swan (@AndySwan) January 20, 2021
As an aside, this also clearly explains the disappearance of the "flu" during this season as the plethora of high Ct PCR Tests supposedly pointing to a surge in COVID are nothing of the sort.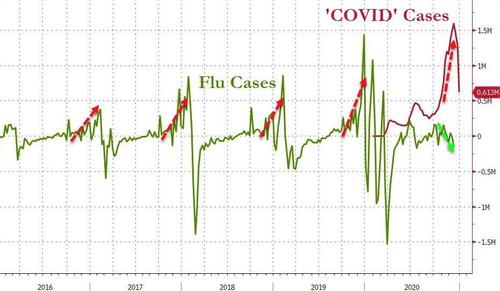 As Stephen Lendman noted previously, claiming "lockdowns stopped flu in its tracks, (outbreaks) plummet(ting) by 98% in the United States" ignored that what's called COVID is merely seasonal influenza combined with false positives (extremely high Ct) from PCR-Tests.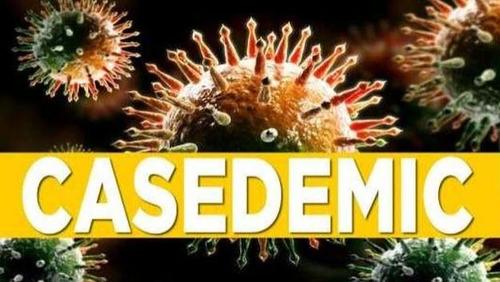 And for that reason, the great 2020 disappearing flu passes largely under the mass media's radar.
Media proliferated mass deception and the power of repetition get most people to believe and having successfully "killed the flu", they will now do the same with COVID… and, if allowed by our betters, we will all return to the new normal they desire.
The WHO knew all along the PCR tests were worthless. I would say they have known that for years in fact. Jail time for the perpetrators of this scam is in order. This time even those in drug companies, that make vaccines should see some jail time as well. They worship a good pandemic.
READ ALSO:
PCR Covid 19 Tests are Worthless
They still have not Isolated the Covid Virus
Evidence Covid Virus does not exist
Questions you Ask all Governments before getting the Covid Vaccine
The many Dangers of Lockdowns Number of deaths per year in Canada and the US. Less died in 2020 then previous years.
MUST READ: