UPDATE 04. May 2021: The Criminalization of Dissent
UPDATE 29. March 2021: COVID - THE KILLER OF SCIENTISTS. He who discovers SARS viruses dies! In memory of Carlo Urbani
UPDATE 25. February 2021: A PROMINENT HEALTH-AUTHOR HAS BEEN MURDERED - Educator, Frank Suarez Has Passed Away - Mainstream mum
UPDATE 29. December 2020: Robert Kiyosaki: Big Pharma "threatened to have me killed" for criticizing coronavirus vaccine
UPDATE 28. December 2020: FREE Zhang Zhan: China jails citizen journalist for Wuhan reports
UPDATE 25. December 2020: Moderna CEO Stéphane Bancel spills the beans during WEF Livestream
UPDATE 20. December 2020: Dissidents in The Age of Vaccines
UPDATE 19. December 2020: Dr. Paul Thomas Targeted By Medical Board & Media After Landmark Vaccine Study - Interview + According to a report from a lawyer: COVID-19 vaccine critic and whistleblower Jean-Bernard Fourtillan was freed from the detention in a psychatric institution. Confirmed (see videos below)
UPDATE 19. December 2020: LifeSite, Ted Cruz, Robert F. Kennedy Jr. challenge COVID totalitarianism
IYMI: Vaccine Whistleblower Brabdy Vaughan Found Dead After Saying She'd Never Commit Suicide & BRUTAL POLICE ATTACK AGAINST INNOCENT SCIENTIST IN GERMANY
IMPORTANT: What's Really Behind Mandatory Vaccines? - Brandy Vaughan + Former Merck Whistleblower Details Mandatory Vaccine Push - MUST WATCH !!!
PROLOGUE: NUREMBERG 2.0 TRIALS MUST COME SOON! The fact that the WHO announced on 21. December 2020 to only sent in January 2021 a mission to the Wuhan Institute for Virology and their BSL-4 laboratory with the task to find answers to the question of the origin of the contagion - more than a full year AFTER the outbreak and after several WHO cover-up "missions" - is a hard punch into the face of the international community and especially of Australia, who had demanded an independent, international investigation into the whole SARS-CoV-2 and COVID-19 affairs and a trial since long.
Jean-Bernard Fourtillan NOW FREE AGAIN!
Accomplished pharma Professor thrown in psychiatric hospital after questioning official COVID narrative
Prof. Jean-Bernard Fourtillan - illegally held in detention at a psychatric hospital
By Jeanne Smits - 11. December 2020
Early on December 10, Jean-Bernard Fourtillan was taken from his home by a team of French law enforcement officers and forcibly placed in solitary confinement at the psychiatric hospital of Uzès.
Early on December 10, Jean-Bernard Fourtillan, a French retired university professor known for his strong opposition to COVID-19 vaccines such as those presently being distributed in the U.K., was taken from his temporary home in the south of France by a team of "gendarmes" — French law enforcement officers under military command — and forcibly placed in solitary confinement at the psychiatric hospital of Uzès. His mobile phones were taken from him, and at the time of writing, he had not been allowed to communicate with the outside world. The order for his internment appears to have been issued by the local "préfet," the official representative of the French executive.
The systematic use of psychiatric hospitals in order to silence or punish political opponents became widespread under communism, having started shortly after the Bolshevik revolution in Russia in 1917. The method developed under Stalin and then expanded as opposition to the "socialist paradise" came to be considered a sign of mental illness. Under the 1966 penal code of the USSR, repression of dissidents openly targeted those who "spread false propaganda defaming the Soviet State and its social system."
Fourtillan, a longtime critic of vaccines that use dangerous adjuvants such as aluminum (the 11 compulsory vaccines for newborns in France contain 17 times the maximum dose of aluminum defined as toxic by the World Health Organization), has been vocal during the COVID-19 crisis. He offers "alternative" explanations and warnings regarding the apparition of the SARS-COV-2 virus and the RNA vaccines that work by injecting pieces of virus message RNA with nanolipids with the aim of causing human cells to start fabricating viral particles and to thus trigger an immunological reaction.
Uzès, home of the psychiatric hospital where Jean-Bernard Fourtillan is being held against his will. Begir / Shutterstock.com
In particular, Fourtillan has accused the French Institut Pasteur, a private non-profit foundation that specializes in biology, micro-organisms, contagious diseases, and vaccination, of having "fabricated" the SARS-COV-2 virus over several decades and been a party to its "escape" from the Wuhan P4 lab — unbeknownst to the lab's Chinese authorities — which was built following an agreement between France and China signed in 2004.
Relations between France and China regarding the project cooled over the years as China put its own interests first, but in 2017, France's then–Interior minister, Bernard Cazeneuve, joined the official opening ceremony of the Wuhan Institute of Virology's P4 lab, together with Yves Lévy, co-president of the steering committee. Lévy is the husband of Agnès Buzyn, who was France's health minister when the COVID-19 crisis erupted. She was also responsible for signing the decree that banned over-the-counter sales of hydroxychloroquine in France in January 2020.
Is Jean-Bernard Fourtillan's accusation true? While the Institut Pasteur has verbally announced that it would sue Fourtillan over the accusation, no judiciary action has been forthcoming on that front, and indeed, Fourtillan himself has since lodged a complaint against a spokesman of the Institute for "libel and lies that are prejudicial to the peoples of the world."
Fourtillan himself has said he hopes legal proceedings will allow him to produce evidence he has built up: he is in fact anxious to debate the issues at stake. Now that he is in a psychiatric hospital, the possibility of this happening — in the interest of discovering the truth — is becoming more remote.
Among the public documents Fourtillan has analyzed and made public are patents for SARS-COV-1, which contains parts of the malaria virus, dating back to 2003. The patents were used by various labs to develop vaccines. The year 2011 saw the Institut Pasteur filing a further patent application for "SARS-COV-2," which was identical to the previous one, according to Fourtillan, who says this was done because commercial exploitation of the first patent started in 2003 and would expire 20 years later, in 2023. According to Fourtillan, four sequences of the HIV virus — responsible for AIDS — were added to the contagion, in view of creating further vaccines.
This point was also raised in France last April by Prof. Luc Montagnier, who won the 2008 Nobel Prize for medicine for having discovered HIV in 1983 together with another French scientist, Françoise Barré-Sinoussi. Last April, Montagnier stated that the SARS-COV-2 virus was the result of a human manipulation. He was ridiculed by the mainstream media, but in August, an Italian microbiologist came to the same conclusion: Prof. Joseph Tritto published a book calling the Wuhan virus a "chimera."
Montagnier, who had worked with a mathematician, described his findings through an analogy. Imagine the coronavirus as a "puzzle" with 30,000 pieces, and then consider several other 9,000-piece puzzles representing HIV-1, HIV-2, and SIV (another retrovirus close to the AIDS virus but targeting monkeys). If three pieces coming from each one of these smaller puzzles were to be found next to each other in the 30,000-piece puzzle, the probability of this having happened naturally would be nil. This is analogous to the presence of parts of the HIV sequence in SARS-COV-2, according to Montagnier.
According to Fourtillan, the present virus causing COVID-19 is this artificial 'virus'. Fourtillan — as well as other researchers of the present crisis — considers this indisputable evidence that the COVID-19 pandemic was planned. He believes that on October 13, 2015, a patent application was filed for a COVID-19 test; this was followed by commercialization in the whole world in 2017 for a whopping 10 billion dollars.
These claims are disputed on the grounds that the reference to the 2015 patent is only part of the later May 2020 patent, also filed by one Richard A. Rothschild, but was quoted as related to the remote diagnosis of COVID-19, enhancing the original patent as it were for the particular case of COVID-19.
Who is right? A sincere, public assessment and debate would lift any confusion or error, voluntary or not, but Fourtillan is now being treated as if he were both dangerous and insane.
Fourtillan gained widespread publicity when a recent film by Pierre Barnérias, giving a voice to critics of the official narrative, became viral in France. In Hold-Up, Fourtillan spoke of his concern that the COVID-19 crisis was fabricated and is being used to impose a dangerous vaccine on the world population.
Fourtillan is himself familiar with patenting procedures, as his résumé shows, having personally filed some 400 patents in the medical field. The French internet medium France Soir described him as follows: "Jean-Bernard FOURTILLAN, Ph.D., Chemical Engineer, Pharmacist, Hospital Pharmacist, Professor of Therapeutic Chemistry and Pharmacokinetics at the Faculty of Medicine and Pharmacology of the University of Poitiers, Expert Pharmacologist Toxicologist, specialized in Pharmacokinetics."
Fourtillan's forced internment made no mention of the COVID-19 controversy, which to date has led to no judicial proceedings, instead being officially linked to a lawsuit that has been opened against him for illegal practice of medicine because of his work on a hormonal patch against neuro-degenerative diseases such as Parkinson's disease, Alzheimer's, and others affecting motoric system, balance, and memory, as well as sleep disorders.
His theory is that pollution, adjuvants such as aluminum in vaccines, and electro-magnetic interference destroy dark matter in the brain through lack of hormones, and he has — successfully, he claims — tested the administration of a hormone patch of valentonin and 6-Méthoxy-Harmalan (sleep and waking hormones), to compensate the damage, on 402 adults, himself included, who accepted the procedure under their sole responsibility and who were warned that the patch was not a drug, but a "technical sample, not for human use." The procedure costs only a fraction of the price of newly developed drugs for these conditions.
Fourtillan had had a good rapport with the judge charged with the preliminary investigation of the case, Brigitte Jolivet of Poitiers. During his first interrogations at the end of 2019, she appeared to be convinced by his arguments, and the case was proceeding normally.
Last month, Fourtillan, who was staying in the south of France with his wife, was visited by four gendarmes coming from Marseille, who entered his rented cottage and asked for his computers. Although they had no search warrant, Fourtillan handed them over, saying he had nothing to hide, and that on the contrary, he was anxious to have his documents and methods assessed.
He saw the gendarmes leave and hand over his computers to a man in plain clothes in a car nearby.
Days later, his bank accounts and credit cards were suddenly blocked by an authority whose identity was not revealed to him. His pensions were also blocked.
Fourtillan had been summoned to a hearing in the lawsuit concerning his valentonin "treatment" on December 4 in Paris. He did not go, invoking the fact that he now had no way of paying for a train ticket to the French capital.
This information was given to LifeSite by a person who works with Fourtillan on the website https://verite-covid19.com/ and who knows him well — well enough to state that he "is certainly not insane," having spent time with him recently.
Six days later, on Thursday morning, gendarmes once more came to Fourtillan's home and asked him to accompany them in order to answer questions about his refusal to join the December 4 hearing in Paris.
Fourtillan agreed readily.
However, from the moment he left his home with the law enforcement officers, he was not able to communicate with his family.
One of his lawyers, Marc Fribourg — who has since gone on record saying that Fourtillan is a "conspiracy theorist" — revealed that he was taken to the Uzès psychiatric hospital of Le Mas Careiron, where he has been held since. His other lawyer, who previously commended Fourtillan for the efficiency of his hormonal patches, was not reachable today.
Sources:
===
Prof. Jean-Bernard Fourtillan coined the sentence « Le Covid-19 est un virus français, inventé par l'institut Pasteur » and is therein supported by: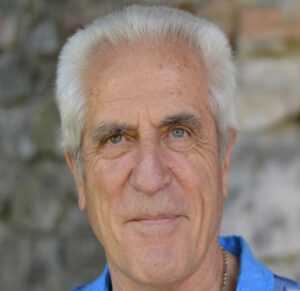 Dr Christian Tal Schaller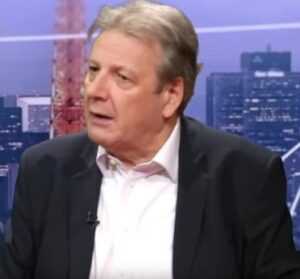 Dr Serge Rader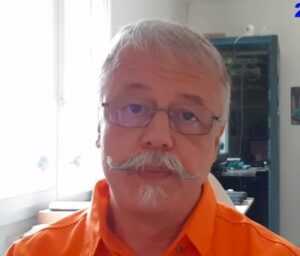 Frédéric Chaumont - presenter
===
JEAN BERNARD FOURTILLAN FREED
19. December 2020
See:
===
JEAN BERNARD FOURTILLAN FOUND THE TRUTH ABOUT SARS-COV-2
First published on BITCHUTE December 16th, 2020.
Professor Fourtillan, who appeared in "Hold-Up", he has been interned in a psychiatric hospital against his will. Jean Bernard Fourtillan professor of pharmacology and toxicology speaks out about the origin of SARS CoV virus. He is a hero among the heroes.
Fourtillan exposing the SARS-COV- 2 conspiracy. They faked it so that they could roll out the genocidal vaccine. This is why they locked him up.
I found this video here: https://www.brighteon.com/545b716a-ac9b-4410-9077-79429cf92449 where the writer states:
"I would add that it looks to me as if the purpose of the vaccine is to make sure that the Covid-19 biological weapon goes viral everywhere. So far, all this talk of asymptomatic carriers has been bollocks, but once ignorant, dangerous people willingly take the vaccine, they will become real asymptomatic carriers and god help the rest of us who wouldn't touch the vaccine with a bloody barge pole! In my view, these dangerous vaccine-takers should be isolated on some godforsaken island reserved for the monumentally stupid and kept well away from the rest of us so they can't infect us. We'll send all the vaccine-pushing politicians to live with them."
There are many others making comments that lead down the same road - the fact that they have locked up Fourtillan should send shivers down anyone's spine. His comments agree with earlier information in this video: https://www.bitchute.com/video/LtyVhYr9TNtY/
Credits to:
Un Héros à l'assaut du Mal | Channel 'Vivre sur le Fil' | 05/12/2020: https://www.youtube.com/watch?v=TIihEpfxCyI
Un lanceur d'alerte et Professeur interné de force! | Channel Terra- Formations | 10/12/2020: https://www.youtube.com/watch?v=2b4dzRZVAo8
The family asks not to call the hospital anymore, the lawyers will take care of it, thank you all.
See article from France Soir: : https://www.francesoir.fr/societe-faits-divers/alerte-info-le-pr-fourtillan-qui-est-apparu-dans-hold-interne-en-hopital
Video of an informed lawyer: https://www.youtube.com/watch?v=79HEa_6AIxU
---
VIDEO IN FRENCH:
That is why Dr. Jean - Bernard Fourtillan was forcibly... - NewTube
https://newtube.app/user/ENKI/2uBzU9k
That is why Dr. Jean - Bernard Fourtillan was forcibly hospitalized. - 8:52.
===
===
UPDATES:
The Criminalization of Dissent
By CJ Hopkins 04. May 2021
One of the hallmarks of totalitarian systems is the criminalization of dissent. Not just the stigmatization of dissent or the demonization of dissent, but the formal criminalization of dissent, and any other type of opposition to the official ideology of the totalitarian system. Global capitalism has been inching its way toward this step for quite some time, and now, apparently, it is ready to take it.
Germany has been leading the way. For over a year now, anyone questioning or protesting the "Covid emergency measures" or the official Covid-19 narrative has been demonized by the government and the media, and, sadly, but not completely unexpectedly, the majority of the German public. And now such dissent is officially "extremism."
Yes, that's right, in "New Normal" Germany, if you dissent from the official state ideology, you are now officially a dangerous "extremist." The German Intelligence agency (the "BfV") has even invented a new category of "extremists" in order to allow themselves to legally monitor anyone suspected of being "anti-democratic and/or delegitimizing the state in a way that endangers security," like … you know, non-violently protesting, or speaking out against, or criticizing, or satirizing, the so-called "New Normal."
Naturally, I'm a little worried, as I have engaged in most of these "extremist" activities. My thoughtcrimes are just sitting there on the Internet waiting to be scrutinized by the BfV. They're probably Google-translating this column right now, compiling a list of all the people reading it, and their Facebook friends and Twitter followers, and professional associates, and family members, and anyone any of the aforementioned people have potentially met with, or casually mentioned, who might have engaged in similar thoughtcrimes.
You probably think I'm joking, don't you? I'm not joking. Not even slightly. The Federal Office for Protection of the Constitution ("Bundesamt für Verfassungsschutz") is actively monitoring anyone questioning or challenging the official "New Normal" ideology … the "Covid Deniers," the "conspiracy theorists," the "anti-vaxxers," the dreaded "Querdenkers" (i.e., people who "think outside the box"), and anyone else they feel like monitoring who has refused to join the Covidian Cult. We're now official enemies of the state, no different than any other "terrorists" … or, OK, technically, a little different.
As The New York Times reported last week (German Intelligence Puts Coronavirus Deniers Under Surveillance), "the danger from coronavirus deniers and conspiracy theorists does not fit the mold posed by the usual politically driven groups, including those on the far left and right, or by Islamic extremists." Still, according to the German Interior Ministry, we diabolical "Covid deniers," "conspiracy theorists," and "anti-vaxxers" have "targeted the state itself, its leaders, businesses, the press, and globalism," and have "attacked police officers" and "defied civil authorities."
Moreover, back in August of 2020, in a dress rehearsal for the "Storming of the Capitol," "Covid-denying" insurrectionists "scaled the steps of Parliament" (i.e., the Reichstag). Naturally, The Times neglects to mention that this so-called "Storming of the Reichstag" was performed by a small sub-group of protesters to whom the German authorities had granted a permit to assemble (apart from the main demonstration, which was massive and completely peaceful) on the steps of the Reichstag, which the German police had, for some reason, left totally unguarded. In light of the background of the person the German authorities issued this "Steps-of-the-Reichstag" protest permit to — a known former-NPD functionary, in other words, a neo-Nazi — well, the whole thing seemed a bit questionable to me … but what do I know? I'm just a "conspiracy theorist."
According to Al Jazeera, the German Interior Ministry explained that these querdenking "extremists encourage supporters to ignore official orders and challenge the state monopoly on the use of force." Seriously, can you imagine anything more dangerous? Mindlessly following orders and complying with the state's monopoly on the use of force are the very cornerstones of modern democracy … or some sort of political system, anyway.
But, see, there I go, again "being anti-democratic" and "delegitimizing the state," not to mention "relativizing the Holocaust" (also a criminal offense in Germany) by comparing one totalitarian system to another, as I have done repeatedly on social media, and in a column I published in November of 2020, when the parliament passed the "Infection Protection Act," which bears no comparison whatsoever to the "Enabling Act of 1933."
This isn't just a German story, of course. As I reported in a column in February, The "New Normal" War on Domestic Terror is a global war, and it's just getting started. According to a Department of Homeland Security "National Terrorism Advisory System Bulletin" (and the "liberal" corporate-media propaganda machine), "democracy" remains under imminent threat from these "ideologically-motivated violent extremists with objections to the exercise of governmental authority" and other such "grievances fueled by false narratives" including "anger over Covid-19 restrictions."
These Covid-denying "violent extremists" have apparently joined forces with the "white-supremacist, Russia-backed, Trump-loving "Putin-Nazis" that terrorized "democracy" for the past four years, and almost overthrew the US government by sauntering around inside the US Capitol Building without permission, scuffling with police, attacking furniture, and generally acting rude and unruly. No, they didn't actually kill anyone, as the corporate media all reported they did, but trespassing in a government building and putting your feet up on politicians' desks is pretty much exactly the same as "terrorism."
Or whatever. It's not like the truth actually matters, not when you are whipping up mass hysteria over imaginary "Russian assets," "white-supremacist militias," "Covid-denying extremists," "anti-vax terrrorists," and "apocalyptic plagues." When you're rolling out a new official ideology — a pathologized-totalitarian ideology — and criminalizing all dissent, the point is not to appear to be factual. The point is just to terrorize the shit out of people.
As Hermann Goering famously explained regarding how to lead a country to war (and the principle holds true for any big transition, like the one we are experiencing currently):
"[T]he people can always be brought to the bidding of the leaders. That is easy. All you have to do is tell them they are being attacked and denounce the pacifists for lack of patriotism and exposing the country to danger."
Go back and read those quotes from the German Interior Ministry and the DHS again slowly. The message they are sending is unmistakeably clear. It might not seem all that new, but it is. Yes, they have been telling us "we are being attacked" and denouncing critics, protesters, and dissidents for twenty years (i.e., since the War on Terror was launched in 2001, and for the last four years in their War on Populism), but this is a whole new level of it … a fusion of official narratives and their respective official enemies into a singular, aggregate official narrative in which dissent will no longer be permitted.
Instead, it will be criminalized, or it will be pathologized.
Seriously, go back and read those quotes again. Global capitalist governments and their corporate media mouthpieces are telling us, in no uncertain terms, that "objection to their authority" will no longer be tolerated, nor will dissent from their official narratives. Such dissent will be deemed "dangerous" and above all "false." It will not be engaged with or rationally debated. It will be erased from public view. There will be an inviolable, official "reality." Any deviation from official "reality" or defiance of the "civil authorities" will be labelled "extremism," and dealt with accordingly.
This is the essence of totalitarianism, the establishment of an inviolable official ideology and the criminalization of dissent. And that is what is happening, right now. A new official ideology is being established. Not a state ideology. A global ideology. The "New Normal" is that official ideology. Technically, it is an official post-ideology, an official "reality," an axiomatic "fact," which only "criminals" and "psychopaths" would deny.
I'll be digging deeper into "New Normal" ideology and "pathologized totalitarianism" in my future columns, and … sorry, they probably won't be very funny. For now I'll leave you with two more quotes. The emphasis is mine, as ever.
Here's California State Senator Richard Pan, author of an op-ed in the Washington Post: "Anti-vax extremism is akin to domestic terrorism," quoted in the Los Angeles Times:
"These extremists have not yet been held accountable, so they continue to escalate violence against the body public … We must now summon the political will to demand that domestic terrorists face consequences for their words and actions. Our democracy and our lives depend on it … They've been building alliances with white supremacists, conspiracy theorists and [others] on the far right …"
And here's Peter Hotez in Nature magazine:
"The United Nations and the highest levels of governments must take direct, even confrontational, approaches with Russia, and move to dismantle anti-vaccine groups in the United States. Efforts must expand into the realm of cyber security, law enforcement, public education and international relations. A high-level inter-agency task force reporting to the UN secretary-general could assess the full impact of anti-vaccine aggression, and propose tough, balanced measures. The task force should include experts who have tackled complex global threats such as terrorism, cyber attacks and nuclear armament, because anti-science is now approaching similar levels of peril. It is becoming increasingly clear that advancing immunization requires a counter-offensive."
We'll be hearing a lot more rhetoric like this as this new, more totalitarian structure of global capitalism gradually develops … probably a good idea to listen carefully, and assume the New Normals mean exactly what they say.
Author:
===
MURERED BY THE COVID DEATH CULT
The MURDERED Sherman's owned Apotex Pharmaceuticals and were Toronto Liberals who contributed to Trudeau's campaign in 2015. They held a party in their home for Justin Trudeau. So they were very close to the Trudeau Liberals.
===
COVID - THE KILLER OF SCIENTISTS. He who discovers SARS viruses dies! In memory of Carlo Urbani
WUHAN-GATES – 34.
By Fabio Giuseppe Carlo Carisio - 29. March 2021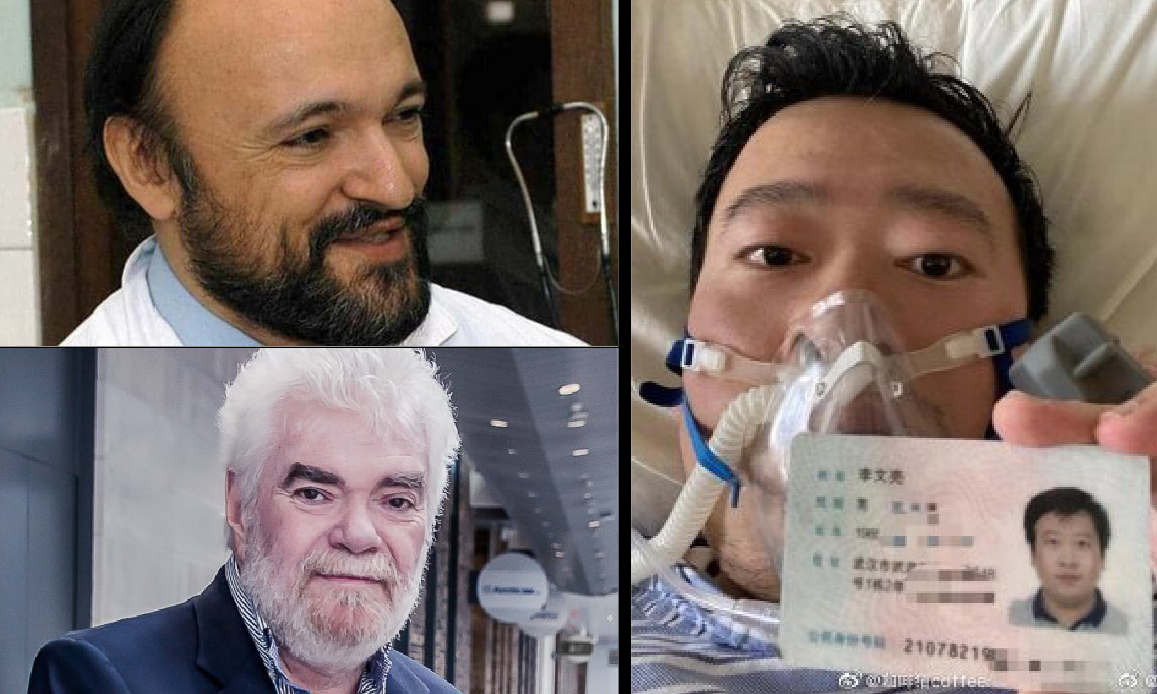 The Italian WHO doctor Carlo Urbani died on 29 March 2003 from the SARS virus that he had identified and isolated, Dr. Frank Plummer died in Kenya under mysterious circumstances and Dr. Li Weinlang in China.
A clue is a clue. Two clues are two clues. But three clues are proof.
So said the legendary Belgian detective Hercule Poirot, created by the literary imagination of Agatha Christie. But it is also supported by the Italian Code of Criminal Procedure, which allows the GIP (Judge for Preliminary Investigations) to issue a pre-trial detention order when serious, precise, unambiguous and consistent evidence is present.
In the investigations on the pandemic virus, compiled in the WuhanGates cycle, hundreds of enormous coincidences have emerged that have become macroscopic clues. Let us look at the latest...
---
On the same day that the Task-Force - appointed by the World Health Organisation to shed light on the origin of SARS-Cov-2, the pathogen of the Covid-19 infection - presents the results of a report that is totally inadequate to prove the zoonotic source of the virus passed from some mysterious and unidentified animal to humans, in Italy, few good virology experts remember the death of Professor Carlo Urbani, the Italian who was the first to discover and isolate the genotype of SARS (Severe Acute Respiratory Syndrome) in Asia in 2003.
CoronaVirus – 1. "E' BIO-ARMA". Esperto USA accusa la Cina ma il Pentagono ha 25 Laboratori Segreti per "Attacchi Etnici"
Nasty beasts these SARS-1 and SARS-2 infections, the latter renamed Covid-19 so as not to tempt real scientists too much into finding a causal link between the two. Terrible viruses: especially because they kill first and foremost the researchers who discover them and try to study them for real. We have no statistics on this, but it is fair to assume that the lethality of the virus among 'inconvenient' scientists is much more ferocious than among civilians.
Urbani's tragic end, in fact, is reminiscent of that of the Chinese hero doctor Li Weinlang, the Wuhan ophthalmologist first accused of sowing panic in chat rooms by unveiling mysterious pneumonias in December 2019, then arrested by the Chinese Communist Party dictatorship, finally dying of Covid-19 exactly like Liu Zhiming, director of Wuhan hospital, the first witnesses of a massacre that was probably avoidable with a little cortisone if there had been an early warning of the epidemic emergency.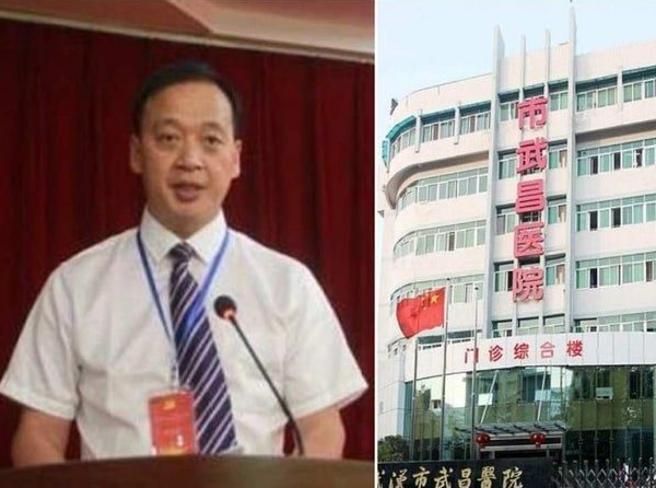 It is not known what Urbani, Weinlang and Zhiming thought about the origins of the SARS-Cov-2 virsu, which authoritative virologists and intelligence experts such as military microbiologist Dany Shoam, a former member of the powerful Israeli Defense Forces intelligence service, believe was built in a laboratory. His opinion, in fact, has been reported by the Besa Center, an Israeli think-tank, by Gospa News, by the American geopolitical and military intelligence website Veterans Today and by very few other media in the world, although he represents an authoritative and competent source as he has been an expert in bacteriological weapons for years.
In the mainstream media, on the other hand, there is the tedious, ridiculous and bogus story of the WHO scientists who were sent to China and Wuhan to investigate the origins of the virus but returned home with a hefty bill from the UN health agency and nothing to show for it.
SARS-2: "007 DI CINA, USA, NATO E FIVE EYES OCCULTANO L'ORIGINE DEL VIRUS DA LABORATORIO". Rivelazioni shock dell'ufficiale dell'intelligence israeliana esperto di bio-armi
Their story is tedious because it is repeated like a mantra with the same shameless conviction of the pro-VAX doctors at all costs who find no correlation between experimental anti-Covid vaccines (of a type never used in the history of medicine) and the deaths of young teachers and perfectly healthy military personnel. Their 'creed', which at the moment lacks any certain scientific evidence, is based on the dogma of zoonic origin: SARS-Cov-2 comes from an animal, an as yet unidentified intermediate host among Chinese horseshoe bats, on which extremely dangerous supervirus experiments created in the laboratory at the Wuhan Institute of Virology and at Chapel Hill (North Carolina University, USA) have been conducted for over a decade with the Functional Gain, an increase in bacteriological load for a 'dual use' bioarma-vaccine purpose.
WUHAN-GATES – 26. BIO-ARMA SARS-2 & VACCINI D'ORO. Dai test CIA-OMS pagati da Gates al summit UE con PFIZER, sponsor di Biden, prima della pandemia. E le molecole Covid…
Their thesis is ridiculous because after a year they do not have the slightest scientific proof of the zoonotic origin, but they persist in considering as 'very unlikely' that of a SARS-Cov-2 virus that escaped from one of the laboratories where the 2003 SARS and 2012 MERS coronavirus strains were infected with the HIV/AIDS virus to create recombinants for use as a vaccine or bacteriological weapon.
This is not the result of journalistic lucubration but of scientific analysis that led French bio-engineer Pierre Bricage to highlight the experiments conducted by Professor Frank Plummer at the National Microbiology Laboratory of Canada in Winnipeg where he was director before he died suddenly of a heart attack in Africa, aged just 67, on 7 February 2020, three days before Dr Weinlang in China.
WUHAN-GATES – 11. SARS-2 COSTRUITO CON HIV COME PER UNA BIO-ARMA: Scienziati morti e spie in Canada, Cina e Usa
The WHO committee's totally hypothetical theory is therefore also bogus because it does not take into account research on HIV-infected SARS viruses (such as the virologist Luc Montagnier believes SARS-Cov-2 to be) but above all because it is the same as that promulgated in February by the Anglo-American zoologist Peter Daszak, one of the eminent members of the WHO task force to investigate the virus, despite the fact that he was the main funder, through the EcoHealthAlliance of New York, of the dangerous experiments on the SARS virus conducted in Wuhan and other international laboratories under the secret aegis of the US government agency USAID (often the financial arm of the CIA's counter-intelligence in world conspiracies) and with the support of the Melinda & Bill Gates Foundation, which has become the association that administers all the world's vaccines despite Gates' conflict of interest as a partner in several Big Pharma vaccine companies. The affair caused such an uproar and disgust that even two mainstream newspapers such as the Daily Mail and Die Welt were forced to speak out in outrage.
WUHAN-GATES – 31. SARS-2, BUGIE E INTRIGHI DI SCIENZIATI ALL'OMBRA DI GATES. Svelati da Daily Mail e Die Welt. L'OMS nega l'origine da laboratorio. La Germania manipolò studi sui rischi Covid-19
In the face of such filth, we can only praise the true martyrs of Covid-19, such as Li Weinlang, but especially the Italian who preceded him in this search for truth. Dr Carlo Urbani, whose brief history we quote from one of the websites created in his memory.
"Carlo Urbani, an Italian doctor with the World Health Organisation (WHO), died today of SARS (Severe Acute Respiratory Syndrome). Dr Urbani worked in public health programmes in Cambodia, Laos and Viet Nam. His place of work was in Hanoi, Viet Nam. He was 46 years old,' the WHO wrote in an official statement on 29 March 2003.
Carlo Urbani was the first WHO doctor to identify the first outbreak of the new disease in an American businessman who had been admitted to hospital in Hanoi. His early warning of SARS alerted the global surveillance system and it was possible to identify many new cases and isolate them before hospital staff became infected. In Hanoi, the SARS outbreak seems to be on its way to being brought under control.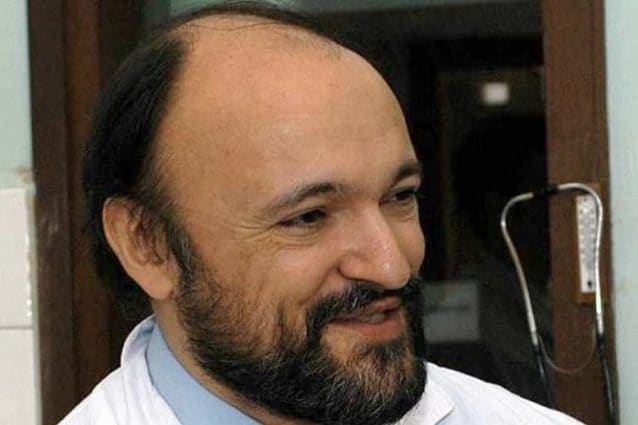 "Carlo was a wonderful human being and we are all dismayed," said Pascale Brudon, the WHO spokesperson in Viet Nam. "He was above all a doctor, his first goal was to help people. Carlo was the first to notice that something was very strange. While people in the hospital were getting more and more worried, he was there every day, collecting samples, talking to staff and strengthening infection control procedures".
Carlo Urbani was married and the father of three children. He graduated in medicine from the University of Ancona, and completed his postgraduate studies working on malaria and medical parasitology. He was an expert on parasitic diseases in school children. He was also president of Médecins Sans Frontières-Italy.
VACCINI mRNA, RISCHI CANCRO! OMV: "All'Aja per crimini contro umanità"
"At the beginning of March, he went to Bangkok for a conference and there was no indication that he had contracted the disease. After his arrival, the symptoms manifested themselves strongly and Carlo, one of the first to deal with the disease, understood his situation very well," wrote the AICU (Italian Association of Carlo Urbani) website. "Admitted to hospital in Bangkok, he warned his wife to send their children back to Italy, and they were immediately sent on their way. The love for others that has accompanied him all his life made him give up even his last embrace to avoid any possibility of contagion. His wife remained close to him, but no direct encounter was possible. After receiving the sacraments, Carlo Urbani dies on 29th March 2003.
In recent days, his daughter Magdalene died at the age of 20. She died in mysterious circumstances which have been attributed by the media to an overdose: one of the most common techniques used by counter-espionage killers to eliminate inconvenient witnesses. But, obviously, it is only another inauspicious coincidence. Even if the tragic loss of her father may indeed have incited the young woman to an extreme gesture on the anniversary of her parent's death.
WUHAN-GATES – 7. DOSSIER BIO-ARMI USA. I segreti dei 28 laboratori di Pentagono e Fauci: test pericolosi sui CoronaVirus
It is probably really an unrelated event. But certainly not the experiments carried out by Anthony Fauci, director of the NIAID (National Institute of Allergy and Infectious Diseases) on coronaviruses enhanced in the laboratory since 1999, which we will discuss in a forthcoming investigation, four years before the SARS emergency of 2003 that left 774 dead. Among them was Carlo Urbani himself, which leaves open a disturbing question: how did a great expert in infectious diseases, who was used to taking all precautions, become infected anyway?
Fabio Giuseppe Carlo Carisio
© COPYRIGHT GOSPA NEWS
divieto di riproduzione senza autorizzazione
---
MAIN SOURCES
GOSPA NEWS – WUHAN.GATES REPORTAGE
GOSPA NEWS – INCHIESTE CORONA VIRUS
WUHAN-GATES… DAL SARS-COV2 BIO-ARMA AI VACCINI D'ORO. Acquista il libro per aiutare l'informazione libera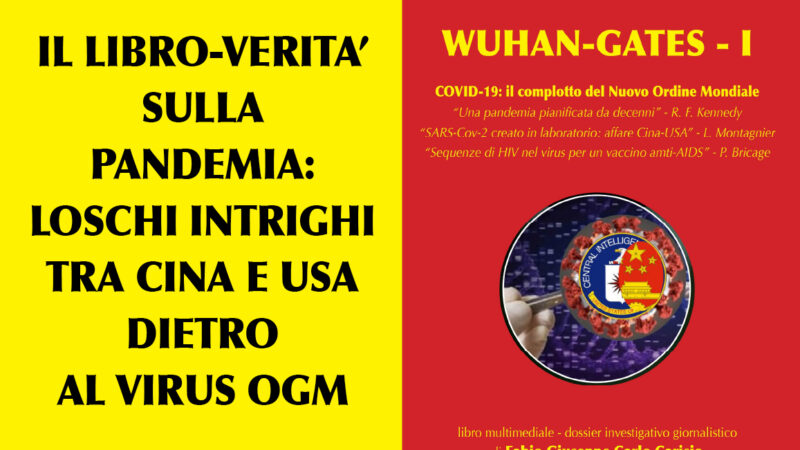 ===
PROLOGE: Comment by Jim Stone: A PROMINENT HEALTH-AUTHOR HAS BEEN MURDERED They are claiming suicide now, DOUBT IT. Why would they kill this man? Because everything he published worked and was the exact opposite of what the mainstream medical corporations claim. He un-did too much sabotage and the for-profit medical system hated him. I know for a fact his advice worked, it was better than anything else out there published by anyone. It is also highly probable he had the dirt on Covid and they offed him for it, MANY latino doctors have the dirt on Covid and if they are private and un-affiliated they pull no punches. They all know it is a con job and that the vax is a scam. It is very different in Latin America, doctors can get away with rebellion. Frank Suarez may have been too prominent to allow him to continue.
Educator, Frank Suarez Has Passed Away
By Lethebo - 25. February 2021
NaturalSlim owner, a specialist in obesity and metabolism and author of the book "The Power of Metabolism", Frank Suarez reportedly dead.
According to information that surfaced online, the educator passed away today February 25 2021.
The Puerto Rico Police reports at about 8 AM today, states that the owner of Natural Slim and author known for health and motivation issues, Francisco Antonio (Frank) Suárez, died when he threw himself into the void from the balcony of his apartment in the 9th floor of Cond. Loyola Park, in Hato Rey.
In 2006, he published the book El Poder del Metabolismo (The Power of Your Metabolism), of which more than 500,000 copies were sold in Puerto Rico, positioning Frank Suarez as the highest-selling Puerto Rican author of modern times.
Authorities are investigating the scene.
Who Is Frank Suarez?
Born in 1950 in Puerto Rico, USA, Frank Suarez is a popular health author, Metabolism and Obesity specialist.
He is also an educator and a social communicator on topics related to health.
Frank is the creator of an educational video blog "MetabolismoTV.com", the educational video blog "MetabolismoTV.com" racks over 1.2 million views monthly from around the world.
He graduated from the University of Puerto Ric where he studied business administration.
Frank Suarez is best known worldwide for his YouTube video educational channel called "METABOLISMOTV" where his teachings on how to recover the body's metabolism, energy and health are seen every month by almost 20 million worldwide people and growing.
===
Robert Kiyosaki: Big Pharma "threatened to have me killed" for criticizing coronavirus vaccine
By Zoey Sky - 29. December 2020
In a chilling interview, author Robert Kiyosaki said that Big Pharma threatened to have him killed if he didn't stop criticizing coronavirus (COVID-19) vaccines.
A violation of the first amendment
He cited Brian Rose, a former banker on Wall Street, as an example of Big Pharma's attempts to squelch anyone's attempt to shed light on the coronavirus "plandemic."
Now the host of a podcast that features in-depth interviews, Rose has made it his goal to help the public learn how to see through "the numbing effects of mainstream media." Unfortunately, Rose was taken off the air because he talked about something controversial: Freedom of speech and the dangers of being politically correct (PC).
Last November, Rose talked about why continued lockdowns were a mistake, one with huge repercussions on a country's economy. He also discussed the data the government used to inform their decision to enforce a second "increasingly costly lockdown."
Citing Rose's case as an example, Kiyosaki noted that by being PC, you violate the first amendment: The freedom of speech.
Because of the coronavirus pandemic, another thing that's being violated is the right to assembly. Social distancing and closing down businesses is a violation of the first amendment.
Kiyosaki was also worried that rights are being ripped out of people's hands, which was disturbing considering America was a country that prided itself on giving citizens the freedom to live their own lives.
He also explained that Rose was taken off the air because he criticized LinkedIn, Bill Gates and YouTube. This highlights the importance of being careful about what you say or post online because your freedom of speech is gone.
Additionally, Kiyosaki discussed some of the horrible threats he received after he criticized vaccines. The threats seem unwarranted, particularly since the author has studied vaccines himself and is familiar with how they work.
He explained that the primary reason vaccines are so profitable is because when they're brought out, you can't be sued for any failure of the vaccine, something Big Pharma knows and is exploiting amid the coronavirus pandemic.
If the vaccine kills 10 million people, Big Pharma and anyone involved in the creation of these vaccines will walk away scot-free.
First, Big Pharma produces the vaccine, then they get someone well-known, like President Donald Trump or Barack Obama, to push it. (Related: Covid truths BANNED and CENSORED by Big Pharma.)
Big Pharma's smokescreen
Kiyosaki shared that after he revealed what he knew about Big Pharma's plans for vaccines, he received a chilling warning: "Don't do that anymore because we will kill you." His friend, who was a doctor, confirmed that Big Pharma isn't messing around and that they will indeed kill him if he continues to expose the truth about the COVID-19 vaccines.
Kiyosaki said that these threats concerned him because he believes in freedom of speech. He also agrees that people can disagree since everyone has their own opinion, but Big Pharma when too far when he received a death threat.
People started playing games, and now the game is out of control, he warned.
Kiyosaki explained that the "corona crisis" is an elaborate smokescreen for something that has been going on for years and that the public should be worried about the financial crisis caused by the "pandemic."
He also urged millennials to take the current situation more seriously, especially since they need to understand how money is created. Money is all about credit, debt and taxes, which isn't taught clearly in school.
Kiyosaki added that the world economy is crashing because back in 1971, the only way to keep the economy expanding was to find people "stupid enough to get into debt." As a kid, Kiyosaki himself didn't have a credit card.
And while everyone has credit cards now, unfortunately, only a handful of people know how to use one properly. People had credit cards because they needed more money, but, ironically, they were also the cause of debt among card owners.
Kiyosaki also talked about 2009, a year he dubbed was the most "dastardly" for millennials. In 2009, then-President Obama went to banks and told them to get more students into debt by telling them they needed to get a good education.
There are only 4.5 trillion dollars in base money and according to Kiyosaki, there is 225 trillion in debt. This makes for an impossible gap between the two. While he's not sure when he knows the economy will soon come to a shuddering halt because of this discrepancy.
In his book "Rich Dad's Prophecy," Kiyosaki cautioned that the economy may crash in 2016. Even then, he was caught unaware by quantitative easing and zero interest rates. He also didn't foresee how desperate America's leaders were.
The Federal Reserve Bank, the Treasury and Wall Street were all willing to enforce Obama's plan to put students in debt.
Back in September, Kiyosaki, known for his book, "Rich Dad Poor Dad, cautioned that a functional solution to the coronavirus pandemic "would send safe-haven assets plummeting."
He tweeted that once a COVID-19 vaccine is approved, gold, silver and Bitcoin will crash and that the real problem isn't the pandemic but "massive U.S. debt." As expected, Big Pharma is masking the "real" issues at stake, especially for the American economy.
The country is $26.7 trillion in debt, reports monitoring resource U.S. National Debt Clock. The bulk of the country's debt appeared via stimulus measures when the pandemic hit and now the U.S. is bankrupt, concluded Kiyosaki.
Despite the threats to his life, the author continues to encourage people to stay informed about the "plandemic" and to refuse Big Pharma's potentially dangerous vaccine.
Watch:
Sources include:
Brighteon.com (If the Brighteon Video above doesn't play in your secure browser, click the link)
===
Zhang Zhan: China jails citizen journalist for Wuhan reports
By BBC - 28. December 2020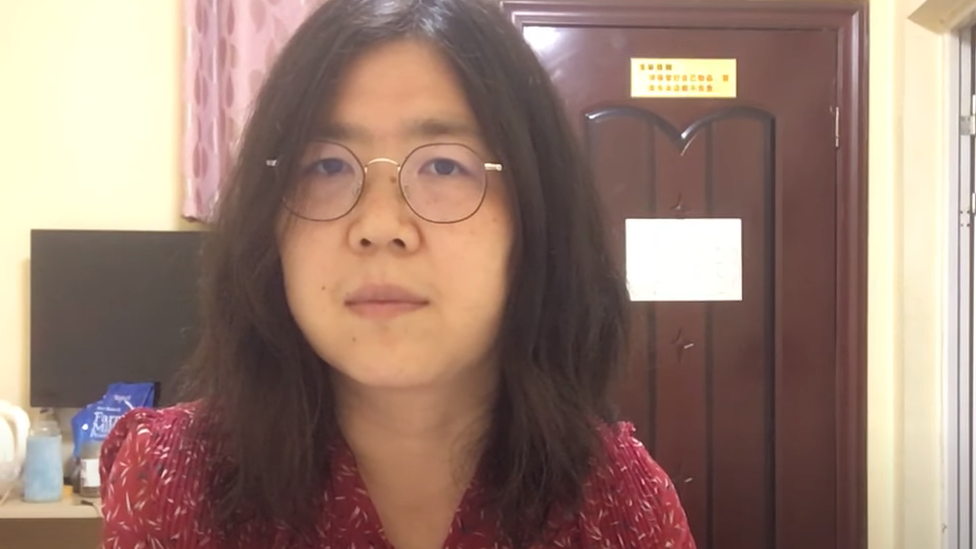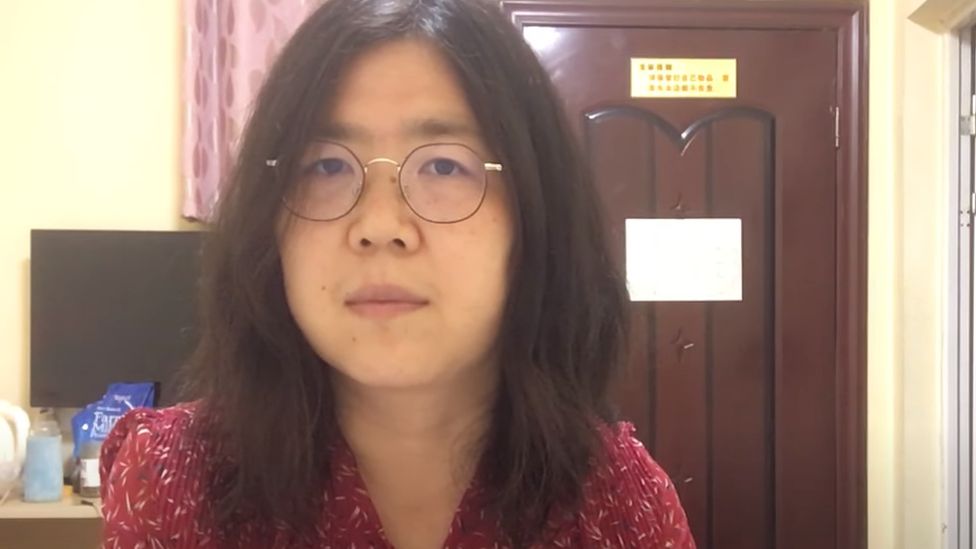 A Chinese citizen journalist who covered Wuhan's coronavirus outbreak has been jailed for four years.
Zhang Zhan was found guilty of "picking quarrels and provoking trouble", a frequent charge against activists.
The 37-year-old former lawyer was detained in May, and has been on hunger strike for several months. Her lawyers say she is in poor health.
Ms Zhang is one of several citizen journalists who have run into trouble for reporting on Wuhan.
There is no free media in China and authorities are known to clamp down on activists or whistleblowers seen as undermining the government's response to the outbreak.
"Zhang Zhan looked devastated when the sentence was announced," Ren Quanniu, who was one of her defence lawyers, told news agency AFP.
Mr Ren added that Ms Zhang's mother, who was in court, sobbed loudly as the verdict was read out.
'Rebellious soul'
In a video interview with an independent filmmaker before her arrest, Ms Zhang said she decided to travel to Wuhan in February after reading an online post by a resident about life in the city during the outbreak.
Once there, she began documenting what she saw on the streets and hospitals in livestreams and essays, despite threats by authorities, and her reports were widely shared on social media.
The rights group Network of Chinese Human Rights Defenders said her reports also covered the detention of other independent journalists and the harassment of families of victims who were seeking accountability.
"Maybe I have a rebellious soul... I'm just documenting the truth. Why can't I show the truth?" she said in a clip of the interview obtained by the BBC.
"I won't stop what I'm doing because this country can't go backwards."
Ms Zhang went missing on 14 May according to the CHRD. One day later, it was revealed she had been detained by police in Shanghai, more than 400 miles (640km) away.
She was formally charged in early November. The indictment sheet alleges she sent "false information through text, video and other media through [platforms like] WeChat, Twitter and YouTube".
She is also accused of accepting interviews with foreign media outlets and "maliciously spreading" information about the virus in Wuhan. A sentence of four to five years was recommended.
'Alarming sentence'
In protest against her arrest, Ms Zhang has gone on a hunger strike and is said to be in very poor health.
One of her lawyers said in a statement that when he visited her in early December she had told him she was being force-fed via a feeding tube. He also said she was suffering from headaches, dizziness and stomach pain.
"Restrained 24 hours a day, she needs assistance going to the bathroom, and she tosses and turns in her sleep," the lawyer Zhang Keke said. "She feels psychologically exhausted, like every day is a torment."
The lawyer had applied for a postponement of the trial given the state of Ms Zhang's health.
Ms Zhang had previously been detained in 2019 for voicing support for activists in Hong Kong.
Leo Lan, a research and advocacy consultant at the CHRD, said Ms Zhang's latest sentencing was "alarming".
"[Her] sentence is so heavy. The Chinese government is very determined to silence her and intimidate other citizens who tried to expose what happened in Wuhan," he told the BBC.
"I'm concerned about the fate of other detained citizens who also reported news about the pandemic."
Several other citizen journalists who reported from Wuhan - Li Zehua, Chen Qiushi and Fang Bin - went missing earlier this year.
Li eventually resurfaced, saying he was forcibly quarantined, while Chen is reported to be staying with family but under government supervision. The whereabouts of Fang Bin are still unknown.
===
Moderna CEO Stéphane Bancel spills the beans during WEF Livestream
First published on BITCHUTE December 25th, 2020. Original Livesteam date: 30. November 2020
Stéphane Bancel braggs. Just 2 days on the computer, while they were working on MERS?
What's coming?
===
AMAZING POLLY - Dissidents in The Age of Vaccines
First published on BITCHUTE December 20th, 2020.
I start with Public Health officials making a startling admission, then I move to 4 more examples of persecution of people who are questioning the government's Big Pharma response to COVID, and then I go through who "they" are. Who is it behind the persecution, censorship & vaccine narrative???
REFERENCES:
Ontario Officers Of Health HOT MIC VIDEO: https://www.youtube.com/watch?v=ckVCtaiZlME&feature=youtu.be
Prof Fourtillon / Life s News: https://www.lifesitenews.com/news/accomplished-pharma-prof-thrown-in-psych-hospital-after-questioning-official-covid-narrative
Gemma O'Doherty web site: https://gemmaodoherty.com/video/
SGT Report VIDEO "Citizen Enforcers": https://www.bitchute.com/video/ldDCxwJz1yBZ/
Oregon Doc Paul Thomas License: https://www.modernhealthcare.com/physicians/pediatricians-license-suspended-oregon-over-vaccines
Seth Berkeley "spreads like disease": https://www.reuters.com/article/us-health-vaccines/vaccine-doubts-spread-like-disease-must-be-taken-offline-vaccine-chief-idUSKCN1SR1SV
CEPI foundation: https://donortracker.org/policy-updates/cepi-launched-world-economic-forum-davos
Leaders Pledge 8 billion: https://www.reuters.com/article/us-health-coronavirus-eu-virus-idUSKBN22G0RM
Pledge for research into c-virus: https://www.euronews.com/2020/05/04/eu-leaders-to-pledge-billions-towards-global-fight-against-covid-19
WEF.UN partnership Pass Blue: https://www.passblue.com/2019/07/23/as-the-sdgs-falter-the-un-turns-to-the-rich-and-famous/
UN Emissions Gap Report: https://www.unenvironment.org/emissions-gap-report-2020
To support my channel, please go to https://amazingpolly.net/contact.html . As you may know, Paypal has terminated my account because - and I quote - I have been deemed "offensive." I can only accept cash & checks through the mail. I can accept any denomination of currency! Thank you very much to everyone who has taken the time and given me support. You are angels - and there are many good people throughout the world, I can assure you!
===
Dr. Paul Thomas Targeted By Medical Board & Media After Landmark Vaccine Study - Interview
•Dec 19, 2020
Recently a landmark study was conducted by Dr. James Lyons-Weiler and Dr. Paul Thomas.
The study compared vaccinated children and unvaccinated children and was published in the International Journal of Environmental Research and Public Health on November 22, 2020 after being peer reviewed.
Dr. Weiler, a research scientist and co-author of the study, was recently interviewed by Activist Post Contributor Spiro Skouras. In the interview, Weiler breaks down the data from the study which indicates children who were vaccinated showed a higher rate of medical office visits and experienced an elevated rate of medical symptoms ranging from Asthma and behavioral issues, to ADHD and Anemia.
In this report, Spiro interviews Dr. Paul Thomas, a prominent pediatrician in Portland Oregon who also co-authored the study and used 10+ years of data from his medical practice to conduct the study. Shortly after the vaccinated versus unvaccinated study was published, five days in fact. The Oregon State Medical Board held an emergency meeting declaring that Dr. Paul was an immediate threat to his patients and the public and suspended his medical license. In this must see interview, Dr. Paul addresses the accusations leveled against himself and his practice, in addition to breaking down in detail, the studies findings. Dr. Paul also weighs in on the CDC recommended vaccine schedule and the experimental Covid vaccine. Show Notes: https://www.activistpost.com/2020/12/...​
===
LifeSite, Ted Cruz, Robert F. Kennedy Jr. challenge COVID totalitarianism
'The bizarre, lunatic, totalitarian' COVID 'cult' is 'not about vaccines or protecting people's lives—it is instead profoundly anti-science, and is only focused on absolute [government] control of every aspect of our lives.'
By STEVE JALSEVAC - 19. December 2020
December 19, 2020 (LifeSiteNews) — There has been a massive flood of contradictory and false information being published about the Wuhan virus and the various vaccines that have recently been approved that allegedly prevent infection. And there has been a massive disinformation campaign against several already available, safe, effective, and very inexpensive preventative and "miracle" treatment medications for Wuhan infection.
Thankfully, thousands of ethical physicians, scientists, and others are now actively attempting to counter the flood of lies and extremely flawed narratives related to these issues, including,
- false justifications for a now huge increase again in catastrophic, medically and scientifically unnecessary lockdowns
- intense pressure to accept vaccination with the poorly tested, dangerous and never-before-tried mRNA vaccines
- what may likely be an inevitable, devastating loss of fundamental rights and freedoms for those who refuse to be vaccinated
- partly because it is impossible to give fully informed consent to such vaccination because there is inadequate, trustworthy information about its safety and effectiveness.
This has never before happened in history, especially for a virus that is now known to be less dangerous than the common flu, except for those over 70 with certain health issues. And even that category of persons has a very high recovery rate if they receive proper early treatment.
First off, I would encourage you to review my updated, in-depth, December 10 investigative report on 10 actions Trump must take to save us from impending globalist tyranny. It is a long read, but anyone I have talked to who has made the effort to read the document, view the videos, and investigate the links has expressed immense gratitude for having their eyes opened to many aspects about the virus that they had no idea about and which none of the mainstream media have reported.
Patrick Delaney's explosive December 17 report, What is the real motivation for attempting to vaccinate millions of healthy people?, has also been updated with some amazing additional videos and information to help readers further explore what might be behind the disturbing, world-changing developments related to the Wuhan virus.
The added excerpt from a Children's Health Defense videoregarding the safety of the COVID-19 and all other vaccines is a goldmine of calmly presented questions and facts that I am sure will be greatly appreciated by most who view it.
Both mine and Delaney's articles and the video below will really help you to understand why Senator Ted Cruz stated the following about the health tyranny that we have all been subjected to the past several months:
"This is a bizarre, lunatic, totalitarian cult.

It's not about vaccines or protecting people's lives—it is instead profoundly anti-science, and is only focused on absolute govt control of every aspect of our lives."
Following is an especially MUST-VIEW, recent presentation by Robert Kennedy, Jr. of Children's Health Defense. Kennedy's Message for Freedom and Hope provides a powerful, motivating overview of the "coup d'etat" by powerful international forces whom Kennedy claims "want to subvert our democracies and want to destroy our sovereignty and our control over our lives and our children's health."
He begins with by stating that his message is being presented
…to thousands of citizens, in 15 countries on all the continents in the world, who have come together today to protest this coup d'etat — by Big Data, by Big Telecom, by Big Tech, by the big oil and chemical companies, and by this global public health cartel led by Bill Gates and the W.H.O — and now amounts to two trillion dollars and wants to magnify and amplify its wealth and its power over our lives, over our liberties.
Kennedy asks a lot of questions in this video that we may not have thought of, but should all be asking. He stresses the great importance of honest, open debate on the issues of our day and the free flow of information, as opposed to the massive censoring of certain views that we are currently enduring.
He urges everyone to participate in the exchange of information and free debate and tells all of his viewers,
You are on the front lines of the most important battle in history and it is the battle to save democracy, and freedom, and human liberty, and human dignity from this totalitarian cartel that is trying to rob us – simultaneously in every nation in the world — of the rights that every human being is born with.
The founder of Children's Health Defense ends by announcing that Children's Health Defense is launching a daily information journal to help to generate that flow of information and debate.
Those are just a few, brief excerpts of statements in the video. I don't want to post more because it is more important that you watch this great man, who makes it plain that he is willing to give his life for the truth.
Such leadership is a rarity in our great-leader-deprived current world. By watching his presentation, you will most effectively absorb his necessary message to the people of the world. Everyone needs to hear this inspiring oration at this critical time in history.
I must add that LifeSite does not necessarily fully agree with Children's Health Defense on every issue that they cover, such as climate change and some of their environmental views and possibly more. But on the Wuhan virus, vaccines, and every aspect related to those issues, they have been one of the very best sources of reliable, crucial information to which we should all pay close attention.
And Kennedy and his team obviously deeply care about the harm being experienced by children, the sick, and everyone else from the terrible deeds of the unethical multi-billionaire elites they are exposing.

RELATED:
Dr. Fauci's COVID-19 Treachery with Chilling Ties to the Chinese Military
CDC: 85% of COVID patients 'always' or 'often' wore a mask
COVID BOMBSHELL Closing schools could INCREASE Covid death toll and herd immunity(the better term is community immunity) could save more lives strict lockdowns, study suggests
Out of 70,000+ positive reported COVID-19 cases on Universities: 3 hospitalizations 0 deaths
COVID-19 Is A Global False Alarm Says Leaked German Government Report
Pentagon Study: Flu Shot Raises Risk of Coronavirus by 36% (and Other Supporting Studies)
These 12 Graphs Show Mask Mandates Do Nothing To Stop COVID
===
Vaccine Whistleblower Found Dead After Saying She'd Never Commit Suicide
Brandy Vaughan exposed Big Pharma's corruption on Infowars numerous time since 2015 Image Credit: YouTube Screenshot
By Infowars.com - 10. December 2020
A renowned whistleblower of Big Pharma and vaccines has been found dead roughly a year after she released a public statement saying she'd never commit suicide.
The body of Brandy Vaughan, former pharmaceutical insider and ex-Merck sales executive, was discovered by her nine-year-old son earlier this week, according to reports.
The cause of death is currently unknown.
"I've NEVER had any thoughts of taking my own life, not once, ever. Even before I had my son," said Vaughan in a Facebook statement from last December. "I have a huge mission in this life. Even when they make it very difficult and scary, I would NEVER take my own life. Period."
"I have NEVER been on an anti-depressant nor been diagnosed as depressed – don't believe it if you ever hear anything like this."
Additionally, healthnutnews.com is reporting Vaughan made it clear that if anything happened to her it would most likely be homicide.
Please take a moment to watch and share Vaughan's appearances on Infowars.com back in 2015:
What's Really Behind Mandatory Vaccines?
Dec 9, 2020 - Interview date: 16. October 2015
LeeAnn McAdoo interviews former Merck sales rep, Brandy Vaughn on the push for mandatory vaccines and why she became a whistle blower.
Former Merck Whistleblower Details Mandatory Vaccine Push
Dec 9, 2020 - Interview date: 15. October 2015
Rob Dew speaks with former Merck sales rep Brandy Vaughan about the plan for pushing mandatory vaccines, and how it starts with the HPV Shot. Brandy also discloses new information about the Vitamin K shot and the dangerous new additives that are being being pumped into "baby's first shot." Brandy Vaughn was recently found dead in her home in early December 2020. (From HealthNutNews.com) Brandy was very clear that if anything happened to her it was most likely foul play a.k.a. homicide. Sadly, the majority of her close friends have told me they believe the same.
Also in 2015, Vaughan had created LearnTheRisk.org to educate people on the dangers of pharmaceutical products, vaccines and unnecessary medical treatments.
Moreover, watch this resurfaced video of Vaughan describing the intimidation attacks she endured during her activist work:
Vaughan's Facebook statement from December 2019 can be found below:
Brandy Vaughan (age 47) passed away today. Brandy Vaughan was founder of https://t.co/3rP31S2Ge0 , a vocal critic of BIG Pharma, educating people about dangers of vaccines and pharma drugs.

She posted this public statement in December 2019. pic.twitter.com/wBzRRWQmTE

— MIT-trained Scientist.. Waking Up (@aldous_floyd) December 9, 2020
---
The Bill Gates Is Evil channel is now live on Banned.Videowhere you can watch & share videos on vaccines and Big Pharma like this one:
Dr. Roberto Petrella breaks down how COVID-19 is part of a depopulation plan.
===
BRUTAL POLICE ATTACK AGAINST INNOCENT SCIENTIST
Nov 20, 2020
We reported on the suspect's arrest during a live stream by Dr. Andreas Noack. Based on the background acoustics, we have already suggested that this action was not directed directly at Dr. Noack.
Last night, he spoke out on YouTube. He confirmed that all the apartments in the house were searched. He also said that he did not know what it was about, that he had not been told anything.
Today we received information from the Berlin Prosecutor General's Office. This confirmed that no proceedings are being conducted against Dr. Noack. "The police operation took place on the occasion of the search for another person," he said.
Considering the damage, the horrors that people suffered in their private homes and the fact that a dog was almost shot, one can only "congratulate" the Central Franconian police and the USK (special police command) of Bavaria.
---
Nov 19, 2020
Yesterday, November 18, during a live stream on YouTube, an apartment was stormed by obvious police. The YouTuber, Dr. Andreas Noack, was apparently arrested. The video quickly spread on the Internet, noting that these were the first effects of The Infection Protection Act 3. However, this was not in force yesterday, despite the signing.
So what happened? Stefan Raven News researched and found that the imprint of the streamer's homepage suggests a residence in the Bavarian middle Franconia. We therefore contacted the relevant department and asked the press whether this pre-election was a very well-staged fake in connection with the law also adopted yesterday or whether there was a real police operation here. The theory that it could be a staging quickly arose, as the first official seen in the picture ran directly into the light of the beamer, from where he has an extremely poor view and also did not correctly put his submachine gun on Dr. Noack's shoulder, but held it over it. This amateurish approach led some online debaters to suggest a mock scene with staged actions carried out by dilettantes.
The press office of the police headquarters in Mittelfranken contacted us and indicated that we should contact the LKA Berlin with the request. We did, but we haven't received a response yet (November 19, 3 p.m.). This reference is funny, as the third police officer in the picture gives the first clues. On his right chest, as well as on the left sleeve badge of the USK (Support Command), a division of the special forces of the Bavarian police with special tasks. According to Wikipedia, these include:
Demonstrations in which (severe) riots are to be expected
(sporting) Major events, such as football matches, where assaults are expected
Combating organised crime, serious crime and drug crime (raids, observations, accesses, etc.)
Investigation and arrest of dangerous, possibly armed offenders (also after arrest warrant)
Storms of objects (buildings, apartments, etc.) for the purpose of arresting dangerous criminals
Execution of prisoner transports when prisoner release is expected or very dangerous prisoners are transported (previously carried out by the SEK)
Emergency access in case of hostage-taking or amo-claims, until the arrival of the SEK

Since reference has been made to the LKA Berlin, it can be assumed that this is definitely a real police operation and since this operation took place in Bavaria, it can be assumed that the LKA will take action nationwide or that it will be commissioned by the Berlin LKA. It is also doubtful whether this deployment was aimed at Dr. Noack at all. As can be heard in the last minute of the video, just before the microphone cable is clipped, there seems to have been a storm in the neighboring apartment, where there were more significant protests. If you play the last 90 minutes at high volume, you will hear this.
So far, we can make it clear that this is a real police operation. However, this has nothing to do with the Infection Protection Act 3, which was not in force yesterday and it is also unclear whether this operation was directed against Dr. Andreas Noack. What is certain, however, is that the officers deployed are probably not the extraterrestrials that Dr. Noack spoke about earlier in his stream.
The full livestream video. Police operation from minute 43:00 (age restricted by GooTube)
===
WATCH: German doctor Andreas Noack raided live on stream after anti-lockdown activism
By Naga Pramod - 20 November 2020
Noack campaigned against the Infection Protection Law that cut civil liberties in the country and was met with an excessive arrest.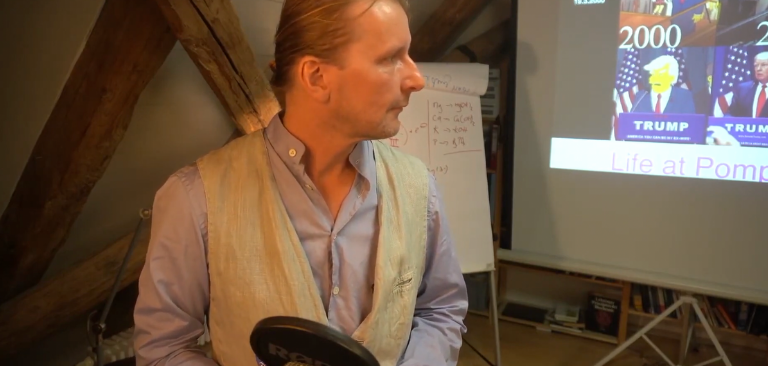 A German doctor and prominent online anti-lockdown activist faced an excessive arrest as police barged into his house during a YouTube live he was streaming from from his residence.
The arrest appeared like it hit Dr. Andreas Noack out of the blue as he was too shocked to even respond. The whole scene itself, which was captured during the live streaming, shocked viewers that were already concerned about the recent decimation of civil liberties as Dr. Noack had to lay on the ground while the police were continuously yelling at him.
Reports state that the reasons for Dr. Noack's arrest seem unclear and not officially stated. That being said, it is worth noting that the arrest took place right after the "Infection Protection Law" was passed amidst a huge public pushback against it. Dr. Noack was also notorious in the government's eyes as he was offering medical treatment to anti-lock down protestors who were injured during protests.
The "Infection Protection Law," simply put, allows the German government to take decisions that restrict personal freedom and fundamental rights that the country's very own constitution offers.
The German government, until the law's passing, primarily relied on decrees to control its citizens and enforce lockdowns. But after intense backlash, calling the method of relying on decrees unconstitutional, the Infection Protection Law was made to come into play.
This law allows the government to even go to the lengths of restricting people who are either infected or are suspected to be infected from practicing certain professions. What's more, the law also helps the government impose more curfews and lockdowns across the country.
Over time, lockdowns have negatively impacted the livelihoods of many, because of which there has been a steadily growing anti-lockdown sentiment across Germany, particularly online. This explains the intense pushback against the law and numerous anti-lockdown protests which the country's government is trying to vehemently suppress.
Dr. Andreas Noack was a prominent critic of the law and lockdowns, creating much content about the issue online.
Based on what little information we could officially obtain about the arrest, it was found that Dr. Noack was being investigated for being "non-compliant with the COVID-19 lockdown laws enacted by the German government."
===
German police arrest alternative medicine doctor during live broadcast
By Yeni Şafak - 20. November 2020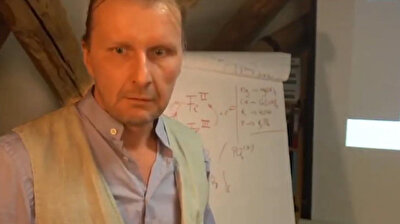 Dr. Andreas Noack, an alternative medicine practitioner and lockdown critic, was arrested in a raid on his home by police during a live broadcast about drug-independent healing methods on his YouTube channel in Germany. The doctor allegedly provided medical assistance to protestors during lockdown demonstrations against the government.
===
DR. ANDREAS NOACK ARRESTED DURING YOUTUBE LIVE STREAM
•Nov 19, 2020
The well-known German chemist Dr. Andreas Noack was arrested by an armed police unit during his YouTube live stream. Dr. Noack had been intensively engaged in healthy nutrition and holistic healing. Read More: https://en.helloirlandia.ie/post/germ...
German Anti-Lockdown Activist Dr. Andreas Noack Arrested During YouTube Live 📢
A German doctor known for providing medical assistance to protesters during that country's lockdown protests was arrested while live-streaming on YouTube yesterday. Dr. Andreas Noack was rumored to be under investigation for not complying with German COVID-19 lockdown laws.
The arrest came after the German Parliament passed the "Infection Protection Law'. The Merkel government passed a new law against the coronavirus outbreak which destroys fundamental Constitutional Rights of the citizens. Police can now enter their homes for any reason. They have also lost the right to assemble.
During the live stream, police can be heard banging on the door at the location where Noack was broadcasting. "It's the police," said a man off-camera. Then police entered the building forcing Noack to the ground before turning off his livestream.
BACKUP ON BITCHUTE:
PIRATENÜBERFALL bei Dr. Andreas Noack während Livestram...
First published on BITCHUTE November 19th, 2020.
Dr. Andreas Noack is attacked during the live stream and deprived of his freedom! PIRATES break into the apartment! ... and he commits the first mistake in shock and answers a question!!!
Don't Talk To The Police
https://www.bitchute.com/video/mZZ0mQH9uIkI/
Complete Video:
https://www.youtube.com/watch?v=Z-m9nyLsfX0&feature=youtu.be