UPDATE 19. November 2020: Abyssinian Genocidal Chaos: Tension has remained high in Ethiopia as the war pitting federal government troops against civilian forces fighting under the Tigray People's Liberation Front (TPLF) continues to escalate. The country's prime minister Abiy Ahmed, said his army was moving towards Mekelle, the Tigray state's capital, "to deal with the rebels", but that has been disputed and due to the persistent communications blackout can't be verified. However, arrest warrants were issued by the Abiy Ahmed regime for 76 Tigrinya army officers accused of fueling the crisis. The military officers who include four major generals were accused of treason, terrorism acts, grand corruption and human rights violations.
Almost 40.000 ethnic Tigrinyans have already fled into Sudan from the genocidal onslaught, according to the United Nations (UN) Office for the Coordination of Humanitarian Affairs. The TPLF sees the central government as illegitimate, arguing Mr Abiy no longer has a mandate to lead the country. But the federal government forces apparently seized now the towns of Shire and Raya after a three-day deadline given by Prime Minister Abiy to Tigray's forces to surrender expired on Tuesday. TPLF leader Debretsion Gebremichael, who was born in Shire, confirmed to a local TV station that his soldiers had lost control of some towns. However he called their victory temporary, and vowed to defeat Mr Abiy's forces. While the TPLF had called on the African Union to facilitate talks to end the war in order to stop the blood-shed on both sides, Abiy Ahmed has blatantly refused any and all regional and international negotiation efforts and the proposals brought forward.
UPDATE 09. November 2020:
TIGRAY CRISIS: Casualty figures are difficult to verify in the moment with the whole of Ethiopia under communication blackout, but even the BBC correspondent speaks of several ten-thousands having been killed by this aggression launched by the undeserving recipient of a Peace-Nobel-Prize Abiy Ahmed. Though this might be exaggerated, Reuters quotes a military official in Amhara state, which borders Tigray, as saying that almost 500 Tigrayan fighters died in clashes. Other security sources are cited as saying that hundreds in the Ethiopian army died defending a military base. The international community should be worried if Eritrea would now lend a hand to their embattled neighbours, since around 55% of the population of Eritrea are likewise Tigrinya people, while the Tigre have just 30% of the population in that independent state, which successfully freed itself from the Abyssinian overlords. The situation is very precarious and could easily develop into a larger regional conflict in the Horn of Africa. Abiy Ahmed is waging an illegal war of aggression and genocide against the Tigrinya people and must face immediate international sanctions.
UPDATE 08. November 2020: The communications kill-switch installed by Abiy Ahmed as former intelligence operative in the country, has now been perfected and serves as a warning example also for the citizens of other countries about the present developments and how medical-martial law can be abused to oppress the people. It must be recalled that the Ethiopian Federal Forces are infamous for committing acts of genocide by targeting specific ethnicities - be it in the occupied Somali region - the Ogaden - or in Oromiya and now in Tigray, and also for ecocide like the horrific burning of the Bale Mountain forests, which can never be forgiven. Especially the Elephants in Western Tigray (Kafta Sheraro National Park) - a transboundary population shared with Eritrea - need now international protection. The park is the home of different wildlife species: 53 species of plants, 42 species of mammals, 200 species of birds, 9 species of reptiles.
UPDATE 07. November 2020: TIGRAY CRISIS: Abiy Ahmed has sacked his Intelligence Chief, his head of the Federal Forces as well as his Foreign Minister. He tries to continue the military onslaught and has killed already several thousand innocent civilians. Of course the TPLF, the main political wing of the Tigrinya people, has itself committed severe atrocities over several decades against other people in Ethiopia - especially against the Oromo people, the federation's largest nation and ethnicity as well as against their arch enemy since the days of emperor Haile Selassi - the Amhara. The Tigray command therefore can get no support from other groups inside Ethiopia and Abiy Ahmed could use the key militia of the Amhara regional state as cannon-fodder to spearhead his attack against Tigray. Abiy Ahmed should remember the Battle for Tsorona and see the carnage he creates for himself. In a related development, the International Committee of the Red Cross issued a statement on Friday calling on all parties in the clashes in northern Ethiopia "to respect people's lives and property as well as their access to timely medical care and assistance". The committee provides some 90,000 people in Tigray with humanitarian assistance.
UPDATE 05. November 2020: TIGRAY CRISIS: Ethiopia's Abiy Ahmed vows to continue his military offensive against the people of Tigray. He believes that with the electoral crisis in the USA and the Corona lockdowns in Europe nobody would look into the atrocities he commits. N.B: Tigray is a sovereign nation-state within the federal conglomerate of Ethiopia - therefore it is a full fledged war under international law and NOT a civil strife or a civil war - as Western media like to portrait it. Despite the fact that Tigray has closed its airspace, the federal airforce is abused by Abiy Ahmed, who tries to bombard Tigray with U.S. weapons, the almost 54,000 square kilometre state territory of the around 5 million Tigrinya people. Tigray held regional parliamentary elections in September, in defiance of a ban on planned elections by the federal government because of the coronavirus. On Monday, two days before federal troops began their operations in Tigray, the region's chief administrator, Debretsion Gebremichael, warned the media that Addis Ababa might soon try to mount an offensive as "punishment" for Mek'ele's decision to hold the vote anyway.
UPDATE 05. November 2020: The Right Way and the Wrong Way to Control COVID-19
ICYMI: Research finds Ethiopians unsatisfied with state of democracy & "Democratic" Means Social Equality
PROLOGUE: The SARS-CoV-2 scourge was used by Ethiopian Prime Minister Abiy Ahmed in two ways: First he made the usual deals with the UN's WorldBank and IMF to receive loans as soon he would establish, report and respond to COVID-19 cases in Ethiopia and then to impose a medical-martial law that helped him to stay in power, though his term of office already had expired in October 2019 . He since has refused to hold the set elections. Through his old ally in crime, Tedros Adhanom Ghebreyesus, who still is the head of the World Health Organization (WHO) of the United Nation (UN), Abiye Ahmed was fully briefed at all times about the whole corona scam and therefore he knew how to play his own cards. Abiy Ahmed had bridged the time from October 2019 until March 2019 with a "normal state of emergency" blamed on unrest in Oromiya, the largest state of the Federation, but from then on it was flat-out medical-martial law based on the COVID-19 plandemic until 03. November 2020, when he started to engage in civil war by launching the Federal Ethiopian National Defense Force (ENDF) against the federal state of Tigray (Tigrinya: ክልል ትግራይ; Amharic: ትግራይ ክልል, kilil Tigrāy ; official name: Tigrinya: ብሄራዊ ክልላዊ መንግስቲ ትግራይ, Bəh̩erawi Kəllelawi Mängəśti Təgray, English: Tigray National Regional State) and proclaimed a nation-wide state of emergency. The Internet is cut and any phone under total state surveillance.
The Impact of COVID-19 Pandemic on Ethiopia's Economy: Two Perspectives
By Asayehgn Desta - 03. November 2020
As the coronavirus started surging like a tidal wave throughout Ethiopia, The Ethiopian policy makers began preaching that staying at home, hand washing, mask-wearing, and maintaining social distancing would slow down the spread of the disease.
Based on an illusion that the above policies would be fully implemented and thereby start rekindling Ethiopia's economy, Prime Minister Abiy of Ethiopia (hereafter refereed to Abiy), in his briefing to the House of Peoples' Representatives on October 19, 2020, boldly asserted that Ethiopia's real GDP has increased by 6.1 percent in 2020.
Using the same data published by the Ethiopian Government, however, the International Monetary Fund (October 2020) reported that Ethiopia's real Gross Domestic Product increased by only 1.9 percent in 2020 (October 2020).
The Abiy's Government and the International Monetary Fund (IMF) both rightly agree that Ethiopia's economy has declined as the Ethiopian people underwent the coronavirus health crisis.
Nonetheless, while Abiy implicitly assumes that Ethiopia's GDP is recovering and the economic growth rate might reach its level from before the pre-COVID-19 baseline stage, the IMF report indicates that Ethiopia's economy is still sliding downward and that its trajectory indicates that Ethiopia will record an economic growth rate of zero in 2021 (IMF, October 2020).
Given these two irreconcilable perspectives, the aim of this paper is to trace Ethiopia's economic status during the COVID-19 pandemic period. In simple terms, the study attempts to trace Ethiopia's COVID-19 pandemic status, using the alphabetic-shaped analytical framework known as the V, W, U, K, and L curves.
The V-shaped curve denotes a steep decline of the GDP followed by a quick recovery phase. The W-shaped curve, also known as a "double dip recession," indicates sequential waves of downturn, then upturn, then another contraction of the GDP due to another wave of the outbreak of coronavirus. The U-shaped curve reflects that the GDP will bottom out in a recession for a long period before economic recovery emerges. The K-shaped curve indicates that after a recession, the economy faces different magnitudes during the same period. That is, while some sectors undergo recovery, others simultaneously face decline. Lastly, the least desired by any country is to see its economy undergoing the L-shaped curve, which demonstrates a long period of downturn (economic depression) without recovery of the GDP.
As stated above, the V-shaped recessionary curve implies a steep drop followed by a sharp, rapid recovery of economic growth. Faced with an economic recession (a consecutive decline of the GDP for two quarters), responsible governments spend sufficient amounts on stimulus packages, offer direct payment to citizens, give loan guarantees and tax relief to businesses to mitigate the substantial economic decline, and make the economy bounce back to its pre-pandemic baseline. For example, during the recent COVID-19 episode, countries such as Denmark, Norway, South Korea, Taiwan, and Vietnam undertook public health mitigation efforts and used appropriate stimulus packages to save lives and livelihoods, and thereby were able to minimize economic loss (Bjorklund and Ewing, October 14, 2020).
Mapping out Ethiopia's economy using the V-shaped curve, one can't help but notice that the Ethiopian government has attempted to use monetary intervention, fiscal stimulus packages, price ceilings on essential items, lower interest rates, IMF support (through Rapid Financing Instruments), and other multilateral assistances to reinvigorate Ethiopia's economic loss induced by the coronavirus pandemic. However, since Ethiopia was faced with a fragile economic environment and poor health infrastructure prior to COVID-19, the allocated funds were insufficient to prop up businesses and customers.
Moreover, in Ethiopia, resistance persists to the stringent health-related preventive measures, such as stay-at-home and social distancing, that were imposed during the spread of the viral coronavirus, because the measures by and large emerged from the characteristics of industrialized countries and were not adapted to appropriately fit the Ethiopian condition (see Mobarak and Bernett-Howel, April 10, 2020). For example, the "stay-at-home" policy couldn't be practically implemented in the Ethiopian context because most people in Ethiopia work in the informal sector of the economy and depend on cash from daily hands-on-labor to feed their families. As Weldesdilassie and Woldehanna (2020) persuasively put it, four or five family members in Ethiopia live in a single room. Therefore, implementing blunt lockdown and social distance policies to curtail the spread of the COVID-19 virus is likely to cause disastrous damage to the Ethiopian economy.
In short, as stated above, since the limited federal stimulus funds that were disbursed by the government were not sufficient and most of the health-related preventive measures were not appropriately designed to fit Ethiopian culture, in retrospect, it is possible to argue that they have hardly helped Ethiopia's economy to bounce back to its pre-COVID-19 period.
Actually, it needs to be underlined that though unintended, the containment measures implemented by the Ethiopian government caused aggravated unemployment, made the prices of basic commodities skyrocket, and have contributed to the disruption of families' lives and children's education.
Therefore, instead of leaving everything up to governments that have perpetuated "Pandemic fatigue," it would be better to encourage civil societies, local communities, church and mosque centers, and civic centers to play major roles in effectively socializing their adherents to use locally produced face masks and counter the lingering effects of the coronavirus pandemic. In other words, to strengthen communities and build resilience in Ethiopia against the coronavirus and other potential epidemics, community awareness and mass mobilization processes need to be set as vital preconditions (See Desta and Berhe, 2020).
To summarize, for the last eight months, because of the coronavirus rupture, Ethiopia's economy is at a stand-still and helplessly floundering in a U-shaped recessionary curve. It is most likely that Ethiopia's economy will take a very long time to recover, because in addition to COVID-19, the Abiy's Government is not doing anything substantial to settle the massive political unrest or sensibly handle the rampant human rights violations in the country.
For example, in the midst of the COVID-19 pandemic, not concerned about the downtrodden masses, Abiy was seen relaxing and driving toys at his resort and retreat center while some Ethiopian communities were battling huge and voracious swarms of hungry desert locusts. As narrated by Cullinan (30 July, 2020), early assessment of Ethiopia indicates that "…desert locusts have caused the destruction of nearly 800 square miles of cropland and more than 5,000 square miles of pasturelands, as well as the loss of more than 350,000 metric tons of cereal – resulting in 1 million people in need of food aid."
Thus, it is reasonable to conclude that Abiy's statement to Ethiopia's House of Peoples' Representatives that Ethiopia's GDP during the upsurge of coronavirus in 2020 has increased by 6.1 percent is a political ploy. Given that there are wide discrepancies between Abiy's report to Ethiopia's House of Peoples' Representatives and the report published by the IMF, it is possible to argue that Abiy is self-absorbed and lacks respect for his constituents — the Ethiopian people.
References:
Baldwin, R. and di Maruro, B. (2020). "Mitigating the COVID Economic crisis: Act Fast and DO whatever it Takes. A CEPR Press VOXEU.org e Book.
Bjorklund, K. and Ewing, A. (October 14, 2020). "The Swedish Covid-19 Response is a Disaster. It shouldn't be a Model for the Rest of the World."
Cullinan, M. (30, July 2020). " The Impact of desert locusts in the Horn and Eastern Africa." Action against Hunger. Accessed at https://reliefweb.int/report/somalia/qa-impact -desert-locusts-horn-and eastern-africa.
Desta, A. and Berhe, H. (2020). "Establishing Sustainable Handwashing Water Strategies to Manage the Spread of COVID-19 in the Regional State of Tigray, Ethiopia."
International Monetary Fund (October 2020). "Regional Economic Outlook: Sub-Saharan Africa A difficult Road to Recovery." International Monetary Fund; World Economic and Financial Surveys.
Rodeck, D. (July 15, 2020). "Alphabetic Soup: Understanding the Shape of a COVID-19 Recession". Forbes Advisor. Accessed at //www.forbes.com/advisor/investing//covid-19-coronavarius-recession-shape/. Retrieved October 19, 2020.
Trading Economics, (2020). "Ethiopia GDP Annual Growth Rate". Accessed at https://trading economics.com/Ethiopia/gdp-growth-annual." Retrieved October 21, 2020.
Weldesiassie, A. and Woldehanna, T. (April 2020). "The Economic Implications of COVID-19 in Ethiopia and policy Measures". Policy Studies Institute (PSI).
Auhor:
Prof. Dr. Asayehgn Desta is the Sarlo Distinguished Professor of Sustainable Development
===
FAMINE
Much more important than SARS-CoV-2 is the poverty and famine in most areas of the State of Oromiya, in the Southern Nations States, the Tigrai State and the still illegally occupied Somali Zone (Zone 5). 2017 was the last year with official figures - the situation has become worse.
===
UPDATES:
Tigray crisis: Ethiopia's Abiy Ahmed vows to continue military offensive
05. Novmber 2020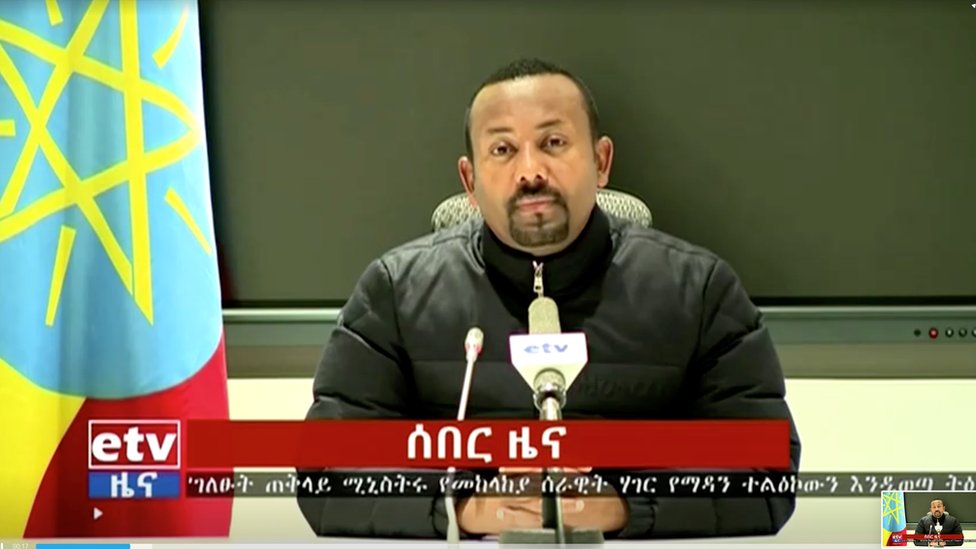 The Ethiopian prime minister has vowed to continue a military offensive in the northern state of Tigray despite international calls for restraint.
Abiy Ahmed's administration accused the Tigray People's Liberation Front (TPLF) of attacking the military.
The TPLF, which governs the state, said it could not "ignore the danger".
Tensions between the party, which was once the most powerful force in the country, and the federal government have been building for months
It had previously accused the federal authorities of plotting to invade the region.
Who urged Ethiopia to show restraint?
On Wednesday, amid the drama of the US election, US Secretary of State Mike Pompeo issued a statement calling for an end to any fighting.
"We are saddened by the tragic loss of life and urge immediate action to restore the peace and de-escalate tensions... The protection of civilian safety and security is essential," he said in a statement.
What did the Ethiopian prime minister say?
In a televised address Mr Abiy, who won the Nobel peace prize last year, said the military's operation was a success and said it would continue.
He said the operation was launched in response to a deadly attack on a military camp. He did not say how many people were killed.
What do we know about the fighting?
Details are scant as the prime minister said information would be released once operations were over.
He said on Tuesday night the he had ordered a military offensive, after an army base was taken over by forces loyal to the regional government and accused the TPLF of launching the attack.
The attack resulted in "many martyrs, injuries and property damage", he said in a TV address.
On Wednesday, the BBC spoke to eyewitnesses who confirmed that the Northern Command Headquarters in Tigray's regional capital, Mekelle, was under the control of the Tigray special forces. That does not appear to have changed.
There were reports that the sound of gunfire could be heard early on Wednesday morning, but since then calm has returned to the city.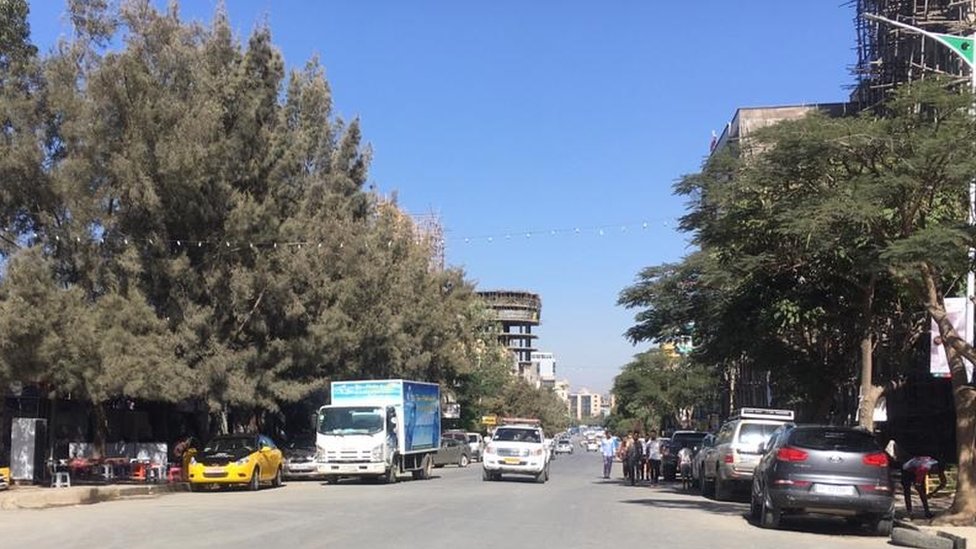 The telephone lines, internet and electricity have all been cut and banks are closed, but people are on the streets, witnesses have told the BBC.
There is also a high security presence of members of the regional force. But there are no reports of clashes at the border between Tigray state and its southern neighbour, Amhara state.
What's this all about?
The TPLF was the most powerful partner in Ethiopia's governing coalition until 2018, when Mr Abiy came to office following nationwide protests by ethnic Oromos. Since then, the party's power has waned.
Mr Abiy created a new governing party, but the TPLF did not join.
In September, the Tigrayan authorities went ahead with an election in defiance of a nationwide postponement that was put in place following the outbreak of coronavirus.
The federal government had described that election for the Tigray parliament as "illegal".
The Tigray region's president, Debrestion Gebremichael, told reporters on Monday that the government was going to attack - alleging it was punishment for organising the election.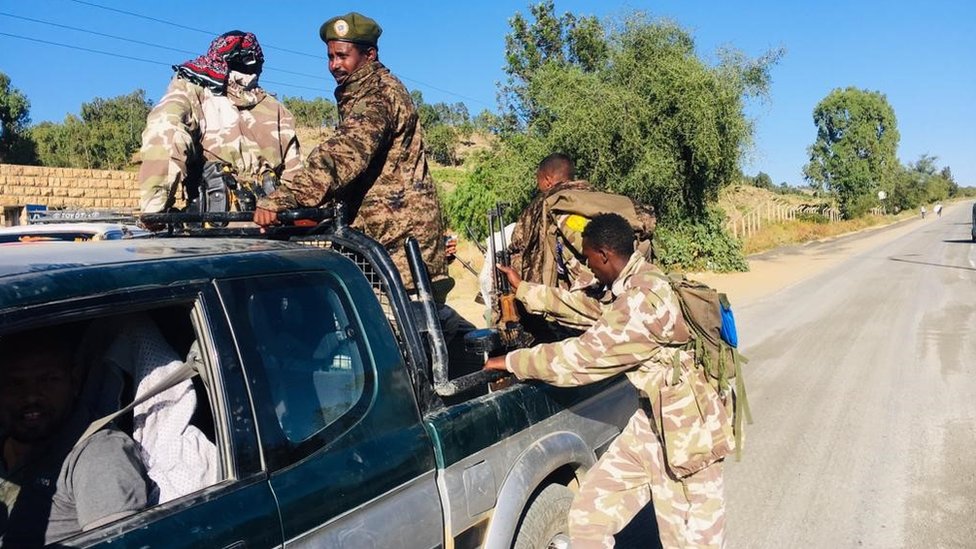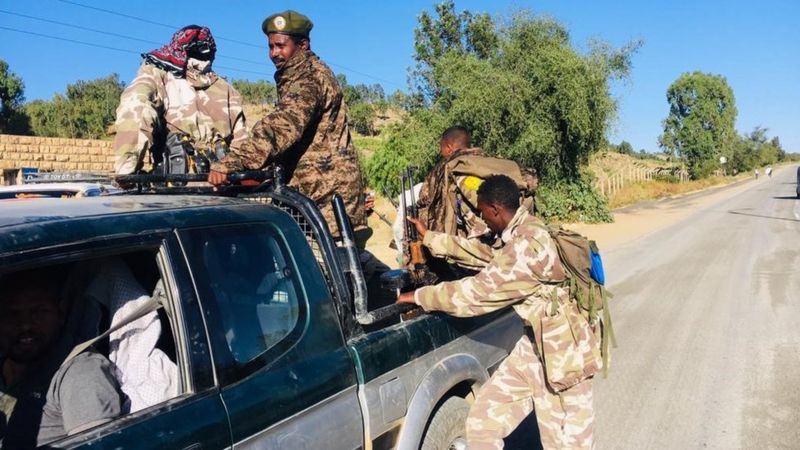 Mr Abiy then accused the TPLF of attacking a military base and sent in the Ethiopian military.
The federal government has also declared a six-month state of emergency in the state of Tigray and airspace in the region has been closed.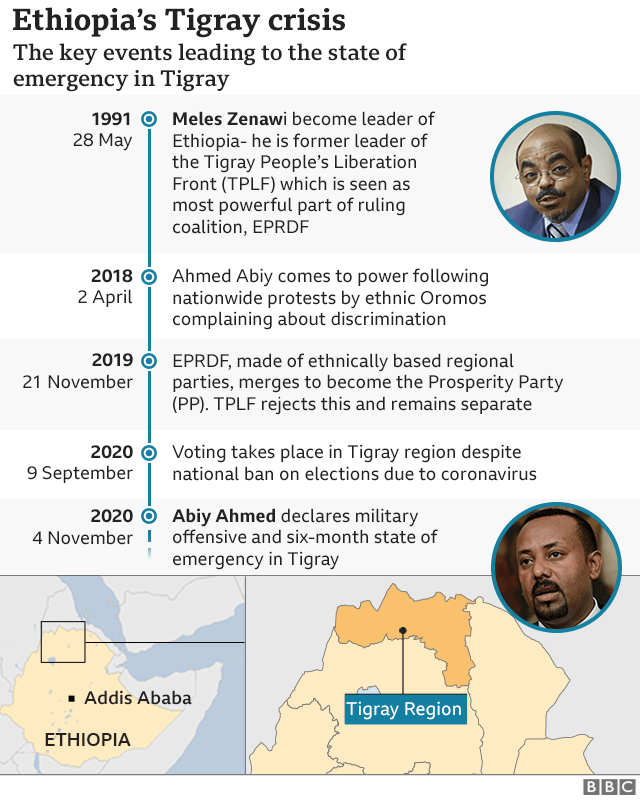 ===
The Right Way and the Wrong Way to Control COVID-19
By Thomas C. Mountain - 05. November 2020
There are only a couple of countries in the world that have completely prevented COVID19 from infecting their people and I live in one of them, thank god.
We don't wear masks and our hospitals function normally. We are not afraid to meet anyone, to go anywhere and any cough we develop is no cause for alarm.
When COVID19 first began to sweep the planet back in March, 2020 our leaders closed our borders and shut down the airlines arriving here. All passengers and land arrivals after March 20 went directly to a 14 day quarantine, isolation.
All those who arrived in the days before the lockdown were taken to quarantine and tested as well as those in their immediate family and friends they had been in contact with. Only one domestic transmission has taken place, that being in early April, a husband returning from the border who infected his wife.
Over four hundred have tested positive while in quarantine but no one inside the country ever tested positive since, and over 40,000 tests have been done. As a second wave of COVID19 begins to sweep through those countries that opened their bars, restaurants and cafes we remain under a modified lockdown.
All hotels, bars, restaurants, cafes and pastry shops remain closed but pretty much all else are open.
Vehicle traffic is almost shut down, with no public transport or taxi's and no non-permitted private vehicles are allowed. Even permitted vehicles must be off the streets by 8pm.
For some this has been a real hardship and hunger has shown its face here. The number of people begging on the streets has become apparent. Life is hard under lockdown, make no mistake.
We all hope that more aid for the hungry is made available by our government.
Many millions of dollars have been donated by our fellow countrymen and women outside our country to help purchase state of the art testing equipment that is now available everywhere.
No one here is afraid for COVID19 was contained at our borders even though over 20,000 or our people have returned home.
We maybe riding our bicycles, if we are lucky, walking if not, but nobody seems to really mind.
The air is certainly cleaner and our neighborhoods are quieter thanks to our cars being parked in our driveways for the past 7 months.
The president of our country said it best early on in this pandemic. "We don't know where this came from and we don't know where it is going…", so all we can do is hunker down and wait it out.
Those countries, especially the rich, western ones, couldn't seem to do this, their people just don't seem to know how to bite the bullet for whatever time it takes and now they are getting hammered worse than before.
Thank god we have a government here that cares for its people's wellbeing first and foremost, and to hell with the economic consequences.
What comes first, the almighty dollar (or euro?) or the health of your people?
Personally, I think how so many societies have begun to crack, if not break, yet, under COVID19, foretells calamities to come when climate disaster begins to seriously affect the planet.
If governments and social systems based on private accumulation over the peoples needs predominate, as seen by the reaction to COVID19, major environmental disasters will turn into calamities, for how can leaders confined by an ideology of greed and avarice do what is really best for their people rather than the super wealthy?
p.s. You may wonder what the two countries I mentioned are that have had no COVID19 domestic transmissions? Good luck finding out from the MSM. Maybe this will help.
Author:
Thomas C. Mountain is an historian and educator who has been living and reporting from Eritrea since 2006. Reach him at thomascmountain at g mail dot com.
===
Prime Minister announces military measures against TPLF
By Staff Reporter - 04. November 2020
In a live address to the Ethiopian people after the midnight of November 3, 2020, Ethiopian Prime Minister Abiy Ahmed (PhD) announced that he ordered the national defense forces to defend the country and it's citizens following attempts by Tigray People's Liberation Front (TPLF) forces to loot weapons from the Northern Command of the Ethiopian Army stationed in Tigray region.
He further stated that the TPLF forces also attacked the Dansha area of Amhara regional state, noting that the attack was blocked by the forces in the region.
"The last point of the red line has been crossed; force has become the last resort to protect country and people," twitted the Prime Minister.
The PM called on the Ethiopian people to follow matters with a sober mind, stay vigilant to incitement of violence in various localities and stand beside the defense forces.
===
ICYMI
Research finds Ethiopians unsatisfied with state of democracy
By Neamin Ashenafi - 02. November 2020
A recent survey conducted by Afrobarometer, a pan-African research network, revealed that 54 percent of Ethiopians are not satisfied with the way democracy is working in the country.
Similarly, the survey also revealed that half (50 percent) of Ethiopians consider that the country is either "a democracy with major problems" or "not a democracy at all."
This was disclosed in a pressbriefing both for local and international media organizations held on Friday October 30, 2020 by the Afrobarometer team led by ABCON research and consulting firm. In the process of conducting the survey, 2,400 adult Ethiopians were interviewed in a period between December 2019 and January 2020.
The key findings of the survey proved that majority of citizens are not satisfied with the current affairs of democracy and complained about its shortcomings. Large majority of Ethiopians aspire to have a democratic political system over regimes such as one-party rule, military rule, and one-man rule, the survey showed.
Moreover, it indicated that most Ethiopians want the government to be accountable to its citizens and the Prime Minister to Parliament.
Regarding the political system citizens aspire for, the survey showed an overwhelming majority (90 percent) of Ethiopians prefer democracy rejecting: one-party rule (77 percent), military rule (76 percent), and one-man rule (84 percent).
It can be recalled that the previous survey, which was publicized back in August by the same organization, indicated that Ethiopians support the amendment of the Constitution to make the federal government multilingual, limit the PM's term in office to two terms and establish a constitutional court.
However, citizens are divided on issues such as private land ownership, the right to self-administration, the national emblem and the status of the capital Addis Ababa.
Afrobarometer is a pan-African, non-partisan survey research network that provides data on African experiences and evaluates democracy, governance, and quality of life. Seven rounds of survey were completed in upto 38 countries between 1999 and 2018. Round eight is planned to take place between 2019/2021 in at least 35 countries.
===
"Democratic" Means Social Equality
By Thomas C. Mountain - 01. November 2020
Pundits in the international media and political classes twist and distort the word "democratic" until it has no resemblance to the actual meaning of the word. Start with "democracy" from which "democratic" is born.
"Government by the people exercised either directly…? or by elected representatives" and later "the principles of social equality and individual rights". "Democratic; of, characterized by, or advocating democracy" and later "believing in or practicing social equality".
Are all these countries who call themselves "democratic" practicing "the principles of social equality…"?
As the 1%, the super-rich, continues to grow richer while most of their people see their lives growing harder by the day can you call this "democracy", "believing in or practicing social equality"?
Hell no! Democracy doesn't mean you have to have elections? No, a country can be democratic without having elections. But can a society be "democratic" and yet completely abandon any pretence of "believing in or practicing social equality"?
Of course not, those that comprise the National Security Establishments (NSE) in almost all the countries around the world, whether they be politicians, intelligence services/law enforcement, media or the wealthy have bastardized the word "democratic" to the point where it no longer resembles its real meaning.
"Democratic" means social equality, or working towards that end so the USA and Europe are clearly not democratic.
Yet Cuba is democratic, with a democracy based on a government by the people exercised directly, even without the need for elections. The fact that Cuba practices social equality is key.
Social equality and no golden rule demanding elections is democracy, democratic. Yet the NSE's in the imperial enclaves insist that elections be foremost in all countries political development. Never mind these elections have nothing to do with social equality, just the opposite.
It's all about looting and plundering the nations people in their name on behalf of the 1%er's. A social equality based international democratic system is desperately needed on this planet. What else can protect the world's peoples from the impending climate disaster of which we are just beginning to see and feel the warning signs?
Greed and excessive accumulation is driving this approaching climate disaster and only a socially cooperative society can prepare and hopefully prevent major social chaos and suffering.
If a people, or peoples, can work in common for the common good there is still a chance for humanity.
Learning from societies, which today practice real social equality, is a start.
Author:
Thomas C. Mountain is an historian and educator living and reporting from Eritrea since 2006. Reach him at thomascmountain at g mail dot com.