Royal Commission recommends national emergency powers
The Royal Commission report into last summer's catastrophic bushfires has finally been released with a big recommendation.
By Anton Nilsson and Jade Gailberger - 30. October 2020
The federal government should have the power to declare a state of national emergency, according to a final report handed down by the royal commission into last summer's catastrophic bushfires.
The proposed change is among 80 recommendations made public on Friday after the report was tabled in parliament.
The Black Summer blazes torched 10 million hectares [N.B.: Other sources speak of up to 24 million hectares], destroyed more than 3,000 homes and killed 33 people.
The thick smoke that blanketed parts of Australia for weeks on end contributed to hundreds more deaths, the inquiry found.
In response to the report, Emergency Management Minister David Littleproud defended the government's level of preparation for last year's season.
"We are well prepared. We were well prepared last year," he told reporters. "This year we are fully prepared to pivot from bushfire into any other hazard that comes our way."
Black Summer Royal Commission report released
•Oct 29, 2020
9 News Australia - The Royal Commission into the Black Summer bushfires has released its report, and with it 80 wide-ranging recommendations.
The 579-page report of the Royal Commission into National Natural Disaster Arrangements includes recommendations to speed up the introduction of a nationally consistent disaster warning system, develop air quality forecasting capabilities, and to share data and technology more effectively between governments.
Among the most significant recommendations is a call for the federal government to have broader powers to declare a state of emergency.
"The declaration should be made by the prime minister, and legislation should be clear about the circumstances in which a declaration may be made, and the actions that the Australian government can then take to support state and territory governments," the report says.
Such a declaration would signal the severity of the situation to the community and put agencies and troops on high alert.
The report says the federal government should be able to act in response to a natural disaster in a state of emergency, regardless of whether or not a state has asked for help.
But the declaration "should not purport" to give the Commonwealth power to unilaterally decide how state and territory resources are used.
Mr Littleproud said the ability to declare a national emergency "doesn't mean the federal government would come in and take the operational management of the fire."
"It would give a clear delineation and trigger point in which the federal government would be able to bring in its agencies, whether it be the Defence Force or any other, to support and assist state governments across the country because of the scale and size of the disaster," he said.
WATCH VIDEO: Bushfire season is here and our firefighters are showing off their new tech to fight blazes.
That recommendation will count as a win for Prime Minister Scott Morrison, who asked for such powers in January after copping heavy flak for what many perceived as his slow response to the crisis.
The report hints at that public perception, stating the more than 1,700 submissions made clear "the Australian public expected greater Australian government action" during the bushfires.
The commission recommends developing a national aerial firefighting fleet to supplement the states' own air bombers.
It also calls for a National Cabinet-style forum for state leaders and the prime minister to make critical decisions.
That forum would ideally be supported by an "authoritative advisory body of senior officials from Australian, state and territory governments", the report says.
The report makes clear disaster management arrangements must catch up to a new reality in which climate change has made natural disasters worse.
It calls for the federal, state and territory governments to improve information and technology sharing to better anticipate climate change effects on natural disasters.
It also states governments should produce localised projections of climate impacts to better inform the risk of future disasters.
Climate change will continue to whip up wilder storms, lead to higher sea levels, and stoke hotter and more out-of-control bushfires, the report says.
"We are likely to see more compounding disasters on a national scale with far-reaching consequences. Compounding disasters may be caused by multiple disasters happening simultaneously, or one after another."
"Some may involve multiple hazards – fires, floods and storms.
"Some have cascading effects – threatening not only lives and homes, but also the nation's economy, critical infrastructure and essential services, such as our electricity, telecommunications and water supply, and our roads, railways and airports."
Mr Littleproud said the federal government would work with the states to implement the recommendations.
"There are 80 recommendations, 14 of those are for the Commonwealth government, 23 relate solely to state and territories, 41 are shared responsibilities that we will work with the state," he said.
He described the recommendations for the federal government as "very pragmatic" and said they would continue to be implemented.
He also paid tribute to the 33 people who were killed during the fires.
Opposition emergency management spokesman, Murray Watt said the report confirms that the Morrison Government last year failed to turn up for bushfire survivors and regions.
"I really hope that the Government implements all of these recommendations immediately, starts spending the funding that it's put aside to prevent disasters in the future, and starts taking serious action on climate change to keep Australians safe," Senator Watt said.
"The recommendations seem pretty sensible to me, they're very wide-ranging.
"They cover everything from climate action to better land use planning, making sure that buildings go where they should, how we can make homes and other structures in our community generally more resilient for disasters into the future."
Senator Watt said Australians know that last year's bushfires were unprecedented.
"But the report makes very clear that that is not an excuse for not being prepared," he said.
"We know that we're facing this kind of weather into the future. The Government has all the information it needs to protect Australians in the future."
Firefighters Union spokesman Leighton Drury criticised the commission for not asking it to give evidence after it made a submission to the inquiry.
"It is commendable that the commission sought the views of a variety of people, however we see critical failure in not engaging with our members," Mr Drury said.
"More people from the Australian Space Agency were called to give evidence than professional frontline firefighters."
===
The Royal Commission into National Natural Disaster Arrangements presented its report to the Governor-General on 28 October 2020. The report was tabled in Parliament on 30 October 2020.
80 recommendations made by bushfire Royal Commission
•Oct 30, 2020
9 News Australia - Federal Government powers to invoke a National State of Emergency and purchasing a fleet of firefighting aircraft are among the 80 recommendations made by the Royal Commission into Australia's Black Summer bushfire disaster.
The Royal Commission into National Natural Disaster Arrangements Report
The Royal Commission into National Natural Disaster Arrangements has concluded.
Commission Chair, Air Chief Marshal Mark Binskin AC (Retd) presented the Royal Commission's report to the Governor‑General on Wednesday, 28 October 2020.
The report was tabled in Parliament on Friday, 30 October, 2020.
The Royal Commission was formally established on 20 February 2020 when the Governor-General, His Excellency General the Honourable David Hurley AC DSC (Retd) issued Letters Patent formally appointing the Royal Commission and outlining the terms of reference for its inquiry.
Publication date
Download
Royal Commission into National Natural Disaster Arrangements - Report [accessible] [PDF]
Royal Commission into National Natural Disaster Arrangements - Appendices [accessible] [PDF]
2019-20 Bushfire History Project
The 2019-20 Bushfire History Project was an initiative of the Royal Commission into the National Natural Disaster Arrangements. It provided an opportunity for people to record their personal experience and share photos and videos taken during the 2019-20 bushfires or the ongoing recovery. The material received by the Royal Commission will form part of the official records of the Royal Commission.
The Royal Commission is pleased to publish a selection of photographs from the 2019-20 Bushfire History Project.
===
Australia's bushfire survivors may feel they can't face the royal commission report – but politicians must
By Kristy McBain - 29. October 2020 - Last modified on Fri 30 Oct 2020
Covid stopped communities coming together in the fires' aftermath. Now is our chance to turn the spotlight back on them.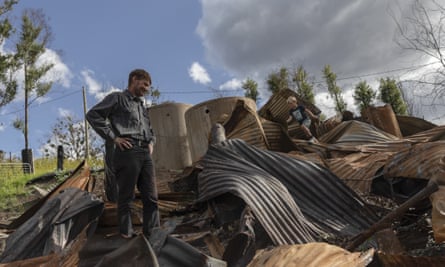 Bushfire survivor Ian Livingston and his son Sydney, 6, among the ruins of their family home in Cobargo. Photograph: Brook Mitchell/Getty Images
The final report from the bushfire royal commission will be another emotional trigger for the fraternity of deeply traumatised bushfire communities across Australia.
The communities I serve in Eden-Monaro stand with country towns right across our wide brown land – many of which still bare the scars of the Black Summer of 2019/20.
Some bushfire survivors won't want to face this report right now – their headspace and internal coping mechanisms just won't allow it.
And we need to respect that. For a moment, walk in the shoes of a bushfire survivor. Imagine that the gates of hell have opened on you, your family and your home – nothing is left, and you feel lucky to be alive.
You overcome the uncomfortable need to ask for help and are required to register with different government agencies in order to access assistance – telling your story of horror, loss and grief over and over again.
You wait for an overwhelmed system and public service to respond, all while you work out how to restart your life or business. Figuring out the intricacies of the rebuilding and planning process, while you live in a caravan with no water or sewerage connection. Where will your next meal come from and how will you cook it?
New government programs are announced along the way; incentives such as the homebuilder grant. But given the unworkable 31 December deadline and the myriad of building decisions to navigate (not to mention the deep despair you continue to feel) you realise you will miss out.
One morning, you wake to news of another bushfire season, not realising the last one had even ended.
The days are warming up and your anxiety rises with it.
These are difficult shoes to walk in.
So while I understand that many survivors simply can't face this report at this time, those who can, and those of us with a responsibility to serve, need to bear witness to the experiences of these survivors and commit ourselves to the action that must follow.
The truth is that many in our community didn't want this royal commission.
It was announced while tree stumps were still smouldering in the ground; and the immediate reaction I had was "not another bushfire inquiry".
One of my predecessors as member for Eden-Monaro, Gary Nairn, oversaw the House of Representatives report entitled "A Nation Charred", which focused on the 4m hectares burnt across the six Australian states and territories in the summer of 2003.
Nairn's report is just one of more than 240 formal analyses completed since 1927, resulting in thousands of findings and recommendations.
Now that we have the findings of yet another bushfire inquiry, it would be more than unforgivable not to act.
My big fear is that the destruction wreaked upon so many communities, and what needs to be done, will be lost and forgotten in the glare of the Covid-19 spotlight.
We've already heard this government use the pandemic as an excuse not to address critical work, but more than that is the real-world experience of people at Towamba, Tumbarumba, Bombay and Cobargo.
At a time when these communities, and many like them, wanted and needed to come together in the aftermath of these fires, Covid stopped them. No hugs, no cups of tea, no community meetings, no formal support services – all sidelined by the need to control the spread of this frightening disease.
Now is our chance to truly turn the spotlight back onto bushfire-affected communities. More than 1,700 submissions were made to this royal commission – those often-heartbreaking experiences can't be for nothing. While much has been achieved since those terrifying fires bore down on us, so much more work is needed.
We may have rolled our eyes at the need for this royal commission, but now that this tremendous body of work has been done, it needs to be fully acknowledged and its recommendations realised.
This document is now our document, it belongs to the communities left charred and scarred by bushfire. Those impacted need to see action because otherwise disaster will strike time and time again to another person, another family, another community.
The prime minister was late to show up during the crisis and his government has been too slow to assist ever since.
Action will cost money; it will be hard work – but the experiences of our Black Summer must count for something.
• Kristy McBain is the Labor member for Eden-Monaro
===
Bushfire royal commission says governments need to coordinate for 'more intense' natural disasters
By Anna Henderson and Jordan Hayne -
Australia's a new emergency warning system needs to be finished quickly, the bushfire royal commission has said, after warning of "more frequent and intense" natural disasters in coming decades.
Key points:
The bushfire royal commission says a National Cabinet-style approach could work for emergencies other than COVID-19
The commission says work on a new Australian warning system needs to be finished as a priority
The interim report warns Australia will face "more frequent and intense" natural disasters in coming decades
In handing down its interim report, the commission said many people had reported terms like "watch and act" were confusing.
Australia has a nationally agreed three-level bushfire warning system, but states and territories differ on how the warnings of "advice", "watch and act" and "emergency" are interpreted.
"We have heard that the middle-level warning, 'watch and act', causes confusion — could it mean 'wait and see' or 'act now'?" the report said.
An Australian warning system, which would ensure consistent labelling of natural disaster danger across the country, has been in development for six years, which the commission said was too long.
"For such a critical issue, this work has taken too long and is an example of the need for a clear decision-making process and to elevate matters to national leaders where required," it said.
"The work on the Australian warning system should be finished as a priority."
The royal commission has previously pushed for the warning system to be expedited, with commissioner Annabelle Bennett labelling the delays "breathtaking".
It made a similar call for a uniform approach to fire danger ratings, noting danger ratings like "catastrophic" are represented differently across states and territories.
The report also said different levels of government needed to better coordinate, floating the idea that National Cabinet could be used during an emergency response.
The report does not include any recommendations, which will be provided when the final report is handed down at the end of October.
Emergency Management Minister David Littleproud said the Federal Government would consider the report but agreed with the notion there needed to be better national coordination of emergency responses.
"What the report says is what we've dealt with isn't unprecedented, it means it's what we're going to have to deal with into the future," he said.
"What it's telling us is there needs to be a more nationally coordinated approach."
The report also said commissioners were considering whether Australia should develop a "modest" air tanker capability for aerial firefighting, but warned that no level of resourcing could fully protect Australians from disaster.
It said people living in high-risk areas, in particular, needed to take responsibility for protecting themselves and their property.
"All Australians, and particularly those in high-risk areas, must take steps to prepare themselves and their families for natural disasters," the report said.