PROLOGUE: The United Nations High Commissioner for Refugees (UNHCR), who is deeply embedded and involved in the on-going corona scamdemic worldwide, fails everywhere to fulfil the basic mandate: To protect the most vulnerable refugees. While they spend many millions - monies received from the taxpayers of the international community - to get tracing apps and biometric ID scams including DNA-registers being set up for them by the most detested companies in the spy-business - like Palantir - in truly Orwellian manner, they don't provide security, appropriate housing and food even to the most destitute and persecuted women and children. UNHCR must also directly be held responsible for forcing women, young girls and boys onto the streets and into prostitution, by not providing secure shelter, appropriate health services and by not fast-tracking the processing of cases for settlement in secure countries, while refugees are still persecuted in Kenya. The killing or high-jacking especially of politically persecuted refugees from Rwanda, DRCongo and Ethiopia is on-going. But the UNHCR bureaucrats now got used to "home office" and their "work" is just an e-mail game, while they blame the Kenyan government not to do enough. But it is the duty of the UNHCR in the first place. No wonder that abandoned refugees turn to desperate measures in order to see and face those responsible in flesh and blood, who hide since many months behind "corona" excuses. To implement the migration-related commitments of the 2030 Agenda for Sustainable Development and the New York Declaration for Refugees and Migrants, Member States have committed to contribute to global governance [stupidly] and enhanced cooperation on international migration. Thereby the GLOBAL COMPACT manifested the role of broken UNHCR, which it cannot and does not fulfil - and the refugees suffer even more. Instead of developing rapid, capable and dedicated distress-response mechanisms, the UNHCR only concentrates on phony websites but does not meet the crisis needs, which drives refugees to then commit suicide.
ICYMI: Kagame's DMI is now targeting his opponents in EAC
Refugees at UNHCR transition centre on strike to protest against extended stay - one even attempted suicide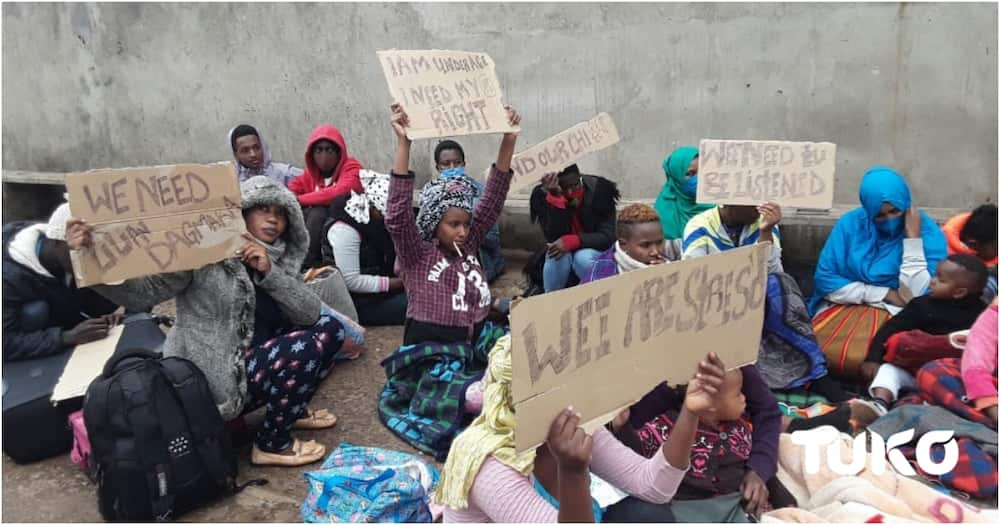 By Linda Shiundu - 23. October 2020
Refugees from Burundi, Somali, Congo and Rwanda being held at the Nairobi UNHCR transit centre are protesting their extended stay
- The refugees said some of them had been at the centre for more than 2 years and they were yet to know their fate.
- According to them, they were taken to their for protection after their lives were exposed to varying dangers including kidnappings
- Among them are underage children who are now forced to go hungry as the rest of them are on hunger strike
- They are asking to be resettled as per the agreement they had with UNHCR when they were taken in at the centre
A number of refugees at the United Nations High Commissioner for Refugees (UNHCR) transition centre in Nairobi have gone on hunger strike to protest their extended stay at the centre.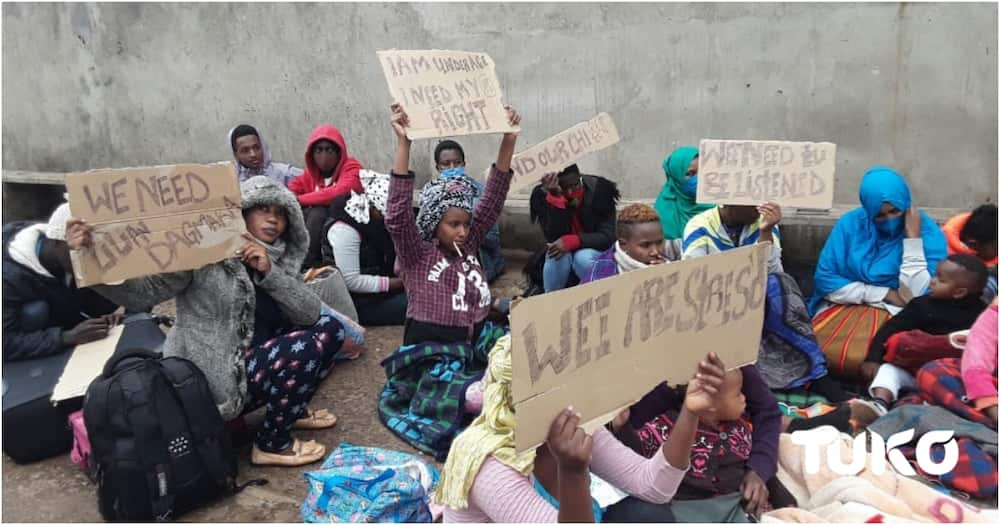 Refugees at Nairobi's UNHCR transition centre who have gone on strike. Photo: Linda Shiundu Source: Original
The refugees who are mainly women and young children were taken to the centre located in Mountain View for protection but they now claim their stay has been longer than expected.
Speaking to TUKO.co.ke, the refugees who sought anonymity said all they wanted was to be resettled in their preferred locations so they could continue leading their normal lives.
"We have been here for the past two years with our children but nothing seems to be materialising," said one of the refugees
"Our children are not going to school neither can we do anything with our lives. Our lives are at a standstill," added the refugees.
They said the underage children at the centres had no guardians nor any form of identification yet the organisation was planning on sending them to Kakuma refugee camp in Turkana county.
According to the refugees, officials from UNCHR had threatened them with arrest should they continue with the hunger strike that has seen the young ones go without food for days.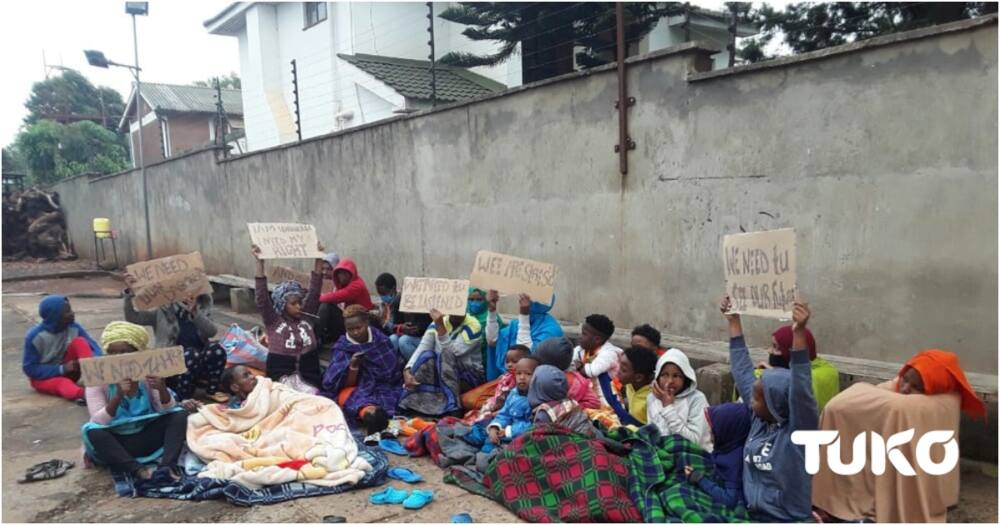 The refugees have been on hunger strike since Sunday, October 18. Photo: Linda Shiundu. Source: Original
"We have been here for so long. If the places we chose to be resettled have issues, then they should tell us to chose different areas," said another refugee."
On Friday, October 23, one of the women who had started the strike on Thursday, October 15 attempted to take her life by hanging after officials from the organisation gave them a deaf ear.
Attempts to rescue the woman from killing herself left others wounded as they fought for a knife that had been brought to cut the rope the woman wanted to use to hang herself.
The refugees who were taken to the centre as a result of their lives being threatened are said to be majorly from Burundi, Somali, Congo and Rwanda.
They were, however, grateful for the good care the UNHCR had given them since they were taken to the transit centre.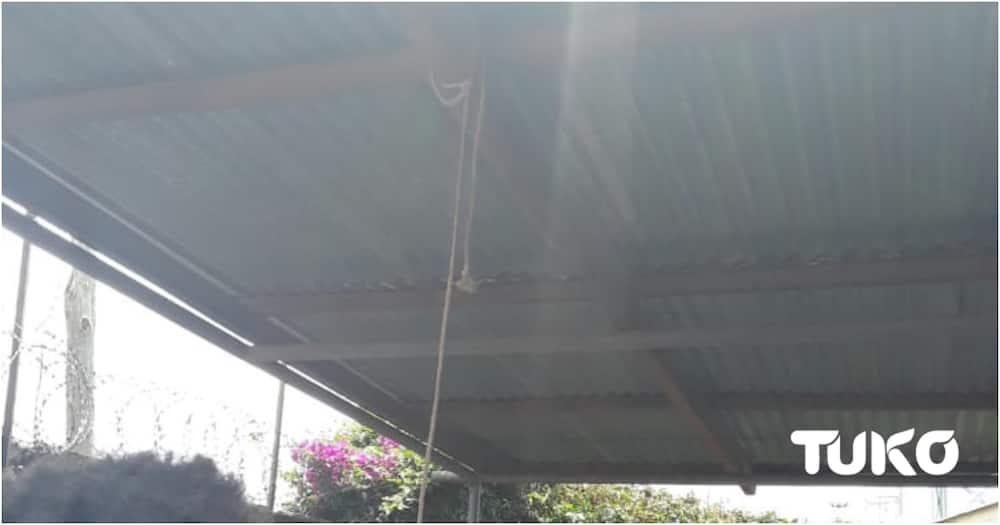 The rope used by one of the women who wanted to commit suicide. Photo: Linda Shiundu. Source: Original
TUKO.co.ke's efforts to reach UNHCR officials for a comment on the ongoing strike were futile as we were transferred from one official to the other and eventually, our calls went unanswered.
The strike comes days after the government of Kenya announced it was going to deregister over 14,000 Kenyans who were wrongfully registered as refugees at the Dadaab refugee camp.
TUKO.co.ke reported the decision was arrived at after the government completed a vetting process in Garissa county. The process began in November 2019 to determine who was a Somali asylum seeker and who was a Kenyan citizen.
Read also:
... but UNHCR does not fulfil its mandate.
===
ICYMI:
After kidnapping Rusesabagina in Dubai, Kagame's DMI is now targeting his opponents in EAC
By Doreen Umwiza 08. October 2020
For many years, Rwandan refugees across the world have faced abuses, including arbitrary detention, forced return to Rwanda, killings in the hosting communities, and attack on their physical security without any form of accountability.
In Uganda, former Inspector General of Police, General Kale Kayihura, on 24th August 2018 was charged with aiding and abetting the kidnapping, killings and repatriation of more than a hundred Rwandan refugees among other charges.
1. In Uganda
Over the years, including more recently, International Refugee Rights Initiative (IRRI) has received several reports about threats, illegal arrests, attacks and forced returns of Rwandan refugees in Uganda. Many of such cases remain unreported, given the secrecy surrounding such abuses and the fear of reprisals, and are difficult to confirm. More than 50 Rwandan refugees based in Uganda were either kidnapped to Rwanda, disappeared or killed in 2008–2015.
A few examples include:
• In July 2010, Rwandan refugees were forcibly removed en masse from refugee settlements in south-western Uganda to Rwanda. Ugandan police officers used live rounds, wounding several in the process, to force refugees onto buses which dropped them in Rwanda.
• In November 2011, Charles Ingabire, a Rwandan journalist, was murdered when he left a bar in Kampala. He was a fierce government critic who had obtained refugee status in Uganda. An investigation was opened, but to date, nobody has been charged for involvement in this crime.
• Multiple sources confirmed to IRRI that on 20 December 2017, five Rwandan nationals were arrested in Mbarara, and one in Kampala. They were detained incommunicado for several days and allegedly tortured. Five of them were driven to the border with Rwanda nine days later and deported. According to Uganda's army spokesperson, one was not deported because of her refugee status, and remained in incommunicado detention.
Read more cases here (https://medium.com/@david.himbara_27884/more-than-50-rwandan-refugees-based-in-uganda-were-either-kidnapped-to-rwanda-disappeared-or-b2dc69d94ae6)
2. In KENYA
In his speech at the Leadership Retreat on March 9, 2019, General Paul Kagame explained how he killed exiled Rwandan known as Seth SENDASHONGA in Nairobi (watch More on (https://www.youtube.com/watch?v=Ob3f9OhQ7kw&feature=youtu.be&fbclid=IwAR20el7X3j-ehHMeqSD612jX4NSPWht9pQ-1TmDWBcyw5rfsD5UpXeyHjoo) but not only him but many others were killed, kidnapped, or went missing mysteriously in Kenya-Nairobi under Kagame's order. Here is few of them:
• May 15, 1998, Seth Sendashonga, the former Minister of the Interior who had taken the road to exile was killed in Nairobi, Kenya by the killers of the dictator Paul Kagame
• A few days later, Colonel Theoneste Lizinde and Augustin Bugirimfura were shot and found dead in Nairobi, Kenya by the dictator's men.
• Recently, Emile Gafirita who was preparing to give his testimony accusing the dictator, was kidnapped by the men of Kagame Nairobi, two years ago without trace
• In year 2015, the former Rwandan Armed Forces (EX-FAR) soldier who worked at the International Criminal Court for Rwanda, and living in Nairobi, Kenya, Captain Chrysostome NTIRUGIRIBAMBE was reported missing.
• In 2019, a journalist of ihame.com NDOLIMANA SEMANA also known as Christophe Kanuma was assassinated in Nairobi. (https://glpost.com/breaking-news-dmi-operatives-in-nairobi-kenya-eliminate-ndorimana-semana-alias-kanuma-christophe-through-poison/)
• In this year 2020, UWIZEYIMANA Josiane, a Rwandan journalist and refugee leaving in Kenya missed mysteriously.
• The list of Rwandan refugees kidnapped or killed in Kenya is long, we remember Mashood Abiola, Jean De Dieu NDAMIRA, Jack Murenzi, Emmanuel KALINDA, Etc. Many Rwandans living in Nairobi, Kakuma Refugee Camp and Daadab are afraid of losing their lives …
Time and time again international human rights organizations like Amnestie International and Human Rights Watch call on host governments and UN agency for Refugees (UNHCR) to strengthen protection for Rwandan refugees and asylum seekers who may have justified fears for their safety in exile because they (organizations) are familiar with the dictator in question.