UPDATE 17. October 2020: Lummi Nation pulls out of AstraZeneca coronavirus vaccine experiment - Coronavirus vaccine trials halted as more volunteers become ill and Lummi Nation withdraws from AstraZeneca experiments.
UPDATE 14. October 2020: Third vaccine maker halts trials. Also Eli Lilly stops the test vaccinations due to serious complications. German taxpayers ask back their money, which was fraudulently invested into the COVID-19 vaccine development hype.
UPDATE 13. October 2020: Second vaccine corp stops SARS vaccine trial. After Astra Zeneca also Johnson & Johnson has to admit the vaccines make trial participants sick.
UPDATE 12. October 2020: Johnson & Johnson Latest To Halt COVID-19 Vaccine Trial Over Unspecified Illness
Death and Damages caused by forced vaccinations in the global South must be the responsibility of Angela Merkel, if she sponsors such trials and campaigns with German money.
By Venatrix Fulmen (*) - 30. September 2020
Angela Merkel is still the Chancellor of the Federal Republic of Germany.
Based on a medical-martial law on the CVID-19 / SARS-CoV-2 issues that was imposed by her - similar to the 'Ermaechtigungsgesetze' [Acts of Enablement] that gave extraordinary powers to Chancellor and Nazi-leader Adolf Hitler and his dictatorship in 1933, she now just does what she wants - all without the consent of the German people. Millions of Germans took to the streets in protest, but so far to no avail.
Apart from causing economic havoc in the country and serious hardship for the citizens of Germany, the policies imposed by Angela Merkel's governance are violating basic human rights as well as the Basic Law of the country that serves as constitution. A German as well as an international class action to seek compensation for damages - targeting at first the pushers of unvalidated and unsuitabe PCR tests imposed by the German government as base for draconian measures like lockdowns - are in process.
Angela Merkel continues to fleece the coffers of the once economically stong country in the heart of Europe - of her federal government as well as those of the Laender (semi-autonomous counties) - to an extent that made it necessary to massively borrow and print money. The debts owed by Germany have since the onset of the SARS-CoV-2 pandemic nearly doubled and Germany's true debt barometer (there are many that still stick to the 2019 level of just over 2 Trillion) shows a serious fever-pitch. The Bundestag has approved 156 Billion Euro – financed by new debts – for the 2020 supplementary budget.
Merkel is at the core of the WHO hype that drummed more than 60 wealthy countries into joining WHO's plan for distributing Covid-19 vaccines.
Though no vaccine against COVID-19 has been found (except maybe in Russia and China), she invested millions of German taxpayer's money into shady conglomerates of vaccine developers and Big Pharma, ordered for Germany already 80 million doses of the non-existing but intentionally genome-altering vaccine, whose trials have shown serious damages done to the vaccine volunteers, and now she wants to finance even the forced vaccinations in developing nations:
Germany Helps Fund COVID-19 Vaccine for Developing Countries
By TeleSur - 30. September 2020
The WHO reported that although already $3 billion has been received, they need another $35 billion to achieve its goal.
Germany's Chancellor Angela Merkel pledged on Wednesday to contribute $117 million to help developing countries access a COVID-19 vaccine.
"This is Germany's contribution towards ensuring that developing countries have access to COVID-19 vaccines," the official said during an international conference. "Today, I am in a position to announce another €100 million that we have earmarked as special funds for GAVI," Merkel said on the vaccine alliance.
As the World Health Organization (WHO) rushes to guarantee access to a COVID-19 vaccine via its COVAX facility, the organization reported that although already $3 billion has been received, they need another $35 billion to achieve its goal.
Today the organization explained via Twitter that governments must contribute to its ACT-Accelerator to develop the vaccine. The amount need is "less than 1% of what G20 governments have already committed to domestic stimulus packages."
In other words, the amount "it's roughly equivalent to what the world spends on cigarettes every 2 weeks," the WHO explained.
As Germany has already committed to another $675 million, other countries such as the United Kingdom, Switzerland, and Canada have also contributed.
---
Meanwhile, massive orders of facemasks, which turned out to not meet the needs and do not protect against the contagion SARS-CoV-2 anyway, were given away by Germany to developing nations where they are forced onto people. Interestingly also one consignement ordered by the German government - a whole planeload full of face-masks - allegedly "got lost in transit" at Jomo Kenyatta Airport in Kenya, but was reportedly not yet paid for by Germany.
Apart from the many, many millions of fake PCR tests that were paid for by the German governance, further 9 Million antibody tests were ordered, though it is absolutely not clear yet if they will have any value.
Since Angela Merkel and her cabinet are at the helm of all these machinations, it thereby becomes obvious that - in addition to the dangerous vaccine producers - Angela Merkel must be also held fully accountable for any vaccine damages or death resulting from forced vaccinations that might be imposed by rogue governments of the global South on their innocent and often uninformed people, who receive these vaccinations through Merkel; actions and the German money.
In addition, if her former Ministress of Defence Ursula von der Leyen, who is now President of the Commission of the European Communities and is also at the core of the money drum-up campaign for the COVID-Vaccination-Scam together with of the United Nation's World Health Organization (WHO) - still headed by Ethiopian war-criminal Tedros Adhanom Ghebreyesus - will likewise financially urge developing countries to harm their citizens, v.d. Leyen will have to stand trial for crimes against humanity beside her mastress and their Ethiopian close friend to face justice together with the person behind all the corona machinations: Bill Gates.
(*) Author:
Venarix Fulmen - investigative journalist and human rights defender - can be reached for further information (leaks welcomed) via venatrix.fulmen[AT]protonmail.com
UPDATES:
PROLOGUE: Astra-Zeneka as well as Pfizer received funding from German taxpayer's money, provided by Chanchellor Angela Merkel via GAVI, the W.H.O and its COVAX facility as well as the EU conglomerate, and therefore must be held responsible for the vaccine damages also in First Nations.
Lummi Nation pulls out of AstraZeneca coronavirus vaccine experiment
Photo by AIANTA
Coronavirus vaccine trials halted as more volunteers become ill and Lummi Nation withdraws from AstraZeneca experiments
By Brenda Norrell - 17. October 2020
LUMMI NATION, Washington -- The Lummi Nation pulled out of the controversial AstraZeneca coronavirus vaccine study this week, after a volunteer in the trial became ill with a neurological disorder.
Lawrence Solomon, Chairman of the Lummi Indian Business Council said, "We will continue to look for ways to protect our people from this virus. But after consultation with the Lummi Public Health Department, it was clear that the AstraZeneca vaccine trial was not a good fit."

Meanwhile, Pfizer, the drug company carrying out experimental coronavirus vaccines on Navajos said the vaccine will not be ready before the election -- bringing to an end Trump's promise of a vaccine before the election.
"It was never going to happen. It was utterly unrealistic," said Lawrence Gostin, director of the WHO Collaborating Center on National and Global Health Law at Georgetown University. "Vaccines follow a timeline of good science, they don't follow a timeline of electoral politics," Politico reported.
The controversial vaccine experiments on Navajos sank into the political campaign. Navajo Vice President Myron Lizer publicly joined Trump's campaign. The Navajo government urged Navajos to volunteer for the vaccine experiments.
The ongoing Pfizer vaccine experiments on the Navajo Nation are underway by Johns Hopkins University researchers who are using Indian Health Service hospitals on the Navajo Nation and in the border town of Gallup, N.M.
Censored News has asked Johns Hopkins about its 40-year history of vaccine and medical experiments, which little is known about, and is awaiting a response. In an e-mail response to Censored News, the Indian Health Service said it is not responsible in the event of sickness or death from the coronavirus vaccine experiments.
With the risks of participating in coronavirus vaccine trials increasing, two other vaccine studies were halted this week because volunteers became sick. Both Johnson and Johnson and Eli Lilly halted their COVID-19 vaccine experiments.
Dr. Dakotah Lane, medical director of the Lummi Nation said, "Native peoples are at greater risk for severe symptoms and death from Covid-19."
"Yet we are rarely participants in the testing of life-saving vaccines and medications. This is a significant disadvantage to determining whether a vaccine is effective for American Indian populations."
"We expect any vaccine trial we enroll in to meet the highest standards," said Lane. "While the AstraZeneca trial is not a good fit at this time, we will assess future trials to see if they are safe and appropriate for our tribal members who wish to participate."
.
===
NIH Pauses Eli Lilly COVID-19 Antibody Trial Due to 'Safety Concerns'
By Jeremy Loffredo - 15. OCTOBER 15, 2020
The National Institutes of Health (NIH) Tuesday paused enrollment in the late-stage clinical trial for Eli Lilly's COVID-19 antibody treatment. The pause came on recommendation from the independent Data and Safety Monitoring Board (DSMB), which cited safety concerns.
The trial, sponsored by the NIH's National Institute of Allergy and Infectious Diseases, is part of the NIH's ACTIV-3 trial to test the experimental antibody treatment on COVID-19 patients who have already been hospitalized.
An NIH spokesperson told The New York Times that patients who had received the antibodies showed a different "clinical status" than those who received the placebo.
According to The Times, the guidelines for the trial include two "stopping rules," or issues that would require the trial to be paused. One is "futility," meaning the treatment is proven to have a low chance of working. The trial also can be stopped if patients in one group are faring worse than those in the other.
In a statement, the drug maker said:
"Lilly trusts the judgment of the independent DSMB and supports its decisions to exercise caution in ensuring the safety of the patients participating in this study.
"Importantly, the DSMB also considered the impact of the ACTIV-3 study pause on ACTIV-2 and did not recommend any changes to that study's design or enrollment."
This isn't the first time a government agency has raised concerns about the Eli Lilly antibody trial. In November, the U.S. Food and Drug Administration (FDA) cited quality control issues at the manufacturing plant producing the experimental antibody treatment.
According to Reuters, the FDA classified the problems as the most serious level of violation, resulting in an "Official Action Indicated" notice. That means the "violations are serious enough and have a significant enough impact on the public health that something needs to be fixed," a former associate counsel at the FDA told Reuters.
In an interview with MSNBC, Bill Gates, whose foundation is partnering with Eli Lilly to distribute the treatment to low and middle income countries, said he hopes this safety pause doesn't "hold back the product."
The Eli Lilly pause comes just one day after Johnson & Johnson haltedits COVID-19 vaccine trials. A participant in that trial suffered what is believed to be an adverse reaction, but the specific illness has yet to be made public.
Jeremy Loffredo is a reporter for Children's Health Defense.
===
Eli Lilly antibody trial is paused because of potential safety concerns
A government-sponsored clinical trial testing an antibody treatment made by the drug company Eli Lilly has been pausedbecause of a "potential safety concern," according to emails that government officials sent on Tuesday to researchers at testing sites, and confirmed by the company.
The news comes just a day after Johnson & Johnson announced the pause of its coronavirus vaccine trial because of a sick volunteer, and a month after AstraZeneca's vaccine trial was halted over concerns about two participants who had fallen ill after getting the company's vaccine.
The Eli Lilly trial was designed to test the benefits of the therapy on hundreds of people hospitalized with Covid-19, compared with a placebo. All of the study participants also received another experimental drug, remdesivir, which has become commonly used to treat patients with Covid-19. It is unclear how many volunteers were sick, and what the details of their illnesses were.
In large clinical trials, pauses are not unusual, and illnesses in volunteers are not necessarily the result of the experimental drug or vaccine. Such halts are meant to allow an independent board of scientific experts to review the data and determine whether the event may have been related to the treatment or occurred by chance.
Enrollment for the Eli Lilly trial, which was sponsored by several branches of the National Institutes of Health and the Department of Veterans Affairs, among other organizations, had been continuing. But on Tuesday, multiple officials sent emails to researchers telling them to stop adding volunteers to the study out of an "abundance of caution."
In a statement sent over email, Molly McCully, a spokeswoman for Eli Lilly, confirmed the pause. "Safety is of the utmost importance to Lilly," she said. "Lilly is supportive of the decision by the independent D.S.M.B. to cautiously ensure the safety of the patients participating in this study" she added, referring to the independent panel of experts, or the data and safety monitoring board.
The N.I.H. and the V.A. did not immediately respond to requests for comment.
Eli Lilly is one of several companies pursuing experimental treatments for Covid-19 that use monoclonal antibodies — mass-produced mimics of immune molecules the human body produces in reaction to the virus.
Eli Lilly's product is similar to a treatment designed by the drug company Regeneron, which developed an antibody therapy given to President Trump after he tested positive for the coronavirus this month. Mr. Trump has promoted such treatments, without evidence, as a "cure" for his condition, and has suggested that their approval and widespread distribution could be imminent.
The week after the president was treated, both companies applied for emergency clearance for their products from the Food and Drug Administration. (Eli Lilly has applied for authorization of its drug for mild or moderate cases of Covid-19, not for use in hospitalized patients like those enrolled in the halted trial.)
Antibodies can block the coronavirus from infecting cells, and preliminary data from Eli Lilly and Regeneron have hinted they may be able to tamp down the amount of virus in infected people and reduce their symptoms. Eli Lilly also hopes to collect data to figure out whether antibodies can protect certain people from developing Covid-19 after encountering the virus.
Still, if monoclonal antibodies end up being linked to an unexpected side effect — which has not yet been conclusively shown — it will be crucial to figure out how and why these immune molecules are sickening people, said Akiko Iwasaki, an immunologist at Yale.
In a statement, an N.I.H. spokeswoman said the trial, which had enrolled 326 Covid-19 patients, was paused when the independent safety board found that after five days of treatment, the group of patients who had received the antibodies showed a different "clinical status" than the group who had received a saline placebo — a difference that crossed a predetermined threshold for safety.
The N.I.H. statement did not specify the nature of the participants' conditions. But the so-called stopping rules for the trial lay out the conditions for "futility" — the idea that a treatment has a very low chance of working, based on the data so far. A trial could also be halted if there is evidence that patients in one group are faring much worse than those in the other.
The news of the trial's pause prompted a small decline in Eli Lilly's stock on Tuesday afternoon.
On Monday, Johnson & Johnson paused the large late-stage clinical trial of its coronavirus vaccine because of an "unexplained illness" in one of the volunteers.
The company did not say whether the sick participant had received the experimental vaccine or a placebo. The pause was first reported by the health news website Stat. On Tuesday morning, shares of Johnson & Johnson fell about 2 percent on the S&P 500.
— Katherine J. Wu and Katie Thomas
===
Johnson & Johnson pauses Covid-19 vaccine trials after participant becomes ill
By Reuters - 13. October 2020
Small bottles labeled with a "Vaccine COVID-19" sticker and a medical syringe are seen in this illustration taken taken April 10, 2020. REUTERS - Dado Ruvic
Johnson & Johnson said on Monday it had temporarily paused its COVID-19 vaccine candidate clinical trials due to an unexplained illness in a study participant, delaying one of the highest profile efforts to contain the global pandemic
The participant's illness is being reviewed and evaluated by an independent data and safety monitoring board as well as the company's clinical and safety physicians, the company said in a statement.
J&J, which reports quarterly financial results on Tuesday morning, said that such pauses are normal in big trials, which can include tens of thousands of people. It said the "study pause" in giving doses of the vaccine candidate was different from a "regulatory hold" required by health authorities. The current case is a pause.
However, J&J's move follows a similar one by AstraZeneca Plc. In September, AstraZeneca paused late-stage trials of its experimental coronavirus vaccine, developed with the University of Oxford, due to an unexplained illness in a UK study participant.
While trials in the UK, Brazil, South Africa and India have resumed, the U.S. trial is still on hold pending a regulatory review.
Dr. William Schaffner, a professor of infectious diseases at the Vanderbilt University School of Medicine, said by email that "Everybody is on the alert because of what happened with AstraZeneca," adding that it could take a week to gather information.
"It would have to be a serious adverse event. If it was something like prostate cancer, uncontrolled diabetes or a heart attack - they wouldn't stop it for any of those reasons. This is likely to be a neurological event," he said.
Last month, J&J said its experimental COVID-19 vaccine produced a strong immune response against the novel coronavirus in an early-to-mid stage clinical trial, following which the company kicked off a final 60,000-person trial, whose results had been expected by the end of this year or early 2021.
Johnson & Johnson declined to elaborate about the illness due to privacy concerns. It did say that some participants in studies get placebos, and it was not always clear whether a person suffering a serious adverse event in a clinical trial received a placebo or the treatment.
Stat News reported the pause earlier in the day citing a document sent to outside researchers, which stated that a "pausing rule" had been met, the online system used to enroll patients in the study had been closed and the data and safety monitoring board would be convened.
===
Johnson & Johnson Latest To Halt COVID-19 Vaccine Trial Over Unspecified Illness
Yet another high-profile Phase 3 vaccine trial has been temporarily halted after one of the participants developed a suspicious illness.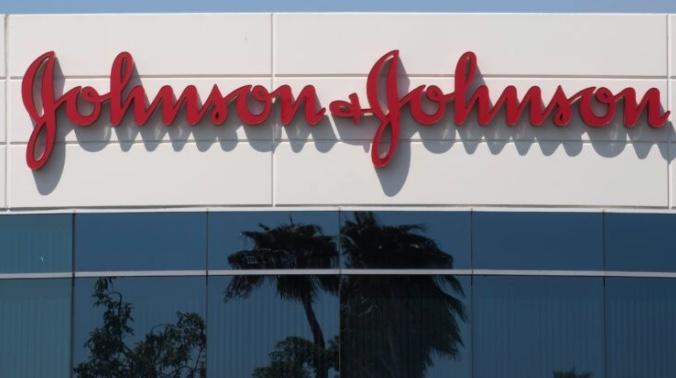 According to a report published Monday night by STAT News, Johnson & Johnson has informed participants and researchers that its 60,000-person trial would be temporarily paused as the company and the Data and Safety Monitoring Board, the organization overseeing all the US COVID-19 trials.
JNJ confirmed the pause when contacted by STAT, though it offered no details about the illness or the patient.
Contacted by STAT, J&J confirmed the study pause, saying it was due to "an unexplained illness in a study participant."
The company declined to provide further details. "We must respect this participant's privacy. We're also learning more about this participant's illness, and it's important to have all the facts before we share additional information," the company said in a statement.
According to STAT, the DSMB was convened late Monday evening to start looking into the case. J&J said that in cases like this, "it is not always immediately apparent" whether the participant who experienced an adverse event received the experimental vaccine, or a placebo.
Pauses like these aren't uncommon in vaccine trials.
"If we do a study of 60,000 people, that is a small village," the source said. "In a small village there are a lot of medical events that happen."
But these trials are drawing more scrutiny ever since the AstraZeneca-Oxford trial was put on hold by regulators in the UK after a participant was sickened with symptoms of what was believed to be transverse myelitis, a serious spinal issue. Trials resumed in the UK, India and elsewhere days later, but in the US, an AZ trial remains on hold due to an unspecified issue. Both AZ and US regulators have been suspiciously tight-lipped.
Already, public health officials in the US, Europe and around the world are worried about waning confidence in the vaccine, with some surveys showing that roughly half the public would rather not take it.
In a research note published earlier, analysts at Goldman Sachs wrote that trust in the vaccine could be a serious barrier to its ultimate eradication. "We think that the biggest challenge to ultimately lowering the disease burden and virus circulation to very low levels will be convincing the broad population to take the vaccine. Our base case assumes such broad uptake but this will likely require a safe and very effective vaccine, trust in the approval and rollout process, no out-of -pocket costs, and effective public and community campaigns."
JNJ is using an adenovirus vector, like several other top vaccine projects.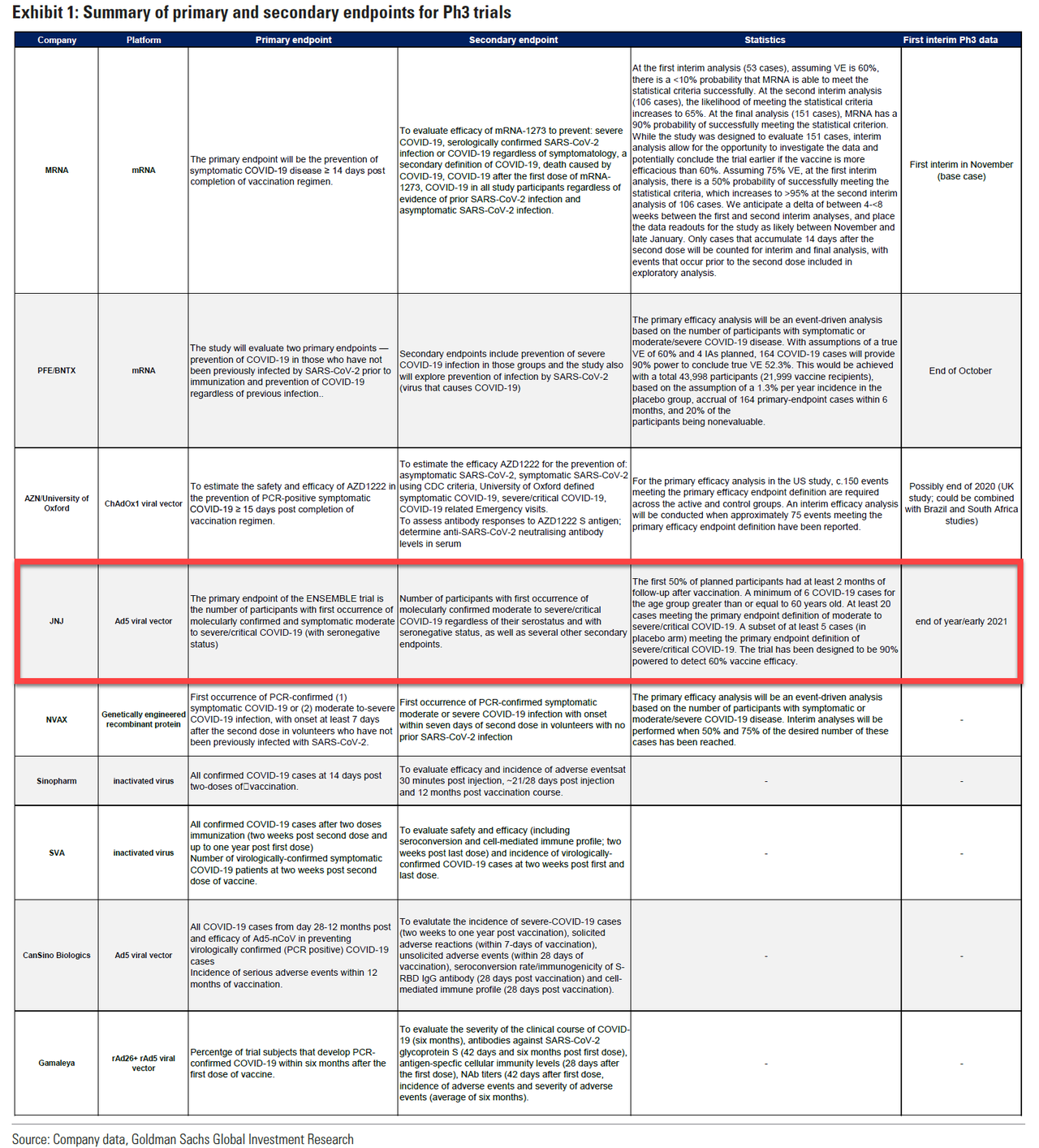 Futures ticked lower on the news.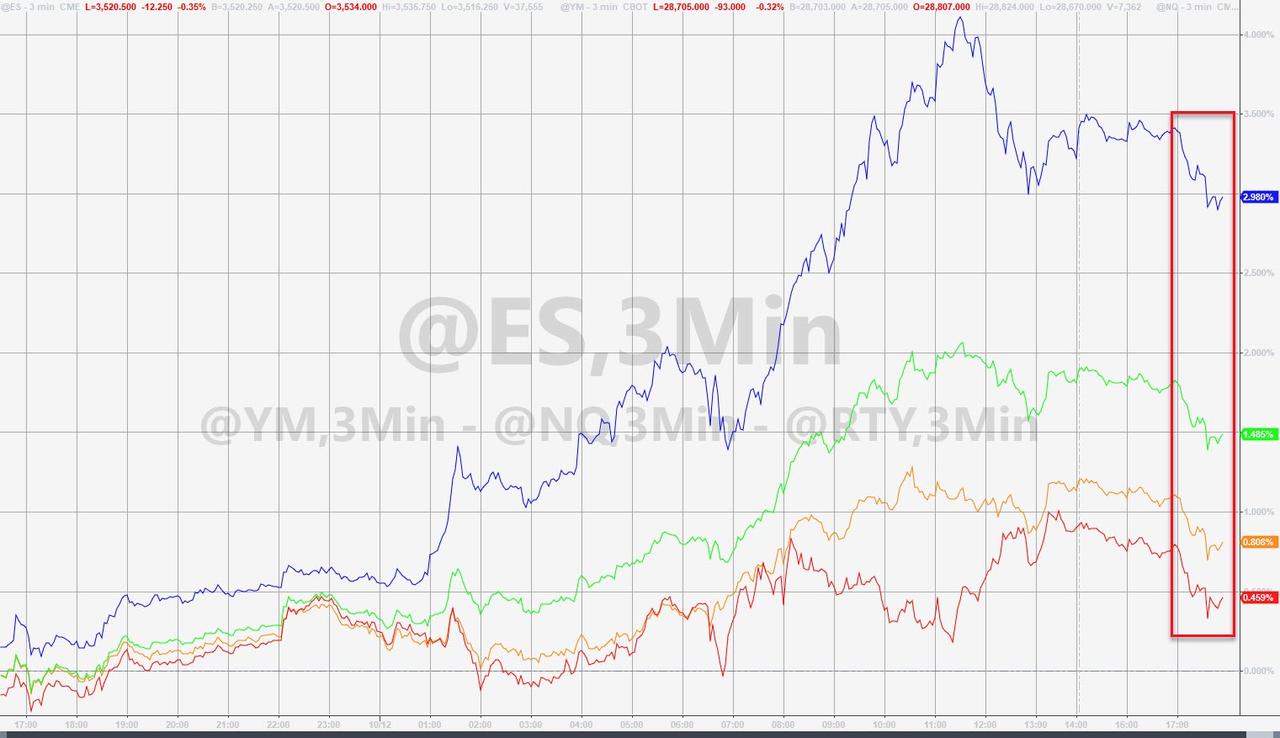 But there was no evidence of the intense selling pressure that followed news about the initial AstraZeneca-Oxford vaccine project halt.
Author: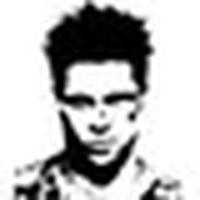 Tyler Durden - ZeroHedge
===
Johnson & Johnson Covid-19 vaccine study paused due to unexplained illness in participant
By MATTHEW HERPER - 12. october 2020
MARK RALSTON/AFP VIA GETTY IMAGES
The study of Johnson & Johnson's Covid-19 vaccine has been paused due to an unexplained illness in a study participant.
A document sent to outside researchers running the 60,000-patient clinical trial states that a "pausing rule" has been met, that the online system used to enroll patients in the study has been closed, and that the data and safety monitoring board — an independent committee that watches over the safety of patients in the clinical trial — would be convened. The document was obtained by STAT.
Contacted by STAT, J&J confirmed the study pause, saying it was due to "an unexplained illness in a study participant." The company declined to provide further details.
"We must respect this participant's privacy. We're also learning more about this participant's illness, and it's important to have all the facts before we share additional information," the company said in a statement.
J&J emphasized that so-called adverse events — illnesses, accidents, and other bad medical outcomes — are an expected part of a clinical study, and also emphasized the difference between a study pause and a clinical hold, which is a formal regulatory action that can last much longer. The vaccine study is not currently under a clinical hold. J&J said that while it normally communicates clinical holds to the public, it does not usually inform the public of study pauses.
The data and safety monitoring board, or DSMB, convened late Monday to review the case. J&J said that in cases like this "it is not always immediately apparent" whether the participant who experienced an adverse event received a study treatment or a placebo.
Though clinical trial pauses are not uncommon — and in some cases last only a few days — they are generating outsized attention in the race to test vaccines against SARS-CoV-2, the virus that causes Covid-19.
Given the size of Johnson & Johnson's trial, it's not surprising that study pauses could occur, and another could happen if this one resolves, a source familiar with the study said.
"If we do a study of 60,000 people, that is a small village," the source said. "In a small village there are a lot of medical events that happen."
On Sept. 8, a large study of another Covid-19 vaccine being developed by AstraZeneca and Oxford University was put on hold because of a suspected adverse reaction in a patient in the United Kingdom. It's believed that the patient had transverse myelitis, a spinal cord problem. Studies of the vaccine resumed roughly a week after it was paused in the United Kingdom, and have since been restarted in other countries as well. It remains on hold, however, in the United States.
Johnson & Johnson began enrolling volunteers in its Phase 3 study on Sept. 23. Researchers planned to enroll 60,000 participants in the United States and other countries.
Author:
Matthew Herper - Senior Writer, Medicine - Matthew covers medical innovation — both its promise and its perils.
===
The interview with Angela Merkel excerpted below was conducted in 1991, long before she became "Mutti".
Many thanks to Hellequin GB for translating this piece from Die Achse des Guten. The translator includes this note:
My impression of what we know now about her is that Günter Gaus saw through her already back then, something most of the German population still cannot see today.
The translated article:
By chance I came across this interview on YouTube from 1991, which Günter Gaus conducted with a young Angela Merkel.

This 45-minute conversation is fascinating in many ways.

First of all, it documents an equally old-fashioned and brilliant interview style that is almost unknown to me as a young person.

Gaus — born in 1929, first head of the Permanent Mission of the Federal Republic to the GDR (SPD) and experienced journalist, among others at Spiegel and the Süddeutsche — knows how to get closer to Angela Merkel through sensitive and intelligent questioning techniques and at the same time to lure her out of her reserve with subtle provocations.

All this happens with exquisite linguistic dexterity, which is only broken in a funny way by the fact that he stumbles over the sharp stone while speaking.

Merkel, on the other hand, appears more natural and blunt than we know her today.

Above all, she is much more articulate than in her capacity as Federal Chancellor.

It would be interesting to investigate where their expressiveness has gone over the years.

What is unmistakable, however, is that the then-37-year-old already knew exactly where she was going and her modesty on display should by no means be confused with unpretentiousness.

The most important thing about this interview, however, is that Gaus succeeded in revealing traits of the then-Federal Minister for Women and Youth, which today, after almost 16 years as Federal Chancellor, must be considered official.

In retrospect, parts of the conversation seem almost prophetic.

In the following I would like to reproduce the most important parts of the interview from my point of view, for everyone who does not want to watch the conversation in full.

About Merkel's self-image as a politician — from 03:59

Gaus:

If you observe how you publicly present yourself as a politician, then you can get the impression — I got the impression — your ongoing search for a specific, specific location within your party is connected with the tactical talent, to hold back wisely and to be functional with ambition.

Is such an assessment of you completely wrong?

What can you agree with? What do you want to contradict?

Merkel:

Well, I'll disagree with the 'wise'.

With the restraint — that has something to do with the solid ground again.

Even on unfamiliar terrain, I don't act in such a way that I trumpet everything I know about other terrain, but rather that I try to get ground under my feet, and that can then have to do with restraint for a while.

In addition, I may be the type of person who first observes his surroundings fairly closely and tries to assess them.

In this respect — a certain reluctance. At certain points, however, I begin to give things about myself that are important to me.

I wouldn't call it 'smart', I would just say it's vital for my type of person.

Gaus:

And the ambition with the functionality?
Merkel:

On television and also now in the stormy times of the 'quasi-revolution'…

I have seen a lot of people who may have been overwhelmed in their function and I believe that functionality is important.

And better in a level lower or a little less functional than overused and not functional.

And I don't know if that has anything to do with ambition.

I want to do the things I do properly.

But that is correct, if you describe it with ambition, then you are right.

Gaus:

Sounds nice.

(Short pause. Merkel smiles uncertainly.)

Gaus:

Are you aware when something sounds beautiful?

(Short pause from Merkel.)

Merkel:

No, I will now say what I really mean.

I come from a scientific profession, and it was very clear there that something can only be done sensibly and properly and on a sensible basis.

Gaus:

Everyone will agree with you! Everyone will say: 'Angela Merkel is great!'

(Merkel shakes her head uncertainly.)

Gaus:

Well, it's not so much about 'someone is one step lower', but with you it is — and so the question I asked at the beginning — still 'one step higher'.

(Merkel nods.)

Gaus:

And now it's about becoming the deputy of Helmut Kohl, the chair of Bonn's strongest ruling party, the CDU.

At the same time, because you are ready to be elected and can expect that you will be elected, you also say in our interview here:

There are some things that you still have to get to know.

Merkel:

Yes.

Gaus:

…How does that get along with your self-esteem?

Merkel:

Well, my self-esteem tells me that I can only do as much as I can…

Gaus:

Why are you getting involved?…

Merkel:

I would say that I had great anxiety when I saw the thing coming my way.

A very important reason is that I am not very familiar with the CDU, at least not with the Western CDU. […]

I think I can make a small contribution to contribute to — as they say so beautifully today — the 'growing together' of the East and West CDU.

I am not sure whether this fully fulfills this function.

I also see great dangers of failure in this […] I did it because I think someone from the East has to do it.

Gaus:

And a woman and Protestant.

Merkel:

No, I don't think that a woman has to do it, Lothar de Maizière wasn't a woman…

Gaus:

It's useful.

If you can get all three together: 'East, woman and evangelical' then that's better than 'man, western and Catholic'.

Merkel:

Well, I say, I don't really care…

The important thing is that someone from the East does it.

After much deliberation, I have come to believe that I can try.

But in this case it is really an attempt to see if you can do it properly.

Gaus:

I'm a little irritated, but that could be because I'm so much older than you…

What happens to you is customary in the party.

But that it is actually the case that someone is raised to such a post who says of his own accord: 'I don't even know my way around.'

(Merkel looks ready to annihilate.)

Gaus:

But because it appears useful to the party chairman, the party — I say this completely impartially, I just say it with amazement — it is done.

In other words, to put it very sharply: Our system aims, for visual and image reasons… to heave someone into a post that fits well in terms of appearance and image. Not yet suitable in terms of competence.

(Merkel kills him with her look.)

Merkel:

Yes, it will turn out whether the competence is right or not…

On Merkel's understanding of authority — from 26:30

Merkel:

I came to the 'democratic awakening' late because I had been looking for a long time where I should get involved and in some places deeply distrusted grassroots democratic groups and didn't feel comfortable there.

Gaus:

Why?

Merkel:

Because I believe that in political work you also have to come to what is feasible and not fall in love with your own discussions for too long…

Maybe I have an authoritarian behavior in me…

A need for a certain structure of the work, which always has something to do with authority.

Gaus:

Does this pose a risk of becoming sterile

Because after all, structures are taken more seriously than the imagination that generates content?

Merkel:

The danger is certainly there, and you have to fight it off, and I don't want to be one of those who avoid any discussion.

But I think the citizens expect some kind of service from politicians.

And the service consists of solving certain problems.

And every solution to a problem contains a mistake and you have to be able to live with it.

Gaus:

You are ready to agree, I claim that you need these people who are motivated by basic democracy so that politics does not dry up, does not become sterile?

(Merkel rocks her head back and forth.)

Gaus:

Or do you want to deny that?

Merkel:

Yes, they are a good addition. But…

Gaus:

… you have to keep it in place.

Merkel:

No, it's not about 'keeping in place'.

We have democracy and we have elections.

I am only saying that I have the impression that the majority of citizens now and then also expect actions or certain decisions.