UPDATE 06. November 2020: Are You Ready for a "Dark Winter"?
UPDATE 06. November 2020: Simulation "Dark Winter" and Operation "Blackout" for The Second Wave
UPDATE 02. November 2020: The Final Battle for Human Freedom is Beginning - You Now Have Two Choices
UPDATE 28. October 2020: Operation Dark Winter Is Here!
UPDATE 13. October 2020: Spain's bureaucracy, seggregating the poor, may not survive Covid
UPDATE 25. September 2020: Spain's Coronavirus 'Second Wave' Is Segregating Madrid's Rich And Poor. Social engineering experiments will backfire.
Video: Covid-19 and the Derogation of Fundamental Human Rights. Constitutional Lawyer Rocco Galati
By Rocco Galati and Dr. Sherri Tenpenny - 21. September 2020
Renowned Canadian Constitutional lawyer Rocco Galati characterizes the COVID Operation as "the biggest example of misinformation and lies on a global scale that we've seen."
"The Constitutional challenge that he has filed with the Ontario Superior Court seeks to pull back the shroud of secrecy imposed by the Trudeau and Ford governments which, he says, are currently and have been "ruling by decree" beneath the pretexts of "COVID Measures" and "Emergency Measures".
***
Dr. Sherri Tenpenny and guest Constitutional Lawyer Rocco Galati discussion and commentary on current world events.
Rocco Galati & Dr. Sherri Tenpenny on current world events
•Sep 21, 2020
Dr. Sherri Tenpenny and guest Constitutional Lawyer Rocco Galati discussion and commentary on current world events.
Please subscribe to our Newsletter: https://www.constitutionalrightscentr...
The original source of this article is Constitutional Rights Centre Copyright © Rocco Galati and Dr. Sherri Tenpenny, Constitutional Rights Centre, 2020
* Note to readers: Forward this article to your email lists. Crosspost on your blog site, internet fora etc.
===
UPDATES:
Are You Ready for a "Dark Winter"?
November 6th, 2020
This video is about the manufacturing of reality, courtesy the final authority on truth: the media.
Please consider supporting my channel on Patreon: https://patreon.com/reallygraceful
Subscribe to my backup channel: https://bit.ly/reallygracefulsecondchannel
Bitchute: https://www.bitchute.com/channel/reallygraceful/
Facebook: https://www.facebook.com/reallygraceful
Twitter: https://twitter.com/reallygraceful
Instagram: https://instagram.com/reallygraceful
Gab: https://gab.com/reallygraceful
...
https://www.youtube.com/watch?v=JbPyz7cwKqY
LBRY URLlbry://@reallygraceful#3/are-you-ready-for-a-dark-winter#1
Claim ID1b95be2b848bfb6b8f71f40fe11033fb50774764
113.78 MB
===
Simulation "Dark Winter" and Operation "Blackout" for The Second Wave
November 6th, 2020
▶️ WATCH FULL VIDEO: https://www.subscribestar.com/posts/214233
Biden said "Dark Winter" is coming, but it's actually a code word for a 2001 simulation tackling a similar "pandemic". Operation blackout is the a cyber attack on the 2020 US elections and consequent electricity outage planned for the Dark Winter. Hope I'm wrong. Thoughts?
🏆 BECOME A MEMBER: (Full videos, group chat, group video call): https://www.subscribestar.com/barnabasnagy
👕 GET YOUR MERCH: https://shop.spreadshirt.com/barnabasnagy
🎵 DOWNLOAD MY MUSIC: https://linktr.ee/barnabasnagy
👍 BECOME A SUPPORTER: https://donorbox.org/barnabasnagy
🗺️ OLD MAPS FOR YOUR WALL: https://barnabasnagy.threadless.com/home/fine-art-print
✉️ NEWSLETTER: https://landing.mailerlite.com/webforms/landing/m9z1t3
✉️ GET IN TOUCH: https://barnabasnagy.typeform.com/to/aeO14D
⚖️ LEGAL: https://barnabasnagy.com/pages/legal
Natural Law is above all laws:
1. No man, woman or entity in or out of government shall initiate force, threat of force or fraud against my life, assets, and property and, any and all contracts I'm a party to not giving full disclosure to me whether signed by me or not are void at my discretion.
2. I may use force in self-defense against anyone that violates Law 1.
3. There shall be no exceptions to Laws 1 and 2.
#barnabasnagy
...
https://www.youtube.com/watch?v=yo2DxuVaUaY
LBRY URLlbry://@BarnabasNagy#5/simulation-dark-winter-and-operation#6
Claim ID69eca2e577e2c9da9c7aba144752a34446a89f36
20.36 MB
===
The Final Battle for Human Freedom is Beginning - You Now Have Two Choices
November 2nd, 2020
https://thecrowhouse.com
TheCrowhouse YouTube Archive on AltCensored:
https://www.altcensored.com/channel/UCegOTmclzjfKuQh0SHflqww
BitChute https://www.bitchute.com/channel/TheCrowhouse/
LBRY: https://lbry.tv/@thecrowhouse:2
3Speak: https://3speak.co/user/maxigan
MeWe: https://mewe.com/group/5aa84d353016dd184af55702
Twitter: @maxigan
LinkedIn: https://www.linkedin.com/in/max-igan
Minds: https://www.minds.com/maxiganscrowhouse/
BrandNewTube https://brandnewtube.com/@thecrowhouse
Surviving The Matrix Podcast on I-Heart:
https://www.iheart.com/podcast/269-surviving-the-matrix-62777378/
The Crowhouse Community Forums:
https://thecrowhouse.community/
Support The Crowhouse: https://www.patreon.com/maxigan
Crypto-currencies:
Bitcoin: bc1q8cjrfzjwzr6z5maxvp4d2p6arwtguj5c9fcea7
Monero: 47aohp7p1Ci7uU44NqgpezLVG7uxCuo1dSwGBYv935aVDPw9MSeEwksey5MJRyBU7jQfHtPjcTN5b2zo29MXnpzu7h751cB
Anna Von Reitz - Fauci's Own Study Reveals Millions Died From Wearing Masks in 1915 Spanish Flu:
https://annavonreitz.com/omg.pdf
Doctors For Truth - 100,000 Doctors, Scientists Stand up to Expose the Lies of this Fake Pandemic:
https://brandnewtube.com/watch/doctors-for-truth-100-000-doctors-scientists-stand-up-to-expose-the-lies-of-this-fake-pandemic_pbgEQYqVrI6XrZF.html
Police Blow Whistle on Coronavirus Deception:
https://cairnsnews.org/2020/11/02/police-blow-whistle-on-coronavirus-deception/
COPS FOR COVID TRUTH:
https://advocateme.wixsite.com/copsforcovidtruth
THE SUBPOENA SONG
https://www.youtube.com/watch?v=-GSWju0CL9w
Court Finds 'Controversial' Curfew was Legal, Dismisses Case against Andrews Government:
https://www.theage.com.au/national/victoria/court-finds-curfew-was-legal-dismisses-case-against-andrews-government-20201102-p56aon.html
Vanessa Valentine - Say Something:
https://www.youtube.com/watch?v=A5WhpjNQixc
COVID Stickers - Anti-ganda Print Files:
https://www.dropbox.com/sh/xa6th9n4b7spkd1/AABL5HuuuW0ojclJeGImsa9ua?dl=0
Should You Take the COVID19 Test?:
https://www.youtube.com/watch?v=wUqvZB65bYs&t
Daniel Andrews Premier of Victoria Contact:
https://www.premier.vic.gov.au/contact-us
Dr OFFERS $5000 FOR PROOF THAT THE CV19 EXISTS:
https://www.youtube.com/watch?v=_-CLY-61QC4&t
Aleksandr Solzhenitsyn - 200 Years Together pdf:
https://anonfiles.com/nfL394U3o6/twohundredyearstogetheruncensored_pdf
"The illusion of freedom will continue for as long as it's profitable to continue the illusion. At the point where the illusion becomes too expensive to maintain, they will take down the scenery, move the tables and chairs out of the way, then they will pull back the curtains and you will see the brick wall at the back of the theater." - Frank Zappa
"So long as the people do not care to exercise their freedom, those who wish to tyrannize will do so; for tyrants are active and ardent, and will devote themselves in the name of any number of gods, religious and otherwise, to put shackles upon sleeping men." - Voltaire
"A single person who stops lying can bring down a tyranny" Alexandr Solzhenitsyn
THROW AWAY YOUR SMART PHONE!!!
coronaviruscovid-19crimes against humanitygreat reset
LBRY URLlbry://@thecrowhouse#2/The-Final-Battle-for-Freedom-Begins---You-Now-Have-Two-Choices#f
Claim IDf32e11e569ea3e8bf771d775da5088c37f3ef02a
451.27 MB
===
Operation Dark Winter Is Here!
October 28th, 2020
Stay Prayed Up / Stacked Up / Prepared Up / Enjoy What You Can!
Operation Dark Winter was the code name for a senior-level bio-terrorist attack simulation conducted from June 22–23, 2001. It was designed to carry out a mock version of a covert and widespread smallpox attack on the United States.
https://en.wikipedia.org/wiki/Operation_Dark_Winter
darkwinterempnewspreparetrending
LBRY URLlbry://@teamjesuschristofnazareth#2/COVID-19-Operation-Dark-Winter_FULLHD-1-#9
Claim ID9c6129ce1f69a9600c33943beaeaa47eddd5bd35
43.85 MB
===
Spain's bureaucracy may not survive Covid
By Jim Lawley - 13. October 2020
Sancho Panza's long-cherished ambition was to become a politician. He wanted to be installed as governor of an island; Don Quixote had led him to believe that this was the reward a loyal squire could expect to receive from the knight errant he had served.
Attractive opportunities to move into government increased dramatically for Spain's latter-day Sanchos after the death of Franco; almost overnight one of Europe's most centralised nations became a quasi-federal state with 17 autonomous communities. Each of these 17 regions has its own parliament and government and well-paid politicians. The head of the autonomous community of Catalonia, for example, has a salary of €153,000 (£138,500) a year and can look forward to a generous pension. Just the kind of thing Sancho had in mind.
Catalonia and the Basque country had already enjoyed self-rule before Franco's dictatorship, but as Spain transitioned to democracy it was decided that this time there was to be café para todos (coffee for everybody): the whole country was divided up into regions with devolved governments.
That raised the question of what to do with Madrid. The nation's capital is so big that it would have swamped either of the sparsely populated neighbouring communities of Castile and León and Castile La Mancha. The solution was to make the province of Madrid an autonomous community in its own right; densely populated but small in size, a head without a body.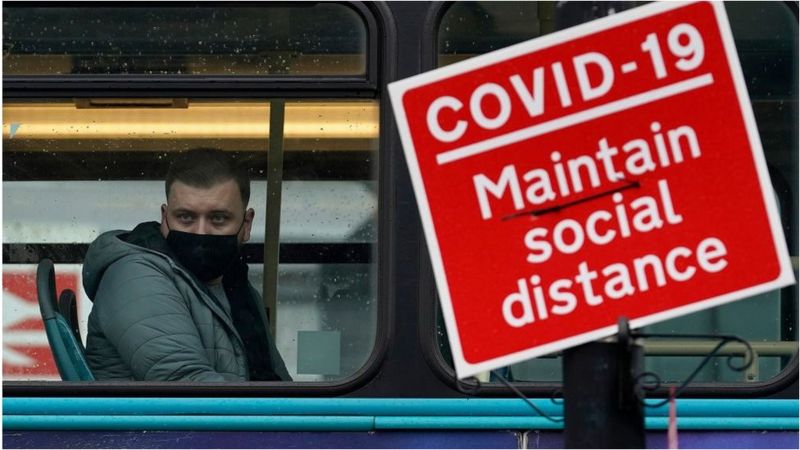 Today Madrid has one of the highest coronavirus infection rates of any region in Europe. As the health crisis has deepened, the problem of too much government has suddenly become apparent. There have been occasions when Spain's Health Minister, Madrid's mayor, and the head of the autonomous community of Madrid have all commented in quick succession on the city's health crisis, their different messages sowing confusion.
To make matters worse, while Spain's central government is a minority left-wing coalition, the government in the autonomous community of Madrid is led by the right-wing Partido Popular. No love is lost between these political rivals and no opportunity for point scoring has been missed; there seems little prospect of them working together in harmony for the good of the people of Madrid.
Indeed Madrid's regional government was delighted last week when the blanket restrictions imposed by the central government were declared illegal by the high court of the region, announcing that it would revert to its policy of closing only the worst-hit areas. As the flurry of mutual recriminations and the exchange of carefully crafted insults intensified, the central government promptly announced a state of emergency thereby re-imposing the more severe restrictions that it favours.
Coinciding with a long weekend (12 October is Spain's national day), these abrupt changes to the rules have generated much frustration and considerable confusion. Some in Madrid blame the central government, some blame the regional government, and some blame both. Meanwhile, the death toll rises.
In the 1980s these autonomous communities were welcomed as part of the new democratic scene. With the central government taking responsibility for revenue, spending the money was the regions' pleasant task. Soon however the regional governments began to attract criticism for adding an unnecessary layer of bureaucracy. Over the years, many acquired top-heavy administrations, their own companies and television stations, and some became nests of corruption.
Now the pandemic has further increased tensions between the central and the regional governments, exposing weaknesses in the system. Each of the 17 regions, for example, also has its own health system which has led to problems in obtaining reliable national statistics with different criteria used for compiling the numbers that are then sometimes sent in late. Time will tell if the system of regional autonomies will survive in its present form. Meanwhile, as the blame game continues and the health and economic crises worsen, what's already clear is that governing has suddenly become a much less attractive job.
Sancho's experience was similar. He eventually achieved his ambition and became governor of his own island. At first, all went smoothly, and he enjoyed exercising his new powers. But before long his island was invaded by an enemy 'in countless numbers' and he found himself beset by 'a thousand miseries, a thousand troubles and four thousand anxieties'. Governing, he concluded, was not the pleasant and easy-going affair he had envisaged.
===
Spain's Coronavirus 'Second Wave' Is Segregating Madrid's Rich And Poor
A huge weekend protest in the Spanish capital against the Madrid government's "useless and clearly segregationist" restrictions is just a teaser of unrest to come.
By Guillermo Rodríguez - 25. September 2020
The applause on balconies all over Spain ― in solidarity with health care workers ― that thundered through the country's streets between March and May has turned in recent days to anger and protest from Madrid's poorest communities. Spain is living its own autumn of discontent, while Madrid is facing an autumn of inequality.
In terms of COVID-19 contagion and the number of victims, the capital of Spain has been the worst hit in Europe. This critical situation has led the president of the Community of Madrid, conservative Isabel Díaz Ayuso, to decree a partial lockdown of the city for at least two weeks.
The measures, which prevent movement except in cases of basic need — for example, commuting to work or taking children to school — affect 37 health districts of the city. Coincidentally, these health districts are some of the neighborhoods or municipalities with the lowest incomes in all of Madrid. In total, it will affect 885,000 citizens, 13% of Madrid's population.
This isn't just a health care issue. The fact that affluent neighborhoods can carry on as normal, while those with fewer resources now have additional problems to add to their already difficult lives, has reopened the debate on discrimination throughout Spain and shown that the virus affects not individuals but social classes.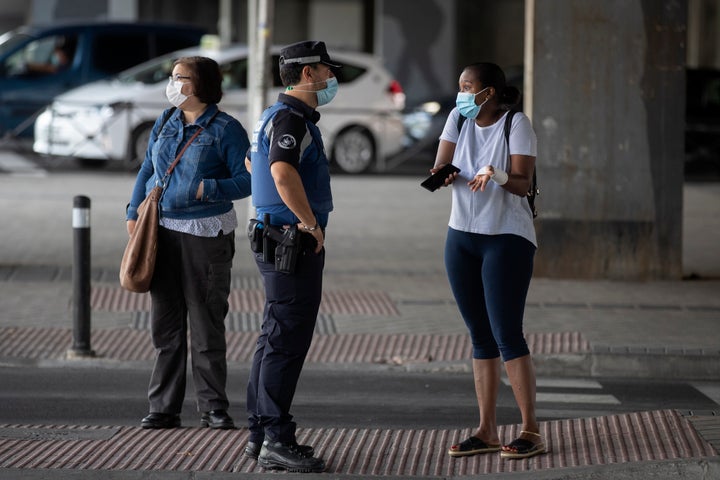 Many families in these neighborhoods live in precarious situations, whether in substandard housing or crowded into tiny apartments. The streets are generally very narrow, services are poorly maintained, and public transportation is usually full. The perfect conditions, in short, for the virus to spread. Plus, many of the inhabitants work in the service sector, the hotel industry, or clean houses in more affluent neighborhoods, while they may also care for dependents.
"The spread of infection is occurring, among other things, because of the way of life that our immigrants have in Madrid," Díaz Ayuso said last week. Her words generated such an uproar that, a few minutes later, she had to clarify that she was neither racist nor classist, but merely pointing out a reality.
"It is part of our political responsibility not to launch xenophobic messages that stigmatize migrants, especially in these sensitive times," complained the nonprofit Spanish Commission for Refugee Aid. "Words like these pose a danger to the coexistence that they must build."
The fact is that the accumulated incidence of COVID-19 in some of the poorest neighborhoods in Madrid — all of which are located in the south, with a substantial immigrant population — such as Carabanchel, Usera, Villaverde or Puente de Vallecas, is far higher than that recorded in wealthier districts, such as Retiro or Moncloa-Aravaca, in the north of the city.
Carabanchel, a poor district, recorded 884.24 cases per 100,000 inhabitants, as of mid-September; Usera, 1,155.71; Villaverde, 1,157.47; Puente de Vallecas, 1,240.76. In Retiro and Moncloa-Aravaca, located further north, the accumulated incidence has not reached 500 cases per 100,000 inhabitants.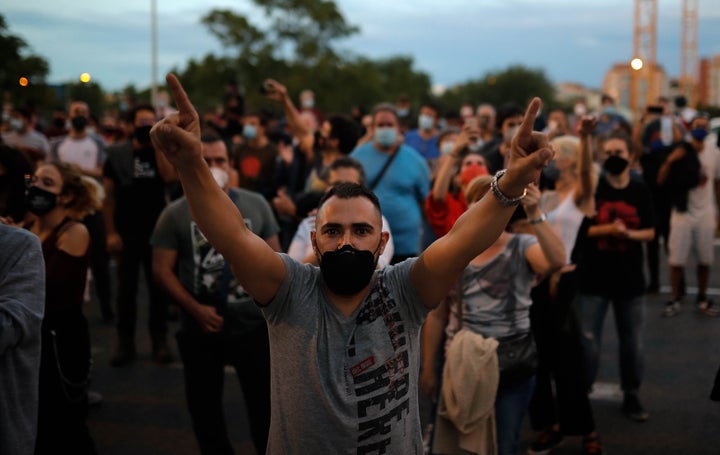 A few hours before the selective lockdown came into effect in Madrid, residents of the affected areas took to the streets to protest the conservative president's "discriminatory" measures that "segregate" the population. "Fascist Ayuso, you are classist" or "It's not confinement, it's segregation," were some of the protesters' slogans.
The massive protest organized last Sunday by unions, leftist parties, and neighborhood associations in Madrid against Díaz Ayuso's "useless and clearly segregationist" measures was just a teaser. The demonstrators are also urgently calling for an increase in the number of coronavirus tracers, the number of personnel in laboratories, and the materials necessary to reduce the waiting times for basic COVID-19 test results. Furthermore, they are demanding that the number of primary care workers not be reduced in the next few years, as well as that a scientific committee be created to "steer and control" all decisions regarding the pandemic.
They are locking us up like they walled off the areas affected by the Black Death. Historian Rubén Fernández-Avilés
"With the measures that have been announced, they are taking our neighborhoods back to the 14th century. They are locking us up like they walled off the areas affected by the Black Death. The workers cannot leave their neighborhoods except to travel like cattle on the metro, to produce and keep business moving, so that they can continue to make money. But only for that. The police and even the army, if necessary, will make sure that we do not leave the perimeter for anything else. In reality, more than the 14th century, it looks like a recent futuristic series," historian Rubén Fernández-Avilés told HuffPost Spain.
While anger grows in the poor neighborhoods of the south, the inhabitants of the rich areas in the north watch the increasing rate of coronavirus in Madrid with concern, dismissing the protests from the lower classes. In fact, the population of the wealthier neighborhoods took to the streets in a state of alarm, criticizing Spain's socialist government for restricting their freedom by confining the entire population.
The banging of pots and pans can no longer be heard in Madrid, but the cries of the working class are growing louder by the day.
Author: