Aviso: Hearing continues tomorrow 08. September 10h00 MEZ
UPDATE 07. September 2020: SUMMARY OF HEARING TODAY
EXPERT WITNESS Prof. Mark Feldstein: "What Assange and WikiLeaks practice is journalism ... Julian Assange can accurately be described as one of the most consequential publishers of our time." @ProfFeldstein, Eaton Chair of Journalism at the University of Maryland
"An informed public depends on free & independent press that can serve as check on governmental abuse of power—kinds of abuses that WikiLeaks made public."
LIVESTREAM: Assange supporters gather outside court as extradition trial gets underway (7h33 livestream taken down by YouTube censors)
UN Rapporteur on torture: "Julian Assange is a political prisoner."
ICYMI: PEN, AI et al. court observers and parliamentarians 'denied access' to Assange hearing. OLD BAILEY is not even in the UK - it is the extraterritorial enclave of the CITY OF LONDON, the core of the EVIL
The Stalinist Trial of Julian Assange
By JOHN PILGER - 07. September 2020
Having reported the long, epic ordeal of Julian Assange, John Pilger gave this address outside the Central Criminal Court in London on September 7 as the WikiLeaks Editor's extradition hearing entered its final stage.
When I first met Julian Assange more than ten years ago, I asked him why he had started WikiLeaks. He replied: "Transparency and accountability are moral issues that must be the essence of public life and journalism."
I had never heard a publisher or an editor invoke morality in this way. Assange believes that journalists are the agents of people, not power: that we, the people, have a right to know about the darkest secrets of those who claim to act in our name. [Courtroom sketch of Julian Assange today in London]
If the powerful lie to us, we have the right to know. If they say one thing in private and the opposite in public, we have the right to know. If they conspire against us, as Bush and Blair did over Iraq, then pretend to be democrats, we have the right to know.
It is this morality of purpose that so threatens the collusion of powers that want to plunge much of the world into war and wants to bury Julian alive in Trumps fascist America.
In 2008, a top secret US State Department report described in detail how the United States would combat this new moral threat. A secretly-directed personal smear campaign against Julian Assange would lead to "exposure [and] criminal prosecution".
The aim was to silence and criminalise WikiLeaks and its founder. Page after page revealed a coming war on a single human being and on the very principle of freedom of speech and freedom of thought, and democracy.
The imperial shock troops would be those who called themselves journalists: the big hitters of the so-called mainstream, especially the "liberals" who mark and patrol the perimeters of dissent.
And that is what happened. I have been a reporter for more than 50 years and I have never known a smear campaign like it: the fabricated character assassination of a man who refused to join the club: who believed journalism was a service to the public, never to those above.
Assange shamed his persecutors. He produced scoop after scoop. He exposed the fraudulence of wars promoted by the media and the homicidal nature of America's wars, the corruption of dictators, the evils of Guantanamo.
He forced us in the West to look in the mirror. He exposed the official truth-tellers in the media as collaborators: those I would call Vichy journalists. None of these imposters believed Assange when he warned that his life was in danger: that the "sex scandal" in Sweden was a set up and an American hellhole was the ultimate destination. And he was right, and repeatedly right.
The extradition hearing in London this week is the final act of an Anglo-American campaign to bury Julian Assange. It is not due process. It is due revenge. The American indictment is clearly rigged, a demonstrable sham. So far, the hearings have been reminiscent of their Stalinist equivalents during the Cold War.
Today, the land that gave us Magna Carta, Great Britain, is distinguished by the abandonment of its own sovereignty in allowing a malign foreign power to manipulate justice and by the vicious psychological torture of Julian – a form of torture, as Nils Melzer, the UN expert has pointed out, that was refined by the Nazis because it was most effective in breaking its victims.
Every time I have visited Assange in Belmarsh prison, I have seen the effects of this torture. When I last saw him, he had lost more than 10 kilos in weight; his arms had no muscle. Incredibly, his wicked sense of humor was intact.
As for Assange's homeland, Australia has displayed only a cringeing cowardice as its government has secretly conspired against its own citizen who ought to be celebrated as a national hero. Not for nothing did George W. Bush anoint the Australian prime minister his "deputy sheriff".
It is said that whatever happens to Julian Assange in the next three weeks will diminish if not destroy freedom of the press in the West. But which press? The Guardian? The BBC, The New York Times, the Jeff Bezos Washington Post?
No, the journalists in these organisations can breathe freely. The Judases on the Guardian who flirted with Julian, exploited his landmark work, made their pile then betrayed him, have nothing to fear. They are safe because they are needed.
Freedom of the press now rests with the honourable few: the exceptions, the dissidents on the internet who belong to no club, who are neither rich nor laden with Pulitzers, but produce fine, disobedient, moral journalism – those like Julian Assange.
Meanwhile, it is our responsibility to stand by a true journalist whose sheer courage ought to be inspiration to all of us who still believe that freedom is possible. I salute him.
Author:
John Pilger can be reached through his website: www.johnpilger.com
Watch John Pilger's speech outside the London show-trial of Julian Assange
Veteran investigative journalist and filmmaker John Pilger delivered the following speech outside London's Old Bailey Central Criminal Court on Monday, the first day of resumed show-trial proceedings for the extradition of Julian Assange to the US. Pilger, along with a number of other leading journalists and human right monitors, was denied access to the court.
Julian Assange in British prison van
===
Out of the torture, rape, murder, corruption, targeted assassinations, kidnapping & other war crimes that were exposed by @wikileaks, no perpetrator has been prosecuted. Only the alleged whistle blower and the journalist who published have been incarcerated and tortured. #Assange pic.twitter.com/2ff297q0HU

— Juan Passarelli (@jlpassarelli) September 7, 2020
===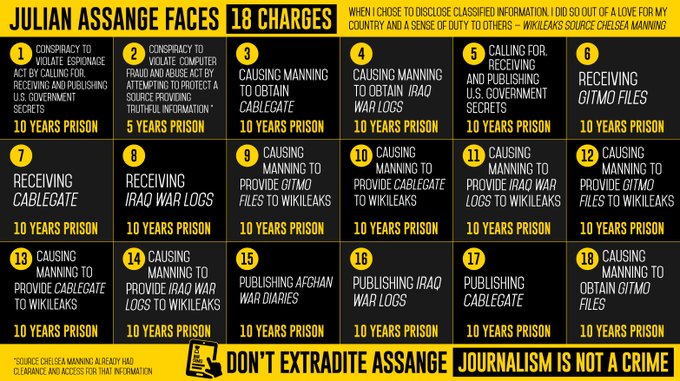 Live Blog: https://defend.wikileaks.org/2018/07/23/liveblog-julian-assange-in-jeopardy/…
Take Action: https://defend.wikileaks.org/take-action
Resources: https://defend.wikileaks.org/resources
Overview: https://defend.wikileaks.org
Stella Moris
@StellaMoris1
I'm launching a crowdjustice campaign to free Julian. Our children need their father back. Please help me make that happen. #SaveJulian #FreeAssange https://crowdjustice.com/case/julianassange/
===
US Extradition Hearings of journalist #JulianAssange

DAY I
Yesterday SEPT 7th

Former London #Ecuador Embassy Consul Fidel Narvaez expresses dismay!

EVERY #JulianAssange defence application DISMISSED!#SaveJulian#DefendPressFreedom#NoUSExtradition#DropTheCharges https://t.co/t9J3dfjY3f

— 🎗Christine Assange (@MrsC_Assange) September 8, 2020
"He faces the prospect of a living death inside an American prison, in very cruel conditions, because he let the world know about an American war crime,"

Former Foreign Minister Bob Carr is demanding Government action for Julian Assange.

See the full story, 6.00pm on #9News pic.twitter.com/JXVURFW0Jr

— Nine News Sydney (@9NewsSyd) September 8, 2020
Charges against @Snowden should be dropped or he should be pardoned. Likewise the Trump Admin should drop its efforts to charge & extradite Julian Assange. Failure to do so is a threat to the freedom & civil liberties of every American (especially journalists and publishers). https://t.co/VVm1hWtGea

— Tulsi Gabbard 🌺 (@TulsiGabbard) September 8, 2020
===
SUMMARY DAY 1
Assange's Extradition Hearing Resumed: 7 September 2020
September 7, 2020
Press Briefing: Assange Extradition Hearing September 2020
Kevin Gosztola: Previewing witnesses scheduled to testify
Assange has been re-arrested, the previous extradition warrant has been withdrawn and the new warrant has been served.
Supporters rallied outside the Old Bailey on Monday (Pic: Guy Smallman)
NGOs access to Assange hearing revoked
Judge Vanessa Baraitser then announced that some 40 individuals were granted remove (video) access to the proceedings by mistake, and their access has been revoked. Courage has learned that those whose access was rescinded include representatives from Amnesty International and PEN Norway.
"I know that others are attending this hearing remotely and in an adjacent courtroom. I am allowing this to take place for social distancing and technology allows us to watch this remotely. Those who attend remotely are still bound to the usual rules relevant to court hearings. I remind you that it is a criminal offense to record or broadcast any part of this hearing, including screenshots on any device. As you know I am aware that a photograph has been taken of Mr Assange inside court and shared on social media in breach of these rules.

I have received a list of 40 people who wish to attend this remotely by cloud. This is something I can consider but only after I have received an application. I have granted a number of remote access to lawyers and a small number of people including lawyers who have acted for Mr Assange in closely related proceedings. In error, the court sent out to others who had sought access. During this pandemic, there have been changes about how people can access proceedings. I remain concerned about my ability to maintain the integrity of the court if they are able to attend remotely. Normally, I can see what is happening in the court room to ensure the integrity of courtroom is maintained. Once livestreaming takes place, the court cannot manage this breach even less when the person is outside the jurisdiction. I want to make it clear that the public interest and allowing remote access is unlikely to meet the interests of justice tests. There are many jurisdictions allowing travel to the UK during COVID, so lessening restrictions on travel. For those who consider they still not travel to the UK to attend the hearing, then they need to apply again and I will consider it.

I have regretfully refused the current remaining applications for access to the cloud access."
WikiLeaks editor-in-chief Kristinn Hrafnnson explains that parliamentarians were denied access as well.
Debate over whether witness statements will be read in court
The defense has asked that the witnesses be permitted to be taken through their witness statements so that the court, Assange and the public will hear the evidence in full before cross examination starts. "To plunge into cross examination would not assist yourself, the public or Mr Assange and would not be fair."
Prosecutor James Lewis QC opposes this, saying it is contrary to Divisional Court jurisprudence and that it would allow witnesses to give additional evidence beyond their written statements and require constant adjournments to allow the prosecution to consider the evidence given on the stand before cross examination can begin.
The judge decides,
"Each of the witness statements will be made public. Mr Assange has been given a copy of those witness statements. In my view there is no benefit whatsoever to allowing the witnesses give evidence in chief. I will give the witnesses time to settle and orientate themselves and will allow no more than 30 minutes."
Superseding indictment comes well after proceedings were underway
Six months after opening submissions, 18 months before this hearing started and a matter of weeks before the matter was listed, the US announced a new indictment.
Defense counsel Mark Summers QC says,
"It is a curiosity that the US had, in previous hearings, been content for the hearings to go ahead in February and in May, presumably knowing that this was coming."

It wasn't immediately obvious what had changed. Of course the conduct outlined in it, but as far as the charges in it, it was difficult to discern what was going on….

"It became clear to everyone on 21 August, just over 2 weeks ago, whether or not we were justified in thinking the charges had changed. The material was expressly now not just background material but was being put before you as potential standalone basis for criminality, that is to say, that even if the US court rejects in their entirely the existing Manning allegations, Mr Assange can be extradited and potentially convicted for this conduct on its own and this is a resounding and new development in this case. The reason I am on my feet is of course the timing of this development."
The defense also putlined the various other criminal allegations now included in the new indictment – including assisting a whistleblower attempting to evade arrest (Snowden).
"It would be extraordinary for this court to be beginning an extradition hearing in relation to allegations like that within weeks of their announcement without warning and even more extraordinary to do in circumstances where the defendant is in custody."
To remedy this issue, the defense proposes the court excise the new conduct alleged in the newest indictment. "It impossible for the defense team to deal with the allegations being put to him and in relation to material for which you have been provided no explanation for their late arrival."
"It is fundamentally unfair to introduce separate criminal allegations, without notice, without time to prepare evidence, where the defense cannot properly deal with the new aspects of the case."
"What is happening here is abnormal, unfair and liable to create real injustice if it is allowed to continue."
"The appropriate course is for the court to exercise its powers to excise the new allegations."
Judge refuses to excise new conduct alleged in newest indictment
Judge Baraitser says the defense should have asked for more time despite Assange still being in custody. If conduct is to be excised, she says, it must be in context of a statutory bar or abuse of process argument. The judge refuses the defense proposal to excise any new conduct in the newest superseding indictment.
Defense requests adjournment
In light of the judge's refusal to excise the new conduct alleged, the defense asks the court for an adjournment until January.
"This is an application that we do not make lightly because Mr Assange will bear the brunt of the consequences of it. In light of your ruling, we do apply for an adjournment to allow us to gather the evidence that we need to answer the new allegations."

We have not been able to answer the allegations which have only been made in the last few weeks. This has been made worse because of the conditions we are all having to work under.

"I can say without fear of contradiction that no one in this case has been involved in a case of this magnitude dealing with the gathering of evidence at this late stage of the process."

The defense explained why they haven't made this application before today's hearing:

"First, throughout that period, Mr Assange had not seen the new request. I have mentioned more than once that the only way he gets to see documents is by posting documents into Belmarsh. We have not had opportunity to meet and consult with him. He still hasn't received, for example, the revised opening note and the documents which accompanied it and it was that document that made clear that we were dealing with conduct that was mere narrative as we had believed it to be but was standalone criminality capable of sustaining a conviction if accepted in its own right. Instructions taken from Assange on that basis could only have commenced on 21 August, which was last week, and we took the view that we had the ability to first apply to exclude that material. We have recognized that the solution, if there is one, is adjournment.

I could of course appraise you with more detail of the difficulties the defence team has been operating under the past few months."
Acknowledging that they haven't seen their client in person, the judge asks if the defense has been able to speak to Assange by phone. They respond yes, but only twice in very short conversations:
"It is not easy and even coherent on the phone. I don't want to belabor the difficulties we have had in communicating with our client in the past week, but they have been very significant in the time period you are concerned with. He was, in essence, over that unsatisfactory medium, he was having to take in information from us on – any view – complex documents and to make him aware of the issues and to take a decision on them."
The defense explained there is no videolink, only these short, difficult conversations by phone. The judge adjourned for 10 minutes to consider the defense's application.
Judge denies defense request for adjournment
The judge says the defense had time to apply to adjourn previously and they did not do so. Rejecting the defense's reasoning for applying now, she says she ruled not to excise new conduct now but this can't have come as a surprise and the defense should have acted as if we would proceed. Judge denies defense application to adjourn.
Journalism professor begins testimony
Mark Feldstein, journalism historian and professor at the University of Maryland, gives testimony. See his witness statement here as to his determination that what Assange and WikiLeaks practice is journalism: Mark Feldstein witness statement
Feldstein testifies to the ubiquity of leaks of classified information:
"There are so many of them – thousands upon thousands – it is routine; every study in the last 60 years has said the leaks of classified information inform the public about government decision making but they also evidence government dishonesty….and they go back to George Washington's presidency."
Some journalists make a career of this?
Feldstein says, "Yes, Pulitzer prize winners and some of the most respected journalists in the nation."
Would you expect publishers to be prosecuted for this criminal conduct?
"Well no…because the First Amendment protects a free press and it is vital that the press expise wrongdoing….not because journalists are somehow privileged but that the public has a right to be informed."
Has there ever been a precedent of the prosecution of a publisher?
"There has always been a divide, the source-distributor divide….they have charged whistleblowers or sources, but have never charged a publisher, a journalistic or other news outlet."
There have been other attempts to prosecute journalists before?
"There have been extraordinary efforts to punish presidential enemies…"
Presidents going after journalists but never to the point of a grand jury returning charges?
"That's correct"
At this point, the court had technical issues with Prof. Feldstein's videolink, and adjourned for the day. Court resumes tomorrow, 10am London time.
===
A protestor wears a face mask in front of the Central Criminal Court Old Bailey in London, Monday, Sept. 7, 2020. Lawyers for WikiLeaks founder Julian Assange and the U.S. government were squaring off in a London court on Monday at a high-stakes extradition case delayed by the coronavirus pandemic. American prosecutors have indicted the 49-year-old Australian on 18 espionage and computer misuse charges over Wikileaks' publication of secret U.S. military documents a decade ago. The charges carry a maximum sentence of 175 years in prison. FRANK AUGSTEIN / AP
===
Judge Railroads Assange As Legal Team Objects To Fresh Extradition Request
Report from Day 1 of trial portion of WikiLeaks founder Julian Assange's extradition hearing
By Kevin Gosztola - 07. September 2020
Photo of the Old Bailey Courthouse by Ben Smith

Judge Vanessa Baraitser rejected a request by the legal team for WikiLeaks founder Julian Assange to remove conduct from a fresh extradition request brought by the United States.
Defense attorneys also requested that the court adjourn until January after Baraitser refused to take action.
According to Baraitser, in August, she acknowledged the issues his defense had with the request. She offered to allow them to apply for adjournment of proceedings, which would have moved the trial portion of the extradition hearing, which was previously scheduled for May, to a later date.
Baraitser seemed to believe Assange's legal team should've better understood the law and asked for an adjournment instead of demanding she exercise her authority.
The defense did not immediately ask for an adjournment because they did not want to prolong Assange's confinement.
Baraitser insisted what the defense asked her to do was not appropriate during this phase of the proceedings.
Assange is accused of 17 counts of violating the Espionage Act and one count of violating a computer crime law that, as alleged in the indictment, is also an Espionage Act offense.
The trial portion of Assange's extradition hearing in London began on September 7 at the Old Bailey Courthouse. It is expected to unfold over the next three to four weeks.
On June 24, the defense learned when a press release was published that Assange would soon face a third indictment. It was their belief that the indictment only added narrative details and expanded the timeline from 2010-2011 to 2010-2015.
The U.S. government served the indictment to the defense, but not the court, on July 2. Then, on August 12, a fresh extradition request based on the third indictment was issued. (It was dated July 17.)
Prosecutors notified the defense on August 21 that the third indictment does not include any additional charges, contrary to the defense's understanding, the new details are not "mere narrative." They "constitute the conduct upon which this court is entitled, and indeed must now determine [whether] an extradition offense is made out" under the relevant law.
Mark Summers, a lawyer for Assange, referred to two general allegations—Count 1, which involves an alleged conspiracy to release "national defense information," and Count 2, which is an alleged conspiracy to commit computer intrusions under the Computer Fraud and Abuse Act.
By adding new material, prosecutors believe they can extradite Assange, even if they do not convince the court that publishing disclosures from Pfc. Chelsea Manning was a criminal act.
The defense focused on the fact that multiple alleged "co-conspirators" of Assange, when it comes to the hacking elements, were the "subject of trials" in the U.S. and the United Kingdom a decade ago.
Sigurdur "Siggi" Thordarson, who is the "Teenager" in the third indictment, was mentioned by the prosecution in a filing in 2019. So, they could have included any material from Thordarson in the previous indictment.
As the defense noted, Thordarson was "convicted in Iceland of fraud, theft, and impersonation of Julian Assange." He sold merchandise through a WikiLeaks store without authorization and embezzled $50,000.
"The Icelandic Interior Minister of the time is reported to have ordered a number of FBI prosecutors, who had arrived in Iceland to investigate the 'teenager's' claims, to leave Iceland. The Interior Minister made statements at the time and has made statements since that he believed the investigation was in order to 'frame Assange,'" the defense stated in their argument.
Prosecutors entirely omitted the fact that alleged "co-conspirators" "Sabu" (Hector Xavier Monsegur) "Topiary" (Jake Davis), and "Kalya" (Ryan Ackroyd) were prosecuted before the Southwark Crown Court in the U.K. for their alleged involvement with LulzSec in hacking.
From the defense's argument:
The U.K. prosecution involved over 45,000 pages of materials. Sabu was a named co-conspirator. That prosecution encompassed alleged criminality in the U.K. and the U.S. Despite competing U.S. indictments being issued during the currency of the U.K. case, the U.K. case continued and was concluded in 2013 by guilty pleas. In short, if it had merit, Mr Assange could and should have been prosecuted for this additional conduct years ago, alongside his so-called 'conspirators', and that prosecution would have occurred in the U.K. The forum bar is obviously engaged.
In other words, if Assange is a co-conspirator to this offense, why isn't Assange on trial in the U.K. like Ackroyd and Davis were. Why extradite him to the U.S. to try him for this offense?
Sabu was working for the FBI, but how he came to be a source for allegations against Assange is absent from the fresh extradition request.
Summer mentioned Jeremy Hammond, who was prosecuted for his alleged involvement in hacking Stratfor, which was a private intelligence firm. He is in federal prison finishing up a 10-year sentence that was disrupted by a grand jury subpoena to testify before the grand jury investigating WikiLeaks.
"Like Manning, Hammond was held in contempt of court by Judge Anthony Trenga after refusing to testify. He was released in March 2020 after the conclusion of the grand jury. The parallels with Manning's treatment are obvious," the defense suggested.
Summers said the prosecution has rebutted the argument that publishing evidence of war crimes was "necessary" by saying essentially that it was not necessary to hack into an Icelandic bank. They aim to tie Assange to any number of cyber activities that allegedly took place.
As was argued in court, expanding the general allegations should be seen as "fundamentally unfair and unjust without the defendant being able to address" the development. He is in custody, without access to visits from his legal team for the last five to six months. He has very limited access to legal materials in the case. (Edward Fitzgerald, who is part of Assange's legal team, said he was able to meet in person with Assange today for the first time in six months.)
Prosecutors maintained there was nothing inappropriate about the fresh extradition request, and the court would be making an error if it removed the conduct because the portion where evidence is heard in the case has not occurred yet.
The defense insisted it was unfair six weeks prior to this extradition hearing to issue a new request.
How Baraitser handled the matter was in line with previous decisions she has made, including the ruling she issued in February to keep Assange in a glass box at the back of the courtroom and bar him from sitting with his attorneys. She repeatedly has refused to make rulings for the defense that she says involve "case management" decisions that should not be made at this point in the proceedings.
===
DAY ONE OF ASSANGE HEARING: Dramatic Opening Day; First Witness Testifies After Judge Denies Adjournment to January
The dramatic opening day of Assange's extradition hearing saw U.S. shift from espionage to its superseding indictment as Vanessa Baraitser rejected a defense bid to excise the evidence and adjourn the case to January.
Dramatic Opening Day: First Witness Testifies After Judge Denies Adjournment to January
16:30 UTC: The dramatic first day of the resumption of Julian Assange's extradition hearing has ended, with technical problems cutting short the testimony of the first defense witness, Broadcast Journalism Professor Mark Feldstein.
Feldstein's written testimony has been released to the public. On the virtual "stand"–online because of the pandemic–Feldstein was questioned by the defense. He testified that it was a daily occurrence for the press to publish classified information; that he did not expect publishers to be prosecuted for this because the First Amendment protects publishers, allowing them to expose the inner workings of government that citizens have a right to know. He said no publisher had ever been prosecuted for publishing secret material and that no president had ever gone so far as having a grand jury return an indictment against one.
Feldstein's testimony was anti-climatic as it followed a last-minute defense attempt, rejected by Judge Vanessa Baraitser, to adjourn the hearing until January. The defense had argued it needed more time to prepare its defense as the prosecution's argument has shifted to new evidence produced in a superseding indictment on the charge of conspiracy to commit computer intrusion, and away from the charges of espionage, which Feldstein's prepared testimony dealt with. It seemed almost irrelevant after the day's events.
Judge Denies Adjournment Until January
15:30 UTC: Judge Vanessa Baraitser has rejected the defense's application for an adjournment of the hearing until January to give it time to gather new evidence to defend against the prosecution's superseding indictment. She said Assange lawyers had ample time to apply for postponement and that it was wrong for them to argue to have new evidence excised from case and then after losing, to try to delay proceedings until January. The judge has bought the prosecution argument. Proceedings will continue with the first defense witness, Broadcast Journalism Professor Mark Feldstein.
Defense Asks for Adjournment Until January
15:06 UTC: Defense attorney Mark Summers QC has asked Judge Vanessa Baraitser for an adjournment of the hearing until January to give time to gather new evidence to defend against the prosecution's superseding indictment.
Summers said the defense cannot proceed without Assange, who alone has the knowledge to build a defense. Summers says Assange had not read the new indictment and he still hasn't received all the documents he needs.
Baraitser asked how many times Assange's lawyers have spoken to him in the past weeks and Summers said only twice by phone on a bad line making it difficult to hear his client.
The prosecution is arguing that there is no need for an adjournment, saying defense is only seeking one because it lost to Baraitser on request strike new evidence in superseding indictment from the case. They want to proceed with defense's first witness in afternoon session.
Baraitser is considering the defense's request for postponement until the new year.
Prosecution Shifting Argument to Evidence in Superseding Indictment; Defense Says it Has No Time in Three Weeks to Mount Defense Against It
13:40 UTC: The prosecution appears to be shifting its case from Espionage Act charges, at least at this stage of the hearing, to new evidence (but no new charges) in the superseding indictment, filed in London in July, related to the charge against Assange of conspiracy to commit computer intrusion.
It appears the prosecution may be poised to pursue an entirely new argument based on the evidence in the new indictment which brought about a new U.S. extradition request, and a re-arrest of Assange earlier in his Belmarsh cell on Monday.
He was re-arrested because of the new request, and new evidence, but not on new charges.
James Lewis, QC for the prosecution, mentioned in court some of the "new" evidence, most of which dates back to events in Iceland in 2010. Among this "new" evidence is that Assange helped a fugitive, NSA-whistleblower Edward Snowden, escape from Hong Kong. But Assange was never charged with such a crime. The prosecution also says Assange encouraged others to hack computers, tracked police vehicles in Iceland and encouraged the theft of a bank's data.
This evidence comes primarily from two FBI informants who worked closely with Assange in 2010 in Reykjavík.
Mark Summers, QC for the defense, said the prosecution's response to the defense's argument that it was necessary for Assange to reveal evidence of war crimes, is to turn the tables and say it wasn't necessary to hack a bank in Iceland. In reference to Snowden, Summers said: "Assisting a whistleblower in Hong Kong; attempting to evade arrest. How that is said to be criminal activity is anybody's guess."
Summers then argued that Assange's team has not had enough time to respond to this evidence, filed on June 24 in Alexandria, Virginia, but provided in late July to the defense, and to the court. Summers said the lack of time would make it impossible to mount a defense sufficient to permit Judge Vanessa Baraitser to make a fair decision.
At one point Summers jumped to his feet, exclaiming, "Wrong, wrong, wrong, Madam" to Baraitser. He accepted that it is legal to make repeated extradition requests, but not six weeks before the resumption of the hearing.
Baraitser responded that she had offered the defense the option to postpone the hearing to give them more time, but it refused. Summers said that because of Assange's health concerns under continued detention it would have been unfair to postpone the hearing any further.
The court has adjourned for lunch.
Meanwhile, WikiLeaks editor Kristinn Hrafnsson, was not allowed to enter the public gallery to view proceedings and was sent to a room to watch on a monitor that he had trouble viewing.
40 civil society organizations also had their remote access to the trial revoked, including Reporters Without Borders.
Judge Tried to Prevent Defense Witness Statements From Being Read in Court
11:15 UTC: The extradition trial of Julian Assange has begun in London and there are already fireworks between the defense team and Judge Vanessa Baraitser.
Assange's lawyers requested that defense witness statements be read in court before direct and cross examination begins. But Baraitser said that because she has already read the statements herself she did want to allow them to be heard by the court or the media, who are both inside Old Bailey, or watching remotely online.
After several minutes of discussions, in which the defense team said preventing the statements from going public was a departure from the legal norm, Baraitser relented and said only 30 minutes would be allotted for each witness statement.
One defense witness is scheduled for the afternoon session.
The Queens Councillor for the prosecution, James Lewis, then argued that the defense's expert witnesses weren't experts at all, but only "people giving their opinion." Lewis objected to a journalism professor who is listed as a defense witness.
Assange entered the courtroom at 10 am local time wearing a suit, after he had been rearrested in his cell on the basis of the superseding indictment the U.S. filed, though no new charges were added.
The opening day of the hearing was paused after little more than an hour to allow Assange to confer with his lawyers.
Thanks to Mary Kostakidis, Kevin Gosztola and Juan Passarelli, whose tweets contributed to this report.
===
Anything to Say? #Assange, #Manning and #Snowden life-size bronze by @davide_dormino standing on 3 chairs with an empty 4th chair for us, the Press, next to them.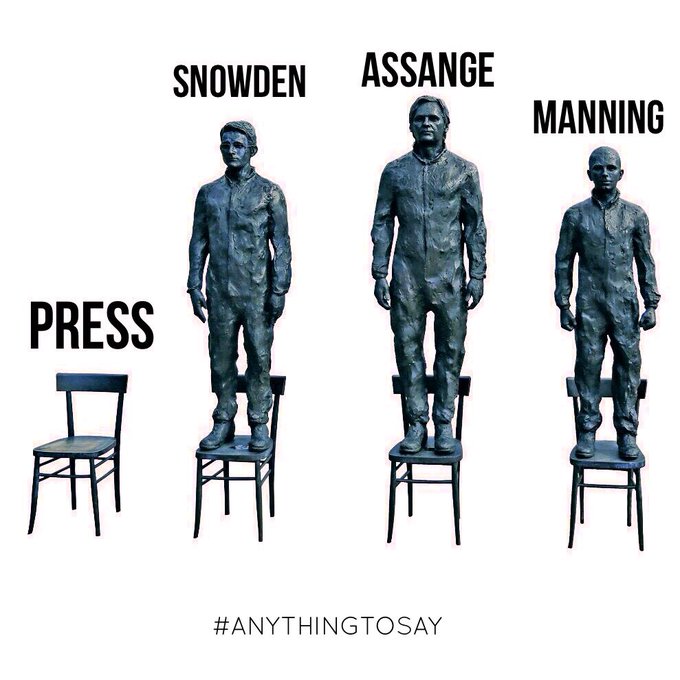 ===
Julian Assange extradition hearing: Why justice must not only be done, but be 'seen' to be done – literally
By Neil Clark - 07 September 2020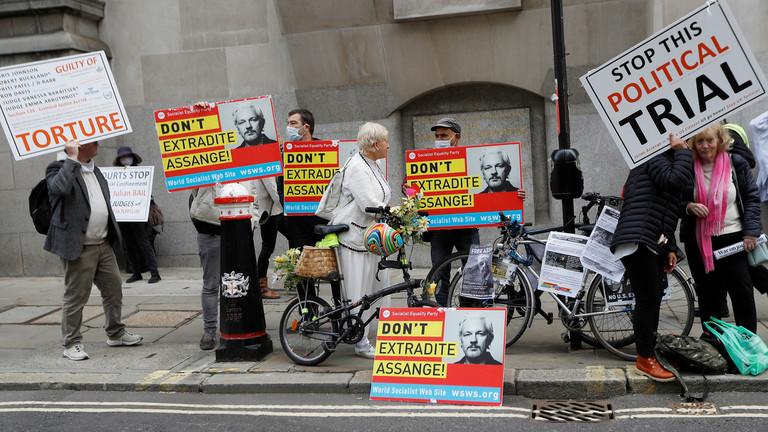 Supporters of WikiLeaks founder Julian Assange hold placards outside the Old Bailey, the Central Criminal Court ahead of a hearing to decide whether Assange should be extradited to the United States, in London, Britain September 7, 2020. © REUTERS/Peter Nicholls
The denial of remote access to the newly resumed Assange extradition hearing of 40 civil society and political monitors has been strongly criticized given the importance of the case, and it's easy to see why people are concerned.
"It is not merely of some importance, but is of fundamental importance that Justice should not only be done, but should manifestly and undoubtedly be seen to be done," Lord Chief Justice Hewart's famous dictum goes.
Sadly that's not the case – literally – with the extradition hearing of Julian Assange which resumed today in London. Amnesty International and Reporters Sans Frontieres were just two of the 40 civil society and political monitoring groups who have had their remote access to the hearings denied, having, it is claimed, been invited to apply for such access only last week.
With the problems of coming to the UK at this time due to Coronavirus restrictions, and only limited room in the gallery (where Assange's father watched proceedings), remote access was more important than ever. But the authorities seem to think differently.
The group Bridges4Media said that a letter from the UK Ministry of Justice had cited District Judge Baraitser's concern about "maintaining the integrity of the court" given that images of February's hearing appeared on social media.
Rules about court reporting are strict, and woe betide those who fall foul of them and are found guilty of causing interference with the administration of justice. But given the enormous political ramifications of the cases, it is surely questionable that monitoring groups are not able to watch proceedings online. In fact you could argue that given the importance of the case, proceedings should be on live television for everyone to watch.
Amnesty, for one, are routinely allowed remote access in human rights cases, but not here. Again, his supporters will say that Assange is being singled out for special treatment, and that this has been the case all along.
Take the presumption of innocence, a fundamental principle of a just society. Assange was accused of rape but no charges were ever brought (they were eventually dropped altogether). But that didn't stop a whole range of 'Inside the Tent' commenters referring to him, quite libelously, as a 'rapist'. Ironically, a large number of these commenters who publicly traduced Assange would probably regard themselves as 'liberals.' But here they were promoting a very serious allegation, as a legally established fact. Assange wasn't so much considered guilty as charged but guilty as accused. No one who believes in justice could support that.
Before Monday's hearing in London, Assange was re-arrested on a new indictment, issued in June by the US government – which contains 18 new charges, including him plotting to hack computers, and to obtain and disclose national defence information. Assange's QC complained that the latest indictment had been made at the '11th hour' without warning, but his objections were overruled by DJ Baraitser. A request for a further adjournment by the defence, to prepare for the new charges, was also rejected, with Baraitser saying that she had previously offered this to Assange's lawyers, only for it to be declined.
Assange has now spent 16 months in the high-security Belmarsh prison. Consider this. Also in Belmarsh at the same time as Julian was a man named Sudesh Amman. In November 2018 Amman had been sentenced to three-and-a-half years in jail for possessing documents containing terrorist information and for disseminating terrorist publications. Amman seemed to be obsessed with carrying out a knife attack. While Assange was still languishing inside, the IS-supporting Amman was released from Belmarsh on January 23, 2020. Guess what happened next? Entirely predictably, a few days after being given his freedom, Amman went on a stabbing spree, along Streatham High Street. He stabbed and injured two people (one seriously) before being shot dead by the police.
Who posed the bigger threat to the general public: Amman or Assange? Clearly it was Amman. Yet he was released, while Assange's ordeal continues. Let us hope –and pray– that justice is done and, just as importantly, we can see it being done.
Author:

Neil Clark is a journalist, writer, broadcaster and blogger. His award winning blog can be found at www.neilclark66.blogspot.com. He tweets on politics and world affairs @NeilClark66
===
Julian Assange Show Trial Resumes: Why the U.S. Government Wants Him Silenced
By Ron Ridenour - 07. September 2020
Julian Assange has been held in isolation (23 hours per day) at Belmarsh high-security prison since he was dragged out of the Ecuadorian embassy in London, April 11, 2019.
The United States government claims he violated its Espionage Act of 1917 and committed illegal computer hacking. U.S. authorities requested England's government arrest and extradite him. He would be tried in Alexandria, Virginia. It is there that a secret grand jury began gathering a case against him on May 11, 2011.
The extradition trial which starts today at Old Bailey, the central criminal court of London, is expected to last three or four weeks.
Following his arrest, the court's first legal proceedings against Assange dealt with his breach of bail conditions; he had sought asylum in Ecuador's embassy to avoid imprisonment in the U.S. Assange had only 15 minutes to prepare with his lawyer and the hearing lasted only 15 minutes. As has been widely reported, one judge said that Assange was a "narcissist who cannot get beyond his own self-interest."
The judges, including Chief Magistrate Emma Arbuthnot, ruled that he should be held in "custody" for 50 weeks. Bail violations are usually punished by a fine, and/or a few days in jail. Assange's "custody" for such a minor offense resulted in isolation. He has long since served that time, but the government won't release him pending results on the extradition matter. The U.S. government's original charges against Assange would have netted a maximum of five years imprisonment.
In June, Magistrate Arbuthnot ruled that a full extradition hearing should begin February 25, 2020, then expected to last five days. The trial was postponed while the U.S. initiated more charges against him, which now amount to 18 counts with a possible sentence of 175 years imprisonment.
When there are court hearings, Assange is usually too sick to attend, and participates via video. He is allowed few visitors and even his lawyer is often not allowed in, or is limited to a few minutes. Julian is not even allowed to have materials pertaining to the case in his cell.
Assange's Alleged Crimes
As CAM readers are well aware, Assange is the founder of Wikileaks, a non-profit organization that claimed to have published over 10 million classified documents in the first ten years of its operations starting in 2006. The most explosive revelations include war logs from the Afghan War and the infamous "Collateral Murder" video from July 2007 in which U.S. troops opened fire and killed over a dozen people in a Baghdad suburb including two journalists. Two children involved in the rescue were also seriously wounded.[1]
While many herald the Wikileaks' exposure of government atrocities and corruption, others have criticized Assange and Wikileaks for inadequately curating its content and violating personal privacy. Notwithstanding, Brigadier General Robert Carr, the counter-intelligence officer who had overseen the investigation by the U.S. Defense Department, admitted under oath in 2013 that "I don't have a specific example" of any person who came to harm due to the publication of the leaks.[2] The claim that Assange collaborated with the Russians to leak emails that depicted Hillary Clinton in a negative light in the 2016 election has also not been substantiated.[3]
The U.S. government has pursued a vendetta against Assange and Wikileaks because they have been repeatedly humiliated by them.
Whistleblowers have historically been treated very harshly not primarily because of the content of the information that they have helped leak, but because they challenge the legitimacy and authority of the state.[4] The Assange trial should be viewed in this context.
No Fair Trial is Possible
Counsels for the U.S. government contend that Assange has committed the largest "crimes" of compromises of information in U.S. history. It was irrelevant to the U.S. government and England's magistrates that the "compromises of information" exposed truths of many types of governmental crimes, including war crimes punishable by years to life imprisonment.
If Assange is sent to Alexandria, he has no chance of a fair trial.
According to Alexandria's demographics, the city of 159,000 people is located 12 kilometers from downtown Washington D.C. Of 96,500 employed persons, 24,000 work directly for the government, mainly for intelligence services (CIA, NSA) and defense departments, and many private company employees are government contractors.
Grand Juror selection always has government employees or private workers associated with the government. That is why the government always prosecutes accused violators of national security and espionage laws there. No journalist has ever been so tried. The Espionage Act was made in wartime to prohibit U.S. residents/citizens from supporting U.S. enemies in times of war. Julian Assange does not fit those criteria.
According to the UN rapporteur on torture, Nils Meltzer, even more Alexandria residents—more than the demographics agency stated—work for the U.S. government. He told interviewer Daniel Ryser:
The most contentious exposés for the U.S. and England are connected to the downloading of a "vast amount of classified documents" by Chelsea Manning when she was a U.S. army intelligence analyst. She subsequently served seven years in prison. These files included approximately 90,000 reports about the war in Afghanistan, 400,000 Iraq war reports and 800,000 Guantánamo Bay detainee assessments, as well as 250,000 U.S. diplomatic cables. Many daily newspapers published information and documentation provided by Assange-led Wikileaks. Many of these newspapers, which published Wikileaks exposures, such as, The Guardian, New York Times, Washington Post, and BBC TV and radio have since abandoned Assange and this historic case against freedom of the press.
A 2019 study by John O'Day in Fairness and Accuracy in Reporting found that even muckraking journals like Mother Jones made a point of dismissing Assange's claims to be a journalist, and denounced him for helping leakers to break the law.[6]
In Denmark, the daily Politiken also published some of Wikileaks documents. Yet both it and state-sponsored DR media headlined news articles of the upcoming extradition trial as an outgrowth of earlier rape charges" against him, which Swedish authorities dropped in November 2019[7] When this reporter confronted the media with this error, they did nothing to correct the falsehood. This is a typical example of how the Western mass media in most countries demean and dismiss the Assange-Wikileaks publications as a legitimate medium.
Sweden Joins the Witch-Hunt
Two Swedish women, Anna Ardin and Sophia Wilén, had consensual sex with Assange when he visited them and held talks in Stockholm, in August 2010. Ardin invited Assange to her home and bedroom. After hosting a party for him at her flat, she tweeted friends that she was with Assange, one of the "world's coolest, smartest people; it's amazing." After several days of sexual relations, Ardin and Wilén went to police to ask that Assange be tested for venereal disease. They said he had not always worn a condom and that one had torn. There was no question of use of force. Assange did go to the police station on his own. He was cleared of any illegality by prosecutor Eva Finne, who said, "There is no suspicion of any crime whatsoever."[8]
Only after the government changed prosecutors, following encouragement from the CIA, did the new one issue a warrant for simply "questioning" him. By then, Assange was in England. He agreed to return to Sweden if the government would guarantee that it would not extradite him to the U.S., as he realized the Obama government wanted his scalp. Even though that is frequently granted, Sweden refused to do so for this publisher-activist.

In the summer of 2012, an English court ordered Assange's extradition to Sweden for "questioning." Assange, his staff, and lawyers were fearful that Sweden would send him further to the U.S. Assange then sought asylum in the Ecuadorian embassy when Rafael Correa was president. Correa granted him asylum and later granted him citizenship.
It took Sweden five years before they finally interviewed him after his lawyers had suggested dozens of times they come to the Ecuadorian embassy where he awaited them. Finally, Sweden wanted to drop the case, but Britain kept urging them not to.
In Ryser's interview with Nils Meltzer, he asked, "Why were the British so eager to prevent the Swedes from closing the case?"
Sweden finally dropped the case in November 2019. By that time, Russiagate was in full swing. So, that replaced the Sweden "rape" card. The Democratic Party National Committee, with Hillary Clinton in the lead, claimed Russia hacked into its server and had Wikileaks publish emails, revealing corruption by Hillary Clinton and sabotaging the primaries.
Democratic leaders and the CIA saw a good chance to blame Putin and Assange, their two main enemies, for what was a probable disenchanted insider's leak.[9]
Authorities didn't even do forensics on the equipment. No proof was found, not even by the anti-Trump, anti-Putin Robert Mueller inquiry. Probably in an effort to compromise, Trump and cohorts decided to blame Julian Assange alone for exposing state secrets, i.e. "espionage." By that time, Wikileaks had disclosed millions of documents exposing crimes and corruption of scores of governments.
The new Ecuadorian president, Lenin Moreno, withdrew Assange's asylum and revoked his Ecuadorian passport overnight, without consulting or even informing Assange. Moreno did so after assurances that the U.S. would guarantee loans, increase trade and investments. USAID funding for U.S. propaganda programs returned to Ecuador after its new president betrayed his fellow citizen.
After a decade of internment, either in jail, under house arrest, or seven years in a small area of the Ecuadorian embassy in London, the efforts to undermine Assange intensified. The CIA even had a Spanish company, Undercover Global, spy on him while in the Ecuadorian embassy. The Spanish National Court has opened an investigation into this.[10]

"Undercover Global is suspected of having installed microphones in a fire extinguisher at the embassy as well as in the women's toilets where Assange used to meet with his lawyers for fear of being spied on…´Meetings which Assange held with his lawyers, as well as medical visits and those of other nature were recorded,' the court said."
The information, including video film, was then transferred to computer servers that were accessible to both the Ecuadorian and U.S. intelligence services, the court added.
Judicial Conflict of Interest
Judge Arbuthnot's husband, Lord Arbuthnot of Edrom,[11] "a former defense minister, is a paid chair of the advisory board of military corporation Thales Group," and was an adviser to arms company Babcock International. Both companies have major contracts with the UK Ministry of Defence.
British judges are required to declare any potential conflicts of interests to the courts, but Emma Arbuthnot did not excuse herself from judging the Wikileaks publisher. Lady Arbuthnot began presiding over Assange's legal case in 2017. She remains the supervising legal figure in the process. According to the UK courts service, the chief magistrate is "responsible for…supporting and guiding district judge colleagues."
There is more than a mere "appearance of bias." The judge's husband was part of a delegation, including a former chair of the British joint intelligence committee, which co-ordinates GCHQ, MI5 and MI6, who met with Turkey's foreign minister Mevlüt Çavuşoğlu and energy minister Berat Albayrak, PM Erdoğan's son-in-law. In 2016, WikiLeaks published 57,934 of Albayrak's personal emails, of which more than 300 mentioned Çavuşoğlu, in its "Berat's Box" release.
Britain Tortures the Messenger
Assange is still isolated in Belmarsh prison despite torturous conditions described by UN special rapporteur on torture, Nils Meltzer. He and two doctor specialists in torture, examined Assange in prison, and concluded that he is a victim of "psychological torture." Meltzer went so far as to compare what was being done to Assange with what the Nazis did. They realized that using psychological torture is more effective in breaking victims than physical torture.
The Convention on Torture—to which the U.S., UK, Sweden and Ecuador are parties persecuting and/or prosecuting Assange—requires that member countries conduct investigations into such charges by the UN rapporteur. They all refused to do so.
Several politicians have publicly stated that Assange should be "hunted down" (Sarah Palin), or "assassinated" (Tom Flanagan). Flanagan was a senior adviser to the Canadian PM Stephen Harper when issuing "a fatwa against Assange," on the Canadian TV station CBC. "I think Assange should be assassinated…I think Obama should put out a contract and maybe use a drone or something."[13]
Hillary Clinton said the same to her staff on November 23, 2010: "Can't we just drone him?"[14]
Cablegate
Wikileaks disclosure of U.S. diplomatic cables between 1966 and 2010 are an extreme embarrassment to the U.S. government. Among the disclosures were various Hillary Clinton orders to U.S. diplomats, U.S. ambassadors' complaints about U.S. allies and other embarrassing commentary and revelations:
British troops in Afghanistan are not very good at the job. This angered British politicians who always stand beside U.S. warmongers.
The U.S. is working with Sweden's military and secret services inside NATO, although Sweden is not a member and the majority are opposed to NATO membership. Cables revealed this "real politic" in which Sweden's parliament was in the dark.
Secretary of State Clinton ordered diplomats to steal personal material information including DNA, fingerprints, iris scans, credit card information. She also requested tapping phones from UN officials, even its general secretary, as well as human rights group leaders.
Britain's Iraq inquiry was fixed to "protect U.S. interests."
Cables further show that the U.S. supported Sri Lanka's Sinhalese governments' massacre of tens of thousands of Tamil civilians over decades, even before a civil war broke out. During the last days of the civil war, April-May 2009, when guerrilla forces surrendered, thousands of civilians were massacred, and surrendering fighters were executed.
So yes, a truly free press can be dangerous to criminal politicians. That is why a free press must be turned into a servile adjunct.
Jonathan Cook explains how the media has failed in its mission to inform the public honestly.
He went on to say: "Assange did not just expose the political class, he exposed the media class too—for their feebleness, for their hypocrisy, for their dependence on the centers of power, for their inability to criticize a corporate system in which they were embedded."[15]
Meltzer concluded his in-depth interview with Republik thusly:
Ron Ridenour is a U.S.-born author and journalist, anti-war and civil rights activist since 1961. After joining the U.S. Air Force at 17, he saw the inner workings of U.S. imperialism first hand and resigned. In the 1980s and 1990's he worked with the Nicaraguan government and on Cuban national media. He now lives in Denmark and, in addition to writing a dozen books, has served as a special correspondent and freelance investigative journalist for many publications in the U.S. and several Latin American and European countries—among them: The Morning Star, New Statesman, The Guardian (U.S. and England), Playboy, Liberation News Service, Pacific News Service, Coast, Qui, Skeptic, Sevendays, and Pacifica Radio. CAM co-founder Philip Agee wrote commentaries to two of his dozen books: Yankee Sandinistas: Interviews with North Americans Living and Working in the New Nicaragua, and Backfire: CIA's Biggest Burn. See also: The Russian Peace Threat: Pentagon on Alert and Winding Brook Stories at Amazon and Lulu. Other work can be found at ronridenour.com. Ron can be contacted at .
---
[1]https://en.wikipedia.org/wiki/WikiLeaks#:~:text=WikiLeaks%20(%2F%CB%88w%C9%AAk,in%20its%20first%2010%20years; https://collateralmurder.wikileaks.org/.
[2];https://en.wikipedia.org/wiki/WikiLeaks#:~:text=WikiLeaks%20(%2F%CB%88w%C9%AAk,in%20its%20first%2010%20years; https://collateralmurder.wikileaks.org/. James Cogan, "The Show Trial of Julian Assange Begins," World Socialist Web Site, February 25, 2020, https://www.wsws.org/en/articles/2020/02/25/pers-f25.html
[3]"Intel Vets Challenge 'Russia Hack' Evidence," Consortium News, July 24, 2017, https://consortiumnews.com/2017/07/24/intel-vets-challenge-russia-hack-evidence/
[4] See Lloyd C. Gardner, War on Leakers: National Security and American Democracy, from Eugene V. Debs to Edward Snowden (New York: The New Press, 2016). Chase Madar in The Passion of Bradley Manning: The Story Behind the Wikileaks Whistleblower (New York: OR Books, 2012) describes how Manning was subject to a harsh regiment of punitive solitary confinement designed "as a warning to other prospective whistle-blowers, and used as a way to break him, crush his spirit and force him to implicate Julian Assange [Wikileaks founder] and Wikileaks in espionage charges."
[5] https://www.republik.ch/2020/01/31/nils-melzer-about-wikileaks-founder-julian-assange
[6] John O'Day, "Corporate Media Have Second Thoughts About Exiling Julian Assange From Journalism," Fairness and Accuracy in Reporting (FAIR), June 5, 2019, https://fair.org/home/corporate-media-have-second-thoughts-about-exiling-julian-assange-from-journalism/
[7] Ben Quinn, "Sweden Drops Julian Assange Rape Investigation," The Guardian, November 19, 2019, https://www.theguardian.com/media/2019/nov/19/sweden-drops-julian-assange-investigation
[8] https://consortiumnews.com/2020/09/04/assange-extradition-after-cheering-assanges-abuse-journalists-have-paved-path-to-us-gulag/
[9] See https://consortiumnews.com/2017/07/24/intel-vets-challenge-russia-hack-evidence/ and
https://medium.com/@caityjohnstone/the-index-of-russiagate-debunkery-f5b6f4101dd0. Former NSA Technical Director Bill Binney has promoted the theory that the alleged hack of the computers may have bene orchestrated by the CIA in an attempt to set up Russia.
[10] https://news.yahoo.com/spanish-court-probes-alleged-spying-assange-ecuadorian-embassy-180112903.html
[11] https://www.informationclearinghouse.info/52548.htm
[13]https://www.theguardian.com/world/2010/dec/01/us-embassy-cables-executed-mike-huckabee
[14]https://wearechange.org/hillary-clinton-proposed-drone-strike-julian-assange/
[15] https://consortiumnews.com/2020/09/04/assange-extradition-after-cheering-assanges-abuse-journalists-have-paved-path-to-us-gulag/
===
AS ASSANGE EXTRADITION HEARING RESUMES, THE FUTURE OF A FREE PRESS IS ON TRIAL
By ANYA PARAMPIL - 07. September
Red Lines host Anya Parampil speaks with journalist Juan Passarelli, director of the film "The War on Journalism: the Case of Julian Assange," about the trial of Julian Assange and his experience working with Wikileaks.
Passarelli explains how the UK court has not made the proceedings accessible to the media, and how Assange has been systematically mistreated and is "obviously suffering a lot, mentally and physically":
JUAN PASSARELLI: "Julian (Assange) has not been given the right to a fair defense. He hasn't seen his lawyers for six months — not on video, not in person — because nobody is allowed to visit Belmarsh Prison, because of Covid conditions. He is locked in a room 23-and-a-half hours a day.
"There was a superseding indictment that the (US) Department of Justice issued on the 24th of June, but it was only given to the court on the 14th of August, which is three weeks ago. And Julian has not been able to read it; so he hasn't even been able to read the charges that he is facing. And he is going to see his lawyers for the first time (on September 7) at the hearing. So what kind of justice is that?
"Concerning his health, it is actually deeply worrying. His partner and two children went to visit him for the first time a week-and-a-half ago, and he was not allowed to get close to them under the threat that he would be put under absolute isolation for 14 days if he touched the children. He was given a mask for the first time since Covid began to see his family.
"He has reportedly lost a lot of weight. He is in physical pain. He has an injury in his shoulder that happened quite a few years back; while he was exercising in the embassy and practicing some boxing, he injured his shoulder and it is still a big problem. He has a sprained ankle; so physically he is in a lot of pain.
"And as you probably are aware, the special rapporteur on torture, Nils Melzer, has examined him, with two expert medical experts; this is the UN special rapporteur on torture, and has delivered a report to the United Kingdom saying that he displayed all the symptoms of a person who is under psychological torture.
"And the UK took six months to reply, and the reply was a one-pager saying, 'We're not doing anything about it,' basically, and that he is not under torture.
"The psychological report that the defense submitted — I was in court on the 14th of August when the superseding indictment was finally given to the court — the psychological report was given to the prosecution, and they say that his psychological, mental health is deteriorating, and has been deteriorating rapidly throughout the last weeks.
"I was able to see him in court that day, through video link, where he was not wearing a mask, even though he has a chronic lung condition, and that all the prisoners in the prison use that video link booth to speak to court, and there is a lot of Covid going around in the prison. He was asked for his name and date of birth; he almost didn't remember his date of birth."
Author:
ANYA PARAMPIL is a journalist based in Washington, DC. She has produced and reported several documentaries, including on-the-ground reports from the Korean peninsula, Palestine, Venezuela, and Honduras.
If you missed the World Premier of my film (and don't want to use a proprietary platform):

Watch "The War on Journalism: The Case of #JulianAssange" here: https://t.co/OkZKhTeFO7#FreeAssange #AssangeCase #SaveJulian

— Juan Passarelli (@jlpassarelli) August 29, 2020
===
LIVESTREAM
LIVE: Assange supporters gather outside court as extradition trial gets underway
•Streamed live 07. September 2020 (after the 7h33min livestream YouTube blocked and removed this livestream-video on fishy grounds)
Supporters of Julian Assange gather outside the Old Bailey Central Criminal Court in London on Monday, September 7, as his long-awaited extradition trial is set to begin. The hearing comes months later than initially planned due to the coronavirus pandemic. According to his supporters Assange is in poor health and has been under threat of contracting the virus in prison where infection cases have been reported. The WikiLeaks founder has been behind bars in Belmarsh Prison since he was dragged out of the Ecuadorian Embassy in April 2019. He faces multiple charges in the US related to espionage.
Assange extradition hearing day 1 - outside court and petition
From Livestream 07. September 2020
Assange Update: Protestors and Speakers Gather Outside The Old Bailey to Support WikiLeaks Founder
By acTVism Munich - 07. September 2020
===
London court resumes Assange hearing amid worldwide protests against his extradition to US
By RT - 07. September 2020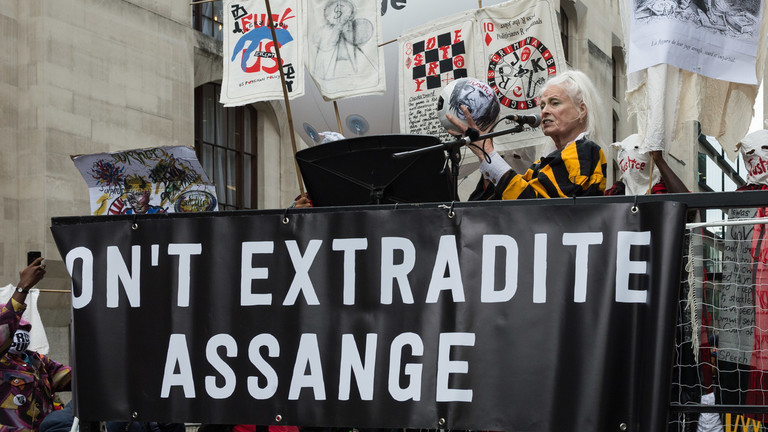 British fashion designer Dame Vivienne Westwood addresses supporters of Julian Assange protesting outside the Old Bailey 07 September, 2020 in London, England. © Getty Images / Barcroft Media
As the Julian Assange hearing resumed, the WikiLeaks founder formally declined to be extradited to face a superseding indictment issued by the US in June. Protesters and lawyers say the prosecution will stifle press freedom.
Assange's lawyers described the prosecution as a politically motivated abuse of power that will stifle press freedom and put journalists around the world at risk. The journalist is now expected to appear each day of the hearing, which is likely to last four weeks.
On the first day, he officially stated that he does not consent to be extradited.
Several dozen supporters, including his father and partner, as well as fashion designer Vivienne Westwood, gathered outside the courthouse.
The demonstrators chanted, banged drums, and called the prosecution a threat to press freedom. "Assange is the trigger, he is shining the light on all the corruption in the world,"Westwood said. Speaking outside the Old Bailey, the WikiLeaks founder's father, John Shipton, said the extradition hearing was an "abuse trial."
As the hearing resumed, 'FreeAssange actions' were scheduled to be held in London, Adelaide, Berlin, Brussels, New York, Paris, Rome, San Francisco, Washington DC, and other cities.
New Zealand kicked off global protests to mark the commencement of the extradition case against Assange on Monday. Free Assange NZ has written an open letter to New Zealand's MPs and government saying that 'a call for Assange's freedom' would be a major achievement as New Zealand is a partner within the Anglo-American alliance.
The hearing was originally planned for May 18, but was rescheduled because of the Covid-19 pandemic. The court ruled out his release on bail, despite the high risks of contracting the coronavirus at UK's Belmarsh high security prison.
During Monday's session, District Judge Vanessa Baraitser rejected a request by lawyers for Assange to delay his extradition hearing until next year. The lawyers wanted more time to respond to US allegations that he conspired with hackers to obtain classified information.
Tweeting in response to the court developments, NSA whistleblower Edward Snowden called the case a Kafkaesque "show trial," adding that the "judge permits the charges to be changed so frequently the defense doesn't even know what they are."
The US authorities accuse Australian-born Assange of conspiring to hack government computers and of violating an espionage law after the release of confidential cables by WikiLeaks in 2010-2011.
In June 2012, facing imminent extradition, Assange sought refuge in the Ecuadorean Embassy. He was dragged out of the embassy in April 2019 after Ecuador revoked his asylum. The WikiLeaks founder remains jailed pending the outcome of the US extradition request.
If convicted on all charges, Assange faces a sentence of up to 175 years behind bars.
===
Julian Assange: WikiLeaks founder re-arrested over 18 new allegations as he appears in court to fight US extradition
By SN - 07. September 2020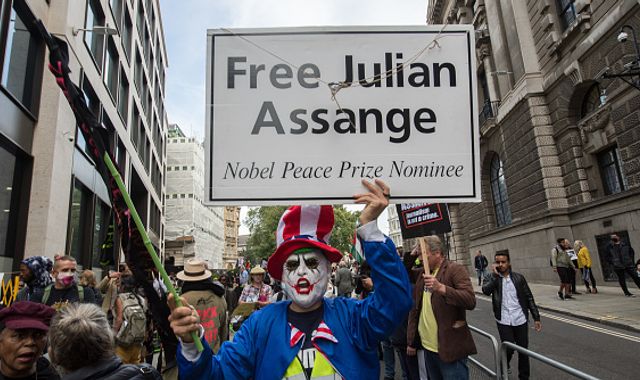 Julian Assange has failed to get new allegations against him thrown out as he battles extradition to the US.
The WikiLeaks founder, 49, appeared at the Old Bailey in London after being held for months on remand at high-security Belmarsh Prison.
He was re-arrested in the court's cells on Monday over new charges contained in a US indictment.
It details a further 18 charges, lodged in June, which accuse him of plotting to hack computers and obtain and disclose national defence information.
They allege that he conspired with army intelligence analyst Chelsea Manning to crack a scrambled password, known as "hash", to a classified US defence department computer.
The charges also offer further details of alleged hacking plotters that Assange and his WikiLeaks colleagues are said to have recruited.
The 49-year-old spoke only to state he "does not consent to extradition" and confirm his name.
Assange, who is wanted in the US for publishing hundreds of thousands of classified documents in 2010 and 2011, was clean-shaven with short hair and wore glasses, a dark suit, maroon tie and white shirt.
If convicted, he faces a maximum possible sentence of 175 years in jail.
His lawyer, Mark Summers QC, said the "fresh allegations at the 11th hour" were brought without warning or explanation, which meant they had no time to prepare a response.
He highlighted the difficulties Assange faced in speaking to his lawyers in the midst of ongoing restrictions.
"It would be an impossible task for the defence to deal with these fresh allegations in any meaningful way in the time that has been afforded to them, and that time is a matter of weeks in respect of which we are provided absolutely no explanation for the late arrival of these matters."
He added: "What is happening is abnormal, unfair and liable to create injustice if allowed to continue."
But District Judge Vanessa Baraitser rejected the defence's bid to "excise" the allegations, saying: "These are issues which must take place in the context of considering the extradition request and not before it."
Outside court, hundreds of protesters gathered in support of Assange, including his father John Shipton and fashion designer Vivienne Westwood.
She said: "I'm an activist, I am very frightened, I've lost days and years of sleep worrying about Julian Assange.
"Julian Assange is the trigger, he is shining the light on all the corruption in the world."
His father described the proceedings as an "abuse trial", which his defence claims has been targeted by Donald Trump's re-election campaign for "political reasons".
His partner, Stella Moris, who he shares two children with, was in the public gallery after delivering an 80,000-signature petition against his extradition to Downing Street.
Dozens of witnesses are expected to be called to give evidence at the Old Bailey over the four-week hearing, with the judgment likely to be delivered at a later date.
Assange has been on remand in Belmarsh Prison since last September after serving a 50-week sentence for breaching bail conditions while he was in London's Ecuadorian embassy for nearly seven years.
===
Watch Live — Julian Assange protest in London as extradition hearing begins…
Watch Live — Happening Right Now In London - Posted by Kane on September 7, 2020 10:41 am
Supporters of Julian Assange gather outside the Old Bailey Central Criminal Court in London this morning as his long-awaited extradition trial is set to begin. The hearing comes months later than initially planned. The WikiLeaks founder has been behind bars in Belmarsh Prison since he was dragged out of the Ecuadorian Embassy in April 2019. He faces multiple charges in the U.S.
UK: "This is not justice" - Assange supporters outside Old Bailey court
•Sep 7, 2020
Supporters of WikiLeaks founder Julian Assange continued to gather outside the Old Bailey Central Criminal Court in London as the extradition trial of the whistleblower began earlier on Monday. Besides Assange's father John Shipton and his partner Stella Moris, human rights activist Rebecca Vincent and fashion icon Vivienne Westwood were among others who came to express their support. "We've got a corrupt Westminster Court working with the government and their judge is sitting in that court. They are trying to use the prestige of the Old Bailey that this is justice. It is not justice. It's completely illegal what has been going on," said Westwood. "I don't have any faith in the administrative law in this court here because thus far it has proved it's inadequate," said Shipton to the press outside the courthouse. The hearing comes months later than initially planned due to the coronavirus pandemic. According to his supporters, Assange is in poor health and has been under threat of contracting the virus in prison where infection cases have been reported. It is unclear if he is to appear in court in person. The WikiLeaks founder has been behind bars in Belmarsh Prison since he was dragged out of the Ecuadorian Embassy in April 2019. He faces multiple charges in the US related to espionage.
===
UN Rapporteur on torture: "Julian Assange is a political prisoner."
Nils Melzer, a Swiss professor of law, has been the United Nations Special Rapporteur on Torture and other Cruel, Inhuman or Degrading Treatment or Punishment. Prior to working for the UN, he was a legal advisor for the International Committee of the Red Cross Photo: Supplied
Remember the cold-blooded shooting of Iraqi civilians in Collateral Murder? Remember torture in Guantanamo Bay? Remember the political corruption revealed by the diplomatic cables? Those were some of the stories that broke the news back in 2010 as major international papers from The New York Times to The Guardian to Der Spiegelteamed up with WikiLeaks to expose US war crimes and a long list of shameful truths that our governments had kept secret.
Ten years down the road, the man who made these possible is fighting for his freedom in shocking indifference, kept in solitary confinement in a high-security prison and subjected to a trial that independent experts qualify as a sham for those very popular publications of the 2010 era WikiLeaks. EXB got access to the court hearings that will decide on his fate: if the court decides to greenlight his extradition to the U.S., where he'll face 175 years imprisonment over his alleged role in revealing to the public classified documents that exposed acts of torture, war crimes and misconduct committed by the US and their allies.
EXB is committed to reporting on the court hearings that will not only seal the future of a man, but also determine the future of investigative journalism . We'll also run a series of interviews with independent experts and journalists who worked on the leaks as well as prominent supporters.
First up, N. Vancauwenberghe and J. Brown spoke with Nils Melzer, UN Special Rapporteur on Torture and Other Cruel, Inhuman or Degrading Treatment or Punishment, who investigated the case. Stay tuned!
Can you please explain what's going on in London on Monday?
Yes, Julian Assange will have to face the second part of a court hearing which is to decide on his extradition to the United States. Hopefully, we will then have a first instance decision around October. Whatever the decision will be, I expect an appeal will be made to the High Court. Probably by Julian Assange, because I don't expect the first instance to refuse the extradition. But even if a miracle happens and the judge refuses to extradite him, then the US will certainly appeal this decision
So, you believe that the judge will greenlight Julian Assange's extradition to the US?
Yes. Now, if the British judiciary is independent and they apply the law, there is no way that they can greenlight this extradition. It's obvious to any conscientious lawyer that this extradition cannot lawfully go forward. There's the formal reason that 17 out of the 18 charges that Julian Assange has been indicted for are for espionage. Espionage is the quintessential, textbook example of a political offence, and you cannot extradite for political offences. The extradition treaty between the US and the UK explicitly prohibits that.
It's obvious to any conscientious lawyer that this extradition cannot lawfully go forward.
Then there's the eighteenth charge, the so-called hacking charge. Julian Assange is not even accused of having hacked anything, he's accused of having attempted to help Chelsea Manning, his source in the U.S. Army at the time, to decode a system password. While this password would not have given her access to new information, it would have allowed her to cover her own tracks inside a system to which she already had full access authorization. Even if Assange's involvement were proven, it would not be a serious crime, but merely an unsuccessful attempt to help someone commit an offence. Perhaps he could get a fine or a penalty of six weeks imprisonment for that. But everyone knows that Julian Assange has not been subject to a decade of confinement, persecution and extradition hearings simply to be thrown in prison for only six weeks.
Then how do you explain that a democratic country like the UK can possibly go ahead with extradition if it's unlawful?
My understanding is that, in Julian Assange's case, the UK are trying to circumvent the applicable UK-US extradition treaty, which prohibits extradition for political offences, by basing themselves exclusively on the British Extradition Act, a domestic law of subsidiary importance in this case, which does not contain such a prohibition. In essence, the UK pick and choose whatever will enable them to extradite him. Another thing is that Assange's procedural rights have been so severely and consistently violated that, by now, this extradition proceeding has become irreparably arbitrary. He has not had adequate access to his lawyers, he has not been granted a single meeting since the lockdown in March, he has had extremely restricted access to his case documents, he only received a computer after a year in prison, he doesn't have internet access, and on top of that, they have glued down the keys of the keyboard so he can't write. Importantly, all of these restrictions are clearly unlawful, because Assange is imprisoned solely for the purpose of preventing his escape during the extradition proceedings. He is not serving any criminal sentence but, like any other citizen, is fully entitled to freely interact with his lawyers, friends and family and to exercise his profession as he pleases.
What are the UK's interests here? What does the UK government have against Julian Assange so it could justify such harsh treatment?
Let's start with the big picture. This is not about Julian Assange or any crime he's supposed to have committed. This is about WikiLeaks, the methodology introduced by WikiLeaks, which makes it easy for whistleblowers to disclose secret information about states' misconduct while staying completely anonymous even for Wikileaks. And the proliferation of this methodology is what states are afraid of—not just the US, but also the UK—and I would argue just about any other state in the world, because governments worldwide strongly rely on secrecy to avoid public scrutiny. That's why Julian Assange does not receive much support from any state. Ecuador was the only exception, until their new president, Lenin Moreno, bowed to very blunt economic pressure by the US.
This is not about Julian Assange or any crime he's supposed to have committed. This is about WikiLeaks, the methodology introduced by WikiLeaks, which makes it easy for whistleblowers to disclose secret information about states' misconduct while staying completely anonymous
That's what some people would call conspiracy theory – governments relying on secrecy to commit their evil deeds and persecuting anyone who would dare to expose them.
I've worked for governments and international organizations for more than 20 years. So I know how political decisions are being made and I know that governments increasingly try to withhold compromising information from the public. This is not some kind of conspiracy theory. We all know about Snowden and the NSA. We know about the WikiLeaks disclosures. We also know about the recent "Cryptoleaks" scandal and countless other cases of corruption and abuse, which are but the visible tip of the iceberg. If the states persecuting Assange really had acted in good faith, they would at least have prosecuted the misconduct that has been exposed, the war crimes, the torture, some of the most serious imaginable crimes.
But what we see is that, despite compelling evidence, none of these crimes have ever been prosecuted or even investigated. That clearly proves the point that, in persecuting Assange, these governments are not pursuing justice, but are trying to protect their own impunity for war crimes, aggression and torture. The only soldiers and officials that have been prosecuted are the whistleblowers, or those who committed crimes that were not in line with what the government wanted. But all those that obeyed their government in conducting crimes enjoy complete impunity. This includes not only the Americans, but is a phenomenon we see worldwide, across the board. And WikiLeaks threatens this impunity by informing and empowering the public about government misconduct.
When released 10 years ago, the leaks were a huge thing. The mainstream media such as The Guardian, Le Monde, Der Spiegel or New York Times collaborated with Julian Assange on exposing those war crimes and cases of misconduct committed by the US and their European allies. Ten years down the road, few seem to remember the leaks themselves and most big media don't show much sympathy for Assange. What happened?
Initially, mainstream media profited greatly from Assange's work. They realized that WikiLeaks had explosive exposures to make, and so they jumped on the train, and participated actively in their publication. But then they must have realized that they had made the US really angry with this. I don't know what happened behind the scenes, whether there have been threats or deals, but what we can see is that the mainstream media soon after started jumping off of the train again. Most mainstream media institutions are almost totally controlled either by governments, or by large corporations that are deep in bed with governments, and so they are no longer able or willing to exercise their function as the "Fourth Estate", to subject political power to public scrutiny and to inform and empower the public objectively and impartially. Instead, they have bowed to power, betrayed their calling and helped to demonize Julian Assange in the service of their political and financial masters.
Mainstream media institutions are almost totally controlled either by governments, or by large corporations that are deep in bed with governments, and so they are no longer able or willing to exercise their function as the "Fourth Estate"
So do you see the media as complicit in the way they reported on Julian Assange?
Just look at the headlines during his time at the Ecuadorian embassy: Assange was alleged to be skateboarding through the embassy, playing football, mistreating his cat and smearing faeces on the wall. This was the kind of narrative spread by the media, and so that's what our informed and cosmopolitan public fervently discussed. But the Assange case has never been about Julian Assange. It's about the elephant in the room which everyone seems to ignore: the official misconduct of states that Assange has exposed. In 2010, at the time of the disclosures, everyone was shocked about the war crimes, the torture, the corruption, and the entire world's public started talking about it. This made the concerned states very nervous. So it was no coincidence that, within a few weeks, the Swedish authorities deliberately leaked a headline to the tabloid press: Julian Assange suspected of double rape. Immediately, the entire world's public obediently lost interest in discussing the crimes of the powerful, changed their focus and started debating Julian Assange's character and personality: is he a rapist, a narcissist, a hacker, a spy?
As an average reader of the press, you think you are making full use of your freedom of expression and opinion when freely discussing media headlines, but you don't realize that those discussion topics have already been pre-selected for you, and that they only reflect a "sanitized" fraction of what is really going on. If the media only offer headlines asking whether Julian Assange is a good guy or a bad guy, then we're not discussing the war crimes anymore.
As a matter of fact, when you mention Julian Assange to people, you usually get this visceral reaction that he is that "bad guy" – and this mainly due to the sexual assault allegations in Sweden.
But that's exactly the point. I don't know whether Julian Assange committed sexual assault or not, but what I do know is that Sweden never cared to find out. They wanted to use these allegations to discredit him. And once they had actively spread these allegations into every corner of the world, they then made sure that there would never be a proper trial because, as the prosecutor finally admitted in November 2019, they never had sufficient evidence to even press charges against Julian Assange.
Demonstrators are gathering at Brandenburg Gate to show their support for Julian Assange. Photo: N.Vancauwenberghe
Could you focus on the Swedish rape allegations for a minute, because that's something you actually investigated. For many it's still a major contentious point – few realize that the charges were dropped.
It's a very convenient, classic way of discrediting political dissidents in the court of public opinion. Throughout history, allegations of treason, blasphemy and, more recently, sexual misconduct have been very efficiently used to manipulate public opinion against particular persons.
Assange case has never been about Julian Assange. It's about the elephant in the room which everyone seems to ignore: the official misconduct of states that Assange has exposed.
Sweden went out of its way to make sure the public was informed of the allegations against Assange, even against the will of the concerned women, and then systematically procrastinated their investigation for almost a decade, before they were finally forced to abandon the case and admit that they never had sufficient evidence in the first place. Despite the enormous harm inflicted by the deliberate arbitrariness of the Swedish proceedings, no Swedish officials have ever been sanctioned and the government never offered to pay due compensation to Assange. Quite obviously, the damage was intentional.
Can you tell our readers how you got involved in this? Because you too had that visceral reaction when you first heard Assange's name, right?
The story started in December 2018, when Julian Assange was still at the embassy. His lawyers contacted my office and asked me to intervene on his behalf, saying that his living conditions at the Ecuadorian embassy had become inhumane. When I saw his name, I immediately declined. It was not only that I was too busy with other cases, but I had this almost subconscious perception of him as a rapist, narcissist, spy and hacker, which prompted my negative reaction. They contacted me again three months later, saying that the rumours were becoming more dense, that Assange might be imminently expelled from the embassy and then extradited to the US. I then remembered that I had previously declined to look into this case, but I realized I didn't really know why. So I started questioning myself: why did I have this visceral reaction? I didn't know Julian Assange, I had never met him, I had never really dealt with WikiLeaks. Even the disclosures in 2010 had not been really big news to me because, at the time, I was a legal adviser to the International Red Cross, I had been posted in various conflict zones and so I had a fairly realistic sense of what was going on behind the scenes. But I still had this prejudice inside of me about Julian Assange being a rapist, a narcissist, a spy and a hacker.
What specifically made you change your mind?
First, I realized I did not have an objective basis for my opinions, and so I decided to look at the evidence. And when I did, I immediately saw that things were not adding up, that there were various contradictory narratives and that it was so politicized that it was impossible for me to come to an objective conclusion without carrying out an onsite visit to Assange. To be honest, I didn't expect anything dramatic to come out of it. But I had to go and see him myself. So, in the first week of April 2019, I officially requested Ecuador to freeze the situation and not to expel Assange from the embassy. I also announced that I intended to investigate the case and requested authorization to visit Julian Assange inside the Embassy on 25 April. I also officially asked the British authorities, should Julian Assange come within their jurisdiction, not to extradite him to the US because I feared he might be exposed to serious risks for his human rights there. I released a press statement on Friday evening, April 5th, and on the following Monday I sent my official letters to Ecuador and the UK. Three days later, Julian Assange's asylum was terminated, his Ecuadorian nationality withdrawn and he was expelled from the Embassy – all without any form of due process.
Do you think you might have inadvertently prompted his expulsion and arrest?
With hindsight, I think that may well be what happened. It may well be that the US, Ecuador and the UK all wanted to rush Assange out of the Embassy and into British custody before the UN Rapporteur on torture started digging up a lot of dirt and complicate things for them. But this knee-jerk reaction struck me as very odd. I knew from experience that states acting in good faith wouldn't normally behave like that. I was the UN Rapporteur, not a journalist or activist. Assange had been in this embassy for six and a half years, and there was no reason to rush. I asked the involved states officially, publicly, formally and diplomatically, to freeze the situation for two weeks so I could properly investigate the allegations made. And then three days later they summarily deprive him of his asylum and his Ecuadorian citizenship, and throw him out of the embassy without even giving him a chance to defend himself?
And not only that, but, on the very same day of his arrest, the British authorities even drag him to court and convict him of a criminal offence in a summary hearing conducted the very same day, a hearing in which Assange is personally insulted by the judge, and in which his defence counsel's objections against conflicts of interest are non-gallantly swept under the carpet. That, to me, was really strange.
You ended up visiting him at Belmarsh prison in May 2019. What were your conclusions?
I brought two medical experts with me, a forensic and a psychiatrist, both specialized in the examination of potential torture victims. The doctors examined him separately from each other, but all of us came to the same conclusion, that Julian Assange showed typical signs of prolonged exposure to psychological torture. This included extremely elevated levels of stress and anxiety. This is not comparable to the stress and anxiety any criminal defendant might face, but rather traumatizing levels of stress and anxiety that begin to affect your nervous system and cognitive capacities in a manner that is physically measurable. These traumatic symptoms are the typical result of isolation, constant exposure to a threatening and arbitrary environment where the rules are being changed all the time and nobody can be trusted.
There are two things that are very important to say; first is that the primary purpose of torture is not necessarily interrogation, but very often torture is used to intimidate others, as a show to the public what happens if you don't comply with the government. That is the purpose of what has been done to Julian Assange. It is not to punish or coerce him, but to silence him and to do so in broad daylight, making visible to the entire world that those who expose the misconduct of the powerful no longer enjoy the protection of the law, but essentially will be annihilated. It is a show of absolute and arbitrary power. Secondly, psychological torture, unlike physical torture, doesn't leave traces that are easily identifiable from the outside. But it is extremely destructive, as it aims directly at destabilizing and then destroying the personality and innermost self.
Can you give concrete examples of the kind of psychological torture Julian Assange was subjected to?
In this case the symptoms of torture are the result of an accumulative process. Overshadowing everything is the constant threat to be extradited into a country where he will with certainty be exposed to a politicized show trial, deprived of his human dignity and due process rights, and then imprisoned in cruel, inhuman and degrading conditions for the rest of his life. Then you have several states cooperating and deliberately abusing their legal system in order to ensure this will actually happen, confining him for years to the Ecuadorian embassy as his last refuge. However, even inside the embassy he was constantly surveilled, deprived of his privacy, exposed to death threats, isolated, humiliated and demonized.
Released by Wikileaks in April 2010, Collateral Damage captured the killing of 12 Iraqi civilians by two US Army helicopter crews.
But is this torture, really?
This is what persecution is about, it works very much like the mobbing we know from schools, the work place or the military and which can lead victims to complete psychological breakdown or even suicide. When I visited Julian in prison he looked tidy and normal, but I could tell he was anxious, constantly asking me questions and never letting me answer them. It's a typical sign that the brain has gone into overdrive, that the victim wants to understand and control the situation but cannot. I recognised this pattern from many other political detainees across the world who have been isolated. It is not an abnormality or mental disorder, but a normal reaction of a healthy person to constant exposure to abuse and arbitrariness.
So you're saying this is a case of a political prisoner held in a European prison and subjected to psychological torture?
Yes, clearly Julian Assange is a political prisoner, because he has never been charged for an actual crime. The Swedish prosecution authorities, which bear the primary responsibility for Julian Assange's unjustified demonization and abuse, took almost a decade to "find out" they never had enough evidence to charge him for sexual assault. In fact, the Chief prosecutor of Stockholm publicly acknowledged this already a few days after the initial allegations in 2010, but she was quickly overruled and pushed off the case by a superior prosecutor.
And the charges in the US as so obviously arbitrary and in direct violation of the fundamental freedom of opinions and expression that their political nature simply cannot be ignored. So, yes, in my opinion Julian Assange is a political prisoner.
The only thing Assange has ever been charged and convicted for is the administrative offence of bail violation. When the UK wanted to extradite Assange to Sweden, and Sweden consistently refused to guarantee that they would not extradite him onward to the US, he failed to report to the UK police and sought – and received – diplomatic asylum from political persecution at the Ecuadorian embassy. Asylum from persecution being a fundamental human right, Assange even had a legal justification for not respecting his bail conditions. Moreover, these bail conditions were issued in relation to a Swedish proceeding which had to be terminated due to lack of evidence. And the charges in the US as so obviously arbitrary and in direct violation of the fundamental freedom of opinions and expression that their political nature simply cannot be ignored. So, yes, in my opinion Julian Assange is a political prisoner.
Has Julian Assange served his sentence for bail violation?
Yes, he received a prison sentence of 50 weeks for this offence, which is completely out of any proportion. I'm saying this objectively, I'm not a WikiLeaks person or Assange fan, just as a professor of law. In the real world, bail violations are almost never punished with imprisonment, unless the offender exploits it to commit another, serious crime. Because of good conduct, Assange had to serve only 25 weeks of this sentence. So, in essence, since late September 2019, Assange is being deprived of his liberty exclusively for the purpose of preventing him from escaping US extradition in case it should go forward. But for this purpose he doesn't need to be in the most securitized high security prison of the country, imprisoned together with convicted murderers and terrorists and subject to the same hyper-restrictive regime.
I'm saying this objectively, I'm not a WikiLeaks person or Assange fan, just as a professor of law
Julian Assange is not dangerous, he is not violent and, most importantly, he is presumed innocent and not convicted for any crime. In essence, until the final decision on his extradition, he should be allowed to work and enjoy a normal life, for example in a semi-open institution where he is prevented from escaping but can see his family, lawyers, doctors and friends, and have all the facilities and contacts of a regular life. But Julian Assange is being deliberately and unlawfully deprived of all of these things, with grave effects on his health, wellbeing and ability to prepare his legal defence. It is clear that there is a political motivation to prevent him from being professionally active and that the US and UK governments want to make an example of him, saying to the entire world: 'if you do what Julian Assange did we will stop you and we will silence you and we will destroy your entire life and that of your family'. I think most states will be happy if nobody tries to imitate Julian Assange.
Do you think Assange would have been subjected to the same kind of treatment if he were detained in Berlin?
I think Germany probably would not dare to treat Julian Assange in the same way as the UK. The UK can do it because they are a permanent member of Security Council, and the US has never shown much hesitation to break the law in order to get whatever they want anyway. I don't think Germany would dare to do the same, particularly in the light of its own history. This said, the Foreign Ministry (Auswärtiges Amt) had requested a meeting with me when I was in Berlin last November. They immediately brought up the Assange case and they asked, 'Are you sure this is within your mandate? Aren't there more serious cases of torture in the world?' I said, 'Yes, there are people being stoned and flogged in other countries, and I'm intervening on their behalf also, but here I'm intervening on behalf of someone who is being relentlessly persecuted for having exposed serious government crimes – crimes that, like torture, fall within my mandate.
These crimes are not being prosecuted despite existing evidence, instead it is the publisher and the whistleblower who are being persecuted. That sets a very dangerous standard for the rule of law in the world.' The German officials suggested that they had no reason to doubt the UK would respect the rule of law. When I gave them specific examples of how Assange's rights were being systematically violated by the UK, my interlocutors quickly changed the topic and said: 'yes, but there were also these Swedish accusations'. Of course, when I explained that this proceeding had just been closed for lack of evidence, after almost a decade of spreading an unsubstantiated rape suspect narrative, they again deflected to another topic. This type of evasive behavior is quite typical for what I experience with the political establishment everywhere. They are so uncomfortable with the truth about the persecution of Assange and its implications for the rule of law, that they just want this whole case to somehow go away as quickly and quietly as possible.
IVO KOCHERSCHEIDT
Julian Assange could face 175 years in prison for his role in publishing classified information on the killing of civilians by US forces.
Do you think there is anything you can still do to help him at this point?
I have repeatedly written to the governments and have alerted both the UN Human Rights Council in Geneva and the UN General Assembly in New York. I think my letter to the Swedish government probably triggered the termination of their investigation into the allegations of rape. Given that the concerned States consistently refuse to enter into a constructive dialogue with me on this case, I will also have to keep informing the public about my findings through all channels accessible to me.
A few years ago, there was a ruling of the UN working group on arbitrary detention stating that Assange's situation in the Ecuador Embassy in London amounted to arbitrary confinement by the UK and Sweden. What was the British response to the UN?
In my experience, the UK government responds to UN interventions only when and to the extent they deem it convenient and to their own advantage. In this case, the big picture is clear: the UK want to extradite him to the US to help make an example of him, end the challenge to secrecy and impunity arising from WikiLeaks and make it clear to the public that this behaviour is not tolerated by those in power. In order to do this, they are prepared to twist and distort the law to extremes. This clearly has been so with the British, Swedish and Ecuadorian judiciaries and would certainly be no different in the US.
When the British wanted to extradite Assange to Sweden it was based on a European arrest warrant, that had been issued by the Swedish prosecutor. The problem was that, in the international treaty on the European arrest warrant, it says that these warrants must be issued by a judicial authority, and the prosecutor is not a judicial authority in the UK. In the end, to be able to extradite Assange to Sweden despite the invalidity of the arrest warrant, the British Supreme Court simply decided to apply the French treaty text, instead of the English one. This is because, in France, the prosecutor can be interpreted to be a judicial authority. But the case did not concern France, it concerned Sweden and the UK. Do you see the sheer absurdity of this?
Clearly the British Government did not respect the decision of the UN working group on arbitrary detention. They then authorized me to visit Julian Assange in Belmarsh because they probably did not expect me to look into the case in any significant detail and to be so outspoken and clear in my assessment. So, consistent with their approach towards the Working Group's ruling, when I looked at the facts and concluded that Assange's persecution and mistreatment amounted to psychological torture, they decided to ignore my findings and refused to enter in a dialogue with my mandate on this case, not only the British, but also Sweden and the US.
If Assange were to reach the US, could he be facing the death penalty?
Theoretically, it is possible he could face the death penalty. The British are misleading the public when they say that no additional charges could be added once Assange has been extradited. That's not true. The extradition treaty allows additional or different charges to be added as long as they are based on the same facts that are alleged in the indictment used for the extradition request. But I don't think the US necessarily want to execute Assange, they want to ensure that they make an example of him. The message of the US to the world is this: "If you do what Assange did, you will never walk free again, you will never be able to open your mouth again and speak to the public again". This is not about punishing Assange, this is a show of power addressed to the public worldwide. This is also why they aren't rushing to extradite Assange, this doesn't really matter, as long as he is isolated in his cell and cannot speak out. It isn't about who wins the trial, the governments have already won, because Assange has been silenced. And unfortunately, in the world of powerpolitics, states like the UK and US know that they can get away with it.
The message of the US to the world is this: "If you do what Assange did, you will never walk free again, you will never be able to open your mouth again and speak to the public again".
If Julian is sent to the US during your mandate, would you attempt to check the conditions in the US? Do you think you would be given a visa?
If he is sent to the US, nobody can do anything for him anymore. I certainly would not be given access. My predecessor tried to get access for Chelsea Manning and he was told that he would not be allowed to interview her without witnesses, which is part of the standard terms of reference for any prison visit carried out by a UN Special Rapporteur.
International criminal court judges in the US have been sanctioned for asking the government to investigate US war crimes in Afghanistan. Do you imagine that you could also be targeted by sanctions for your interventions in this case?
I wouldn't be surprised. I think, so far, they believe that I am not influential enough to actually worry them. While my official communications are certainly perceived as a nuisance, they are not legally binding and haven't caused a public uproar so far. But it is difficult to predict what would happen if ever I triggered something that becomes more impactful. In any case, I am under no illusions that my UN career is probably over. Having openly confronted two P5-States (UN security council members) the way I have, I am very unlikely to be approved by them for another high-level position. I have been told, that my uncompromising engagement in this case comes at a political price. But then, remaining silent also comes at a price. And I've decided that I'd rather pay the price for speaking out, than the price for remaining silent.
===
As British show-trial resumes:
The working class must defend Julian Assange!
By Oscar Grenfell - 07. September 2020
The latest stage in the decade-long persecution of Julian Assange begins today, with the final three weeks of British court hearings for the extradition of the WikiLeaks publisher to the US, where he faces 175 years in prison for exposing American war crimes, human rights violations, coups and meddling operations around the world.
Protesters hold a placard reading Free Assange outside the United States Embassy in Rome on Monday. (Alessandra Tarantino/AP)
Whatever the court decides will likely be subject to years of legal appeal, but the scenario that Assange has warned of for the past ten years—that he risks being hauled before a secret US court, prosecuted for lawful publishing activities and thrown into a hellhole run by his CIA persecutors—is all too real.
The innumerable pundits and media commentators who derided these warnings as a conspiracy theory and promoted the slanders used to undermine public support for Assange have fallen silent. The legal travesty underway in the land of the Magna Carta either goes unmentioned in the official press, or is discreetly buried in brief columns halfway through the papers.
The hearings are only proceeding because the attempt of the British state to kill Assange by exposing him to the danger of coronavirus infection has so far failed.
Throughout the pandemic, Assange has been held in the maximum-security Belmarsh Prison, where he has been denied a mask or any other protection, even as dozens of inmates and staff have contracted COVID-19. A bail application has been contemptuously dismissed, despite the fact that Assange has been convicted of no crime, as have warnings that his health continues to deteriorate.
Assange, facing the most consequential legal proceedings of his life, has been unable to meet with his lawyers for the past six months. Weeks before the resumption of the trial, US prosecutors filed a superseding indictment, based on the lies and slanders of FBI informants, over a year after they were required to submit their final charge sheet. The transparent purpose was to inundate Assange's legal team with tens of thousands of documents, after they had finished preparing their case, to prevent even the possibility of a defence.
As a matter of law, the US extradition request should have been thrown out as soon as it was submitted.
It violates innumerable treaties, laws and international conventions, including a ban on extraditions from Britain to the US for political offenses, prohibitions on the refoulement of those who have secured asylum to their persecutors and an absolute proscription on subjecting anyone to the likelihood of cruel, inhuman and degrading treatment or punishment, which Assange would unquestionably face in the US.
The WikiLeaks founder's defence is expected to submit detailed evidence establishing that the CIA illegally surveilled Assange when he was a political refugee in Ecuador's London embassy. His legal meetings were intercepted, in a flagrant breach of attorney-client privilege, and his infant child was spied upon, in a violation of fundamental human rights.
Despite the lawlessness, the hearings proceed, with the backing of the entire British political, media and legal establishment. The case is overseen by a judge whose husband has the closest ties to the intelligence agencies and the military. The Conservative government and the Labour opposition explicitly support the show-trial. The unions and the pseudo-left are opposed to any defence of Assange.
The line-up is proof that the only viable political strategy to fight for Assange's freedom is one based upon the independent mobilisation of the working class against all of the official parties and the profit system that they defend.
Assange's dire plight cannot be understood in isolation. It is one of the sharpest expressions of a turn to authoritarianism and censorship by governments around the world, amid a breakdown of capitalism, an escalation of imperialist militarism and the emergence of major class struggles.
The very governments persecuting Assange are at war with the population. In Britain, the US and Australia they have pursued a homicidal response to the pandemic, based on exposing millions of workers to a deadly virus so that capitalist production and corporate profits can continue.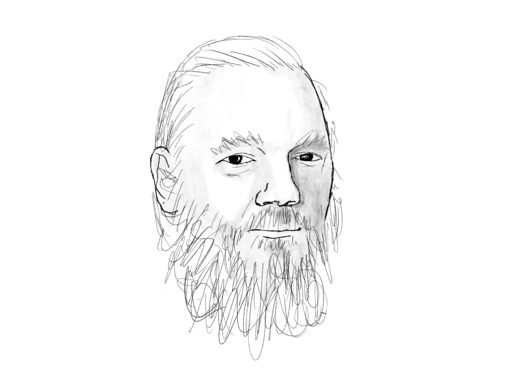 Ordinary people are being made to pay for the economic crisis accelerated by the pandemic. Mass unemployment, the gutting of welfare and jobless payments and a stepped-up assault on wages and conditions goes hand in hand with government handouts of trillions of dollars to the banks, financial speculators and oligarchs.
The class war at home is accompanied by escalating war abroad, exemplified by continuous US provocations and threats against China and Russia, which risk a global nuclear conflagration.
None of this is compatible with democratic norms. Well aware that their criminal policies are inflaming mass social and political opposition from below, the ruling elites are responding with the blunt instruments of repression.
Drawing by Nathaniel St. Clair
The US authorities, who want to destroy Assange, have, for the past three months, overseen state violence against mass protests in opposition to police killings. The turn to dictatorial methods is epitomised by Trump's threats to illegally deploy the military against domestic opposition and his attempts to cultivate a fascistic movement.
His nominal opponent, Democratic Party presidential candidate Joe Biden, is rallying support from war criminals and the intelligence agencies. Biden's program is internet censorship, military confrontation with Russia and China and trillions more for Wall Street.
The unanimity of the ruling elite in the assault on democratic rights is summed-up by the fact that the two official candidates in November's US presidential election, Biden and Trump, both support the prosecution of Assange, which is a frontal assault on the press freedom enshrined in the US Constitution by the American Revolution. A similar bipartisanship is evident in every other country.
Desperate illusions that a section of the political establishment would come to Assange's aid now take on the character of hopeless delusions.
Former British Labour leader Jeremy Corbyn, who occasionally claimed to be a socialist, refused to defend Assange and has handed over control of the party to the Blairites. Bernie Sanders, who said that he was waging a "political revolution" through the big business Democratic Party, but would not even mention Assange's name, is Biden's most enthusiastic supporter.
The promotion of such bankrupt figures, including by organisations like the official Don't Extradite Assange campaign group, has only served to demobilise and disorient the latent mass support for the WikiLeaks founder, and direct it behind the very forces responsible for Assange's persecution.
Experience has shown that the social force that can and must take forward the fight for his freedom is the international working class. All over the world, teachers, auto workers, medical staff and many others are entering into struggle against the governments and corporate elites that have imperilled their lives during the pandemic, and attacked their social and democratic rights.
The persecution of Assange is not only aimed at silencing forever a courageous journalist and publisher who has exposed historic war crimes. It is an attempt to intimidate this emerging movement and establish a precedent for far broader victimisations and frame-ups.
But just as the working class will not accept the turn towards dictatorship, so it must defend Assange.
The World Socialist Web Site appeals to workers, students and young people to become active in the fight to block Assange's extradition and secure his unconditional release. The fight for his freedom is your fight! It is inseparable from your struggles against inequality, the corporate onslaught on social conditions and the capitalist system that is responsible for the global crisis.
We encourage the broadest meetings and discussions in neighbourhoods, schools, universities and workplaces, along with public protests and rallies, where it is safe for them to be held. Resolutions should be adopted at workplaces, demanding an end to the persecution of Assange and calling on other sections of the working class to join this struggle.
===
UK: Amnesty International's court observers 'denied access' to Assange hearing
•Sep 7, 2020
Amnesty Internationals online court observers were denied access to WikiLeaks co-founder Julian Assange's extradition hearing at London's Old Bailey Central Criminal Court on Monday, said Amnesty Internationals Director for Eastern Europe and Central Asia Marie Struthers. "This is not normal. Amnesty is always granted permission, as internationally recognised trial observers to this type of proceedings," she said, adding that after being granted six remote online observer places in August, which were reduced to one only several days ago, they found out only this morning that their last place was refused. "Ostensibly because we didn't submit a letter to the judge who is presiding over the trial. We are submitting that letter right now. We have conformed to all of the procedures before this morning, so we're fully expecting that the judge will allow access," she said. The hearing comes months later than initially planned due to the coronavirus pandemic. According to his supporters, Assange is in poor health and has been under threat of contracting the virus in prison where infection cases have been reported. It is unclear if he is to appear in court in person. The WikiLeaks founder has been behind bars in Belmarsh Prison since he was dragged out of the Ecuadorian Embassy in April 2019. He faces multiple charges in the US related to espionage.
===
Julian Assange fights extradition to US to face espionage trial
By Lee Brown - 07. September 2020
Julian Assange Getty Images

WikiLeaks founder Julian Assange on Monday formally refused to go quietly to face trial in the US — which the mother of his children insisted was a fight for his life.

After a six-month delay due to the coronavirus pandemic, court proceedings resumed Monday in London's top criminal court as the US fights to get him to face 18 espionage and computer misuse charges that carry a maximum sentence of 175 years in prison.

Assange, clean-shaven and wearing a suit, sat in the Old Bailey's dock and formally refused the US extradition request.

Dozens gathered outside the courthouse to show their support, including flamboyant fashion designer Vivienne Westwood, who told reporters she had "lost days and years of sleep worrying about Julian Assange."

The hacker's father, John Shipton, insisted it was an "abuse trial" as he arrived to support his son, who has already spent almost a year and a half in a British prison.

Assange's partner Stella Moris — his former lawyer who secretly had two children with him — earlier took a petition signed by 80,000 to Downing Street and gave a new interview about her fears for his life.

"If Julian is extradited, my children will be fatherless," she told SBS News, insisting their family — with sons Gabriel, 3, and Max, 1 — is "a real thing" and not a PR stunt.

"I'm fighting for Julian's life here. He can't be extradited, that will be it. He won't survive it.

"My children need to grow up with their father," she said, adding she is "always going to be here for him and waiting for him to come home."

American prosecutors have previously claimed that Assange's document dump put secret sources at "grave and imminent risk" — with some even allegedly disappearing.

But Assange's lawyers argued in court papers that he would not receive a fair trial in the US because of an "effective declaration of war on leakers and journalists."

They argue that he is a journalist entitled to First Amendment protection, and say the leaked documents exposed US military wrongdoing, including a 2007 Apache helicopter attack by American forces in Baghdad that killed 11 people, including two Reuters journalists.

"Journalists and whistleblowers who reveal illegal activity by companies or governments and war crimes — such as the publications Julian has been charged for — should be protected from prosecution," Assange attorney Jennifer Robinson said before the hearing.

American authorities allege that Assange conspired with US Army intelligence analyst Chelsea Manning to hack into a Pentagon computer and release hundreds of thousands of secret diplomatic cables and military files on the wars in Iraq and Afghanistan.

In a new indictment filed in June, US prosecutors also say he conspired with members of hacking organizations — including Anonymous — and sought to recruit hackers to provide WikiLeaks with classified information. That indictment expanded the case against Assange but did not add any new charges.

Amnesty International said Assange was "the target of a negative public campaign by US officials at the highest levels."

The case is due to run until early October. District Judge Vanessa Baraitser is expected to take weeks or even months to consider her verdict, with the losing side likely to appeal.

===
UK: US wants to 'pluck' Assange 'back to their dungeouns' - Assange"s father outside Old Bailey
•Sep 7, 2020
Supporters of WikiLeaks founder Julian Assange gathered in front of London's Old Bailey court Monday, where the Australian editor is facing a US extradition hearing. "This is a sort global case where the United States wishes to pluck anybody who it dislikes by using extraterritorial abductions," said Assange's father John Shipton. "Anybody it doesn't like they'll take back to their dungeons in the United States." WikiLeaks editor-in-chief Kristinn Hrafnsson said he was "very disappointed" with the process so far, adding that "the judge will limit the time that Julian's lawyers will have with the witnesses that they are presenting." Hrafnsson also said that a request to disregard elements of a new imputation against Assange filed by US prosecutors in June had been rejected. "I am placing my hope in the general public to rise up against this horrendous injustice that we are witnessing here today," Hrafnsson said. According to his supporters, Assange is in poor health and has been under threat of contracting the virus in prison where infection cases have been reported. The WikiLeaks founder has been behind bars in Belmarsh Prison since he was dragged out of the Ecuadorian Embassy in April 2019. He faces multiple charges in the US related to espionage.
===
UK judge rejects bid to delay Assange extradition hearing
By Associated Press | 07. September 2020
LONDON (AP) — A British judge on Monday rejected a request by lawyers for WikiLeaks founder Julian Assange to delay his extradition hearing until next year to give his lawyers more time to respond to U.S. allegations that he conspired with hackers to obtain classified information.
The adjournment request came on the first day of a London court hearing where Assange is fighting American prosecutors' attempt to send him to the U.S. to stand trial on spying charges.
U.S. prosecutors have indicted the 49-year-old Australian on 18 espionage and computer misuse charges over WikiLeaks' publication of secret U.S. military documents a decade ago. The charges carry a maximum sentence of 175 years in prison.
Assange's lawyers say the prosecution is a politically motivated abuse of power that will stifle press freedom and put journalists around the world at risk.
The U.S. Justice Department expanded its case against Assange in a new indictment announced in June, though it did not introduce new charges. But Assange attorney Mark Summers said it was "an impossible task" for the legal team to deal with the new allegations in time for Monday's court hearing, especially since they had only "limited access" to the imprisoned Assange.
He said District Judge Vanessa Baraitser should excise the new American claims, which he said were sprung on the defense "out of the blue."
The judge said no, saying she had offered the defense the chance in August to postpone the hearing, and "they declined to do so." The defense then asked for the case to be adjourned until January. Baraitser refused, saying Assange's lawyers had had "ample time" before Monday to make the request.
The case has already been held up for months because of the coronavirus pandemic.
Assange, who has spent 16 months in a British prison, sat in the dock at the Old Bailey criminal court and formally refused the U.S. extradition demand. Assange, who lawyers say has suffered physical and mental ill-health because of his ordeal, spoke clearly to confirm his name and date of birth.
Several dozen supporters, including fashion designer Vivienne Westwood and Assange's partner, Stella Moris, gathered outside the courthouse, chanting, banging drums and calling his prosecution a threat to press freedom.
"Julian Assange is the trigger, he is shining the light on all the corruption in the world," Westwood said.
American authorities allege that Assange conspired with U.S. army intelligence analyst Chelsea Manning to hack into a Pentagon computer and release hundreds of thousands of secret diplomatic cables and military files on the wars in Iraq and Afghanistan.
The new June indictment accuses Assange of recruiting hackers at conferences in Europe and Asia, and of conspiring with members of hacking groups known as LulzSec and Anonymous. U.S. prosecutors say the evidence underscores Assange's efforts to procure and release classified information, allegations that form the basis of criminal charges he already faces.
Summers accused U.S. prosecutors of filing the new indictment "in desperation" because "they knew that they would lose" with their existing case.
Assange's lawyers argue that he is a journalist entitled to First Amendment protection and say the leaked documents exposed U.S. military wrongdoing. Among the files released by WikiLeaks was video of a 2007 Apache helicopter attack by American forces in Baghdad that killed 11 people, including two Reuters journalists.
Assange's legal troubles began in 2010, when he was arrested in London at the request of Sweden, which wanted to question him about allegations of rape and sexual assault made by two women. He refused to go to Stockholm, saying he feared extradition or illegal rendition to the United States or to the U.S. prison camp at Guantanamo Bay, Cuba.
In 2012, Assange sought refuge inside the Ecuadorian Embassy, where he was beyond the reach of U.K. and Swedish authorities — but also effectively a prisoner, unable to leave the tiny diplomatic mission in London. The relationship between Assange and his hosts eventually soured, and he was evicted from the embassy in April 2019. British police immediately arrested him for jumping bail in 2012.
Sweden dropped the sex crimes investigations in November 2019 because so much time had elapsed, but Assange remains in London's high-security Belmarsh Prison as he awaits the extradition decision.
Supporters say the ordeal has harmed Assange's physical and mental health, leaving him with depression, dental problems and a serious shoulder ailment. The hearing is expected to include expert psychiatric evidence about his mental state.
Journalism organizations and human rights groups have urged Britain to refuse the extradition request. Amnesty International said Assange was "the target of a negative public campaign by U.S. officials at the highest levels."
The extradition hearing opened in February but was put on hold when the U.K. went into lockdown in March to slow the spread of coronavirus. It is resuming with social distancing measures in court and video feeds so journalists and observers can watch remotely.
The case is due to run until early October. The judge is expected to take weeks or even months to consider her verdict, with the losing side likely to appeal.
Copyright 2020 The Associated Press. All rights reserved.
Timeline of Julian Assange's legal battles over past decade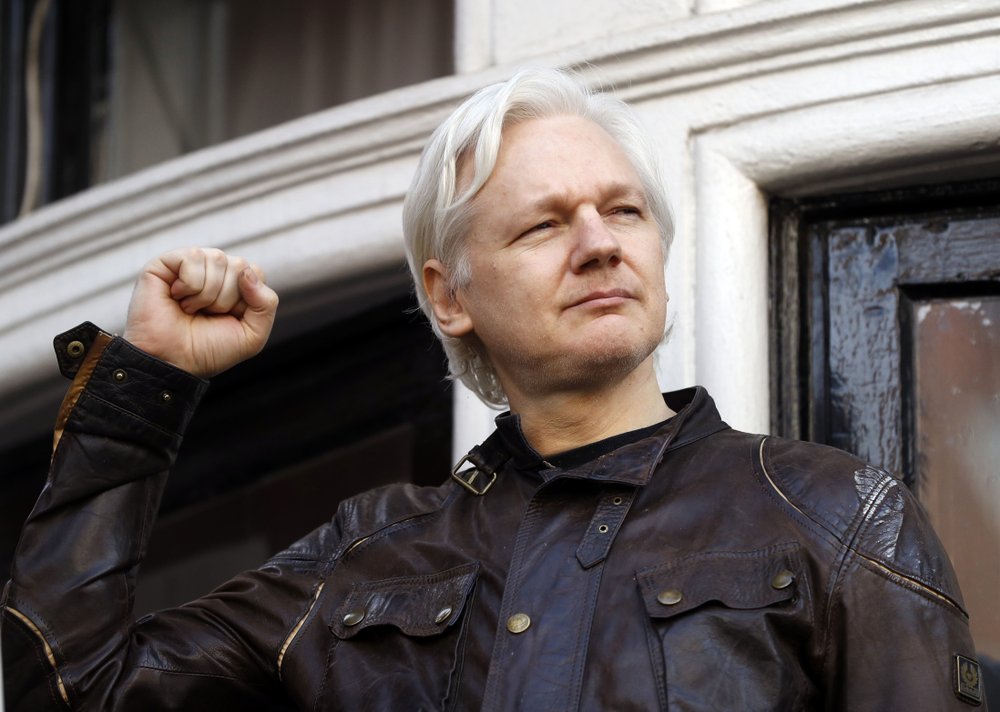 Associated Press
LONDON (AP) — The extradition hearing of Julian Assange, the founder of anti-secrecy group WikiLeaks, opened in London on Monday, the latest development in a long legal saga. Here is a look at key events.
— August 2010: Swedish prosecutors issue arrest warrant for Assange based on one woman's allegation of rape and another's allegation of molestation. The warrant was withdrawn shortly afterward, with prosecutors citing insufficient evidence for the rape allegation. Assange denies the allegations.
— September 2010: Sweden's director of prosecutions reopens the rape investigation. Assange leaves Sweden for Britain Sept. 27.
— November 2010: Swedish police issue an international arrest warrant for Assange.
— December 2010: Assange surrenders to police in London and is detained pending an extradition hearing. High Court grants Assange bail on Dec. 16.
— Feb. 24, 2011: District court in Britain rules Assange should be extradited to Sweden.
— Dec. 5, 2011: Assange is granted an appeal to the Supreme Court.
— May 30, 2012: Supreme Court rejects Assange's appeal.
— June 2012: Assange asks the Supreme Court to reopen the case; the court refuses. Assange enters Ecuadorian Embassy in central London, seeking asylum on June 19. Police set up round-the-clock guard to arrest him if he steps outside.
— Aug. 16, 2012: Assange is granted political asylum by Ecuador.
— July 2014: Assange loses his bid to have an arrest warrant issued in Sweden against him canceled. A judge in Stockholm upholds the warrant alleging sexual offences against two women.
— March 2015: Swedish prosecutors ask to question Assange at the Ecuadorian embassy.
— Aug. 13, 2015: Swedish prosecutors drop investigations into some allegations against Assange because of the statute of limitations; an investigation into a rape allegation remains active.
— Oct. 12, 2015: Metropolitan Police end their 24-hour guard outside the Ecuadorean embassy but say they'll arrest Assange if he leaves - ending a three-year police operation estimated to have cost more than 12 million pounds ($17 million).
— Feb. 5, 2016: Assange claims "total vindication" as the U.N. Working Group on Arbitrary Detention finds that he has been unlawfully detained and recommends he be immediately freed and given compensation. British Foreign Secretary Philip Hammond calls the finding "frankly ridiculous."
— April 6, 2017: After Assange makes some comments on Twitter, Ecuador's president-elect, Lenin Moreno, warns Assange that, as a condition of asylum granted in 2012, he is not allowed to meddle in politics.
— May 19, 2017: Swedish prosecutors drop their investigation into a rape allegation against Assange, and the European arrest warrant is withdrawn because there is no prospect in the "foreseeable future" of bringing Assange to Sweden - as he is inside the Ecuadorian Embassy in London. Prosecutors stress that Assange had not been found innocent. British police say he is still wanted for jumping bail in 2012.
— September 2018: Ecuador's president says his country and Britain are working on a legal solution to allow Assange to leave the embassy in "the medium term."
— October 2018: Assange seeks a court injunction pressing Ecuador to provide him basic rights he said the country agreed to when it first granted him asylum.
— November 2018: A U.S. court filing that appears to inadvertently reveal the existence of a sealed criminal case against Assange is discovered by a researcher. No details are confirmed.
— April 2, 2019: Ecuadorian President Lenin Moreno blames WikiLeaks for recent allegations of corruption.
— April 11, 2019: London police arrest Assange at the Ecuadorian embassy for breaching bail conditions in 2012, as well as on behalf of U.S. authorities, shortly after Ecuador's government withdrew his asylum status.
— May 1, 2019: Assange is sentenced to 50 weeks in prison for jumping bail in 2012.
— May 13, 2019: Sweden reopens rape investigation.
— Nov. 19, 2019: Swedish prosecutor drops rape investigation.
— Feb. 24, 2020: Assange extradition hearing opens with plans to continue hold second hearing in May.
— May 4, 2020: Judge delays extradition hearing amid COVID-19 pandemic.
— June 25, 2020: US files new indictment against Assange that prosecutors say underscores Assange's efforts to procure and release classified information.
In this Thursday, Dec. 16, 2010 file photo, WikiLeaks founder Julian Assange holds up a court document for the media after he was released on bail, outside the High Court, London. (AP Photo/Kirsty Wigglesworth, file)
===
Rubberhose cryptography and the idea behind Wikileaks: Julian Assange as a physics student
By Niraj Lal - 07. September 2020
"There is not a crime, there is not a dodge, there is not a trick, there is not a swindle, there is not a vice which does not live by secrecy." — Joseph Pulitzer
The last dinner that Julian Assange had in relative freedom, 18 June 2012, was takeaway pizza and cheap red wine with a couple of the Wikileaks team and myself in a small flat in London, discussing possible trajectories of American politics for the coming decade. The next morning he walked into the Ecuadorian Embassy to claim political asylum; he hasn't seen sunlight unguarded since.
I first met Julian in the Redmond Barry Physics Lecture Theatre ten years earlier, in 2002, on our first day at the University of Melbourne. The lecturer, the affable Professor Geoff Opat with curly hair and thick-rimmed glasses, in that first hour transformed the topic of 'units' — of length, time, and mass — into the powerful concept of 'dimensional analysis', a method of answering physics problems simply by determining the underlying units involved. It was a technique later applied to understanding structural opposition to government transparency.
Julian took two other subjects in addition to physics that first semester of 2002 — Advanced Maths and a first-year philosophy course titled "Critical Thinking — the Art of Reasoning". We shared all three classes, but it was during a lunchtime discussion after the philosophy course, sitting on the sandstone steps of Melbourne Uni's Old Quad, that I first heard him speak about the application of critical thinking to political questions. He was working on a project he called 'Rubberhose Cryptography' — a method to allow anyone with valuable digital information to have "plausible deniability" of not having it if someone was standing behind them with a length of thick rubber hose.
Julian asked the question: if a journalist with leaked information stored on a USB thumb drive was being interrogated about its contents by a foreign intelligence agency, is there a way that cryptography could enable the journalist to not surrender it? Even if the intelligence agency were using a thick rubber hose to beat it out of them?
The answer, of course, is that agencies have varied means of extracting information that are almost always successful given enough time; rubber hoses are only a crude initial measure before more persuasive techniques can be employed. But Julian found that cryptography can have a role in supporting resistance. Rubberhose Cryptography formed the kernel of TrueCrypt — a program where folders on a drive can be protected by a password, but where the folders are themselves able to contain hidden folders which are only revealed by another password — but where (and here's the kicker) there isn't a way of determining whether all folders have been uncovered.
Such a program allows the possibility of "plausible deniability" — where a journalist could reveal one password to a small portion of sensitive information with it being plausible (and unverifiable) that that was all she had to reveal (even if the folder were hiding much larger amounts of sensitive information). Rubberhose and subsequently Truecrypt formed the basis of On-The-Fly-Encryption programs that are used by intelligence communities around the world to this day.
At the end of 2002 two things happened: the western world turned out for the largest protests in a generation against the War on Iraq, and the Melbourne Physics Students Society travelled to Ceduna in remote South Australia to witness the once-in-a-lifetime physical phenomena of total solar eclipse that was to arc through that town in its brief traverse across Australia.
The protests brought millions of Australians from all walks of life and all political persuasions onto the streets across the country to protest against the tenuous link between Al-Qaeda and Iraq, Weapons of Mass Destruction, and the continuation of George H.W. Bush's agenda by his son, aided willingly by Australia's newly elected Prime Minister John Howard. The initial euphoria of protester solidarity would turn later to cynicism about regular civic engagement. If a million marching Australians couldn't halt a nation going to an illegal war, what could? Julian and a handful of maths and physics students would later apply their freshly learnt skills in critical thinking to try to figure out an answer.
If the protests were undeniably worldly, the solar eclipse on the other hand was decidedly other-worldly. In a road-trip convoy organised by the Melbourne Uni Physics Students Society, thirty-odd university physics students bumped and farted their way from Parkville, across the Great Ocean Road, past Adelaide to the small country town of Ceduna, through which the eclipse's 'arc-of-totality" would traverse.
Julian, myself and three other first-year students crammed into an old red Toyota Camry station-wagon, listening to a mix of 90s rock and Julian's eclectic mix that introduced us to the tunes of Tom Lehrer, Monty Python (the Galaxy Song), and a quaint North American choir that sang about 'Ampere's Law of Electromagnetism' which we had just found out we'd be studying in second year physics. We were a bunch of nerds on a summer roadtrip, having a blast.
A total eclipse is one of the sights of our planet — an all-too-fleeting study in stillness and a profound reminder that we really are all just 'ghosts driving meat-covered skeletons made of stardust riding a rock hurtling through space.'
Both events were perhaps studies in the unalterable trajectories of structural movement that humans aren't able to derail from their predetermined courses.
In 2004 Julian competed in the inaugural Australian National Physics Competition held at the ANU, where I was now studying. He stayed with me with his girlfriend at the time, a mathematics PhD student at the ANU, and he mentioned that in addition to physics and maths, he was learning neuroscience and the emerging empirical analytical tools being applied to explore the physiological underpinnings of consciousness, as well as exploring practical examples of cryptography for journalism.
In 2005 I received a broadcast email from him outlining the idea behind Wikileaks. It was clear even then that a revolutionary idea had been born.
Present-day analysis of Wikileaks often centres around political influence, Russia, Trump, Clinton and the 2016 US Presidential election. Articles about Julian typically centre around the Swedish allegations now cancelled, the geopolitics of his incarceration, the substance of the US Grand Jury indictments, or the legality of UK extradition.
But seldom do they focus on Julian's idea behind Wikileaks — not just the leaks themselves and the changes they have swept before them, but the formidable concept of surveillance being applied to structural power. This article aims to help address this imbalance, providing some personal perspectives on Julian as a thinker, his motivation for harnessing the tools of cryptography for the strength of the fourth estate, and his profound achievements in shining light on structural influence in the 21st Century. If the analysis of the possible UK extradition is what you're after, the Open Letter from Lawyers for Assange is an excellent start: https://www.lawyersforassange.org/en/open-letter.html
For analysis of the steadily building Australian support, the Parliamentary Friends of Julian Assange led by Andrew Wilkie MP comprising 24 MPs (including Barnaby Joyce and George Christensen) has excellent information: https://www.assangecampaign.org.au/bring-julian-home-campaign/
This piece instead focuses on the concept of transparency being applied proportionally to structural power. And the battle is finally coming to a head. No longer can the discussion of Julian or Wikileaks hide behind anything other than the persecution of press freedom, and the fear of institutional unethical behaviour being exposed for what it is.
"To destroy this invisible government, to befoul the unholy alliance between corrupt business and corrupt politics is the first task of the statesmanship of the day"
Theodore Roosevelt wrote in his autobiography in 1913. One hundred years hence, the task is still before us.
Julian argued that the greatest achievement of Wikileaks isn't the exposure of 15,000 unreported civilian deaths in Iraq. Nor the corruption in Kenya, India, Saudi Arabia, Pakistan, Yemen, and countless countries around the world. Nor the exposure of the Church of Scientology, or the British National Party, or Stephen Conroy's Internet filter, or the behaviour of Barclays, Kaupthing and the Julius Baer Bank. Nor the documentation of generations of global political fealty to the US State Department. Nor the exposure of vast privatised surveillance across continents.
Instead, the greatest achievement of Wikileaks is to shine the spotlight of surveillance on those who wield structural power. To help make a world where people who do wrong in the public's name, get found out. To make governments of the future pause before they commit to the unethical, illegal or unconstitutional. To make those who would commit acts of atrocity consider the possibility of future exposure. Who polices the police? It must be the policed.
"No longer a government by free opinion, no longer a government by conviction and the vote of the majority, but a government by the opinion and the duress of small groups of dominant men."
Wrote Woodrow Wilson, the 28th President of the United States of America, in 1914. But the nature of this domination has been obscured and forgotten over time, hidden and justified through the steady integration of business interests with the fabric of the national conversation. Recent Australian examples of this integration include the former Minister for Defence Brendan Nelson allowing arms manufacturer sponsorship of the Australian War Memorial before accepting a position as Boeing advisor, the former Minister for Energy and Resources Martin Ferguson's appointment as the Advisory Board Chair for the Australian Petroleum Production and Exploration Association, and former Prime Minister Tony Abbott being appointed as an Adviser to the UK's Board of Trade.
It is a curious phenomena that whilst there is significant pushback in the setting up of a national Independent Commission Against Corruption in Australia, and unprecedented attacks on whistleblowers in all fields from the military to the corporate governance to finance, there is at the same time an extraordinary increase in surveillance of our own lives.
Edward Snowden, who revealed the astonishing global surveillance being conducted by the five-eyes intelligence alliance between the UK, US, Canada, NZ and Australia writes about this phenomena succinctly:
"Saying that you don't believe in privacy because you have nothing to hide is like saying you don't believe in free speech because you have nothing to say".
Acceptance of surveillance means thinking that no one should ever have anything to legitimately hide from our government — not journalists, or judges, or politicians, or lovers, or children, or even the police themselves. Seven years after Snowden's revelations, the US court of appeals for the ninth circuit determined the warrantless telephone dragnet program that secretly collected millions of Americans' telephone records violated the US Foreign Intelligence Surveillance Act and may well have been unconstitutional.
Julian, Edward and the cypherpunk community more broadly argue that it isn't love letters that should be surveilled, nor facebook posts, nor family phone calls, but the decisions to go to illegal wars, the conversations to negotiate free trade agreements that are anything but, the analysis that leads to foreign bases on Australian soil, and the billion dollar deals between governments and arms manufacturers for military equipment that we questionably need.
It is worth pausing to consider the equivalent surveillance we are under today, 40 years ago would have been:
Australia Post postmen steaming open our every envelope at the post office, photocopying it, keeping it on file (in case we commit a future crime), and resealing it for forwarding. Telecom Australia placing bugs on our phones and recording our every call. Every street-directory recording every direction you have ever searched for. Every shop assistant recording our every purchase, just in case a future intelligence agency would like to look at it. All without judicial oversight.
Would we have allowed this in a world without the internet? Does our use of the internet mean we must resign to this surveillance? It needn't be so. Certainly not without increased scrutiny of those who watch us, commit our men and women to war, and spend our taxes. Wikileaks provided a way to shove the pendulum of surveillance the other way.
Donald Rumsfeld confuddled us in 2002 about the "known knowns" — (things on Wikipedia), and the "known-unknowns" — (university research). But it's the category of the "unknown knowns" that we don't have visibility over and that society perhaps should. These are the things that some know but not all, restricted information meant to be hidden, and the things we have forgotten. A large portion of this information is concealed by classification and secrecy, or drowned through the torrent of commercial television. But it is lucky that we have institutions dedicated to exposing that information which is in the broader public good.
Wikileaks shouldn't have been as revolutionary idea as it was. The role it plays is what journalism should do as a matter of course. That it created such a stir is a statement of the paucity of current media. But the idea behind Wikileaks is an idea that can't be stopped. Most major news organisations have now each implemented their own version of Wikileaks' 'Secure Drop Box' — digital equivalents of the ability to leave a grey envelope on a park bench. But whilst these techniques are new, the principles behind them are old:
"For whatever is hidden is meant to be disclosed, and whatever is concealed is meant to be brought out into the open." – Mark 4:22

A lack of transparency results in distrust and a deep sense of insecurity. – The 14th Dalai Lama
In 2009, as I completed my PhD in physics at the Cavendish Laboratory at Cambridge, and Wikileaks released The Afghan War Diary and the Public Library of Democracy, I stayed with Julian at Ellingham Hall in Norfolk where he was under house arrest awaiting questioning from Swedish authorities on the accusations of two women.
I'm not sure if I have any place as a man in discussing sexual misconduct allegations by a woman against a man. In the years hence I've had a daughter, accompanied by a growing awareness of the structural power of the patriarchy that this brings. But the statement of the UN Special Rapporteur on Torture, Prof Nils Melzer, Human Rights Chair at the Geneva Academy of International Humanitarian Law, should make us question whether other institutionalised power structures are at question:
"I have never seen a comparable case. Anyone can trigger a preliminary investigation against anyone else by simply going to the police and accusing the other person of a crime. The Swedish authorities, though, were never interested in testimony from Assange. They intentionally left him in limbo."

"And of the complainant: while still in the police station, she wrote a text message to a friend saying that she didn't want to incriminate Assange, that she just wanted him to take an HIV test, but the police were apparently interested in «getting their hands on him.» The police wrote down her statement and immediately informed public prosecutors. … two hours later, a headline appeared on the front page of Expressen, a Swedish tabloid, saying that Julian Assange was suspected of having committed two rapes."

"I speak fluent Swedish and was thus able to read all of the original documents. I could hardly believe my eyes: According to the testimony of the woman in question, a rape had never even taken place at all. And not only that: The woman's testimony was later changed by the Stockholm police without her involvement in order to somehow make it sound like a possible rape. I have all the documents in my possession, the emails, the text messages." [1]

"In the end it finally dawned on me that I had been blinded by propaganda, and that Assange had been systematically slandered to divert attention from the crimes he exposed. Once he had been dehumanized through isolation, ridicule and shame, just like the witches we used to burn at the stake, it was easy to deprive him of his most fundamental rights without provoking public outrage worldwide.[2]

— UN Special Rapporteur on Torture, Professor Nils Melzer, Human Rights Chair at the Geneva Academy of International Humanitarian Law
The Swedish allegations have lapsed and have not been renewed. It is a shame for all involved that they will never be heard, for both the women and for Julian. The formal Agreed Facts of the Case and testimonies are available online if of interest [3], but Julian is now in custody for the sole reason that the USA has requested his extradition from the UK.
The Norfolk period of house arrest was painful for Julian; he was forced to wear a manacle around his ankle and report to the nearest police station every morning by 10am, but it wasn't without its own restricted freedoms. In July 2011 he held his 40th birthday party at Ellingham Hall — my jazz band played music for it, and it was attended by many supporters of his, some famous, some secretive — all conscious of the grand struggle at play between a journalist determined to expose the ugly truths of structural power and the vast machinery of the US military.
We kept in touch through his house arrest, Embassy stay, and later through the Founding National Council of the Australian Wikileaks Party — the attempt to get Julian elected to the Australian Senate in 2013.
The attempt failed spectacularly, in no small part due to the difficulties in leading and organising a fledgling political party remotely (in the pre-COVID days before we all became used to Zoom meetings). But the story continued.
Julian moved from Ellingham, and the US government generated a Grand Jury indictment against him. On the morning of June 19 2012 Julian sought, and was granted, asylum in the Ecuadorian Embassy by President Rafael Correa, who was strongly supportive of Wikileaks' work in exposing American influence in South America, and one of the more appreciative national leaders Julian interviewed in his TV series 'The World Tomorrow' whilst under house arrest.
But Correa's term ended, and in his place was the new President Moreno, more sympathetic to USA demands for expelling Julian, perhaps related to the subsequent awarding of more than $4bn in multilateral aid from US affiliated institutions [4], or the role of Wikileaks in exposing the INA Papers that included details of Moreno's secret accounts [5].
Julian's diplomatic immunity was revoked by Ecuador on April 11 2019, and British police were invited into the Embassy where they arrested Julian on breaching the Bail Act, sentencing him to 50 weeks in prison. That same day, the United States government finally unsealed an indictment from the Eastern District of Virginia against Julian for alleged computer intrusion related to the leaks provided by Chelsea Manning. On 23 May 2019, the United States government further charged Julian with violating the Espionage Act of 1917, revealing the end game of the battle, and the true challenge to press-freedom of the world.
The aim of the Espionage Act is "to punish acts of interference with the foreign relations, and the foreign commerce of the United States, to punish espionage, and better to enforce the criminal laws of the United States, and for other purposes."
That an Australian journalist, publishing documents that reveal war crimes can be indicted on the US Espionage Act, whilst not on US soil, is a warning flag to the world. If Julian Assange and Wikileaks can be indicted under this act, so too can The Guardian, New York Times, and every media outlet that published any of the Wikileaks cables, or will publish any US document in the future.
Julian is Australia's most internationally awarded journalist. Perhaps the world's most awarded journalist of all time. Recipient of the 2011 Walkley Award for Most Outstanding Contribution to Journalism, 2008 The Economist New Media Award, 2009 Amnesty International UK Media Awards, 2010 Time Person of the Year, Reader's Choice, 2010 Sam Adams Award, 2011 Sydney Peace Foundation Gold Medal, 2011, Martha Gellhorn Prize for Journalism, 2013 Yoko Ono Lennon Courage Award for the Arts, 2019 Gavin MacFadyen award, 2019 Catalan Dignity Prize, 2020 Stuttgart Peace Prize, and nominated seven times for the Nobel Peace Prize by members of European parliaments and past Nobel laureates.
The trial of Julian Assange places perhaps the world's most celebrated journalist against the most well-funded institution the world. It will serve a test case for the might of structural power against press freedom. And it is likely structural power will win.
George Orwell once remarked: "the further a society drifts from the truth, the more it hates those who speak it."
Julian will likely be extradited by to the USA, and likely be convicted of either Conspiracy to Commit Computer Intrusion, or Espionage, or both. Perhaps he will be able to return to Australia to serve his sentence here if convicted — as suggested by former Attorney General Nicola Roxon in 2012 "should Mr Assange be convicted of any offence in the United States and a sentence of imprisonment imposed, he may apply for an international prisoner transfer to Australia" [6].
Support for Julian in Australia is steadily growing. The cross-party Parliamentary Group of MPs led by Andrew Wilkie has brought together 24 Federal MPs, including support against US extradition from participants as unexpected as George Christiansen and Barnaby Joyce:
"If a person commits a crime in another country while they are there, they should be judged by those laws. If a person is residing in Australia and commits a crime in another country, I don't believe that that is a position for extradition, If they weren't actually there, if they weren't present there, that is a question for Australian law."
The petition to free Julian, penned by Phillip Adams, is the third largest petition to be ever have been tabled in the Australian Parliament, with over 500,000 signatories.[8]
But whilst we can write to our MPs, and sign the petition, it is unlikely that this will stop the extraordinary legal precedent being established of the extradition and subsequent conviction of a non-American journalist to the USA for exposing US war crimes.
Once extradited, it is likely that Julian will be found guilty by the United States District Court for the Eastern District of Virginia on the crime of "Conspiracy to Commit Computer Intrusion" and perhaps also Espionage, an act that would place every woman, child and man in western society under USA extraterritorial authoritarian rule.
The story of Julian, alongside the incredible and ongoing bravery of Chelsea Manning and Edward Snowden, are the stories of our generation. And we must not forget these personal sacrifices for our collective freedom.
Sign the petition, contact your MP in Australia or the UK if you've the time and energy to do so, but perhaps most effectively, share a moment of sorrow when a defender of human rights and press freedom is successfully silenced by the might of structural power.
"Most people, in the end, choose to lead safe, comfortable lives. We're not interested in putting ourselves in the line of fire. Yet we owe a great debt to those people who do." - Mary Kostakidis

The truth shall set you free. – John 8:32
Author:
Niraj Lal - physicist and children's author based in Melbourne. | nirajlal.org | t: nirajnlal
References
[1] https://consortiumnews.com/2020/02/10/julian-assange-wins-2020-gary-webb-freedom-of-the-press-award/
[2] https://medium.com/@njmelzer/demasking-the-torture-of-julian-assange-b252ffdcb768
[3] https://www.scribd.com/document/80912442/Agreed-Facts-Assange-Case
[4] https://www.reuters.com/article/us-ecuador-imf/ecuador-inks-4-2-billion-financing-deal-with-imf-moreno-idUSKCN1QA05Z
[5] https://www.washingtonpost.com/world/2019/04/11/how-ecuador-soured-assange/
[6] https://www.smh.com.au/politics/federal/assange-felt-abandoned-by-australian-government-after-letter-from-roxon-20120620-20npj.html
[7] https://www.assangecampaign.org.au/bring-julian-home-campaign/
[8] https://www.change.org/p/free-julian-assange-before-it-s-too-late-stop-usa-extradition
[9] https://www.wikileaksparty.org.au/why-i-support-wikileaks-and-the-wikileaks-party/
[10] https://www.smh.com.au/national/love-him-or-hate-him-or-simply-don-t-care-julian-assange-s-fight-for-freedom-concerns-us-all-20191202-p53g1q.html