AVISO: Mass-Resistance 2020 - 26. September: LONDON (Rally of the Century) & KÖLN, 27. September: ROMA & EHNINGEN near STUTTGART, 10. October: BERLIN, 31. Oktober: WIEN
UPDATE 13. September 2020: LIVE: Unauthorised anti-government protests take place in Minsk
UPDATE 12. September 2020: Paris erupts in violence - Brutal police aggression against Yellow Vests and Corona protesters. & Munich Demo stopped by police & LIVE: Demo hits Leipzig despite EU-China summit cancellation & Anti-govt protesters gather in Madrid to demand Sanchez's resignation
UPDATE 10. September 2020: COVID-19: MASSIVE HARM FROM MASSIVE LIES … WHO'S GOING TO PRISON?
ICYMI: WE DO NOT CONSENT & Corona and the Triumph of the Oligarchs - A new class of overlords are making their bid for world domination. & Something remarkable happened this August: How the pandemic sped up the passage to postcapitalism
Tony Blair Calling for Digital IDs, Immunity Passports
By NEWS WIRE - 06. September 2020
One lesson we all should have learned from the early 2000s is that whatever issue or agenda Tony Blair is pushing should be viewed with suspicion, as it almost always ends up being nefarious. As one of history's most egregious living war criminals, he's damaged goods, and thus highly malleable by his career paymasters – the transnational banking elite.
Know that when a fully committed, bought-and-paid-for globalist like Tony Blair says "we need to learn to live with the virus" – what he really means is that we must first submit to 24/7 tracking and 365 day-a-year bio surveillance. Only then can we 'return to normal.' This is the basic script being dictated by the Five Eyes Alliance nations and their multilateral NGO proxies at the Bill & Melinda Gates Foundation, World Economic Forum in Davos, and the World Health Organization (WHO).
Note that the UK government are already moving towards changing existing laws on ID requirements to make way for new digital ID systems and immunity passports. his will most likely be done by bypassing due process and any real law review by the House of Lords (which Blair effectively dismantled during his tenure as PM). Combine this with the blatant rush towards a cashless society which accelerated after a fake story was intentionally circulated via the World Health Organisation back in March 2020 and through the global mainstream media which falsely claimed that COVID19 infections were being spread by people using cash.
Make no mistake: Blair's primary job as an agent of influence for the planetary oligarchical elite – is to advance the 'New Normal' agenda and nudge the public and governments closer to an embryonic world government structure…

No rest for the wicked, as Tony Blair relentless pushes a global surveillance agenda.
BBC reports…
Former Prime Minister Tony Blair has said it is "common sense to move in the direction of digital IDs" as part of efforts to fight coronavirus.
Mr Blair said there should be a record kept by the government of those vaccinated against the virus.
The government recently set out plans to change laws to enable the use of digital identity across the UK.
As prime minister, Mr Blair launched a compulsory ID card scheme, but it was scrapped by the coalition government.
Speaking to the BBC's Newscast podcast, he said that once a coronavirus vaccine is in use "you're going to want a record of the fact you've been vaccinated".
"You'll want a record kept by the government of who's been vaccinated – this will be essential, again, to restoring confidence," he added.
The former PM argued that improvements in technology meant privacy issues "can be dealt with".
"You don't need a large amount of information," he said adding: "People give a lot more information to their supermarkets than they do to the government."
Responding to Mr Blair's comments, Silkie Carlo, Director of Big Brother Watch – a civil liberties campaign group – said: "The idea of digital ID and vaccination checks could easily lead to a health apartheid that few would expect of a democratic country.
"Digital IDs would lead to sensitive records spanning medical, work, travel, and biometric data about each and every one of us being held at the fingertips of authorities and state bureaucrats.
"This dangerous plan would normalise identity checks, increase state control over law abiding citizens and create a honey pot for cybercriminals."
Mr Blair's comments come after the government announced plans to update existing laws on identity checking to allow digital identity "to be used as widely as possible".
It is does not propose resurrecting the ID card scheme, but is "exploring how secure checks could be made against government data," according to the government announcement.
Digital Infrastructure Minister Matt Warman said: "Digital technology is helping us through the pandemic and continues to improve the way we live, work and access vital services.
"We want to make it easier for people to prove their identity securely online so transactions can become even quicker – it has the potential to add billions to our economy."
Mr Blair was a keen advocate of ID cards for all UK citizens, as a way of combating terrorism after 9/11, but it was later billed as an "entitlement card" to combat benefit fraud and illegal workers…
Continue this story at the BBC
===
UPDATES:
We Do Not Consent
Powerful Message to Humanity with Inspirational Piano Music
===
LIVE: Unauthorised anti-government protests take place in Minsk
•Streamed live 4 hours ago
Protesters hold an unsanctioned rally against the re-election of Belarusian President Alexander Lukashenko in Minsk on Sunday, September 13. People are planning to march through the central streets of the city. The protesters demand the resignation of Lukashenko and the release of arrested protesters and political prisoners. Rallies against the president and his government have taken place daily in Minsk and other cities after the contested August 9 presidential election that saw Lukashenko re-elected for a sixth term.
===
LIVE: Anti-govt protesters gather in Madrid to demand Sanchez's resignation
•Started streaming 32 minutes ago
Ruptly is live from Madrid's Puerta del Sol on Saturday, September 12, as crowds of anti-government protesters are expected to gather, demanding Prime Minister Pedro Sanchez's resignation. The rally organised by 'Pedro Sanchez Dimision' and joined by other groups, is being held against the government's handling of the coronavirus outbreak. Spain has been one of the European countries most affected by the pandemic with 534,513 confirmed cases and 29,594 related deaths, according to the Health Ministry figures released on Wednesday.
===
France: Tear gas flies, several detained at Paris Yellow Vest protest
•Sep 12, 2020
Subscribe to our channel! rupt.ly/subscribe Hundreds of Yellow Vest protesters swamped Paris streets on Saturday over planned pension reforms where clashes broke out with police officers in riot gear. Hundreds of protesters were seen marching and chanting through the streets of the French capital where they were seen setting fire to several rubbish bins, motorcycles before being met by a large number of heavily armoured police officers who were seen firing tear gas at the crowds to disperse them and made several arrests. The protest is taking place after France noted an increase in the number of coronavirus infections across the country. It also comes after the mandatory use of face masks in certain busier areas of Paris was established in August. The French government has limited the maximum number of participants to 5,000 for larger gatherings. The 'Yellow Vests' movement began as a grassroots citizen protest in November 2018 and quickly spread across mainland France, with participants demanding what they see as economic and social justice
Yellow Vests call for national protest in Paris amid coronavirus measures - PART 2
Livestream ended but view 2h15
Yellow Vests call for national protest in Paris amid coronavirus measures - PART 1
•Streamed live 12. September 2020 (click into center an then to livstream. If the livesteams hangs F5 - reload)
Ruptly is live from Paris on Saturday, September 12, as the 'Yellow Vests' resume their campaign against planned pension reforms by marching through the streets of the French capital. The protest is taking place after France noted an increase in the number of coronavirus infections across the country. It also comes after the mandatory use of face masks in certain busier areas of Paris was established in August. The French government has limited the maximum number of participants to 5,000 for larger gatherings. The 'Yellow Vests' movement began as a grassroots citizen protest in November 2018 and quickly spread across mainland France, with participants demanding what they see as economic and social justice.
===
LIVE: Demo hits Leipzig despite EU-China summit cancellation
•Started streaming 77 minutes ago
Ruptly is live from Leipzig on Saturday, September 12, as groups hold an anti-authoritarian demonstration on the days when the EU-China summit was supposed to be taking place in the city. According to the organisers, the protest will go ahead despite the cancellation of the summit, to draw attention to the issues around the summit's concept and to various existing issues concerning the EU and China. The EU-China summit, which was scheduled to take place in Leipzig, was cancelled due to the coronavirus pandemic.
===
Coronavirus Demo in München
Saved Livestream 12. 09. 2020 (start around Minute 21) Dauer: 2h43
Ruptly is live from Munich on Saturday, September 12, as protesters gather to denounce coronavirus restrictions. The Munich administrative court has limited the maximum number of participants for the protest to 1,000 but organizers reportedly expect over 5,000 people to attend. German Chancellor Angela Merkel originally announced a series of measures in March, in order to curb the spread of coronavirus, but the no longer existing pandemie as status has not been revoked in order to prolong the state- and police-measures.
===
COVID-19: MASSIVE HARM FROM MASSIVE LIES … WHO'S GOING TO PRISON?
PREFACE: So let's get this straight … For the most 'At Risk' segment of the general population, the study found the following to be reality … For the average 50-64 year old, your chances of dying from COVID-19 are … Over one in 19 million (YEA Read that Again) … yet your chance of dying in a car crash is one in 114 … So WHY the hell are the elderly still allowed to own cars, and why did we let these medical charlatans destroy America ???
By Roger Landry - 10. September 2020
Another chapter in the ever-growing need to show how the lives, and even the very life of countless people hang in the balance due to the massive self-serving catastrophe loosed by those dealing in profit and power. It would seem that if sacrificing a few (???) worthless sheeple lives moves them closer to their goal of total control … so be it !!!
We were told by those (supposedly) in the know that COVID-19 is a planet killer with the knockdown power of a super deadly global pandemic, one that will kill millions of Americans, and wreak havoc across the globe! FALSE, it does not even have the knockdown punch of last year's flu season. By today's (new) definition, last year's flu was the most deadly flu pandemic in recent history with well over eighty thousand people dying in the USA alone (actually over 100,000, but the CDC, who owns flu vaccine patents, will not release an accurate number) and almost three quarters of a million dying globally. Now add to that over four million related global pneumonia deaths. So why didn't we shut down the country, North America, the WORLD … because by today's new standards, last year was the epitome of recent pandemics? Yet except for advertising their seasonal flu vaccinations, we didn't hear even a peep by the Big Pharma reps that literally rule this population by fear and fake news today.
So let's address this continuous and totally unnecessary hype, fake news and fear mongering concerning a supposed virus being sold to us as having triggered the worst global pandemic in modern recorded history (after all they did shut the entire planet down … or almost) … and do it with a little humor/satire …
Today, even with this information, the case is still being pushed that the only way we can even start to get back to normal is to stay locked up until Big Pharma completes a vaccine (rushed through, cutting many corners), and that is promised soon with some saying by year's end, and in some cases even earlier. The second video below will blow a huge hole in that bull-crap! Also we need to consider that there are already several known treatments that are proven to knock COVID-19 to its knees including (but not limited to) Hydroxychloroquine, Zinc, Vitamin C and Vitamin D. So WHY would Big Pharma and their puppets (such as Bill Gates and Dr. Fauci) be doing all they can to downplay or besmirch the effectiveness and availability of these treatments … answer … CHA CHING $$$!
Again, why if this virus is so virulent, would you discourage people who have access to a successful treatment … to wait as much as a year, locked down, watching their life being destroyed by the day, for a vaccine that any decent doctor will tell you … WON'T WORK (another entire article) and may be more dangerous than the (relatively mild) COVID-19 to its recipient? For which the US Congress has already absolved the vaccine makers (and Bill Gates) of any wrong-doing if their (faux) vaccine harms, maims, or kills anyone. Billions in profit … ZERO liability ...
Lastly we come to those who represent, those who initially predicted this would cause millions of American deaths and leave a wide swath of millions of Coronavirus deaths across the entire planet … It didn't happen, and even the numbers that are reported have been proven to be massively padded … in far too many cases, for profit (well over $200 billion on the vaccine alone).
QUESTION: Why are these same talking heads … still advising ANYONE?
After all, it was their prediction-driven advice (predictive models) that were the mechanisms used for:
Shutting down America
Ruining countless futures by literally erasing their savings or retirement accounts
Intentionally destroying the best economy we have seen in a generation
Knowingly destroying even more of our already suffering civil and unalienable rights.
… and how much of this is based on outright LIES … MASSIVE LIES !!!
••••
Which brings us right back to my opening/preface comment …
When all is said and done … when we look back on this … I sincerely hope we can point to those who were held accountable with prison terms appropriate with their heinous crimes against humanity.
Never in recent history have the actions of so few upended or destroyed the lives of so many! If this goes unpunished, the next act will be even more bold, blatant and deadly !!!
What is needed is some in-depth information on the main players such as Mainstream Media's pretty boy Anthony Fauci. If ever there was an individual who needs to be put under the microscope … Fauci is it! Egotist, Big Pharma Lacky, Profiteer, Liar, etc…!
Click HERE or on the image below to find out exactly who we are dealing with …
If taken in conjunction with the corruption witnessed by organizations that state their mission as "keeping humanity safe and healthy", such as the CDC (an actual for-profit corporation with over 20 patents on vaccines) and the WHO (globally known to be corrupt to the max), both partners or cohorts of Gates and/or Fauci … WHY is anyone still listening to these SHILLS …
Fauci and so many shills like him (Gates) need to be in prison for the massive pain and suffering they are ALREADY responsible for !!!
••••
Author:
Roger Landry (TLB) spent about three decades of his adult life either in, or working for the military, with about two decades working directly for the Military Industrial Complex facilitating DOD contracts. His awakening to Political, Economic, and Health realities was less than ten short years ago. Since that time he has founded The Liberty Beacon Project (TLB) consisting of a half dozen proprietary global websites, media projects, and partner websites across the planet. He contributes regularly to multiple forums both in and outside of TLB Project. Most of Roger's articles can be found on the TLB flagship website TheLibertyBeacon.com
===
We're at peak insanity: The Fed's fiscal profligacy and greedy tech oligarchs are sinking capitalism faster than the Titanic
By Mitchell Feierstein - 07 September 2020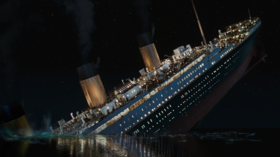 'Titanic' (1997) Dir: James Cameron © Paramount Pictures; 20th Century Fox; Lightstorm Entertainment
During my 40-year Wall St career, I've never seen a mania like this. The problem is that central banks are rogue hedge funds with printing presses who are not elected or accountable and make policies that are consistently wrong.
US stock markets were rocked last week by massive volatility that saw the most significant declines since the March correction. The US Congress and Federal Reserve policy of endless bailouts, moral hazard and exponential money printing are extreme fiscal profligacy that will sink capitalism faster than the Titanic on its maiden voyage.
Stock market indexes have recently rocketed to record highs. The NASDAQ traded up at 12,050.46, and the Standard & Poor's 500 index traded at 3,588.11, achieving another benchmark. Stock valuations are the highest they've ever been, exceeding the crash of 1929 and the 2000 technology bubble. Just six stocks have driven this rally: Apple, Amazon, Microsoft, Facebook, Google and Tesla.
Should you worry that the world has never witnessed a stock mania that has seen valuations skyrocket during the worst economic depression the world has ever experienced? Yes, indeed, you should step back from the cliff's edge immediately.
The billionaire oligarchs of Silicon Valley, whose stocks are at all-time highs during an economic depression, will utilize censorship to manipulate the outcome of the 2020 election. These oligarchs demand one rule for thee and another for me. They demand equality of outcome and will implement laws that prevent equality of opportunity. The US is in a class war dressed up as a race war. Google, Facebook, Amazon and Twitter are "all in" on ensuring their power base is protected with the election of Biden and Harris.
Financial media's illiteracy is compounded by the army of analysts repeating nauseatingly insane sound bites such as: "Don't fight the Fed and Central Bank Policies,""You don't understand, you're a dinosaur," and their power punch, "It's different this time."
Most sincere apologies, but it's "not different this time", next time or anytime – ever! Mean reversion is a "thing" and to quote the head of the Bank of Japan, who based his country's failed monetary policy on Peter Pan, "You can fly if you believe you can; the problems begin when you stop believing you can fly." Are we at that point in markets now?
No one can pick the moment of peak insanity during a period of extreme, irrational exuberance. However, during my 40-year career, I have never seen a mania like this before. The Problem: Central banks are rogue hedge funds with printing presses who are not elected or accountable, and make policies that are consistently wrong.
A few weeks back, I wrote an article analyzing Apple's revenues, product pipeline, share buyback scheme, upcoming stock split and Apple's extraordinary two-trillion-dollar valuation. I warned that post 4-1 stock split buyers would likely lose money in the long run on Apple.
I suggested Elon Musk's Tesla as the poster child for a Harvard Business School case study in irrational exuberance and stock manias. Tesla is a profitless maker of electric vehicles, with a stock price that has surged 1,000 percent in a year and seen its market capitalization rocket to $450 billion before a 5-1 split that was declared by the geniuses in the financial media as a Tesla "dividend" making shares available at a price for every investor. The dividend comment is idiocy. It's the same as asking a five-year-old: Would you rather have this entire bag filled with 50 one pound coins or one wrinkled old 50 pound note?
After achieving its record valuation, Tesla's most prominent institutional shareholder, Baillie Gifford, has dumped nearly 20 million of its Tesla shares since the end of June. Baillie was not alone in selling; almost every Tesla executive sold some of their shares at or right near the top and before the further dilution of value by Tesla's issuance of $5 billion in new shares – what did they all know and when did they know it? Elon's brother Kimbal Musk, a Tesla board member since 2014 who also sits on Tesla's compensation, corporate governance and disclosures controls committees, made over $8 million by selling his shares for $498.32, the top. It's okay because, after all, the laws and rules do not apply to oligarchs – just shut-up and obey.
During last Thursday and Friday's trading sessions, Tesla's stock lost nearly $100 billion in its market capitalization. That loss is more than Boeing's entire market cap, which was $93 billion on Friday and more than every automaker combined.
Why is Tesla's share price a mania? For Tesla to be worth $450 billion, Musk's EV auto-maker would need to capture far more than a 50 percent share of all automobiles sold in the world, and Tesla's current market share stands below one percent. Media hype and Musk's daily fantastic claims and unfulfilled promises have helped propel these shares into the stratosphere. After Friday's close, the S&P 500 rebalanced. Tesla was not included in the index and dropped eight percent; guess something scared the index away from Tesla, but it probably had nothing to do with valuations, accounting gimmicks or some other reason.
There is more trouble on the immediate horizon for Tesla, based upon Musk's fantastical claims and material misrepresentations regarding Tesla's sale of an $8,000 "Full Self Driving" (FSD) option that Musk claims will be "fully autonomous" soon. In addition to Tesla's FSD causing numerous deaths, as a result of Tesla's smashing into stationary objects that include parked police cars, Consumer Reports (CR) said "The $8,000 FSD doesn't make the car self-driving."
CR's manager went even further in his rebuke, saying: "Tesla has repeatedly rolled out crude beta features, some of which can put peoples' safety at risk and shouldn't be used anywhere but on a private test track or proving ground."
It has been reported that a Tesla crashed in China on September 5, killing two and injuring six. Considering Tesla has manufactured only around a million automobiles, the incidents reported involving their cars are extraordinary. The US National Highway Traffic Safety Administration has been aware of many deaths associated with Tesla crashes, yet has done nothing. People keep dying, when will action be taken? Perhaps never. Oligarchs Rule!
At one point during Friday's trading session, we saw the NASDAQ down nearly 11 percent in two days, and a 2,000-point reversal in the Dow Jones Industrial Average. What does this mean for you?
Some of the moves were exaggerated by many plays in the derivative product options markets. But when you see extreme volatility when markets are in a "mania," it's time to take your chips off the table and re-assess.
Remember, if something seems too good to be true, it usually is. The economic, political and social culture has drastically shifted in the past few years to embrace "woke" socialism, anarchy and lawlessness. We have reached an incredibly dangerous flashpoint that must be addressed, countered and resolved by strong leadership. Do we have anyone available?
Fasten your seatbelts: it may be time to go short and severe turbulence is on its way because it is different this time – you ain't seen nothing yet!
Author:

Mitchell Feierstein is the CEO of Glacier Environmental Fund and author of 'Planet Ponzi: How the World Got into This Mess, What Happens Next, and How to Protect Yourself.' He spends his time between London and Manhattan. Join Mitch on Twitter, Instagram, and Facebook – @Planetponzi
===
Arrested Under Coronavirus Act 2020 - Vile
===
Piers Corbyn Violently & Unlawfully Arrested & Held Overnight In Sheffield Police Station / UK
UK - After a peaceful protest in Peace Gardens, Sheffield, police aggressively arrested Piers and kept him in overnight, when absolutely no crime had been committed.
Piers did not organise the event and attended only as a guest speaker, along with many others.
First published at 06:54 UTC on September 6th, 2020.
===
WTF? 'COVID-19 Diagnostic Test instruments' appear on World Bank site for … 2018? (PLEASE SHARE – David Icke HAS BEEN BANNED FROM TWITTER FOR A WEEK)
We have just been sent this …
https://wits.worldbank.org/tariff/trains/en/country/CAN/partner/ALL/nomen/h5/product/902780
The 'COVID-19-PCR-Testkits were already in 2017/2018 traded between the states via the WorldBank.
Die COVID-19-PCR-Testkits werden bereits seit 2017/2018 zwischen den Staaten bei der Weltbank gehandelt.

Here's the website portal …
https://wits.worldbank.org/
---
In the meantime the original website has been scrubbed of that entry, but it is held on ARCHIVE.ORG:
https://web.archive.org/web/*/https://wits.worldbank.org/tariff/trains/en/country/CAN/partner/ALL/nomen/h5/product/902780
https://wits.worldbank.org/tariff/trains/en/country/CAN/partner/ALL/nomen/h5/product/902780
---
WORLD BANK WEBSITE Listed CV-19 Test Kits in 2018 - NOW SCRUBBED!
•Sep 7, 2020
EVIDENCE https://drive.google.com/drive/u/0/mo... https://webcache.googleusercontent.com... Coverage https://nationalfile.com/world-bank-r... Link to CURRENT Site https://wits.worldbank.org/tariff/tra... It is documented here at right before scrub @5:09 in this video: https://youtu.be/UqP5cOMNKwo Video featured https://youtu.be/CBvRndVNIr4 IF YOU WISH TO SUPPORT THIS CHANNEL Patreon:https://www.patreon.com/TMfilms?fan_l... PayPal:https://paypal.me/TMFprod?locale.x=en_US YOUTUBE BACK UP CHANNEL: https://www.youtube.com/channel/UCjy1... Alternate platforms: Sub to my Bitchute:https://www.bitchute.com/channel/QcVg...
===
The Answer:
Activating Peoples Will - David Icke Talks To Alex Jones
First published at 09:41 UTC on August 21st, 2020.
===
Corona and the Triumph of the Oligarchs
By Joel Kotkin - 01. September 2020
A new class of overlords are making their bid for world domination.
The coronavirus has trammeled the prospects of most Americans, particularly low-income workers. But for one small group, the pandemic has proved something like manna from heaven. Already ascendant beforehand, the tech oligarchy—a relatively small number of companies, venture, and private equity funds—are riding the current crisis to unprecedented dominion over our ever-weakening Republic.
To be sure, some tech firms, including Google, have taken a hit from the weakened advertising market. But tech stock prices generally have soared as most others have lagged. Undeterred by the downturn, tech moguls continue to increase their research spending in order to tighten their already rapidly constricting stranglehold on the economy. The shift to remote work has boosted firms that facilitate video conferencing and digital collaboration like Slack—the fastest growing business application on record—as well GoogleHangouts, Zoom and Microsoft Teams.
No surprise then that the tech rich are simply getting richer: seven of the ten richest Americans come from the tech sector. Apple, by some calculations, is now worth more than the entire oil and gas industry. The already obscenely rich have become richer still; Jeff Bezos alone has seen his net worth jump by an estimated 34.6 billion in the first two months of the pandemic.
Oligarchy, American Style
For these ascendant overlords, President Trump represents an insultingly inconvenient barrier to such wish-list items as HI-B visas(critical to keeping labor costs down), web censorship, and uninhibited trade with their critical business partners n China. But with the Trump Administration clearly imploding, the oligarchs now have a chance to regain control of the national agenda and attain even greater political sway than that they enjoyed under Barack Obama.
Long a major source of Democratic Party funding, the tech industry will likely find a President Biden more favorably disposed toward off-shoring to China, importing temporary foreign labor, and consolidating tech firms (to which, in fairness, both parties have proven amenable). The steady erosion in anti-trust enforcement, again under both parties, has left firms like Facebook and Googlewith almost unlimited power to acquire or crush competitors.
Consolidation has allowed oligarchs to gain dominant shares of key markets from search (Google) to social media (Facebook), to book sales (Amazon); Google and Apple together provide over 95% of operating software for mobile devices while Microsoft still accounts for over 80% of the software that runs personal computers around the world. In the process, the many small, feisty startups that have emerged all over the country increasingly have been reduced to virtual vassals. One online publisher uses a Star Trek analogy to describe his firm's status with Google: "It's a bit like being assimilated by the Borg. You get cool new powers. But having been assimilated, if your implants were ever removed, you'd certainly die. That basically captures our relationship to Google."
The Rising American Surveillance State
The pandemic has also boosted the prospects for ever greater surveillance following the model of China. Even beforehand, the tech giants, notably Google and Apple, made bold steps into capturing medical records as part of a drive to emulate what the British academic David Lyon describes as a "surveillance society."
China is increasingly a model for intensified digital snooping. Already Google, IBM, and Apple are assisting China's systematic use of digital technology to impose ever greater control over its citizens. Some in our academic establishment see the pandemic as proving that, in the "debate over freedom or control," China "was largely correct and the US was wrong." Liberal advocacy groups have even launched an ad boycott against Facebook for daring to allow something close to free speech—an unpardonable sin, it appears, in this politically correct age.
In China, with its lack of legal restraints, the threat comes largely from the government. But in America and the West generally, as leftist Naomi Klein has pointed out, the real danger comes from the oligarchs who dominate and profit from the surveillance economy. Jeff Bezos, whose Alexa has been caught eavesdropping on people's conversations, may see this monitoring as the "beginning of a Golden Age." But to most people it seems more like an attack on privacy and a harbinger of digital feudalism.
Cultural Dominion
Perhaps the most terrifying development has been the tech elite's decision to move beyond profitable snooping toward controlling content. Nearly two-thirds of U.S. adults now get their news through social media like Facebook or Google. This is even more true among Millennials. As the publishing industry has shrunk—between 2001 and 2017 it lost 290,000 jobs or 40% of all its jobs—Facebook and Google dominate the only growth area, online advertising.
The oligarchs have further expanded their domain by purchasing much of what is left of the mainstream media, including the New Republic, the Washington Post, the Atlantic, and long-distressed Time magazine. Ownership of this media increases the oligarchs' ability to promote their own progressive views—on gender, race, and environmental issues, for example. But, curiously, they are somewhat less enthusiastic about challenges to the concentration of oligarchical power, as the Washington Post's long-running conflictwith Bernie Sanders so amply illustrates.
Thought control on the part of tech giants is proceeding with astonishing speed. Rather than being directed by party cadres, our media is increasingly controlled by staffers at Google, Facebook, and Twitter who seek to "curate" content on their sites. This usually means eliminating conservative views, according to former employees. These firms increasingly use algorithms intended to screen out "hate groups," but the programmers often have trouble distinguishing between "hate groups" and those who might simply express views that conflict with the dominant progressive culture of Silicon Valley actvists.
Sans-Culottes in Lululemon
In the short run, the biggest challenge to the oligarchs may come not from the Right, but from further to the Left. There was a time when Silicon Valley was viewed, in the words of progressive David Callahan, as a kind of "benign plutocracy" in contrast to those who built their fortunes on resource extraction, manufacturing, and material consumption. Indeed, leaders at the Occupy Wall Streetprotests in 2011 held moments of silence and prayer for the memory of Steve Jobs, a particularly aggressive capitalist.
Yet it is increasingly clear that there is a natural conflict between the ever more radical egalitarian dreams of the progressive Left and the views, not to mention the interests, of the tech oligarchs. Author Gregory Ferenstein, who has interviewed 147 digital company founders, reports these bosses do expect their workers to achieve more independence by starting their own companies or even owning houses. Most are convinced, Ferenstein reports, that an "increasingly greater share of economic wealth will be generated by a smaller slice of very talented or original people. Everyone else will come to subsist on some combination of part-time entrepreneurial 'gig work' and government aid."
Having dismissed economic aspiration, the tech titans naturally prefer to emphasize issues like climate change, racism, immigration and gender-related issues rather than thornier issues of class and income distribution. The oligarchs overwhelmingly back Biden, but the key emerging constituencies of the party—notably Latinos and voters under 30—embraced Bernie Sanders or Elizabeth Warren, both harsh critics of the tech industry during the primaries.
Socialism in Silicon Valley
Rather than seeing them as "benign" or even counter-cultural heroes, many progressives now label the tech oligarchs as just the latest purveyors of "predatory capitalism" and a mounting threat to democracy. This includes increasingly part of their own their own workforces, where they confront a growing socialist movementamong tech employees in Silicon Valley who have little chance of replicating the wealth accumulation enjoyed by prior generations in the Bay Area.
The oligarchs may see themselves as exemplars of enlightened capitalism, but many who work for them see Silicon Valley as a place where the ultra-rich flourish, the middle class wanes, and the poor live in poverty that is becoming unshakeable. Indeed. according to a 2018 U.C.-Santa Cruz study, nine out of ten jobs in the Valley now pay less than 20 years ago, adjusted for inflation. This is in part a product of declining manufacturing and offshoring of activities, largely to Asia. During the boom of the last decade, cost-adjusted wages dropped for middle-class workers, Latinos, and African Americans in Silicon Valley. Nearly 30% of Silicon Valley's residents rely on public or private financial assistance.
These realities provide schools for radicalization. San Francisco and Seattle represented three of the top six zip codes which sent money to socialist Bernie Sanders. Despite opposition from the oligarchs, Sanders defeated Biden handily in the three key tech counties of Santa Clara, San Mateo, and San Francisco, where Sanders and Warren combined to win 53% of the vote. The young leftists of this new cohort have already challenged their bosses on policies such as climate change, minority hiring, and gender issues. Although likely to vote for Biden in November, it is probable they will not be satisfied by a restoration of Clinton- or even Obama-era policies.
Total Power or the Guillotine?
With the departure of Donald Trump, the toxic glue that now unites them in opposition, progressives and oligarchs will likely emerge more into the open. Oligarchs and their overwhelmingly white and Asian leadership actually have little in common with the proudly Marxist-oriented Black Lives Matter movement to which they are currently pledging allegiance. This uneasy peace will not last long between captains of industry and a revolutionary movement which proposes socialist economics as an antidote to what its founders see as "racial capitalism."
Some leftists openly seek to seize the oligarch s' wealth and commandeer their technology to create "fully automated luxury communism" and a "post-work society." At very least they could be under pressure by fiscally challenged governments, as is already happening in Europe, to fork over more of their profits to the state.
In order to protect their assets from such seizures some tech oligarchs—Mark Zuckerberg, Pierre Omidyar (founder of eBay), Elon Musk, and Sam Altman (founder of leading startup accelerator Y Combinator)—have endorsed the idea of having the government provide a "guaranteed wage," likely with funds taken from the shrinking middle classes. This could be seen as "oligarchical socialism." But if amelioratives fail, some tech titans are already making emergency escape plans in case of civil unrest.
These are choices that we as a society should not have to make. Americans should not be forced to accept lifetime serf status or control from the self-appointed digital betters. Instead, the tech oligarchs need to be challenged by both Right and Left—by anyone disturbed at the prospect of a hierarchical, socially stagnant, centrally programmed future. To revive our tired republic, resisting technocracy is the great imperative of our time.
Author:
Joel Kotkin is the Presidential Fellow in Urban Futures at Chapman University and executive director of the Urban Reform Institute. His new book, The Coming of Neo-Feudalism, is out now from Encounter. @joelkotkin
===
Something remarkable happened this August: How the pandemic sped up the passage to postcapitalism
•Aug 21, 2020
Lannan Institute virtual talk, Thursday 13th August 2020. In conversation with Daniel Denvir on "Something remarkable happened in the summer of 2020: How the pandemic has sped up the passage to postcapitalism"
===
EXAMPLE how the WEF brainwashes and selects young professionals in the Global South
Full Trial
Full trial video analysis and narrative of the video 'Safeguarding our Planet' from the World Economic Forum 2019
•Dec 10, 2019